Are you looking for a veggie-packed side dish to serve with your next meal? You've come to the right place! These flavorful vegetable sides are healthy, easy, and bring a new flavor dimension to your meal.
We've listed 25 of our best vegetable sides that can help you increase your veggie intake and eat healthier. Browse through this list, and take your pick with recipes that show veggies in new ways: from crispy kale chips, slow-baked tomato confit, to roasted broccoli - all vegetarian and vegan-friendly. Hopefully, you will get as excited about veggies as we are - and get inspired to cook them in new ways!
BEST FLAVORFUL VEGETABLE SIDE DISHES
Tomato cucumber onion salad
This tomato cucumber onion salad is a crunchy, refreshing, simple dish that you can enjoy as a starter or as a side dish. Pick your favorite tomatoes, we love Roma tomatoes, a crunchy cucumber, and sweet red onion.
Cauliflower rice
The perfect side dish with curries, stews, and anything with a sauce. It's easy to make in just 10 minutes with a few simple ingredients.
Roasted artichokes and potatoes
Roasted artichokes are crunchy on the outside, and tender on the inside. The recipe is easy, and the artichoke gets incredibly flavourful this way. We love to cook them together with potatoes to make this recipe one of the best side dishes ever.
Potato salad - no mayo
No mayo in this potato salad, but a fresh and light flavor thanks to the herbs, lemon, and olive oil. It's naturally vegan and thanks to our trick you'll get a super creamy dressing that we are sure you'll love!
Roasted broccoli
Oven-roasted broccoli is so tasty you won't believe it's actual broccoli. Crunchy, lemony, slightly spicy, and with the perfect twist of garlic, they are perfect as a pre-dinner appetizer, snack, or side dish.
Oven-baked breaded potatoes
They are tasty, crunchy on the outside, soft on the inside, and seasoned with olive oil, rosemary, and garlic. The toasted breading is so delicious you'll scrape it out of your baking tray.
Tomato confit
Tomato confit is the easiest, meltiest, most delicious tomato recipe. Soft, juicy, packed with oregano and garlic aroma.
Tomatoes made this way can elevate any kind of meal; as a juicy sidedish, a starter served with toasted bread, or as a topping to a bowl of pasta.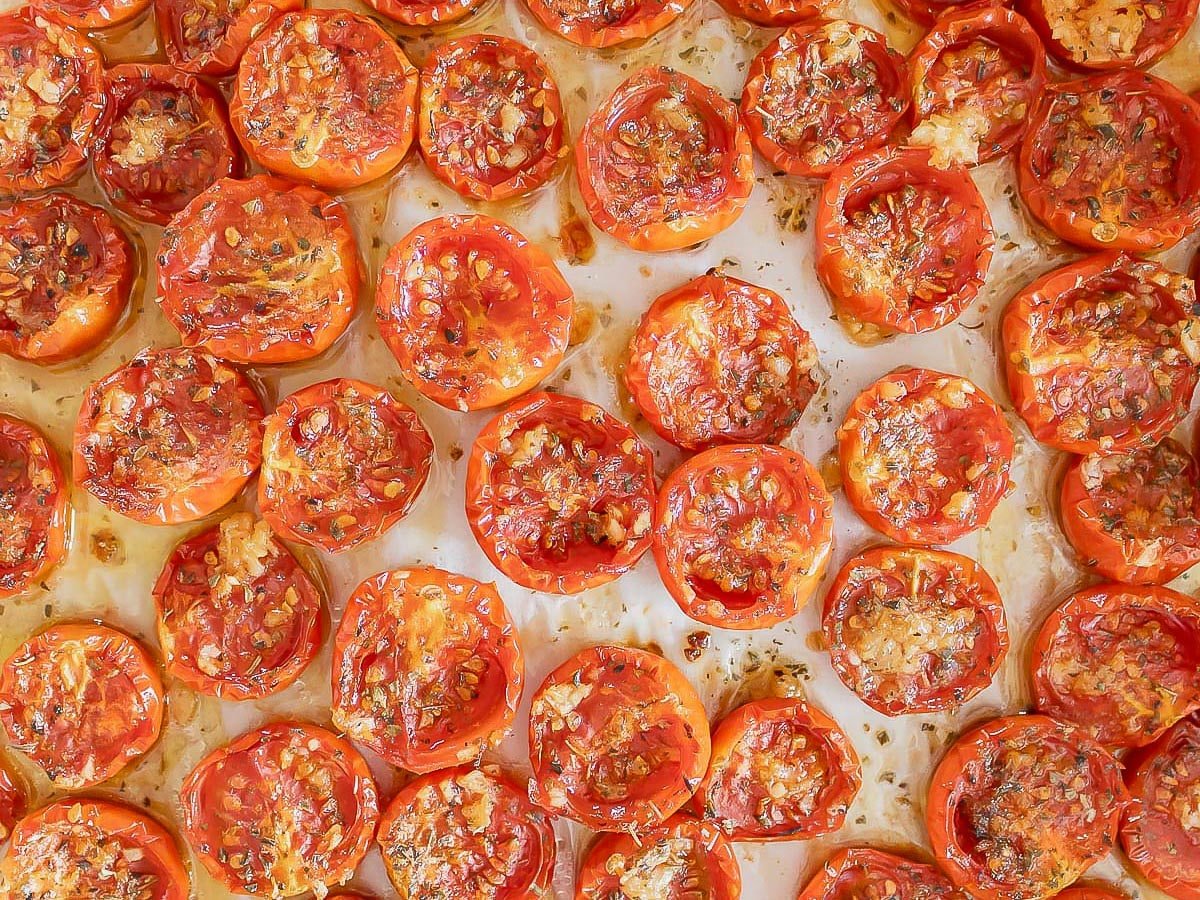 Grilled asparagus
Perfectly crunchy and charred, these grilled asparagus are a wonderful side dish for your vegan barbecue or summer dinner.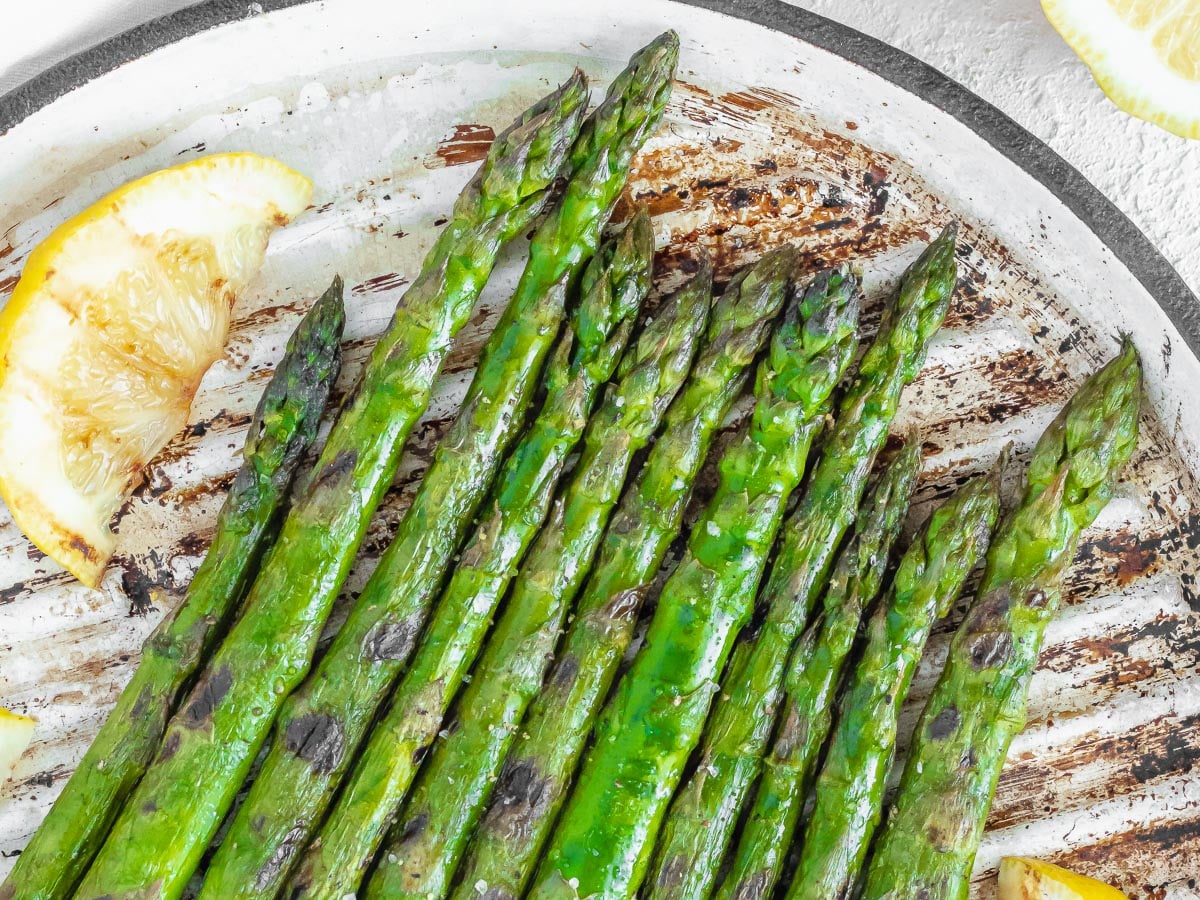 Crispy kale chips
Our kale chips in the oven are made with whole leaves of cavolo nero, also known as black kale. For seasoning, we use lemon, garlic, and chili flakes.
Caramelized onions
In this step-by-step guide, I'll teach you how to make the best caramelized onions with a few simple ingredients. They elevate pasta dishes and main dishes with delightful sweet and sour notes.
Easy tomato bruschetta
Tomato bruschetta is crunchy, juicy, garlicky, and perfect as a crunchy side dish loaded with juicy tomatoes. The recipe is simple, and you can make it in 10 minutes with a few ingredients.
Shaved Brussels sprouts salad
Our shaved Brussels sprout salad is easy to make with just 3 ingredients for the salad, and 4 for a delicious lemon-mustard dressing.
This is a healthy way of serving brussels sprouts, and this salad is perfect for the holidays, or as a side for a delicious everyday dinner.
Steamed artichokes
When steamed artichokes melt in your mouth, they are creamy and with a mild flavor, slightly nutty, and a little sweet. Artichoke fan? Check out our guide on how to cook with artichokes with 11 amazing artichoke recipes.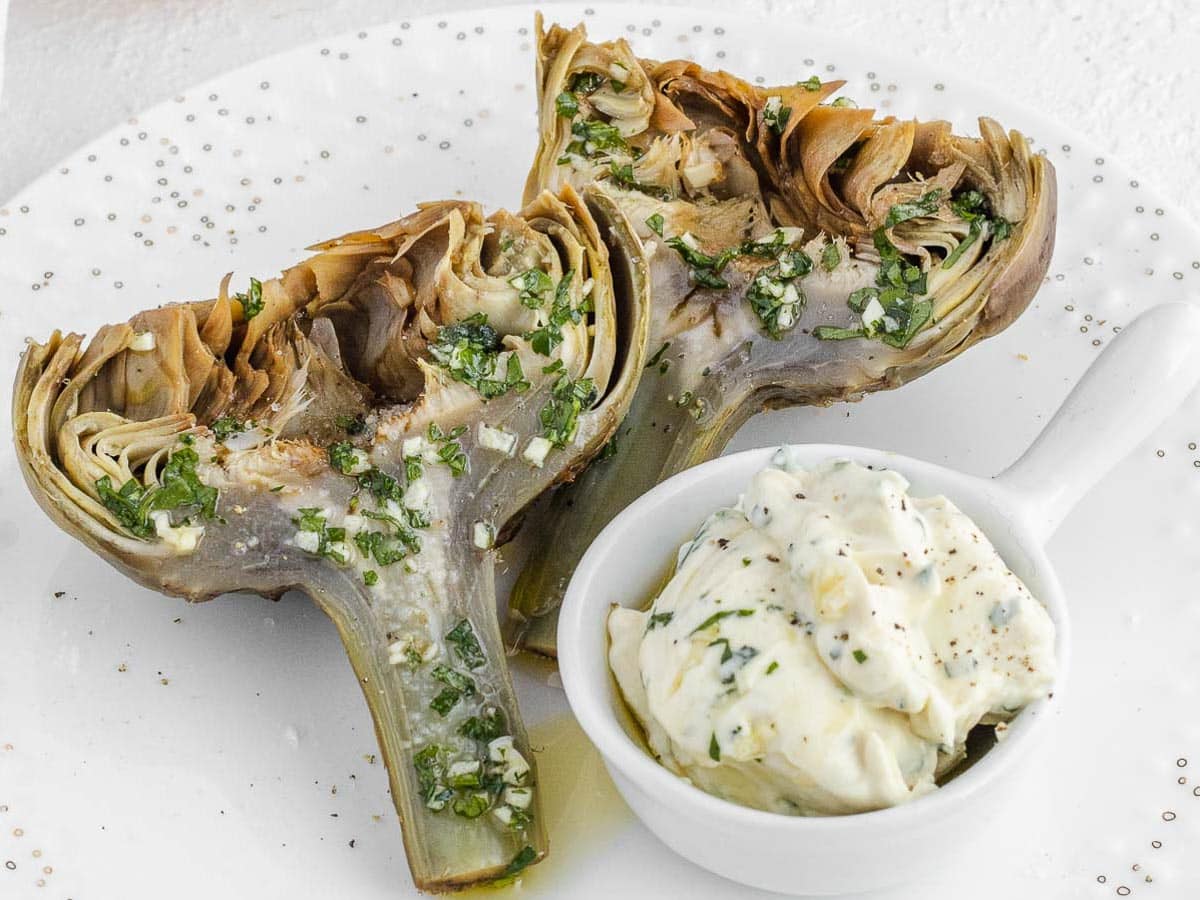 Oven-roasted bell pepper
A delicious recipe that can be served as an antipasto, a side dish, or can be used as a base for many other recipes like salads and pasta.

In this recipe, we show you the easiest and fastest method to roast, peel, and marinate your bell peppers the Italian way!
Pan-fried artichokes
Pan-fried artichokes are an easy way to enjoy artichokes as a starter, side dish, or even as a snack in a sandwich.
All you need is a pan and a few simple ingredients to make this delicious artichoke recipe.
Roasted Brussels with maple syrup
Roasted Brussels sprouts with maple syrup are a delicious side for the holidays or with a quick tofu recipe.

Roast them for 30 minutes in the oven, and drizzle with a finger-liking, sweet and tangy maple syrup, and lemon dressing.
Fennel orange salad
Fennel and orange salad is a crunchy, fresh, and light salad to be served as a side dish or as a starter.
The main ingredients are fennel and oranges, but you can add pomegranate seeds or black olives to make it even more delicious.
Red cabbage salad with candied walnuts
This red cabbage slaw is easy, crunchy, and comforting just like a regular slaw, but with the added apples and candied walnuts, you get that irresistible sweet, sour, and nutty crunch that your taste buds love so much.

MORE VEGETABLE SIDE DISHES:
HOW TO SERVE VEGETABLE SIDE DISHES
These healthy side dishes go well with protein, pasta, and any main dish. Take your pick here for some inspiration:
For many more easy and healthy side dishes make sure to check out our Sides Recipes Page!
25 Flavorful Vegetable Sides
Over 25 best and tasty vegetable side dishes that are easy to make, healthy, vegetarian and vegan too. Browse through, and pick your favorite roasted, steamed, salad, or marinated vegetable side.
Ingredients
Pick your favorite vegetable side dish

Read the recipe for ingredients required

Make the recipe by following the instructions
Instructions
How to store: Most of these vegetable sides keep for 3 days in the refrigerator, best if stored in an airtight container. We usually reheat it in the microwave, but a pan with a dash of water would do too.

How to reheat: Most of these recipes can be reheated in the microwave, on a pan with a dash of water. Check the individual recipes for full make ahead, reheating and storage instructions.
Nutritional Values
Nutrition Facts
25 Flavorful Vegetable Sides
Amount Per Serving (150 g)
Calories 220
* Percent Daily Values are based on a 2000 calorie diet.
Did you like this recipe?
Leave us a comment below or follow us on Facebook, Instagram, or Pinterest. It would mean the world to us 🙂
You might also like: