If you're looking for the best lentil recipes, you've come to the right place. These 20 lentil meals are easy to make, packed with fiber, and with simple ingredients.
From hearty soups to vibrant salads, these recipes show the potential of lentils to transform into mouthwatering dinners and meal-prep-friendly lunch ideas.
Lentils come in various sizes and colors: fiery red, earthy brown, vibrant green, and warm yellow.
These lentil varieties offer distinct flavors and textures:
Red lentils, swift to cook and tender in texture, infuse dishes with a mild sweetness.
Brown lentils, robust and earthy, stand firm in hearty stews and soups.
Green lentils bring a slightly peppery taste, pairing exquisitely with salads.
Yellow lentils radiate a gentle flavor, excellent for creamy curries and dahl.
Whichever shade you choose, lentils add wholesome richness and plant-based protein to your meals.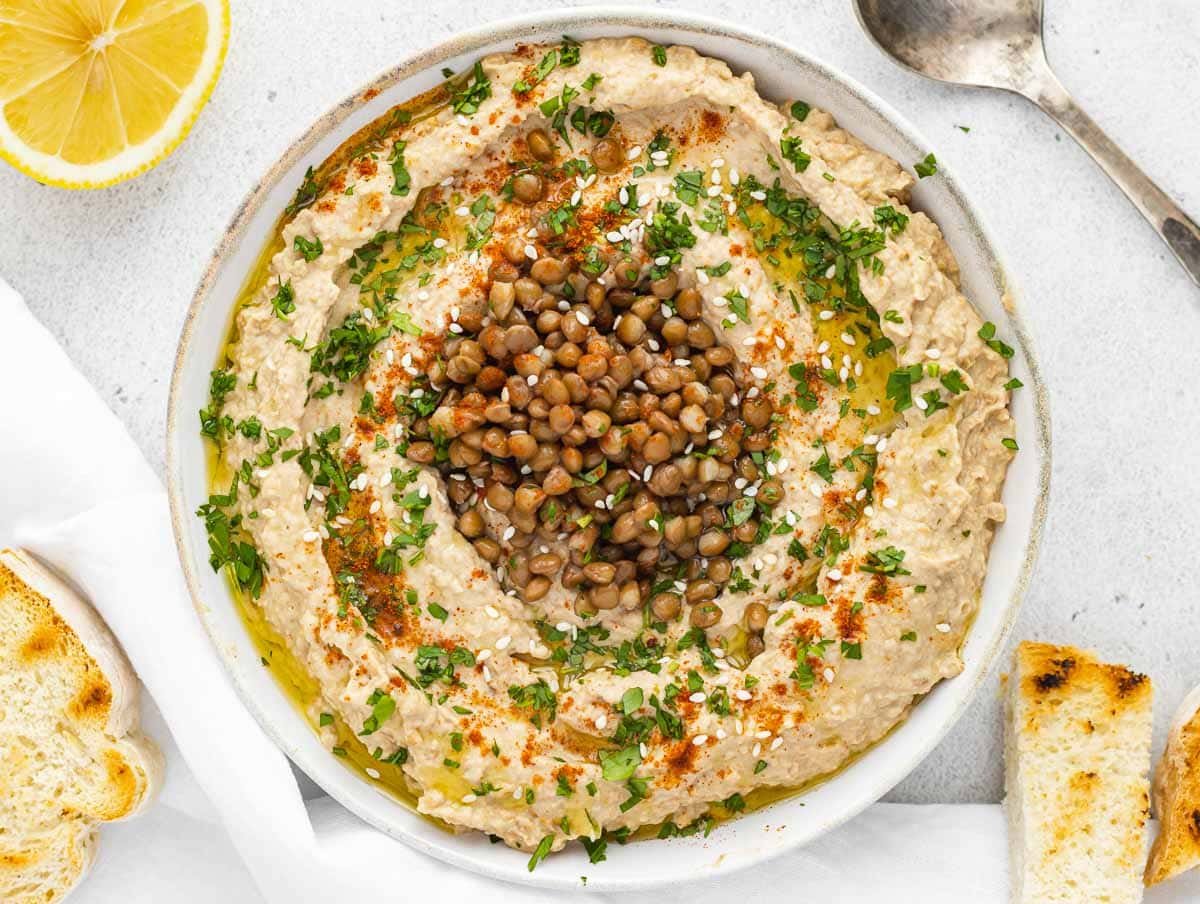 Let's explore how to cook nourishing and tasty meals with this versatile legume.
Our Best Lentil Recipes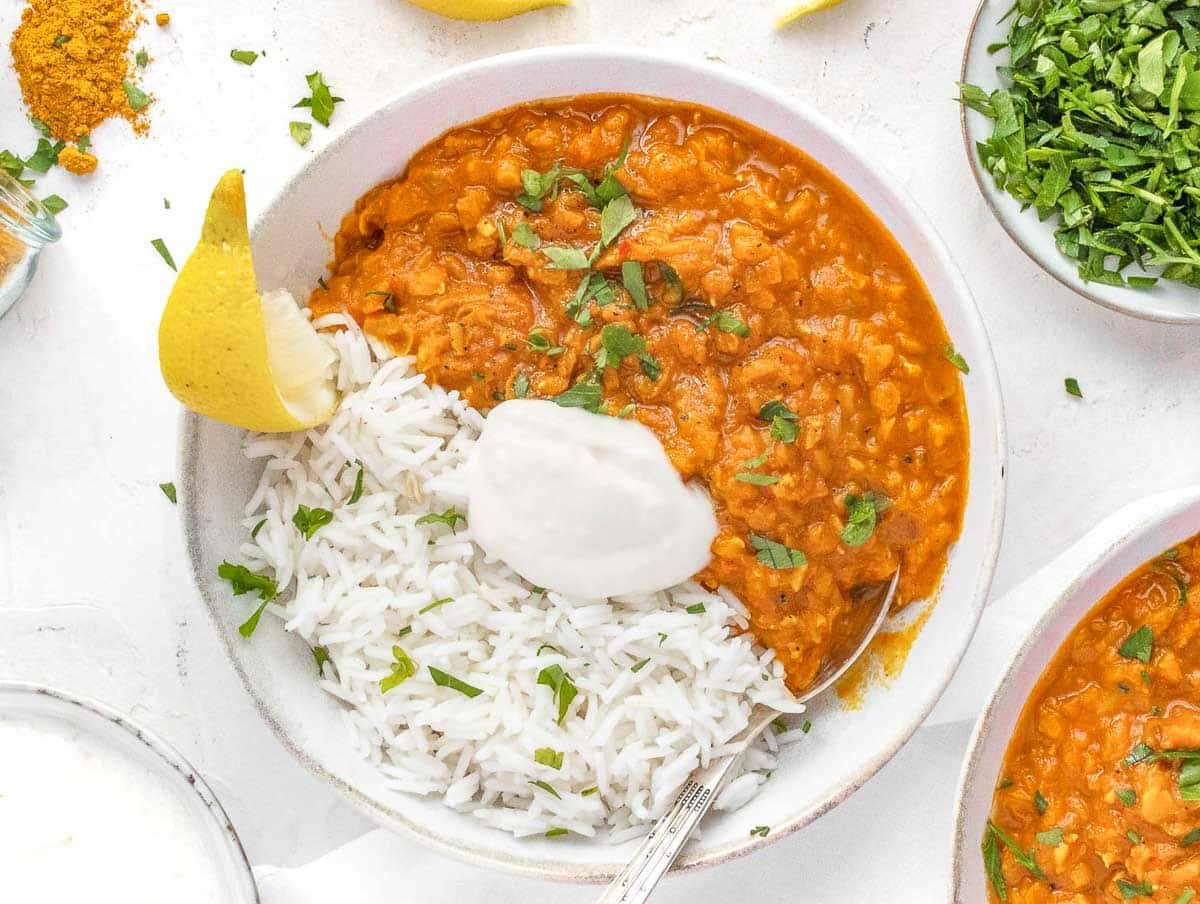 Our first lentil recipe is a creamy and rich lentil curry, a favorite dinner recipe in our home. It's ready in just 30 minutes using split red lentils, and it pairs with most veggies.
Serve your curry with white rice and lemon wedges; dinner is ready.
This rich and earthy lentil bolognese is an excellent sauce for spaghetti, lasagna, and linguine pasta.
It's plant-based, made with green or brown lentils, and a restaurant-worthy meal with authentic Italian flavor.
This lentil tabbouleh salad is a refreshing starter or side dish with added plant-based protein.
Serve as is with pita bread and hummus, and enjoy a wholesome Middle-Eastern side dish.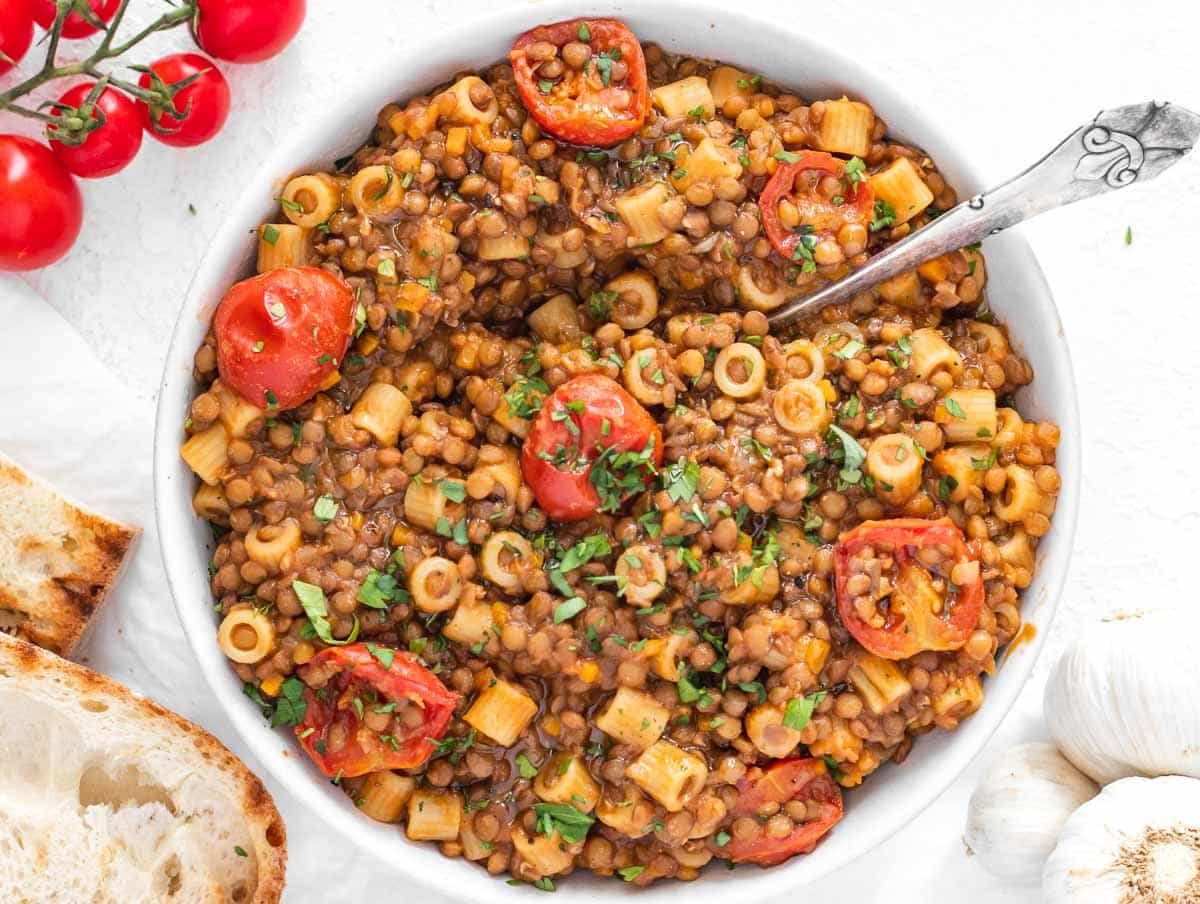 This Italian lentil pasta is perfect for a tasty and easy everyday dinner or make-ahead meal.
We use green or brown lentils to make a rich, wholesome, and satiating pasta dish. Our tip: freeze the leftovers or eat them the day after - this pasta is even more flavourful after a couple of days.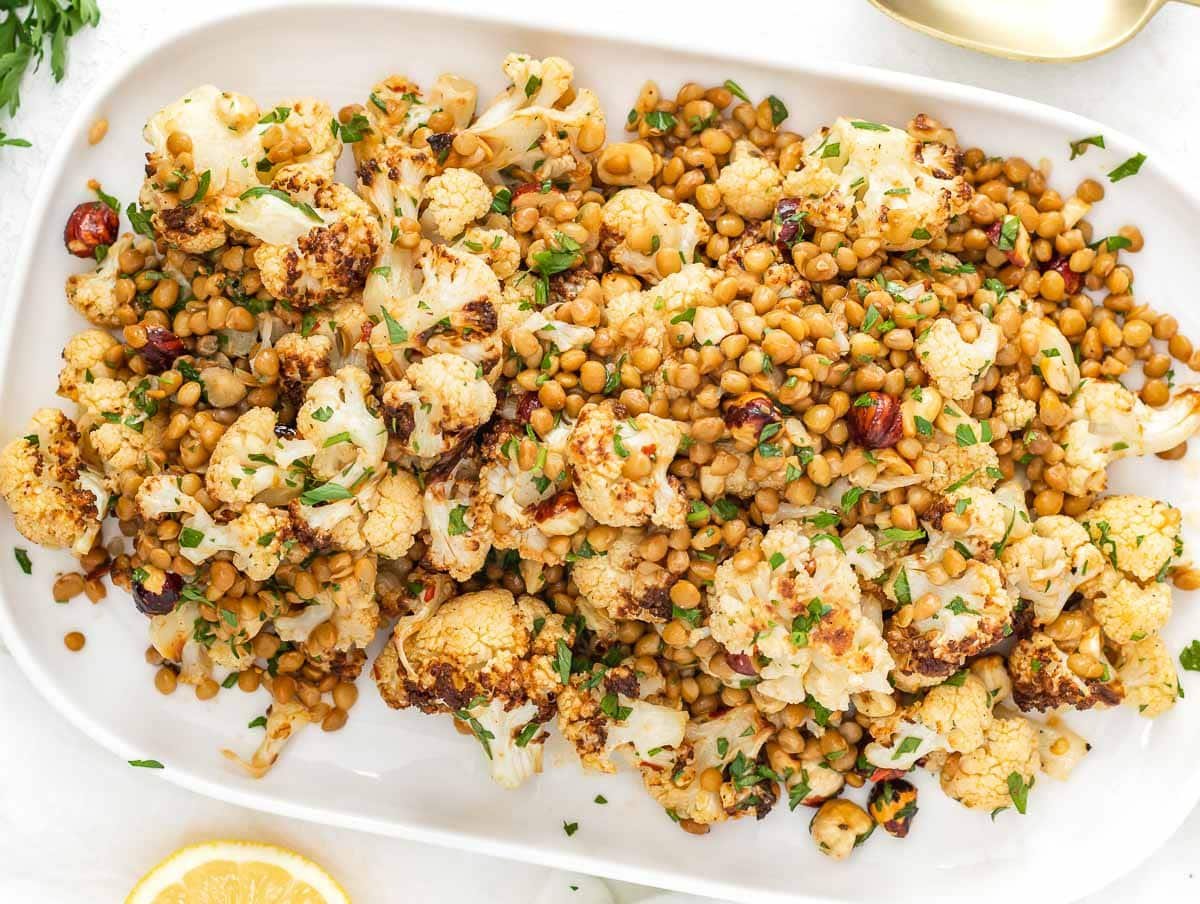 This cauliflower lentil salad is a light and refreshing way of eating lentils.
Roasted cauliflower makes the vegetable base, and we add canned lentils and drizzle with our creamy cumin dressing.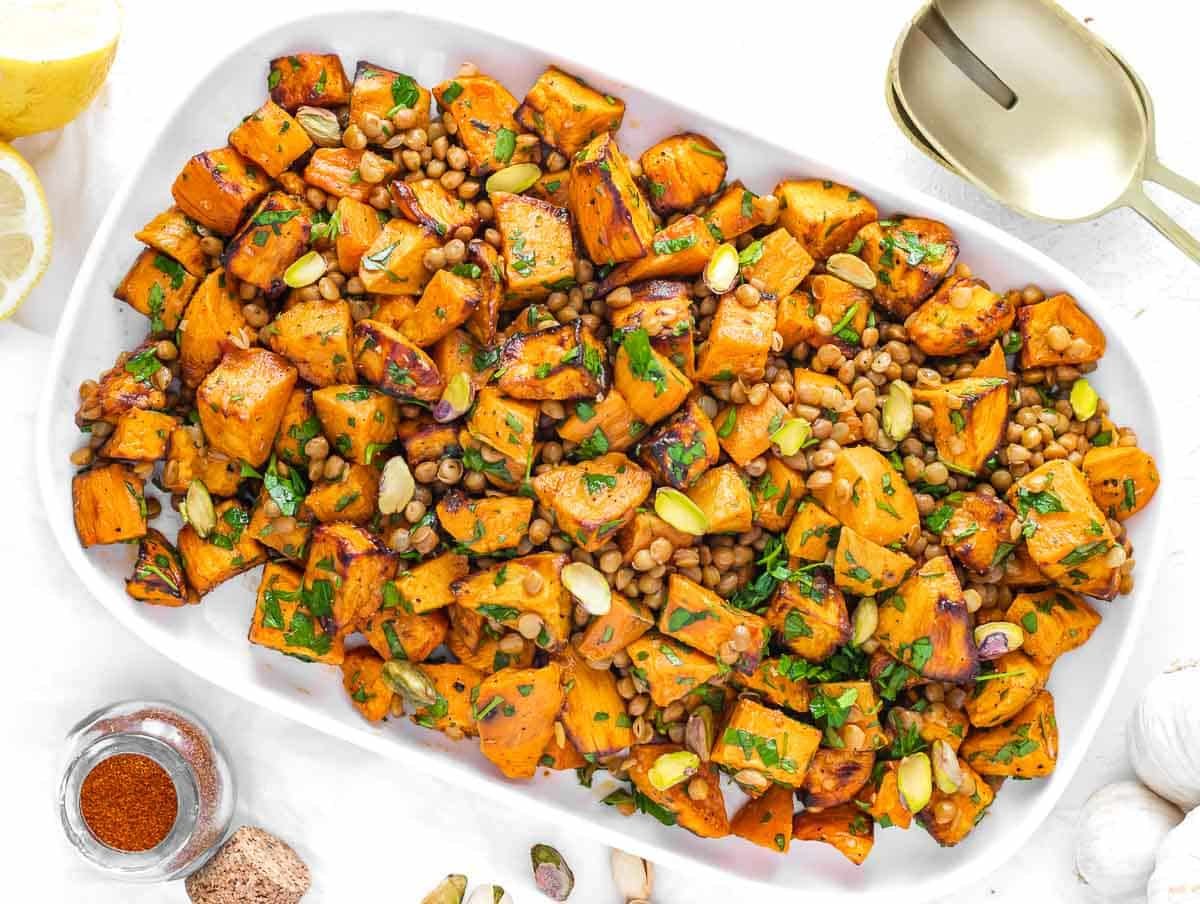 Sweet potato cubes are perfect in this colorful sweet potato lentil salad. Have it for lunch, a make-ahead dinner, or bring it to potlucks and picnics.
This is one of our favorite ways of eating canned lentils, a crowd-pleaser and family favorite.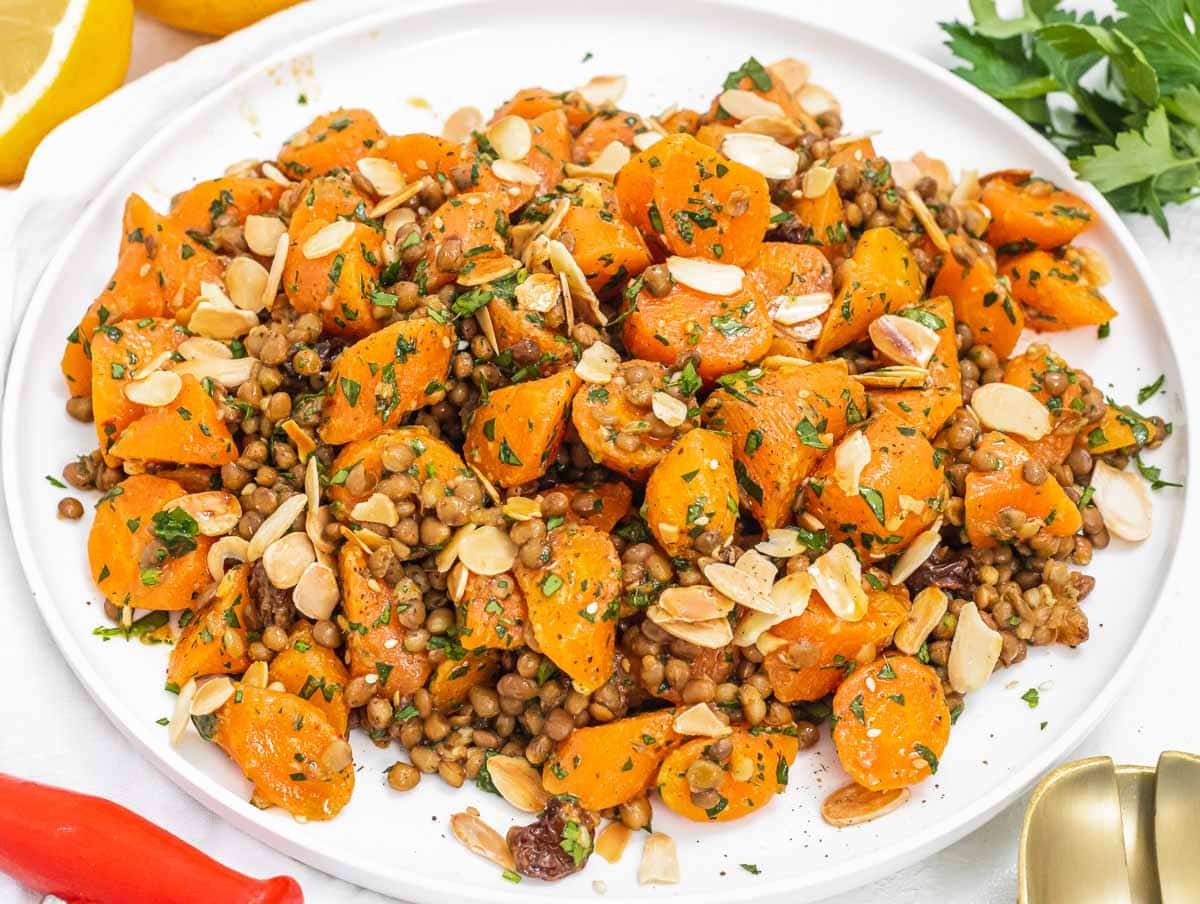 Our carrot lentil salad is a delicious and aromatic recipe with tender boiled carrots, fragrant ground cumin, canned lentils, and other simple ingredients.
It's a perfect lunch idea for school or the office and stores in the fridge in the fridge in the fridge for 3-4 days.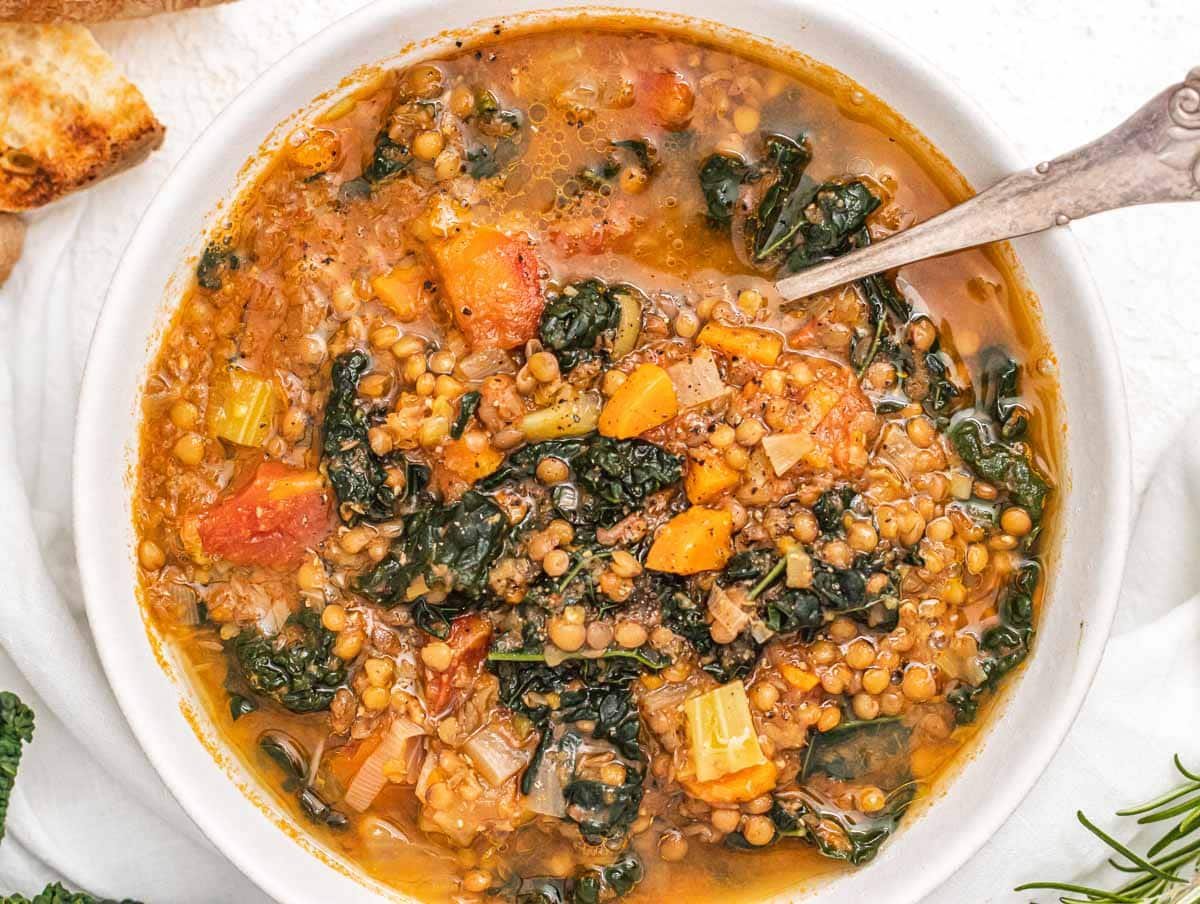 This lentil soup is perfect as an everyday dinner and a make-ahead meal, as you can store it for up to 4 days in the refrigerator and up to 3 months in the freezer.
It's made with green lentils and a one-pot method; serve it with a slice of toasted bread for a balanced protein-packed dinner.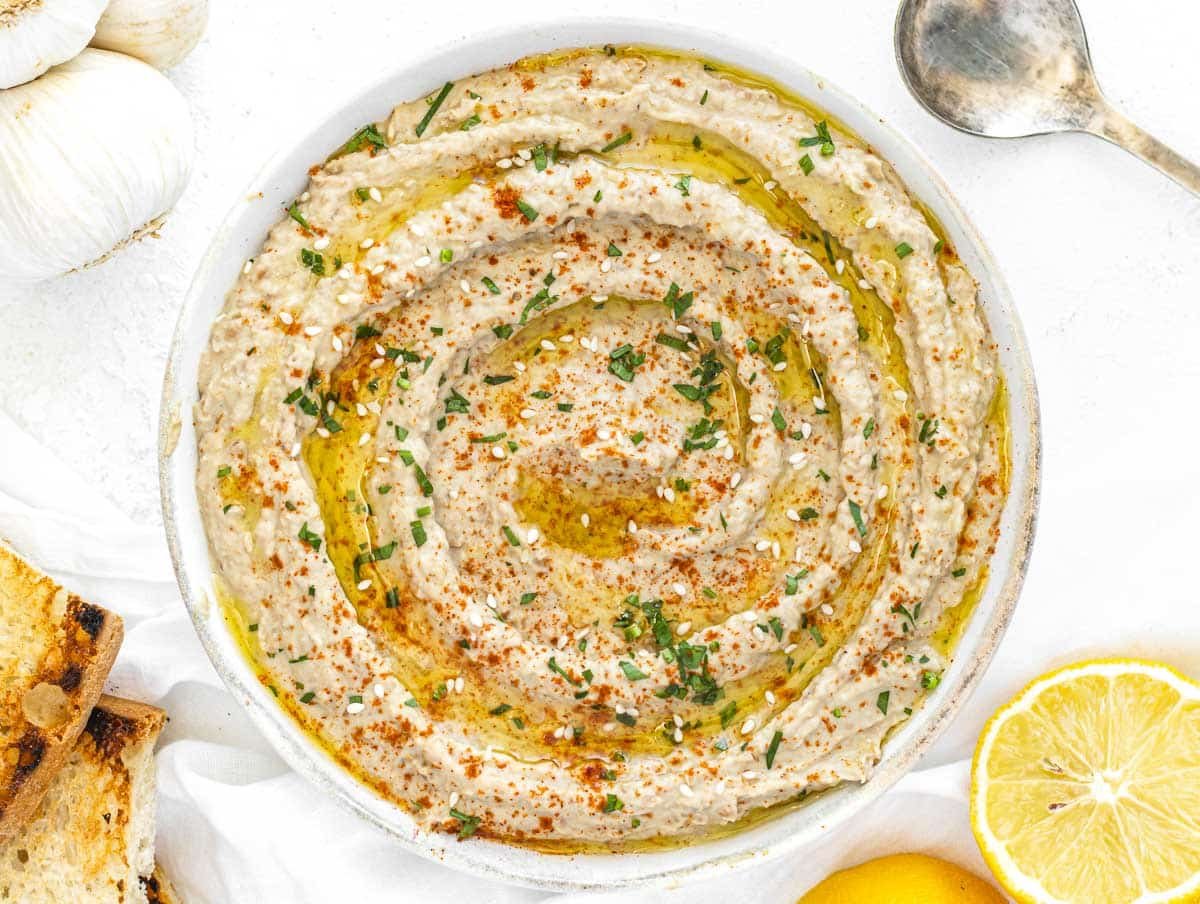 Creamy, velvety smooth, and ready in 5 minutes.
If you're looking for a dip to go with your appetizer or vary your hummus routine a little, try this easy and creamy lentil dip.
These lentil zucchini boats fall without doubt into the healthy comfort food category.
They are easy to make, nutritious, and packed with wholesome plant-based protein.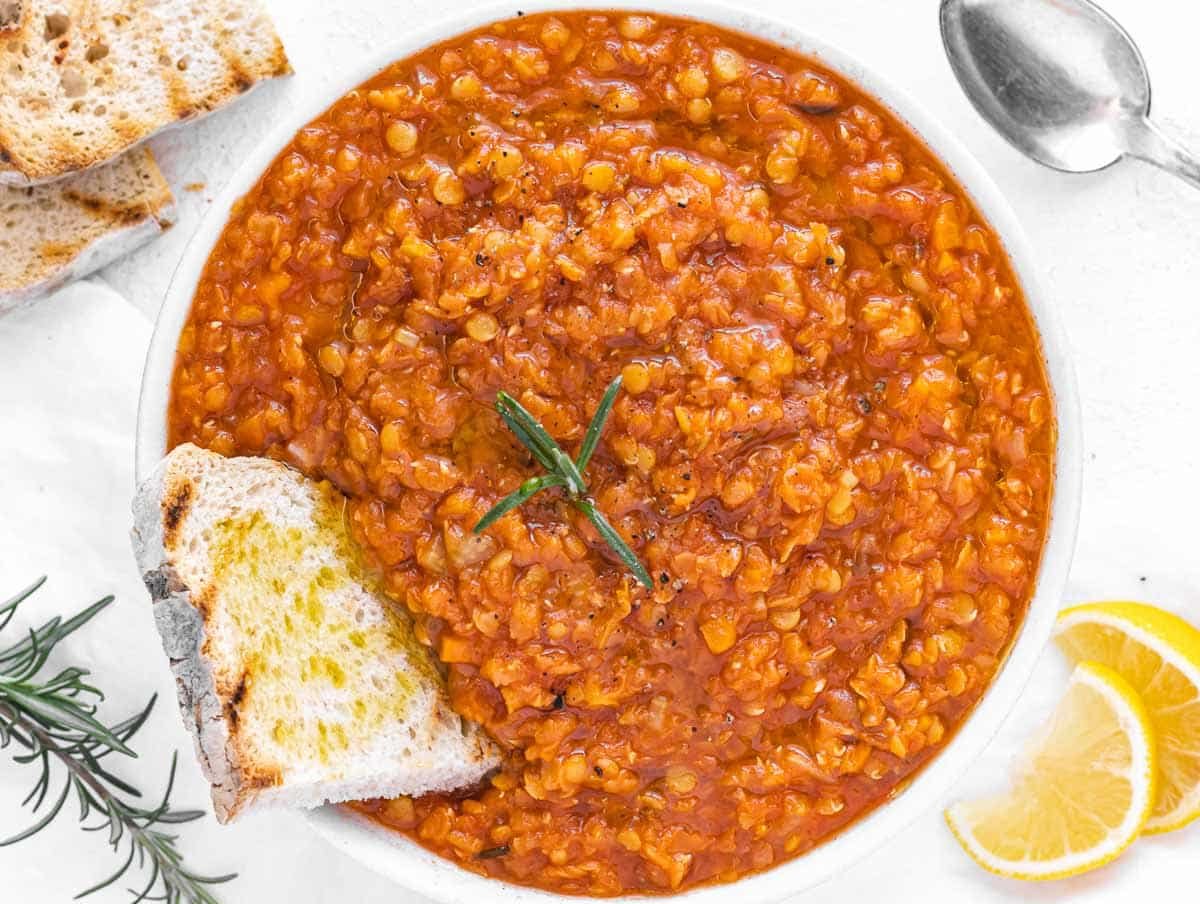 This hearty and tomato-rich red lentil soup is ourour winter weeknight favorite.
Red lentils cook in 15-20 minutes, making this homemade soup ready in 30 minutes.
Lentil, rice, and onion Mujaddara is a delicious Middle-Eastern dish seasoned with spices and caramelized onions.
Serve it as a wholesome dinner with a tahini yogurt sauce and green salad.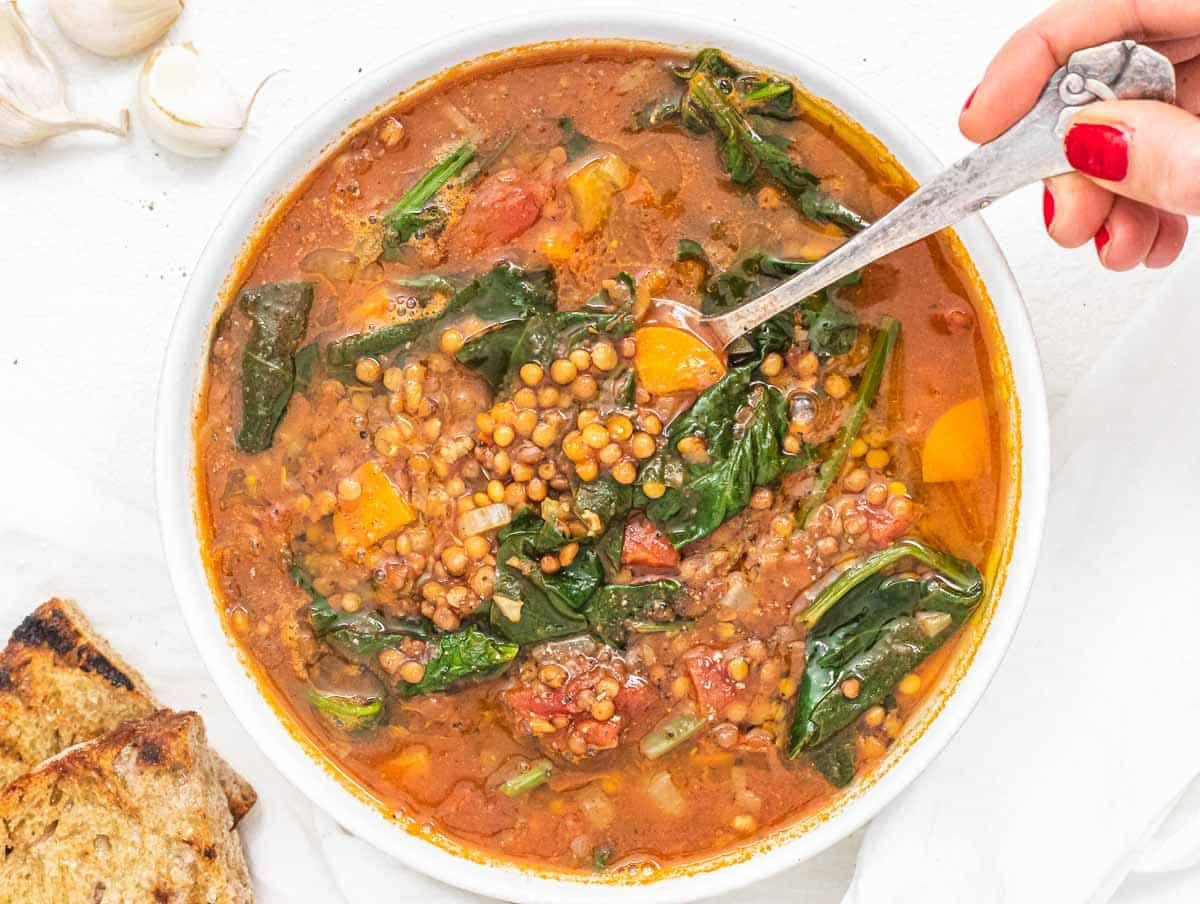 This spinach lentil soup is wholesome, hearty, and with a beautiful herby flavor.
The lentils make the dish nutritious and fulfilling, with texture, protein, iron, and heart and gut-healthy fiber. Make a big batch of the soup and store it in the fridge for up to 3-4 days for busy weeknights.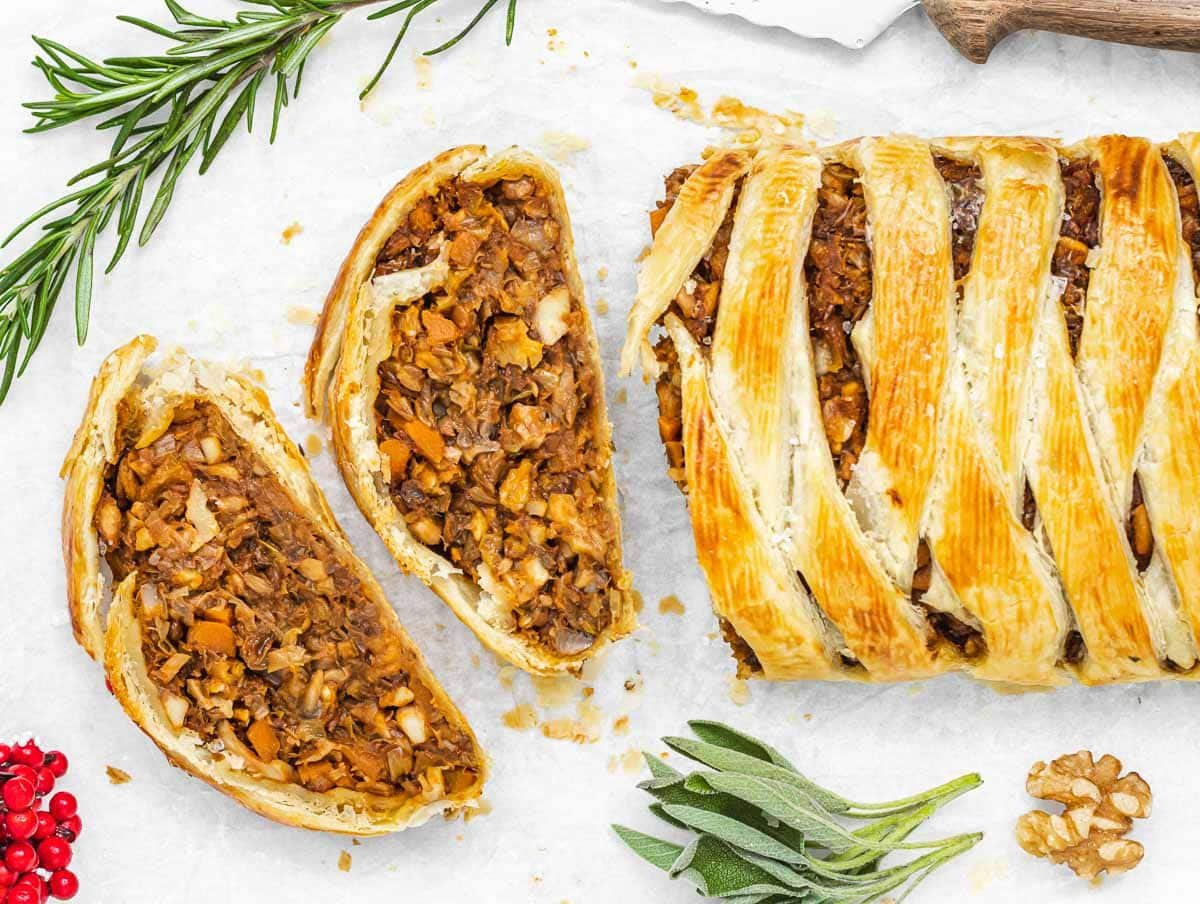 If you're looking for a tasty vegetarian centerpiece with lentils, this is our choice: lentil mushroom Wellington.
We make it with vegetables and walnuts, and It's a guaranteed crowd-pleaser when served with a creamy mushroom gravy and a side of green beans.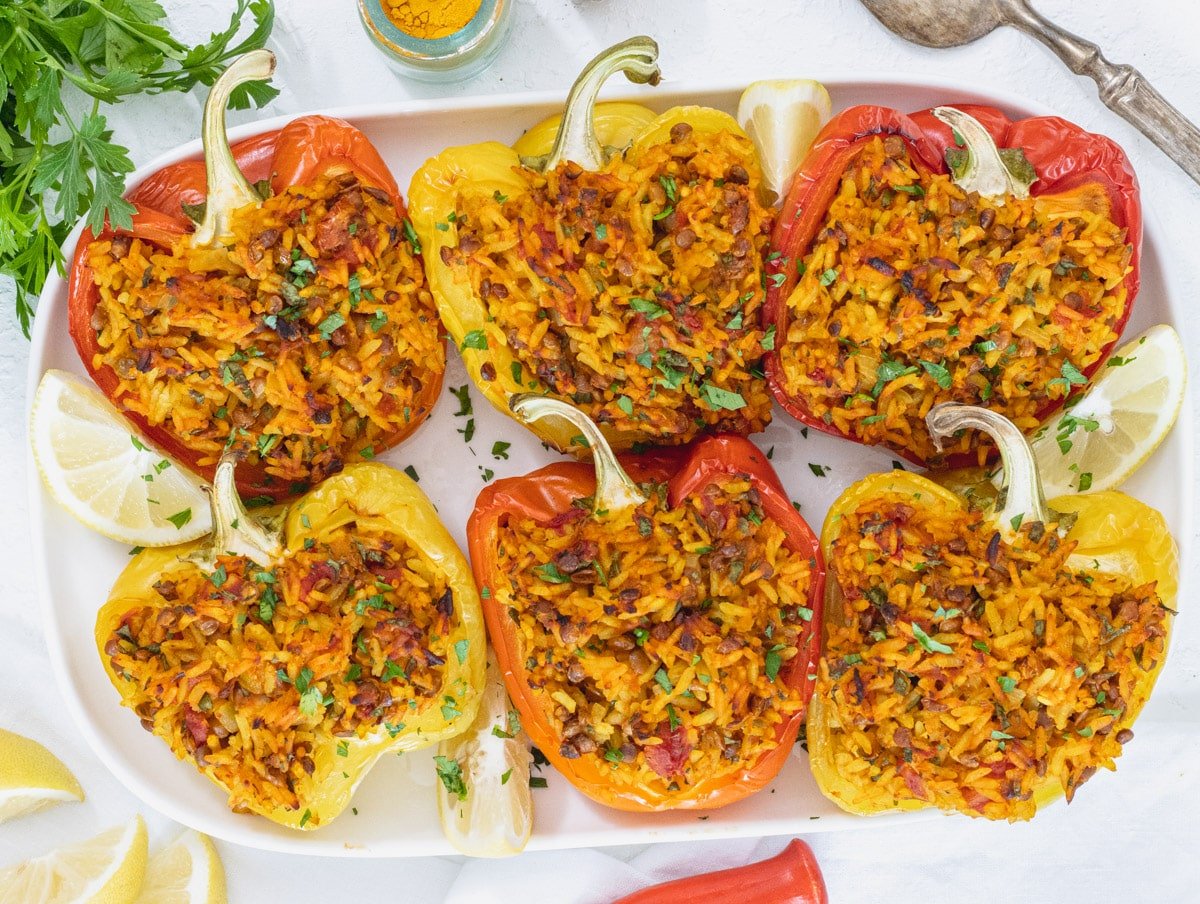 We wrap up this list with vegetarian stuffed bell pepper filling with lentils, rice, fresh herbs, and fragrant spices.
When baked in bell peppers, the filling absorbs their juices, and the combination of flavors and textures makes this recipe irresistible.
Do lentils have protein?
Yes, lentils are an excellent source of protein.
They contain about 18-25% protein by weight, making them a valuable plant-based protein source.
Including lentils in your diet can help meet your protein needs and offer additional nutrients like fiber, vitamins, and minerals.
In conclusion, lentils offer a rich and "meaty" alternative to animal-based protein. They can help you cook various meatless meals and high-protein vegetarian dishes.
More legume-packed recipes
If you're looking to incorporate more fiber-rich legumes into your diet, take a peek at these vibrant plant-based recipes:
Cauliflower salad

with chickpeas for a boost of plant-based energy to keep you full all day

long
Mediterranean farro salad with roasted veggies, chickpeas, and pistachios
Chickpea pasta salad: a quick and easy lunch idea ready in 25 minutes!
Black bean salad: Inspired by Mexican flavors, this recipe is perfect for making ahead and eating for a quick and nutritious lunch or bringing potlucks and picnics.
Italian bean stew with authentic Italian flavor, pinto beans, and tomato sauce
For many more 30-minute meal ideas, check out our 30-minute meal category page.
Recipe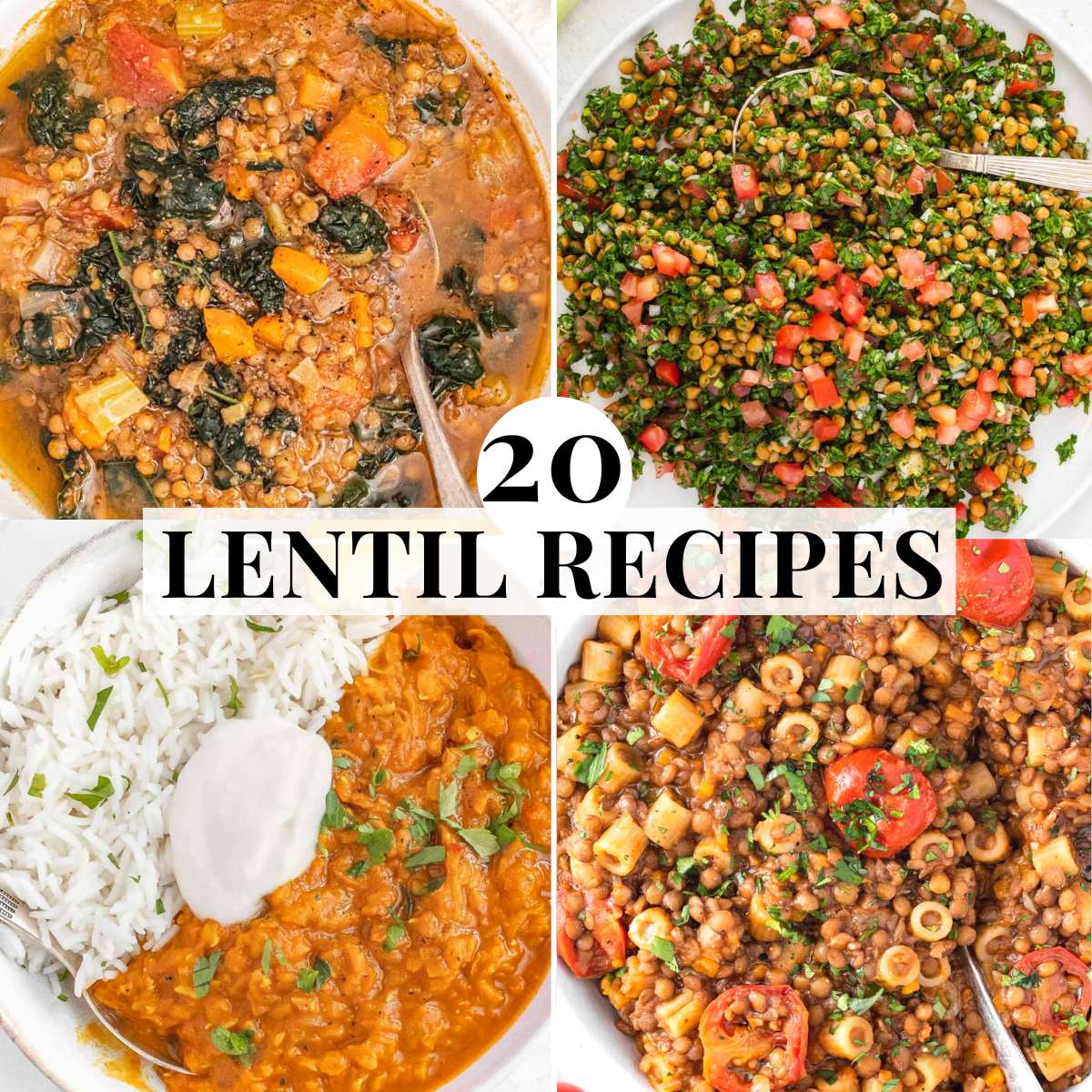 20 Best Lentil Recipes
Lentil curry is one of our best lentil recipes as it's easy to make, it can be frozen for those lazy weeknights, and it's full of flavor, vitamins, and antioxidants.
Ingredients
2

tablespoons

olive oil

1

medium

onion

2

cloves

garlic

1

inch

ginger

(optional)

2

teaspoons

curry powder

1

teaspoon

cumin

⅓

teaspoon

chili flakes

½

teaspoon

coriander

(optional)

1

teaspoon

turmeric powder

(optional)

1

teaspoon

garam masala

(optional)

½

teaspoon

pepper

1

teaspoon

salt

2

cups

vegetable stock

1

cup

split red lentils

or de-hulled red lentils

1

small can (15 ounce)

crushed tomatoes

1

small can (13.5 ounce)

coconut milk

full fat or reduced fat
Serving suggestions
4

wedges

lemon

1

handful

cilantro

or flat leaf parsley

4

tablespoons

unsweetened dairy-free yogurt

optional

2

cups

basmati rice
Instructions
To a pot add the oil and chopped onion. Gently fry the onion for 3 minutes, then add grated garlic and grated ginger and fry gently for another minute.

Turn the heat to low, then add the spices: 2 teaspoons curry powder, 1 teaspoon cumin, ⅓ teaspoon chili flakes, ½ teaspoon coriander, 1 teaspoon turmeric powder, 1 teaspoon garam masala, ½ teaspoon pepper.Toast the spices while stirring on low heat for a short minute.

Add vegetable stock, rinsed red lentils, crushed tomatoes, salt, stir and cook for about 20 minutes, or till the lentils are almost cooked.

Add the coconut milk, stir well, and finish cooking for another 10 to 15 minutes, till the curry is thicker and creamier, and the red lentils are fully cooked.

Serve the lentil curry on basmati rice with a generous squeeze of lemon juice, freshly chopped cilantro (or flat-leaf parsley) and optionally a spoonful of unsweetened plant based yogurt.
Video Recipe
Easy Lentil Curry packed with flavor
Notes
To reduce the calories in this meal you can make the curry without oil, with reduced-fat coconut milk, serve it with less rice, or just eat a smaller portion.
Nutritional Values
Nutrition Facts
20 Best Lentil Recipes
Amount per Serving
% Daily Value*
* Percent Daily Values are based on a 2000 calorie diet.
Did you like this recipe?
Leave us a comment below or find us on Instagram, YouTube, Pinterest, TikTok, and Facebook.
If you liked these lentil recipes, you might also enjoy: