Roasted bell peppers are a delicious recipe that can be served as an antipasto, a side dish, or can be used as a base for many other recipes like salads and pasta.

In this recipe, we show you the easiest and fastest method to roast, peel, and marinate your bell peppers the Italian way!
Check out our best vegetable sides recipe collection!
Roasting bell peppers in the oven is a simple, clean, and healthy way to make a juicy, and delicious vegan appetizer. We roast peppers to improve their flavor, maximize the absorption of certain nutrients like A vitamin, and make them more digestible.

Red peppers are more sweet and palatable when roasted, but you can also roast green, orange, and yellow ones. Simple veggies like this are perfect with a serving of mustard dressing or vegan pesto to make the flavor pop.
Ingredients & Substitutions
Bell peppers: we prefer red and yellow peppers for taste and color. They taste sweet and look beautiful. Any type of bell pepper will work.
Home-made marinade 1: extra virgin olive oil, balsamic vinegar, garlic, fresh basil leaves, salt, and pepper.
Home-made marinade 2: extra virgin olive oil, white vinegar, capers, parsley, garlic, salt, and pepper.
Equipment
We recommend using a baking tray with a rim as the peppers might release liquid while cooking. You can use parchment paper or a silicone baking mat to line the baking tray. Also get a glass, metal, or porcelain bowl at hand and a lid to cover the bowl.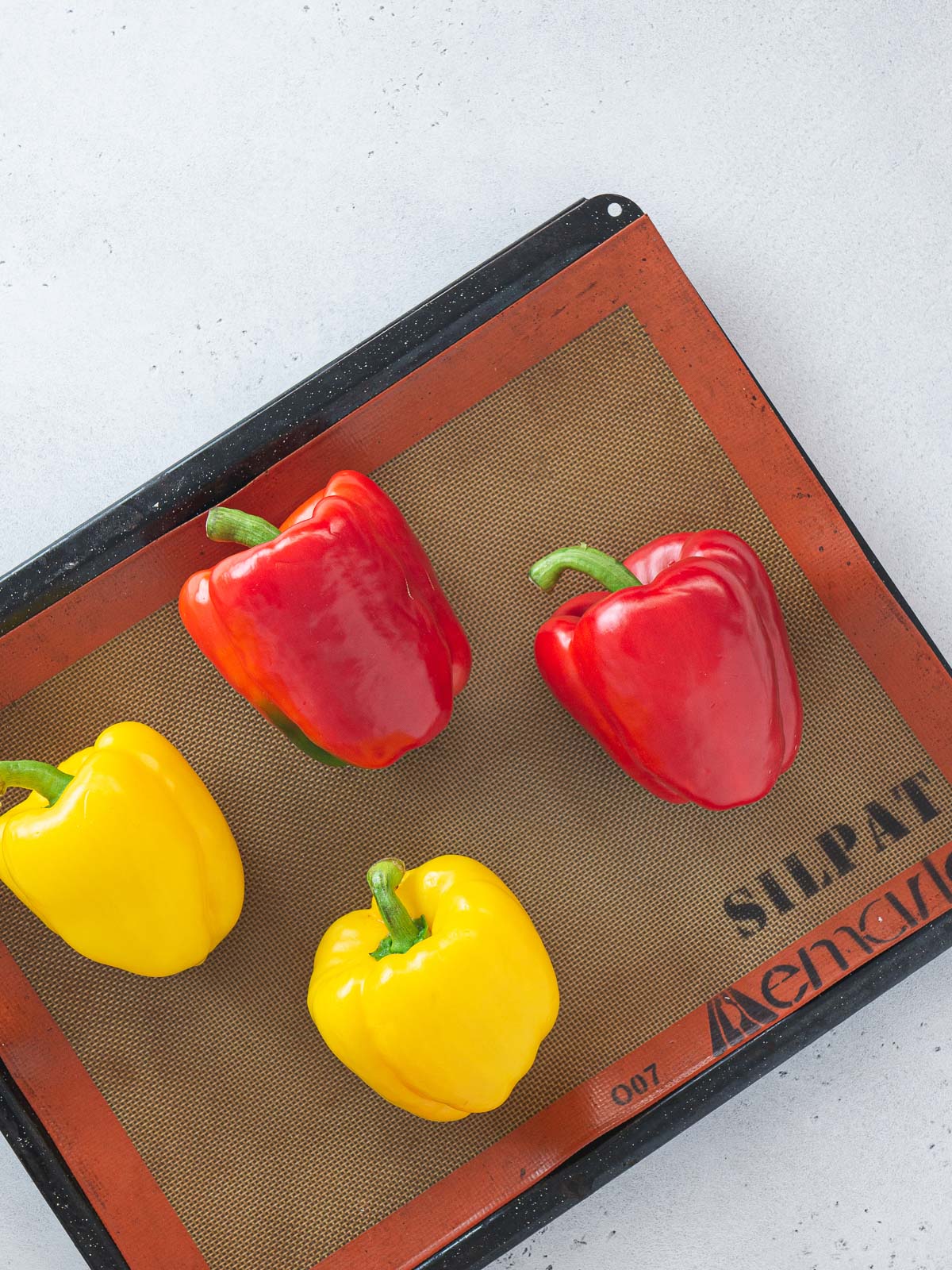 Tips
How to roast peppers
You can place your peppers in direct contact with your gas stove, fire, grill or directly on a hot pan. However, these methods are a lot messier and require much more attention on your side than baking them. You need to keep turning and flipping your peppers all the time or else they'll burn fast. Also, peeling them will be a lot harder.
In Italy, we generally bake bell peppers in a rimmed baking tray in the oven at the max temperature and let them cook for about 30 to 40 minutes.

Then let them cool down in a bowl, covered, for about 20 minutes. At this point peeling them will be very easy. All you are left to do is to season them with your favorite homemade marinade.
Cook the peppers well
Cooking your bell peppers at a high temperature until they are very soft (30 to 45 minutes) and their skin is charred is very important for two reasons. 1) they will gain the roasted flavor. 2) it will be easier to remove the peel.
Give it enough time to cool down before peeling
Putting your peppers in a bowl covered with a lid or a plate when they are straight out of the oven is very important. The heat of the peppers will create steam that will separate the skin from the flesh of the peppers.
Plastic is not necessary
Some recipes suggest putting your roasted bell peppers in a plastic bag while still hot. We do NOT recommend that for two reasons. 1) there is already so much plastic floating around the world that it is irresponsible to use plastic when not really necessary. 2) The heat of the peppers will most likely weaken the polymers of the plastic (even if the bags manufacturers say the plastic bag is suitable to take the heat). This means you'll end up eating plastic. We prefer to keep plastic out of our kitchen if we can.
Rinsing with water or not?
To keep the maximum roasted flavor avoid rinsing your peppers under running water after they are roasted. You can just scrap the peel and the seeds with a knife or with your hands. However, we still recommend quickly dipping your peppers in water to make the process of removing skin and seeds easier, and to obtain a cleaner final dish.
Crush the garlic
We recommend crushing the garlic rather than adding minced or sliced garlic to the marinade. Crushed garlic will add plenty of flavor to the peppers, but you can more easily discard it if you don't like eating it.
Let marinate
Marinating is such an important step. Let your peppers stay in the marinade for at least half an hour before serving. You can even prepare your peppers one day in advance, they will taste fantastic.
Serve at room temperature
If you store your Italian roasted peppers in the refrigerator then make sure to take them out and let them be at room temperature for about 30 minutes before serving. Like with tomatoes, serve peppers at room temperature as the cold will reduce their flavor.
Frequently asked questions
Are roasted bell peppers healthy?
Peppers are one of the healthiest vegetables around. They are rich in A, B6, and C vitamins - much more than oranges or carrots. Roasting the peppers will still give you plenty of C vitamin and will increase the absorption of the A vitamin.

We recommend oven-roasted peppers because cooking in the oven is healthier than cooking directly on an open flame or grill. This is because open flame and grill can create more burned compounds like benzopyrene (the stuff you find in cigarette smoke) that will end up in your food - and that's not healthy.
Should you peel roasted peppers?
Yes, we recommend peeling them as they'll be yummier and easier to digest. Also, the skin will often be burnt, so you should remove it.
What is the difference between red peppers and green peppers?
Red, green, yellow, and orange bell peppers are all the same type of pepper but just at different stages of ripeness. Green peppers are unripe, and red are fully ripe, with yellow and orange in between the two.

As the peppers age and ripen their taste, their health benefits change too. Red peppers are the sweetest and the richest in nutrition as they hang on the vine the longest.

Green peppers are harvested earlier before they have a chance to turn yellow, orange, and then red. Compared to green bell peppers, the red ones have almost 11 times more beta-carotene and 1.5 times more vitamin C.
Variations
Italian style marinade: while we prefer our peppers with a basil marinade as described in this recipe, the most common way to marinate roasted peppers in Italy is with flat-leave parsley marinate. Mix together 6 tablespoon extra virgin olive oil, 3 tablespoon white vinegar, 1 tablespoon capers, 1 handful of chopped parsley, 2 crushed garlic cloves, salt and pepper to taste.

Asian Style Marinade: mix together 2 crushed cloves of garlic, 10 mint leaves, a small handful of chopped coriander, 2 tablespoon of peanut oil, 4 tablespoon of soy or tamari sauce, 1 tablespoon toasted sesame oil, 1 tablespoon lime juice, 1 tablespoon of agave syrup or maple syrup.

Greek Style Marinade: mix together 2 crushed cloves of garlic, 6 tablespoon greek extra virgin olive oil, 3 tablespoon white wine vinegar, juice of half a lemon, a big handful of chopped parsley, 10 leaves of chopped mint, 1 teaspoon of Greek dried oregano, salt, and pepper to taste.
Storage
You can store fully seasoned roasted bell peppers in the refrigerator for about 4 to 5 days. Put the in a bowl and cover them with some extra olive oil. Let them out of the fridge at room temperature for about 30 minutes before serving them.

You can also freeze roasted bell peppers, however in this case we recommend not marinating the peppers as the marinade doesn't freeze super well. All you need to do is to roast, peel and seed the peppers, then place them in a bowl or container suitable for freezing, write the date on the container, and freeze for up to three months.

To defrost them, take them out of the freezer, then let them defrost slowly in the refrigerator (not at room temperature as this will foster bacterial growth on the surface of the peppers). Once completely thawed, you can proceed with the marinade as described in the recipe above.
Similar recipes
If you love roasted peppers, or you're trying to increase your veggie intake a little, take a look at these healthy sides:
For many more side dishes ideas, check out our sides category page.
Recipe
How to roast bell peppers
Roasted bell peppers are a delicious recipe that can be served as antipasto, side dish, or can be used as a base for many other recipes such as delicious orzo salad with roasted vegetables, or a pasta with a bell pepper cream.
Ingredients
4

bell peppers

5

tablespoon

olive oil

extra virgin

3

tablespoon

balsamic vinegar

16

leaves

basil

2

cloves

garlic

1

pinch

salt & pepper

to taste
Instructions
Preheat the oven to 480˚F (250˚C). In the meantime, wash your bell peppers and place them on a baking tray lined with a silicon baking mat or some parchment paper.

Bake in the oven for about 30 to 40 minutes. The peppers should be very well cooked and slightly burned on the outside.

Straight out of the oven, put the peppers in a glass, steel or ceramic bowl. Cover the bowl with a well-fitted lid and let cool down for 20 to 30 minutes. The aim is to create a steam room for the peppers. The steam will help you take the peel off of the peppers. NB: don't put the peppers in a plastic bag. With the heat of the peppers, the plastic might release micro-particles that will end up in your food.

With your hands, remove the peel off of the peppers. If you followed the steps above, peeling will be very easy and satisfying.

After removing the peel, quickly rinse your peppers in water to remove small pieces of peel and the seeds. You can do this under running tap water, or in a bowl filled with water, but remember that the more you rinse, the more flavour you take away. So keep the rinsing to a minimum.

Cut the peppers into stripes. The width is up to you. Arrange the peppers on a plate or in a bowl and start seasoning with olive oil, balsamic vinegar, basil leaves, crushed garlic cloves, fine sea salt, and freshly ground black pepper. Spread the seasoning around with your fingers.

Before serving, let the peppers marinate for at least 20 minutes. You can prep your peppers several hours in advance if you want, or even the day before. If you do so, let them marinate in the refrigerator and take out 20 minutes before serving.
Nutritional Values
Nutrition Facts
How to roast bell peppers
Amount Per Serving
Calories 205
Calories from Fat 162
% Daily Value*
Fat 18g28%
Potassium 277mg8%
Carbohydrates 10g3%
Protein 1g2%
Vitamin A 3832IU77%
Vitamin B6 1mg50%
Vitamin C 153mg185%
Vitamin E 4mg27%
Vitamin K 25µg24%
Calcium 18mg2%
Folate 56µg14%
Iron 1mg6%
Manganese 1mg50%
Magnesium 17mg4%
Zinc 1mg7%
* Percent Daily Values are based on a 2000 calorie diet.
Did you like this recipe?
We are not much on Instagram, Facebook, and Pinterest. Leave us a comment below instead, it would mean the world to us 🙂
If you liked this recipe, you might also like: