Welcome to a list of healthy soup recipes with rustic flavors, vibrant colors, and nourishing ingredients.
We invite you to explore a world where vegetables take center stage and creamy indulgence meets wholesome goodness.
Our soup recipes feature colorful vegetables that enhance the visual appeal of your meal and provide a variety of vitamins, minerals, and antioxidants.
Whether you're seeking protein-packed lentil soups to refuel after a workout or a zesty Asian-style soup to invigorate your taste buds, these recipes will keep you happy and energized.
Let's get cooking!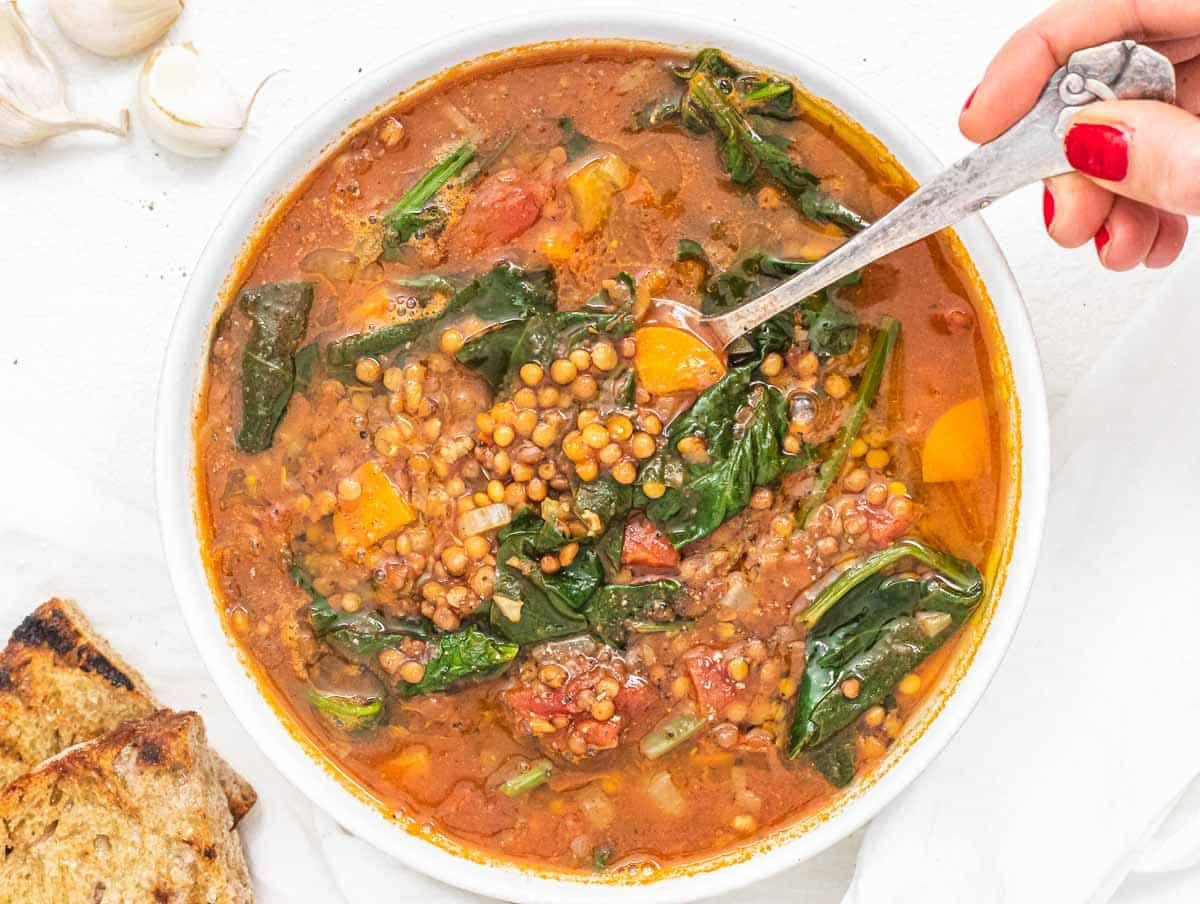 We start this list with a healthy lentil vegetable soup with spinach, tomatoes, and cumin.
It's a 30-minute dinner idea with vitamins, minerals, and fiber that can help promote digestive health and support overall well-being.
Black beans are rich in fiber and protein and provide a hearty essence to soups while providing sustained all-day energy.
The black beans add a bold, earthy, and almost meaty flavor, and they pack the recipe with protein and antioxidants that will make you feel nourished and healthy.
Indulge in this comforting potato leek soup, made a little lighter with a dollop of Greek yogurt instead of sour cream.
The wholesome twist of yogurt adds tanginess to your soup and transforms it into a light, healthy dinner option. It pairs perfectly with a slice of toasted sourdough bread on the side.
If you ever wondered how to use white beans in a soup, here is your answer: rustic Tuscan bean soup with Italian herbs.
Use kale, chard, and savoy cabbage as leafy greens, and cook it in less than 45 minutes to store it in the refrigerator for several days.
Broccoli is a fiber-rich and healthy ingredient for a creamy soup. This vibrant green dish is tasty and nourishing without adding cheddar or cream.
With only seven ingredients and in about 30 minutes, you can make the best broccoli soup you've ever had.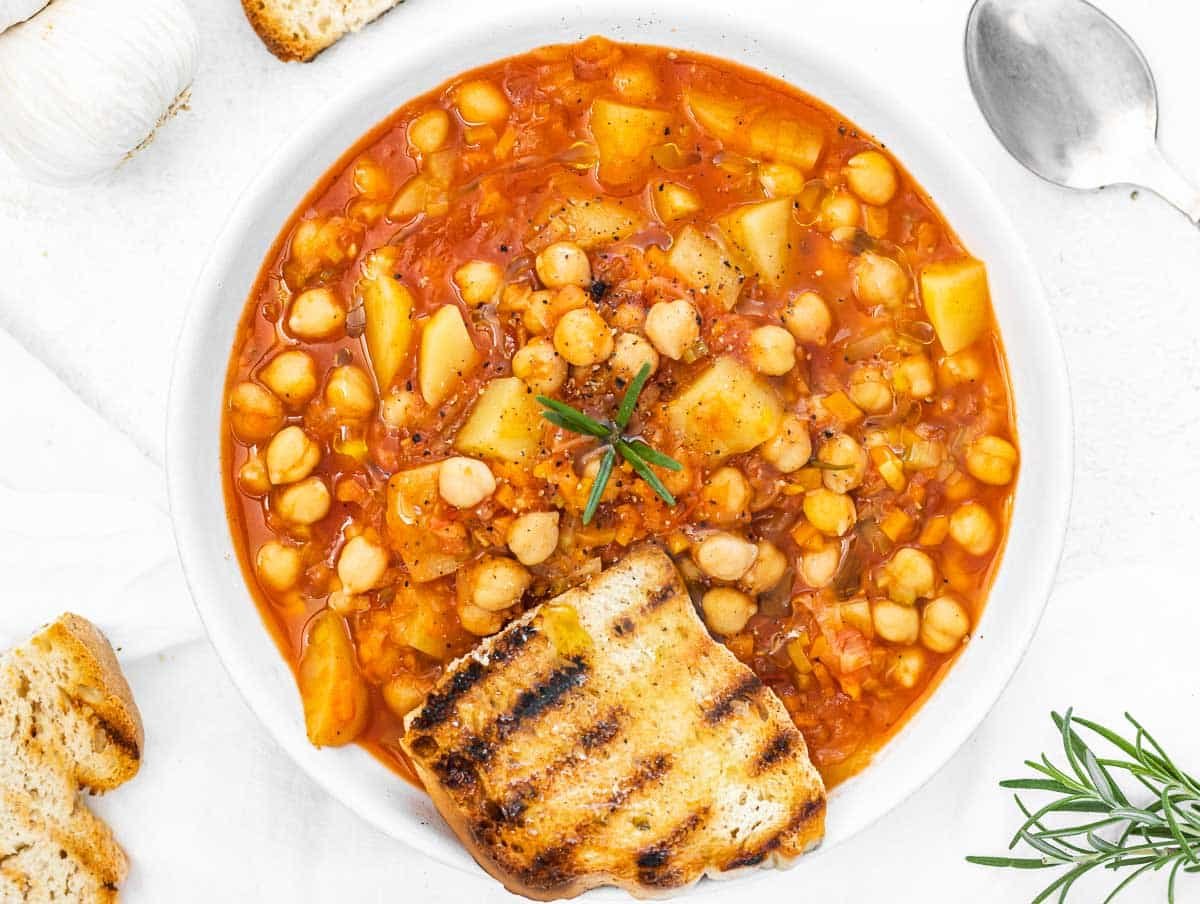 Make a healthy, tasty soup in 30 minutes with canned chickpeas, tomato puree, and fresh thyme.
Our chickpea soup recipe is rich in fiber, plant protein, heart-healthy fats, and antioxidants from rosemary and vegetables.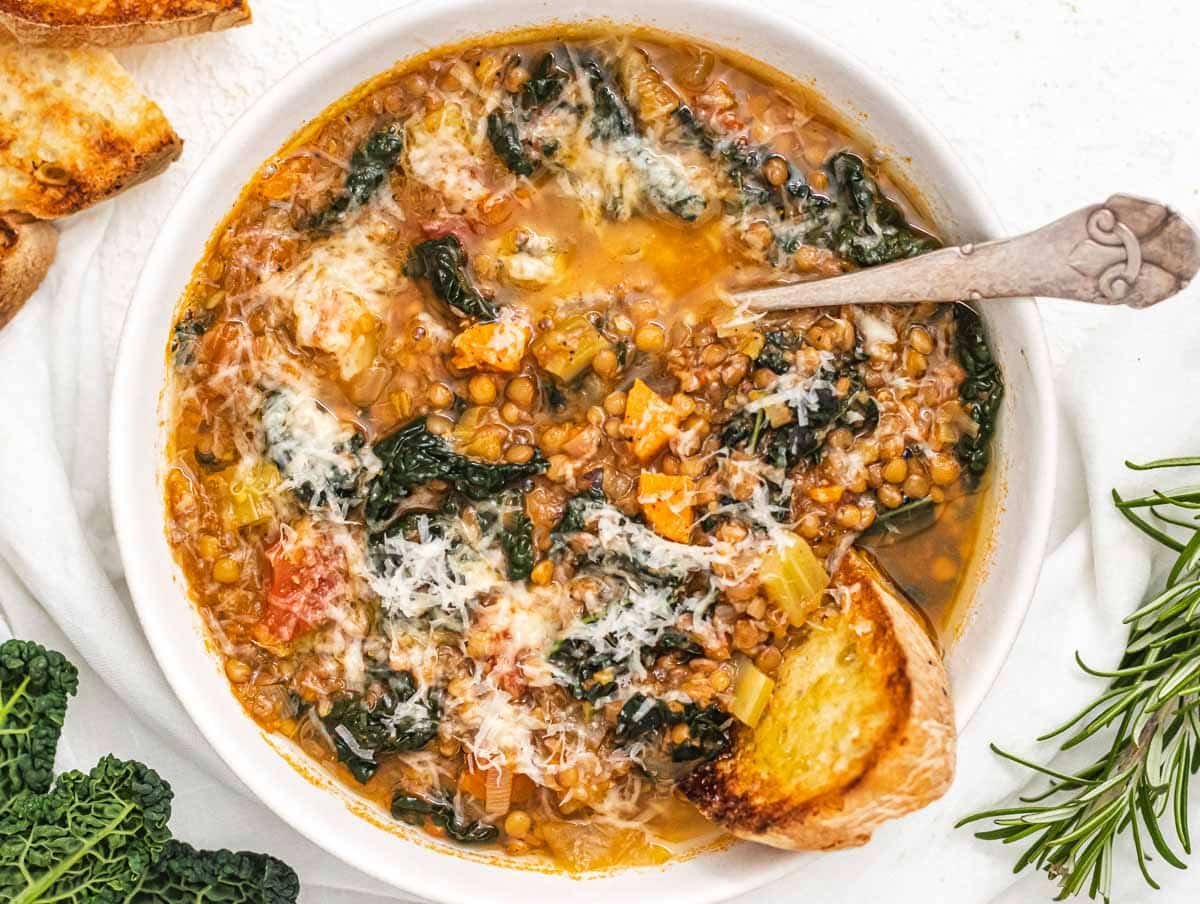 Italian lentil soup is a creamy, hearty, and comforting meal that is easy to make and perfect to make ahead.
You can serve it with a slice of toasted bread and grated parmesan on top or leave the dairy out; it's still outstanding and excellent as a vegan lentil soup.
Split peas are a healthy legume and one of the cheapest sources of protein
This split pea soup with spinach takes little time, especially compared to other legumes, and tastes delicious. Make it in approximately 45 minutes, and enjoy a delicious, nutritious, easy weeknight meal.
Here is how to make a healthy soup with carrots and ginger. Carrot soup is easy, creamy, tasty, and warming, thanks to roasted carrots, ginger, and cumin.
It's perfect as a delicious appetizer, a healthy dinner, or to make ahead for a quick and nourishing lunch.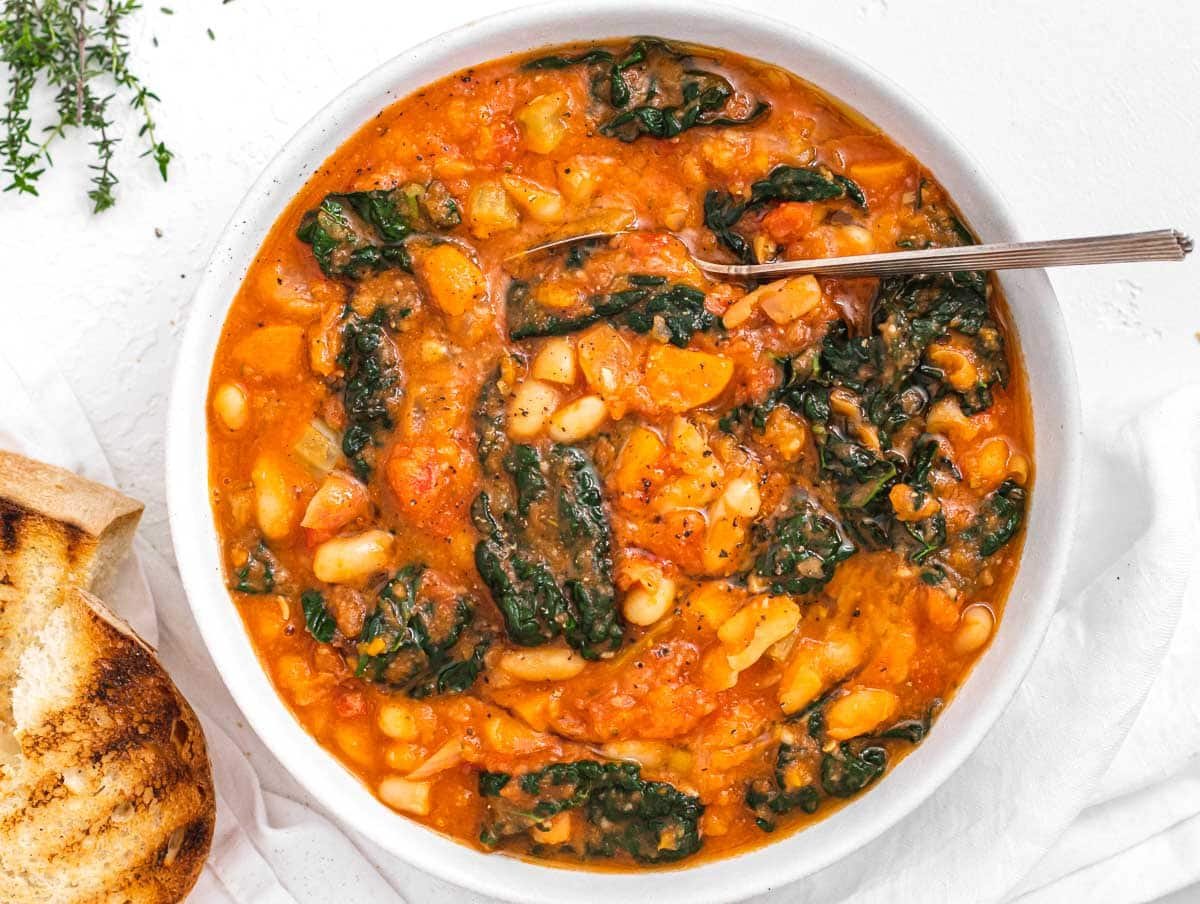 Leafy greens and beans are an excellent combination of whole food and a healthy soup dinner.
Kale is a superfood; when you mix it with nutritious white beans, veggies, and herbs, it is the best remedy against winter blues and cold winter days. 
We use no butter or cream for this velvety, creamy asparagus soup. Instead, we add frozen green peas for extra protein and thickness.
Serve this spring-friendly soup with croutons, focaccia, and gremolata for guests you want to impress.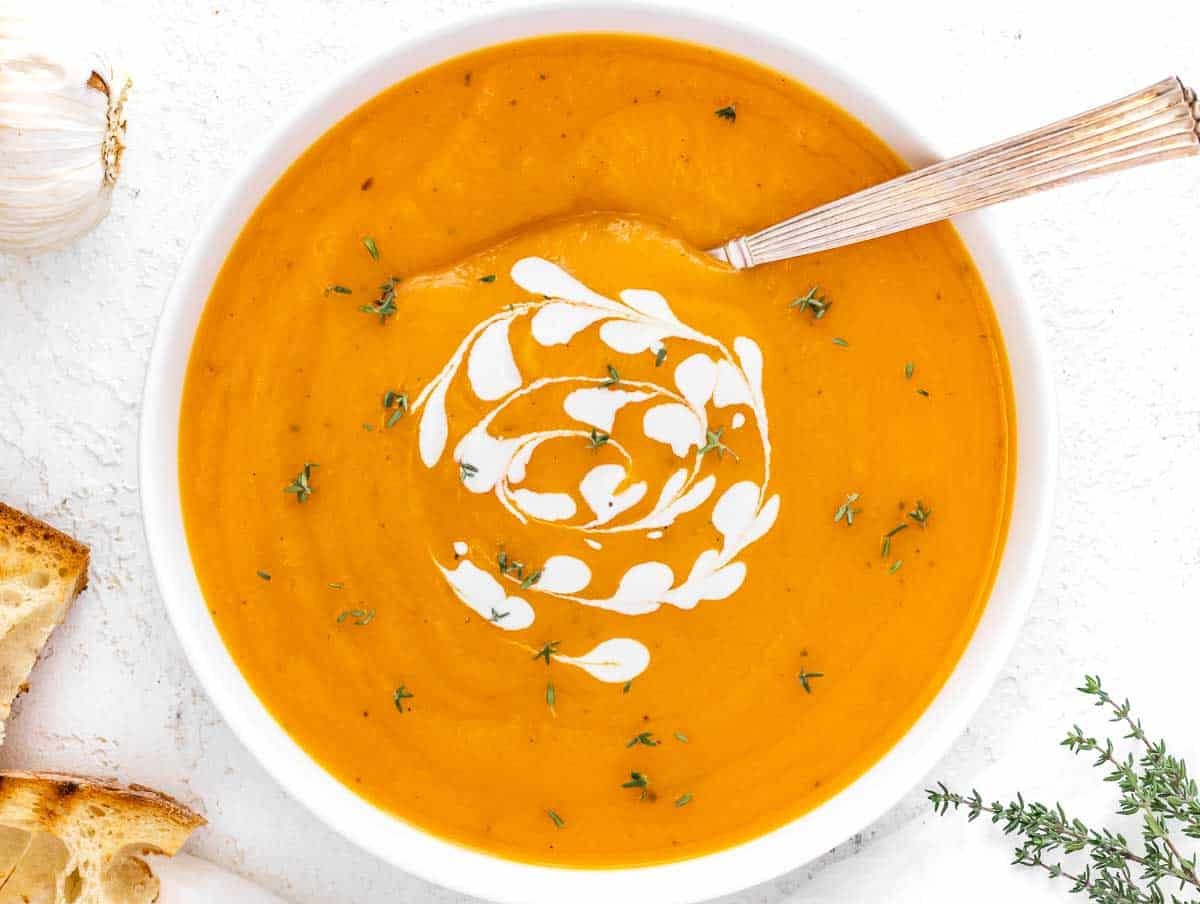 Here is how to make a healthy roasted butternut squash soup at home. It's easy, wholesome, and a much better result than the ultra-processed store-bought version.
With our "bake and blend" technique, you can make this recipe with minimal effort and maximum flavor.
A homemade cauliflower soup is an easy way of incorporating more veggies into your diet as it's quick to make and tastes delicious.
This soup has a creamy, buttery texture and a mellow nutty and cheesy taste, although there's no cheese in it.
You'll love this Asian-inspired tofu soup because it's tasty, very healthy, and balanced with protein, vegetables, and fats.
It's also fast, easy, customizable, simple to make gluten-free if needed, and perfect as an everyday meal.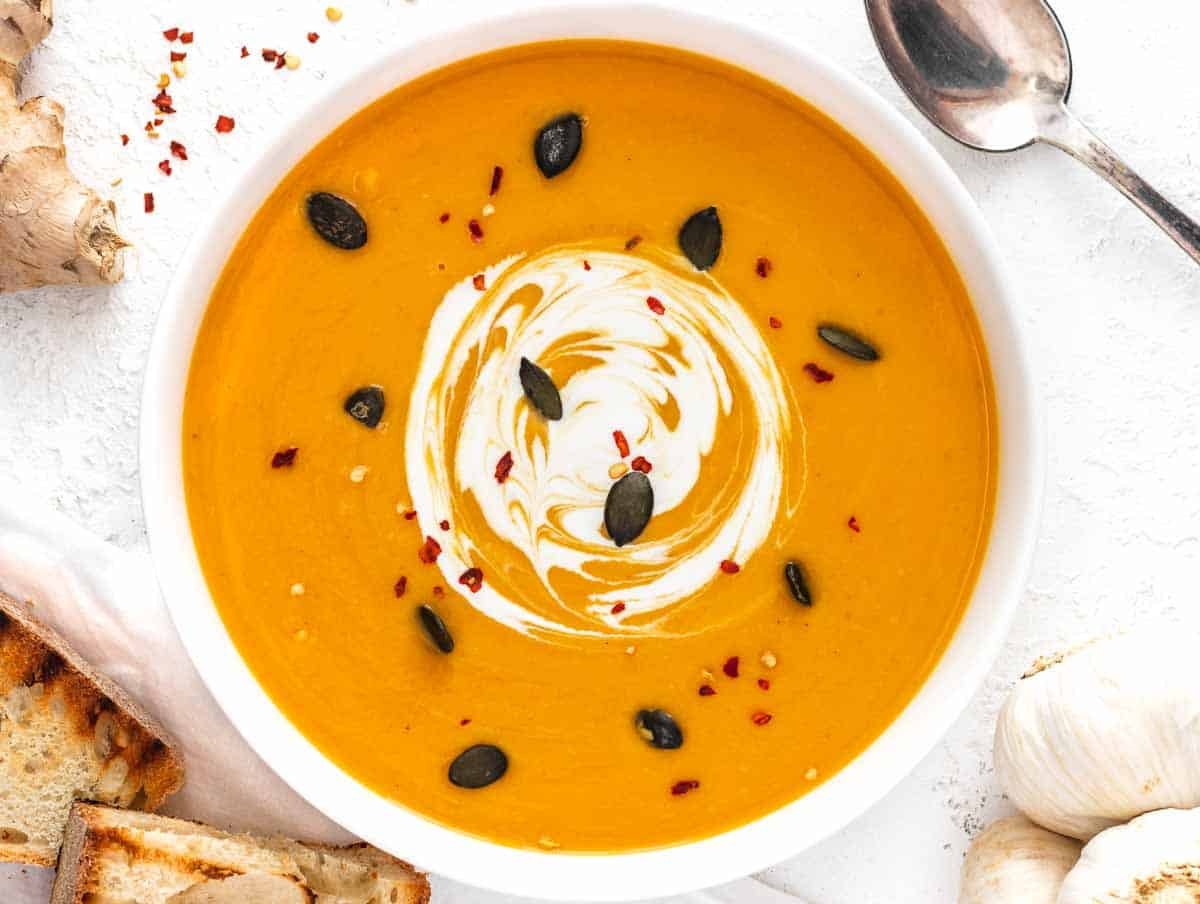 Sweet potatoes make soups creamy, delicious, and cozy.
Make this sweet potato soup for a family dinner, a colorful appetizer, a delicious main, or a tasty side dish. It's a wholesome and dairy-free soup dish for the whole family.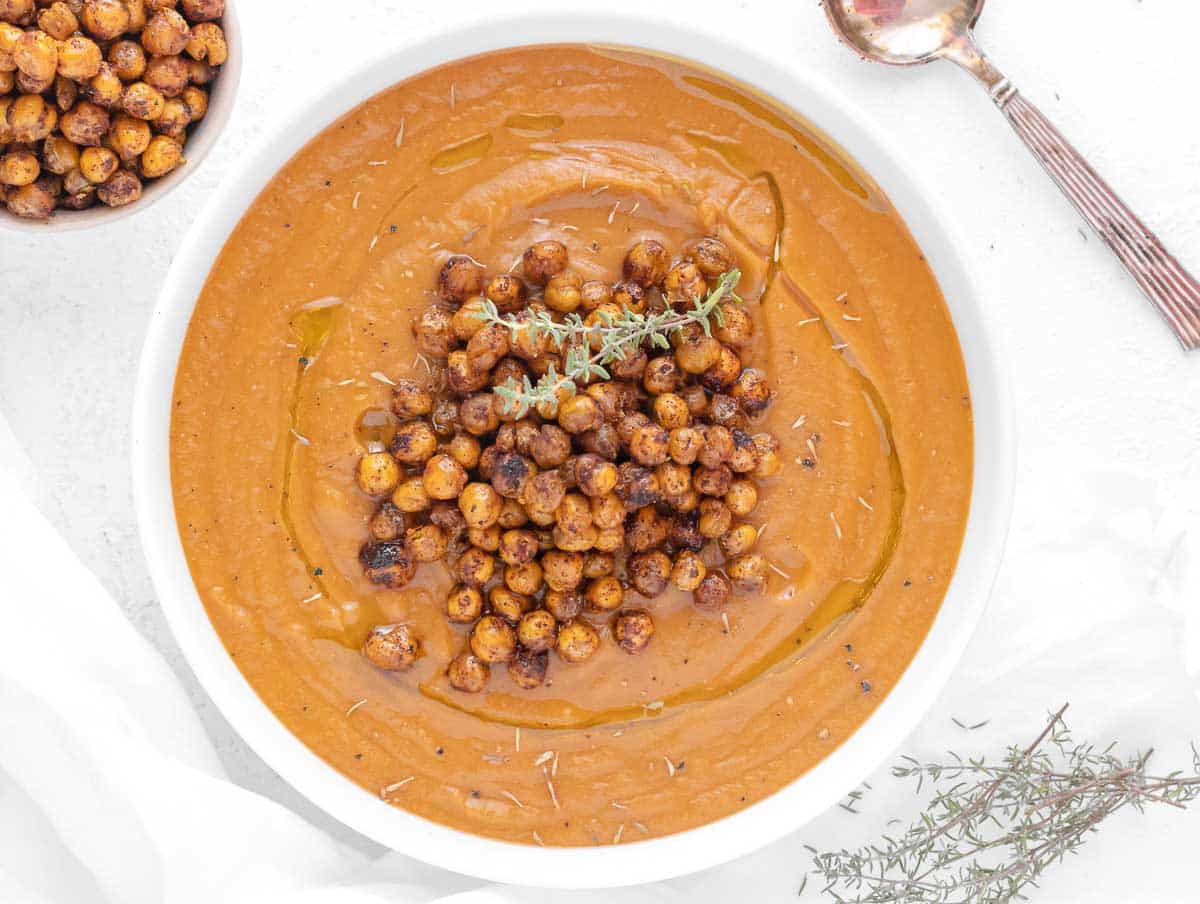 Eggplant soup is an excellent healthy dinner idea as it's easy to make, light, smooth, nutritious, tasty, and versatile.
We make it by roasting eggplants, tomatoes, and garlic in the oven until soft and slightly caramelized. Once blended, it's an Italian-inspired soup that is light in calories and rich in flavor.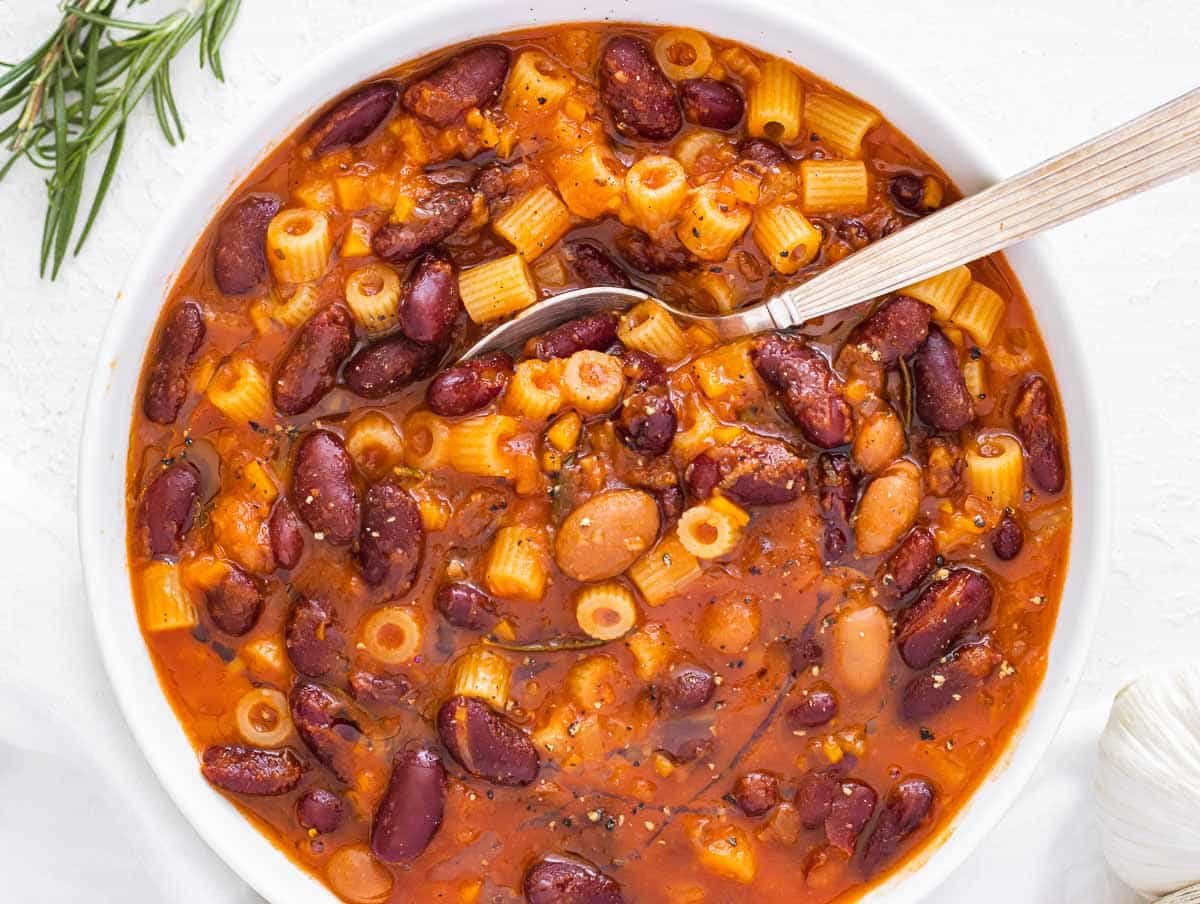 Our pasta e fagioli soup is an Italian dinner favorite, mixing beans, ditalini pasta, and a rich tomato broth.
The combination of pasta and beans provides plenty of wholesome plant protein to help you stay satiated and fulfilled for several hours.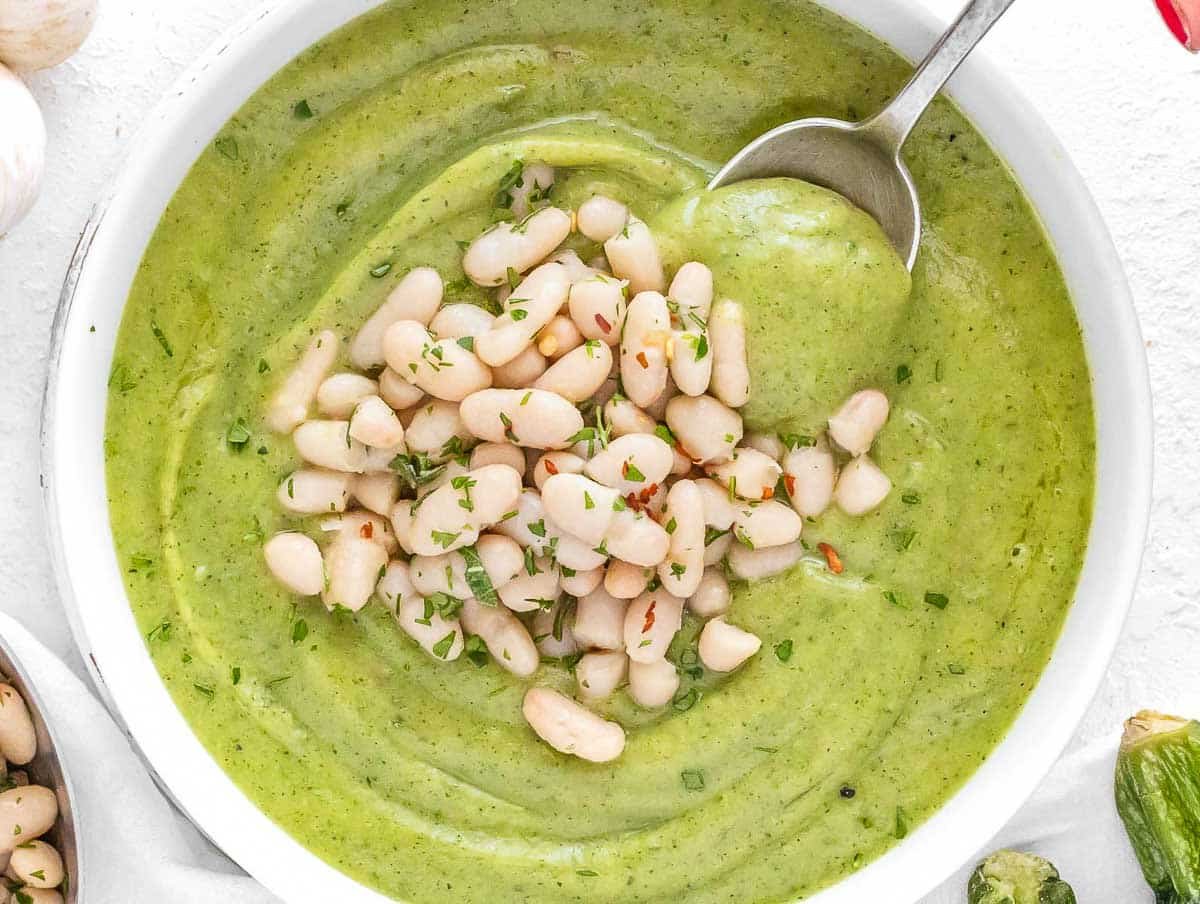 This green and healthy zucchini soup is best served warm as an appetizer, quick lunch, or light dinner.
You can top it with homemade croutons, or if you want a little more protein, try it with cannellini beans tossed in olive oil and parsley or pan-fried tofu.
Homemade kabocha squash soup is a great way to increase your intake of nutritious and vitamin-rich veggies.
This creamy soup will make you feel cozy and satiated and boost your immune system to prepare for the winter days ahead.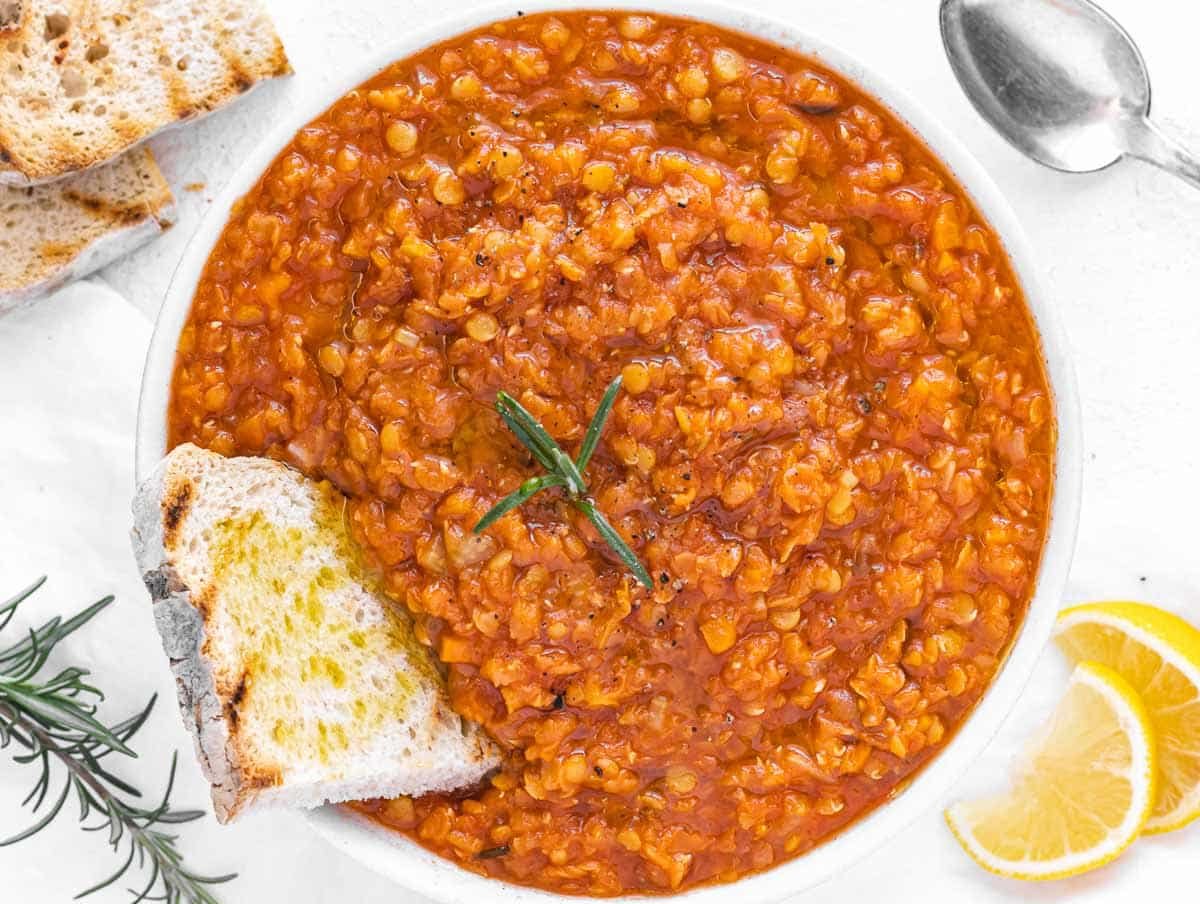 This red lentil soup recipe has it all. It's tasty, creamy, comforting, wholesome, and nutritious.
It's perfect for autumn or winter weeknight dinners as it's easy to make with a few pantry staples, and it only needs to simmer for about 20 minutes.
Here is a veggie-packed and creamy chickpea soup with sweet potatoes and leafy greens.
It's a flavorful, creamy, nourishing home-cooked meal that is hard to beat. The whole family will love it, and you can freeze it for a meal-prep-friendly dinner.
Making a healthy vegetable curry soup is easy and one of our favorite ways of making a veggie-packed dinner with bursting flavor.
You'll love this recipe because it's ready in about 30 minutes, you can make it with your favorite fresh or frozen veggies, and leftovers keep well for several days.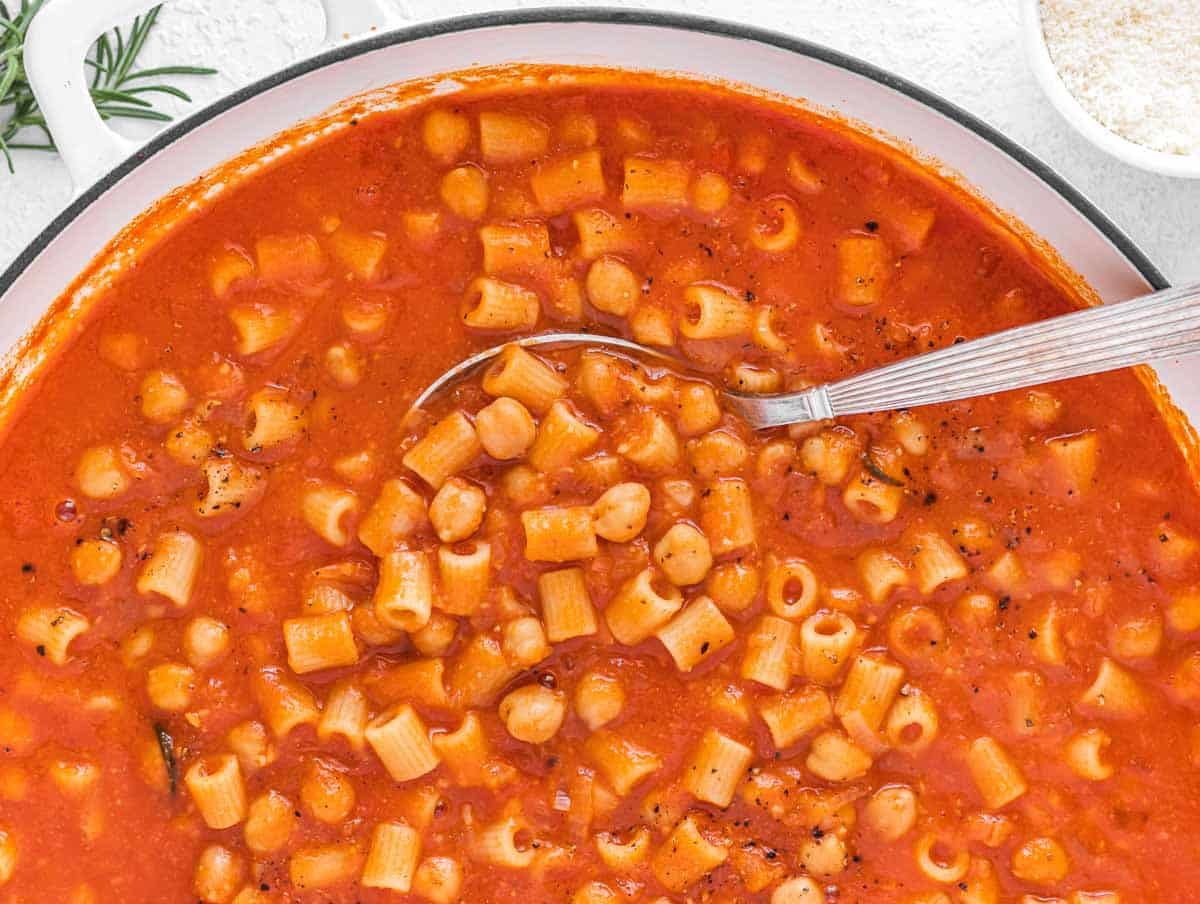 You'll love this pasta e ceci because it's easy to make in one pot and 30 minutes with simple and affordable pantry staples.
It's a healthy plant-based meal that is vegan and vegetarian-friendly, and dairy-free too.
The creaminess and flavors of this healthy and creamy one-pot sweet potato chili blew us away. 
It has quickly become one of our favorite make-ahead dinners as it keeps in the fridge for days.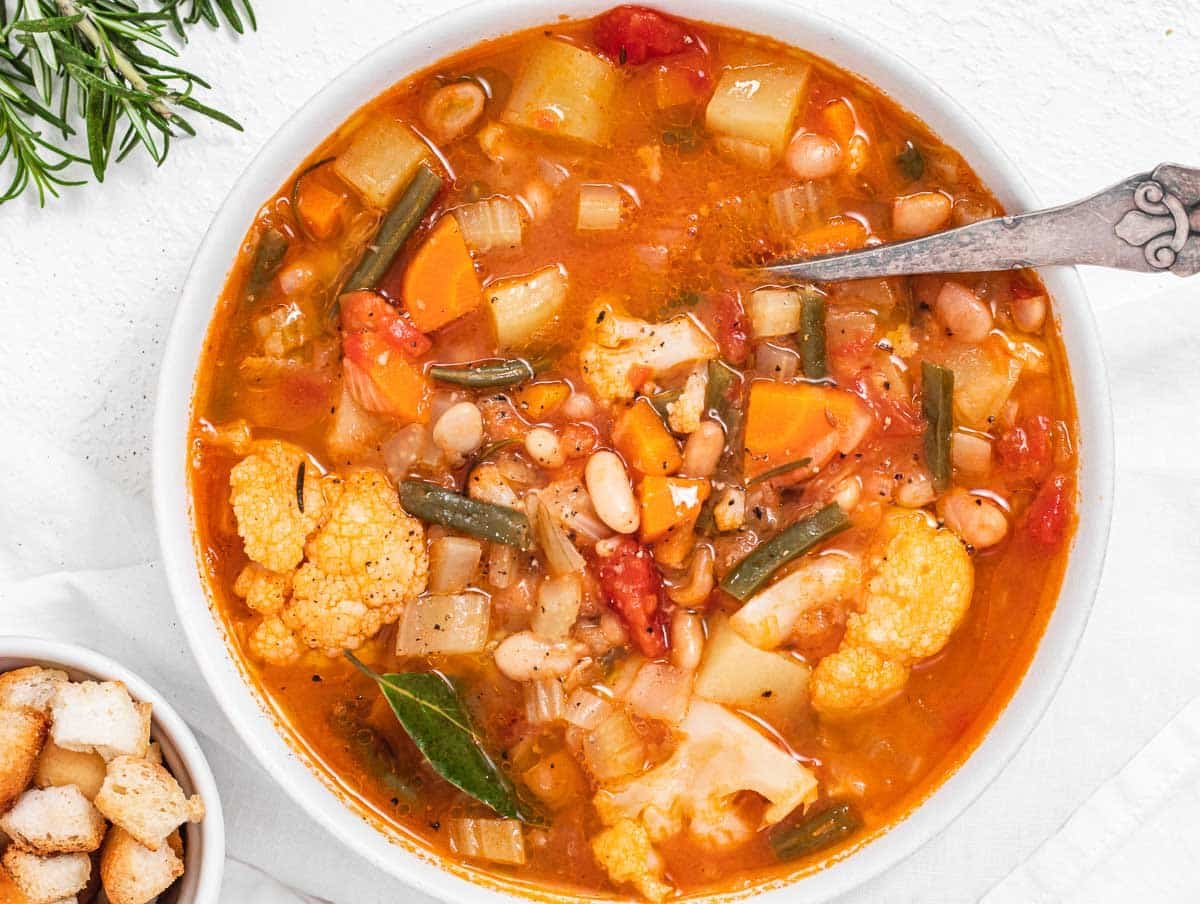 We end this list of healthy soups with a quick and comforting vegetable soup.
You'll love this vegetable soup recipe because it's so easy to make, tasty, and perfect for meal prep as it keeps in the fridge for several days.
This recipe is vegetarian, vegan, gluten-free, nut-free, lactose-free, and dairy-free.
How to store healthy soups
Make ahead: these are excellent recipes as they keep well in the fridge for 3 - 4 days. The soups will taste better on the second and third days.
Refrigerator: let the soups cool down at room temperature, then transfer them into an airtight container and store them in the fridge for up to 4 days.
Freezer: let the soups cool down completely, transfer them into a freezer-friendly container, and freeze for up to 3 months.
Thaw: defrost the soups in the refrigerator over several hours or in the microwave.
Reheat: reheat in the microwave for 3 to 4 minutes or in a pot on the stovetop with additional water. Reheat the portions you will eat only; try not to reheat them multiple times.
For more curries, stews, and soups, check out our soups category page.
Recipe
25 Healthy Soup Recipes
Black bean soup is one of our favorite healthy soups.It's a tasty, nutritious, and hearty meal that's easy to prepare with everyday ingredients.It's packed with protein, fibers, and antioxidants; it'll satisfy your hunger and cravings and make you beg for more.
Equipment
Immersion blender

or regular blender
Ingredients
2

tablespoons

olive oil

1

large

onion

chopped

2

medium

carrots

chopped

2

ribs

celery

chopped

4

cloves

garlic

grated

2

teaspoons

cumin

ground

1

teaspoon

chipotle powder

or ½ teaspoon red pepper flakes

2

bay leaves

3

cans (15-oz each)

black beans

3

cups

vegetable broth

1

can (15-oz)

diced tomatoes

1

teaspoon

salt

¼

teaspoon

black pepper

2

limes
Instructions
In a large pot or Dutch oven, warm up 2 tablespoons olive oil, then add 1 large onion, 2 medium carrots, and 2 ribs celery (all chopped), and fry them gently for 5 minutes, stirring often.Add 4 cloves garlic (grated), 2 teaspoons cumin, 1 teaspoon chipotle powder, and fry for one more minute or until you smell their fragrant aroma.

Add 3 cups vegetable broth, 3 cans (15-oz each) black beans (drained and rinsed), 1 can (15-oz) diced tomatoes, 2 bay leaves, 1 teaspoon salt, and ¼ teaspoon black pepper, stir, cover with a lid, bring to a boil, then crack the top open and simmer on medium heat for about 25 minutes.

To make the soup extra creamy, blend 1 to 2 cups with an immersion blender.

Give it a final stir, taste, and adjust for salt and spices.

Serve in bowls, top with a generous squeeze of lime juice. Optionally, you can garnish with fresh cilantro, and sliced avocado.Note: the lime juice is essential to have the best flavor.
Video Recipe
Black Bean Soup (healthy & easy dinner idea)
Notes
Nutrition information is an estimate for 1 serving of black bean soup out of 3 servings, without toppings.
HOW TO SUBSTITUTE CHIPOTLE POWDER
Chipotle powder adds a deep smokey and spicy flavor that's hard to replicate with other spices. Our recommendation is to combine 1 teaspoon smoked paprika and ¼ to ½ teaspoon red pepper flakes.
Alternatively, you can use Chipotle in adobo sauce. They come in a can, and one Chipotle is enough.
TOPPINGS & PAIRINGS
Serve this soup as a main dish with a variety of toppings, such as:
Sliced avocado or a dollop of guacamole.
Cashew sour cream, regular sour cream, or plain yogurt.
Jalapeños or a splash of hot sauce.
Tortilla chips or toasted tortilla.
A dollop of salsa or pico de Gallo.
Pair it with a side of fresh bread like:
STORAGE
Make ahead: our black bean soup recipe is excellent to make ahead and for meal prep as it keeps well in the fridge for days, and its flavor improves on the second day. So go ahead and make a big batch so you have it ready for the week.
Refrigerator: let it cool down, transfer it into an airtight container and keep it in the fridge for four days. Reheat only the portions you'll eat in a microwave for 3 minutes or in a pot on the stove.
Freezer: let the soup cool down, then transfer it to a freezer-friendly container and freeze for up to 3 months. Thaw slowly in the refrigerator or the microwave.
Nutritional Values
Nutrition Facts
25 Healthy Soup Recipes
Amount per Serving
% Daily Value*
* Percent Daily Values are based on a 2000 calorie diet.
Did you like this recipe?
Leave us a comment below or find us on Instagram, YouTube, Pinterest, TikTok, and Facebook.
If you like these healthy soup recipes, you might also enjoy: