If you're looking for the best sweet potato recipes, you've come to the right place. These 25 sweet potato dishes are easy to make, veggie-packed, and with simple ingredients.
Browse through this list, and take your pick: from 30-minute dinners, and salads, to easy and quick family-friendly side dishes. All of them are nutritious, wholesome, and with plant-based protein. We're sure you'll find your next sweet or savory sweet potato recipe on this list!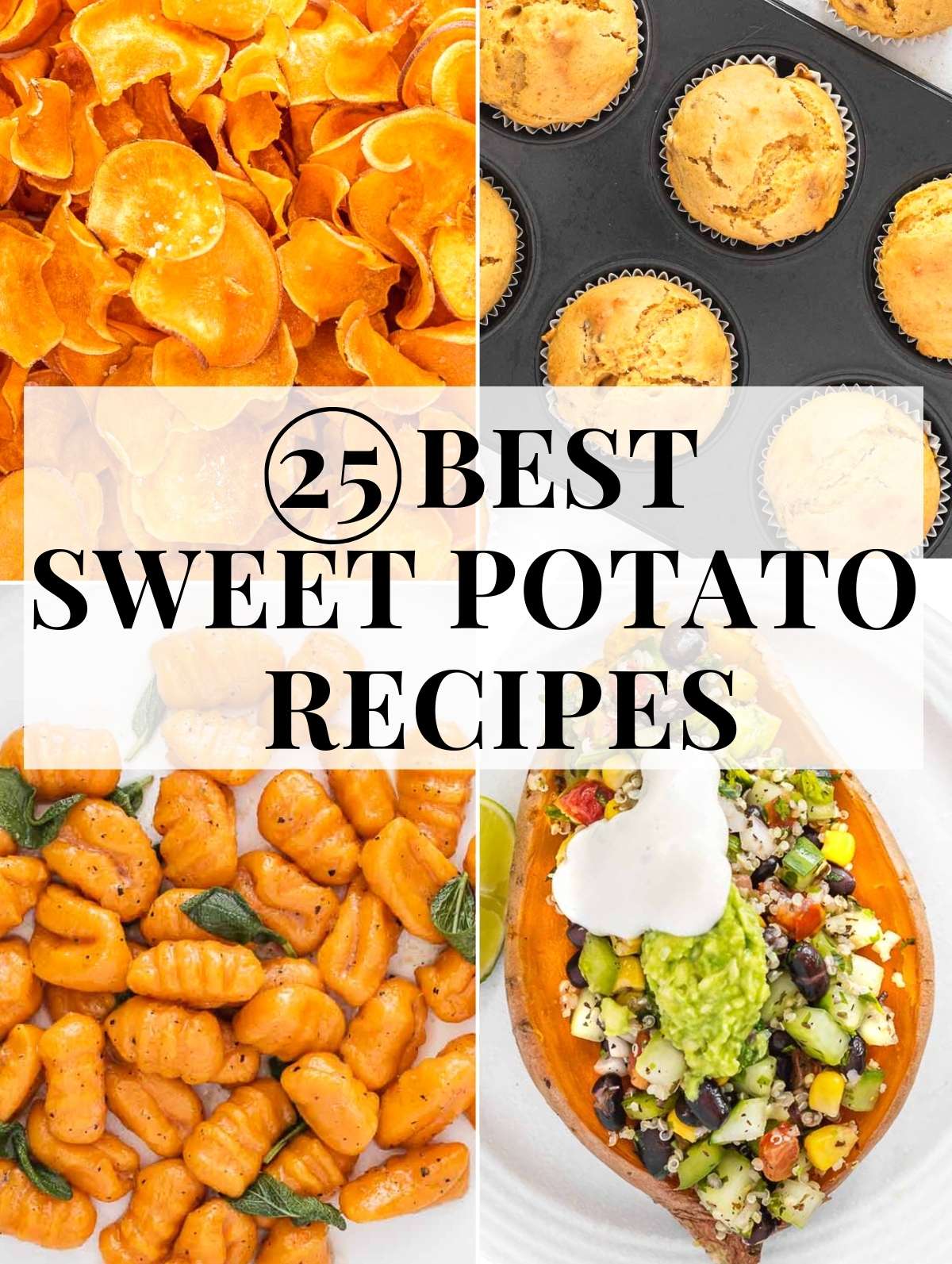 1. Black bean salad
Here's a great way to cook sweet potatoes in a healthy and wholesome way! This black bean salad with roasted sweet potatoes, corn, green or red bell pepper, creamy avocado, jalapeños, and a cilantro lime dressing with fresh cilantro and lime juice is a winner.
2. Roasted sweet potatoes
Roasted sweet potatoes are quick, tasty, and easy. Serve them as a side dish or use them to make other delicious recipes. For example with salads and grain bowls, where they add healthy vitamins and fiber.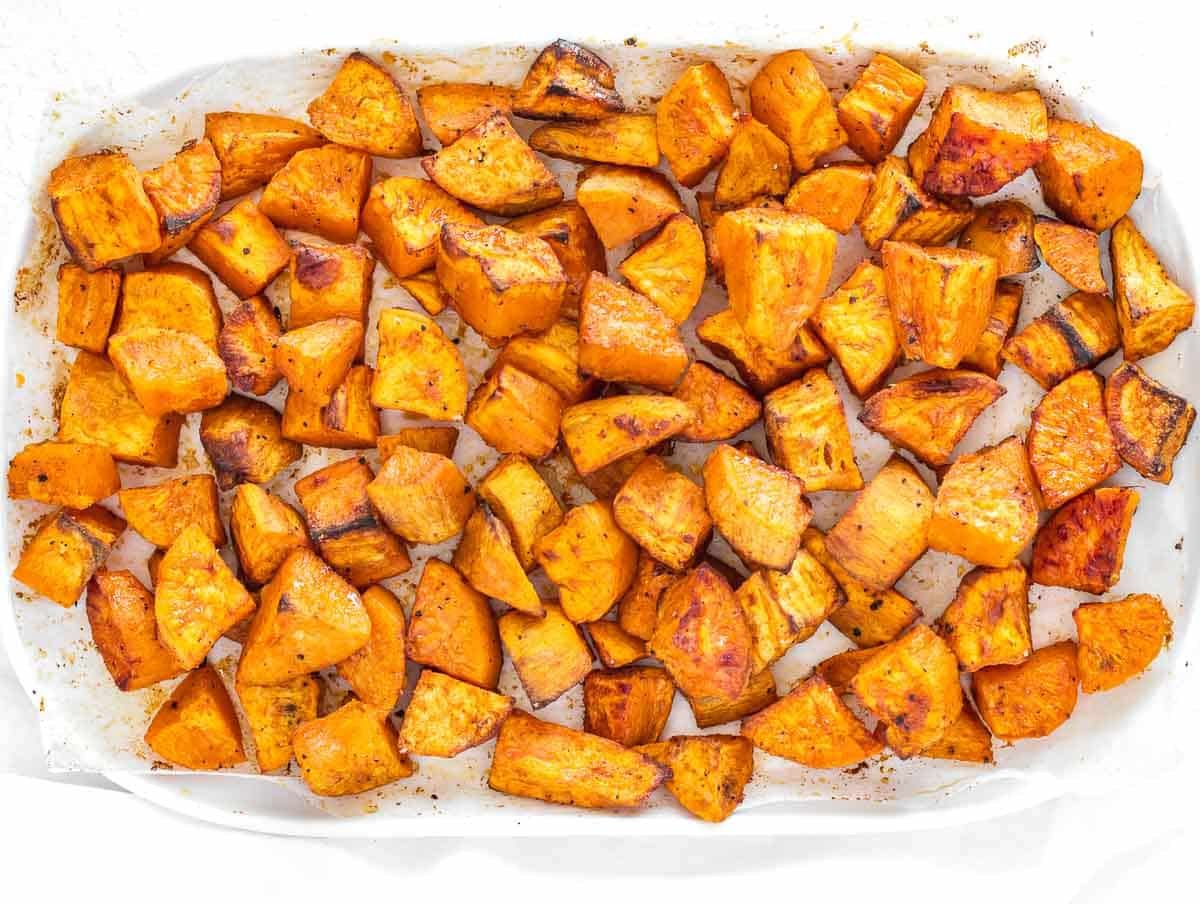 3. Sweet potato wedges
They are the perfect side dish for most meals: roasted sweet potato wedges. These wedges are tender, naturally caramelized, and packed with flavor. They are the perfect side dish for most meals.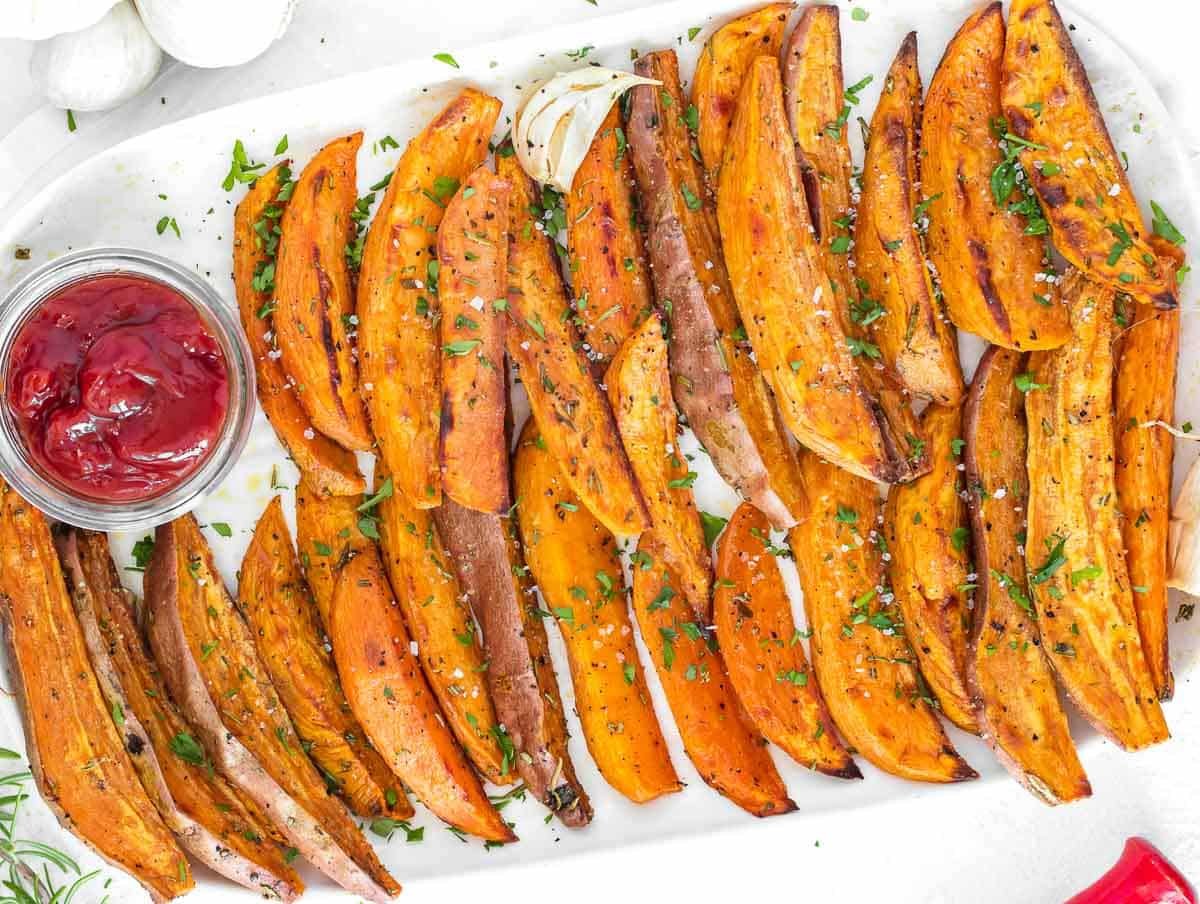 4. Easy chickpea stew
This chickpea sweet potato stew is perfect as a tasty and easy everyday dinner or as a make-ahead meal. Freeze your leftovers, or eat them the day after - the stew is even more flavourful the day after.
5. Fried chips
Thin, tasty, and crisp sweet potato chips are among the best homemade snacks and side dishes. We tested oil-free, air-fryer, and deep-fried versions, so you can choose your favorite. Serve these for game nights, movie nights, or as an appetizer during the holiday season.
6. Sweet potato muffins
These are honestly one of our favorite best sweet potato recipes! Sweet potatoes are naturally sweet and surprisingly flavorful in baked goods. Sweet potato muffins are delicate, moist, and with a pleasantly sweet and earthy flavor from the sweet potatoes. Eat them for breakfast, a snack, or a sweet treat after a meal.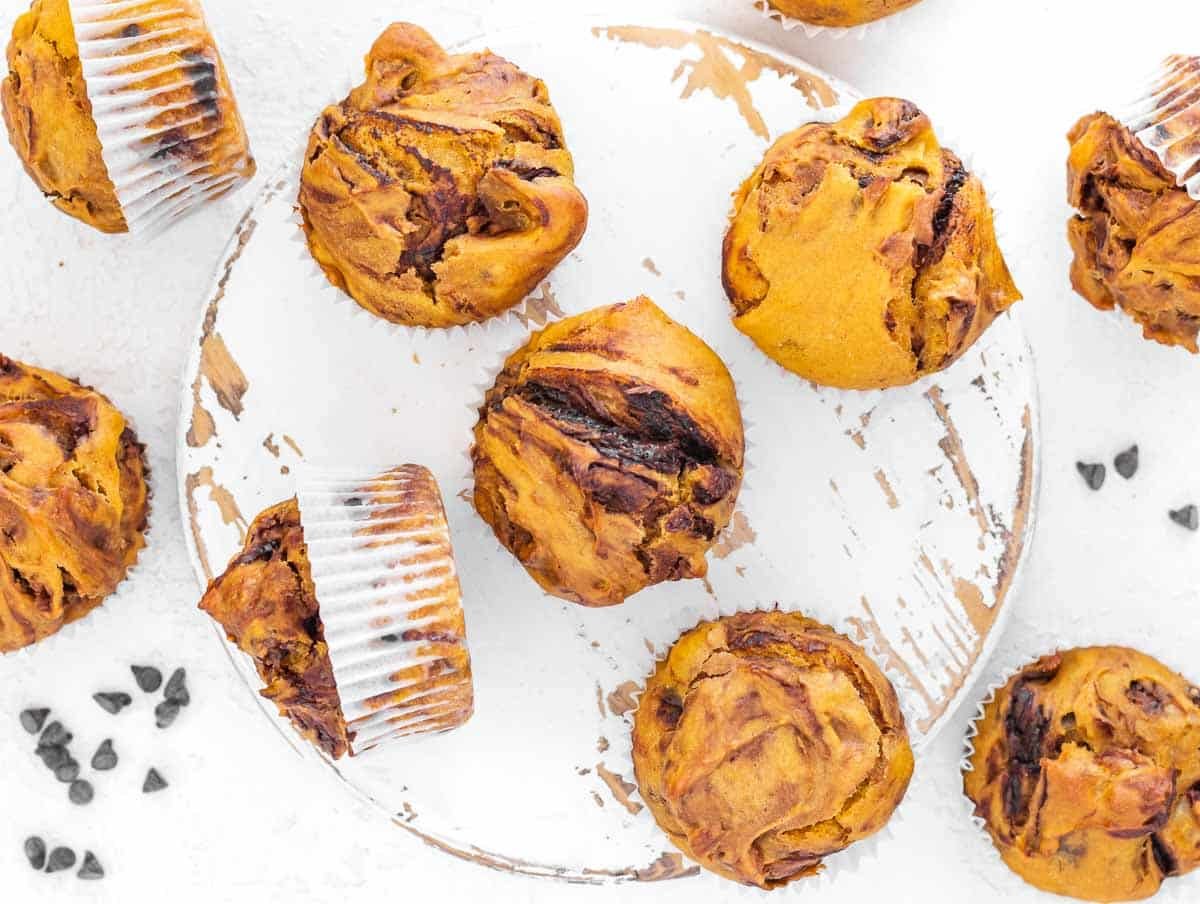 7. Sweet potato mash
Make it savory or sweet, this sweet potato mash is a great side dish for the holidays and cold winter evenings. Serve it as a side dish for the holidays, Thanksgiving, or special occasions during the autumn and winter months.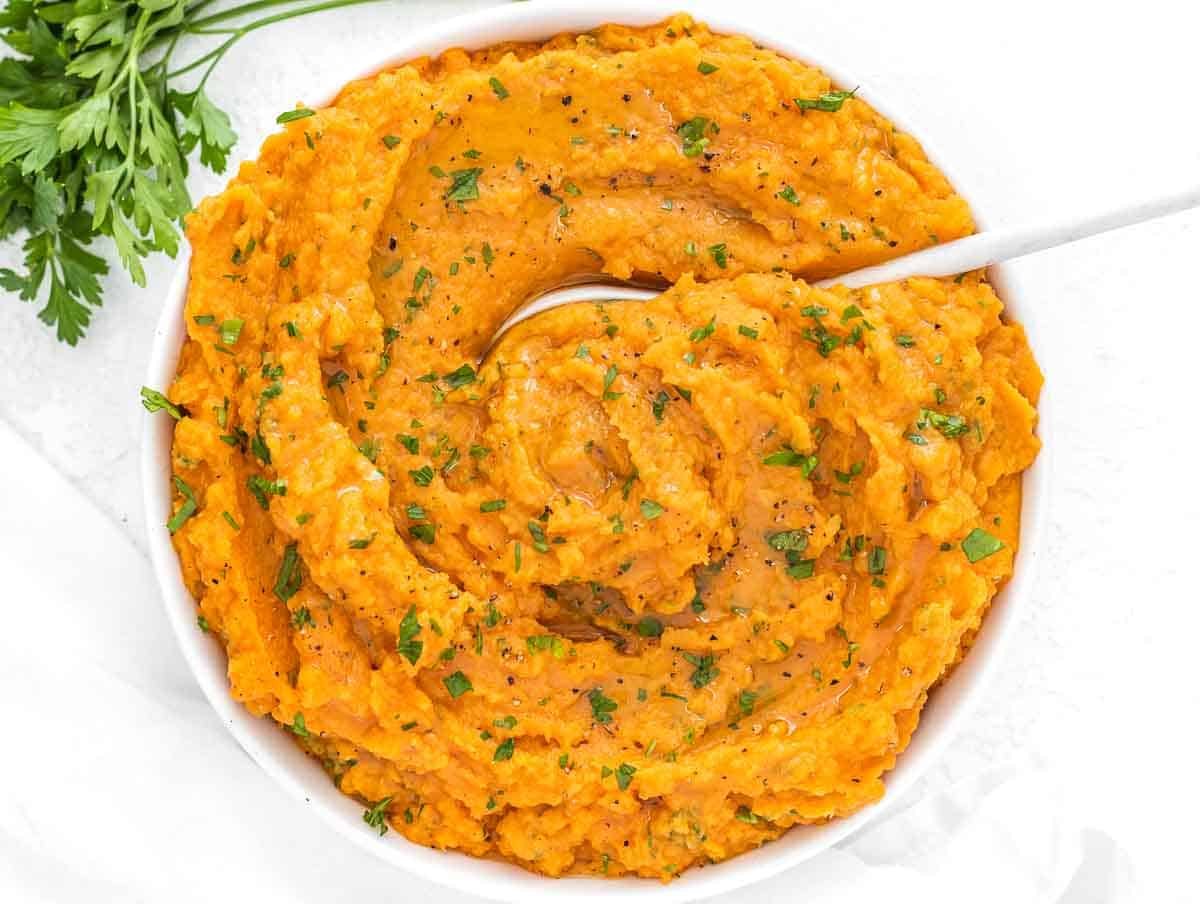 8. Microwave sweet potato
Microwave sweet potato is quick, healthy, and delicious. Eat it as is or load it with one of our toppings to turn it into a tasty main dish. It's a perfect quick lunch or wholesome dinner when loaded with one of our plant-based toppings.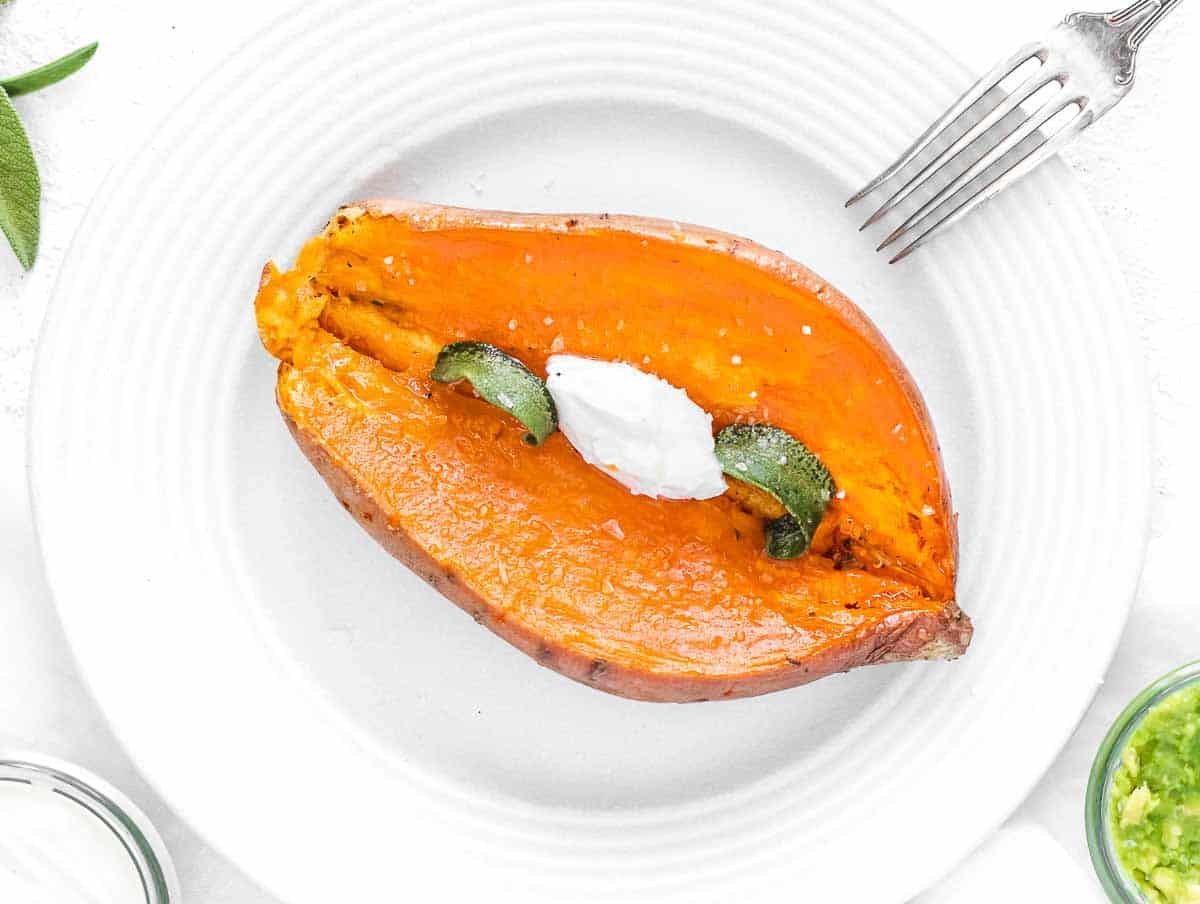 9. Loaded potato with vegan tuna
Sweet potatoes are perfect as a quick lunch, simply load it with plant-based toppings. For example, this vegan tuna is a quick and easy recipe made with mashed chickpeas. It's the perfect replacement for tuna in a sandwich, to fill a baked sweet potato, as an appetizer, or just as is as a vegan tuna salad.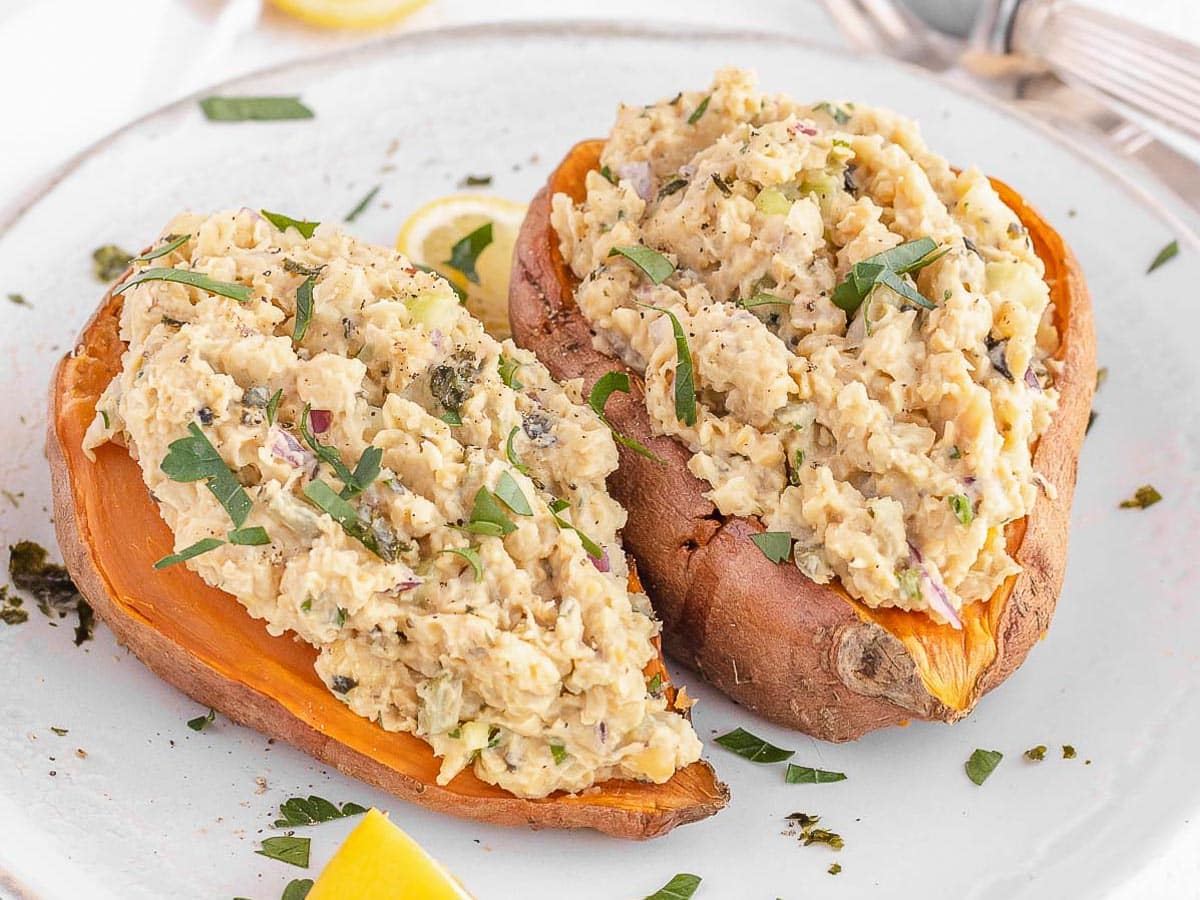 10. Sweet potato gnocchi
Our 3-ingredient sweet potato gnocchi is a delicious, comforting, and cozy Italian-inspired dish you'll want to make every night. Make it with a butter and sage sauce, or a creamy mushroom sauce - it's a guaranteed family favorite.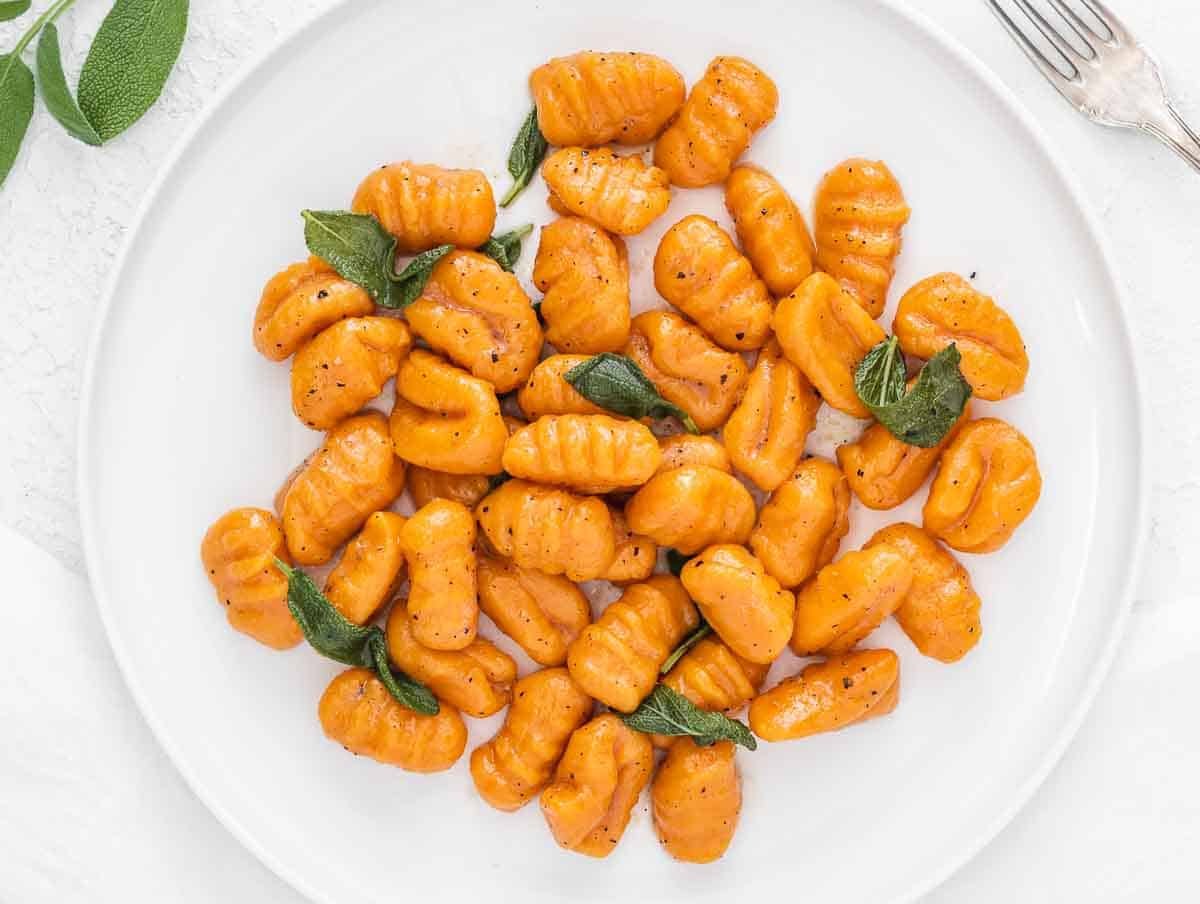 12. Air fryer sweet potato
In 15 minutes, you can make these deliciously roasted air fryer sweet potato that is tasty and versatile. From cubes to sweet potato fries and whole baked sweet potatoes, learn how to use an air fryer for cooking this delicious root vegetable.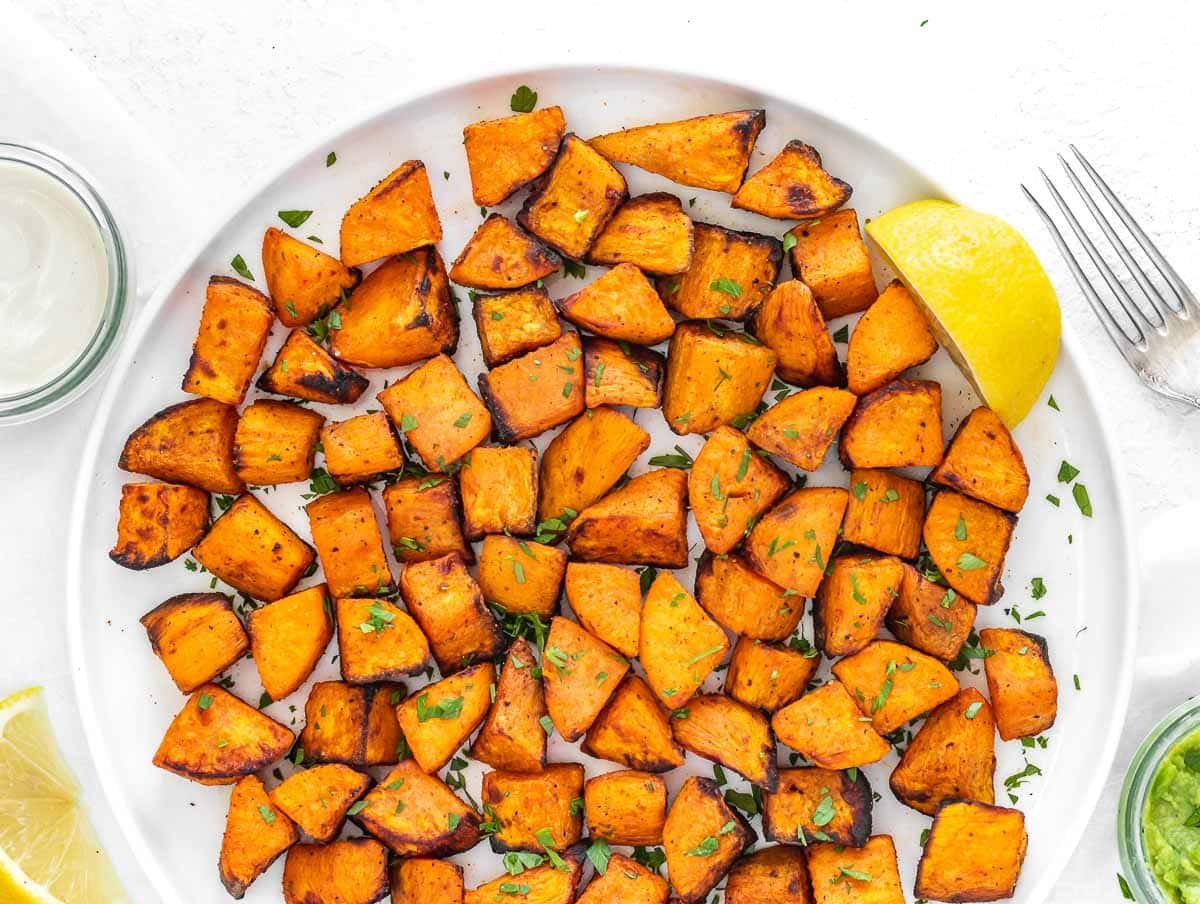 13. Lentil salad
Lentil sweet potato salad is one of our favorite salads ever! It's nutritious, tasty, and aromatic, thanks to a simple cumin and paprika dressing inspired by Moroccan cuisine.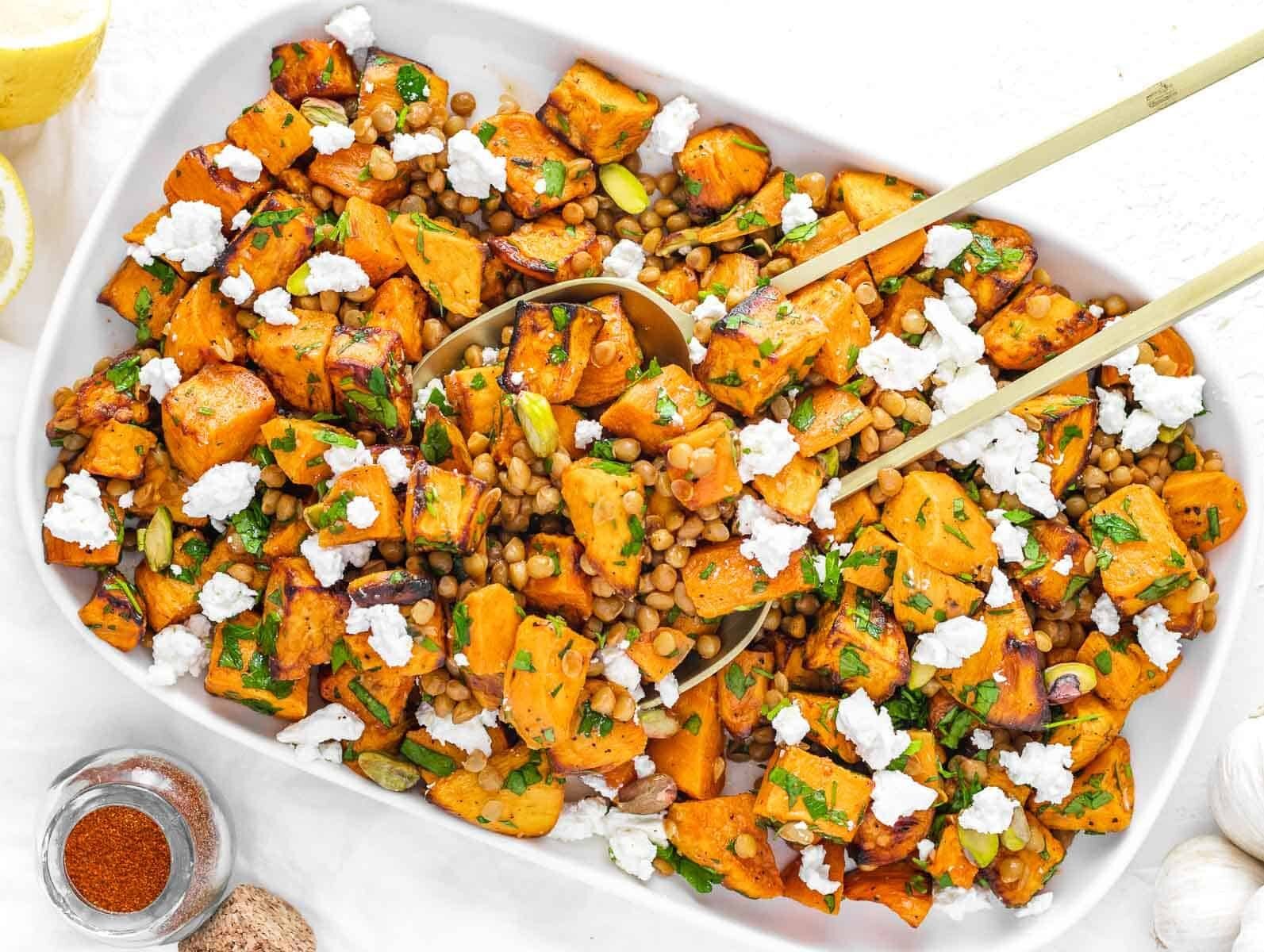 14. Sweet potato salad
Sweet potato cubes are perfect in this colorful and vibrant sweet potato salad. Have it for lunch, a quick and healthy make-ahead dinner, or bring it to potlucks and picnics. This is one of our favorite ways of eating sweet potatoes; we are sure you'll love it too!
15. Sweet potato soup
Sweet potato soup is a fall-inspired recipe that is creamy, earthy, a little sweet, and perfect for autumn or winter weeknight dinners.
16. Sweet potato curry
Velvety tender chunks of sweet potato combined with nutty chickpeas and a rich coconut-curry base are a winning flavor combination. You'll love this sweet potato curry because it's easy, quick to make, and packs a punch.
17. Chickpea and bean-packed sweet potatoes
Make a quick quinoa salad, add beans, and a dollop of guacamole, and serve on microwaved sweet potato. It's a quick and wholesome lunch idea and office lunch meal.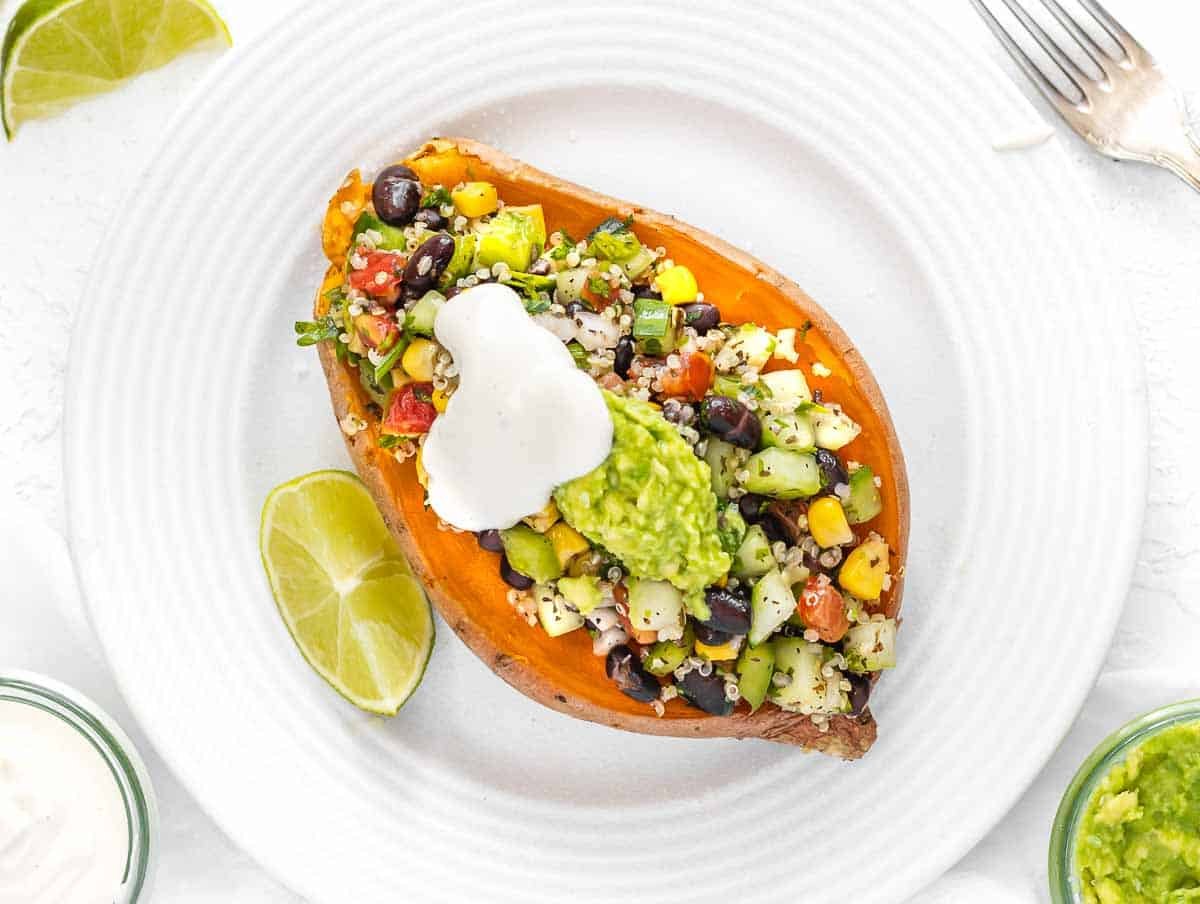 18. Sweet potato hash
Black beans, bell pepper, and caramelized sweet potato come together in this sweet potato hash that pairs perfectly with Mexican toppings. Try it in a breakfast burrito, with nachos, and serve it with guacamole, sour cream, and fresh lime.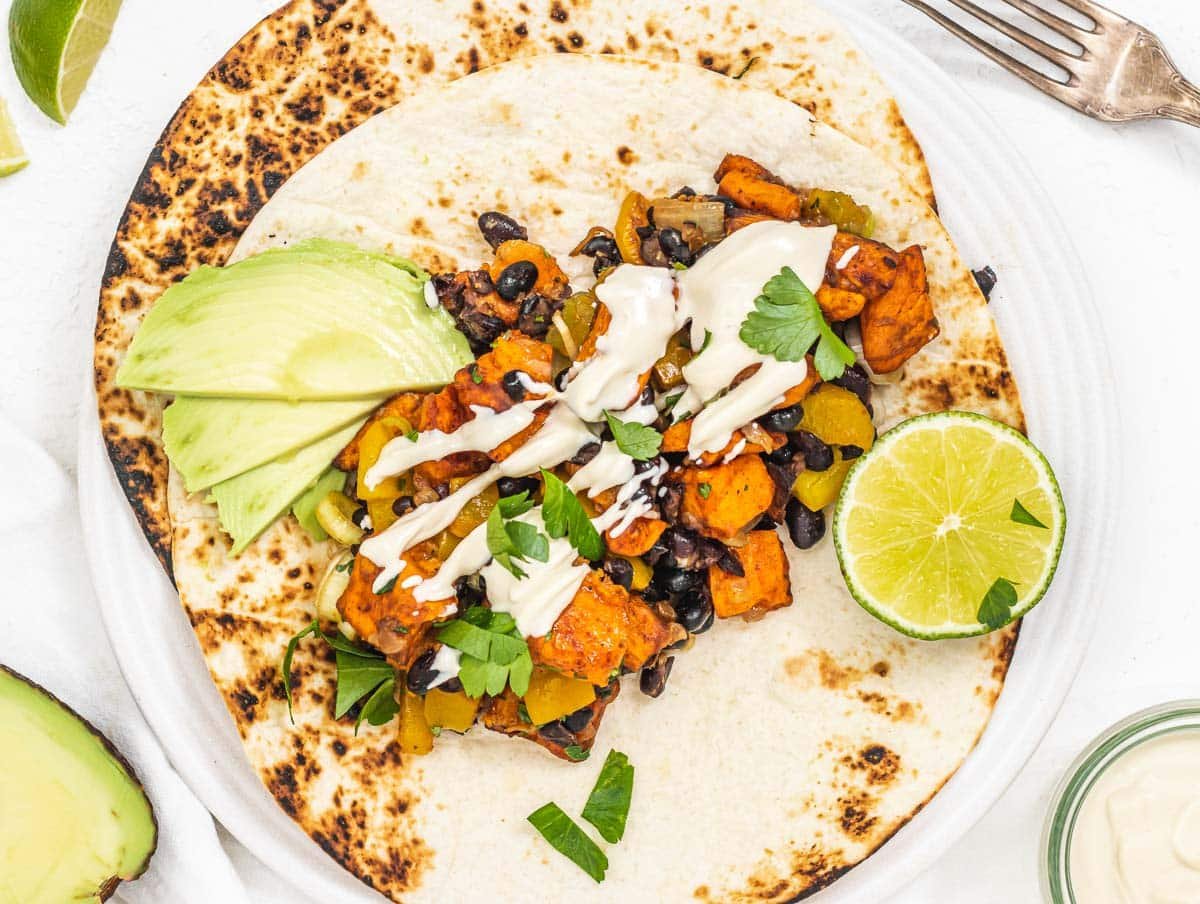 19. Sweet potato chili
Perfectly spiced, creamy, and meal-prep-friendly, this sweet potato chili with kidney beans is a delicious dinner idea for the whole family. Serve it with corn tortillas, avocado spread and sour cream for a wholesome and warming plant-based meal.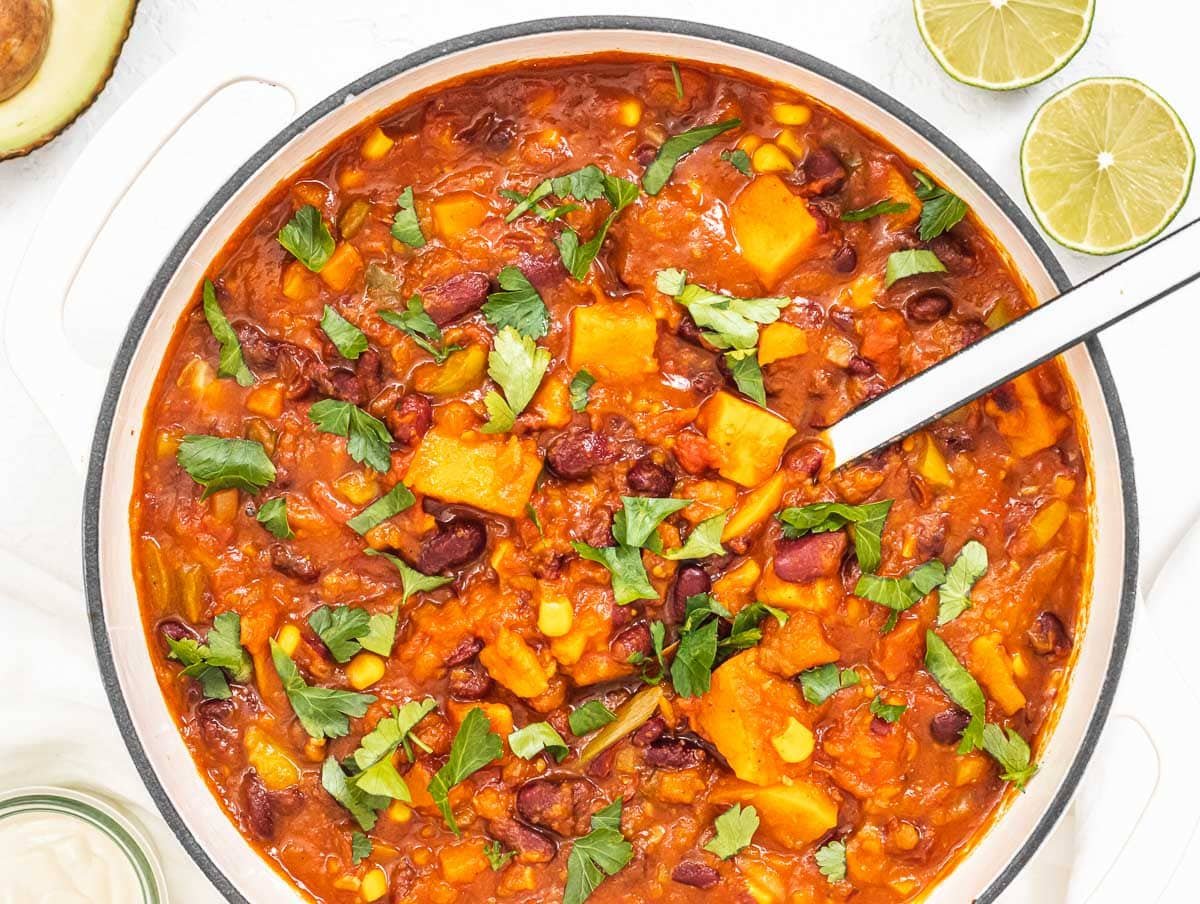 FAQ about sweet potatoes
Do sweet potatoes need to be boiled before roasting?
No, there is no need to boil sweet potatoes before roasting. With a little oil, they will get tender during the baking process.
What temperature do I bake sweet potatoes?
Bake sweet potatoes at a high temperature in the oven. We find that anything between 400°F and 450°F works well.
What is the fastest way of cooking a sweet potato?
The fastest way of cooking sweet potato is in the microwave which takes only 5 minutes. Make sure to prick the sweet potato before microwaving it, and you don't need to peel it beforehand.
Air frying is the second fastest cooking method and takes just 15 minutes when the potato is cut into cubes. Thirdly, boiling, and oven roasting the sweet potato takes 30 minutes.
Are sweet potatoes healthy?
Yes, sweet potatoes can be considered a superfood thanks to the many health benefits they provide, such as stabilizing blood sugar and improving digestion.
Sweet potatoes contain slightly fewer calories compared to white potatoes, but they can be considered a nutrient-dense carbohydrate source. In fact, compared to white potatoes, sweet potatoes contain slightly more vitamin B6 and vitamin C.
But deciding between white potatoes and sweet potatoes is up to you and your family's preference. Both potato types are plant foods and can be a fiber-rich addition to a whole-food diet.
More veggie-packed recipes
If you're looking to incorporate more veggies into your diet, take a peek at these vibrant salad recipes:
For many more side dishes ideas, check out our sides category page.
Recipe
25 Best Sweet Potato Recipes
Microwave sweet potato is quick, healthy, and delicious. It's one of our 25 best sweet potato recipes. Microwave for 5 minutes then cut it open, load it with one of our toppings, and enjoy!
Ingredients
2

medium-sized

sweet potatoes
Simple Savory
3

tablespoons

butter

(we used dairy-free butter)

6

leaves

sage

2

pinches

sea salt
Simple Sweet
2

tablespoons

butter

(we used dairy-free butter)

2

drizzles

maple syrup

2

sprinkles

cinnamon

2

sprinkles

nutmeg

grated

8

walnuts

crushed

1

tiny pinch

salt
Instructions
HOW TO MICROWAVE SWEET POTATO
Wash the sweet potato with a brush under cold water to scrub the dirt away. Dry it with a paper towel, then prick it with a fork a few times.

Arrange the sweet potato on a microwave-safe plate and microwave at high power for 5 minutes.Slide a paring knife in the center of the potato to check for doneness. The potato is cooked if the blade slides in easily through the center. If not, keep microwaving it in 30-second to 1-minute intervals.When ready, split the sweet potato in half with a knife and add your favorite topping.
MEXICAN TOPPING
Tasty and protein-rich Mexican-inspired topping with black bean quinoa salad, mashed avocado, and vegan sour cream.
MEDITERRANEAN TOPPING
Light and nutritious Mediterranean couscous salad with crispy roasted or air-fried chickpeas and creamy and nutty tahini sauce on top.
GREEK TOPPING
We use a simple couscous or bulgur salad with tomato and cucumber, then top it with crispy chickpeas, sliced black olives, and crumbled feta cheese (we used dairy-free feta).
CHICKPEA TUNA TOPPING
Our delicious vegan tuna recipe is perfect to stuff microwave sweet potatoes. You can even add melty vegan cheese on top and arrange them on a baking sheet under the broiler for a few minutes until the cheese melts.
SIMPLE SAVORY TOPPING
A simple savory topping of butter (we use dairy-free), sage leaves fried in butter in a pan for 2 minutes, and sea salt or kosher salt.
SIMPLE SWEET TOPPING
A simple sweet topping with butter (we use dairy-free), maple syrup (or brown sugar), cinnamon, nutmeg, and walnuts (or pecans). You can also add chopped apple on top.We took the sweet potato out of its skin for this one, then mashed it lightly with a fork for the spices and maple syrup to go in. It was a scrumptious dessert.
Video Recipe
Roasted Sweet Potatoes | Easy & Savoury Recipe
Notes
Nutrition information is for one microwave sweet potato without any topping.
Nutritional Values
Nutrition Facts
25 Best Sweet Potato Recipes
Amount per Serving
% Daily Value*
* Percent Daily Values are based on a 2000 calorie diet.
Did you like this recipe?
Leave us a comment below or find us on Instagram, YouTube, Pinterest, TikTok, and Facebook.
If you liked these best sweet potato recipes, you might also enjoy: