In this collection of 25 easy potato recipes, we dive into a selection of tasty and easy dishes that satisfy your cravings.
From crispy potato sides to creamy mashes and wholesome soups, these potato recipes will get you ready for flavor-rich dishes.
But beyond their culinary appeal, potatoes also boast various health benefits that might surprise you.
They are misunderstood due to their association with comfort food and fried indulgences.
But potatoes can be a nutritious addition to your diet and offer many benefits to overall well-being.
Let's look at these wholesome and homecooked meals that make potatoes the star of the table.
Our 25 best potato recipes
Roasted potatoes are perfect as an appetizer or side dish. We serve this 30-minute dish as a healthier alternative to french fries.
You can eat them alone or with a dip such as homemade mayonnaise, marinara sauce, chipotle sauce, and avocado spread.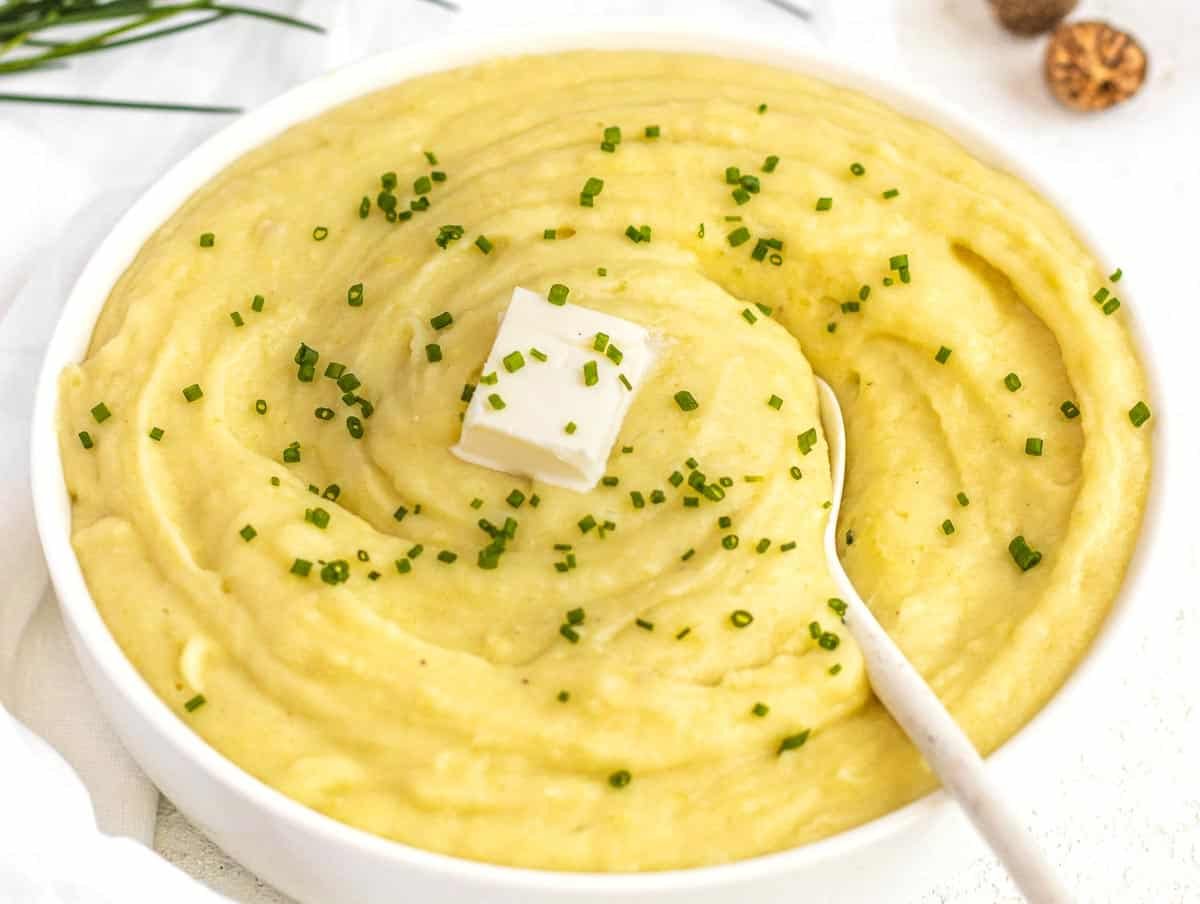 Mashed potatoes are the ultimate side dish and comfort food in one dish.
They're perfect for Thanksgiving and Christmas or any family dinner when you feel like something cozy. Serve it with a square of butter and chives, or enjoy it with our delicious mushroom gravy.
You can use Yukon Gold, new, baby, red, or russet potatoes for this creamy potato salad.
We tested all of them and mixed the potatoes with a yogurt-mayo dressing, and the potato salad turned out delicious and perfect herby.
Cauliflower mashed potato has become our favorite alternative because it's easy to make, tastes delicious, and is light and fluffy.
The texture is fluffier than regular mashed potatoes, which makes this recipe incredible and a little lighter to digest.
You will love this potato leek soup because it is easy to make in one pot, with simple ingredients, and ready in about 30 minutes.
Also, it's light and healthy while delicious, with a mouth-watering creamy texture.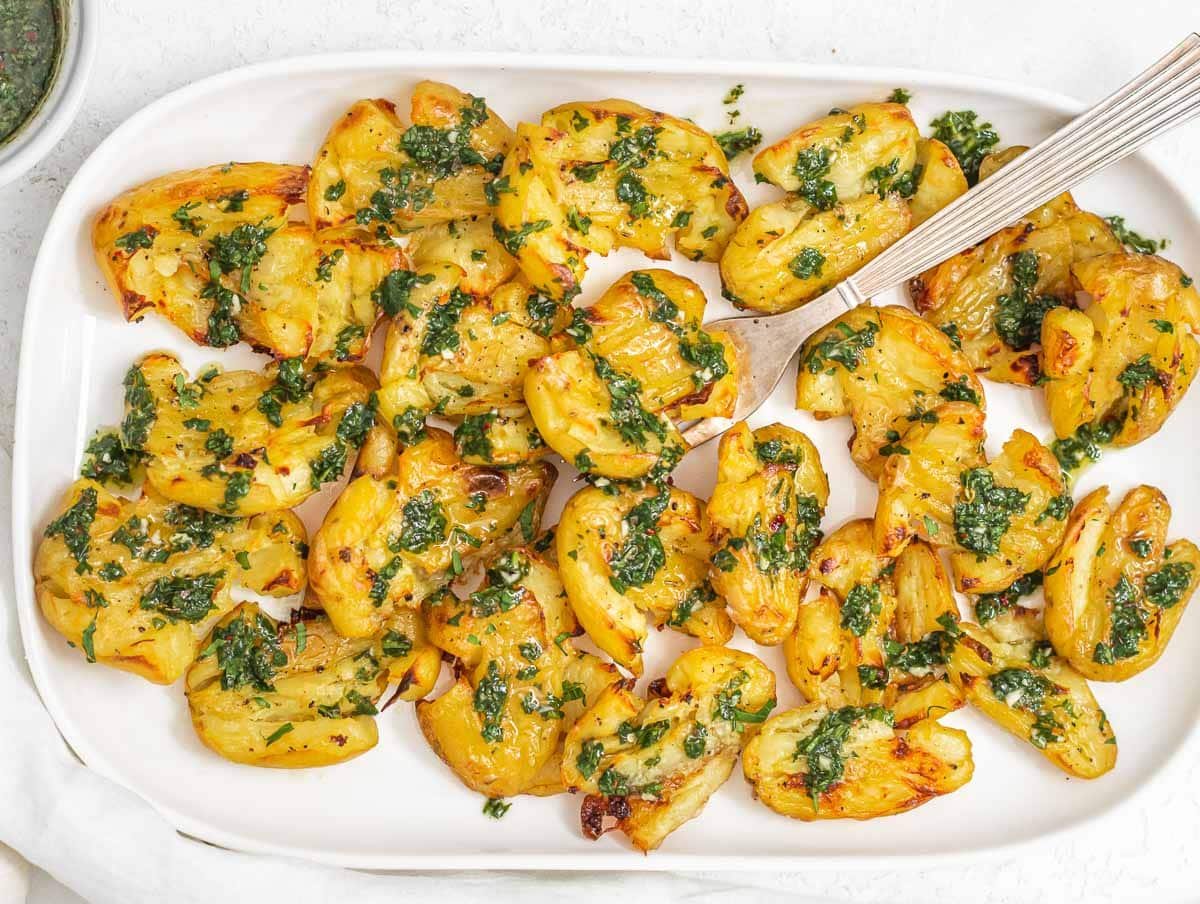 Crispy smashed potatoes are a finger-licking delicious potato appetizer, side dish, or snack for a fun everyday dinner or a special meal.
Eat them as they are, or drizzle them with a quick salsa verde, chimichurri, fresh tomato salsa, or tahini sauce for a beautiful, colorful, and tasty potato dish.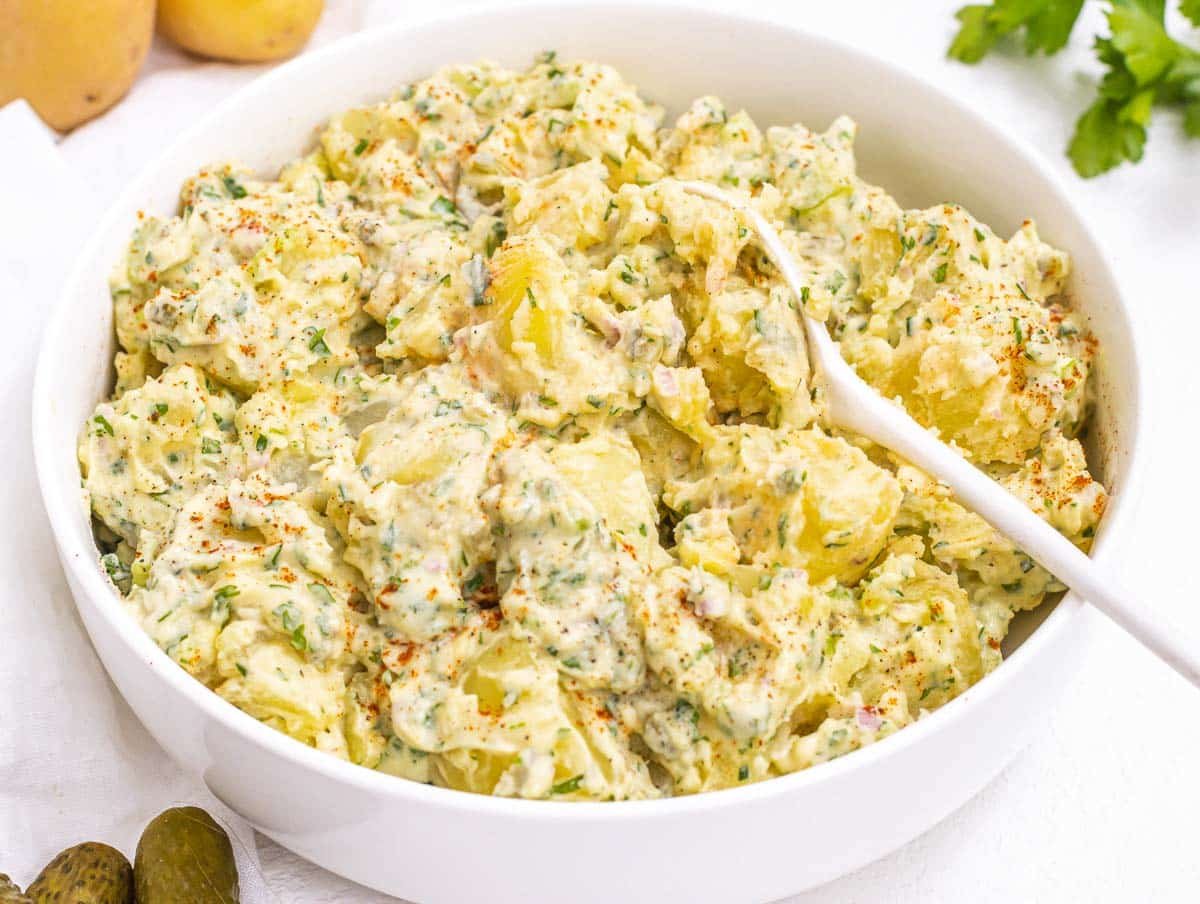 It's a great way to eat potatoes during grill, picnics, and BBQ season; everyone will love it. We serve this vegan potato salad with store-bought plant-based burgers, and it's a perfect match.
This summer salad accommodates all eaters as it is dairy-free, vegan, and tasty.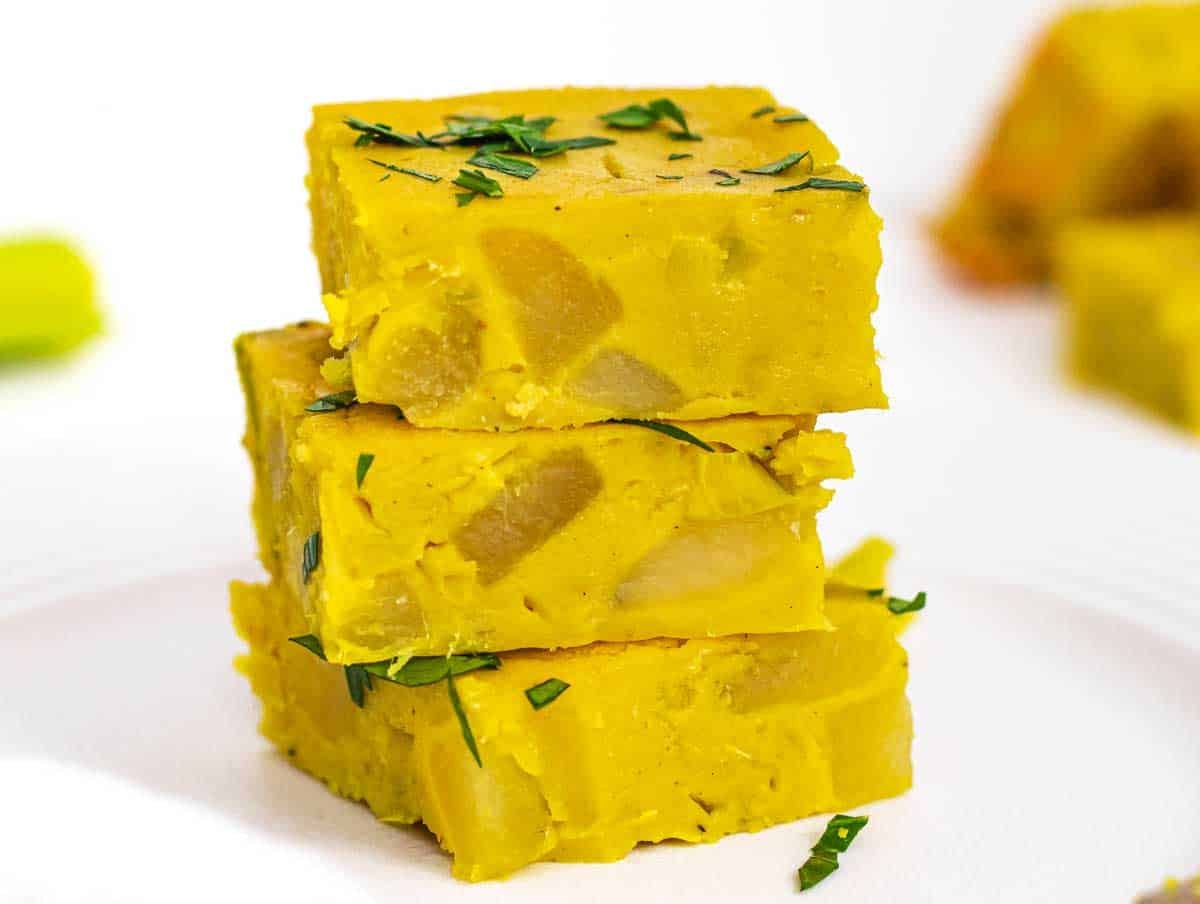 If you wonder how to serve potatoes for breakfast or brunch, here is an idea: potato leek frittata.
It's a mix between an omelet and a quiche; it's soft, tasty, and perfectly moist. We make it made with chickpea flour, baked in the oven, and without eggs, making it easy and healthy.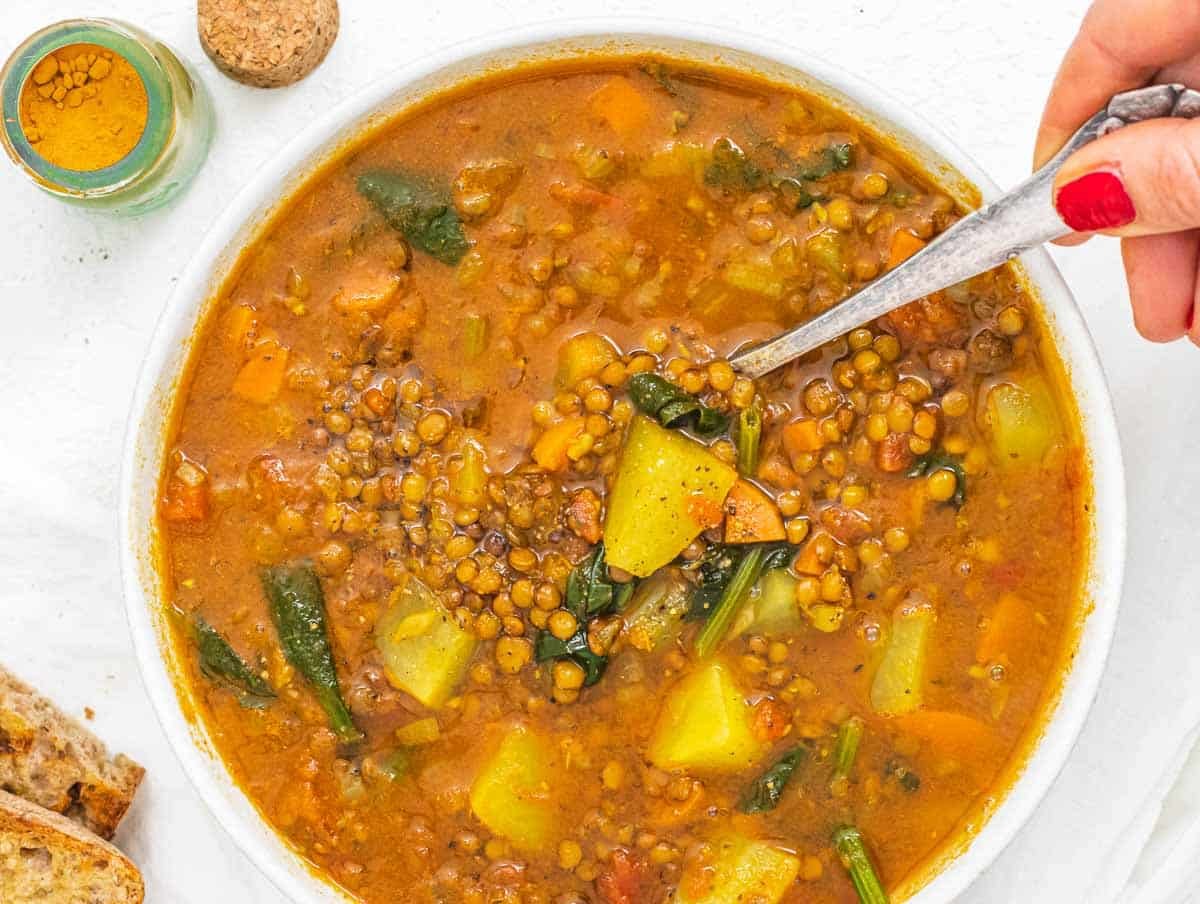 This potato lentil soup is a healthy and easy weeknight dinner idea.
Here is our tip: add bite-sized diced potatoes (peeled) with the lentils, as they have about the same cooking time. The potatoes turn beautifully tender and are infused with turmeric flavor.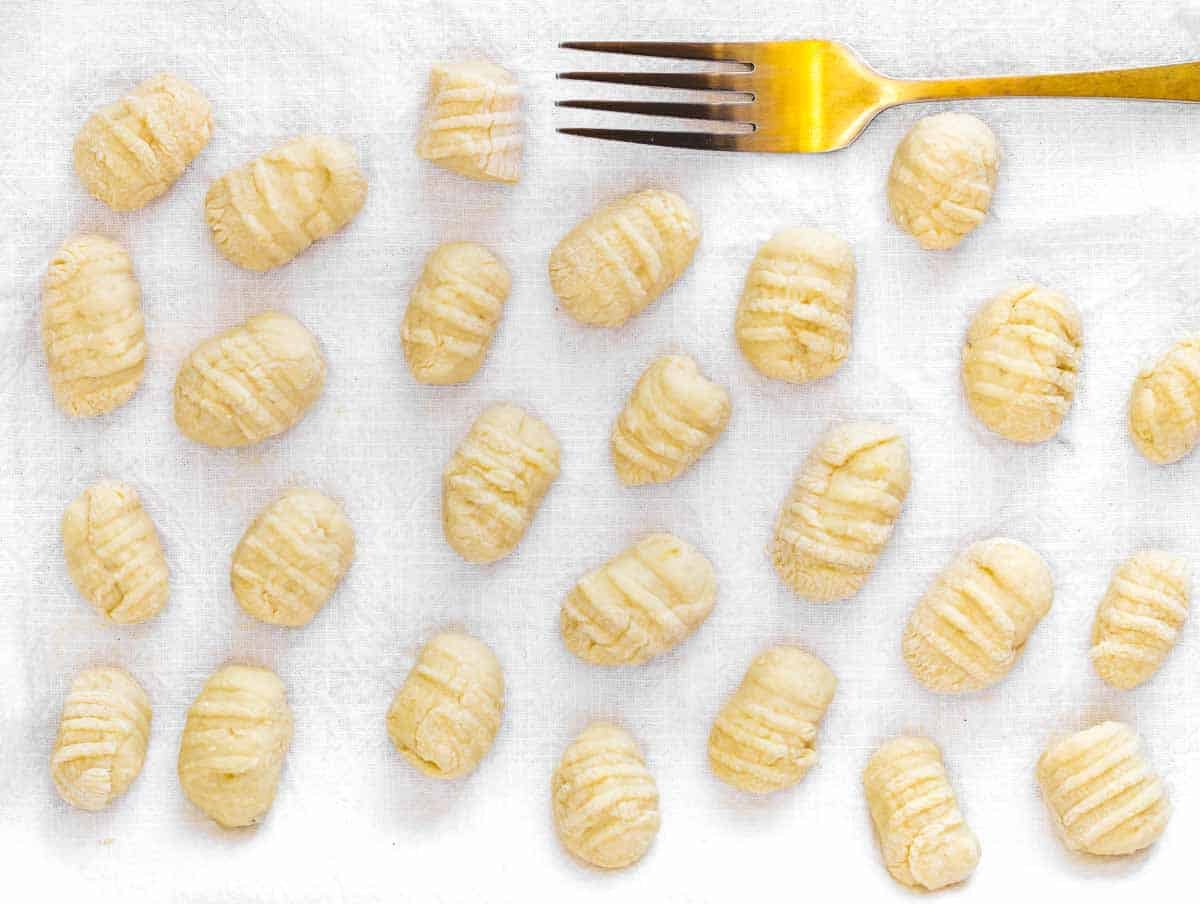 Gnocchi pronounced "NYOKEE," is a popular Italian dish often made from potatoes, flour, and sometimes with eggs.

Here, we'll show you how to make gnocchi with three simple ingredients and shape them with a fork. Our recipe is the original Italian one without eggs.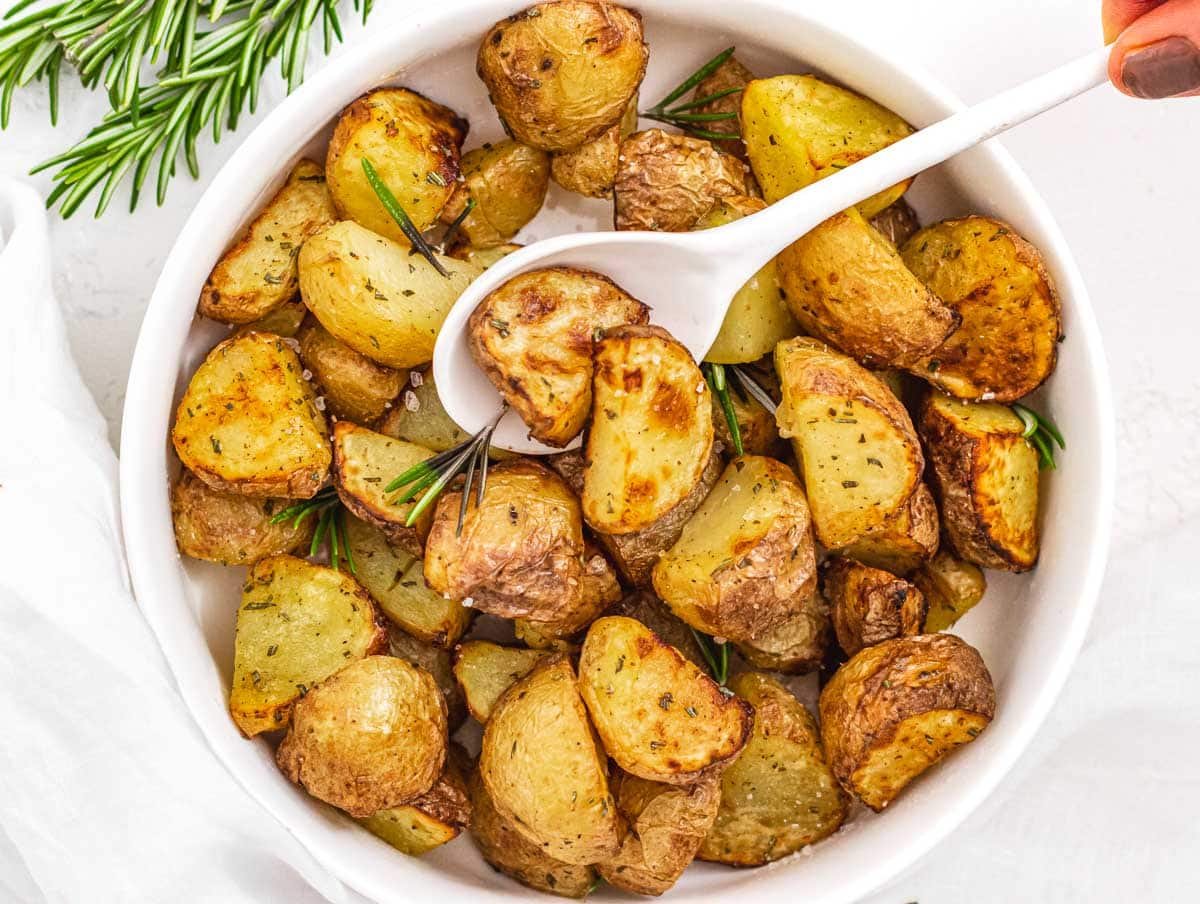 You must try Air fryer potatoes if you want a quick and super easy method for cooking potatoes. 
They are an excellent side dish with a tender, almost buttery core and a finger-licking good, salty, crispy skin.
They are also great as a snack with dips or appetizers; they have a pleasant rosemary aroma and go well with most main dishes.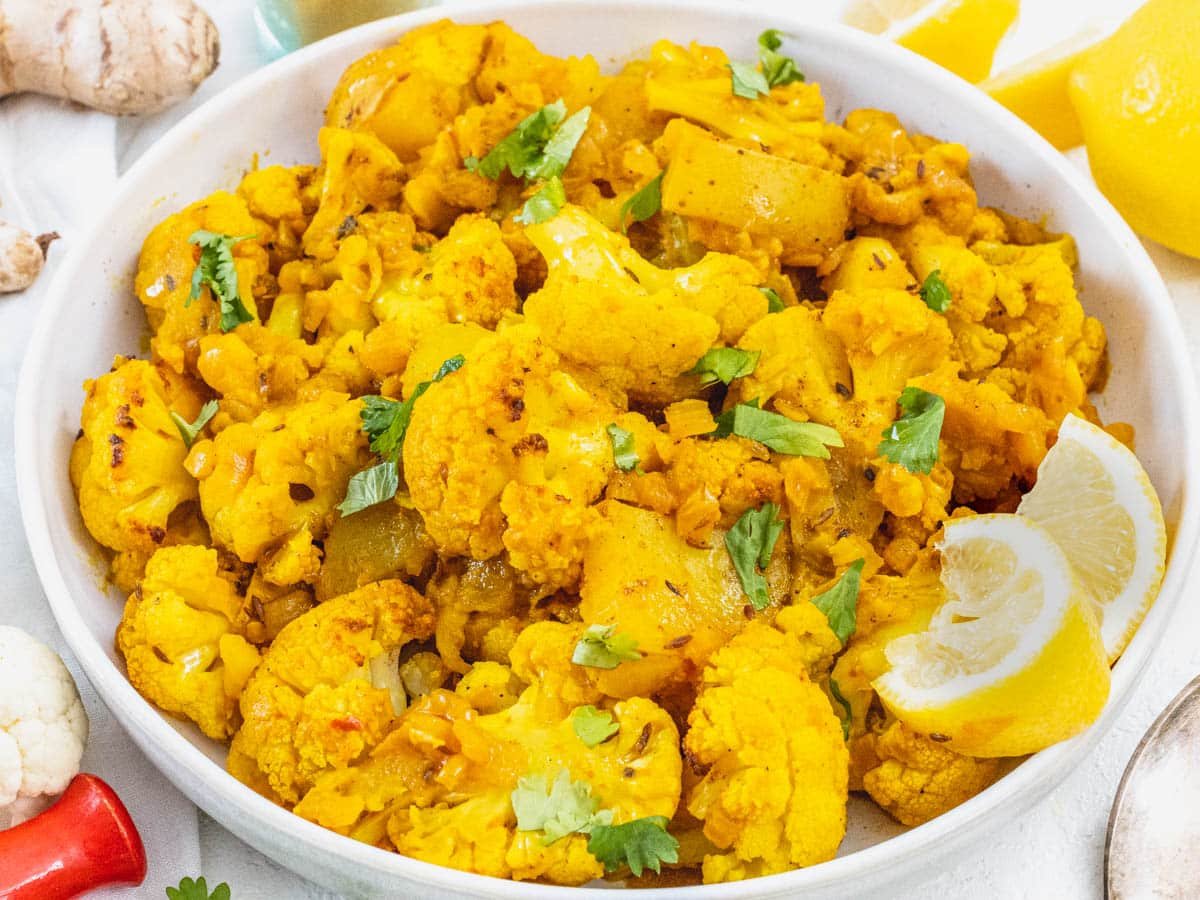 Aloo Gobi is a simple and tasty vegetarian Indian curry with potatoes (aloo), cauliflower (gobhi), and a mix of Indian spices such as turmeric and cumin.
Serve this cauliflower potato curry as a starter, side dish, or healthy main with naan bread or rice and your favorite yogurt.
We have two favorite ingredients for this cauliflower soup recipe: extra creamy and velvety (dairy-free or regular butter) and potato.
Potatoes are great for adding creaminess to soups because they have a mildly earthy but mostly neutral flavor and are rich in starch.
When blended, the starch in the potato binds with the cauliflower, making this soup the creamiest, even creamier than soup made with butter.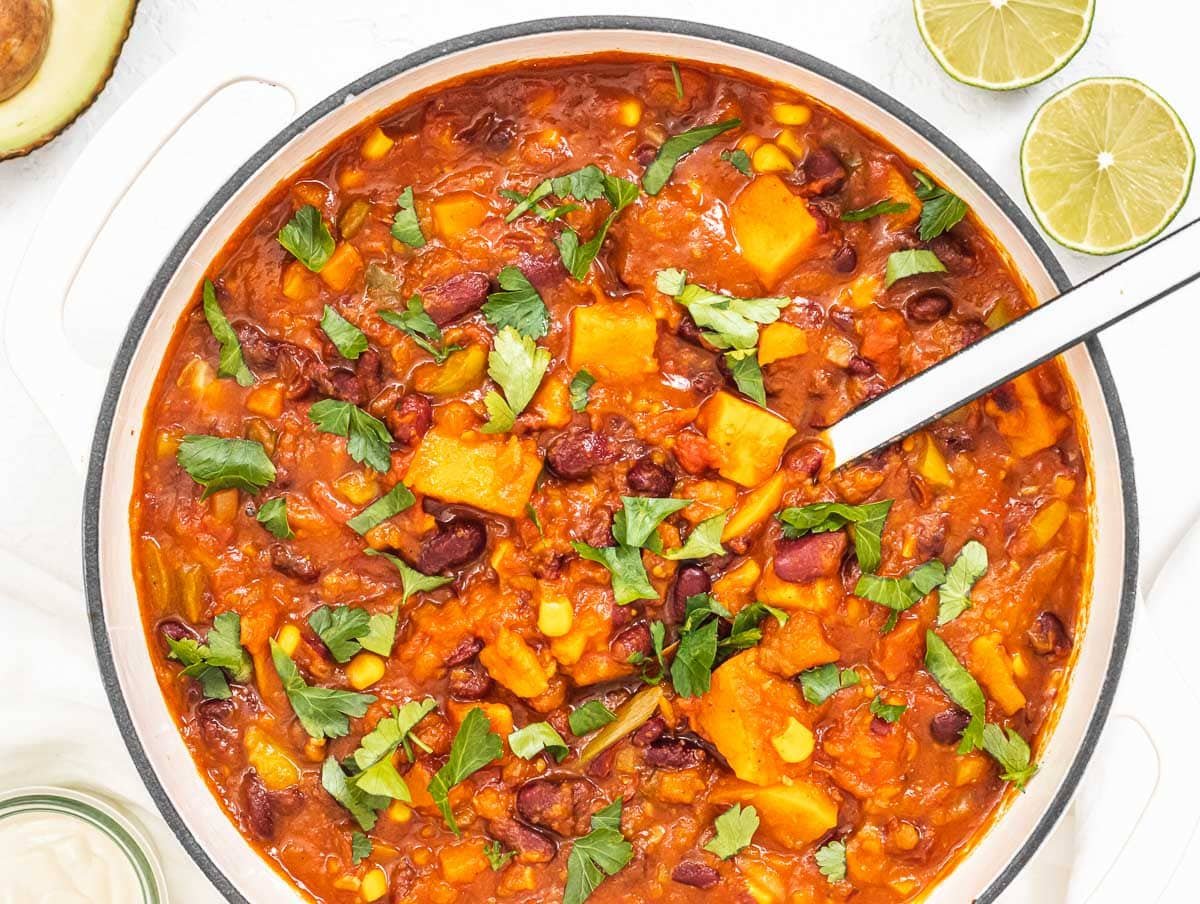 The creaminess and flavors of this simple one-pot sweet potato chili blew us away. 
With kidney beans, corn, and a rich tomato base, It is one of our favorite make-ahead dinners as it keeps in the fridge for days.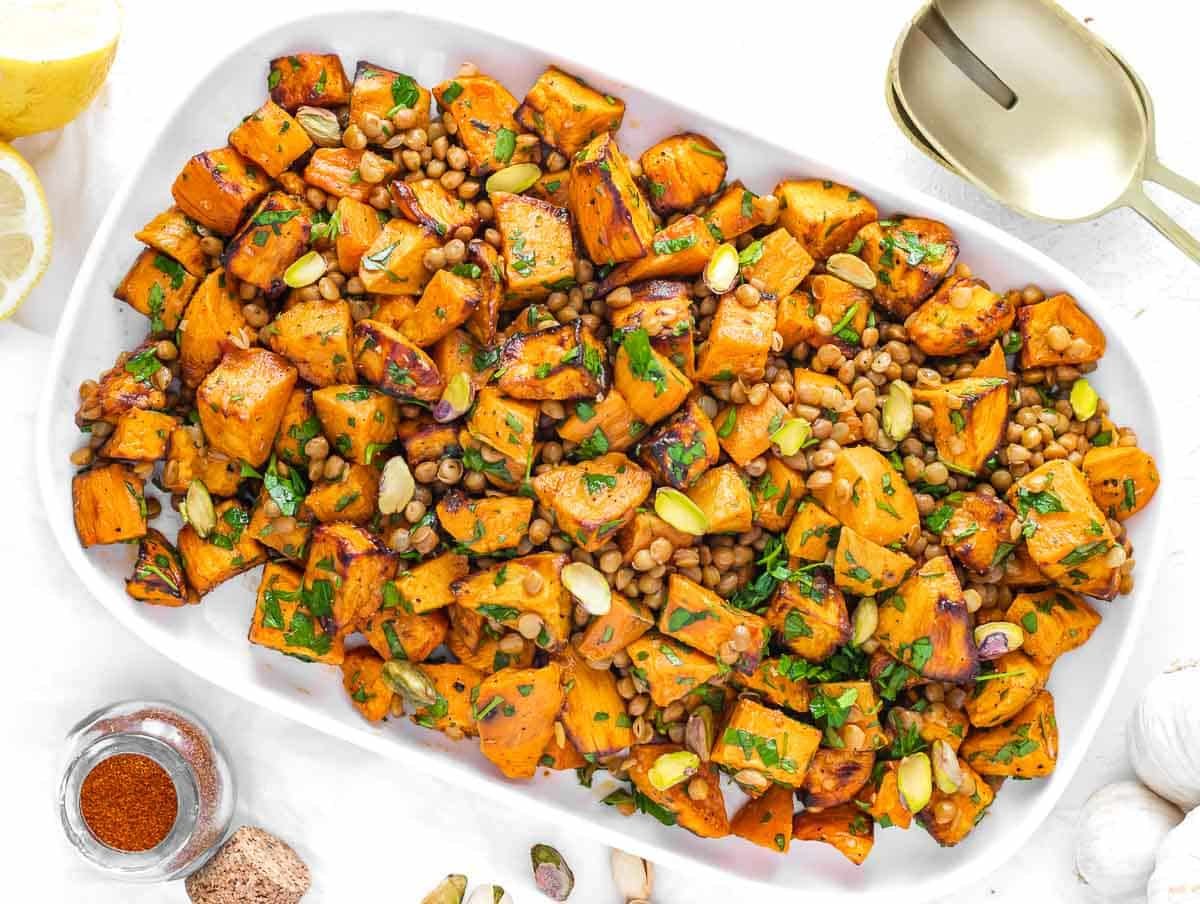 Sweet potatoes come in white, purple, and orange varieties. We recommend the classic orange sweet potatoes for this winter-friendly dish.
We make this meal-prep-friendly salad with tender caramelized roasted sweet potatoes, meaty green or brown lentils, and plenty of fresh parsley.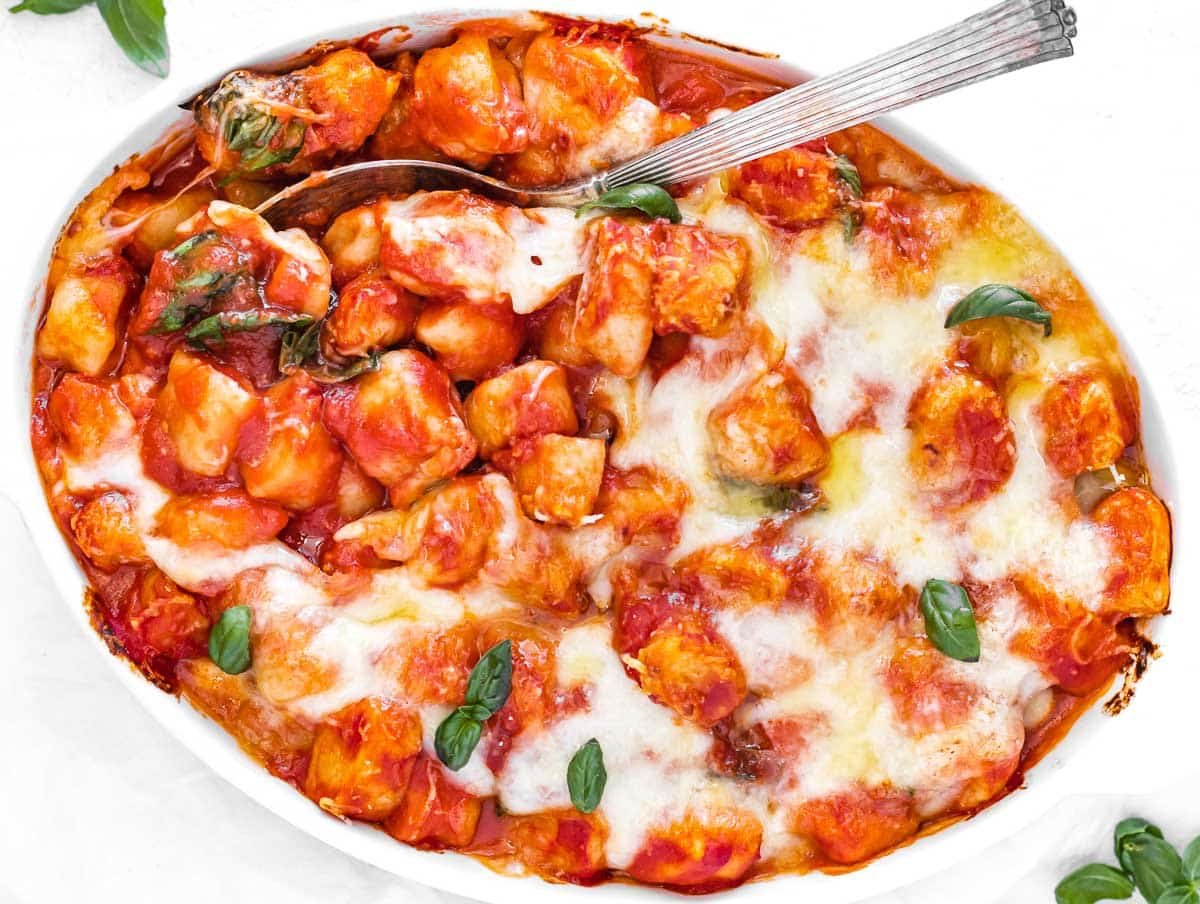 You can use homemade gnocchi or store-bought gnocchi for this Italian dish.
Check out our homemade potato gnocchi recipe to learn how to make them. You'll only need russet or red potatoes, all-purpose flour, and salt. We make the dough without egg; you won't need fancy equipment, just a fork or potato ricer.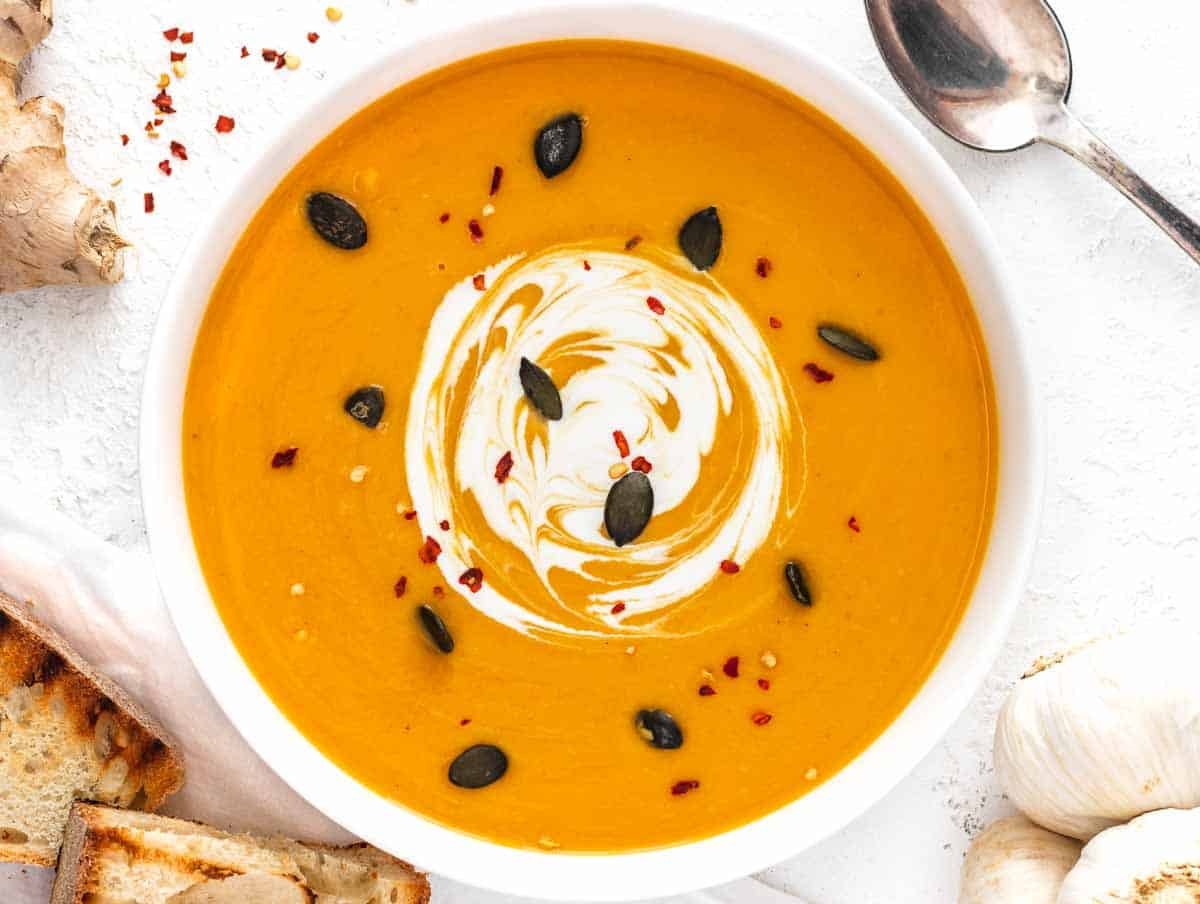 For this healthy sweet potato soup, we bake the sweet potato in the oven with the other ingredients (onions, carrots, garlic, salt, and pepper).
Then, when the veggies are soft and caramelized, we transfer them into a Dutch oven, add vegetable broth, and blend with an immersion blender until smooth and creamy.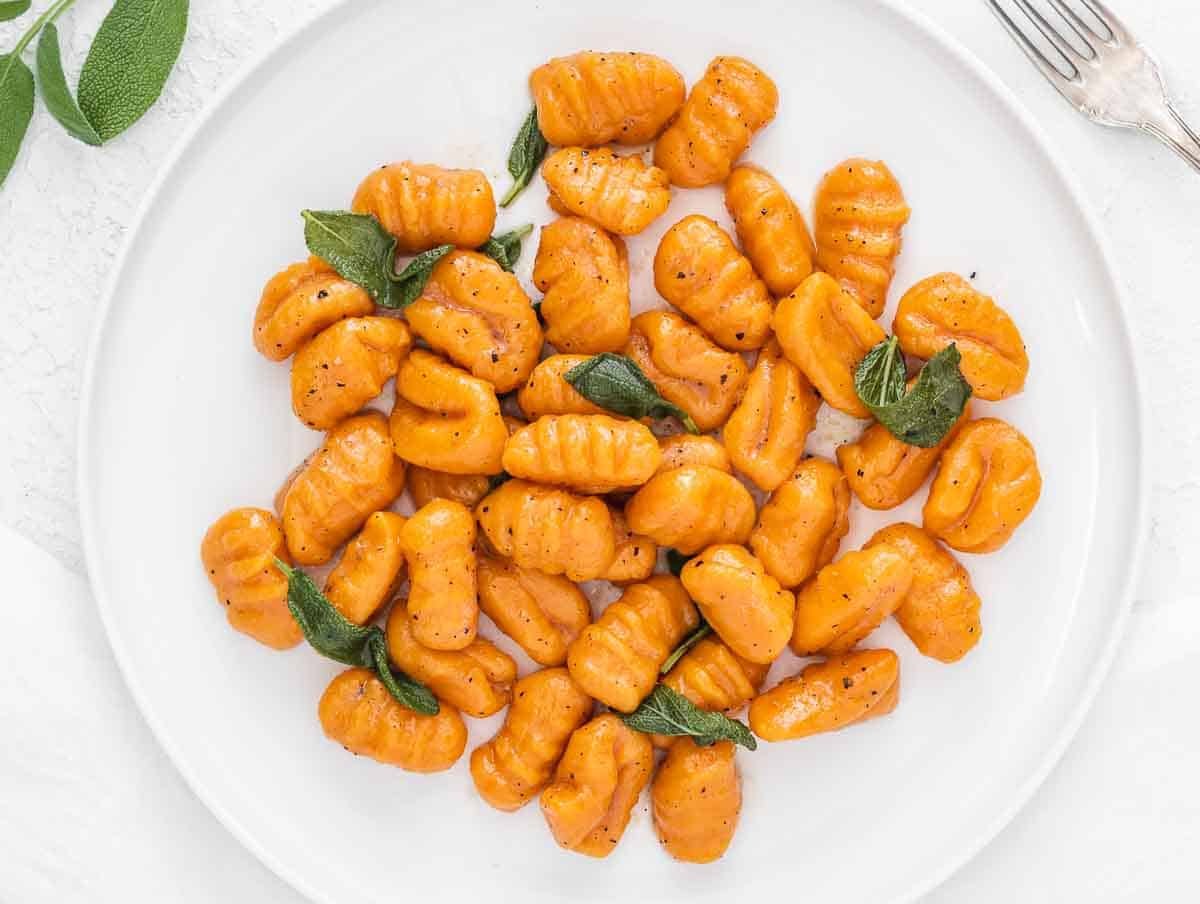 These sweet potato gnocchi have a chewy and irresistible texture; they cook in 1 minute, and you can serve them with your favorite sauce.
Our tip for a restaurant-worthy meal is a sauce of butter and sage, cream and mushrooms, lentil bolognese, or arugula pesto.
For this healthy and comforting vegetable soup, we use diced Yukon Gold or Russet Potatoes, which add creaminess and make it more fulfilling.
Our tip: Substitute diced sweet potato, pumpkin, butternut squash, or kabocha squash for potatoes.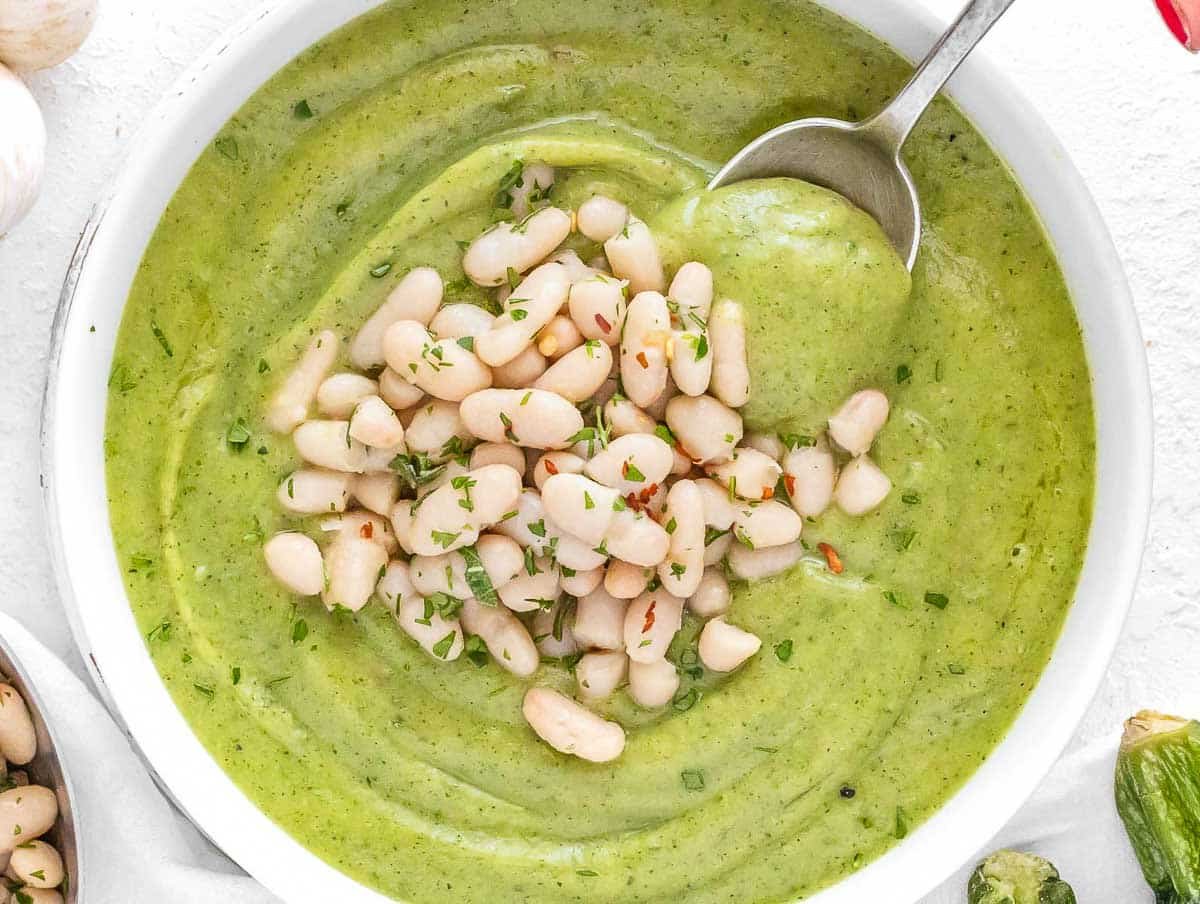 Potato is our secret ingredient to make the zucchini soup creamy and silky without adding heavy cream, butter, or cheese.
When blended, the starch in the potato binds with the other ingredients, creating a velvety and creamy texture.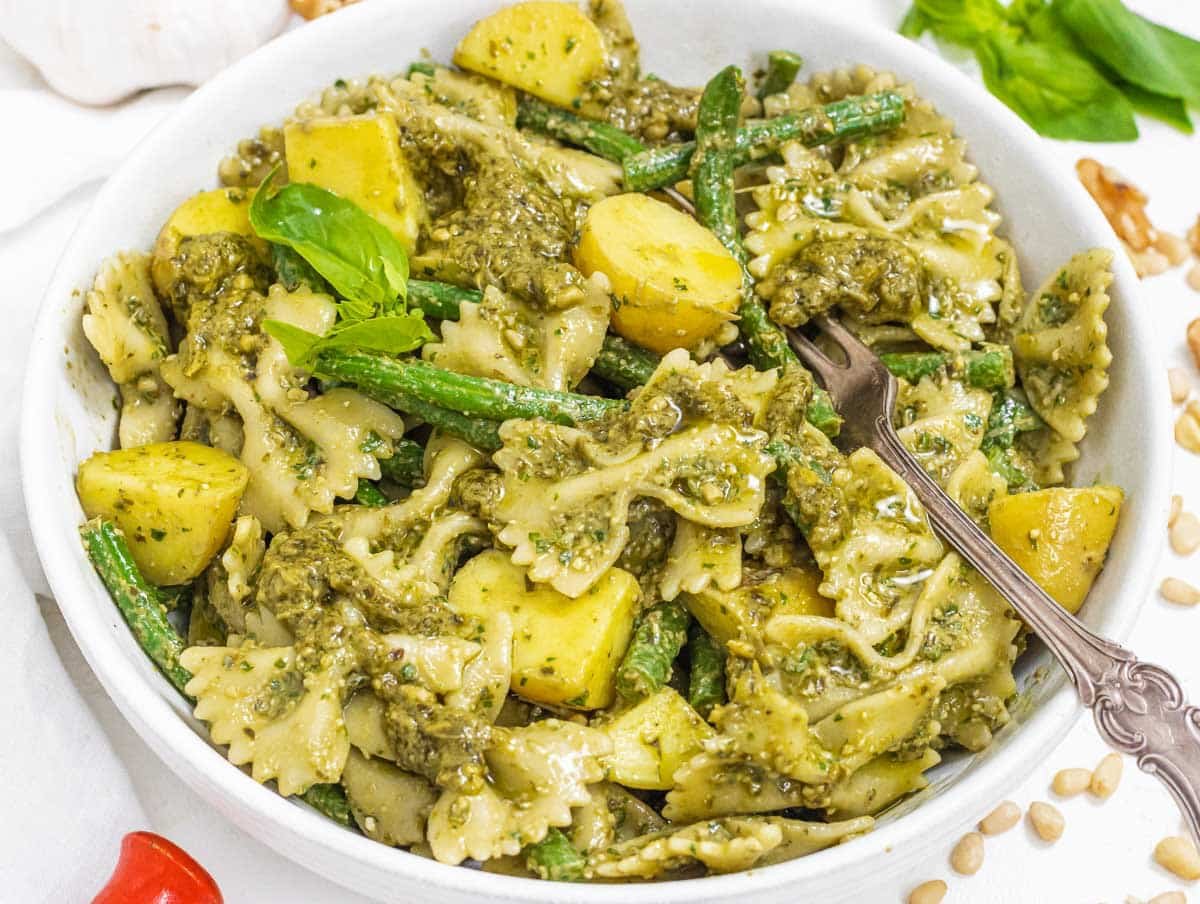 Traditional pasta al pesto from Genova in Italy (the home of basil pesto) is with added boiled potatoes and green beans.
We think green beans and potatoes are delicious with pasta, so we'll show you how to add them for a satiating and Italian-inspired meal.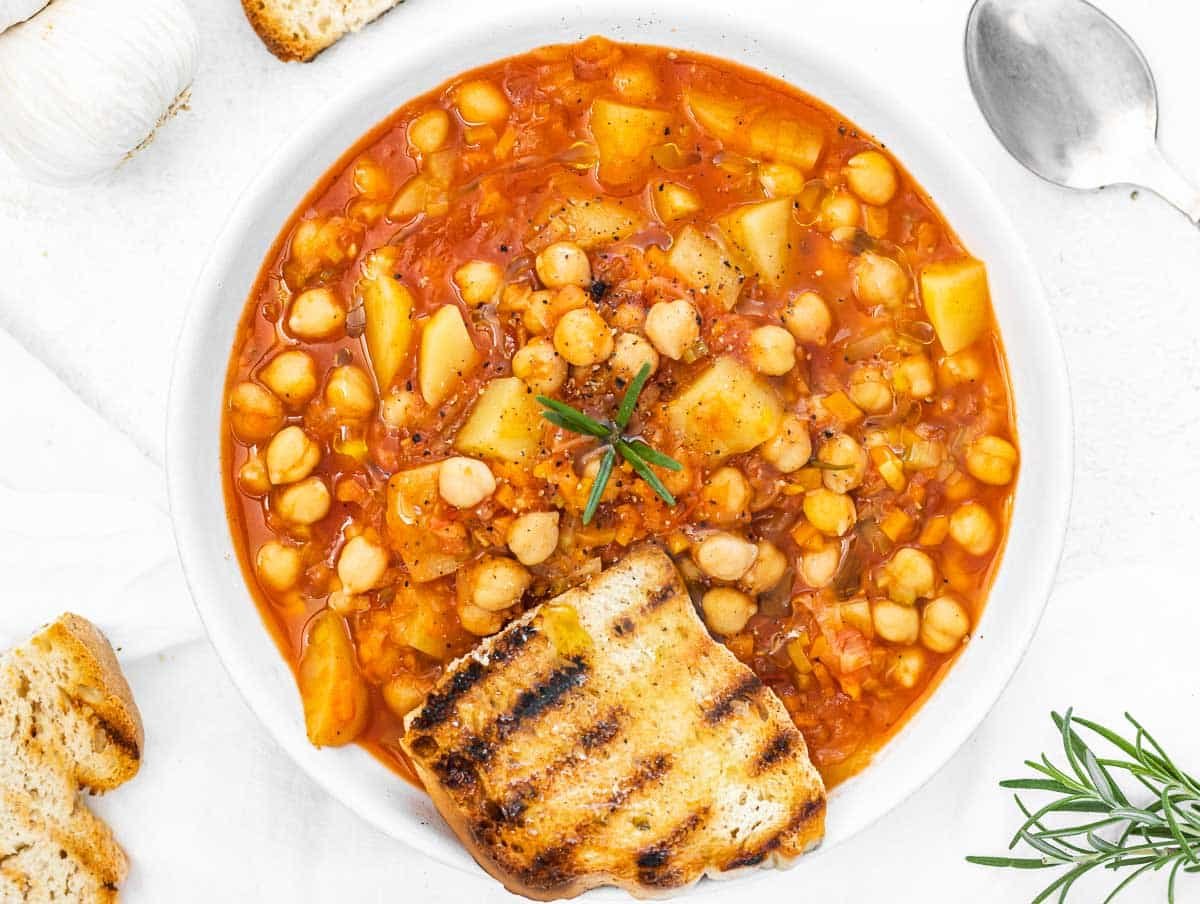 Potatoes and chickpeas make this rustic tomato-rich soup earthy and fulfilling. 
Our tip: You can freeze the soup for up to 3 months and reheat it for busy weeknights. It's a healthy and prosperous dinner with lots of fiber and flavor.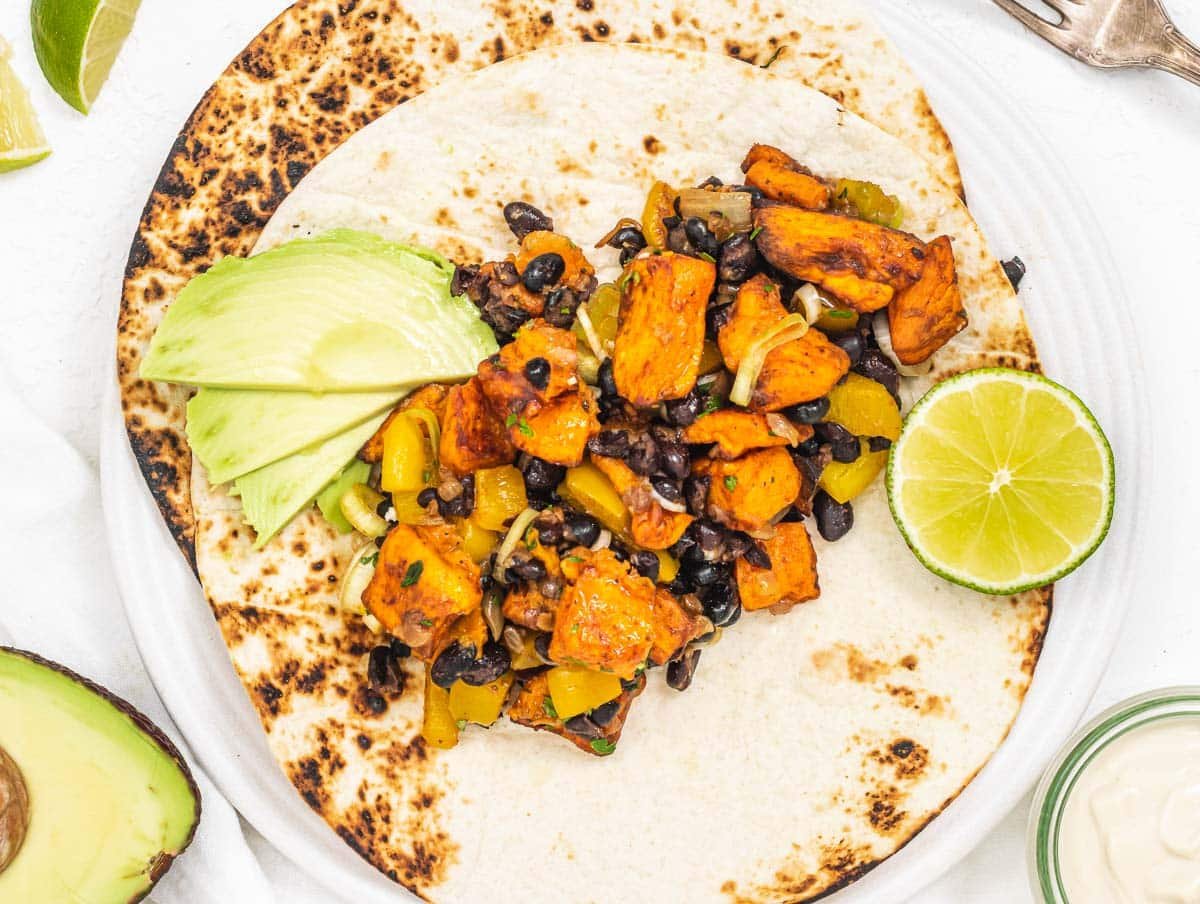 Make sweet potato hash with oven-roasted sweet potatoes to unleash the spuds' caramelized and slightly charred flavor.
We combine black beans, lime, peppers, and cilantro to create this colorful, nutritious, and, most importantly, delicious meal.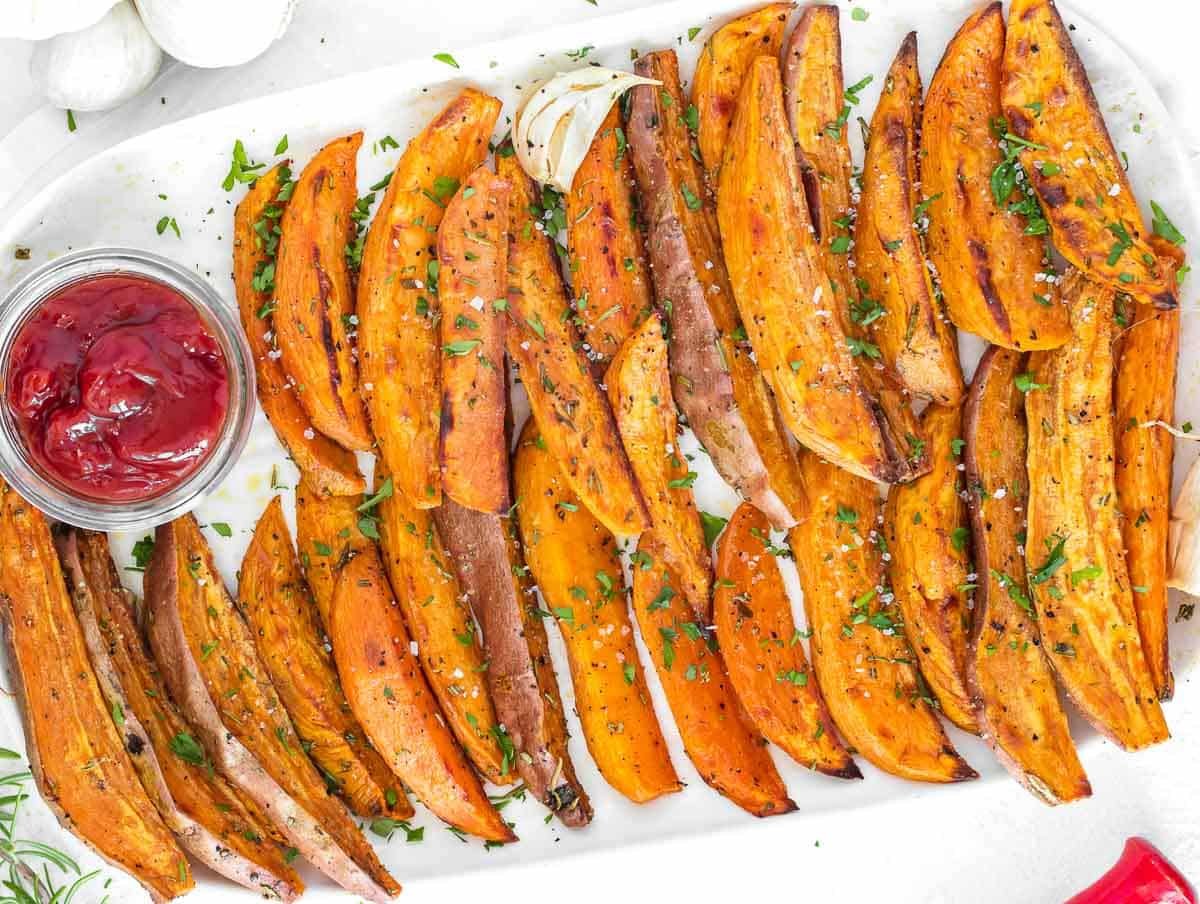 Roasted sweet potato wedges are a quick and easy recipe that takes no time to prepare and only about 30 minutes of burning in the oven.
You can peel the sweet potatoes or make skin-on sweet potato wedges, making the recipe even faster.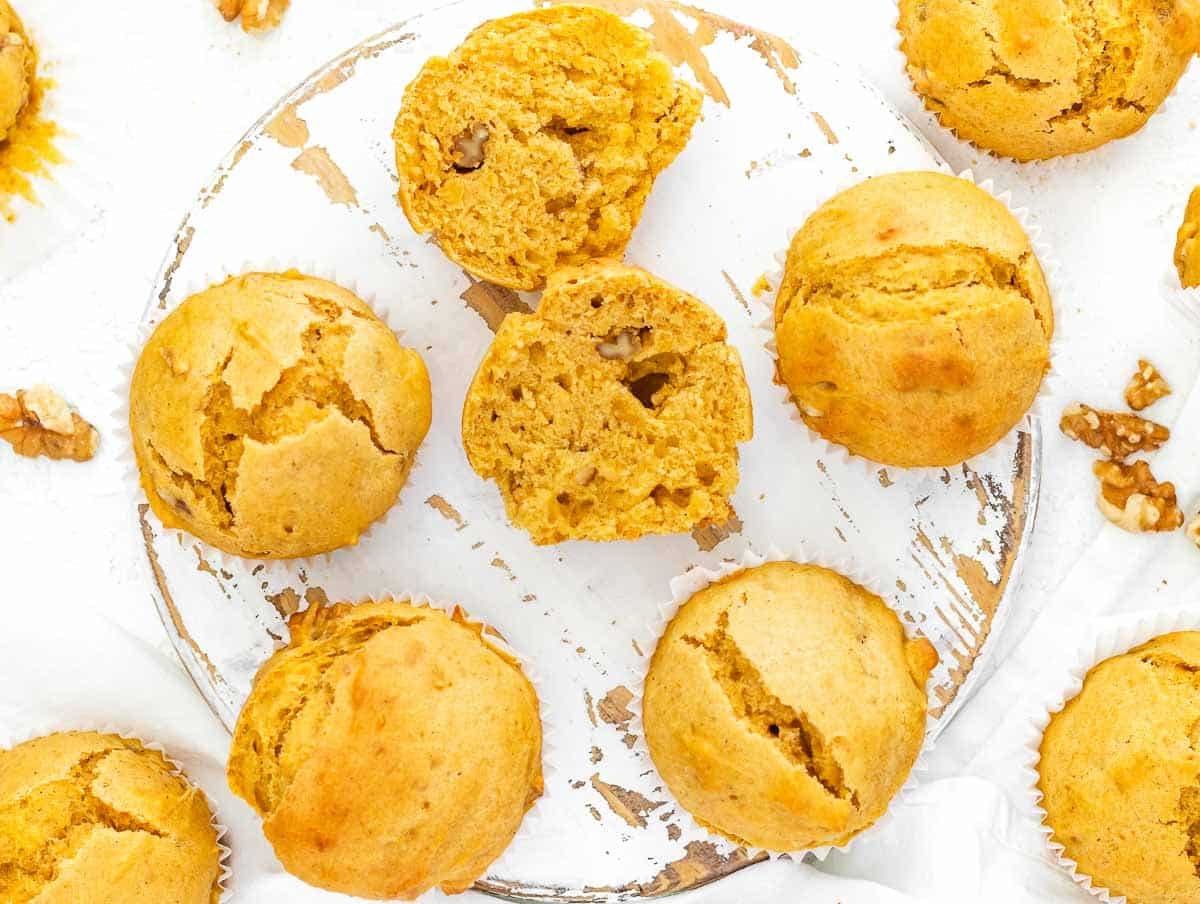 We end this list with a snack and dessert idea that is prepared in 30 minutes: easy sweet potato muffins.
The recipe is naturally vegan and dairy-free, as there's no need for eggs or butter. The sweet potato makes the muffins moist, sweet, and irresistible.
Why are potatoes healthy?
Nutrition Powerhouse: Potatoes are a great source of vitamins and minerals, including vitamin C, B6, potassium, and fiber.
These nutrients help support immune function, brain health, and healthy digestion.
Low in Calories: When prepared without excessive oils and fats, potatoes are relatively low in calories and an excellent addition to a whole-food diet.
Dietary Fiber: With soluble and insoluble fiber, potatoes support healthy digestion, regulate blood sugar levels, and promote a feeling of satiety.
Antioxidants: Certain varieties of potatoes, especially colorful ones, contain antioxidants that can help protect cells from damage and promote your overall health.
Gluten-Free: Potatoes are a fantastic option for those with gluten sensitivity, as they naturally lack gluten.
Versatility: From mashed and roasted to baked and dipped in sauces, the countless cooking methods allow you to enjoy them in colorful and satisfying ways.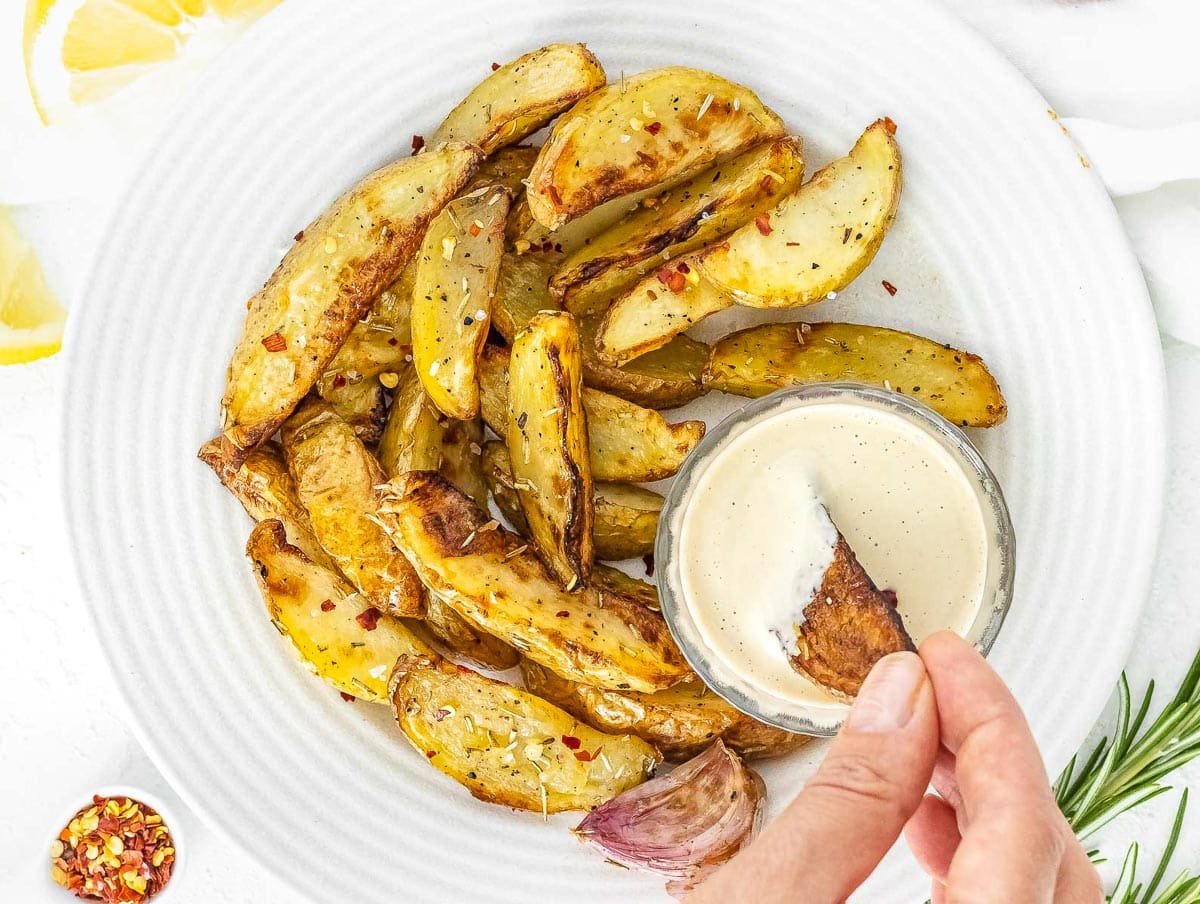 For many more side dish ideas, check out our sides category page.
Recipe
25 Potato Recipes
Air fryer potatoes are an excellent side dish with a tender, almost buttery core and with a finger-licking good, salty, crispy skin.They are also great as a snack with dips, or appetizer; they have a pleasant rosemary aroma and go well with most main dishes.
Ingredients
1½

pounds

potatoes

Yukon Gold, Russet, or Red Potatoes

1½

tablespoons

extra virgin olive oil

1

teaspoons

salt

or more to taste

¼

teaspoon

black pepper

1

teaspoon

garlic powder

2

sprig

rosemary

the finely chopped needles, or dried rosemary
Instructions
Scrub, wash, and pat dry the potatoes. Cut them into bite-size chunks (about 1-Inch). Add them to a mixing bowl with extra virgin olive oil, salt, black pepper, garlic powder, and finely chopped rosemary needles (or dried rosemary).

Toss well until fully coated in the seasoning.

Preheat air fryer to 400°F or 200°C for 3 minutes, then transfer potatoes into air fryer basket.Note: potatoes CAN overlap as long as you fill the air fryer basket to no more than half full. There's no need to arrange them on a single layer.

Air fry at 400°F or 200°C for 15 to 18 minutes, or until the potatoes are fork tender and nicely browned. Shake fryer basket every 5 minutes to ensure even cooking.

Take out of the air fryer immediately, arrange on a serving platter, and garnish with a pinch of coarse or flakey sea salt, fresh rosemary needles, or with your favorite fresh herbs or serve with dips.
Video Recipe
How to make creamy Mashed Potatoes
Notes
Nutrition information is an estimate for 1 serving of air fryer potatoes out of 6 servings, without dips.
SUBSTITUTIONS
- Extra virgin olive oil: sub avocado oil.
- Fresh rosemary: sub dried rosemary, fresh or dried thyme, Italian seasoning, fresh or dried sage.
- Garlic powder: sub 2 crushed cloves of fresh garlic. 
- Other suitable spices: paprika, chili powder, chipotle powder, cajun seasoning, ground cumin.
- Optional garnishing: fresh parsley, dill, or chives. Flakey sea salt, za'atar, rosemary needles.
OPTIONAL DIPS AND DRIZZLES
- Chimichurri: made with parsley, olive oil, vinegar, garlic, and red pepper flakes.
- Tahini sauce: made with tahini, garlic, lemon juice, water, and salt.
- Romesco sauce: made with almonds, roasted red peppers, sun dried tomatoes, garlic, oil and vinegar.
- Cashew sour cream: made with cashews, vinegar, lemon juice, and salt.
- Vegan mayo: made with canola oil, olive oil, lemon juice, salt, and mustard.
- Chipotle sauce: made with mayo, sour cream, garlic, lime juice, salt, and chipotle peppers in adobo sauce.
MAKE AHEAD & STORAGE
- Make ahead: not a good recipe to cook in advance; the potatoes are best eaten right out of the air fryer. However, you can scrub, rinse, and chop the potatoes in advance and keep them in a bowl submerged in water in the refrigerator for up to 24 hours. Once you are ready to cook them, drain them, pat them dry, and toss them with the seasoning.
- Refrigerator: keep leftovers in the fridge in an airtight container for up to 2 days. The potatoes will get soggy, but they will still be edible.
- Freezer: we don't recommend freezing this recipe.
- Reheat: microwave for 2 minutes or in a preheated air fryer at 400°F or 200°C for 5 minutes.
Nutritional Values
Nutrition Facts
25 Potato Recipes
Amount per Serving
% Daily Value*
* Percent Daily Values are based on a 2000 calorie diet.
Did you like this recipe?
Leave us a comment below or find us on Instagram, YouTube, Pinterest, TikTok, and Facebook.
If you liked these potato recipes, you might also enjoy: