Wondering what to make for dinner when you feel like soup? We have rounded up 20 of our best creamy soup recipes, including easy, quick, healthy, wholesome, and veggie-packed soup recipes! They are perfect as dinners, starters, sides, and light appetizers.

Many of these soup recipes are quick and easy 30-minute meals with just a few simple ingredients. Browse through this list and find your favorite, these wholesome soups will satiate and nourish you and your family!
Our best soup recipes
1. Lentil soup
Lentil soup is perfect as an everyday dinner, and as a make-ahead meal. You can easily meal-prep with this soup, and store it for up to 4 days in the refrigerator, and for up to 3 months in the freezer.
2. Cauliflower soup
This roast-and-blend cauliflower soup is nutty, cheesy, creamy, and delicious. Ours is an easy and naturally vegan recipe you can make with a few simple ingredients and a blender.
3. Butternut squash soup
Making this roasted butternut squash soup is incredibly simple! Bake the butternut in the oven with garlic, onion, and herbs, then blend it, and it's ready.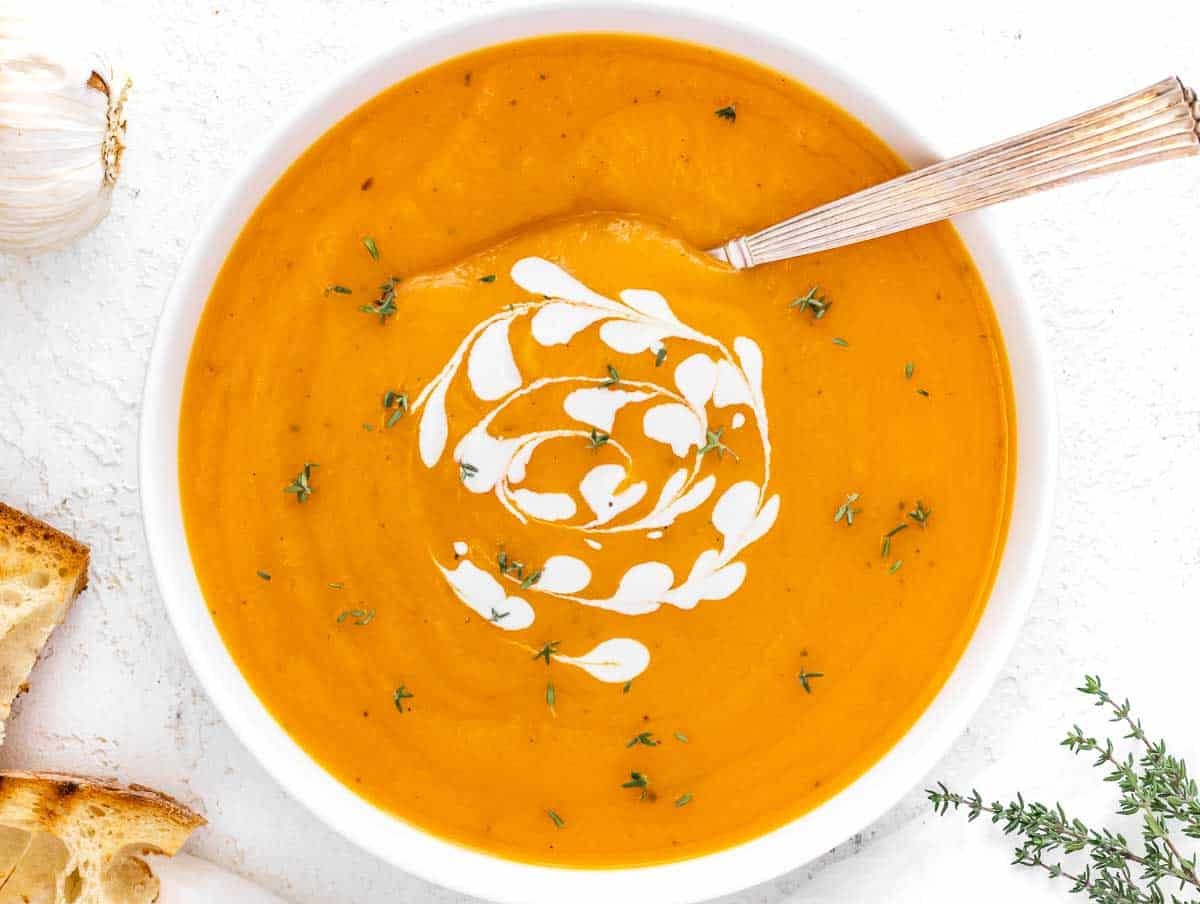 4. Tuscan bean soup
This veggie-packed Tuscan bean soup is a perfect make-ahead winter dinner as it can stay in the fridge for a few days. Freeze it to meal-prep, and once reheated its taste just gets better and better.
5. Zucchini soup
Make this delicious zucchini soup in less than 20 minutes with fresh zucchini and a few other simple ingredients you already have at home. You'll be impressed by its flavor and simplicity.
6. Eggplant soup
For this creamy eggplant soup, we roast eggplant, garlic, and cherry tomatoes in the oven for a slightly sweet, caramelized, and smoky flavor. But you can also make this recipe in one pot on the stovetop in just 30 minutes.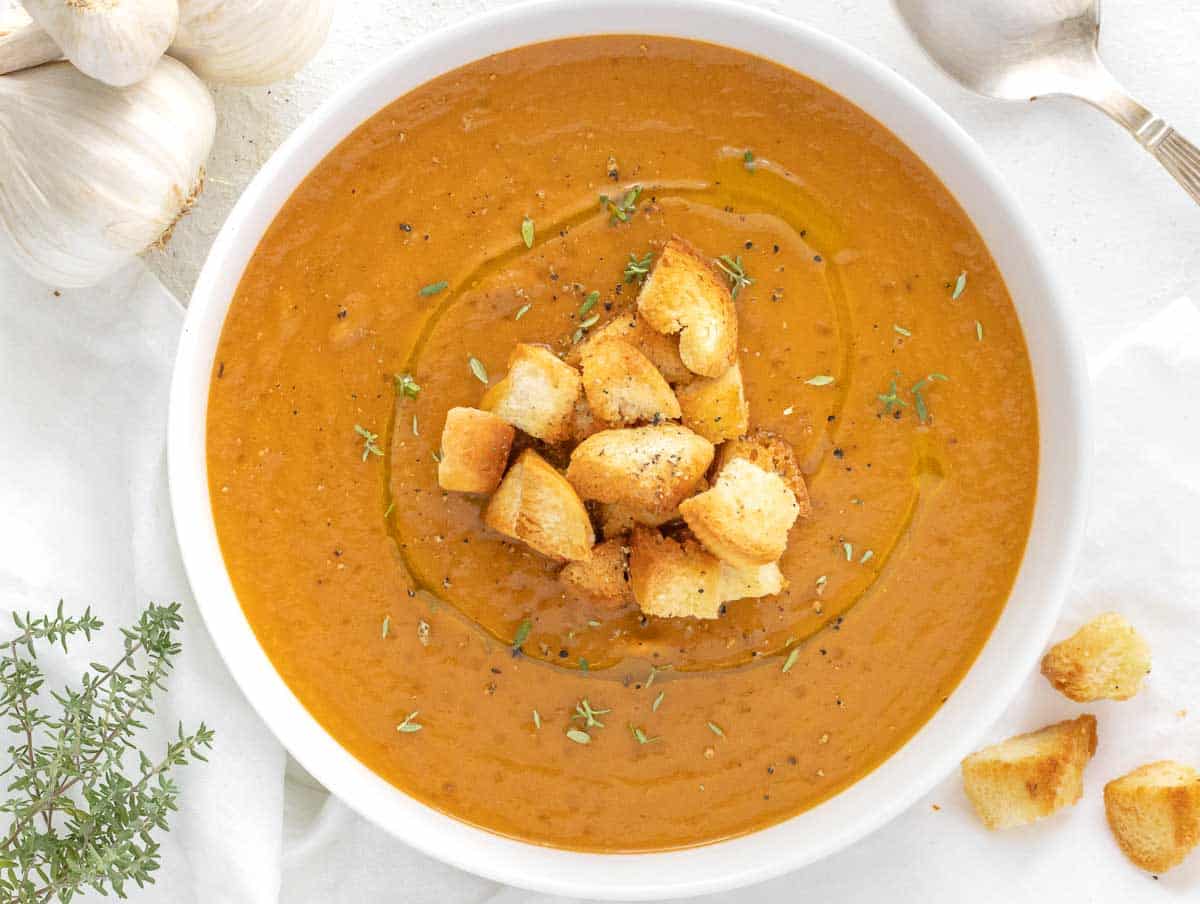 7. Sweet potato soup
Our sweet potato soup recipe is easy; we make it with oven-roasted sweet potatoes, carrots, onion, and garlic for maximum flavor and minimal effort.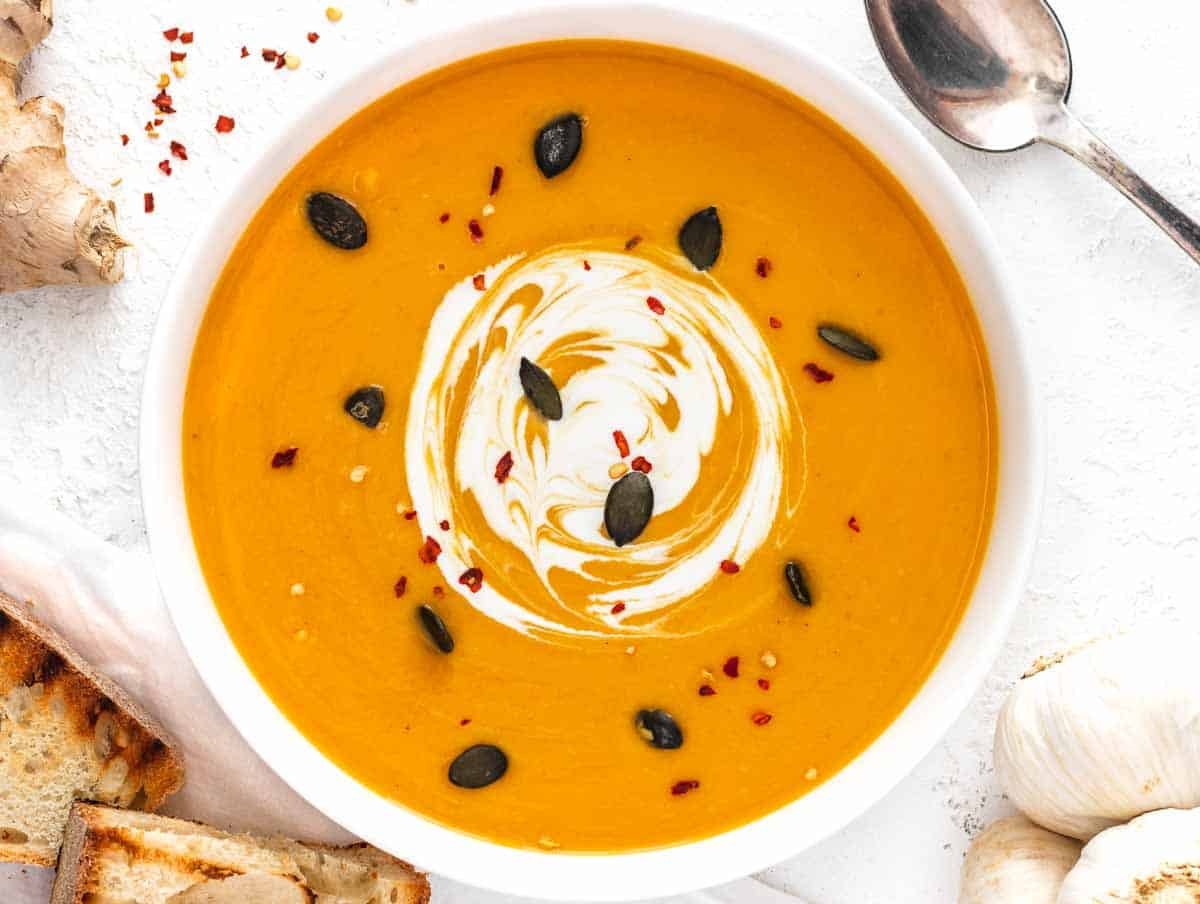 8. Tofu soup
This tofu soup is quick, tasty, and easy. You can make it in 20 minutes, with simple ingredients and seasonal veggies any time of the year.
9. Artichoke soup (from artichoke scraps)
Artichoke soup made from artichoke scraps and leftovers is full of flesh, taste, and nutrients. This soup is simple, nutritious, and a delicious zero-waste recipe.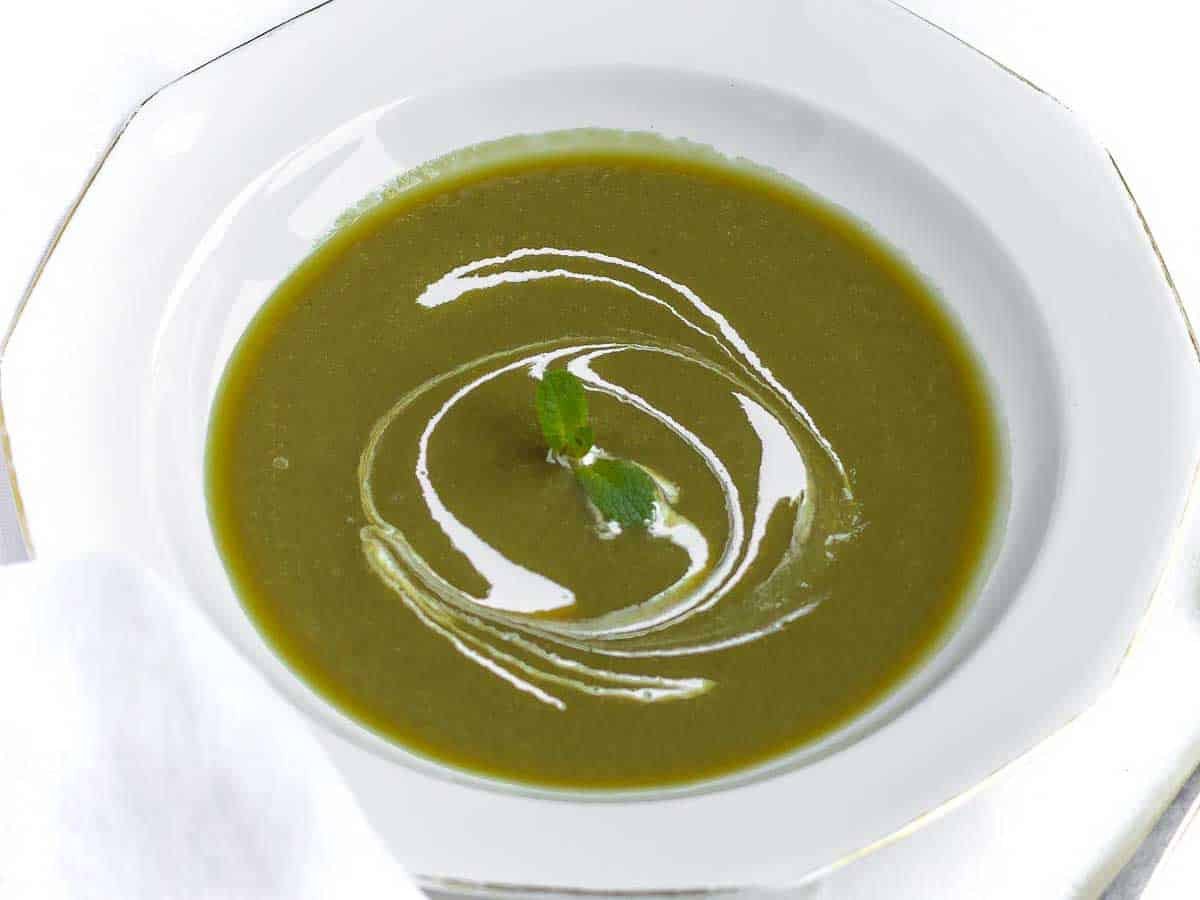 10. Broccoli soup
With only seven ingredients and in about 30 minutes, you can make the best broccoli soup you've ever had from scratch!
11. Kabocha squash soup
Kabocha squash soup is a velvety smooth, weekday-friendly dish that is tasty and easy to make with a few simple ingredients.
12. Chickpea soup
Authentic Italian flavor and wholesome ingredients come together in this healthy and mega-comforting chickpea soup. Serve with toasted sourdough bread and a drizzle of olive oil.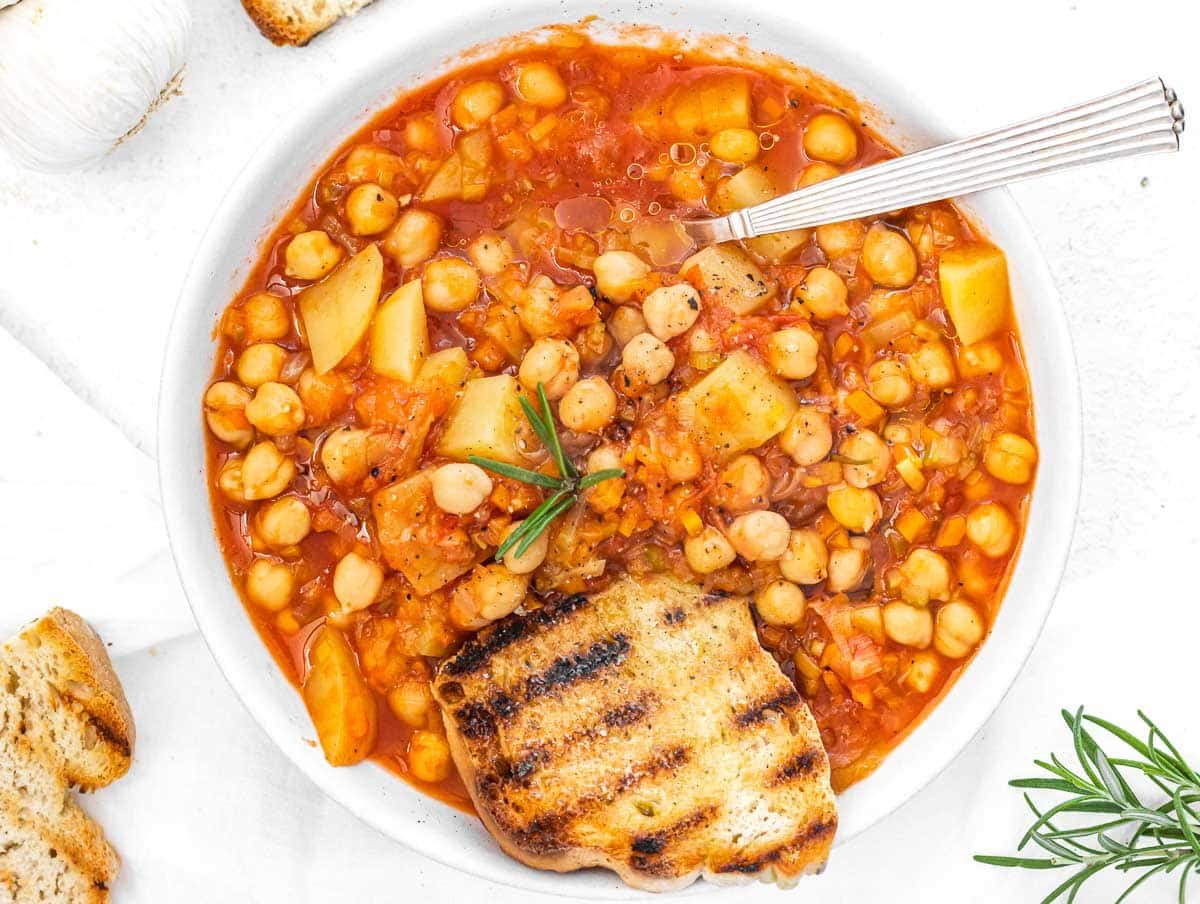 13. Carrot soup
When made correctly, carrot soup is one of the best, tastiest soups you'll ever have. It's creamy, colorful, and, most importantly, delicious with sweet and aromatic notes.
14. Red lentil soup
This red lentil soup is perfect for autumn or winter weeknight dinners as it's easy to make with a few pantry staples, and it only needs to simmer for about 20 minutes.
15. Kale soup
Easy, aromatic, and comforting, this rustic kale soup is a 30-minute recipe filled to the brim with beans, veggies, and rich tomato flavor.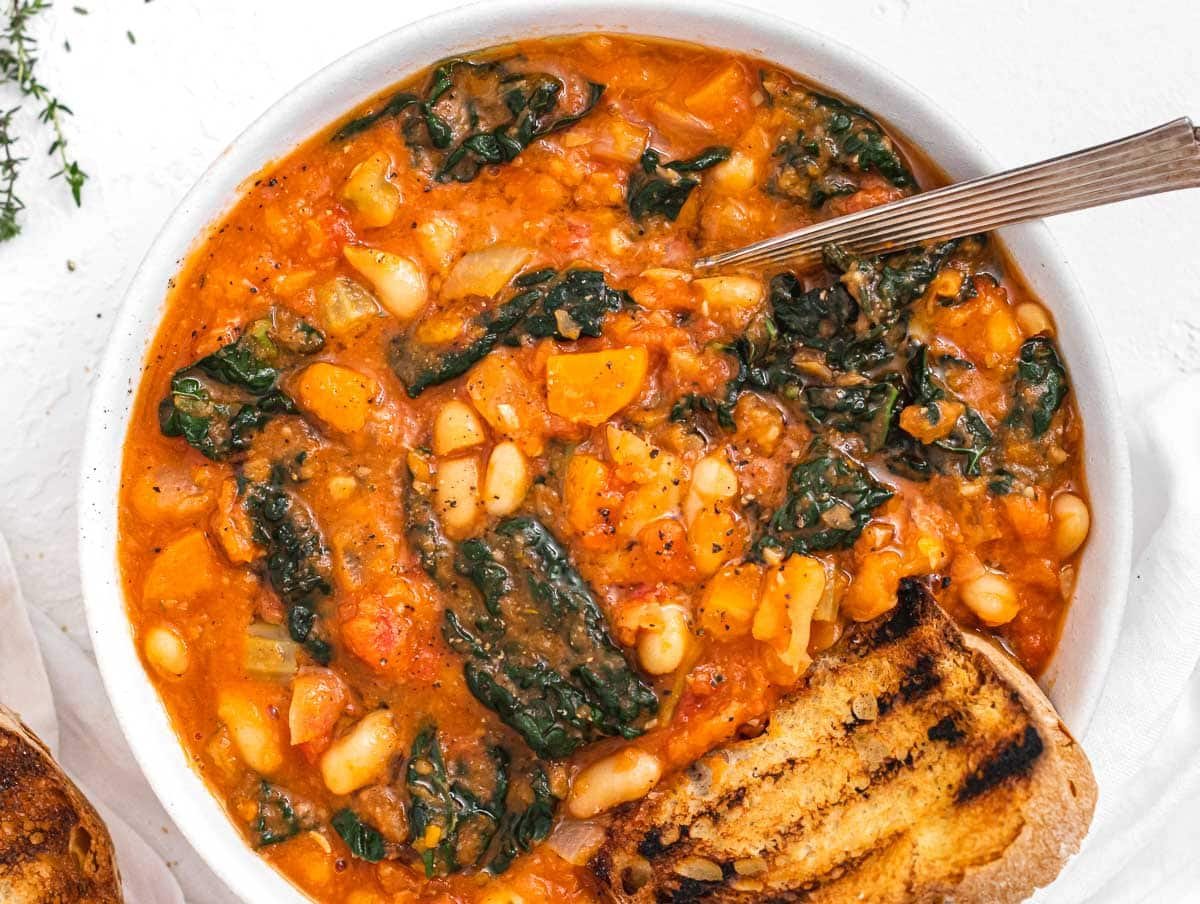 16. Vegetable soup
Easy to make at home, and ready in just 30 minutes! this vegetable soup is a warming, wholesome and tomato-infused soup that the entire family will love. Add pasta or spinach tortellini for a complete and satiating meal.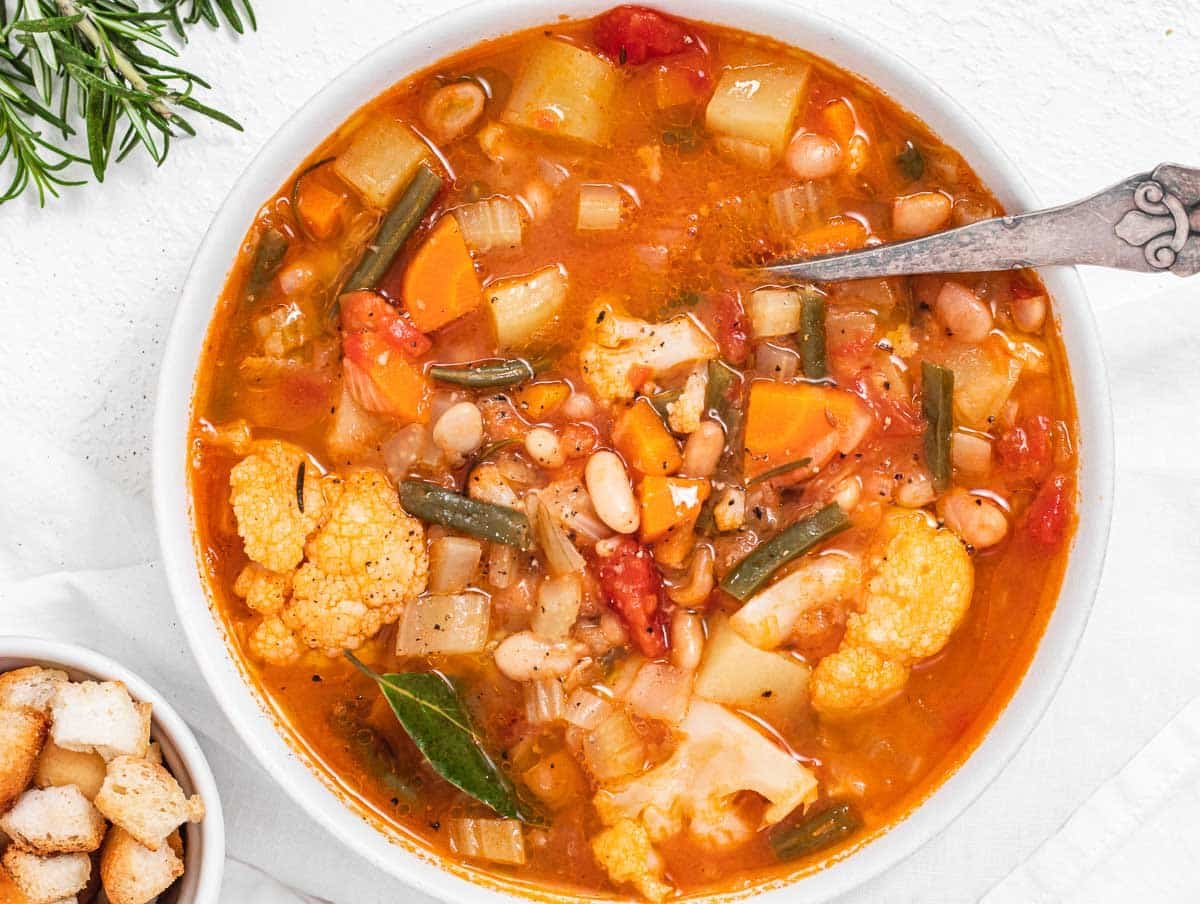 17. Sweet potato chili
This easy one-pot chili is a great vegetarian dinner idea with plenty of tender sweet potato, kidney beans, and a creamy tomato base. Top it with sour cream, avocado slices, and lime juice for a Mexican-inspired meal.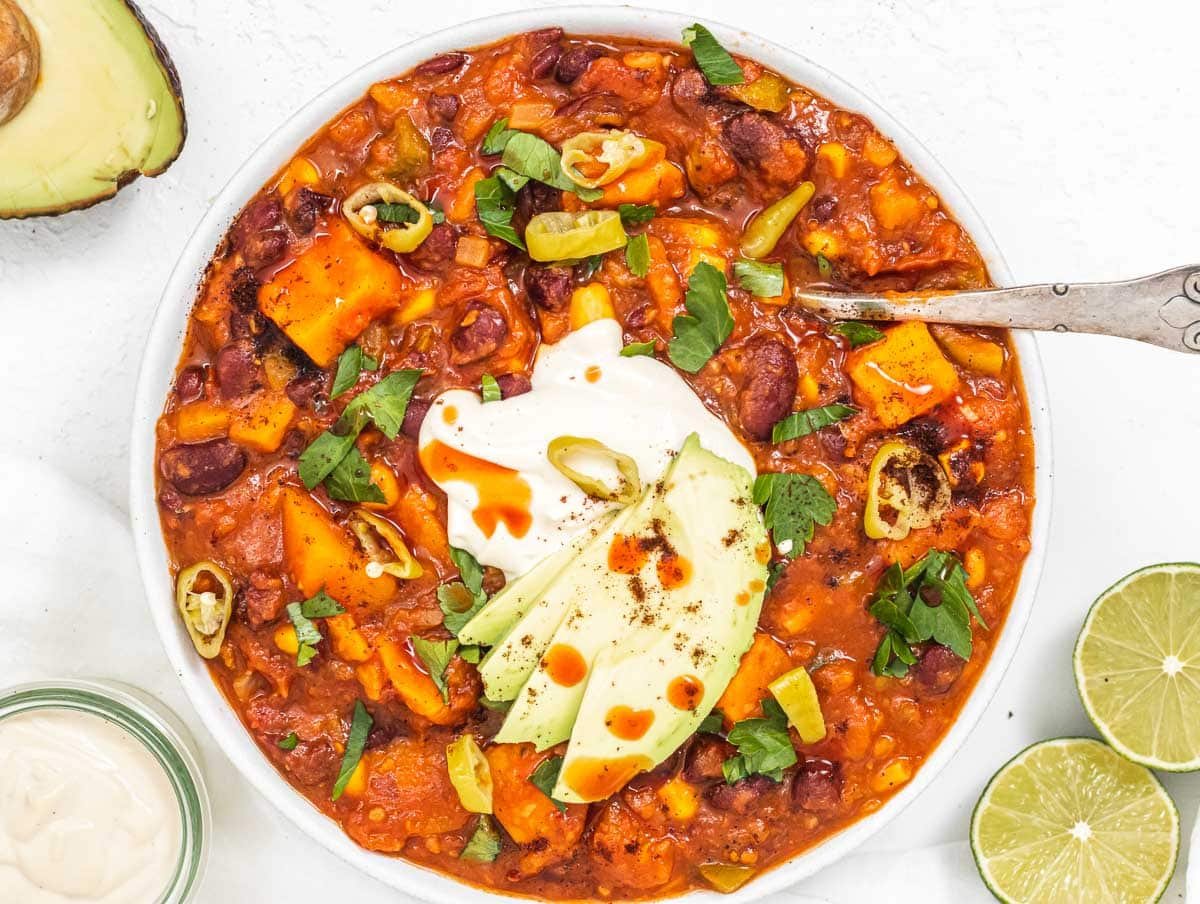 18. Lentil vegetable soup
An easy lentil vegetable soup with wholesome and delicious vegetable variations. Serve this lentil soup as is, with spinach and a slice of bread - or try a turmeric-potato variation with a golden color and warming Asian flavors.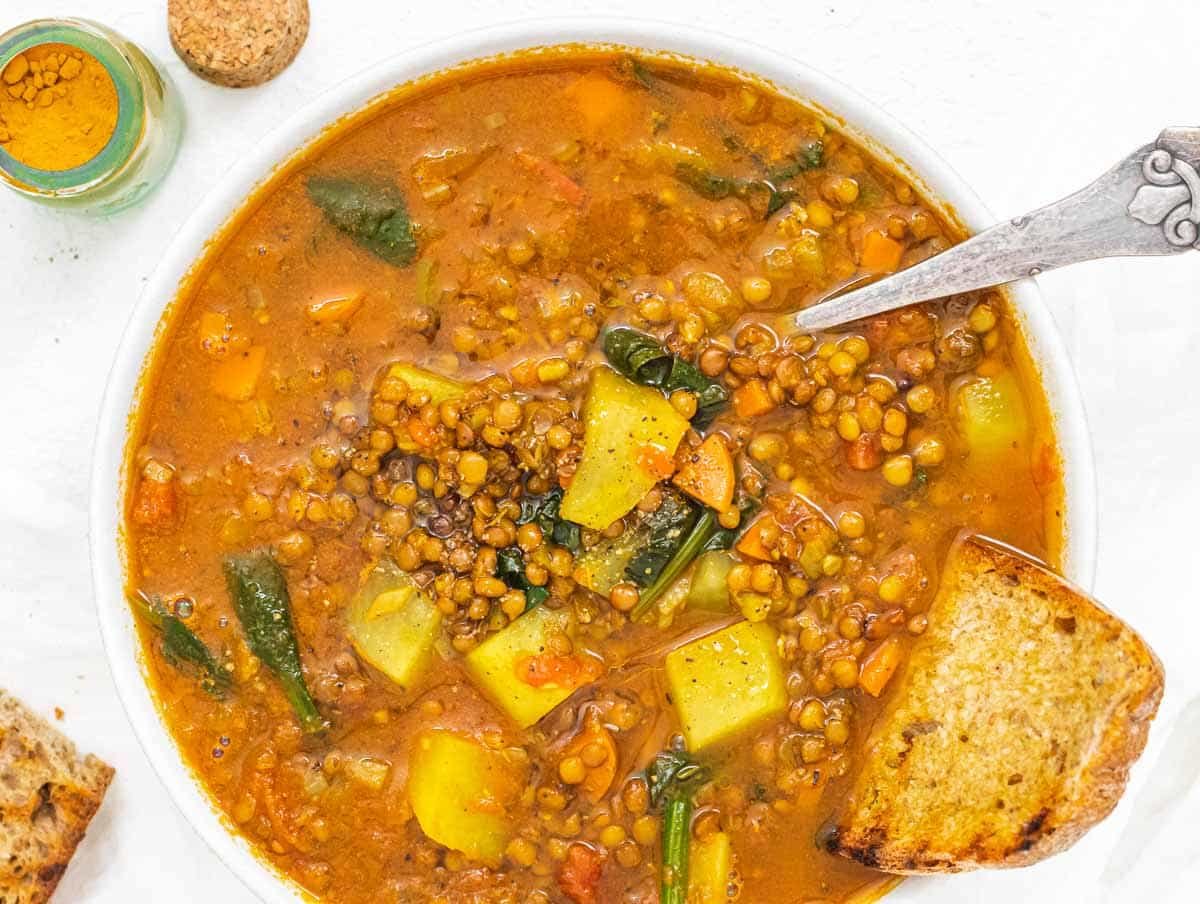 19. Split Pea Soup
This split pea soup is an easy one-pot dinner that you can make with protein-rich dried split peas and a few other simple ingredients. It's a healthy and homemade soup that is easily prepared in advance and stores well in the fridge and freezer.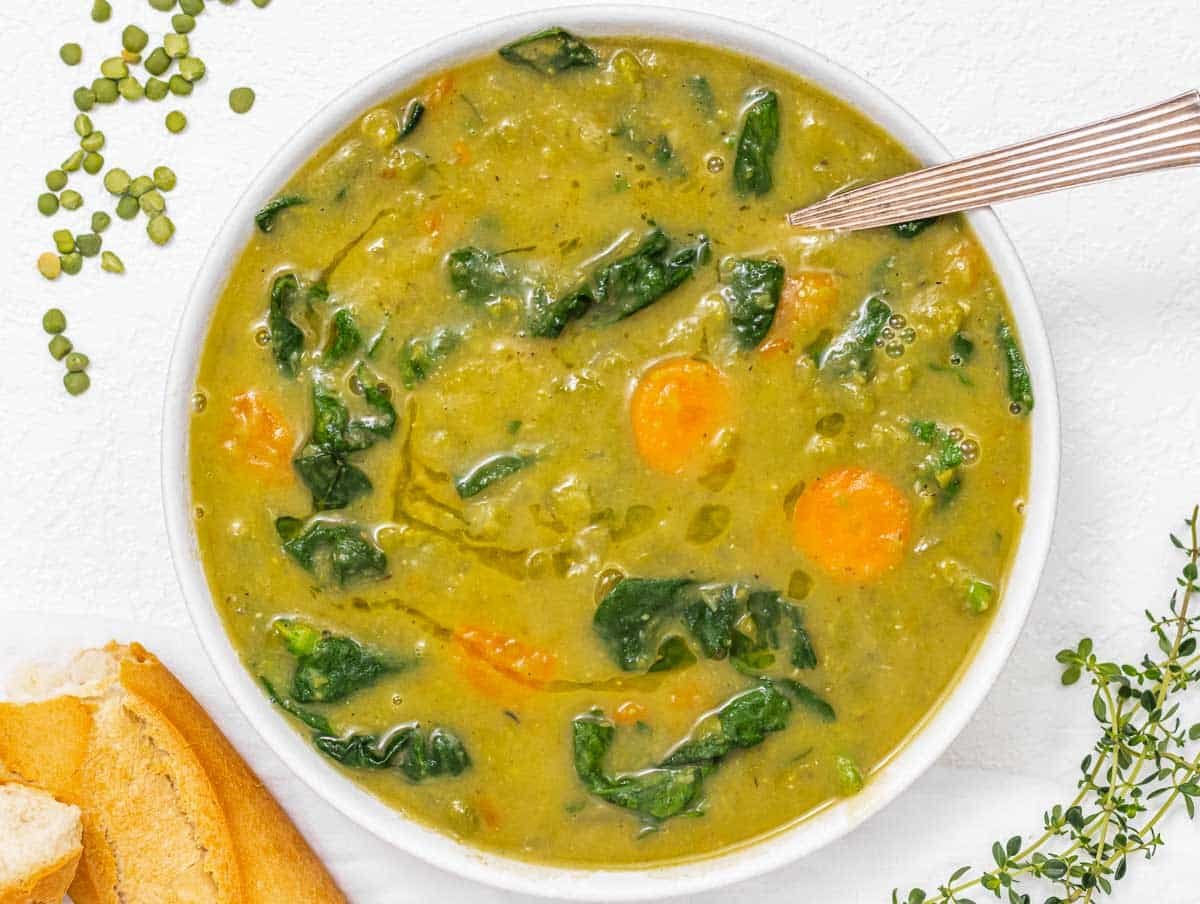 20. Asparagus soup
This creamy and bright green asparagus soup is a restaurant-worthy starter and side dish with a sprinkle of gremolata on top. Pair it with crusty bread or homemade focaccia for a light spring dinner, and a guest-friendly soup.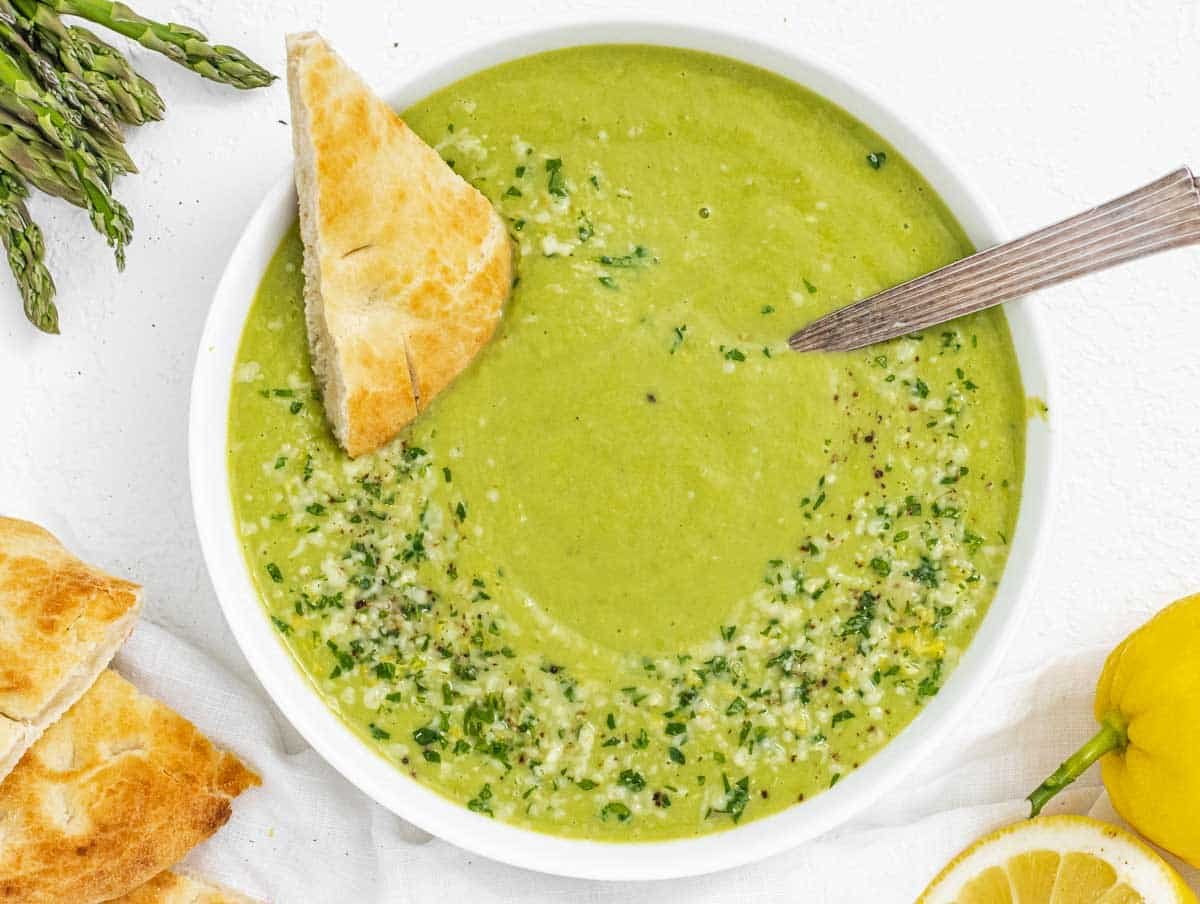 Our best stews and curries
Chickpea stew with sweet potatoes
This chickpea stew is perfect as a tasty and easy everyday dinner or as a make-ahead meal, as the chickpeas become even more flavourful the day after.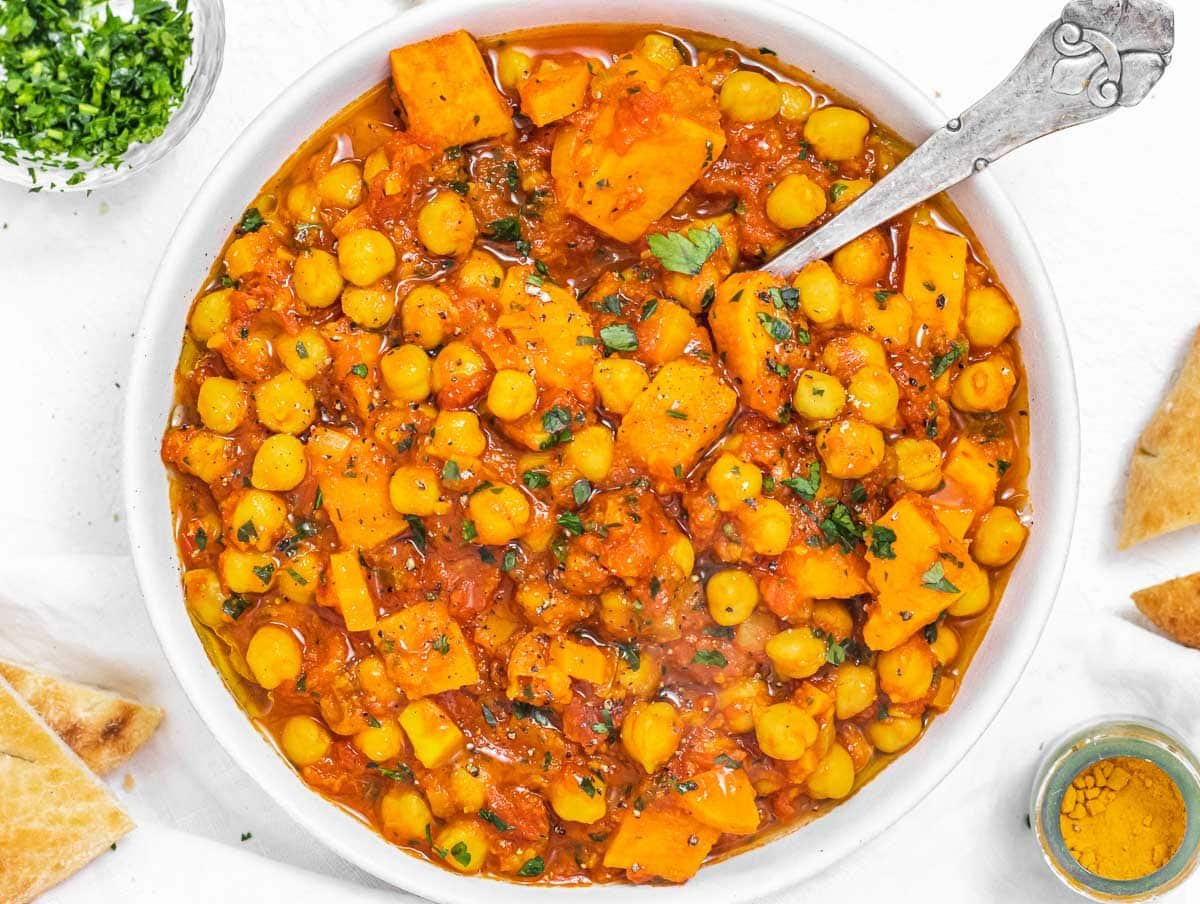 Italian bean stew
This Italian bean stew is easy, fulfilling, and delicious, made with simple ingredients that you might already have in your pantry.
Lentil curry
This lentil curry is one of our favorite lentil recipes of all as it's easy to make, it can be frozen for those lazy weeknights, and it's full of flavor, vitamins, and antioxidants.
Tofu curry
Making a great tofu curry is easy. Here we'll show you how to put this meal together in less than 30 minutes, and make the best everyday vegan curry recipe.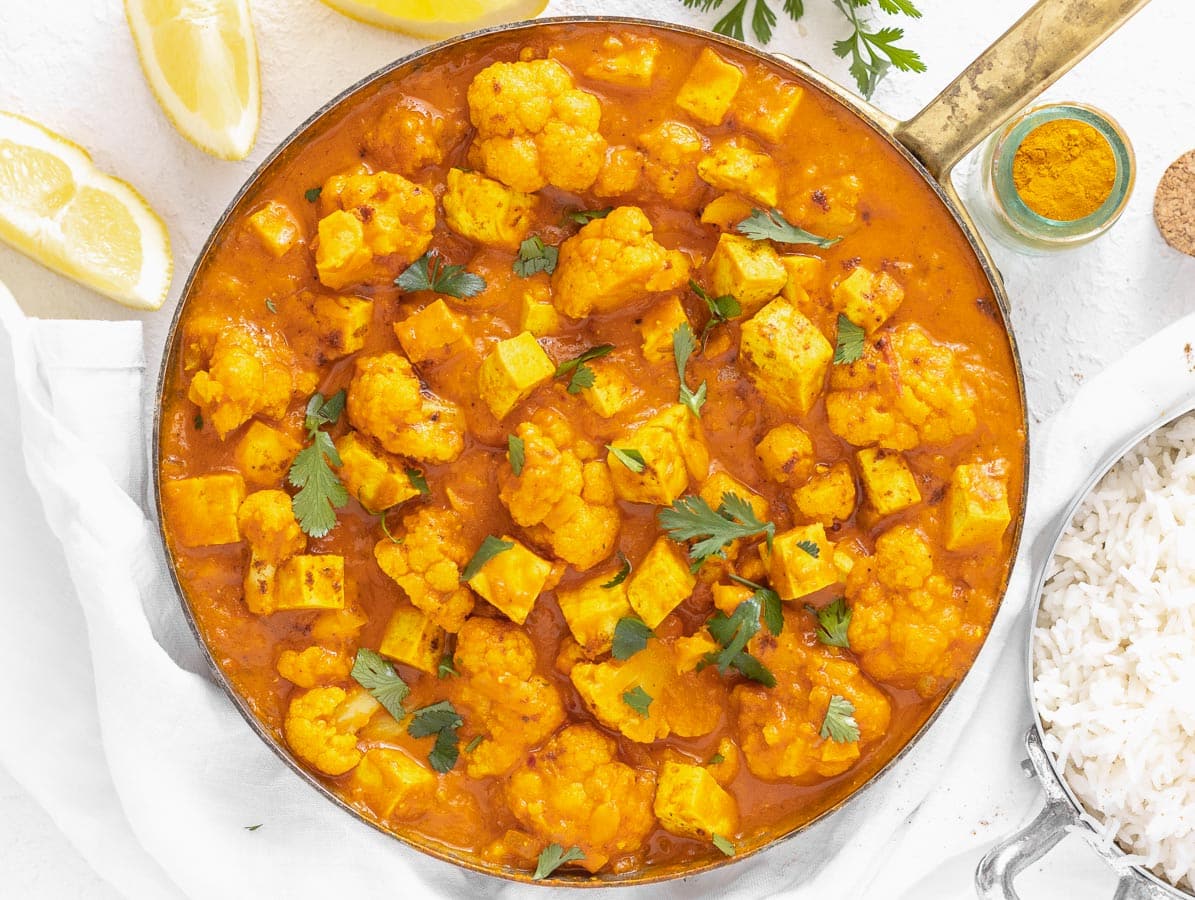 Cauliflower curry with chickpeas
This easy cauliflower curry is ready in 30 minutes and is packed with healthy and wholesome ingredients. Serve on basmati rice with fresh parsley and lemon wedges.
Best toppings for soups
Homemade croutons
Homemade croutons are a simple way to add flavor and crunch to salads, soups, stews, and casseroles. Make them in 15 minutes in the oven or on the stove-top, from fresh or stale bread.
Roasted chickpeas
Roasted chickpeas are a quick and easy way to add healthy protein and tasty crunch to salads and soups. They are also perfect as a crunchy and healthy snack.
Air fryer croutons
It takes less than 10 minutes to make these air fryer croutons and a few simple ingredients such as olive oil and your favorite dry herbs. They are perfect for soups, salads, and stews.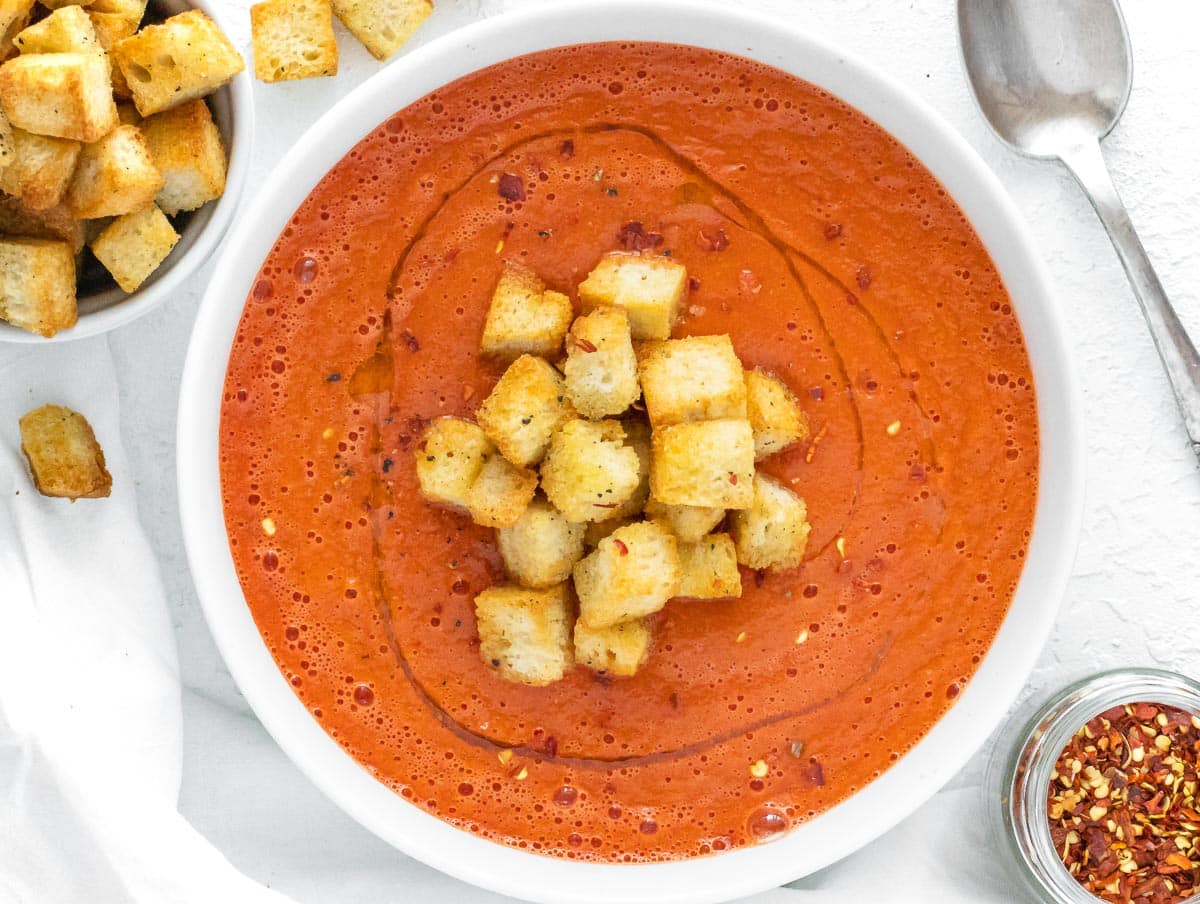 Italian cheesy breadcrumbs
This recipe for vegan parmesan cheese is our favorite alternative to real Italian parmesan cheese. It's free from dairy, free from saturated fat, and with a lot less salt than real parmesan. Its flavor however is full of umami.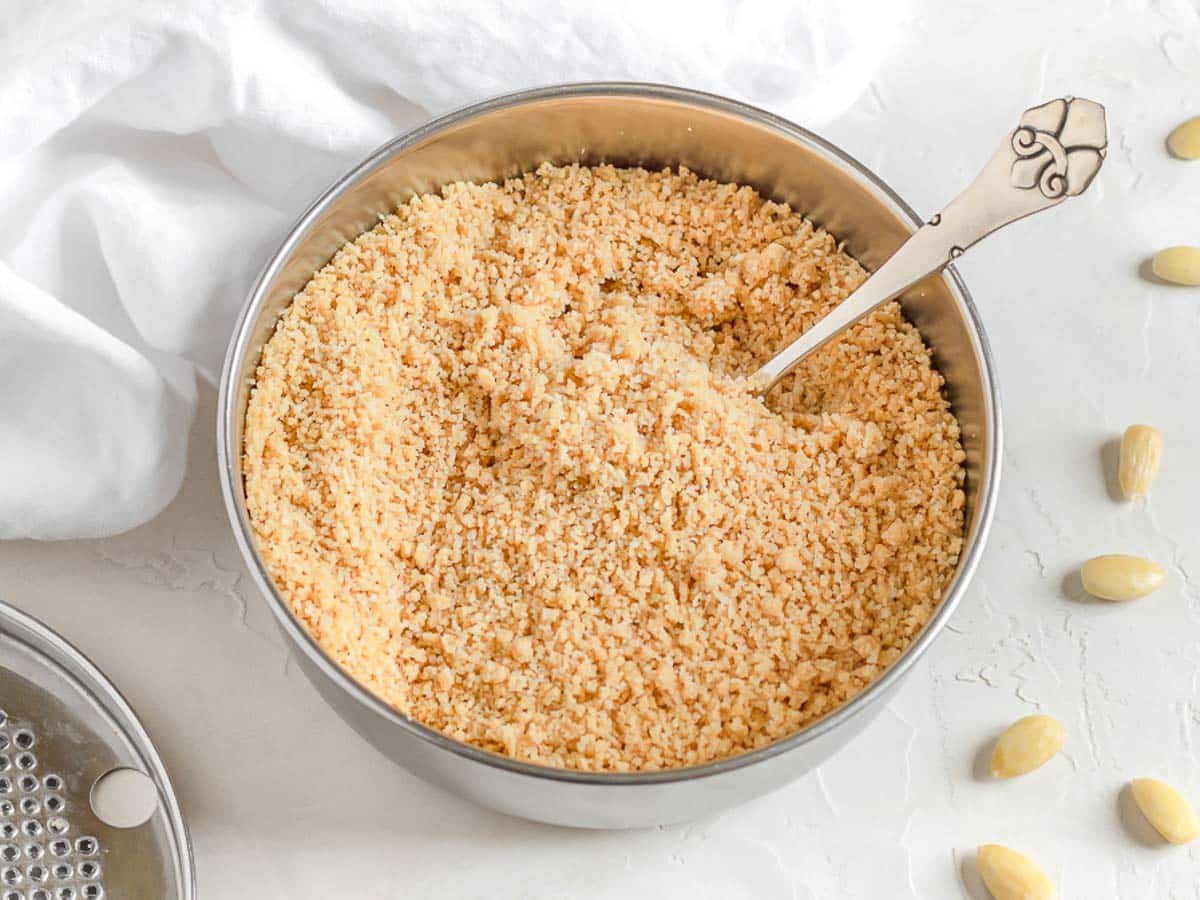 Dairy-free sour cream
This vegan sour cream is easy to make with cashews, water, lemon juice, apple cider vinegar, and salt. Blend everything to get a dreamy-creamy dairy-free sour cream.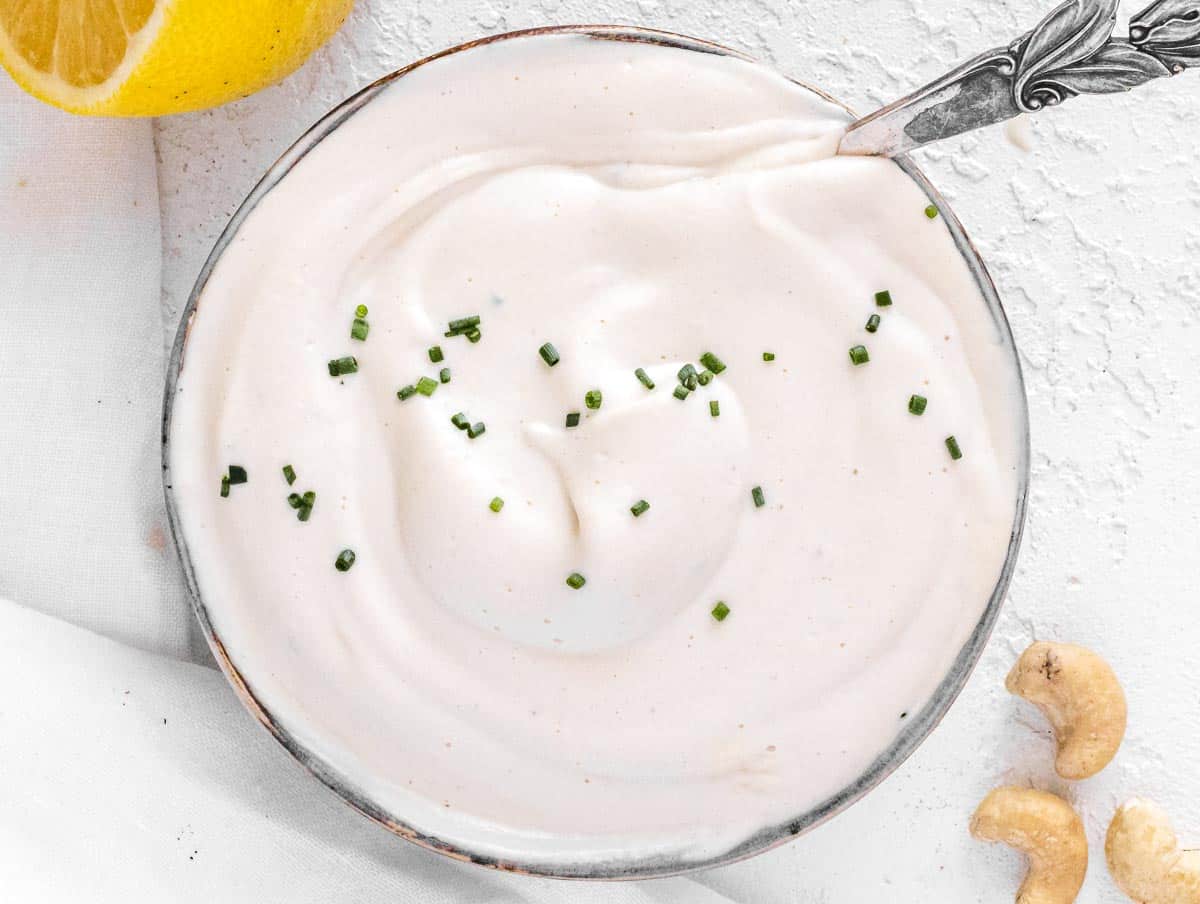 Slow-baked tomatoes
Tomato confit is the easiest, meltiest, most delicious tomato recipe. Soft, juicy, and packed with oregano and garlic aroma. They can easily elevate your main dish; on top of pasta, soups and toasted bread.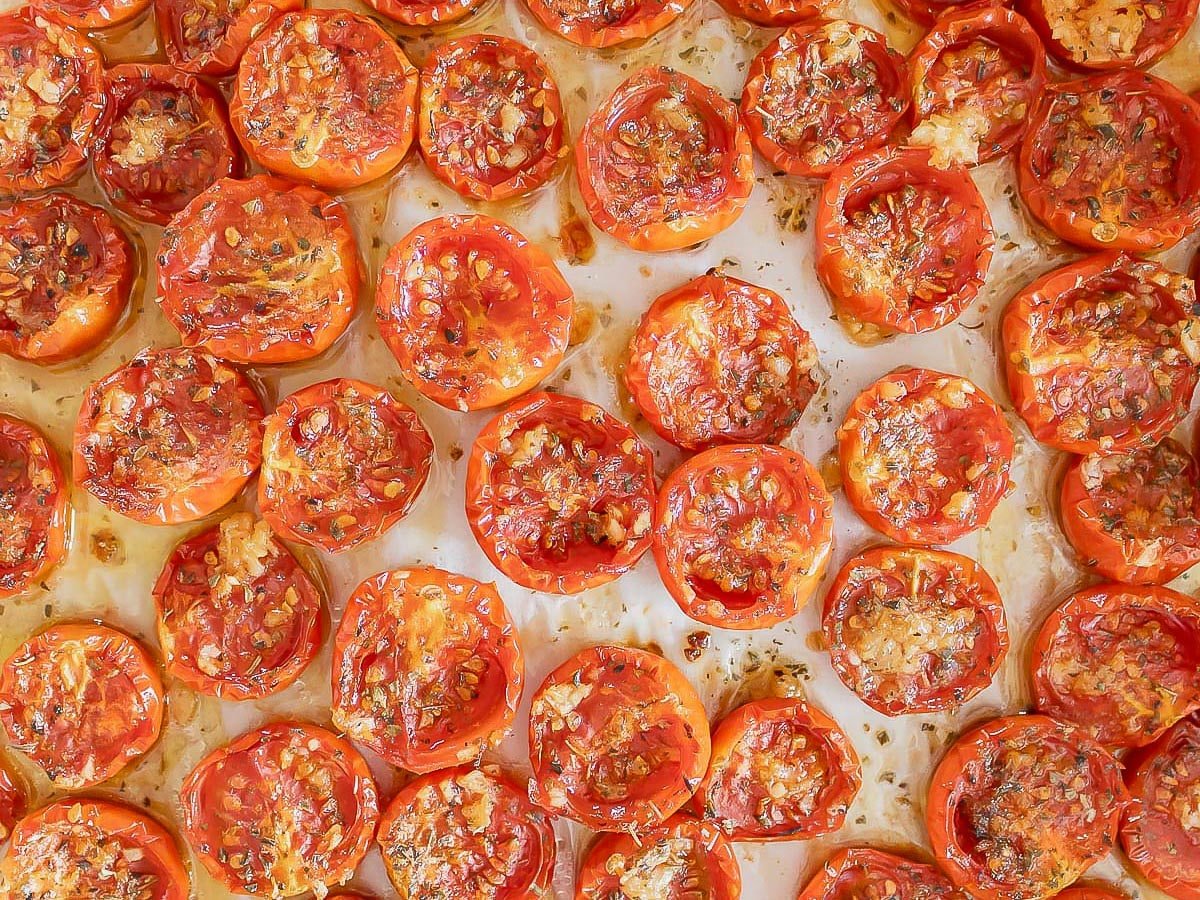 More autumn and winter favorite recipes
If you liked these fall recipes, you might also enjoy our other scrumptious meals:
How to store and freeze soups
How to store: you can store your leftovers in an airtight container in the fridge for up to 3 days. Reheat in the microwave. Check each individual recipe for reheating instructions.
How to freeze: you can also freeze the meals for up to 3 months. To freeze, let it cool down first, then transfer them to a freezer-friendly container, leaving some space to allow it to expand. Thaw in the microwave or in a pot on the stovetop. Before serving, garnish with fresh herbs, and optionally a drizzle of olive oil.
For many more 30-minute meal ideas, check out our 30-minute meal category page.
Recipe
20 Best Soup Recipes
Roasted cauliflower soup is nutty, cheesy, creamy, and delicious. Ours is an easy and naturally vegan recipe you can make with a few simple ingredients and a blender. It's one of our 20 best favorites soups, pick your favorite among these recipes.
Equipment
Blender

or immersion blender
Ingredients
1

large

cauliflower

(about 1.7 pounds or 770 grams)

1½

tablespoon

extra virgin olive oil

2

cloves

garlic

1

large

onion

white or yellow

5

sprigs

thyme

only the leaves, no stem

½

teaspoon

salt

or more to taste

¼

teaspoon

black pepper

1

pinch

grated nutmeg

3

cups

vegetable broth

1

potato (boiled or microwaved)

or 2 tablespoons butter
TO GARNISH
Parmesan gremolata

mix 2 tablespoon grated parmesan, 1 tablespoon finely chopped parsley, ½ teaspoon lemon zest
Instructions
BAKE
Preheat the oven to 410°F or 210°C. Line a baking sheet with parchment paper.Rinse the cauliflower, dry it, chop it into chunks, and add it to the baking sheet.Add crushed garlic with the peel, chopped onion, fresh thyme leaves picked off their stem, salt, black pepper, and olive oil.

Toss the veggies, spread them on the baking tray, and bake for 30 minutes. Discard the garlic peel before blending the veggies.In the meantime, cook the potato. To microwave it, pierce it with a fork and microwave with the skin on, for 5 to 10 minutes. Alternatively, boil it whole with the skin on, for about 30 minutes, until soft throughout.
BLEND
Regular blender/high-speed blenderTo the jug of your blender, add the roasted veggies, 2 cups of vegetable broth, grated nutmeg, and cooked and peeled potato (or butter).Blend for a couple of minutes until your reach your desired texture. Then, add more vegetable broth to reach your desired consistency.Note: we did this in a large Vitamix blender jug, and it all fit in perfectly; however, if your blender is smaller, you might have to blend the soup in batches.

Immersion blenderTo a dutch oven, add the roasted veggies, 2 cups of vegetable broth, grated nutmeg, and cooked and peeled potato (or butter).Blend for a couple of minutes until your reach your desired texture. Then, add more vegetable broth to reach your desired consistency.
WARM UP AND SERVE
In a dutch oven or a pot, simmer the soup on medium heat for a couple of minutes to warm it up.

Taste and adjust for salt, pepper, and nutmeg before serving it in a bowl.
SERVING SUGGESTIONS
Add roasted chickpeas or air fryer chickpeas on top for extra crunch and protein.

Add homemade croutons or air fryer croutons for extra crunch and flavor.

Sprinkle with parmesan gremolata that you can make mixing parmesan, lemon zest, and parsley.
Video Recipe
Easy Cauliflower Soup in 30 minutes
Notes
Nutrition information is an estimate for one portion of cauliflower soup out of three portions, without any toppings.
Nutritional Values
Nutrition Facts
20 Best Soup Recipes
Amount Per Serving
Calories 223
Calories from Fat 72
% Daily Value*
Fat 8g12%
Cholesterol 0mg0%
Potassium 1191mg34%
Carbohydrates 35g12%
Protein 7g14%
Vitamin A 616IU12%
Vitamin B6 1mg50%
Vitamin C 150mg182%
Vitamin E 1mg7%
Vitamin K 47µg45%
Calcium 91mg9%
Folate 174µg44%
Iron 2mg11%
Manganese 1mg50%
Magnesium 65mg16%
Zinc 1mg7%
* Percent Daily Values are based on a 2000 calorie diet.
Did you like this recipe?
We are not much on Instagram, Facebook, and Pinterest. Leave us a comment below instead, it would mean the world to us 🙂
If you liked these best soup recipes, you might also like: