In this step-by-step guide, you'll learn how to caramelize onions with six simple ingredients.
Caramelized onions have a full flavor with sweet and sour notes. They are soft and melt in your mouth; they are a delicious addition to starters, soups, dips, salads, pasta, and sandwiches.

On this page:
Check out our best vegetable sides recipe collection!
By the end of this article, you'll know exactly how to caramelize onions, what onions to pick, how long it takes, and which pan to use. Plus, we'll share tips on making them perfect every time.

Caramelized onions are cooked slowly, over medium to low heat, until they become beautifully soft, darker in color, and deliciously caramelized.

The onions become so soft that they will melt in your mouth. Their pungent taste transforms into a concentrated, rich, savory, and sweet flavor.
The first and most important secret about caramelized onions is time. Yes, it takes about 45 minutes to make the best caramelized onions. However, they will only require about 5 minutes of your attention as they can simmer patiently on their own.

Try not to shorten the cooking time by, for example, turning the heat too high, or you'll end up with burnt onions.

The best advice I can give you is to make this recipe in advance, not right before you need it, but a day or two in advance.

Do it after dinner, while sipping a glass of wine, maybe with some lounge music on, tending to the onions occasionally to ensure they are doing fine.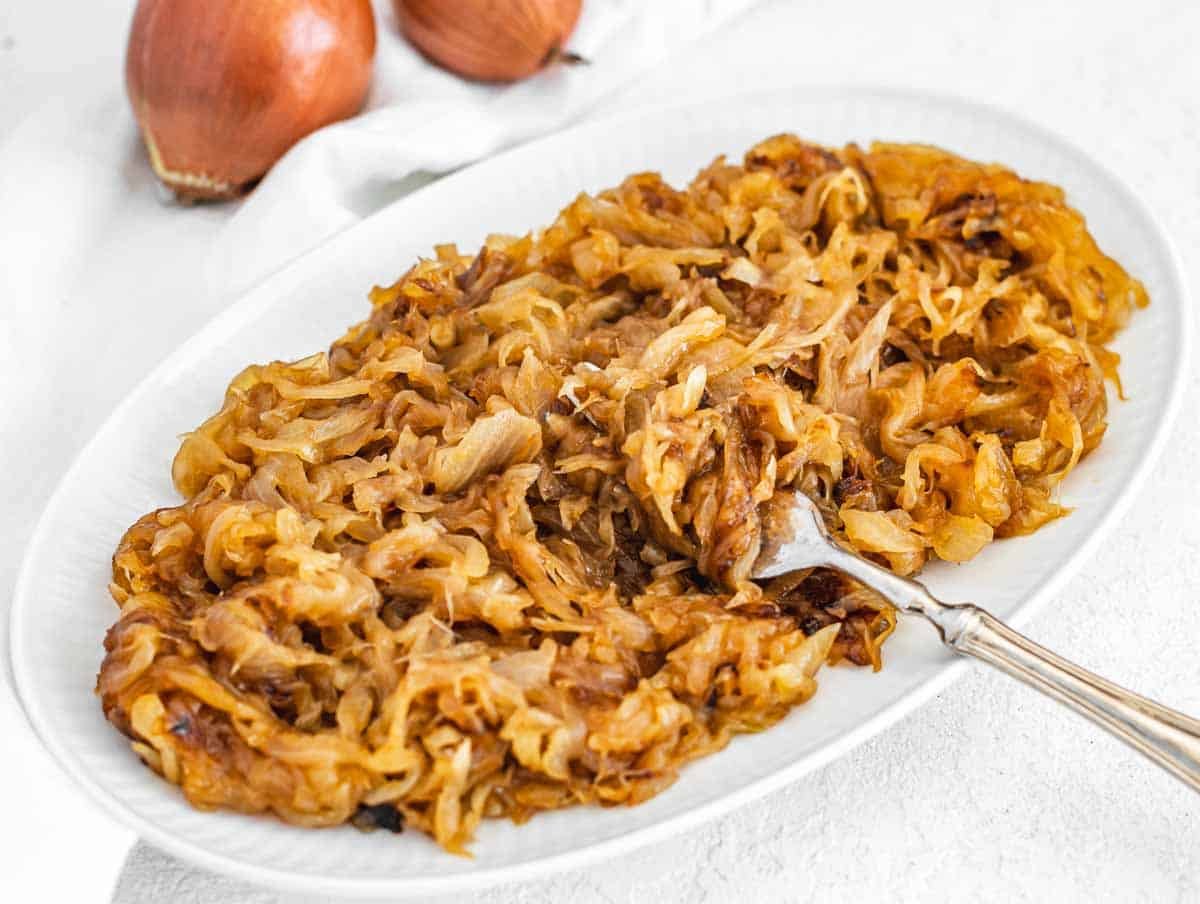 Ingredients
Onions
You can caramelize any onion: white onions, yellow, red, shallots, sweet onions, or Vidalia onions. We usually caramelize yellow and red onions.
Oil
We use extra virgin olive oil as research shows that it is the best oil for cooking thanks to the high amount of antioxidants.

Antioxidants protect the oil and give it excellent oxidative stability, which means it won't become toxic when exposed to heat for a long time. But, of course, that's only true for extra virgin olive oil, not refined olive oil.
Some use butter, but we think caramelized onions with oil are healthier and easier to make, as olive oil doesn't burn as fast as butter.
Water
We add water to help the onions get soft and to prevent them from burning. The water evaporates completely, so don't worry; you won't get watery caramelized onions.
Salt
Use sea salt or kosher salt to add flavor. The onions will be bland without salt. A twist of black pepper is optional.
Sugar
Add a little sugar to help the onions caramelize. The sugar will bring out the onions' natural sweetness, making them irresistible.
Vinegar
This is our secret ingredient to make the best caramelized onions. Vinegar adds a touch of acidity and sweetness to the onions.
It elevates their flavor wonderfully. We recommend balsamic vinegar if you use red onions and apple cider vinegar if you use white or yellow onions.
Instructions
Cut the onions
First, cut the onions in half, peel them, and cut them into slices. Don't slice them too thin or too thick.
Try to aim for ⅕ inch or ½ cm and cut even slices, so the onions cook evenly.
Tip: to reduce the crying-inducing effect of the onions, cut them in half, peel them, then rinse them under cold water. Also, using a sharp knife helps.
Pan fry for 5 minutes
Add the olive oil to a large skillet with a heavy bottom, then add the onions.

Season with sugar and salt, and fry on medium-high heat for about 5 minutes, stirring occasionally and separating the onion layers.
This first step of frying the onions in oil helps build flavor.
Tip: Our favorite pan for caramelized onions is a large enameled cast-iron skillet. You can also use a dutch oven, a nonstick pan, a stainless steel pan, or a well-seasoned cast iron skillet.
Note: You can do caramelized onions without the sugar, just caramelizing the natural sugars of the onions. But with a bit of help from the sugar, the flavor of these onions is going to be unbeatable.
Simmer for 40 minutes
When the onions are soft and translucent, add the water and simmer on medium-low heat for about 40 minutes.
I'd recommend setting a timer. Then, check the onions occasionally, every 10 minutes or so, to give them a quick stir.

After 40 minutes, your onions should be soft, and the water should be gone entirely. The pan should be hot and dry, but the onions are still moist.
Note: if you double our recipe or increase the amount of onion, you'll need a little more than 40 minutes. As the pan gets crowded, the caramelization process slows down.
Add a splash of vinegar.
At this point, turn the heat to medium-high, and add vinegar to the hot pan.
Stir the onions constantly for 3 minutes to mix them with the vinegar. The pan is hot at this stage so stir the whole time.
Tip: use apple cider vinegar for white and yellow onions and balsamic vinegar for red onions.

Note: the vinegar serves to deglaze the pan, adds acidity, and really brings this recipe together by boosting the flavor of the caramelized onions.

If the onions stick to the pan, that's fine. Keep stirring with a wooden spoon and scrape all browned bits from the pan, but make sure the onions don't start burning.
Then when the vinegar has evaporated completely, turn the heat off, taste the onions and add a pinch of salt if necessary. Transfer them to a serving plate and put them at the center of the table.
Variations
To caramelize red onions, you can follow the same process as above. The result is very similar. While white or yellow onions have a deep golden brown color, red onions should be very shiny and of a dark purple, almost black color.
Serving suggestions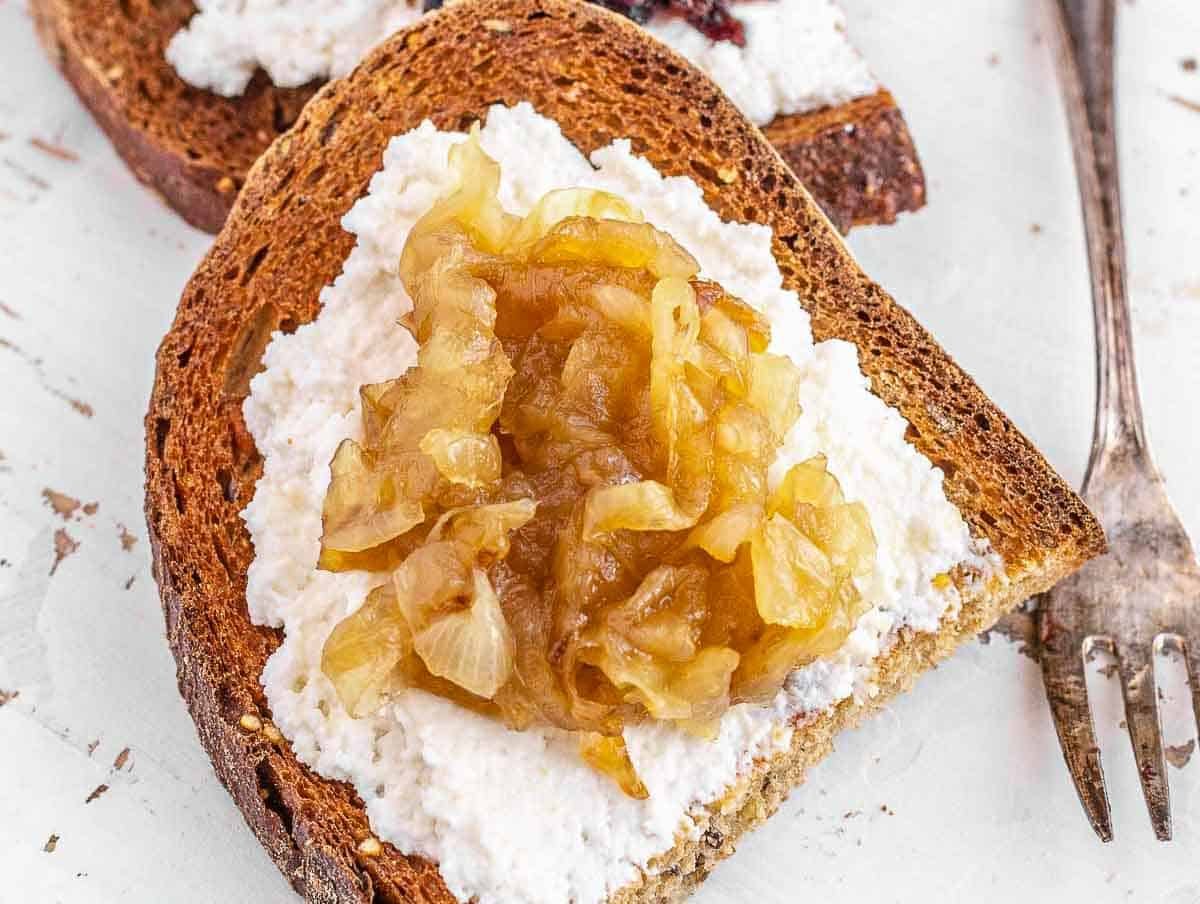 Use as a topping and put the onions on:
You can even make a caramelized onion dip by mixing the onions with a couple of tablespoons of yogurt and a couple of tablespoons of cream cheese or vegan mayo.
Tips
What's the best pan for caramelizing onions?
You'll need a large skillet with a heavy bottom. "Heavy bottom" means that your pan has a thick base which will distribute the heat more evenly.

If your pan has a thin bottom, the onions will stick to the bottom of the pan very quickly.

Regarding materials, you could use a cast-iron skillet; however, if you do, ensure it's well-seasoned, and you know how to cook with it. It's easy to burn things on a cast-iron skillet and fill your kitchen with smoke if you are not used to cooking on it.

We prefer using (and we recommend using) a good-quality enameled cast-iron skillet or a good-quality nonstick pan or sauté pan with a heavy bottom.

Stainless steel pans work, too, provided they are of good quality and have a thick, heavy bottom. But they require a little more hands-on to prevent the onions from sticking to the pan.
Questions
Are caramelized onions sweet?
Caramelized onions are a savory food with sweet notes due to the caramelization process that transforms the hidden natural sugars (sucrose) in the onions into a simpler sugar that our tongues can taste (glucose and fructose).

Also, some caramelized onion recipes contain a little added sugar to enhance the sweet flavor of this delicious dish.
Are caramelized onions acidic?
The best caramelized onions are a perfect balance of sweet and acidic flavors that make them irresistible to our taste buds. The acidic flavor is often added through apple cider vinegar or balsamic vinegar.
Are caramelized onions vegan?
Caramelized onions are vegan, provided that you use vegan sugar.
Storage
Refrigerator: keep caramelized onions in the fridge for up to 1 week, ideally in an air-tight jar.

Freezer: you can freeze caramelized onions for up to 3 months in a freezer-safe container for up to 3 months. However, we recommend freezing them in icecube trays, then when they are solidly frozen, take them out of the tray and transfer them into a freezer-safe bag.

With this trick, you can thaw the onions you need without defrosting the whole batch.
Make ahead
We recommend making this recipe ahead of time so that you have it ready for your dinner.
Also, because it lasts for a whole week in the fridge, you can keep it handy to add flavor to sandwiches, salads, and pasta dishes, or simply put it on bread with your favorite spread.
More appetizer ideas
Get fresh inspiration for starters that pair well with crostini and bruschetta; they make a colorful and inviting appetizer board:
For many more starter ideas, check out our starters category page.
Recipe
Caramelized Onions
Caramelized onions have a full flavor with sweet and sour notes. They are soft and literally melt in your mouth, they are a delicious addition to starters, soups, dips, salads, pasta, and sandwiches.
Equipment
Large skillet (11 to 12 inches or 28 - 30 cm)

best if with heavy bottom. You can use enameled cast iron, nonstick, stainless steel, and well-seasoned cast iron.
Ingredients
4

large

onions

white, yellow, or red (just over 1 pound)

1

tablespoon

extra virgin olive oil

1

tablespoon

sugar

1

teaspoon

salt

1

cup

water

1

tablespoon

vinegar

apple cider or balsamic vinegar
Instructions
Cut the onions in half, peel them, and cut them into ⅕ inch or ½ cm slices.

To a large skillet add olive oil, sliced onions, salt, and sugar.Cook the onions on medium high heat for 5 minutes, stirring often and separating the onion layers.

Add the water and simmer on medium low heat for about 40 minutes until the onions are completely soft and shiny, and the water has evaporated.Stir occasionally so that the onions cook evenly and don't stick to the pan.

Turn the heat to medium-high, then when the pan is hot add the vinegar.Stir constantly for 3 minutes to mix the onions with the vinegar, scraping all the brown bits from the pan. When the vinegar has completely evaporated your caramelized onions are ready.

Taste and adjust for salt before serving.
Video Recipe
Easy Caramelized Onions | A tasty topping idea!
Notes
Nutrition information is for the whole batch of caramelized onions. If you double the recipe it'll take a little longe than 40 minutes for the onions to caramelize.
Nutritional Values
Nutrition Facts
Caramelized Onions
Amount Per Serving
Calories 41
Calories from Fat 9
% Daily Value*
Fat 1g2%
Cholesterol 0mg0%
Potassium 88mg3%
Carbohydrates 7g2%
Protein 1g2%
Vitamin A 1IU0%
Vitamin B6 0.1mg5%
Vitamin C 4mg5%
Vitamin E 0.2mg1%
Vitamin K 1µg1%
Calcium 15mg2%
Folate 11µg3%
Iron 0.1mg1%
Manganese 0.1mg5%
Magnesium 6mg2%
Zinc 0.1mg1%
* Percent Daily Values are based on a 2000 calorie diet.
Did you like this recipe?
We are not much on Instagram, Facebook, and Pinterest. Leave us a comment below instead, it would mean the world to us 🙂
You might also like the following: