If you're looking for quick, delicious, and easy vegetarian dinner recipes, this is the list for you. You'll find curries, pasta, soups, salads, and the best of comfort meals, all vegetarian and easy to make!
Take your pick from these mostly 30-minute meals, and enjoy a wholesome, meat-free, and family-friendly dinner.
Vegetarian pasta recipes
Take your pick from these favorite meat-free pasta recipes - they are quick to make and with a few ingredients. With these pasta meals, you'll get plenty of fiber, veggies, and genuine flavor.
Mushroom Alfredo
This tasty mushroom Alfredo recipe is an easy 15-minute dinner idea with an irresistibly creamy and smooth sauce and sautéed mushrooms. Try it as a vegetarian meal when you're in need of something quick and comforting!
2. Zucchini pasta
Learn how to make this delicious pasta with zucchini with just a few simple ingredients, grated zucchini, and almost no effort. A great 20-minute weekday pasta idea!
3. Pasta Pomodoro
If you're feeling like Italian pasta, try this basil and tomato spaghetti! In 20 minutes flat, and with simple ingredients, you'll be able to prepare an authentic Italian pasta dish that will leave everyone begging for more.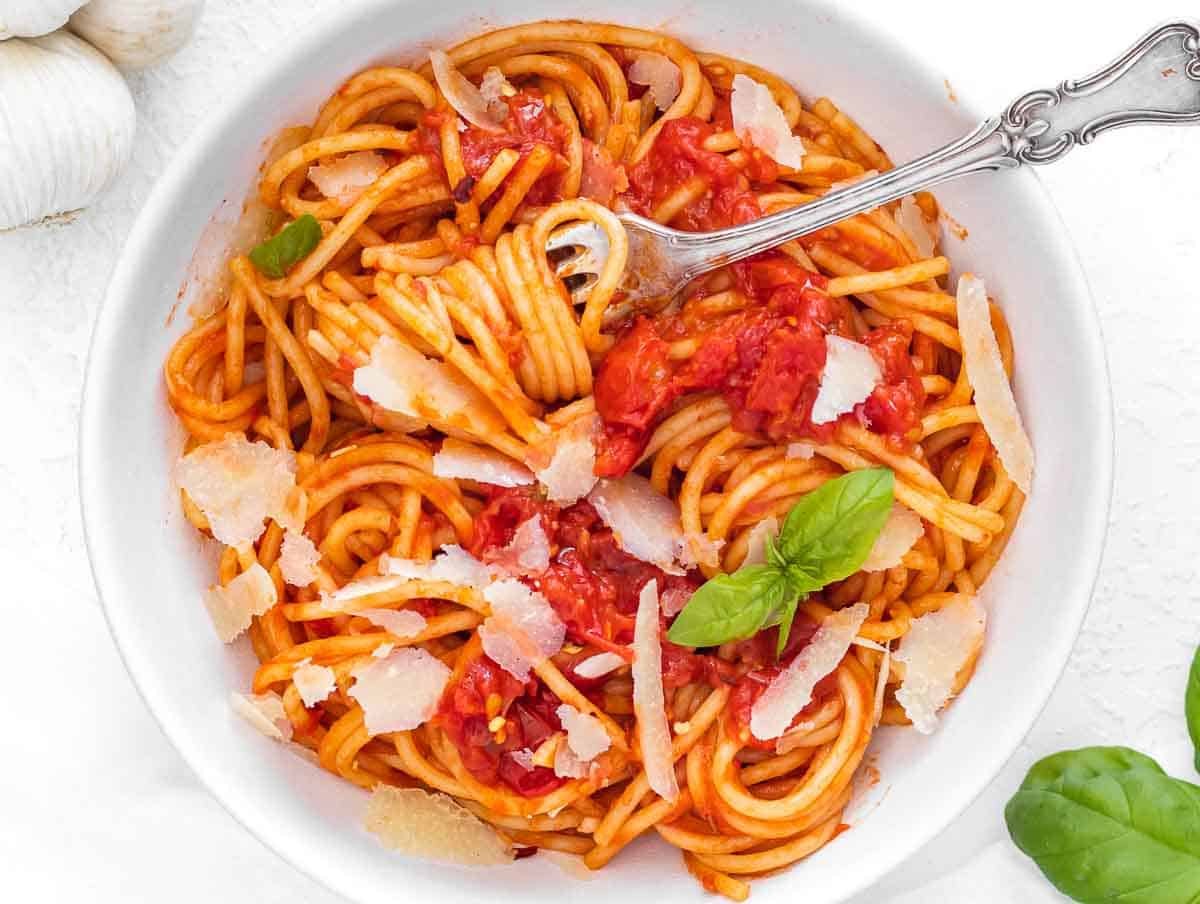 4. Aglio e olio pasta
For the quickest vegetarian dinner idea, try this garlic and oil pasta, potentially with added broccoli. You can make this to perfection in under 15 minutes, with simple ingredients.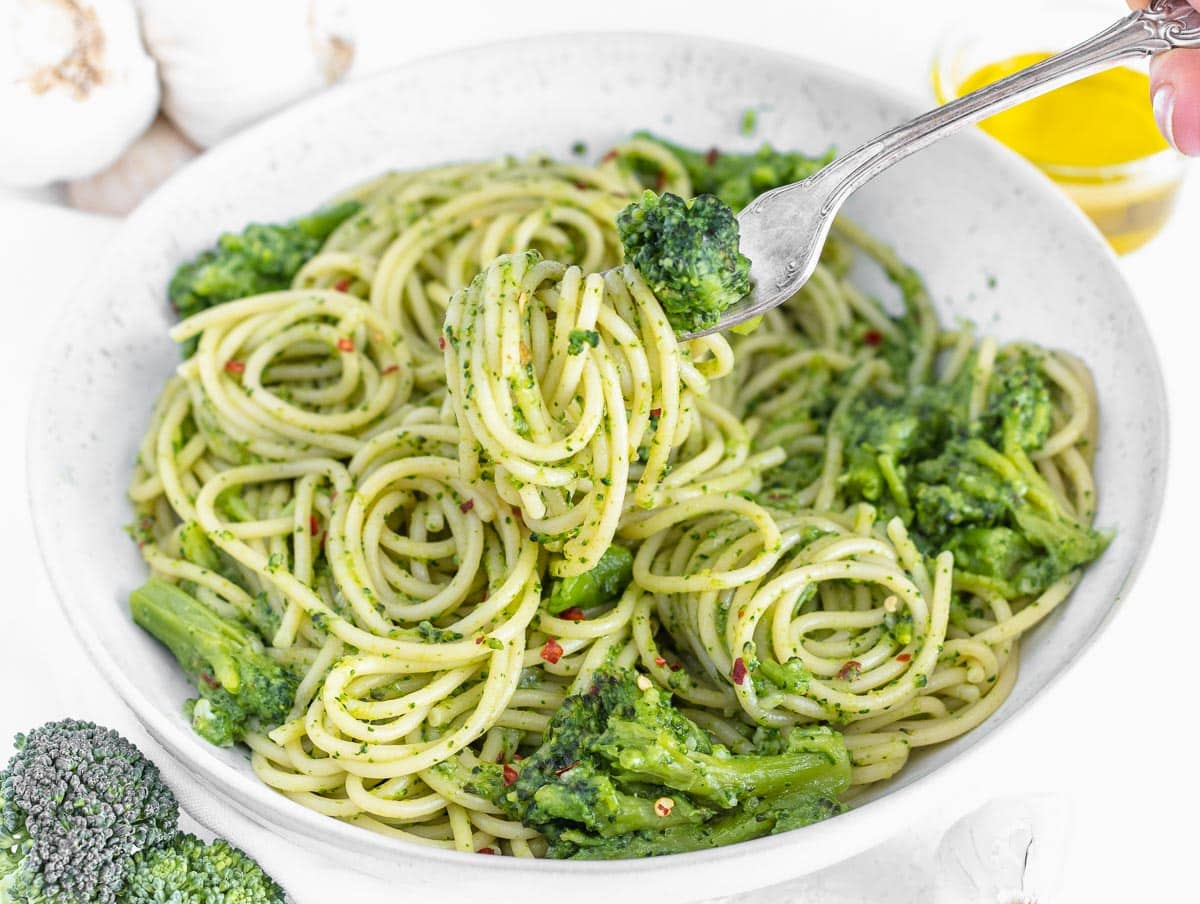 5. Mushroom tomato pasta
Here's a vegan mushroom pasta with cherry tomatoes and fresh herbs. It's a delicious recipe you can make with simple ingredients in about 20 minutes.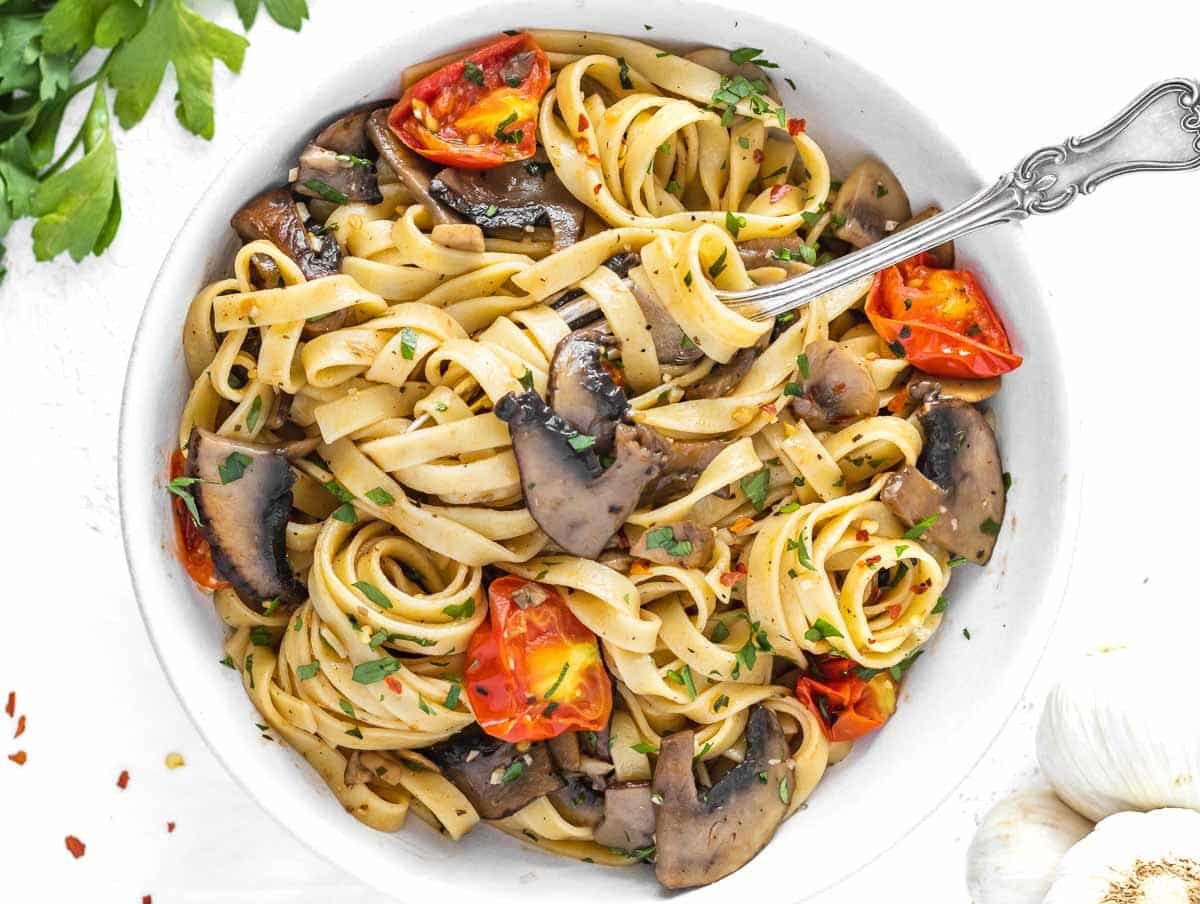 6. Tofu Bolognese
Tofu pasta is a delicious vegetarian dinner recipe with tasty crumbled tofu and a rich tomato sauce. Put this together for a quick and nutritious meal in less than 30 minutes.
7. Chickpea pasta salad
Here's a meat-free pasta salad with wholesome plant-based protein. This chickpea pasta salad is a quick and healthy dish made with fresh and nutritious ingredients in less than 20 minutes.
8. Red pepper pasta
This red pepper pasta is super simple and with a few pantry ingredients. You can make it with minimal effort for an everyday vegetarian dinner. It's also creamy, nutritious, and delicious - and ready in just 20 minutes!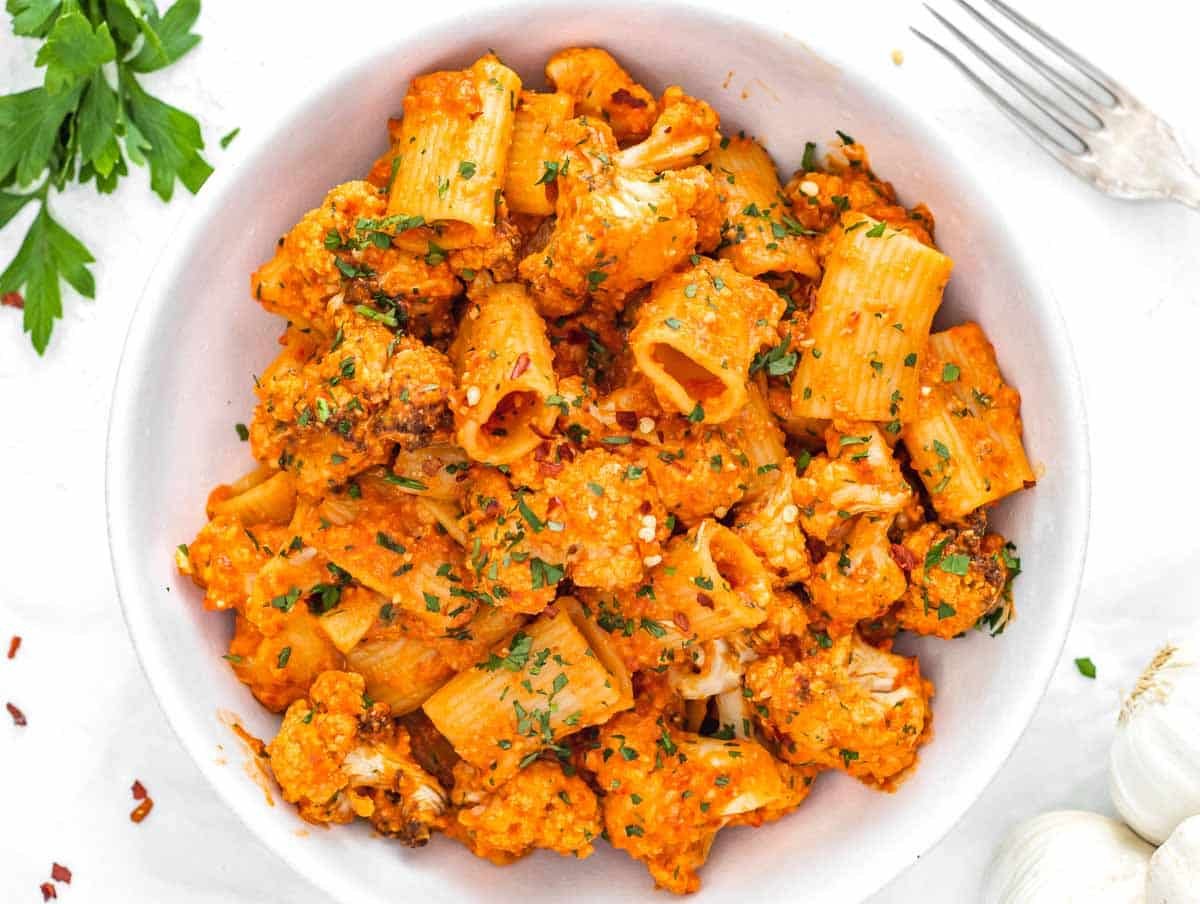 9. Lentil bolognese
This lentil bolognese recipe is inspired by Italian bolognese sauce and is a guaranteed crowd-pleaser! It's a flavorful and hearty vegetarian sauce, perfect with pasta, gnocchi, or lasagna.
10. Pasta e Fagioli
In just about 30 minutes, you can make this Italian favorite: pasta e fagioli (pasta and beans). It's a wholesome weekday dinner with a mix of beans, ditalini pasta, and a rich tomato sauce.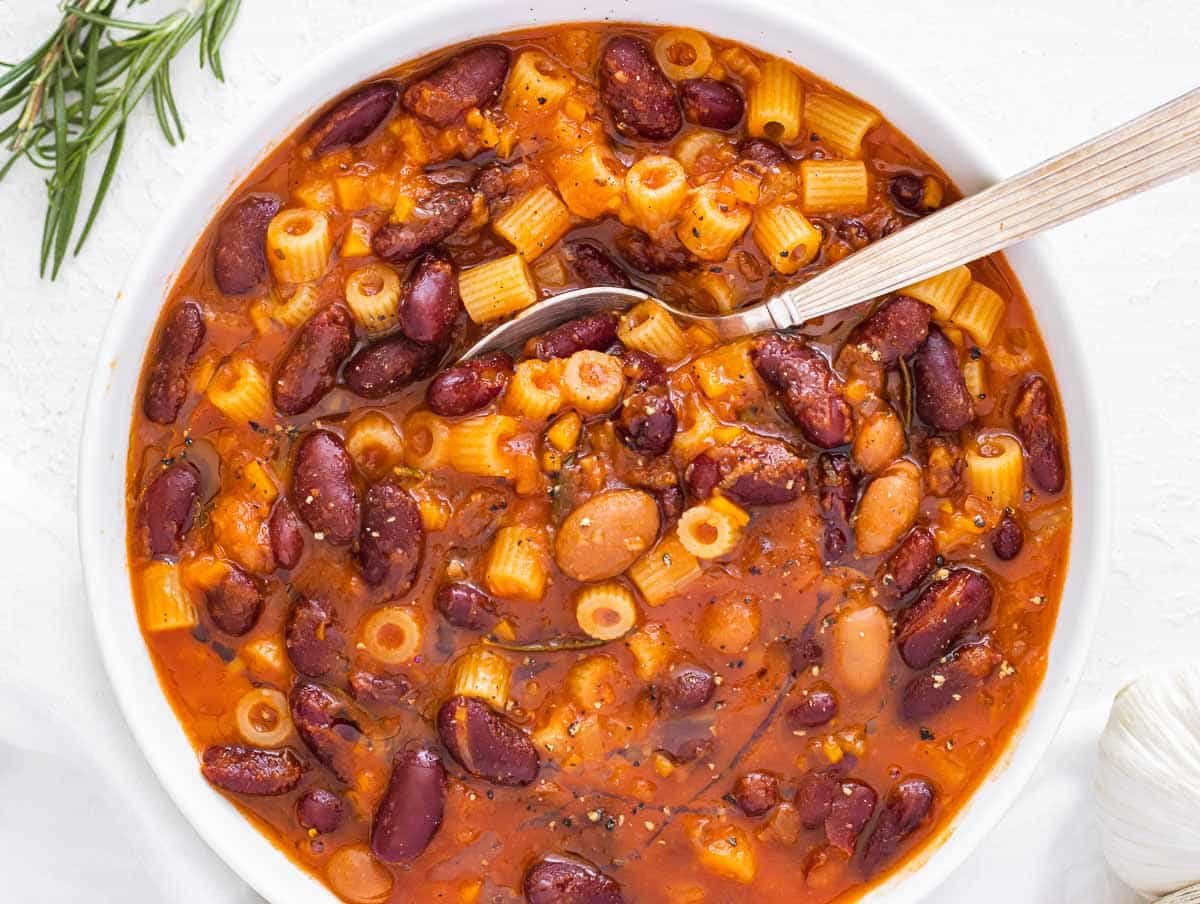 11. Butternut squash pasta
Butternut squash pasta is creamy, tasty, and so incredibly simple you can make it any day of the week with minimal effort. This vegetarian pasta is a guaranteed crowd-pleaser, and is ready in just 30 minutes!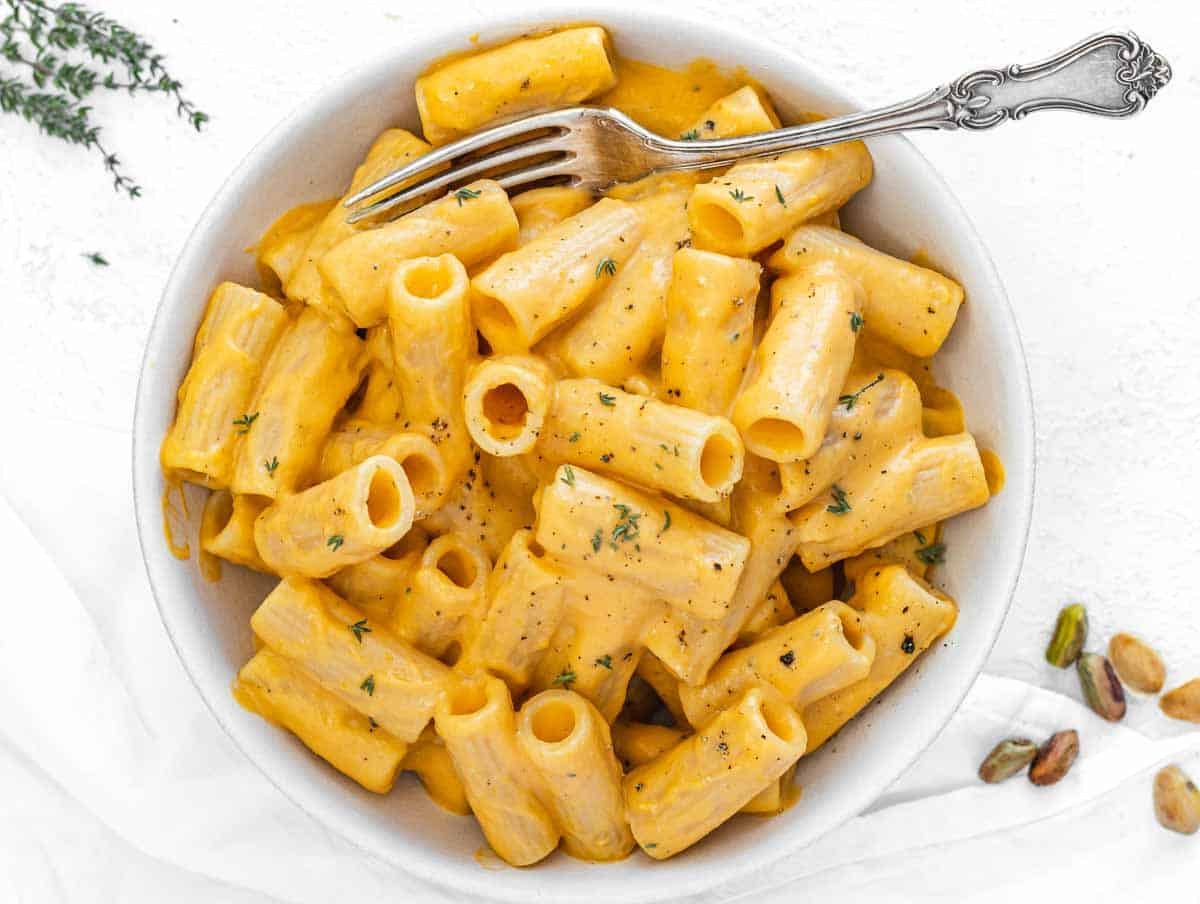 Vegetarian soup recipes
Rich, creamy, and super wholesome, these vegetarian soups will comfort and fulfill you. Serve with toasted bread and a side salad for an easy and satisfying dinner.
12. Tuscan soup
This Tuscan bean soup is perfect for meal prepping and a freezer-friendly meal! You can expect a wholesome and comforting meal to feed your whole family, excellent for cold winter days and weeknight dinners!
13. Cauliflower soup
Roasted cauliflower soup is nutty, cheesy, delicious, and ready in about 30 minutes. Ours is an easy and vegetarian recipe you can make with a few simple ingredients and a blender.
14. Butternut squash soup
Making this butternut squash soup is incredibly simple! Bake the butternut in the oven with garlic, onion, and herbs, then blend it! You'll have homemade soup in about 30 minutes.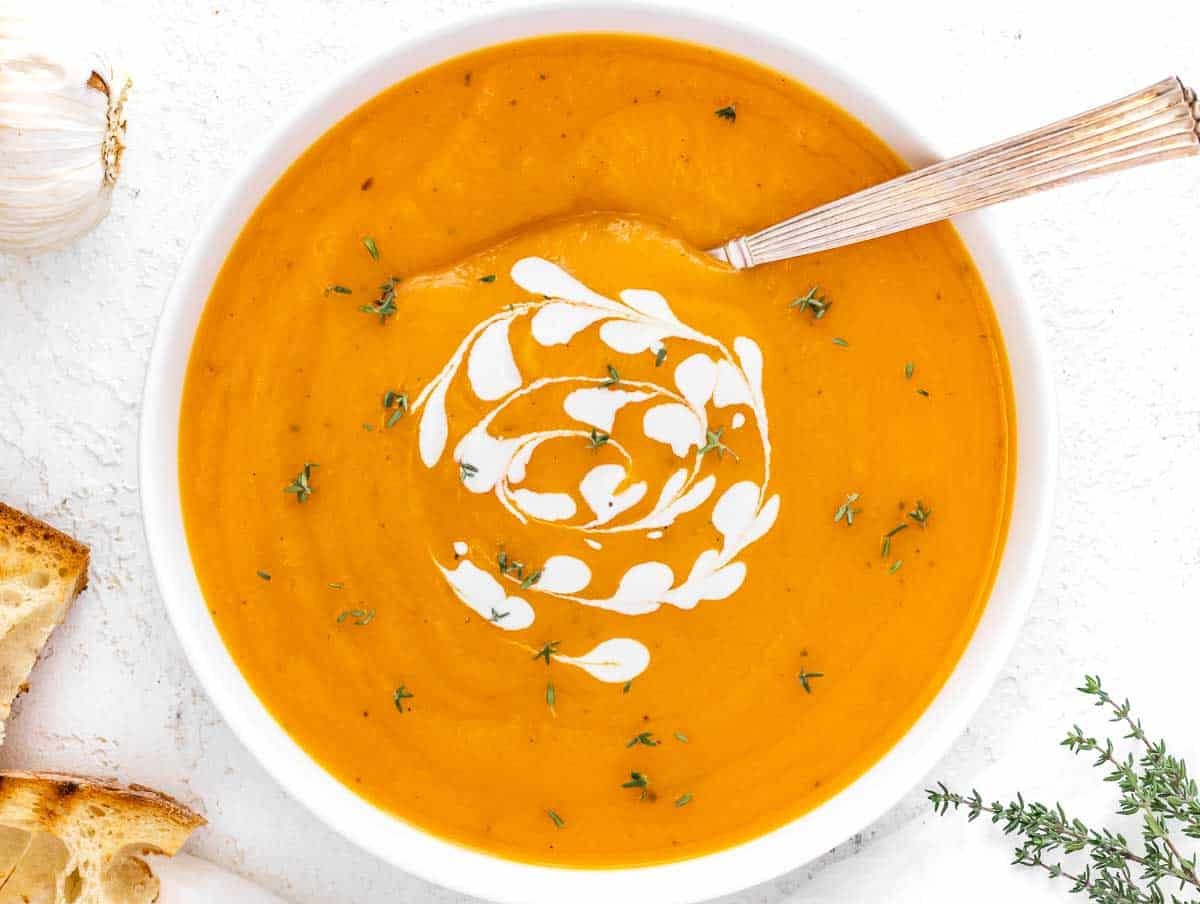 15. Broccoli soup
With only seven ingredients and in about 30 minutes, you can make the best broccoli soup you've ever had from scratch! Try it with homemade croutons on top for a delightful starter or dinner.
16. Tofu soup
This tofu soup is quick, tasty, Asian-inspired, and easy. You can make it in 20 minutes, with simple ingredients and seasonal veggies any time of the year.
17. Lentil soup
This lentil soup is perfect as an everyday dinner, and as a make-ahead meal as you can store it for up to 4 days in the refrigerator. Serve it with bruschetta or crostini for a complete and wholesome vegetarian dinner.
18. Chickpea soup
If you're looking for an easy, genuine, and quick soup, this wholesome dish will become your favorite. Homemade chickpea soup with potatoes is a healthy and nourishing dinner idea, ready in just 30 minutes!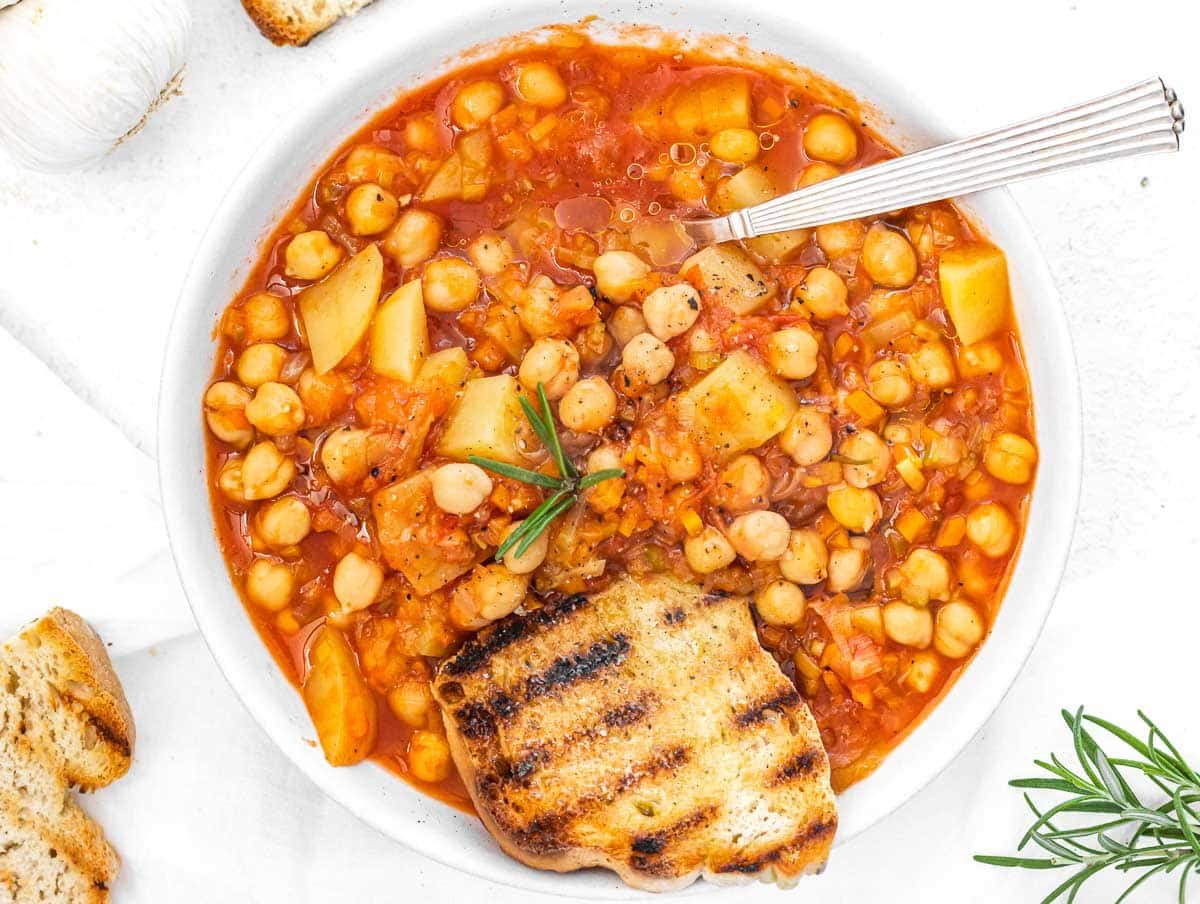 Vegetarian salads that you can serve as a meal
Eating salad for dinner is a great way to get fiber, protein, and plenty of colors. Try one of these protein-filled meals or grain bowls for your next vegetarian dinner, and serve with a bowl of brown rice or couscous.
19. Tofu salad
This tofu salad recipe is a crunchy and healthy bowl perfect for lunch or dinner. Low in calories, high in flavor, and filling with plant-based protein. Make this salad with a creamy tahini dressing, and you'll be nourished and fulfilled for hours.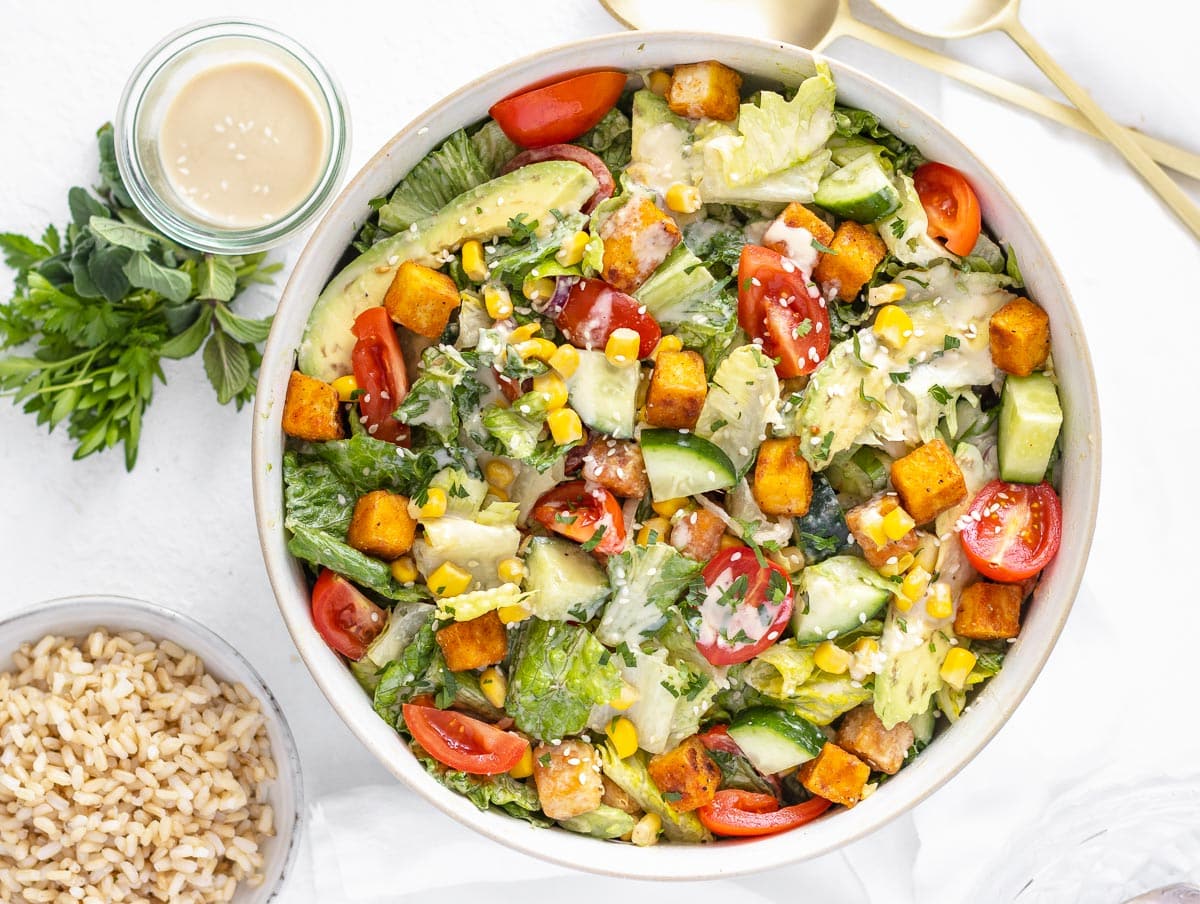 20. Chickpea salad
This chickpea salad is a quick, tasty, and nutritious dinner idea. Make it in just 15 minutes with simple, fresh ingredients and a creamy mustard dressing.
21. Vegan pasta salad
Vegan pasta salad is the ideal lunchtime or light dinner meal because it's quick to prepare and delicious to eat. It's also great to make in advance to have as a ready-to-go meal to eat at any time.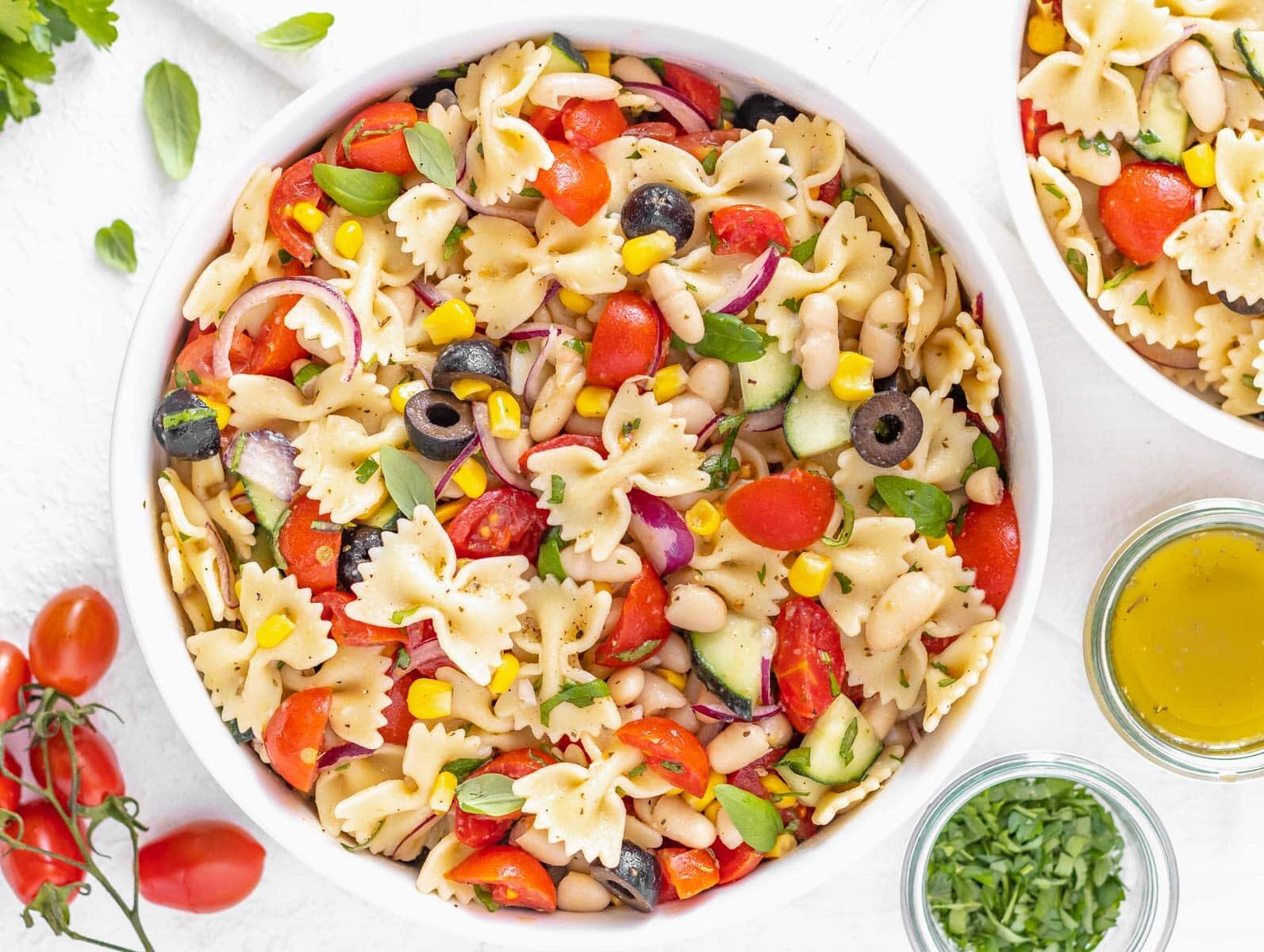 22. Cauliflower lentil salad
Cauliflower lentil salad is an easy and delicious Mediterranean-inspired recipe packed with bold flavors and wholesome ingredients. Make it in 25 minutes with roasted cauliflower and canned lentils, a light dinner idea or a lunchtime meal!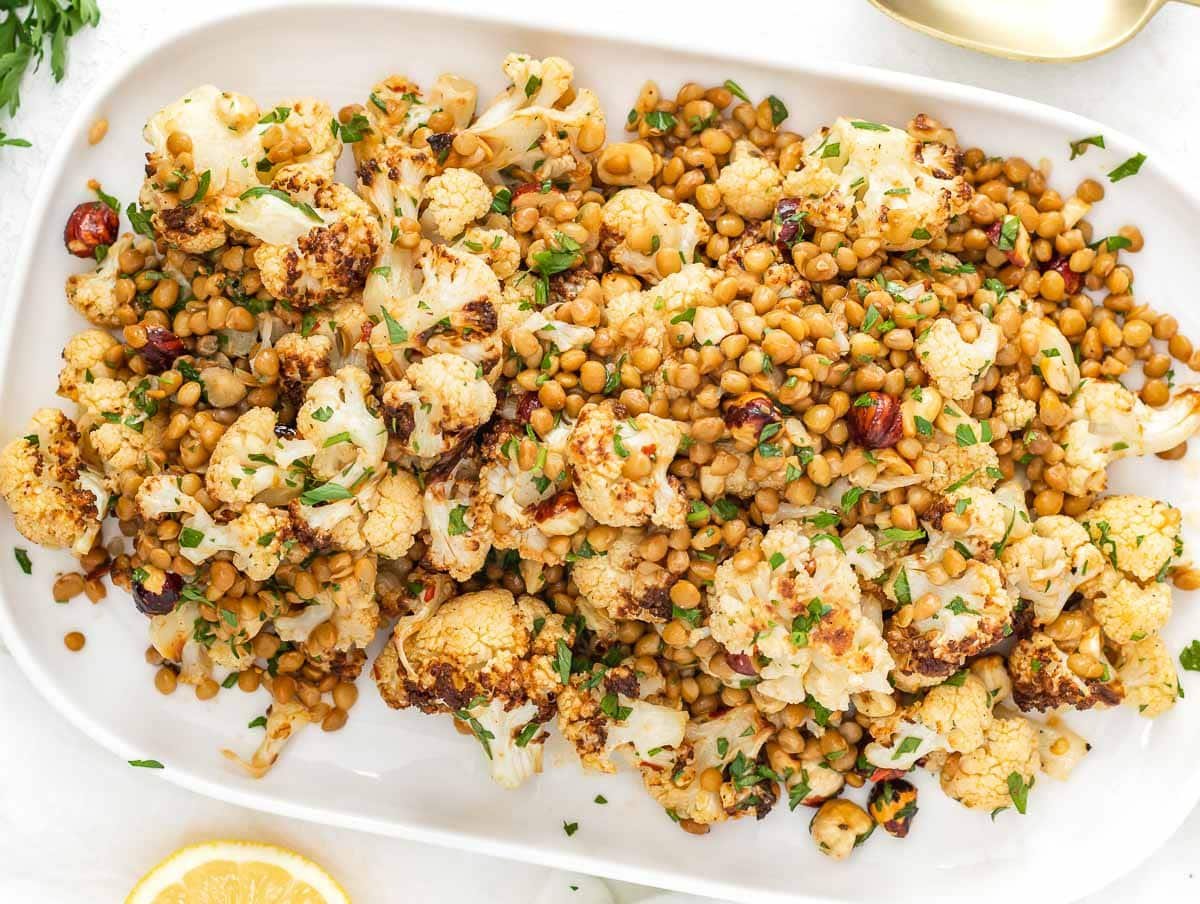 23. Sweet potato salad
Have this sweet potato salad for lunch, a quick and healthy vegetarian dinner, or bring it to potlucks and picnics. This is one of our favorite ways of eating sweet potatoes; we are sure you'll love it too!
24. Black bean salad
This black bean salad with roasted sweet potatoes, creamy avocado, and a cilantro lime dressing is perfect when you wanna eat salad for dinner. With Mexican-inspired flavors, and a side of quinoa or couscous you can enjoy a colorful dinner with plenty of veggies.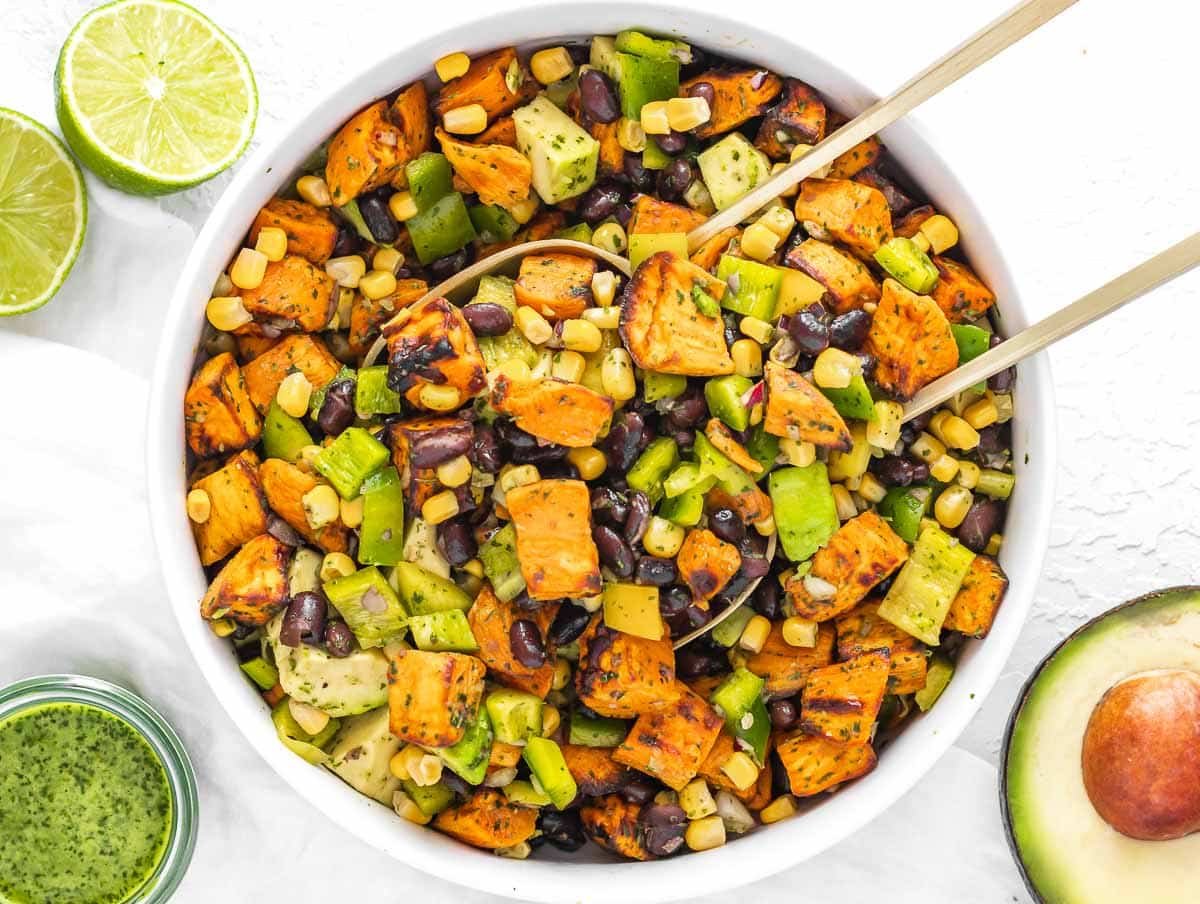 25. Avocado salad with chickpeas
Avocado salad is creamy, crunchy, and refreshing, and it's all you need for a quick lunch or light dinner during the hot summer months. Add roasted chickpeas and a side of quinoa for a complete and healthy dinner.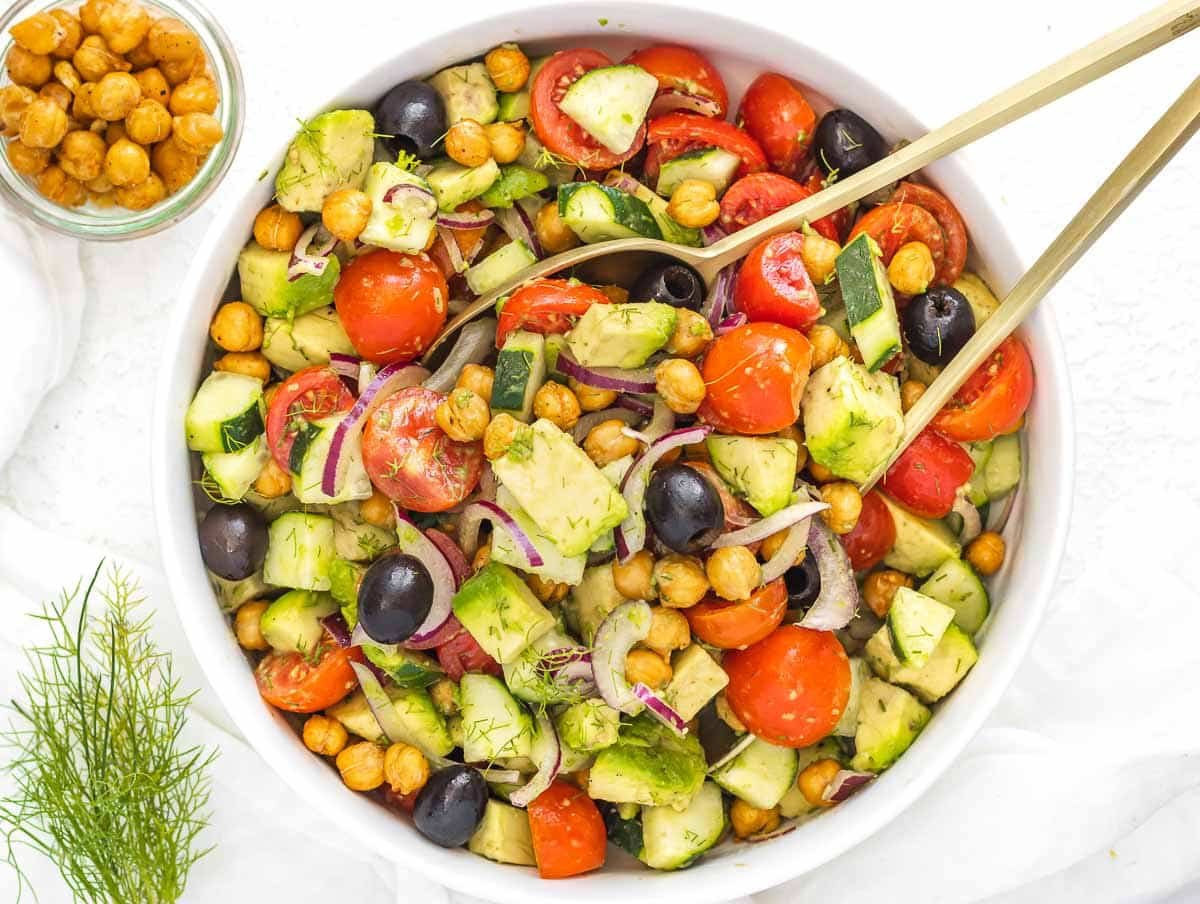 26. Moroccan carrot salad
Moroccan carrot salad is a delicious and aromatic recipe with tender boiled carrots, and lentils, ready in just 30 minutes. Serve with white rice or a side of flatbread pizza for a complete and wholesome dinner.
27. Creamy cauliflower tahini salad
Roasted cauliflower salad is a creamy and delicious dish you can make with little effort and simple ingredients. Add crispy baked chickpeas, serve with bread, and drizzle with tahini sauce for a wholesome salad dinner.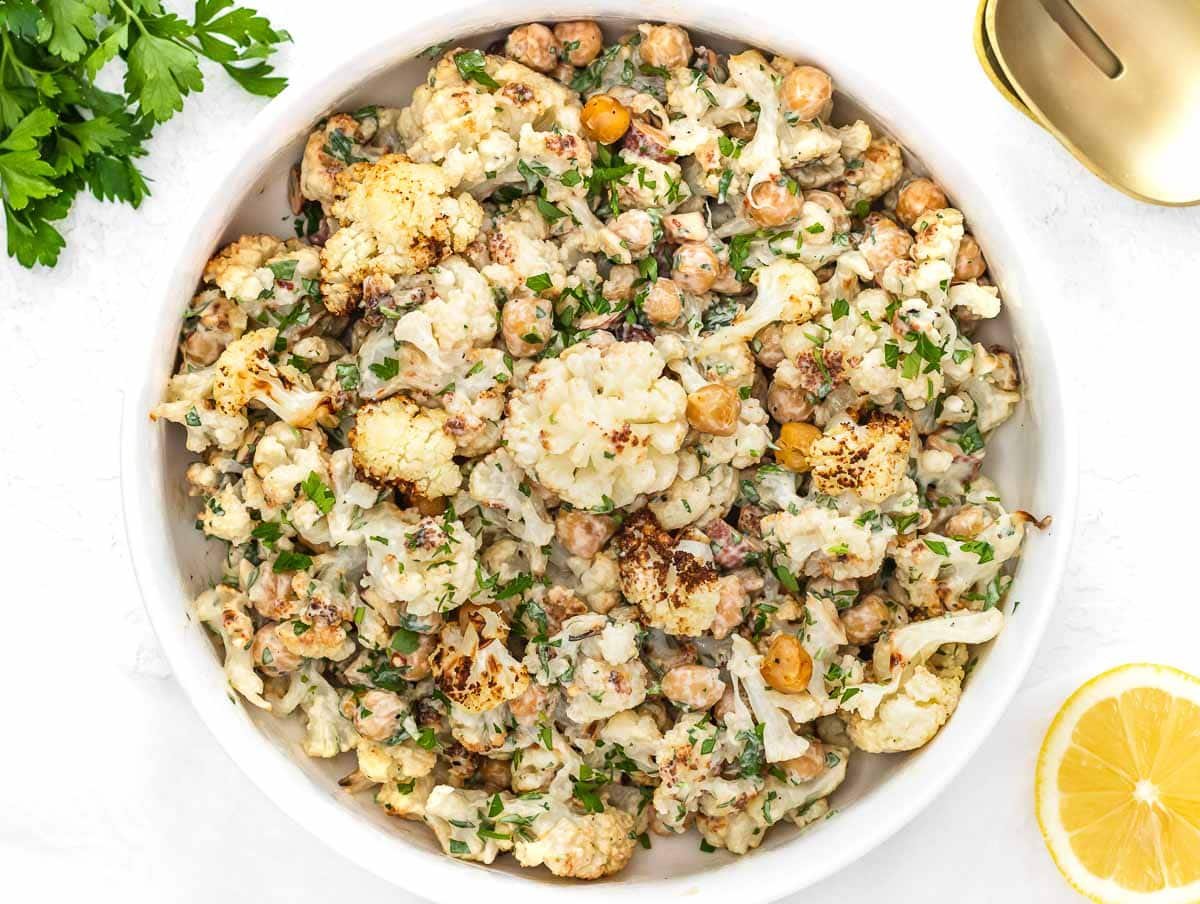 28. Italian rice salad
This rice salad is adapted from the Italian rice salad and it's the perfect summer dish, easy to prepare in advance, and bring with you for a picnic outdoors. It's a vegetarian salad with plenty of wholesome plant-based protein.
29. Mediterranean couscous salad
Meat-free but super fulfilling, this couscous with vegetables is a delicious way of enjoying couscous. This is an easy recipe that you can make in less than 30 minutes, with seasonal veggies and herbs.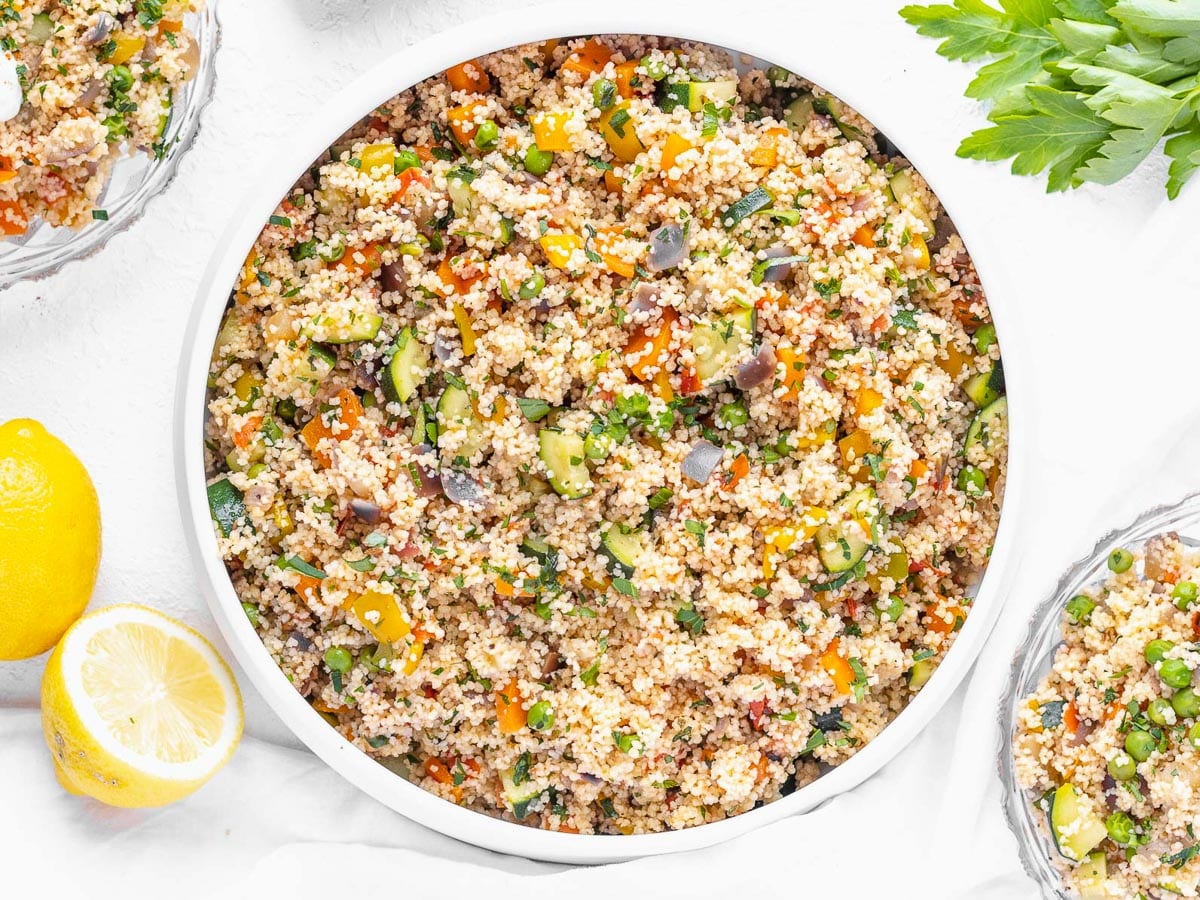 30. Farro salad with chickpeas
This farro salad is a wholesome grain bowl with fresh veggies and chickpeas. It is a great make-ahead recipe that you can have as a quick and nutritious lunch or as a light vegetarian dinner.
Vegetarian recipes with loads of protein
Plant-based protein is fulfilling and versatile - try for yourself with these meat-free main dishes.
31. Pizzaiola tofu recipe
Tofu with Italian pizzaiola sauce is a simple yet delicious pan-fried tofu recipe ready in 20 minutes. Serve it with a slice of focaccia bread and sauteed spinach for a wholesome and nourishing dinner.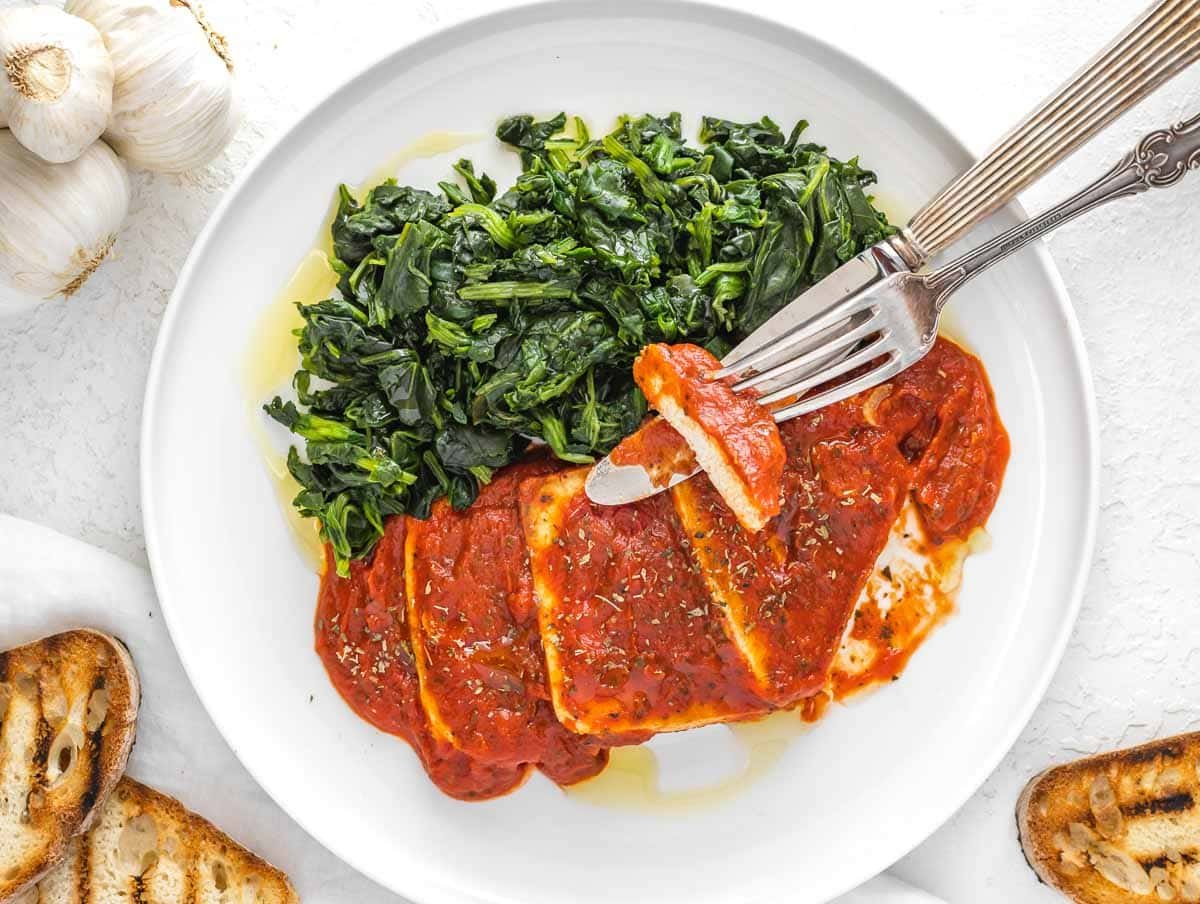 32. Chickpea crepes with mushroom
These savory chickpea pancakes are gluten-free and they're made with simple ingredients, yet they are delicious and fulfilling. With vegetarian mushroom filling and a drizzle of white sauce, you'll get a restaurant-worthy meal in about 40 minutes.
33. Kung pao tofu
Kung pao tofu is fun to make and delicious to eat! Make this delicious Chinese-inspired dish in less than 30 minutes and get plenty of plant-based protein, nuts, and fresh veggies.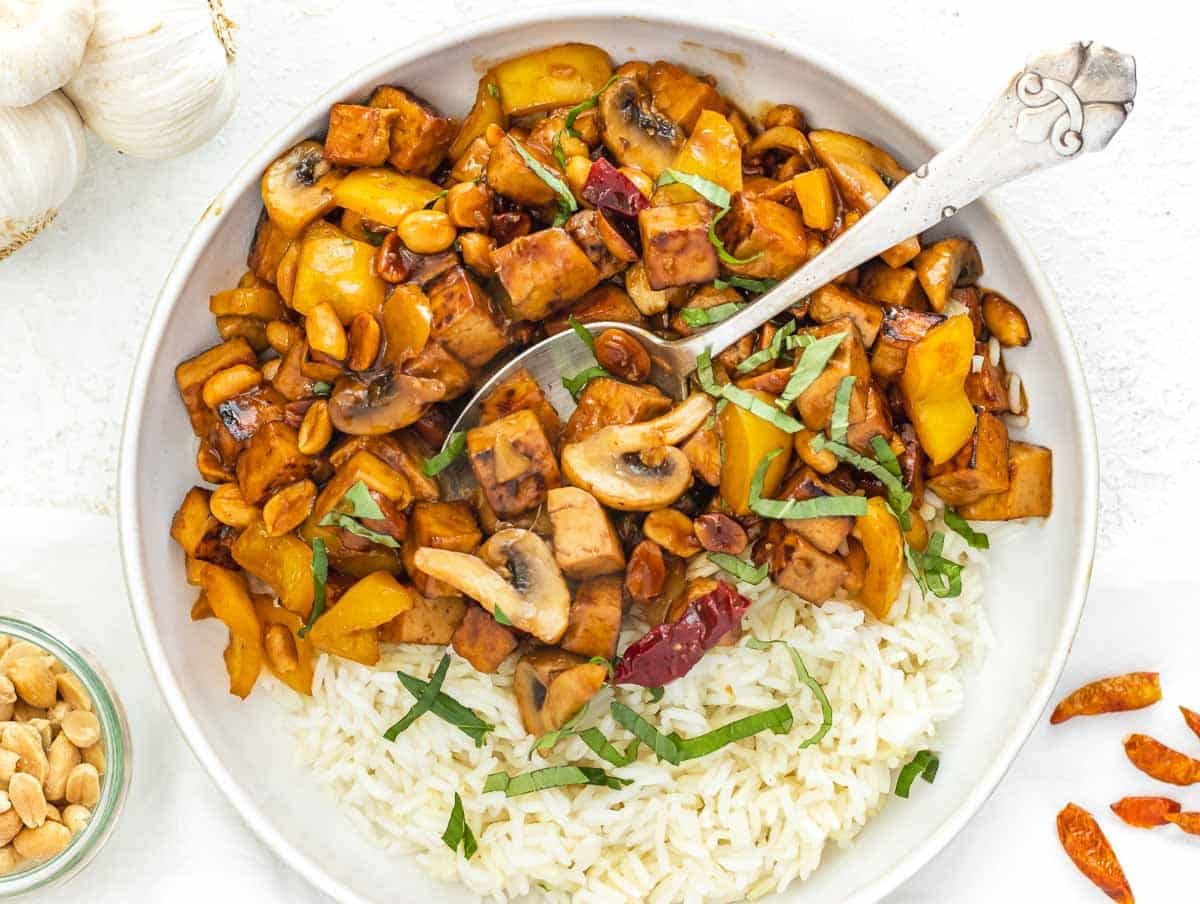 34. Mushroom tofu cutlets
You can make these mushroom tofu cutlets in about 30 minutes with a few simple pantry ingredients. They're a great alternative to chicken, and you'll get a chewy and sauce-packed dinner perfectly served with rice.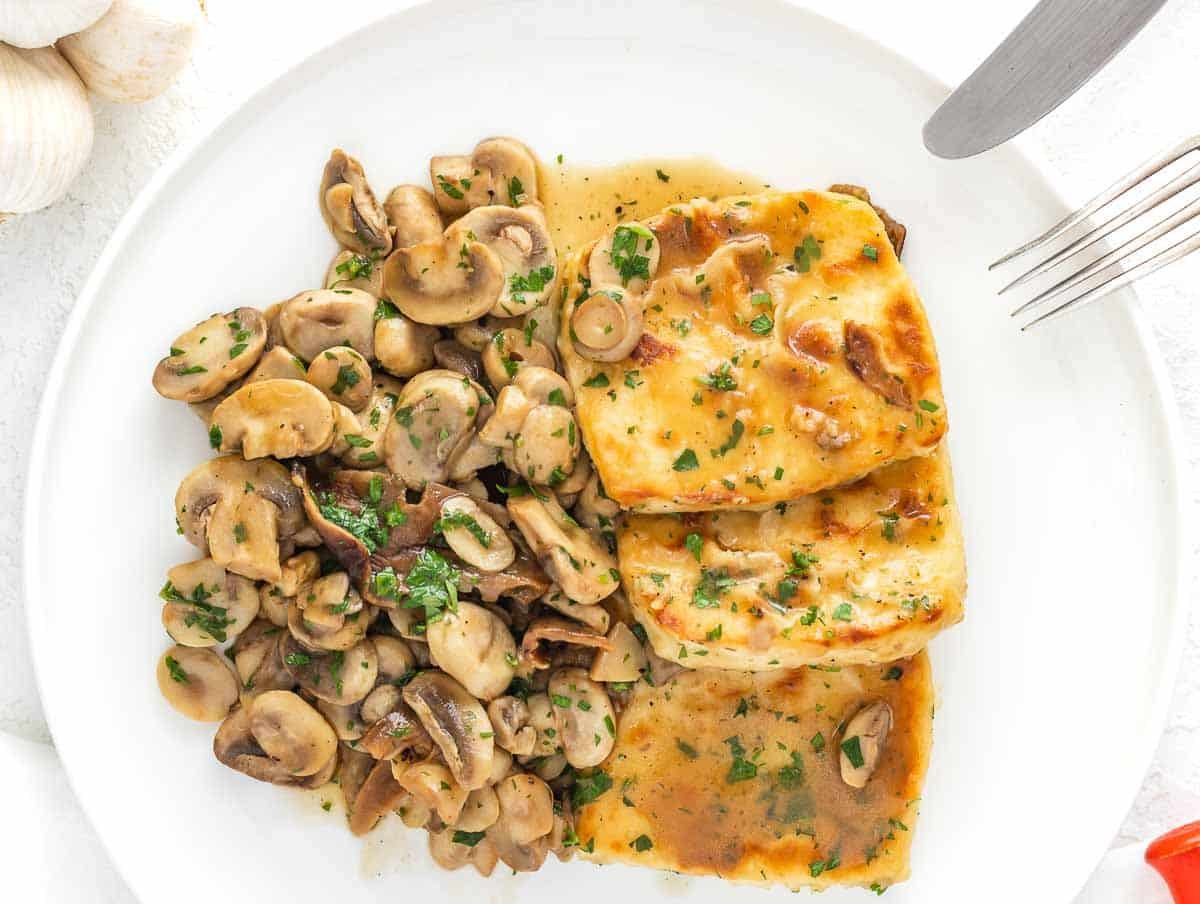 35. Vegan orange chicken
Orange tofu is easy. Make it in less than 30 minutes for an Asian-inspired everyday dinner and serve with white rice and spring onion.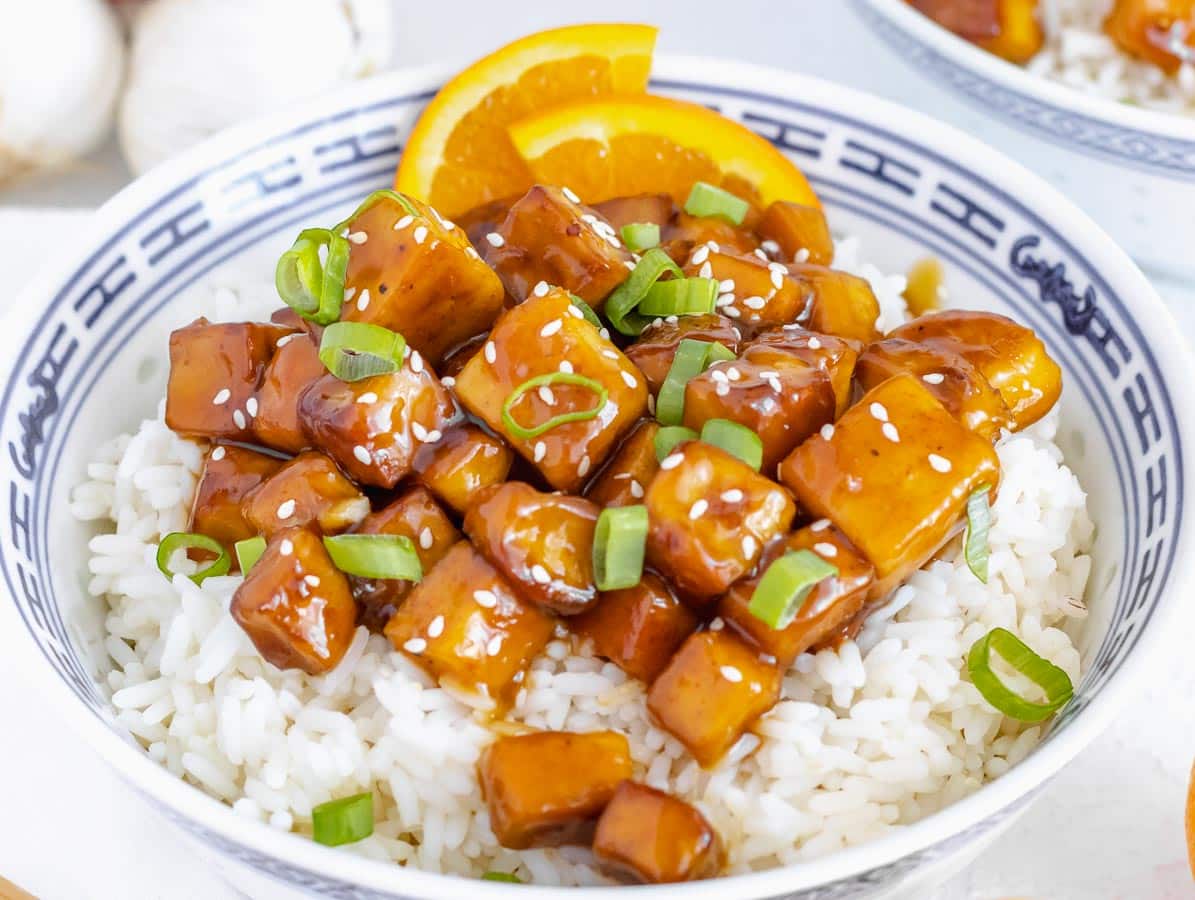 Vegetarian comfort food recipes
Need recipe inspiration for Sunday dinner or a romantic dinner at home? These comfort food recipes are satiating, indulgent, and mega tasty. Take your pick from melted cheese favorites, aromatic curries, and Italian dinner ideas.
36. Eggplant Parmigiana
Italian Eggplant Parmigiana is one of the tastiest eggplant dishes ever. Its rich tomato flavor and endlessly tender eggplant pair perfectly with this favorite vegetarian dinner idea.
37. Easy pasta bake
Gnocchi alla sorrentina is a vegetarian pasta bake with gnocchi in a tomato basil sauce, melty fresh mozzarella, and parmesan cheese. A perfect Sunday dinner or meal for special occasions!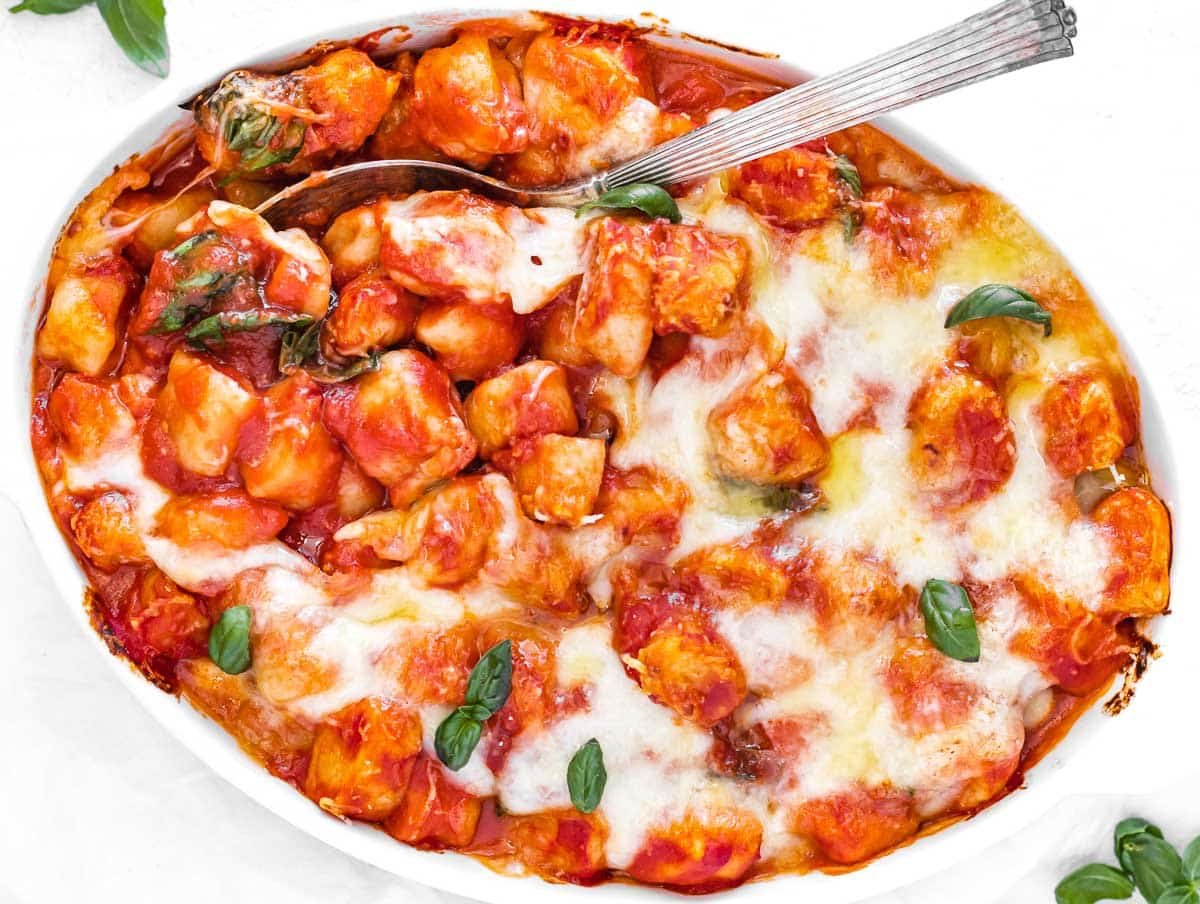 38. Tofu curry
Making an excellent tofu curry is easy. Here we'll show you how to put this meal together in less than 30 minutes and make the best everyday vegan curry recipe.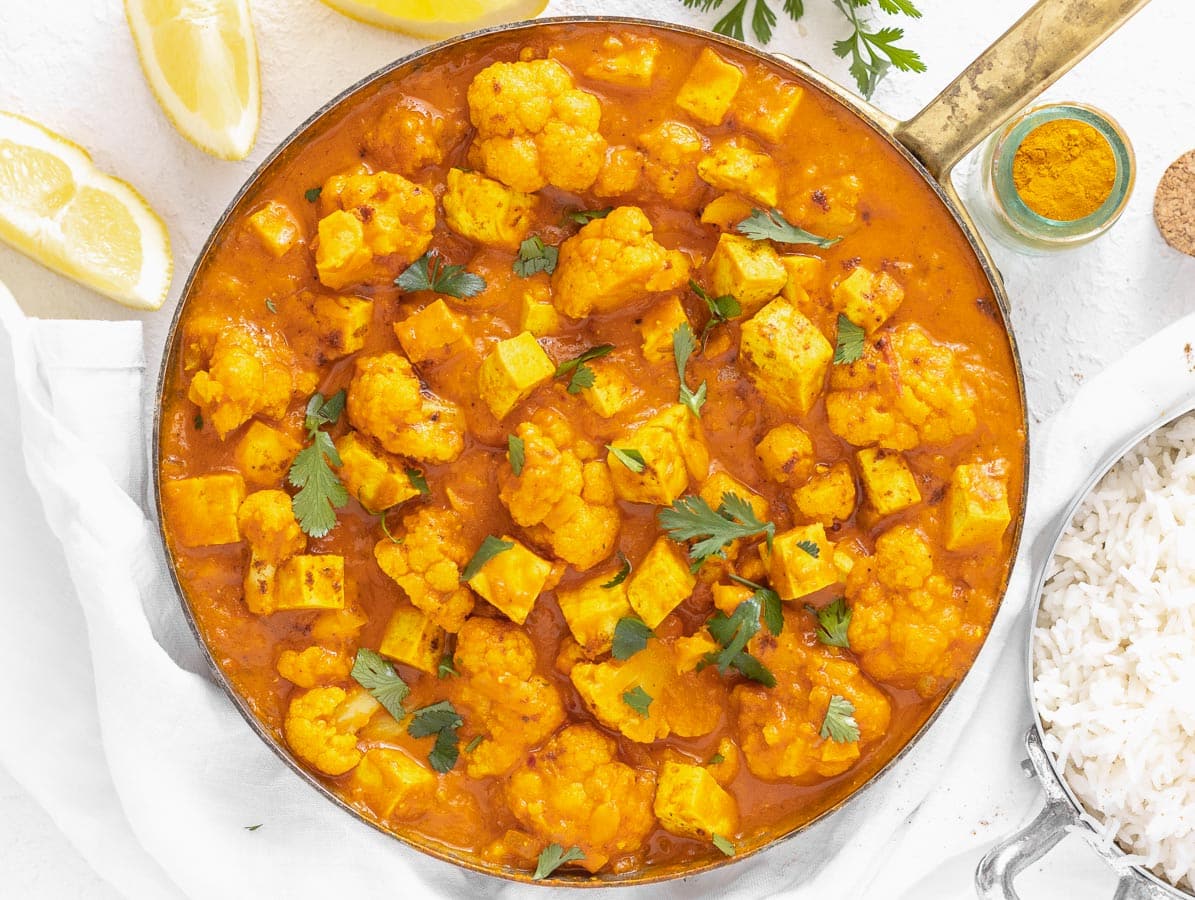 39. Tomato risotto
Tomato risotto is the perfect recipe for a delicious and fulfilling family dinner. Kids will love this recipe, and picky eaters will devour it straight out of the pan.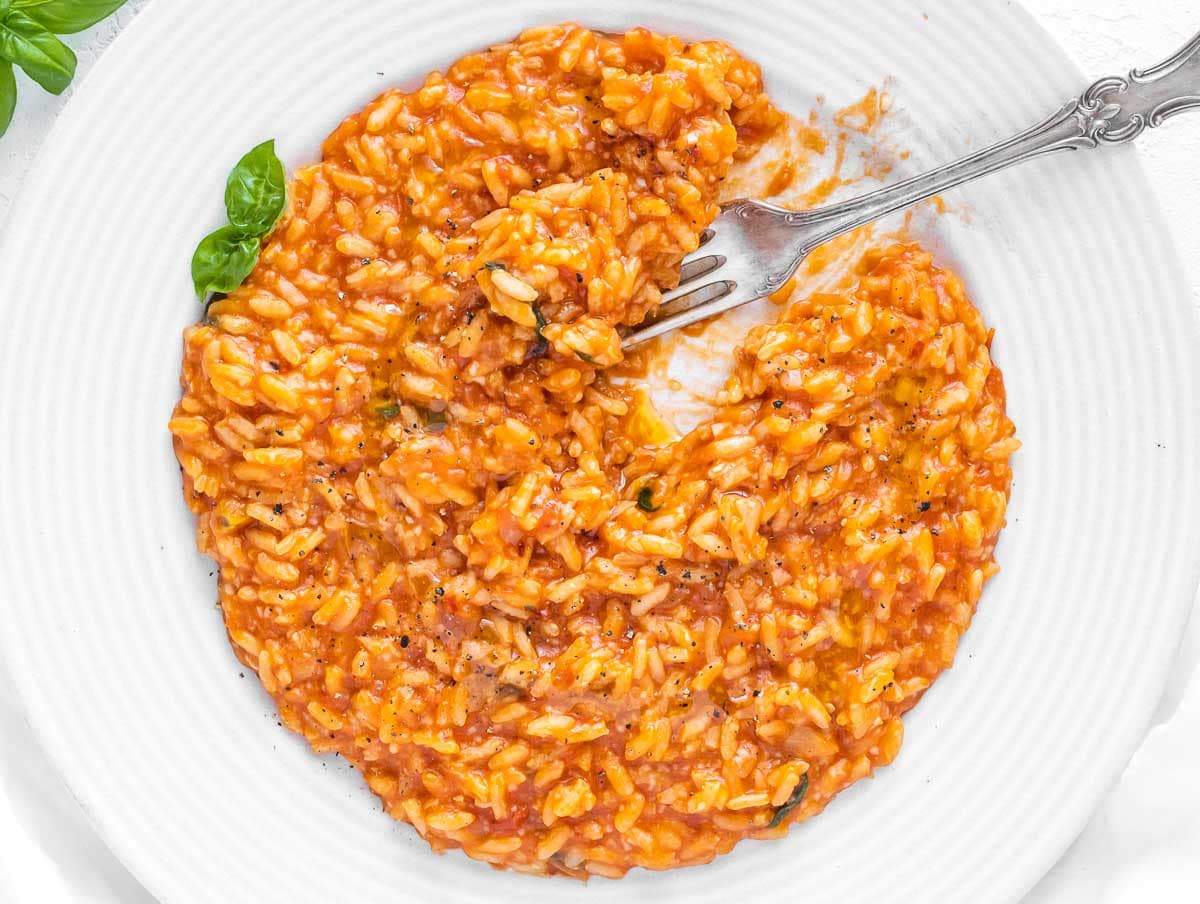 40. Mushroom risotto
We'll show you how to make the best mushroom risotto recipe in a few simple steps. In just 30 minutes, you'll have a delicious vegetarian dinner everyone will love, kids and adults alike.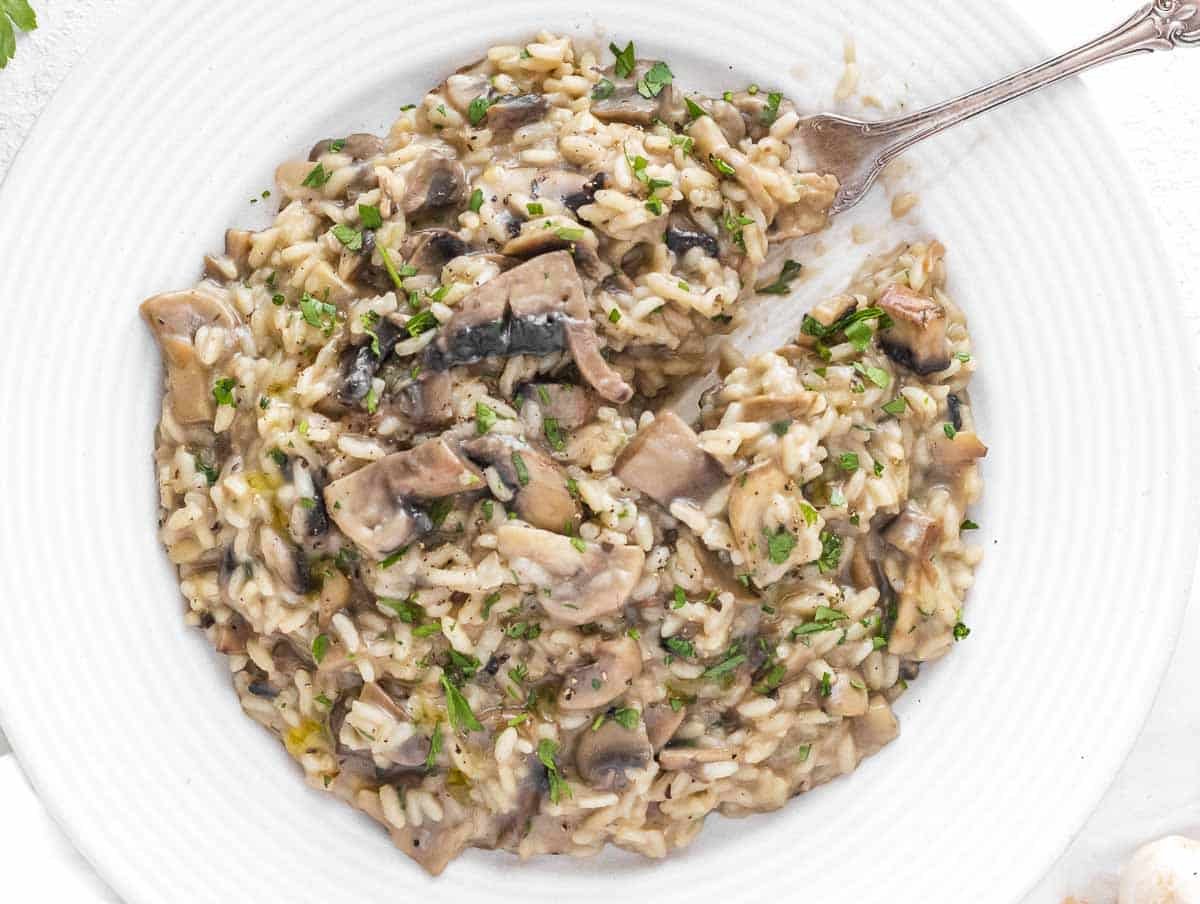 41. Lentil curry
Lentil curry is an easy, tasty, and nourishing vegetarian meal you can make in one pot with simple ingredients in about 30 minutes. Our recipe is simple yet satisfying, flavorful and perfect for meal prepping.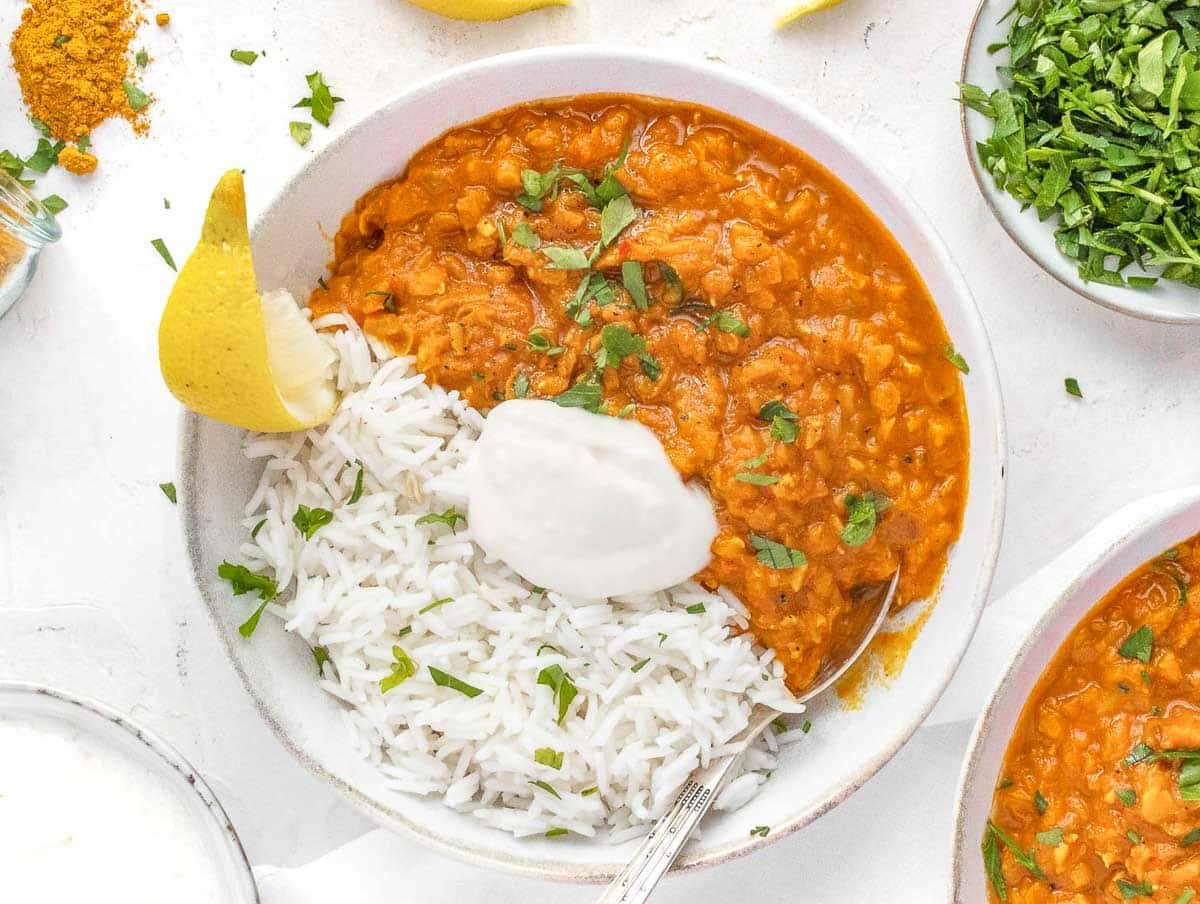 42. Sweet potato gnocchi
You can make this simple and tasty gnocchi recipe in about 30 minutes and have it for a lovely dinner with your family. Really, they are easier than you think!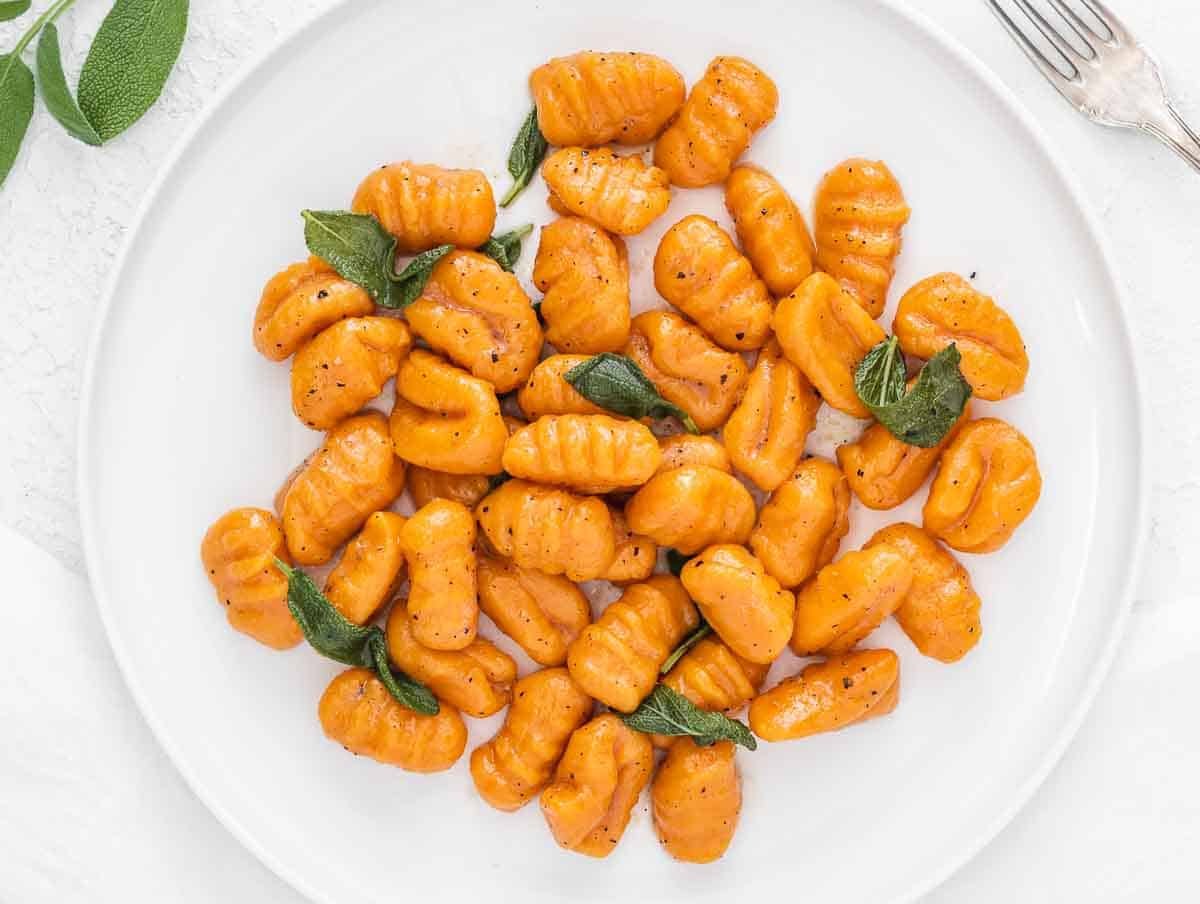 43. Baked zucchini boats
These stuffed zucchini boats fall without doubt into the healthy comfort food category, are plenty nutritious, and are packed with wholesome plant-based protein.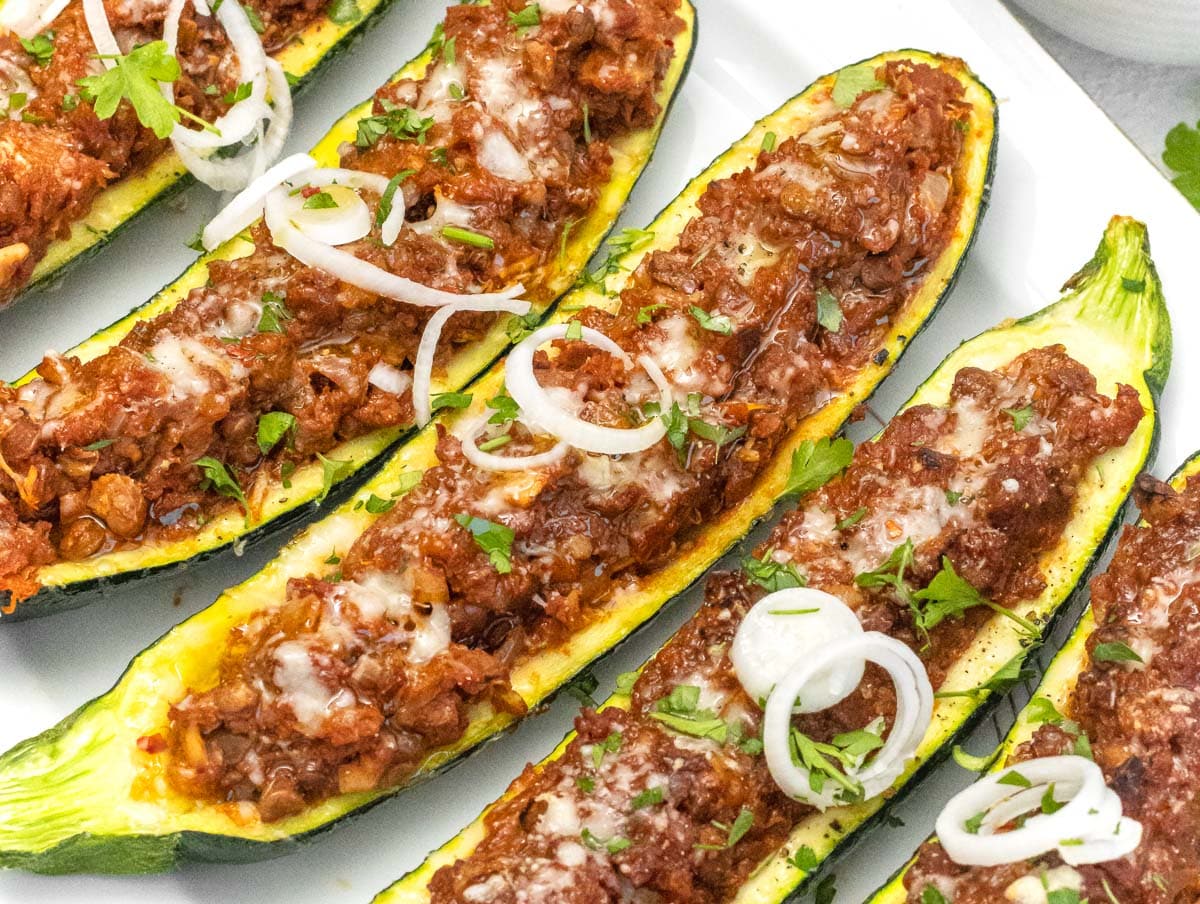 44. Vegetarian meatballs
Yes, with our tofu meatballs you can have meatballs without the meat. This recipe is quick and easy to make with very simple ingredients. It's cozy, incredibly tasty, and satisfying.
45. Microwave and loaded sweet potatoes
All you have to do is to wash the sweet potato, prick it with a fork, and microwave it for about 5 minutes. Then cut it open, load it with one of our toppings, and enjoy this comforting meal!
Recipe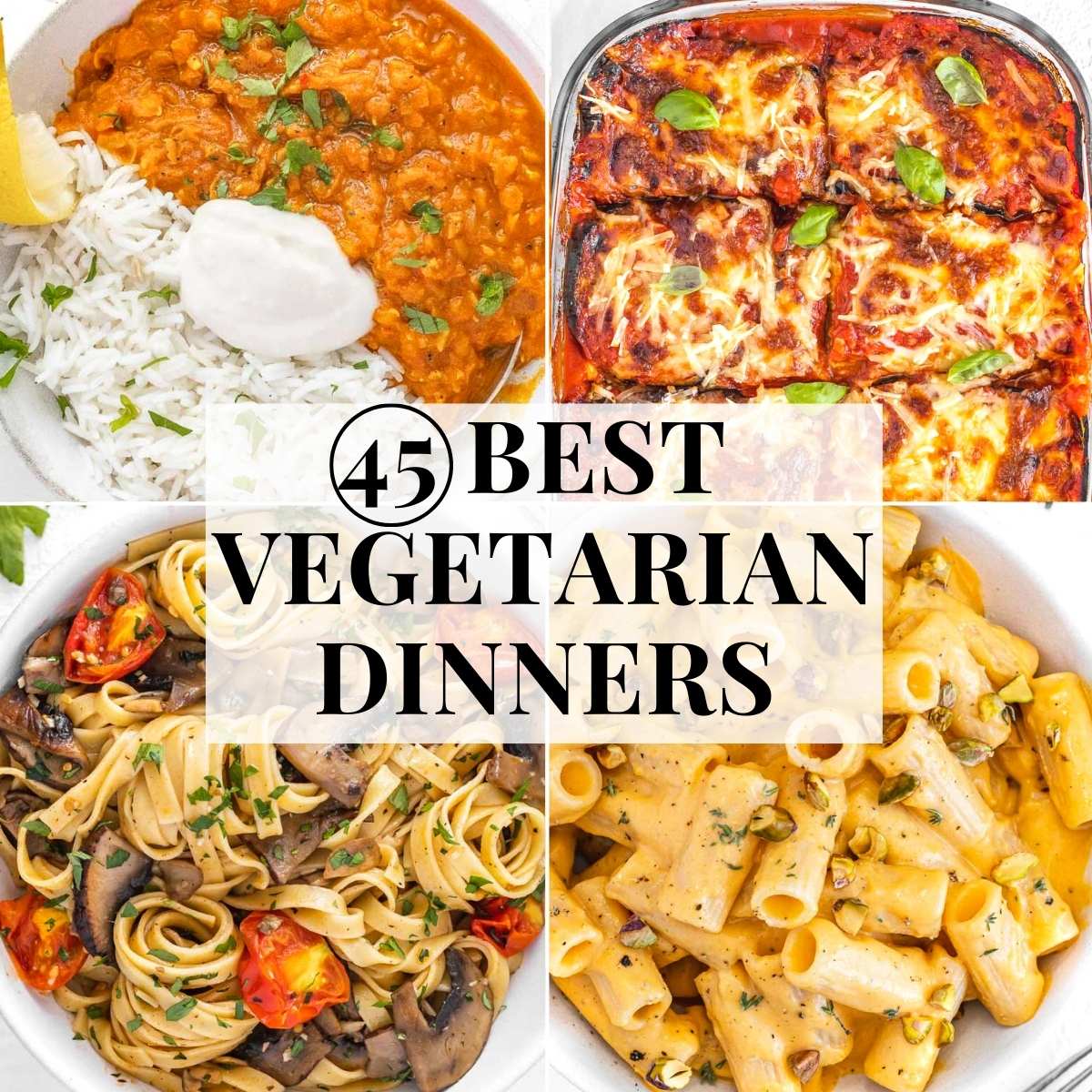 45 Easy Vegetarian Dinner Recipes
If you're looking for quick, delicious, and easy vegetarian dinner recipes, this is the list for you. You'll find curries, pasta, soups, salads, and the best of comfort meals, all vegetarian and easy to make!
Ingredients
Pick your favorite vegetarian recipe

Check each individual vegetarian recipe for ingredients required

Make the recipe by following the instructions
Instructions
How to store: Keep these vegetarian dinner dishes stored in the refrigerator, ideally in an airtight container, for up to 3 days.

How to reheat: Warm it up on the stovetop or in the microwave, depending on the recipe.

How to freeze: You can also freeze these meals for up to 3 months. To freeze, let it cool down first, then transfer them to a freezer-friendly container, leaving some space to allow it to expand. Thaw in the microwave or in a pot on the stovetop. Follow the instructions in each recipe.
Nutritional Values
Nutrition Facts
45 Easy Vegetarian Dinner Recipes
Amount Per Serving (200 g)
Calories 450
* Percent Daily Values are based on a 2000 calorie diet.
Did you like this recipe?
We are not much on Instagram, Facebook, and Pinterest. Leave us a comment below instead, it would mean the world to us 🙂