Welcome to a list of flavorful vegetables, ancient grains, and wholefood salads with healthy fats, protein, and carbohydrates.
These 25 grain bowl recipes from all over the internet are easy to make and can be customed to your and your family's taste.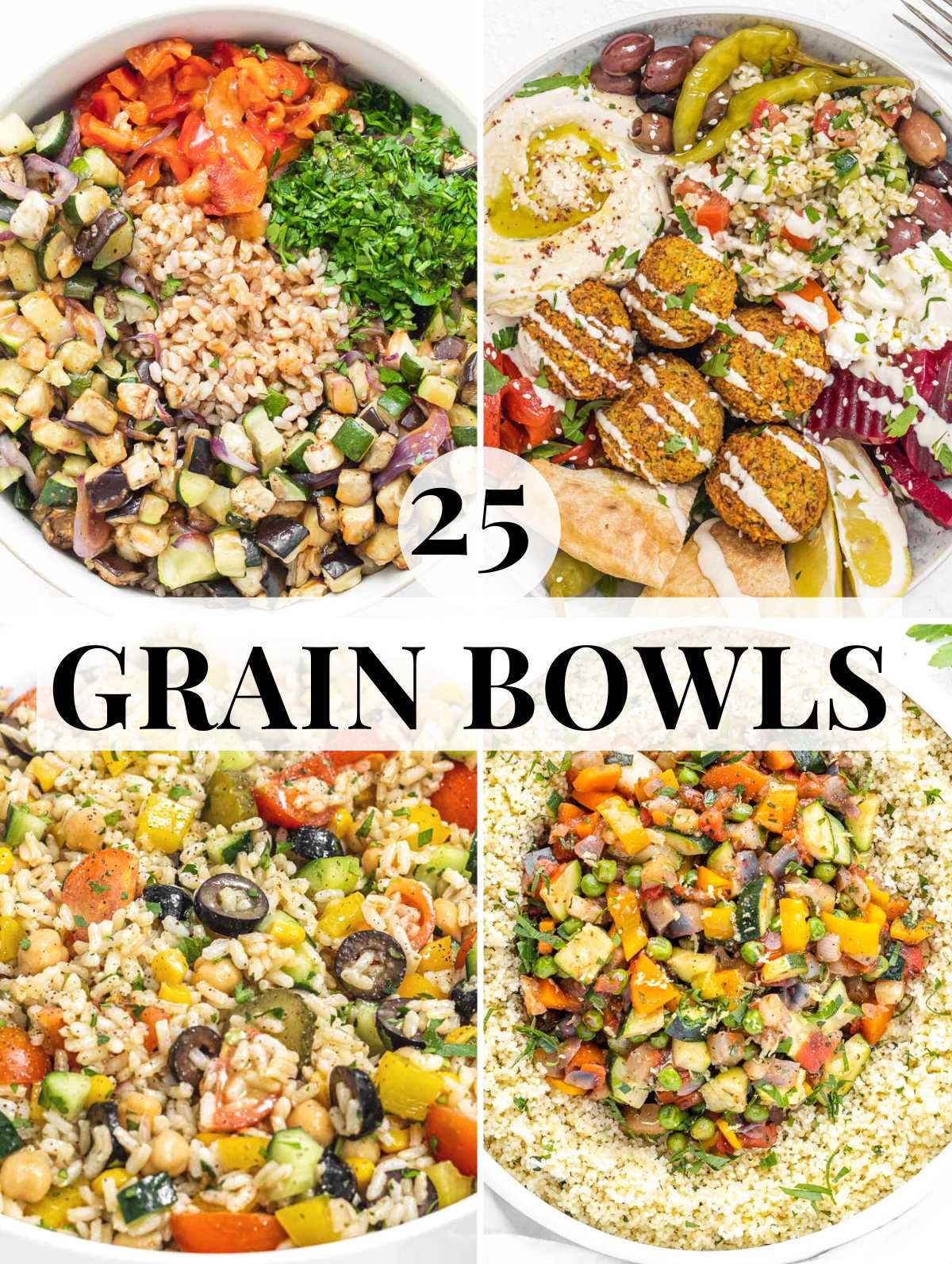 You can even use these recipes as inspiration for meal planning, putlocks, office lunches, and school box meals.
How to build a grain bowl
When we build our grain bowl, we try to incorporate these five elements for a healthy and nutritious grain bowl.
Greens (leafy greens, fresh vegetables, roasted vegetables, etc.)
Protein (legumes, pulses, peas, tofu, nuts, seeds, plant-based dairy)
Grains (ancient grains, pseudo-grains, pasta, couscous, corn, quinoa, rice, etc.)
Fats (olive oil, tahini, avocado, coconut, nuts, seeds, etc.)
Herbs and spices (parsley, basil, mint, cilantro, dill, chives, etc.)
For example, this black bean salad bowl includes various whole foods that make a tasty and super delicious meal.
Let's continue with these wholesome and colorful grain bowl recipes without further ado.
1. Farro salad
We start this grain bowl list with a quick, family-friendly meal: farro salad with roasted vegetables.
Make it in 30 minutes with simple, Mediterranean ingredients and a creamy mustard dressing.
2. Barley salad
This barley salad combines the best of ancient grains with an aromatic mix of roasted vegetables and Italian seasoning.
This healthy serving of grains makes a great lunchbox meal or meal prep idea.
3. Pesto pasta salad
Pasta is a beautiful way of eating grains while getting a good source of complex carbohydrates (through whole-wheat pasta).
Our dairy-free pesto pasta salad is a creamy and crunchy fresh serving of grains that is great for spring and summer.
4. Couscous salad
This easy grain bowl idea shows you how to pair couscous with crunchy fresh vegetables.
Drizzle with an aromatic lemon dressing to make a wonderful Mediterranean-inspired couscous salad.
5. Vegetable couscous
We love using couscous in grain bowls, which take just 5 minutes to prepare. So prepare for a vegetable-packed meal with pan-roasted veggies.
Add a refreshing lemon vinaigrette—a tasty 30-minute dish for the whole family.
6. Quinoa chickpea salad
Quinoa is a nutrient-dense grain rich in B-vitamin and protein.
Chickpeas and quinoa are combined to create a simple and healthy chickpea quinoa salad with seasonal veggies and a mustard vinaigrette.
7. Kale quinoa salad
This delicious kale and quinoa salad is great for meal prepping, and you can eat it as a healthy lunch and quick dinner throughout the week.
The salad is colorful and has different textures, meaning it's a super healthy meal packed with polyphenols and plenty of vitamins.
8. Vegan pasta bowl
This Italian-inspired pasta salad combines the best of fresh veggies, creamy dressing, and al dente pasta.
We recommend using seasonal veggies of different colors and textures so your pasta bowl is packed with vitamins and antioxidants.
9. Black bean bowl with quinoa
Black beans are a powerhouse of nutrition, packed with plant-based protein, antioxidants, and fiber, and they'll keep you full for long.
Mix some quinoa and drizzle with chipotle sauce, tahini sauce, or avocado spread to make the black bean bowl extra fulfilling.
10. Mediterranean farro salad
Farro is an ancient wheat grain with plenty of nutrition and health benefits thanks to its fiber, antioxidants, and plant protein.
You will love this farro salad because it has a satisfyingly chewy texture and loads of veggies.
11. Forbidden rice bowl with sriracha tofu
EmilieEats always makes wholesome and inviting dishes, and this black rice power bowl is no different.
Follow her recipe for a protein-rich and satiating meal you can put together in about 40 minutes.
12. Easy hummus bowl
Quinoa, creamy hummus, and crunchy vegetables make a colorful meal with Yumna's delicious hummus bowl.
It's a complete meal ready in just 15 minutes.
13. Mexican burrito bowl
Chelsea has a beautiful Mexican burrito bowl with whole-grain rice, corn, and black beans.
Drizzle with a creamy avocado oil dressing for a scrumptious and healthy grain bowl.
Get the recipe @ChelseysMessyApron
14. Vegan freekeh bowl
Deryn's freekeh bowl is a vegan dish with loads of flavor, crunch, and nutritious veggies.
Butternut squash, kale, roasted red pepper, and turmeric dressing are some of the delicious ingredients.
Get the recipe @RunningonRealFood
15. Baja grain bowl
HowSweetEats mixes rice and quinoa for this copycat Panera grain bowl with Mexican flavors.
Drizzle with cilantro lime vinaigrette, and add fresh veggies and avocado for an inviting and healthy dish.
16. Jamaican power bowl
Carrie made a healthy and colorful grain bowl with vegetarian protein and a quick homemade chimichurri sauce.
Prepare for a delicious mix of red peas, quinoa, butternut squash, and more.
Get the recipe @WalderWellness
17. Quinoa tofu buddha bowl
With Chloe's Asian-inspired Buddha bowl, you can get your plant-based protein and eat a flavorful meal too.
You can serve this colorful bowl in just 30 minutes with a mix of peanut butter, chickpeas, veggies, and fluffy quinoa.
Get the recipe @ForkfulofPlants
18. Italian broccolini bowl
Here's a whole food recipe with millet, broccolini, white beans, and fresh herbs.
This spring-friendly and Italian-inspired bowl is a great lunch and dinner idea.
19. Harvest quinoa bowl
Danae from RecipeRunner made a Thanksgiving and holiday-friendly grain bowl (but we would eat this any time of year).
So get some quinoa, butternut squash, red apple, and pepitas seeds to start building this harvest bowl.
20. Japanese quinoa bowl
Here's another protein-rich Buddha bowl with crispy roasted tofu, quinoa, and raw vegetables.
The total cooking time is just 35 minutes, a weeknight-friendly meal that is also great for meal prepping.
21. Moroccan grain bowl
Here's a super quick 10-minute grain bowl recipe that is easily assembled.
Almost raw and gluten-free, this Moroccan-inspired chickpea grain bowl is suitable for most eaters.
22. Winter roasted veggie bowl
Get ready for winter with this rainbow-colored roasted veggie bowl.
Sue uses red quinoa cooked in broth for the best flavor paired with various aromatic roasted veggies.
Get the recipe @TheViewfromGreatIsland
23. Summer veggie lemon grain bowl
Jeanine truly is the queen of veggies, and she makes these summer grain bowls with broccoli, kale pesto, and sauerkraut.
It's a wonderfully refreshing meal for spring and summer, and it's great for meal planning too.
24. Sheet pan Buddha bowl
Steven created this easy sheet pan veggie bowl to prepare for his marathon.
It's full of healthy greens, avocado, and farro; a must-try for any grain bowl fan.
Get the recipe @theNutFreeVegan
25. Falafel bowl
Our last recipe on this list is a falafel recipe beautifully coupled with fresh veggies and hummus.
You can quickly build a filling falafel bowl with greens, roasted bell pepper, warm pita bread, and tahini sauce.
How to store these grain bowl recipes
Make ahead: most of these grain bowl recipes are excellent to make ahead as they keep well in the fridge for up to 4 days.

We like to chop and separate veggies, grains, and protein sources separately and mix them on the day of eating.
Refrigerator: store leftovers in an airtight container in the fridge for up to 4 days.
Freezing: we do not recommend freezing these recipes; however, you can freeze most cooked grains for up to 3 months.

Please refer to each recipe's storage section to ensure the grain is freeze-able.
To freeze, let the grains cool down completely, transfer them into freezer-friendly zip-lock bags, and freeze. Then, thaw in the refrigerator overnight, microwave, or boiling water.
More salad inspiration
Get more salad and vegetable-packed inspiration with these nutritious and beautiful veggie recipes:
For many more salad ideas, check out our salads category page.
Recipe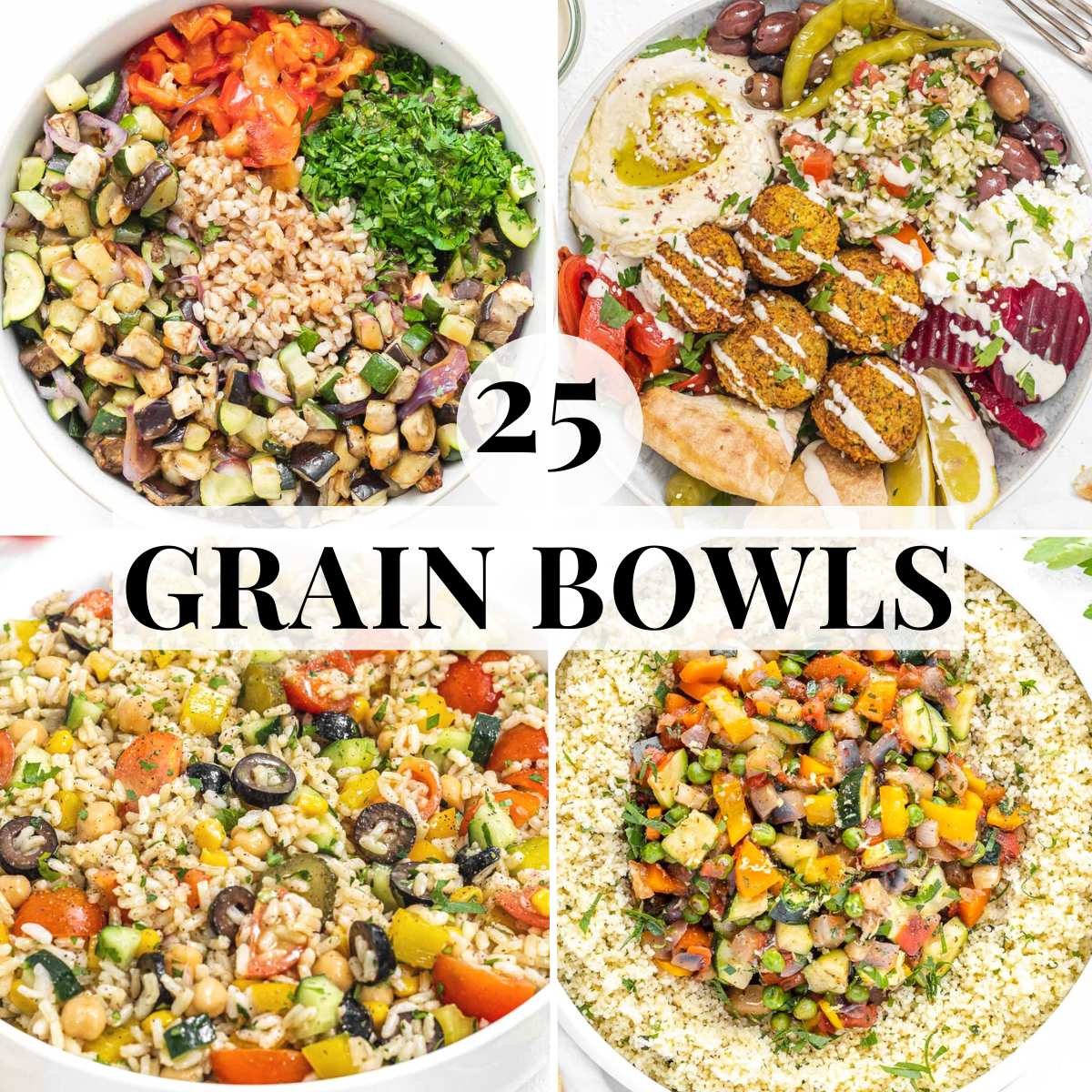 25 Healthy Grain Bowls
These 25 grain bowls from all over the internet are colorful, easy to make, and delicious to eat!
Try this black bean salad with roasted sweet potatoes, corn, green or red bell pepper, creamy avocado, jalapeños, and a cilantro lime dressing with fresh cilantro and lime juice.
Perfect for wholesome make-ahead meals and food prep. You are going to love it!
Ingredients
FOR THE SALAD
1

cup

cooked black beans

1½

pound

sweet potatoes

peeled and chopped into 1-Inch cubes

1

cup

green bell pepper

diced

1

medium

avocado

diced

½

cup

corn

½

red onion

chopped

¼

cup

pickled jalapeños

chopped
FOR THE CILANTRO LIME DRESSING
1

cup packed

cilantro

⅓

cup

extra virgin olive oil

¼

cup

lime juice

2

tablespoons

maple syrup

½

clove

garlic

½

teaspoon

grated ginger

½

teaspoon

salt
Instructions
STEP 1: BOIL THE BEANS
Rinse, then boil the black beans in a large pot with plenty of lightly salted water for about 1 to 1.5 hours.

Taste the beans to check if they are done, then drain them in a colander.
STEP 2: COOK THE SWEET POTATOES
Preheat oven or air-fryer to 400°F or 200°C.Peel and chop the sweet potatoes into 1-Inch cubes. Toss them in ½ tablespoon of olive oil, ¼ teaspoon salt, and a few twists of black pepper.

Oven Roasting: transfer cubed sweet potatoes onto a baking sheet lined with parchment paper and roast in the oven for 25 minutes, or until tender and browned.

Air frying: transfer cubed sweet potatoes into the air fryer basket. The cubes CAN overlap. Air fry for 15 to 18 minutes, shaking the air fryer basket every 4 minutes to allow for even cooking.
STEP 3: MAKE THE DRESSING
To a blender add all ingredients: cilantro, lime juice, maple syrup, garlic, peeled and grated ginger, salt, and olive oil.

Blend for a couple of minutes until smooth. Taste and adjust for salt and lime before serving.
STEP 4: MIX THE BLACK BEAN SALAD
To a large bowl, add the black beans, diced avocado, finely chopped onion, sliced jalapeños, roasted sweet potatoes, corn kernels, and diced green bell pepper.Next, pour in the cilantro lime dressing.

Toss well, taste and adjust for salt, and let the flavors meld for at least 15 minutes before serving.

Optionally, you can add about 1 cup of boiled quinoa.
Video Recipe
Easy Black Bean Salad with sweet potatoes
Notes
Nutrition information is for 1 portion out of 6 without quinoa.
Nutritional Values
Nutrition Facts
25 Healthy Grain Bowls
Amount per Serving
% Daily Value*
* Percent Daily Values are based on a 2000 calorie diet.
Did you like this recipe?
Leave us a comment below or find us on Instagram, YouTube, Pinterest, TikTok, and Facebook.
If you liked these grain bowl recipes, you might also enjoy: