Hi, we are Nico and Louise, partners in life and business. Together we run the Plant-Based School, a food blog where we share everyday plant-forward recipes to help you and your family eat more veggies.

Omnivores, flexitarians, vegetarians, and vegans, you are ALL WELCOME to this inclusive community.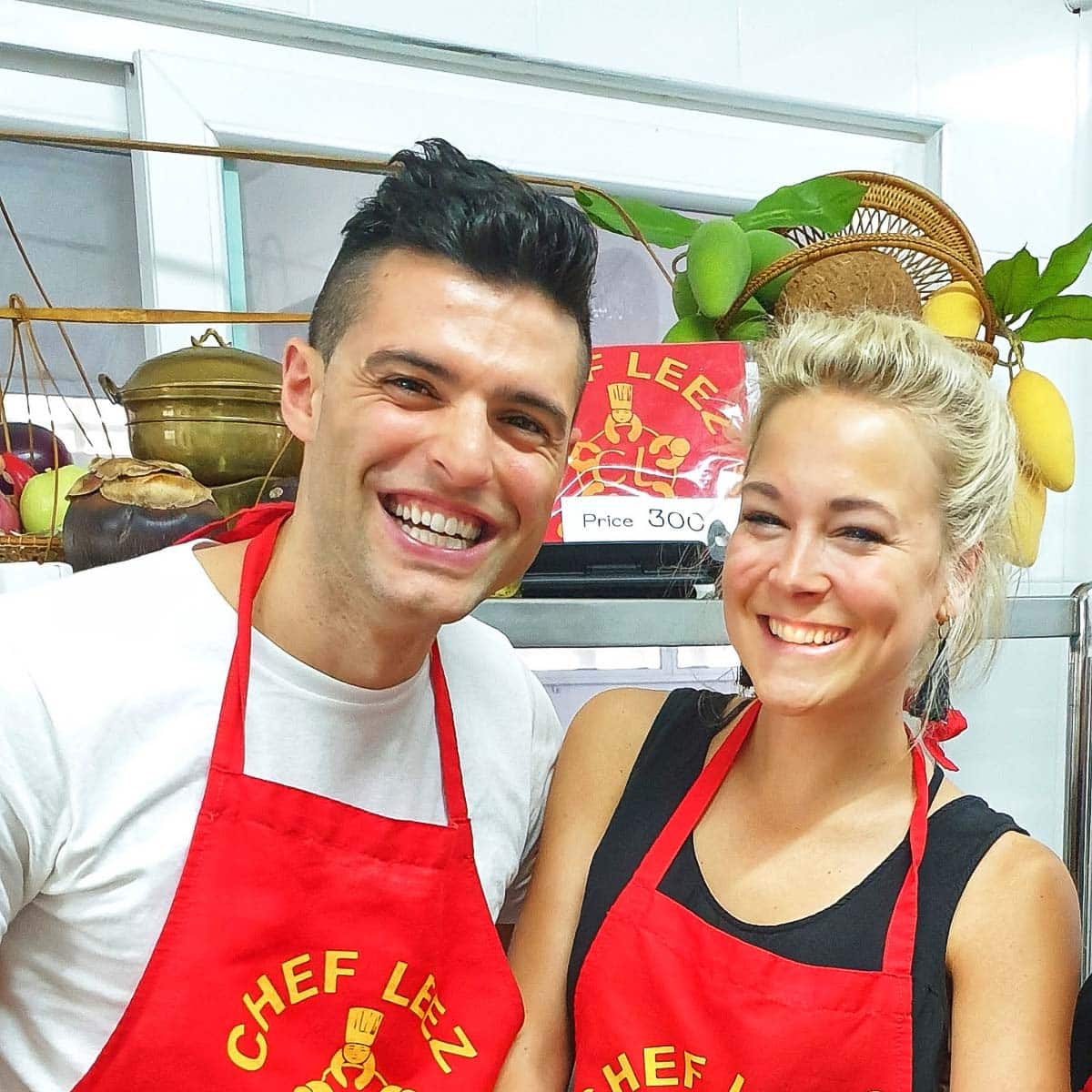 On this page:
Important
The Plant-Based School is not a vegan food blog.

We cook and eat mostly plants; however, we sometimes use non-vegan ingredients such as cane sugar, wine, and dairy.

Our aim with this food blog is to help you and your family eat more veggies, and while we publish mostly vegan recipes, this site is not meant as a guide to become vegan.
To learn more about plant-based diets, check out this article: "Not all plant-based diets are the same."
Our recipes are
Plant-forward (loaded with veggies, vegan and vegetarian)
Easy to make at home
With simple ingredients
All of our recipes are developed and cooked by Nico, who went to culinary school. Our pictures and videos are shot and edited by Louise, who is self-taught and learning on the go.
We do all of our recipes, testing, photography, writing, answering comments, and videos "in-house." Basically, we do everything ourselves.

Our kitten, Kiki, often helps with moral support and loud purring. She loves sitting on Nico's shoulders while he prepares ingredients.
If you like our work and want to stay in touch, you can follow us on social. We are on YouTube, TikTok, and Pinterest.
Photo/recipe sharing policy
Thank you for your interest in our content! Please remember that our recipes, pictures, and videos are copyrighted material. We have worked very hard to produce it.
Using our photos to promote this blog
You may use 1 photo to share a recipe and/or our blog in general, as long as you include a link to our blog.

Please do not share more than one image from a post without our permission; email us here at team[at]theplantbasedschool.com. We do not allow republishing of entire recipes (with pictures, ingredients, and instructions). Thanks again for your support!
How to read our recipes
"Jump to Recipe" button.
We try to be as structured as possible to make your life easier. You can always find a "jump to recipe" button in all our recipes at the top of the page. It'll take you straight to the recipe.

The recipe is always at the end of the page. This is an industry-wide practice, and most blog readers are used to this layout.

But if you want to learn more about the recipe (like variations, ingredients substitutions, tips) and how to make the best version of it, please read the text in the body of the article. Nico always tries to share his knowledge with you and includes the most important information to make the recipe successful.
Table of content
You will also find a table of content after the first picture with the main topics we cover on the page.

The text in the table of content is clickable, so you can jump right into the chapter you want to read. For instance, if interested in the ingredients and substitutions, you can click "Ingredients" and jump right there.
Note: We test, eat, write, photograph, and film all our recipes (we test from 3 and often up to 10 times for the trickiest desserts, both in US cups and grams measurements), and in the body of the article, you'll find all our learnings.

We do not use cup-to-grams or grams-to-cup converters because those are often inaccurate; we measure every ingredient in US cups and grams ourselves.
Who are we?
The Plant-Based School is run by Nico and Louise.

While Nico cooks, Louise takes care of our business' commercial aspects and is also our blog manager.

We met in Dublin while working in tech - in the same team - but in 2018, while on a holiday in Bangkok, Thailand, we decided to quit our jobs to "find ourselves." It's a long story; one blog post alone would not do it justice. 😅

In 2020, we decided to move to Italy, to a small Medieval town called Todi. It is where Nico grew up and where his parents live.
That's why some of our recipes seem inspired by Italian traditions. Inevitably, we are influenced by Nico's Italian heritage, our surroundings, and the variety of fresh produce available here.

Recipes such as Aglio e olio, tofu cacciatore, and focaccia bread are all inspired by Nico's upbringing and cooking with his grandmother.

At the end of 2021, we decided to go full-time with our blog, and we feel endlessly grateful that we get to be together, and work together every single day.
Thanks for being here, and happy cooking!