Hi, we are Nico and Louise, partners in life and business. Together we run the Plant-Based School, a food blog with the purpose to make plant-based cooking easy and accessible to everyone.

Omnivores, flexitarians, vegetarians, and vegans, you are ALL WELCOME to this community.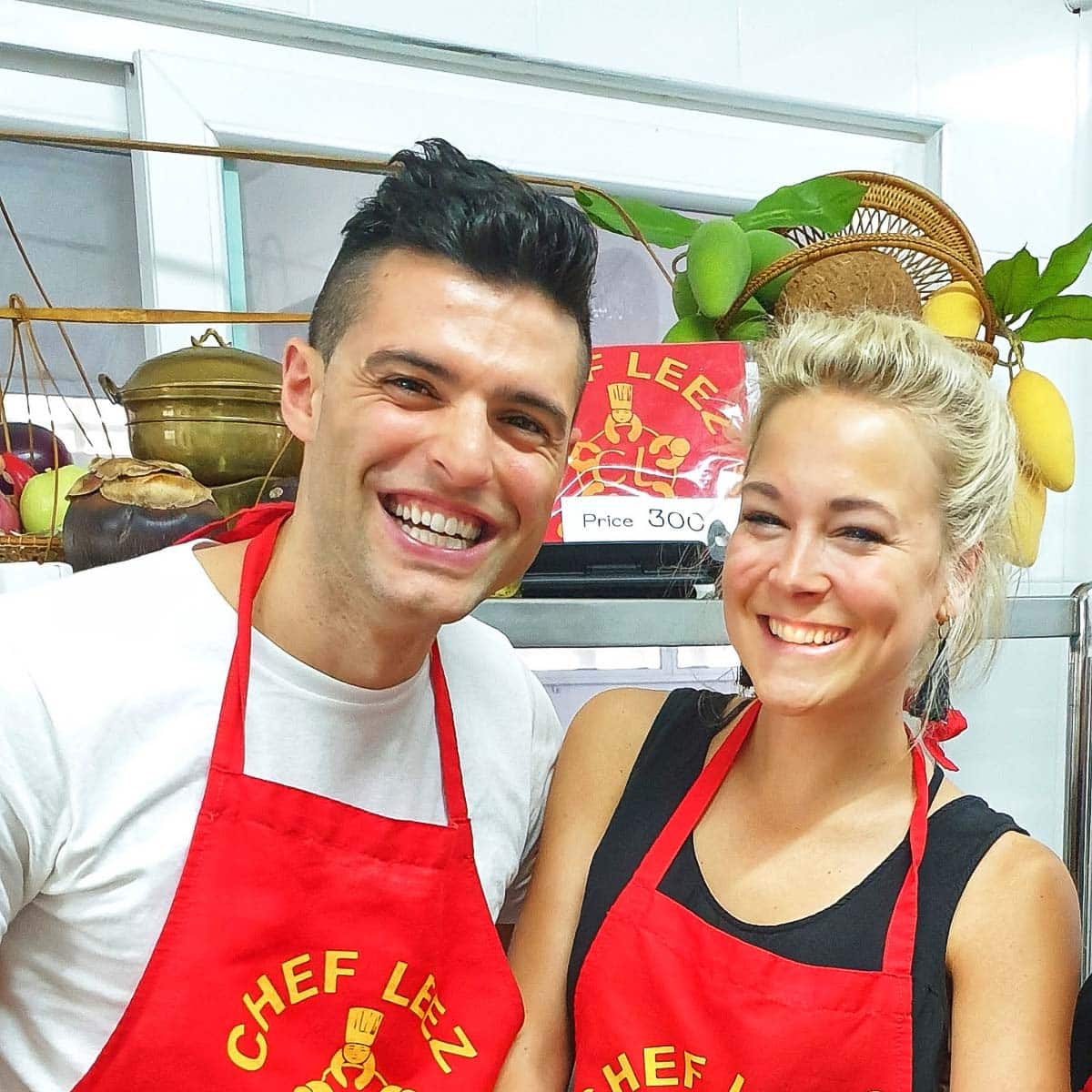 On this page:
Our recipes are:
Plant-Based
Easy to make at home
With simple ingredients
Important: Although all of our recipes are plant-based and many contain the word "vegan" in the recipe title, following a plant-based diet is different from following a vegan diet.

A vegan diet excludes all animal products (milk, eggs, cheese, ice cream, meat, fish, and derivatives).

A plant-based diet, on the other hand, does not exclude any of these foods but rather limits their consumption. A plant-based diet is built on vegetables, fruits, whole grains, legumes, nuts, and seeds.

We design our recipes with the criteria of a plant-based diet in mind, so while the vast majority of the recipes on this blog are also vegan, some of them might contain ingredients that are not.
Also, simplicity and taste are non-negotiable factors for us. We want to make it easy, enjoyable, and affordable for your to cook our plant-based recipes.

P.s. A small part of our recipes requires us to use less common products, such as Kala Namak (vegan carbonara and vegan egg salad) or nutritional yeast (vegan parmesan and vegan frittata).

We use these less common ingredients to recreate some traditional flavors that we love. But don't worry; we will guide you on how to use them with step-by-step pictures and videos.

If you like our work and want to stay in touch, you can follow us on social. We are on Instagram, YouTube, Facebook, and Pinterest.
Photo/recipe sharing policy
Thank you for your interest in our content! Please remember that our recipes, pictures, and videos are copyrighted material. We have worked very hard to produce it.
Using our photos to promote this blog
You may use 1 photo to share a recipe and/or our blog in general, as long as you include a link to our blog.

Please do not share more than one image from a post without our permission; email us here at team[at]theplantbasedschool.com. We do not allow republishing of entire recipes (with pictures, ingredients, and instructions). Thanks again for your support!
How to read our recipes
Jump to recipe
We try to be as structured as possible with this blog to make your life easier. In all our recipes, you can always find a "jump to recipe" button at the top of the page. It'll take you straight to the recipe.

The recipe is always at the end of the page. This is an industry-wide practice, and most blog readers are used to this layout.

But if you want to learn more about the recipe (like variations, substitutions, tips) and how to make the best version of it, please read the text in the body of the article. Nico always tries to share his knowledge with you and includes the most important information to make the recipe a success.
Table of content
You will also find a table of content after the first picture with the main topics we cover on the page.

The text in the table of content is clickable, so you can jump right into the chapter you want to read. For instance, if you are interested in the ingredients and substitutions, you can click "Ingredients" and jump right there.

Note: We personally test, eat, and write all our recipes (we test from 4 and often up to 10 times, both in US cups and grams measurements), and in the body of the article, you'll find all our learnings.

We do not use cup-to-grams or grams-to-cup converters because those are often inaccurate; we measure every ingredient in both cups and grams ourselves.
Who are we?
The Plant-Based School is run by Nico and Louise.

While I (Nico) cook, Louise (my wife) takes care of the commercial aspects of our business, and she's also our blog manager.

Louise and I met in Dublin while working in tech - in the same team - but in 2018, while in a pool in Bangkok, Thailand, we decided to quit our jobs to "find ourselves." It's a long story; one blog post alone would not do it justice. 😅

In 2020, we decided to move to Italy, to a small Medieval town called Todi. This is where I grew up and where my parents live. That's why some of our recipes seem inspired by Italian traditions. Inevitably, we are influenced by my Italian heritage, our surroundings, and the variety of fresh produce available here. At the end of 2021, we decided to go full-time with this blog.
Who is Nico?
Ciao, I am Nico. I was born and raised in Todi, a small town in Umbria (Italy), the green heart of Italy.

I have been passionate about cooking since I was a small kid, cooking traditional Italian food with my nonna (I know it's a cliché, but it's true).

As a young teenager, I first got a professional cook diploma at the Hotelier Institute of Assisi (Italy) and then gained a Swiss diploma in hotel management at the Hotel Institute Montreux in the beautiful Swiss town of Montreux.

After doing several internships in the hotel industry, I decided to leave that world behind and jump into something new.

Over the next 10 years, I specialized in Management, Innovation, and Entrepreneurship and worked all over Europe for companies like PWC, Dropbox, and Google, leaving my love for cooking behind.

But in January 2018, on a whim, I decided to drastically reduce the consumption of meat, fish, and dairy.

I loved the newfound health and energy from this diet so much that I haven't looked back since. I started cooking more and more plant-based Italian food at home, trying to recreate the flavors I grew up with.

The food tasted so good that I wanted to share it with everyone. As a nice side effect, Louise and I felt better, saved a ton of money (a plant-based diet is so much cheaper than the standard western diet), and found purpose in eating this way.

And this is when we decided to start this blog to help you cook everyday plant-based food, and make you feel happier, healthier, and wealthier 😉.