Mildly sweet, a little acidic, and a tiny bit zesty, this mustard dressing is our vegan take on the popular honey mustard vinaigrette.

We substitute maple syrup for the honey to make a dressing that you can happily drizzle on salads and veggies (steamed, grilled, boiled).
On this page:
We love a simple 5-minute dressing to make our veggies and salads pop. This easy mustard dressing does just that. It makes everything you drizzle on scrumptious and finger-licking good.

And it's not just delicious as a simple salad dressing. We use it all the time to make our pasta salads pop or to add some spark to grilled, steamed, and air-fried vegetables.

Our recipe is inspired by beloved honey-mustard vinaigrette, but we've decided to keep the recipe vegan by subbing 100% maple syrup for the honey.
Also, please use this recipe as a starting point, as a guide, and add more or less of the ingredients based on your taste and preferences.
We are well aware that with dressings and vinaigrettes, some people might like it sweeter, some more acidic. Some like it with a fat to acid ratio as high as 4:1 (that is, 4 parts of oil for 1 part of lemon juice or vinegar), others like it with a 1:1 ratio.

For our mustard dressing, we like to go for a 2:1 fat to acid ratio, but again, make it, taste it, and adjust it!
Ingredients
Olive oil: extra virgin olive oil is the one that adds the most taste. It's also richer in antioxidants, making it healthier than other oils. Regular olive oil is a good substitute.

Lemon juice: we like to use freshly squeezed. You can replace it with white wine vinegar, apple cider vinegar, or red wine vinegar. Orange juice works too for some dishes, but it is sweeter, so you might want to reduce the maple syrup in this case.

Mustard: use Dijon mustard for best results. If you don't have that at hand, then regular yellow American mustard will do.

Maple syrup: 100% pure if you can; we use it instead of honey to keep this mustard vinaigrette vegan. You can replace maple syrup with agave syrup or, if you are not vegan, with honey.

Salt and Black Pepper: sea salt and kosher salt are best for a fuller flavor. Freshly ground black pepper for a stronger pepper aroma.

Garlic: half a clove, grated.

Optional ingredients: fresh herbs and spices can also be added to this dressing. Try finely chopped parsley, basil, or dried oregano.
Instructions
You can mix this dressing in a small mixing bowl by whisking the ingredients together, or you can use a mason jar and shake it well.
Peel and cut the garlic clove in half lengthwise, and remove its core, if any.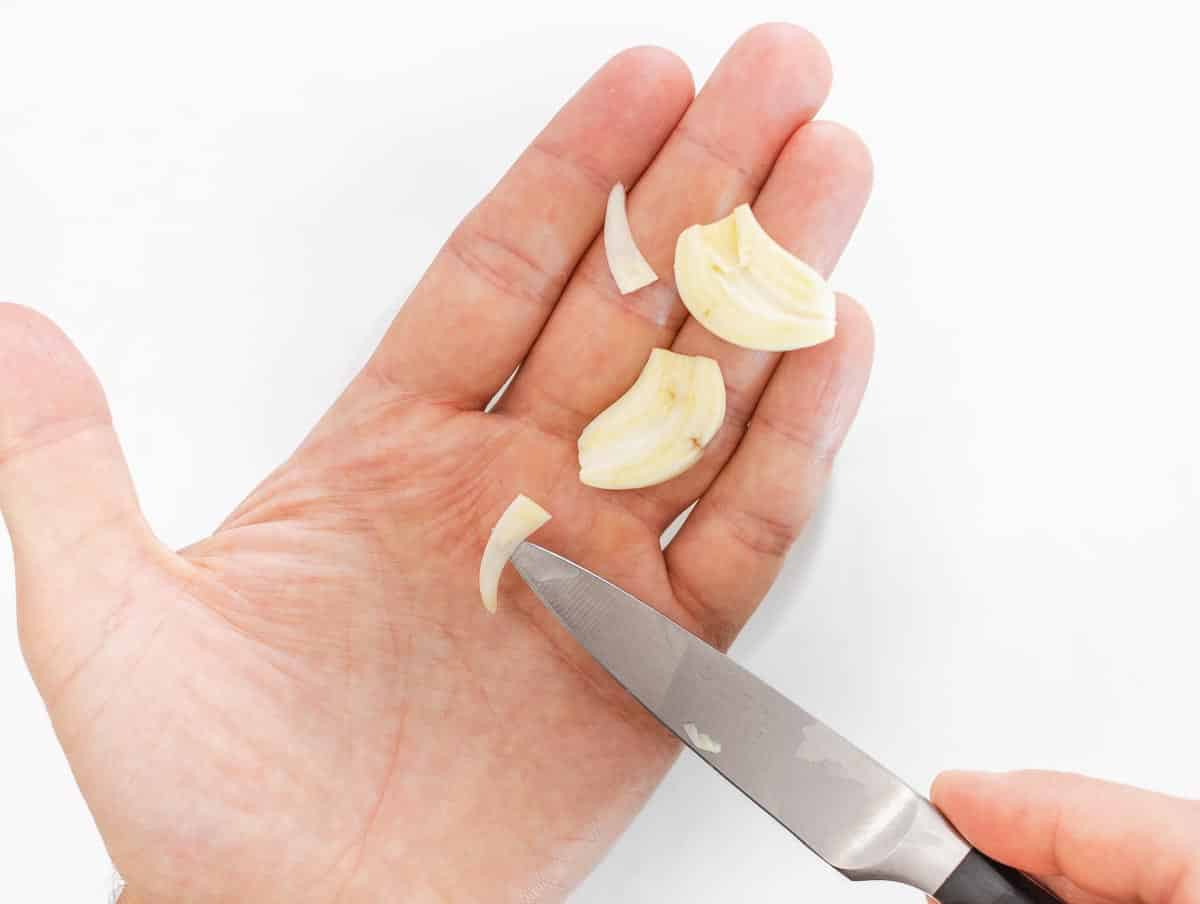 Grate half of the clove finely and add it to a small mixing bowl.
To the same bowl, add olive oil, freshly squeezed lemon juice, maple syrup, Dijon mustard, salt, and freshly ground black pepper.

There's no need to add the oil a little at a time, as the mustard helps emulsify the ingredients.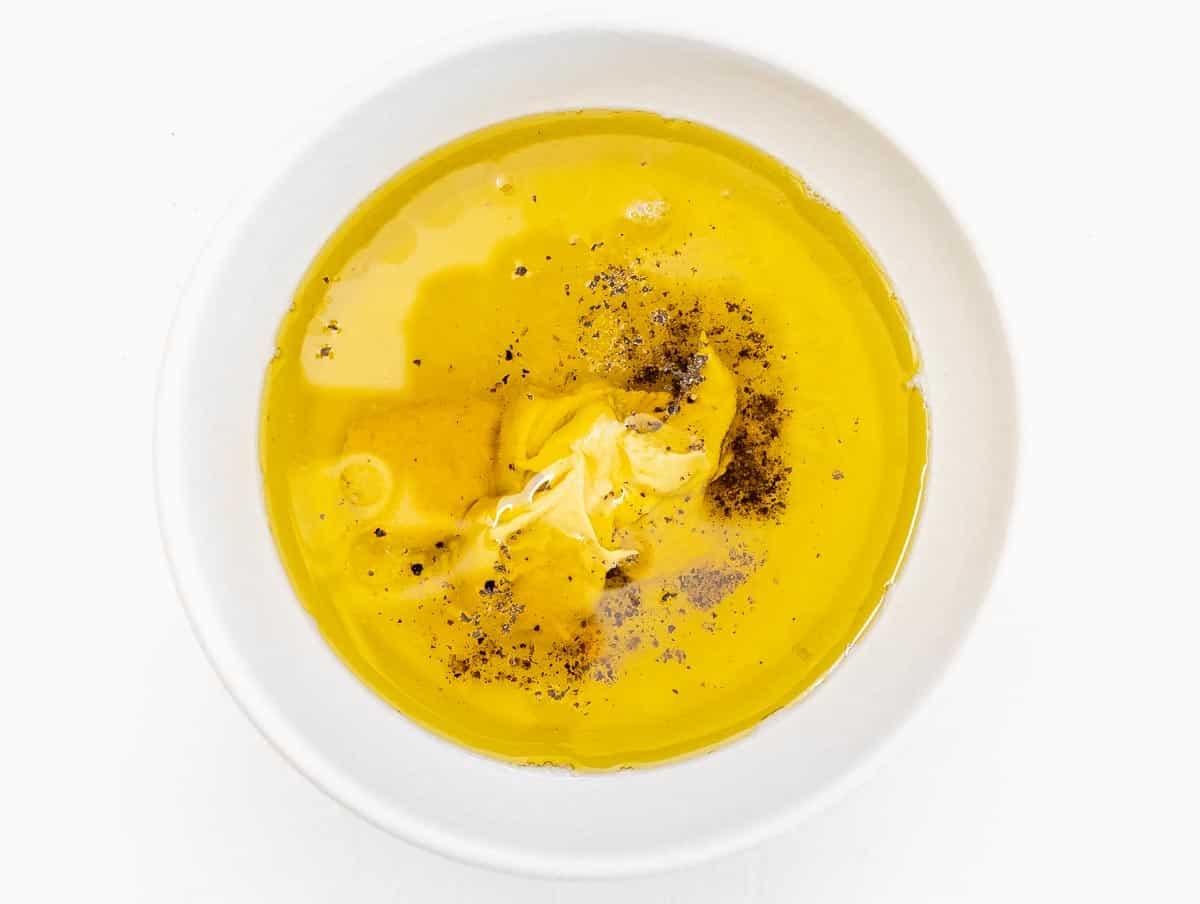 Whisk well for about a minute till the ingredients are emulsified; taste and adjust before serving.
Serving Suggestions
This simple mustard dressing is incredibly versatile. For example, we recently got an air-fryer, and we now make this dressing often when we air-fry some veggies.

It's most delicious with air fryer asparagus or air fryer green beans. Most importantly, the mustard dressing can add flavor to simple vegetable side dishes. Try adding the dressing to one of these healthy sides and taste the difference:
You can also use the mustard dressing in salads, try it in a chickpea salad, quinoa salad, or couscous salad. You can even add it as a creamy finish to a tofu salad, it works in most grain bowls, salads, and cooked grains.
With just 5 minutes of prep time, you can easily make your veggies, grains, and salads pop with this creamy mustard dressing. It's a fun and simple way to give your vegan lunch or dinner an aromatic spin.

How do you like using vinaigrette? Let us know in the comments below, we'd love to hear.
Variations
Add herbs
Whether fresh or dry, add some herbs to your mustard vinaigrette to give it an Italian spin. When it comes to dry herbs, oregano is our favorite. Start by adding ¼ teaspoon, whisk, taste, and add more if you like.

For fresh herbs, there's flat-leaf parsley, basil, oregano, thyme, and mint. Even rosemary works well if you serve it oven-roasted or air-fried veggies. Finely chop them and add them to the dressing. Start with 1 teaspoon and add more if you like.
If you match this to Asian or Mexican meals, try adding finely chopped cilantro (fresh coriander). In this case, some finely grated ginger is a good addition, too; ½ teaspoon goes a long way, so start with that.
Add spices
Try ground cumin, red pepper flakes, paprika, or crushed coriander seeds. Start with ¼ teaspoon, whisk, taste, and add more to your liking.
Storage
Store this mustard dressing in an airtight container, like a mason jar, in the fridge, for up to a week. Shake or whisk well every time you use it.
Recipe
Mustard Dressing
Mildly sweet, a little acidic, and a tiny bit zesty, this mustard dressing is our vegan take on the popular honey mustard vinaigrette.
Ingredients
4

tablespoons

extra virgin olive oil

2

tablespoons

lemon juice

2

teaspoons

mustard

1

tablespoon

maple syrup

½

teaspoon

salt

2

twists

black pepper

½

clove

garlic

grated
Instructions
Peel and cut the garlic clove in half lengthwise, remove its core if any, grate half the clove finely, and add it to a small mixing bowl.Note: the core of the garlic tend to be hard to digest, that's why we take it off if there's any.

Add olive oil, lemon juice, mustard, maple syrup, salt, pepper to the same bowl and whisk well for 1 minute until you have a smooth, emulsified liquid.Taste and adjust the dressing before serving it. You can add more of any ingredients based on your taste.

Store in an airtight container in the fridge for up to 1 week.
Nutritional Values
Nutrition Facts
Mustard Dressing
Amount Per Serving
Calories 71
Calories from Fat 63
% Daily Value*
Fat 7g11%
Potassium 16mg0%
Carbohydrates 2g1%
Protein 1g2%
Vitamin A 2IU0%
Vitamin B6 1mg50%
Vitamin C 2mg2%
Vitamin E 1mg7%
Vitamin K 5µg5%
Calcium 5mg1%
Folate 1µg0%
Iron 1mg6%
Manganese 1mg50%
Magnesium 2mg1%
Zinc 1mg7%
* Percent Daily Values are based on a 2000 calorie diet.
Did you like this recipe?
We are not much on Instagram, Facebook, and Pinterest. Leave us a comment below instead, it would mean the world to us 🙂