If you're looking for healthy and easy curry recipes, you've come to the right place. These curry meals are vegetable-packed and with an Indian-inspired spice mix that makes for great dinner ideas.
Take your pick from vegetable, lentil, tofu, and chickpea variations - all vegan and vegetarian-friendly. We're sure that you will find your next curry recipe favorite here.
Check out our best easy dinner recipe collection!
Our curries are inspired by the South Asian Cuisines of India and Nepal. We've tested many variations of curries, and we've found that the secret to a good curry is in the spice blend, flavor base, and simmering:
We use spices such as curry powder, turmeric, and garam masala to recreate those warm Indian flavors that make curries irresistible.
The process is simple: toast the spices with garlic and ginger. This creates a flavor base that will infuse the curry with a subtle, mouth-warming, yet fresh and zesty aroma.
Then simmer the legume, tofu, or vegetable with the spices in a creamy sauce of coconut milk, canned tomatoes, and vegetable broth.
Best easy curry recipes
There are lots of plant-based options for making aromatic and amazingly creamy curries. Choose from wholesome legumes like chickpeas and lentils, or chewy chicken-like tofu for your next curry meal.
1. Lentil curry
You'll get plenty of rich and creamy texture and a little bite with this lentil curry. It's a creamy and flavorful meal, perfect for those who love oriental flavors. There's no meat in this curry, just plant-based goodness, so you will enjoy a wholesome and fibre-rich meal.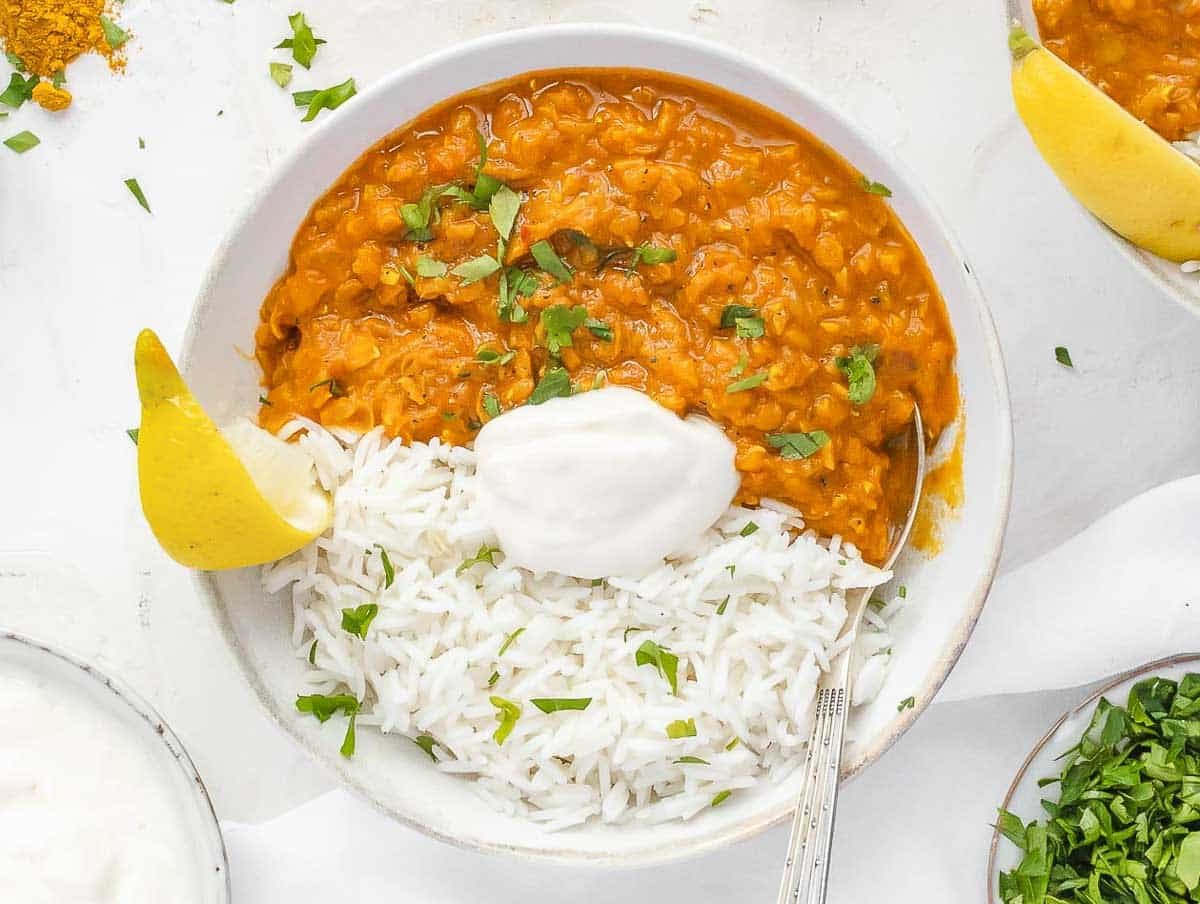 2. Tofu curry
No need for chicken or beef with this chewy and fulfilling tofu curry recipe. This easy tofu curry is simple, healthy, tasty, family-friendly, nutritious, and fulfilling, and everyone at the table will take seconds.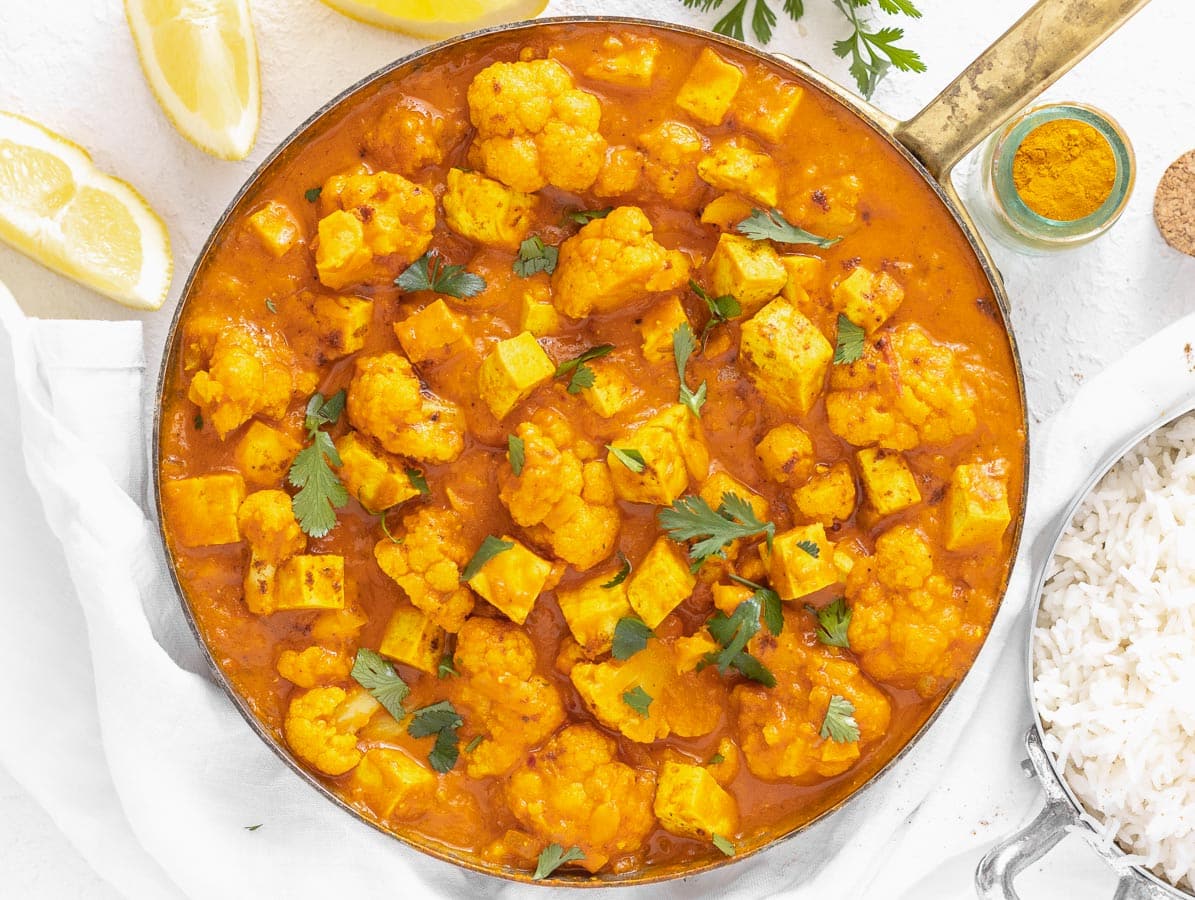 3. Chickpea curry
Here's an easy and quick meal that you can make with simple ingredients and some spices in one pot in a little over 30 minutes. Chickpea curry is a creamy plant-based meal that is easily tailored to your taste; add your favorite veggies and you'll have a complete meal.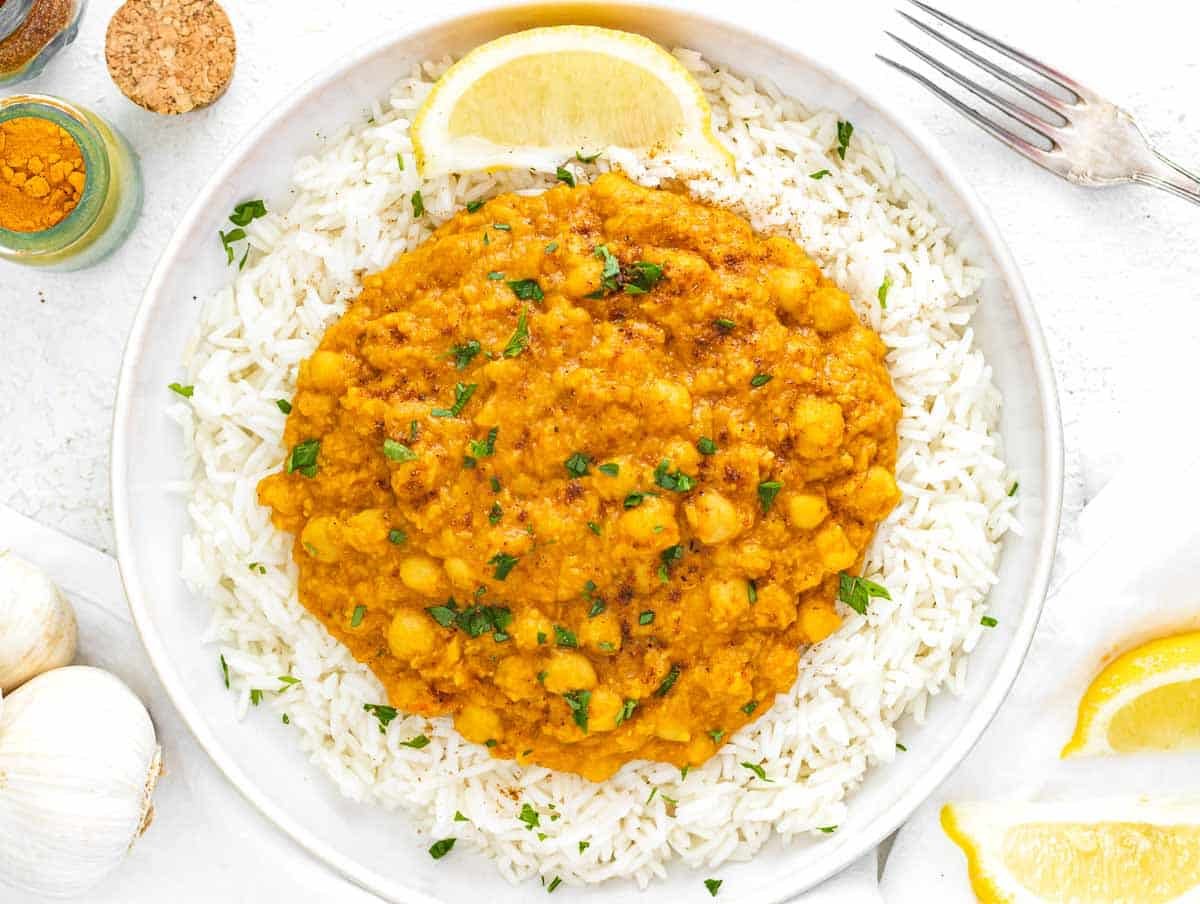 4. Eggplant curry
Eggplants are excellent for curry because they soak up all the flavor from the spices and become soft and buttery as they simmer in the sauce. This eggplant curry is fork-tender, perfectly spices, and endlessly creamy, a real family favorite.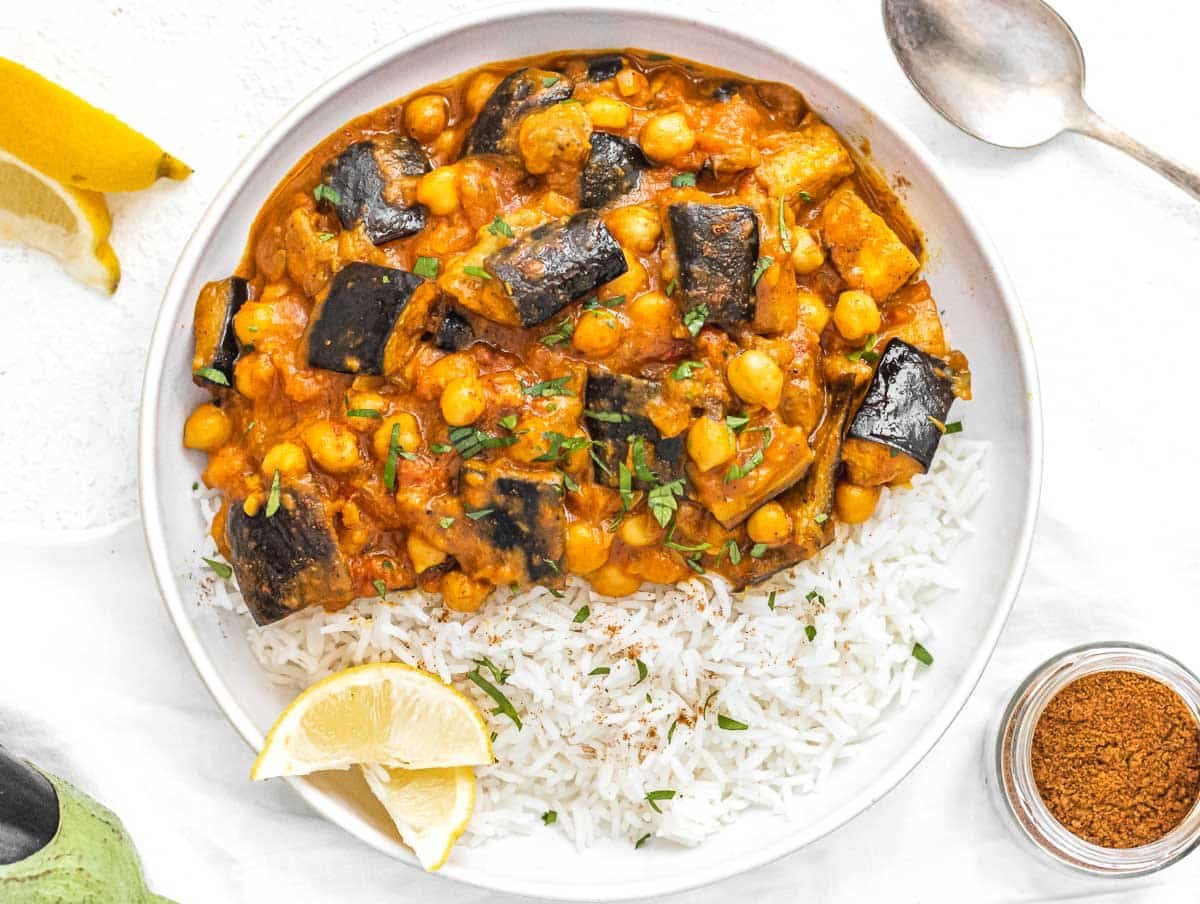 5. Cauliflower curry
This cauliflower curry is an easy vegetable-packed meal! Once you've toasted the spices with garlic, ginger, and onion, you can literally add all other ingredients to the pot and let them cook. In less than 30 minutes, you'll have a delicious homemade cauliflower curry that is flavorful and nutritious.
6. Sweet potato curry
While we love sweet potatoes in all forms and shapes, this sweet potato curry recipe is our family's favorite way of enjoying this colorful root vegetable. You'll taste the mild natural sweetness of the sweet potato that melds perfectly with the spices, and absorbs their delicious aroma.
7. Chana Masala
Here's an easy one-pot curry with affordable and easy-to-find ingredients. Chana masala is a creamy, wholesome, and delicious Indian dish with mixed-spiced chickpeas cooked with onion, garlic, ginger, and tomatoes.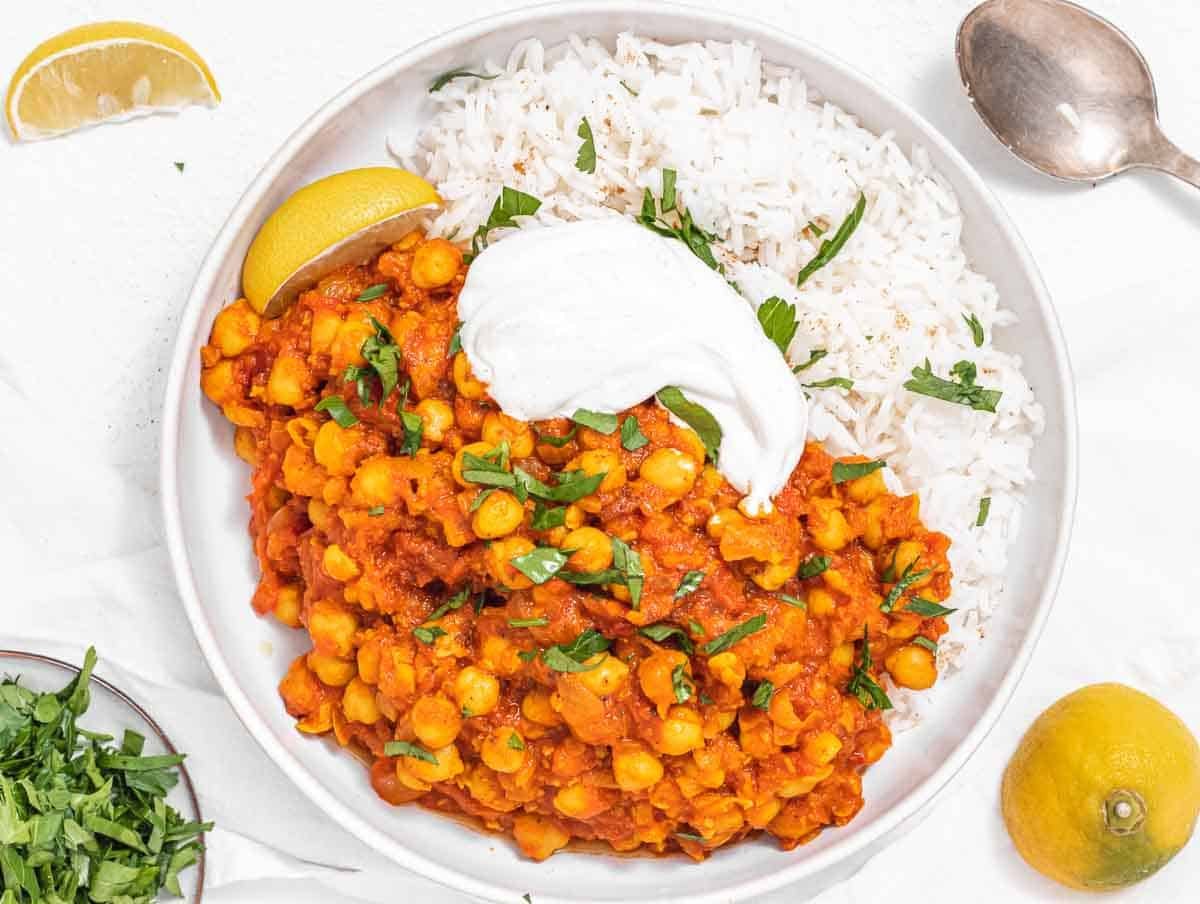 8. Vegan butter chicken
Creamy, tangy, and a perfect combination of firm tofu with a balanced curry spice mix. This vegan butter chicken has hand-torn pieces of tofu that are hugged by a rich yogurt marinade and balanced with a creamy tomato sauce. Perfectly paired with Naan bread or roti flatbread.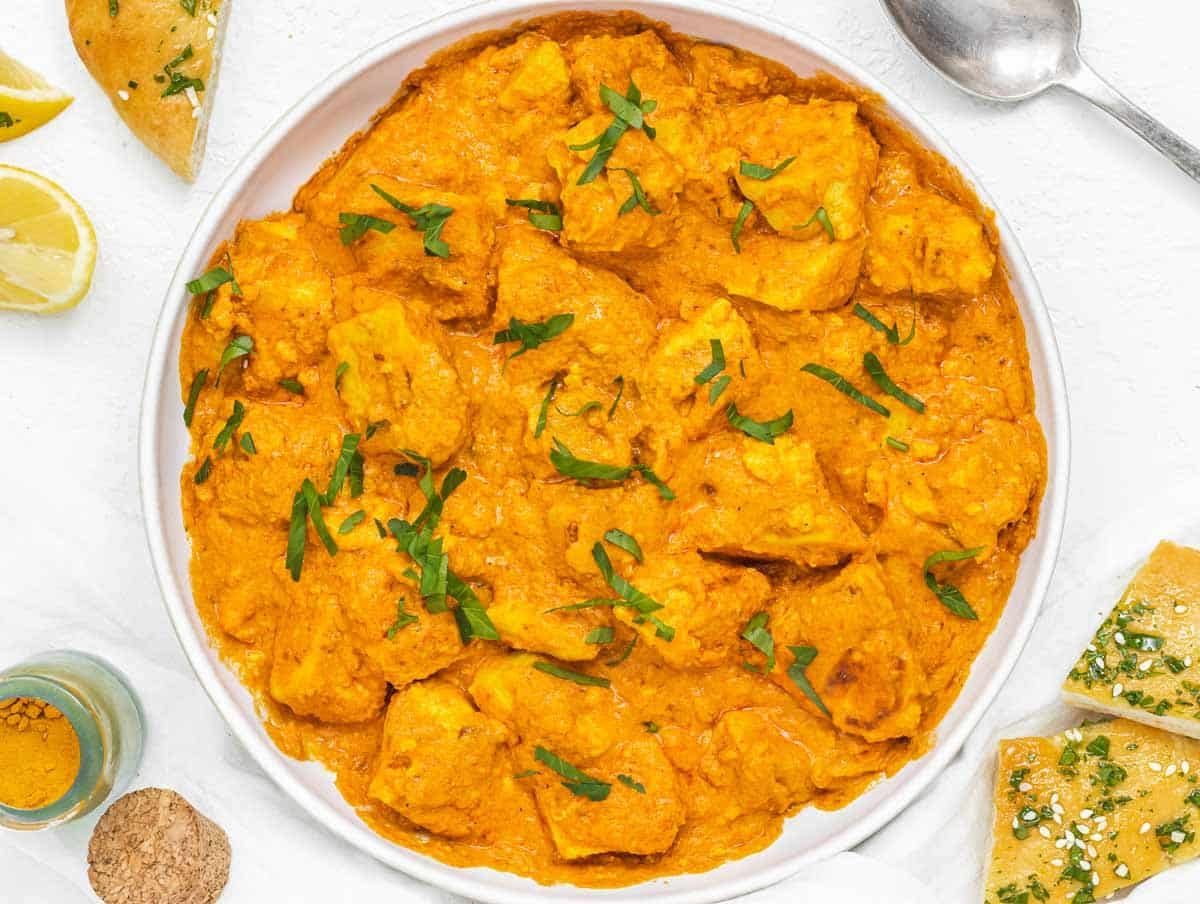 9. Thai red curry
Vegetable-packed and coconut-infused Thai red curry is a fresh and 30-minute curry idea. It's a creamy one-pot meal protein from tofu and peas, and it pairs wonderfully with white rice and a garnish of lime juice and fresh cilantro.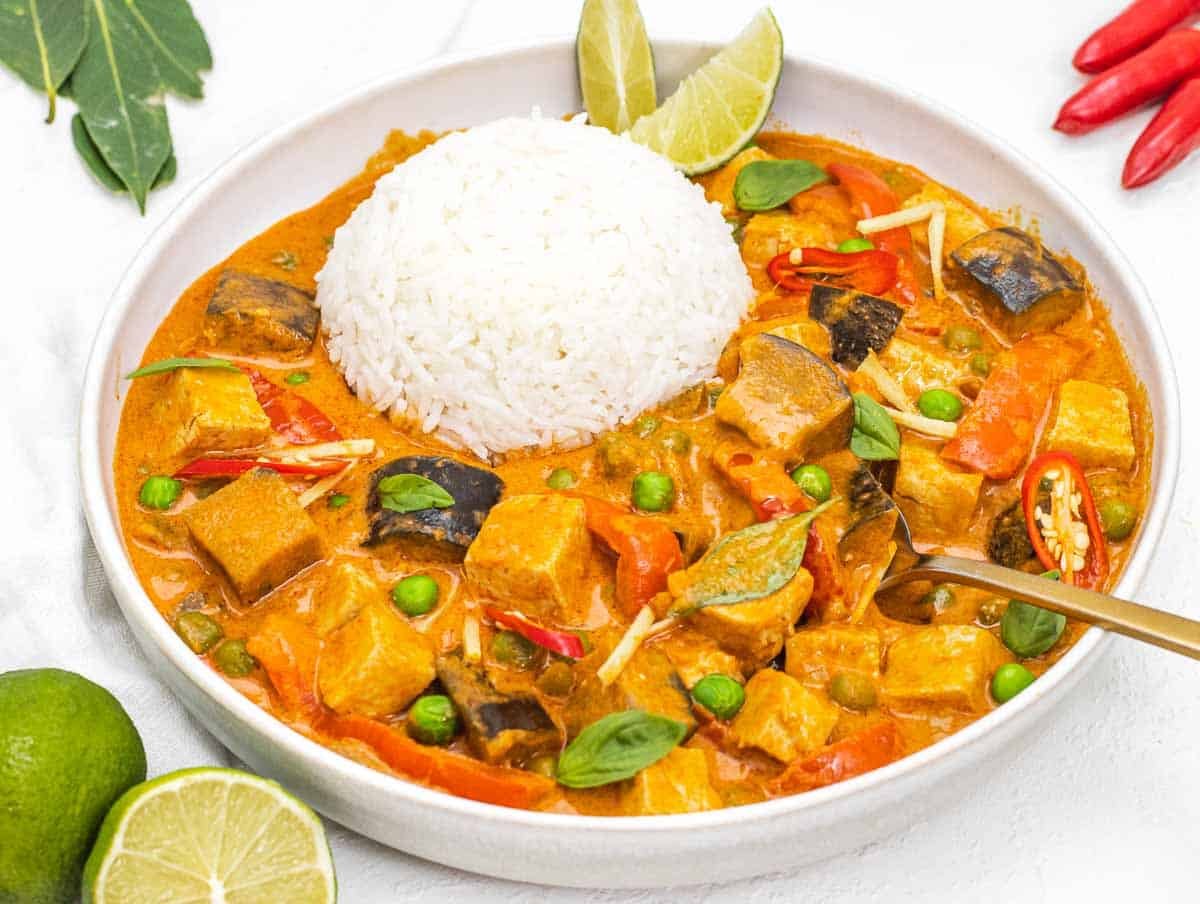 10. Red lentil soup with cumin
This red lentil soup is perfect for autumn or winter weeknight dinners as it's easy to make with a few pantry staples. You can make it with affordable ingredients, and it only needs to simmer for about 20 minutes.
More easy stews and one-pots
These easy and aromatic one-pot meals pair well with naan bread and rice - and they're perfect as weeknight dinners. Make them as meal-prep recipes, or bring them to a putlock, they taste even better on day two or three after a quick reheating.
Turmeric-infused chickpea stew
This chickpea stew recipe is a great one-pot dinner! You can put it together casually for a quick and tasty weeknight meal or prep ahead and store it in your fridge or freezer.
You'll only need a few spices and staple ingredients, one pot, and about 30-35 minutes of cooking time.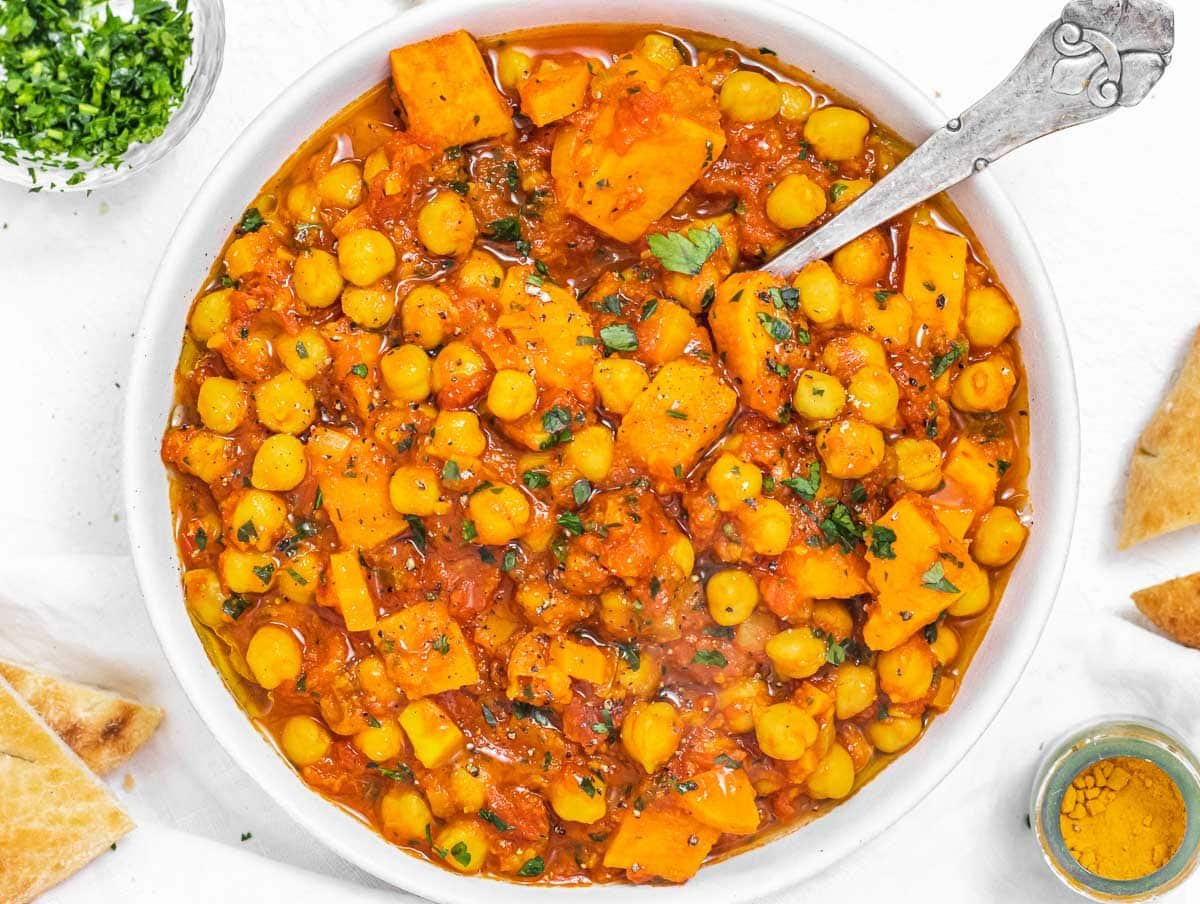 Pasta e Fagioli
Pasta e Fagioli makes the coziest family dinner ever. This authentic Italian recipe is made with simple and affordable ingredients, yet it tastes fantastic, and it's incredibly warming and nourishing.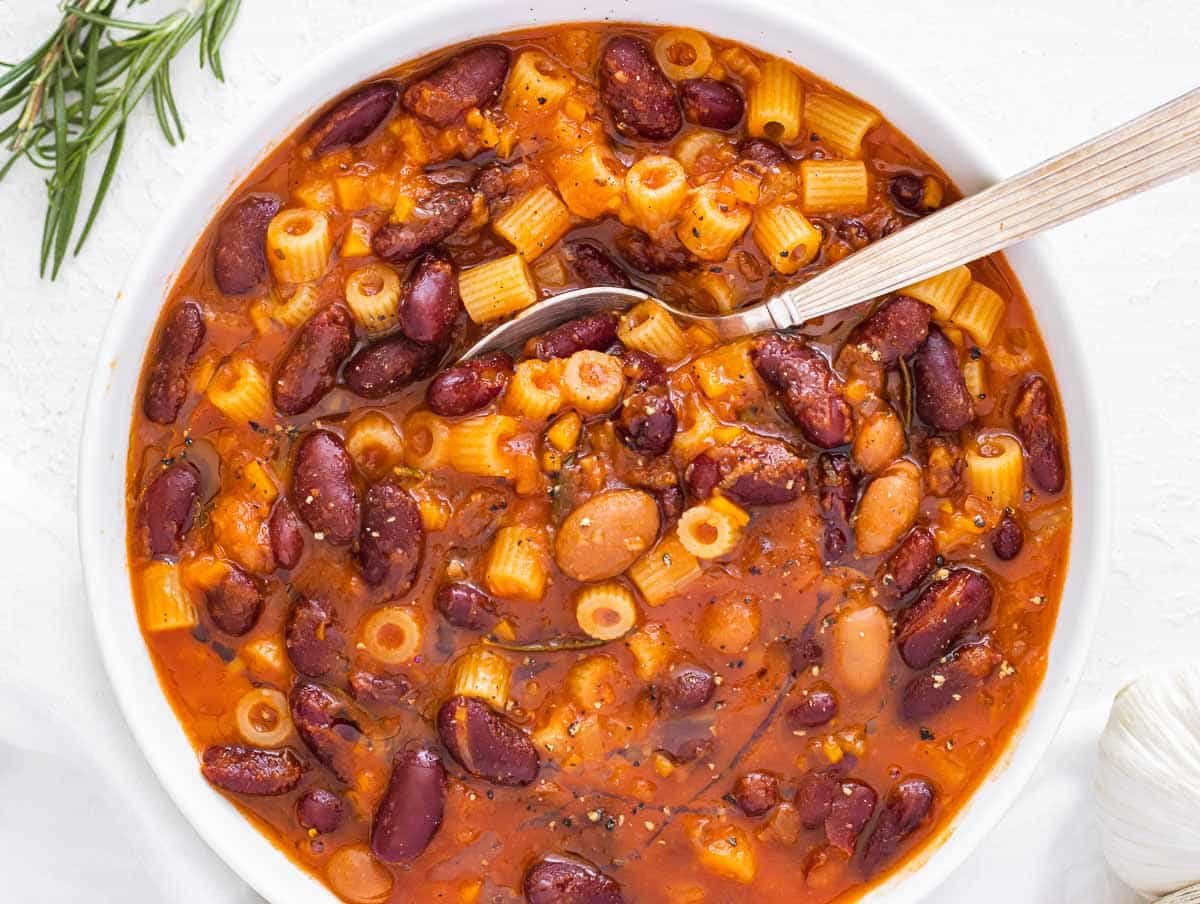 Italian bean stew
This wholesome bean stew is a simple and flavorful recipe you can make in one pot in half an hour. It's a meal-prep-friendly dish that you can serve as a weeknight dinner with rice, couscous, polenta, or a slice of crusty bread.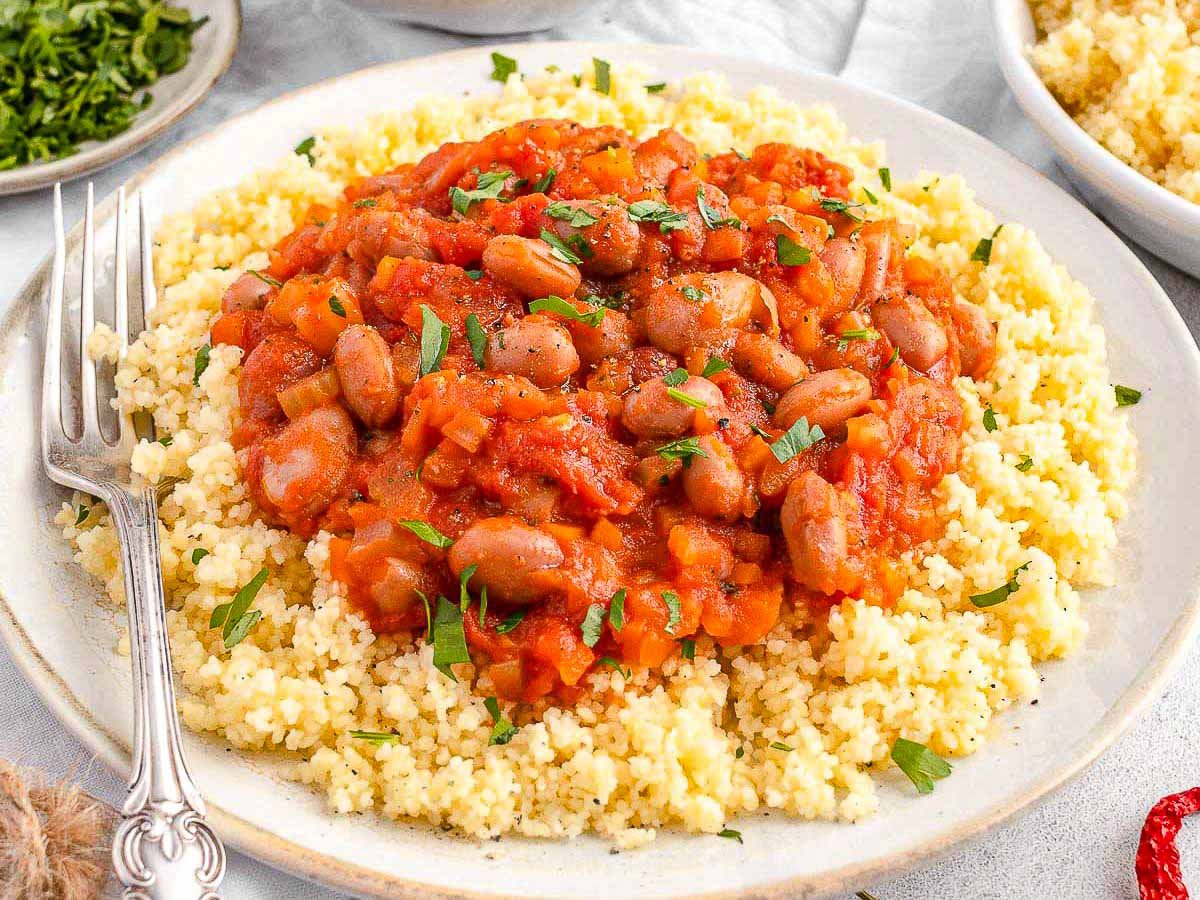 Lentil pasta
This lentil pasta is a perfect main dish for lunch or dinner, and the recipe is very easy. It's kids-friendly and contains all the macros to keep you healthy and satiated - plus, it's wonderfully creamy and aromatic too!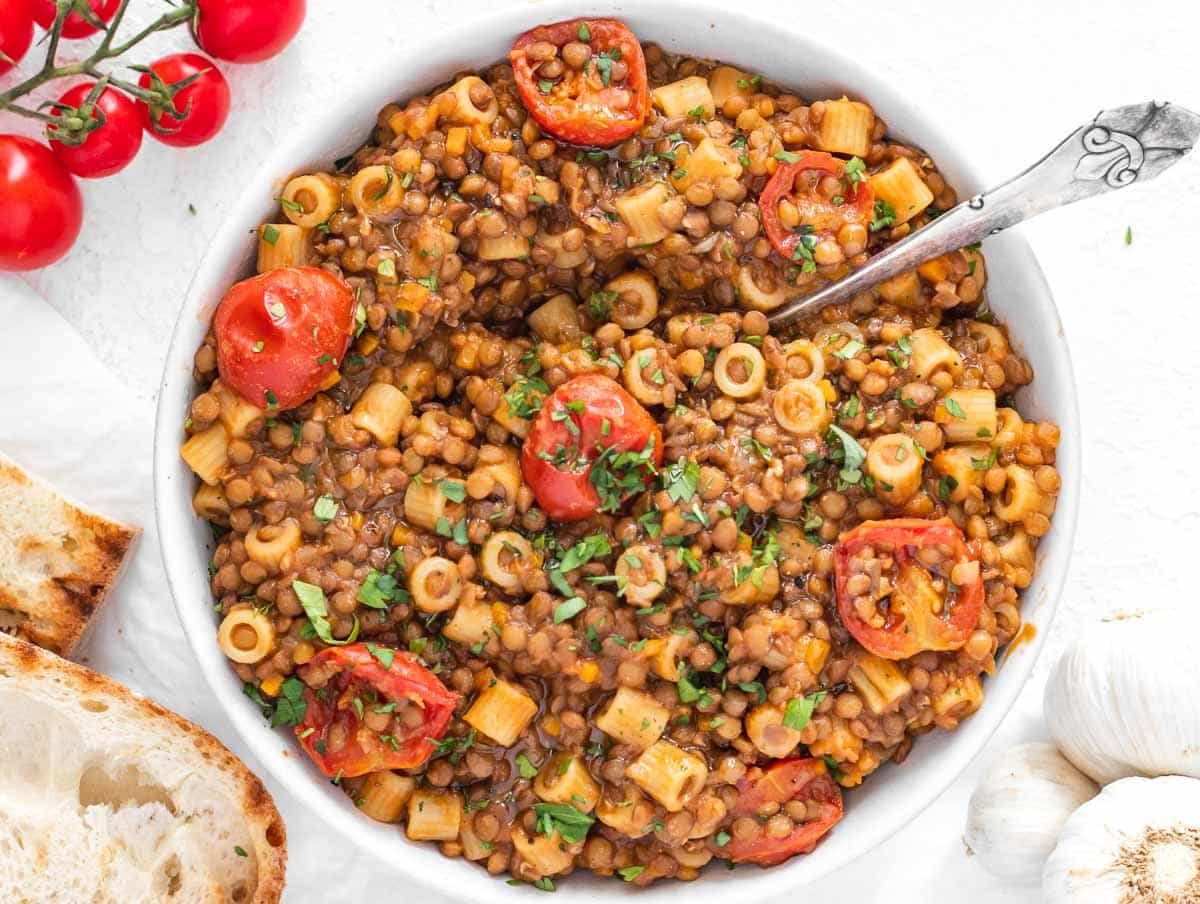 What to serve with curry
Curry pairs well with basmati rice or brown rice, but you can also serve it with naan bread or one of these side dishes:
Flatbread pizza with brushed olive oil and grated garlic (similar to Naan bread)
Piadina (an Italian flatbread similar to Indian roti) is made with three ingredients, and no proofing is needed!
Roti flatbread (chapati)
Naan brushed with a garlic oil marinade.
Serve with salad or sauces and get an extra dose of greens:
Other side dishes that go well with curry are mango chutney, aloo gobi, Indian yogurt sauces such as Raita, and mint or onion paste.
For many more 30-minute meal ideas, check out our 30-minute meal category page.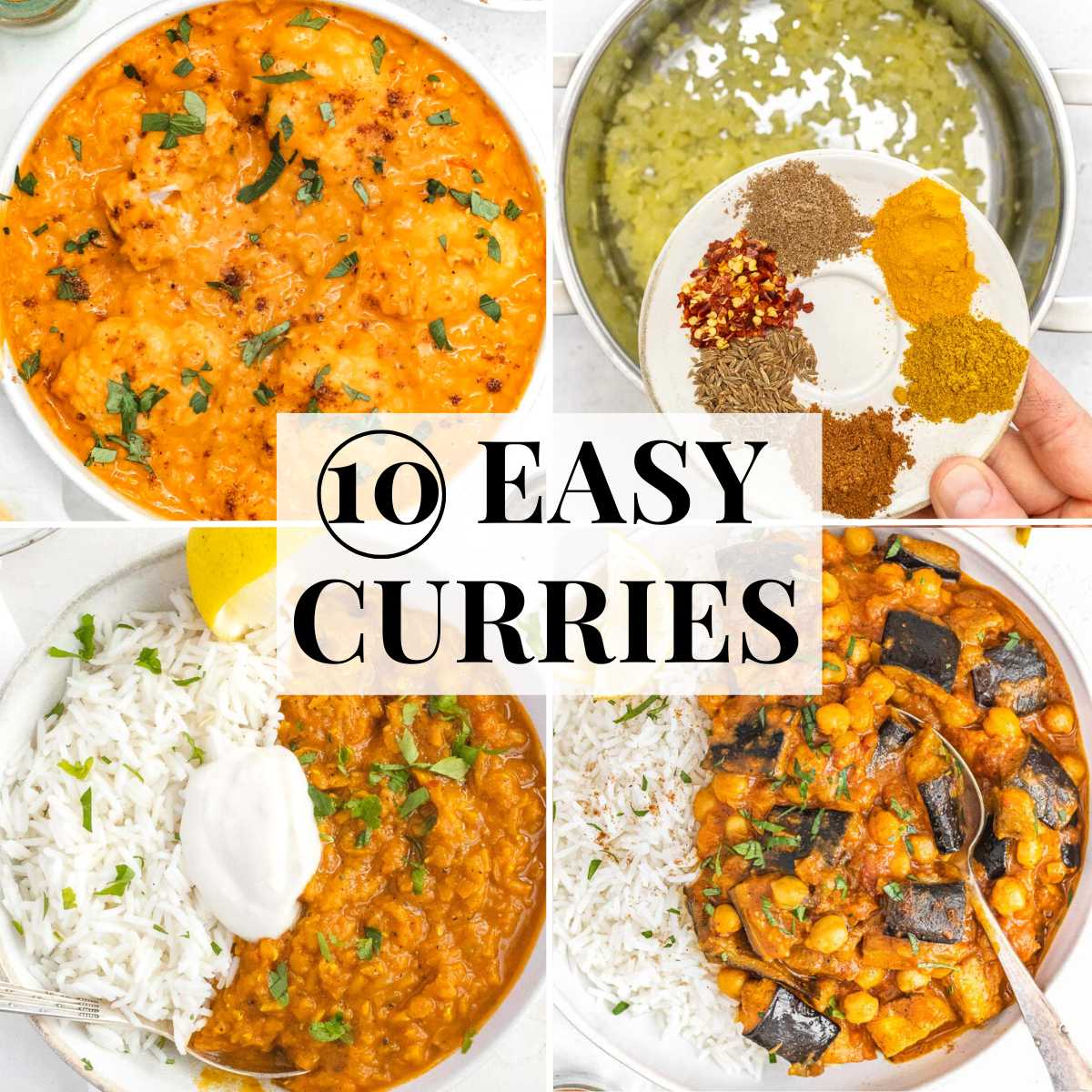 Easy Curry Recipes
These curry meals are vegetable-packed and with an Indian-inspired spice mix that makes for great dinner ideas.Chickpea curry is an easy and quick meal that you can make with simple ingredients and some spices in one pot in a little over 30 minutes.
Equipment
Immersion blender

or regular blender (we blend part of the curry to make it extra creamy)
Ingredients
1

tablespoons

extra virgin olive oil

1

medium

onion

chopped

2

cloves

garlic

grated

1

teaspoon

ginger

grated

2

teaspoons

curry powder

1

teaspoon

cumin

seeds or ground

⅓

teaspoon

red pepper flakes

1

teaspoon

turmeric powder

optional

½

teaspoon

ground coriander

optional

½

teaspoon

black pepper

1

teaspoon

salt

3

cans (15 oz each)

chickpeas

or 4½ cups cooked chickpeas

1

- 2 cups

vegetable stock

depending on your desired consistency

1

can (15 ounce)

crushed tomatoes

½

to 1 can (14 ounce)

coconut milk

1

teaspoon

garam masala

optional
Serving suggestions
4

wedges

lemon

1

handful

cilantro

or flat-leaf parsley

4

tablespoons

yogurt

or dairy-free yogurt

2

cups

basmati rice

4

homemade flatbread

with garlic and oil
Instructions
In a large pot or dutch oven, gently fry a finely chopped onion on medium-low heat for 3 minutes.Next, add grated garlic and ginger, and fry for one more minute.

Add in curry powder, cumin, turmeric, ground coriander, and red pepper flakes, and toss them around the pan with the onion.Toast the spices for about 1 minute or until you smell their fragrant aroma.

Add drained and rinsed canned chickpeas and toss them in the spices for another minute.

Add vegetable broth, canned crushed tomatoes, salt, and black pepper. Stir and simmer uncovered for 20 minutes.

Add the coconut milk, then blend some chickpeas with an immersion blender to make the curry creamier.

Simmer for 10 to 15 more minutes until you reach your desired consistency.

Finally, add the garam masala, then taste and adjust for salt.Serve with naan or on basmati rice. Add a wedge of lemon and some freshly chopped cilantro on top.
Video Recipe
Chickpea Curry is a tasty dinner idea
Notes
Nutrition information is an estimate for 1 portion of chickpea curry out of 5 portions, without rice.
Nutritional Values
Nutrition Facts
Easy Curry Recipes
Amount Per Serving
Calories 387
Calories from Fat 144
% Daily Value*
Fat 16g25%
Cholesterol 0mg0%
Potassium 818mg23%
Carbohydrates 51g17%
Protein 16g32%
Vitamin A 372IU7%
Vitamin B6 0.4mg20%
Vitamin C 12mg15%
Vitamin E 2mg13%
Vitamin K 13µg12%
Calcium 124mg12%
Folate 269µg67%
Iron 7mg39%
Manganese 2mg100%
Magnesium 112mg28%
Zinc 3mg20%
* Percent Daily Values are based on a 2000 calorie diet.
Did you like this recipe?
We are not much on Instagram, Facebook, and Pinterest. Leave us a comment below instead, it would mean the world to us 🙂
If you liked these easy curry ideas, you might also enjoy: