Welcome to this roundup of 25 Vegetarian Thanksgiving recipes with easy–to–prepare mains and side dishes.
Whether you're a vegetarian or simply looking to add more plant–based options to your holiday spread, you'll find these dishes satisfying and delicious.
From hearty main courses that will take center stage to flavorful side dishes that complement the entire meal, our recipes are thoughtfully crafted to cater to every palate.

You'll discover the perfect balance of classic Thanksgiving flavors and innovative twists, ensuring a memorable and inclusive feast for all your loved ones.
Our Best Vegetarian Thanksgiving Recipes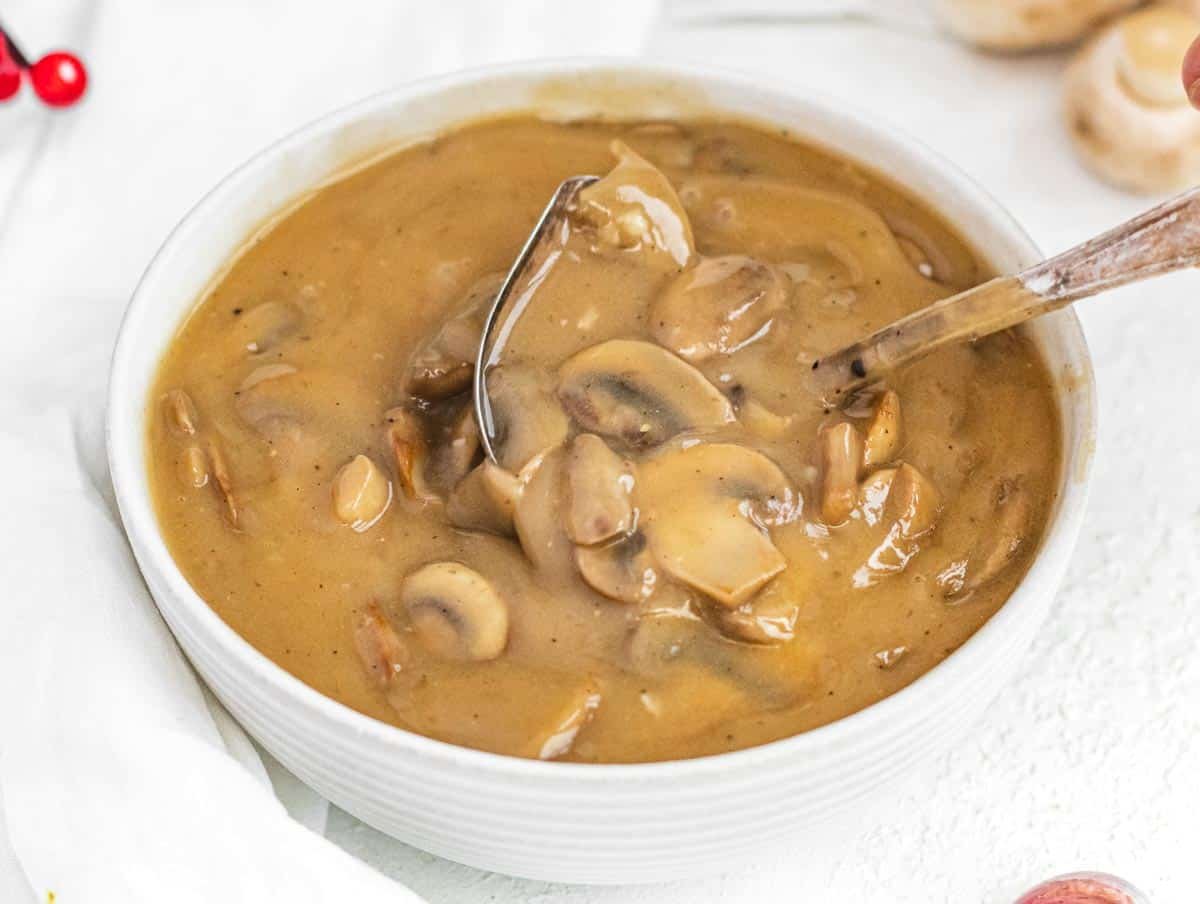 Mouthwatering and rich, this meat-free mushroom gravy is a savory dish that steals the show on any vegetarian Thanksgiving table.
With earthy mushrooms and aromatic herbs, it's a delicious gravy that adds a hearty, umami flavor to your holiday feast, leaving everyone grateful and satiated.
Try a hearty and wholesome vegetarian Thanksgiving main: lentil and walnut stuffed butternut squash.
The tender sweetness of roasted butternut squash pairs perfectly with the earthy richness of lentils and the satisfying crunch of toasted walnuts.
TIP: This dish is a beautiful vegetarian centerpiece with plenty of satiating protein from lentils and nuts.
3. Sweet potato casserole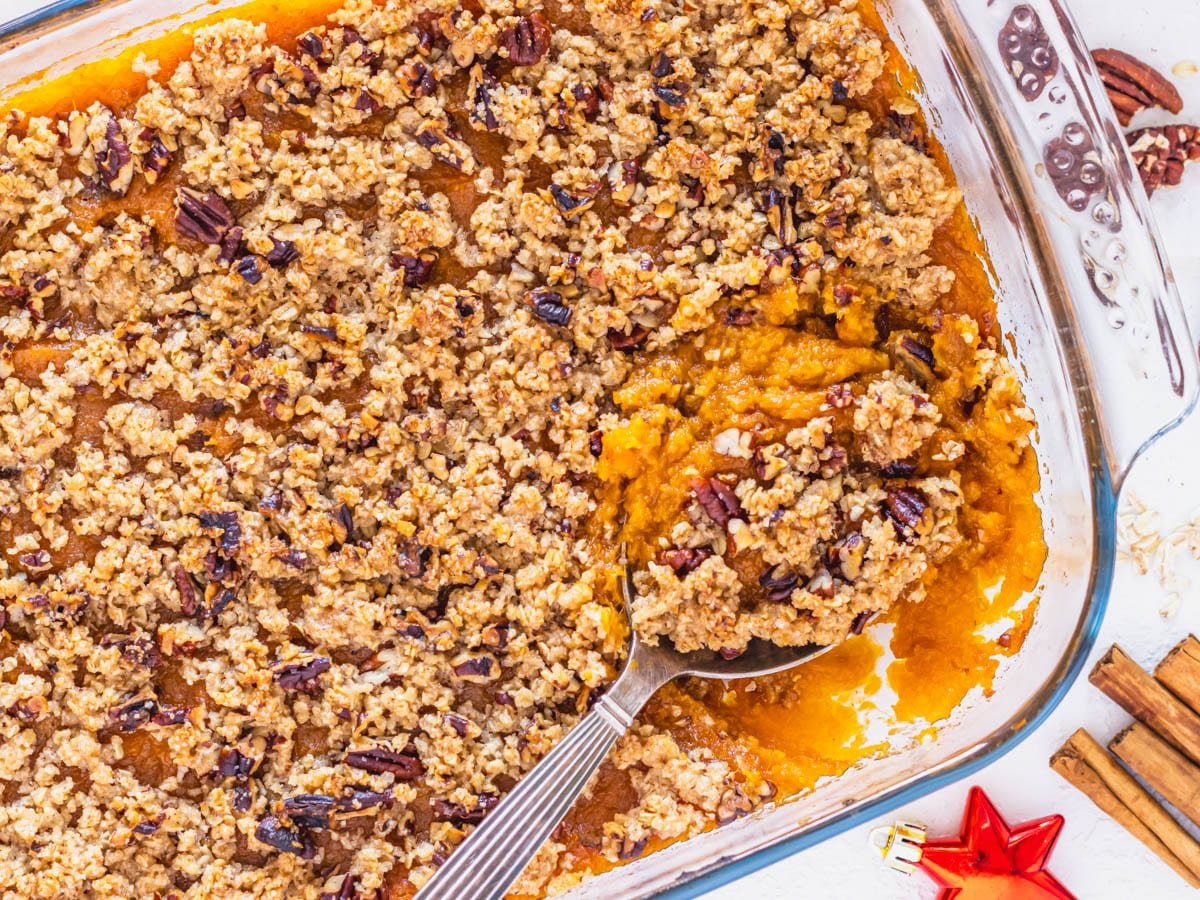 A vegetarian Thanksgiving favorite is a sweet potato casserole with a scrumptious pecan and oat topping.
Creamy sweet potatoes mingle with a crunchy, nutty topping, creating a perfect balance of textures and flavors.
TIP: this recipe is vegan–friendly as we make it with vegan butter.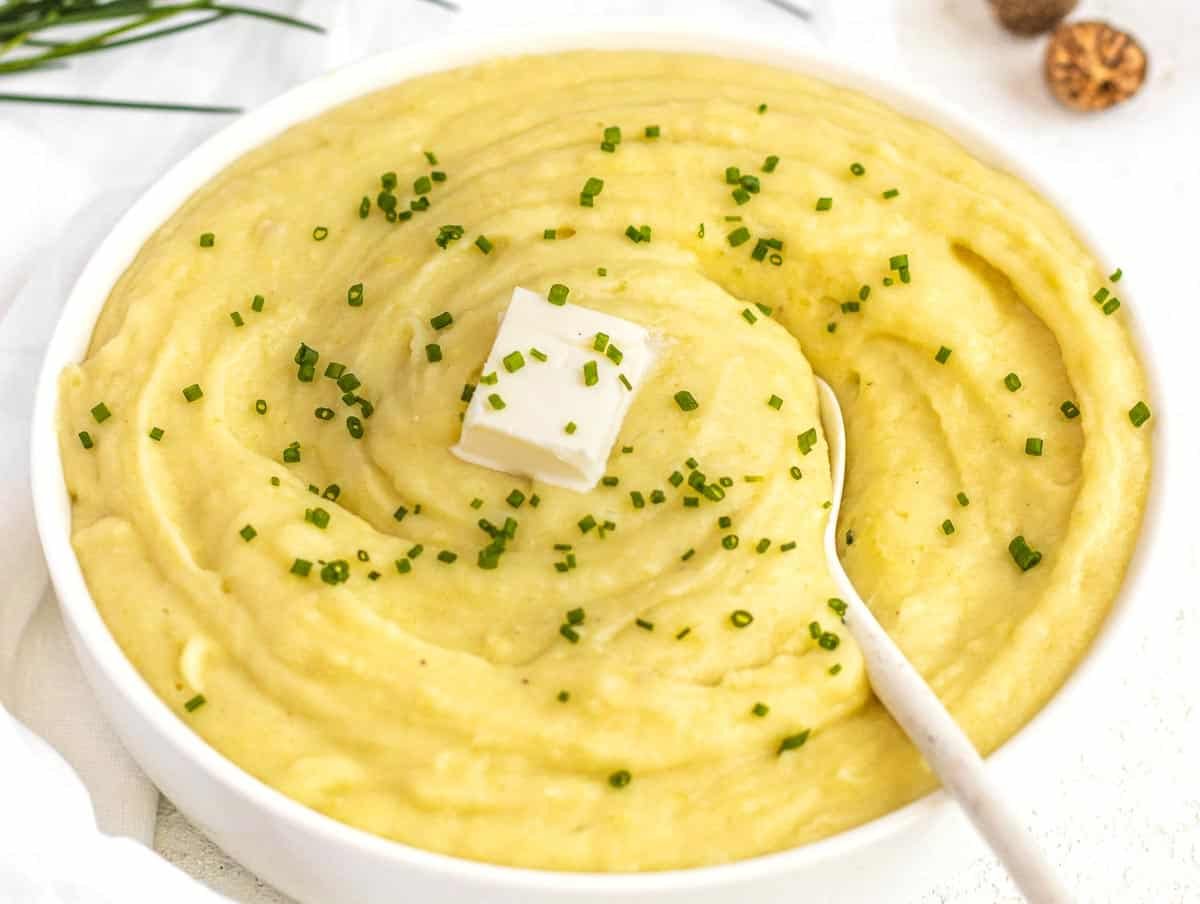 This five-ingredient mashed potatoes make a delightful addition to your vegetarian Thanksgiving feast.
Creamy and comforting, they showcase the essence of simplicity and flavor, blending buttery Yukon Golds, rich cream, fragrant garlic, chives, and a pinch of sea salt for a tasty side dish that everyone will adore.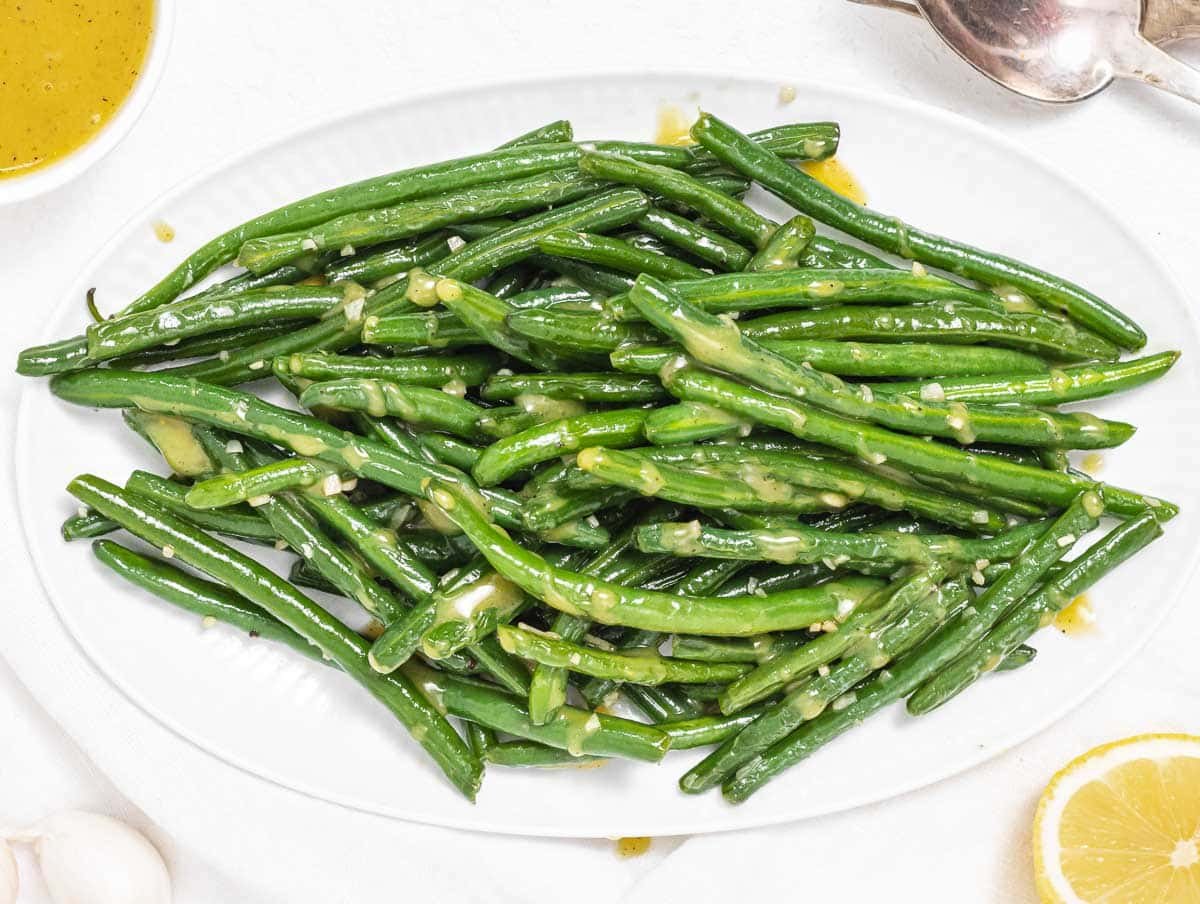 Sautéed green beans dressed in a luscious mustard glaze are a delightful addition to any vegetarian Thanksgiving feast.
The crisp–tender beans, kissed by the sweet and tangy dressing, bring vibrant color and flavor to your holiday table.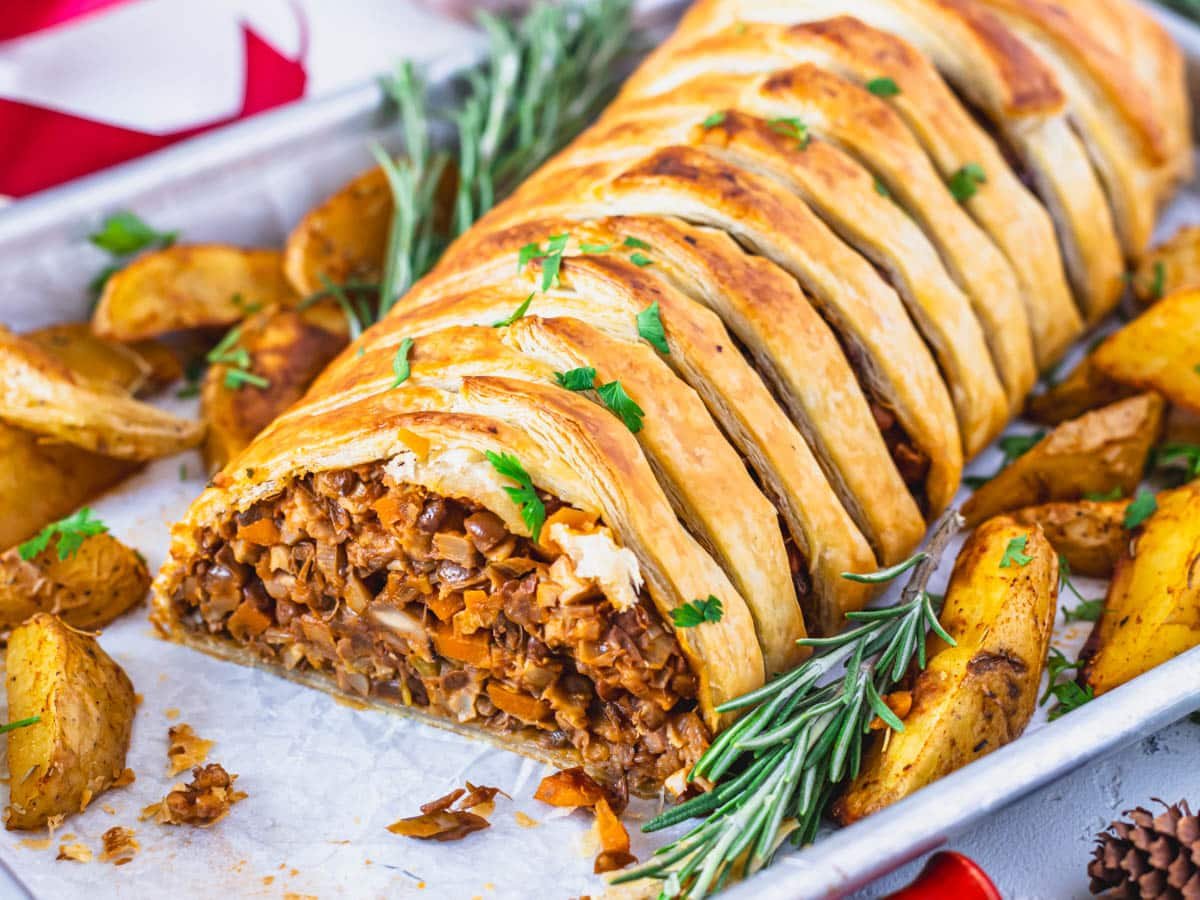 Mushroom Wellington is a festive vegetarian main that boasts fiber-rich mushrooms, robust walnut chunks, and fragrant fresh rosemary encased in flaky pastry.
This Thanksgiving, savor a symphony of flavors and textures as each bite reveals a perfect blend of nuttiness and herbal flavors.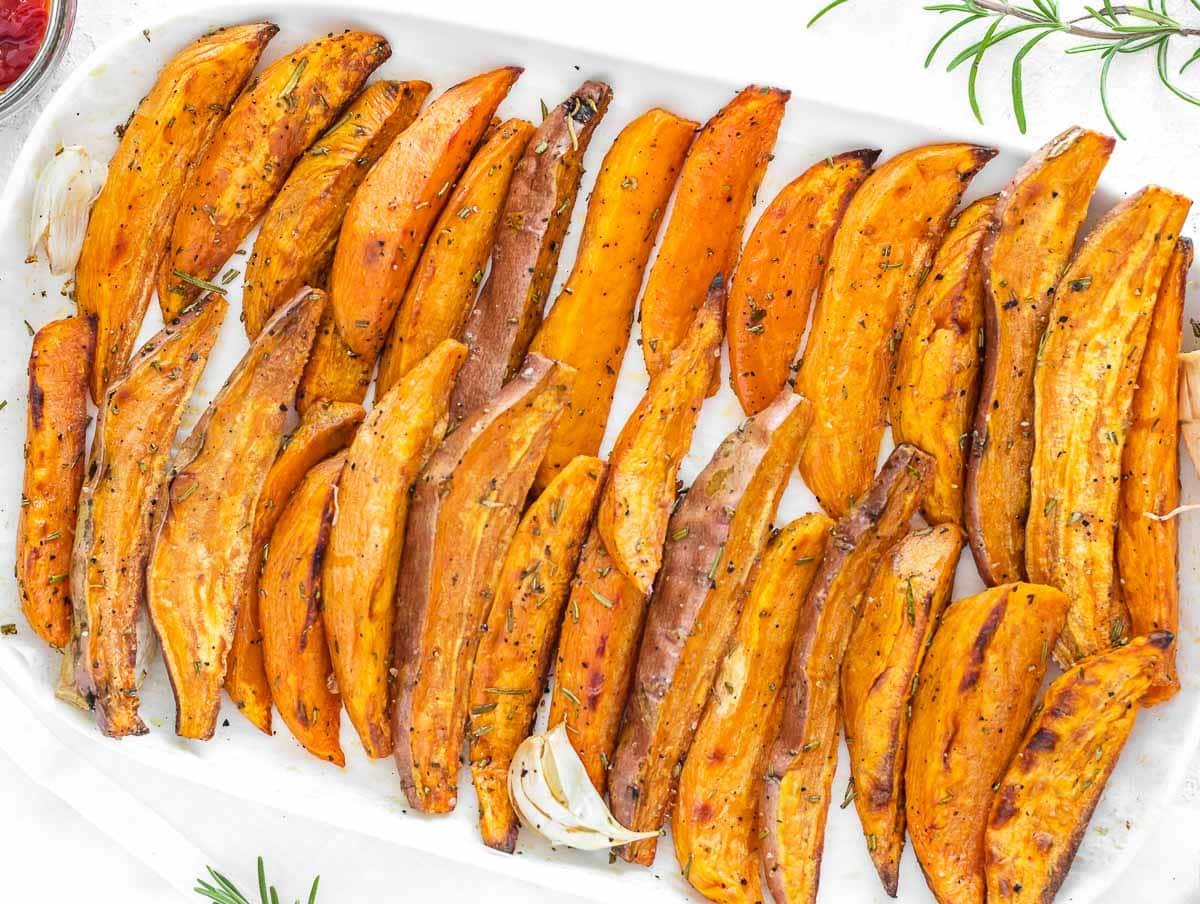 Roasted sweet potatoes, glistening with a caramelized glaze, offer a balance of sweet and savory flavors, making them a delightful addition to any vegetarian Thanksgiving feast.
Their tender, golden flesh, and aromatic spices provide a comforting and hearty side dish that's sure to please all your guests.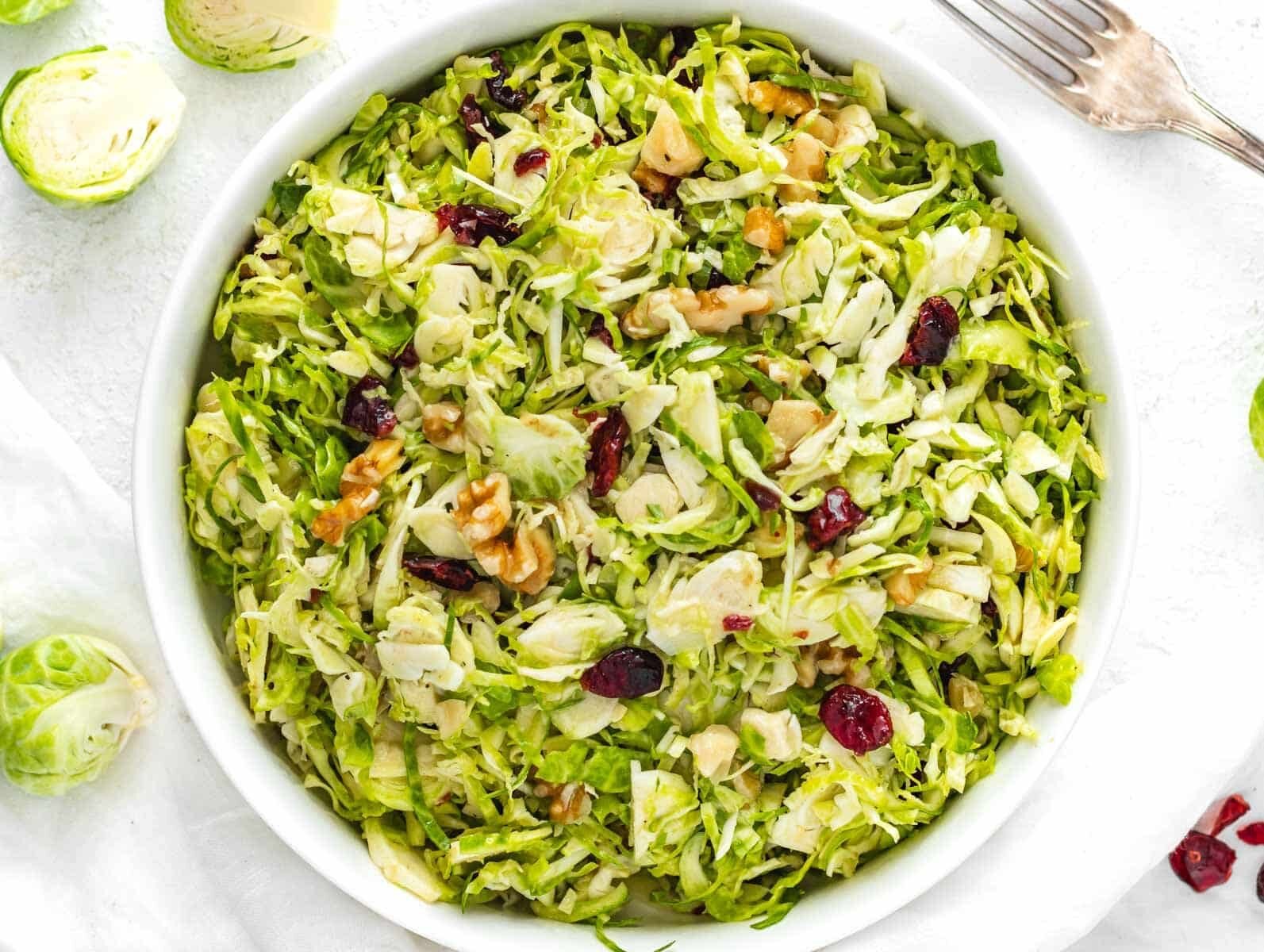 Next on our list is this shaved Brussels sprout salad with dried cranberries, a festive addition to any Thanksgiving feast.
The crisp, thin slices of Brussels sprouts provide a refreshing crunch, complemented by the sweet and tart burst of flavor from the dried cranberries.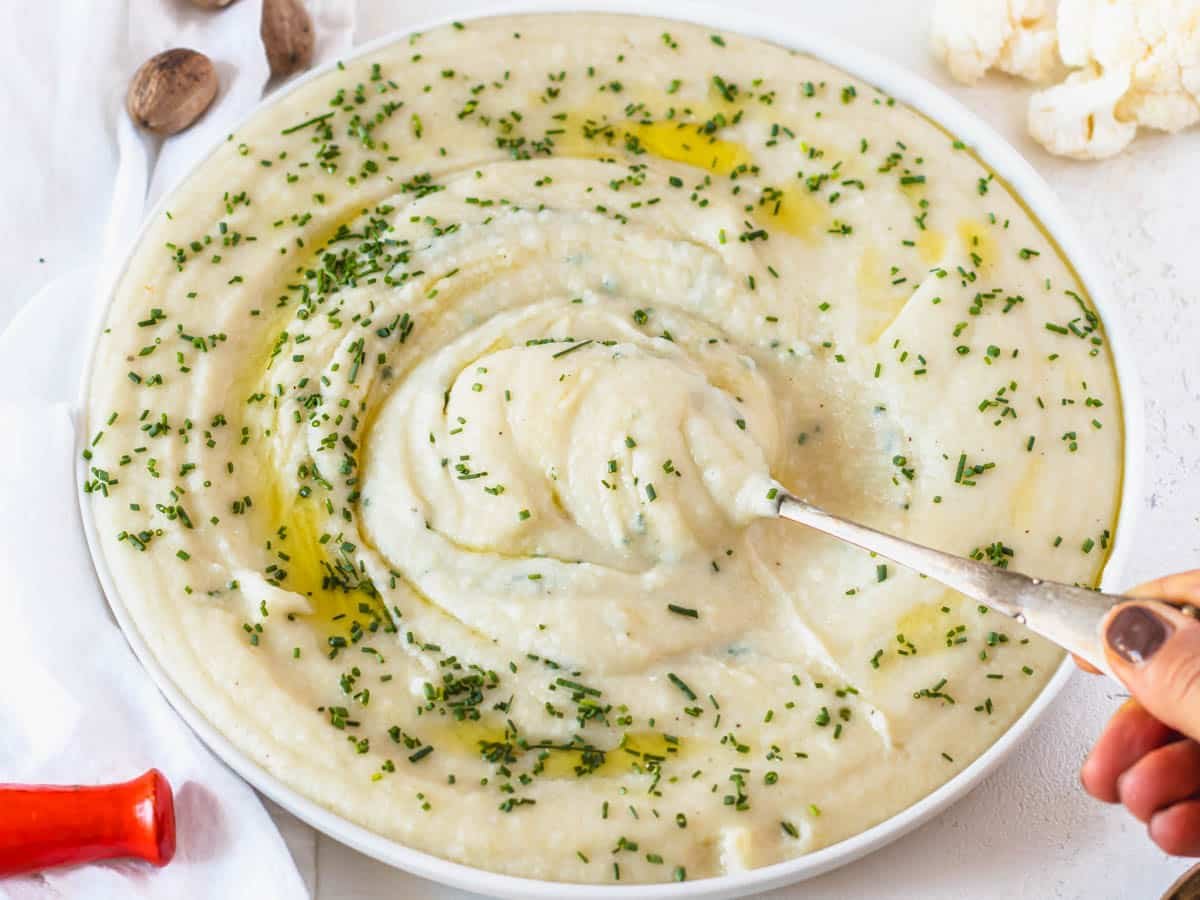 Cauliflower mashed potatoes is a comforting vegetarian and vegan-friendly twist on the classic Thanksgiving side.
We blend steamed cauliflower with dairy-free butter, garlic, and a dash of herbs to create a luscious and creamy dish that pairs with your main dishes.
TIP: Make this mash if you want a healthier but equally indulgent addition to your holiday spread.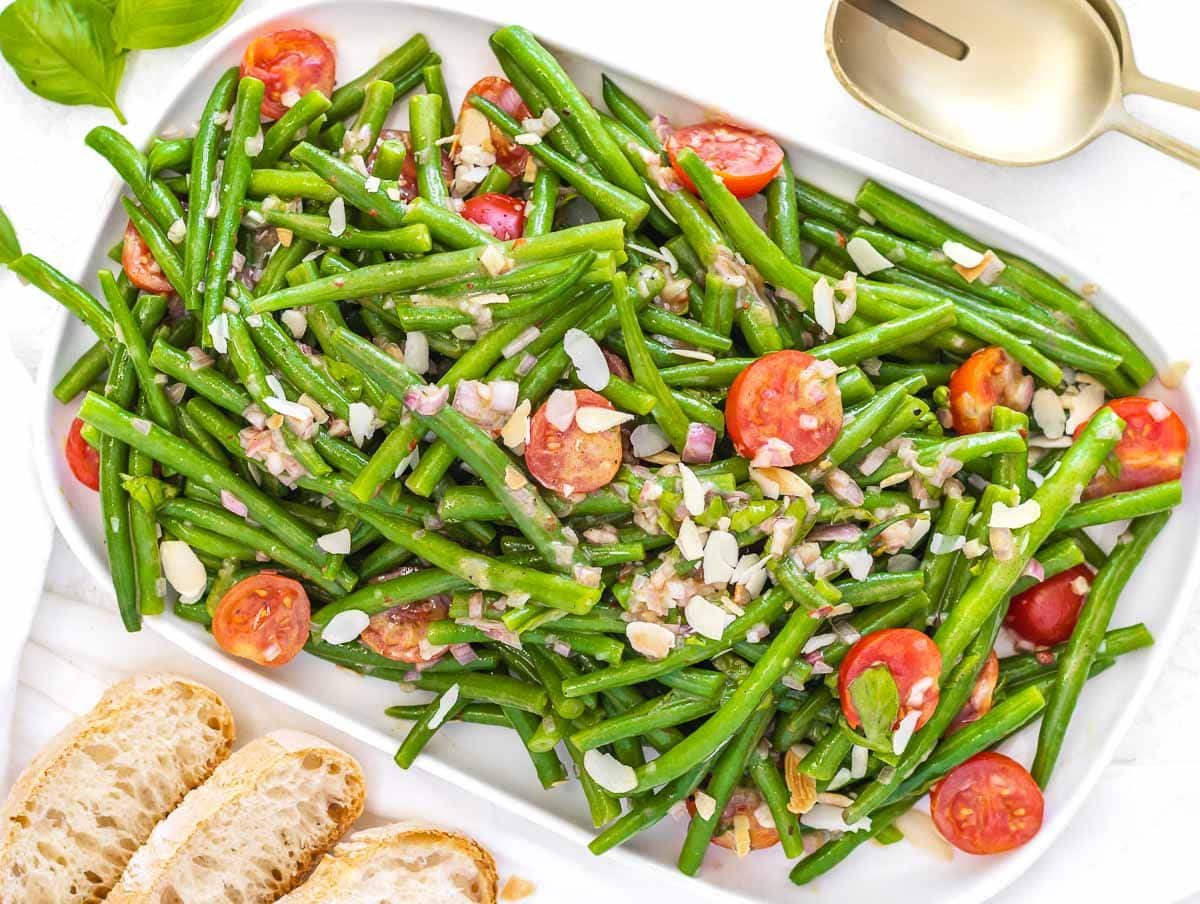 Celebrate Thanksgiving with a vibrant green bean salad drizzled with a luscious honey mustard dressing.
This vegetarian side combines the freshness of crisp green beans with sweet and tangy notes of the dressing; it will surely leave everyone craving seconds.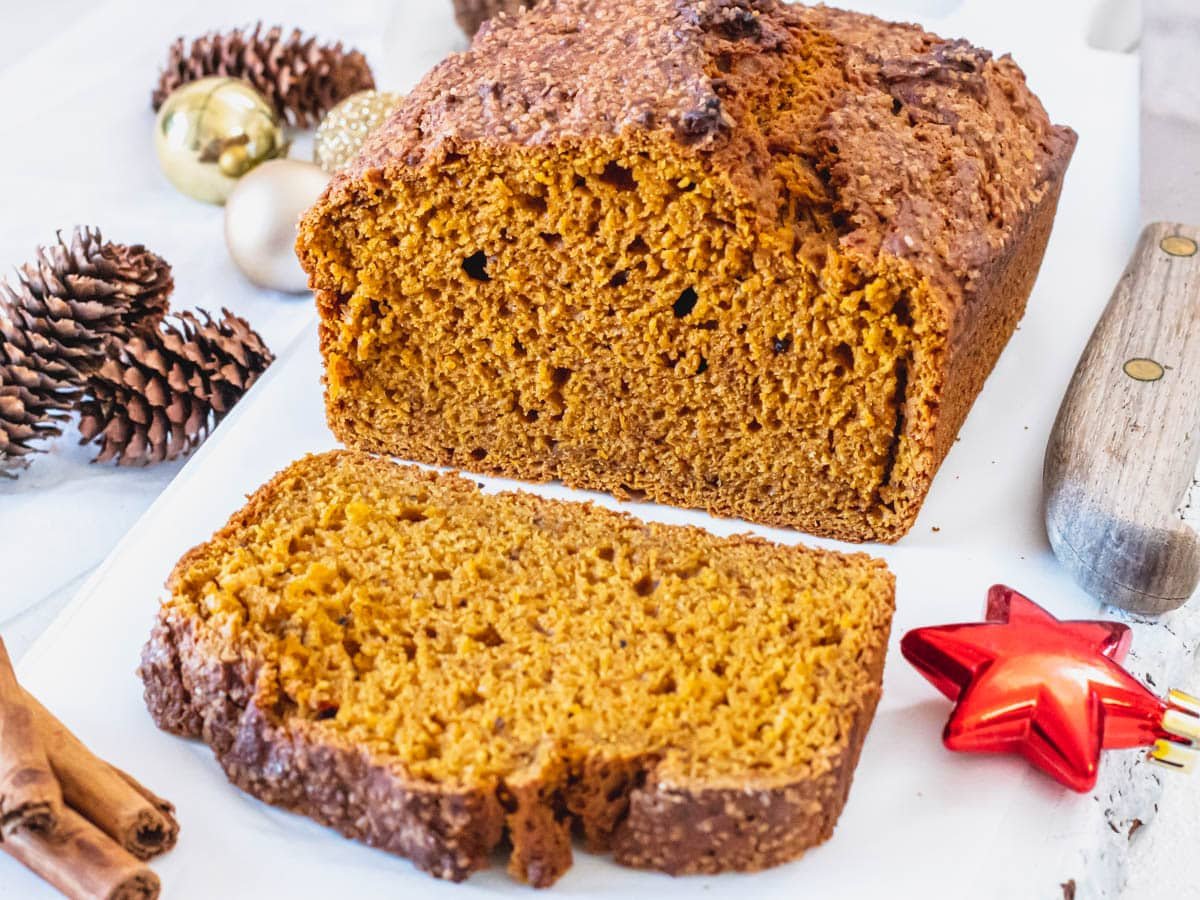 Vegan pumpkin bread is a sweet addition to your vegetarian Thanksgiving celebrations, with its moist and spiced goodness.
Its rich pumpkin flavor and aromatic spices are the perfect autumn treat, bringing warmth and comfort to the holiday table.
Celebrate Thanksgiving with an elegant Italian twist and plenty of fall flavor; these are Butternut Squash Ravioli.
They are delicate pasta pockets with a generous filling of luscious pumpkin and ricotta mixture.
TIP: This is an excellent idea for a meatless Thanksgiving dish due to the rich notes of butternut squash and creamy ricotta.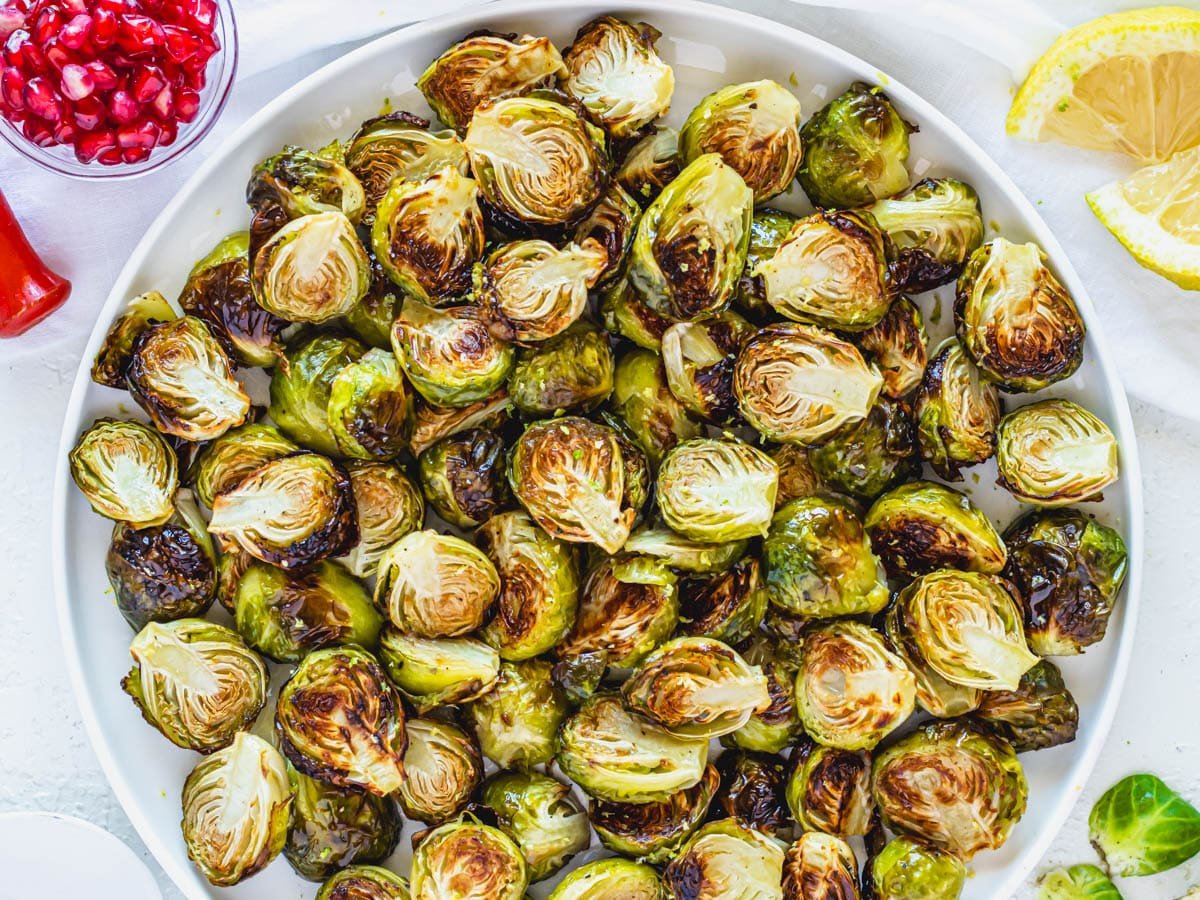 Roasted Brussels sprouts, covered in a zesty mustard marinade, add bold flavor and tender texture to your Thanksgiving table.
TIP: Top the sprouts with pomegranate seeds and cooked chestnuts; they add a pop of color and a sweet-tart contrast,,, making it a holiday favorite.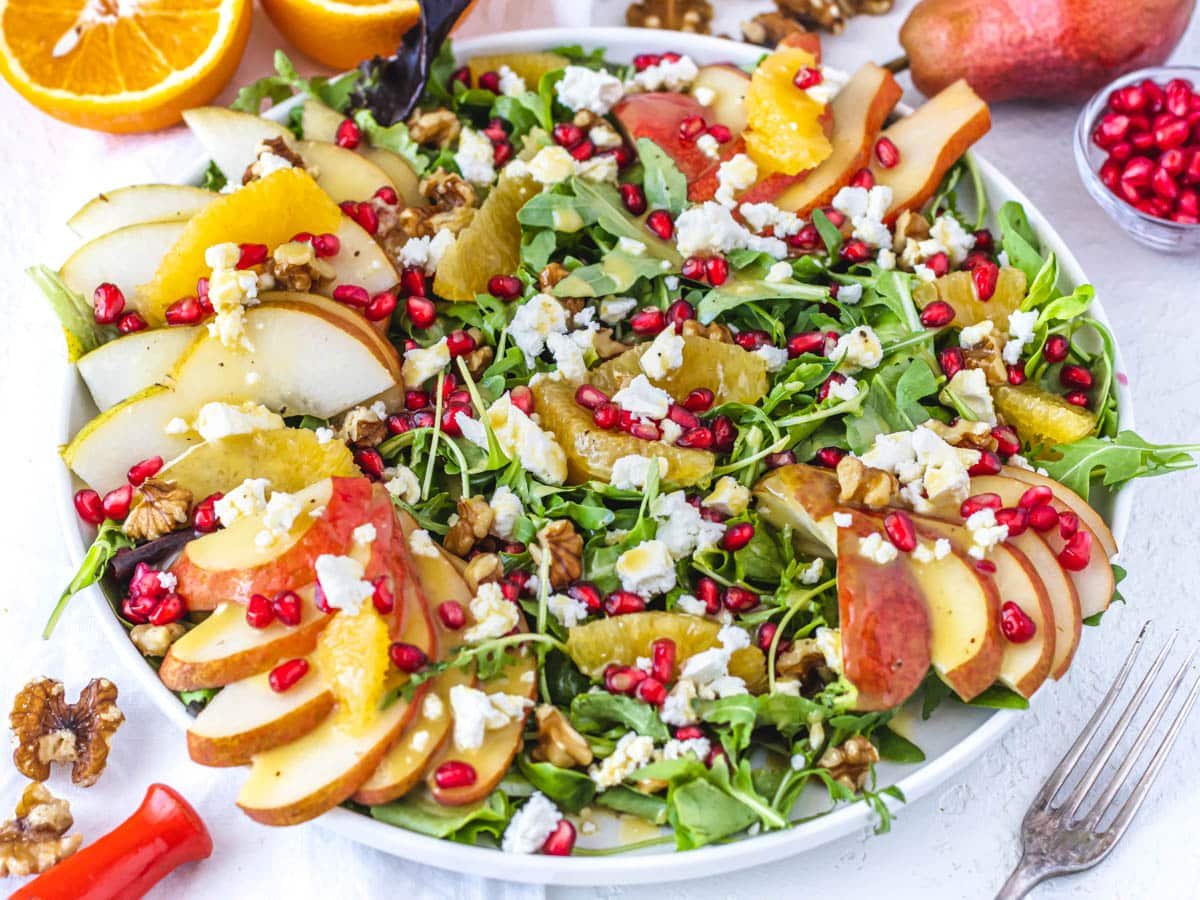 Next on our list is a 10-minute pear salad featuring ripe, juicy pears, vibrant orange wedges, and a satisfying crunch of walnuts.
The finishing touch of creamy feta cheese adds a balance of flavors and textures to this colorful vegetarian dish, a festive addition to your holiday feast.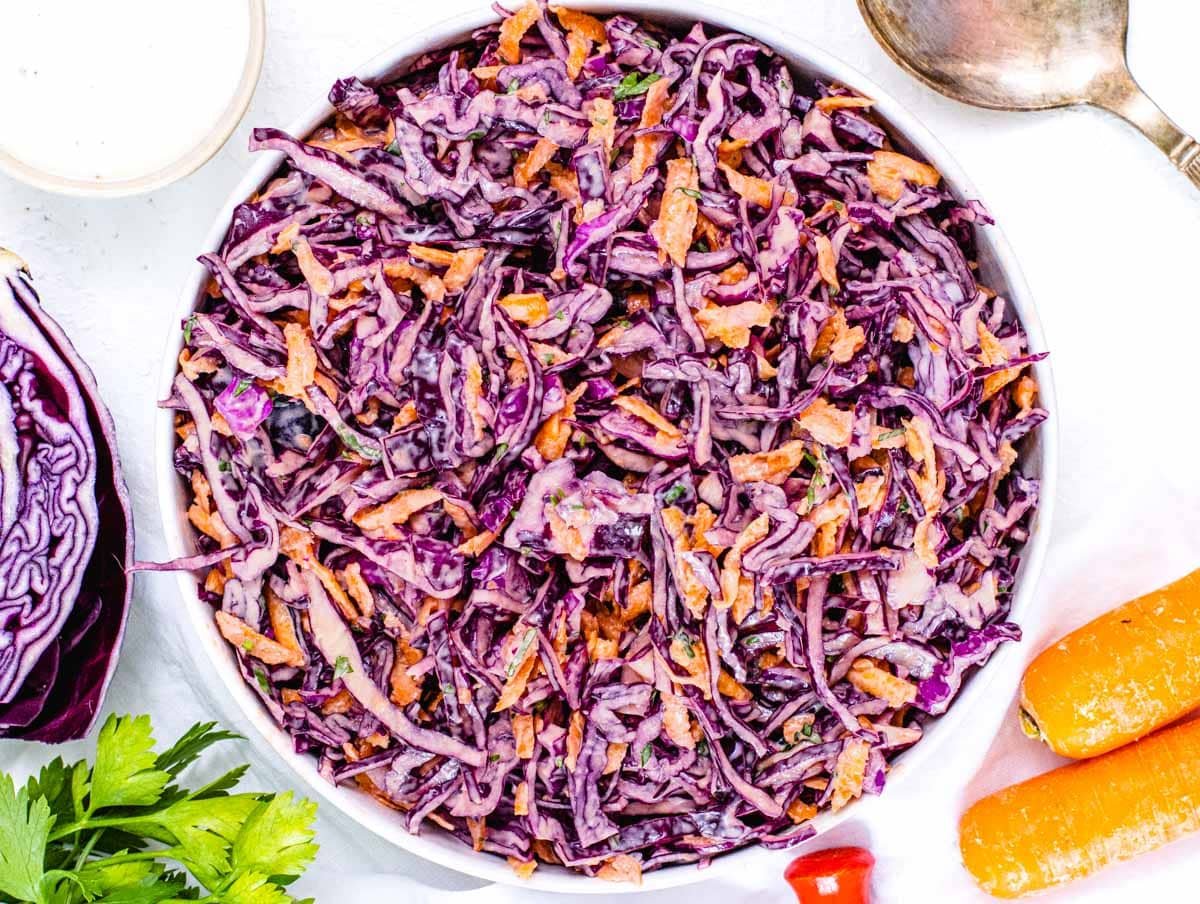 Creamy red cabbage slaw is a twist on a Thanksgiving classic and features a lighter touch with its luscious mayonnaise–yogurt dressing.
It's a wonderful vegetarian addition to your Thanksgiving feast and pairs well with any main dish.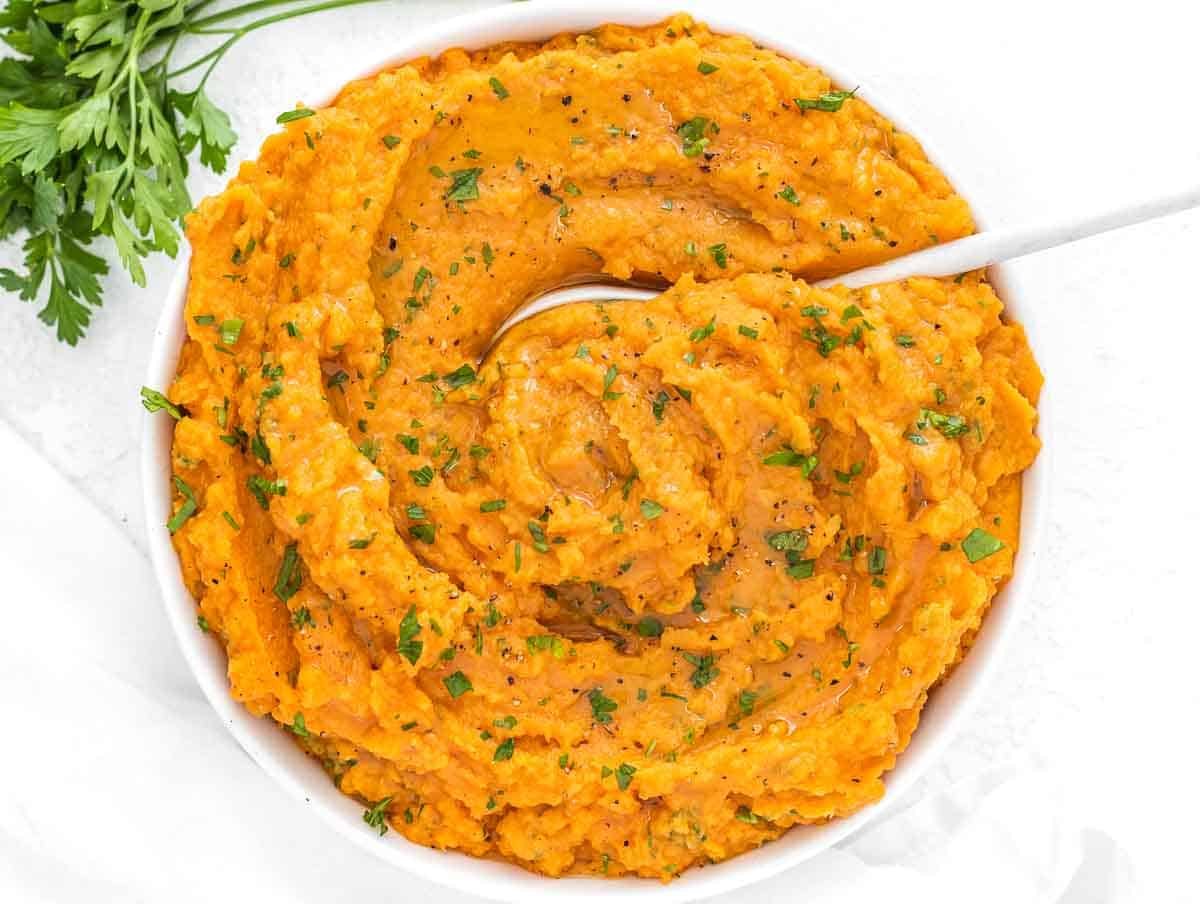 Mashed sweet potatoes is a vibrant classic Thanksgiving side, offering a perfect blend of natural sweetness and earthy flavors.
Creamy in texture and seasoned with aromatic herbs and spices, it elevates any vegetarian feast and adds a touch of warmth and richness to your Thanksgiving table.
Our 8-ingredient apple cake, a fan favorite on our blog, showcases the best of the natural sweetness of apples.
This easy–to–make, vegan Thanksgiving cake is a crowd-pleaser that adds a touch of warmth and nostalgia to your holiday feast.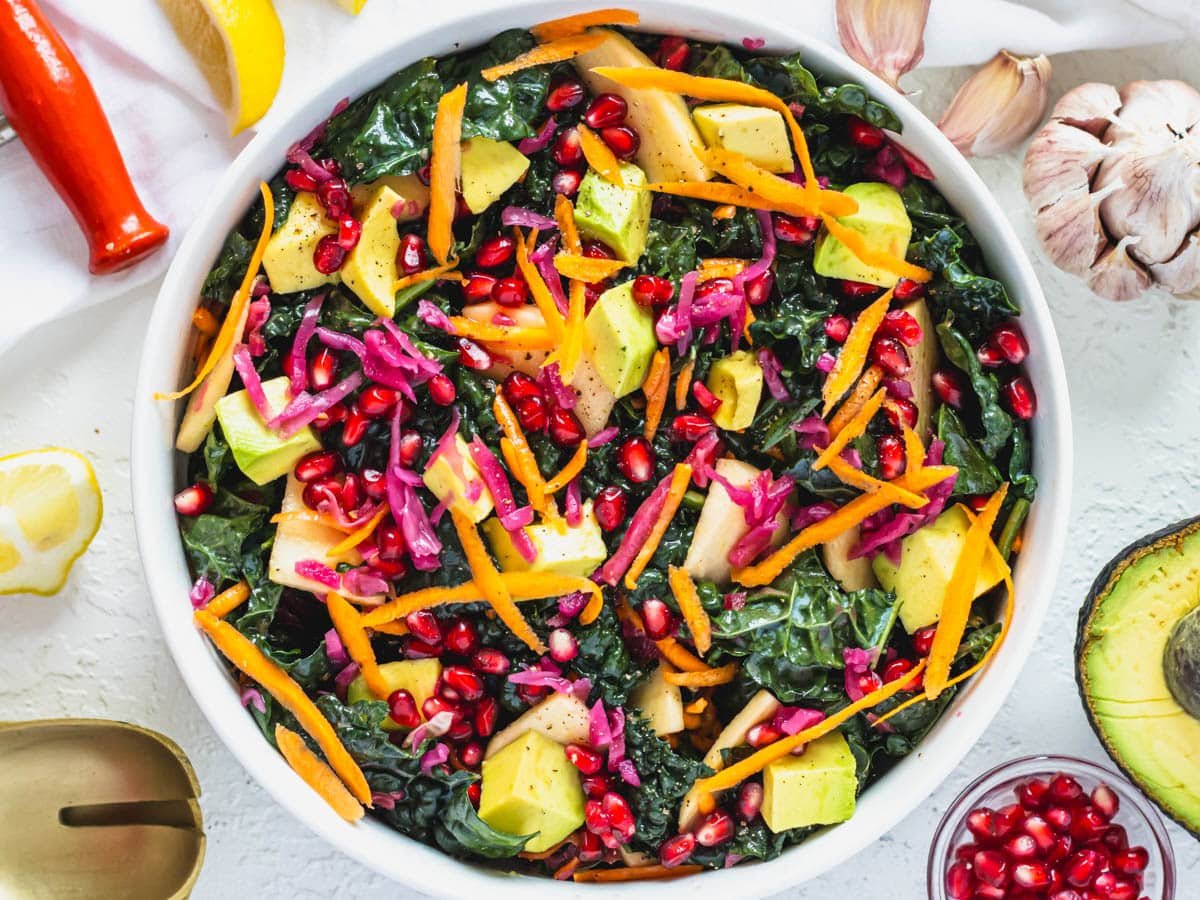 Next on our list is a glossy kale salad featuring roasted pumpkin, walnuts, and juicy pomegranate seeds.
This vegetarian Thanksgiving salad adds color to your feast and nourishes your palate with a medley of textures and tastes.
Upgrade your Thanksgiving feast with these sweet potato gnocchi with microwaved sweet potatoes.
It's a surprisingly easy vegetarian dish with natural sweetness and a pillowy gnocchi shape—a wonderful orange addition to your holiday table.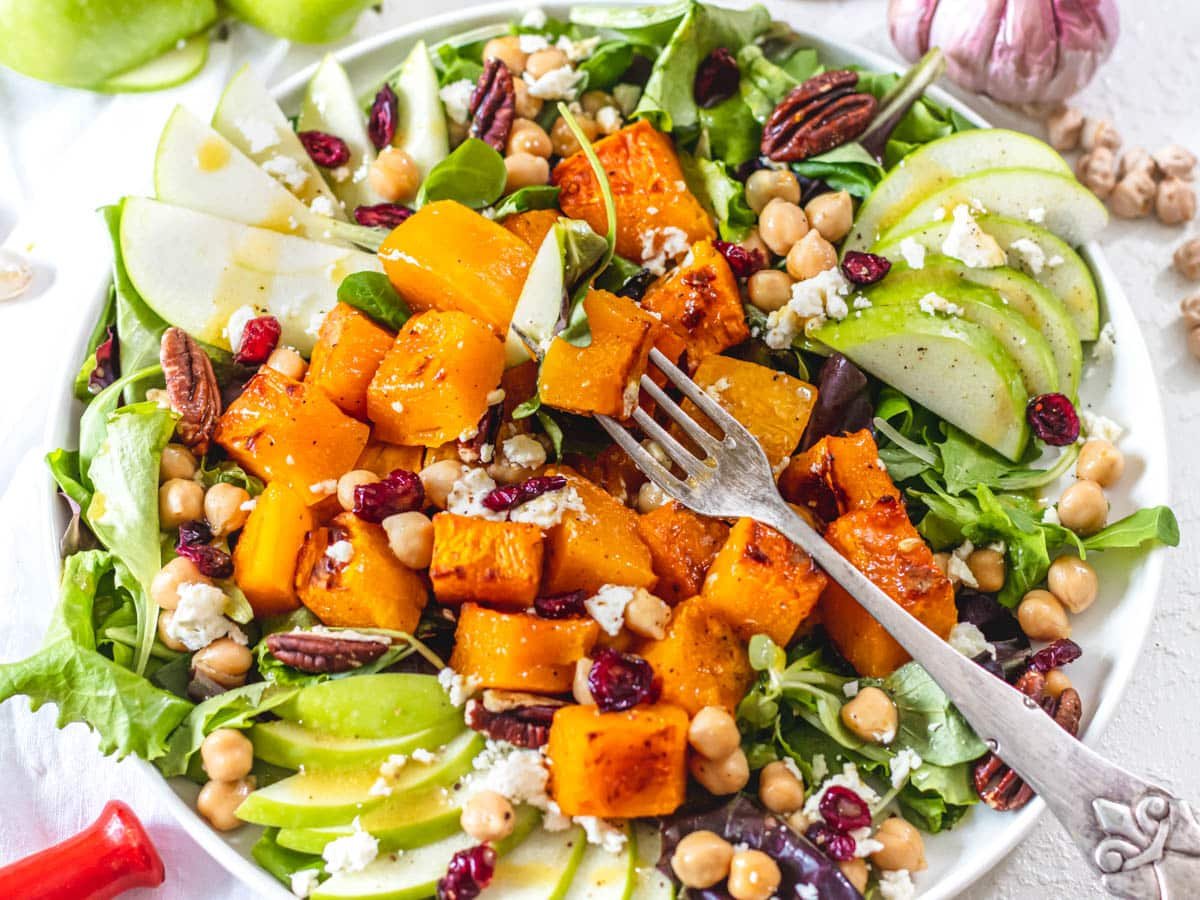 This roasted butternut squash salad is a wholesome salad for your Thanksgiving table.
The tender, caramelized squash pairs perfectly with crisp greens and seasonal ingredients, a wholesome vegetarian side dish.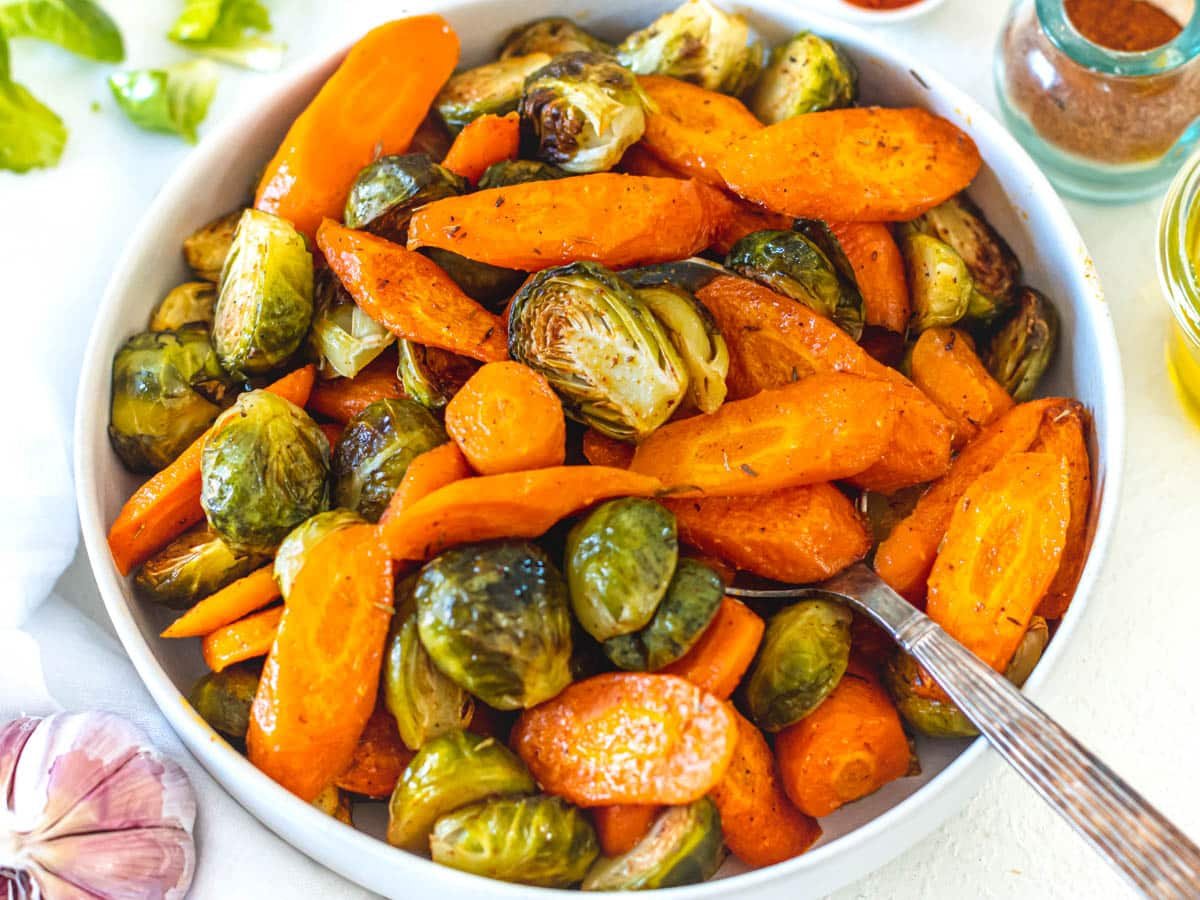 Next on this roundup are our tender carrots and Brussels sprouts tossed with olive oil and spices.
This vegetarian side dish celebrates the essence of autumn and complements the richness of the holiday feast with its natural sweetness and earthy notes.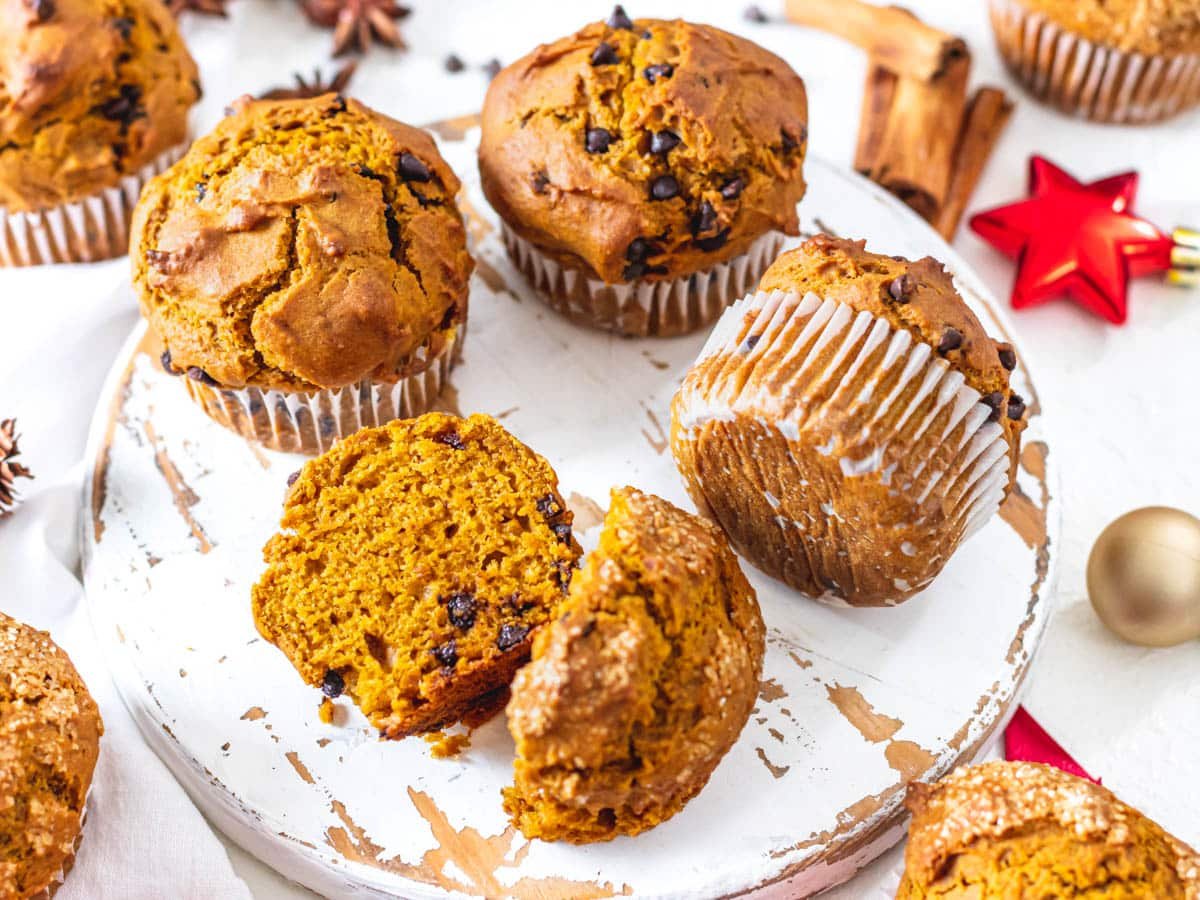 Our vegan pumpkin muffins are generously studded with luscious chocolate chips and are lovely as a sweet Thanksgiving snack.
These muffins are a delicious way to share the spirit of Thanksgiving and nourishment with all your loved ones.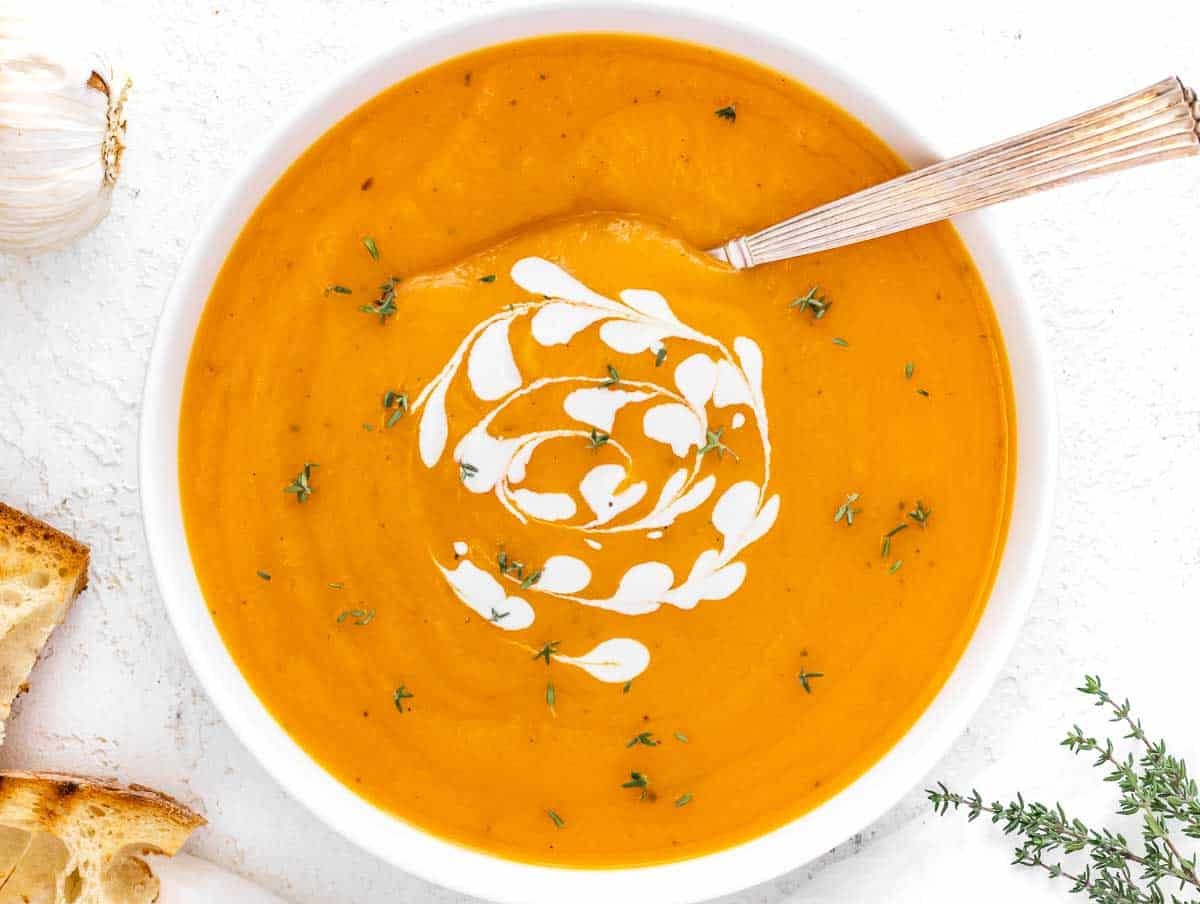 Butternut squash soup is a velvety, autumnal delight, perfect for a vegetarian Thanksgiving dinner.
Its rich, creamy texture and earthy, sweet flavor make it an ideal appetizer to kick off the holiday meal.
TIP: It's an excellent soup to make ahead of time as it keeps well in the fridge for a few days.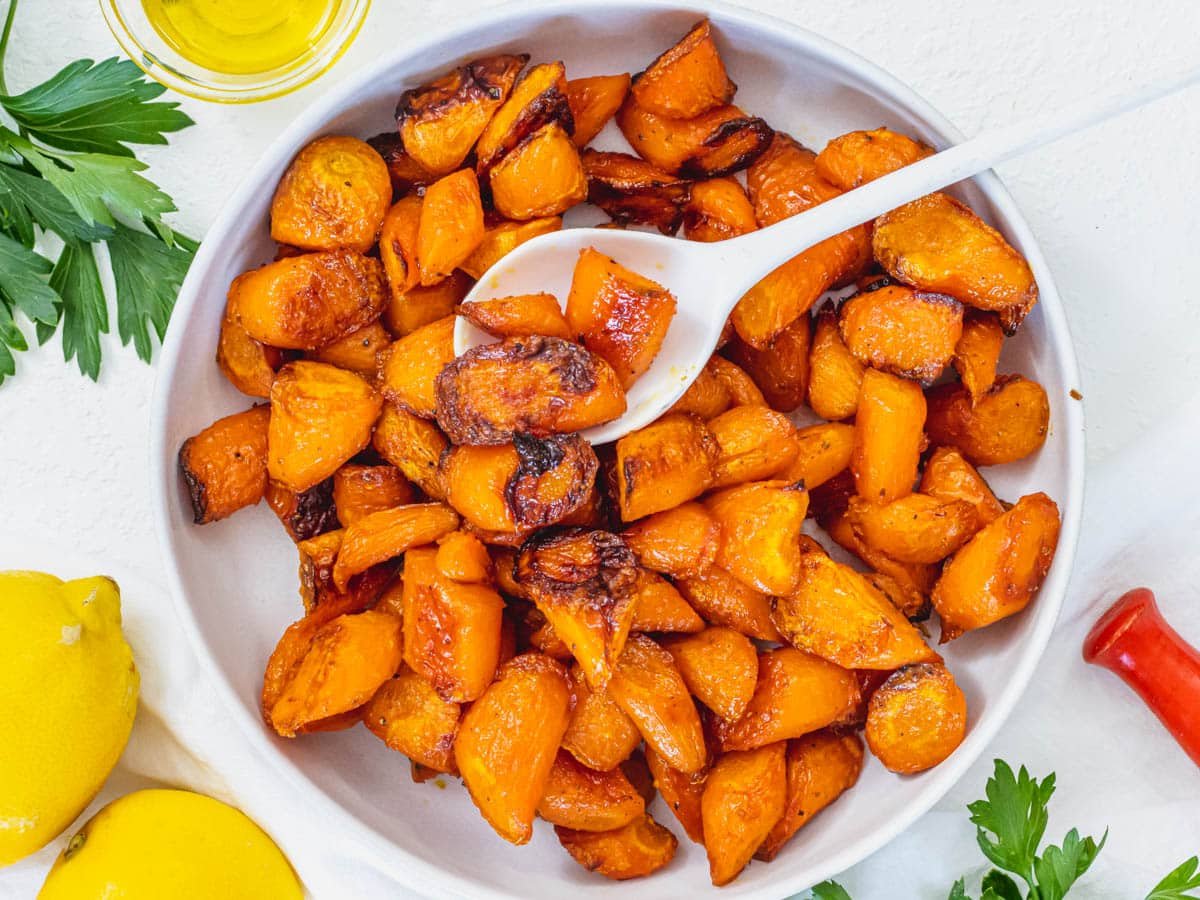 Roasted glazed carrots are a Thanksgiving favorite, their sweet caramelized exterior perfectly complementing their tender, earthy core.
This vegetarian dish boasts a beautiful mix of flavors and textures to please even the most discerning palates.
We finish this roundup with a vegan apple crisp topped with a crunchy mix of pecans and oats.
Savor the warm, spiced goodness of this easy-to-make dessert that's sure to please everyone at the table.
A guilt-free, wholesome treat that embodies the essence of the season and pairs well with a scoop of dairy–free ice cream.
More Thanksgiving recipes
Get more wholesome and delicious Thanksgiving inspiration with these vegetarian sides and mains: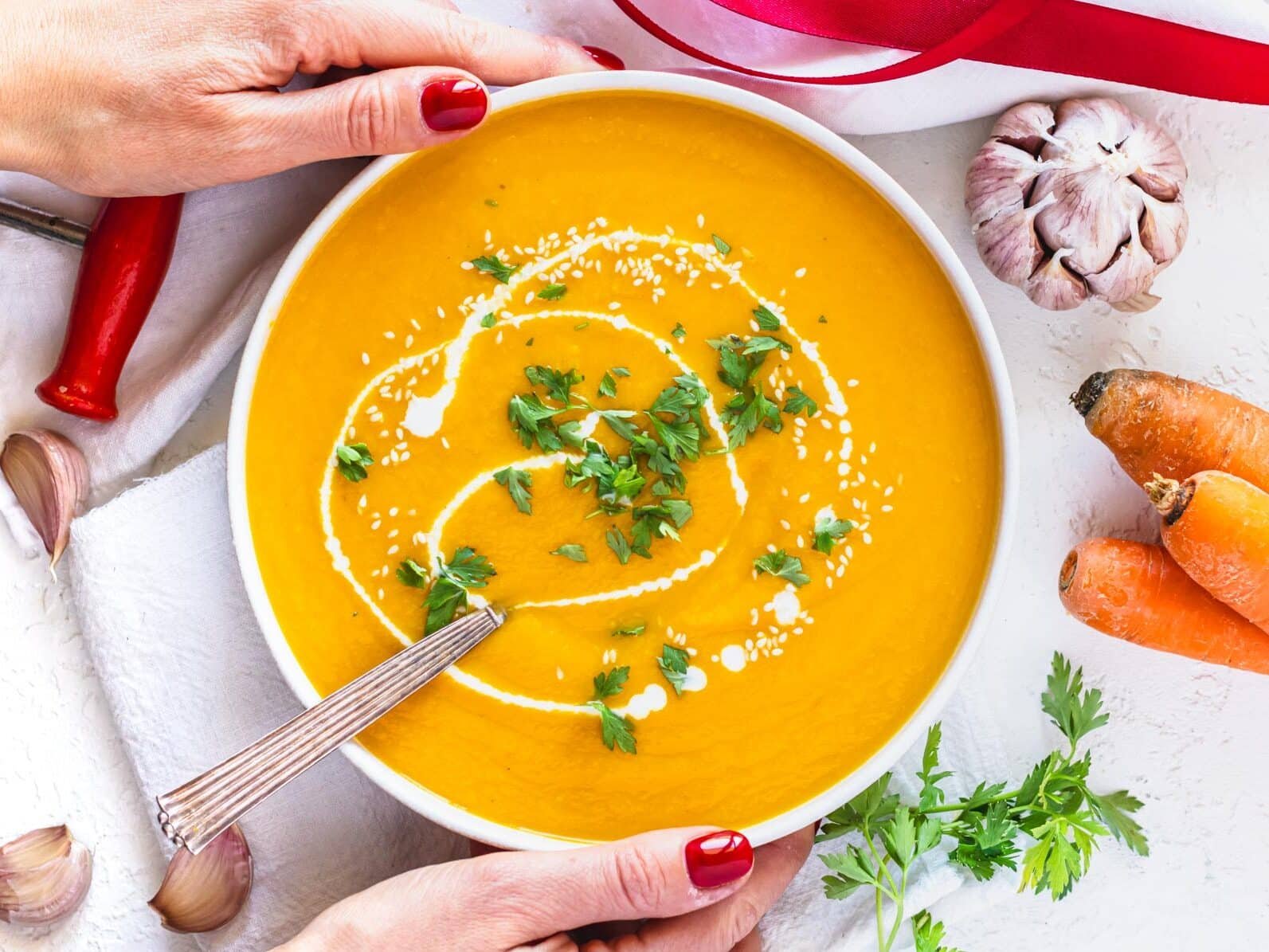 Tips for Vegetarian Thanksgiving Recipes
Homemade Gravy: Prepare a rich, flavorful, meat-free gravy to pour over your main dish and mashed potatoes.
You can make it using vegetable broth, onions, mushrooms, and herbs for a rich and satisfying sauce.
Stuffing Options: Make a delicious stuffing that doesn't rely on meat products. Use a cubed bread or cornbread base and incorporate ingredients like sautéed onions, celery, carrots, herbs, and dried fruits.
Even nuts, soy sauce, and vegetable broth add extra flavor and moisture.
Desserts: Conclude your vegetarian Thanksgiving festivities with delicious desserts that everyone can enjoy.
Bake a pie with a dairy-free crust, such as apple pie, or opt for a vegan apple crisp topped with dairy-free ice cream.
We like to offer plant–based milk options for coffee or tea to wrap up the meal on a sweet note.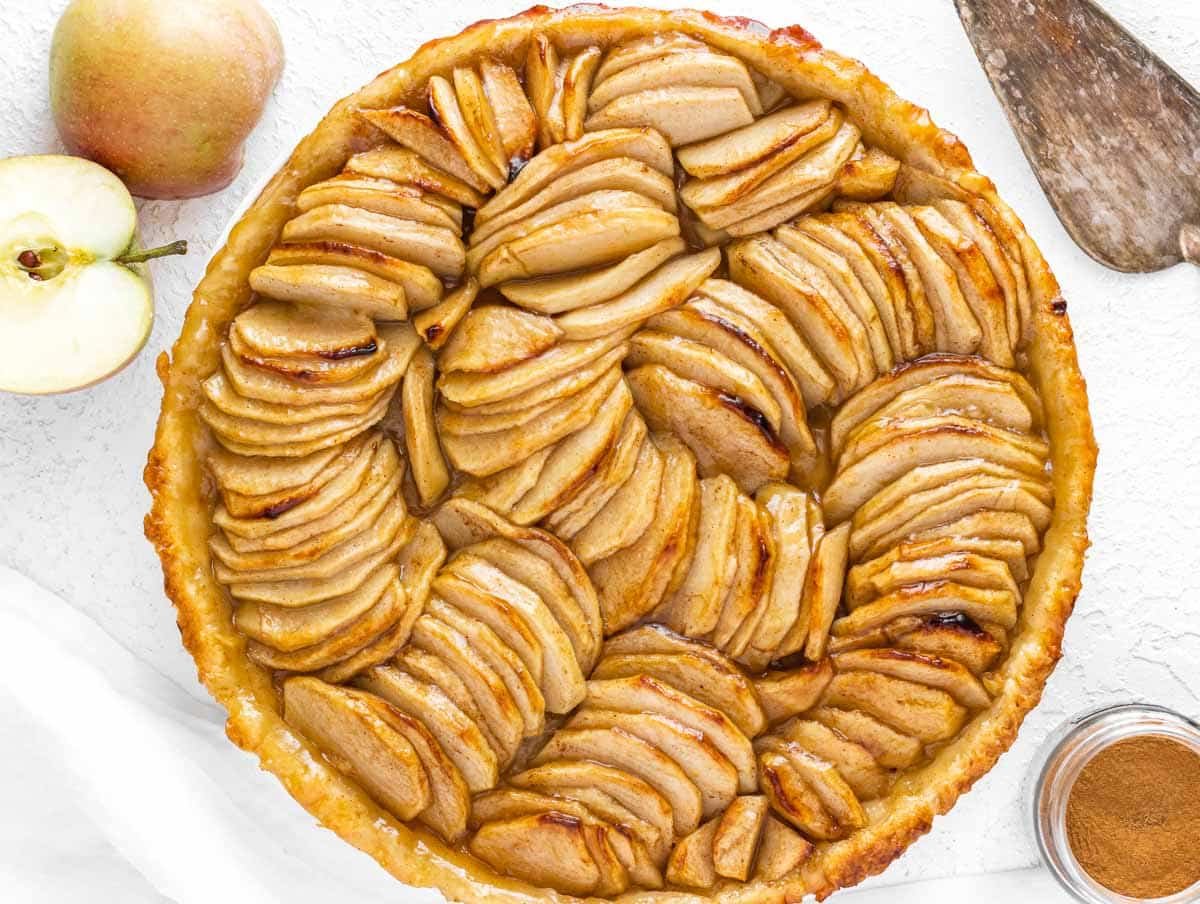 For many more side dish ideas, check out our sides category page.
Vegetarian Thanksgiving Recipes
Vegetarian Thanksgiving recipes are made easy with our 25 tasty meat-free meals.Try this creamy, rich mushroom gravy; it's a terrific sauce for holiday meals and family dinners.
Ingredients
Sautéed Mushrooms
1

tablespoon

extra virgin olive oil

1

pound

mushrooms

sliced 1/8 inch or 3mm thick

¼

teaspoon

salt

⅛

teaspoon

black pepper

2

cloves

garlic
Gravy
2

tablespoons

butter

or dairy-free butter

4

tablespoons

all-purpose flour

2

cups

vegetable broth

1

sprig

rosemary

1

tablespoons

soy sauce

½

teaspoon

salt

or more to taste

⅛

teaspoon

black pepper
Instructions
Clean the mushrooms; you can rinse them under running water if they are heavily soiled or brush them with a wet paper towel if they are not too soiled.Cut them into not-too-thin slices of about ⅛ inch or 3 millimeters.

Warm up the olive oil in a large skillet. Add the mushrooms, season them with salt and black pepper, and cook them on medium-high heat for about 10 minutes or until they brown.Add grated garlic and cook for 2 more minutes.

Note: the mushrooms will first release water. Keep cooking them until the pan is completely dry and they squeak and brown on the pan. Color equals flavor.Transfer the mushrooms onto a plate and set them aside.

Then in the same pan, melt the butter, add the flour and stir with a whisk for a minute until the flour-butter mixture starts to bubble.

Add vegetable broth, soy sauce, and the rosemary sprig, then simmer while stirring until the liquid thickens.

Add in the mushrooms, and stir for another minute.Add a little more broth if the sauce gets too thick, then taste and adjust for salt.

Serve in a bowl as a side to mains, veggies, or mashed potatoes.
Notes
Nutrition information is an estimate for one serving of mushroom gravy out of six servings.
Nutrition
Calories:
97
kcal
,
Carbohydrates:
8
g
,
Protein:
4
g
,
Fat:
6
g
,
Saturated Fat:
3
g
,
Polyunsaturated Fat:
1
g
,
Monounsaturated Fat:
3
g
,
Trans Fat:
0.2
g
,
Cholesterol:
10
mg
,
Potassium:
262
mg
,
Dietary Fiber:
1
g
,
Sugar:
2
g
,
Vitamin A:
118
IU
,
Vitamin B6:
0.1
mg
,
Vitamin C:
2
mg
,
Vitamin E:
0.5
mg
,
Vitamin K:
2
µg
,
Calcium:
8
mg
,
Folate:
23
µg
,
Iron:
1
mg
,
Manganese:
0.1
mg
,
Magnesium:
10
mg
,
Zinc:
0.5
mg
Tried this recipe?
Leave a comment below or mention @theplantbasedschool on Instagram. We are also on Facebook, Pinterest, YouTube, and TikTok.
If you liked these vegetarian Thanksgiving recipes, you might also enjoy:
---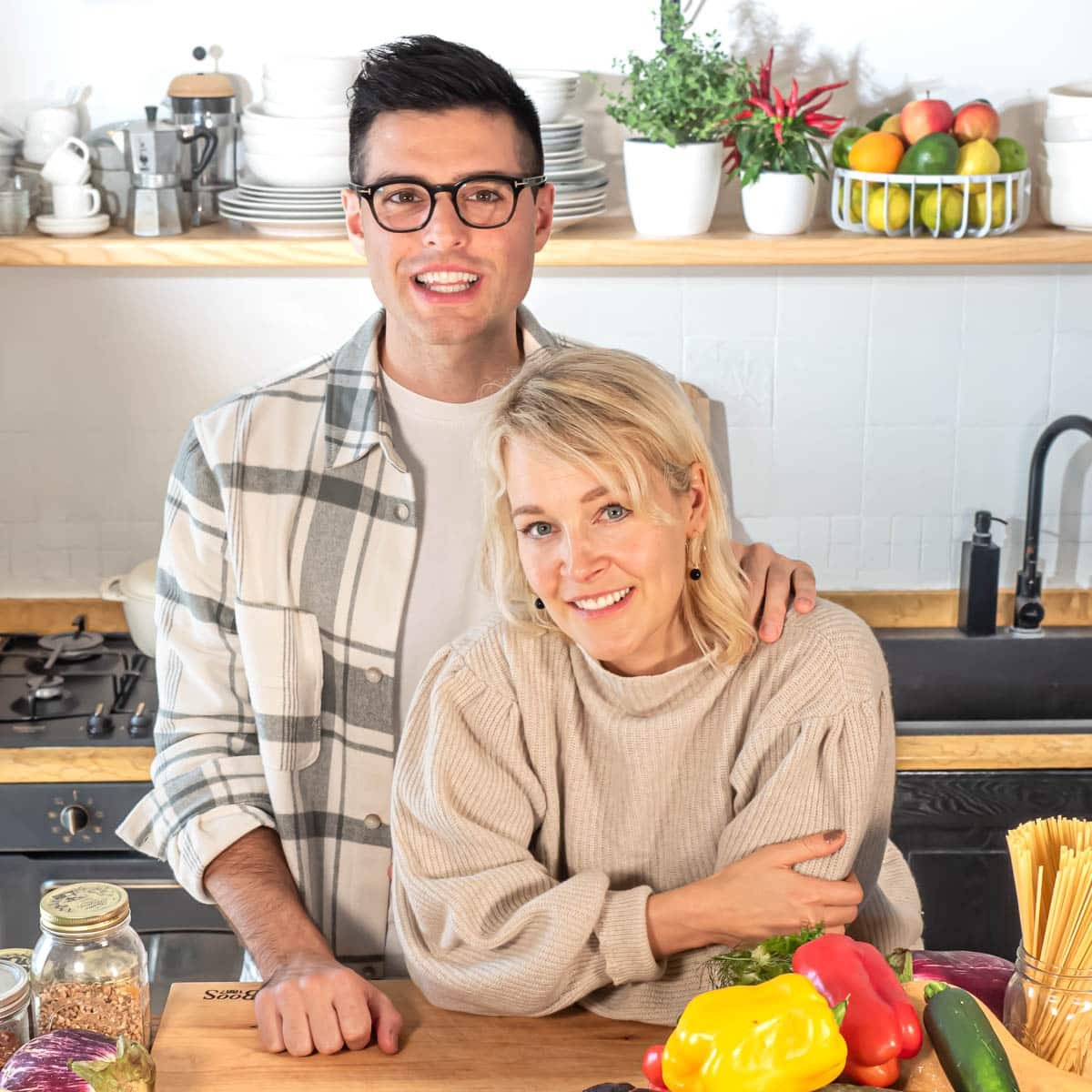 Hi! We are Nico & Louise
Welcome to The Plant-Based School, a food blog with easy, tasty, and wholesome recipes.
Our aim is to help you and your family eat more veggies through delicious recipes with simple ingredients.
Easy right?