Are you looking for inspiration for your next salad meal? Get inspiration from these delightful vegan salad recipes that are easy to make, healthy, and fulfilling for hours.
We've listed 25 of our best salad recipes that help you meal prep and get your greens too! Browse through this list, and take your pick: protein-rich tofu salad, and colorful salads with healthy grains. Hopefully, you'll get as excited about (non-boring) vegan salads as we are!
1. Vegetable couscous salad
Couscous with vegetables is a delicious and colorful way of serving couscous. This is an easy Mediterranean-inspired recipe that you can make in less than 30 minutes, with seasonal veggies and herbs.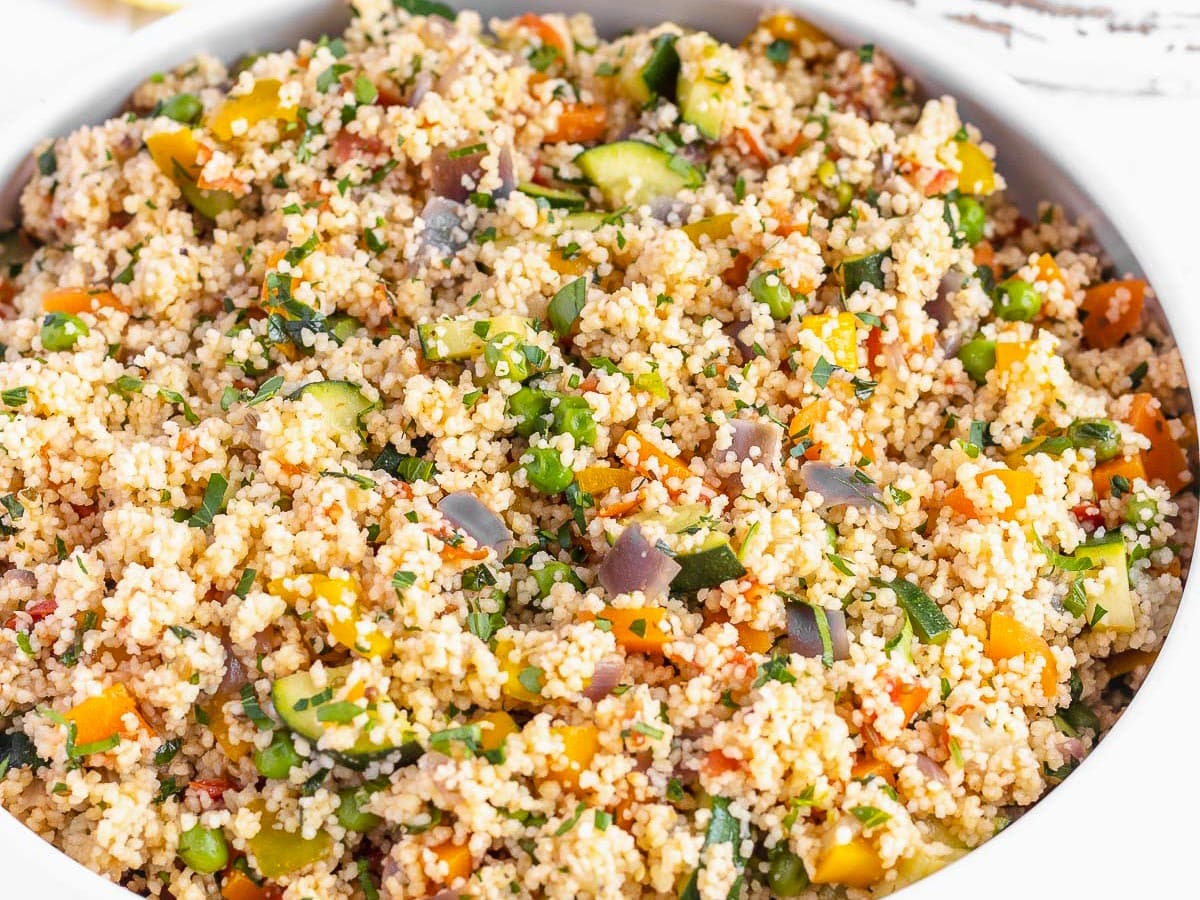 2. Red cabbage slaw
This red cabbage slaw is easy, crunchy, and comforting just like a regular slaw. This wholesome version is with apples, walnuts, and a creamy mustard vinaigrette - a wonderfully sweet and acidic flavor combination.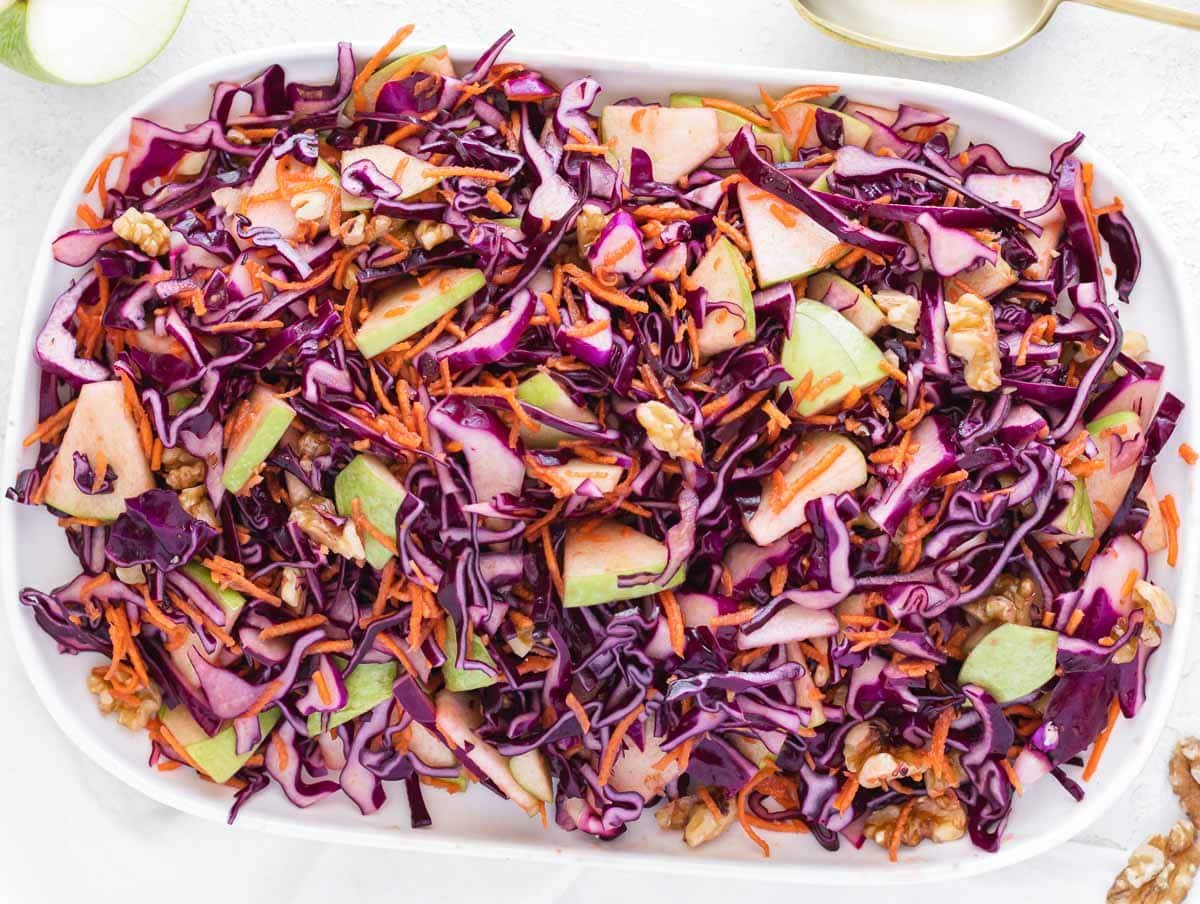 3. Zucchini salad
This raw zucchini salad is a refreshing, bright green summer salad. We marinate zucchini and add cherry tomatoes and roasted pine nuts, it's great for bringing to potlucks and summer barbecues.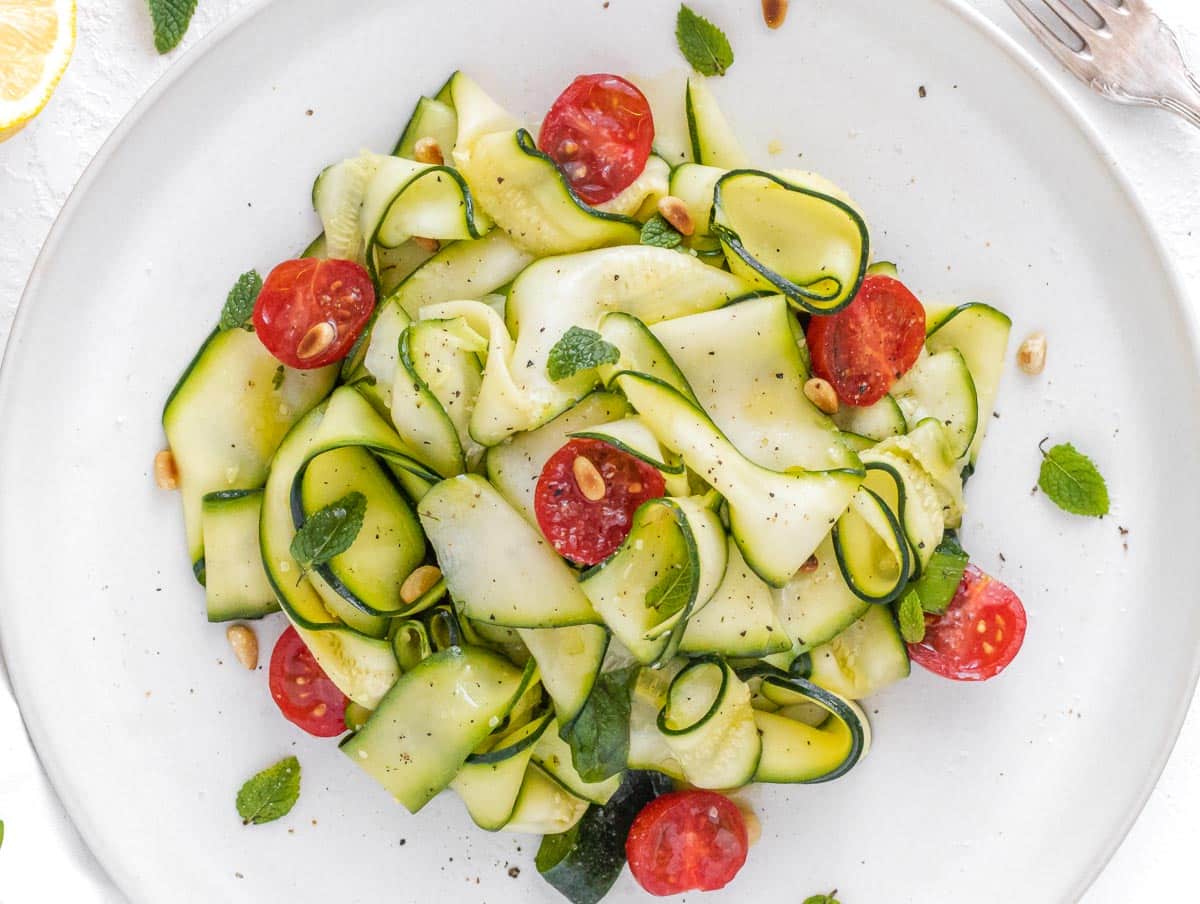 4. Moroccan carrot salad
Moroccan carrot salad is a delicious and aromatic recipe with tender boiled carrots, lentils, fragrant ground cumin, and fresh herbs. It's a great lunch idea and meal-prep-friendly as it keeps well in the fridge for a couple of days.
5. Green bean salad
This tender green bean salad with a creamy mustard dressing is the easiest and tastiest salad of its kind. Add fresh tomatoes, red onions and shaved almonds for a colorful and crispy topping.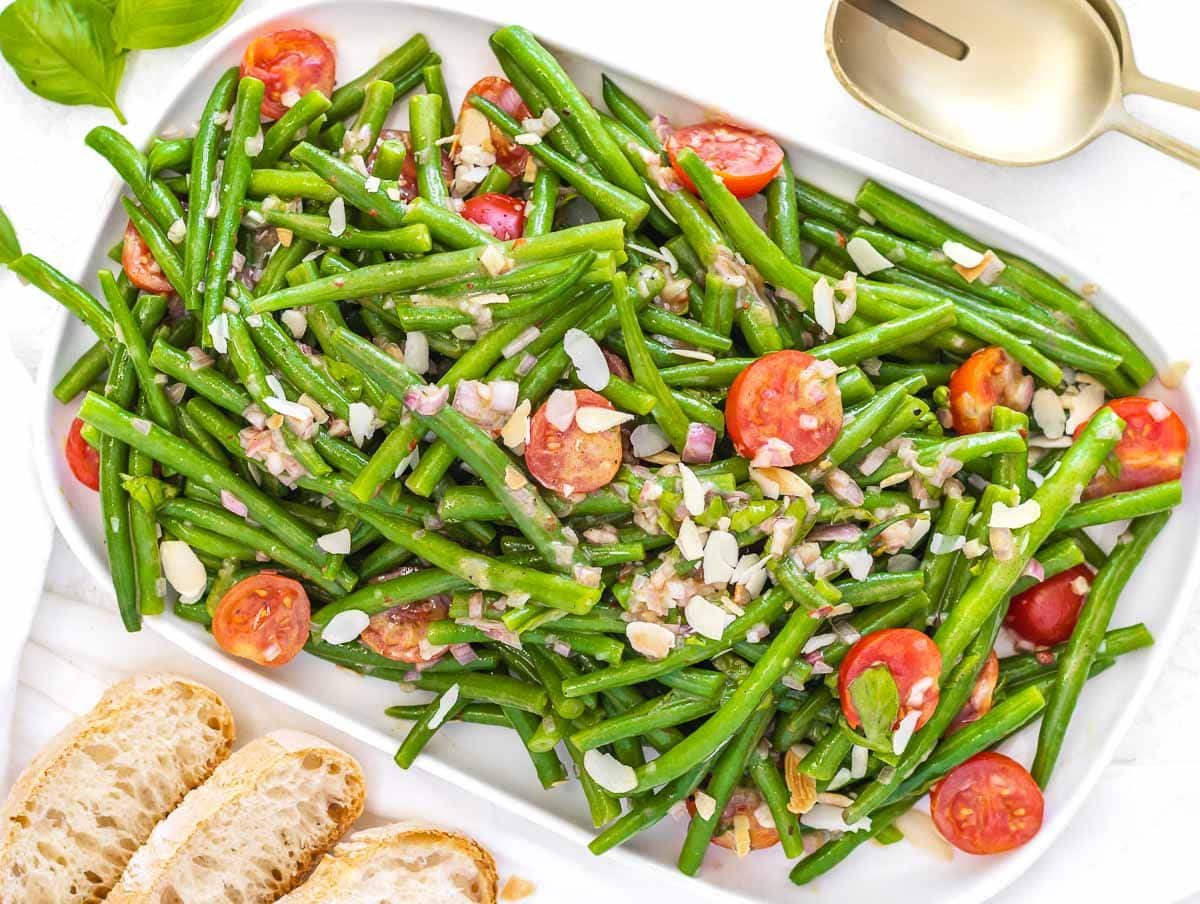 6. Barley salad
This barley salad with roasted vegetables is the perfect grain salad for meal prep and a healthy lunch. It's a handy salad for summer cookouts, office lunches and potlucks.
7. Easy Italian salad
Easy, quick to make, and a perfect pairing with most main dishes. This Italian salad has the perfect balance of crispy croutons, olives and fresh greens - and it's great as a base salad for lunch and dinner with an addition of protein.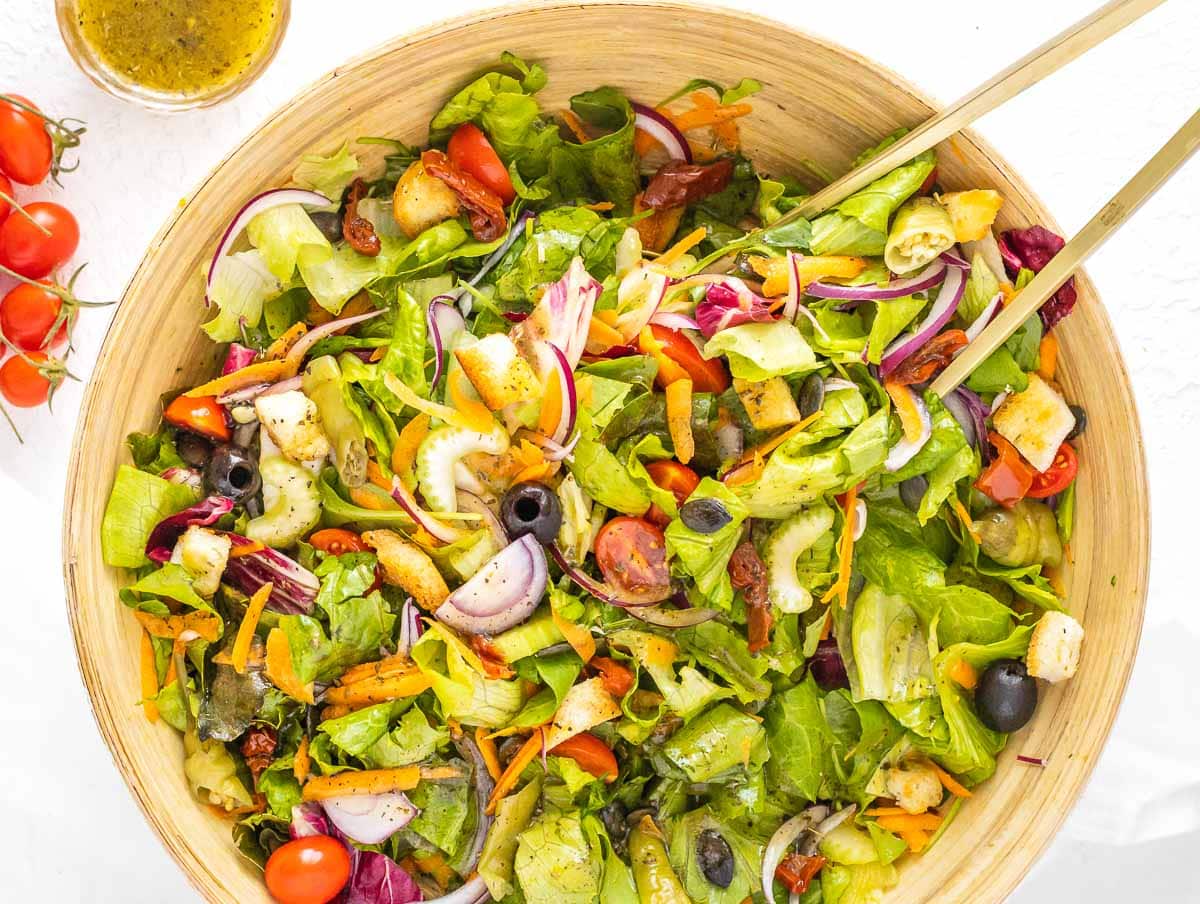 8. Fennel orange salad
A crunchy, fresh, and light salad perfect when served as a vegan lunch with fried tofu or roasted chickpeas. This fennel orange salad is a colorful and crisp side dish with juicy pomegranate seeds and tangy black olives.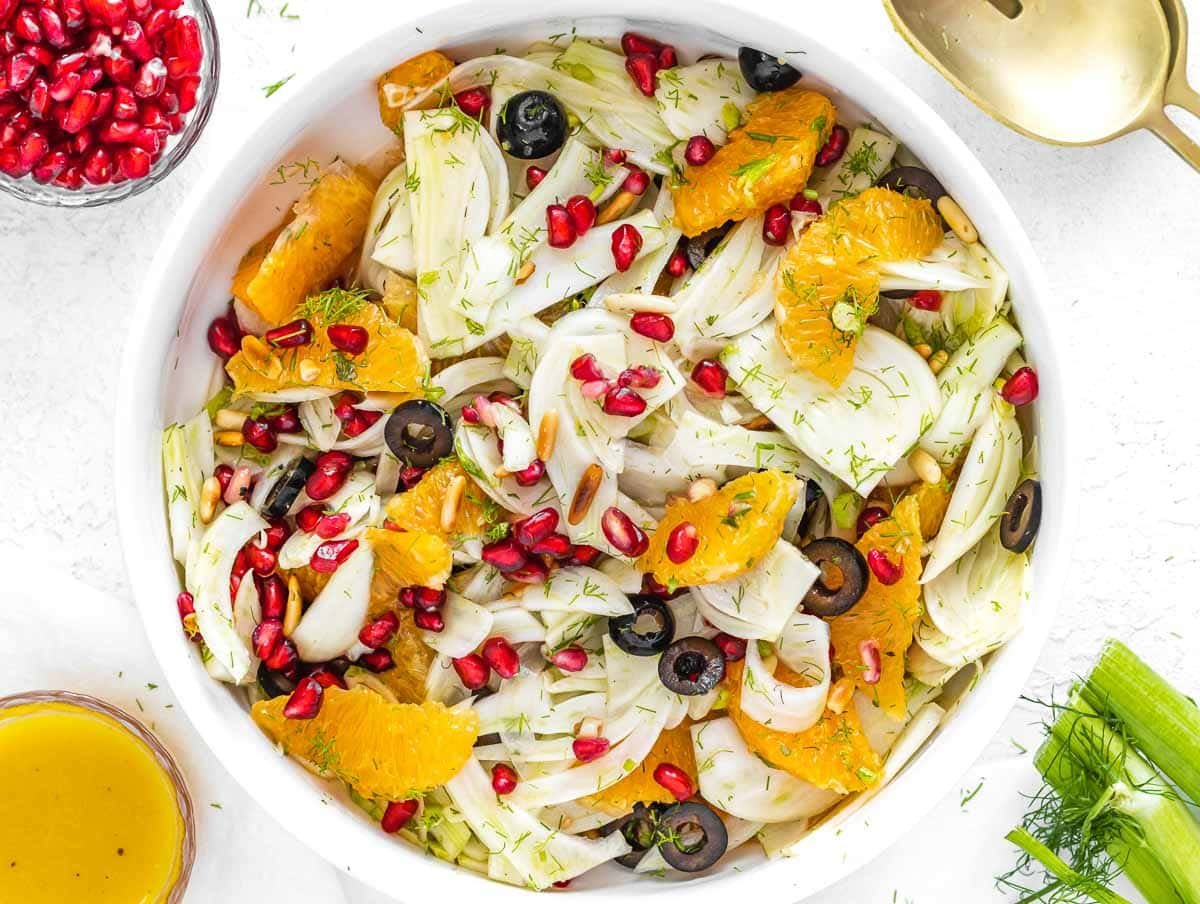 9. Tofu salad
This tofu salad recipe is a crunchy and healthy bowl of fresh greens and fried jerky-like tofu - just perfect for lunch or dinner. Low in calories, high in flavor and very filling. Drizzle with a creamy tahini sauce and sprinkle with sesame seeds for added healthy fats.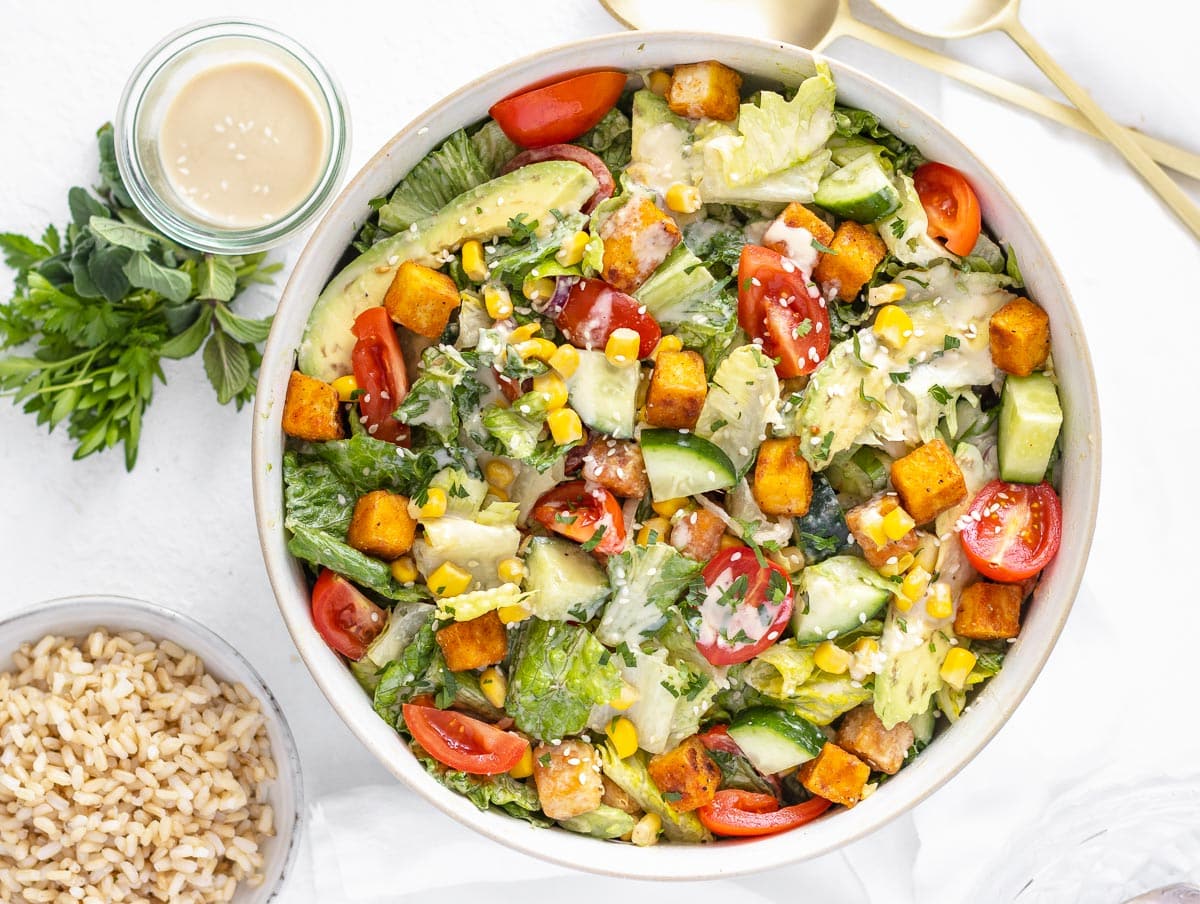 10. Simple side salad
This 5-minute side salad is a simple recipe you can serve with most main meals. It's quick, crunchy, fresh, and colorful with easy-to-find ingredients and a creamy Italian dressing.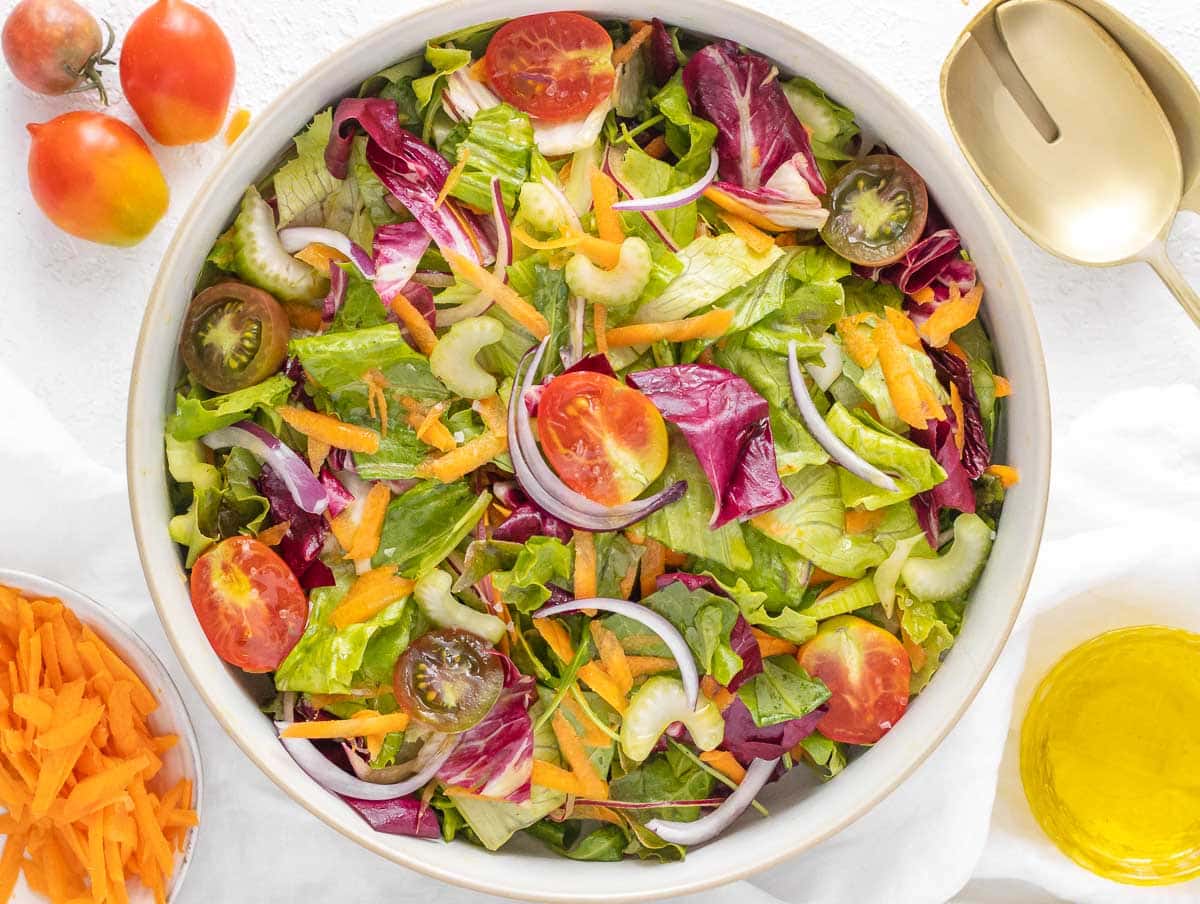 11. Chickpea salad
This chickpea salad recipe with tomatoes and arugula is a simple and fulfilling dish, perfect for a quick lunch or dinner, as a starter, or as a side dish. We like to serve this with our focaccia, but it's also great with a thick slice of bread.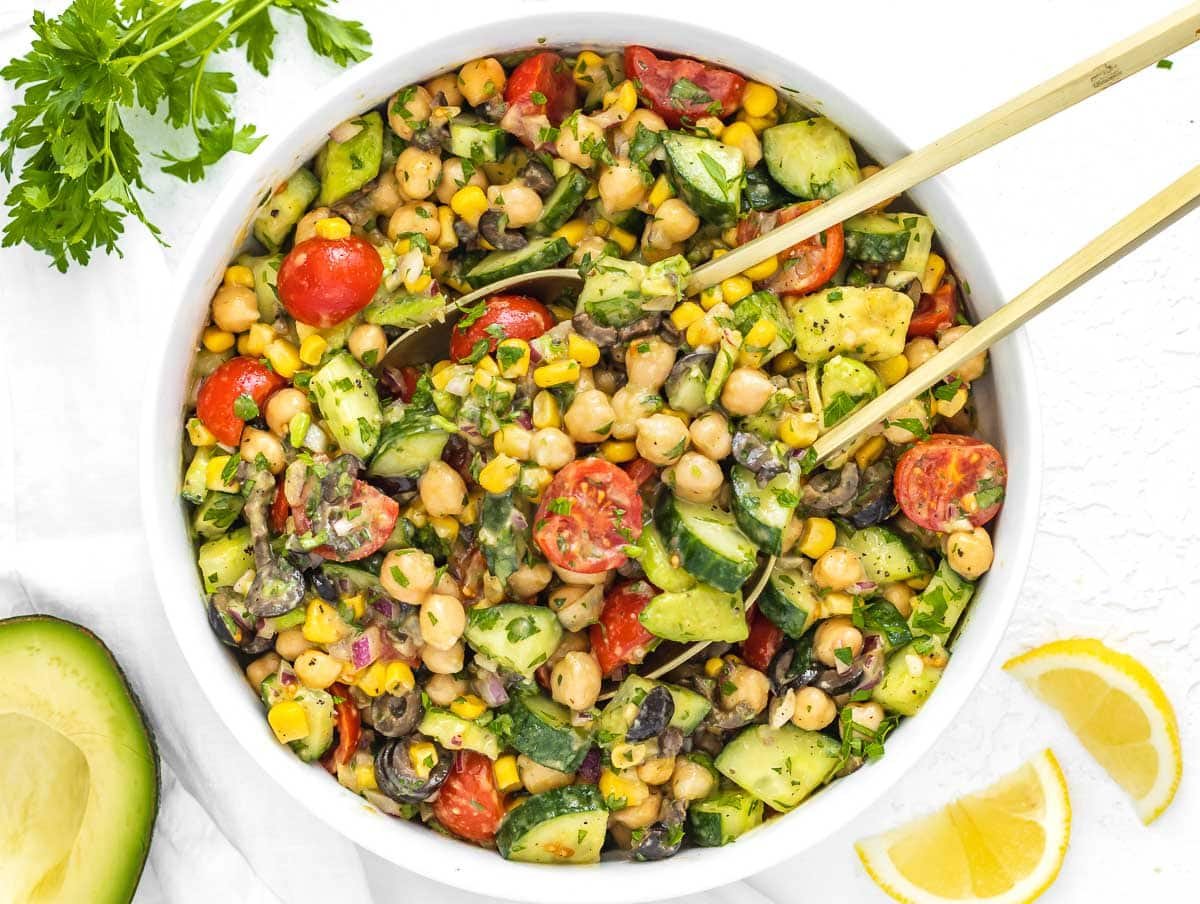 12. Rice salad
This easy rice salad is adapted from Italian rice salad traditions, and it's the perfect summer dish, easy to prepare in advance, and bring to picnics. It's a naturally vegan salad recipe with plenty of healthy fiber and vitamins.
13. Pasta salad
This vegan pasta salad is perfect as a make-ahead lunch and dinner - for work or at home. It is incredibly nutritious, full of healthy vitamins, and will please kids and adult alike.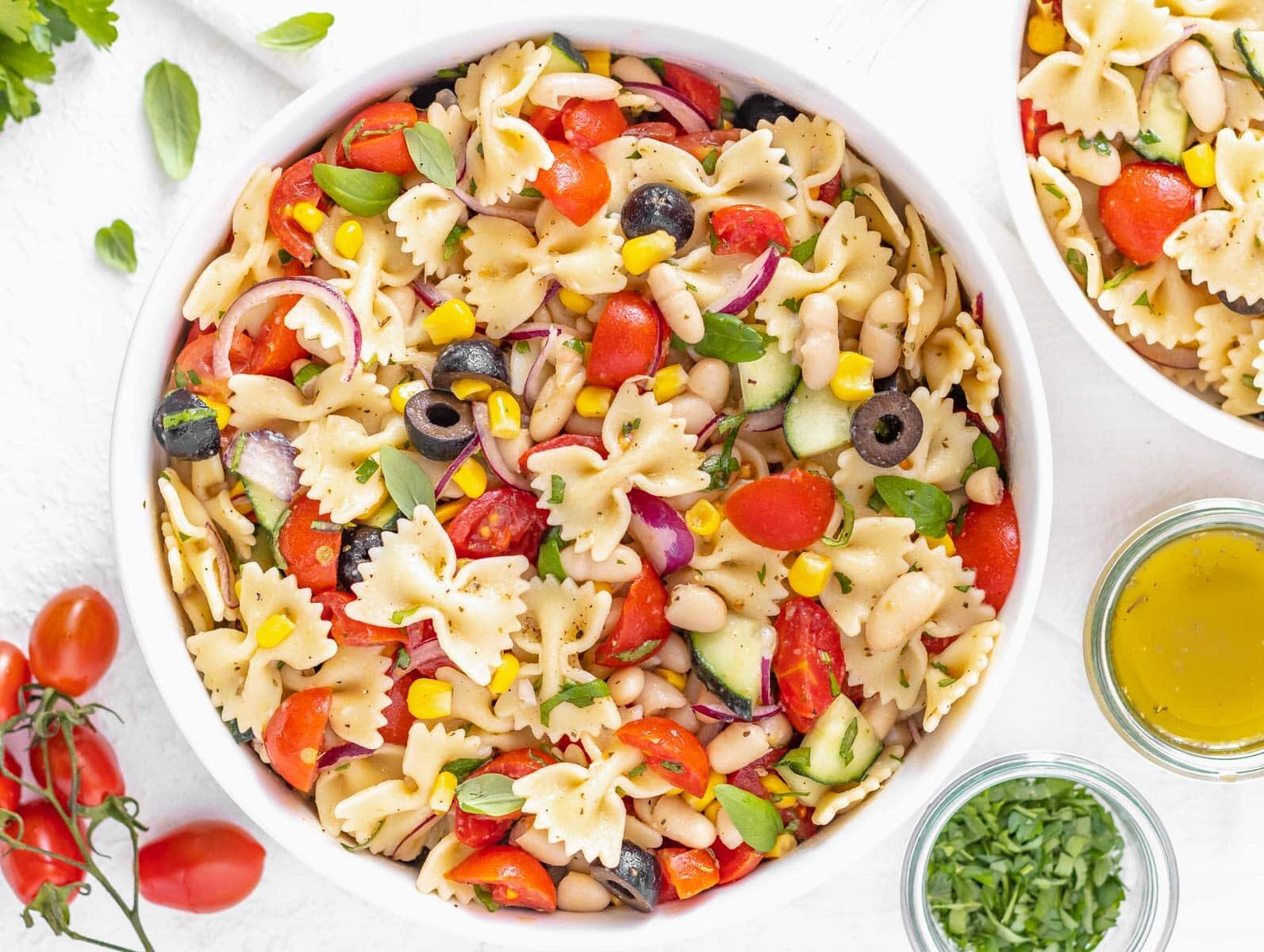 14. Shaved brussels sprout salad
This shaved Brussels sprout salad is perfect for the holidays, or as a side for a delicious everyday dinner. Ready in 15 minutes and no cooking required, simply marinate the sprouts with a creamy mustard dressing for a glassy and delicious finish.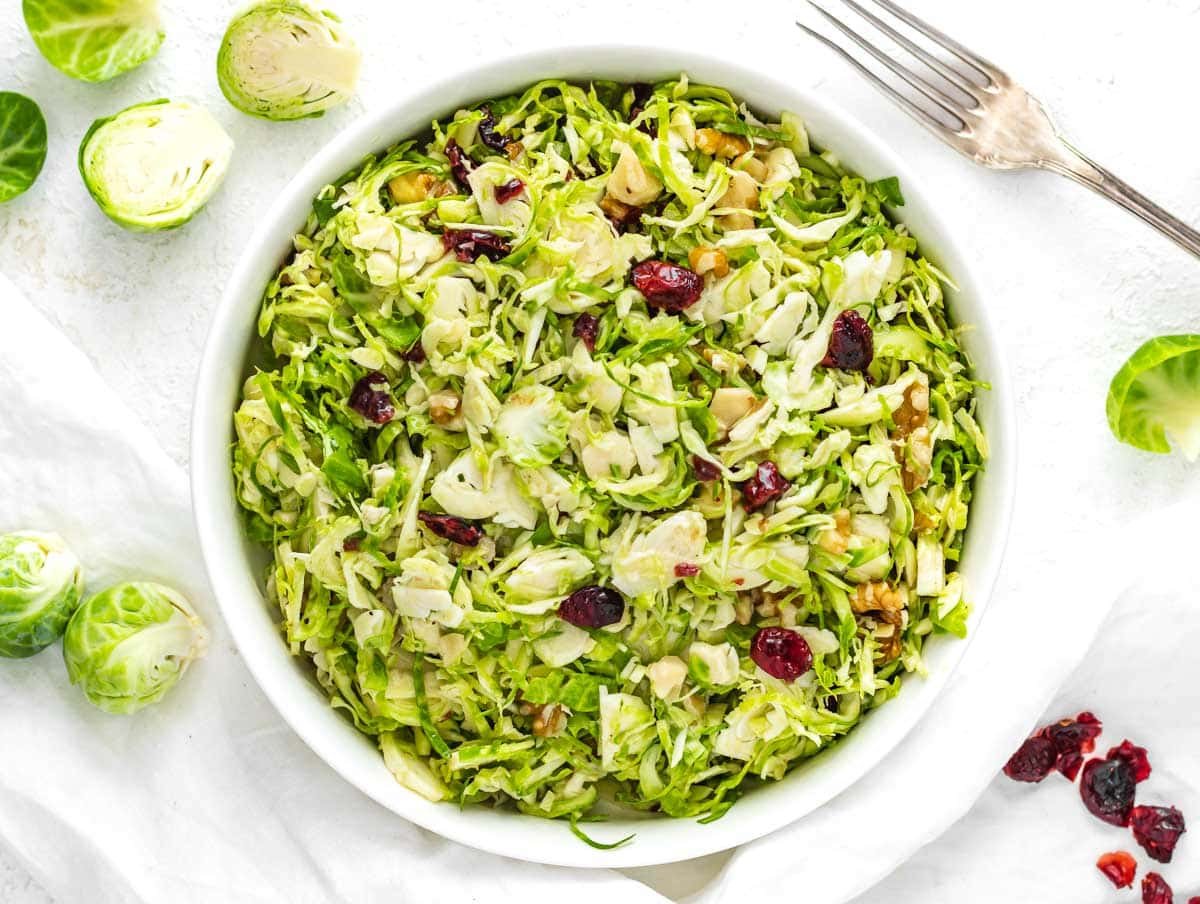 16. Chickpea Quinoa Salad
This chickpea quinoa salad offers a nutritious, naturally vegan, gluten-free meal choice that will please even the pickiest eaters. Super easy to make and ready in just 25 mins.
16. Chickpea pasta salad
Plant-based protein in a wholesome way with chickpeas, fresh greens and pasta. This chickpea pasta salad is a quick and healthy recipe made with fresh and nutritious ingredients in less than 20 minutes.
17. Vegan couscous salad
This vegan couscous salad is easy, fresh, crispy, and super nutritious. Toss it with a simple homemade lemon vinaigrette and fresh herbs to make this easy, delicious and healthy meal.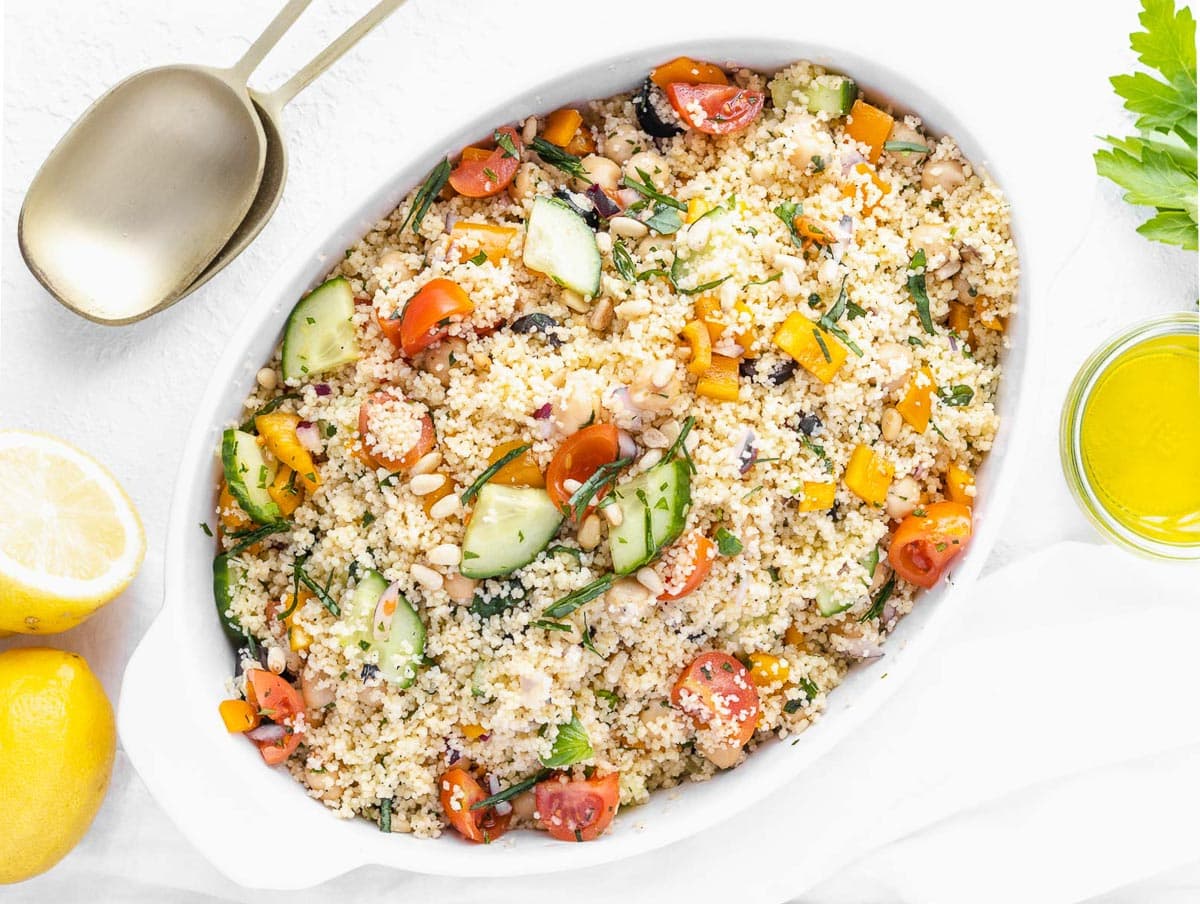 18. Tomato cucumber onion salad
This tomato cucumber onion salad is a crunchy, refreshing, simple dish that you can enjoy as a starter or as a side dish. Pick your favorite tomatoes, crunchy cucumber, and sweet red onion and drizzle with a creamy Italian lemon vinaigrette.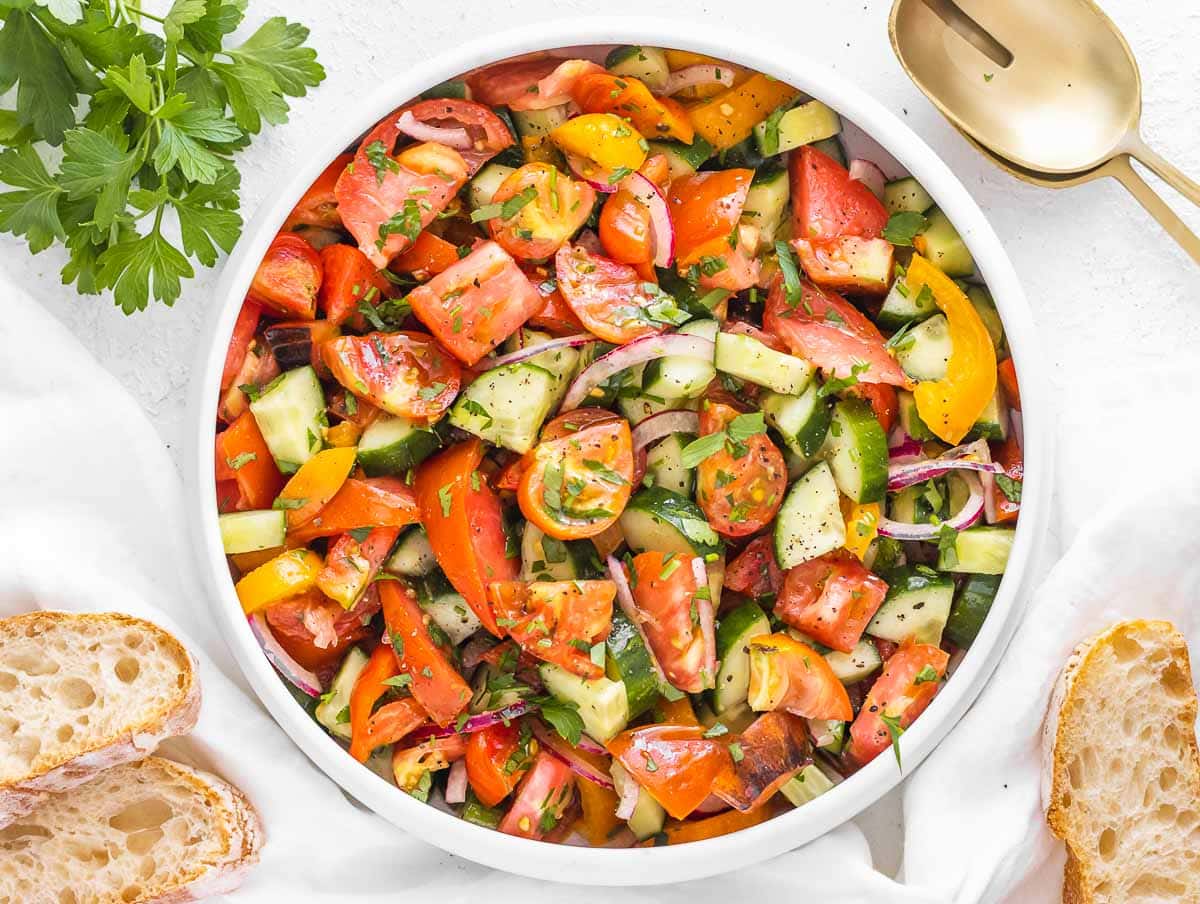 19. Eggplant salad
A delightful warm eggplant salad that can be eaten with or without pasta. Perfect for summer cookouts, school, office lunches, and potlucks.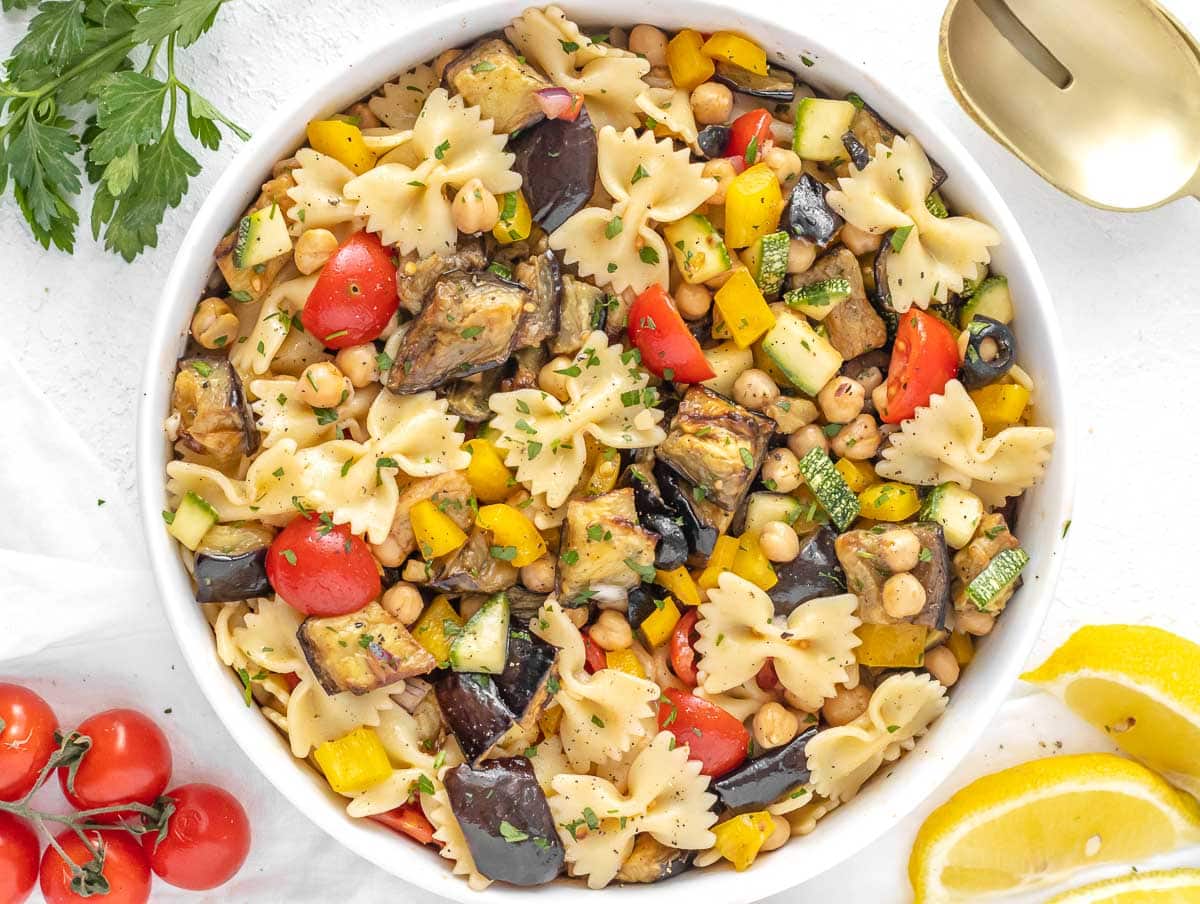 20. Cauliflower salad
Our creamy vegan cauliflower salad has no bacon, mayonnaise, or dairy; we roast the cauliflower florets with olive oil and toss them in a velvety smooth tahini dressing. Serve as a wholesome lunch or as a colorful dinner, it's a Mediterranean-inspired dish that your family will love.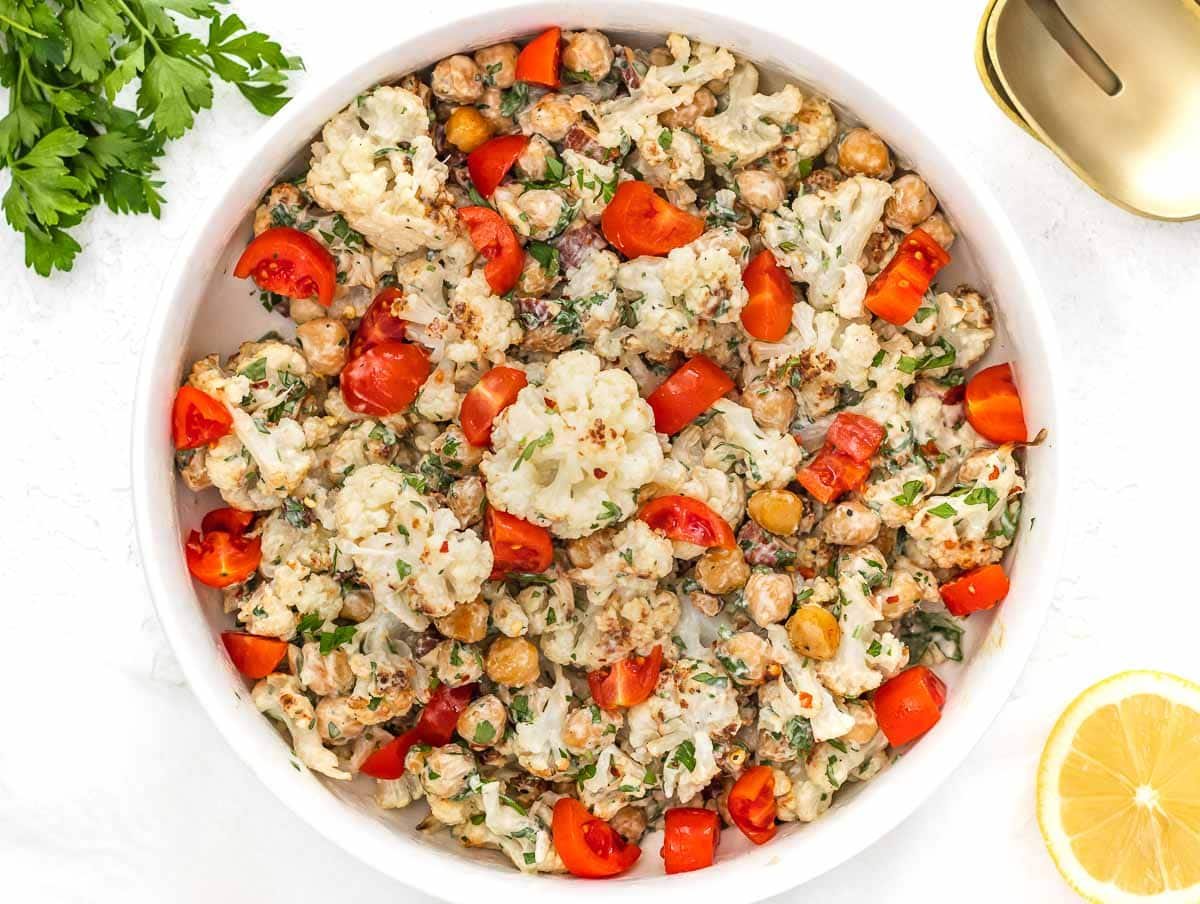 21. Mashed chickpea salad
Mashed chickpeas combined with vegan mayonnaise make a perfect sandwich filling and potato topping. This mashed chickpea salad is creamy, tangy, and tastes a little bit like tuna! It's a quick vegan salad ready in just 10 minutes, and no cooking is required.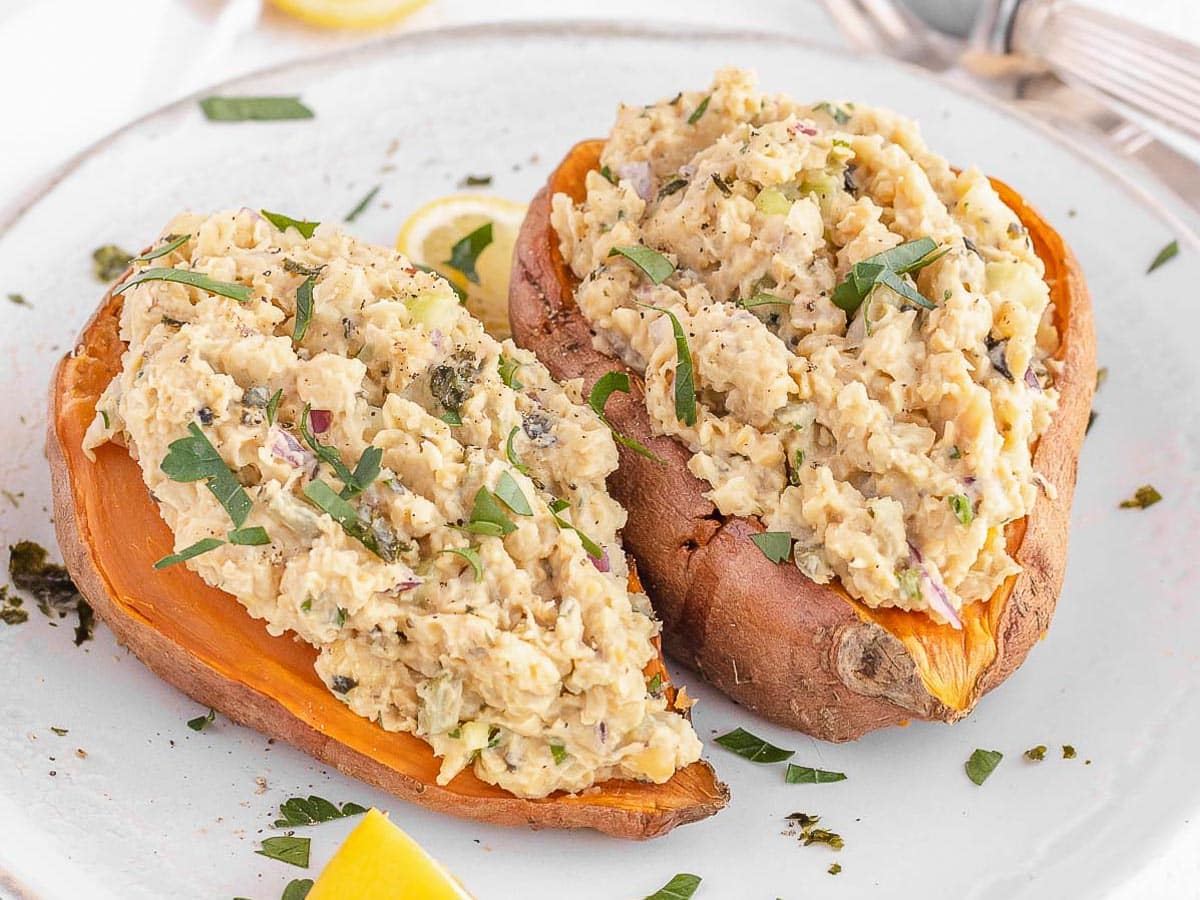 22. Sweet potato lentil salad
Lentils and roasted sweet potatoes, married by a Mediterranean-tasting cumin and paprika dressing, are a match made in heaven! A wholesome and flavor-packed meal, this recipe has claimed one of the highest spots on our top 10 favorite salads list.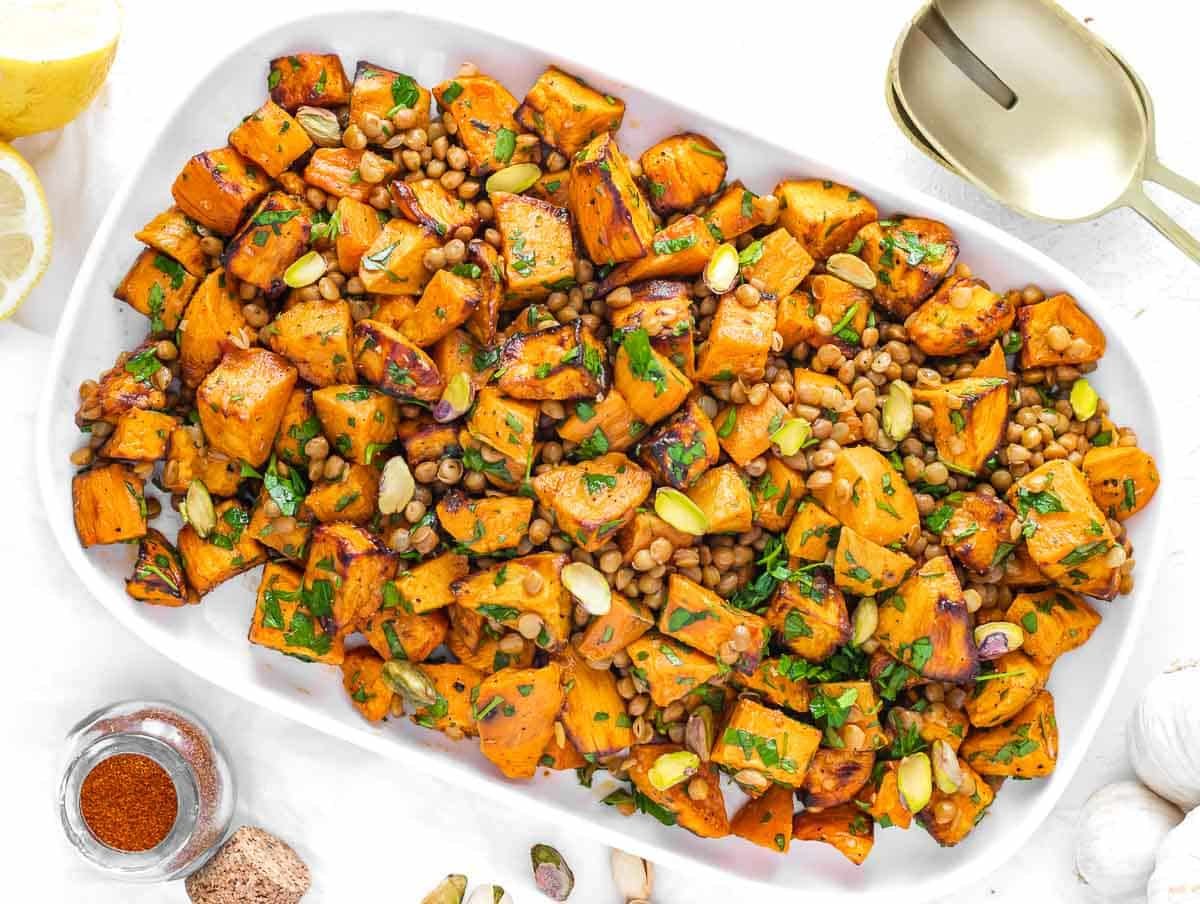 23. Black bean salad
This black bean salad with tender roasted sweet potatoes is a fiber-rich vegan salad idea. Inspired by Mexican flavors, this recipe is perfect for making ahead and eating for a quick and nutritious lunch, as a healthy dinner, or bringing potlucks and picnics.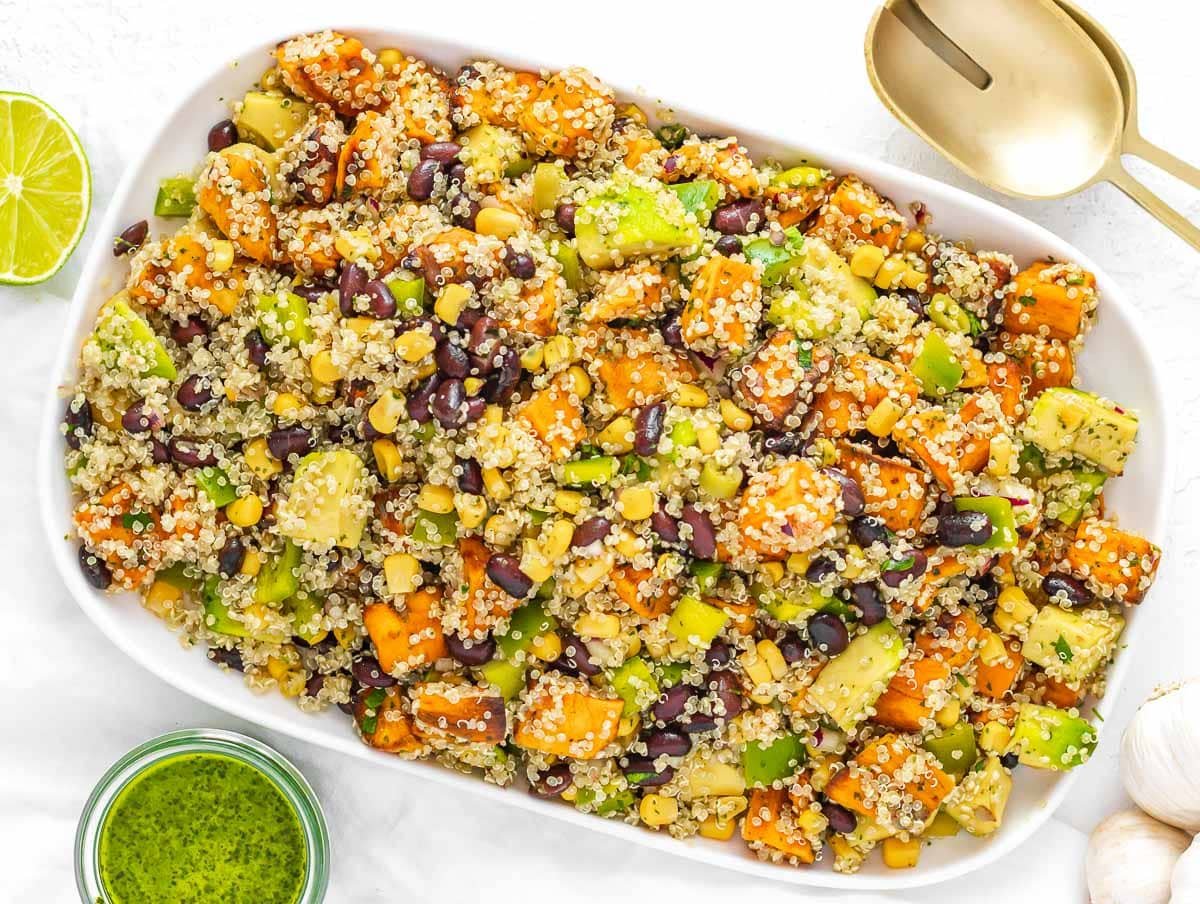 24. Rainbow kale salad
Add color and flavor to your table with this vibrant and vitamin-packed kale salad. Honestly, it's one of our favorite winter salads ever. It's excellent as a starter or side dish for a memorable holiday meal during the winter holidays, and it's perfect as an easy lunch or dinner.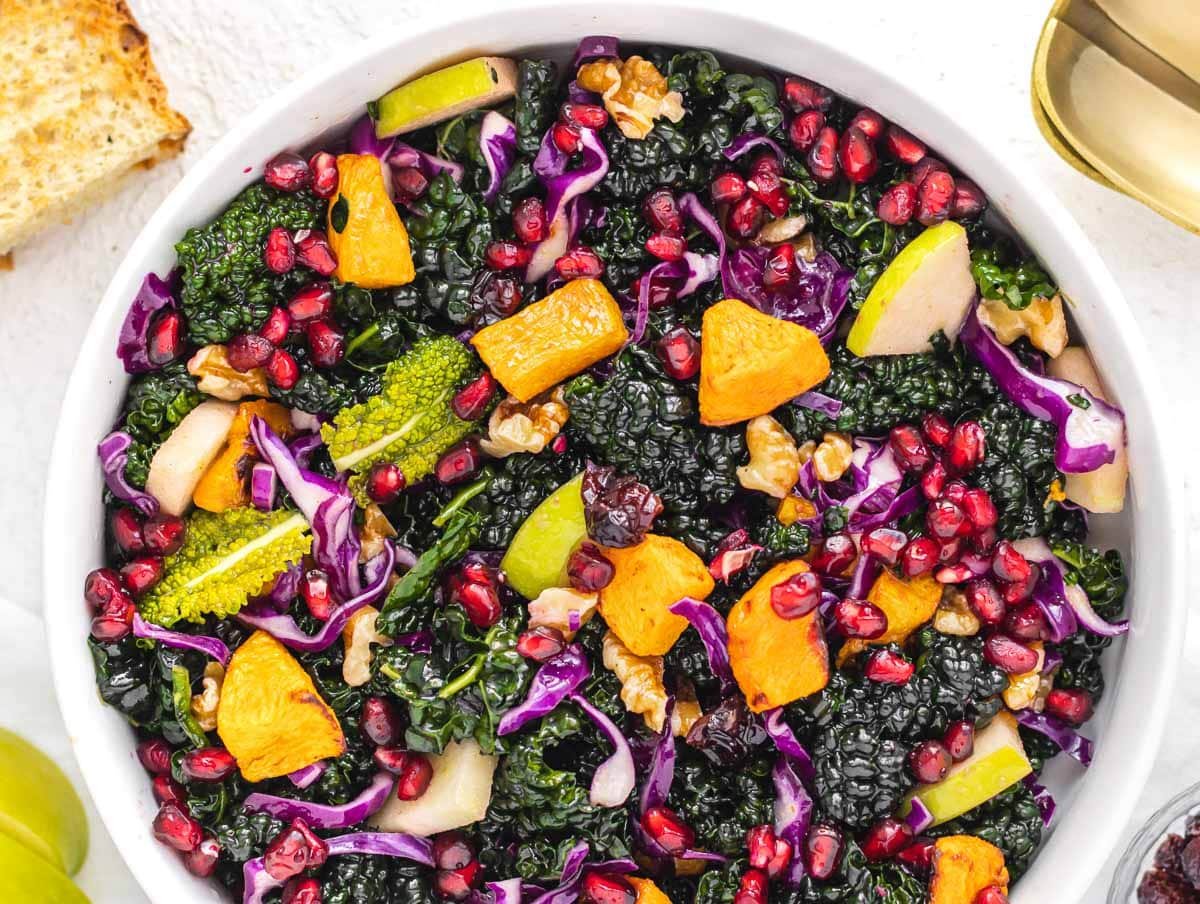 25. Carrot salad
This colorful and raw carrot salad is a great appetizer idea, side dish, or lunch idea, just add chickpeas and slivered almonds for extra fats and protein. What makes this vegan salad extra special is the creamy and slightly sweet mustard dressing - a must-try salad!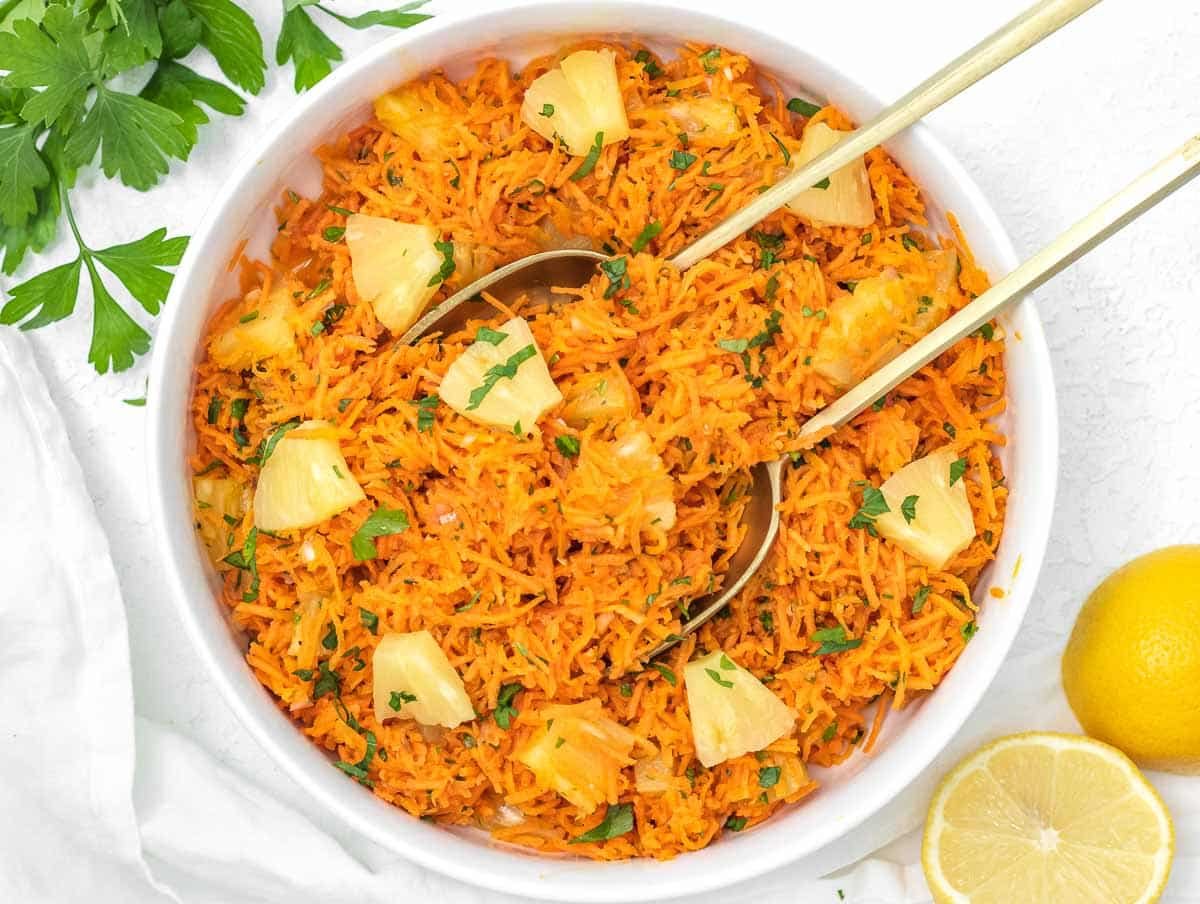 Best toppings for salad
If you liked these vegan salads, you might also enjoy these toppings:
Or see our favorite vegan sauces, all of them give bold flavor to any salad meal.
How to serve vegan salads
These bowls and salads can be used for vegan lunches and easy dinners, especially when paired with ancient grains and sides:
How to store vegan salads
Store the vegan salads in a bowl covered with a lid or in an airtight container, in the fridge, for up to 3 days.

To maximize its flavor take it out of the fridge 30 minutes before serving it. We do not recommend freezing the salads.
For many more 30-minute meal ideas, check out our 30-minute meal category page.
25 Vegan Salad Recipes
Over 25 best and tasty vegan salads that are easy to make, healthy, vegetarian and vegan too. Browse through, and pick your favorite salad, dressing and toppings.
Ingredients
Pick your favorite salad recipe

Read the recipe for ingredients required

Make the recipe by following the instructions
Instructions
Make ahead: you can make these salads ahead of time. For best results, we recommend making it 24 hours before serving it.

However, if you are planning to add avocado, vegan cheese, and fresh fruit, do so right before serving the salad because they might change color after a few hours (for instance, avocados and apples will look less fresh after a couple of hours).

How to store: Most of these salads keep for 1 day in the refrigerator, best if stored in an airtight container.

To maximize its flavor take it out of the fridge 30 minutes before serving it. We do not recommend freezing the salads.
Video Recipe
Colorful and Wholesome Kale Salad
Notes
STORAGE
Refrigerator: store salad leftovers in an airtight container in the fridge. The salad will improve in taste and texture up to 24 hours after making it. Then it'll slightly degrade, but most of them will still be excellent for up to 3 days.
Toss again: toss the salad in some freshly made dressing before serving it, as it might dry out sitting in the fridge.
Nutritional Values
Nutrition Facts
25 Vegan Salad Recipes
Amount Per Serving (200 g)
Calories 300
* Percent Daily Values are based on a 2000 calorie diet.
Did you like this recipe?
We are not much on Instagram, Facebook, and Pinterest. Leave us a comment below instead, it would mean the world to us 🙂
If you liked these vegan salad recipes, you might also like: