Are you hungry for pasta, and in need of ideas for easy vegan pasta recipes? You've come to the right place! Pasta is a versatile ingredient, very nutrient-dense, and high in protein.

Find your favorite pasta by browsing through this list, and take your pick: creamy, saucy, veggie-packed, fulfilling, and ready in just 20 mins. Hopefully, you get as excited about pasta as we are - and get inspired to cook pasta in new ways!
This is the original recipe for garlic and oil pasta, a delicious Italian meal also known as spaghetti aglio e olio.

We'll show you how to make it to perfection in under 15 minutes, with simple ingredients.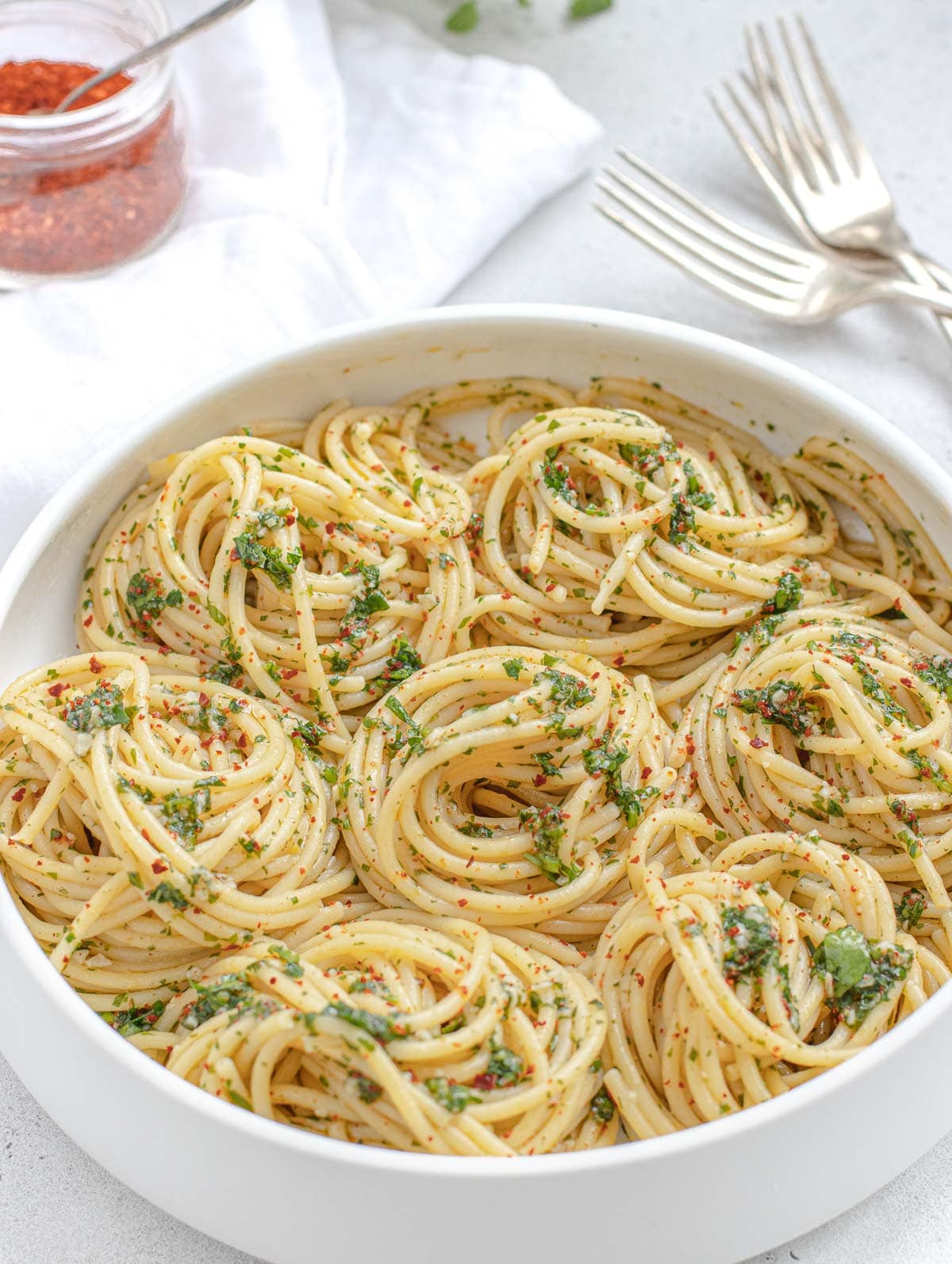 Tomato Basil Pasta
Tomato basil pasta is an easy and delicious recipe that is perfect for a quick dinner.

You only need to plan for 10 minutes of cooking time, and simple ingredients that you probably already have in your pantry.
Our vegan carbonara is a simple recipe that can be made in 15 minutes. The taste of our carbonara sauce is similar to the taste of an authentic Italian carbonara recipe.
It's full of umami, peppery and with an eggy flavor thanks to Kala Namak, a Himalayan black salt that tastes exactly like an egg.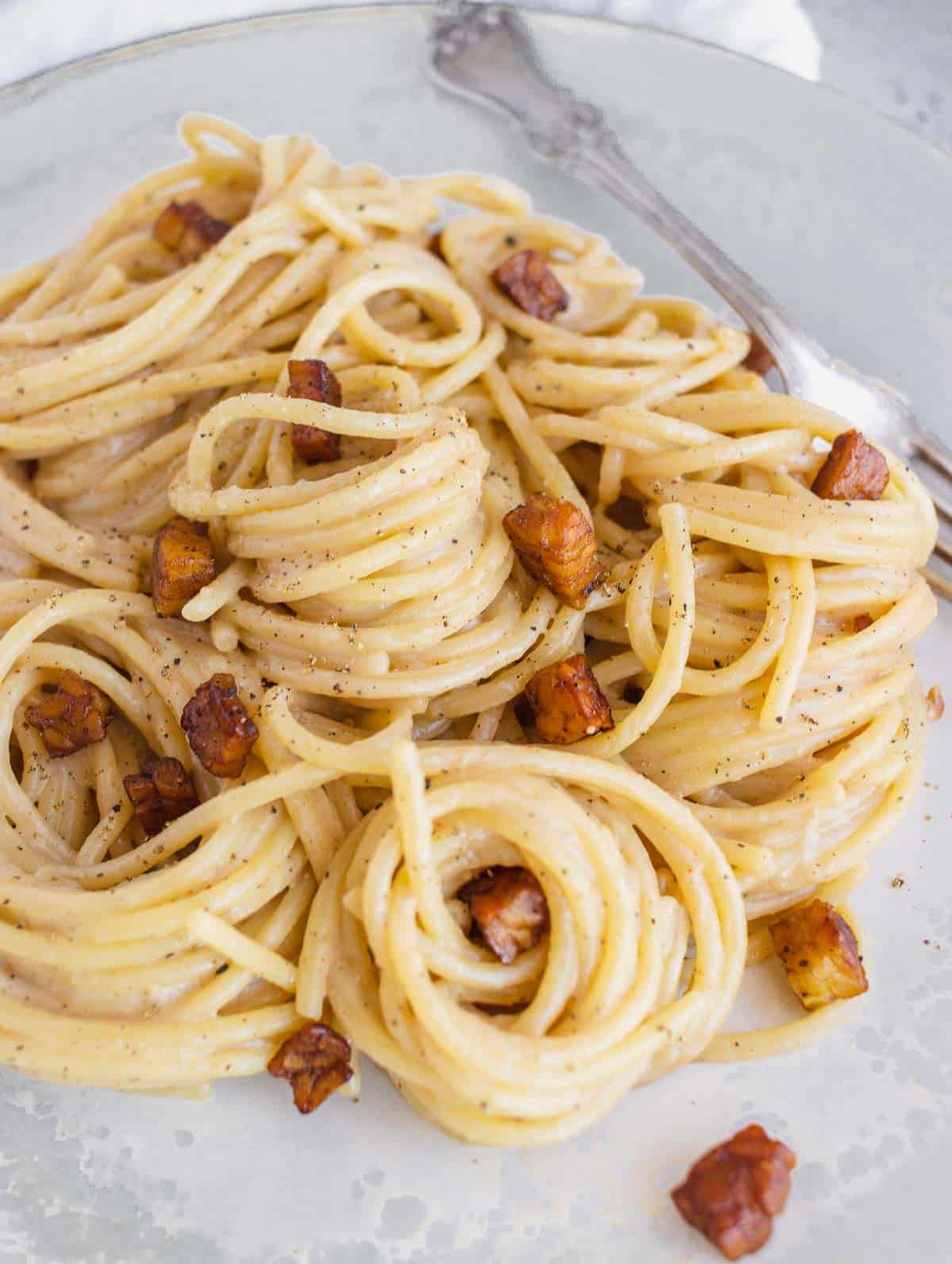 Our spinach pesto is an easy recipe that you can make in 5 minutes in a blender. Use the pesto with your favorite pasta, or as a spread in a sandwich or wrap.
We add tofu to make the spinach pesto creamier and more nutritious.
Creamy Mushroom Pasta
Vegan mushroom pasta is a quick and creamy pasta recipe, that you can make in just 15 mins!
This is a perfect recipe for everyday dinners since but it's restaurant-y enough to make for guests too!
Penne Arrabbiata
A spicy, comforting, classic pasta recipe that you can easily recreate at home with simple ingredients. Make it in just 20 minutes, with a secret tip to make this pasta dish extra creamy.
Vegan creamy pasta
This vegan creamy pasta is inspired by the Italian Boscaiola recipe. Mushrooms, peas, and vegan bacon make the base of this scrumptious restaurant-y sauce.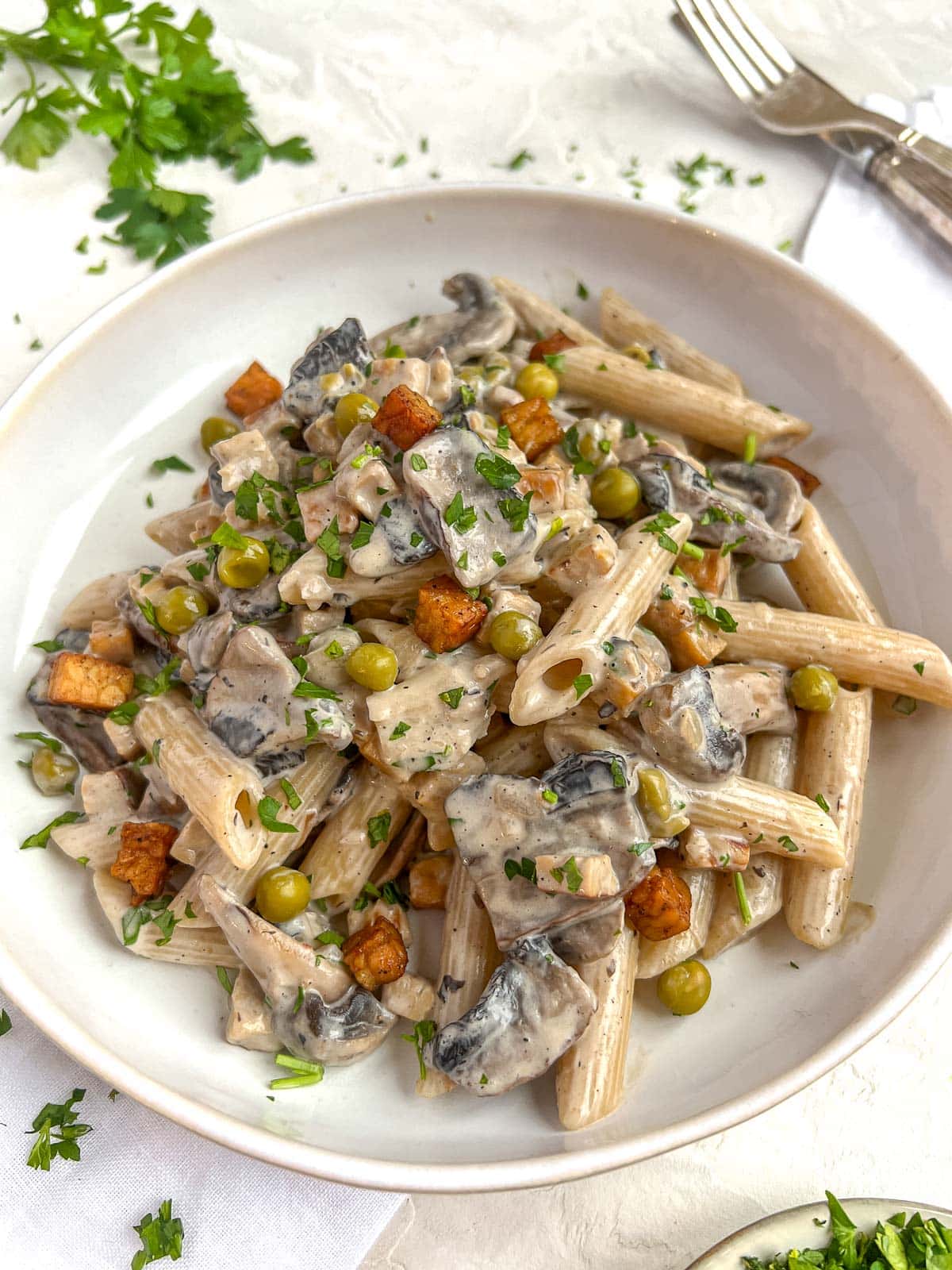 Lentil Bolognese
An Italian classic with an ultra-rich and hearty sauce, perfect with pasta, lasagna, or zucchini noodles. It's a recipe, with plenty of flavor and texture. Yet, this is a simple everyday meal, perfect for prepping in advance and storing for those busy mid-week dinners.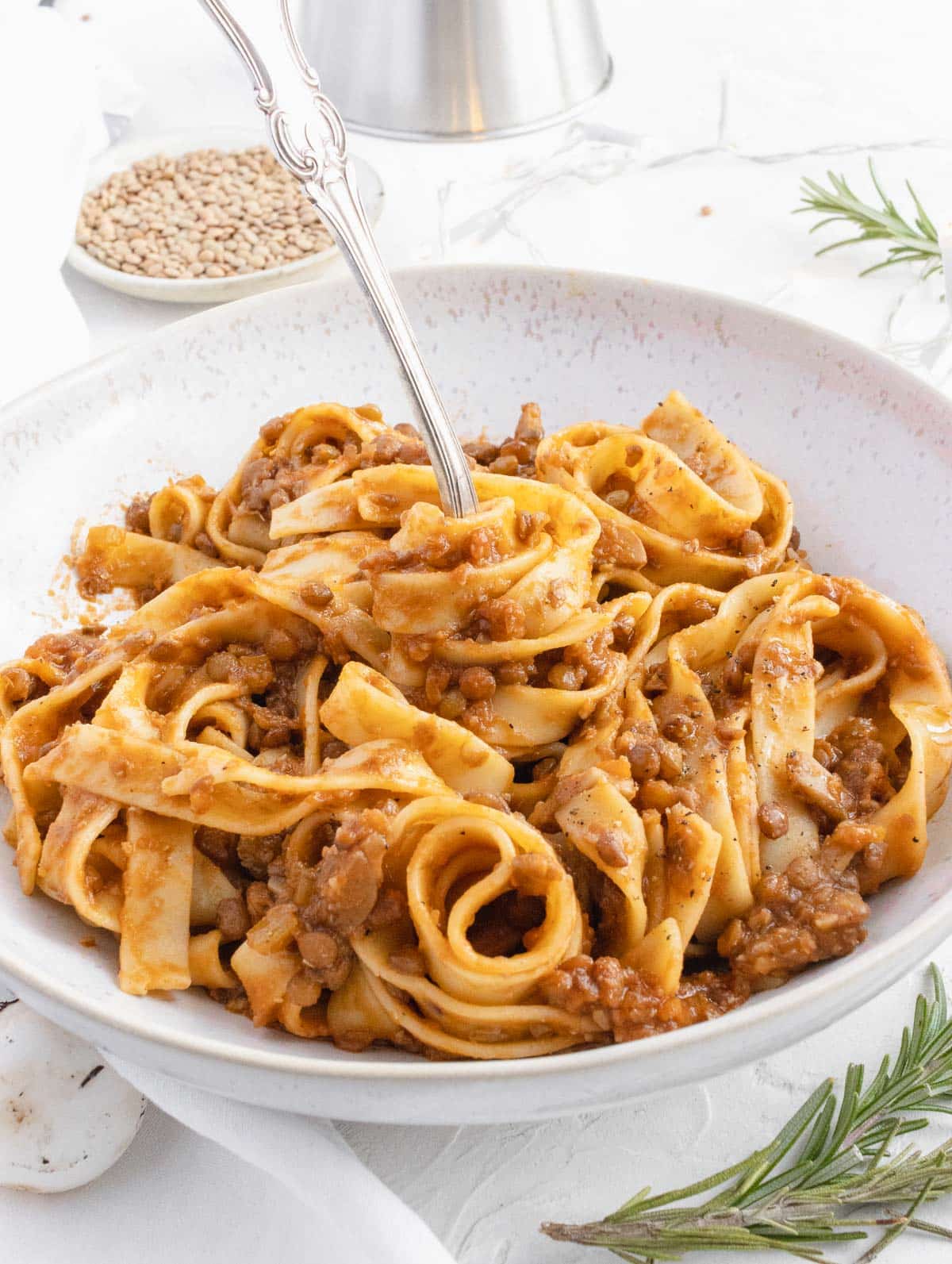 Lemon Pasta
A simple creamy pasta recipe that is perfect for a quick and tasty lunch or dinner. It takes just 10 mins to make this scrumptious pasta dish.
Vegan cacio e pepe
Here's irresistible vegan cacio e pepe, ready in 10 mins! Is that even possible? Yes. And the result is a creamy, peppery, and cheesy pasta dish that you can cook in no time.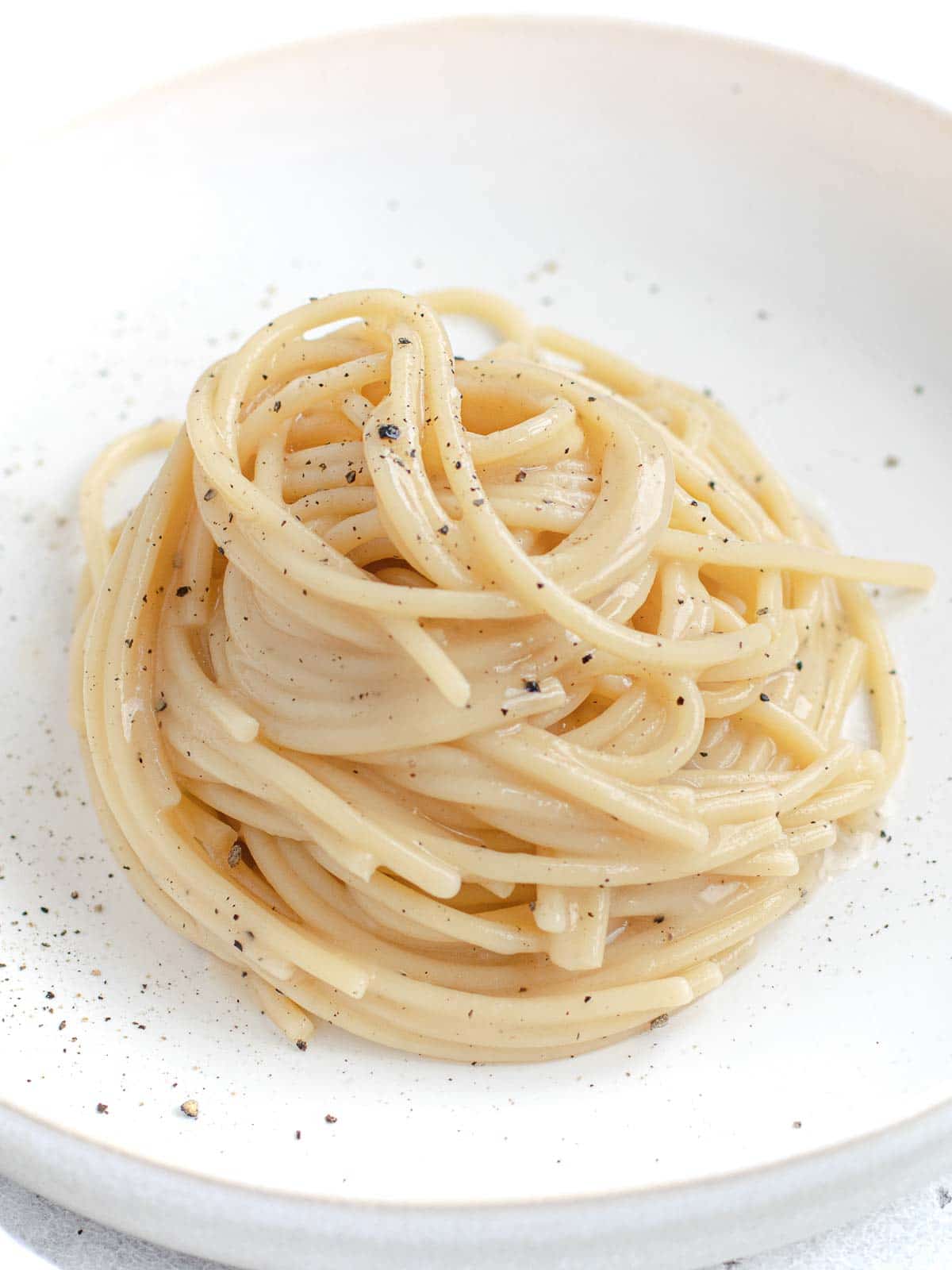 Tofu meatballs with Marinara Sauce
Yes, with our tofu meatballs you can have meatballs without the meat. This recipe is quick and easy to make with very simple ingredients. It's cozy, incredibly tasty, and satisfying.
Tofu pasta (Bolognese version)
Tofu pasta is a delicious vegan recipe with tasty crumbled tofu and a rich tomato sauce. This is essentially a tofu bolognese that you can put together for a quick, easy, and nutritious meal in less than 30 mins.
Artichoke pasta bake
We make this pasta bake endlessly creamy with vegan white sauce, parmesan and ricotta. Vegans and non-vegans alike will love this scrumptious meal.
Rigatoni Arrabbiata
Rigatoni Arrabbiata is an Italian pasta dish with a spicy tomato sauce. This is a simple yet tasty recipe that you can make in just about 20 minutes with simple pantry ingredients.
Chickpea pasta salad
This chickpea pasta salad is a quick and healthy recipe made with fresh and nutritious ingredients in less than 20 minutes. It's made with whole plant-based protein and it's fulfilling and perfect as a quick vegan lunch.
Vegan pasta salad with lemon vinaigrette
This easy vegan pasta salad recipe is quick to make, refreshing, and seasoned with a delicious lemon-mustard vinaigrette dressing.
Trofie Pasta with Basil Pesto
Homemade trofie with vegan basil pesto is our take on a traditional Italian dish made for centuries on the Ligurian Riviera in Genova. We show you how to make trofie at home with just two ingredients.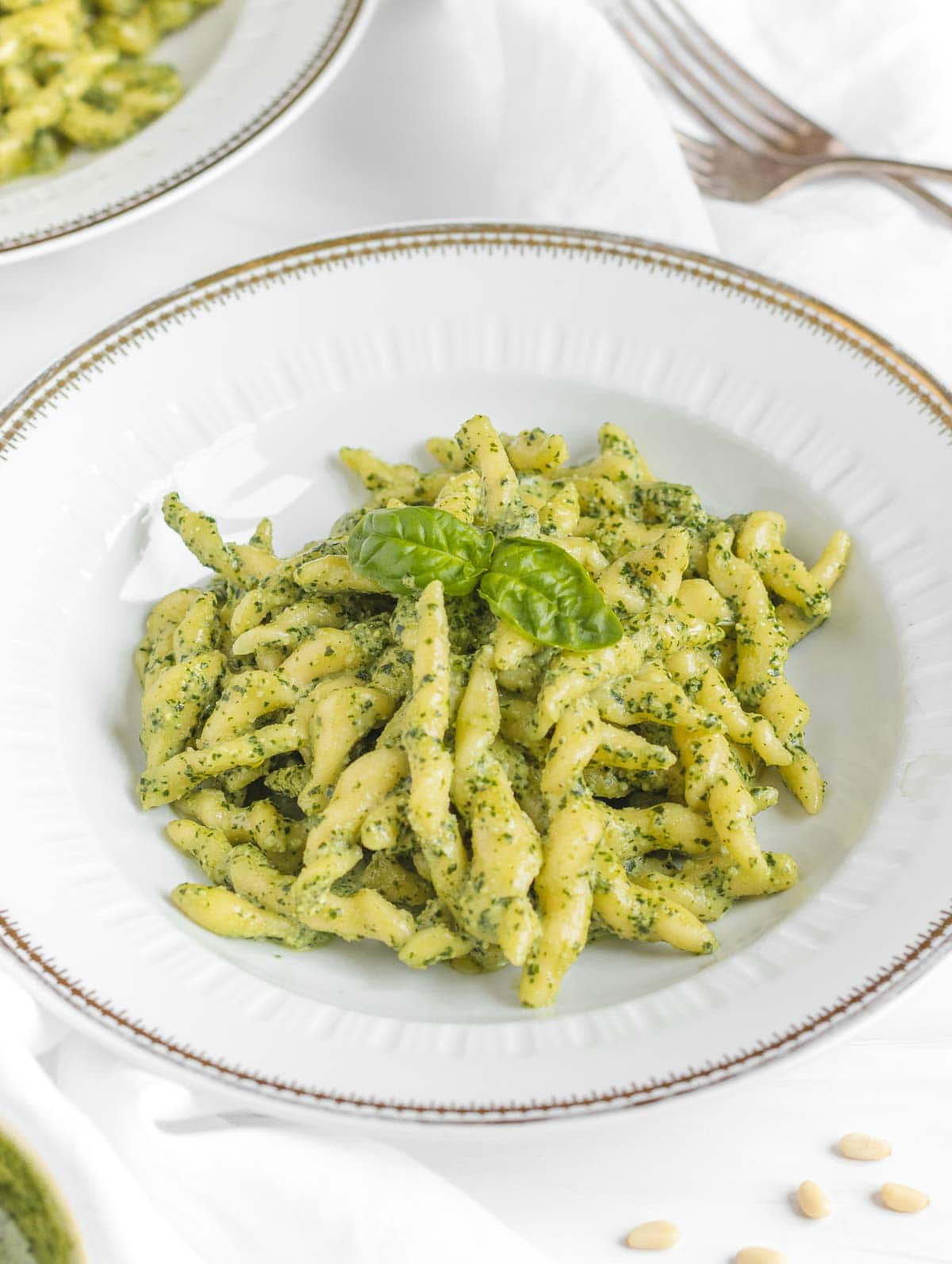 Orecchiette with broccoli rabe
Orecchiette with broccoli rabe is a traditional Italian recipe from Apulia. Homemade orecchiette is easy to prepare, with two simple ingredients.
MORE VEGAN CREAMY PASTA RECIPES:
Vegan gnocchi (technically not pasta, but a dumpling - we thought it still deserved a spot here)
WHAT TO SERVE WITH PASTA
These easy pasta meals go well with bread, salads, and vegetable side dishes. Take your pick here for some inspiration:
We would also highly recommend trying our vegan parmesan topping and use as a sprinkle on your pasta. Or crumble vegan ricotta on top for added creaminess and texture.
If you liked these pasta recipes, make sure to leave a comment and a star rating below. Feedback helps us improve our recipes, and help other people too.
For many more pasta ideas, check out our pasta category page.
BEST Vegan Pasta Recipes
Wondering which pasta recipe to cook next? We've got you covered with these 40 vegan pasta meals! Find your favorite by browsing through this list, and take your pick: creamy, saucy, veggie-packed, fulfilling, and ready in just 20 mins. Hopefully, you get as excited about pasta as we are - and get inspired to cook pasta in new ways!
Ingredients
Check each individual pasta recipe for ingredients required.
Instructions
How to store: Keep these pasta meals stored in the refrigerator, ideally in an airtight container, for up to 3 days.

How to reheat: Warm it up on the stovetop or in the microwave. Before serving garnish with fresh herbs.

How to freeze: You can also freeze the meals for up to 3 months. To freeze, let it cool down first, then transfer them to a freezer-friendly container, leaving some space to allow it to expand. Thaw in the microwave or in a pot on the stovetop. Before serving, garnish with fresh herbs, and optionally a drizzle of olive oil.
Did you like this recipe?
Leave us a comment below or follow us on Facebook, Instagram, or Pinterest. It would mean the world to us 🙂