Couscous is an easy dish that you can serve hot or cold, as a starter or as a side to a meal, added to soups, salads, and stews.

Here we'll show you how to cook couscous in a bowl, with hot water, in just 5 minutes.
On this page:
Check out our best vegan salad recipe collection!
What is couscous?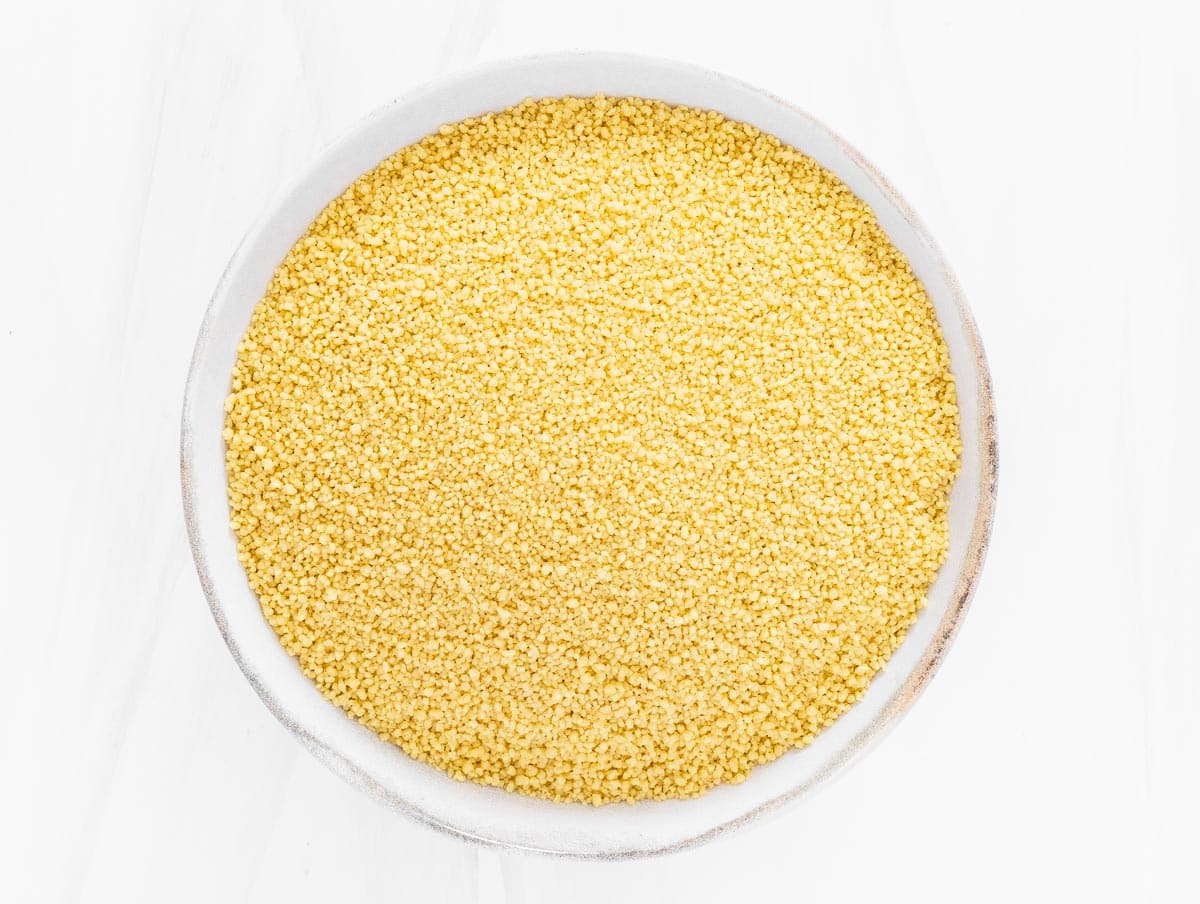 Couscous is a North African dish and staple food of Morocco, Algeria, Tunisia, Mauritania, and Libya and it is also very popular in France and Italy, and especially Sicily.

It's made with durum wheat semolina, the same ingredient used to make most dry pasta. It has a small granular shape and you can either buy it raw or pre-steamed and dried.

When cooked, it's light and fluffy and it goes perfectly with vegetables, stews, or as a side dish instead of bread.

Here we'll show you how to cook pre-steamed and dried Moroccan couscous, as this is the one you can find in most U.S, European, and western supermarkets.

Pre-steamed couscous is one of the best, healthiest, quick meals because all that you need to cook it is to add hot water to it and let it rehydrate for a few minutes before serving it with salads, soups, or stews.
Couscous has been consumed by humans for millennia, and it is so important in the culture and traditions of Algeria, Mauritania, Morocco, and Tunisia that they received recognition as an Intangible Cultural Heritage of Humanity by UNESCO.
What is Israeli Couscous?
Despite the name, Israeli Couscous - sometimes sold as pearl couscous - is not a type of couscous, but rather tiny balls of toasted pasta made with semolina flour. In Israel, it's called Ptitim.
Ingredients and substitutions
Couscous: the one you find in most western supermarkets that takes 5 minutes to cook. It looks like small granules of pasta (not the pearl variety which you can sometimes find in U.S. supermarkets). You can use regular or whole-wheat couscous.

Water: hot water, almost boiling. For a richer and fuller flavor, you can replace water with vegetable stock.

Salt: it's good practice to add some salt to make the dish a little tastier.

Olive oil: extra virgin olive oil is commonly used. To spice things up you could use a lemon vinaigrette instead. Make it with lemon zest, lemon juice, chopped parsley, grated garlic, black pepper, and extra virgin olive oil.
Instructions
How much should I make?
Once you learn how to cook couscous you'll want to make it all the time because it's such an easy, versatile and healthy meal.

I usually make 1 cup or about 200 grams. That serves between 4 to 6 people, mostly depending on the type of sauce or stew you serve it with. In general, consider ¼ cup or 50 grams of couscous to serve 1 person.

You'll need 1 part of water for 1 part of couscous. So if you are making one cup of couscous you'll need one cup of water. If you are making half a cup you'll need half a cup of water.

If you don't have measuring cups at hand you can use any other cup, mug, ladle, or glass. What's important is that you use the same container to measure the couscous and the water.
Make it in a bowl
Start by boiling the water. I use a kettle to boil the water and boil a little more than necessary, as some of the water will evaporate. If you don't have a kettle you can certainly use a pot and boil the water on the stovetop.

While the water boils, prepare a large mixing bowl and a fork. Add the couscous to the mixing bowl.

Season with half a teaspoon of salt, ideally before adding the water. I find that the salt is distributed more evenly this way. I also like to add a few twists of peppers. But that's entirely optional.

When the water boils, turn off the kettle, wait a few seconds until it stops boiling, and pour it into the bowl over the couscous. The water needs to be very hot, but not boiling.

Give it a quick stir so that it's completely covered by the water. Then cover the bowl with a lid or with a plate to trap the steam in the bowl. Set aside for 5 minutes.

After 5 minutes the couscous will have absorbed all the water, the granules should be puffy now, and all stuck together.
Fluff it up with a fork
All you have to do now is to fluff it up with a fork to separate the granules from each other. To do that gently scrape the couscous with the tips of a fork until all the granules and lumps are separated from each other and it becomes soft and fluffy.

Now add extra virgin olive oil, 1 to 2 tablespoons, then fluff it up again with the fork. And that's it, in less than 10 minutes you have a delicious dish that you can serve instead of pasta, rice, or even bread next to stews, soups, or to mix in salads.
Variation
To make couscous a little more interesting, instead of adding the olive oil try adding lemon vinaigrette with herbs.

To make the vinaigrette grate the zest of an organic lemon and add it to a small bowl. Add in two tablespoons of lemon juice, 3 tablespoons of extra virgin olive oil, a pinch of salt, and whisk well till the ingredients are emulsified together. Now add a handful of finely chopped parsley, optionally you can add some chopped mint too.
Add the lemon vinaigrette and stir well with a fork until well combined. Transfer to a serving bowl and serve. You can top it with some toasted pine nuts, chopped or slivered almonds, or walnuts if you like.
Serving suggestions
Couscous is extremely versatile, and like grains and pastas, it can be served on many occasions. From buffet and starters in small bowls on a serving platter to make-ahead lunches and easy healthy dinners with stews and veggies. It definitely qualifies as a top pantry staple.

If you love something light and refreshing try our couscous salad with lemon herb vinaigrette. It's so easy, crunchy, healthy, and ready in just about 15 minutes.

For a richer meal, try Mediterranean couscous with vegetables. All you need is your favorite veggies (ours are zucchini, eggplant, bell peppers, peas, and tomatoes) cook them on a pan, then mix them with the couscous. You can eat this one warm, or cold, up to a few days after.

If you are looking for an easy dinner then try it with one-pot chickpea stew, with deliciously aromatic lentil curry, or with our easy but rich Italian bean stew.

You can also serve it instead of bread with our tofu with pizzaiola sauce, pan-fried tofu with mushrooms, tofu cacciatore, baked tofu with lemon, olives, and tomatoes, pan-fried tofu with lemon, or even with seitan steaks.

Use it to stuff roasted bell peppers, or as a side with roasted Brussels sprouts, Sicilian caponata, or with a simple tomato, onion, cucumber salad with tzatziki or hummus on top. So simple, yet so incredibly delicious and fulfilling.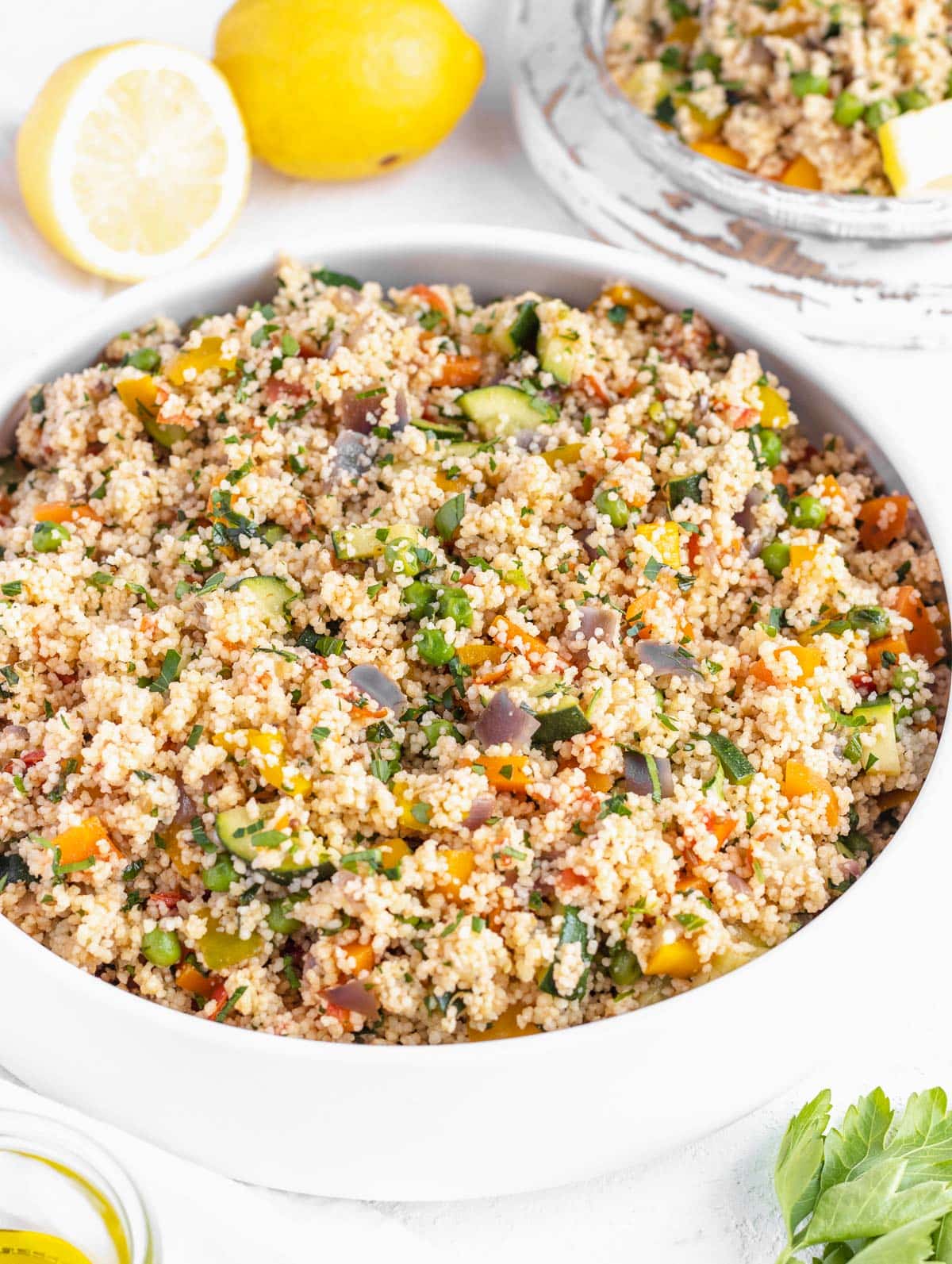 Tip
Do not cook the couscous on the stovetop directly in a pot with boiling water. This way it will overcook and turn into mushy clumps of semolina flour.

It is best to place it into a mixing bowl and pour hot liquid - water or vegetable broth - over it.
Get ahead
Couscous is the ideal make-ahead dish as most recipes can be made in advance, for meal prep, and kept in the fridge for several days.

Many of these recipes taste even better a few hours after they are made as the couscous will absorb the flavor of the condiments - like veggies for instance. Two particularly good make-ahead recipes are our vegan couscous salad and couscous with veggies. They are perfect for lunch, dinner, and to bring to parties and picnics.
Is couscous healthy?
Yes. We consider it a healthy food as it has virtually no fat or cholesterol, a good amount of plant-based protein, plenty of good carbs to keep you going for a long time, and dietary fiber. For an even healthier option, try the whole-wheat variety, which contains even more dietary fiber.
Couscous Nutrition Information
Nutritional values are for 1 cup (4 servings) of couscous cooked just with water and no salt, seasoning, or fat. Data from the U.S. Department of Agricolture.
Calories: 176
Fat: 0g
Sodium: 8mg
Carbohydrates: 36g
Fiber: 2g
Sugars: 0g
Protein: 6g
From a nutritional point of view, it makes sense to serve it with legumes such as chickpeas, lentils, beans, and legumes derivatives such as tofu (tofu is made with soy, which is a legume), although that's not strictly necessary in a single meal.

What is certain is that eating couscous with a variety of legumes and vegetables will provide you with plenty of perfectly good protein just like the one from meat - but without the collateral damage of eating meat to your health and the environment.

Couscous contains gluten and it is not suitable for people with celiac disease on a gluten-free diet.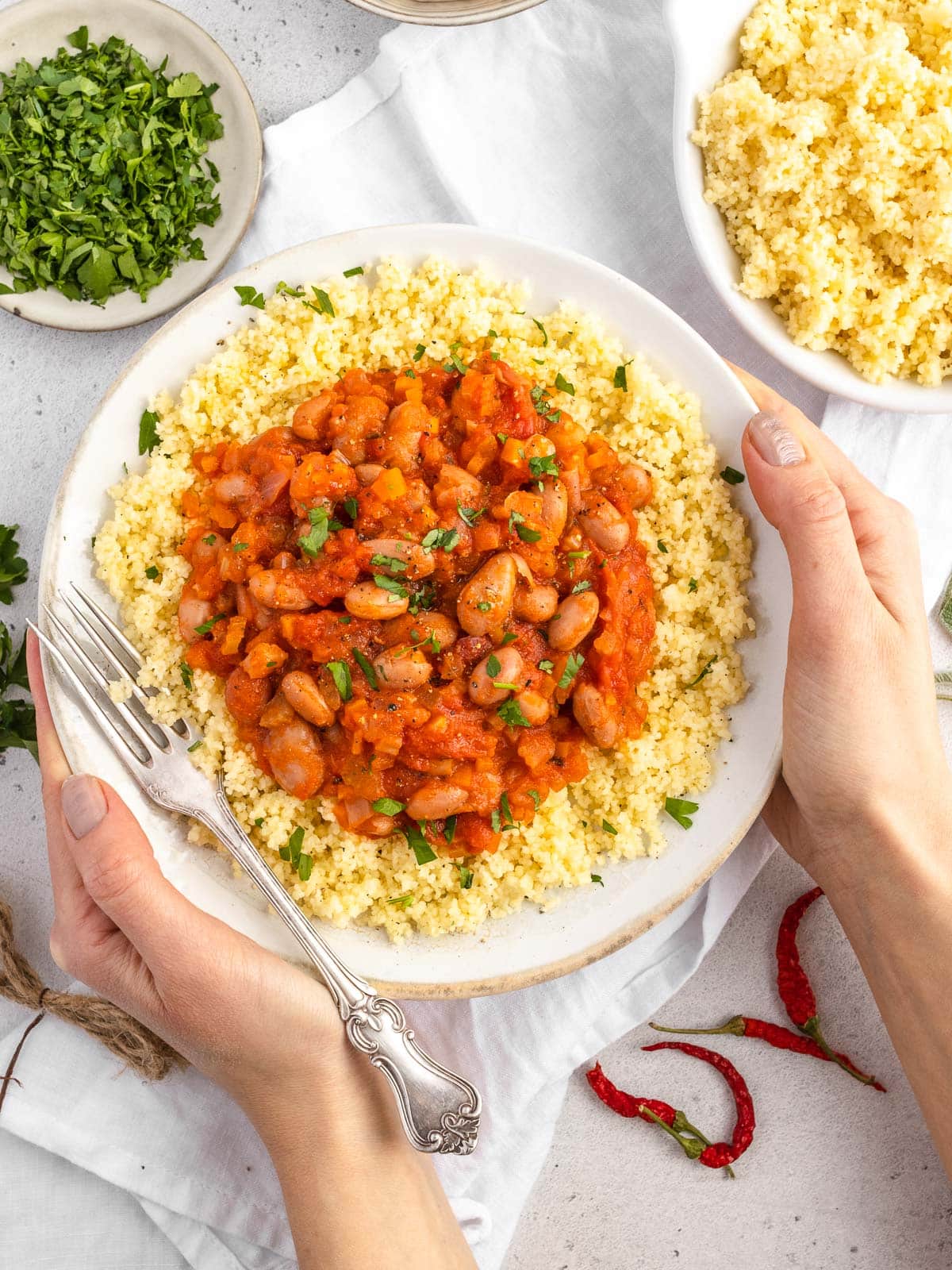 Questions
Is couscous a grain or pasta?
Couscous is just couscous. Since it's made with a grain called durum wheat and water it is more like pasta than a grain.
How is couscous made?
Couscous is traditionally made by hand, by spraying water onto durum wheat semolina, then rubbing it with hands and sifting excess flour away, and drying it. This method has been recognized by UNESCO as an Intangible Cultural Heritage of Humanity.

Nowadays, most couscous found in western supermarkets is machine-made.
How to pronounce couscous?
There are many ways to pronounce couscous depending on the country. In English, it's pronounced "koo·skoos".
What is the ratio of water to couscous?
1 to 1
How much water do I need for a cup of dry couscous?
You'll need 1 cup of water for 1 cup of dry couscous.
Do you have to boil couscous?
No. It should never be boiled. Hot liquid - either water or vegetable stock - should be poured over the couscous.
How much couscous per person?
Serve ¼ cup or 50 grams of dry couscous per person.
Storage
Storebought dry couscous keeps well in a dry corner of your pantry for up to 1 year.

Cooked couscous keeps well in an airtight container in the fridge for up to a week. Reheat in the microwave or leave at room temperature for an hour before serving. Alternatively, you can mix it with a hot stew or veggies.

You can also freeze it. To do that, spread it over a large tray. Freeze the tray for a couple of hours, then when the couscous is hard frozen, transfer it to a freezing bag and freeze for up to 3 months.
For many more side dishes ideas, check out our sides category page.
Recipe
How to Cook Couscous (in 5 minutes)
Couscous is an easy dish that can be served hot or cold, as a starter or as a side to a meal, added to soups, salads and stews. Here we'll show you how to cook couscous in a bowl, with hot water, in just 5 minutes.
Ingredients
Plain Couscous
1

cup

couscous

1

cup

water

hot, almost boiling

½

teaspoon

salt

1

tablespoon

olive oil

extra virgin
Lemon Herb Vinaigrette Couscous
1

teaspoon

lemon zest

2

tablespoons

lemon juice

3

tablespoons

olive oil

extra virgin

4

tablespoons

parsley

freshly chopped

½

teaspoon

salt

1

clove

garlic

grated, optional
Instructions
Add the couscous and salt to a mixing bowl, boil the water, and add it to the couscous. Give it a quick stir so that the water covers the couscous. Cover the bowl with a lid and set aside for 5 minutes.

After 5 minutes, when the water has been fully absorbed, fluff up the couscous with a fork, scraping with the tips of the fork until all lumps are gone and the couscous is soft and fluffy.

Add the olive oil or the lemon herb vinaigrette, then mix and fluff it up again with a fork till the ingredients are well combined. Serve as a side dish to stews, soups and salads, or use it to make other recipes. See our serving suggestions chapter above for more ideas.
For the Lemon Vinaigrette
Grate the zest of a lemon and add it to a small bowl. Add in the lemon juice, extra virgin olive oil, salt, pepper and whisk well till the ingredients are emulsified together. Now add the finely chopped parsley and grated garlic (optional) and mix. If you like can add some chopped mint too.
Notes
Nutritional values are for one portion out of four of plain couscous with olive oil.
Nutritional Values
Nutrition Facts
How to Cook Couscous (in 5 minutes)
Amount per Serving
% Daily Value*
* Percent Daily Values are based on a 2000 calorie diet.
Did you like this recipe?
Leave us a comment below or find us on Instagram, YouTube, Pinterest, TikTok, and Facebook.
If you liked this recipe, you might also like: