Get fresh and healthy veggie inspiration from these 25 easy vegetable recipes with plenty of tips for cooking, serving, and storing the best way.
Whether it's winter, spring, summer, or fall, we provide seasonal and delicious vegetable ideas that will easily upgrade your next meal. Take your pick from sauteed, steamed, roasted, shaved, braised, and caramelized veggies, they will please even the pickiest of eaters!
Autumn and winter vegetable recipes
Warming vegetable recipes that keep you nourished and covered with vitamins and healthy fiber.
We start this easy vegetable list with a family-friendly meal: roasted vegetables which is a hands-off one-tray dish. Make it in just 30 minutes with simple seasonal ingredients and serve it as a colorful addition to your favorite dinner.
You will love these roasted carrots as it's an easy method to turn carrots into a unique side dish. Add your favorite condiments, such as chimichurri dressing or tahini sauce, and dress up your carrots to become a beautiful and flavorful side.
If you have people over or want to make a special dinner for your family, you've got to drizzle these roasted Brussels sprouts with our mustard-maple syrup dressing!
The dressing coats and penetrates the crevices of the oven-roasted Brussels sprouts with sweet, tangy, acidic, and slightly spicy notes. It's a luxurious yet easy-to-make vegetable side!
Tender soft and buttery smooth! This recipe for braised artichokes is an Italian appetizer of braised artichokes that are simmered in a pot with water, olive oil, and herbs. Serve this vegetable starter with toasted bread, vegan mayonnaise (optionally), and fresh mint leaves.
Here's how to make perfect sauteed mushrooms on the stovetop, with a few simple ingredients, in about 15 minutes. You can use most varieties for this recipe, we use white button mushrooms and portobello mushrooms, which are widely available in most supermarkets.
Kale chips are oven-baked pieces of kale that turn out crisp, thanks to a low baking temperature and a tiny bit of oil to spread the heat evenly. You can make kale chips with small pieces of curly kale or dinosaur kale or use whole kale leaves for a grandiose and elegant vegetable snack.
Microwave sweet potato is one of the easiest meals you'll ever make and by far the easiest and fastest way of cooking sweet potato. You can enjoy this vegetable-rich meal for lunch, and dinner, as a side dish, main dish, and even as a healthy dessert with cinnamon and maple syrup.
This shaved salad is the perfect side dish for the fall and winter seasons when Brussels sprouts are readily available. It has a crunchy texture, a refreshing and light feel, and it's packed with flavor. It's highly nutritious, fibrous, and pairs well with many of our plant-based meals.
With only five ingredients, we find this to be the best mashed potatoes recipe we've tested. We took inspiration from my Italian grandma's recipe book; this mash has been a family favorite for generations. You'll love it because it's easy to make, light, and a creamy way to eat vegetables.
Our cauliflower rice recipe is cauliflower grated with a box grater or processed in a food processor, then lightly cooked on the stove and served as if it were regular rice. If you are looking for a low-calorie, low-carb, and high antioxidants alternative to regular rice or bread, you might want to give this recipe a shot.
The most crucial step to make perfectly cooked roasted potatoes is to blanch them in boiling water, then roast them in the oven at a high temperature. These potatoes are perfect as an appetizer or side dish; we eat these a lot as a healthier alternative to french fries.
Oven-roasted butternut squash has a pleasant, naturally sweet, and nutty taste; it's tender and melts in your mouth. We show you how to do it savory and sweet, and use the roasted vegetable for salads and soups too.
You can serve sautéed green beans as a side dish on most occasions, from Thanksgiving and Christmas to summer night dinners. The best thing about this vegetable recipe is that it's so easy to make and great for a healthy and delicious weeknight dinner.
Spring and summer vegetable recipes
Zucchini, eggplant, tomatoes, asparagus, and bell peppers. The list goes on once spring arrives and the markets are stocked with seasonal produce. Try these easy yet incredibly tasty vegetable ideas with grilling, sauteeing, steaming, and raw serving methods.
These air fryer zucchini bits are tender-crisp, chunky zucchini wedges that are a pleasure to bite into. Each air-fried zucchini piece is a little charred on the outside, but still perfectly juicy and "meaty" on the inside.
Asparagus is one of our favorite vegetables to steam. Their flavor blossoms and they get tender and juicy. You can serve steamed asparagus as they are, with a pinch of salt, a twist of freshly ground black pepper, and a squeeze of lemon.
This raw zucchini salad will exceed your expectations because it's delicious, refreshing, and easy to make. We use a vegetable peeler to slice the zucchini thinly. It's easy, and it takes less than 5 minutes.
Oven roasting is a simple, clean, and healthy way to make smokey and juicy roasted peppers. Roasting improves flavor, helps maximize the absorption of certain nutrients like vitamin A, and makes the peppers more digestible. We marinade the roasted bell peppers in an Italian sauce to help them vegetable shine and taste incredible.
The secret to the healthiest and tastiest grilled zucchini? Don't put any oil on the veggies before grilling them. These tender and juicy grilled zucchini are perfect for summer BBQs and family dinners, perfectly charred and vibrant green!
It's easy to make sauteed eggplant on the stovetop in just 20 minutes, and it's great as a last-minute dinner because you can serve it on its own as a side dish, on top of toasted bread, or use it as a delicious pasta sauce.
Here we'll share with your our favorite roasted eggplant recipe. One you can make in about 30 minutes, with very simple ingredients, and enjoy as a side dish or use to make other delicious recipes, such as pasta, salads, and grain bowls.
Tomato and onion salad is refreshing, easy to put together, and perfect to cool you down during those scorching summer months. Serve it with crusty bread to soak up all the flavorful tomato juices for a simple light lunch or as a side dish.
All you've got to do to make it is blend ripe avocado, tahini, fresh lemon juice, salt, black pepper, and garlic in a food processor. Spread this delicious avo spread on fresh bread or crunchy crostini, use it for avocado toast and wraps, and add it to sandwiches, or roasted eggplant boats.
The crisp, sweet, and juicy watermelon is meant to be combined with creamy, savory feta cheese. The tanginess and saltiness of the Feta highlight the crisp and sweet nature of the summer fruit. The flavors meld together so perfectly, it's a great vegetable side for a summer night gettogether.
Caponata is a traditional Sicilian dish usually served as a starter or a side dish. In essence, caponata is an eggplant (aubergine) salad or a quick eggplant stew that you can eat warm or at room temperature. It's a wonderful way to eat more veggies, and it stores well in the fridge for days.
How to make vegetables more interesting
If you're looking to add more flavor to your vegetables, we recommend using fresh herbs, spices, and condiments. For cooked vegetables, dry drizzle with a green sauce, such as:
You can also always experiment with dips or a side of marinara sauce, ketchup, and mayonnaise.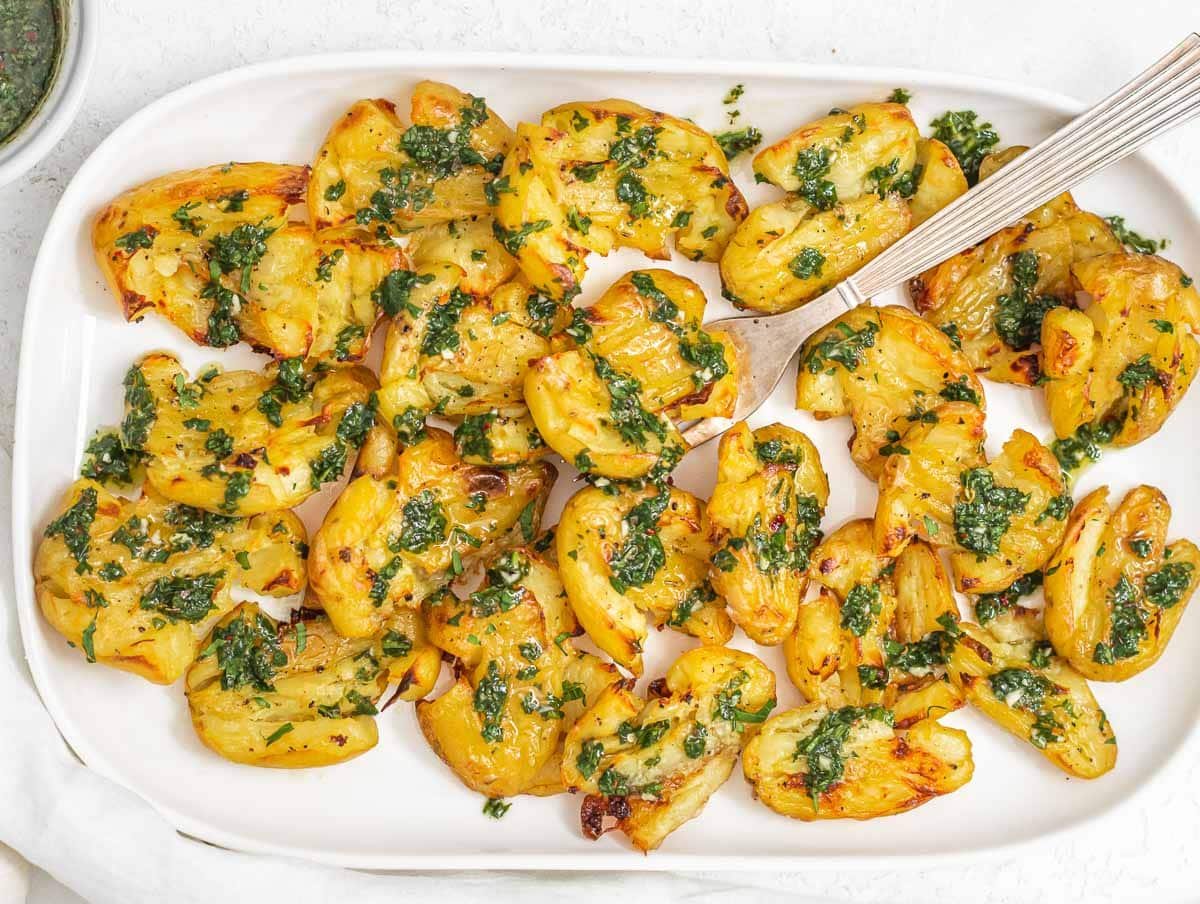 How to store these vegetable recipes
Store leftovers in an air-tight container in the refrigerator for up to 48 hours.
Reheat them in a preheated oven at 360°F or 180°C for 10 minutes or in the microwave.
Alternatively, you can reheat the vegetables on a nonstick pan with a drizzle of olive oil.
For many more side dish ideas, check out our sides category page.
Recipe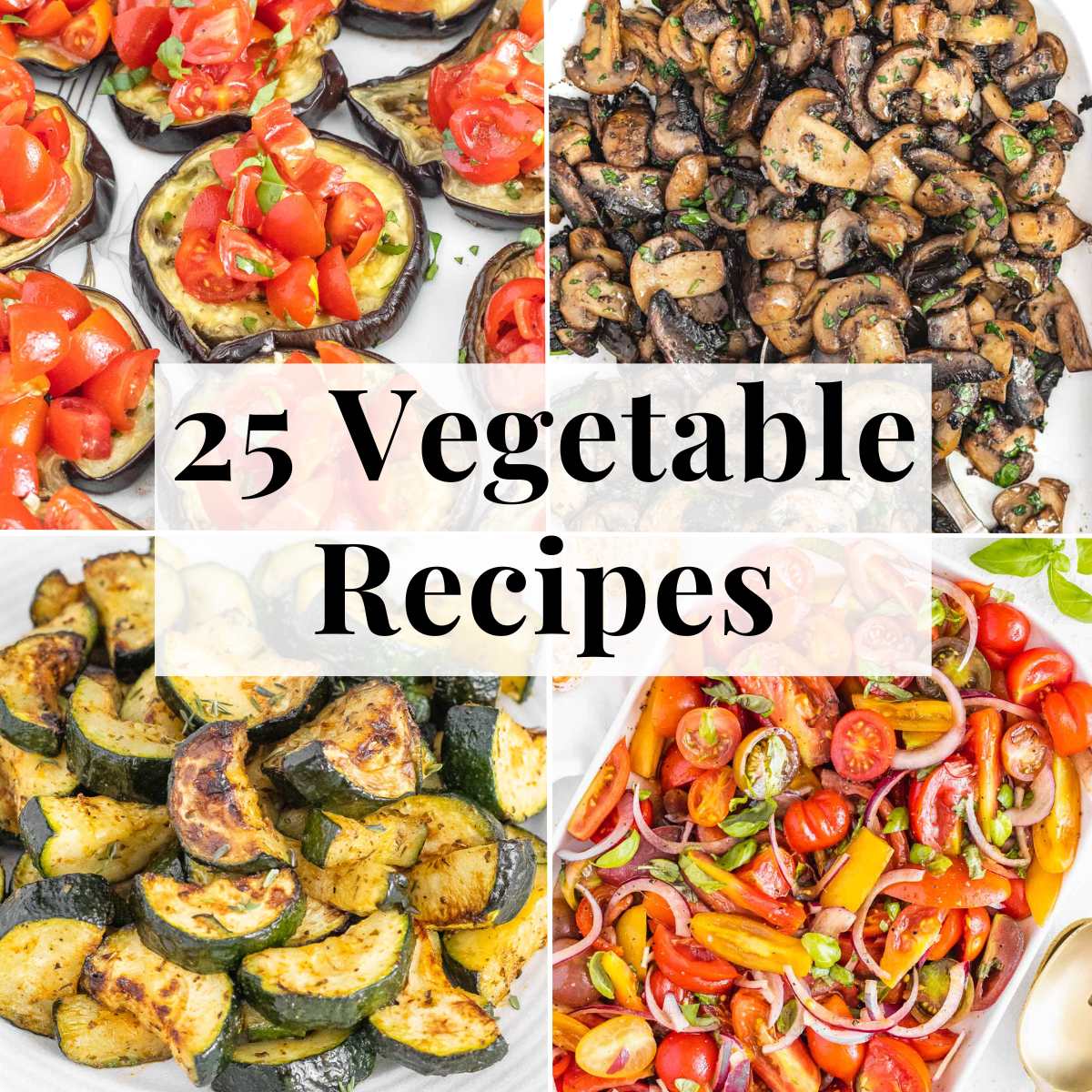 25 Easy Vegetable Recipes
Roasted vegetables are colorful, tasty, tender, and aromatic, perfect as an all-year side dish.Follow our roasted veggie mix recommendations or make this recipe yours by picking your favorite seasonal vegetables; we'll show you how.
Ingredients
2

cups

cauliflower

cut in small florets

2

cups

mushrooms (white or brown)

cut into fourths

1½

cup

Brussels sprouts

cut in half

1

cup

carrots

cut in 1-inch pieces

1

large

red onion

cut in 1-inch pieces

1

heaping cup

bell pepper

cut in 1-inch pieces

1

sprig

rosemary

3

sprigs

thyme

3

cloves

garlic

crushed

2

tablespoons

extra virgin olive oil

1

teaspoon

salt

4

twists

black pepper
Instructions
Preheat the oven to 400°F or 200°C. Line a baking sheet or sheet pan with parchment paper.Wash and peel the vegetables if necessary. Then, chop them into dice of about the same size.For instance, cut Brussels sprouts in half, cut the cauliflower into small florets, mushrooms, carrot, onion, and yellow pepper into 1-inch pieces.

Add the chopped veggies to a mixing bowl, and toss them with extra virgin olive oil, salt, black pepper, rosemary needles, thyme leaves, and crushed garlic.

Arrange on baking sheet on a single layer.

Bake at 400°F or 200°C for 25 to 30 minutes or until the veggies are golden brown and slightly charred.

Transfer onto a serving platter and serve immediately.

Optionally you can sprinkle with freshly chopped parsley and add a squeeze of lemon juice.
Video Recipe
Roasted carrots in 30 minutes
Notes
Nutrition information is an estimate for 1 portion of roasted veggies out of 6 portions.
Take this recipe as an indication and change up the veggies based on the season and on your preferences.
For best results try to stay between 8 to 9 cups of chopped veggies per standard oven baking sheet. Learn more in the body of this article.
STORAGE: 
Store leftovers in an air-tight container in the refrigerator for up to 48 hours.
Reheat them in a preheated oven at 360°F or 180°C for 10 minutes or in the microwave.
Alternatively, you can reheat the vegetables on a nonstick pan with a drizzle of olive oil.
Nutritional Values
Nutrition Facts
25 Easy Vegetable Recipes
Amount per Serving
% Daily Value*
* Percent Daily Values are based on a 2000 calorie diet.
Did you like this recipe?
Leave us a comment below or find us on Instagram, YouTube, Pinterest, TikTok, and Facebook.
If you liked these easy vegetable recipes, you might also enjoy: