Looking for ideas for easy appetizers that you can make with affordable and few ingredients? These quick and fuss-free appetizers are perfect for festive occasions, holidays, and game nights.

We've selected our 40 best recipes from colorful and healthy starters, and finger foods, to dips and party-friendly canapes. Browse through this list and pick your favorite; they are easy to make, healthy, and with simple ingredients!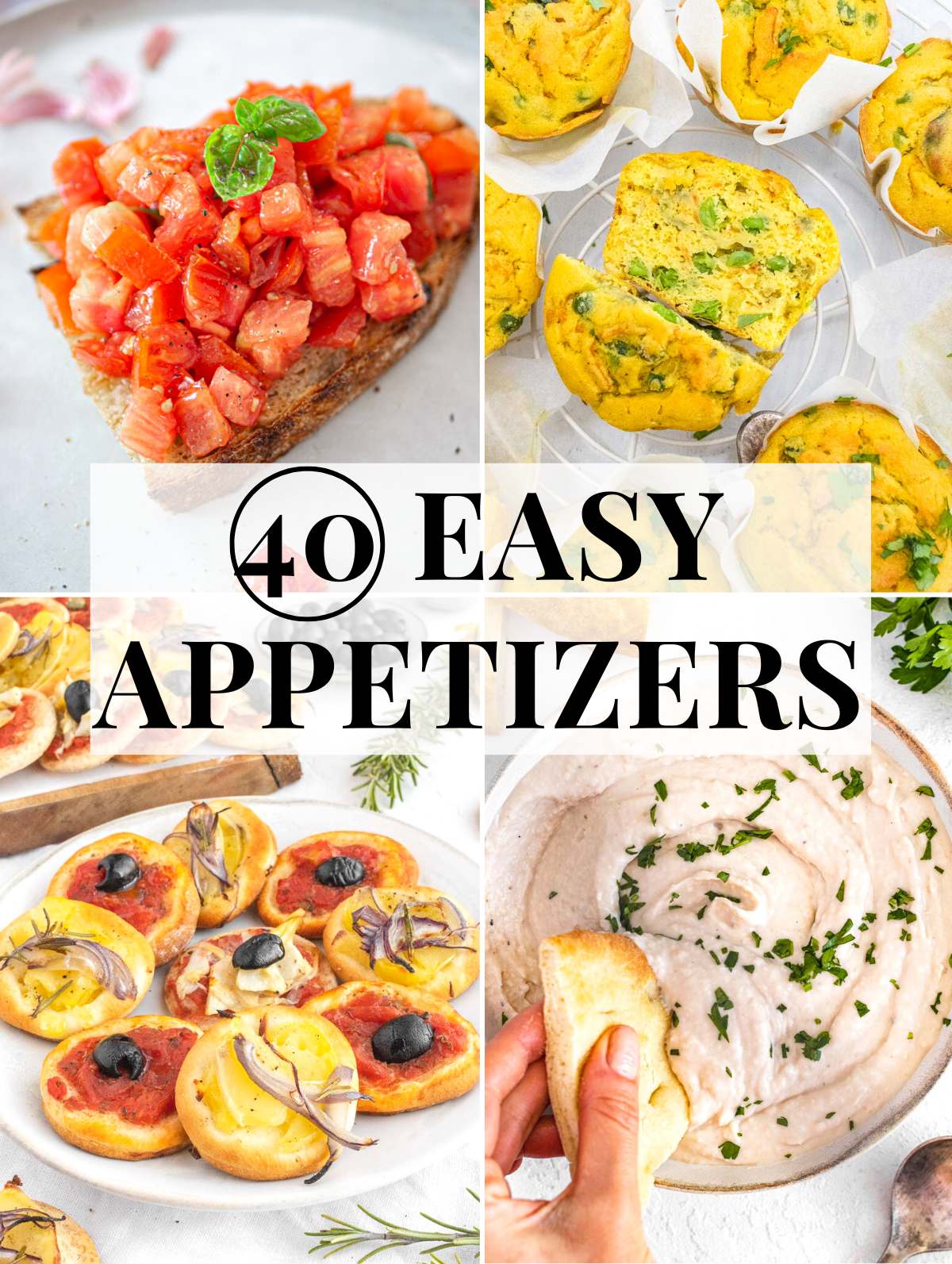 On this page:
Healthy easy appetizers
These appetizers are wholesome and made with a few simple ingredients. Serve them with focaccia or with slices of crunchy toasted bread to sop up potential sauce leftovers - your guests will love them!
1. Confit tomatoes
Tomato confit is the easiest, meltiest, most delicious tomato recipe. Soft, juicy, with loads of flavor and garlic aroma - they are the perfect starter to a slice of focaccia or this chickpea farinata.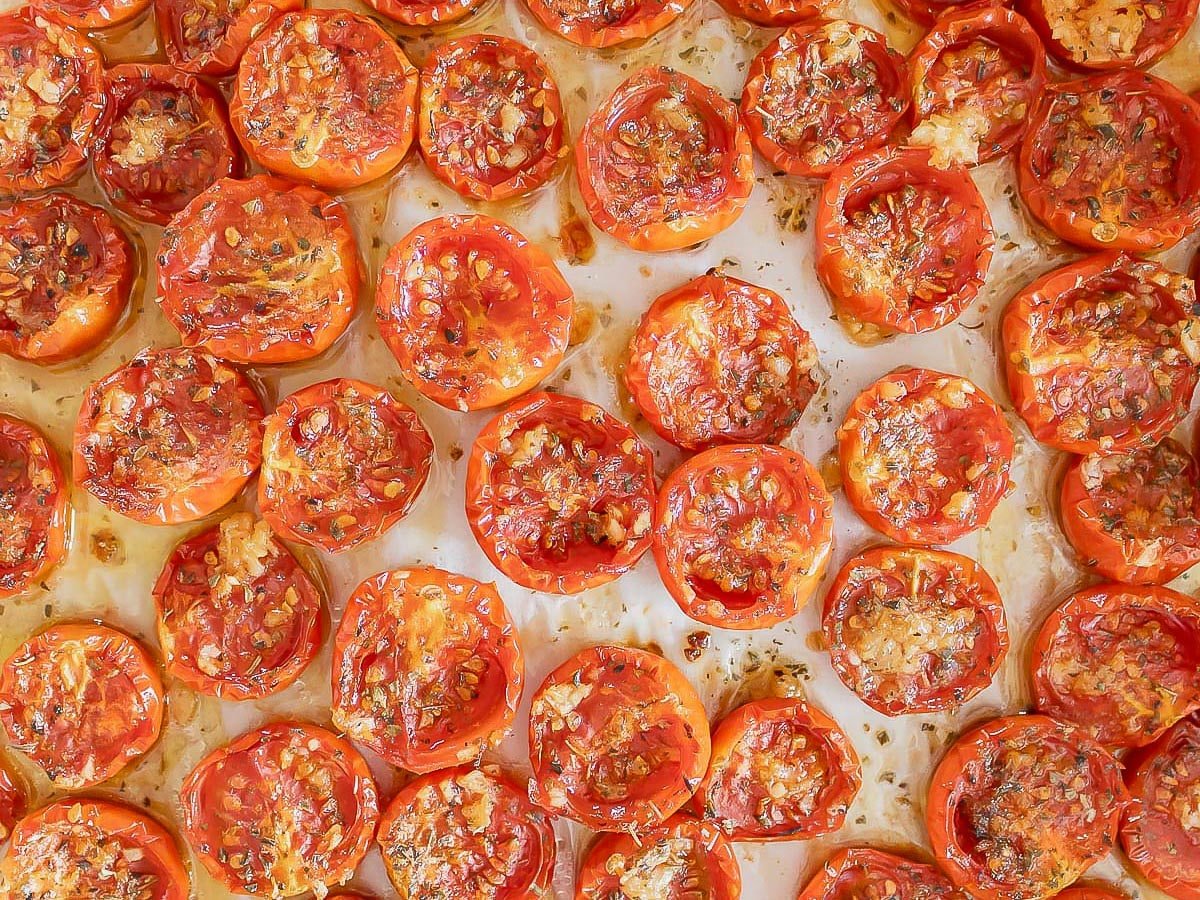 2. Roasted bell peppers
Roasted bell peppers are a delicious recipe that can be served as an antipasto, and is wonderful on bread on top of a layer of this white bean dip.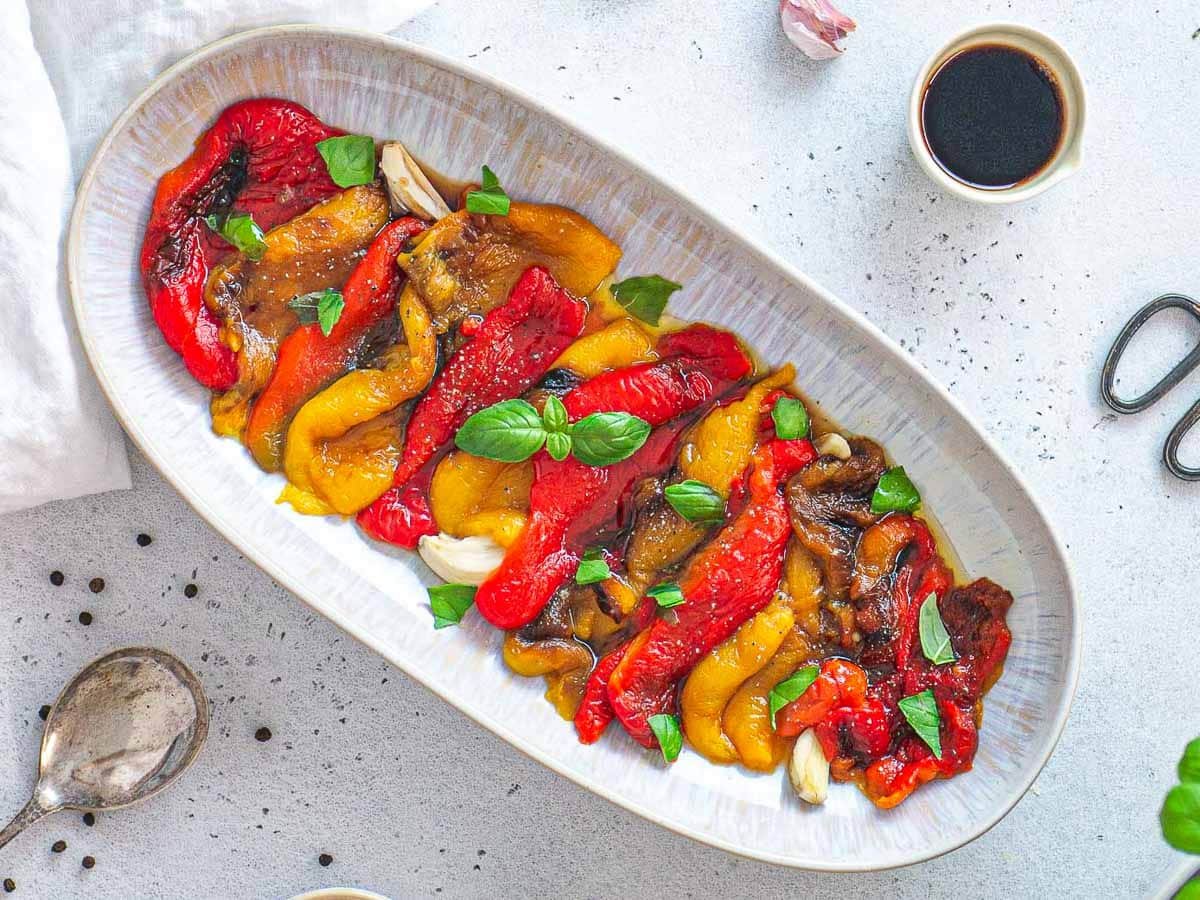 3. Pan-fried artichokes
All you need is a pan and a few simple ingredients to make this delicious artichoke recipe. Serve them on crostini, or dip them in vegan mayonnaise.
4. Steamed artichokes
An even easier artichoke starter! Steamed artichokes are tender, soft and lightly nutty. These also pair incredibly well with Italian salsa verde or chimichurri sauce and freshly chopped parsley.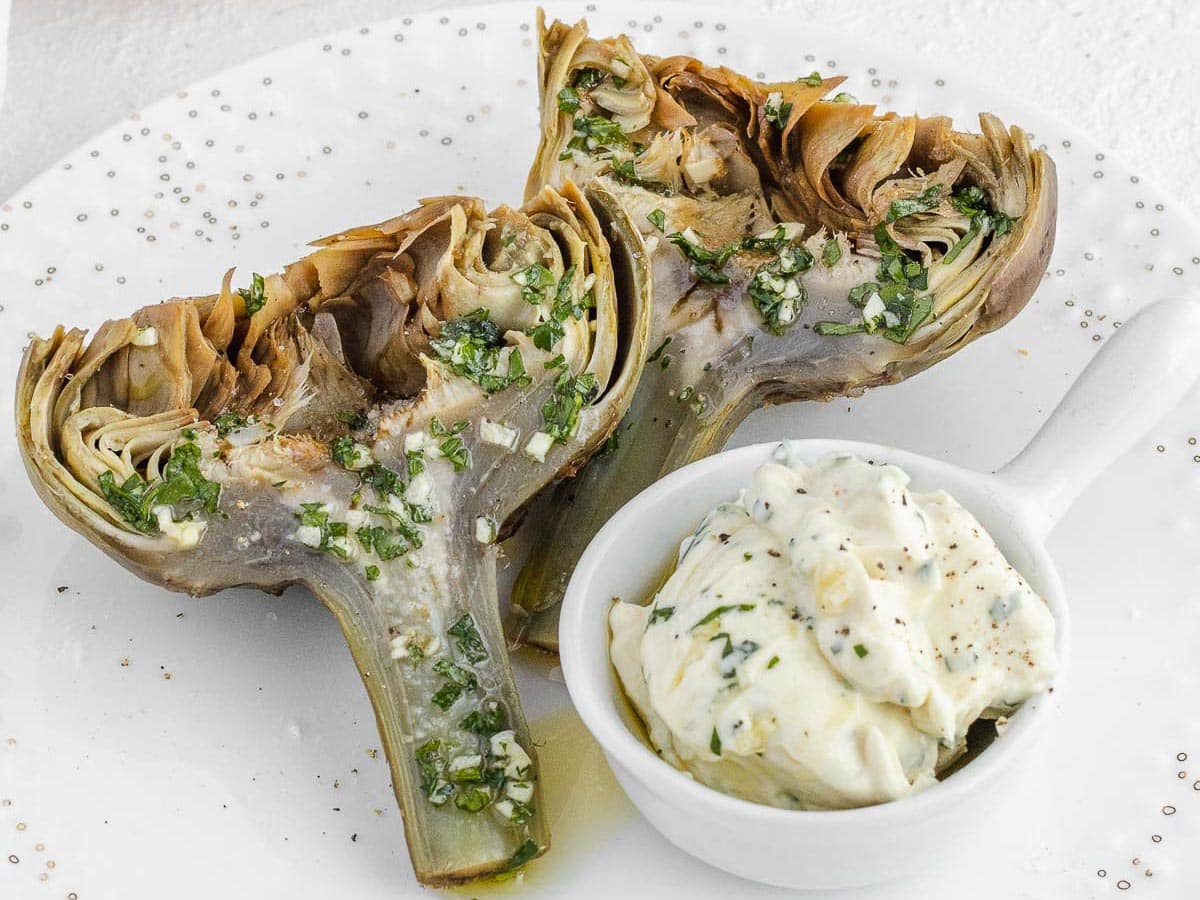 5. Roasted lemon broccoli
Oven-roasted broccoli is so tasty you won't believe it's actual broccoli. Crunchy, lemony, slightly spicy, and with the perfect twist of garlic, they are perfect as antipasti and snacks. Serve with chipotle sauce or tzatziki.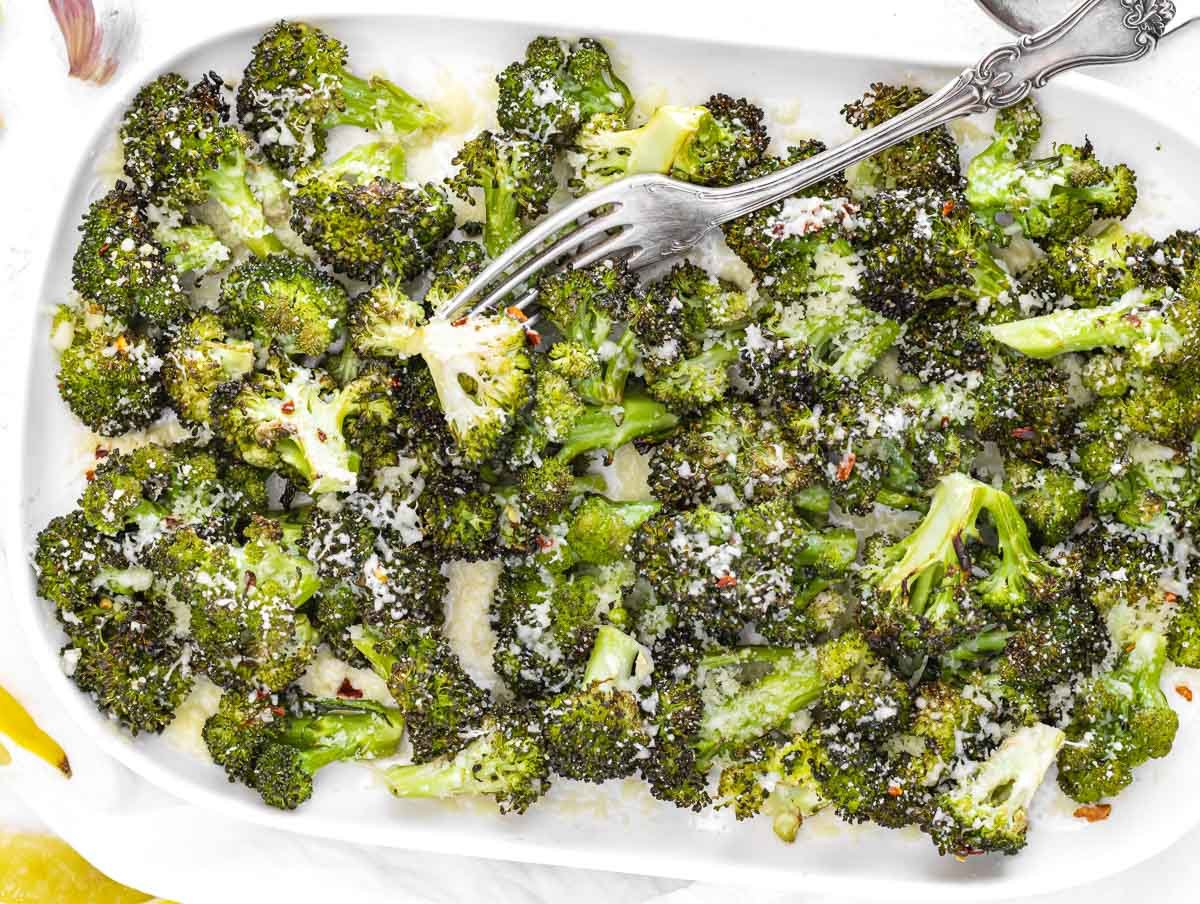 6. Caponata
This eggplant salad has the perfect balance of sweet and sour, it's rich, and made with simple, fresh ingredients. Eat it as a starter, and if you have any leftovers, use it as a side dish for your dinner.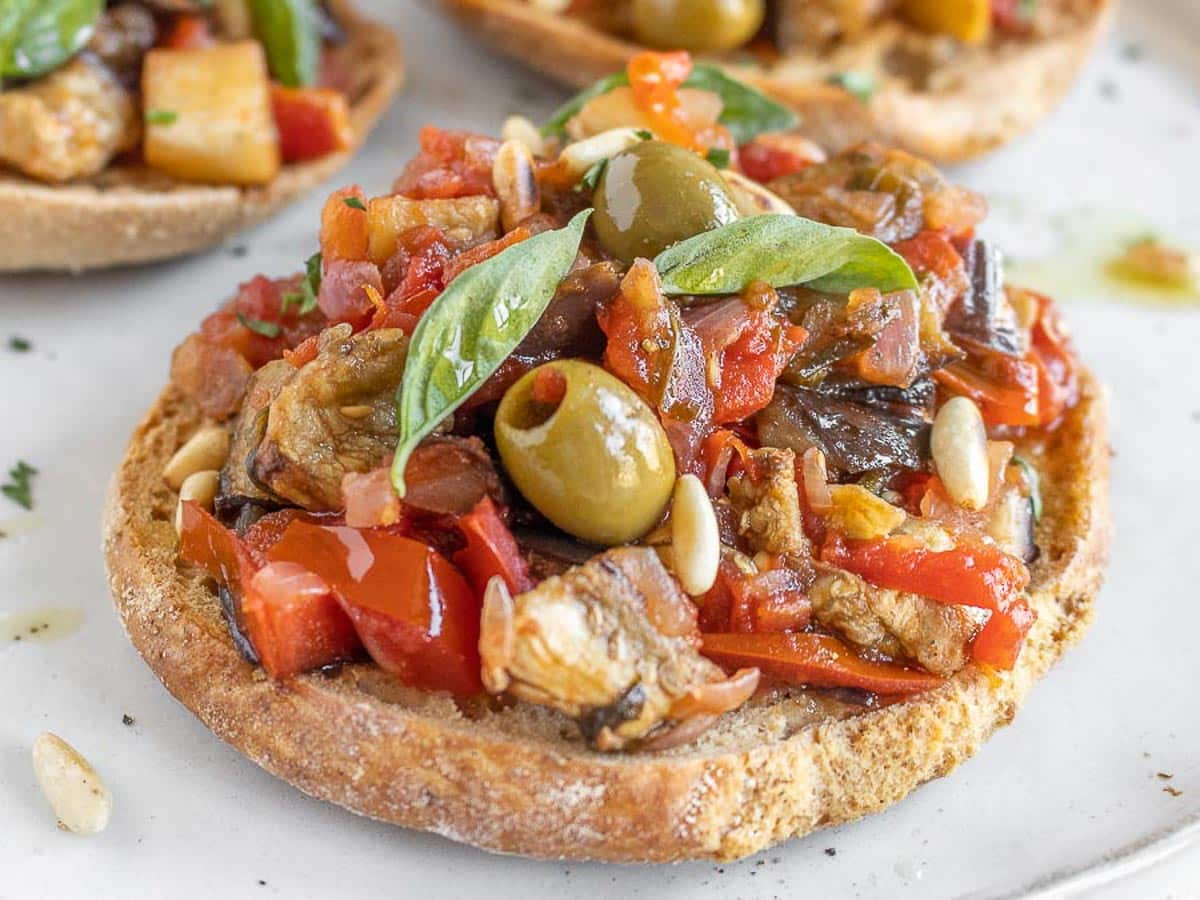 7. Roasted potatoes with rosemary
They are tasty, crunchy on the outside, soft on the inside, and seasoned with olive oil, rosemary, and garlic. These tender and crispy roasted potatoes are a simple and crowd-pleasing plate of potatoes. Dip them in chipotle sauce or vegan mayo and it's the perfect finger food!
8. Easy hummus
Looking for a quick and easy way to make hummus at home from dried or canned chickpeas? This guide will show you how to make an authentic and velvety smooth hummus dip, perfect with bread and fresh veggies!
9. Shaved Brussels sprouts salad
Here's a refreshing and vibrant raw salad with a finger-licking good mustard vinaigrette: shaved Brussels sprouts salad with cranberries and walnuts. It's an elegant and easy appetizer idea that you can make in just 15 minutes, and it's meal-prep-friendly too!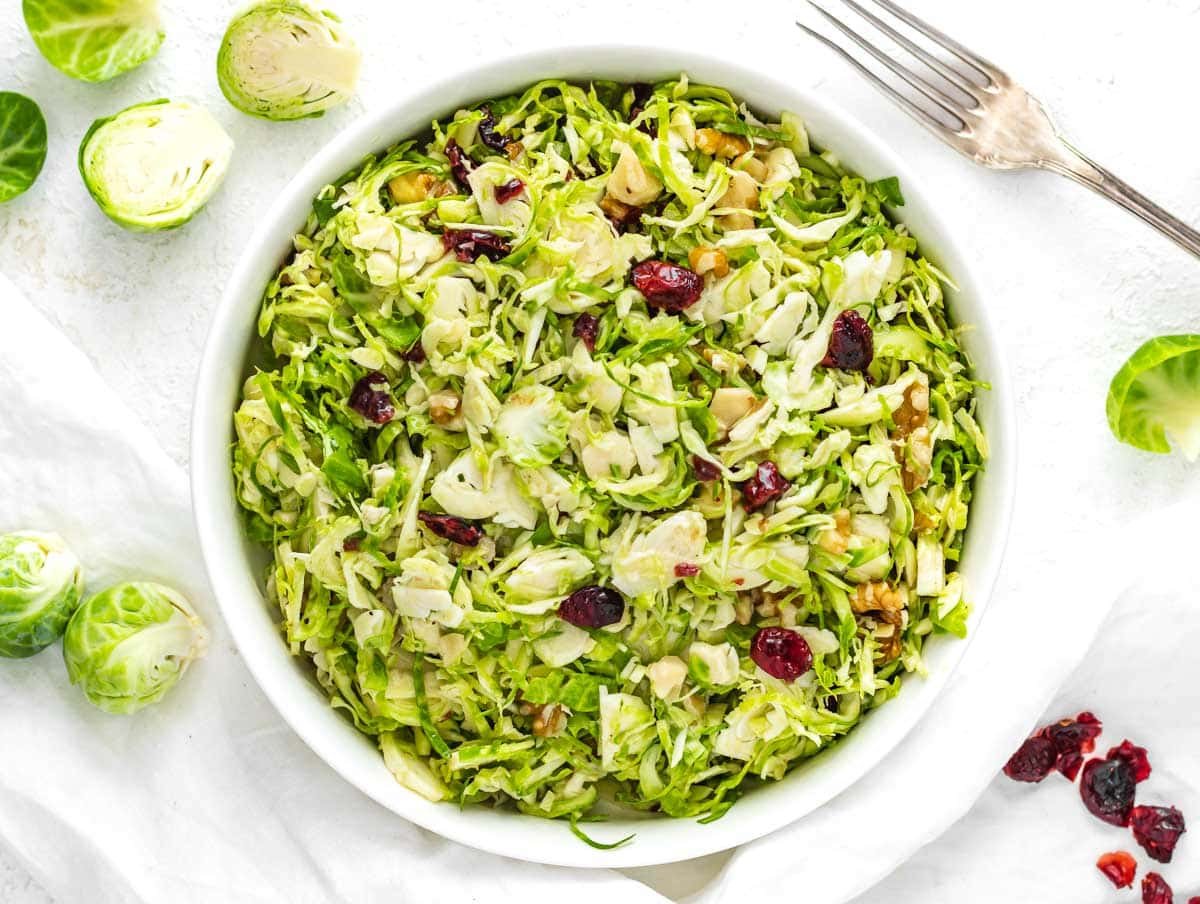 10. Fennel salad with orange wedges
Light, fruity and crunchy, here's an Italian fennel salad with a colorful and appealing look and flavor. Dress it with a lemon mustard vinaigrette and garnish with fennel fronds for a guest-friendly and inviting appetizer idea!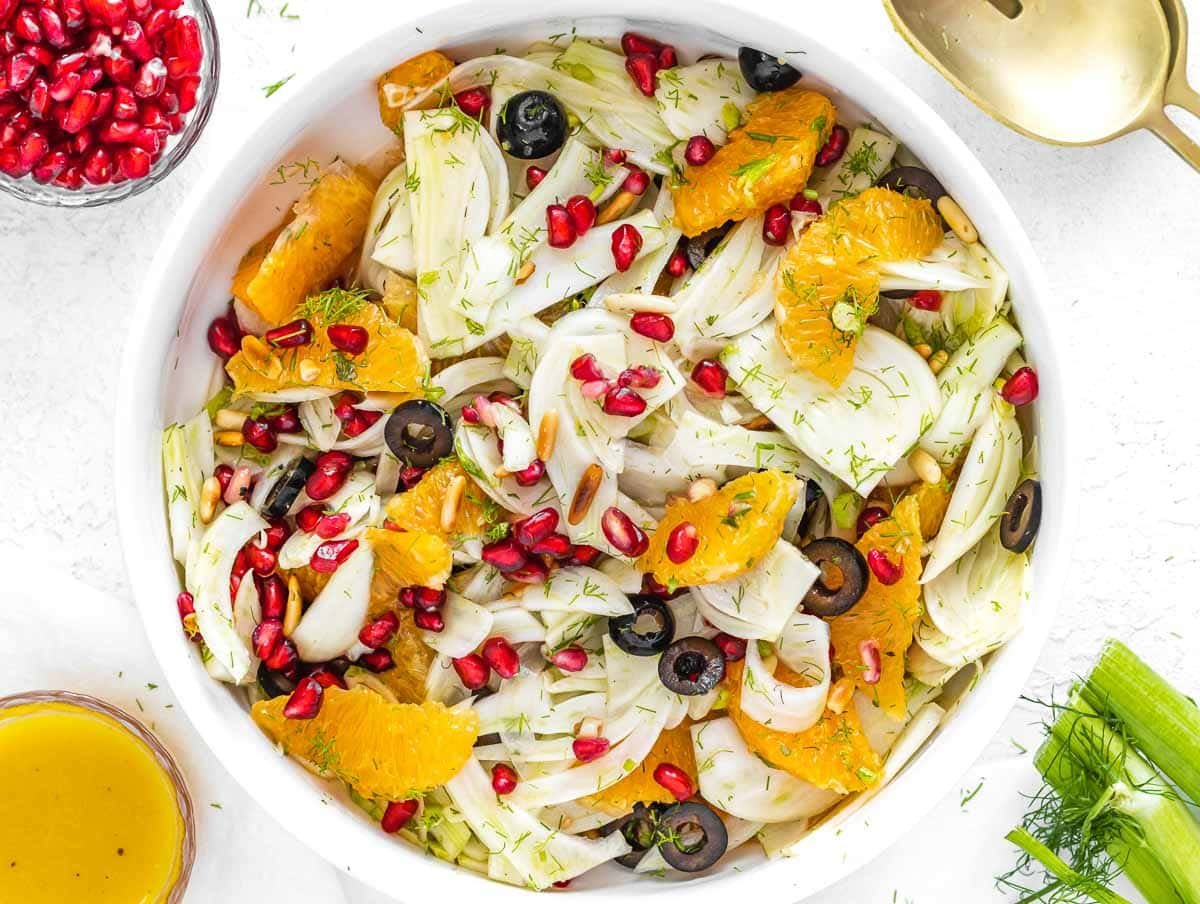 11. Red cabbage slaw
Make this crunchy and colorful red cabbage slaw with mayonnaise or a light mustard dressing, it's a vibrant and healthy starter idea. If you have leftover slaw, it can easily be served as a side dish with dinner too!
12. Eggplant pizza
Game night, appetizer idea, or weeknight celebration, these eggplant pizza slices are guaranteed crowd-pleasers! You simply dress roasted eggplant with a layer of marinara sauce, mozzarella cheese, and fresh basil - and the result is a tender Italian appetizer!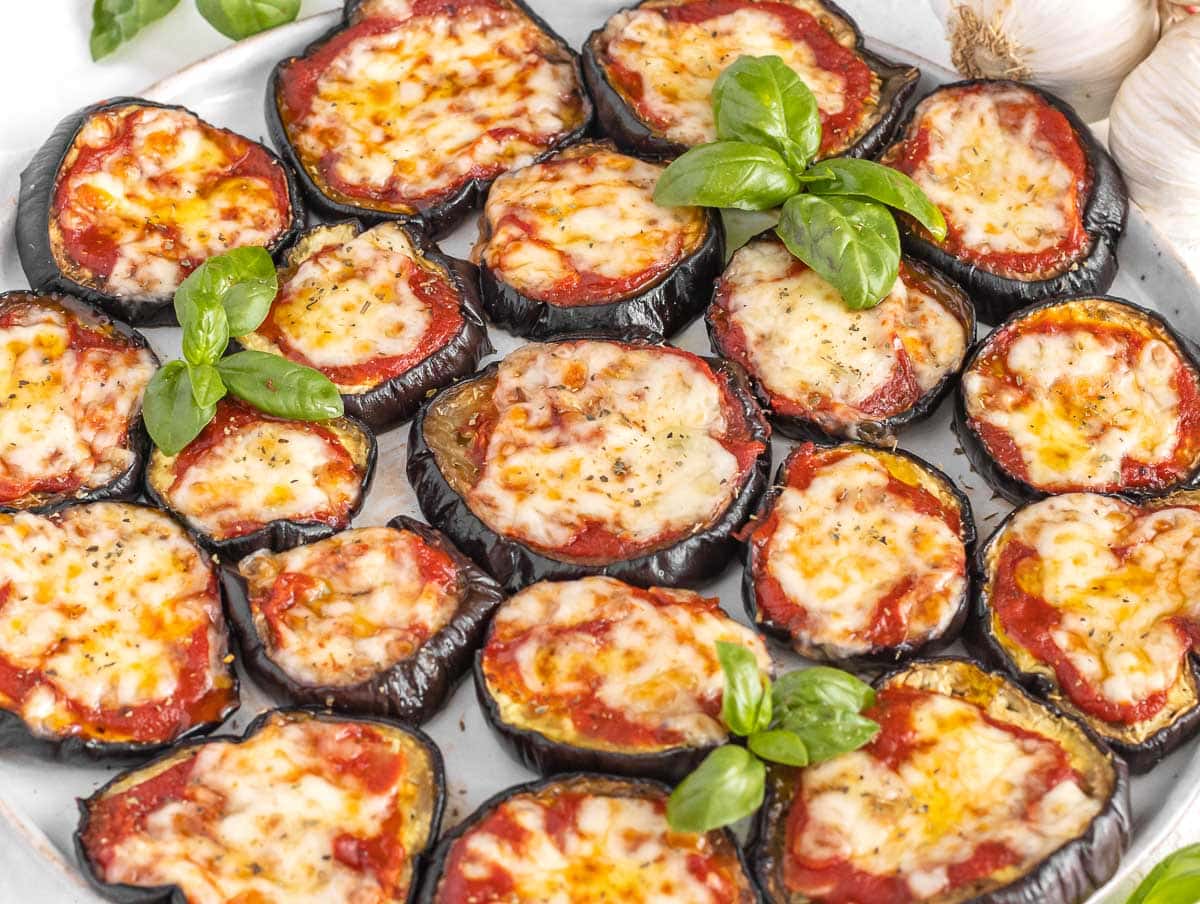 13. Cauliflower soup
Ultra creamy, light and slightly nutty, this cauliflower soup is a bright and happy starter. Serve with homemade croutons or quick crostini for a healthy and autumn-friendly appetizer.
14. Butternut squash soup
Soup is a versatile starter or main dish idea, try this autumn and winter-friendly butternut squash soup with crispy croutons. It's an easy bake-and-blend recipe with slightly sweet notes from onion, garlic, and butternut squash.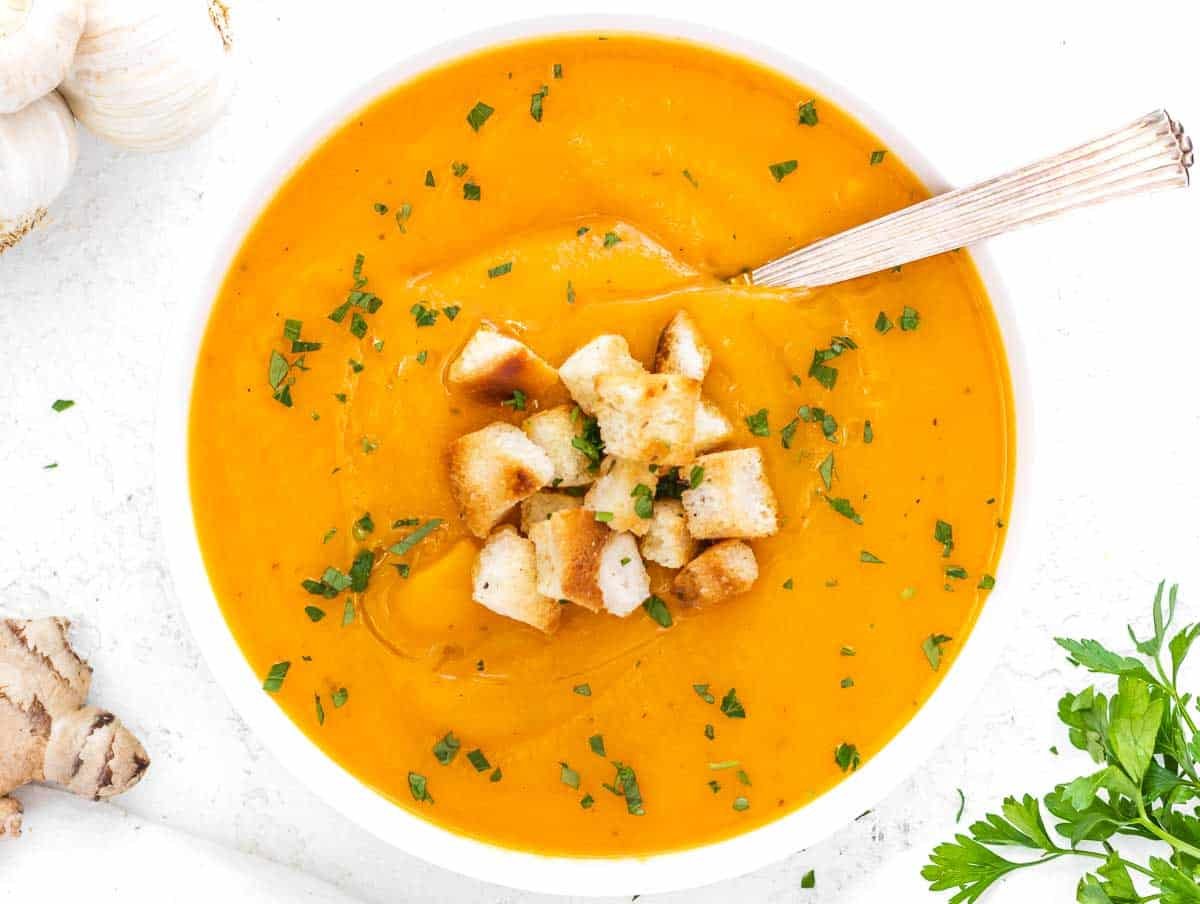 15. Carrot salad
Here's a super easy 10-minute appetizer idea that is light, refreshing, and packed with flavor. Try this shredded carrot salad with pineapple and mustard cumin dressing for a vibrant and wholesome meal starter.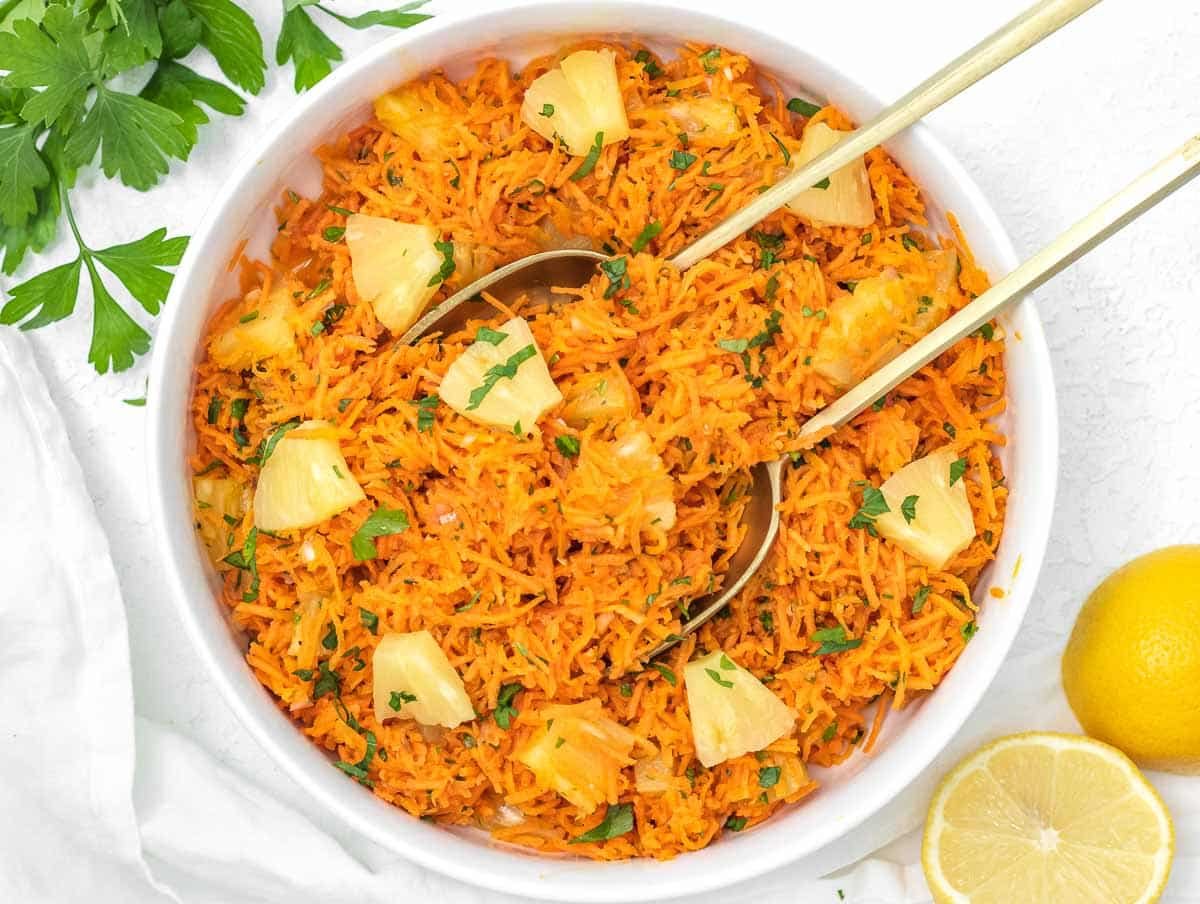 16. Roasted zucchini
Try a different kind of antipasto with this Italian roasted zucchini recipe with breadcrumbs and herbs. It's easily prepared in 5 minutes and takes about 20 minutes to get tender and juicy in the oven.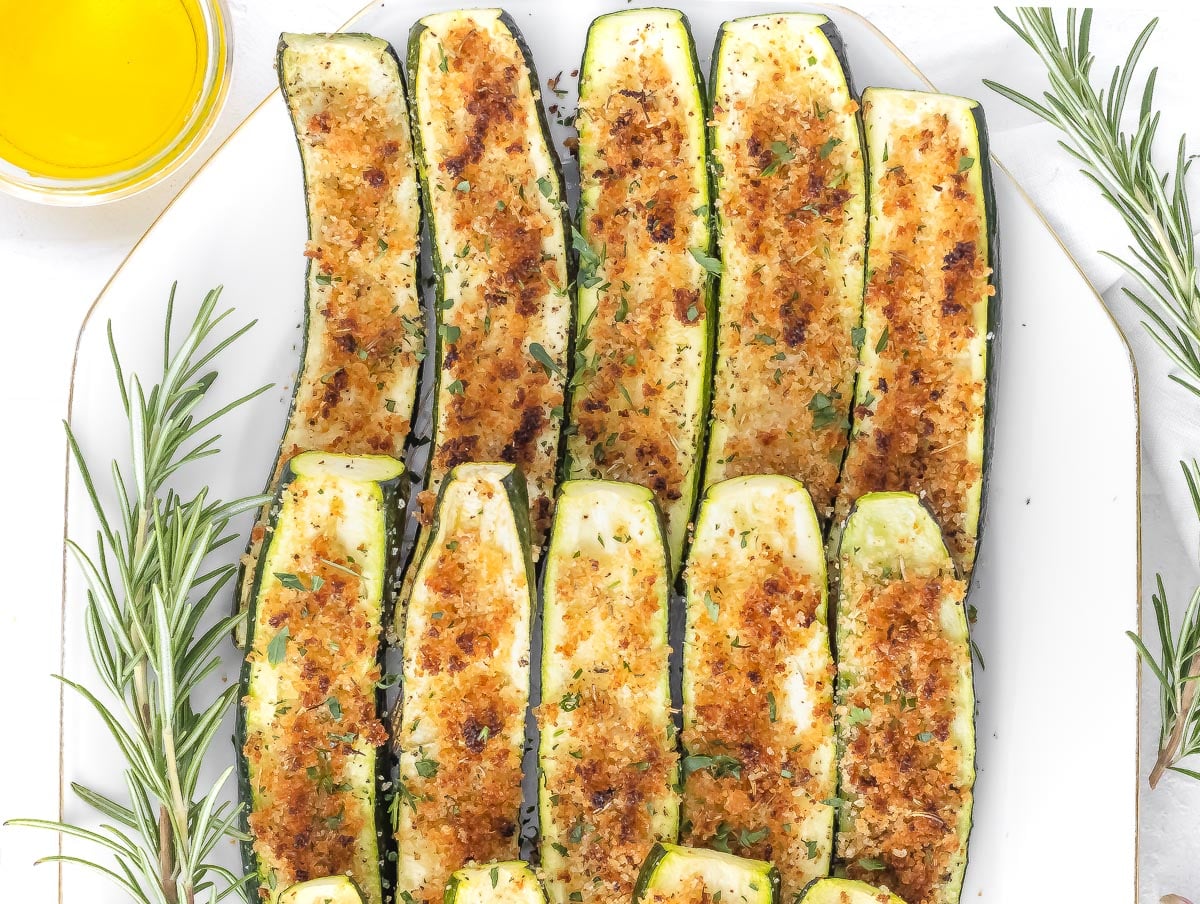 17. Breaded eggplant
Crispy and bready on the outside and buttery tender on the inside, this breaded eggplant is great for game nights and putlocks. Dip the discs in marinara sauce, and your tastebuds will feel transported straight to Italy.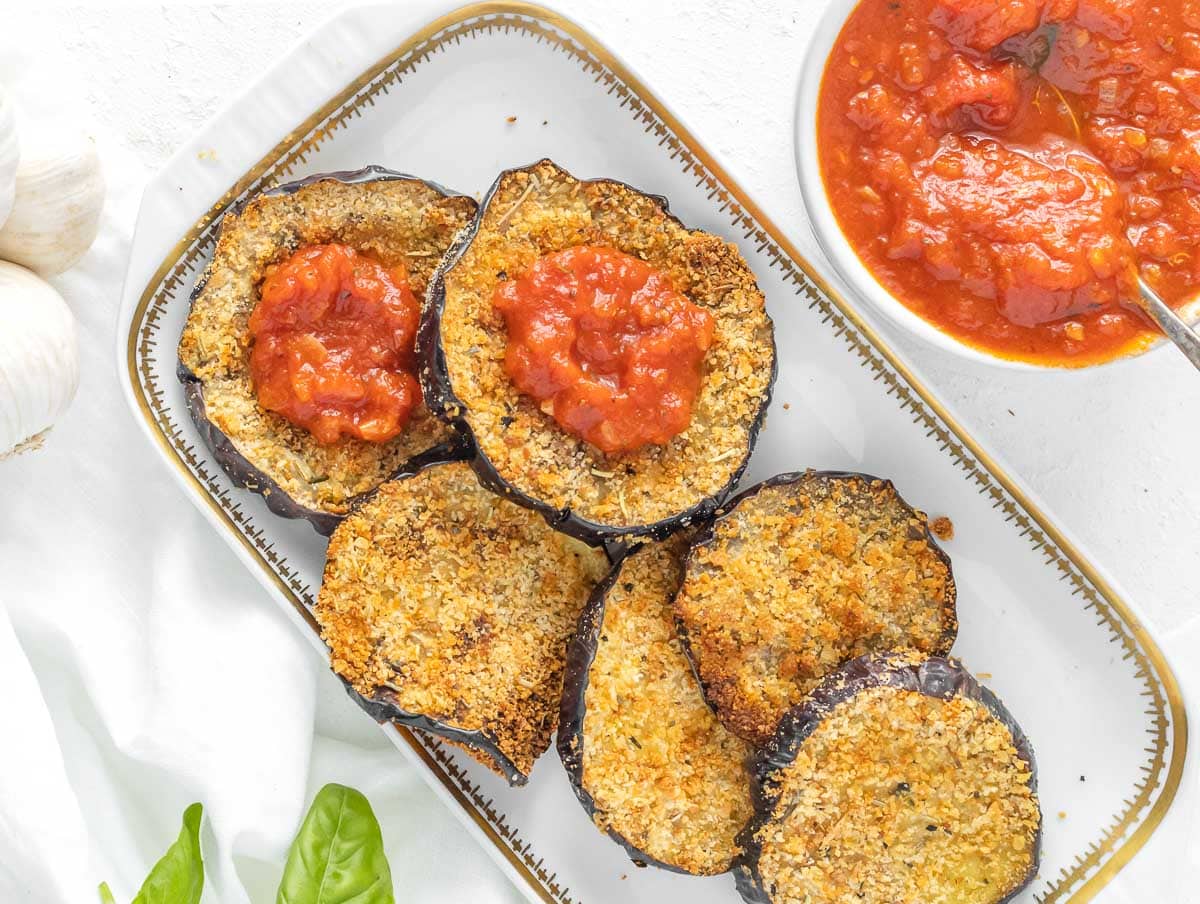 18. Sweet potato chips
Instead of store-bought crisps, you can make a healthier and more vibrant-looking batch at home! Try these crisp and light sweet potato chips, they're a perfect match for a movie night at home with your family!
Appetizers for a platter
Appetizer platters are colorful and fun, and everyone can help themselves with their favorite starter. Platters are a great way to help your guests try new combinations and fall in love with these vegan snacks!
19. Vegan ricotta
A creamy and incredibly light alternative to ricotta cheese. We've been making this vegan soy ricotta without nuts and without a blender for a few years now.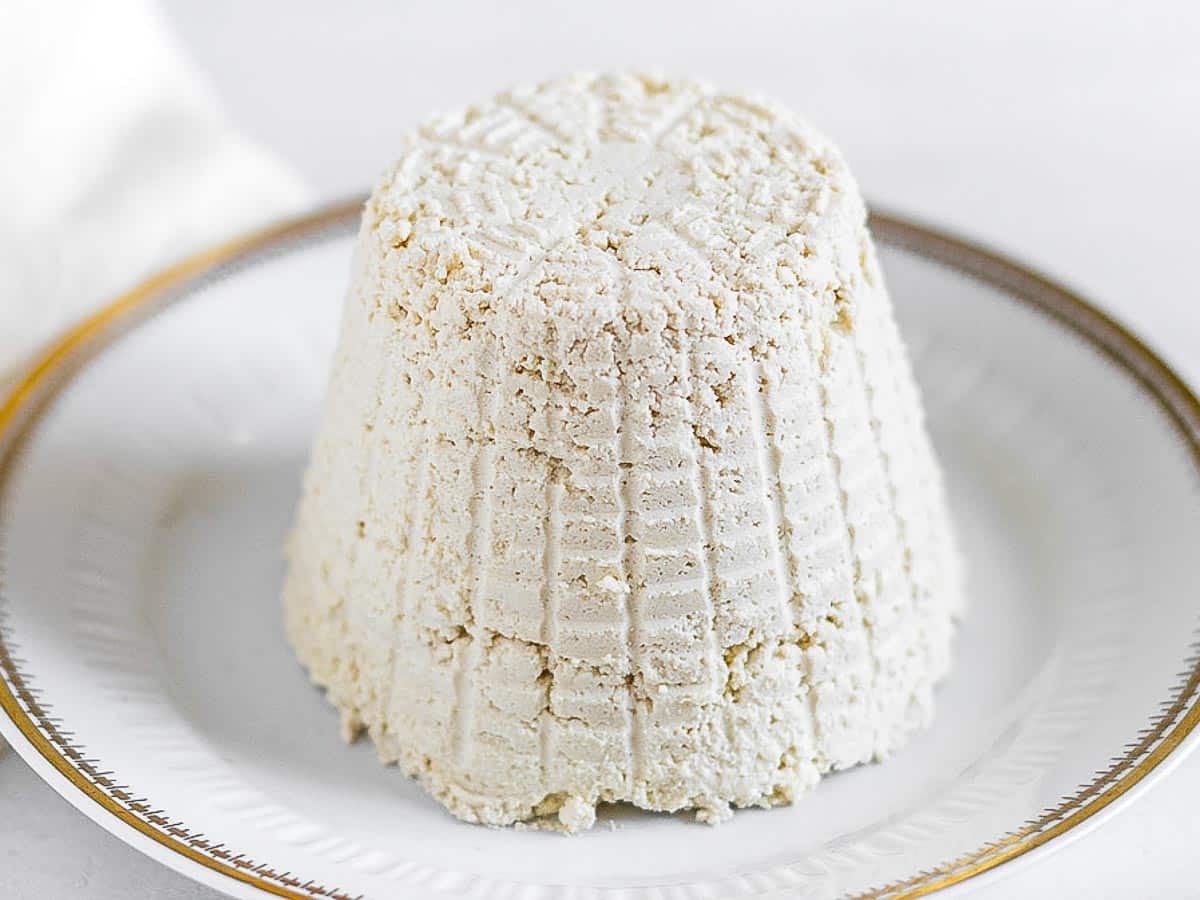 20. Caramelized onions
Caramelized onions have a rich and deep flavor with sweet and sour notes. They are soft and literally melt in your mouth. They are perfect on ricotta or hummus, serve them in a bowl with a small fork, and guests can add exactly the amount they prefer!
21. White bean dip
White bean dip is an easy recipe that you can make in 5 minutes with 7 simple ingredients and a blender. It's perfect with pita or with slices of toasted bread.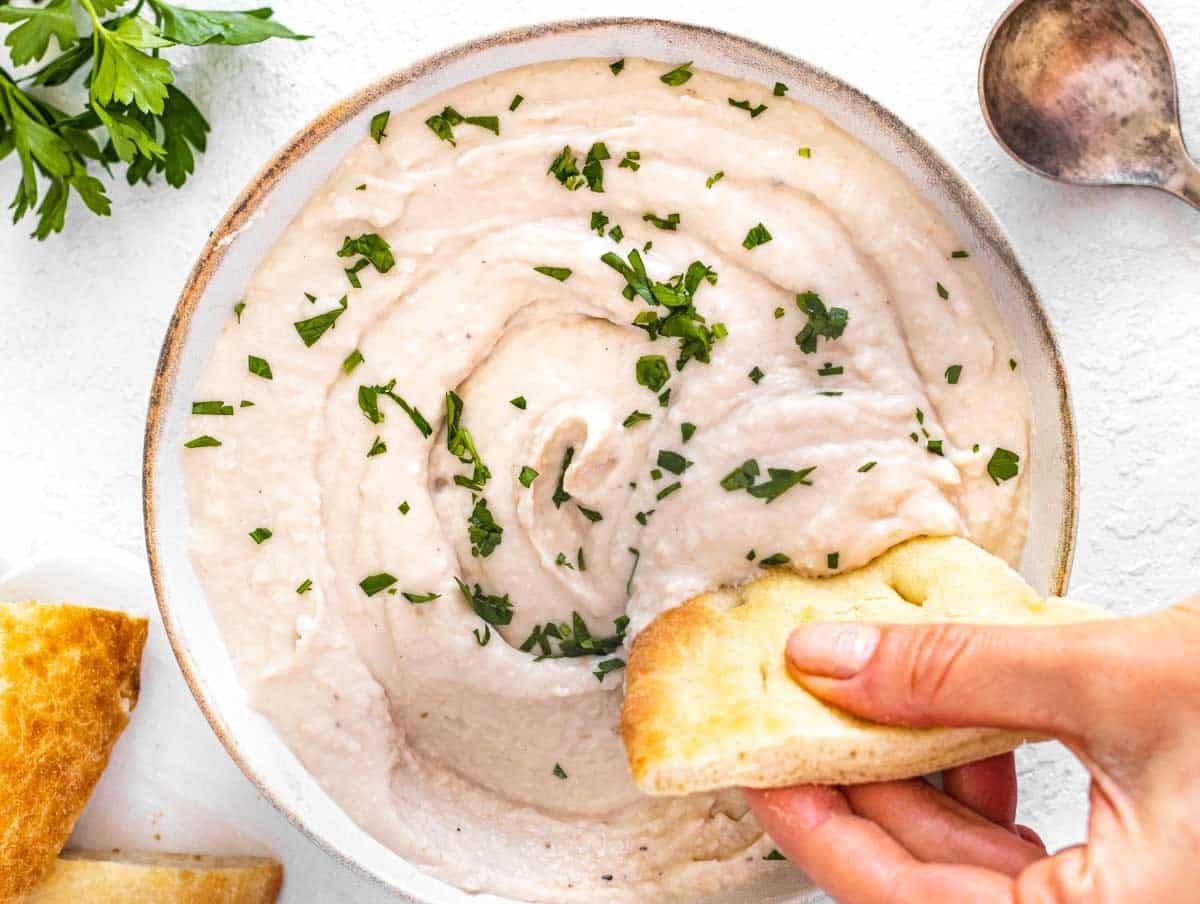 22. Vegan mayo
Vegan mayo is tasty, versatile, and so easy to make that you can do it in literally 1 minute with a few simple ingredients. We make a mean vegan tuna with it.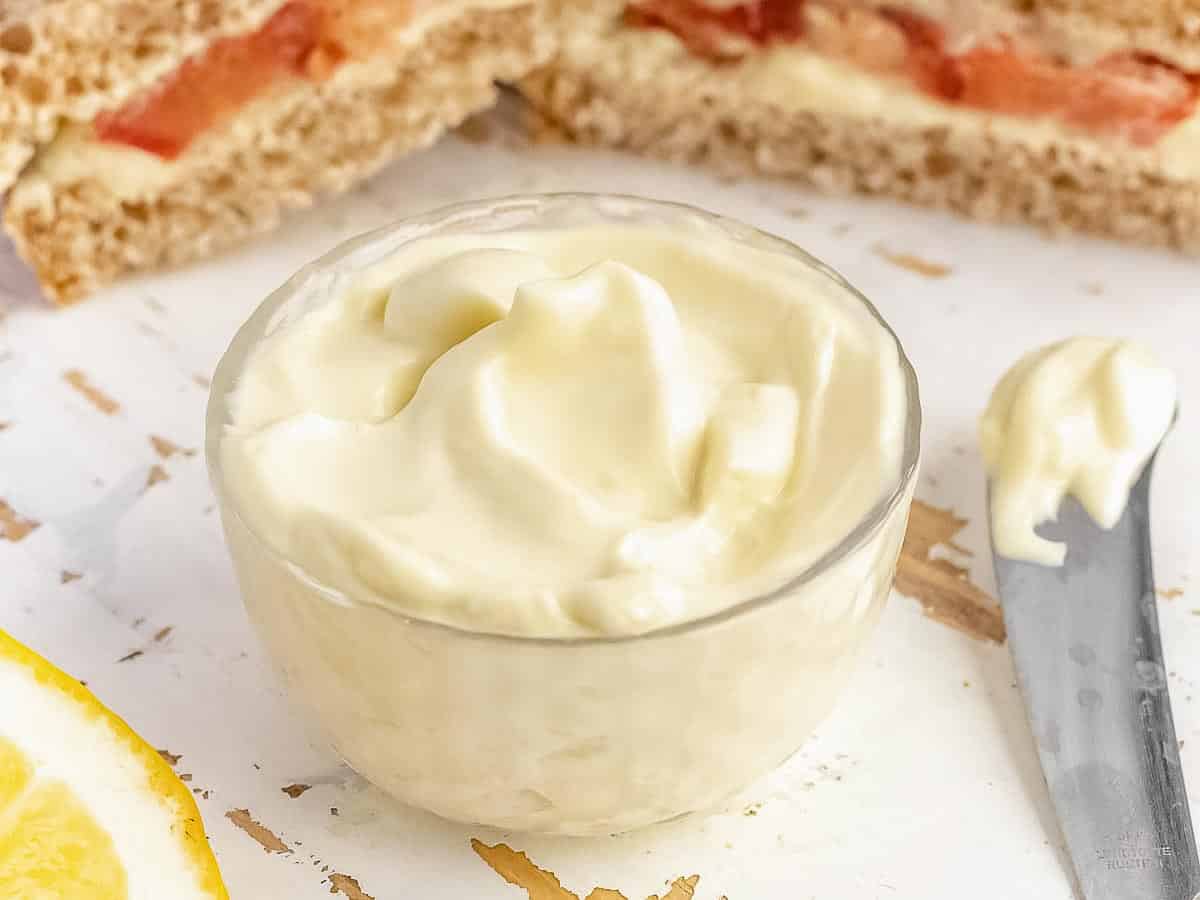 23. Tzatziki sauce
Tzatziki sauce is easy! All you need is yogurt, cucumber, garlic, lemon juice, olive oil, salt, and dill, and just over 15 minutes to make this irresistible recipe. Serve with pita chips or freshly baked focaccia bread.
24. Guacamole
Perfect for Taco Tuesday or as a creamy green addition to your appetizer platter! Mix together ripe avocados, lime juice, salt, cilantro, and some chopped onion. Serve your guacamole with tortilla chips and veggie sticks for a colorful and inviting dip!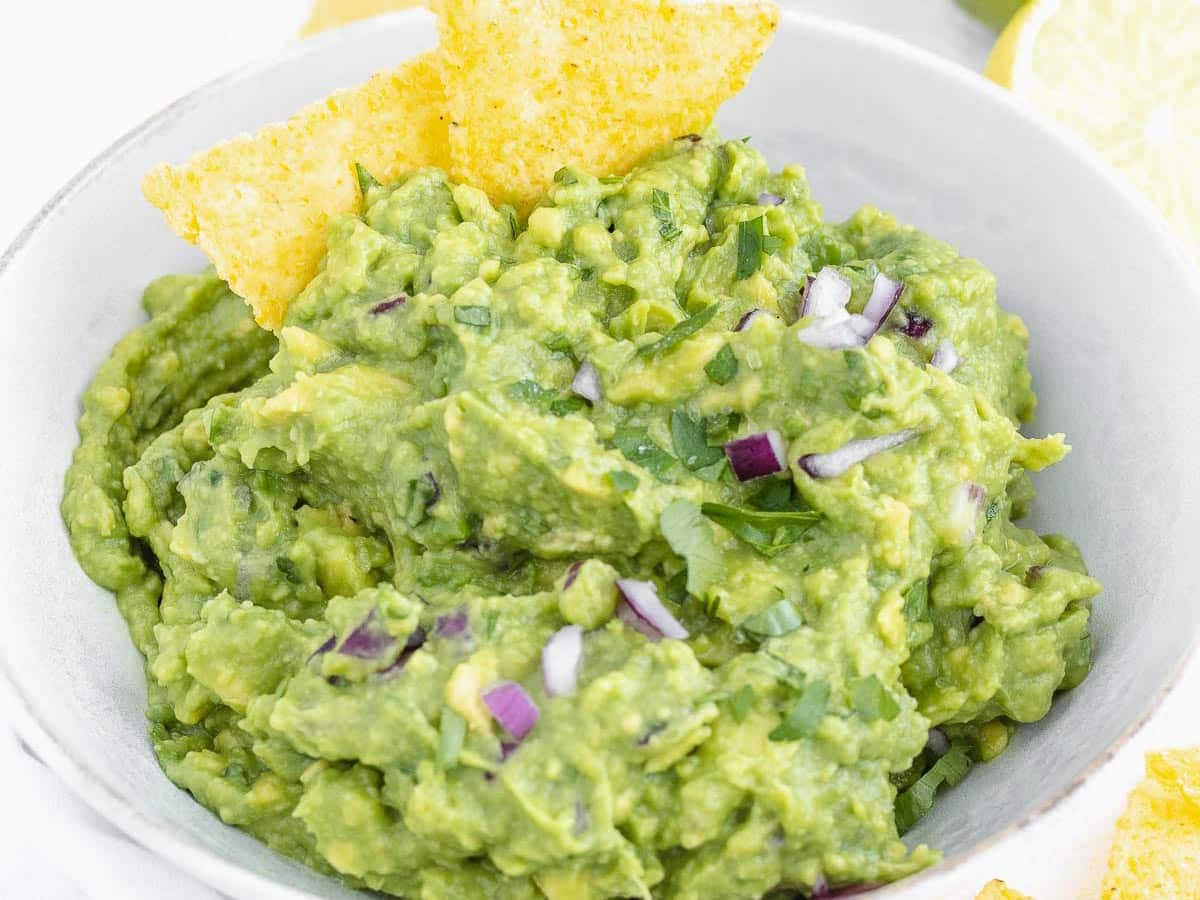 25. Lentil hummus
Have you ever tried replacing chickpeas with lentils for a rich and earthy lentil hummus? It's a 5-minute easy and quick dip idea, and it works amazingly well in sandwiches too!
26. Sundried tomato pesto
You can make it with most blenders, and a few simple ingredients, and we even keep it dairy-free so that most people can enjoy it. This red pesto is a must-try with our garlic-brushed flatbread.
27. Melted cheese on bread
This recipe for vegan cheese can be prepared in 5 minutes in a pot and with an amazing result. It's very similar to melted cheese. Creamy, spreadable, melty, light, cheesy, and with a slightly tangy flavor. It's perfect on a slice of bread or on top of our flatbread pizza.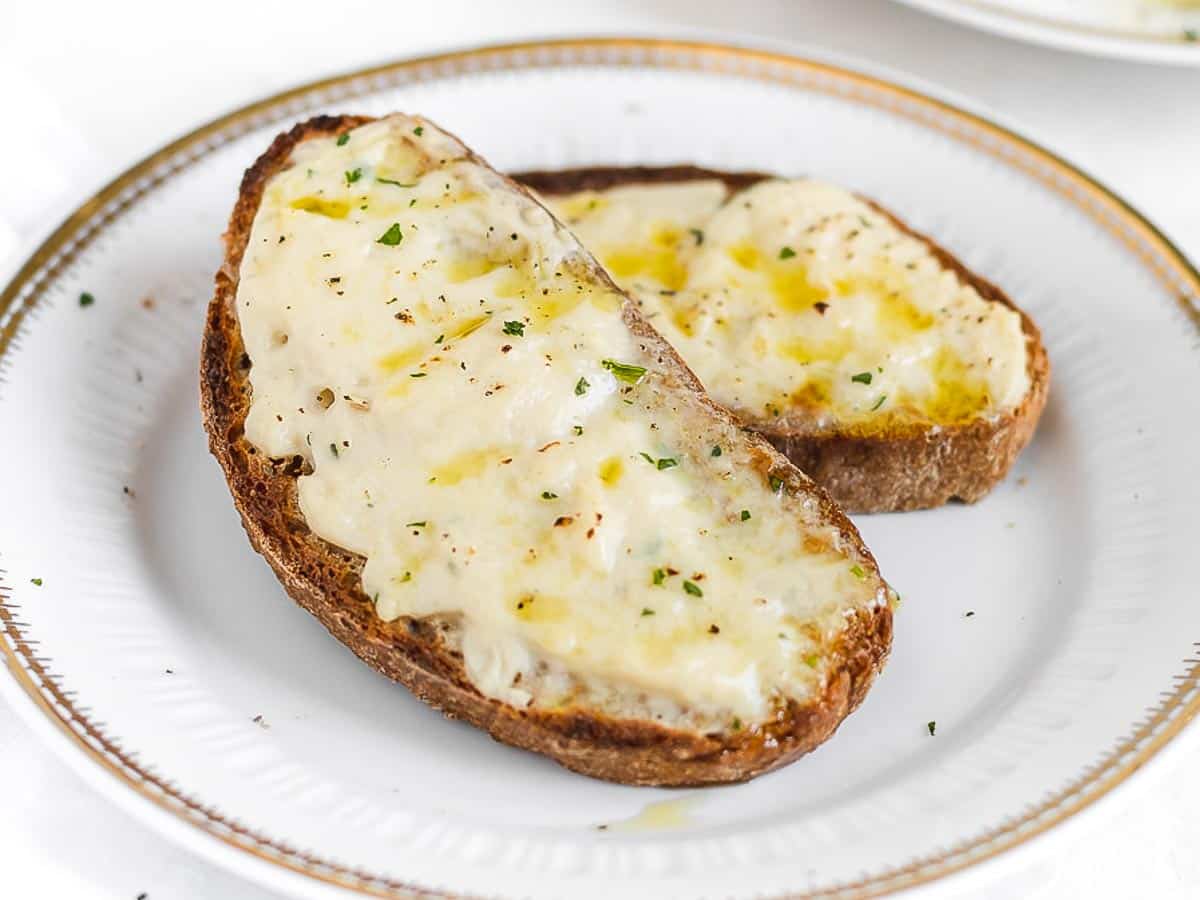 28. Tofu cream cheese
This tofu cream cheese is made with 5 simple ingredients and it's smooth, velvety, and perfect to use as a starter. You can easily flavor the basic recipe of this vegan cream cheese with many vegetables like roasted aubergine, confit tomatoes, or artichoke hearts.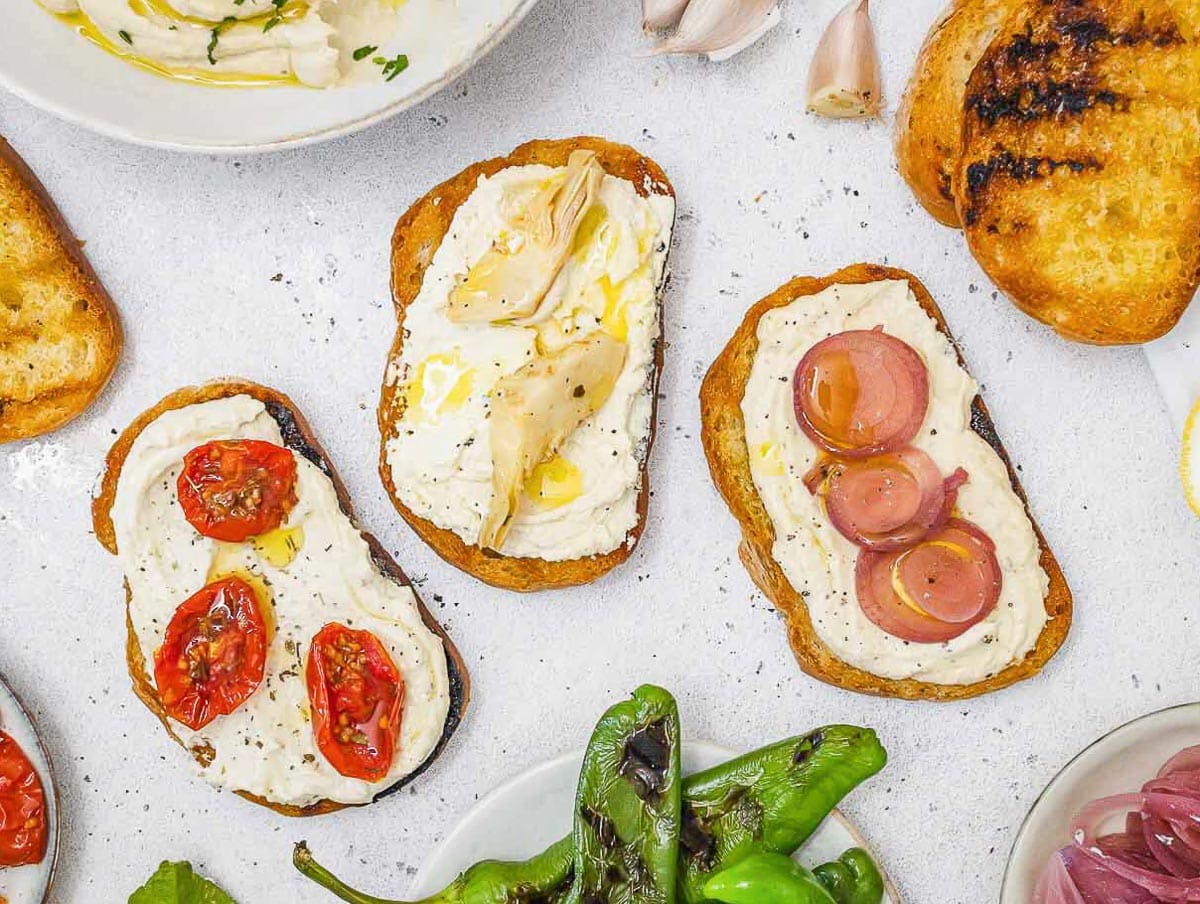 29. Creamy tofu salad
If you are looking for a great, quick, and fulfilling vegan canapé or snack idea, you need to try this vegan egg salad. Made with tofu, vegan mayo, and herbs, it's great on a slice of cucumber or wholegrain bread.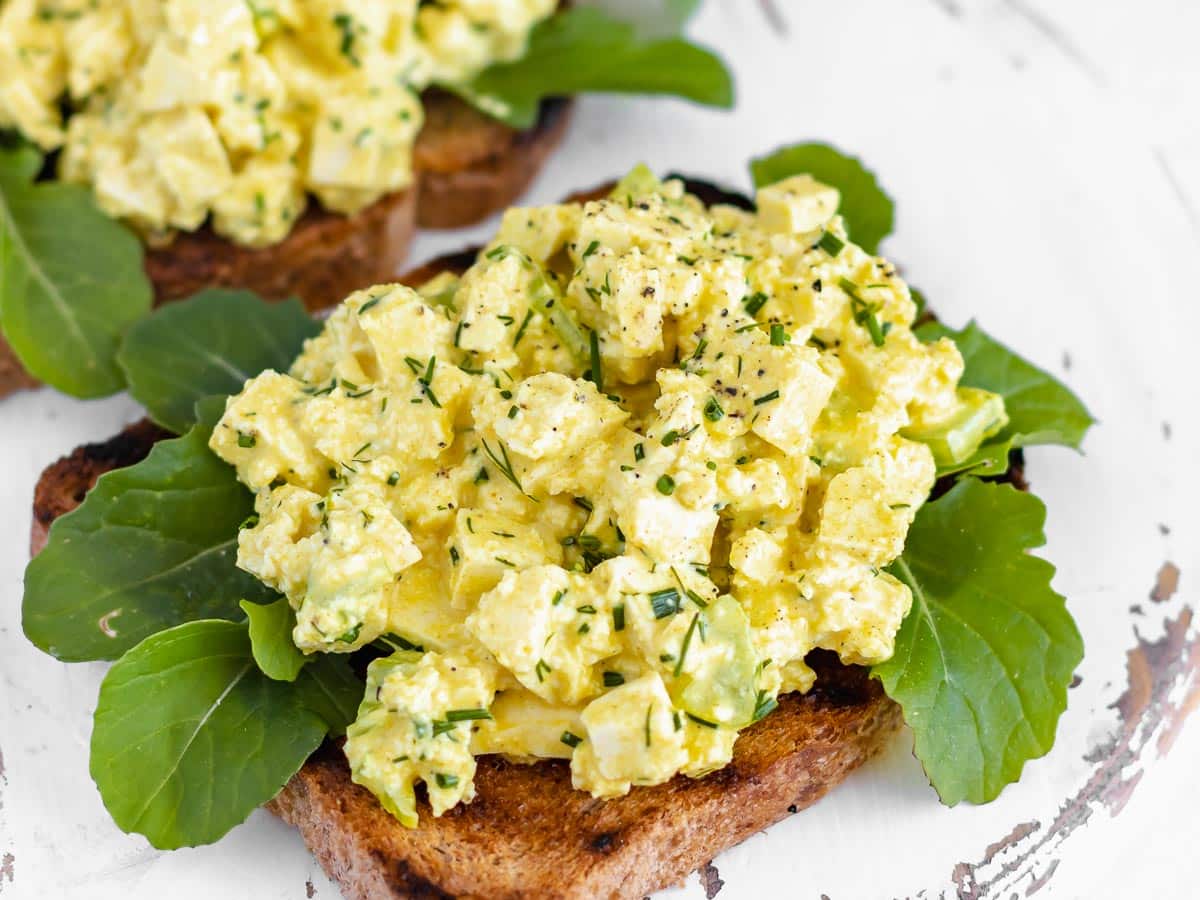 Italian appetizers
Appetizers on bread are perfect as finger food and are guaranteed crowd-pleasers! Particularly perfect for game nights and movie nights as they are fun and colorful.
30. Mini pizzas
Mini pizzas are one of the most popular finger foods in Italy. They are usually served as a fun, crunchy starter, or during birthdays, buffets, and gatherings. Making pizza biscuits is actually very simple, and you can add your favorite toppings for a fun evening.
31. Tomato bruschetta
A crunchy, juicy, and garlicky appetizer. This bruschetta recipe is simple, and you can make it in 10 minutes with a few ingredients. Serve on a slice of toasted bread or next to this 20-min farinata.
32. Easy focaccia (no-knead)
A soft Italian focaccia recipe that is easy to make, with a spoon and a bowl, without having to knead it with your hands. Perfectly paired with white bean dip, confit tomatoes, sundried tomato pesto, or anything else really.
33. Chickpea socca
This socca is a simple recipe, made by mixing together chickpea flour and extra virgin olive oil, then baking it in the oven for about 20 minutes. It's perfect as part of an antipasti platter, and pairs well with any topping. We love eating it topped with our eggplant caponata.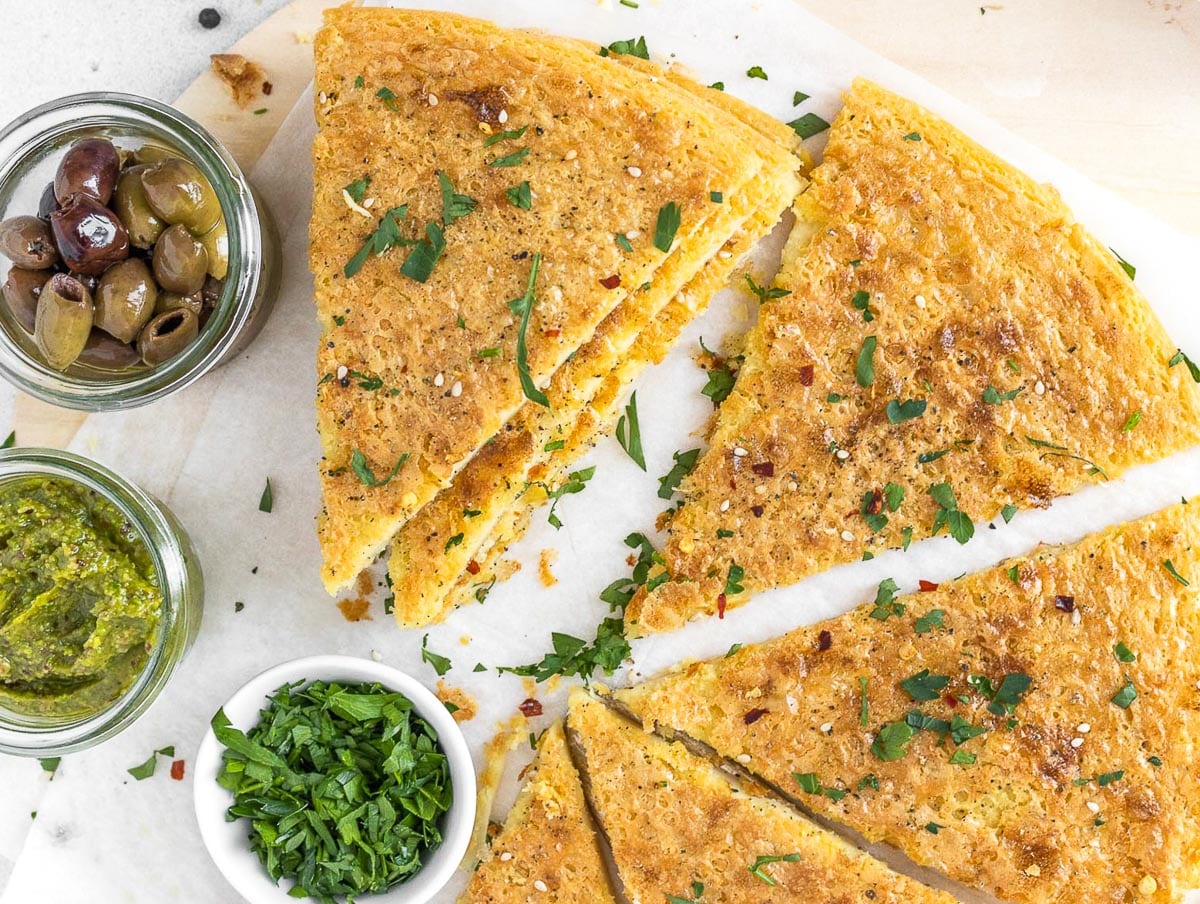 34. Chickpea frittata muffins
Chickpea frittata muffins are an easy make-ahead recipe that you can serve as nutritious antipasti with a bowl of sundried tomato pesto. They are very similar to vegan mini quiches, they are made with chickpea flour you can customize them with any vegetables of your choice.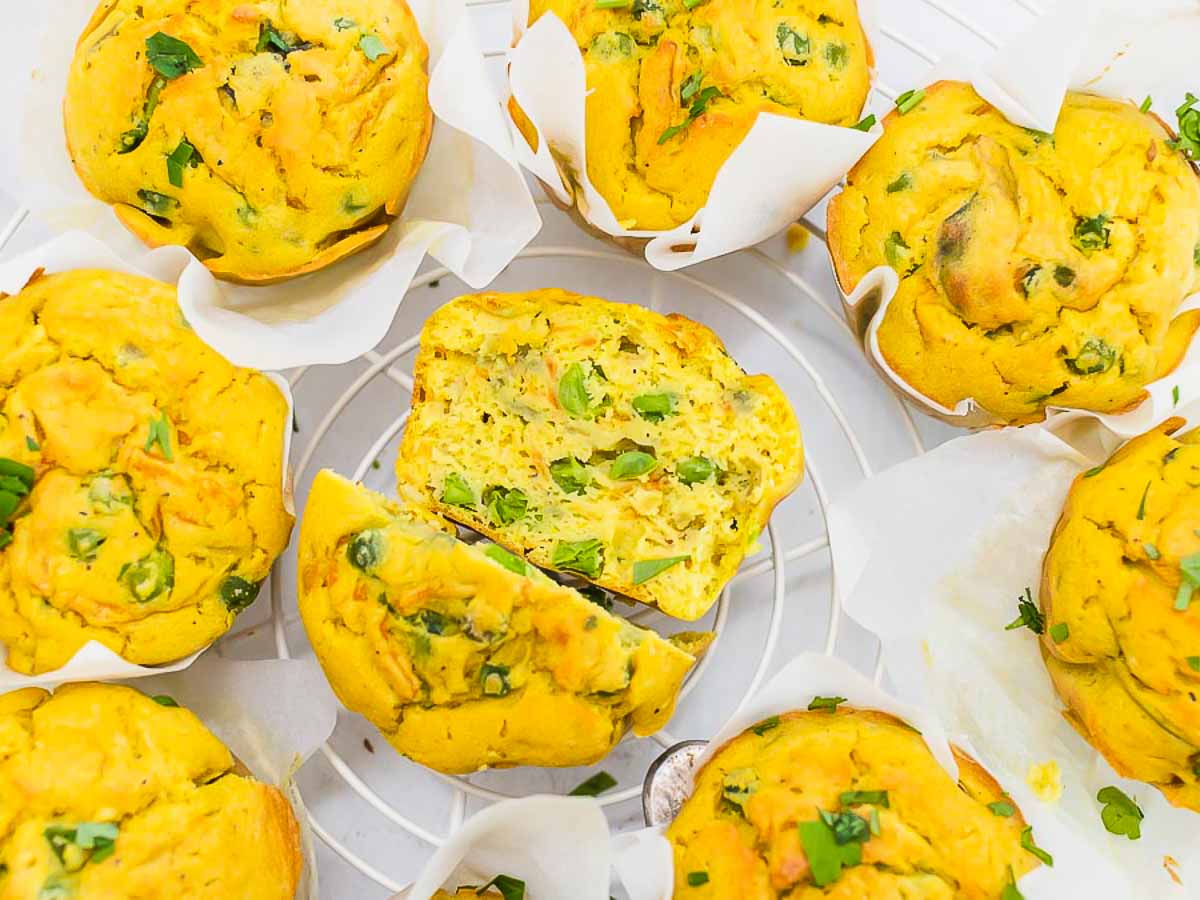 35. Mashed chickpea salad
You can make these chickpea-based antipasti in just 10 minutes, with simple ingredients, and without cooking. Serve on a slice of a cucumber and stuffed in cherry tomatoes. A slice of no-knead focaccia is the perfect pairing with vegan tuna, a family favorite!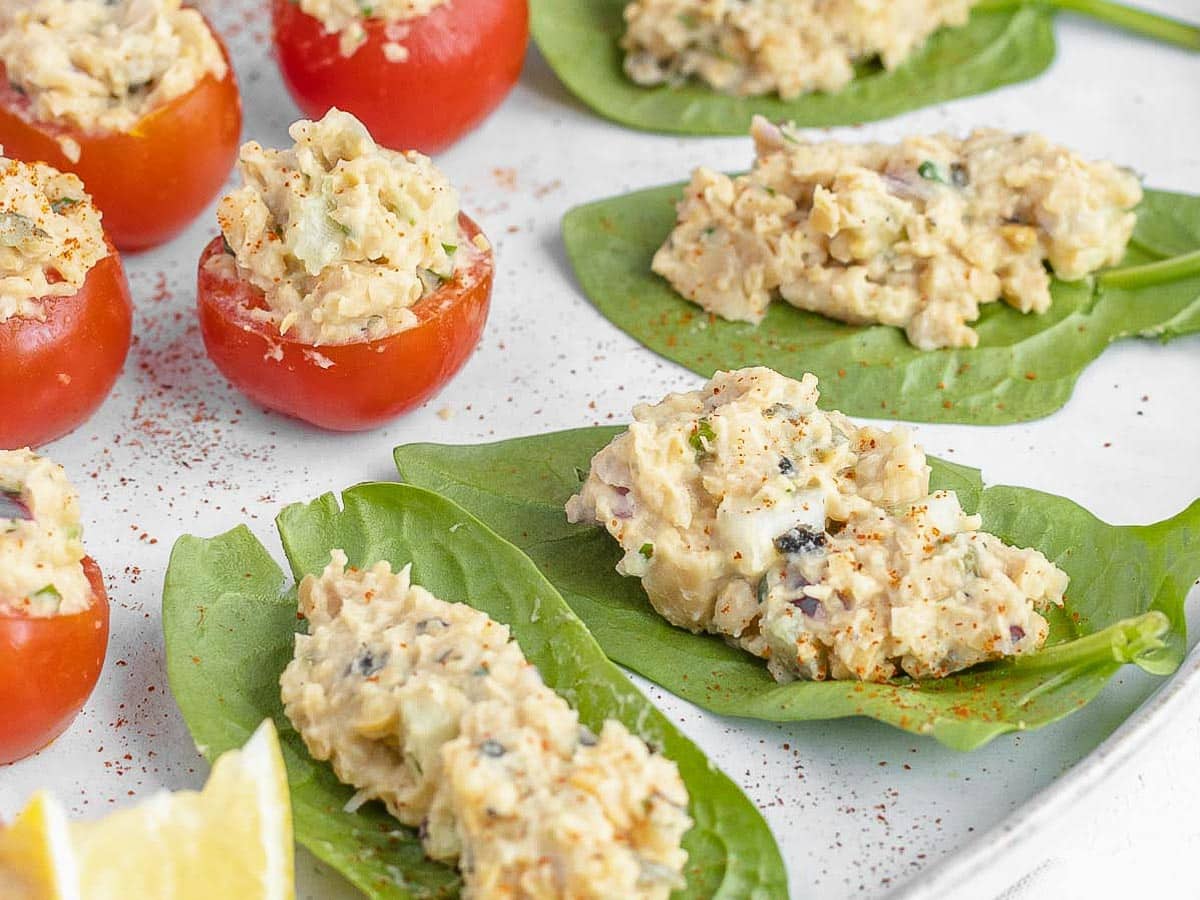 36. Chickpea frittata
This chickpea frittata is crisp on the outside, soft, and moist on the inside, and for some reason, it feels like eating a regular egg frittata. Serve in small slices and with a little bowl of confit tomatoes and caramelized onions.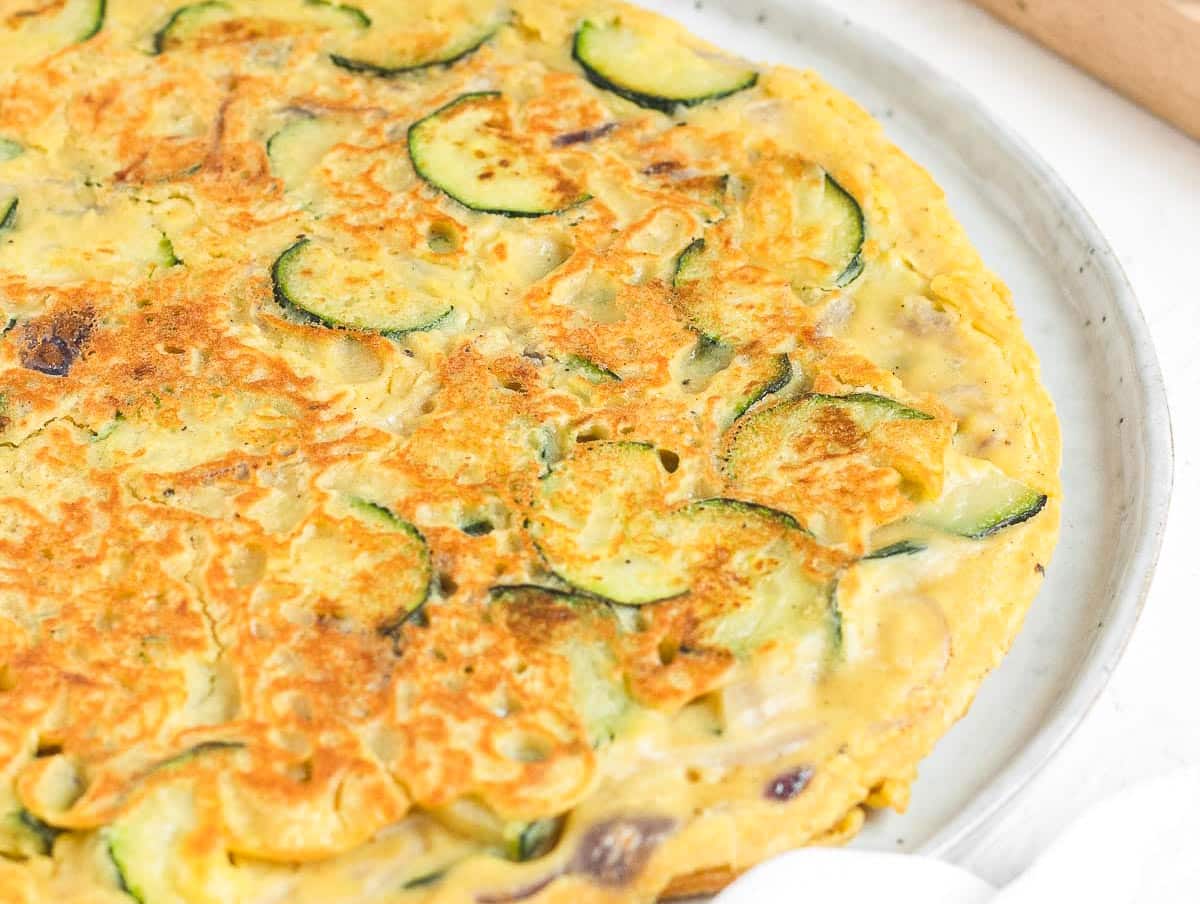 37. Eggplant bruschetta
Tender sauteed eggplant and crunchy bread is a match made in heaven (and in Italy!). Try this 20-minute eggplant bruschetta recipe for summer or autumn when eggplants are in season, and top them with fresh basil leaves.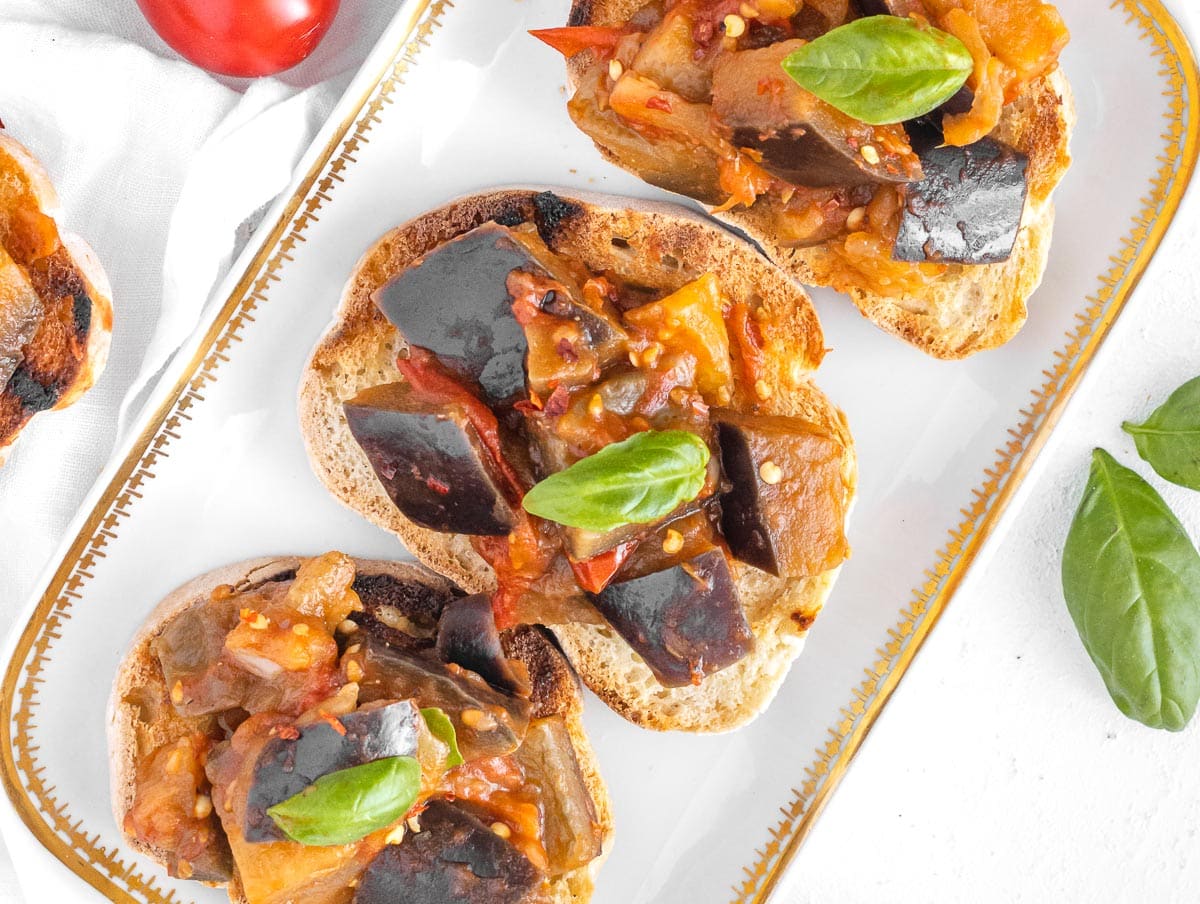 38. Panzanella salad
Easy to make and a great way to revive stale bread leftovers, this Italian panzanella salad is an appetizer favorite. Pair it with a refreshing lemon vinaigrette and fresh basil leaves for a vibrant summer salad.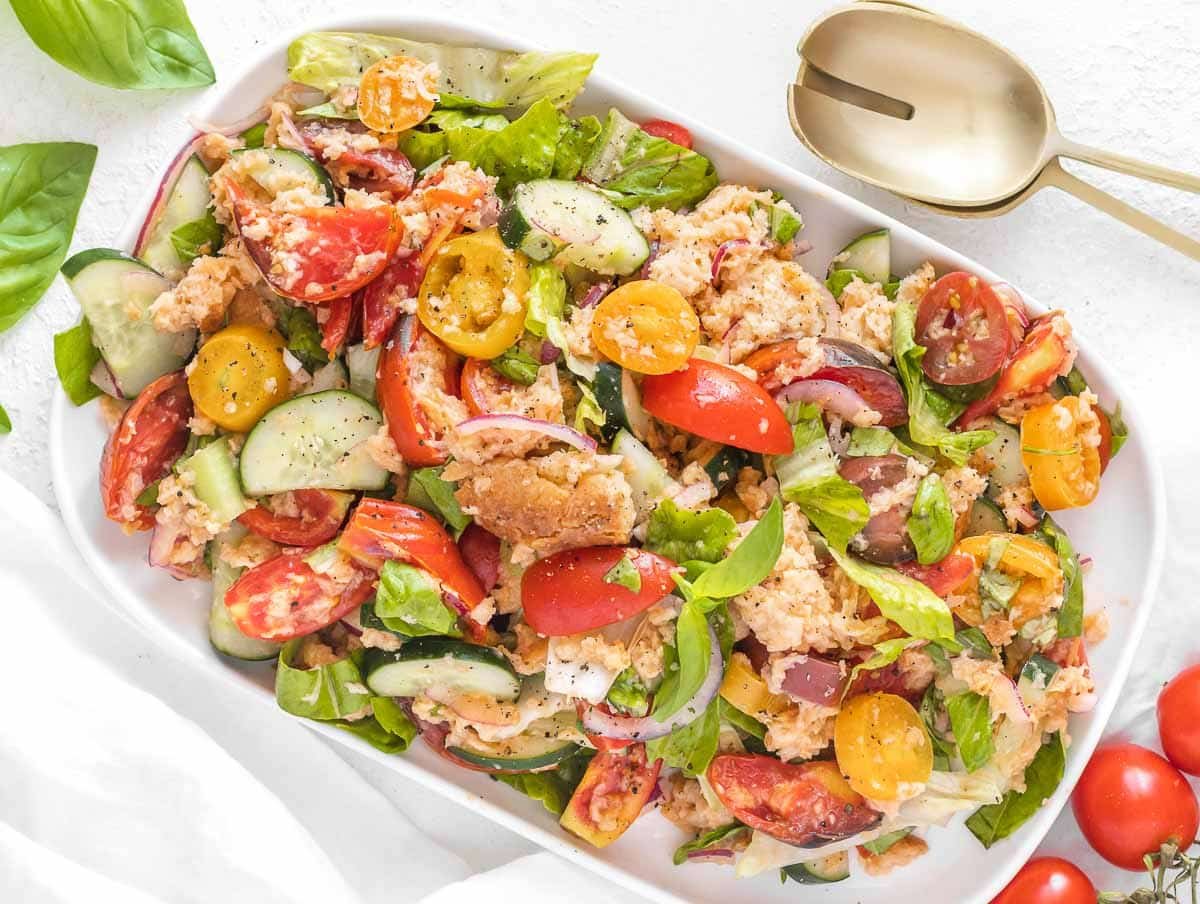 39. Roasted fennel
Roasted fennel is a deliciously tender and buttery starter idea that is great on its own or with crusty toasted bread.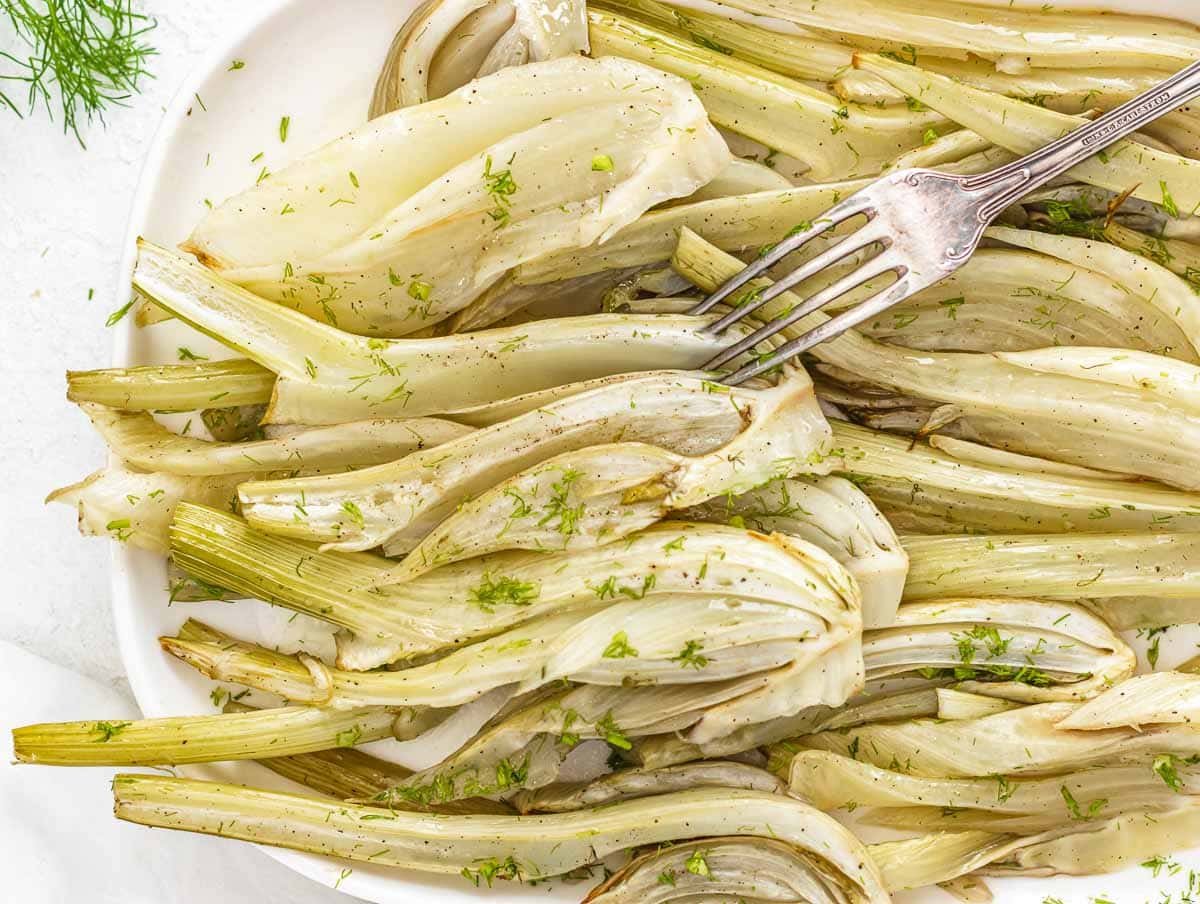 40. Crostini with olive tapenade
Try this 10-minute crostini recipe for a bite-size and Italian appetizer idea. Serve with roasted veggies, pesto, tapenade, or hummus, and make a colorful and inviting starter platter.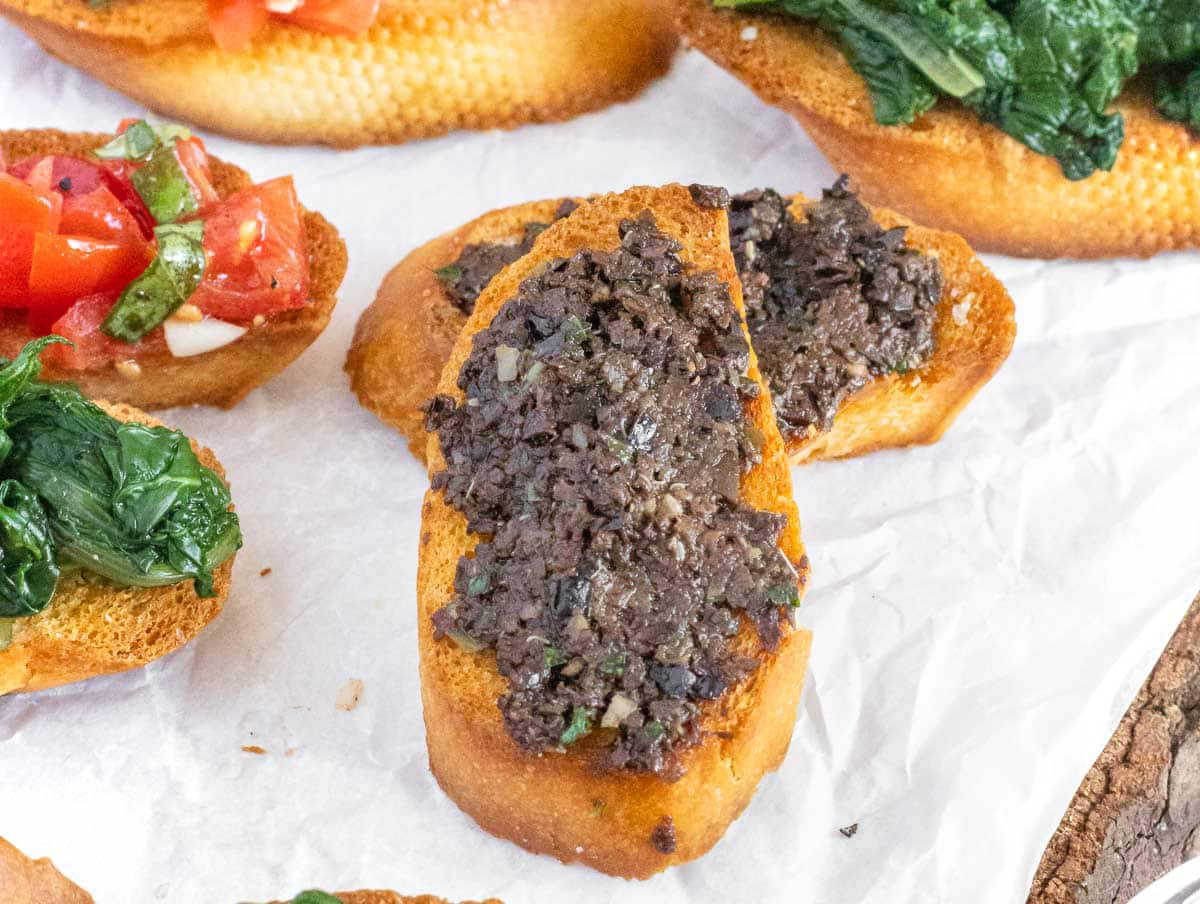 What should I serve guests?
Are you having guests over that are vegetarian, gluten-free, or vegan? Get even more fresh inspiration from these vibrant plant-based ideas:
For many more easy and healthy starter recipes make sure to check out our Antipasti (starter) Recipes Page!
Recipe
40 Easy Appetizers
Tomato bruschetta is one of our favorite easy appetizers. These recipes are simple, with few ingredients, and most of them are ready within 30 minutes or less.
Ingredients
18

ounces

bread

slices 0.6 inches (1.5 cm) thick.

18

ounces

tomatoes

4

tablespoons

extra virgin olive oil

2

tablespoons

balsamic vinegar

2

cloves

garlic

15

leaves

basil

1

teaspoon

sea salt

½

teaspoon

pepper

1

avocado

optional
Instructions
Rinse the tomatoes, dry them, then with a paring knife remove their stem. With a serrated knife (bread knife) cut the tomatoes into slices. Then cut the tomato slices into small dice of similar size.

If you use cherry or plum tomatoes, cut them into 4 or 8 pieces, depending on how big they are.

In a bowl, add the diced tomatoes, extra virgin olive oil, balsamic vinegar, 1 crushed and peeled garlic clove, salt, pepper, and basil leaves that you tear apart with your hands.

If the tomatoes release a lot of water, discard some of it.

Mix well with a spoon until all the ingredients are well combined together. Taste and if necessary adjust flavour. Let marinate at room temperature for about 10 - 15 minutes.

In the meantime, slice the bread into 0.6 inches (1.5 cm) thick slices. Toast the bread in the oven - preferably with grill function - until golden and crunchy.

If the edges of the bread get dark and burned, scrap away that part with a knife as it is very unhealthy to eat.

If you have a charcoal grill, go ahead and toast your bread there. Your bruschetta will be even tastier.

At this stage, if you want, add the avocado. Cut in half, remove the stone, cut it into dice and scoop out the flesh. Then add it to the tomatoes and mix it with a spoon, gently.

Put the toasted bread on a cutting board or serving plate, rub it with garlic while still warm, then with a spoon put some tomato mix on top. Add some juice too to moisten the toasted bread.

If you want to make white bruschetta rub the toasted bread with some garlic, then add some good quality extra virgin olive oil and sea salt on top.
Video Recipe
5-minute White Bean Dip is an easy appetizer idea
Nutritional Values
Nutrition Facts
40 Easy Appetizers
Amount per Serving
% Daily Value*
* Percent Daily Values are based on a 2000 calorie diet.
Did you like this recipe?
Leave us a comment below or find us on Instagram, YouTube, Pinterest, TikTok, and Facebook.
If you liked these easy appetizers, you might also enjoy: