Creamy, delicious, and quick to prepare – these 25 easy avocado recipes are perfect for a quick breakfast, snack, lunch, or dinner.
You'll find sandwich ideas, healthy soups, stews, sauces, salads, and plenty of veggie-packed recipes for weeknight and weekend meals. Best of all, these 30–minute meals are quick to prepare and with easy–to–find ingredients!
5 tips to pick good avocados
1: look for the stem. It's generally better if the avocado has the small stem still on. This way it will stay fresh for longer after buying it.
2: look at the color. Ripe avocados are generally darker than unripe ones. So try to find ones that have a dark green, almost black color.
3: avoid shiny avocados. Ripe avocadoes generally have a dull, matte peel. Shiny avocados are generally unripe.
4: avoid indentations or bruise spots. If you see clear bruises, that are soft to the touch, that's obviously not good. I wouldn't recommend buying those, even if they are on offer. There's not much you can do with bruised, overripe avocado.
5: feel it. If the avocado yields to firm gentle pressure you know it's ready to eat. To feel the avocado, pick it up in the palm of your hand, and apply gentle pressure with the whole hand. Do not squeeze with your fingertips as you might damage the avocado.
If the avocado feels mushy, it could be overripe. If the avocado feels hard (it does not yield to gentle pressure) you can still buy it and let it ripe at home for a couple of days.
With ripe and bright green avocados at hand, we are ready to prepare these easy and tasty avocado recipes at home.
If you haven't tried the combinations of avocado and tahini, you are in for a treat: it's simply delicious. Honestly, this is one of the best spreads/dips we've ever tried.
For us, avocado and tahini have become the combination of the year, and it is perfect with pita, in sandwiches, and as an avocado toast.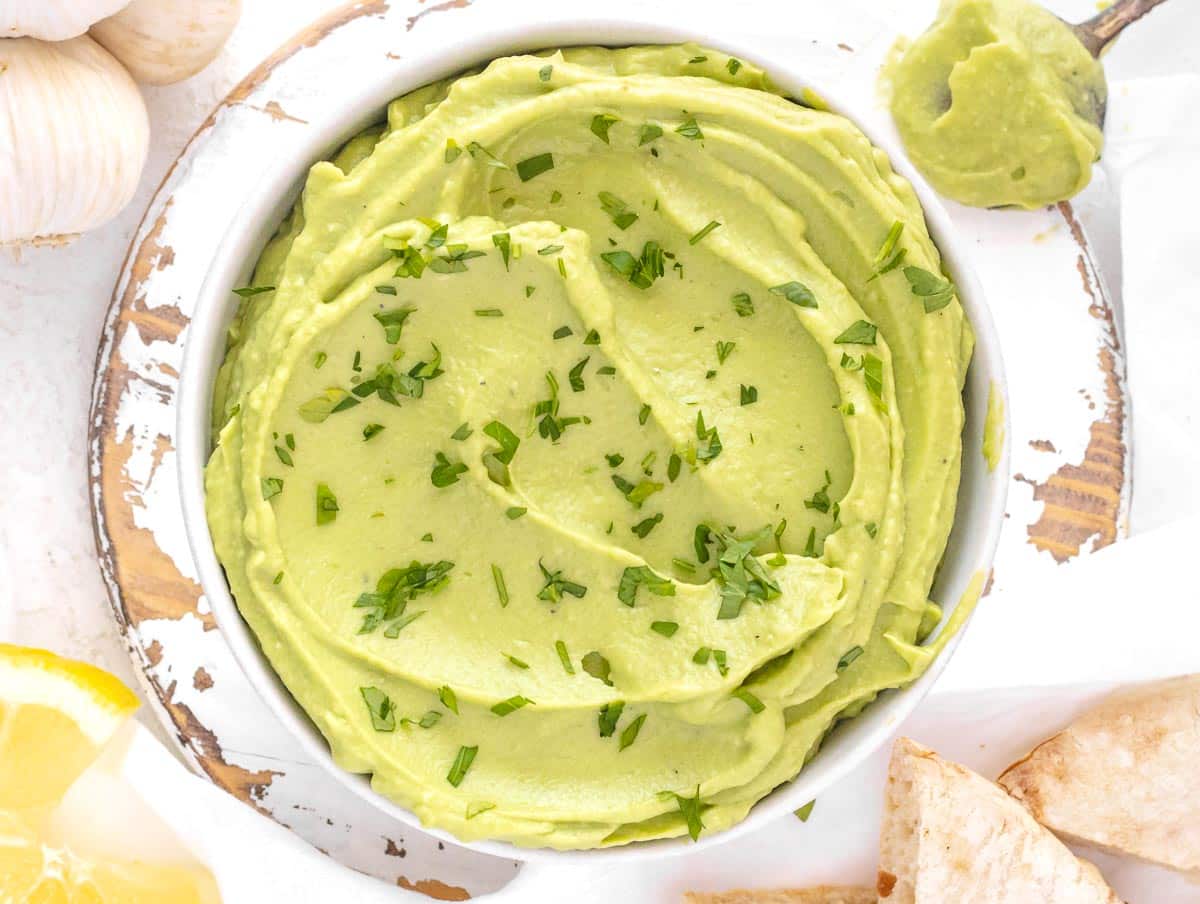 Inspired by Mexican flavors, this recipe is perfect for making ahead and eating for a quick and nutritious lunch, as a healthy dinner, or bringing potlucks and picnics.

Black beans are a powerhouse of nutrition, and combined with creamy avocado and fresh veggies, this salad will keep you satiated for a long time.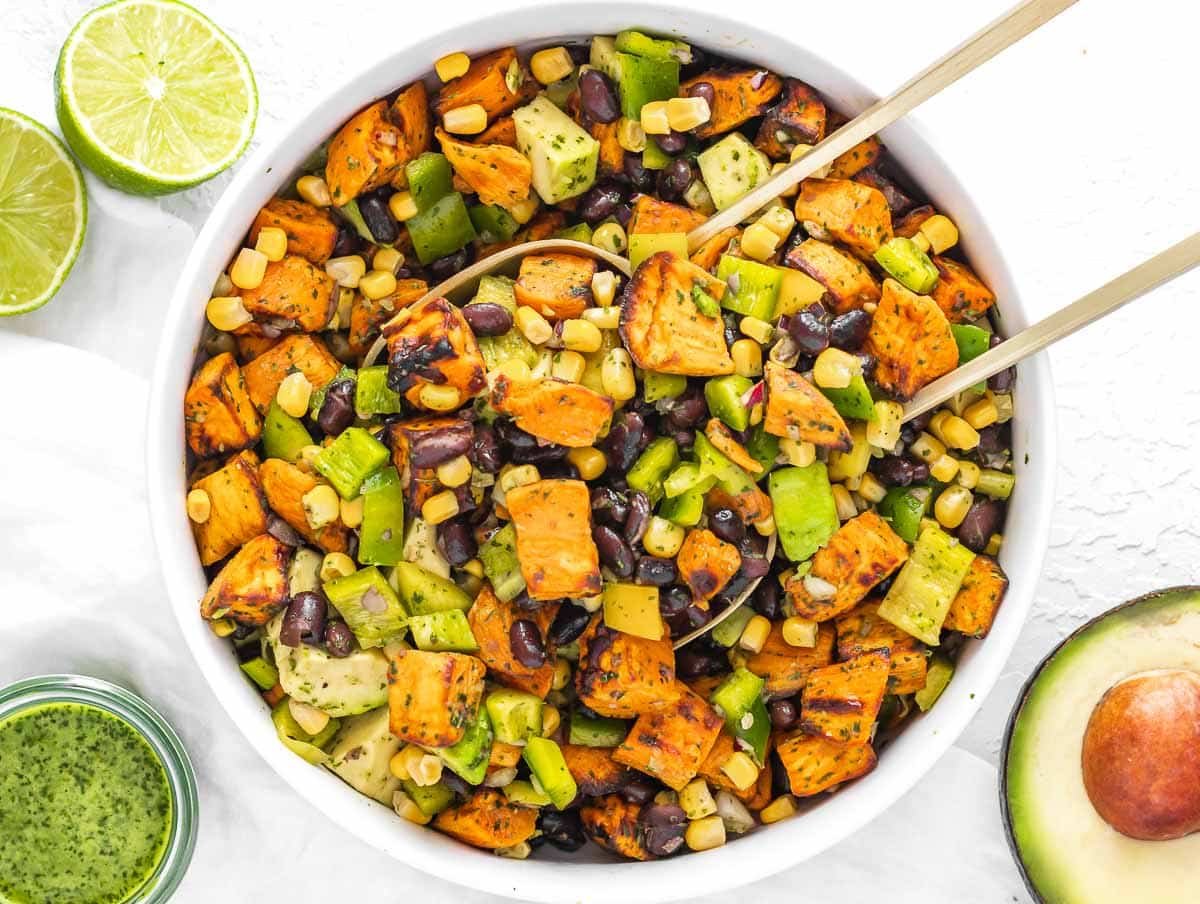 With its healthy fats and plenty of fiber, the avocado makes this salad a good candidate for a quick everyday summer lunch.
We often eat it as a main for dinner and serve it with a side of hummus, crusty bread, or rosemary focaccia.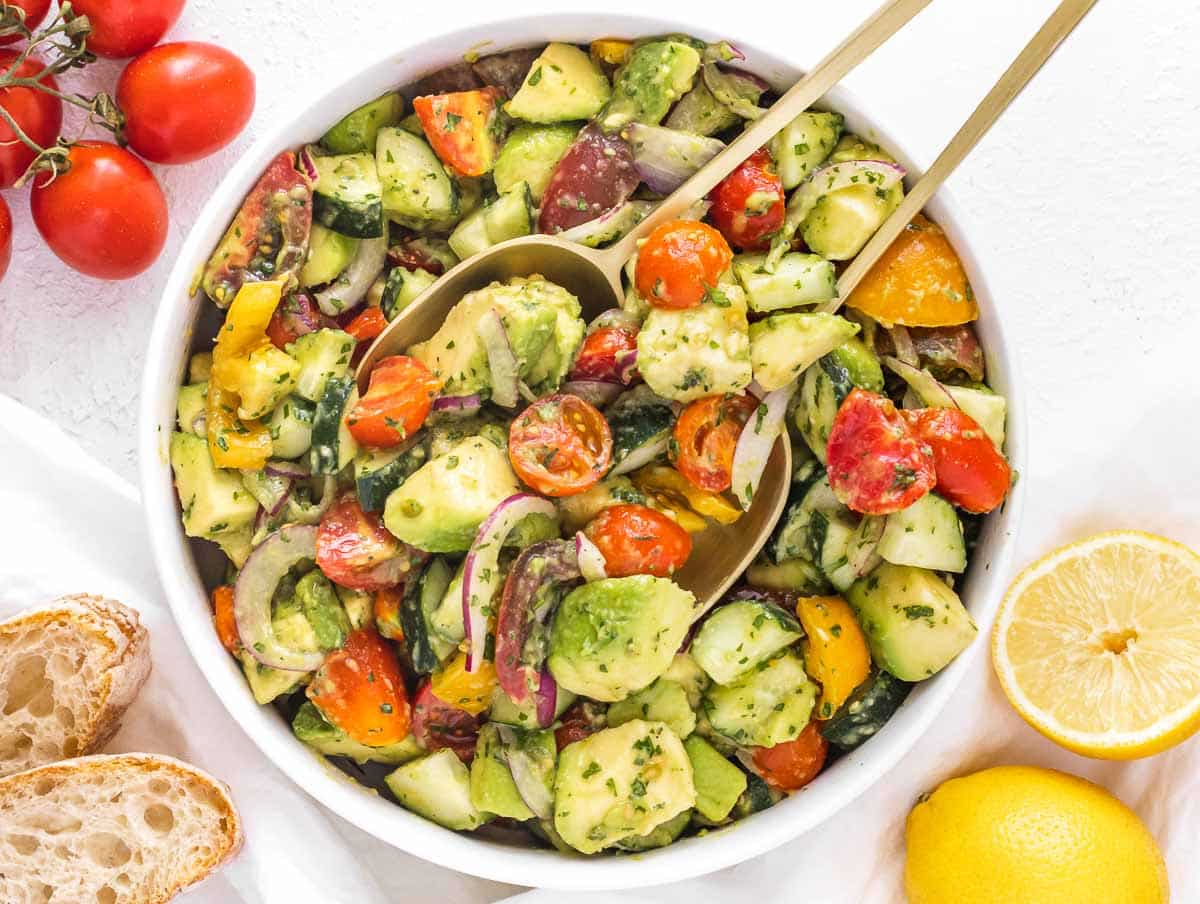 Guacamole is a Mexican avocado-based dip, sometimes served as a spread or as a salad. The name comes from the Aztec language "āhuacamōlli" which literally translated means 'avocado sauce', from āhuacatl 'avocado' and mōlli 'sauce'. It's a perfect starter with nachos and a great pairing with most Mexican dishes!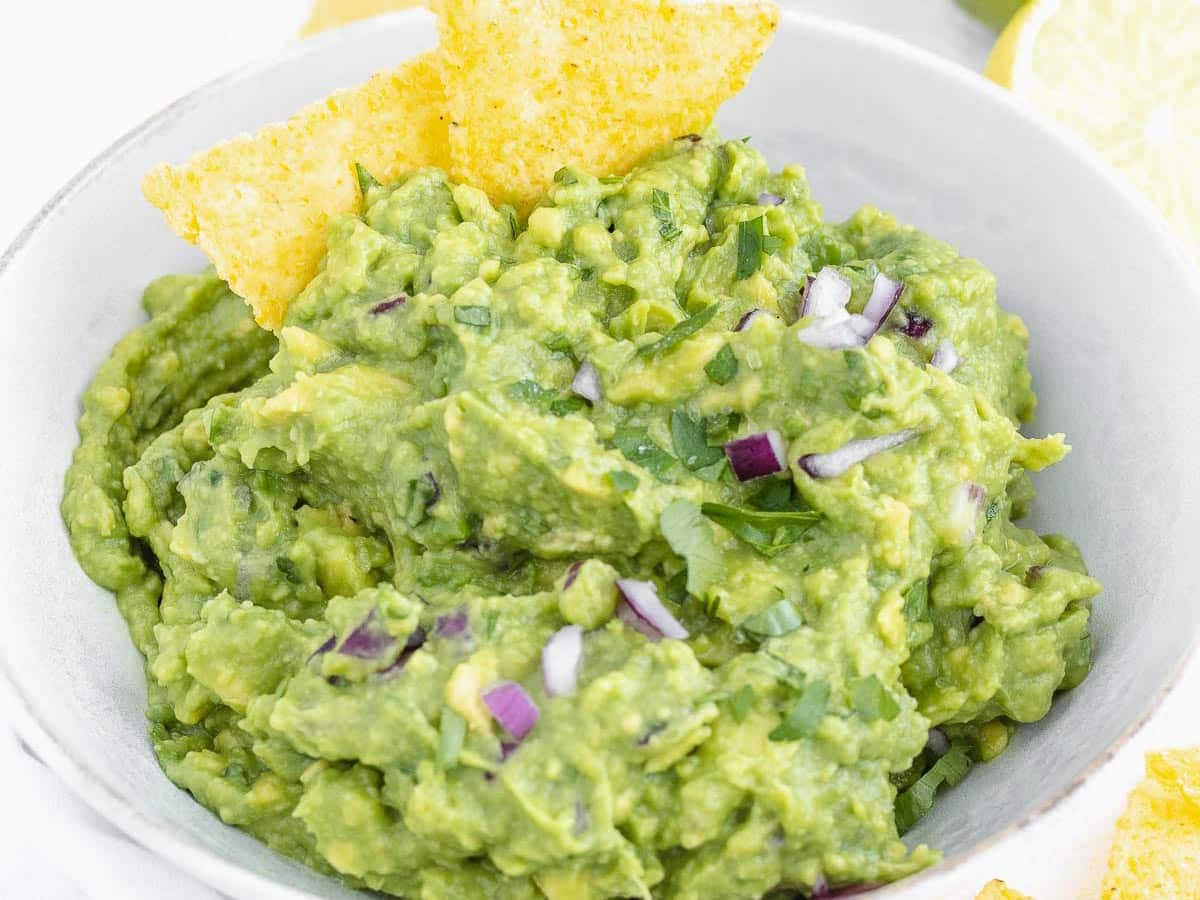 Here's a tasty, wholesome, and vegetable–packed chili recipe. It's great for meal prep and pairs well with nachos, tortillas, and your favorite toppings – we love to serve it with avocado, sour cream, guacamole, lime, and fresh cilantro.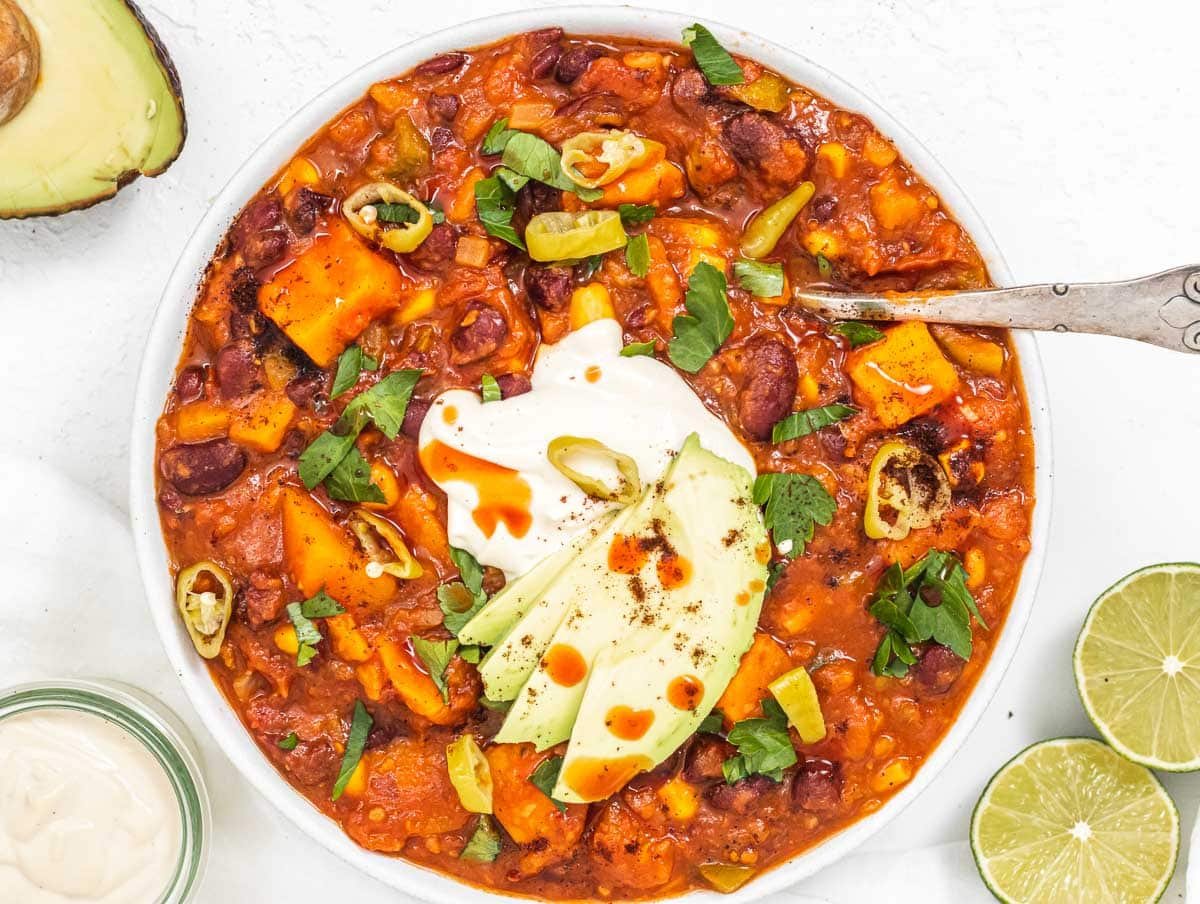 Fresh cilantro, sour cream, and slices of creamy avocado make amazing toppings for this healthy potato hash recipe.
With this sweet potato hash, we wanted to provide you with a more modern, healthier recipe that you can enjoy for breakfast, lunch, and dinner.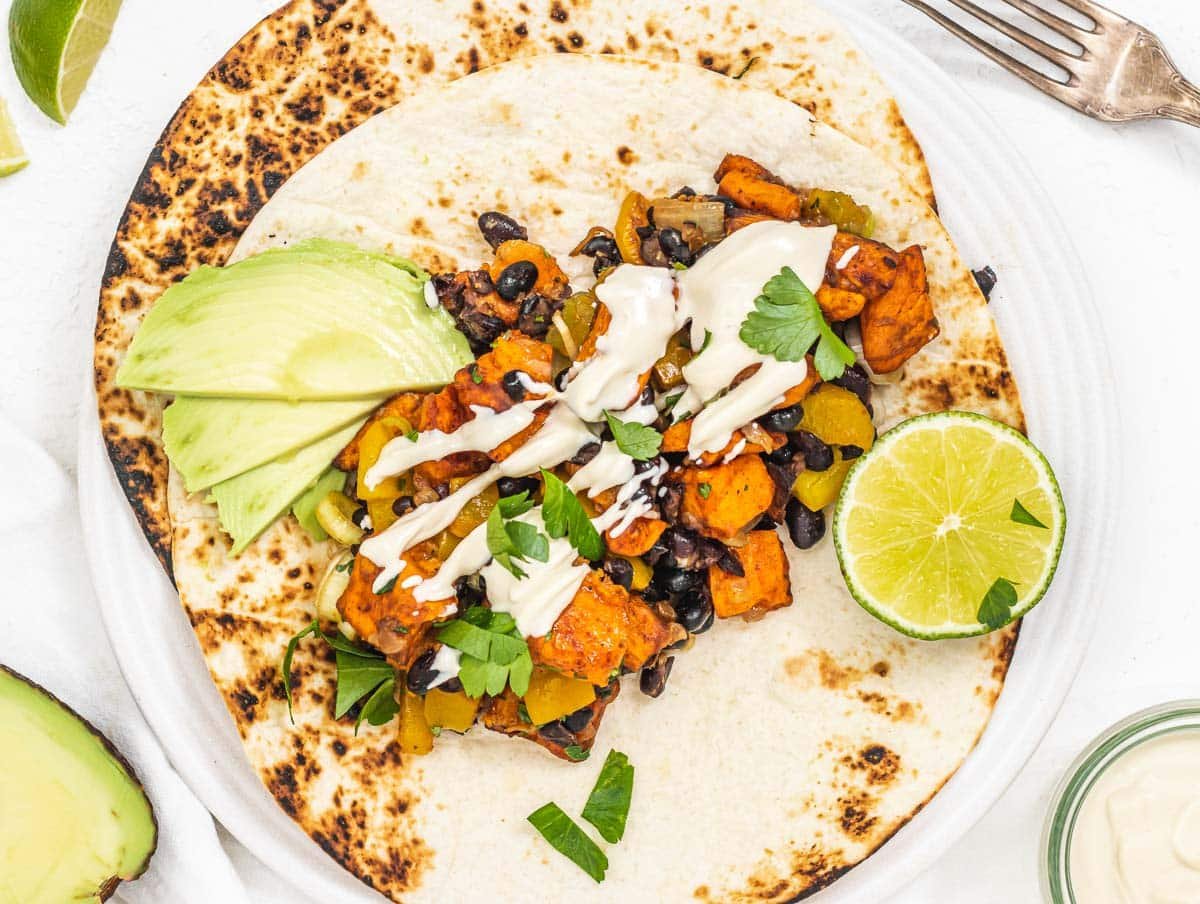 Our favorite way of eating tofu scramble is by adding seasonal veggies to it. Mushrooms, spinach, broccoli, peppers, and beans all fit right in, and you'll never get bored.
Serve the scramble on toast with plenty of avocado slices and fresh parsley for a wholesome meal idea.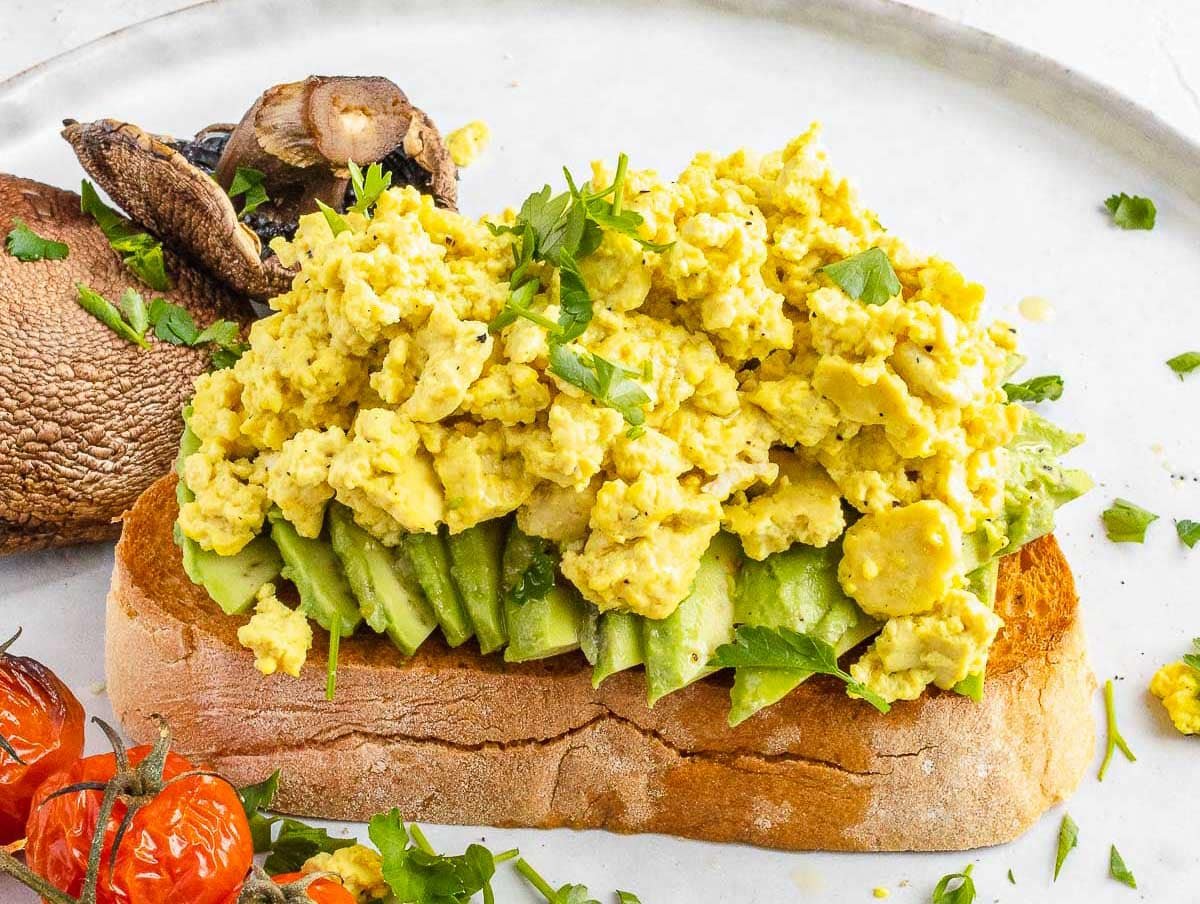 Microwave sweet potato is one of the easiest meals you'll ever make and by far the easiest and fastest way of cooking sweet potato.
Stuff the potato with chickpea salad, rice salad, or couscous, and add a dollop of mashed avocado on top for a wholesome meal.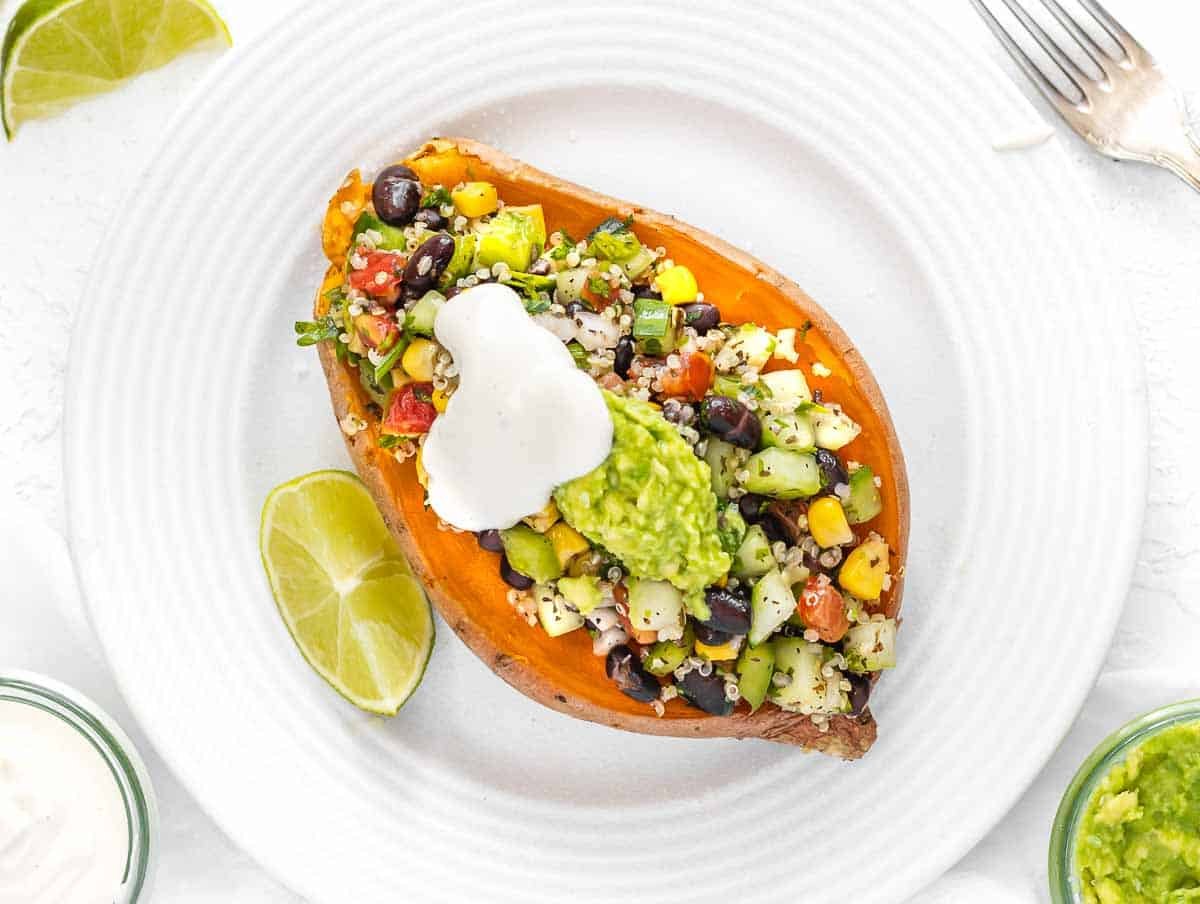 Our chickpea quinoa salad with avocado is an easy, nutritious, and tasty meal that you can make in less than 20 minutes with simple ingredients. We often make a big batch, and it feeds us for days.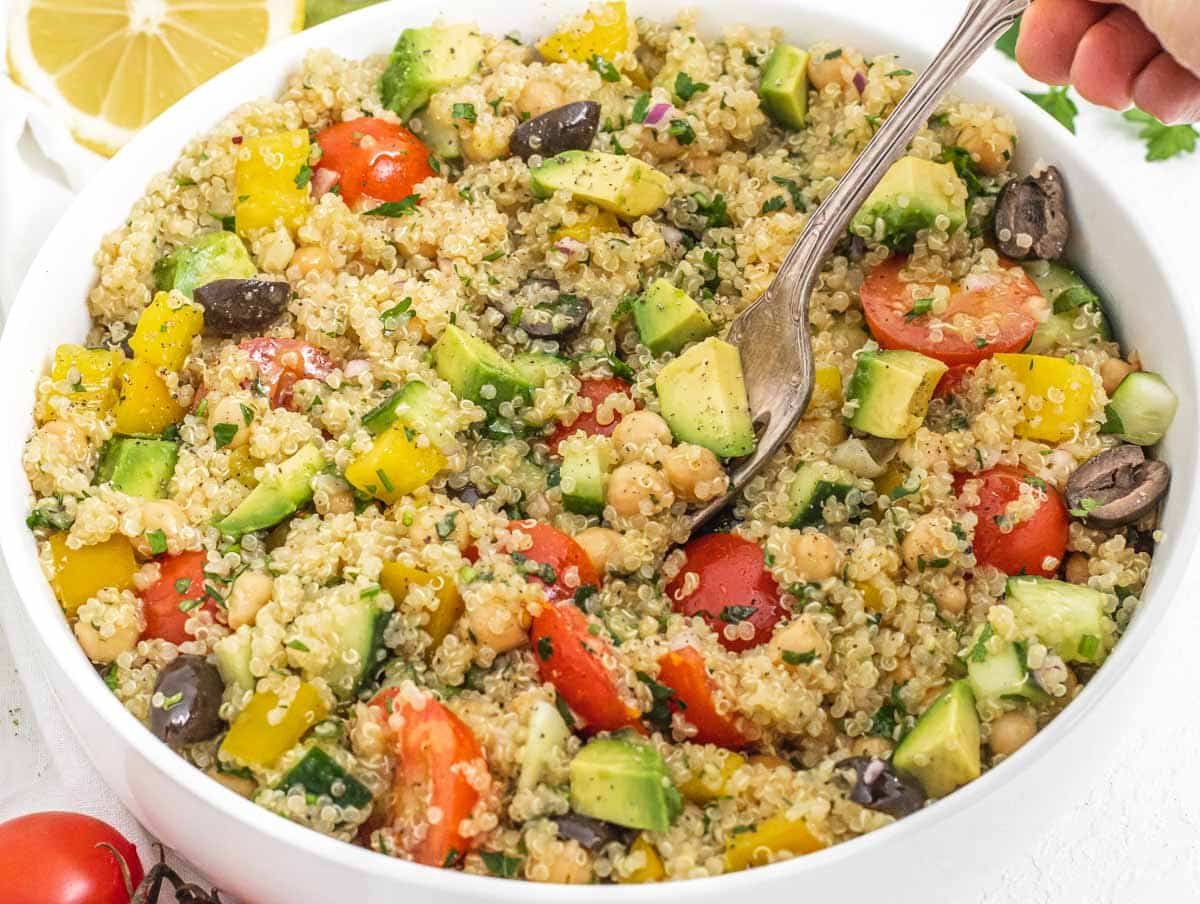 Avocado is a creamy and delicious addition to this tofu salad. The combination of fresh lettuce, veggies, fried tofu, and tahini sauce make a healthy and tasty lunch and dinner idea.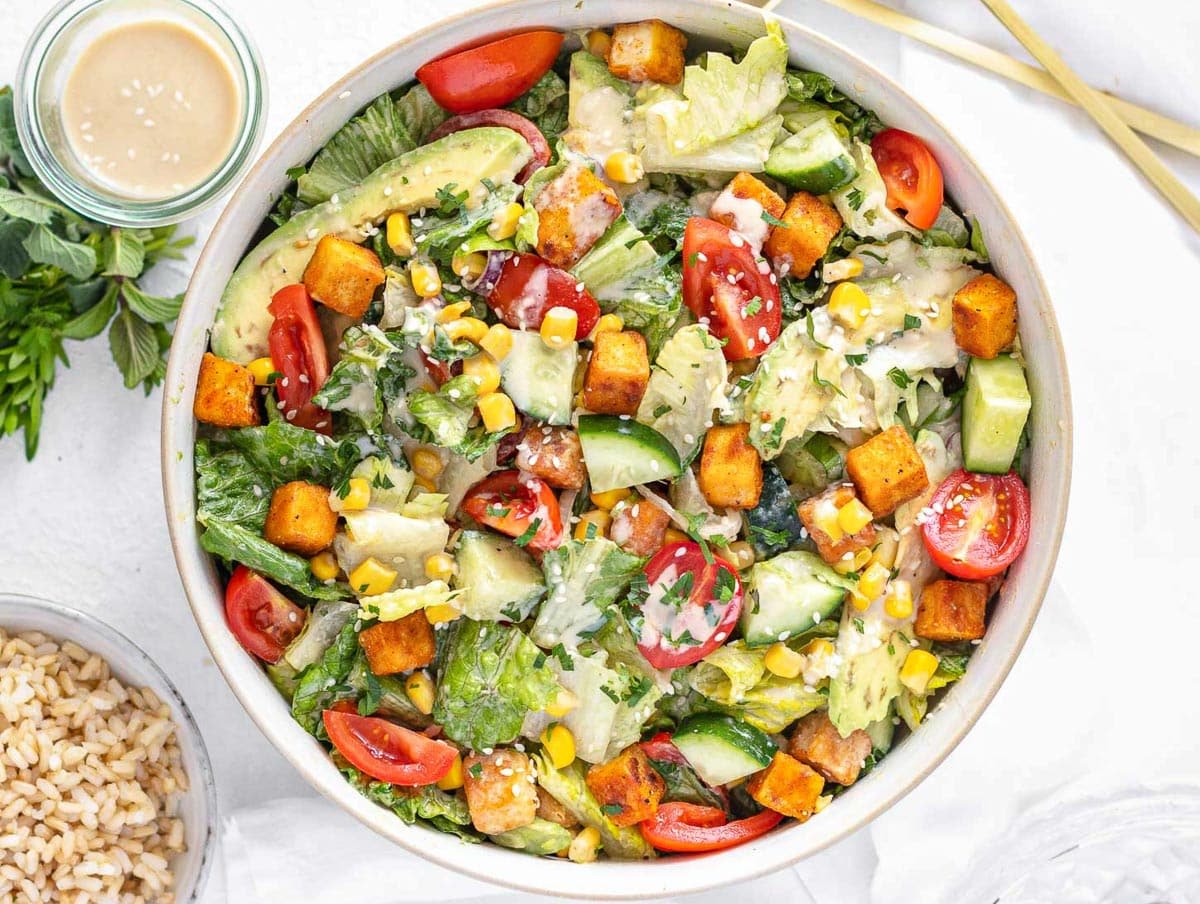 Roasted sweet potato pairs well with most leafy greens, creamy avocado, tangy red onion, crunchy pumpkin seeds, crushed walnuts, crumbled feta cheese, and last but not least, dried cranberries. It's a fantastic lunchbox idea and a wholesome weeknight dinner.
This kale salad is one of our favorite winter salads ever. It's excellent as a starter or side dish for a memorable holiday meal during the winter holidays, and it's also perfect as an easy and healthy lunch or dinner.
Add roasted pumpkin, walnuts, apple, and avocado, or take your pick from our list of vegetable suggestions.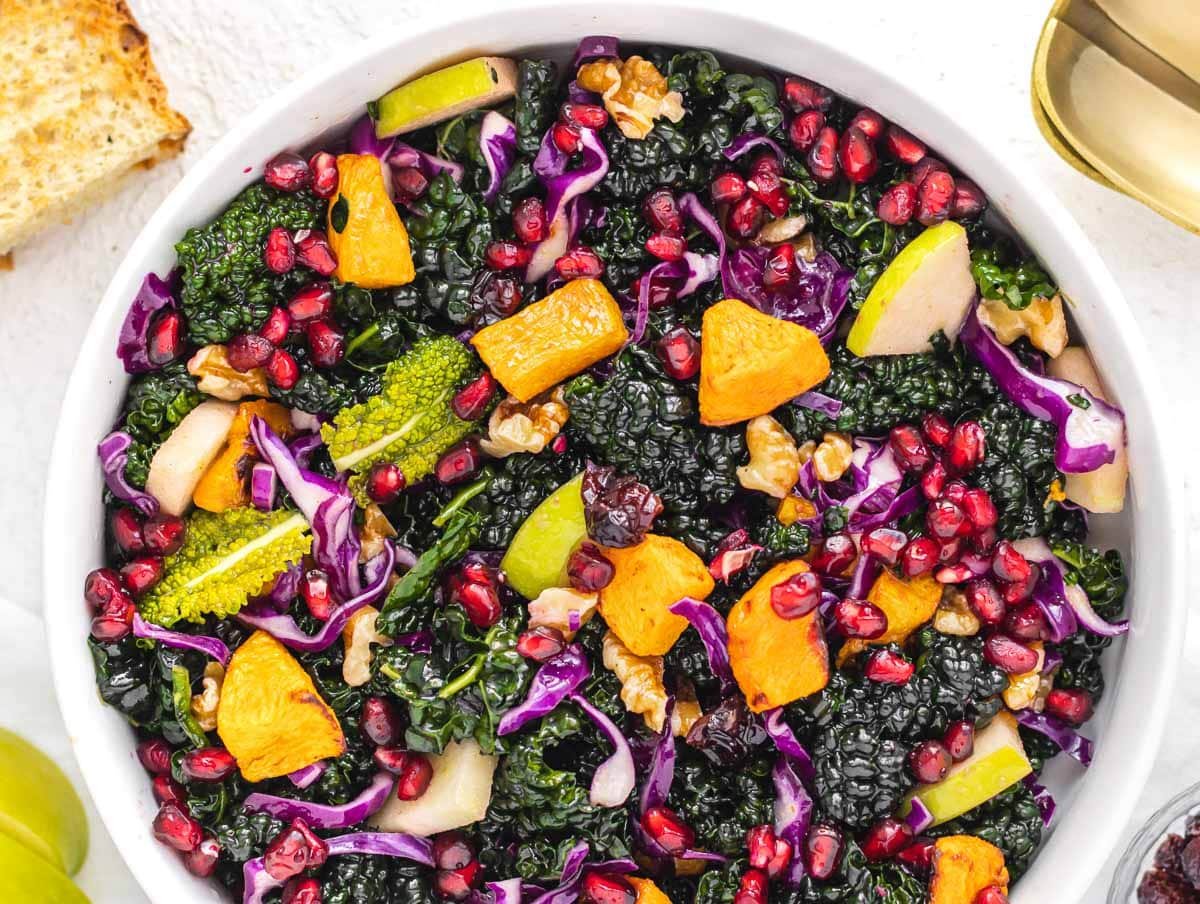 Avocado is fantastic on toasted bread, and this variation of bruschetta with creamy avocado mash is great for breakfast, lunch, and a quick dinner.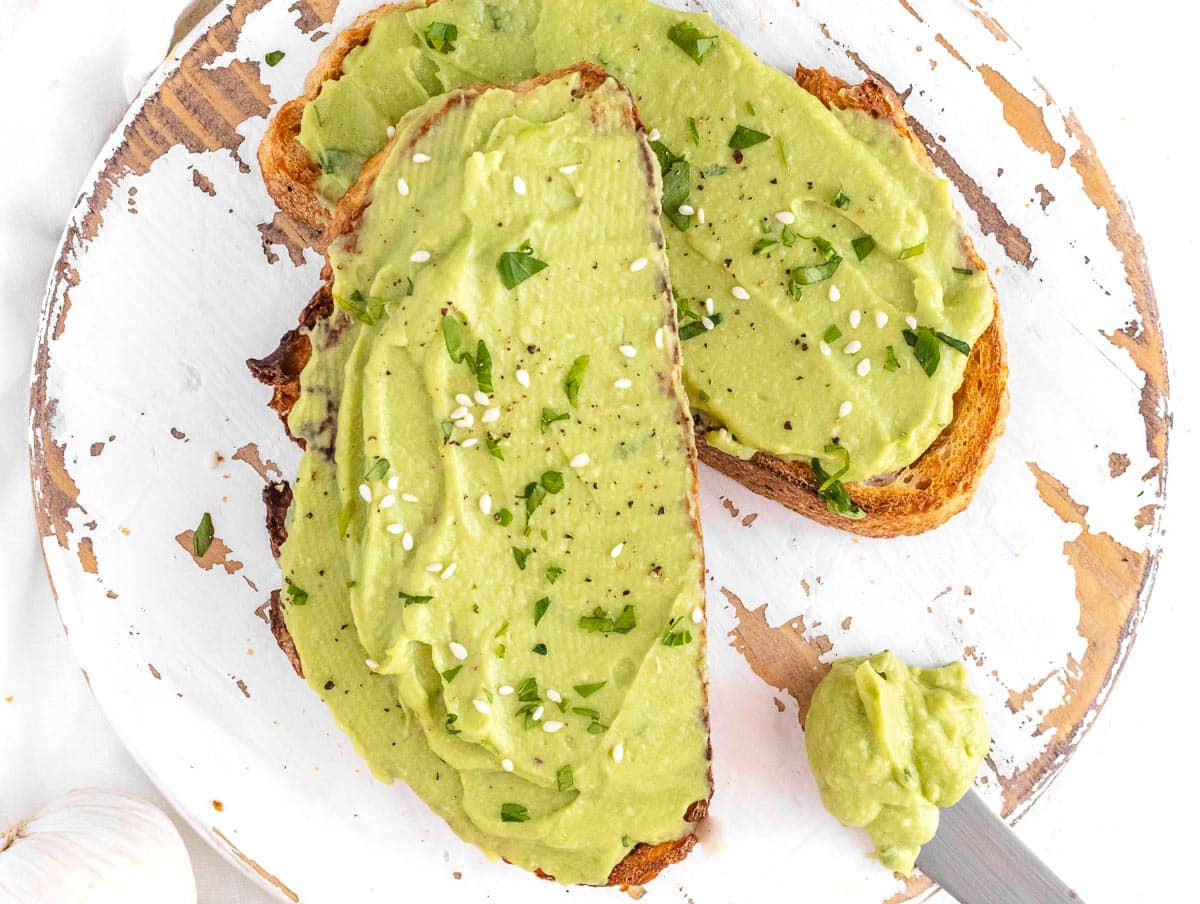 Make this easy and delicious vegan breakfast burrito in just 15 minutes! Fill it with tofu scramble, black beans, and pepper, and top it with cashew sour cream, avocado, and hot sauce.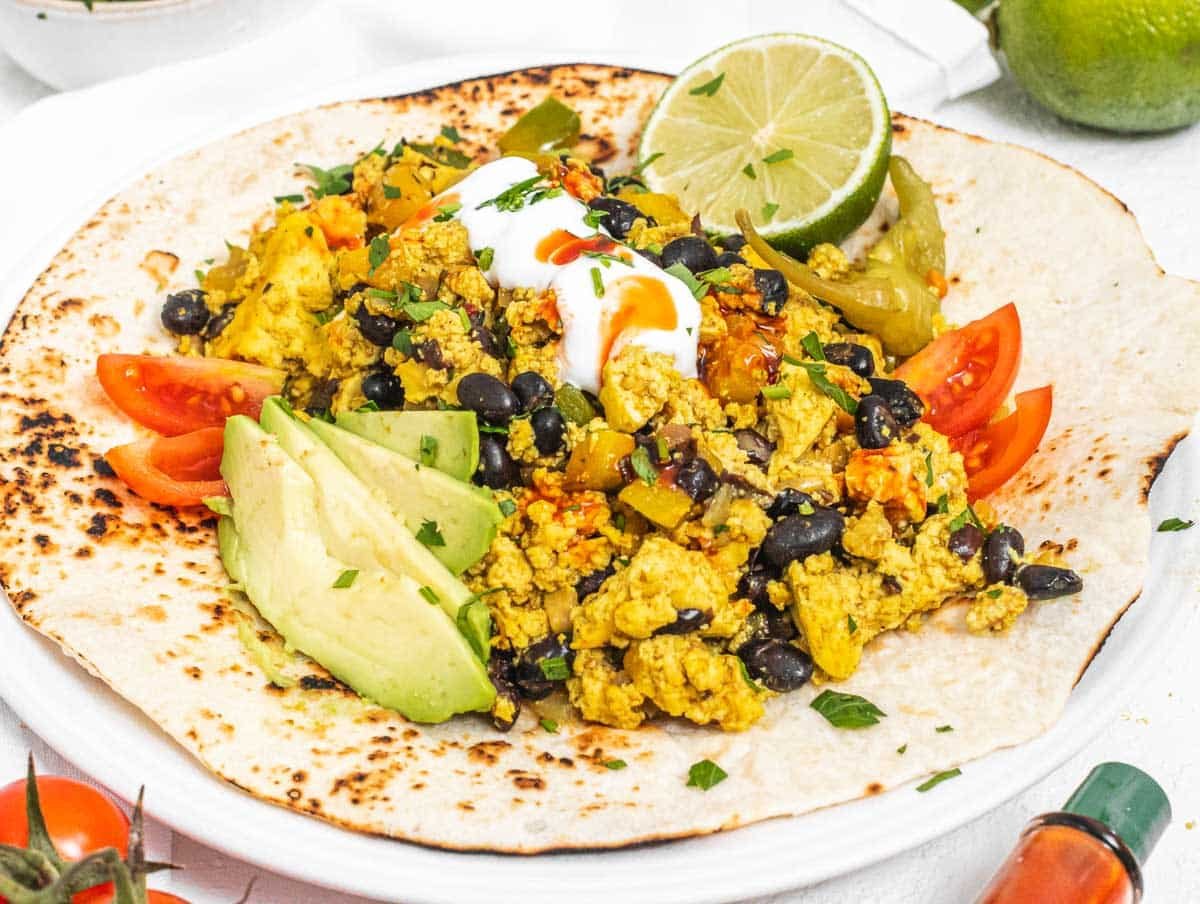 This creamy black bean soup is packed with protein, fibers, and antioxidants; it'll satisfy your hunger and cravings and make you beg for more.
Serve with sliced avocado on top and fresh cilantro.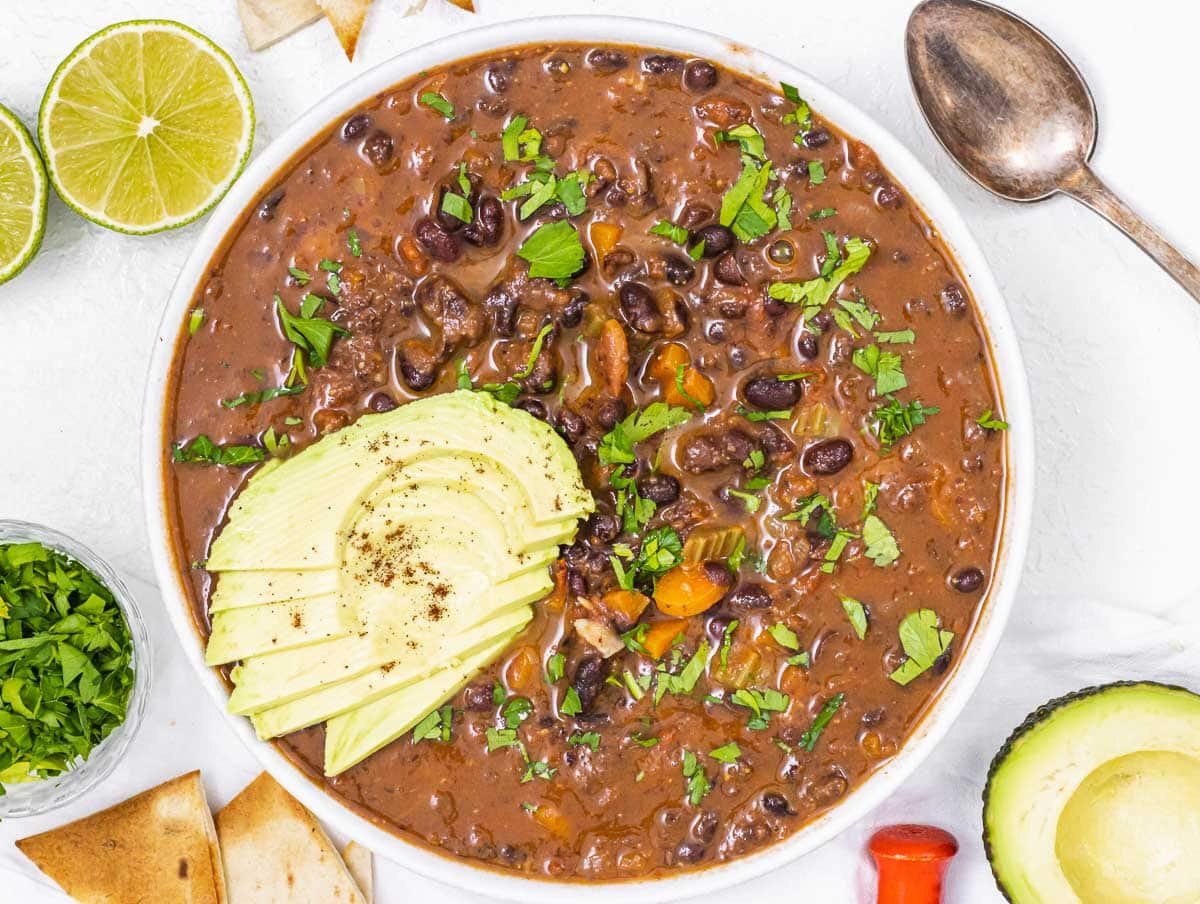 This chickpea pasta salad is excellent for meal prep, potlucks, and picnics, and you can have it for a quick lunch or a healthy dinner. The other day I even had it for breakfast with diced avocado and freshly squeezed lemon juice – delicious!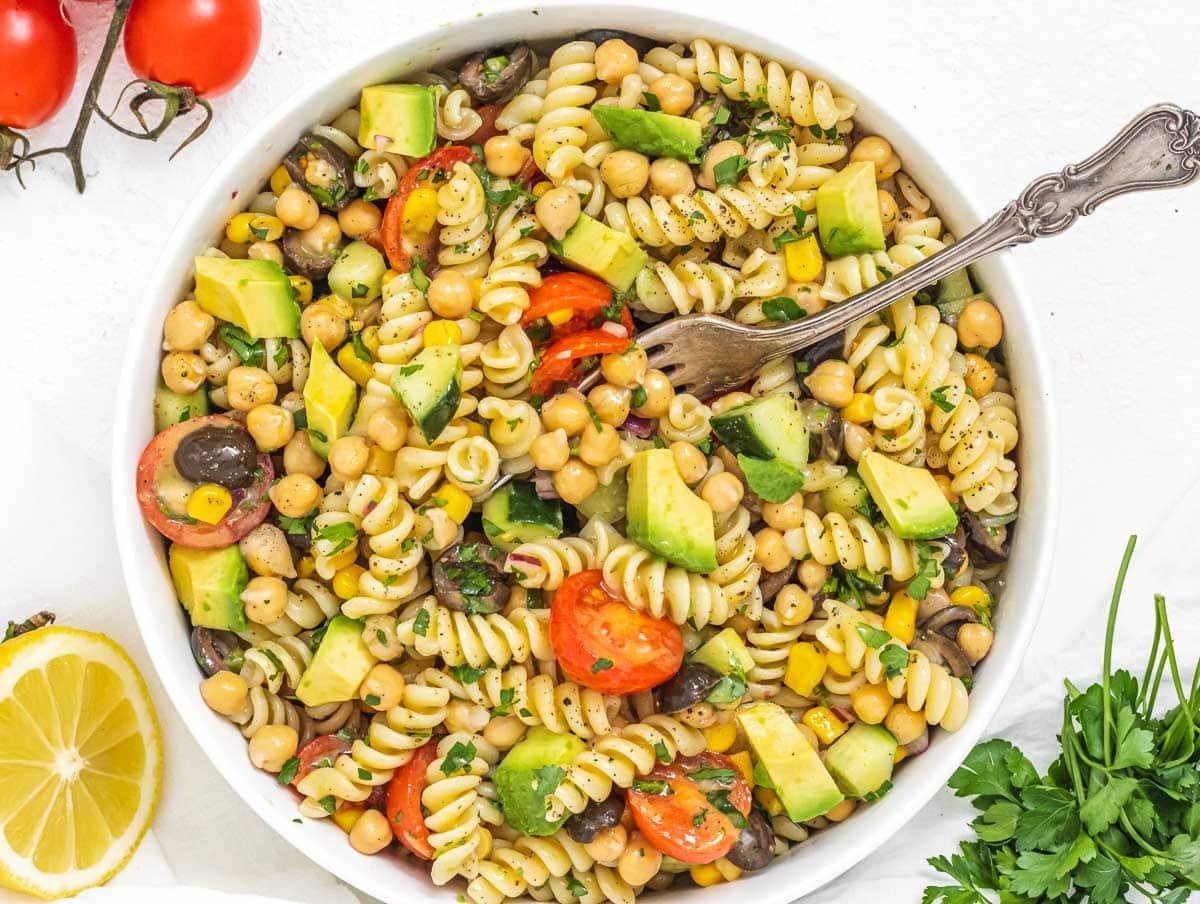 You'll love this recipe because it is fresh, colorful, crunchy, nutritious, and fulfilling. Fresh veggies, creamy avocado, and a tangy mustard dressing make this salad a lunch winner.
Our recipe is also dairy–free and gluten–free.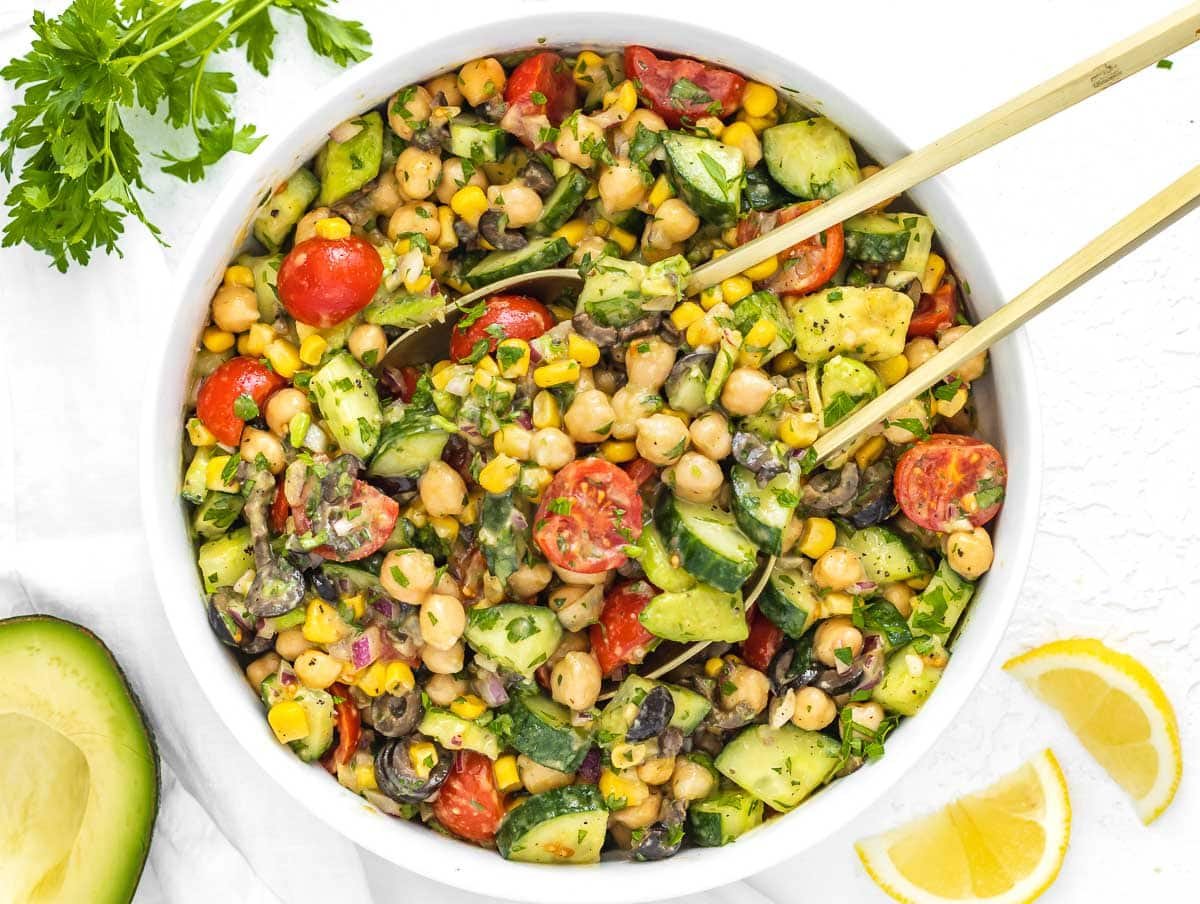 This tender roasted eggplant is topped with Avocado spread, cherry tomatoes, and crispy roasted chickpeas. It's an easy dinner idea with plenty of healthy nutrients, and a Mediterranean flavor base.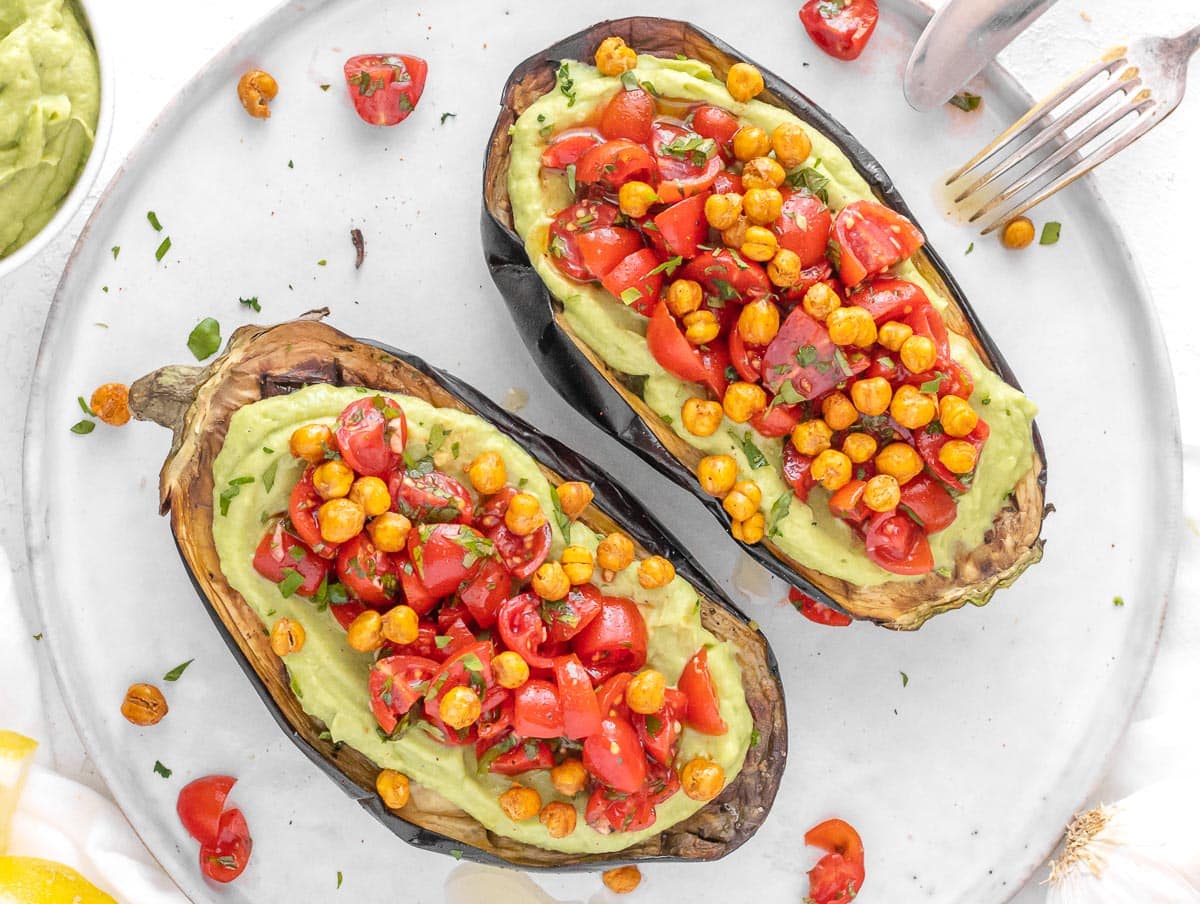 This piadina is a no–yeast recipe that you can easily make at home. It's perfect for a quick and wholesome lunch with mashed chickpea "tuna", avocado spread or our creamy-dreamy hummus, and lettuce leaves.
Watermelon salad is a must-try for the hot summer months and barbecue season. Add crisp cucumber, sliced basil leaves, and thinly sliced red onion to the watermelon cubes. Try it with diced avocado to make this salad recipe tastier and creamier.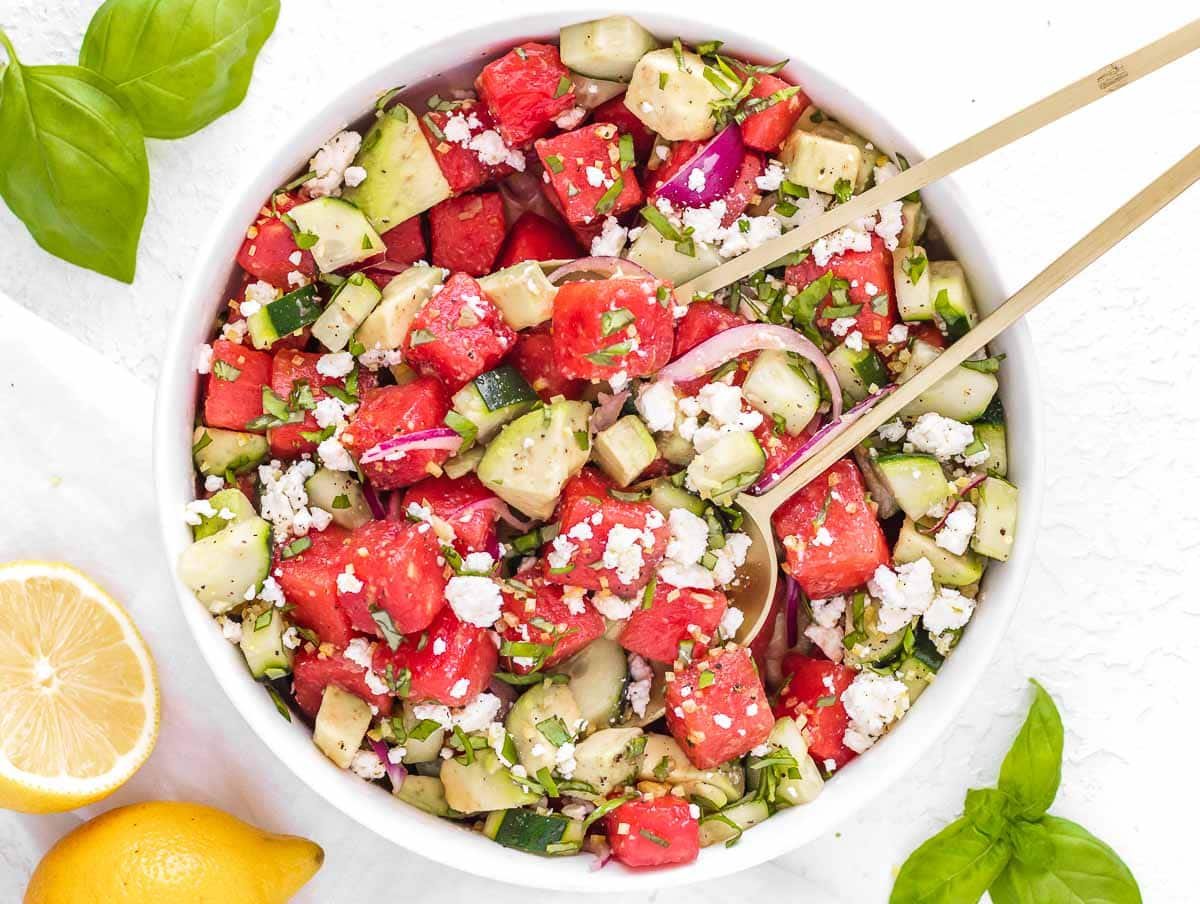 Homemade flatbread pizza is a treat for kids and adults alike!
We top the flatbreads with 3 of our favorite toppings that we call the Italian (melted cheese, basil, and tomatoes), the Greek (sun-dried tomato pesto, olives, and yogurt), and the Californian (mashed avocado and a quick chipotle sauce).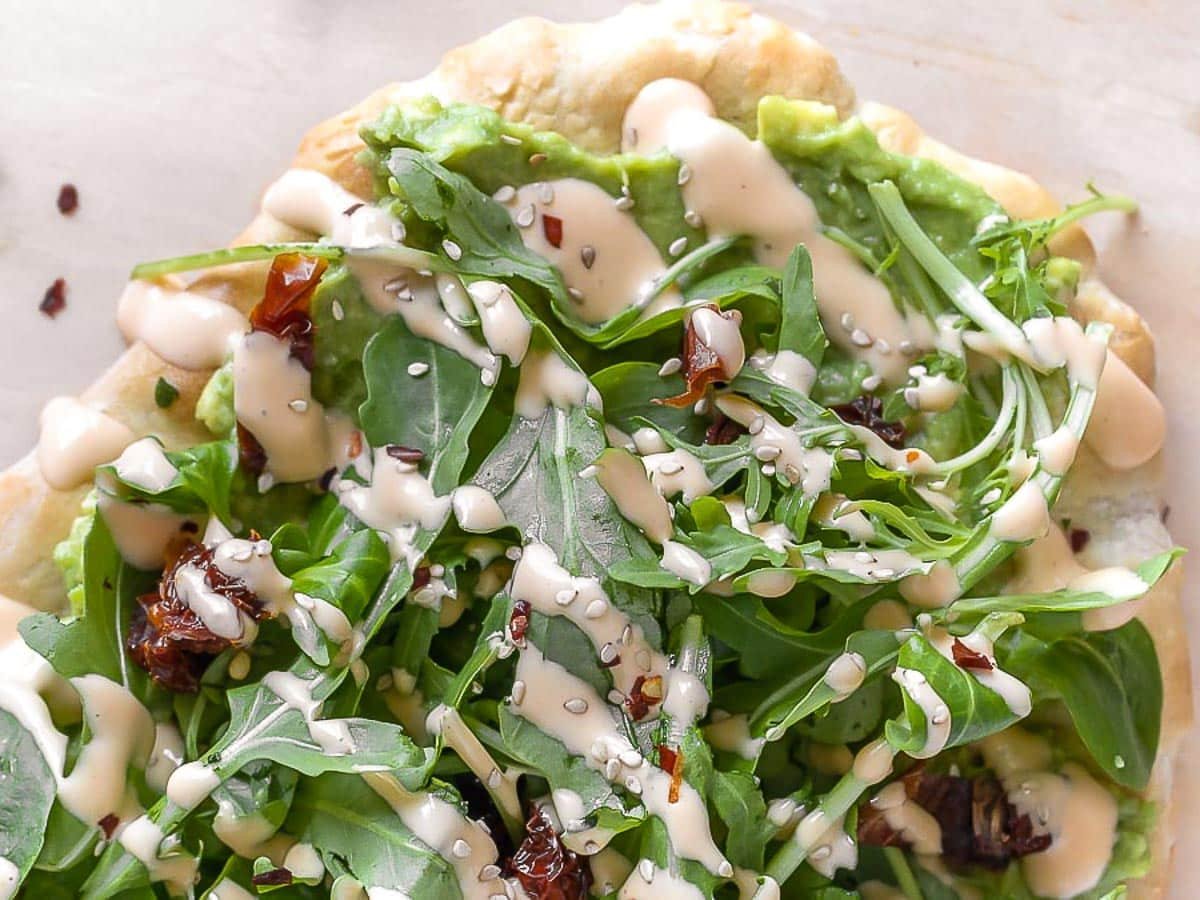 Try this white bean sandwich with toasted bread, sliced avocado, spinach leaves, confit tomatoes, and a few capers. It's a deliciously creamy spread that works well as a mayo substitute.
Avocado bruschetta is what we make for dinner when we want something tasty and fulfilling but don't want to spend hours cooking.
Creamy diced avocado melds perfectly with tomatoes, olive oil, fresh basil, and balsamic vinegar.
Farro salad is made of cooked farro, mixed vegetables, and a dressing of your choice. We make it with Italian dressing and seasonal vegetables. Customize your farro salad with feta or dairy-free cheese, nuts, or avocado for a creamy yet healthy meal idea.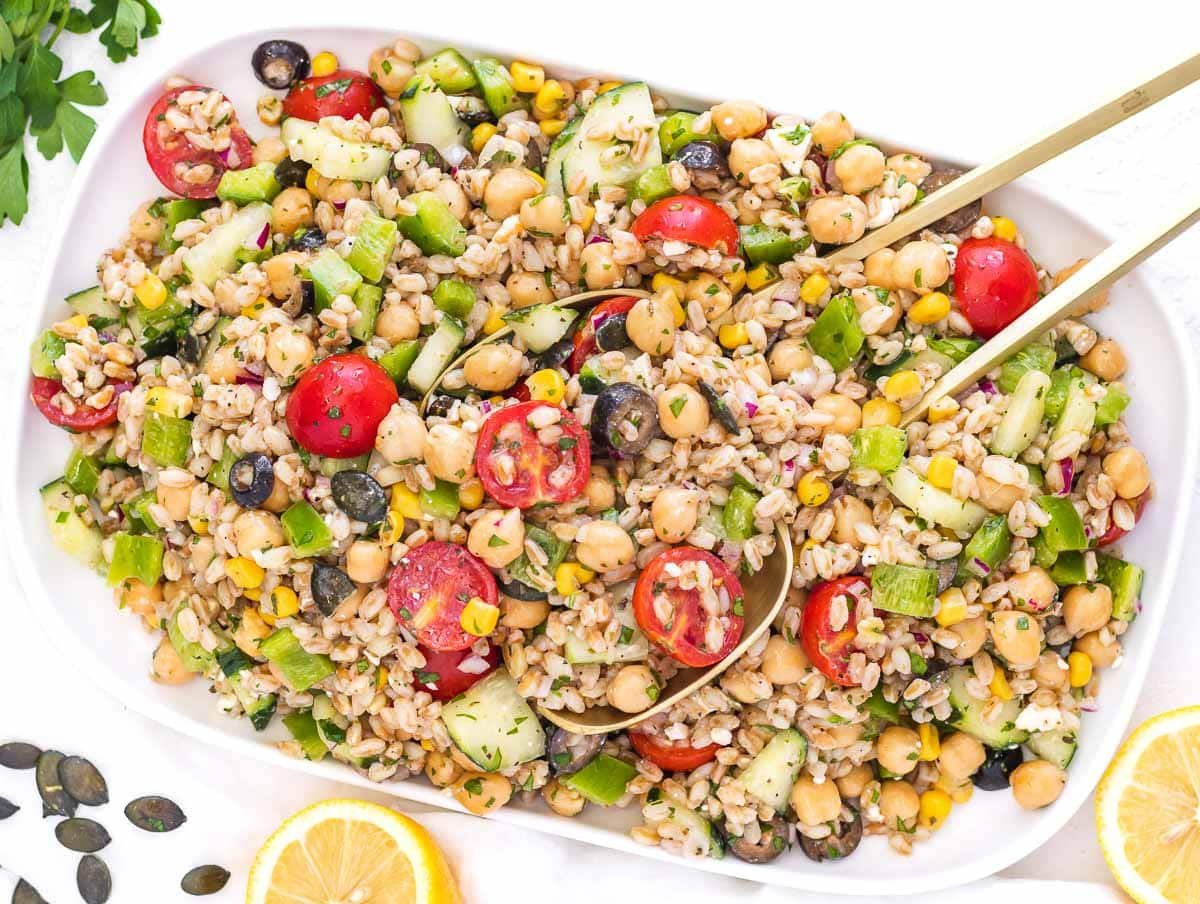 Make a mayo-free and rich cilantro lime dressing by adding a ripe avocado to it. You'll have a delicious creamy avocado cilantro lime dressing and you can even use it as a dip with nachos.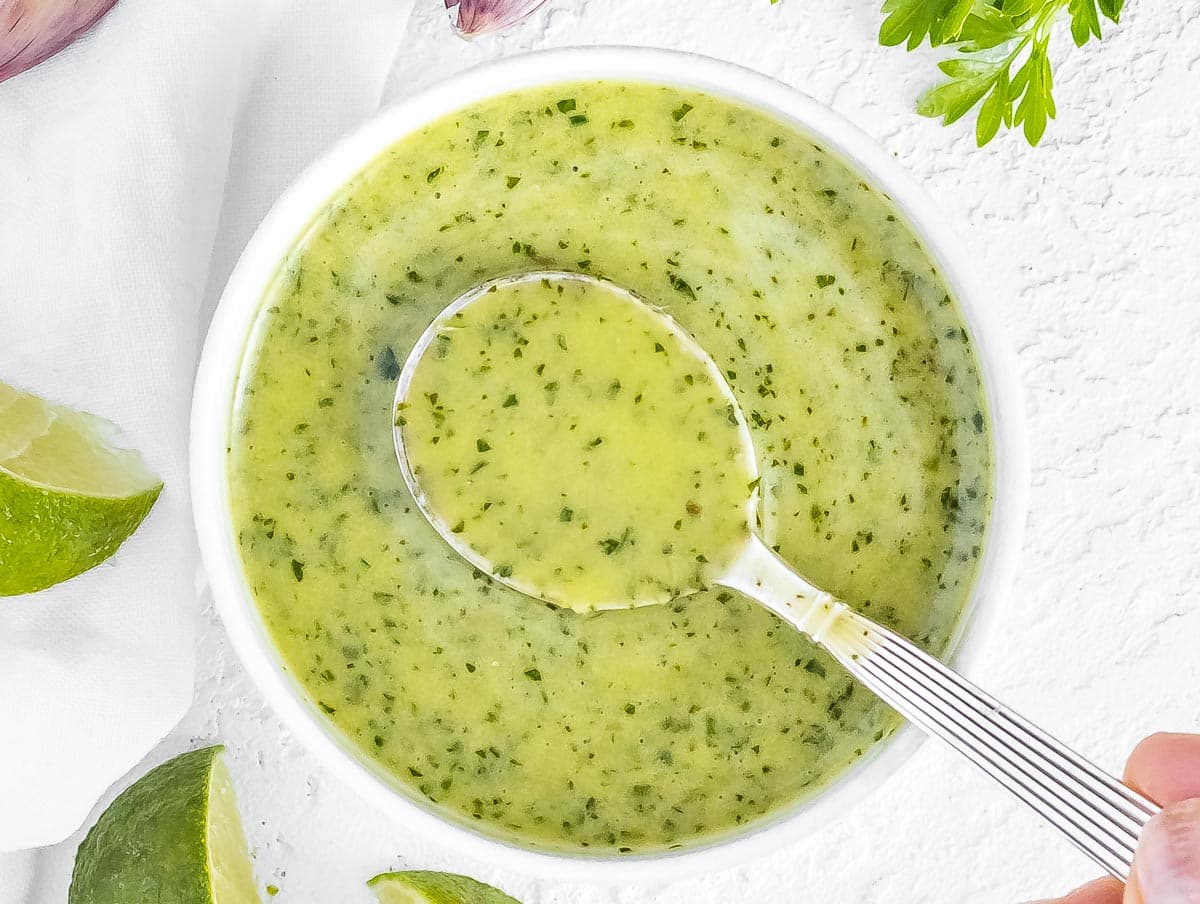 For many more salad ideas, check out our salads category page.
25 Easy Avocado Recipes
Take your pick from our 25 easiest and creamiest avocado recipes.Learn how to make the creamiest, most delicious avocado spread to eat in sandwiches and on toast or serve as a dip with warm pita bread and veggie sticks.
Ingredients
2

large

avocados

2

– 3 tablespoons

tahini

3

tablespoons

lemon juice

or more to taste

½

clove

garlic

½

teaspoon

salt

or more to taste

¼

teaspoon

black pepper
Instructions
Cut the avocado in half, remove the pit, and score its flesh with the tip of a knife.

Then, scoop the flesh out and add it to a food processor.

Peel the garlic, cut it in half lengthwise, and remove its core, if any, with the tip of a knife. Next, slice the garlic and add it to the food processor.

Add the rest of the ingredients to the food processor: tahini, freshly squeezed lemon juice, salt, and black pepper.

Pulse until you reach your desired texture. You might have to stop once or twice to scrape down the sides of the food processor.

We think the avocado spread should be almost completely smooth, without too many avocado pieces.

Taste, adjust for salt and lemon juice, then transfer to a bowl and serve as a dip or a spread.
Video
5-min Avocado Spread (dip & sandwich spread)
Notes
Nutrition information is an estimate for 1 large portion of avocado spread out 4.
TIPS
Don't have a food processor? No worries. You can make this recipe with a blender, potato masher, and even with a fork, mashing the avocado first, then adding in the other ingredients.
MAKE AHEAD & STORAGE
– Make Ahead: avocado spread (like most avocado-based recipes) is best eaten soon after it's made.
Avocados are hard to store once they are out of their shell because they contain many antioxidants that turn brown as soon as they come in contact with air.
– Refrigerator: to store avocado spread leftovers, transfer them into a bowl, level it with a spoon, and cover it with a thin layer of lemon juice.
Next, cover it with plastic wrap, pushing down the wrap with your fingers making sure it's in contact with the avocado. Keep in the fridge for max 38 hours.
When you take it out of the refrigerator, remove the wrap and stir the spread well with a spoon to mix in the lemon juice.
Nutrition
Calories:
209
kcal
,
Carbohydrates:
11
g
,
Protein:
3
g
,
Fat:
19
g
,
Saturated Fat:
3
g
,
Polyunsaturated Fat:
4
g
,
Monounsaturated Fat:
11
g
,
Trans Fat:
0
g
,
Cholesterol:
0
mg
,
Potassium:
537
mg
,
Dietary Fiber:
7
g
,
Sugar:
1
g
,
Vitamin A:
153
IU
,
Vitamin B6:
0.3
mg
,
Vitamin C:
15
mg
,
Vitamin E:
2
mg
,
Vitamin K:
21
µg
,
Calcium:
25
mg
,
Folate:
91
µg
,
Iron:
1
mg
,
Manganese:
0.2
mg
,
Magnesium:
37
mg
,
Zinc:
1
mg
Tried this recipe?
Leave a comment below or mention @theplantbasedschool on Instagram. We are also on Facebook, Pinterest, YouTube, and TikTok.
If you liked these easy avocado recipes, you might also enjoy:
---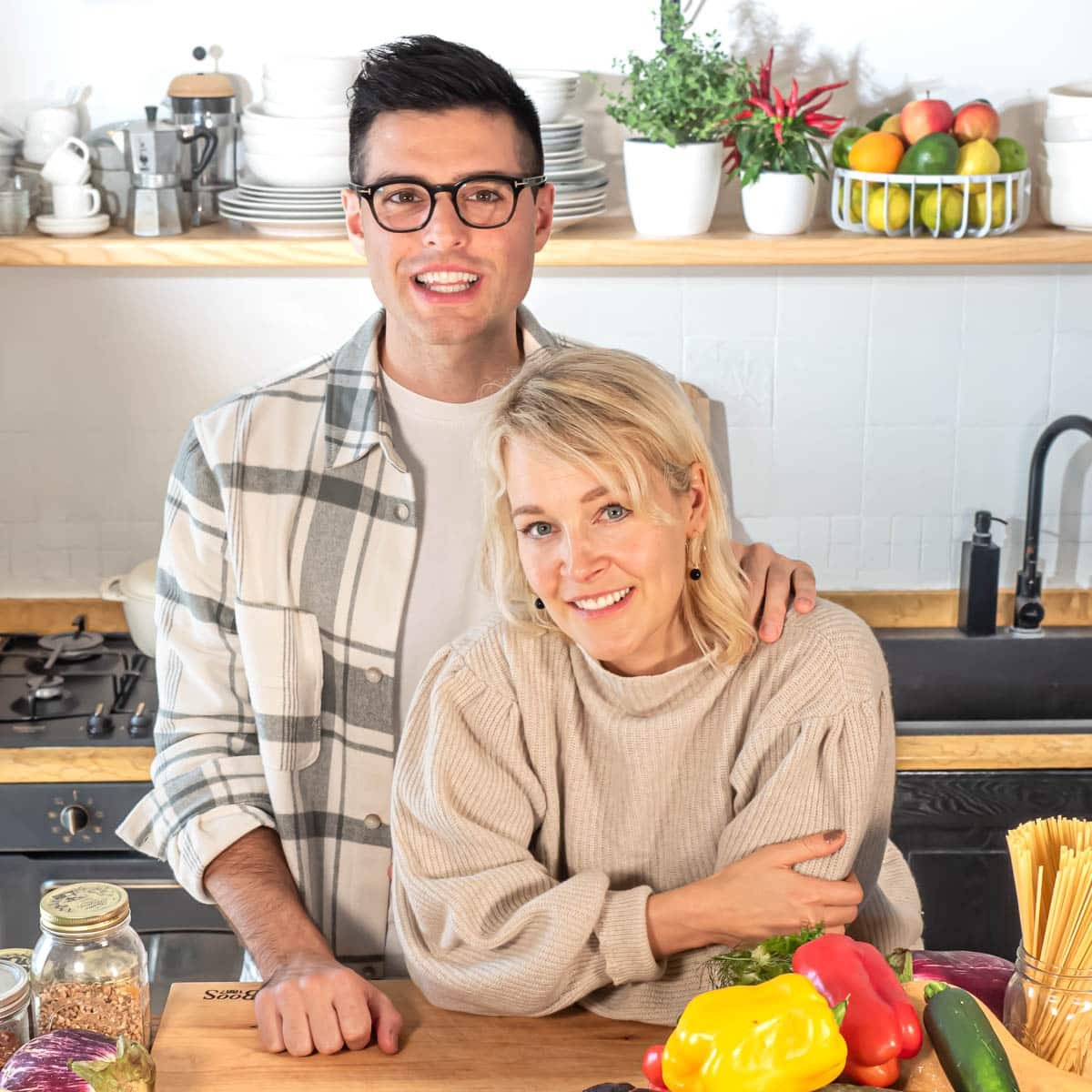 Hi! We are Nico & Louise
Welcome to The Plant-Based School, a food blog with easy, tasty, and wholesome recipes.
Our aim is to help you and your family eat more veggies through delicious recipes with simple ingredients.
Easy right?