Are you looking to find tasty vegetarian recipes to level up your next meat-free meal? These delightful vegetarian lunch and dinner ideas are easy to make, healthy, quick, and vibrant.
We've listed 30 of our most delicious, and most satiating recipes that will give you some fresh ideas for your next meatless meal. Scroll through this collection, and take your pick from grain bowls, pasta, burrito, sandwiches, big salads, and much more.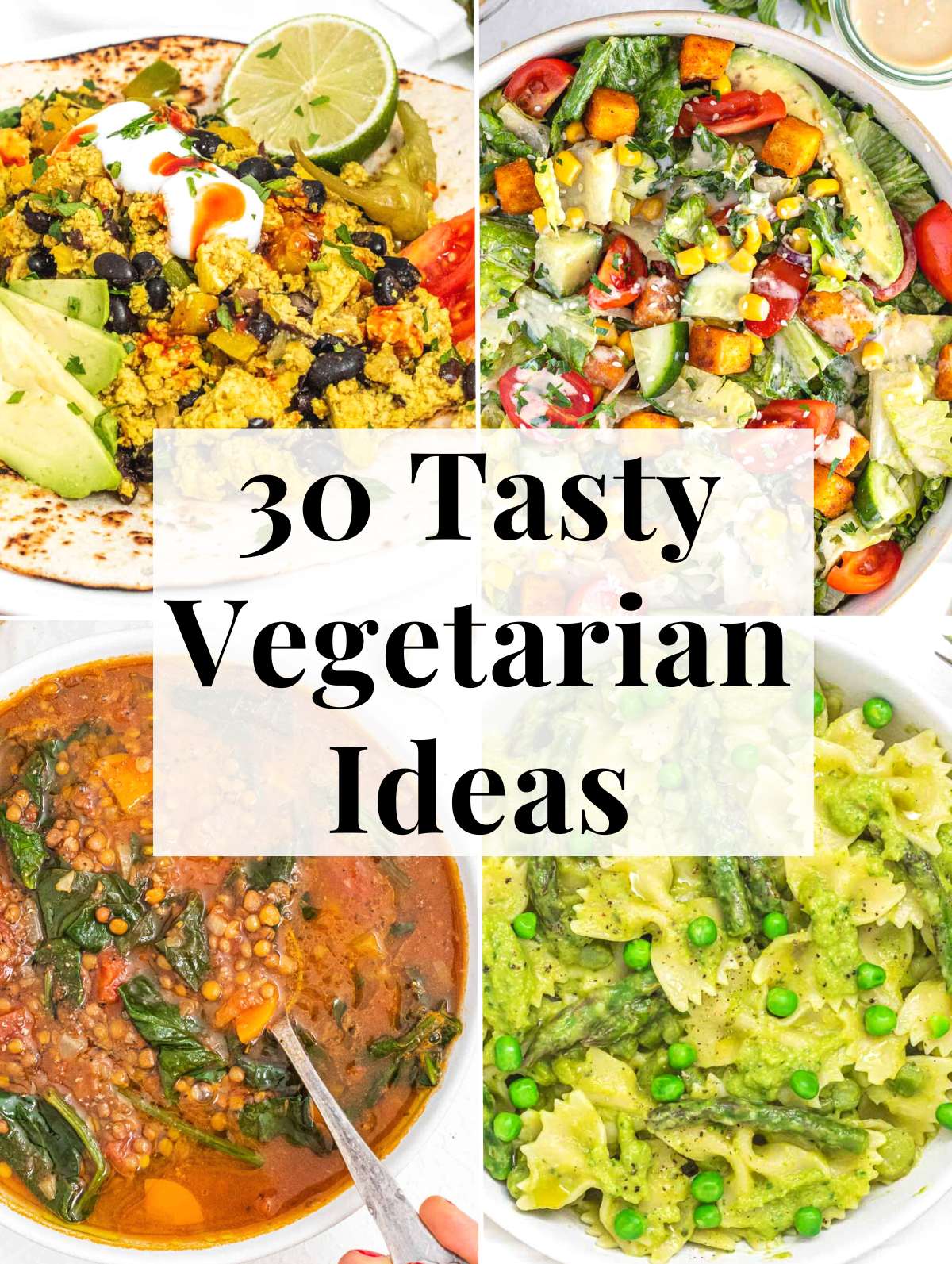 Browse through this list, and take your pick: these wholesome recipes will fulfill and nourish you, and add extra color to your meal.
What should I eat for dinner as a vegetarian?
Once you've picked your next vegetarian main dish from this list, you can easily pair them with most vegetable side dishes, such as salads, roasted vegetables, and casseroles. Here are some of our favorites:
How to store vegetarian recipes
How to store: you can store leftovers in an airtight container in the fridge for up to 3 days. Reheat in the microwave. On the second day, these meals will be stickier and less creamy.
How to freeze: you can also freeze the meals for up to 3 months. To freeze, let it cool down first, then transfer them to a freezer-friendly container, leaving some space to allow it to expand. Thaw in the microwave or in a pot on the stovetop. Before serving, garnish with fresh herbs, and optionally a drizzle of olive oil.
30 Tasty Vegetarian Recipes
Here's a delicious and easy lentil vegetable soup with a rich and hearty tomato base and nourishing green or brown lentils.
You can make these recipes with simple ingredients, they're excellent for weeknight dinners and meal prep and they make healthy and wholesome homemade meal.
Equipment
Optional: immersion blender or blender

to make the soup extra creamy
Ingredients
2

tablespoons

extra virgin olive oil

2

carrots

1

onion

1

stalk

celery

1

teaspoon

cumin

4

cloves

garlic

6

cups

vegetable broth

2

cans (15-ounce each)

diced tomatoes

1

cup

lentils

uncooked, green or brown

1

teaspoon

thyme

dried

1

teaspoon

oregano

dried

1½

teaspoons

salt

or more to taste

¼

teaspoon

black pepper

or red pepper flakes

5

ounces

spinach

(about 4 to 5 cups)
Instructions
To a large pot or dutch oven, warm up the olive oil then add coarsely chopped onion, celery, and carrot, and fry on medium heat for 5 minutes stirring often.

Add grated garlic and cumin and fry for one more minute, or until you smell their aroma.

Add vegetable broth, canned tomatoes, dried lentils, thyme, oregano, salt, pepper, or/and red pepper flakes.Cover with a lid, bring to a boil, then crack the top open and simmer on low heat for about 25 minutes or until the lentils are cooked but still al dente. Stir occasionally.

OPTIONAL STEP: if you like extra creamy soup, blend about 2 cups of it. You can do this with an immersion blender directly in the pot, or with a regular blender.

Add the spinach and simmer for a few more minutes until they wilt and you are happy with the texture and consistency of the soup/lentils.

Taste and adjust for salt. Serve it in a bowl with a slice of toasted bread rubbed with garlic and a drizzle of good quality extra virgin olive oil. Optionally, you can add a squeeze of lemon juice.
Video Recipe
Italian Lentil Soup is a wholesome Dinner Idea
Notes
Nutritional information is an estimate for 1 serving of lentil vegetable soup out of 4 servings, without bread or toppings.
SUBSTITUTIONS
- Dried lentils: substitute drained and rinse canned lentils but add them in the soup 15 minutes after the broth and tomatoes start simmering. Canned lentils can only take about 1o to 15 minutes of simmering before falling apart. You can also use canned beans or chickpeas.
- Olive oil: substitute any vegetable oil or coconut oil for olive oil.
- Onion: substitute leek or shallots for onions. 
- Herbs: you can use fresh or dried herbs. Substitute rosemary and bay leaves for thyme and oregano.
- Spinach: you can use most leafy greens including curly kale, lacinato kale, Swiss chard, bok choi, and more. You can even add vegetables such as diced potatoes, diced sweet potatoes, bell peppers, mushrooms, cauliflower and broccoli florets. If you add veggies, do so at the beginning, with the dried lentils so that they have time to cook fully.
TOPPINGS
You can top this lentil vegetable soup with homemade croutons, crostini, grated parmesan cheese, crumbled feta cheese, dairy-free cheese, lemon zest, lemon juice, and drizzle of good quality EVO oil, chopped parsley.
MAKE AHEAD & STORAGE
- Make Ahead: this lentil vegetable soup is an excellent recipe to make ahead as you can refrigerate it for several days or freeze it for months. Also, on the second and third days, the soup tastes better than when it's freshly made because the flavors have time to meld.
- Refrigerator: let the soup cool down completely at room temperature, then transfer it into an airtight container and keep it in the fridge for up to 4 days.
- Freezer: let the soup cool down completely at room temperature, then transfer it into a freezer-friendly container and freeze for up to 3 months.
- Thaw: thaw in the refrigerator over several hours or in the microwave with a thawing function.
- Reheat: you can reheat the soup in a pot on the stovetop for a few minutes or in the microwave for 2 to 3 minutes. Avoid reheating it multiple times.
Nutritional Values
Nutrition Facts
30 Tasty Vegetarian Recipes
Amount per Serving
% Daily Value*
* Percent Daily Values are based on a 2000 calorie diet.
Did you like this recipe?
Leave us a comment below or find us on Instagram, YouTube, Pinterest, TikTok, and Facebook.
You might also like: