Are you looking for inspiration for your next meat-free meal? These delightful plant-based beginner recipes are easy to make, protein-packed, and fulfilling.
We've listed 30 of our best recipes that help you prep smarter and eat basic but delicious at the same time! Browse through this list, and take your pick: from breakfasts, lunches, and dinner ideas – all are plant-based, vegan-friendly, and with easy-to-find ingredients.
Check out our Easy Meatless Meals
Good sources of plant-based protein
To help you find good plant-based protein sources, here are some helpful ideas*:
Tofu (silken or firm)
Tempeh
Seitan
Grains, such as quinoa, brown rice, and wild rice.
Legumes and pulses, such as chickpeas, beans, and lentils.
Vegan cheeses, such as vegan ricotta, vegan parmesan, and meltable cheese.
Nutritional yeast: works as a wonderful cheese-flavor agent in pesto and vegan cheese alternatives.
Nut–based spreads and cheeses.
Vegan creams (such as soy, coconut, and cashew).
Nuts, such as almonds, walnuts, and cashews.
Plant milk, such as oat, almond, soy, cashew, rice, or coconut milk. Soy milk is amazing for making vegan mayonnaise and vegan custard creams as it emulsifies due to its protein content.
Seeds, such as pepita, chia, sunflower, flax, and hemp seeds.
It is definitely possible to cook easy, tasty, and colorful food and a meat-free diet.

Little by little, you will find what you like, your favorite plant-based proteins, and new grains (hello bulgur, farro, and amaranth!) that may delight your taste buds. You can do this!
*Always consult your doctor or health specialist before starting a new diet, this list is suggestive, and we are not educated health professionals.
More plant-based beginner meals
Plant-based cooking is, in fact, quite easy when you've gotten to know the foods you like.
If you're curious about other plant-based and vegetarian recipes, take a peek at these other lists:
For many more tofu ideas, check out our tofu category page.
30 plant-based beginner recipes
Pan-fried tofu is one of our favorite plant–based beginner recipes.
Here's a simple cooking method that makes fried tofu taste great and feel just as good in your mouth.
Ingredients
10

ounces

tofu

firm or extra firm

3

tablespoons

cornstarch

½

teaspoon

garlic powder

½

teaspoon

paprika

⅛

teaspoon

chili powder

1

teaspoon

salt

2

twists

black pepper

1

tablespoon

olive oil

extra virgin
Instructions
Drain the tofu then cut it into small dice, about ½ inch or 1 cm thick. Set aside.Tip: don't pat dry and don't press the tofu.

To a medium-sized dish, add the cornstarch, garlic powder, chili powder, paprika, salt and pepper. Mix with a fork till the ingredients are well combined.

Toss the tofu cubes into the dish with the seasoning. Shake the dish left and right till the tofu is fully coated in the seasoning. Tip: you might need to use your hands to fully coat the tofu in the seasoning.

Warm up the olive oil on medium heat in a nonstick pan. Add the tofu onto the pan and fry for about 12 minutes on medium heat.Flip the tofu around with a fork every 2 to 3 minutes.

Your fried tofu is ready when it's cripsy and golden-brown on the outside.
Video
Fried Tofu - Crispy, soft and great for salads!
Notes
SUBSTITUTIONS
– Extra virgin olive oil: sub with avocado oil, coconut butter, canola oil, sunflower oil, or regular olive oil.
– Spices: you can use most spices such as curry, turmeric, dried herbs, cumin, coriander, onion powder, and more.
– Cornstarch: we haven't tried replacing the cornstarch but some readers had success with arrowroot powder.
VARIATIONS
– Curry fried tofu: sub 1 teaspoon of curry powder, 1 teaspoon turmeric powder, and ½ ground cumin for paprika and chili powder.
– Italian fried tofu: sub 1 teaspoon dried oregano, 1 teaspoon dried thyme, and 1 teaspoon dried rosemary for paprika and chili powder.
– Turmeric-black pepper fried tofu: sub 2 tsps of turmeric and ½ teaspoon black pepper for paprika, garlic, and chili powder.
MAKE AHEAD & STORAGE
– Make ahead: this is not the best recipe to make ahead because the tofu loses its outer crispiness. However, if you'd like to make it in advance, you can certainly do so, and we often do this, especially when we do meal prep for a few days. The tofu is still tasty, just not as crisp. A trick that helps is to reheat it on a non-stick pan with a bit of oil for a couple of minutes.
– Refrigerator: store pan-fried tofu leftovers in a bowl, covered with a plate, or in an airtight container, for up to 3 days. Remember that the coating absorbs moisture as it sits in the fridge and will lose its crispness.
– Freezer: we don't recommend freezing fried tofu because the coating won't thaw and reheat well.
– Reheat: you can warm leftovers in the microwave for 2 minutes or on a non-stick skillet or cast iron pan with a tablespoon of olive oil on medium-high heat for 4 to 5 minutes.
Nutrition
Calories:
119
kcal
,
Carbohydrates:
8
g
,
Protein:
6
g
,
Fat:
7
g
,
Saturated Fat:
1
g
,
Polyunsaturated Fat:
2
g
,
Monounsaturated Fat:
4
g
,
Cholesterol:
0
mg
,
Potassium:
18
mg
,
Dietary Fiber:
1
g
,
Sugar:
1
g
,
Vitamin A:
144
IU
,
Vitamin B6:
1
mg
,
Vitamin C:
1
mg
,
Vitamin E:
1
mg
,
Vitamin K:
3
µg
,
Calcium:
92
mg
,
Folate:
1
µg
,
Iron:
1
mg
,
Manganese:
1
mg
,
Magnesium:
2
mg
,
Zinc:
1
mg
Tried this recipe?
Leave a comment below or mention @theplantbasedschool on Instagram. We are also on Facebook, Pinterest, YouTube, and TikTok.
If you liked these plant-based beginner recipes, you might also like:
---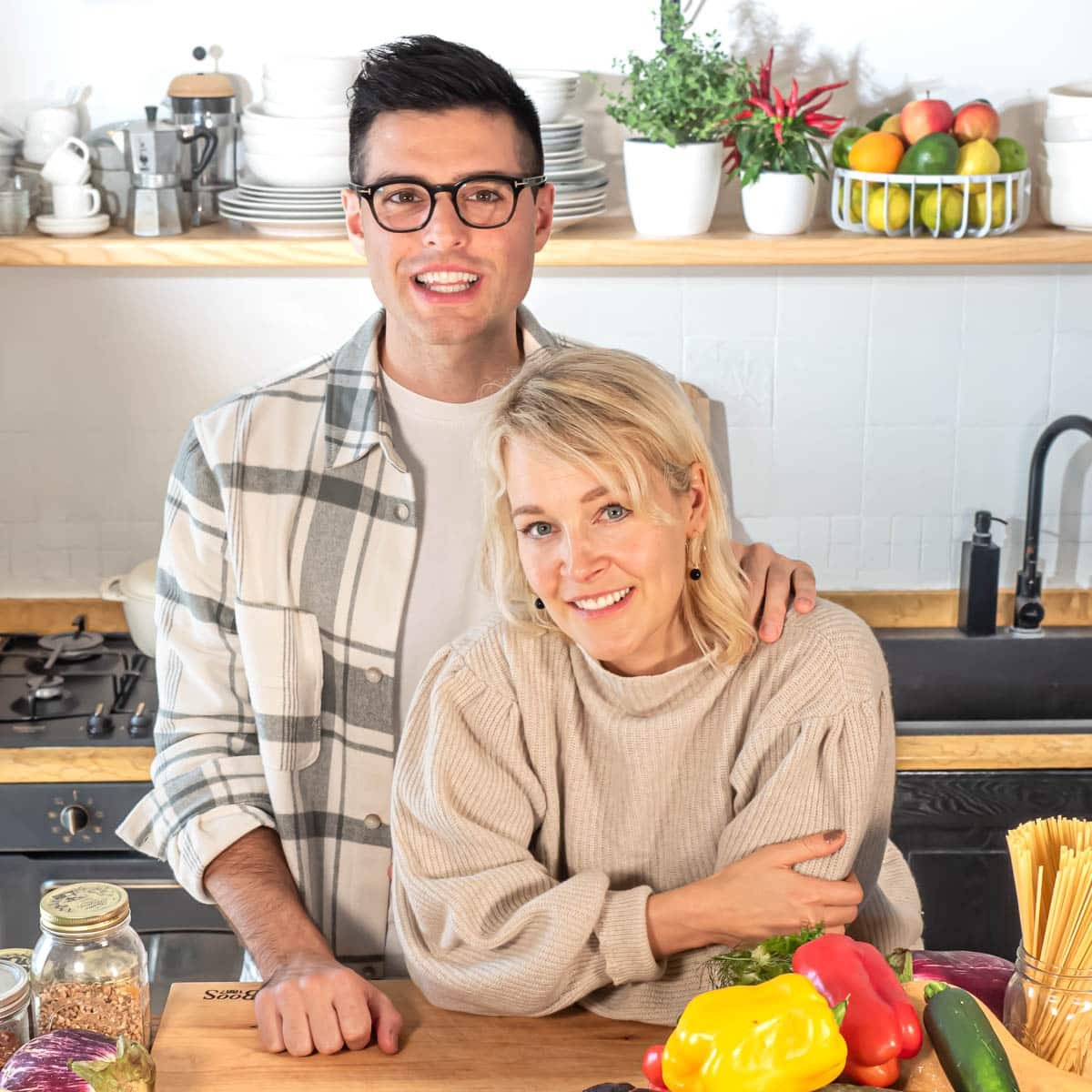 Hi! We are Nico & Louise
Welcome to The Plant-Based School, a food blog with easy, tasty, and wholesome recipes.
Our aim is to help you and your family eat more veggies through delicious recipes with simple ingredients.
Easy right?