Are you looking for inspiration for your next vegan brunch? Get inspiration from these wholesome vegan brunch recipes that are easy to make, comforting, and incredibly tasty.
We've listed more than 25 of our best brunch recipes that help you get ready for the ultimate Sunday brunch at home! Browse through this list, and take your pick: from frittata muffins, and homemade spreads, to fluffy pancakes – all vegetarian and vegan-friendly. Hopefully, you will get as excited about brunch as we are!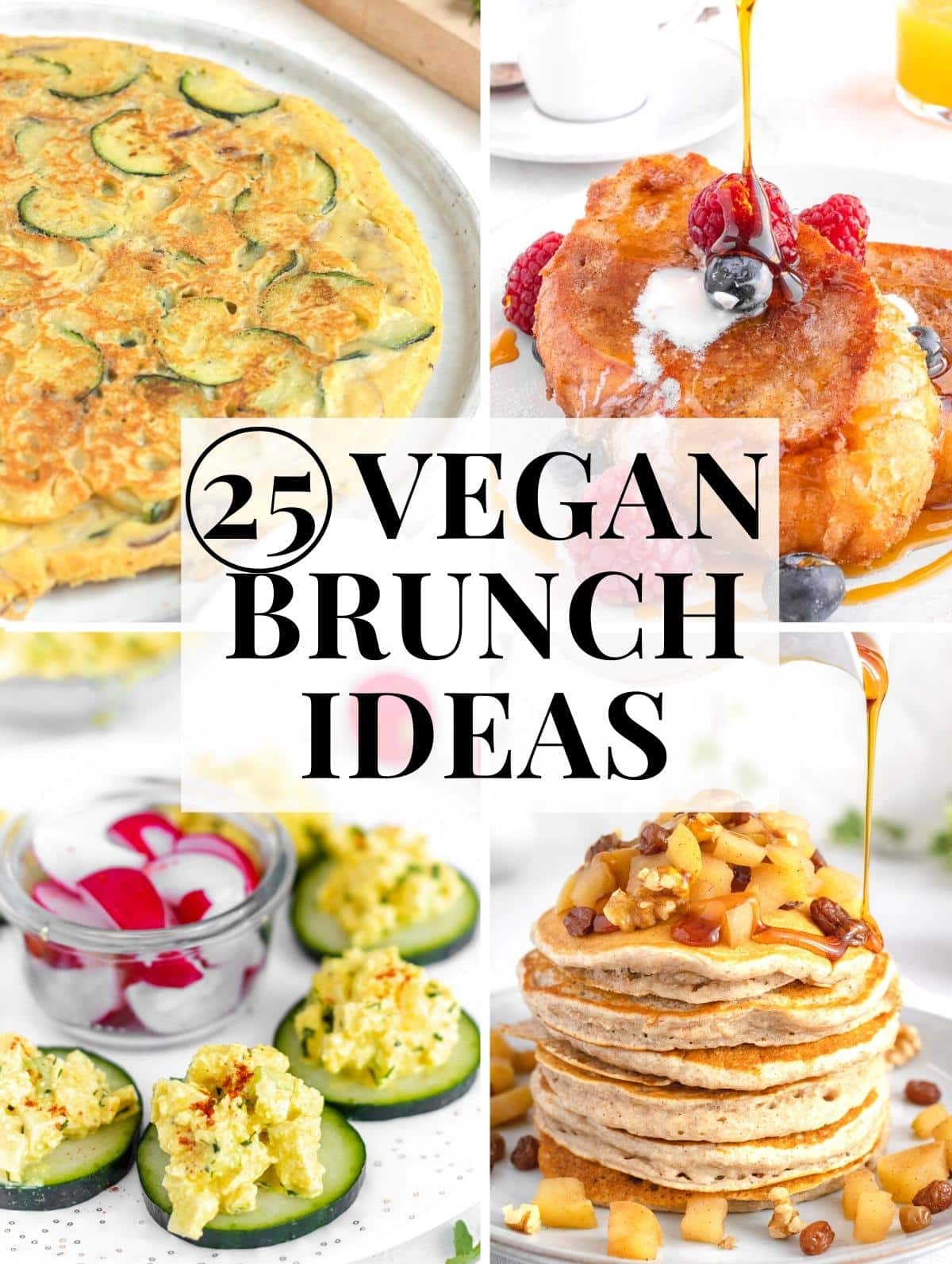 1. Vegan Crepes
Vegan crepes are thin, light, and every bit as delicious as regular french crepes. Fill them with homemade Nutella for the perfect breakfast or brunch.
2. Vegan Banana Bread
One-bowl, one-fork, 7-ingredient vegan banana bread. We developed this recipe so that you can make the best, easiest vegan banana bread any time you feel like it, without needing complicated vegan ingredients.
3. Vegan French Toast
Vegan french toast is one of the best weekend breakfasts ever. This recipe makes a perfectly thick french toast that is crispy on the outside, and silky on the inside. Best of all? You can make this recipe in just 15 minutes!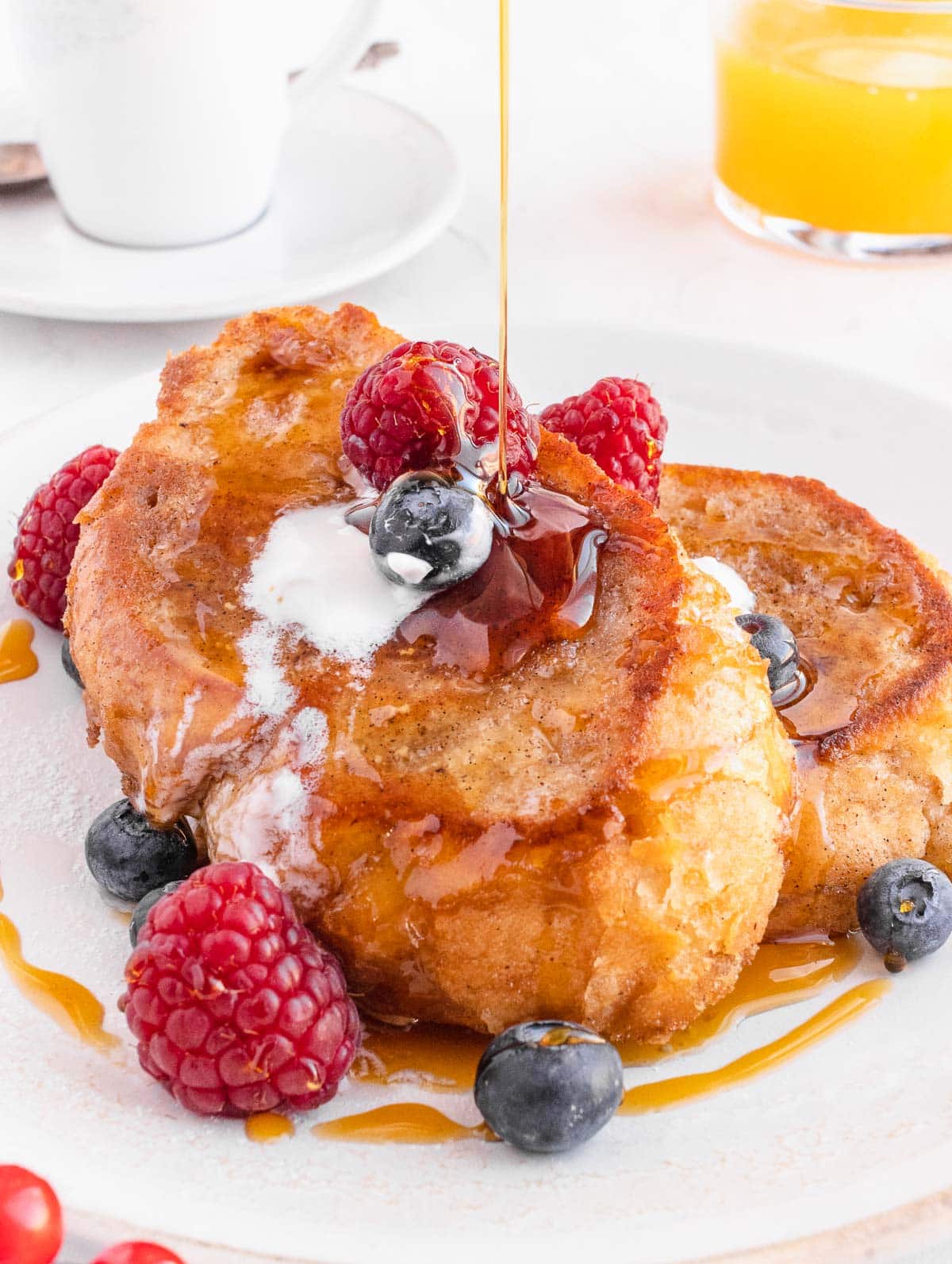 4. Vegan frittata
Would you believe me if I told you that this eggless vegan frittata, made in 15 minutes with chickpea flour, is just as good as a traditional frittata? This vegan frittata is crisp on the outside, soft and moist on the inside, and for some reason, it feels like eating a regular egg frittata.
5. Homemade granola
This homemade granola is a wholesome and crunchy recipe made with a few simple whole food plant-based ingredients. It is the perfect make-ahead breakfast and brunch idea to eat with plant-based yogurt and fresh fruit.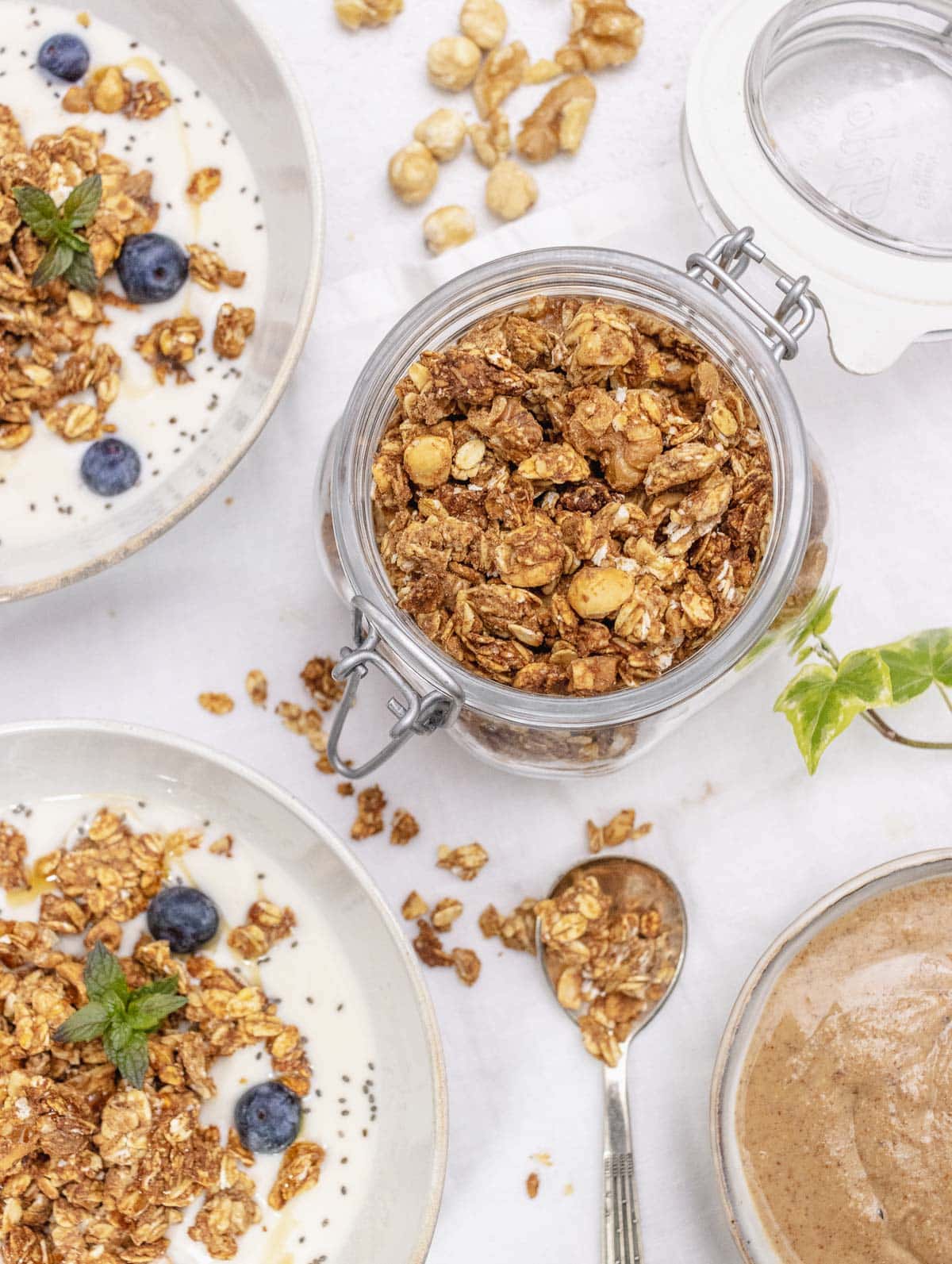 6. Chickpea Muffins
They are very similar to vegan mini quiches, and made with chickpea flour – so you can customize them with any vegetables of your choice. A colorful and tasty addition to a vegan brunch buffet!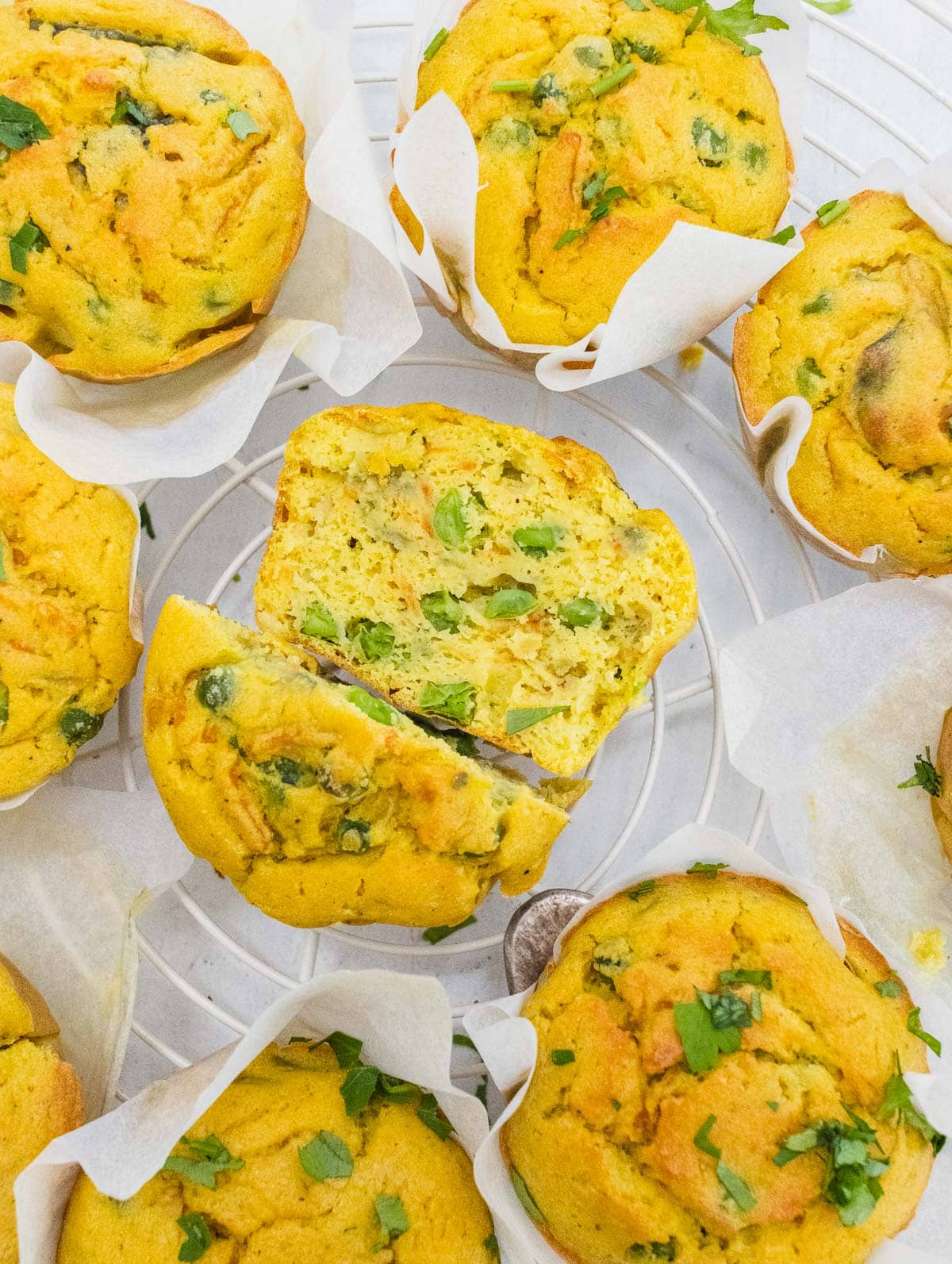 7. Vegan oatmeal pancakes
These vegan oatmeal pancakes with apples are a simple and healthy oatmeal pancake recipe without eggs and without milk, perfect to enjoy with a glass of orange juice on a Sunday morning. They are light, moist, nutritious, sweet, and full of apple flour.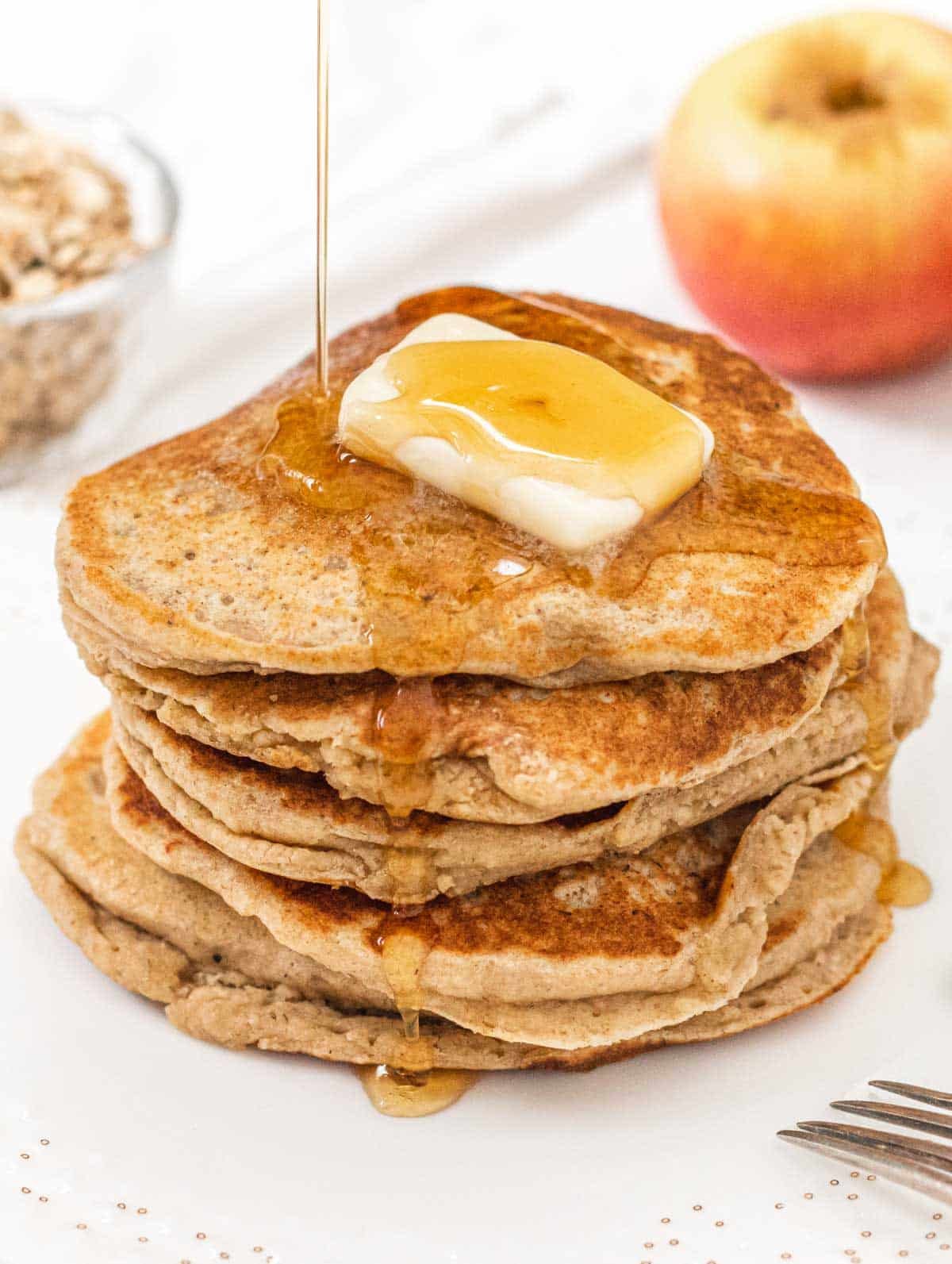 8. Vegan egg salad
If you are looking for a great, quick, and fulfilling vegan brunch or snack idea, you need to try this vegan egg salad. Made with tofu, vegan mayo, and herbs, it's great on a sandwich or on top of slices of cucumber.
9. Muffins with oat flour
A healthy and tasty brunch option that is also ideal as a snack. They are easy to make and contain plenty of dietary fiber and natural sugar that will give you a slow release of energy and keep you full longer.
10. Tomato confit
Tomatoes made this way can elevate any kind of meal; as a juicy side dish, a starter served with toasted bread, or as a topping on a serving of tofu scramble.
11. Easy oat cookies with raisins
Oat cookies with raisins are a great make-ahead recipe for those weeks when you need a quick-to-go breakfast or a healthy snack.
12. Vegan pancakes
Soft, tall, fluffy, and easy to make, these vegan pancakes are the best pancakes you'll ever have. After many rounds of testing, we are happy to share our tips to make the best homemade vegan pancakes ever.
13. Vegan tuna
Vegan tuna is a quick and easy recipe made with mashed chickpeas. It's the perfect replacement for tuna in a sandwich or served on cucumber or in cherry tomatoes as a savory brunch dish.
14. Tofu scramble
Tofu scramble is the perfect breakfast and brunch recipe. Its texture is soft and creamy, just like really good scrambled eggs.
15. Healthy Granola bars with peanut butter
You can make them in just over half an hour, without cooking or baking, and have them ready for a quick on-the-go breakfast, or as a healthy snack.
17. 7-ingredient vegan apple cake
You won't believe how soft, moist and easy this cake is. We love it so much that we even made a whole-wheat one and one filled with our mouthwatering vegan custard. Want a muffin version – make these 30-minute apple muffins instead.
18. Savory chickpea crepes
Chickpea crepes are the vegan version of savory French pancakes. They are truly delicious and easy to make (especially with this easy bechamel sauce) – perfect when you feel like eating something different.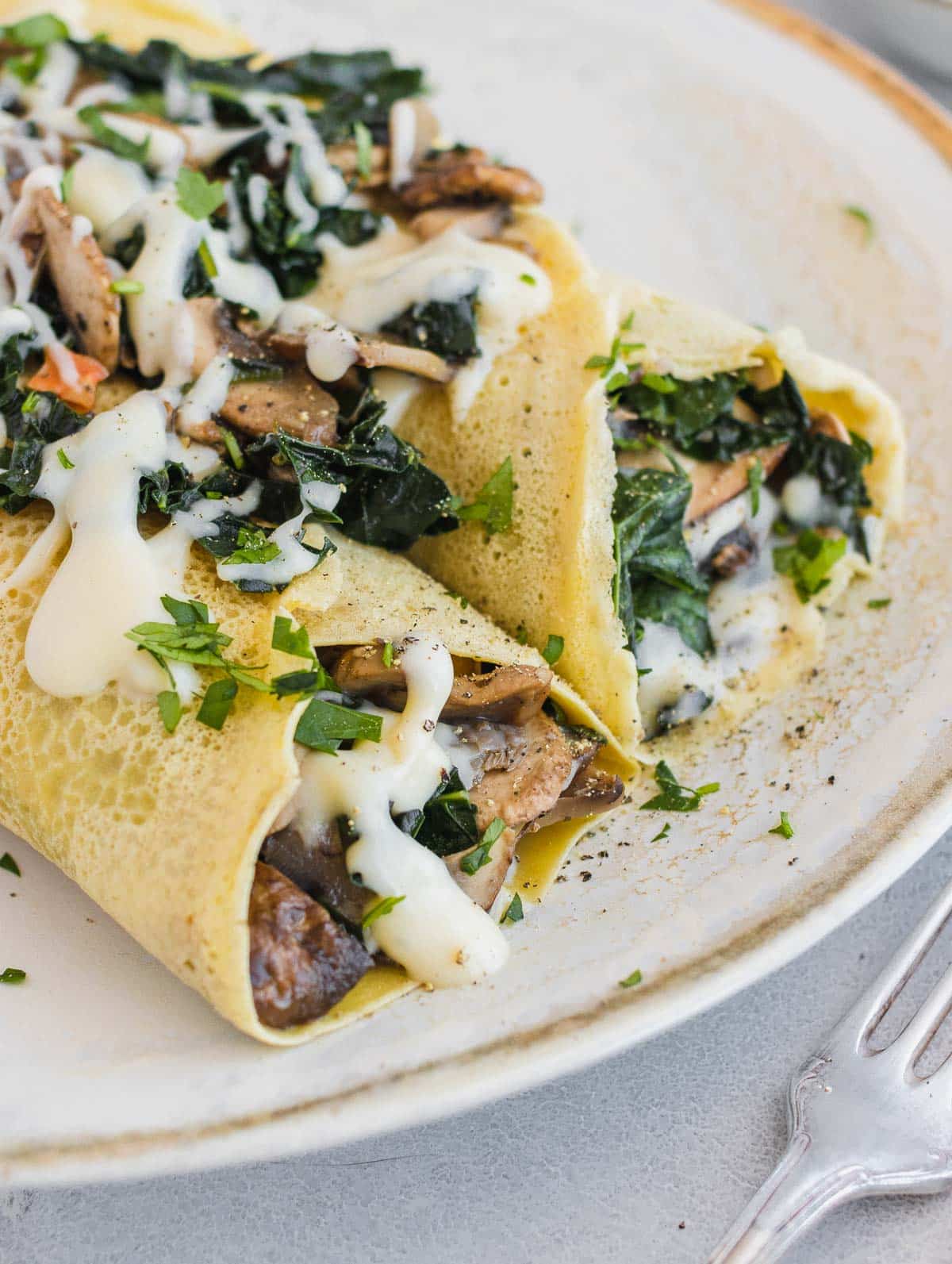 19. Tomato bruschetta
Tomato bruschetta is crunchy, juicy, garlicky and perfect as an appetizer, dinner, or even for brunch. The recipe is simple, and you can make it in 10 minutes with a few ingredients.
20. Cinnamon rolls
Our vegan cinnamon rolls are easy to make, lightly toasted on the outside, soft and moist on the inside, and with a tad of caramelized sugar underneath.
21. Zucchini muffins
Light, airy, and with walnuts, these zucchini muffins will lighten up your morning (or dessert). You can even use the dough for vegan zucchini bread instead.
These chocolate donuts are rich, elegant, and perfectly chocolatey. They whip up in 5 minutes and bake in 20, so you'll have a quick and luxurious breakfast ready in no time!
Perfect as snack, dessert, and vegan brunch idea! These vegan blueberry muffins are soft, light, moist, and packed with juicy blueberries. They are easy to make with only 8 simple ingredients, and you can whip them up in 5 minutes.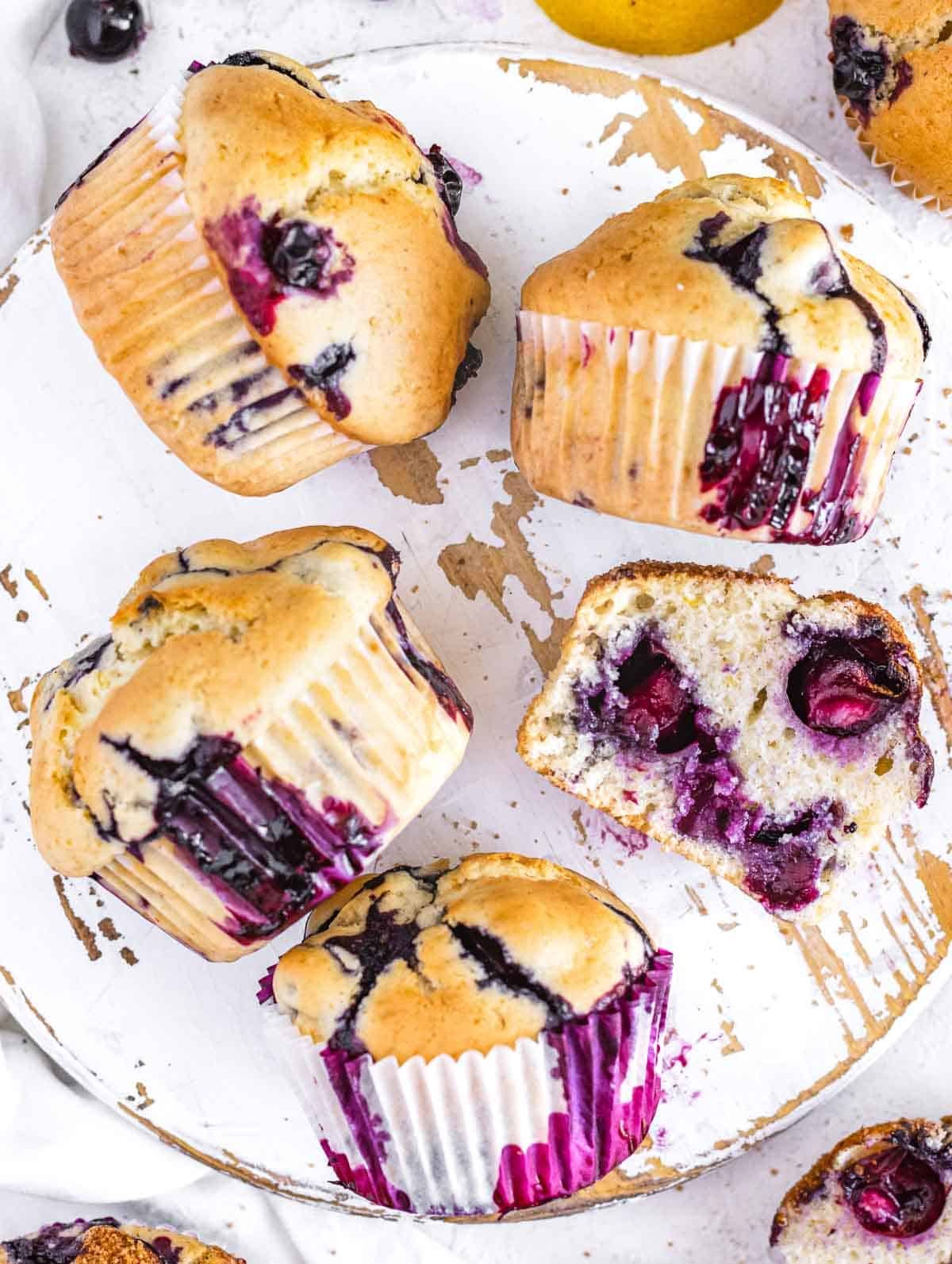 This sweet potato salad is a great addition to a Sunday brunch with friends and family! Oven-roasted or air-fried sweet potato salad with ripe avocado, arugula, creamy mustard dressing, and a tiny bit of vegan feta cheese is a delicious, colorful, and nutritious meal.
25. Eggplant pizza
Eggplant pizza is so much fun and great for a family brunch! First, make the "pizza crust" with roasted eggplant slices, add some tomato sauce or marinara sauce, a pinch of melty cheese of any kind, and bake until it melts.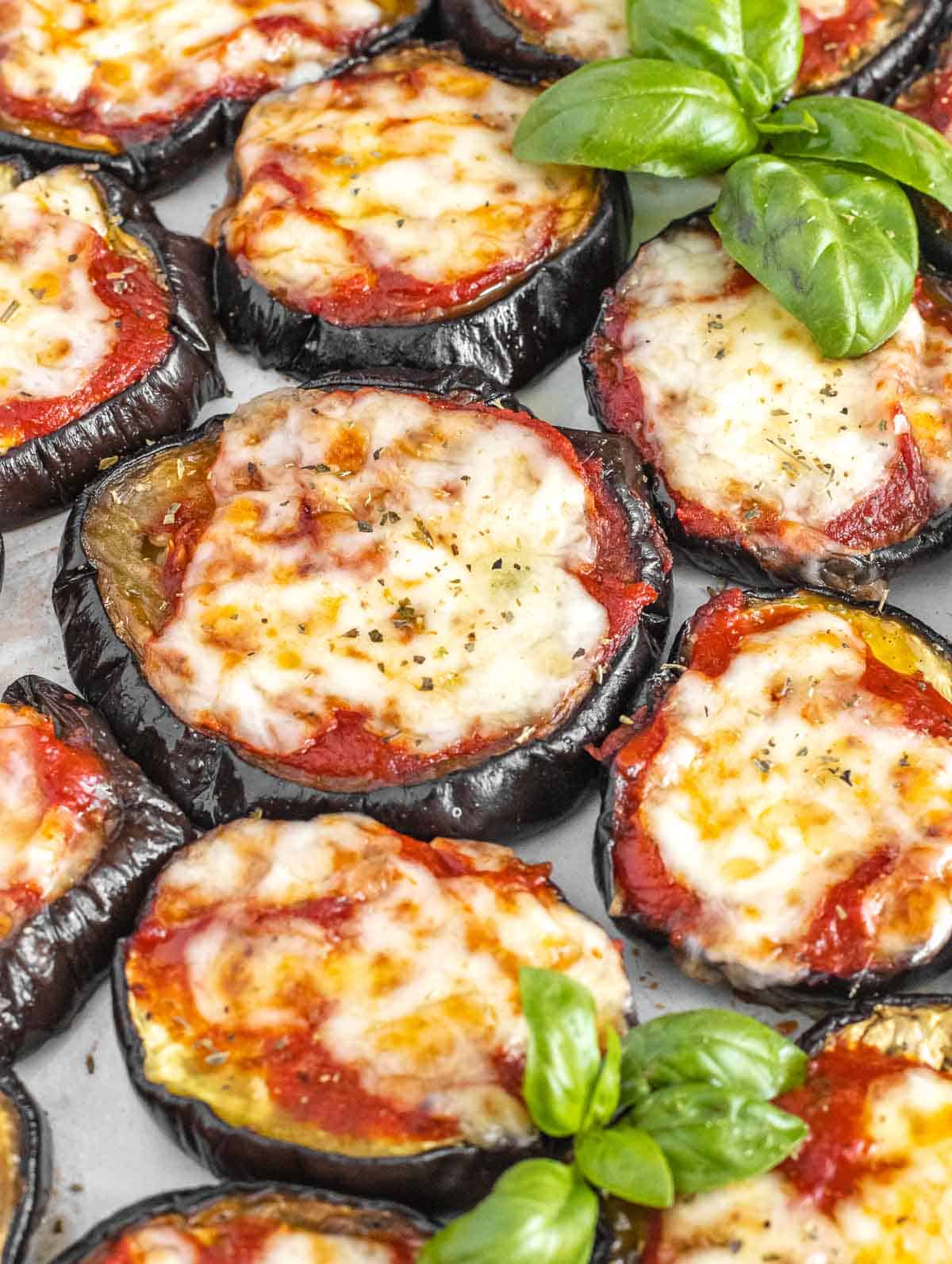 These crispy and tasty kale chips are great as an appetizer, brunch idea, and healthy snack idea. They make a colorful, light, and fun addition to a wholesome dinner or a Sunday morning with friends.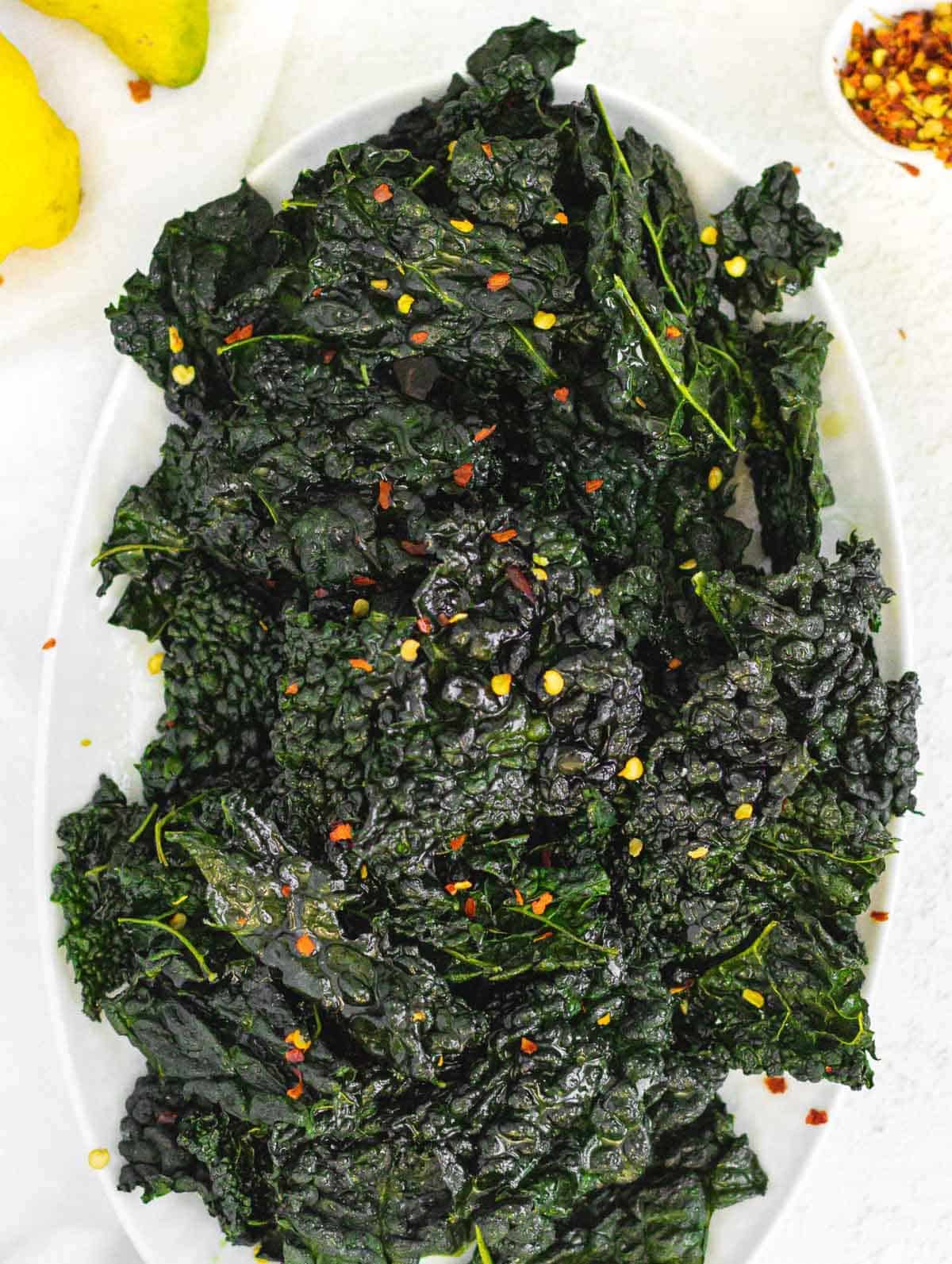 27. Banana nut bread
Learn how to make banana nut bread with 8 simple pantry staples in one bowl and with one fork. It only takes 10 minutes to whip up and about 45 minutes to cook. For us, there's no better make-ahead breakfast and brunch-worthy sweet bread!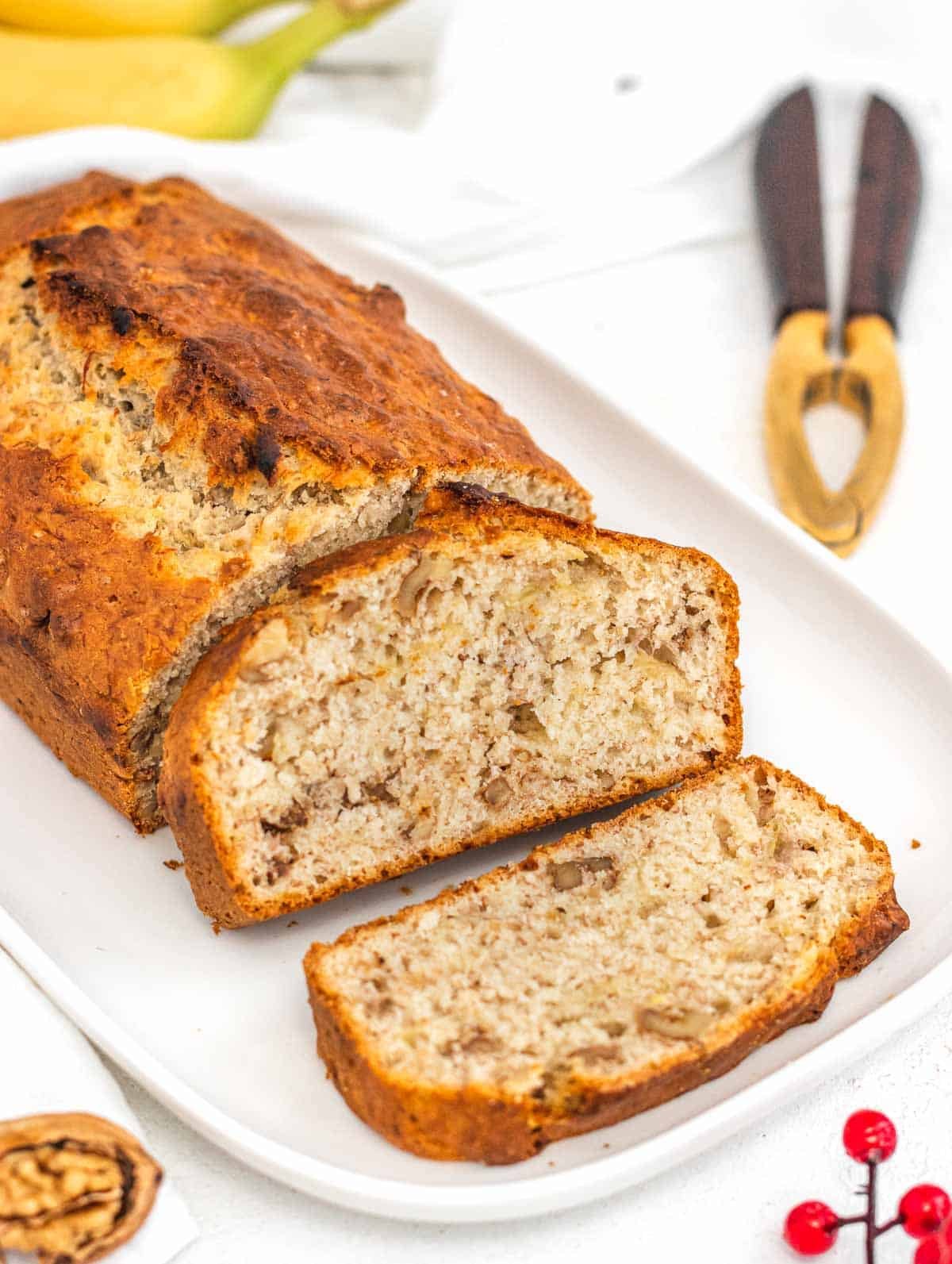 Sweet potato muffins are delicate, moist, and with a pleasantly sweet and earthy flavor from the sweet potatoes. Eat them for breakfast, brunch, or as a sweet treat after a meal.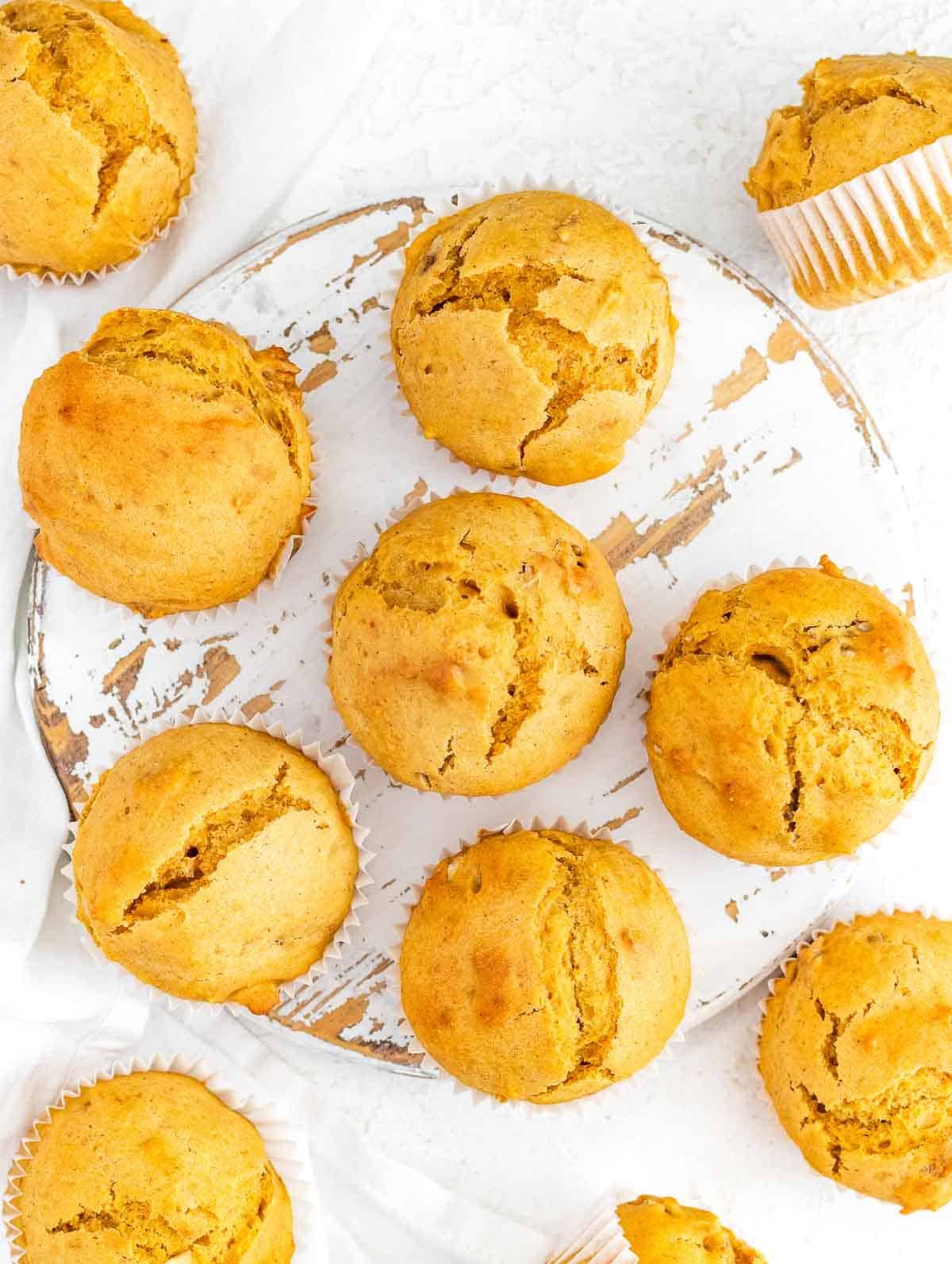 29. Homemade donuts with proofed dough
This donut recipe is easy, made with very simple ingredients, and you can either deep-fry or oven-bake the donuts.
30. Tomato salad
Juicy, colorful, and great as a healthy addition to a brunch table. This tomato b is inspired by Italian salad traditions, with a creamy lemon vinaigrette and fresh basil leaves.
More vegan brunch recipes
Vegan croissant – Italian "cornetti"
Italian cream buns "maritozzi"
Vegan brioche bread
Vegan lemon cake with custard
HOW TO MAKE BRUNCH RECIPES WITHOUT EGGS?
Here are some of our favorite ingredients that help replace eggs in a vegan brunch:
Chickpea flour: also known as garbanzo bean flour. It's a gluten-free flour made from ground chickpea and it is a great egg replacement. We use chickpea flour in our vegan frittata, chickpea muffins, and chickpea crepes.
Kala Namak: (Black Salt) this is the secret ingredient to many of our "eggy" recipes, such as tofu scramble and vegan egg salad. It's optional, but if you are trying to substitute eggs and you like an eggy taste, we strongly recommend it.
Cornstarch: in cakes and some sweet preparations, cornstarch can be used as a thickening agent instead of eggs. Often combined with a tiny bit of turmeric for color, and plant milk – such as soy, almond, or coconut – to replace dairy milk. It serves as a good egg substitute in our vegan custard and vegan french toast.
For many more easy vegan breakfast dishes make sure to check out our Breakfast Recipes Page!
25 Vegan Brunch Recipes
Planning a vegan brunch and don't know what to make? We've got you covered with these 25 vegan brunch ideas! Find your favorite by browsing through this list, and take your pick: easy pancakes, homemade nutella, vegan egg salad, chickpea frittatas and many more.
Ingredients
Pick your favorite brunch recipe

Check each individual brunch recipe for ingredients required

Make the recipe by following the instructions
Instructions
How to store: Keep these brunch dishes stored in the refrigerator, ideally in an airtight container, for up to 3 days.

How to reheat: Warm it up on the stovetop or in the microwave, depending on the recipe.

How to freeze: You can also freeze these meals for up to 3 months. To freeze, let it cool down first, then transfer them to a freezer-friendly container, leaving some space to allow it to expand. Thaw in the microwave or in a pot on the stovetop. Follow the instructions in each recipe.
Video Recipe
Easy Banana Bread (1 bowl, 1 fork)
Nutritional Values
Nutrition Facts
25 Vegan Brunch Recipes
Amount per Serving
% Daily Value*
* Percent Daily Values are based on a 2000 calorie diet.
Did you like this recipe?
Leave us a comment below or find us on Instagram, YouTube, Pinterest, TikTok, and Facebook.
If you liked these vegan brunch recipes, you might also like: