Vegan tuna is a quick and easy recipe made with mashed chickpeas. It's the perfect replacement for tuna in a sandwich, to fill a baked sweet potato, as an appetizer, or just as is as a vegan tuna salad.

You can make this in just 10 minutes, with simple ingredients, and without cooking.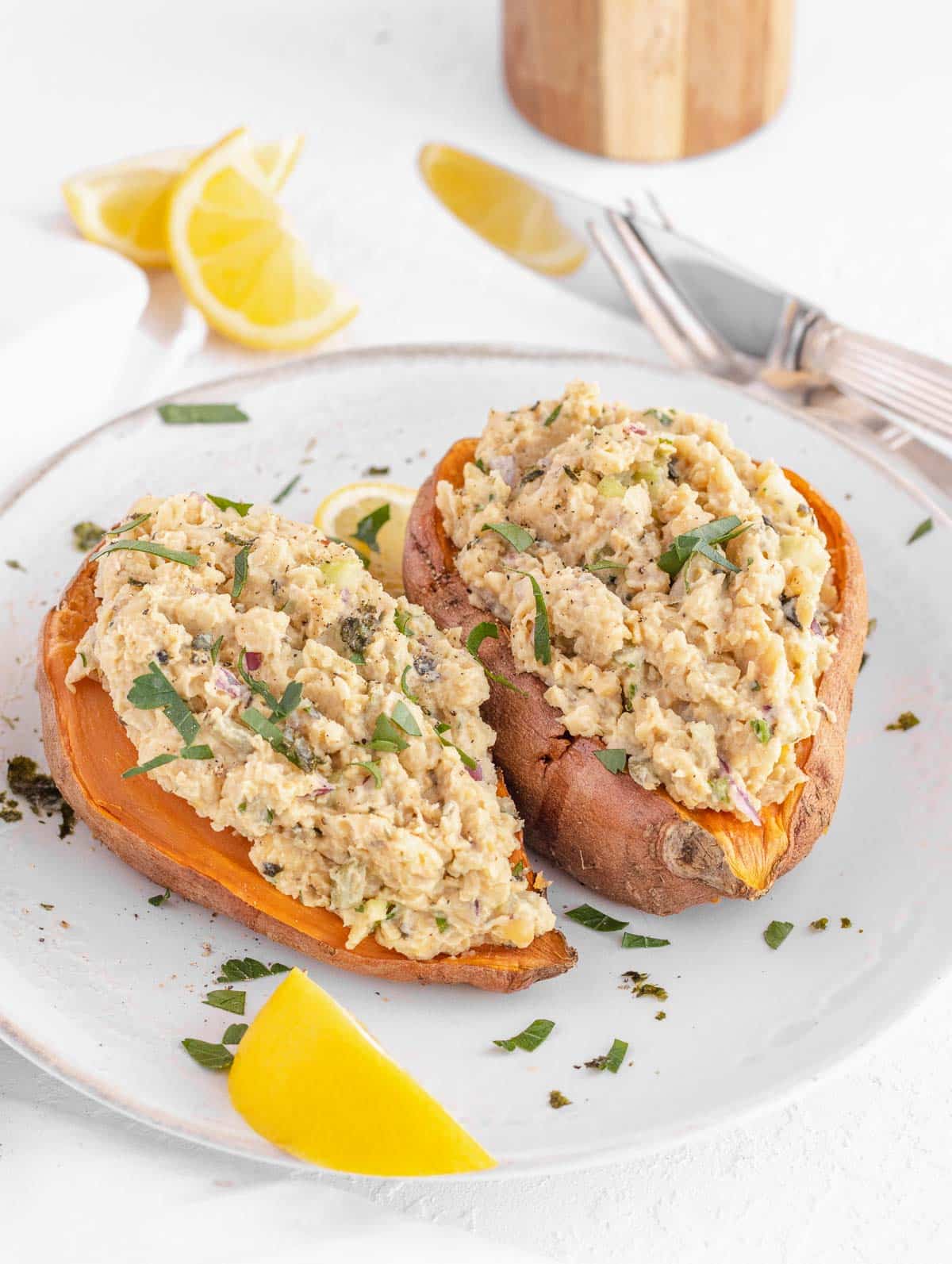 On this page:
Check out our best vegan salad recipe collection!
What to expect
We call this recipe vegan tuna just to give you an idea of what it can be used for, which is as a replacement for tuna, especially in salads, to stuff baked potatoes, in sandwiches, and appetizers.

This recipe is not made to replace tuna steaks or tuna in sushi. And sure, it's a lot less fishy than real fish, and don't expect the exact same flavor as canned tuna.

But what you can expect is a recipe that I kid you not, everyone will absolutely love. It has a texture that is really close to that of tuna salad made with canned tuna.

The flavor is surprisingly similar too, thanks to the use of canned chickpeas, nori sheets for a fishy taste (in a good way), and other condiments you would normally find in tuna salad.

Our favorite way to eat it that is in a sandwich with tomatoes and lettuce or to stuff a baked sweet potato. It's so tasty, easy to make, fulfilling, and quite healthy too, with a moderate amount of fat and a good protein.
But it's also great as an appetizer, to make bread canapés with cucumbers, or to stuff tomatoes or peppers. So delicious!
Ingredients and Substitutions
Chickpeas: canned chickpeas are best to recreate the flavor of canned tuna.

Nori sheets: to add sea flavor and make it taste a little more like fish. Nori sheets are also very healthy with generous amounts of vitamins A, B and C, minerals like iodine and manganese, and are a great source of EPA omega-3 fatty acids.

Red Onion: it adds a touch of sweetness and color to the dish. You can replace it with white or yellow onion.

Celery: for crunch and freshness.

Pickles or/and capers: we like to add both, but also just one of them is enough to add a little acidity and tang to the vegan tuna. You could also use pickle relish if you prefer.

Lemon Juice: to add freshness and also to add a touch of acidity that brings out the other flavors.

Soy sauce: to boost umami and add a fishy touch (in a good way) to the tuna. Soy sauce is optional, but it does add a lot of flavors. You can try before and after adding soy sauce to taste the difference.

Mustard: to add that tangy, somewhat pungent taste that is so good in tuna salad. You can use Dijon mustard or any other mustard from a squeeze bottle.

Salt and black pepper: to taste, based on your dietary preferences.

Mayo: to bring everything together, add that silky and creamy mouthfeel, and make the dish irresistible. We like to use our own homemade vegan mayonnaise ready in 2 minutes, but you can use any Mayo of your choice.

Flat-leaf parsley: optional, but recommended to add color and freshness to the salad. It goes extremely well with this recipe. You can replace parsley with dill.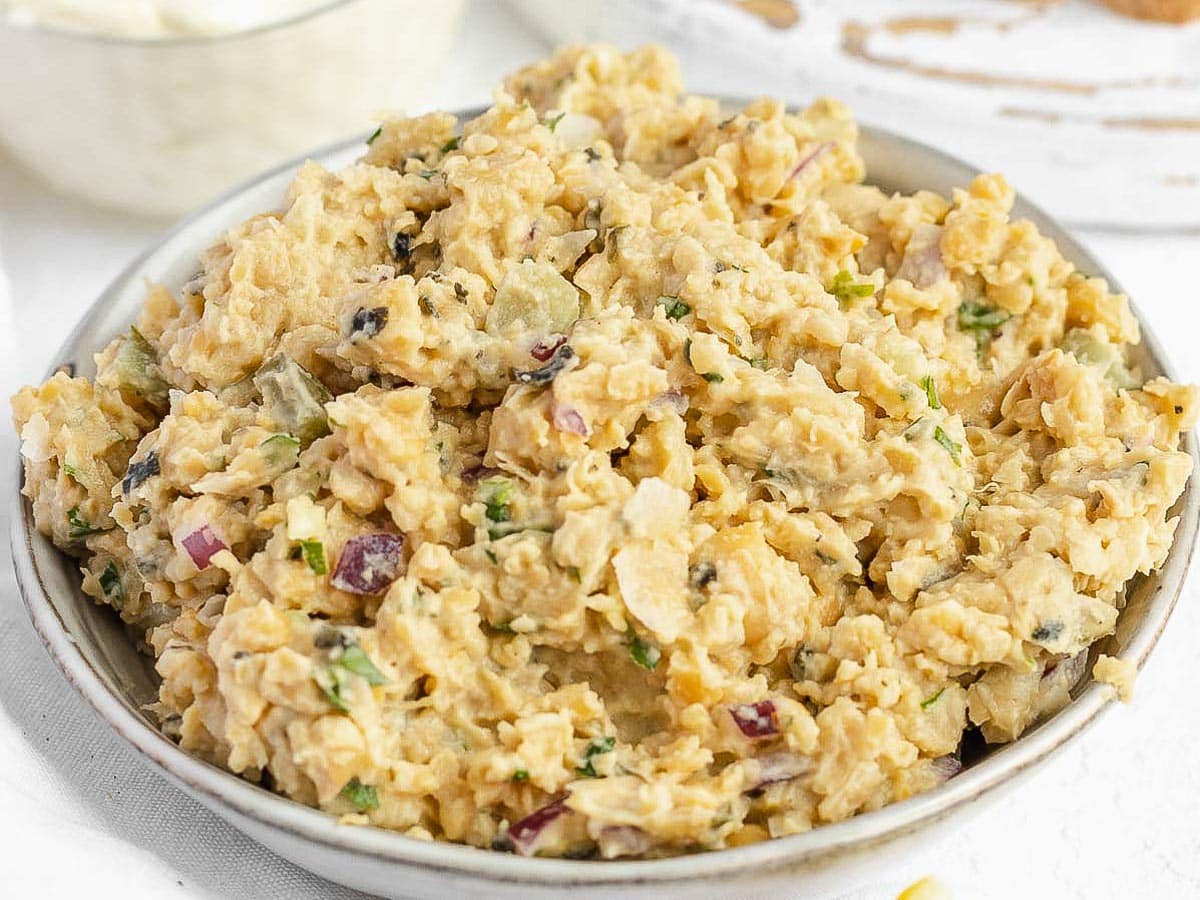 Instructions
Blend the Nori Sheets
Before using the nori sheets for vegan tuna, you've got to either chop them finely with a knife or blend them with a high-speed blender.

My advice is to blend them, it's a lot faster. You can also blend more nori sheets that you need, then store them in an airtight container and sprinkle them on soups and salads later on.
To blend nori sheets just pop them into a high-speed blender and blend at high speed for a few seconds until the sheets turn into flakes.
Mash the chickpeas
First off, rinse your canned chickpeas, drain them well, and put them in a large, flat, container that is not too tall. I'd recommend using an oven dish.

With a sturdy fork, or with a potato masher, start mashing the chickpeas until you get a coarse mash, that is quite similar in texture to canned tuna.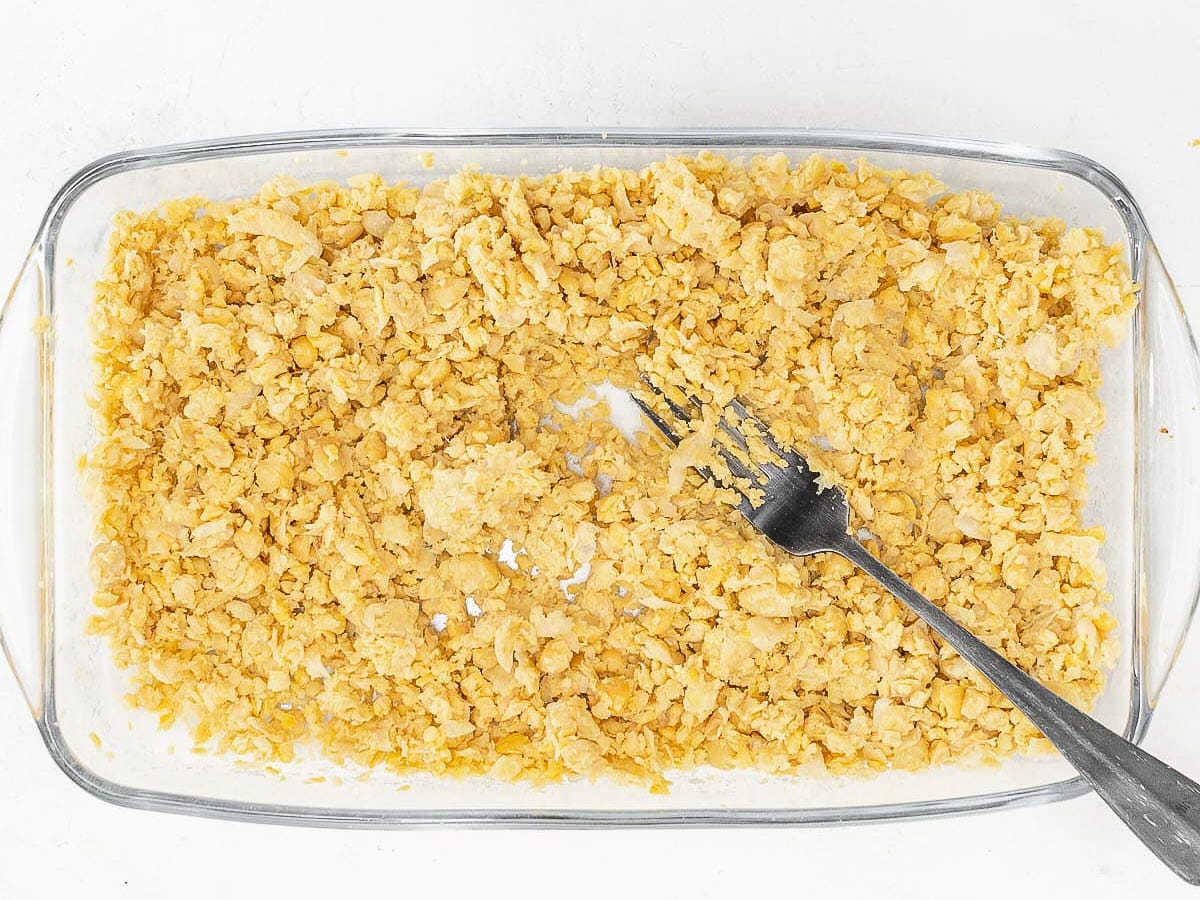 It's going to take you a couple of minutes to mash all the chickpeas. Make sure there aren't any whole chickpeas in the mix.

It is easiest to mash the chickpeas in an oven dish rather than in a bowl. A bowl has tall edges that get in the way and the whole mashing process gets really hard to do.

Depending on the brand, some canned chickpeas can be a little harder than others. If you think your canned chickpeas are too hard, and you are struggling to mash them, you can boil them in water for 10 minutes to soften them up.

Although we do not recommend it, you could mash the chickpeas with a blender. If you decide to do so, just pulse the chickpeas, do not blend continuously, or you'll end up with hummus instead.
Add the other ingredients
All you have to do now is add all the other ingredients to the dish. Finely chop the red onion, the celery, the capers, the pickles, and the flat-leaf parsley. Add them to the dish.

Add vegan mayo, mustard, soy sauce, salt, pepper, and the blended nori sheets. Finally, add the lemon juice, best if freshly squeezed and without the seeds.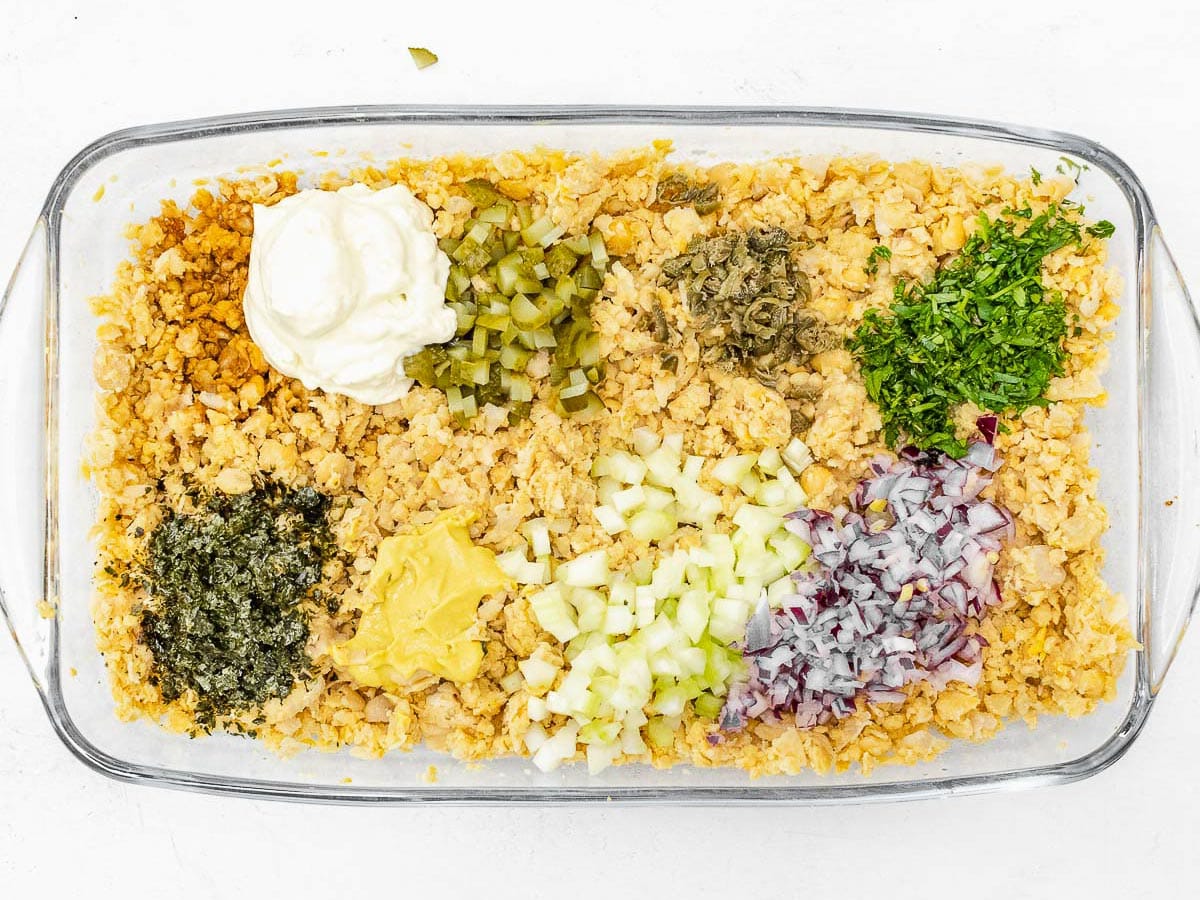 Stir and mix all the ingredients together with a fork until you have a well-combined mixture.

Taste and adjust for salt and lemon juice. And that's it. This is your vegan tuna.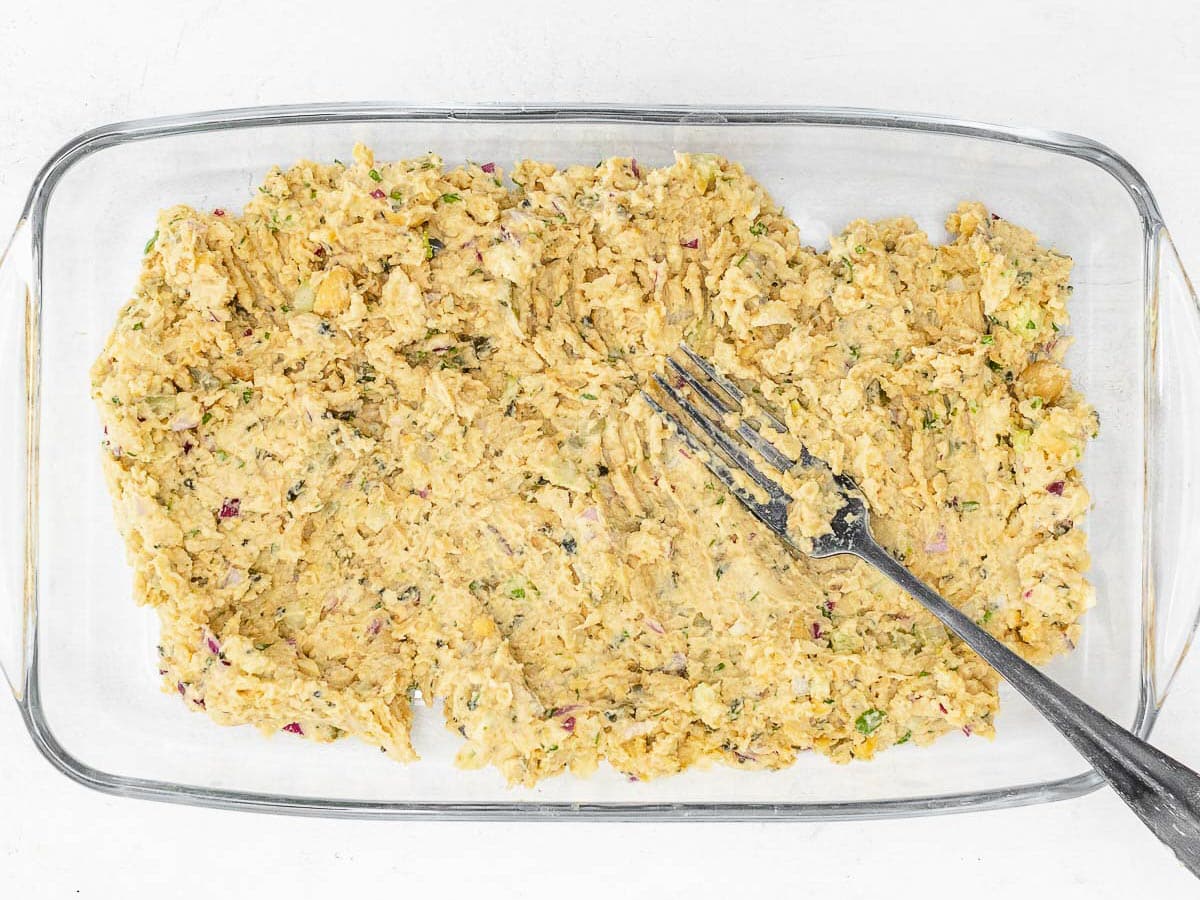 Serving suggestions
Vegan Tuna Appetizer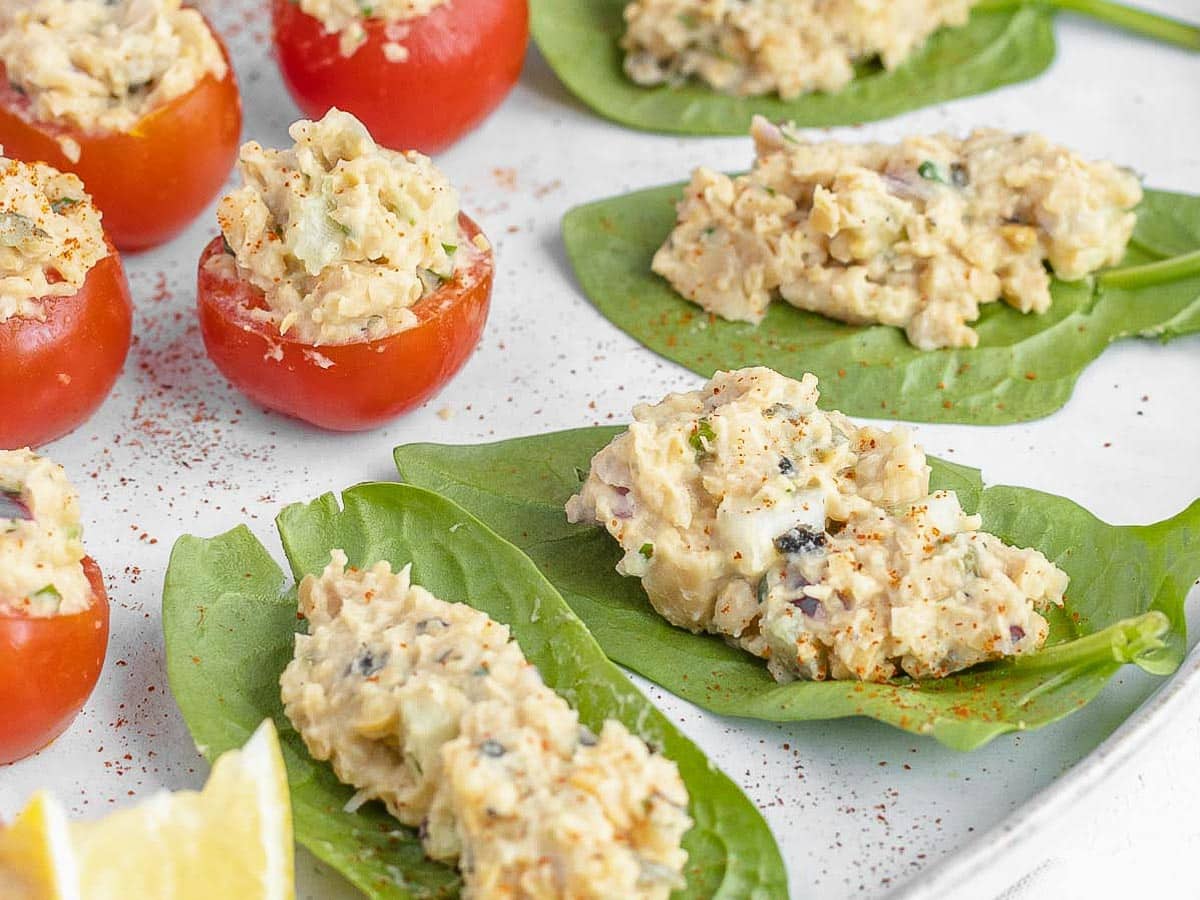 We love serving this on small squares of sandwich bread and slices of cucumber. Cut the bread into dice (remove the edges if you like), then top it with a slice of a cucumber and a tablespoon of the vegan tuna. Top with a small piece of tomato.

To make this even easier, you can use crackers instead of bread.

You can also make stuffed cherry tomatoes. Cut off the top part of the tomato, then with a small teaspoon or small knife remove the inside of the tomato. Now fill them with vegan tuna and serve. They are perfect vegan starters!

You can also use lettuce leaves or spinach leaves as a wrap to serve the tuna.
Vegan Tuna Sandwich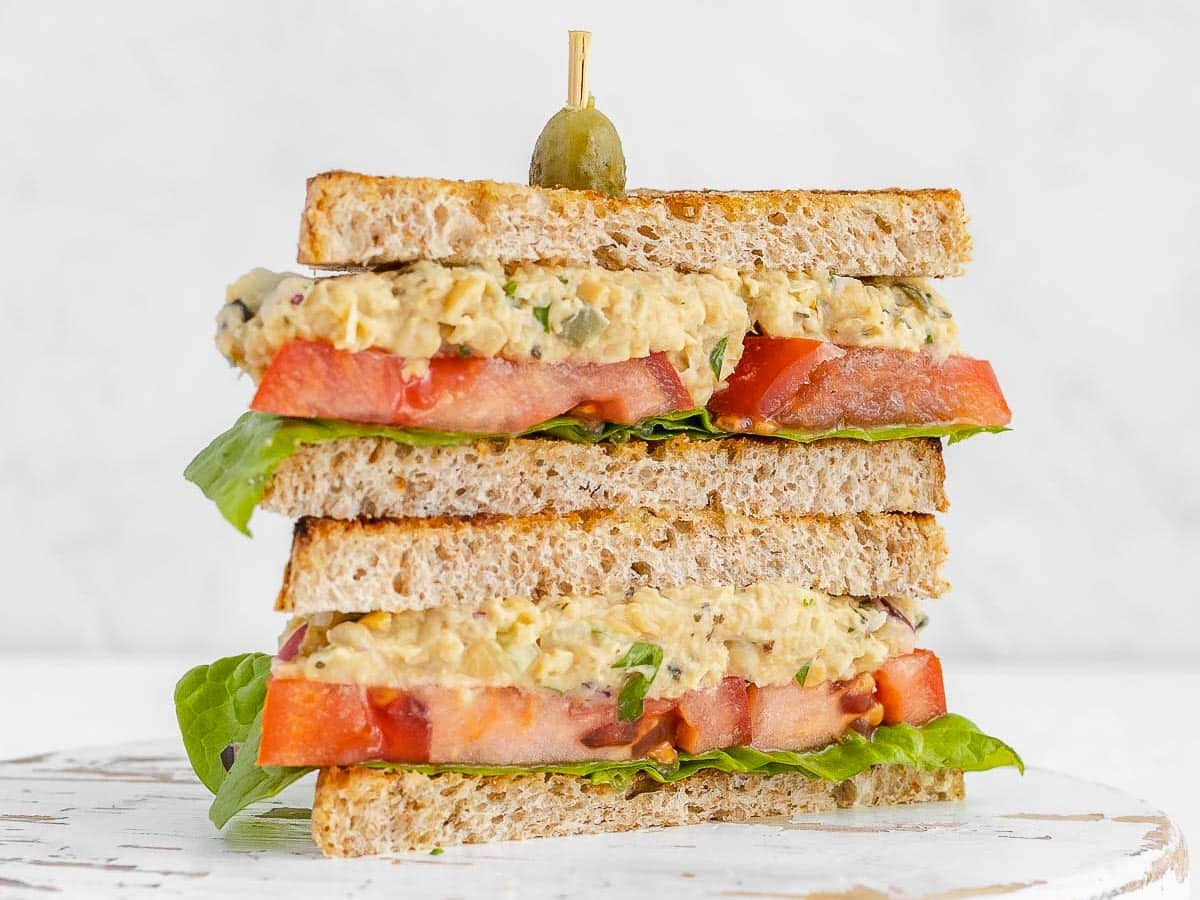 A tuna sandwich is a classic meal for lunch or an easy dinner. This plant-based version is similar and with strong parallels to real tuna.

Toast the slices of bread first, then put 2 to 3 lettuce leaves, a slice of tomato, and a few tablespoons of the chickpea tuna. Cover with bread and enjoy! Let us know what you think if you try it.
Vegan Tuna with Baked Sweet Potato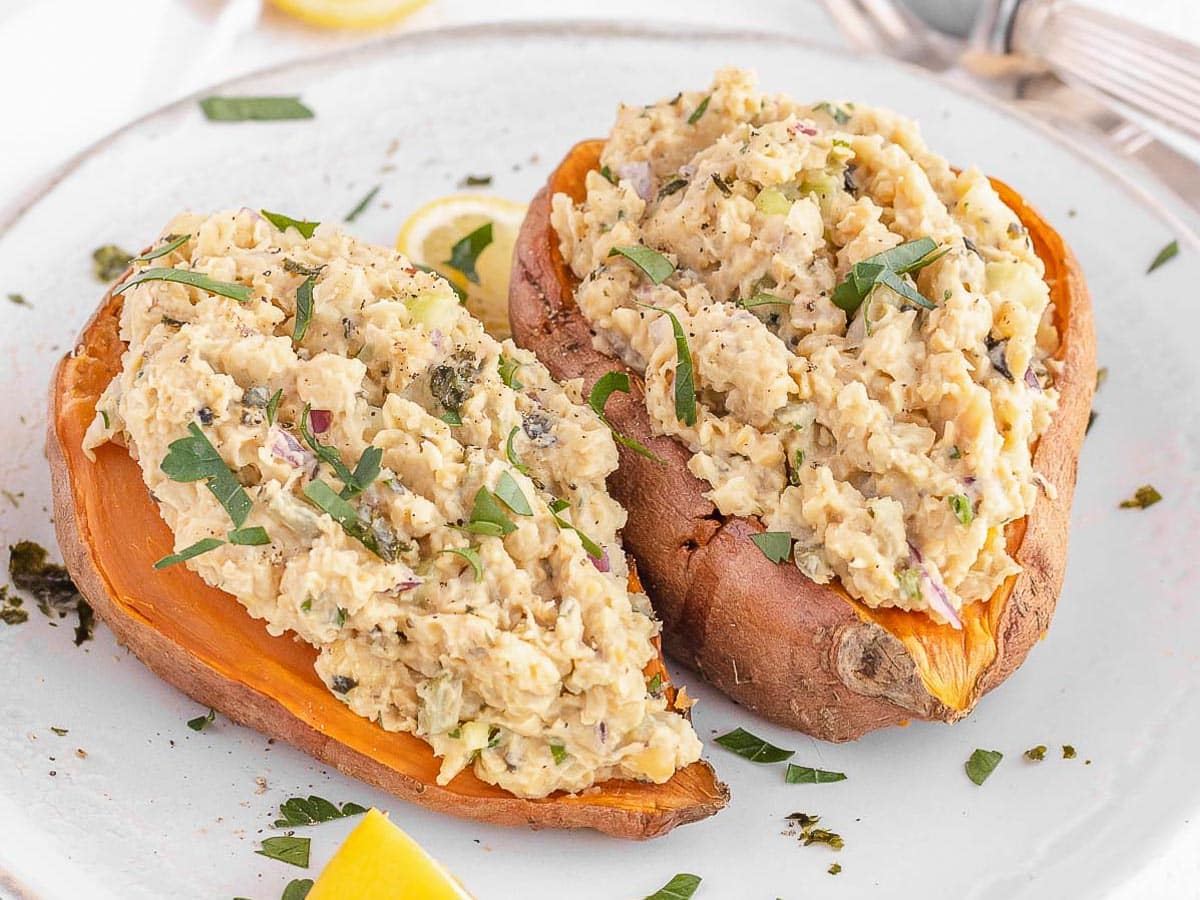 Serve this as a quick healthy lunch or dinner. It's so tasty, healthy, nutritious, and fulfilling. To save time we cut the sweet potato in half lengthwise, then we cook in the microwave for 7 minutes. Regular potatoes are good too.

Once it's soft, we top it with a few tablespoons of our vegan chickpea tuna, some freshly chopped parsley or chives, a twist of black pepper, and a squeeze of lemon.
Chickpea Tuna Salad
This is the simplest way of enjoying this recipe. Just as is, as a salad, maybe with a few leaves of lettuce on the side. It's simple, yet fulfilling and really tasty.

When we eat it like this, we like to add some bread on the side, some cucumbers for dipping, or any other veggies, like carrots and bell peppers.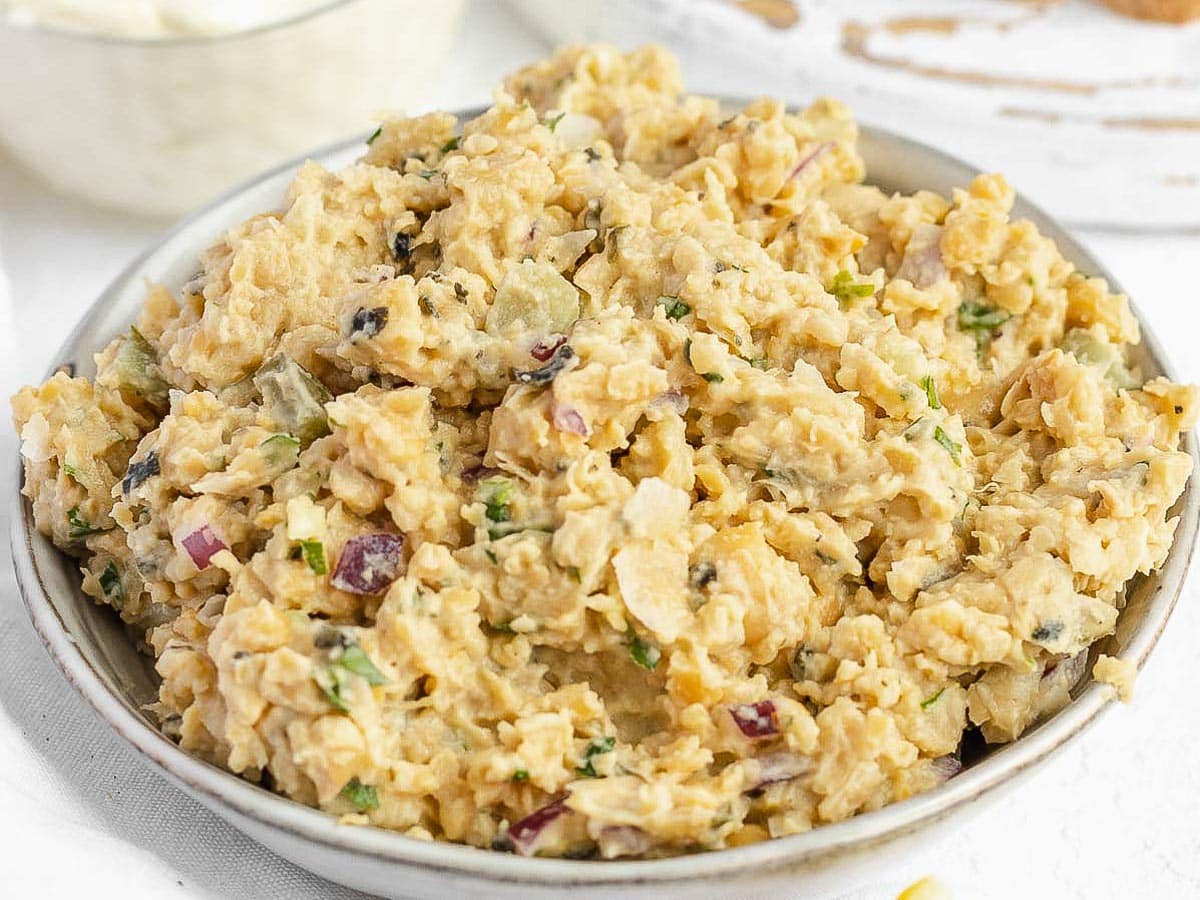 Vegan tuna Melt
To make vegan tuna melt, first toast to slices of bread with vegan cheese (and vegan butter if you want to make it extra loaded). You can do that on a pan or in a broiler or oven. When the cheese has melted, add a few tablespoons of the tuna and make the sandwich. Indulgent, decadent, and delicious!
Similar recipes
If you like easy chickpea recipes as much as we do, check out these chickpea meals:
What are your favorite recipes with chickpeas? We're curious, let us know in the comments below!
Storage
Store the vegan tuna in the fridge for a couple of days. Best if in an airtight container.

We don't recommend freezing, but if you do so, do it in a freezer-friendly container, then thaw in the refrigerator. Do not freeze multiple times.
For many more 30-minute meal ideas, check out our 30-minute meal category page.
Recipe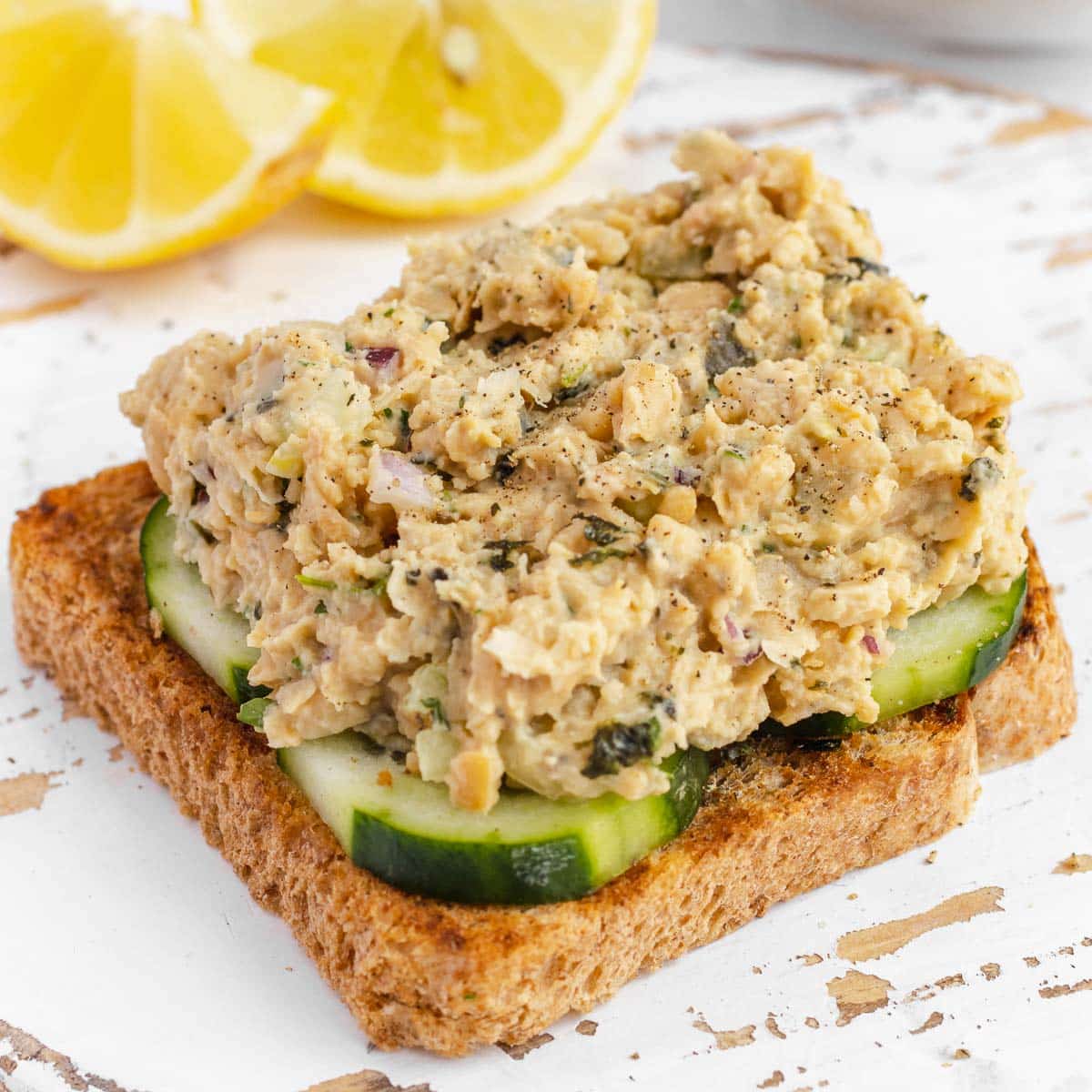 Vegan Tuna
Vegan tuna is a quick and easy recipe made with mashed chickpeas. It's the perfect replacement for tuna in a sandwich, to fill a baked sweet potato, as an appetizer, or just as is as a vegan tuna salad.
Ingredients
2x

15-ounce cans

chickpeas

drained

⅓

cup

vegan mayo

1

tablespoon

soy sauce

1

tablespoon

mustard

1

tablespoon

nori sheet

blended into flakes

½

medium

red onion

chopped

1

stalk

celery

chopped

1

handful

parsley

chopped

½

lemon

the juice

1

tablespoon

capers

or pickles - chopped

2

pinches

salt

2

twists

black pepper
Instructions
Drain and rinse the canned chickpeas then transfer them into a large container with low edges such as an oven dish or into a large mixing bowl and mash them with a fork. Tip: It's easier to mash the chickpeas in a flat container like an oven dish than in a bowl.

Add the rest of the ingredients: vegan mayo, soy sauce, mustard, blended nori sheets, chopped red onion, chopped celery, chopped parsley, chopped capers, lemon juice, salt, and pepper.

Mix with a fork until all ingredients are well combined. Taste and adjust for salt.

Serve in a sandwich, on toasted bread, as a starter, on a baked potato, or eat as is as with a side of lettuce leaves as a salad.
Video Recipe
Mashed Chickpea Salad (vegan "tuna") in 15 minutes
Notes
Nori Sheets are added to give a sea flavor to the vegan tuna. If you don't have or don't like nori seaweed you can omit it. The best way to add nori is to blend the sheets in a blender at full speed until the sheet turns into dust or flakes. You can store the leftover nori flakes into an airtight container for months, and use it sprinkled on salads or other meals. See the variation chapter in this blogpost to have a better idea about how to use this vegan tuna salad.
Nutritional Values
Nutrition Facts
Vegan Tuna
Amount per Serving
% Daily Value*
* Percent Daily Values are based on a 2000 calorie diet.
Did you like this recipe?
Leave us a comment below or find us on Instagram, YouTube, Pinterest, TikTok, and Facebook.
If you liked this recipe you, you might also like: