Our hazelnut spread is an easy and delicious 5-ingredient recipe for a Nutella-like spread that is smooth, creamy, chocolatey, and just impossible to resist.

Its consistency is perfect for spreading on toast, using as a topping on porridge, or as a filling for crepes and brioche.
On this page:
What to expect
Who doesn't like a slice of bread with some hazelnut chocolate spread (aka vegan Nutella) on top?

While there are many alternatives on the market these days for healthier and vegan hazelnut spreads, we really love making our own so that we can control what goes on it.
Our hazelnut chocolate spread is vegan, gluten-free, soy-free, dairy-free, palm oil-free, easy to make, rich, spreadable, creamy, and can also be made sugar-free.
Ingredients & Substitutions
Hazelnuts: you can use raw or toasted hazelnuts. If you use raw hazelnuts you need to first roast them in the oven for 8 minutes at 180C / 356F and then remove some of the peel. You can replace hazelnut with almonds or cashews to make a different spread.

Cacao powder: to add the chocolate flavour to the hazelnut spread. Using cacao powder is the easiest way to make vegan nutella.

However, if you want to make a creamier, fatter, even more spreadable nutella, then you could substitute 70% dark chocolate for cacao powder. In this case though you need to first melt the chocolate. See variation chapters to see how it's done.

Sugar: sugar is our sweetener of choice for this recipe, however you could replace sugar with maple syrup.

Vegetable oil: just a tiny bit to help your food processor turn the hazelnuts into a smooth paste. If you use a Vitamix or other power blender, you won't need to add oil.

Vanilla extract: optional but helpful to add some aroma to the hazelnut spread.

Salt: optional but adding a pinch of salt just makes the nutella extra flavourful.
Equipment
You'll need either a power blender - something like Vitamix - or a good quality food processor - something like Magimix.

If you use a power blender like a Vitamix then blend for 5 minutes. If you use a food processor you'll need to blend for 10 minutes or more.

You will get the smoothest results with a power blender.
Instructions
To make Nutella at home is super simple, but you do need a high-speed blender like a Vitamix or a good quality food processor.

First, toast 3 cups or 400 grams of hazelnuts in a preheated oven at 350F or 180C for 8 minutes.
Let the hazelnuts cool down slightly, then if you used unpeeled hazelnuts, try to remove some of the peel rubbing the hazelnuts between your hands.
You can of course use peeled hazelnuts if you want to skip this step.

Add the hazelnuts and 2 to 3 tablespoons of sugar to a blender.
Blend till you have smooth hazelnut butter.

If you use a Vitamix you'll just need a few minutes. With a food processor, you might need up to 10 minutes, and scrape down the sides of the food processor occasionally.

Add ½ a teaspoon of oil or more if your blender is struggling.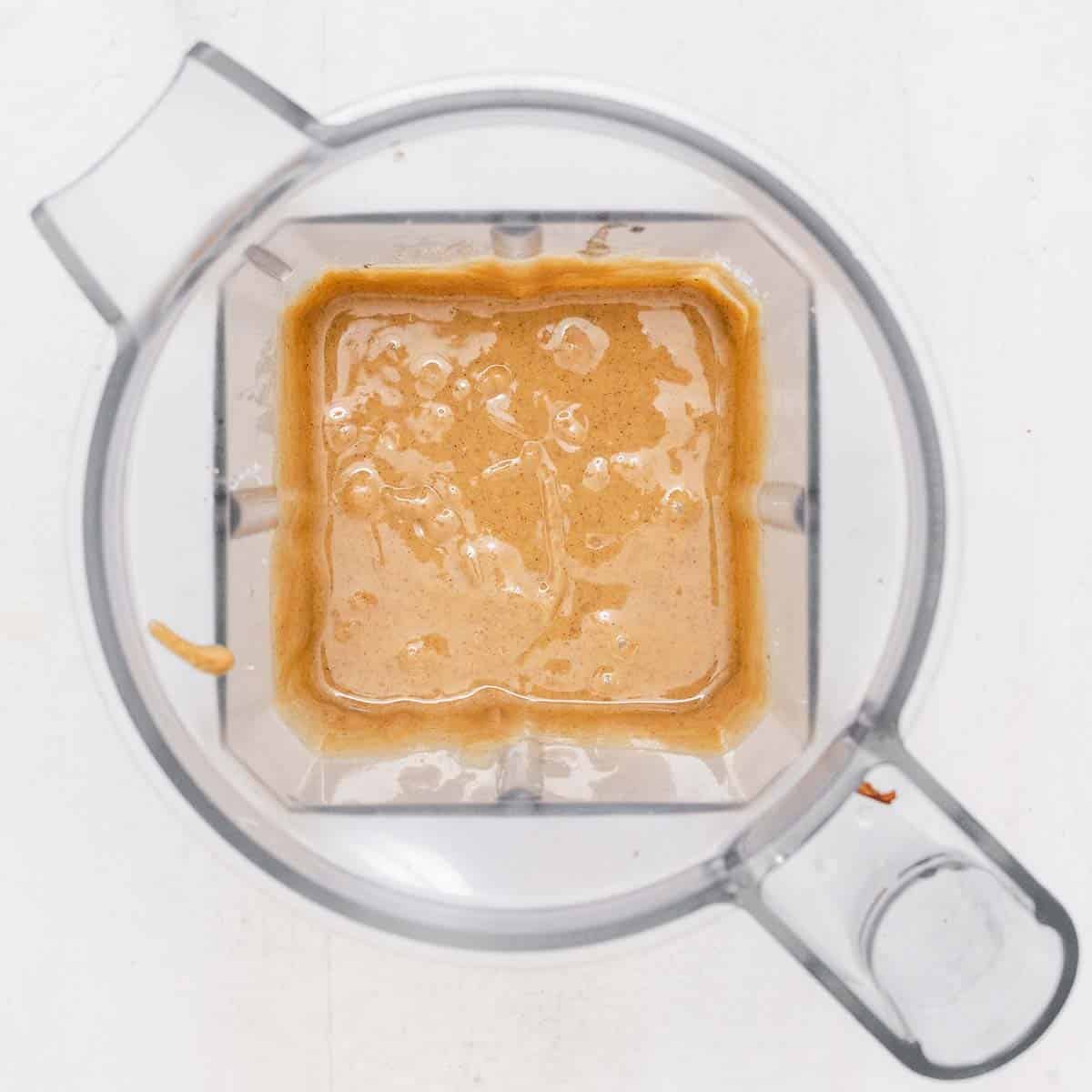 All you have to do now is to add 3 tablespoons of unsweetened cacao powder, a sweetener of your choice, a teaspoon of vanilla extract and optionally a pinch of salt.

Now blend again till fully combined.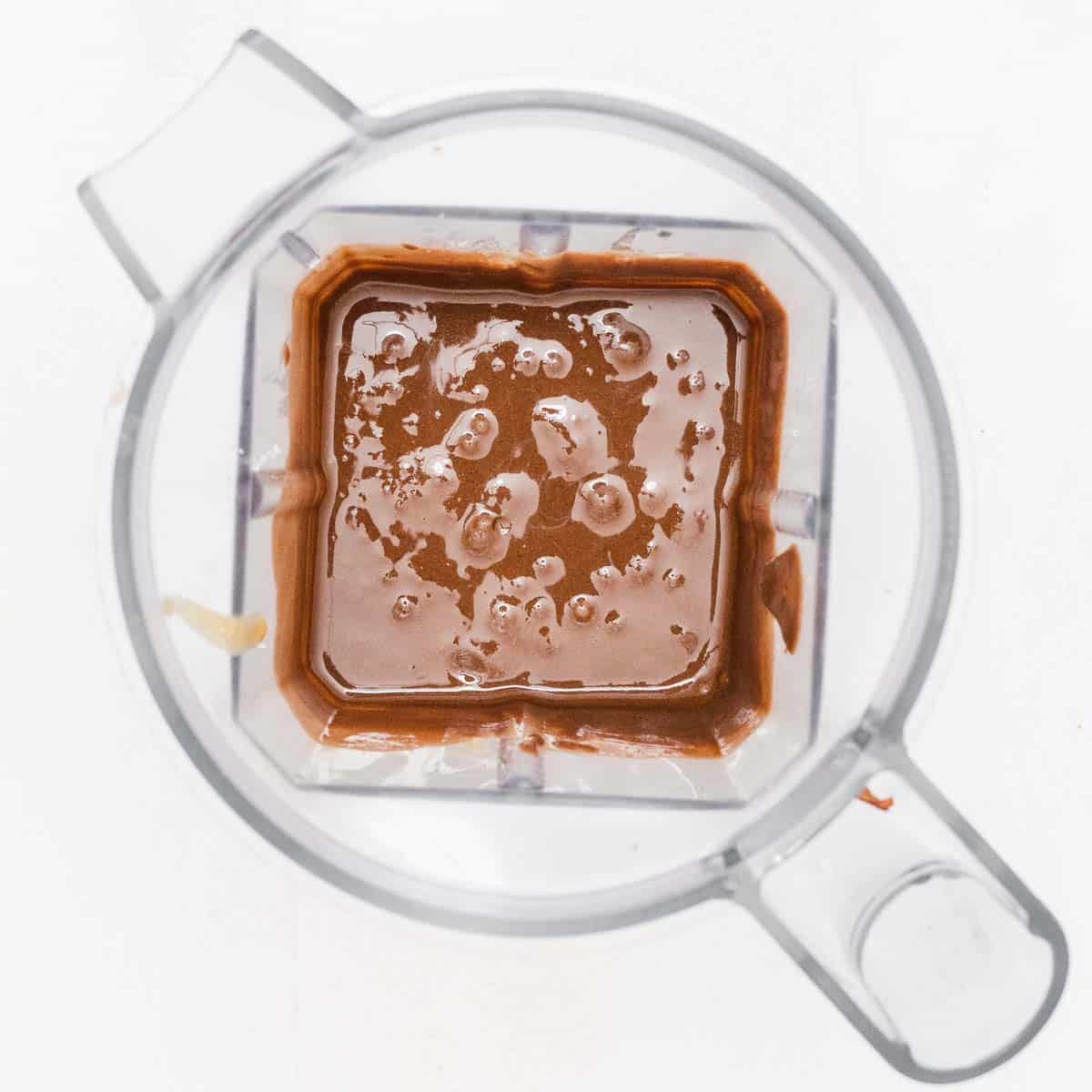 In the end, you'll want a smooth, fluid hazelnut spread that you can store in a jar in the refrigerator for a couple of months. The Nutella will thicken up a little as it cools down.
As a note, we made this Nutella recipe several times, like 10 times, and each time it turns out a little thicker or thinner.

I think it has to do with the oil content in the nuts, so don't freak out if yours is not exactly like ours. In the end, the flavor is delicious and very natural.
Serving suggestions
This hazelnut spread is delicious on plain bread or toast. I mean, that's one of the best snacks ever.
If you want something fancier, why not try our vegan crepes with hazelnut spread. I promise you won't eat crepes any other way after trying this recipe.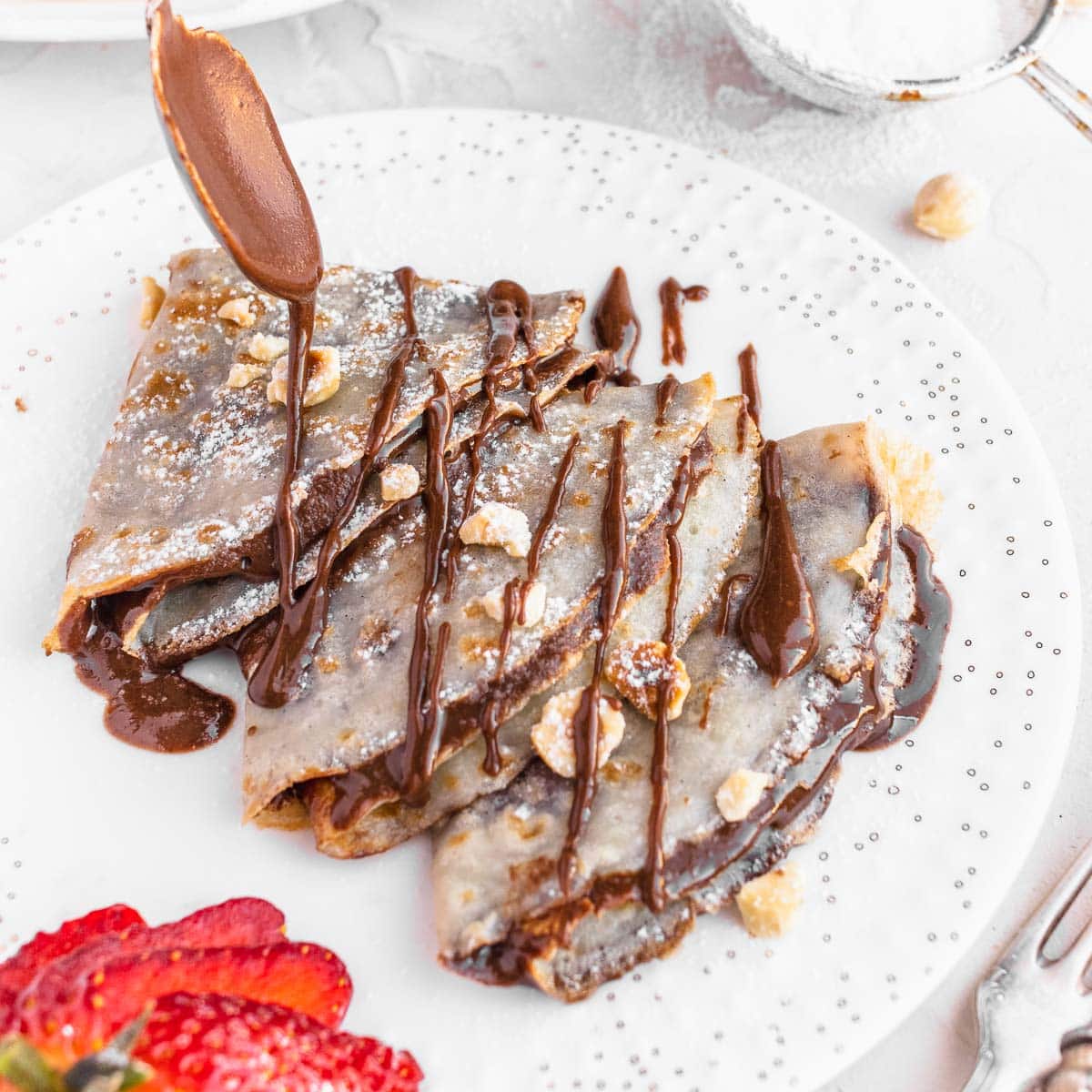 Or try it on our super easy vegan banana bread. Such a great combination.
Variations
Hazelnut spread with dark chocolate
Use dark chocolate chips, or a bar of dark chocolate instead, with 70% or more cocoa content. You'll need about 150 grams or about 5 ounces. You'll get an even richer hazelnut spread this way.

To do this, follow the recipe as instructed above, then instead of adding the cacao powder, add the dark chocolate, but melt it first.

You can either melt the chocolate bain-marie, or you can soften it in the microwave for a few seconds. When it's soft, just add it to the blender with the hazelnut spread.
If you want a spreadable consistency, then add about 1 teaspoon of vegetable oil.

Don't worry if your Nutella seems too liquid, it will thicken up in the fridge as the chocolate cools down.
Mistakes I made
Too much oil: the first time around I added 2 teaspoons of oil and the nutella was way too liquid. It wouldn't thicken up, not even in the refrigerator. Do not add oil at first, only add half a teaspoon at a time if your blender or food processor struggles to blend the hazelnuts.

Brown sugar: it's perfect if you have a powerful blender, but if you are using a food processor I would recommend plain white sugar. The hazelnut spread will be smoother with white sugar.
Tips
Roast the hazelnuts: my advice is to always roast the hazelnut for about 8 minutes at 180C or 360F. That is because the heat will make it easier for the oil in the nuts to come out. The aroma of the nuts will be stronger and it will be easier for the blender to blend.

Cool down the hazelnuts: do not add the hazelnuts while they are still too hot to the blender. You'll blender might melt. Wait until the nuts are warm, but not hot.

Dark chocolate for richer nutella: if you want a richer, more indulgent nutella, then use dark chocolate chips or a dark chocolate bar, instead of cacao powder. Dark chocolate contains cocoa butter that gives richness and depth to your spread. See variations below.
Questions
Can I use stevia for vegan Nutella?
Yes. Use stevia to taste, add a little at a time.
Can I use agave or maple syrup?
Yes. Add 1 to 2 tablespoon to taste. In this case, you might need to add a little more oil to adjust consistency.
Can I prepare it in advance?
Yes. The spread stores for up to 2 months in the refrigerato and preparing it in advance is actually better as it needs to cool down after blending.
Is the recipe scalable?
Yes. You can scale it up. It will even be easier to blend with a double dose.
Storage
Store the hazelnut spread in the refrigerator for up to 2 months, best if in a jar. Do not freeze.
Recipe
Hazelnut Spread - Vegan Nutella
Our hazelnut spread is an easy and delicious 5-ingredient recipe for a Nutella-like spread that is smooth, creamy, chocolatey, and just impossible to resist.
Equipment
power blender or food processor
Ingredients
3

cups

hazelnuts

3

tablespoons

sugar

3

tablespoons

cacao powder

(or 200 grams or 7 ounces of dark chocolate)

1

teaspoon

vanilla extract

½

teaspoon

vegetable oil

(optional)

1

pinch

salt

(optional)
Instructions
Toast the hazelnuts in a preheated oven at 350F or 180C.

Let cool down for 10 minutes then remove some of their skin rubbing them with your hands.

Add toasted hazelnuts and sugar to a power blender or to a food processor and blend till you have a smooth hazelnut spread.

About 5 minutes in a power blender and 10 minutes in a food processor. You can add ½ teaspoon of oil if your blender struggles.

Add the cacao powder or the melted dark chocolate, the vanilla aroma, a pinch of salt and keep blending till all ingredients are mixed and you have a smooth spread.

Do not worry if the nutella is too liquid, it will thicken up in the refrigerator.NOTE: We think that ½ to 1 teaspoon of vegetable oil works perfectly to give the perfect spread consistency, but if you want your nutella more liquid, then add more oil.

Pour the nutella into a jar and store in the refrigerator for up to 2 months.
Notes
Nutritional values are  for the version with cacao powder and for 1 portion of out 20.
You can adjust the sugar based on your preferences. If you like it sweeter, feel free to add more sugar.
Nutritional Values
Nutrition Facts
Hazelnut Spread - Vegan Nutella
Amount per Serving
% Daily Value*
* Percent Daily Values are based on a 2000 calorie diet.
Did you like this recipe?
Leave us a comment below or find us on Instagram, YouTube, Pinterest, TikTok, and Facebook.
If you liked this recipe, you might also like: