Cambia lingua / Switch language: ITA
Vegan piadina is a thin yeast-free Italian flat-bread that can be filled, sliced in triangles, or rolled like a wrap. This recipe is easy to make, with four simple ingredients that you already have at home, without proofing, cooked on a pan, and with olive oil instead of lard.

If you make this piadina, make sure to try it with our vegan stracchino cheese and arugula. It's the perfect combination of flavour and textures.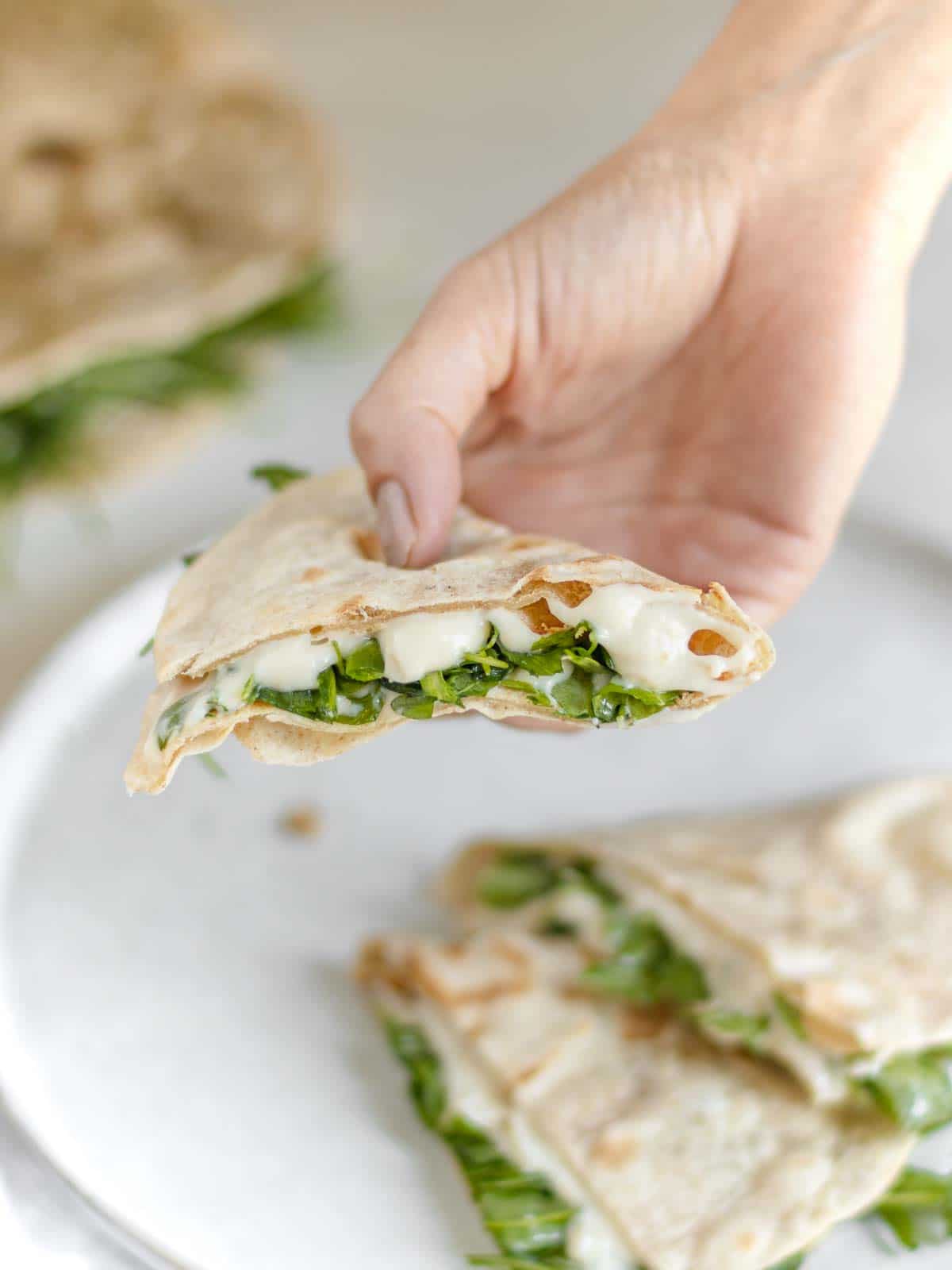 Jump to:
What you can expect: soft, thin, rollable, foldable, full of bubbles, flat-bread similar to a Mexican tortilla.
What is a piadina romagnola?
If you walk on the Italian mediterranean Riviera in the Romagna area, around the cities of Rimini and Riccione, you would notice that every single café and kiosk on the seaside sells piadina romagnola alla riminese.

Piadina alla Riminese is a very traditional type of Italian flat-bread that is surprisingly similar to Mexican tortilla. It's a thin, flat, circular unleavened flatbread made with wheat flour that is versatile and can be eaten as a snack or as a main dish for a quick lunch or dinner.

And like Mexican tortilla, our vegan piadina can be filled with pretty much anything you like. It can be folded in half, cut in triangles, or rolled like a wrap. My favourite filling is the one you see in our pictures: piadina with stracchino and rucola. Check our our recipe for stracchino, a creamy Italian plant-based cheese spread.
Ingredients & Substitutions
Flour: all purpose or bread flour are best. You can also do it with whole-wheat, but it'll turn out harder and drier.
Water: needs to be warm water, not hot, not cold.
Olive oil: piadina is traditionally made with lard, but nowadays most people prefer to make it with extra virgin olive oil. We also do it like that.
Salt
Equipment
To make vegan piadina you will need a clean worktop, a bowl, and a rolling pin to shape and flatten the dough.
Tips 
Let the dough rest: it's important so that the gluten network can relax and it will be easier for your to roll the dough. A 15 to 30 minutes rest should be enough.
Don't let it dry: don't let the dough dry out in the air. Have it always covered under a cloth. Dry dough is hard to flatter, and it will result in a harder drier vegan piadina.
Roll one at a time: it's best to roll the piadina one at a time, each one just before cooking. This will prevent the piadine from drying.
Preserve moisture: while cooking the flatbreads one after the other, you can put them on top of each other, but keep them covered/wrapped by a clean kitchen cloth to preserve moisture.
Storage
This vegan piadina without lard can be stored in a plastic bag for up to 2 days. It can be reheated for a few minutes in the oven or on the same pan where it was cooked.

You can also store piadina in the freezer for up to 3 months. They just need to cool down completely before your put them in a plastic bag and in the freezer.
Recipe
Vegan Piadina Romagnola Riminese
Vegan piadina is a thin yeast-free Italian flat-bread that can be filled, sliced in triangles, or rolled like a wrap. This recipe is easy to make, with four simple ingredients that you already have at home, without proofing, cooked on a pan, and with olive oil instead of lard.
Ingredients
300

g

(

2

cups

)

flour

all-purpose or bread flour

150

g

(

0.6

cups

)

water

warm

30

g

(

2

tbsp

)

olive oil

extra virgin

5

g

(

0.8

tsp

)

salt
Instructions
In a bowl, add all the ingredients together and mix with a fork or with a spatula till everything comes together.

Transfer the mixture on a worktop that you previously sprinkled with flour, and knead for 5 minutes until you have a smooth, soft but compact dough ball. Cover with a cloth and let rest for 15 to 30 minutes.

Cut the dough in 4 equal pieces, then shape each piece into a ball. Cover the balls with a cloth to prevent them from drying and in the meantime start warming up a non-stick pan on low-medium heat.

While the pan warms up you can flatten the first ball into a thin, round flat-bread (piadina). Rotate the dough often so that you get a regular round shape. You should aim for 3mm thick discs. That is 3/32 Inch or 0.12 Inches. Sprinkle the worktop and the dough with flour to prevent it from sticking.

Cook the piadina on the hot non-stick pan. The pan should be hot, but the heat/flame should be low. Let cook for about 1.5 - 2 minutes on each side.

When it's cooked, put it on a plate in between a clean kitchen cloth. This will help preserve moisture. Repeat with the other flatbreads till you are done.

Fill up with your favourite filling and enjoy! We use our vegan stracchino with arugula as a filling.
Full video on youtube @theplantbasedschool
Notes
Check out our recipe for vegan stracchino, an Italian fresh cheese. It's the perfect filling for piadina together with fresh arugula.
If you can, use a digital scale for our recipes. This way you'll get the best results.
We use
calculateme.com
to convert grams to US volume measurements. We believe they have the most accurate conversion algorithm. If must use cups and spoons, then use the "spoon and level" method. That is, spoon the ingredients into the measuring cup, or measuring spoon. Then level the excess with a knife.
Nutritional Values
Nutrition Facts
Vegan Piadina Romagnola Riminese
Amount Per Serving
Calories 339
Calories from Fat 72
% Daily Value*
Fat 8g12%
Potassium 80mg2%
Carbohydrates 57g19%
Protein 8g16%
Vitamin B6 1mg50%
Vitamin E 1mg7%
Vitamin K 5µg5%
Calcium 13mg1%
Folate 137µg34%
Iron 4mg22%
Manganese 1mg50%
Magnesium 17mg4%
Zinc 1mg7%
* Percent Daily Values are based on a 2000 calorie diet.
Did you make this recipe?
Tag us on Instagram @theplantbasedschool
Related recipes
Let us know in the comments below if you tried this recipe at home, or take a picture of it and tag us on Instagram @Italiaplantbased.