Cambia lingua / Switch language: Italiano
Here you'll learn how to make the perfect vegan custard in 3 simple steps. Our recipe is very simple, quick, sweet, light and creamy. We make this custard without eggs and milk, and we'll show you different variations on how to make a chocolate custard, a coffee custard, or a pistachio custard, perfect for any occasion.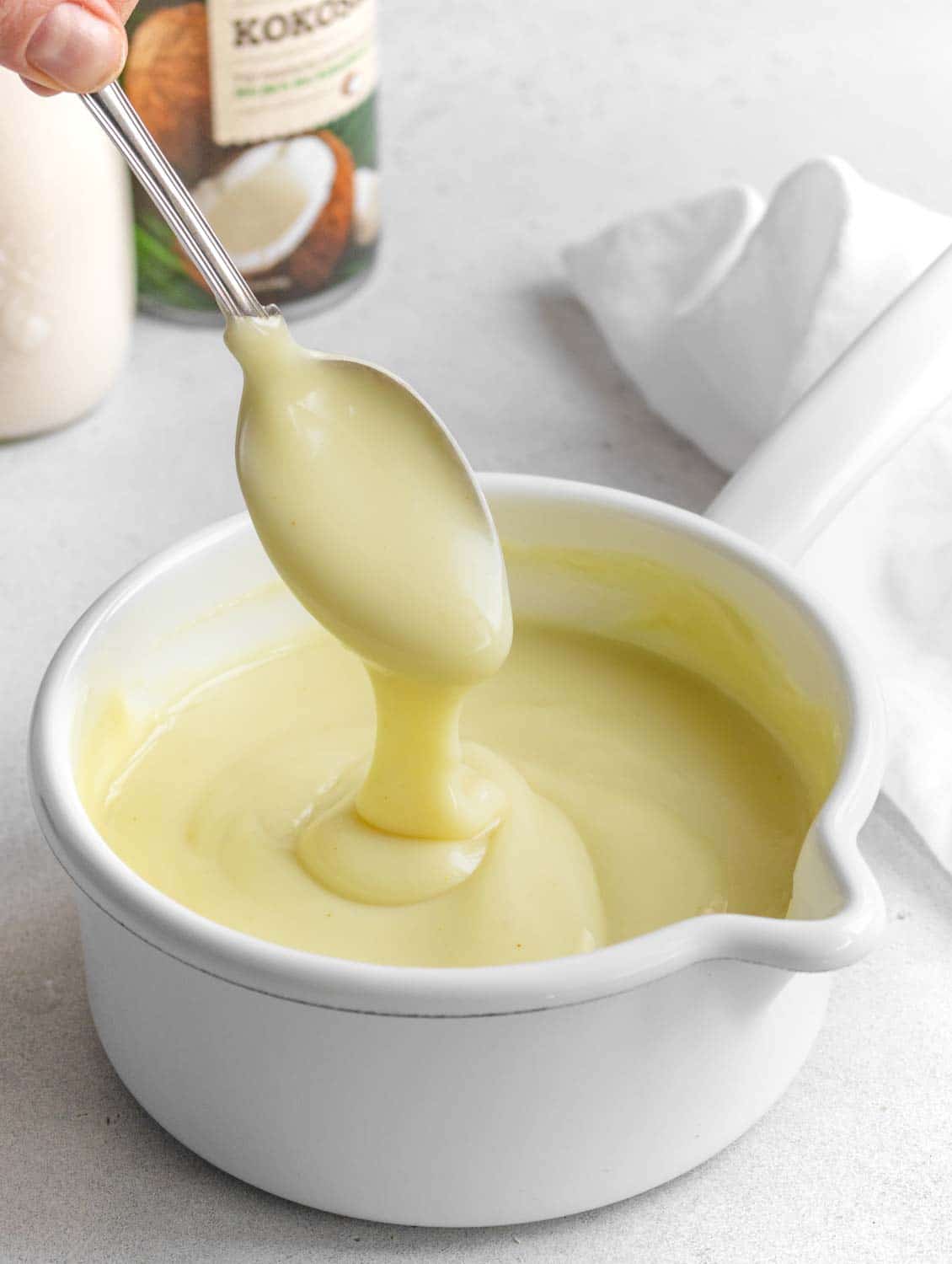 Jump to:
Ingredients & Substitutions
Custard is a liquid that is thickened by the coagulation of egg protein, generally made by combining the egg yolks with milk and sugar. Our vegan version uses cornstarch as a thickening agent, turmeric for colour, and plant milk to replace dairy milk.
Basic ingredients
Plant milk: any plant milk will work to make vegan custard. If you want a creamier and fatter custard, replace some of the plant milk with coconut milk, soy cream or rice cream. We generally use unsweetened organic soy milk as it is affordable, nutritious, and makes a mildly creamy custard that can be then flavoured easily with anything we feel like.
Cornstarch: this is essential to make sure the custard thickens up. Cornstarch is suitable for gluten-free diets as it's made from corn. You can replace cornstarch with potato starch.
Sugar: any type of sugar will work. Regular granulated sugar yields a very neutral vegan custard that you can flavour as you like. But other unrefined sugars work too, just keep in mind that they will add some flavour.
Turmeric: used to give the beautiful yellow colour to the custard. You only need a very small amount of it. We promise you won't taste it at all. You can replace it with saffron powder, but we recommend sticking to turmeric.
Ingredients to add flavour
Lemon: add lemon peel to get a mild lemon flavour to you custard. If you want a strong lemon flavour, then add some lemon juice. We recommend to NOT grate the lemon peel, but rather use it in big pieces that you can easily remove. Also, only use the yellow part of the peel because the white flesh will make your custard bitter.
Vanilla: you can use real vanilla seeds from the vanilla bean or liquid vanilla extract. Keep in mind that if you use real vanilla seeds your custard will be full of tiny black spots and won't look as smooth.
Dark chocolate: you can use either cacao powder or dark chocolate pieces. We prefer dark chocolate pieces from brands we trust are vegan. Put the chocolate in the custard at the end and off the heat.
Pistachios and Hazelnuts: those two are the perfect flavouring nuts for your custard. Make sure you get unsalted ones. Toast them lightly, then blend them with the plant milk till very smooth and make the custard with the nut-flavoured milk.

Coffee: use espresso shots or instant coffee powder to flavour your plant-milk. Soluble coffee powder yields a richer custard with a stronger coffee flavour.
Tips
Lemon zest vs lemon peel. We made several variations of this custard and we eventually liked the one with the lemon peel better because it yields a smoother custard. If you use lemon peel make sure to add it while the custard is simmering on the heat to release the lemon flavour.
Discard the white flesh. When using lemon to give aroma to your sauces and creams is important that you don't accidentally use the white flesh under the yellow skin. That part is extremely bitter and it will ruin your dish.
Cooling down while stirring. The best way to cool down the custard is to do submerge half of the saucepan in a large bowl with iced water and keep stirring. This method will chill the crème faster reducing the risk of lumps forming.
Easy on the turmeric. Turmeric gives just the perfect colour to this vegan custard. Use just a small amount though, as the colour gets more intense as it cooks. You can always add more later if you need a brighter colour.
Blend if you have lots of lumps. It is possible that during the cooling process the custard will dry out on the surface and make a thin skin that will result in annoying lumps. If you are annoyed by the lumps then you can always blend the custard with a hand blender. We tried and it works beautifully.
Thin for pouring, thick for cakes. Crème anglaise (thin), pastry cream (semi-thick), baked (thick), or pudding are all preparations that can be easily done using our recipe. Have a look at our "variations" section for more detail.
Frequently asked questions
Is custard vegan?
The traditional recipe is not vegan as it contains eggs and milk, however our recipe is 100% vegan and delicious.
Is custard gluten free?
Yes, our custard recipe is gluten-free as it is made with cornstarch, a thickener derived from corn. Corn is naturally gluten free, however some cheap low quality brands might make their cornflour in a machine that has previously worked wheat flour. So, if you want to be sure check the label.
How to thicken vegan custard?
Cornstarch is the perfect thickener for this recipe.


Will custard thicken as it cool?
Yes, it will keep thickening as it is completely chilled. Keep this into account when cooking it.
What do you eat custard with?
You can eat custard poured over fresh fruit, apple cake and galettes, you can eat it with a spoon, or as a filling for donuts, éclairs and napoleons. Our favourite way to eat it is in a fruit tart or with strawberries and mint.
Can you buy vegan custard?
Yes, you can, but making your own is a lot more fun and healthier as you control what goes in it.
Can I use coconut milk?
Yes, coconut milk is a good substitute to soy milk if you want a richer custard. Substitute it for half of the soy milk in the recipe. The only downside is that the custard will be fatter and slightly taste of coconut.


Can you freeze vegan custard?
Yes, but we do not recommend freezing it. It takes longer to defrost than to make from scratch and the taste won't be the same. You could however turn it into ice cream. To do this, place it in the freezer, then whisk it every 30 minutes until it turns into smooth ice cream. It should take you about 3 hours.

Can I use almond milk?
Yes, organic almond milk is the perfect substitute to soy milk.
Is vegan custard healthy?
It is definitely healthier than the traditional custard has this one does not contain eggs or dairy. Also, our version is low fat, has no cholesterol and no saturated fat. The only unhealthy ingredient is the sugar.
Who invented custard?
Believe it or not, it seems that custards have been around since Ancient Rome. I can definitely picture Marcus Aurelius dipping grapes in some freshly made roman custard during his stoic meditations.
Variations
Flavour Variations
One of the greatest advantages of this vegan custard recipe is how simple it is to make flavour variations out of it. These are our favourites:
A rich, luxurious and extra creamy custard full of chocolate flavour. This vegan chocolate custard is to die for. Made with the same simple ingredients, just add your favourite brand of vegan dark chocolate at the end, off the fire. Stir for a minute and enjoy!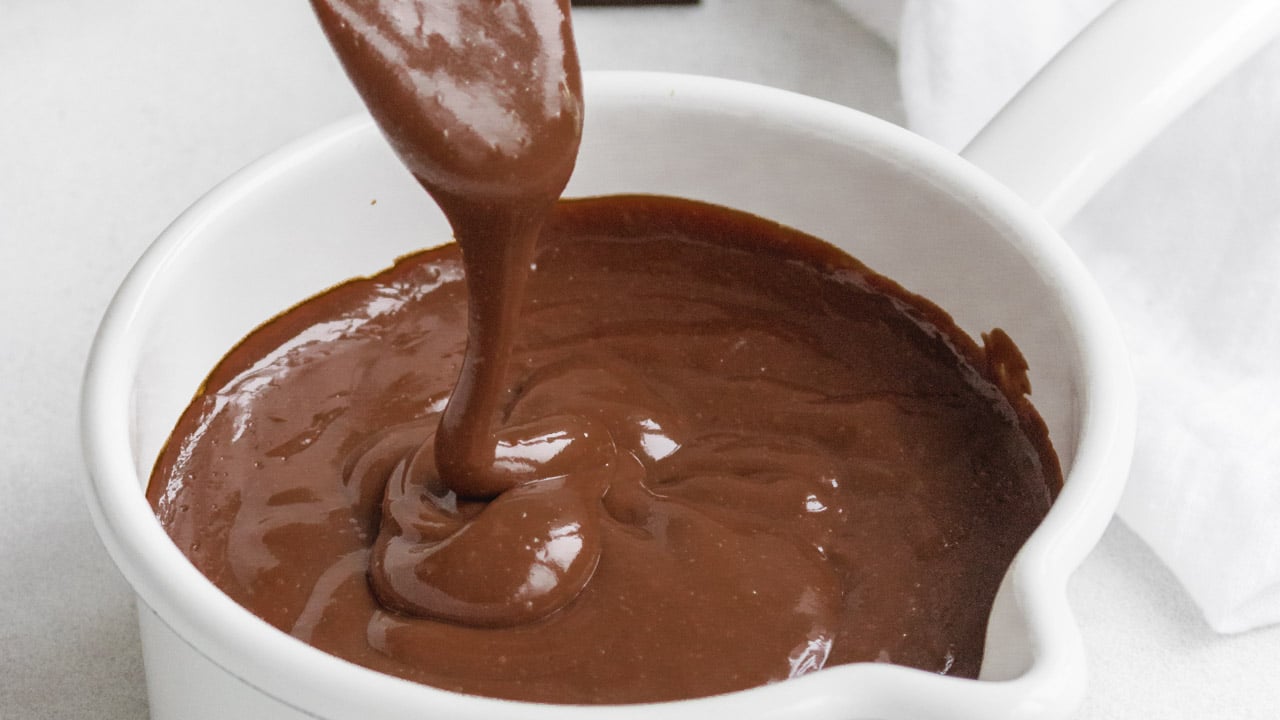 Pistachio custard is sweet, nutty, creamy and if you like pistachios is going to be a great addition to your dessert recipes! This custard is inspired by Italian crema pasticcera and is made with simple ingredients and with unsalted pistachio nuts. The richness of pistachios makes this recipe burst with flavour with very few ingredients, and it's naturally vegan.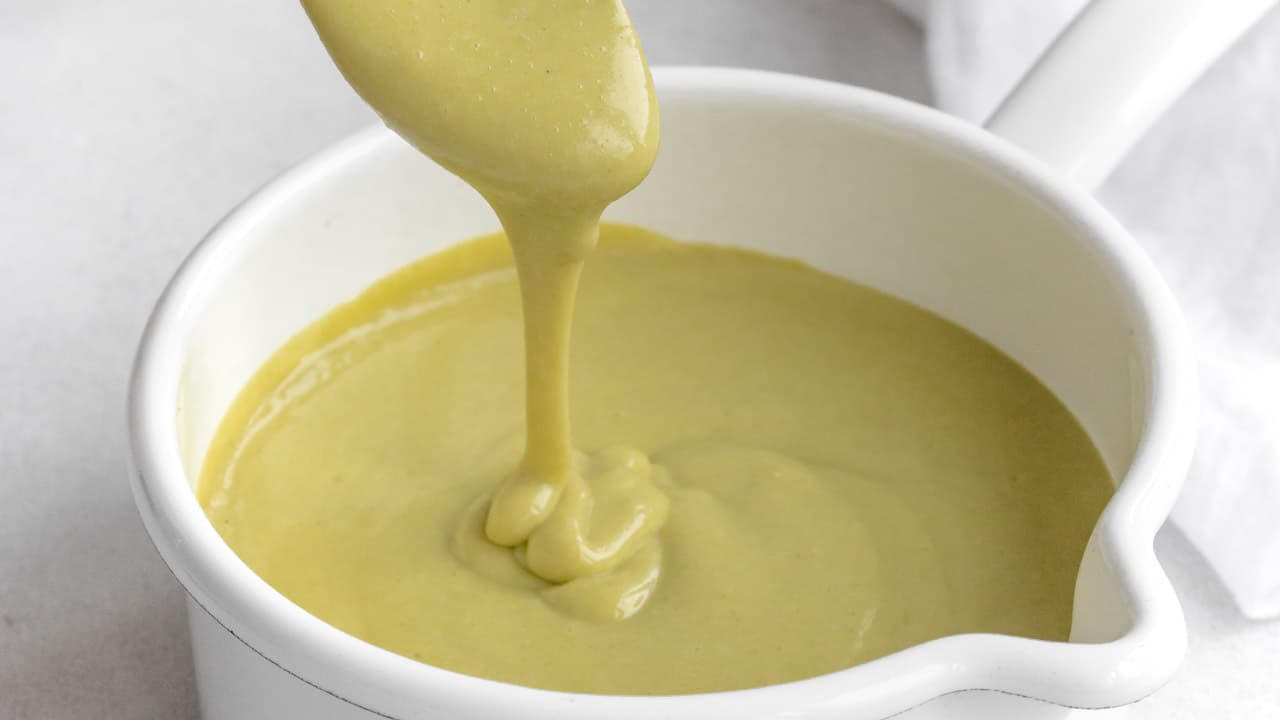 This espresso coffee custard is an Italian inspired and simple recipe that taste just like your favourite Starbucks latte. It's creamy, easy to make and bursting with coffee flavour. We use simple ingredients to make it and you can either use real espressos or instant coffee powder. Oh, it's also vegan friendly.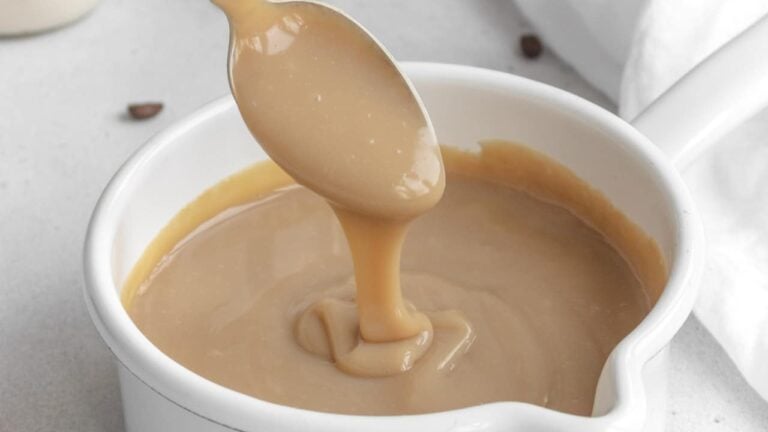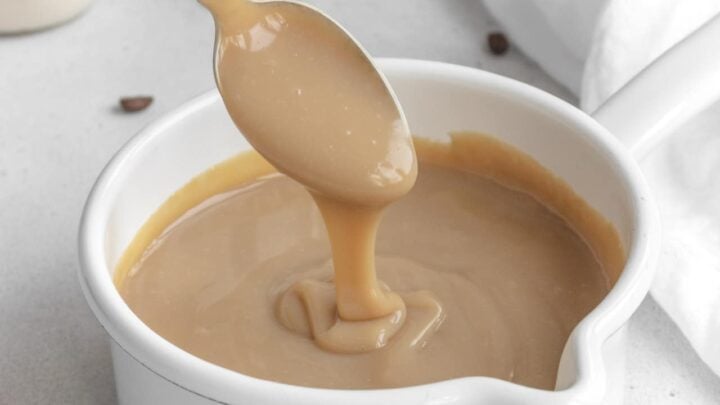 Our 3 favourite desserts with vegan custard
Torta della nonna - in English grandma's custard pie - is a very popular Itailan pie made with a soft shortcrust pastry shell and a sweet custard filling and topped with crunchy pinenuts. Here we make a vegan torta della nonna, without milk, without butter, and without eggs. Don't worry, our recipe is still 100% Italian and every bite as delicious as the original one.
This beautiful and delicious fruit tart with lemon custard is a classic Italian pastry recipe that everyone loves. And of course we veganized it and made it extra healthy without compromising its taste. The result is a vegan fruit tart with vegan custard that is egg-free, dairy-free, made with wholegrain flour and plenty of fresh seasonal fruit. Trust us, it will 100% blow your mind!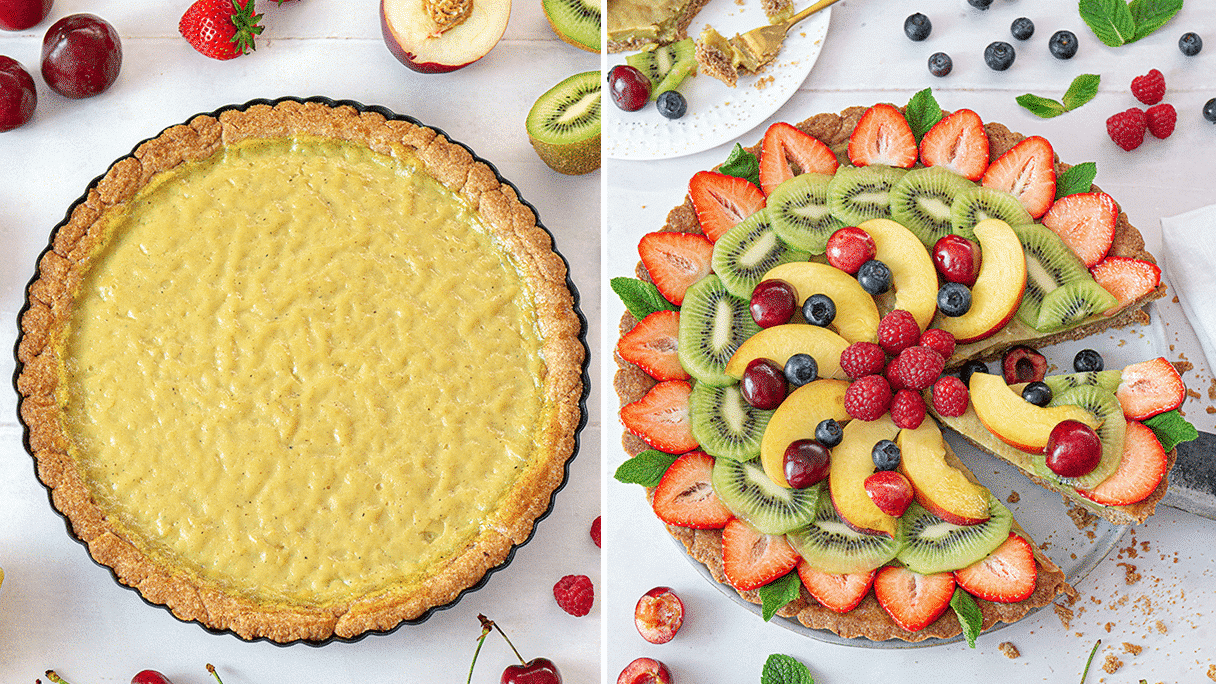 We love apple cake so much that we made a custard-filled version of it. Don't worry! This custard-filled apple cake is still 100% vegan, light, fluffy and full of apple flavour. We make it so that the custard coats the apple pieces in the cake, for a super moist and soft cake.
Custards around the world
Depending where you are from, the term custard can mean different things. In this blog we use the Italian recipe for Crema Pasticcera (Italian Pastry Cream) as the base recipe for our custards.
Custard in the UK and in the US are quite similar to this preparation, but with some small differences, mainly in the cooking times and ingredients ratios.

Here's a short guide on how to tweak our recipe to get the custard that you love the most.
Baked custard
To make a great vegan baked custard we recommend cooking the custard in a saucepan first for about 2 minutes, then using it to fill a pie shell and then bake it in the oven for about 30 minutes. This is how we made our vegan fruit tart.
Crème anglaise
Also known as vanilla custard sauce, is a lightly thickened pouring custard flavoured with vanilla extract and no lemon flavour. Bring to a boil for a minute then while stirring continuously, the keep stirring on low heat until lightly thickened. Cut the amount of cornstarch in our base recipe in half.
Pastry cream
Perfect to fill up donuts, éclairs or napoleons. A classic pastry cream is generally flavoured with vanilla and no lemon. To make it just cook the custard for longer. Boil it for about 3 minutes while stirring, then take it on low heat and keep stirring until you reach your desired consistency. To make a richer pastry cream substitute coconut milk for half of the plant milk and flavour with vanilla bean instead of vanilla extract.
Puddings
Puddings are hard to define. In fact different countries and regions have their own different traditional puddings, varying from sweet to salty to even blood puddings. Our recipe is best defined as a traditional Blancmange English style pudding. You can flavour this with vanilla or almond extract.
Storage
You can store this vegan custard in the refrigerator for 2 to 3 days. Let it cool down then cover it with reusable wrap and make sure the wrap touches the surface of the custard to prevent a thin crust from forming. You can reheat the custard on low heat by adding a dash of plant milk while stirring.

We do not recommend freezing the custard, unless you want to make ice cream out of it.
It is possible that during the cooling process the custard will dry out on the surface and make a thin skin that will result in annoying lumps. If you are annoyed by the lumps then you can blend the custard with a hand blender. We tried and it works.
Recipe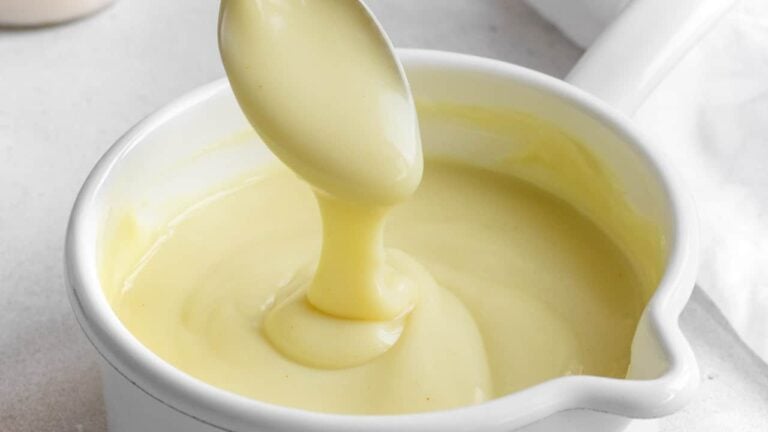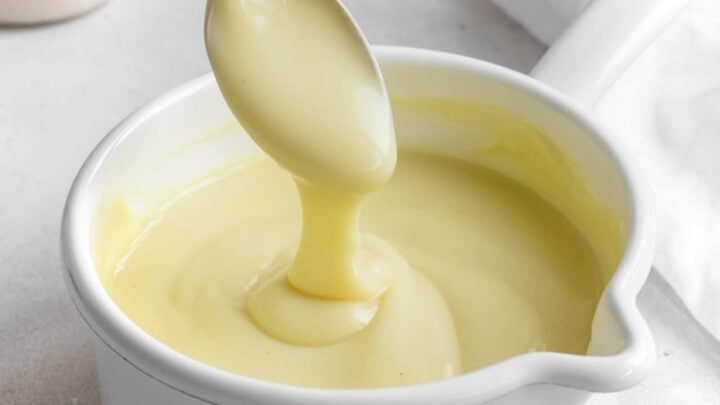 How to make vegan custard
There are two main types of classic vegan custards. A light low-fat version, and a richer full fat version. The procedure is the same. The ingredients are similar, but the light version uses regular plant-milk such as soy milk, almond milk, oat milk or rice milk, while the full fat version is made with coconut milk, or other types of plant-based creams, such as soy or rice cream.
Ingredients
For a low-fat lighter custard
500

g

(

2.1

cups

)

plant-milk

soy, almond, oats, rice

50

g

(

6.7

tbsp

)

cornstarch

65

g

(

5.2

tbsp

)

sugar

⅛

tsp

turmeric

1

tsp

vanilla extract

¼

lemon

peel
For a full-fat richer custard
350

g

(

1.5

cups

)

plant-milk

soy, almond, oats, rice

150

g

(

0.6

cups

)

plant-cream

soy cream, rice cream, coconut cream or coconut milk

50

g

(

6.7

tbsp

)

cornstarch

65

g

(

5.2

)

sugar

⅛

tsp

turmeric

1

tsp

vanilla extract
Instructions
In a pot off the heat, add plant-milk, sugar, vanilla, turmeric, lemon peel, cornstarch. Stir well with a whisk until all the lumps of the cornstarch are gone.

Bring the pot on the heat, set it on low, and stir continuously until the liquid thickens into a creamy custard. It can take between 2 to 5 minutes, depending on the quantities.

When you have almost reached the consistency that you like, take off the heat and keep stirring for another minute. That's it.TIP: The custard will keep thickening while off the heat. Keep this in mind and turn off the heat slighlty before you reach your desired thickness.

TIP: to check if your custard is ready take a wooden or silicone spatula, dip it in the custard, then run a finger through it. If the spatula stays clean, the custard is ready.
Notes
Nutritional values shown are for the low-fat custard.
If you can, use a digital scale for our recipes. This way you'll get the best results.
We use
calculateme.com
to convert grams to US volume measurements. We believe they have the most accurate conversion algorithm. If must use cups and spoons, then use the "spoon and level" method. That is, spoon the ingredients into the measuring cup, or measuring spoon. Then level the excess with a knife.
Nutritional Values
Nutrition Facts
How to make vegan custard
Amount Per Serving
Calories 113
Calories from Fat 18
% Daily Value*
Fat 2g3%
Potassium 118mg3%
Carbohydrates 21g7%
Protein 2g4%
Vitamin A 328IU7%
Vitamin B6 1mg50%
Vitamin C 6mg7%
Vitamin E 2mg13%
Calcium 117mg12%
Folate 27µg7%
Iron 1mg6%
Manganese 1mg50%
Zinc 1mg7%
* Percent Daily Values are based on a 2000 calorie diet.
Did you make this recipe?
Tag us on Instagram @Italiaplantbased
Related recipes
Will you be cooking vegan custard at home? Let us know in the comments below!