One-bowl, one-fork, 7-ingredient vegan banana bread.

We developed this recipe so that you can make the best, easiest vegan banana bread any time you feel like it, without needing complicated vegan ingredients.
On this page:
What to expect
Banana bread is one of the most beloved quick bread recipes in the world.

Part of its success is due to the fact that Banana Bread is undoubtedly one of the easiest things to bake, another part is due to good marketing from Chiquita who released a Banana's Recipe book in the 1950s.

If you want to learn more about bananas check our Johnny Harris video on the very interesting history of bananas.
Our vegan banana bread recipe tries to stay true to the original by using only very simple ingredients.

Similar to vegan zucchini bread, you won't find flax egg, ground flaxseed, aquafaba, or other types of egg replacement here. The best vegan banana bread is made by getting the right ratios of mashed bananas, dry ingredients, and wet ingredients.
The texture of this banana bread is light, the crumb is firm and easy to slice, it's moist but not excessively, and you won't need to bake it for hours.
Ingredients and substitutions
Bananas: overripe bananas are best. Overriped banana have dark spots on their peel. They are sweeter and softer than just ripe bananas and are necessary to make the best banana bread.

Flour: we use all-purpose flour. If you'd like to make a more wholesome banana bread you could use half all-purpose and half whole wheat flour, or whole wheat pastry flour.

Sugar: you can use any sugar. White sugar, brown sugar, and even coconut sugar, although that is less sweet so you might need to add 25% more than our doses.

Admitedly we don't add a lot of sugar in our vegan banana bread cause we like to keep it healthy-ish so we can snack on it. Feel free to add more sugar if you like a sweeter banana bread.

We have't tried making this banana bread with maple syrup or agave syrup, so not sure if it'll work.

Plant milk: you can use any plant milk or non-dairy milk for banana bread. We like to use almond, oat, or soy milk.

Oil: you can use any neutral vegetable oil, with a light colour and flavor. We like to use sunflower seed oil. You can replace oil with vegan butter or coconut oil.

If you want to make this recipe oil-free just add more plant-milk to replace the oil.

Vanilla extract: it adds a nice aroma and depth of flavour and I recommend it. You could add cinnamon too if you like.

Baking powder: if you want your bread to rise and be a little lighter, like the one in our pictures, you need to add baking powder. Just two teaspoons will do the trick.
What about baking soda?
We don't use baking soda in banana bread, although that's often used in traditional banana bread recipes.

Baking soda won't help your bread rise much, it'll make it darker on the outside, and it might even add a strange, unpleasant flavor if you add too much of it.

Try using baking powder instead (which usually contains a small amount of baking soda) and you won't go back.

If you are looking for a more natural alternative to baking powder, then cream of tartar is your best bet.
Wait a minute, what about add-ins?
You can add any add-ins of your choice, such as dark chocolate chips, chopped walnuts, chopped pecans, chopped hazelnuts, or any other chopped nuts.

You can even add sliced banana on top if you like, but it'll take longer to cook this way.

Here we show you how to make classic banana bread, without any add-ins.
Instructions
Make the batter
As a first step preheat the oven to 350F or 180C, then to a large mixing bowl, add 3 over-ripe bananas, which is about 11.5 ounces or 330 grams if you want to be precise.

It's best if their peel has brown spots, the bananas will be sweeter this way.

Mash the bananas with a fork until you have a banana puree. It's ok if there are some small banana bits.
To the same bowl add ¼ cup or 60 grams of plant milk. We are using oat milk here.

¼ cup or 50 grams of any neutral vegetable oil, we are using sunflower seed oil, and ½ cup or 100 grams of sugar.

For sweeter banana bread, you can add more sugar of course.

Now, add 1 tablespoon of vanilla extract and a pinch of salt, then stir with a fork until the ingredients are well combined.
We can now add 2 cups or 300 grams of all-purpose flour to the wet ingredients, and 2 teaspoons of baking powder.
With the same fork mix the dry ingredients with the wet ingredients.

You should have a banana bread batter that is quite dense and bready. This is so important or else you'll banana bread will never cook inside, and it will end up overly moist in the center.

Tip: when making quick bread, it's super important to NOT overmix the dough. Overmixing will make your bread heavier and tougher, and we don't want that.

So mix with a fork, gently, till the wet and dry ingredients are just combined, and don't worry too much if there are some lumps in the batter, that's fine.
At this stage, you could add some add-ins if you like. For instance, chopped walnuts (or any other nuts), dark chocolate chips, or both. Fold them in with the fork, without overmixing.
Bake the banana bread
Transfer the batter into a loaf pan lined with parchment paper.

We use a 9 x 5 inch loaf pan (23 cm x 12 cm). Even out the bread, then bake in a preheated oven at 350F or 180C for 45 to 50 minutes.
Since every oven is different, make sure to test your banana bread with a skewer or with a toothpick. If the skewer comes out dry, the bread is ready.

We bake ours for exactly 48 minutes, and it should take no more than 50 minutes.

Pull the banana bread out of the loaf pan, and let it cool down completely on a cooling rack. That should take about 1 hour at least.
And now we can slice our banana bread. I'd recommend using a bread knife. It slices perfectly although there are no eggs or egg replacements.

As you can see it's fully cooked inside, with a firm crumb that is just moist enough to make you want to eat the whole loaf.
Because we don't add any unnecessary ingredients to it you can fully taste a clear banana flavor.

And of course, you can spread some jam or even better some homemade Nutella on top if you like. We love it like this for brunch on Sunday.
Variations
Banana bread muffins
Our favorite variation of banana bread is vegan banana bread muffins. You can make banana bread muffins with the same batter, but if you want your muffins extra tall and fluffy, then double the amount of baking powder from 2 teaspoons to 4 teaspoons.

As with regular banana bread, you can definitely add in chopped nuts or chocolate chips.
To bake banana bread muffins use a standard 12-muffin tin (o two 6-muffin tins like in our case), line it with muffin liners or with squares of parchment paper if you don't have the liners.

Fill in the muffin tins almost all the way to the top. You can use a spoon to do that. You should be able to make exactly 12 muffins.

Bake in a preheated oven at 350F or 180C for about 20 to 23 minutes. Let them cool down before eating them.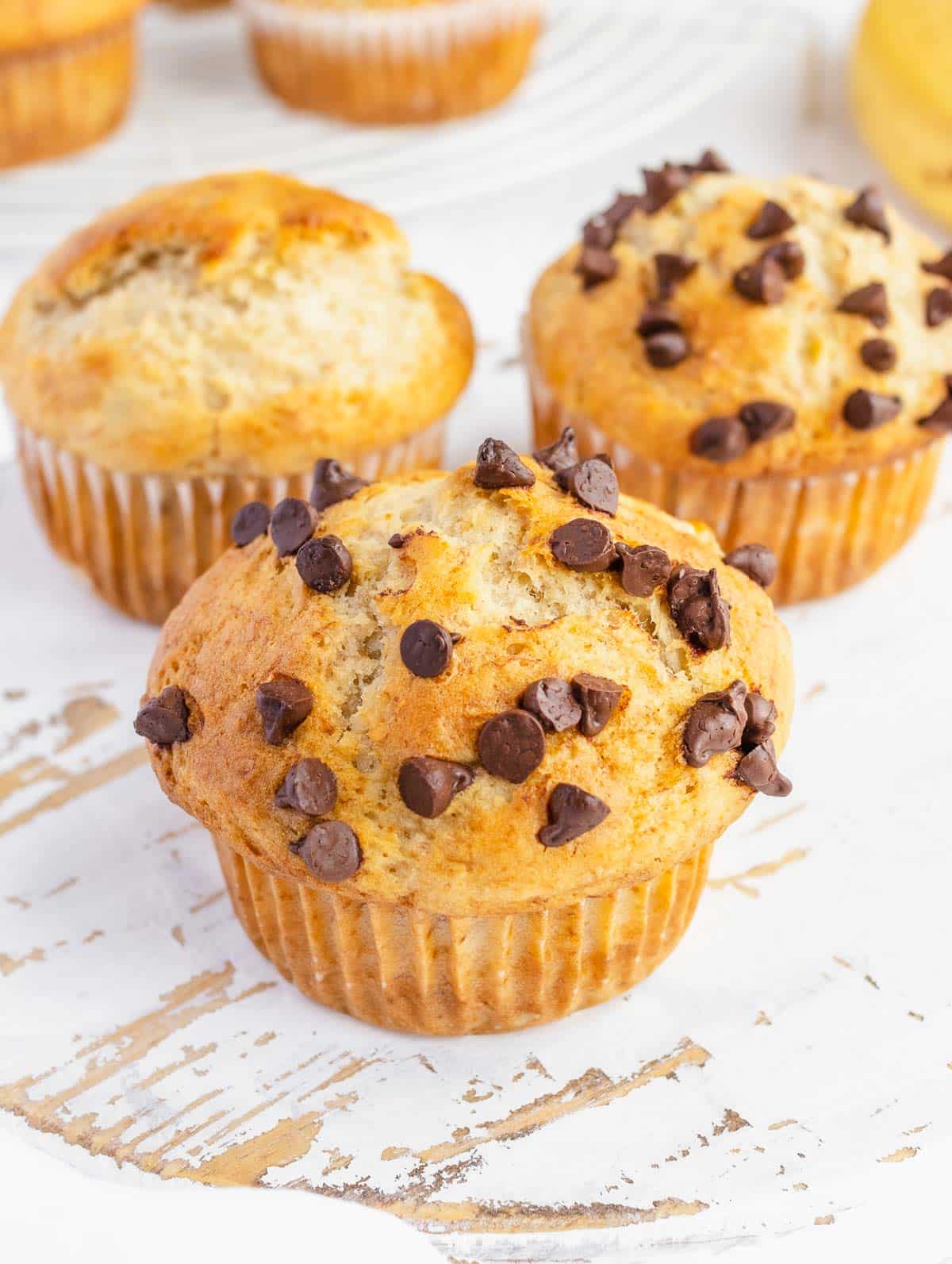 Questions
Can you make gluten-free banana bread?
Yes. To do that, use a gluten-free flour blend made for baking cakes.
How to keep banana bread light and airy?
1. Do not overmix the batter.
2. Use baking powder instead of baking soda.
3. Don't add too much liquid.
More vegan brunch recipes
Best sweet brunch recipes
The best savory brunch recipes
Serve them for brunch, breakfast, or as a meal - these recipes are protein-rich and satiating:
Storage
Vegan banana bread keeps well at room temperature for about 2 days, or up to 1 week in the fridge. Either way, wrap it in plastic wrap to keep it fresh and moist.

You can freeze banana bread for up to 3 months. Make sure it cools down completely, then wrap it in plastic wrap and freeze.

Thaw in the refrigerator, slowly, over a day, or with the thawing function of your microwave.
For many more breakfast ideas, check out our breakfast category page.
Recipe
Vegan Banana Bread
One-bowl, one-fork, 7-ingredient vegan banana bread.
We developed this recipe so that you can make the best, easiest vegan banana bread any time you feel like it, without needing complicated vegan ingredients.
Equipment
Loaf pan 9 x 5 inch (23 cm x 12 cm)
Ingredients
Basic Ingredients
3

ripe

bananas

¼

cup

plant milk

almond, soy, oats, etc.

¼

cup

vegetable oil

sunflower seed, olive oil, canola oil

½

cup

sugar

1

tablespoon

vanilla extract

1

pinch

salt

2

cups

all-purpose flour

2

teaspoons

baking powder
Optional Add-Ins
½

cup

walnuts

crushed

⅓

cup

dark chocolate chips
Instructions
Preheat the oven to 350F or 180C. Line the loaf pan with parchment paper.

In a large mixing bowl, mash the bananas with a fork.

To the same bowl add plant milk, oil, sugar, vanilla extract, salt and mix well with the same fork, till the ingredients are well combined.

Add flour and baking powder all at once and mix with the same fork.

Do not overmix, some lumps are ok. You should get a thick batter.

Transfer into the loaf pan and bake at 350F or 180C for 45 to 50 minutes.

Let cool down completely before slicing or serving.
Video Recipe
Notes
Nutritional info is for one slice without add-ins.
Nutritional Values
Nutrition Facts
Vegan Banana Bread
Amount Per Serving
Calories 170
Calories from Fat 45
% Daily Value*
Fat 5g8%
Potassium 104mg3%
Carbohydrates 28g9%
Protein 3g6%
Vitamin A 19IU0%
Vitamin B6 1mg50%
Vitamin C 1mg1%
Vitamin E 1mg7%
Vitamin K 8µg8%
Calcium 40mg4%
Folate 47µg12%
Iron 1mg6%
Manganese 1mg50%
Magnesium 6mg2%
Zinc 1mg7%
* Percent Daily Values are based on a 2000 calorie diet.
Did you like this recipe?
We are not much on Instagram, Facebook, and Pinterest. Leave us a comment below instead, it would mean the world to us 🙂