Cambia lingua / Switch language: ITA
These vegan oatmeal pancakes with apples are a simple and healthy oatmeal pancake recipe without eggs and without milk, perfect to enjoy with a glass of orange juice on a Sunday morning. They are light, moist, nutritious, sweet and full of apple flour.
Jump to:
You can make them with oats or wholegrain flour, and top them with a delicious apple and cinnamon compote, an indulgent homemade apple syrup, orange zest and walnuts. They are divine!

But if you are an apple lover and want a more indulgent treat, check out our vegan apple fritters.
Ingredients & Substitutions
For the pancakes
Rolled oats: we make the base of the pancake by blending rolled oats ourselves and turning them into flour. This way you'll get the best flavour and texture. You can replace rolled oats with oats flour or with any other flour.
Plant milk: we find that soy milk works best for this recipe. You can replace soy milk with any other plant milk.
Banana: we use banana to replace eggs. Banana will bind the pancakes together. Find a very ripe one for best results.
Sunflower oil: our favourite oil for cooking because it's relatively healthy, affordable, widely available and with little flavour. You can replace it with any other vegetable oil.
Salt: a big pinch, really important to bring out the flavours.
Baking soda and baking powder: to make the pancakes get puffy.
For the apple compote
Apples: best if organic and ripe. We like to add them in with the peel to preserve maximum nutrition.
Water: to help the apples cook.
Sugar: any sugar will work here.

Raisins

: to add bite and sweetness to the compote.
Cinnamon: a must in this recipe.
Toppings: our favourite toppings for these vegan oat pancakes are grated orange zest and walnuts.
Equipment
You'll need a non-stick pan to cook the pancakes. You also need a flat spatula to flip them.
Tips
Use rolled oats: making your own oat flour in a blender is very quick and your pancakes will taste the best this way. Just make sure to blend it finely.
Banana must be ripe: it will add natural sweetness to the pancake and it will also act as a binder.
Don't over-mix the batter: there is no need to do so because some lumps and imperfections will make our pancakes taste even better.
Let the batter rest in the refrigerator: this is so important! Please don't skip this step. Resting allows the batter to bind together, the oat flour will absorb the liquid and when you make the pancakes they'll be much easier to shape.
Make your own syrup: you can of course use maple syrup or agave syrup, but making your own apple syrup, with the cooking water of the apples, will supercharge your pancakes with apple flavours.
Hot pan, but moderate heat: to make sure your pancakes are fluffy and airy they need to cook fast on the outside, so that the outer shell keeps the moist in. To do that you need a hot pan, but then you must cook the pancakes on low heat, so that they have time to fully cook inside, without burning.
Apple + Cinnamon + Orange Zest + Walnut + Raisins: this is a divine flavour combo, so try not to miss any of those ingredients.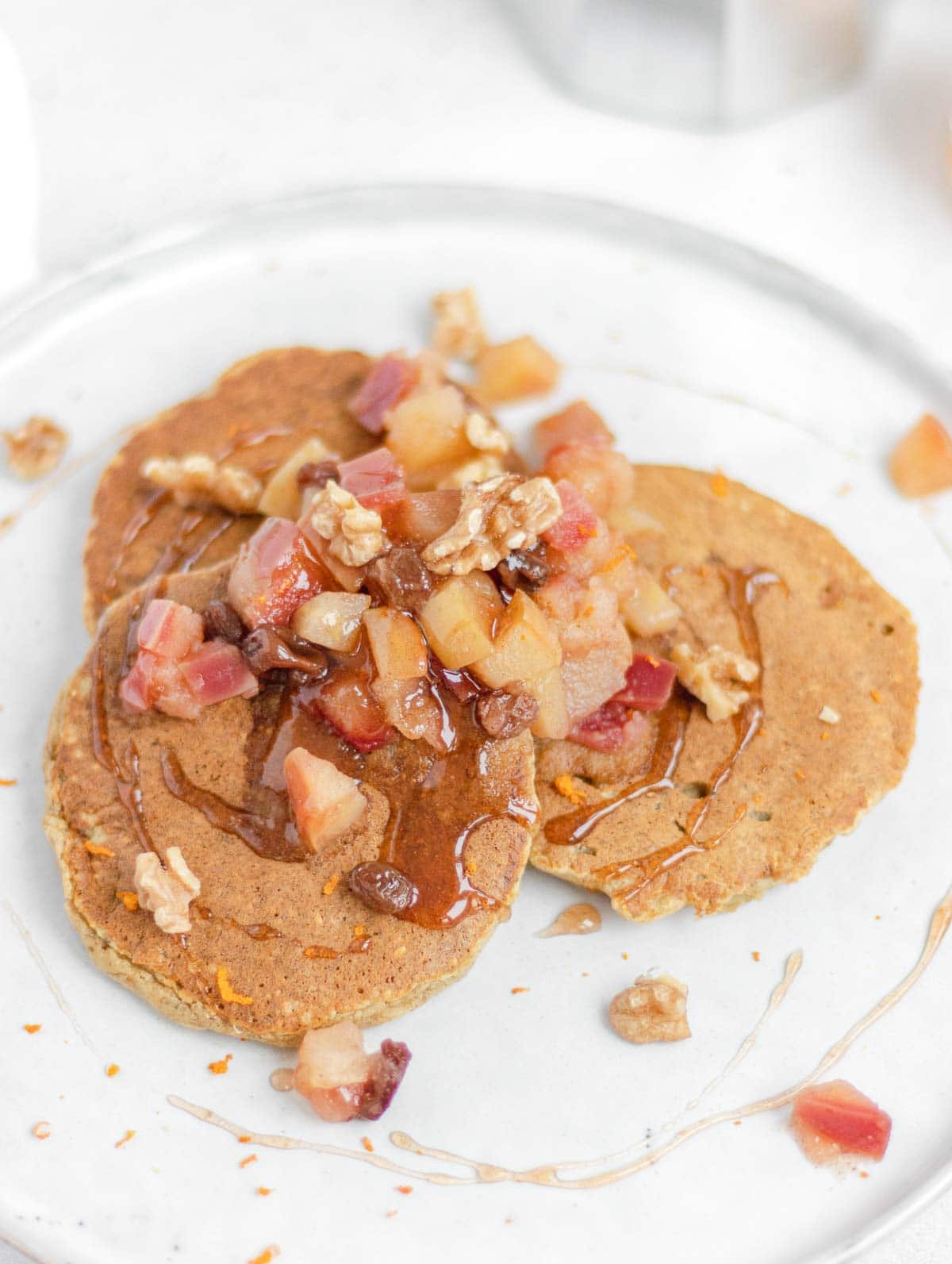 Frequently asked questions
Can I replace oat flour?
Yes you can replace it with whole grain flour 1 cup or 130g. For vegan oatmeal pancakes we do not recommend all-purpose-flour.
What can you use instead of milk in pancakes?
You can easily replace dairy milk with a plant milk of your choice. We prefer soy milk and almond milk for this preparation, however oat milk and other types of plant milk work well too.
What can you use instead of eggs in pancakes?
You can replace eggs with a ripe banana. Mesh it well with the wet ingredients, add the dry ingredients and here you go. The banana will act as a binder, just like egg.
What makes pancakes fluffier?
Pancakes become fluffy for several reasons: 1) the raising agent, in this case we use baking powder and baking soda combined to add extra fluffiness. 2) letting the batter rest so that it has the time to bind together and it will be able to grow when it cooks. 3) a hot pan, but moderate heat. This will create a thin crust on the pancake that will trap the steam inside, making the pancake moist and fluffy.
Can I make pancakes in advance?
The best way to make pancakes in advance is to prepare the batter, then store it in an air right container in the fridge for up to 3 - 4 days, and make fresh pancakes with the ready made batter when you need them.
Storage
You can store vegan oatmeal pancake without the topping in an airtight container in the refrigerator for up to 3 days. When you need them warm them up on a pan or in the microwave and enjoy.
You can also freeze them for up to 3 months.
However, the best way to enjoy pancakes is straight out of the pan, so if you don't have much time during the week, you can always prepare a big batch of vegan oatmeal pancake batter in advance, store it in an airtight container in the fridge, and use it throughout the week. It will last up to 3 to 4 days.
Variations
VEGAN APPLE FRITTERS
Our favourite variation of apple pancakes is actually apple fritters. They are surprisingly similar, made with a batter, and apple slices, but fried and served with a delicious vegan custard.
Recipe
Vegan Oatmeal Pancakes with Apples
These vegan oatmeal pancakes with apples are a simple and healthy oatmeal pancake recipe without eggs and without milk, perfect to enjoy with a glass of orange juice on a Sunday morning. They are light, moist, nutritious, sweet and full of apple flour.
Ingredients
For the pancakes
100

g

(

1

cup

)

rolled oats

180

g

(

0.7

cups

)

plant milk

any

1

ripe banana

2

tbsp

sunflower seed oil

or coconut oil

1

pinch

salt

1

tsp

baking soda

½

tsp

baking powder
For the apple compote
2

apples

1

cup

water

1

tbsp

sugar

unrefined

1

tbsp

raisins

1

tsp

cinnamon
For the apple syrup
apple juice from the compote above

2

tbsp

sugar

unrefined
Toppings
1

tbsp

walnuts

grated orange zest
Instructions
For the pancake batter
In a bowl, add the oil, the plant milk and the banana. Mesh the banana with a fork. Set aside.

In a blender, add rolled oats, baking powder, baking soda, and salt. Blend for a couple of minutes until you have a fine oat flour.

Sift the oat flour into the bowl with the banana. Discard the largest pieces of oat.

With a spatula, mix the ingredients together, then let the pancake batter rest in the refrigerator while you prepare the apple compote.
For the apple compote and syrup
Cut the apples in small dice, then add them to a pot with water, sugar, raisins, and cinnamon. Let cook until soft, but not mushy (about 5 minutes).

Sift the liquid of the cooked apples into another sauce pan, add 2 tbsp of sugar and stir on low heat until it turns into a syrup. Set aside but keep stirring occasionally to prevent it from hardening.
Making the pancakes
On a non stick pan, brush a thin layer of vegetable oil. Warm up the pan, then set it on low to medium heat and start making the pancakes. Pour 1.5 to 2 tbsps of pancake batter onto the pan and shape it into small pancakes.

Cook the pancakes for about 1.5 to 2 minutes on each side on low heat.

Add 3 pancakes on each serving plate, then top them with the apple compote, drizzle with apple syrup, add grated orange zest, crushed walnuts and enjoy.
Notes
If you can, use a digital scale for our recipes. This way you'll get the best results.
We use
calculateme.com
to convert grams to US volume measurements. We believe they have the most accurate conversion algorithm. If must use cups and spoons, then use the "spoon and level" method. That is, spoon the ingredients into the measuring cup, or measuring spoon. Then level the excess with a knife.
Nutritional Values
Nutrition Facts
Vegan Oatmeal Pancakes with Apples
Amount Per Serving
Calories 228
Calories from Fat 72
% Daily Value*
Fat 8g12%
Potassium 318mg9%
Carbohydrates 37g12%
Protein 4g8%
Vitamin A 163IU3%
Vitamin B6 1mg50%
Vitamin C 7mg8%
Vitamin E 1mg7%
Vitamin K 3µg3%
Calcium 75mg8%
Folate 24µg6%
Iron 1mg6%
Manganese 1mg50%
Magnesium 42mg11%
Zinc 1mg7%
* Percent Daily Values are based on a 2000 calorie diet.
Did you like this recipe?
Leave us a comment below. It would mean the world to us 🙂
🍰 Related recipes
Have you tried making those at home? Let us know in the comments below.