Cambia lingua / Switch language: ITA
Bircher Muesli is basically a humble but delicious overnight oats meal made with simple wholesome ingredients such as apple, oats, milk, almonds, and raisins.

This recipe became overnight our favorite oat recipe of all, and if I am honest with you, we often eat this for lunch and dinner too.
Jump to: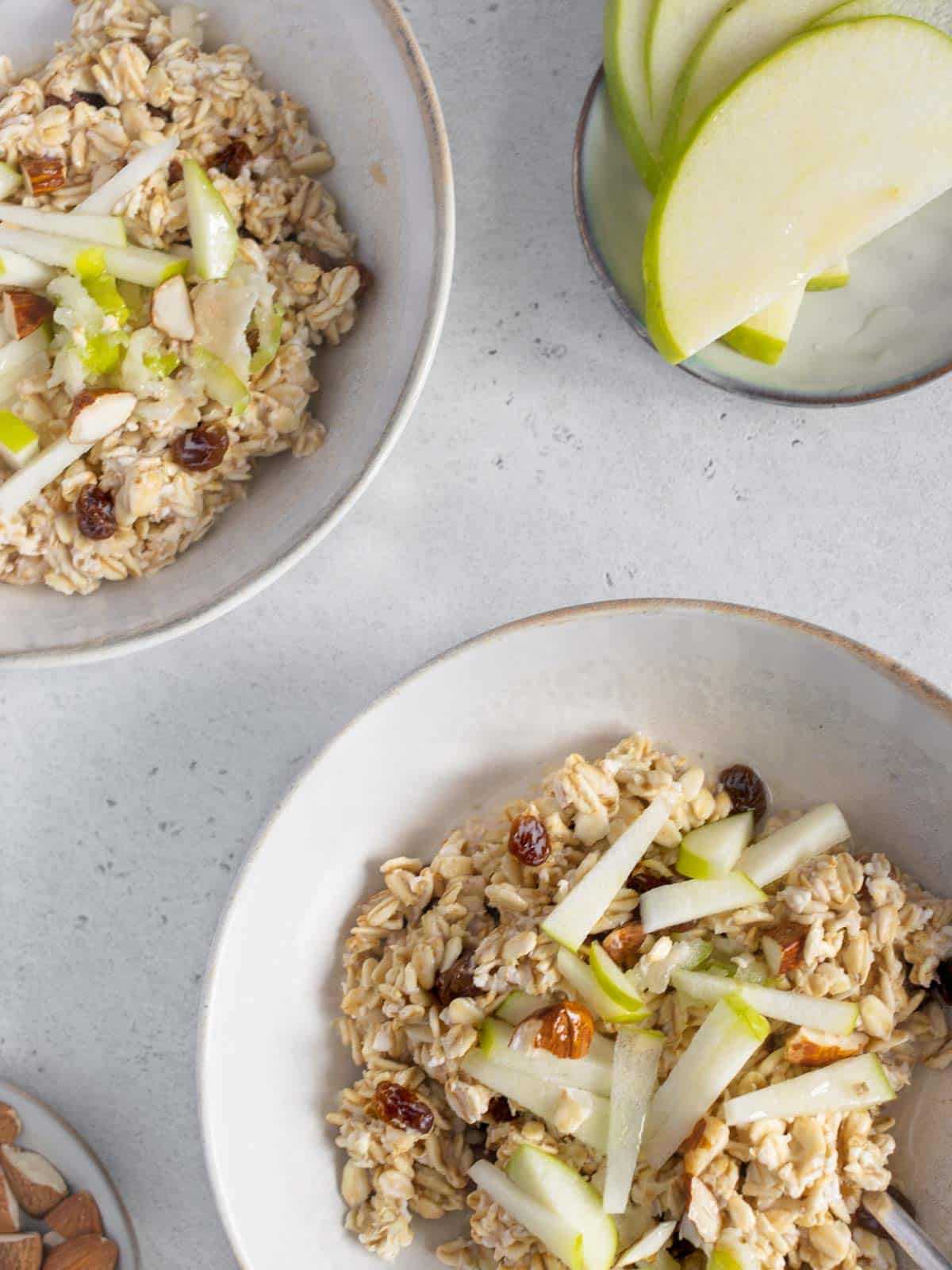 What is Bircher Muesli?
Bircher Muesli, Birchermüesli in swiss german, is a healthy meal made with rolled oats soaked overnight in milk, then mixed with grated apples and chopped almonds.

Bircher, a swiss doctor, developed this recipe in early 1900 to serve as a healthy starter to people that consumed too many calories for dinner.

The muesli, being fulfilling and low calorie, would make the people feel satiated, and so they would eat less of the actual dinner that at the time comprised of not-so-healthy foods such as butter and meats.
Watch a quick video story on how to make bircher muesli HERE.
But because the meal was so delicious, it quickly became popular around Europe, and eventually became one of the most popular breakfast foods in the world, known as simply Muesli, although the original recipe is much more similar to overnight oats.
In our version of Bircher Muesli, we replace condensed milk used in the original recipe (they used condensed milk back then because it was safer than regular milk) with non-dairy milk (like almond, oat, or soy milk).
Ingredients & Substitutions
Rolled oats: sometimes known as old fashioned oats, they are ideal for this recipe because they soak the milk and become soft overnight, while still keeping you satiatied for a long time.

You can replace them with other type of oats, however, I tried quick oats and while the recipe would work, I personally think they become too mushy when soaked overnight, and they don't keep you as full.

Raisins: we add them as natural sweetener. You can replace them with pieces of dates or other dried fruits.

Almonds: toasted and added on top at the end to add some protein and healthy fats. You can replace them with any other nut of your liking.

Apples: the key ingredient here, but of course, if you don't fancy apple, you can replace it with any other fresh fruit (altough I really think apple is the best here).

Lemon juice: to prevent the apple from browning. Also, originally lemon juice was added to increase the bio-availability of nutrients in the oats, although I'm not sure if that's scientifically sound.

Sweetener is optional: based on your tastes, you can add a little maple syrup, agave syrup, or any other sweetener of your choice. This is especially true if your apples are not very sweet.
How to make Bircher Muesli
Instructions
To make about three servings of Bircher Muesli you'll need a large bowl to put 2 cups (220 grams) of rolled oats, 1⅔ cups (420 grams) of almond milk, and ¼ cup (40 grams) of raisins.
Give it a stir, then cover with a plate and let it rest in the fridge overnight. The next morning the rolled oats will have absorbed all the milk and will be very soft.
Take a smaller serving bowl and grate an apple in it, with all the peel, then mix it with the juice of half a lemon.
The original recipe calls for one grated apple per serving of muesli, and I like it very much with these doses, but if for you an apple is too much you can also put half.
Now add a portion of the oats, which is about a third of the entire mixture in the big bowl, and mix well.
And if you're not used to eating cold things from the fridge for breakfast, you can safely heat the oats in the microwave before mixing them with the apple.
All that's left to do is add a handful of chopped toasted almonds, and if you wish, half a tablespoon of a natural sweetener such as maple syrup.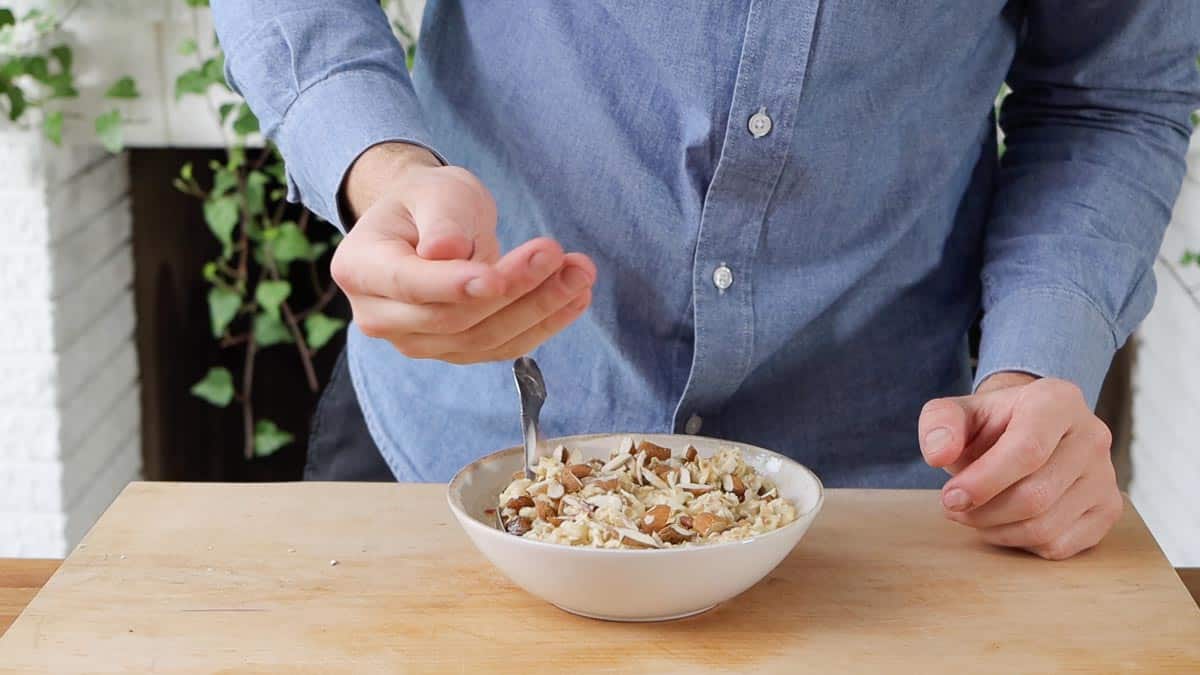 Although this recipe is really humble and simple it is really good and satisfying.
The sweetness and freshness of the grated apple perfectly match the creaminess of the oats soaked in almond milk.
Variations
The great thing about this recipe is that it can be customized as you like since the oatmeal base is basically overnight oats that go well with pretty much anything.
In fact, I alternate between the apple version and one with banana, homemade almond and peanut butter, chopped flax seeds, chia seeds, toasted almonds, and a few pieces of dark chocolate.
Can I make Bircher Muesli in advance?
Yes, this is a great recipe to make in advance. You can either make the portions you need the night before, or you can make more and keep them in the refrigerator (before adding the apple and the toppings) for 3 to 4 days.
Storage
You can keep the rolled oats soaking in the refrigerator (before adding the apple) for up to 3 - 4 days. Not suitable for freezing.
Recipe
Bircher Muesli - Overnight oats with apple and almond
Birchermüesli is basically a humble but delicious overnight oats meal made with simple wholesome ingredients such as apple, oats, milk, almonds, and raisins.
This recipe became overnight our favorite oat recipe of all, and if I am honest with you, we often eat this for lunch or dinner too.
Ingredients
2

cups

(

220

grams

)

rolled oats

1⅔

cups

(

420

grams

)

almond milk

or other milk

¼

cup

(

40

grams

)

raisins

½

cup

(

80

grams

)

almonds

toasted and chopped

2 - 3

apples

grated on the large holes of a box grater

1

lemon

the juice

1

tablespoon

maple syrup

(optional on top)
Instructions
To a large bowl, add the oats, milk, and raisins. Cover with a plate and let soak overnight in the refrigerator.

Portion the oats into 3 to 4 serving bowls. Add 1 grated apple per bowl/portion, drizzle the apple with lemon juice and mix the apple with the oats.Tip: the original recipe of Bircher Muesli calls for 1 apple per portion, however, if you think it's too much for you, you can reduce that to half apple per portion.

Add some toasted and chopped almonds on top, and if you like, a drizzle of maple syrup.Tip: If your almonds are not toasted alrady, you can do so in a pan for a couple of minutes, or in the oven at 350F (180C) for 7 to 8 minutes.
Nutritional Values
Nutrition Facts
Bircher Muesli - Overnight oats with apple and almond
Amount Per Serving
Calories 583
Calories from Fat 162
% Daily Value*
Fat 18g28%
Potassium 852mg24%
Carbohydrates 102g34%
Protein 14g28%
Vitamin A 172IU3%
Vitamin B6 1mg50%
Vitamin C 34mg41%
Vitamin E 7mg47%
Vitamin K 8µg8%
Calcium 296mg30%
Folate 43µg11%
Iron 4mg22%
Manganese 3mg150%
Magnesium 161mg40%
Zinc 3mg20%
* Percent Daily Values are based on a 2000 calorie diet.
Did you like this recipe?
Leave us a comment below. It would mean the world to us 🙂
If you liked this recipe you might also like:
Easy oat cookies with raisins
Healthy granola bar with pea nut butter
Muffins with oat flour
Granola recipe
Did you try this recipe at home? Let us know in the comments below!
Buon appetito.
Nico