Caponata is an Italian eggplant salad with a delicious sweet and sour flavor. We make it with roasted eggplant (instead of deep-fried) in less than 45 minutes.

Serve it as a starter, side dish, or as a complete meal on pasta or bread. Try it, and let us know what you think.
On this page:
Check out our best vegetable sides recipe collection!
What to expect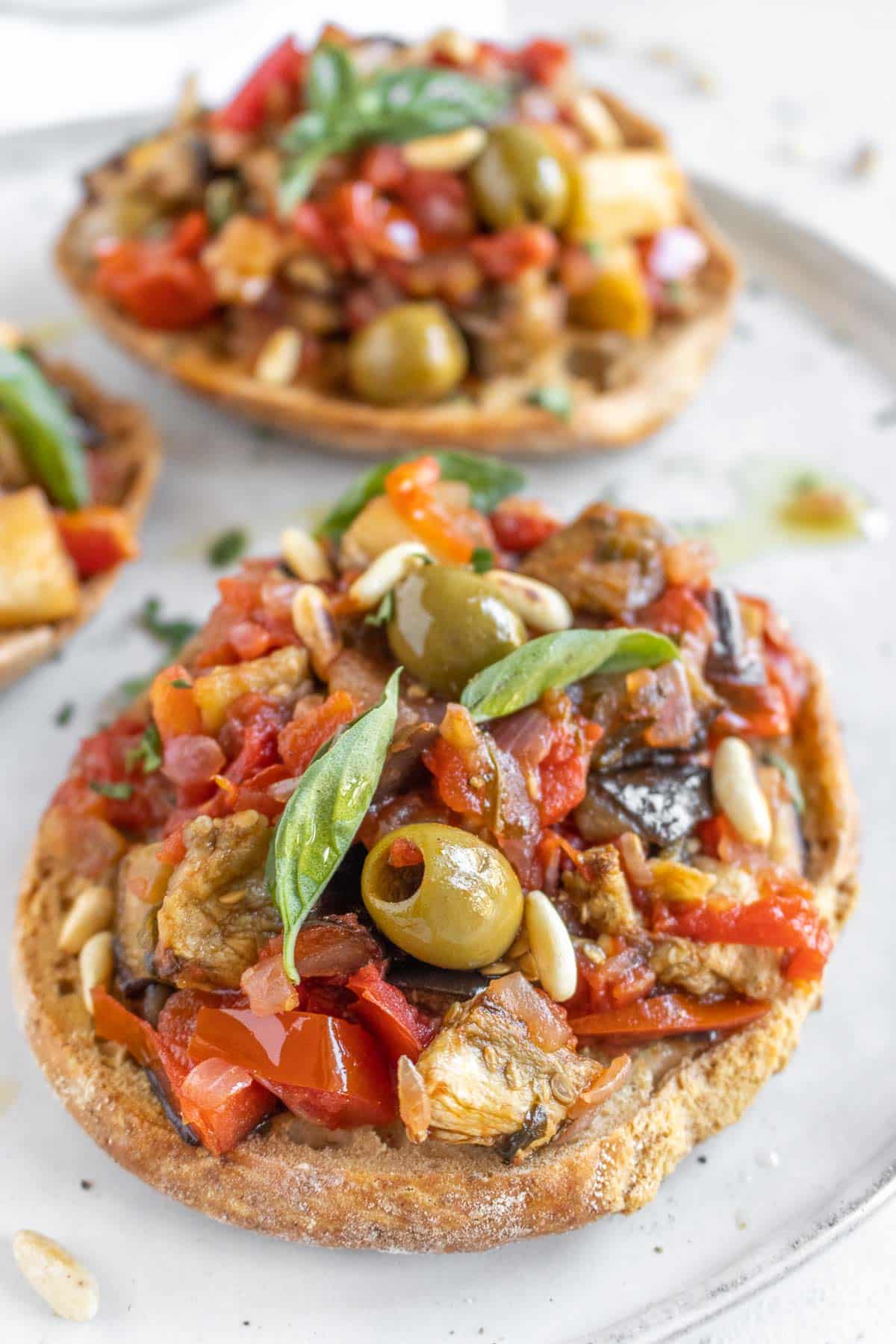 Caponata is a traditional Sicilian dish that is usually served as a starter or as a side dish. In essence, caponata is an eggplant (aubergine) salad or an eggplant stew.

It's made with deep-fried eggplant (here we make it with roasted eggplant) coated in a rich sauce made with tomatoes, celery, onion, olives, capers, and a touch of vinegar and sugar, to give it its distinctive sweet and sour taste.
There are close to 40 different variations of eggplant caponata recipes in Italy (see the "variations" chapter below). But today, I'll show you how to make the most classic and simple version that we learned to make in Palermo, Sicily.
Ingredients & Substitutions
Eggplants: the main ingredient of caponata. Globe American eggplants or Italian eggplants are best. They are the black, round ones.

Tomatoes: you can either use fresh ripe tomatoes like we do in this recipe or canned tomatoes, chopped, whole, or even tomato passata. To make this dish even richer, you can add a tablespoon tomato paste.

Olive oil, onion, and celery: are used for the flavor base of the dish.

Olives: I prefer to use pitted olives. Green olives are more traditional, but black olives are good too.

Capers: important to give that tangy, slightly sour taste. You can use either caper in brine or in salt. If you use capers in salt, rinse them before use.

Sugar + vinegar: to give the distinct caponata sweet and sour taste. White wine vinegar and plain sugar are generally used in the traditional recipe to add sour flavors. You can use other types of vinegar or sugar.

Salt: based on your taste and diet requirements, so feel free to deviate from my recipe. Optionally you can also add black pepper.

Basil or parsley: fresh herbs are key ingredients in Italian cooking. Add them at the end for a nice, herby aroma. Basil is most traditional in caponata, but you can also use flat-leaf parsley or fresh mint.

Pine Nuts: these are optional. I like to add some on top before serving this dish.

Red pepper flakes: also optional, if you like a spicy caponata you can add a pinch.
Instructions
Bake the eggplant
Preheat the oven to 350F or 180C and line a baking tray with parchment paper.
First, cut the eggplant into one-inch cubes. To do that, cut them into slices on the long side, then each of the slices into sticks, and each stick into dice.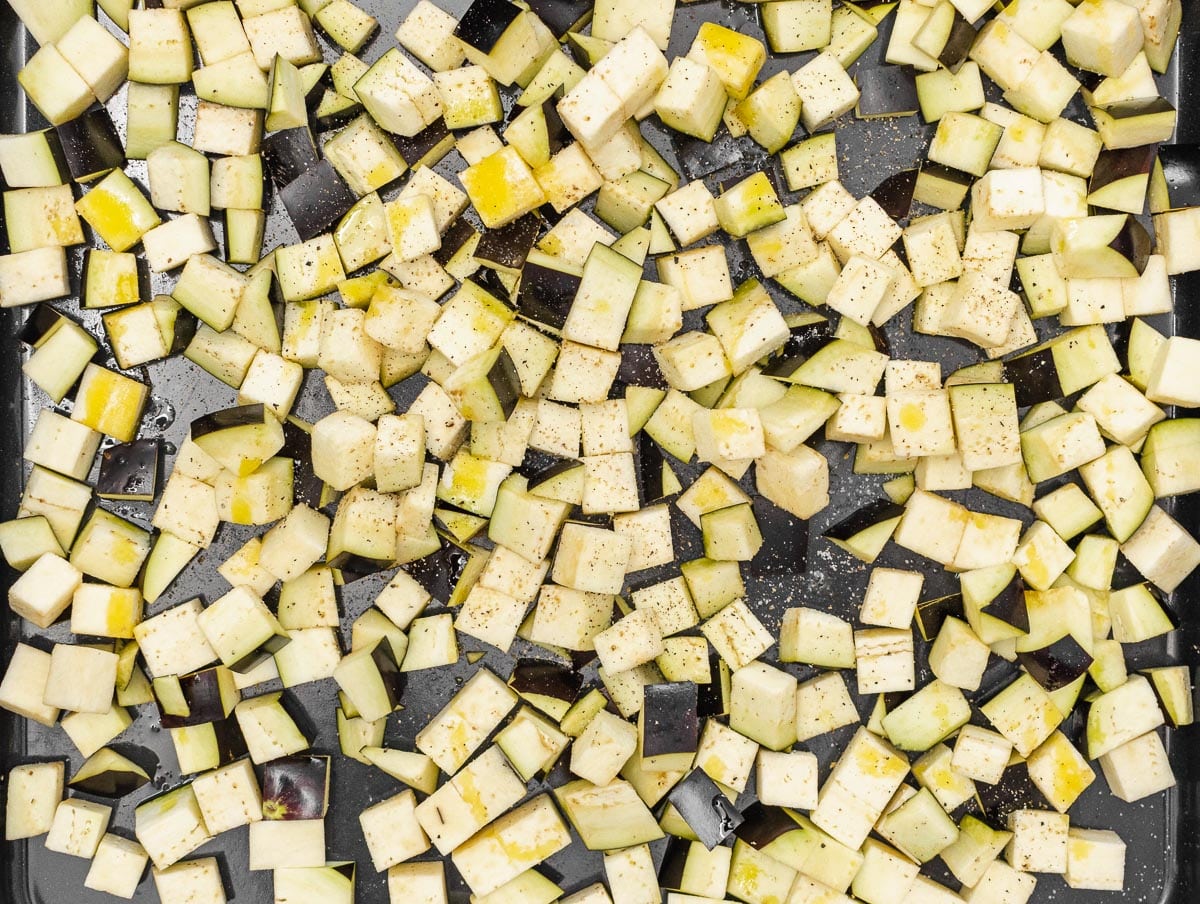 Transfer onto the baking tray and season with salt, pepper, and a drizzle of olive oil. Toss and bake for 30 minutes or until soft. In the meantime, prepare the caponata sauce.
Make the caponata sauce
Every respectable Italian sauce starts with some kind of soffrito, which in this case is diced celery and onion fried in oil.

So, chop the onion and the celery, not too finely, including the leaves of the celery.

To a large skillet or pan, add some olive oil, the chopped onion, and the celery, and fry on medium-low heat for about 5 minutes adding a little water if necessary.

NB: if you are on an oil-free diet, you can just use water to "fry" the onion and the celery.
In the meantime, chop the tomatoes into small chunks. They don't have to be perfect. When in season, I like to use ripe fresh tomatoes, but canned tomatoes are also good for this recipe.
Add the chopped tomatoes - or the canned tomatoes - to the skillet with the onion.

Also add olives, capers, salt, and ½ cup of water. Give it a stir and let simmer for about 15 minutes.
Now add vinegar and sugar, stir, then taste and adjust. The sauce should be sweet and sour, but very balanced. You can adjust based on your preferences by adding more sugar or more vinegar.
Once you are happy with the sauce, add in the baked eggplants, which by now, should be perfectly cooked. Also, add some fresh basil.
Stir well in the tomato sauce and finish cooking for about 5 minutes. Then turn the heat off and let sit for at least 15 minutes, but better an hour or more, before serving it with toasted pine nuts on top.
Serving Suggestions
Caponata is versatile you can serve it as a starter, side dish, or as an easy dinner:
Also, this is a perfect make-ahead dish as its flavor gets better a few hours after it's cooked. In Sicily, they often serve it at room temperature to appreciate its flavor to the fullest. If you're like us, and you can't get enough of eggplant, take a look at our favorite eggplant recipes, that will cater to vegans as well as non-vegans.
Tips
Taste the sauce: depending on your tastes you might want your caponata a little more sweet or a little sourer. As a tip, it's a lot easier to adjust the sauce before you add in the eggplant. So to make sure your caponata sauce has the perfect balance of sweet and sour, taste it before adding the eggplant.
Let it rest before serving: this is common practice with several eggplant and tomato dishes, they just taste better if you let them sit and cool down for at least 15 minutes before serving them. Ideally, caponata should be served at room temperature.
Make ahead: eggplant salad is the perfect make-ahead recipe and it can be served warm or at room temperature. We like to always make a double portion and store it in the refrigerator for a few days, as meal-prep for the week.
Questions
What does caponata mean?
Caponata comes from the Sicilian word "Capone" (Lampuga in Italian and dolphinfish in English) which is an expensive fish.

It seems that back in the days the Sicilian aristocracy would make caponata with this fish and not with eggplant. Hence caponata.

But because most people couldn't afford dolphinfish, they started replacing the fish with eggplant, which is widely available and affordable in Sicily.
Should caponata be eaten hot or cold?
Eggplant caponata can be eaten warm or at room temperature. It's best not to eat caponata very hot or very cold, as the flavor will be less pronounced that way.
Is eggplant caponata gluten free?
Yes. Our eggplant caponata recipe is gluten-free, provided you don't serve it with pasta or bread.
Variations
There are over 35 different variations of Sicilian caponata, depending on the local traditions. The most famous is caponata from:
Palermo: like the one I made above, except that the eggplants are deep-fried in large chunks, they add Sicilian pitted and crushed olives, and tomato passata rather than fresh tomatoes.

Agrigento: in addition to the classic recipe there are raisins, almonds, honey, garlic, and sweet Italian peppers, sometimes called pepperoncini in the USA. They are very similar to Jalapeńo.

Trapani: in addition to the classic recipe are red bell peppers and toasted almonds.

Catania: there is usually more aubergine and tomatoes, with fresh basil and pinenuts.

Messina: use fresh tomatoes instead of tomato passata.
Similar recipes
We are big fans of easy veggie-packed meals! It's a great way to get your vitamins AND feel less guilty about eating dessert. Here are some of our favorite healthy meals:
What are your favorite ways to get in more veggies? We'd love to hear, let us know in the comments below!
Storage
Store eggplant salad in an airtight container in the refrigerator for up to 5 days.

You can also freeze it, just put it in a container suitable for freezing. Thaw in the microwave, or in the refrigerator.
Recipe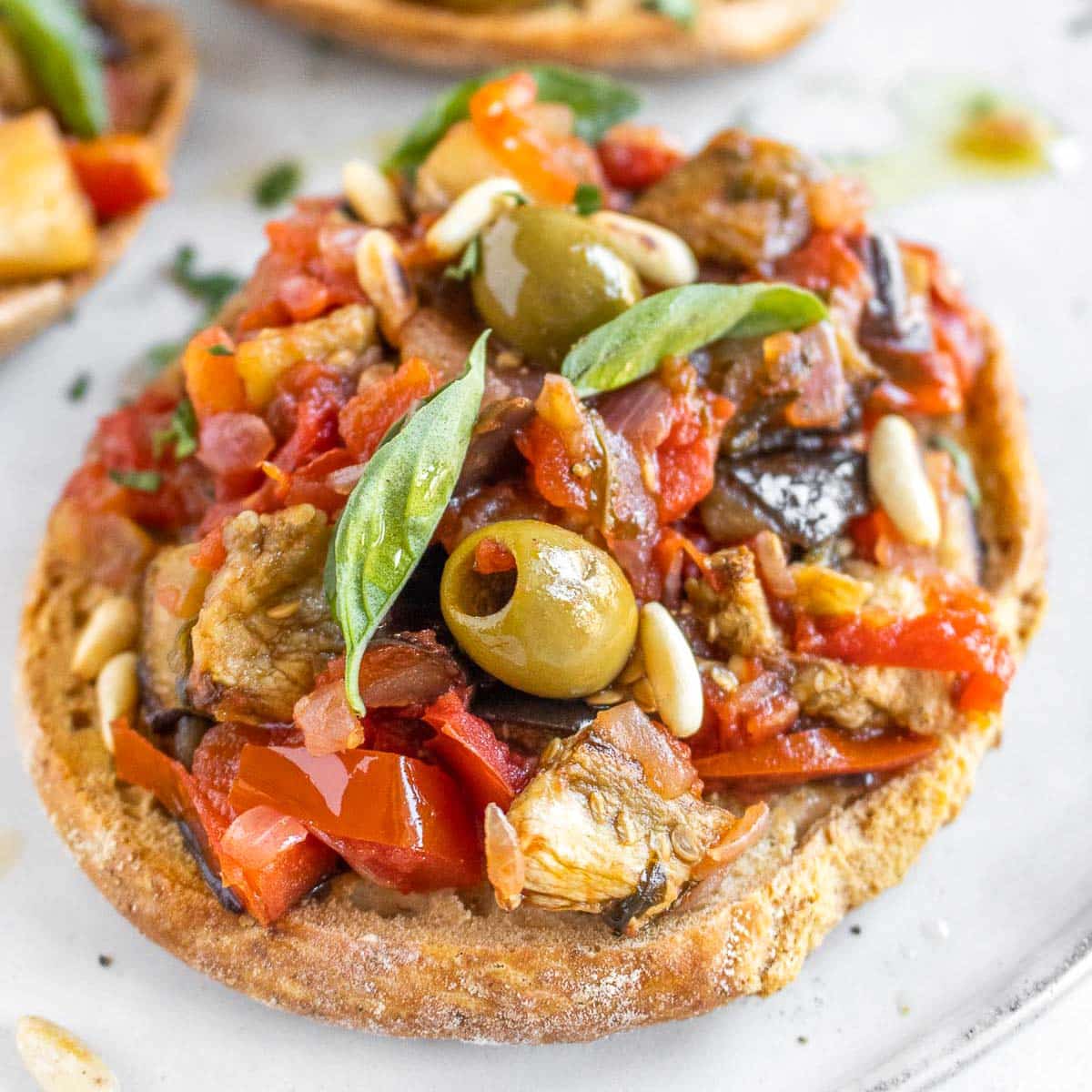 Vegan Eggplant Recipes
Caponata one of our favorite vegan eggplant recipes. It's an Italian eggplant salad with a delicious sweet and sour flavor. We make it with oven-baked eggplant (instead of deep-fried) in less than 45 minutes.
Ingredients
2.5

ounces

eggplant

(3 medium, black)

18

ounces

tomatoes

(ripe Romas, cherry, or canned)

1

large

onion

2

stalks

celery

3

tablespoons

olive oil

½

cup

green olives

(pitted)

2

tablespoons

capers

½

teaspoon

salt

3

twists

black pepper

4

tablespoons

vinegar

2

tablespoons

sugar

10

leaves

basil

2

tablespoons

pine nuts

(toasted, optional)
Instructions
Preheat the oven to 360F (180C). Dice the eggplant. Add it to a baking tray lined with parchment paper. Season with about 1 tablespoon of olive oil, a pinch of salt and 3 twists of pepper. Bake for 30 minutes.

In the meantime, chop onion and celery and add them to a pan with 2 tablespoon of olive oil. Fry gently for 5 minutes. Add ⅓ cup of water if the pan is too dry.

If you use fresh tomatoes then cut them in small dice. Add tomatoes (fresh or canned) to pan. Add ½ teaspoon of salt, olives, capers, and cook for 15 minutes, stirring occasionally, till the tomatoes are soft. Note: Add ½ cup water if pan gets too dry. This depends on water content of tomatoes.

Add sugar and vinegar, stir, then taste the sauce and adjust for salt, sugar, or vinegar if necessary.

Add baked eggplants, fresh basil, stir, finish cooking for a couple of minutes, then turn the heat off, let rest for at least 15 minutes. Serve as a starter, side dish, or main dish on pasta. You can top the caponata with toasted pine nuts and more fresh basil.

Caponata can be prepared in advance, stored in the fridge for up to 5 days, and served at room temperature or warm.
Nutritional Values
Nutrition Facts
Vegan Eggplant Recipes
Amount Per Serving
Calories 276
Calories from Fat 144
% Daily Value*
Fat 16g25%
Potassium 1010mg29%
Carbohydrates 33g11%
Protein 5g10%
Vitamin A 1192IU24%
Vitamin B6 1mg50%
Vitamin C 27mg33%
Vitamin E 4mg27%
Vitamin K 32µg30%
Calcium 60mg6%
Folate 90µg23%
Iron 2mg11%
Manganese 1mg50%
Magnesium 71mg18%
Zinc 1mg7%
* Percent Daily Values are based on a 2000 calorie diet.
Did you like this recipe?
We are not much on Instagram, Facebook, and Pinterest. Leave us a comment below instead, it would mean the world to us 🙂
If you liked this recipe, then you might also like: