Vegan Tzatziki sauce is easy! All you need is non-dairy yogurt, cucumber, garlic, lemon juice, olive oil, salt, and dill, and just over 15 minutes to make this irresistible recipe.

Serve it as a dip, starter, or side dish, with vegetables, salads, pita bread, and falafel. You can easily replace Greek yogurt with dairy-free yogurt to make a delicious vegan tzatziki recipe.
On this page:
Check out our best vegan salad recipe collection!
What to expect
Tzatziki (pronounced Tsaht-ZEE-kee!) is a dip or sauce popular in Greek cuisine. It's made with strained yogurt, traditionally from sheep or goat milk. It's mixed with fresh herbs (such as dill, mint, parsley, or purslane), cucumber, lemon juice, olive oil, garlic, and salt.

While Tzatziki is mostly known for being Greek, similar sauces are popular in Turkey (cacik) the Balkans (tarator), Cyprus (talattouri), and the Middle East (jajeek).

It seems that the root of the word tzatziki (τζατζίκι in Greek and cacık in Turkish) comes from the Persian word zhazh which might refer to herbs used for cooking.
There are many variations of tzatziki, some use strained yogurt, others dilute the yogurt with water. Here we show you how to make a simple vegan tzatziki recipe. You can put it together with everyday ingredients (and a box grater) in just about 15 minutes.
Ingredients and Substitutions
Yogurt: traditionally tzatziki is made with yogurt from full fat goat or sheep milk which admittedly is hard to find and might not be everyone's cup of tea.

You can use either regular Greek yogurt, or if you'd like to make a dairy-free version as we do, you can use, plain unsweetened soy or coconut yogurt.

In all fairness, we do prefer to use dairy-free yogurt in our family, but you can make this recipe with any type of yogurt you like, from low fat to full fat.

Cucumber: you can use any type of cucumber. We tested most varieties (English cucumber, American slicing cucumber, Italian cucumbers, Greek cucumbers) and they all work. What's important is that your cucumber is fresh. Old cucumbers are not as sweet and might be a little bitter. Keep the peel on.

Garlic: to add that tangy, sharp garlicky flavor to this greek yogurt sauce. Garlic is a key ingredient in tzatziki. We recommend grating the garlic cloves finely with the small wholes of a grater or with a zester. It'll melt in the sauce this way.

Before grating the garlic I'd recommend cutting it in half on the long side, then with the tip of a small knife, remove the germ or sprout in the center. This way the garlic will be easier to digest.

Lemon juice: another key ingredient, it adds freshness and it's just delicious with the garlic and the yogurt. Some like to replace it with white vinegar. Some like to add lemon zest to their recipe. We tried but we prefer it without.

Olive oil: best if extra virgin. Adds texture and flavor. I love to drizzle a small teaspoon of good olive oil on top of the non-dairy tzatziki to add that extra flavor and color.

Salt: tzatziki needs salt and unless you are on a low sodium diet we recommend adding it to it.

Fresh herbs: you can use fresh dill, fresh mint, fresh flat-leaf parsley, or fresh purslane. Dill is most common, sometimes mixed with some mint leaves. We don't recommend using dried herbs to make this sauce.
Instructions
Grate and drain the cucumber
Wash, dry, and grate the cucumber with the large holes of a box grater. You can keep the peel on as it adds color and a little crunch to the sauce.
Drain the cucumber. To do so, squeeze the liquid out of the cucumber with your hands, and set the squeezed cucumber aside.

We do this to get rid of excess moisture and to avoid making the tzatziki too watery. If you are using strained yogurt you can avoid this step. But for most commercial yogurts (from Greek-style yogurt to soy and coconut yogurt) I'd recommend squeezing and draining the cucumber.
Stir all ingredients
To a bowl, add the yogurt. Into the same bowl, add the grated cucumber, salt, freshly squeezed lemon juice, finely chopped dill, extra virgin olive oil, and a grated clove of garlic.

You can use a garlic masher, the small holes of a box grater, or a zester to grate the garlic.

Tip: to make garlic more digestible, cut it in half lengthways, then remove the core (sprout) with the tip of a knife.
Stir the ingredients together till they are well combined, then taste and adjust for salt and lemon juice.

Keep in the fridge before serving, then garnish with some finely chopped dill or mint leaves on top.
Serving Suggestions
Serve this vegan tzatziki as a dip, starter, side dish, or as a sauce in a sandwich. It goes really well with Greek, Balkan, Turkish, and Middle Eastern cuisines. Anything grilled and charred is delicious with this vegan tzatziki sauce.

We absolutely love serving it on a platter with veggies such as tomato-cucumber salad, olives, and hummus. Try it drizzled on roasted veggies such as roasted bell peppers, oven-baked potatoes, aubergines, zucchini, fennel, roasted broccoli, and brussels sprouts.

It is also really amazing as a starter as it can be used as a sauce or as a dip to tie together different dishes. Try it with some of our favorite starters such as chickpea frittata, no-knead rosemary focaccia, vegan tuna salad, tomato confit, socca or farinata, with zucchini pie and with caponata.

If you want to serve it for dinner, try it as a side with crispy kale chips, chickpea salad, or tofu and spinach cutlets. It's also crazy good on top of our Italian bean stew served on polenta, with our easy one-pot chickpea stew, or with our cauliflower rice.

Finally, try tzatziki sauce with stuffed bell peppers or oven-baked artichokes for a unique way of serving this delicious yogurt sauce.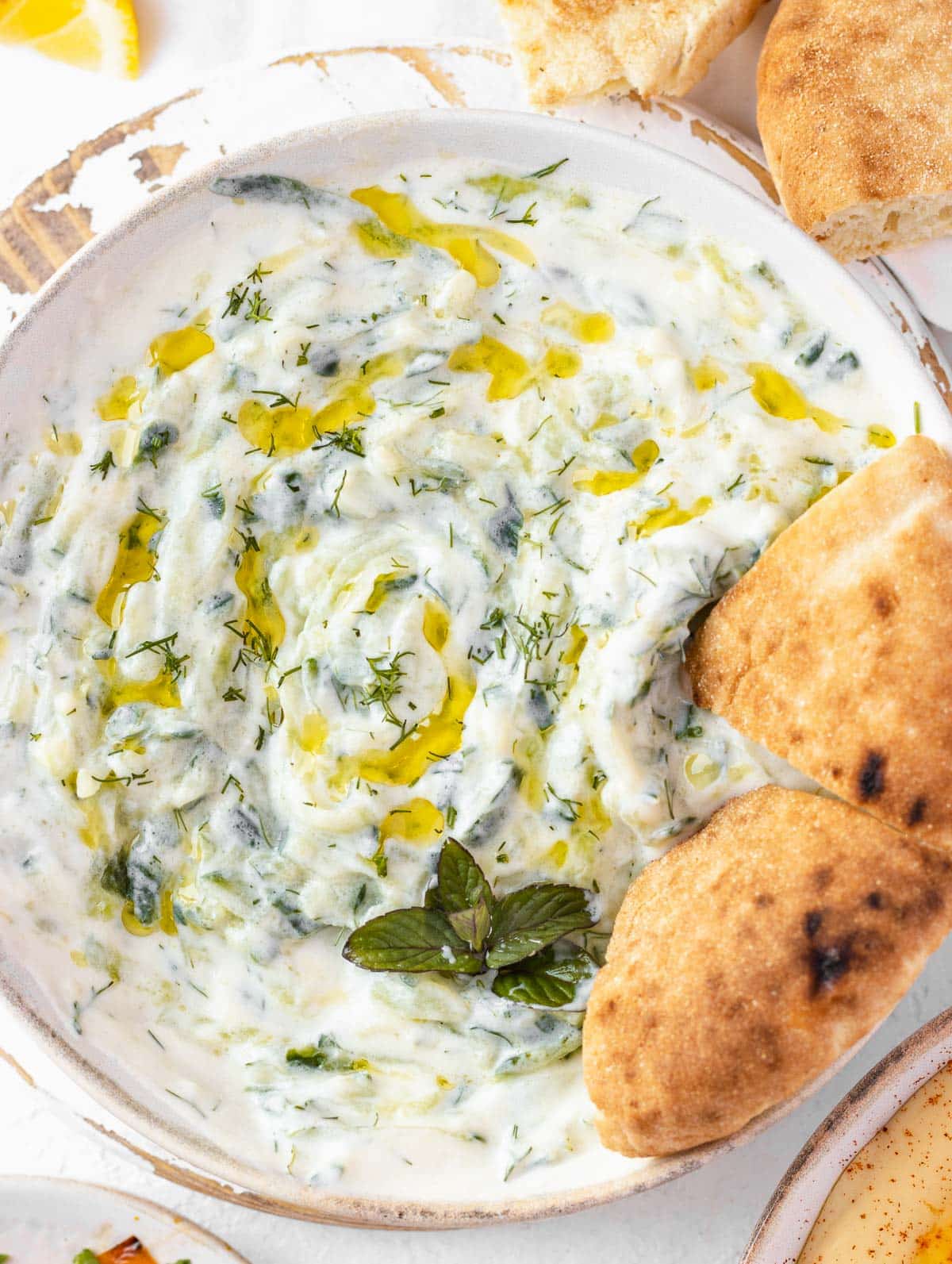 Get ahead
Our non-dairy tzatziki keeps well in the fridge for several hours and up to a day, so you can definitely make it ahead if you have guests over for dinner.
Storage
Store in the fridge for up to 3 days, in an airtight container. We do not recommend freezing it.
For many more side dishes ideas, check out our sides category page.
Recipe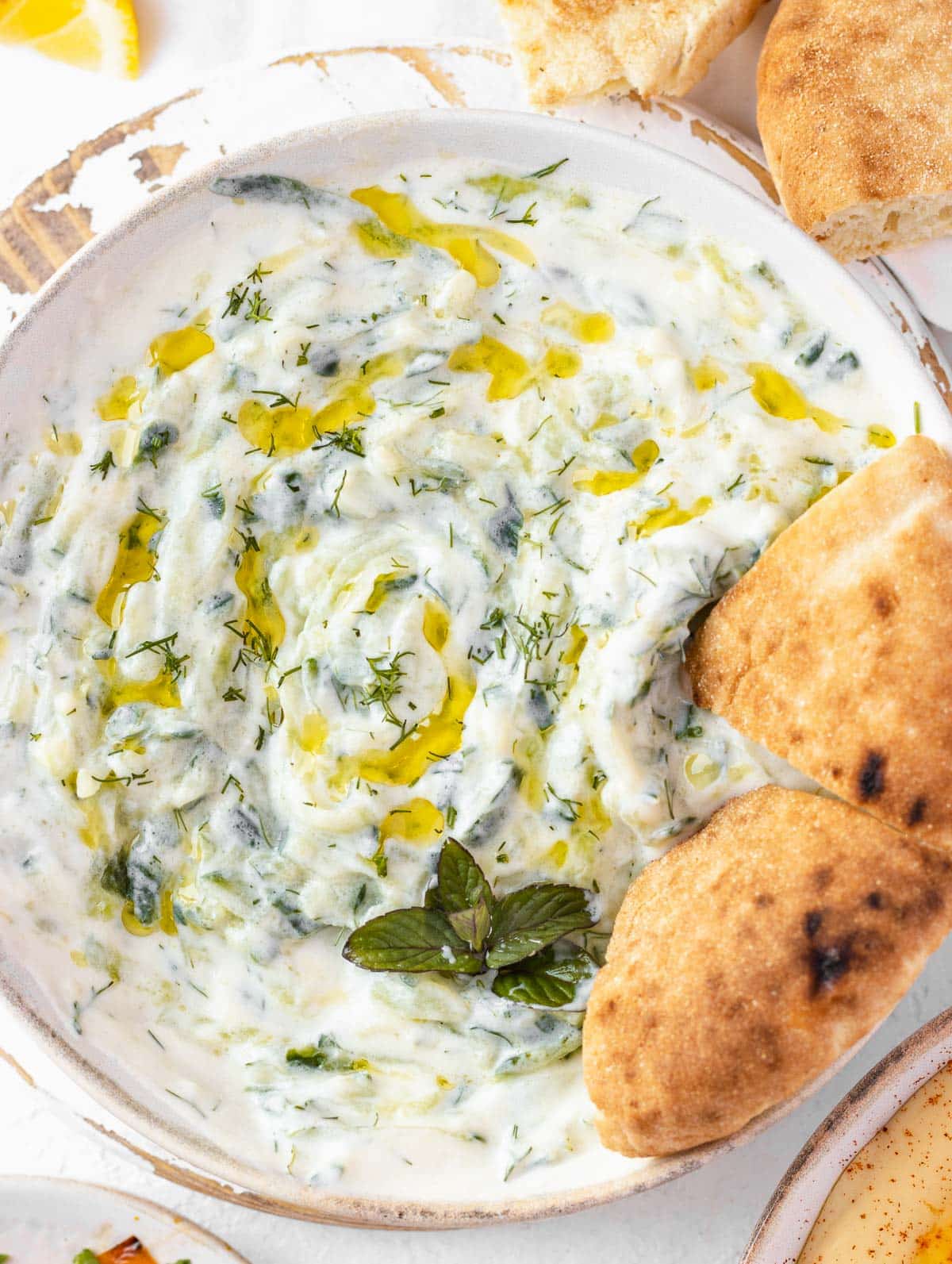 Vegan Tzatziki
Vegan Tzatziki sauce is easy! All you need is non-dairy yogurt, cucumber, garlic, lemon juice, olive oil, salt, and dill, and just over 15 minutes to make this irresistible recipe.
Ingredients
1

cup

non-dairy yogurt

we prefer unsweetened soy yogurt

1

cup

cucumber

grated with large holes of box grater and drained/squeezed with your hands

2

tablespoons

fresh herbs

dill, mint, flat-leaf parsley or purslane (finely chopped)

1

tablespoon

lemon juice

1

tablespoon

olive oil

extra virgin

1

clove

garlic

finely grated

½

teaspoon

salt
Instructions
Wash, dry and coarsely grate the cucumber, skin on, with the large holes of a box grater.

Drain the cucumber by squeezing out its liquid with your hands. You can do that over a plate or bowl.

To a bowl, add yogurt, grated and drained cucumber, finely chopped dill, lemon juice, olive oil, finely grated garlic, and salt.

Stir well with a spoon, taste, adjust for salt and lemon juice, and store in the fridge till serving time.

Garnish with mint leaves or dill and a drizzle of extra virgin olive oil on top before serving.
Notes
Nutritional values are for tzatziki made with soy yogurt.
Nutritional Values
Nutrition Facts
Vegan Tzatziki
Amount Per Serving
Calories 51
Calories from Fat 27
% Daily Value*
Fat 3g5%
Cholesterol 0mg0%
Potassium 41mg1%
Carbohydrates 5g2%
Protein 1g2%
Vitamin A 128IU3%
Vitamin B6 1mg50%
Vitamin C 9mg11%
Vitamin E 1mg7%
Vitamin K 25µg24%
Calcium 59mg6%
Folate 6µg2%
Iron 1mg6%
Manganese 1mg50%
Magnesium 4mg1%
Zinc 1mg7%
* Percent Daily Values are based on a 2000 calorie diet.
Did you like this recipe?
We are not much on Instagram, Facebook, and Pinterest. Leave us a comment below instead, it would mean the world to us 🙂
If you liked this recipe, you might also like: