Cambia lingua / Switch language: ITA
I will show you how to clean, cook and eat artichokes. Here I make carciofi alla Romana - or Roman-style artichokes, a simple and yet delicious artichoke dish to serve as a starter, as a side, or as filling for an artichoke sandwich.
Jump to:
Did you know that artichokes originated in the Mediterranean region and that Italy is the largest producer in the world? In fact, I grew up on artichokes, and in Italy we cook them in many different ways. Braised Roman-style, deep-fried, baked, sautéed in pasta and risottos, in soups, boiled and in many other ways.

In this blog post I first show you how to clean the artichokes. While it might seem intimidating, artichokes are actually quite easy to clean. Then I show you how to prep the herb seasoning to enhance their flavour. And finally I show you how to cook the artichoke. I use simple ingredients and I braise them in a pot to make a delicious Italian style dish called carciofi alla romana or Roman-Style Artichoke.
Ingredients & Substitutions
Artichokes: in Italy we use a type of Roman artichoke called "carciofo Romanesco" or "mammole". If you are not in Italy, just get hold on any type of fresh artichoke you can find.
Herbs mix: to season the artichokes you'll need garlic, mint (or mentuccia, or Roman mint if you can find it), and flat-leaf parsley.
Lemon: used to prevent the artichokes from going black.
White wine: this is optional, but I like to add it in.
Extra virgin olive oil: another key ingredient of this recipe.
Salt & Pepper.
Equipment
You'll need a large bowl, a small paring knife and a pot that can fit all the artichokes.
Mistakes I made
I did not brush my hands with lemon and my hands turned really dark. This happens because the artichoke oxidises when you peel it and oxidisation will colour your hands dark. Lemon slows down this process.
I did not cook them long enough. Roman style artichokes need to be as soft as butter. Cook them for at least 25 minutes and up to 35. Check with a knife if they are still hard inside.
I did not remove enough outer leaves. Outer leaves are very hard and they won't became soft with cooking because they are made up of woody fibre. Remove those outer hard leaves or else your dish won't be pleasant to eat.
Tips
Find fresh artichokes: fresh artichokes are strongly recommended for this recipe because they are less "hairy" inside. An artichoke is fresh when it's 1) heavy, 2) squeaky when you squeeze its head/leaves, 3) toned, not floppy, especially the stalk, 4) it has a uniform colour, with no dark spots.
Remove the hairy core: when cleaning the artichoke is best to remove the "fuzzy hairy" part inside. Fresh artichokes have less hair, old artichokes have more hair. Remove it with a teaspoon or with a paring knife.
Brush your hands with lemon: artichoke oxidise quickly, and oxidisation will colour your hands of a dark colour. To avoid that, brush your hands with lemon.
Season inside the leaves: to get artichokes that are bursting with flavour you need to brush the seasoning with your fingers inside the core and between the leaves.
Remove all woody parts: artichoke is a woody vegetable that if not cleaned properly is not pleasant to eat. Pay particular attention to the outer part of the stalk, and to the outer leaves.
Submerge the artichokes in lemon water: to prevent artichokes from turning dark you need to put them in a bowl with water and lemon, and cover them with a piece of kitchen paper soaked with lemon water. This way the lemon will slow down the oxidisation process and the artichoke will keep their bright green colour.
Don't throw out the scraps. Check out how we use them in the variation section below or in this blog post.
Frequently asked questions
What is artichoke good for?
Artichoke is among the most antioxidant rich foods in the world. They are low in fat, high in fiber, and full of vitamins and minerals. In them you can find Vitamin C, K, folate, phosphorus and magnesium.
What does artichoke taste like?
Artichokes have a unique bitter-sweet taste, with earthy notes, olive notes and nutty notes. They have soft tender and leafy texture.
What can I do with the scraps of the artichokes?
Artichoke scraps are actually full of flavour, flesh and nutrition. The best way to use them is to boil them for 1 hour, then pass them trough a rotary vegetable mill to extract the pulp and separate the inedible fibre. Then with the pulp juice you can make soup, pasta, hummus and many other recipes.
Storage
Carciofi alla romana (braised Roman-style artichokes) can be eaten warm or at room temperature, but are best eaten within 24 hours of cooking them.

You can store them in the fridge for up to 2 days in an airtight container. To warm them up, put them on a pan with a dash of olive oil, or warm them up in the oven. They are not suitable for freezing.
Variations
Deep-fried artichokes
Deep fried artichokes - carciofi fritti in Italian - are another Italian recipe that will make you fall in love with this delicious vegetable. I make a light batter with cold water and flour and then I deep fry them in hot sunflowers oil.
This creamy and crunchy artichoke pasta bake is our favourite pasta bake to date. Made with sautéed artichokes, peas, and potatoes, vegan ricotta, vegan white sauce and vegan parmesan is perfect as delicious and fulfilling family dinner.
We make artichoke hummus with the scraps - leftover leaves and stems - of the artichokes. We first boiled the scraps in water, then extract the pulp with a rotary vegetable mill. Then in a blender we mix the artichoke pulp with chickpea, lemon, mint, olive oil, salt and pepper for a unique, creamy, nutritious and delicious artichoke spread.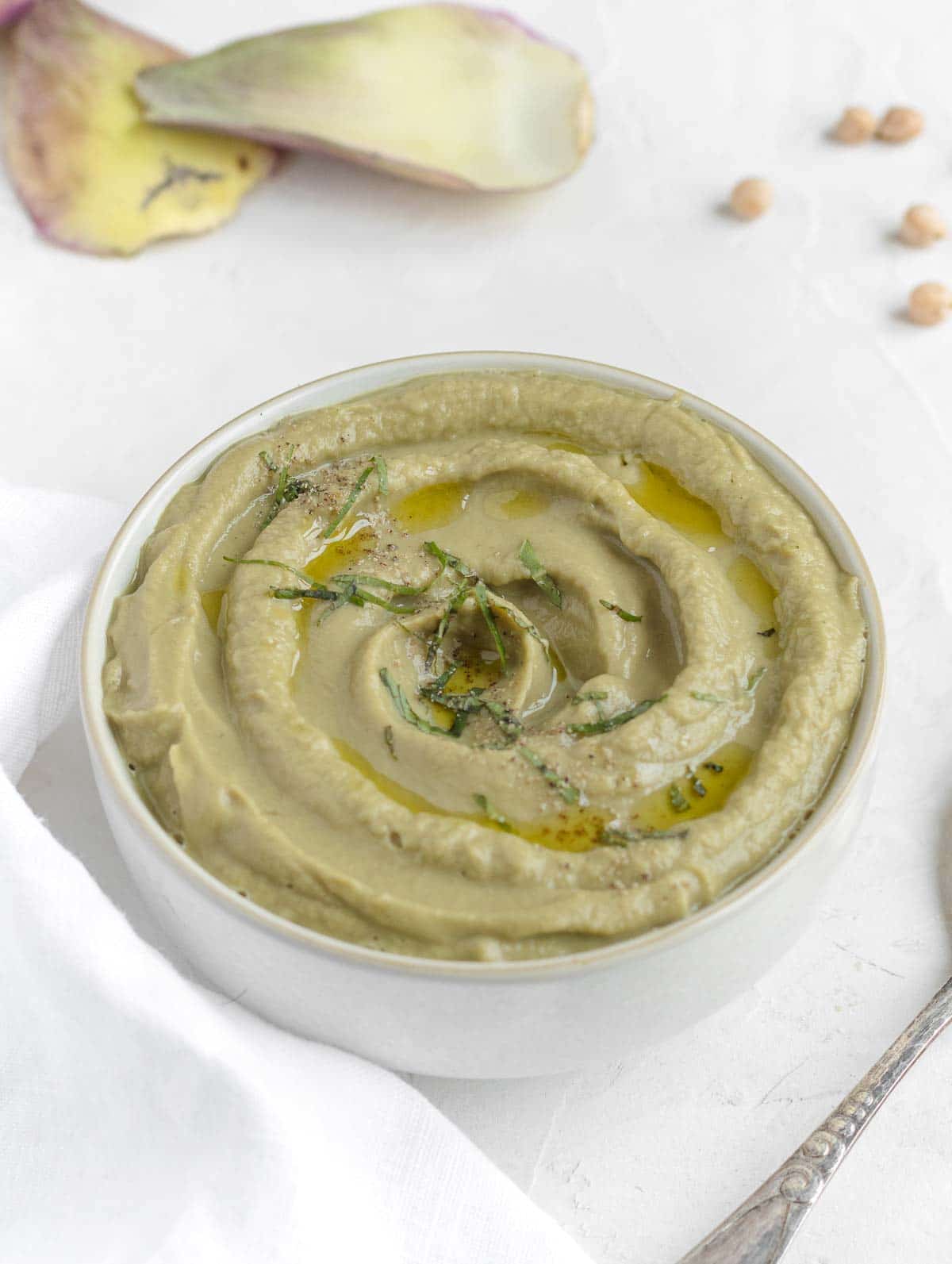 Another zero-waste vegan recipe made with the leftover cooking water from our roman-style braised artichokes. This is so simple, yet so delicious. All you have to do is to take all the leftover cooking water of your braised artichokes, then cook some spaghetti al dente and mix it in the artichoke water. Add some olive oil, fresh parsley, and if you still have some, a few pieces of artichokes. Enjoy!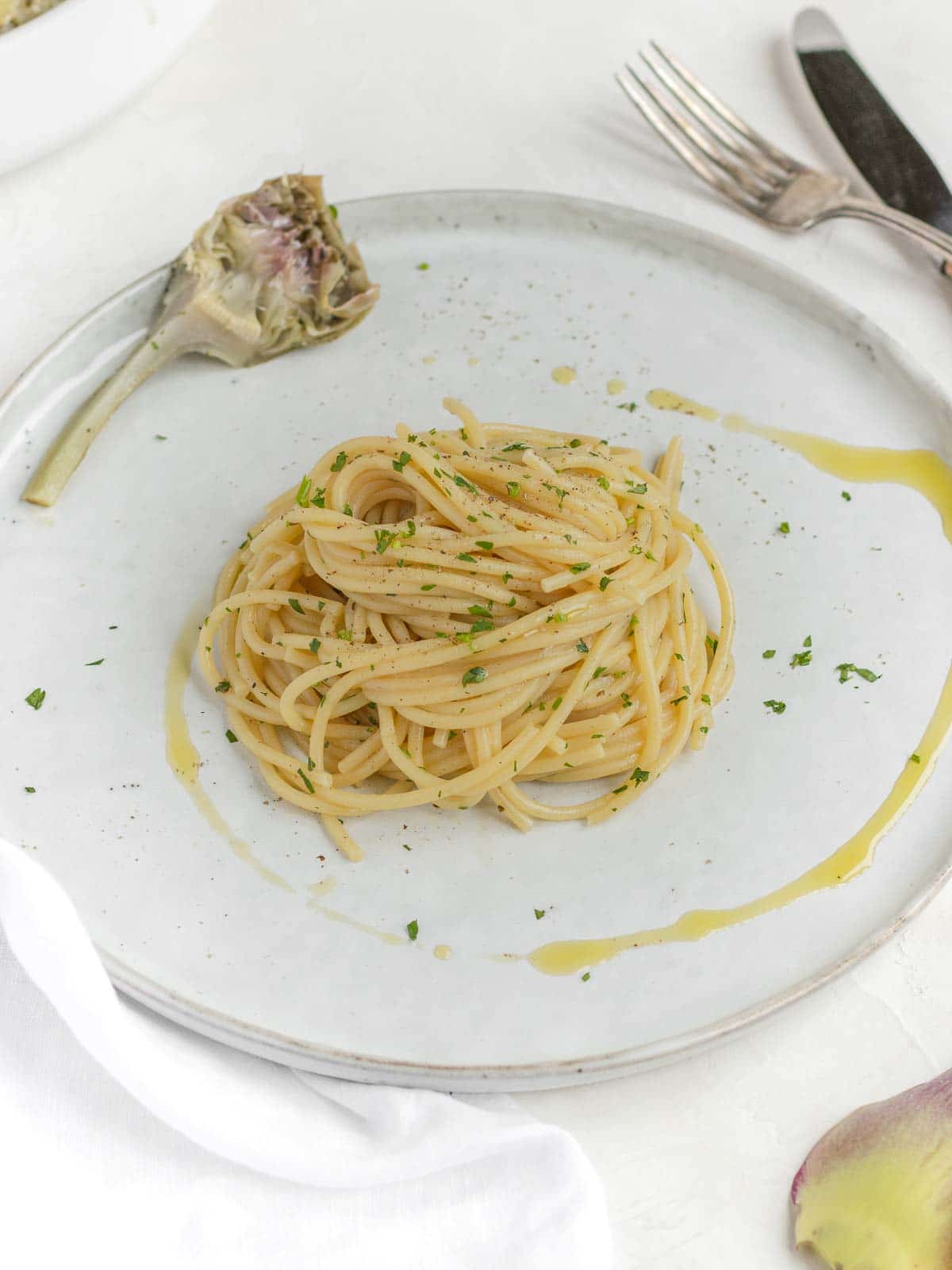 This artichoke cream is made with 100% pure artichoke pulp extracted from the boiled scraps (leaves and stems) of the artichokes with a rotary vegetable mill. We only add a pinch of salt to this concentrate of flavour and nutrients. This is one of the most delicious and pure vegetable creams I have ever tasted. And it's made from artichoke waste!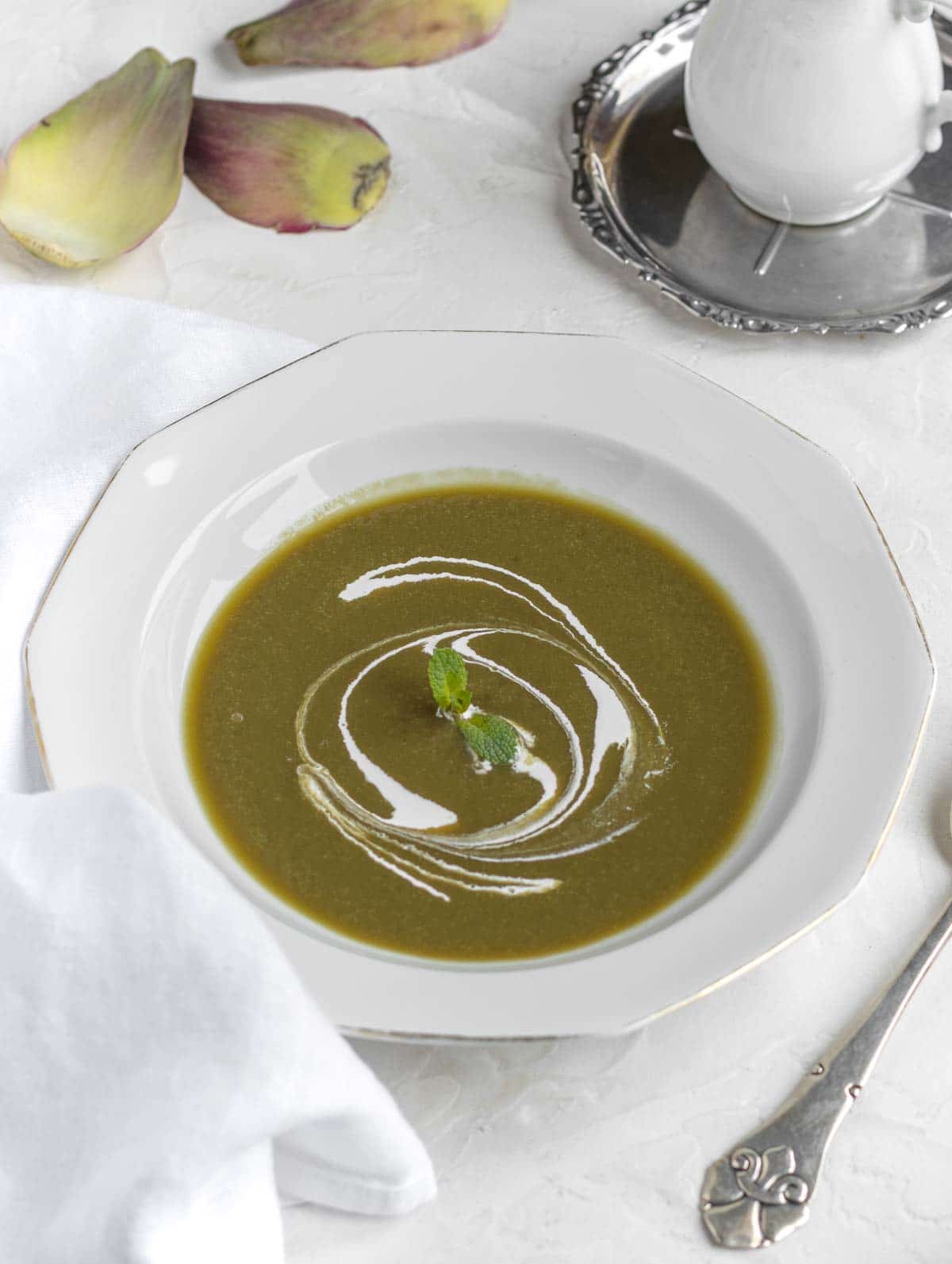 This is best served with deep-fried artichokes. We first make a standard vegan mayonnaise with 2 parts of vegetable oil (we like to mix olive oil and sunflower oil) and 1 part of soy milk. Add a dash of lemon juice, a pinch of salt then mix it with the artichoke pulp extracted from the scraps of the artichokes with a rotary vegetable mill. Delicious!
Recipe
How to clean, cook and eat Artichokes
I will show you how to clean, cook and eat artichokes. Here I make carciofi alla Romana - or Roman-style artichokes, a simple and yet delicious artichoke dish to serve as a starter, as a side, or as filling for an artichoke sandwich.
Ingredients
6

artichokes

1

handful

flat-leaf parsley

1

handful

mint

or mentuccia

2

cloves

garlic

4

tbsp

olive oil

extra virgin

1

lemon

⅓

cup

dry white wine

salt & pepper
Instructions
How to clean artichokes
Fill up a bowl with cold water, then cut open a lemon and add it to the bowl, squeezing its juice in the water.

Now start cleaning the artichokes. First, remove the harder and woodier outer leaves of the artichoke with your hands. You need to remove leaves until you reach softer non-woody leaves.TIP: before touching the artichokes, brush your hands with lemon. If you don't, your hands will turn dark.

Then, with a paring knife, cut off half of the stem, then remove its outer woodier part.

Now cut off the thorns, the top part of the artichoke.

Finally, with your thumbs gently open up the center of the artichoke exposing the core of the choke, then with a teaspoon remove the fuzzy core.

Put the clean artichoke in the bowl with the lemon water so that they don't turn black.
How to cook the artichokes
Chop together mint, parsley, and garlic. Add the mix to a small bowl and season it with salt, pepper, and olive oil.

With your fingers, add the mix of herbs in the centre and between the leaves of the artichoke.

In a pot big enough to fit all the artichokes snuggly, warm up the olive oil. Then add the artichokes, upside down, and side by side, quite tight.

When the oil starts to fry, add the white wine, let evaporate, then add 1 cup of water and some extra salt, pepper and the leftover herb mix.

Now cover the pot and let cook for 20 to 30 minutes on medium to low heat, or until the artichokes are soft. To check if they are cooked use a knife to pierce through them. They should be as soft as butter.

Serve as a starter, side, or as a snack as filling in a sandwich. They can be eaten warm or at room temperature.
Full video on youtube @theplantbasedschool
Nutritional Values
Nutrition Facts
How to clean, cook and eat Artichokes
Amount Per Serving
Calories 161
Calories from Fat 90
% Daily Value*
Fat 10g15%
Potassium 519mg15%
Carbohydrates 16g5%
Protein 5g10%
Vitamin A 105IU2%
Vitamin B6 1mg50%
Vitamin C 26mg32%
Vitamin E 2mg13%
Vitamin K 36µg34%
Calcium 67mg7%
Folate 91µg23%
Iron 2mg11%
Manganese 1mg50%
Magnesium 81mg20%
Zinc 1mg7%
* Percent Daily Values are based on a 2000 calorie diet.
Did you make this recipe?
Tag us on Instagram @theplantbasedschool
Related recipes
Will you be cooking this recipe at home? Let us know in the comments below!