Want to try artichokes but don't know where to start? You are in the right place! Here we'll show you how to cook artichokes in 4 easy ways: steamed, braised, on a pan, and roasted.

We'll also give you some ideas for easy and delicious artichoke recipes. Use the table of content below this picture to navigate through the page.
On this page:
How to cook artichokes video tutorial
What is an artichoke?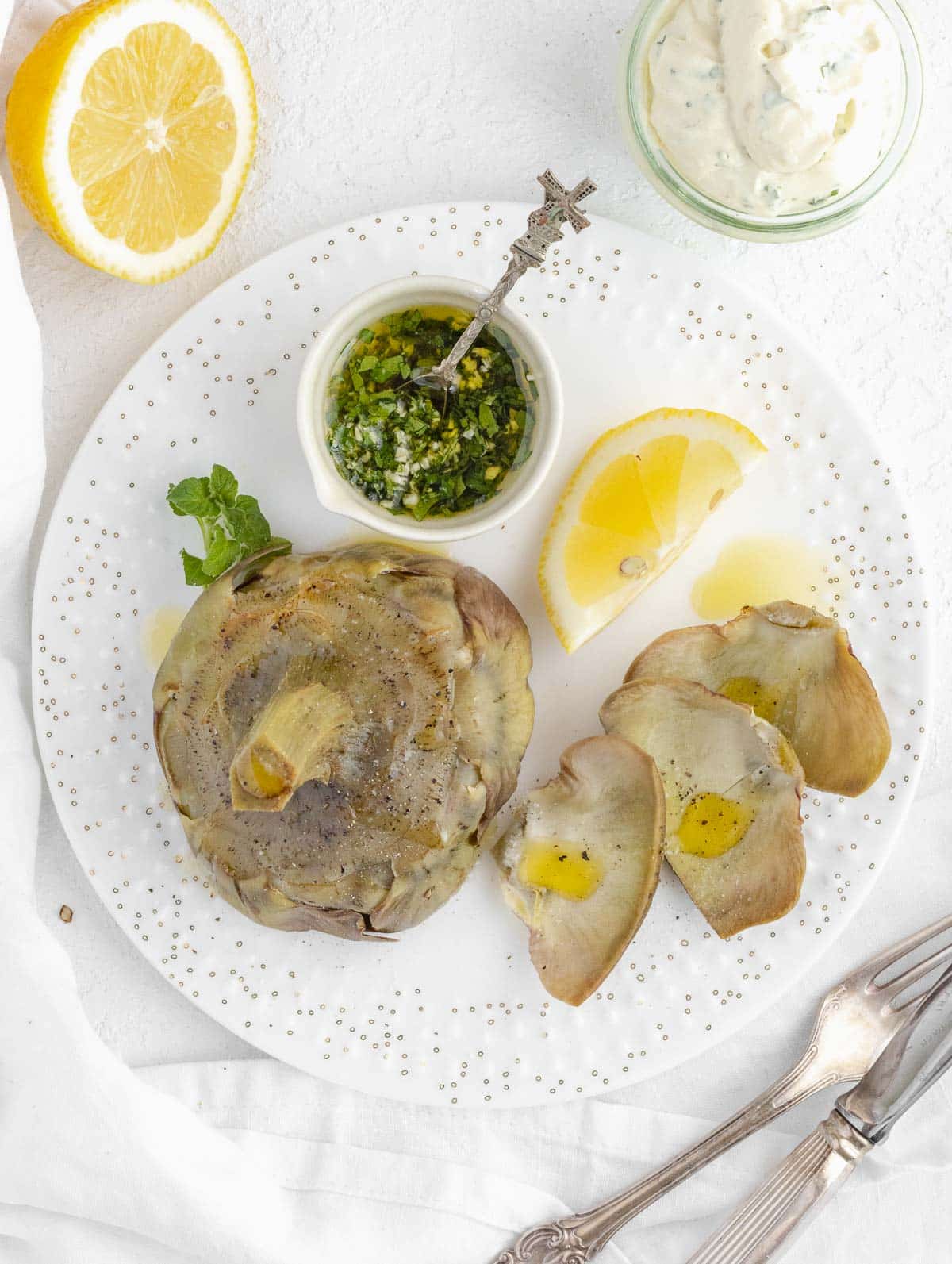 Artichoke is a large thistle perennial plant belonging to the aster family and it's grown for its edible flower buds, which are a culinary delicacy.

They have a delicate and nutlike flavor, and the core, also known as the heart, is very tender, and butter-like consistency.

Artichokes are made up of several parts, some you can eat, some not: the thorns, the petals (or leaves), the choke (the fuzzy part in the center), the stem, and the artichoke heart, the best part of the artichoke.
How to choose which artichokes to buy?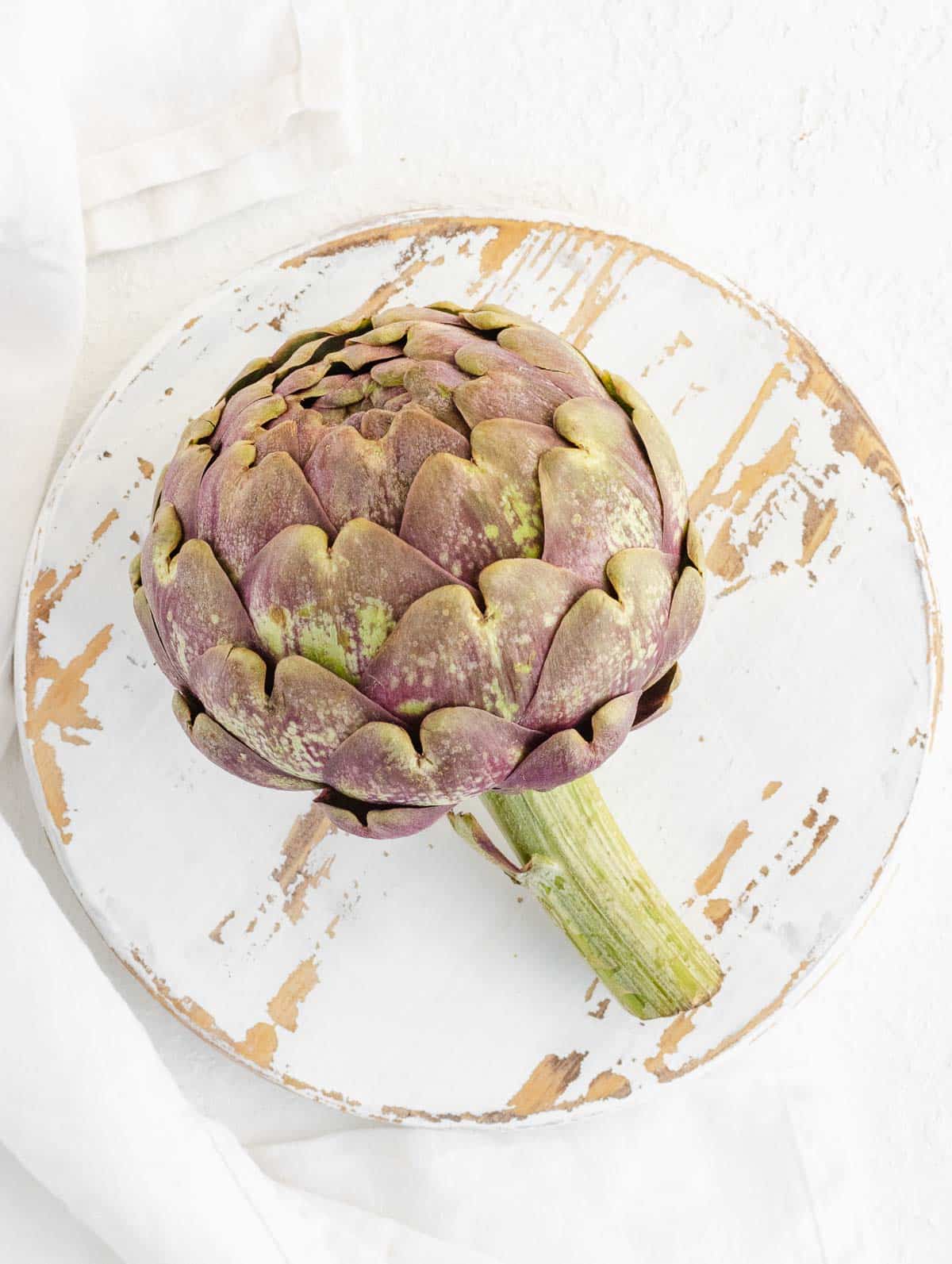 When buying artichokes it's good to make sure they are fresh as old artichokes tend to have a choke with more hair and tougher leaves, which means you'll have to discard more of it.

An artichoke is fresh when it's 1) heavy, 2) squeaky when you squeeze its head/leaves, 3) toned, not floppy, especially the stalk, 4) it has a uniform color, with a few or no dark spots.

As you can see we are using purple artichokes here, but sometimes you can find green ones, also known as globe artichokes, depending on where you live. Both types are delicious.
Ingredients that go well with artichokes
Lemon: not only to prevent them from turning brown, but also to squeze on top of the artichokes once they are cooked. It adds a fresh and acidic touch that enhances the sweet, nutty flavour of the artichokes.

Mint and flat-leaf parsley: a match made in heaven. I use mint for cooking the artichokes and the Italian flat-leaf parsley to sprinkle on top once they are cooked.

Olive oil: best if good quality and extra virgin. You can use it for cooking the artichokes, and for drizzling on top. It's divine with them.

Garlic: another flavor match. It complements their light, nutty flavor perfectly.

Mayonnaise and butter: artichokes are very low fat and from a mouthfeel perspective they go well with fatty ingredients. I love them with our vegan mayo as dip and in rare cases with melted butter - the dairy-free kind.
How to clean an artichoke
Gloves, water and lemon juice
When cleaning artichokes my advice is either to wear gloves or rub your hands with lemon juice.

We do this because otherwise, our fingers will turn brown. This happens due to the high amount of antioxidants in artichokes, which by the way is one of the highest in any vegetable.

Antioxidants react with oxygen and color your hands.

Also, to prevent the artichokes from turning brown, fill up a bowl with cold water and squeezed lemon. This will slow down the oxidation, keeping your artichokes nice and green.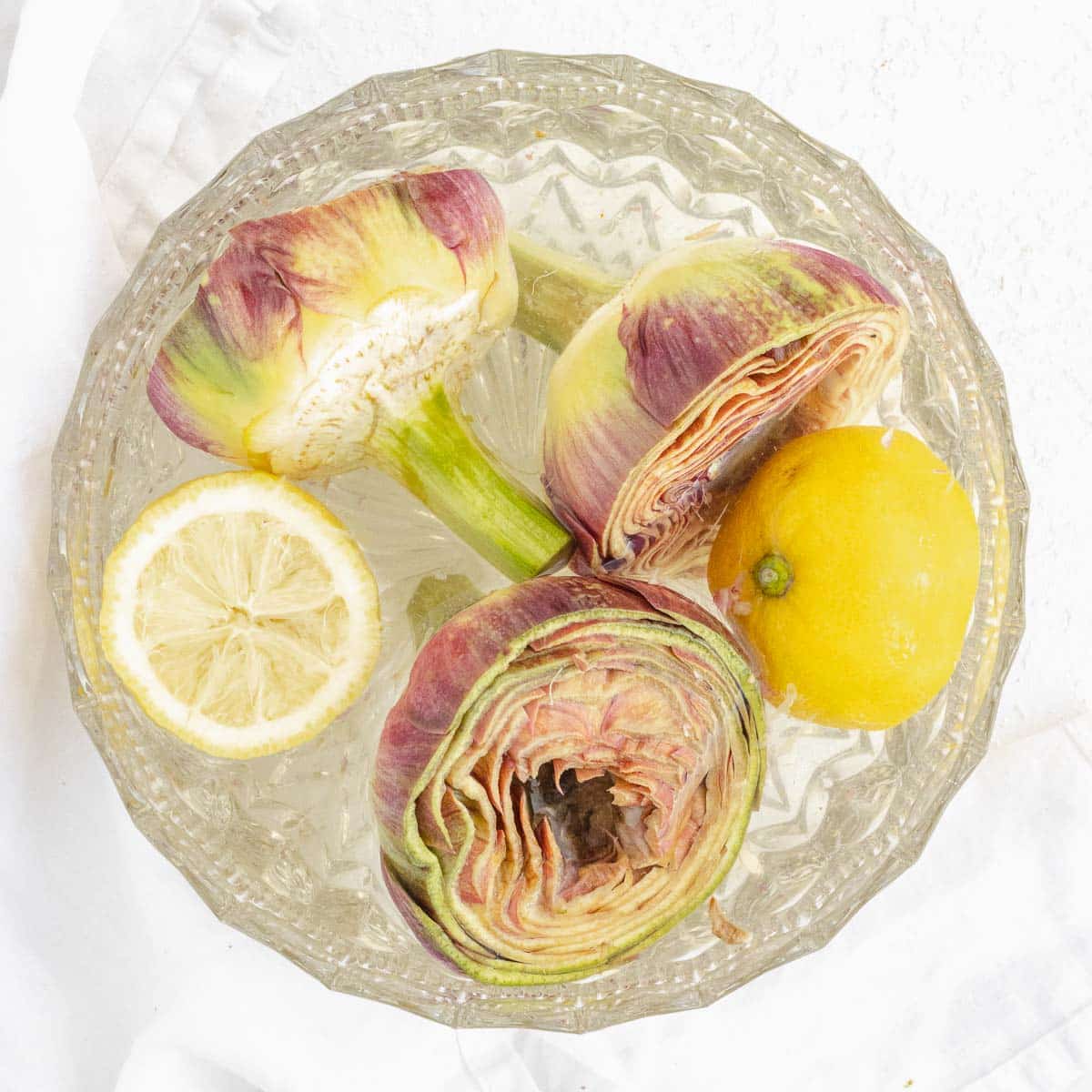 Thorns, outer petals and stem
We definitely want to remove the thorns, so go ahead and cut them off with a bread knife.

Rub the inside of the artichoke with lemon to prevent it from turning brown.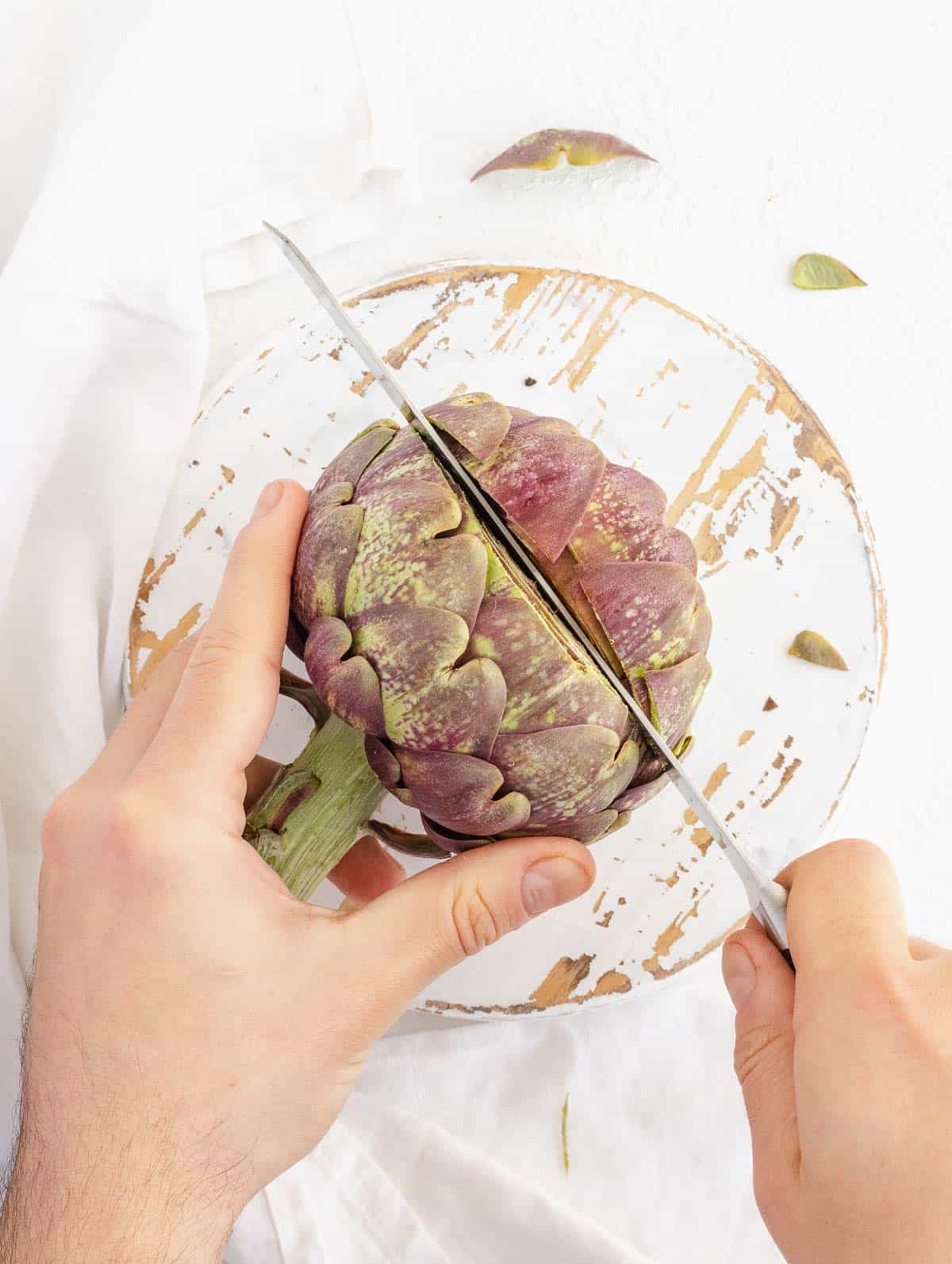 We also want to get rid of some of the thicker outer petals, which are way too hard to eat.

I prefer to remove most of the outer leaves, till I get to the tender inner leaves, with a light yellow color.

But you can keep more leaves if you prefer, or trim them down with kitchen shears, then remove them once cooked.

Next, we cut off the stem, or part of it, just leave a couple of inches or about 5cm and peel it, removing the woodier part on the outside. At the same time trim the bottom part of the artichoke.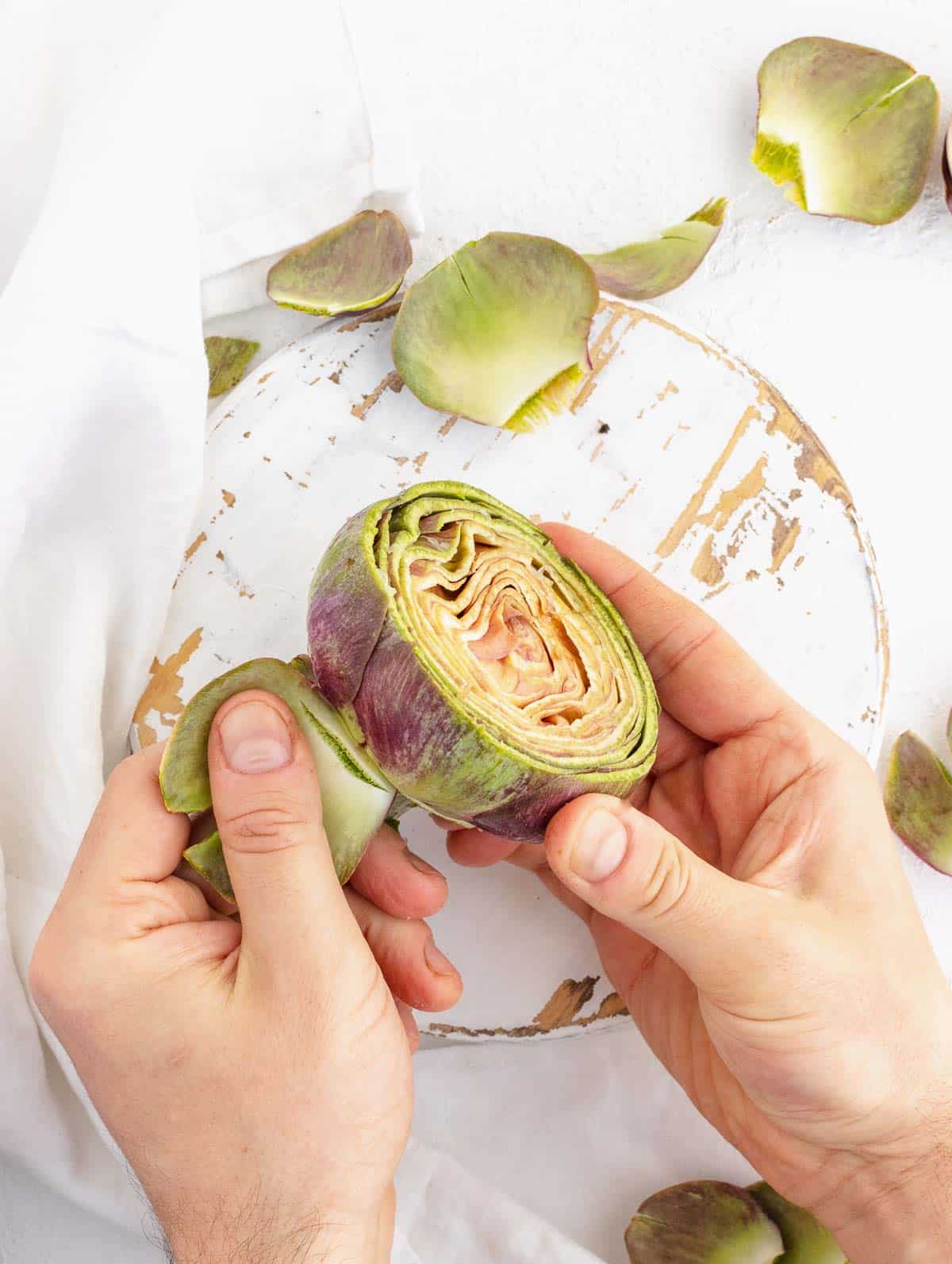 Carve out the hairy choke
And finally, before cooking the artichoke, you've got to remove the choke, the fuzzy part in the center, especially if you are serving them to kids.

The choke is not only very unpleasant to eat, but it can also be a little dangerous, as it's made of tiny hair that can get stuck in your throat.

To remove the choke, gently open up the center of the artichoke with your thumbs, exposing the fuzzy part.

Now with a small knife cut out the choke then remove it with a teaspoon.
With the choke, remove also the small leaves attached to it as they can be quite spiky.

Some like to remove the choke after the artichoke is cooked. You can definitely do that by slicing the artichoke in half and removing the choke with a spoon.

Personally, I think it's very annoying to do that operation while you are eating. So I'd remove the choke before cooking the artichoke.

The following picture shows the choke that I removed from three artichokes.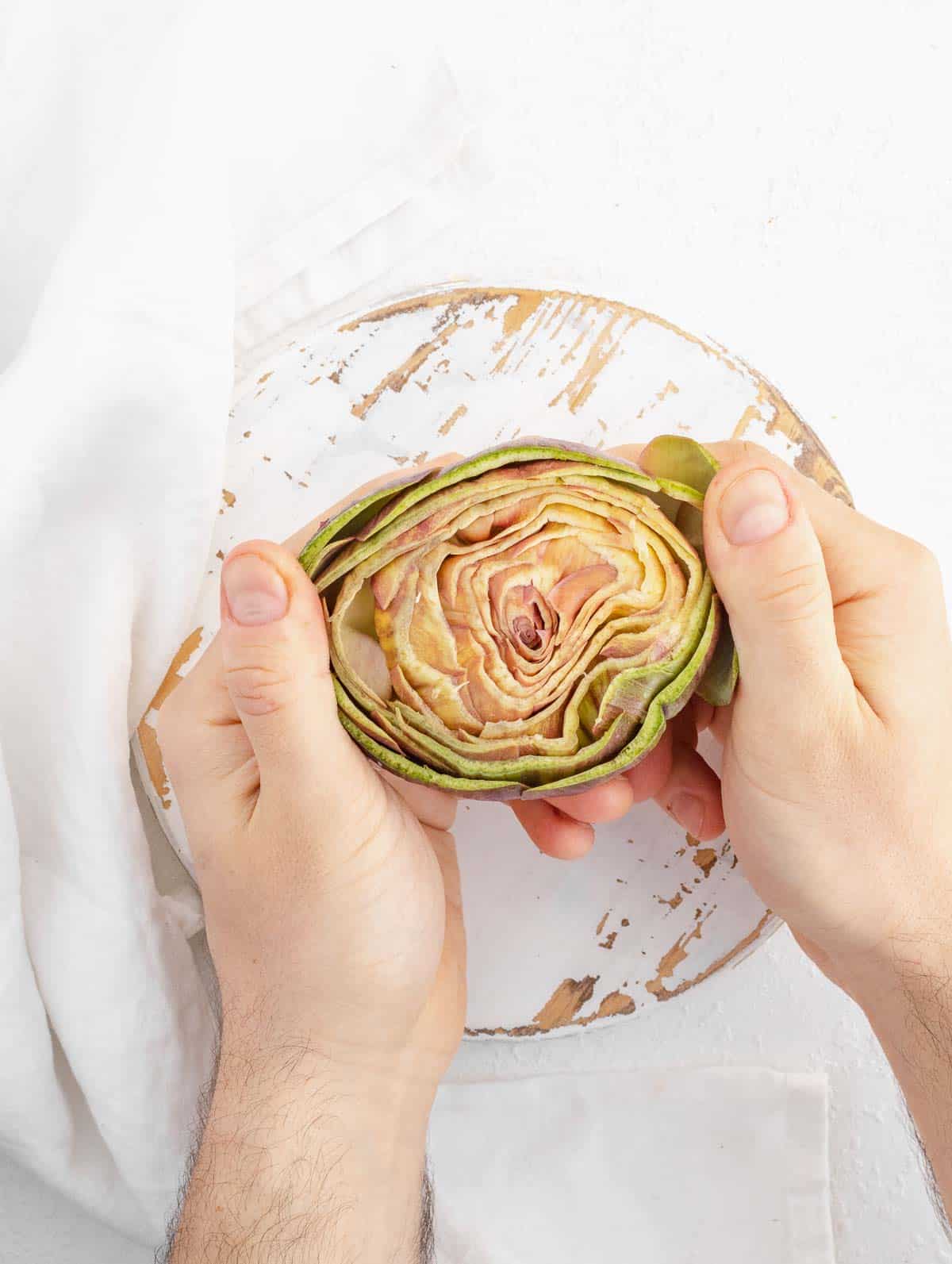 Put them in cold lemon water
Put the clean artichokes in the bowl with lemon water and cover them with a damp piece of kitchen paper to slow down oxidation and keep them green and fresh.

If you want to get ahead and clean your artichoke in advance, you can actually keep them in a bowl with lemon water in the refrigerator for up to 24 hours.

Also, if you don't want to discard the outer leaves of the artichoke, we have a recipe on our blog on how to use artichoke scraps to make some delicious recipes.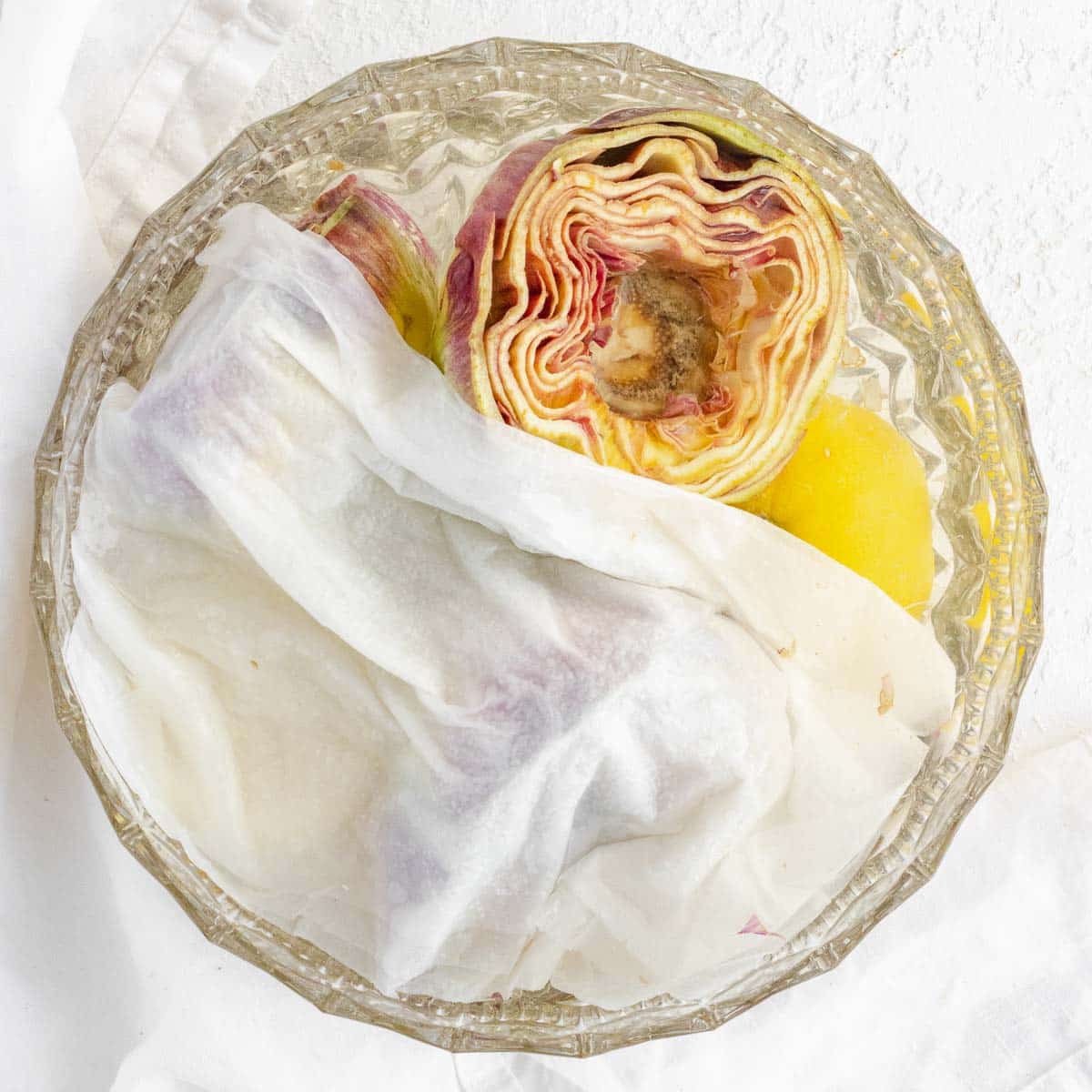 Steamed artichokes are probably the easiest artichoke recipes. To steam the artichokes in a steamer basket you need a pot with a lid and a steamer basket.

Add about an inch of water (2.5 cm) to the pot, add some aromatics like mint or bay leaves if you like, place the steamer basket in, arrange the artichokes on the basket, face down, and cover with the lid.

Bring the pot to a simmer and steam until the artichokes are soft. It can take between 20 to 40 minutes, depending on the size of the artichokes.

To check if they are done, slide a small knife through the base of the artichoke. If it slides easily, the artichokes are done steaming.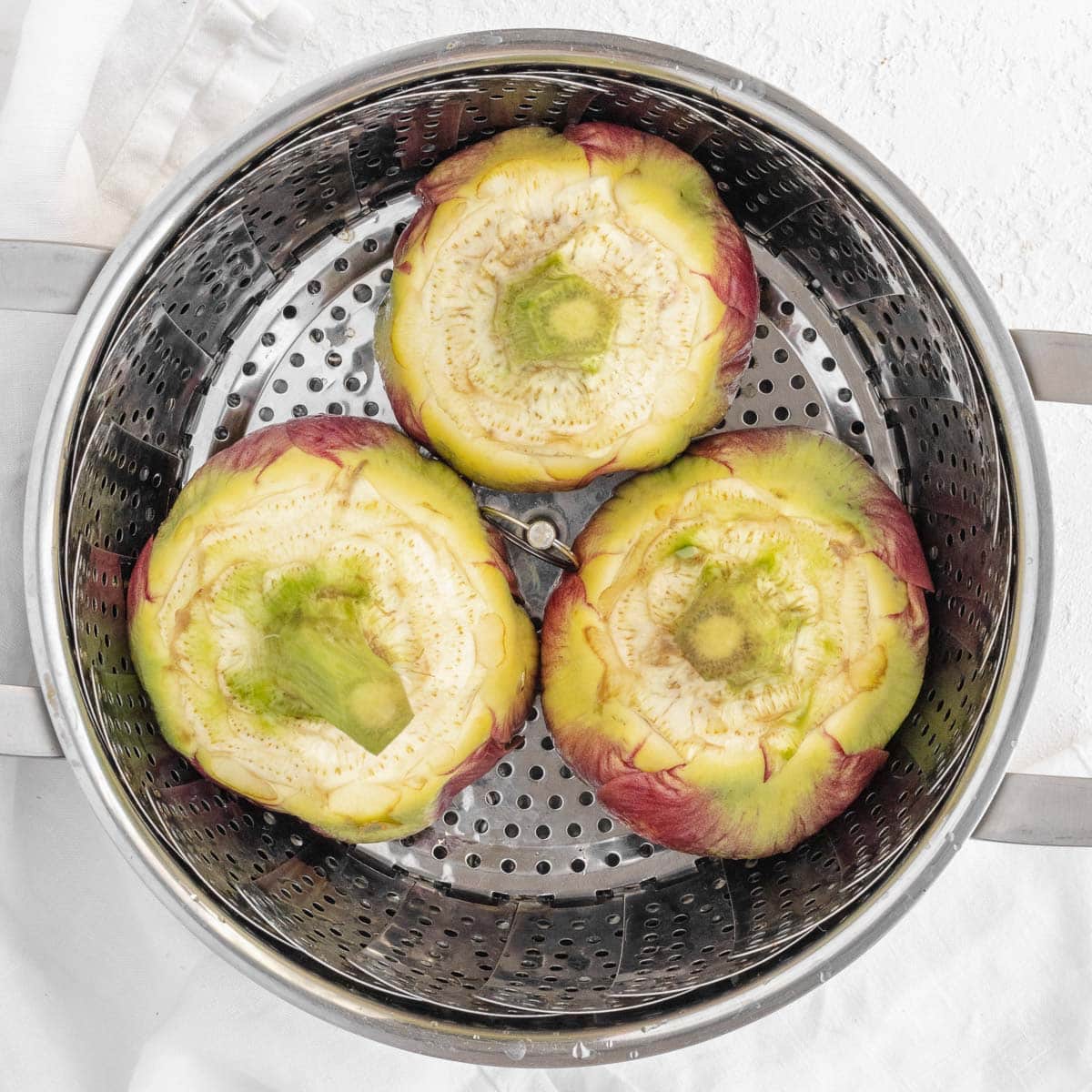 How to serve steamed artichokes
To serve them, take them out of the pot, place them on a plate, and you can add some freshly squeezed lemon juice, a pinch of salt, and some black pepper.

Add some freshly chopped parsley or mint on top, a drizzle of olive oil, or if you prefer serve them with some vegan mayo or in any other dipping sauce on the side.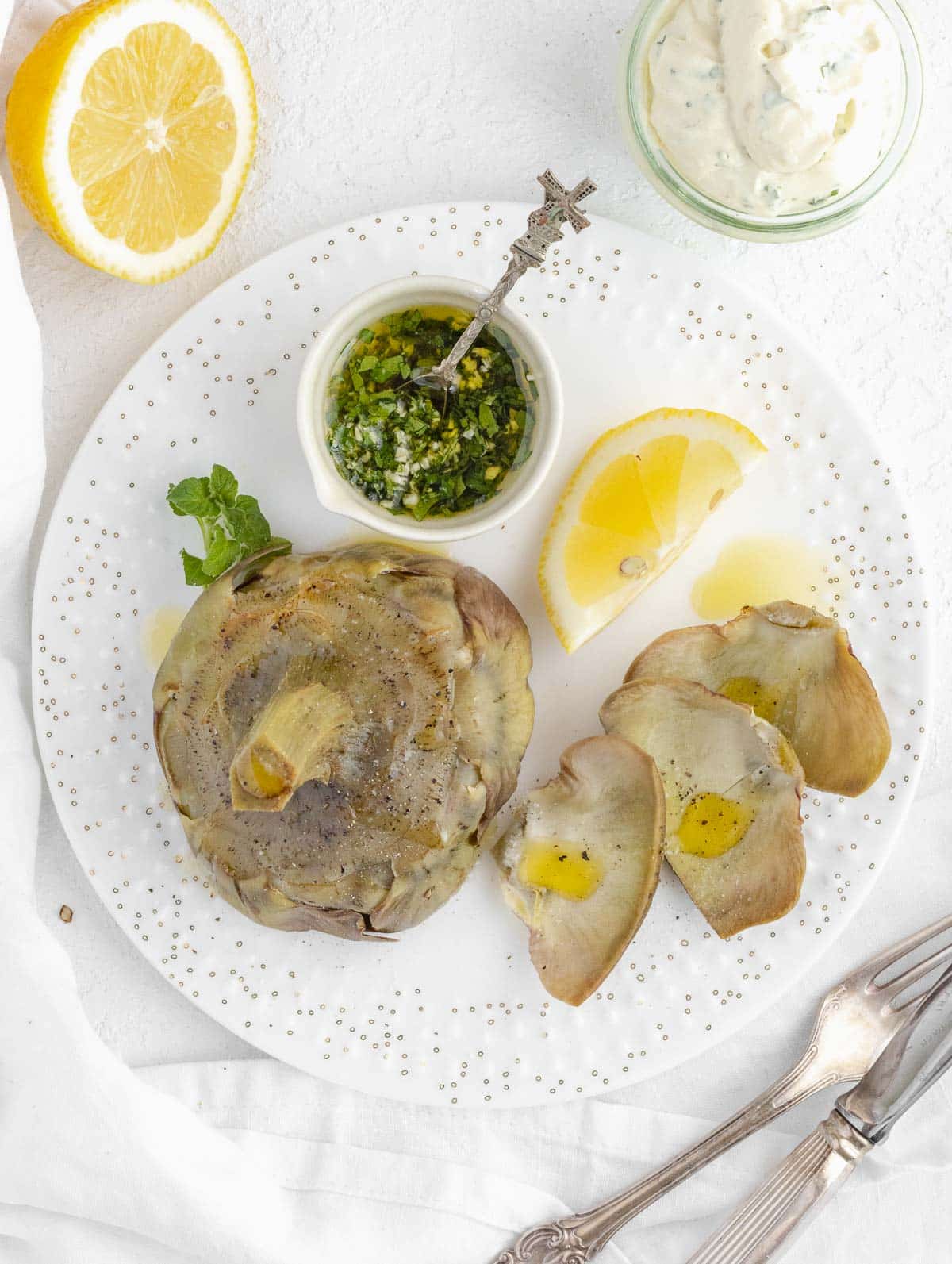 How to eat steamed artichokes
Depending on how well you cleaned them, you might still have some rough petals around the artichoke. If you do, then eat them one by one, like so.

Hold the petal with the tips of your thumb and index fingers, then put it in your mouth and scrape the flesh off with your teeth.

This is kind of fun to do, and the leaves are packed with antioxidants like no other veggie, but it's gonna be messy, I warned you. You can even dip the petals in our vegan mayo if you like.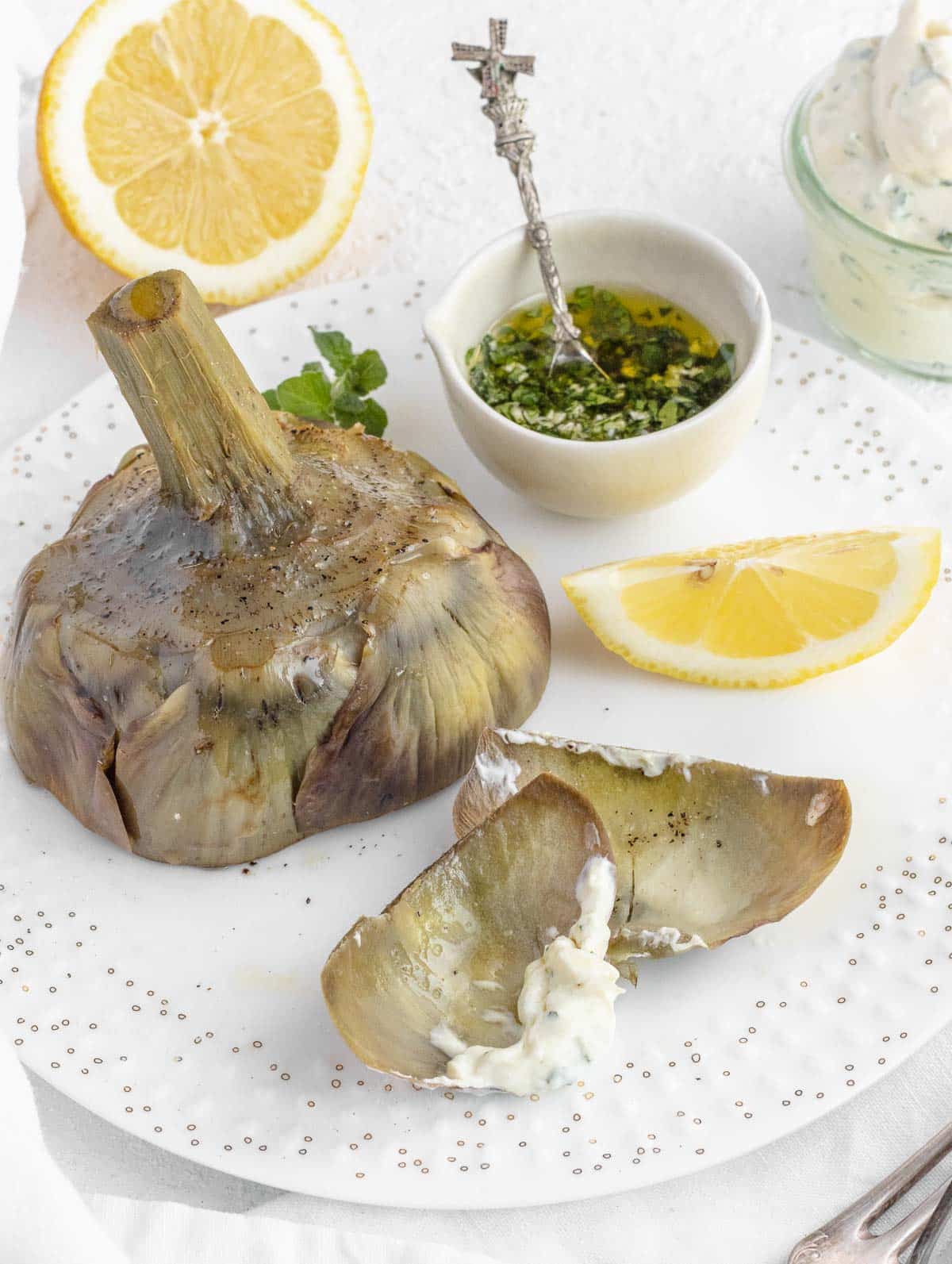 Then when you reach the softer petals, you can just either eat the artichoke with a knife and fork or with your hands.

I like to remove the petals from the heart. Then first I eat the petals, they are super soft. Then all I am left with is the heart, which is one of the most delicious things ever!

When cooked well steamed artichokes melt in your mouth, they are creamy and with a mild flavor, slightly nutty, slightly sweet.

And because we cleaned out the choke before, you don't have to worry about that, and you can eat the whole thing.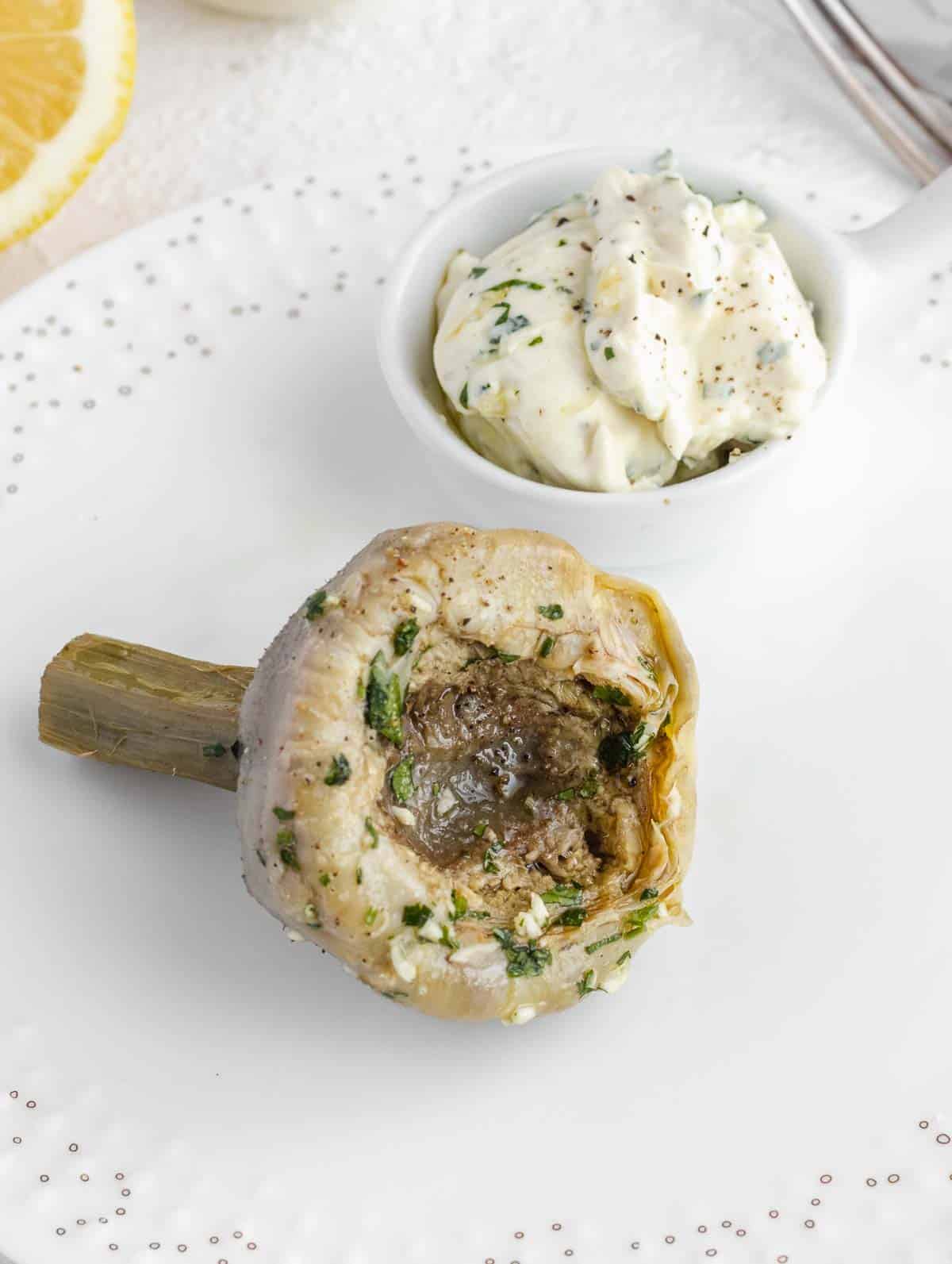 Another delicious way of serving steamed artichokes is to cut them open in half, arrange them on a plate, then season them with finely chopped flat-leaves parsley, a little garlic, olive oil, salt, and a squeeze of lemon.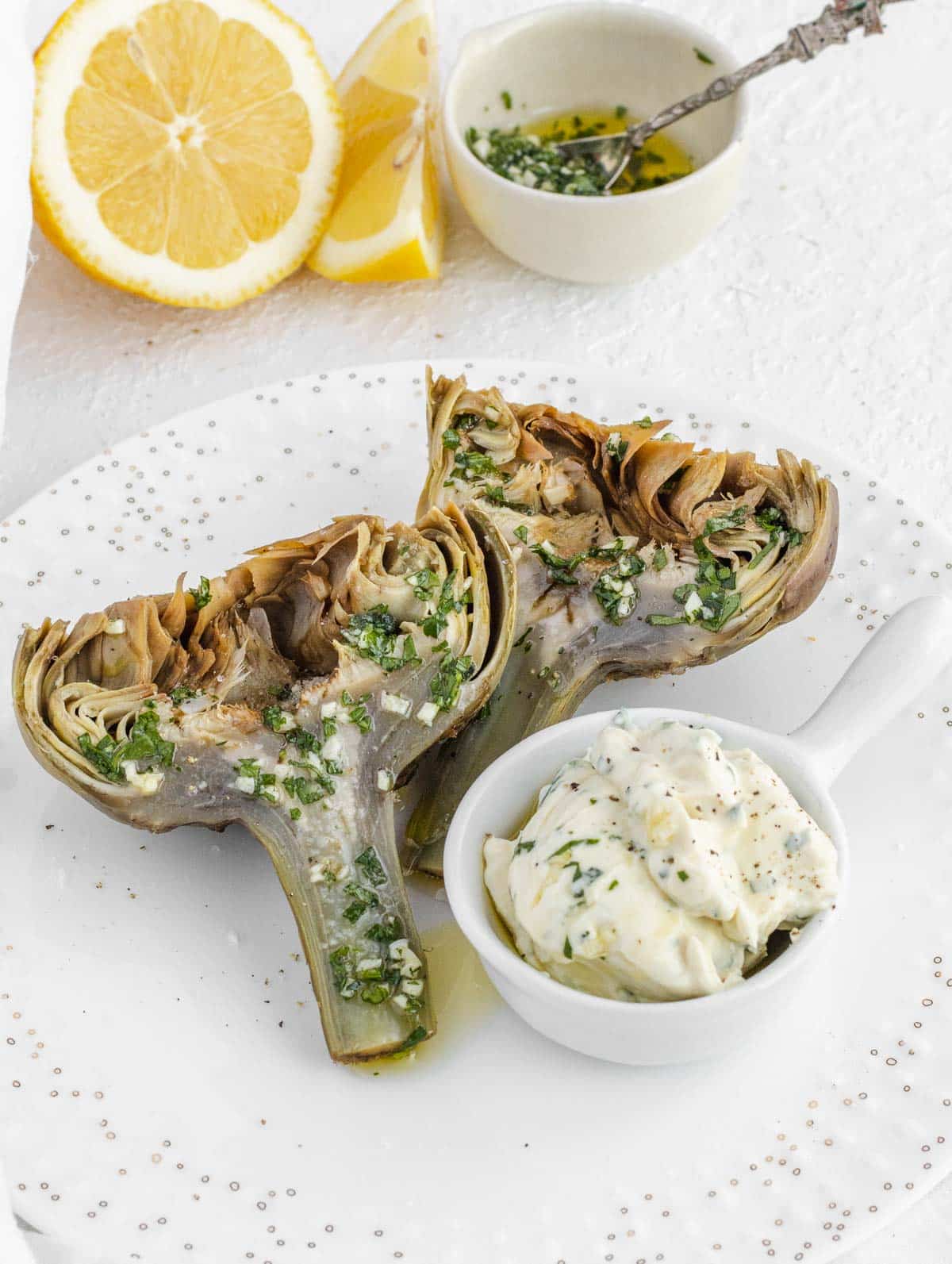 If you don't have a steamer basket, or if you want to try another, possibly more delicious way, of eating artichokes, try braising them, which is cooking them with a little water in a medium to a large pot that can fit them snuggly.

This method is similar to boiling but better in my opinion as the artichokes get a lot more flavourful this way. You can do it in a pot, in an instant pot, or in a pressure cooker (reducing the cooking time by about half).

To do that, clean the artichokes as we did before. I like to cut out all the tougher outer petals for this preparation.

Then to a pot, add a drizzle of olive oil, a crushed clove of garlic, and some mint. Now take your artichokes, season them with salt on the inside, and put them face down into the pot.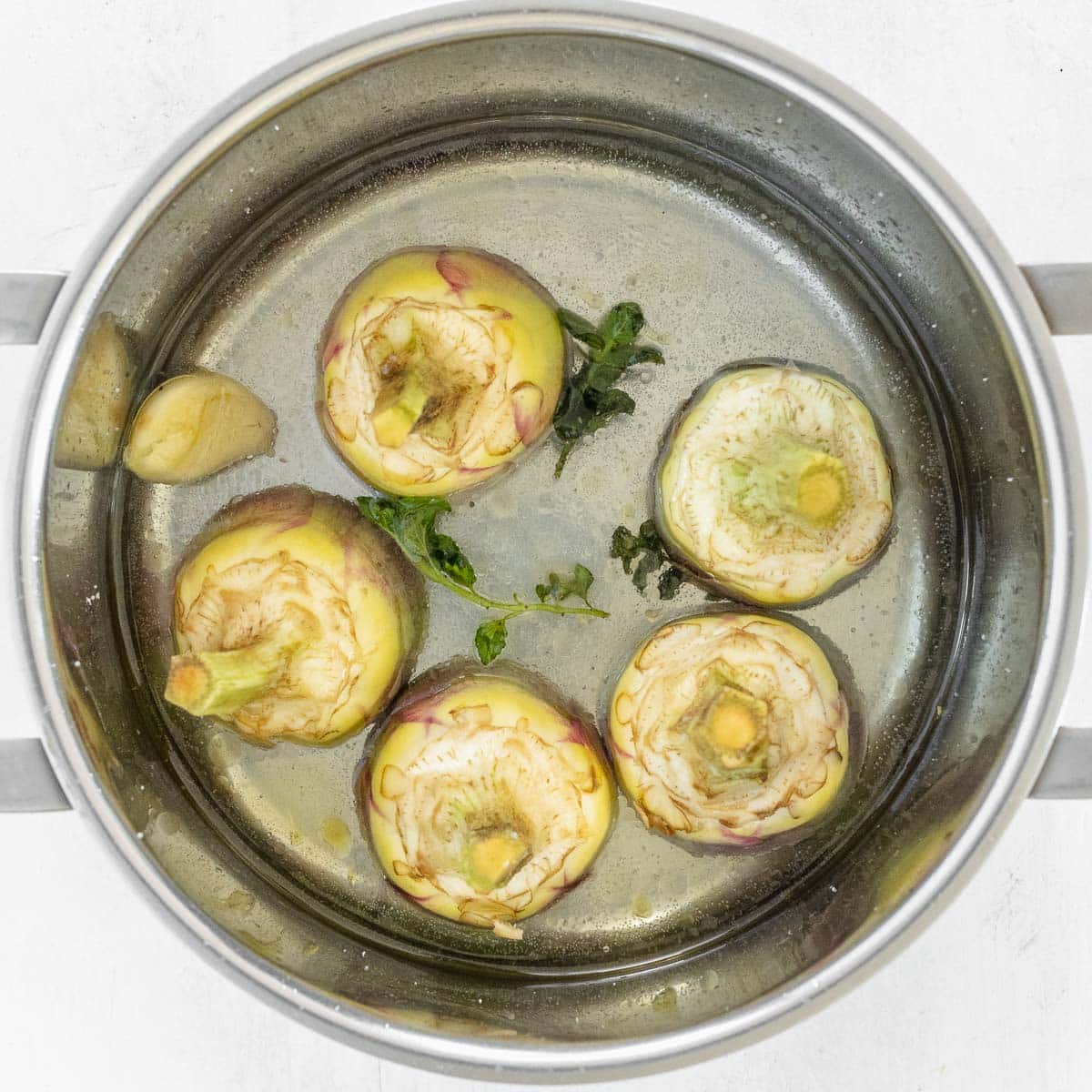 Add water to cover about half the artichokes, put a lid on and simmer on medium to low heat for about 20 to 30 minutes, depending on the size of the artichokes.

To check if they are done, slide a small knife through the base of the artichoke. If it slides easily, the artichokes are done cooking.

Serve them on a plate, with some fresh parsley on top, a squeeze of fresh lemon, and a drizzle of olive oil.
Cooked this way they are absolutely delicious, and since they are all cleaned, you can eat them with a fork and knife, without getting all messy.
They are a perfect starter or side dish, and you can totally put them on a piece of toasted bread to make a delicious artichoke bruschetta. It's crazy good!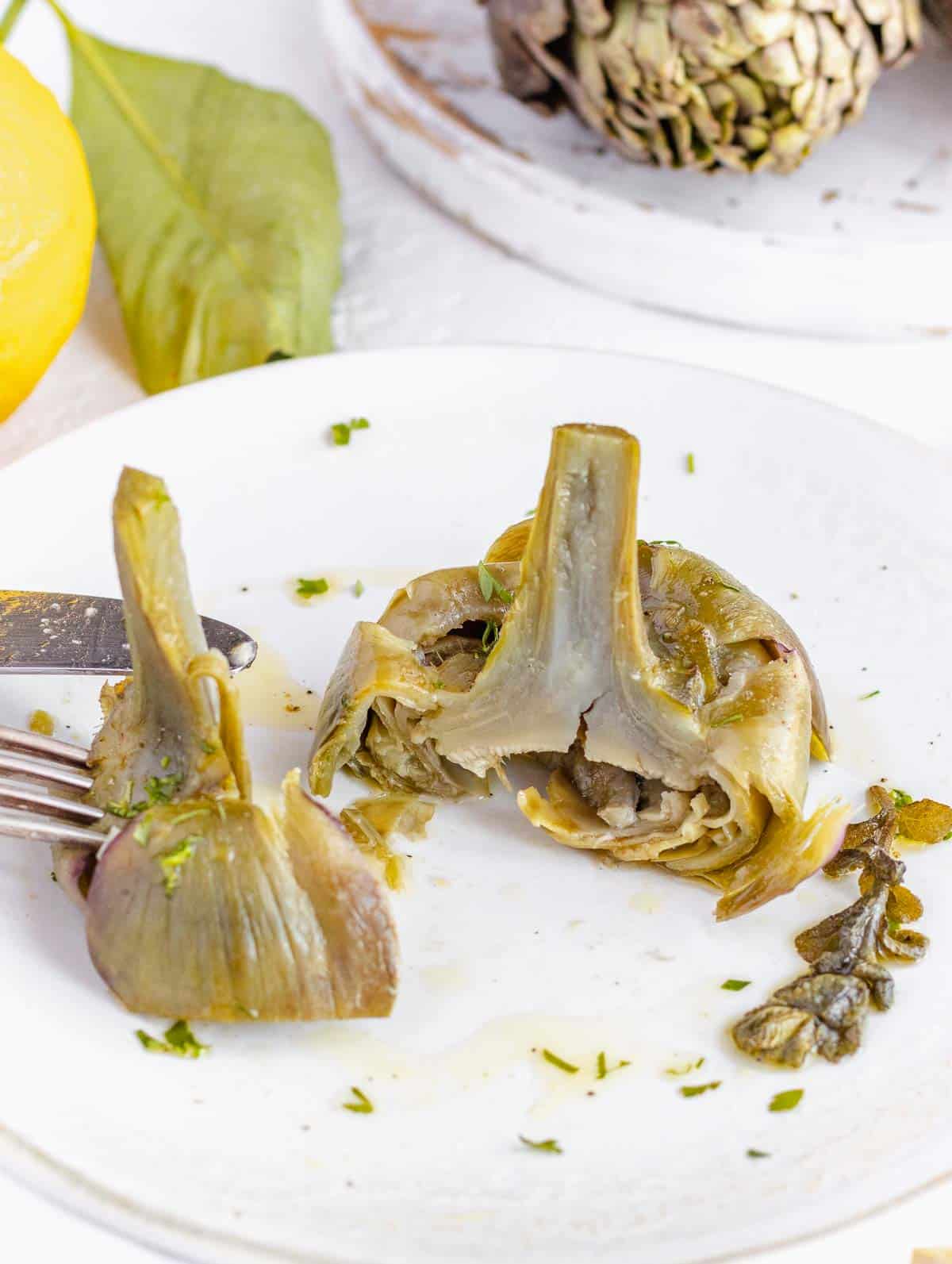 Artichokes are so versatile that they can even be cooked very easily on a pan. To do that, clean the artichokes as we did before, cut the thorns, remove the tough petals, trim and peel the stem.
Then cut the artichokes in quarters. With a small knife remove the choke, then put the artichokes in the bowl with cold lemon water.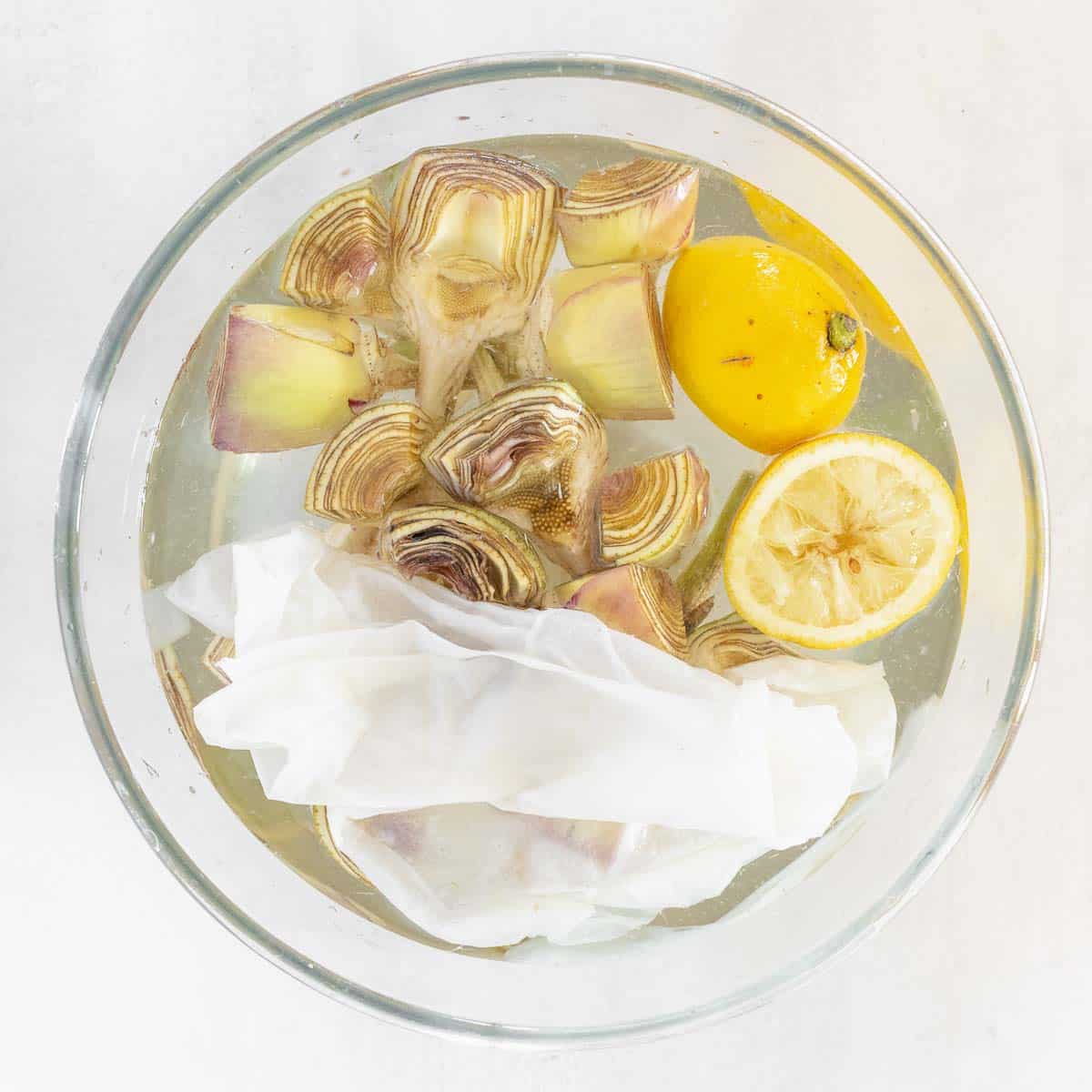 To a non-stick pan, add a tablespoon of olive oil, a crushed clove of garlic, some mint leaves with their stems, and toss in the artichokes.
Sautè on medium heat for about 3 minutes, then when the pan is hot add ¼ cup of dry white wine. You can use vegetable broth if you prefer not to cook with wine.
Simmer without a lid for about 5 minutes, then the wine has evaporated completely, add a cup of water, and season with a pinch of salt and pepper.
Cover with a lid and simmer on low heat for about 15 minutes, or until the artichokes are tender.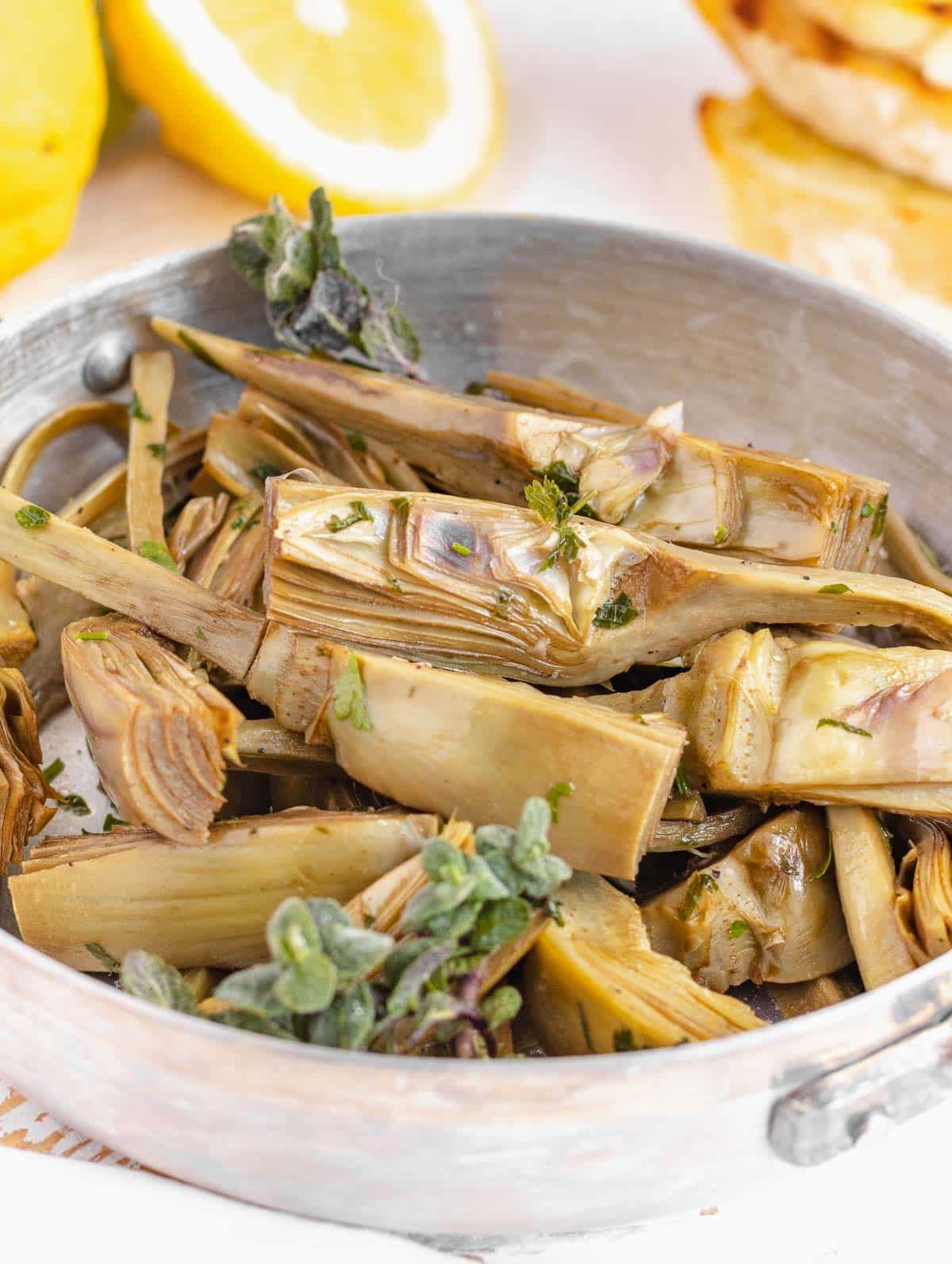 Sprinkle with chopped parsley and serve. They are great as a starter, or even better, to put in a vegan frittata.
Check out our full frittata recipe, it's super simple made with chickpea flour and water, then cooked for a few minutes on a pan, flipped, and served.

We are big-time artichoke frittata fans in our family. We often eat this as a main, since it's fulfilling and nutritious. Or in a sandwich with a tiny bit of vegan mayo for a quick lunch on the go. It's so so good!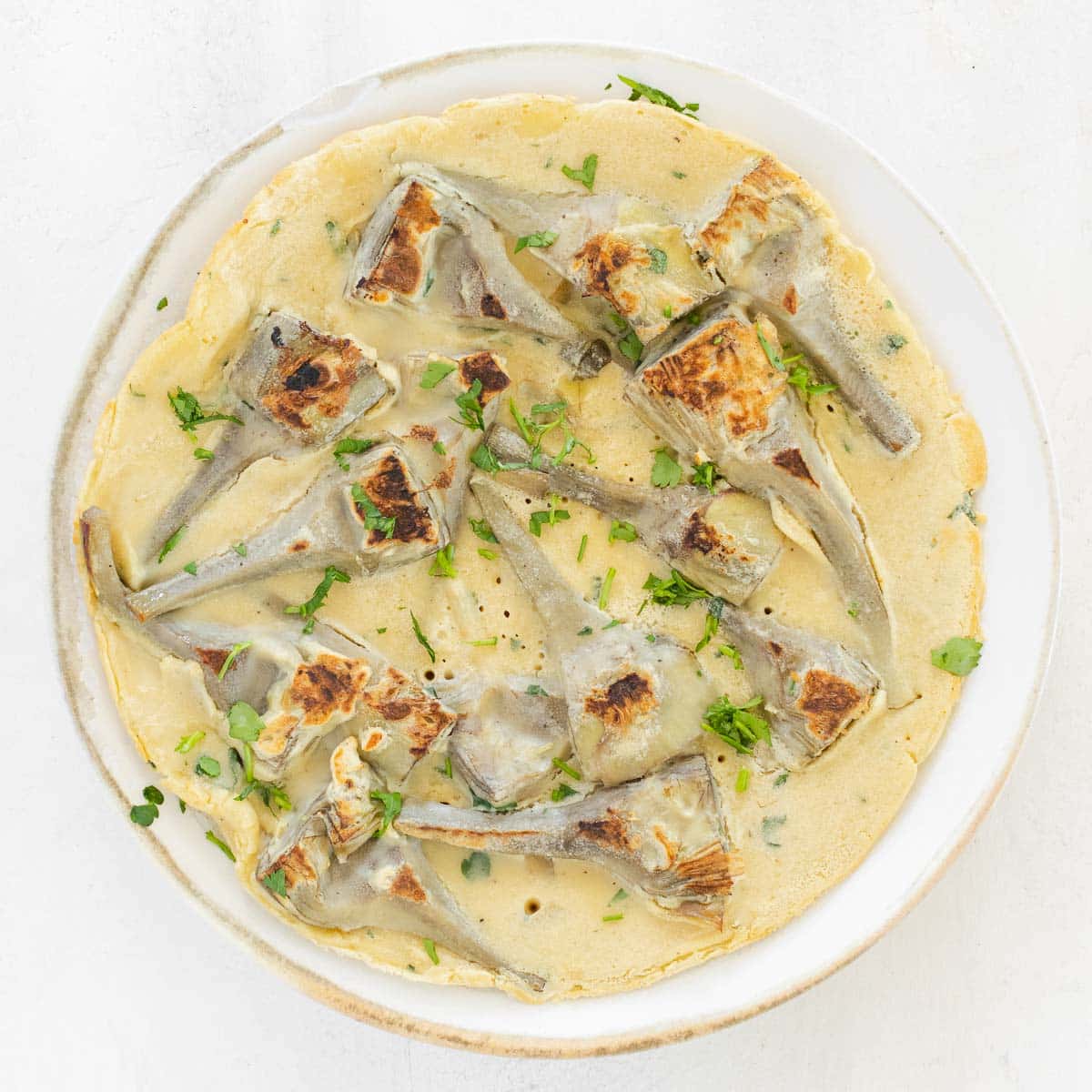 Another great way to cook artichokes is to bake them in the oven together with potatoes. I kid you not, they are so good we always eat the whole tray straight out of the oven!

First off, peel and cut 3 to 4 medium potatoes into wedges and put them in a large pot with cold water. Set aside.

Then, clean the artichokes as we did before, then cut them in quarters, remove the choke, and place them in cold lemon water to prevent them from turning brown.

Now preheat the oven to 430F or 220C, and bring the water with the potatoes to a boil. Pre-cook the potatoes for 5 minutes. Then add the artichokes to the boiling water and boil with the potatoes for 5 more minutes.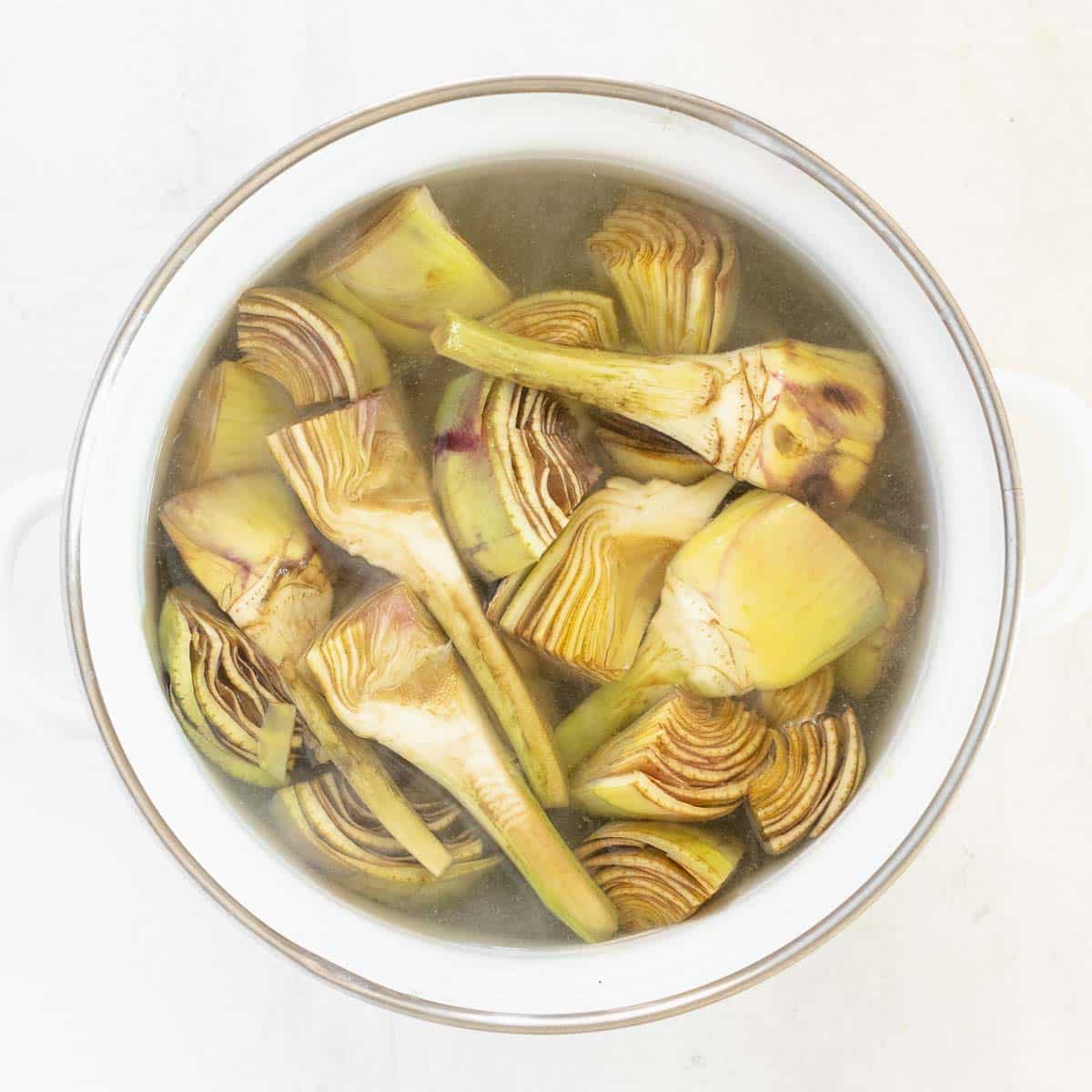 Pre Cooking the potatoes and the artichokes will keep them soft and moist inside once baked.

Drain the potatoes and the artichokes and place them onto a baking tray. Season with a generous pinch of salt, some black pepper, some dried herbs and spices like rosemary, mint, and paprika, a drizzle of olive oil, and a couple of cloves of crushed garlic.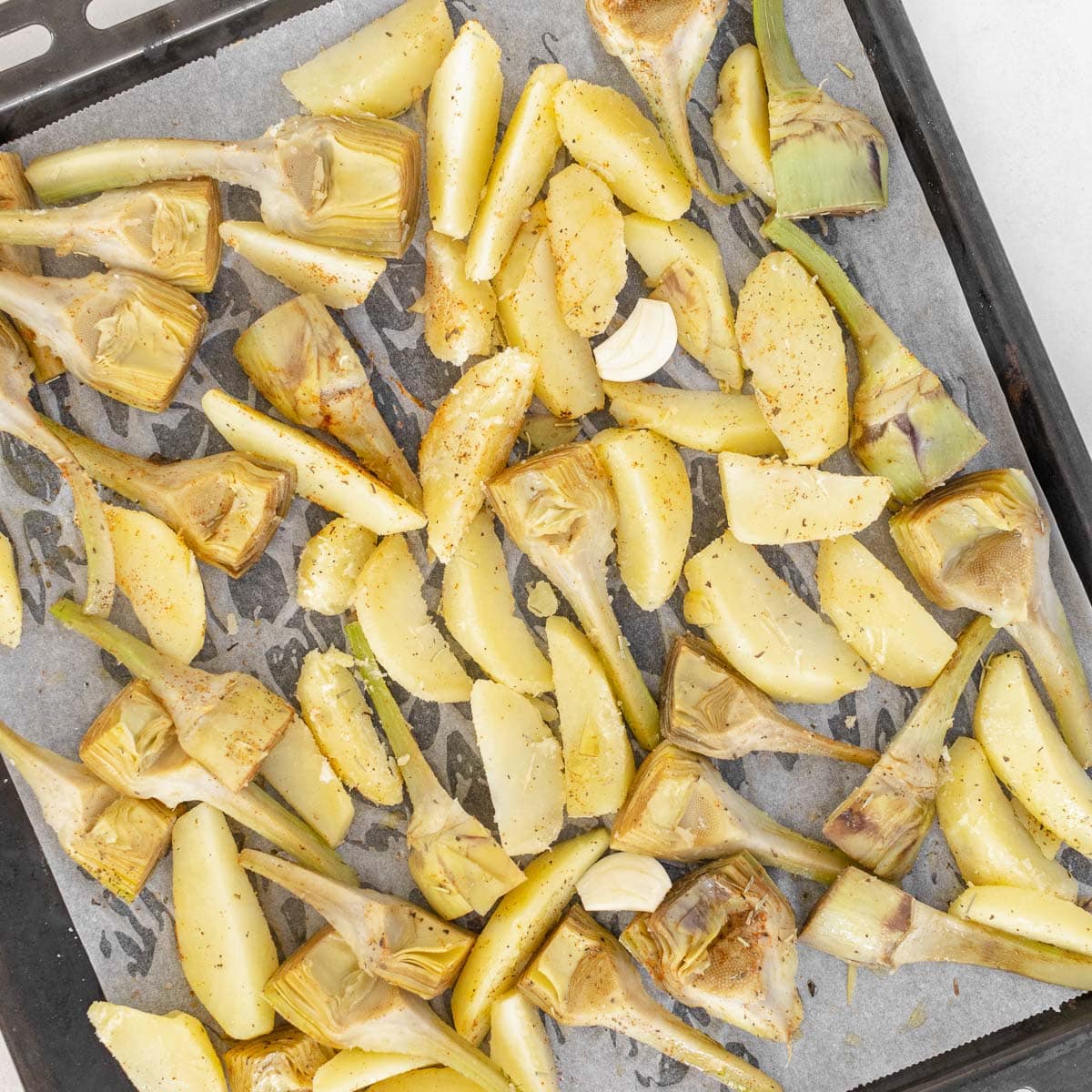 Toss everything together, then bake for about 15 to 20 minutes, till the potatoes and the artichokes are crispy and golden on the outside, but fully cooked on the inside.

Serve as a side with some freshly chopped parsley and a squeeze of lemon juice and your roasted artichokes are ready.

They are crisp on the outside, soft and moist on the inside. You will absolutely love artichokes cooked this way!
Health benefits of artichokes
According to WebMD, artichokes are a superfood thanks to their high level of antioxidants.

A number of proven studies show that artichokes help with blood pressure control and hypertension, lower cholesterol, and improve liver function.

They contain few calories per serving, virtually no fat, low sodium, and a relatively good amount of protein at 4 grams per medium artichoke.

To top all of this off, they are packed with important nutrients such as potassium, vitamin C, magnesium, folate, and plenty of fiber.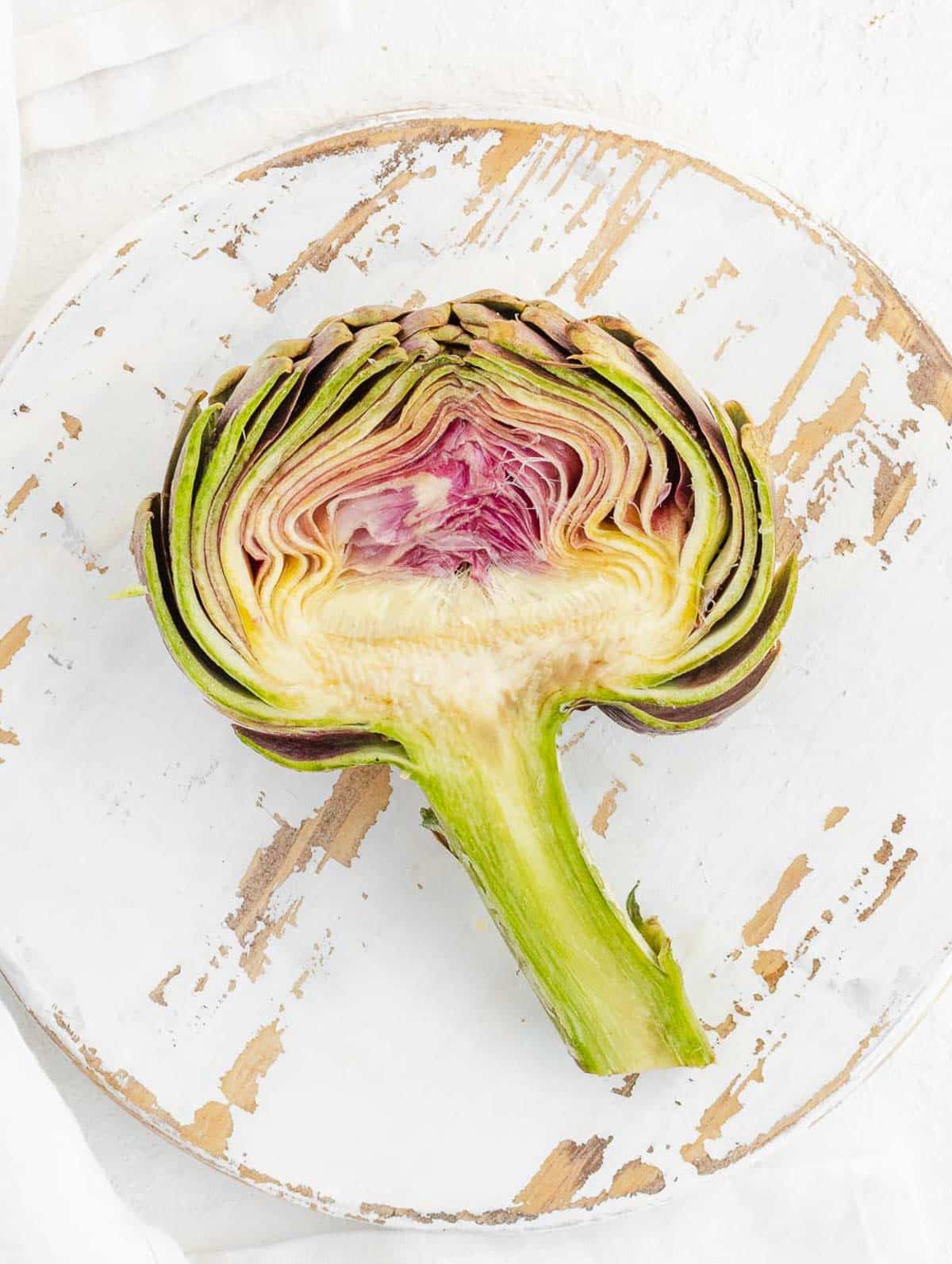 Frequently asked questions
What is artichoke good for?
Artichoke is among the most antioxidant-rich foods in the world. They are low in fat, high in fiber, and full of vitamins and minerals. In them, you can find Vitamin C, K, folate, phosphorus, and magnesium.
What does artichoke taste like?
Artichokes have a unique slightly bitter-sweet taste, with earthy notes, olive notes, and nutty notes. They have a soft tender and buttery texture when cooked.
What can I do with the scraps of the artichokes?
Artichoke scraps are actually full of flavor, flesh, and nutrition. The best way to use them is to boil them for 1 hour, then pass them through a rotary vegetable mill to extract the pulp and separate the inedible fiber. Then with the pulp juice, you can make soup, pasta, hummus, and many other recipes.
More Artichoke Recipes
Carciofi alla Romana or "Roman-style artichokes", are an easy Italian artichoke recipe that you can make with simple ingredients in just about 30 minutes. We like to eat them with our easy oven-baked socca or farinata.
This creamy and crunchy artichoke pasta bake is our favorite pasta bake to date. Made with artichokes cooked on a pan, peas, and potatoes, vegan ricotta, white sauce, and vegan parmesan is perfect as a delicious and fulfilling family dinner.
We make artichoke hummus with the scraps - leftover leaves and stems - of the artichokes. We first boiled the scraps in water, then extract the pulp with a rotary vegetable mill. Then in a blender, we mix the artichoke pulp with chickpea, thaini, lemon, mint, olive oil, salt, and pepper for a unique, creamy, nutritious, and delicious artichoke spread.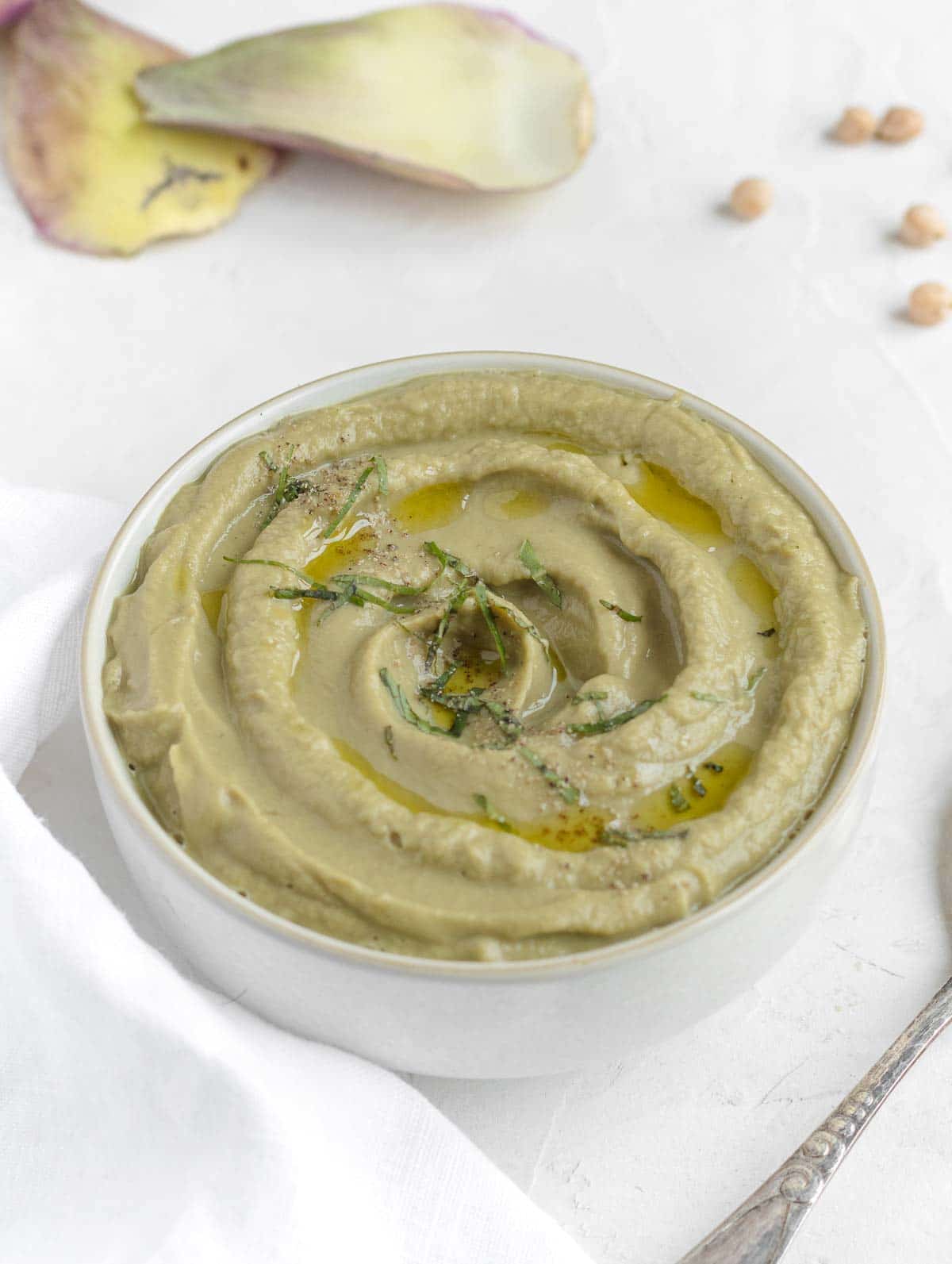 Another zero-waste vegan recipe made with the leftover cooking water from our braised artichokes. This is so simple, yet so delicious.

All you have to do is to take all the leftover cooking water of your braised artichokes, then cook some spaghetti al dente and mix it in the artichoke water. Add some olive oil, fresh parsley, and if you still have some, a few pieces of artichokes. Enjoy!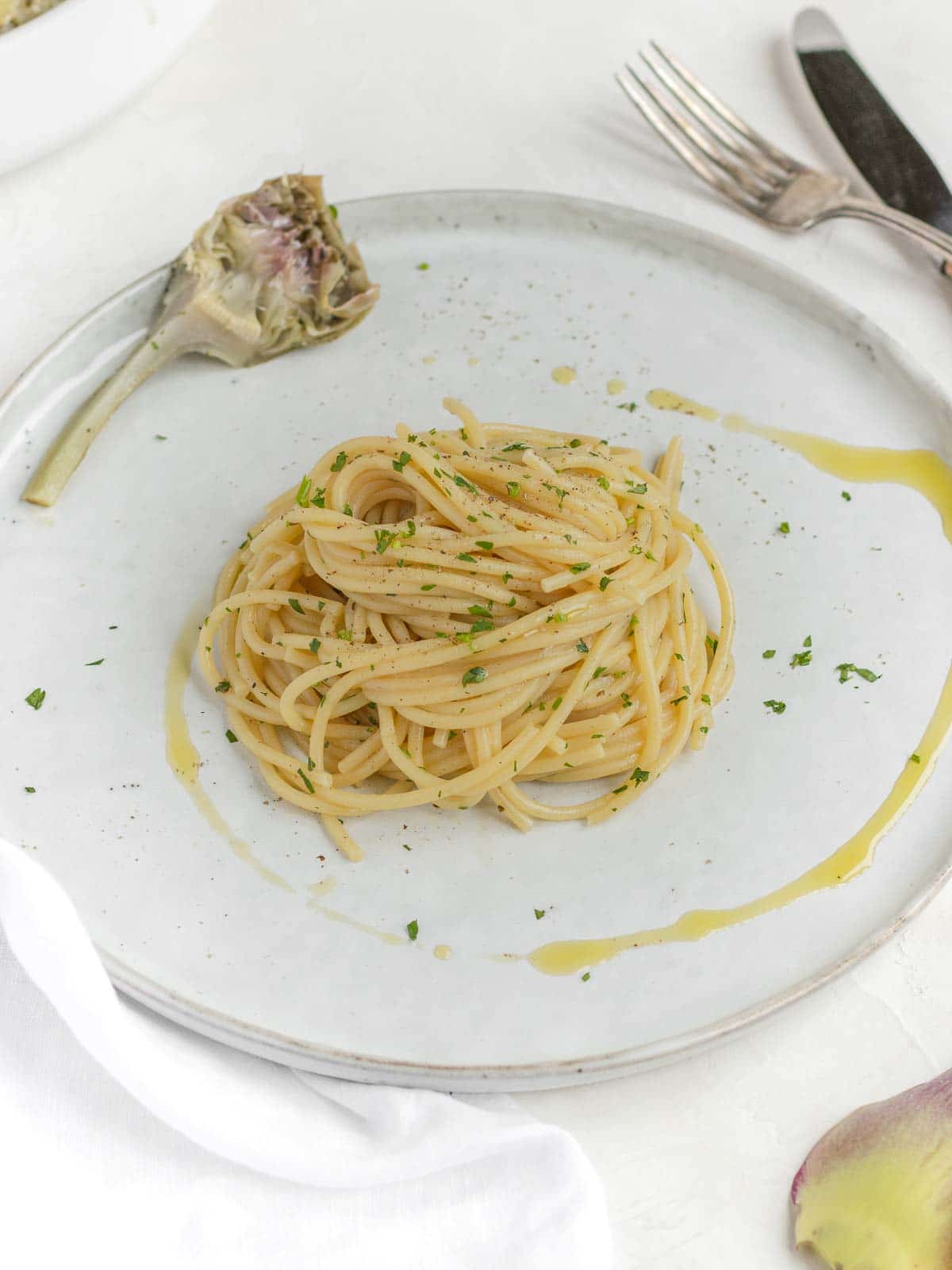 This artichoke cream is made with 100% pure artichoke pulp extracted from the boiled scraps (leaves and stems) of the artichokes with a rotary vegetable mill.

We only add a pinch of salt to this concentrate of flavor and nutrients. This is one of the most delicious and pure vegetable creams I have ever tasted. And it's made from artichoke waste! Serve it as a main dish and make our no-knead focaccia for a complete dinner.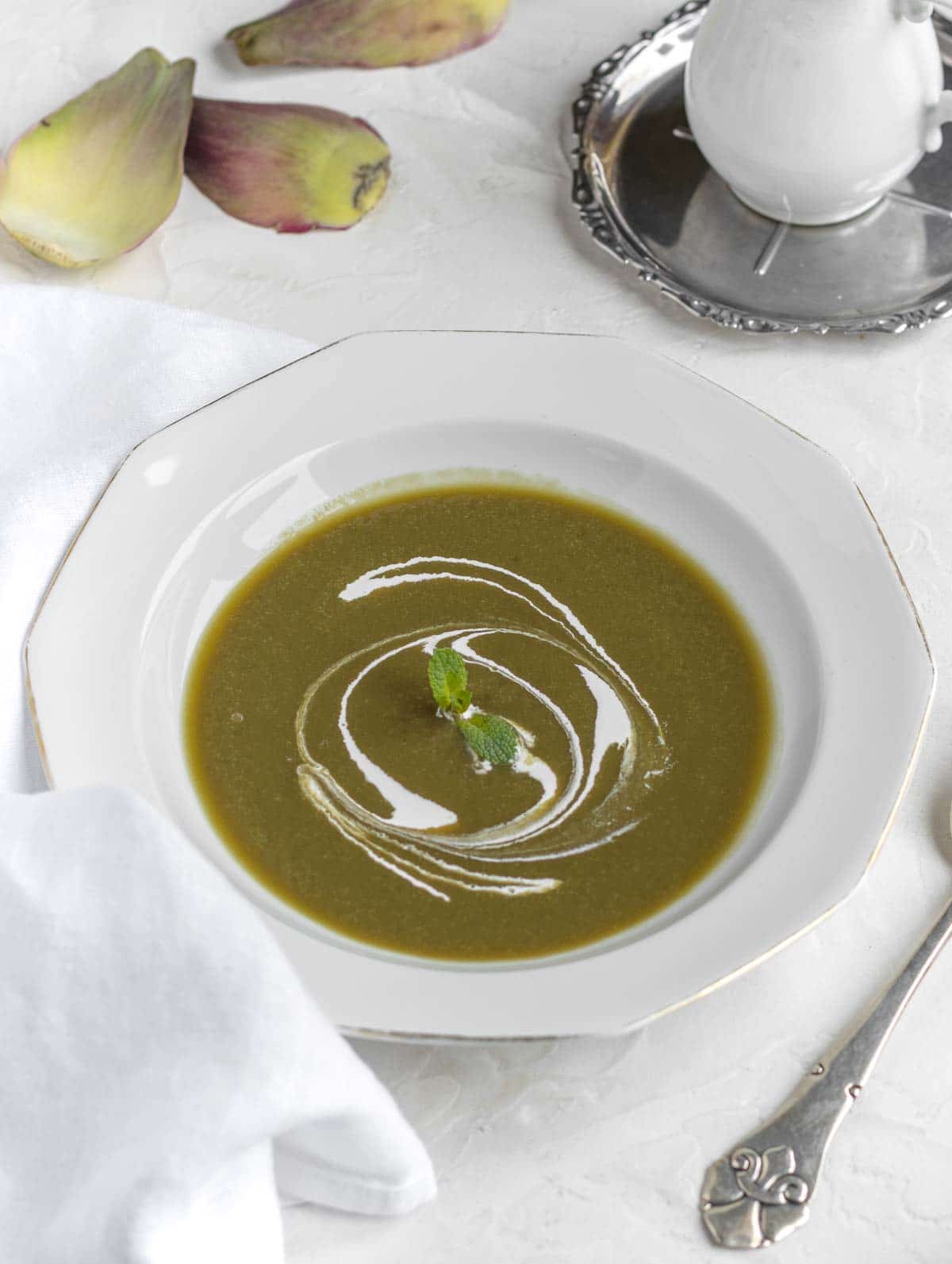 Our artichoke frittata is one of our favorite easy lunch recipes (although we often make it for dinner too). You just need to pan-fry the artichokes, then mix them with our chickpea frittata batter and cook it either on a non-stick pan or in the oven.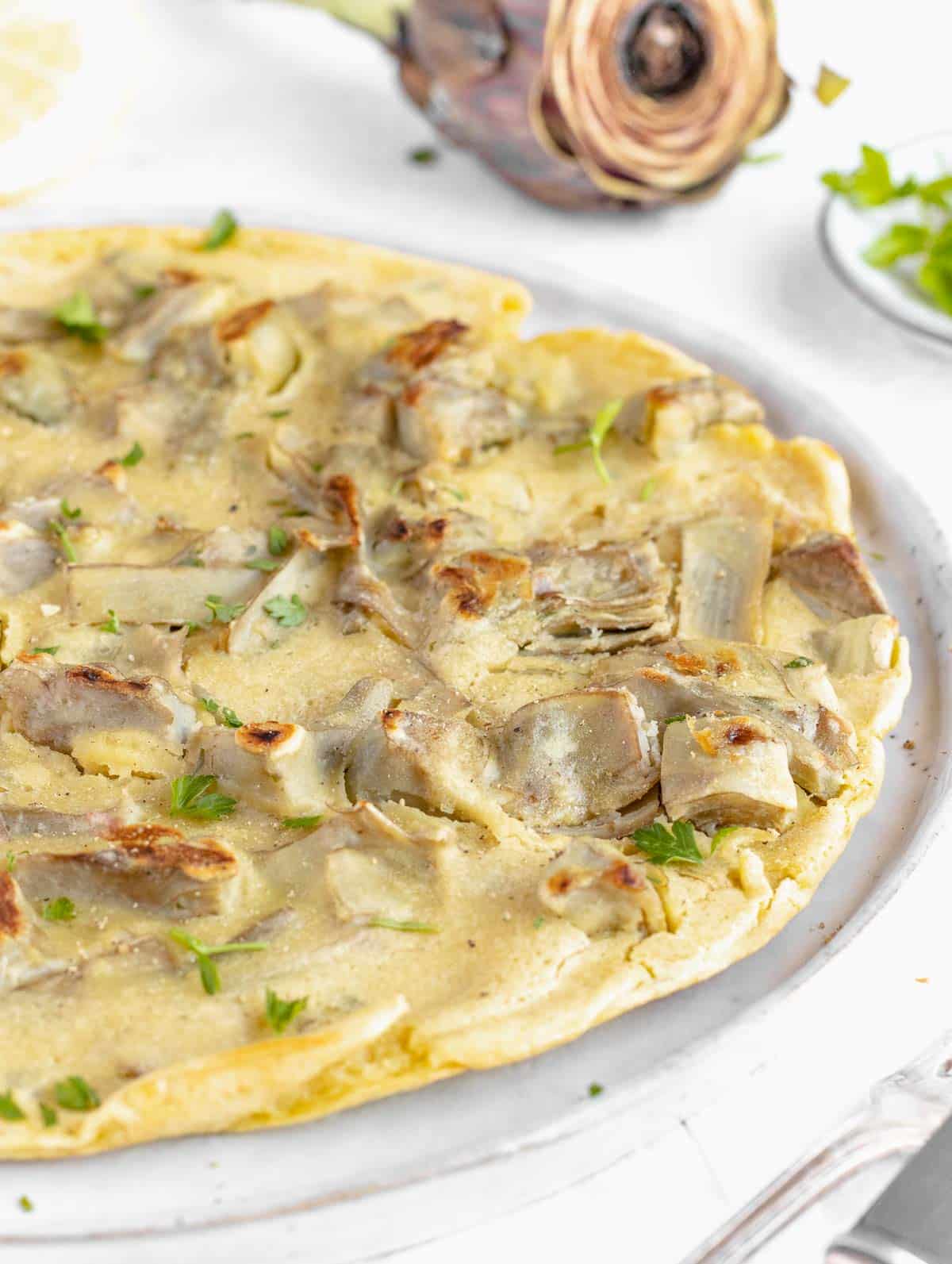 This is best served with deep-fried artichokes. We first make a standard vegan mayonnaise with 2 parts of vegetable oil (we like to mix olive oil and sunflower oil) and 1 part of soy milk. Add a dash of lemon juice, a pinch of salt then mix it with the artichoke pulp extracted from the scraps of the artichokes with a rotary vegetable mill. Delicious!
HOW TO SERVE VEGETABLE SIDE DISHES
These healthy artichoke recipes go well with protein, pasta, and any main dish. Take your pick here for some inspiration:
For many more easy and healthy side dishes make sure to check out our Sides Recipes Page!
Recipe
How to cook with artichokes - Steamed artichoke recipe
Steamed artichoke melt in your mouth, they are creamy and with a mild flavor, slightly nutty, slightly sweet.
Ingredients
5

artichokes

1

lemon

2

leaves

mint

or bay leaves (optional)
Serving suggestion
2

tablespoons

vegan mayo

1

pinch

salt

2

twists

black pepper

1

handful

parsley

chopped
Instructions
Clean artichokes
Fill up a large bowl with cold water, then squeeze the juice of a lemon in it. Set aside.

With a serrated knife, cut off the top spiky ⅓ of the artichoke and remove tough outer leaves. Trim the stem down to 2 inches and peel it.

With your thumbs, loosen up the head of the artichoke exposing the choke. With a knife or with a sturdy teaspoon, remove the choke - the fuzzy central part.

Put the artichoke in the bowl with the lemon water to prevent discolouration and browning.
Steam artichokes
To a large pot add 1½ inches of water and the bay leaves or mint. Put the steamer basket into the pot, then arrange the artichokes on the steamer basket, head down.

Cover the pot, bring to a simmer, and steam until tender. It can take from 30 to 45 minutes, depending on the size of your artichokes.

Pierce with the tip of a pointy knife to check doneness. The knife should slide in easy.

Serve with a drizzle of good quality extra virgin olive oil, a squeeze of lemon juice, a pinch of salt and black pepper, or dip in vegan mayo.
Video Recipe
Nutritional Values
Nutrition Facts
How to cook with artichokes - Steamed artichoke recipe
Amount Per Serving
Calories 104
Calories from Fat 36
% Daily Value*
Fat 4g6%
Potassium 513mg15%
Carbohydrates 16g5%
Protein 4g8%
Vitamin A 92IU2%
Vitamin B6 1mg50%
Vitamin C 27mg33%
Vitamin E 1mg7%
Vitamin K 33µg31%
Calcium 65mg7%
Folate 91µg23%
Iron 2mg11%
Manganese 1mg50%
Magnesium 80mg20%
Zinc 1mg7%
* Percent Daily Values are based on a 2000 calorie diet.
Did you like this recipe?
We are not much on Instagram, Facebook, and Pinterest. Leave us a comment below instead, it would mean the world to us 🙂
You might also like: