Get new recipe inspiration with our 30 easy vegan side dishes that will please everyone at your table, whether omnivores, vegetarians, or vegans.
We understand the importance of catering to the different preferences of friends and family.
So we've assembled a diverse list of vegan sides from all over the world; Italian, Asian, Middle-Eastern, and American-inspired, to name a few.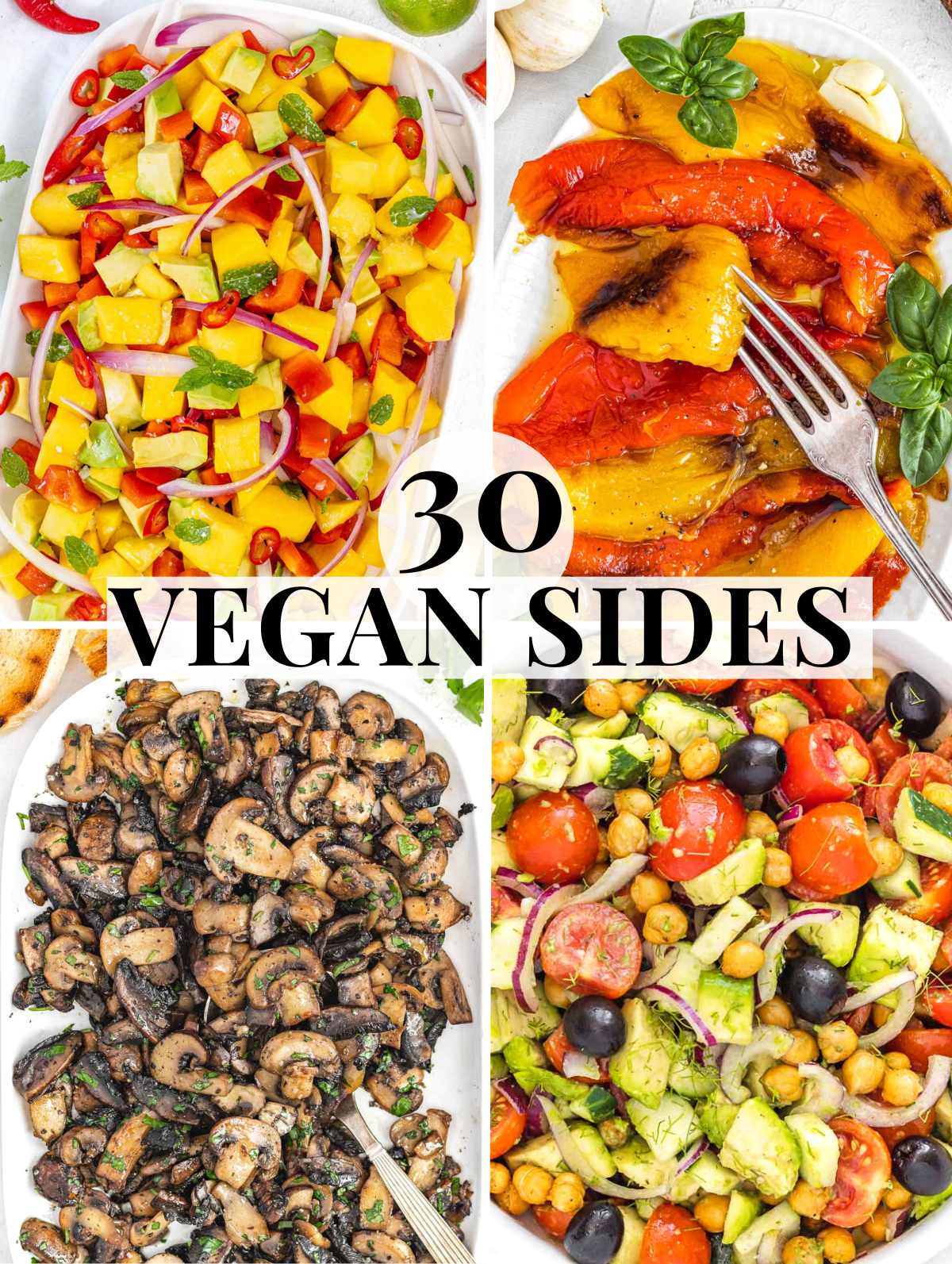 These vegan and wholesome side dishes are bursting with flavor and texture that will satisfy your taste buds and impress your guests.
From bruschetta, garlic roasted eggplant, and potato salad to hummus and air fryer Brussels sprouts.
So, let's dive into this list of tasty vegan side dishes from all over the world.
Mediterranean vegan sides
We start this list with an easy 10-minute side salad that will fit almost any meal.
Tomato, celery, carrot, lettuce, and lemon vinaigrette, this house salad is a crispy side dish with simple ingredients.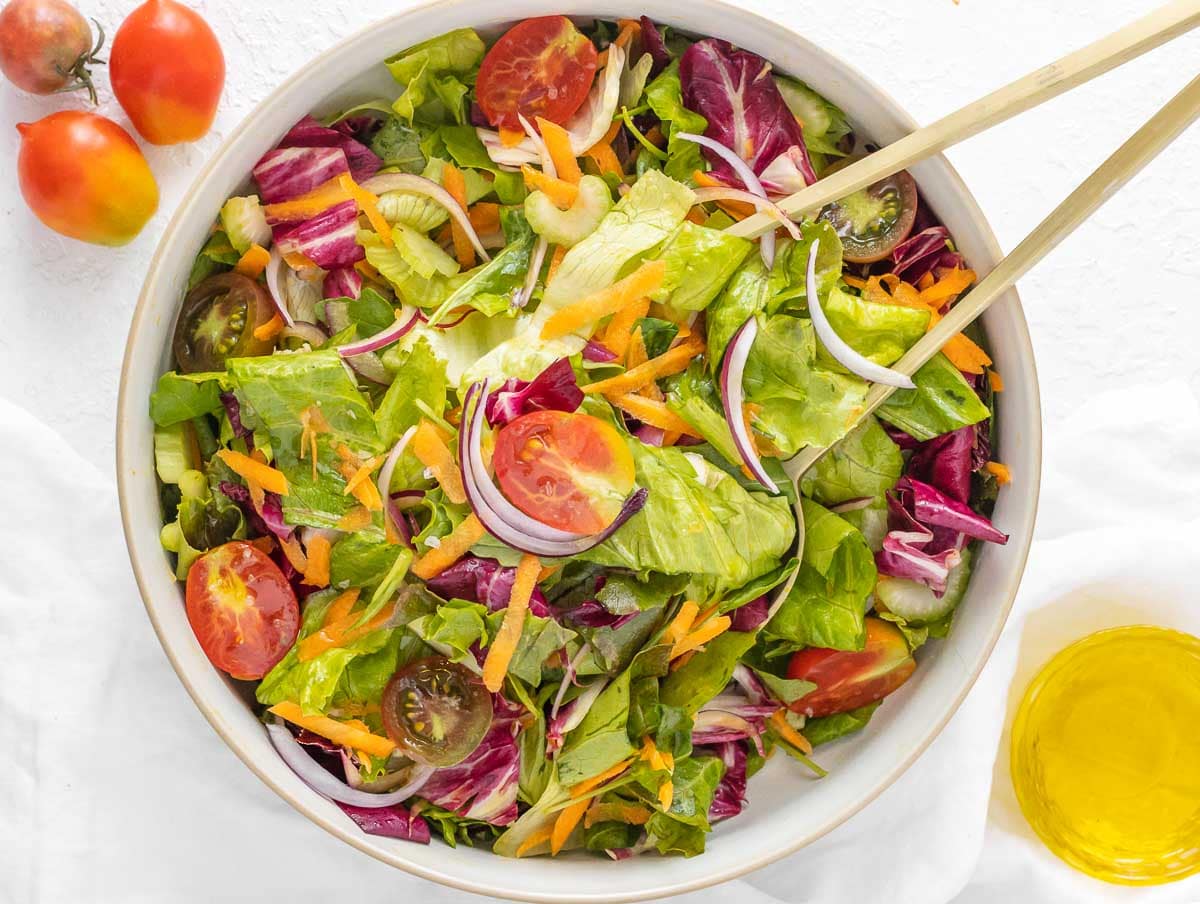 This juicy tomato basil salad is a summer-friendly vegan side dish winner.
Serve it at barbecues, putlocks, cookouts, or summer parties. It's easy to prepare in 15 minutes.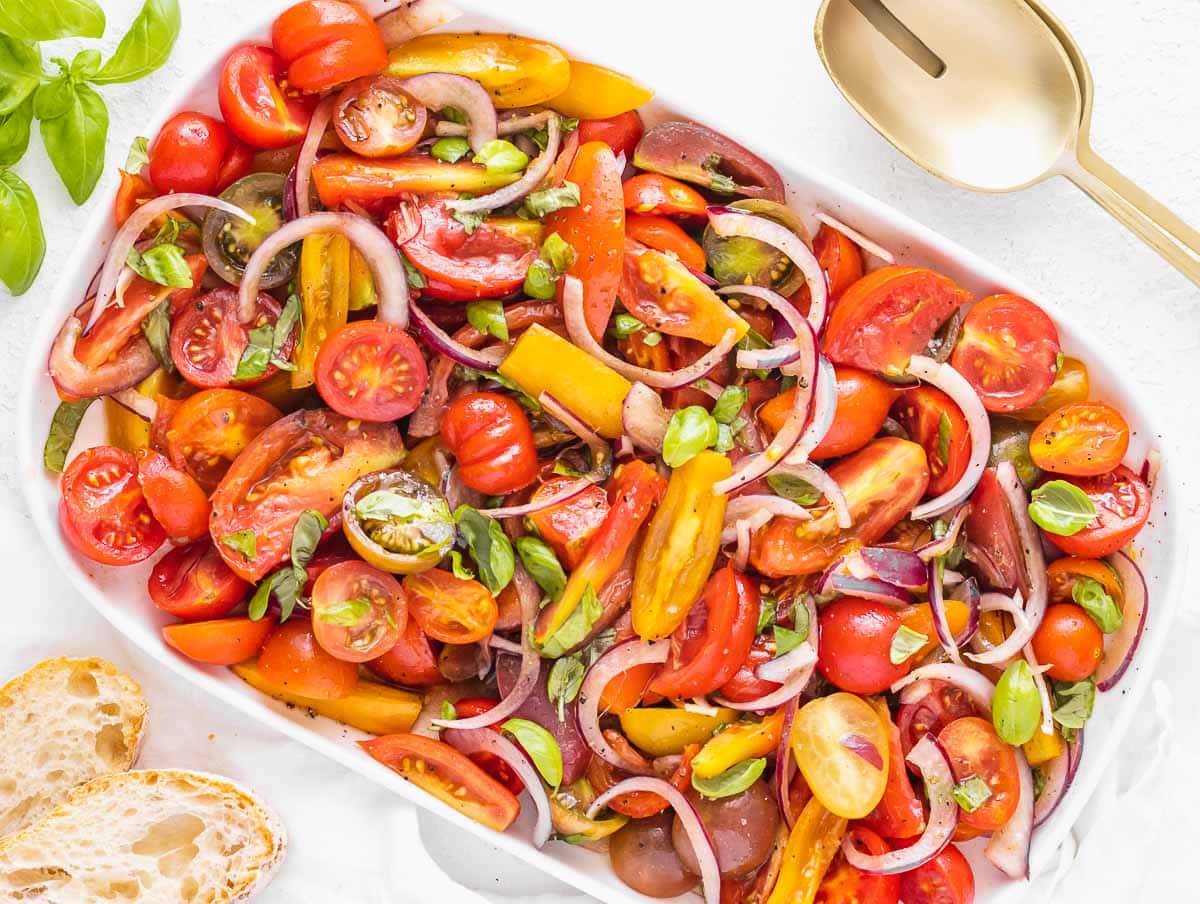 The combination of tomato, basil, and crunchy bread is a match made in heaven.

Bruschetta is a quick and easy plant-based side dish that will please kids and grown-ups alike.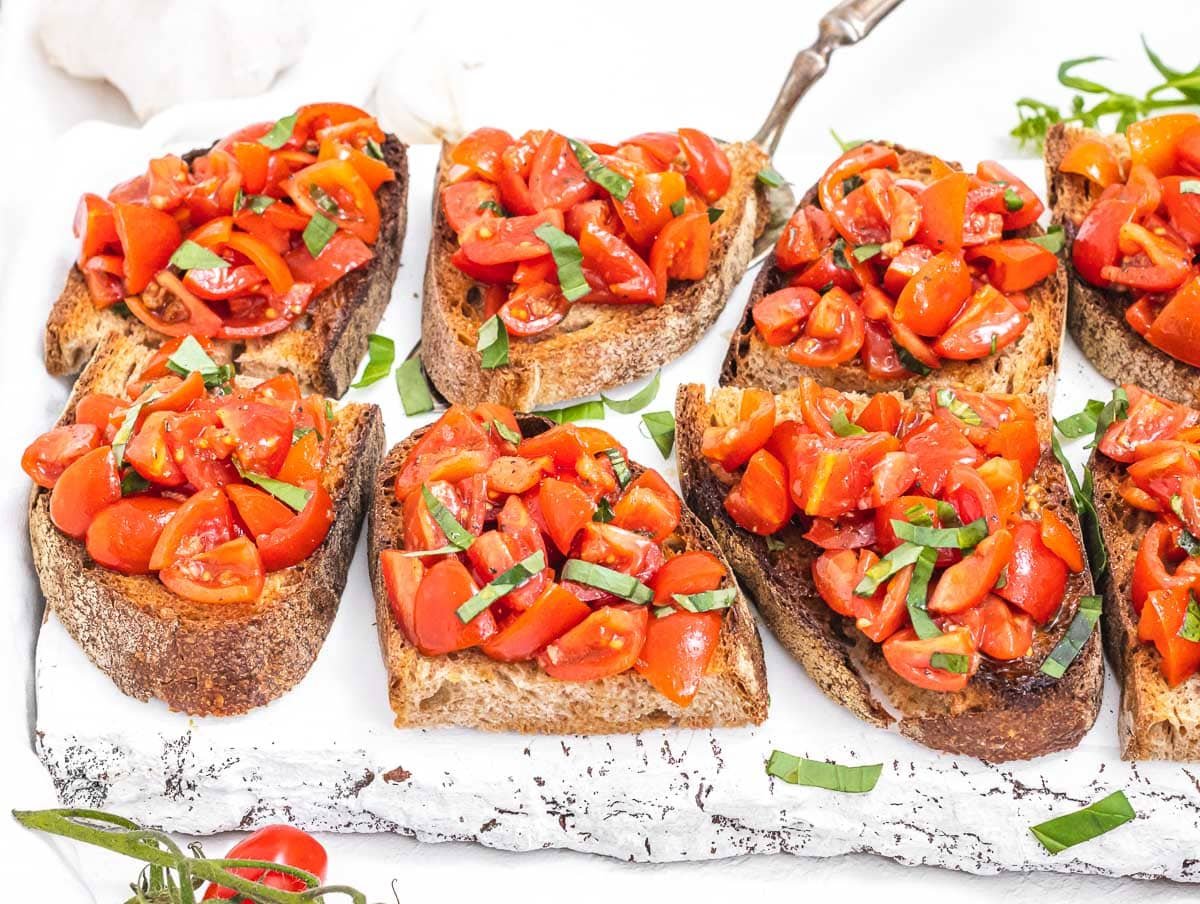 Here is a naturally vegan, zero-waste recipe and an excellent way to use stale bread.
Serve Italian Panzanella salad as a healthy side dish or base salad as a meal with your choice of protein on top.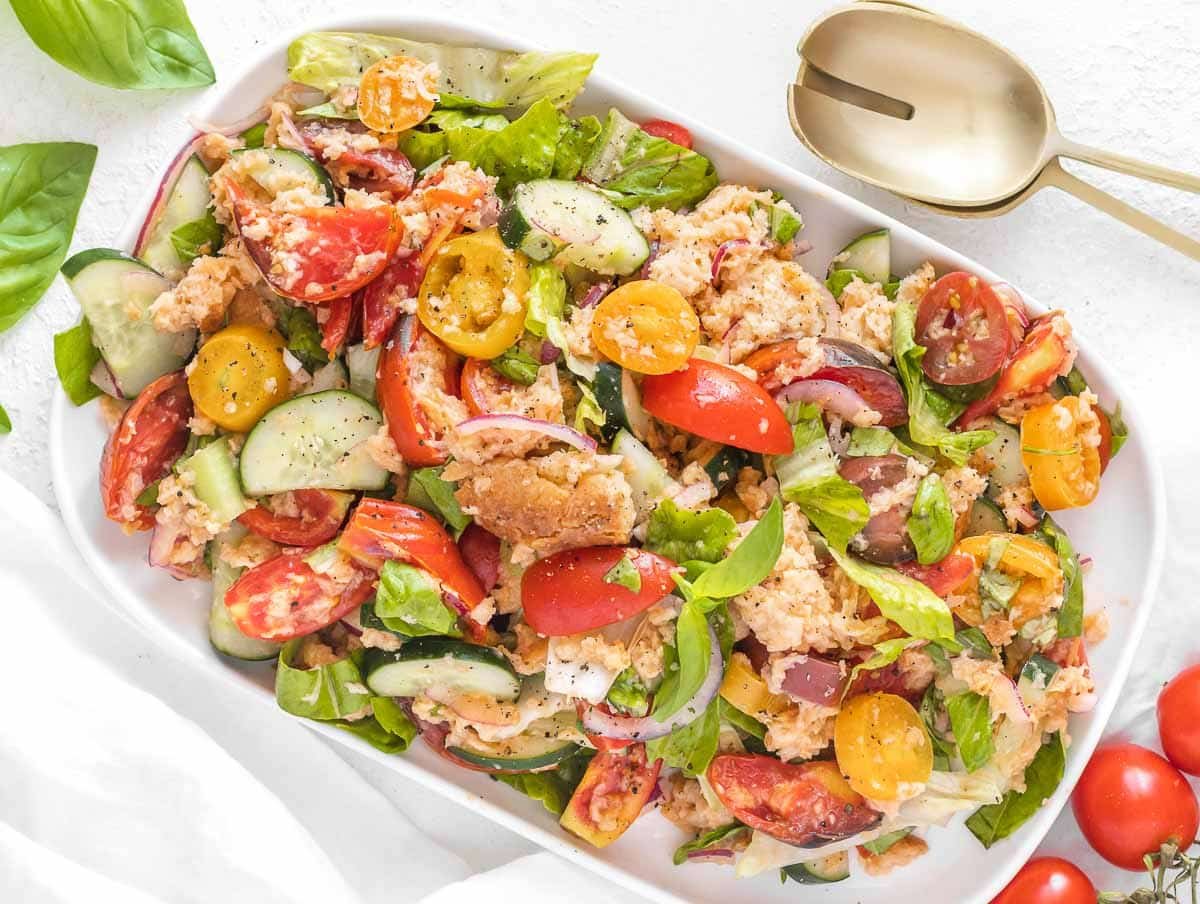 Tender roasted eggplant with garlic-infused chimichurri sauce is a favorite vegetable side dish.
Roasted eggplant can be prepared as slices, cubes, boats, and discs, making a versatile vegan side.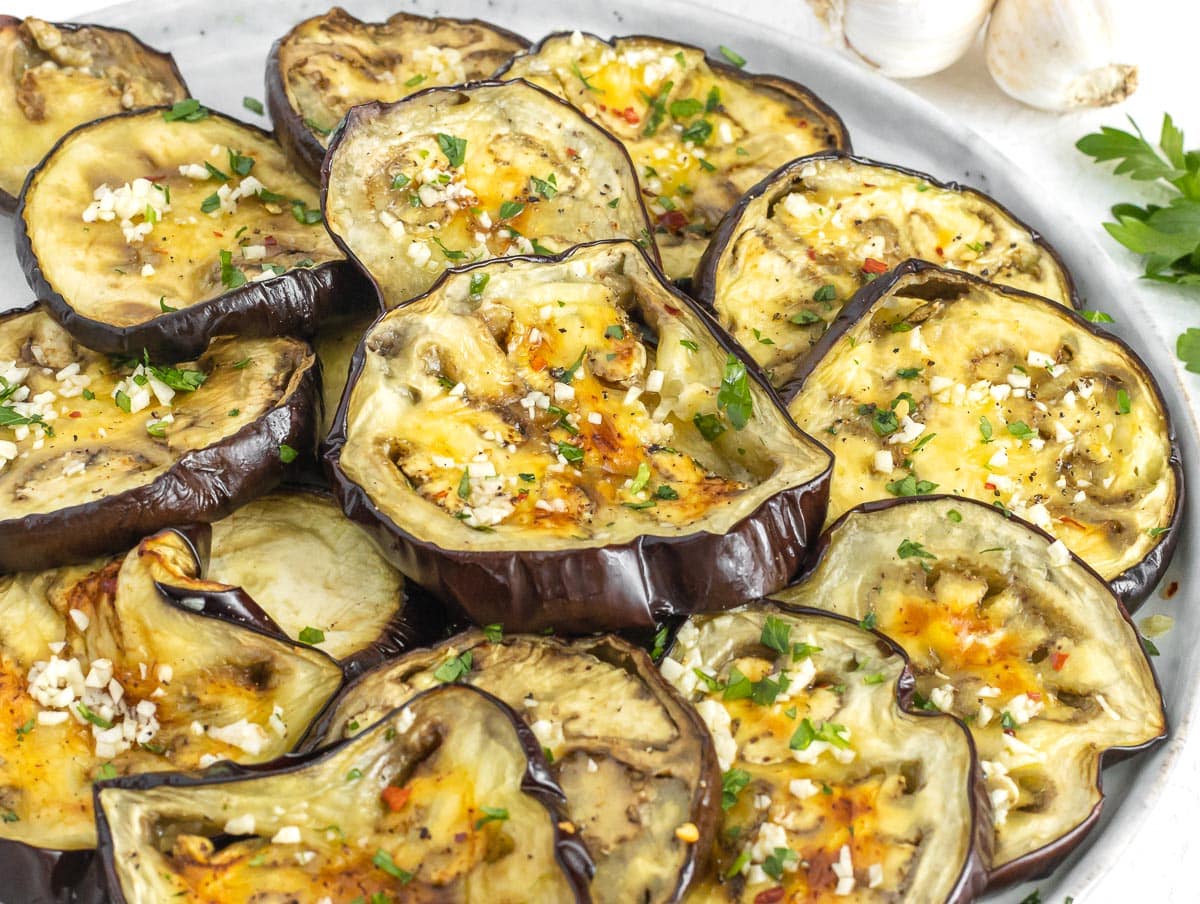 Roasted zucchini is a beautiful side dish and appetizer that is always welcomed by adults and kids alike.
Zucchinis are delicious when roasted in the oven and topped with breadcrumbs and fresh herbs.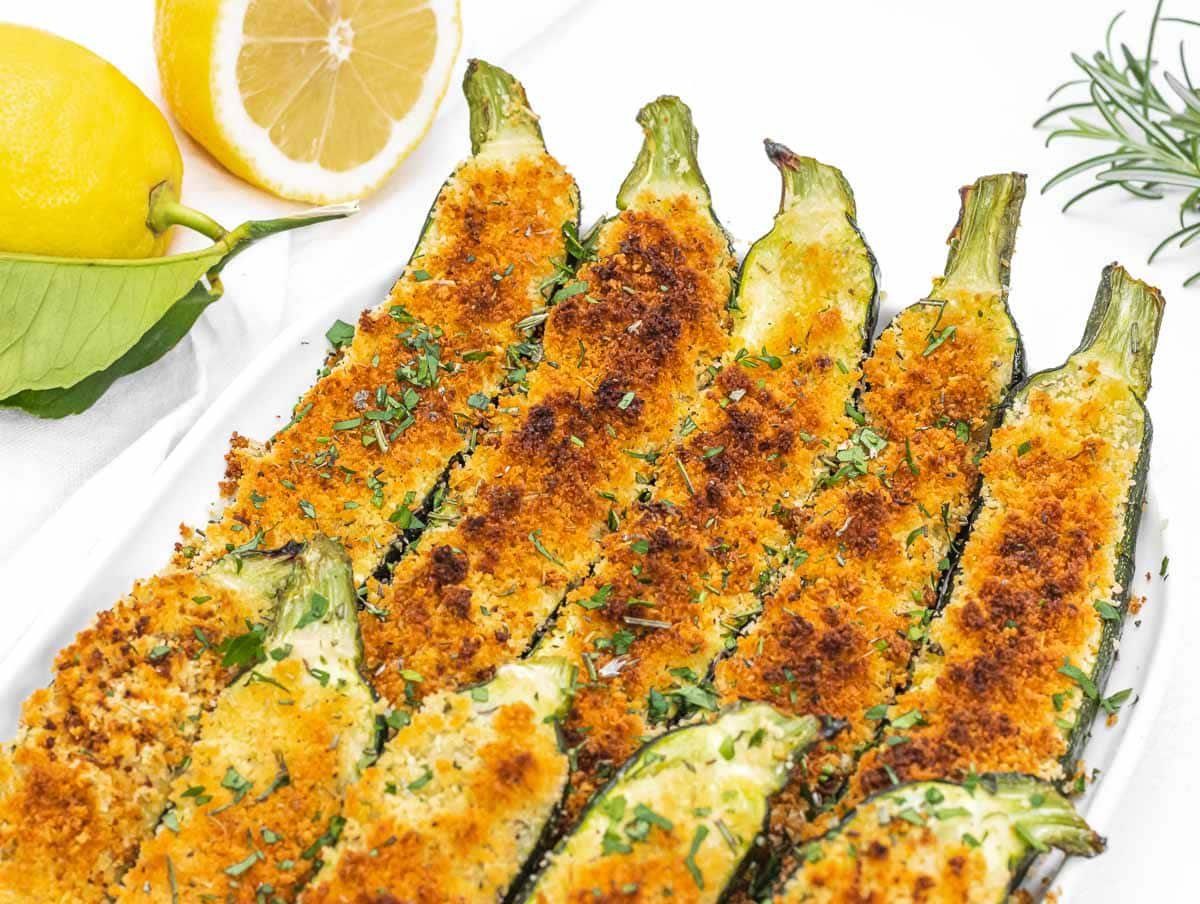 Make a light and fresh eggplant side dish with a topping of diced cherry tomatoes marinated in olive oil, basil, and garlic.
This version resembles a tomato bruschetta with eggplant slices instead of bread.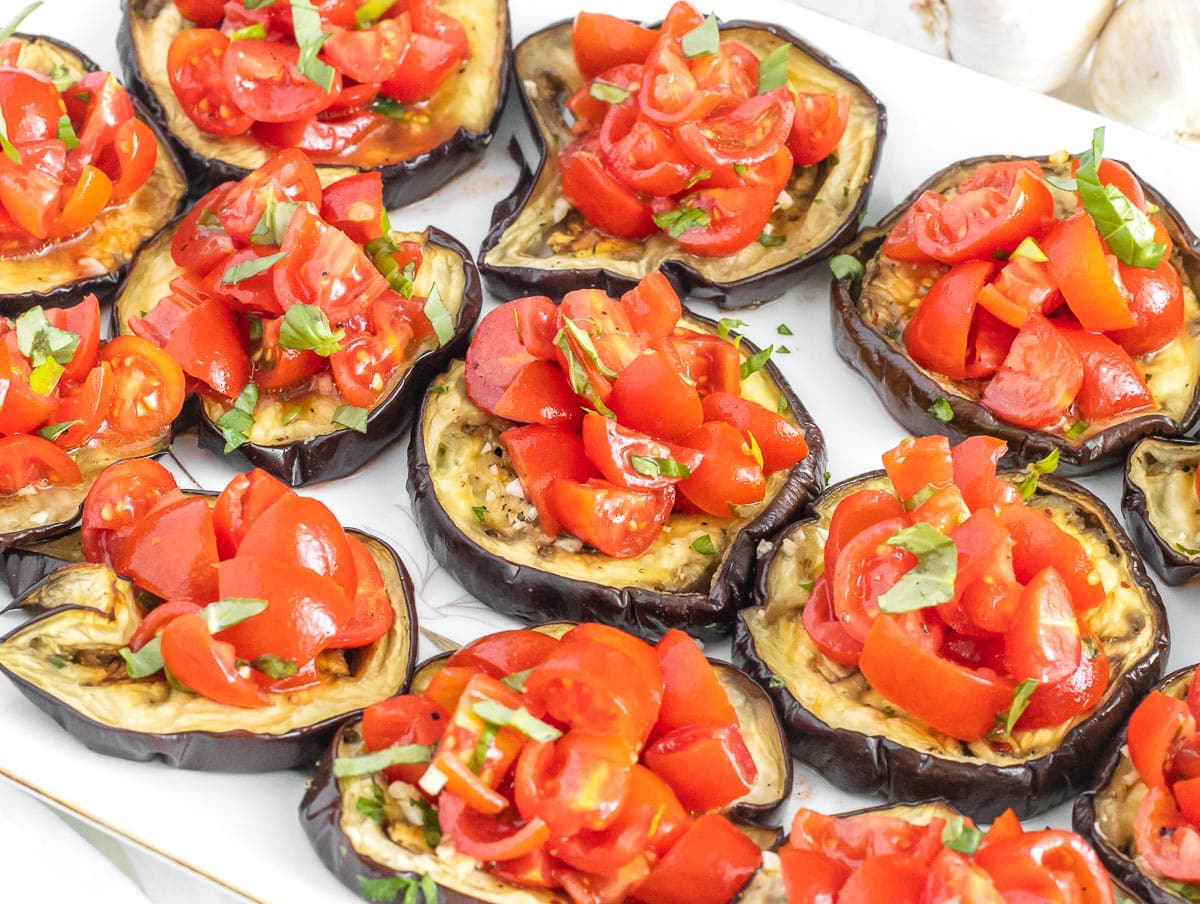 A great vegan side dish for autumn and winter!
Sauteed mushrooms are an easy and tasty 15-minute side dish and a topping idea for pasta, soups, salads, and bruschetta.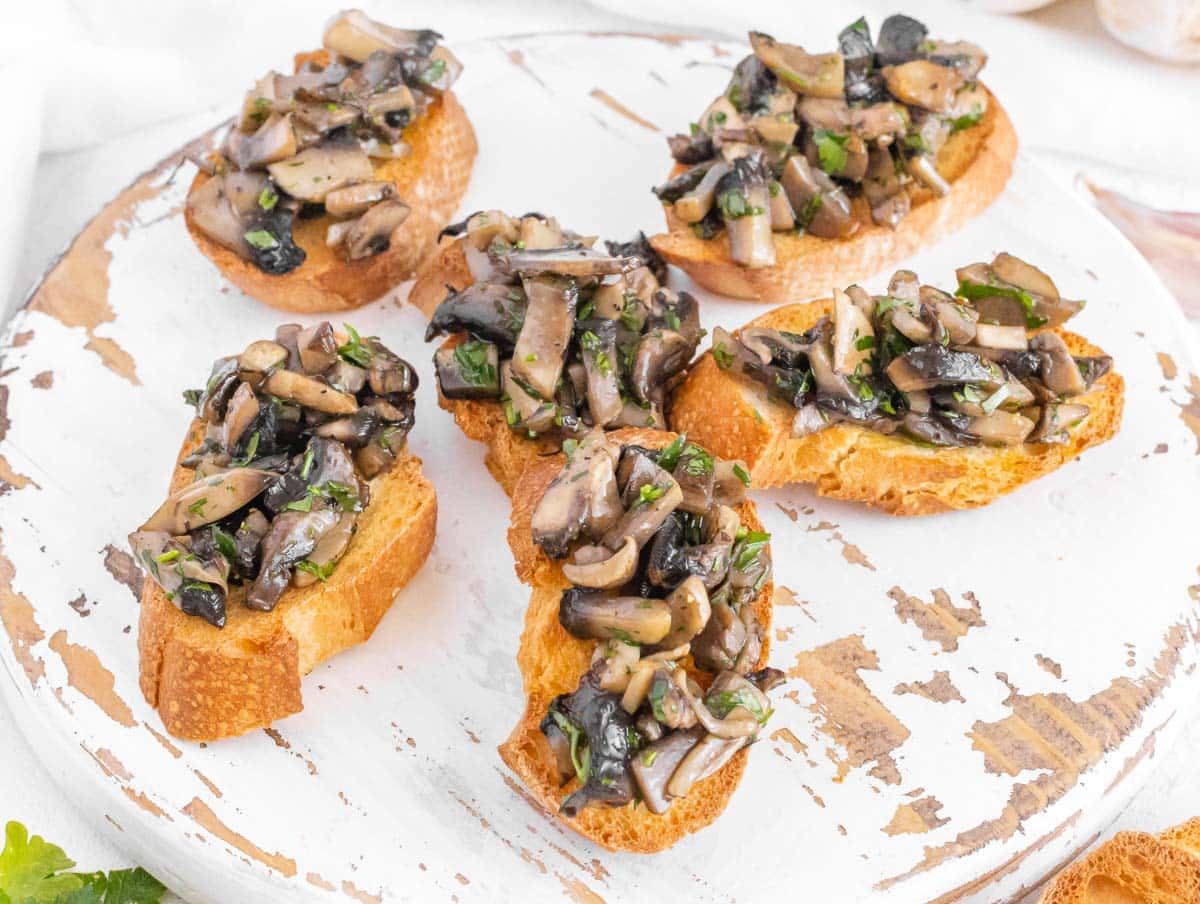 Roasted peppers are simple, easy to make, and taste delicious.
You can serve them as a side dish or use them in other recipes, such as pasta and sauces.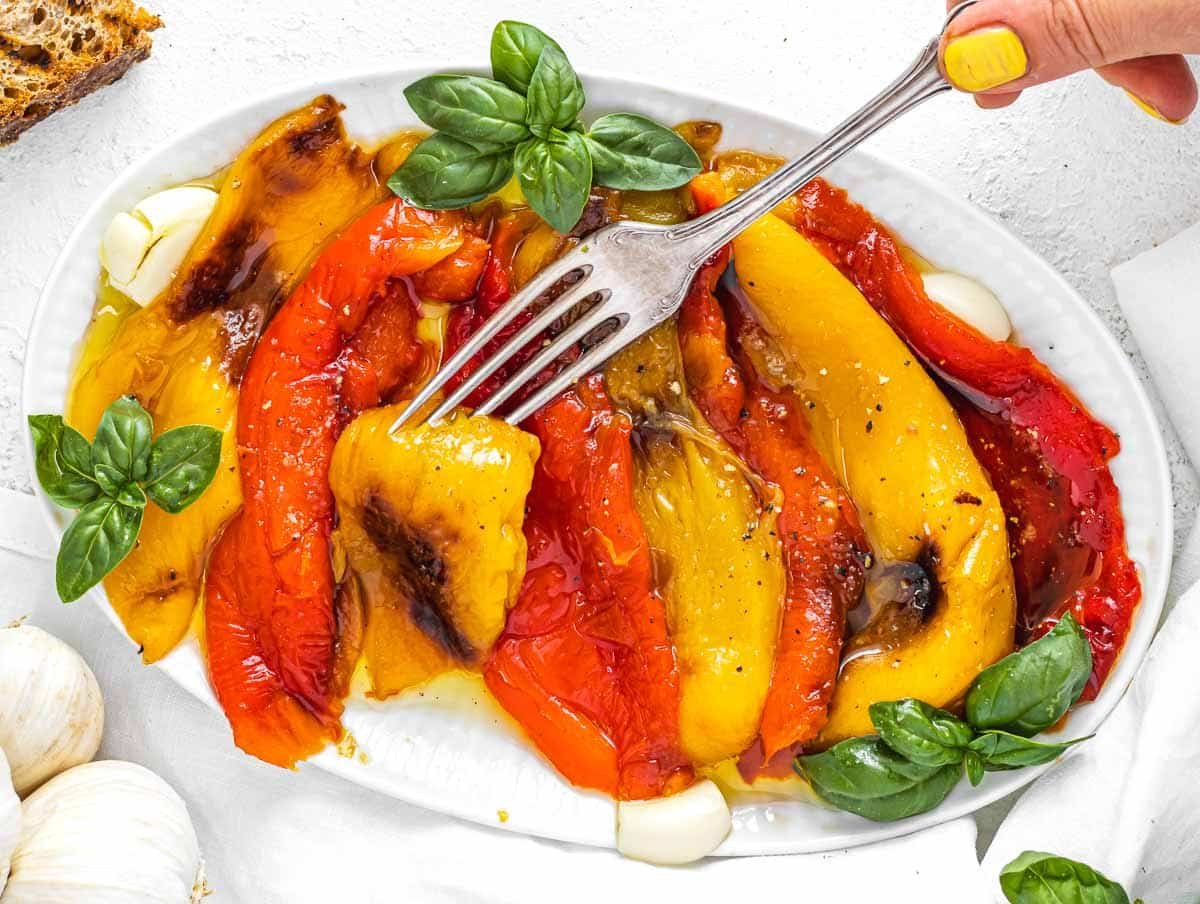 Crostini are small slices of crunchy toasted bread you can eat as a side dish, appetizer, or with soups and stews.
Serve them with veggies or a vegan basil pesto for an inviting and fun snack.
Fresh homemade pita is a tasty bread side dish.
You can use them for dipping in hummus, baba ganoush, tzatziki sauce, or avocado spread, or toast the leftovers to make a crunchy fattoush or fatteh.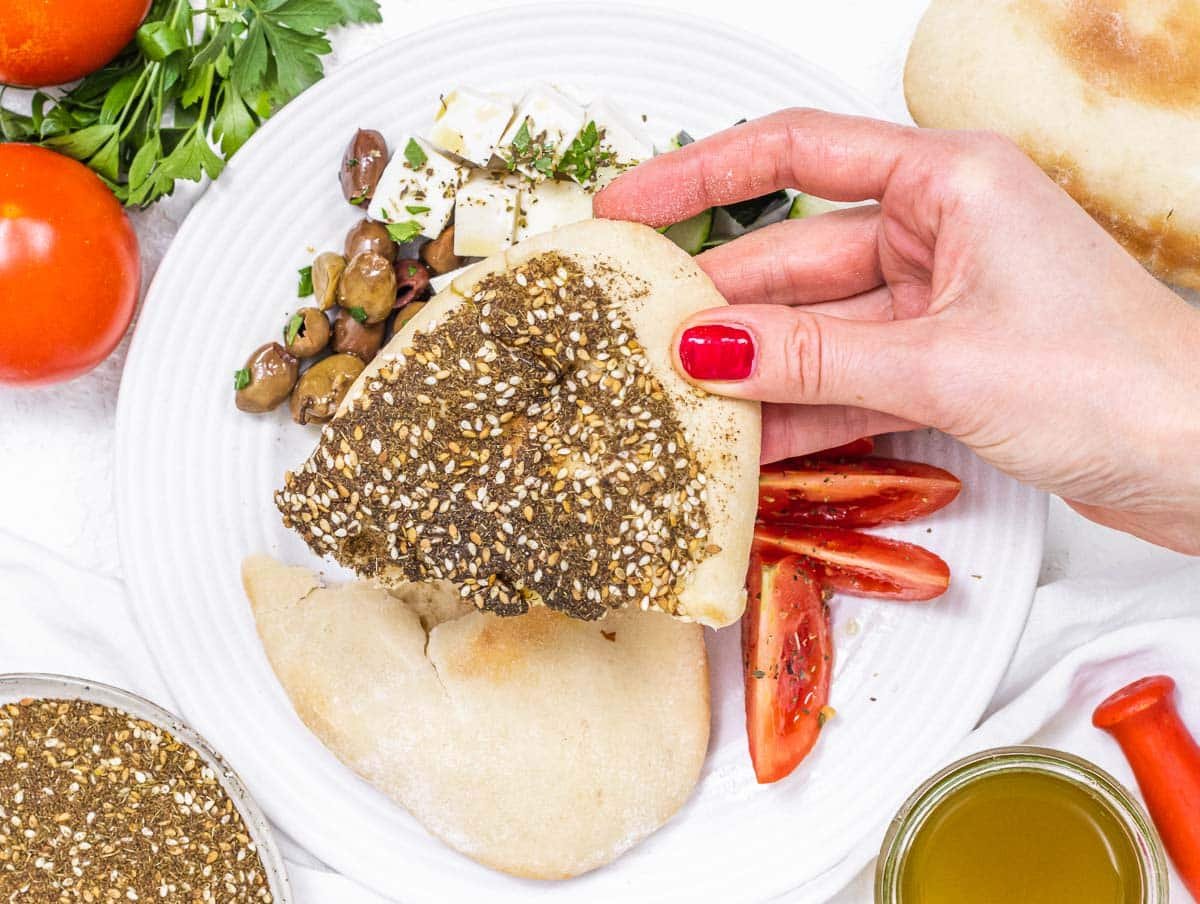 This Italian-inspired recipe is ready in 20 minutes!
You can eat it as a side dish, appetizer, or mixed with pasta for a healthy and delicious meal.
Asian vegan side dishes
Here's a healthy, light lunch or a flavorful side dish complementing your favorite main course.
This easy Asian cucumber salad recipe with quick pickled red onions is sure to please.
You can make these garlic sautèed beans in 15 minutes with four ingredients.
It's a quick vegan side dish that pairs well with noodles, stir-fries, and curries.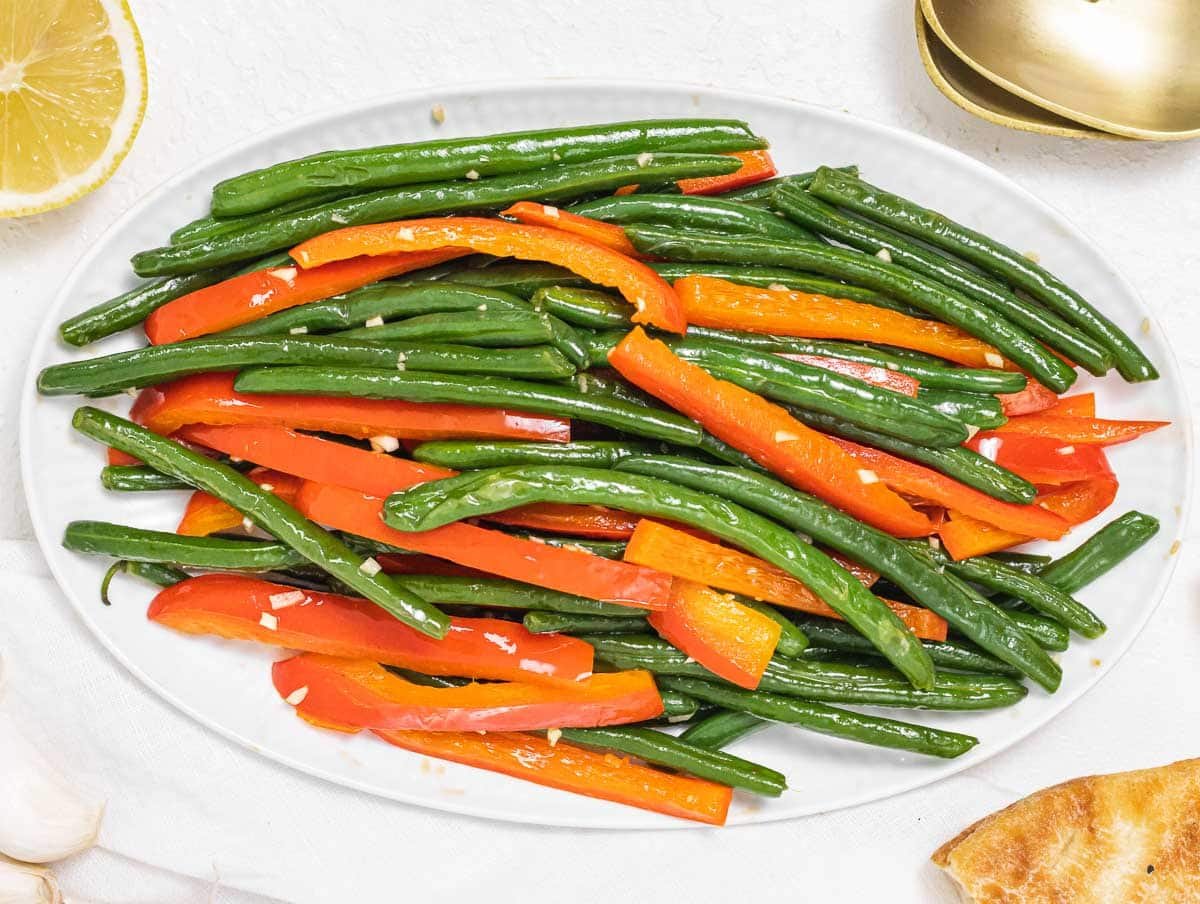 Serve this sweet and sour side dish or on top of toasted bread or boiled rice.
The eggplant is tender, juicy, and delicious, with a mildly sweet and tangy flavor.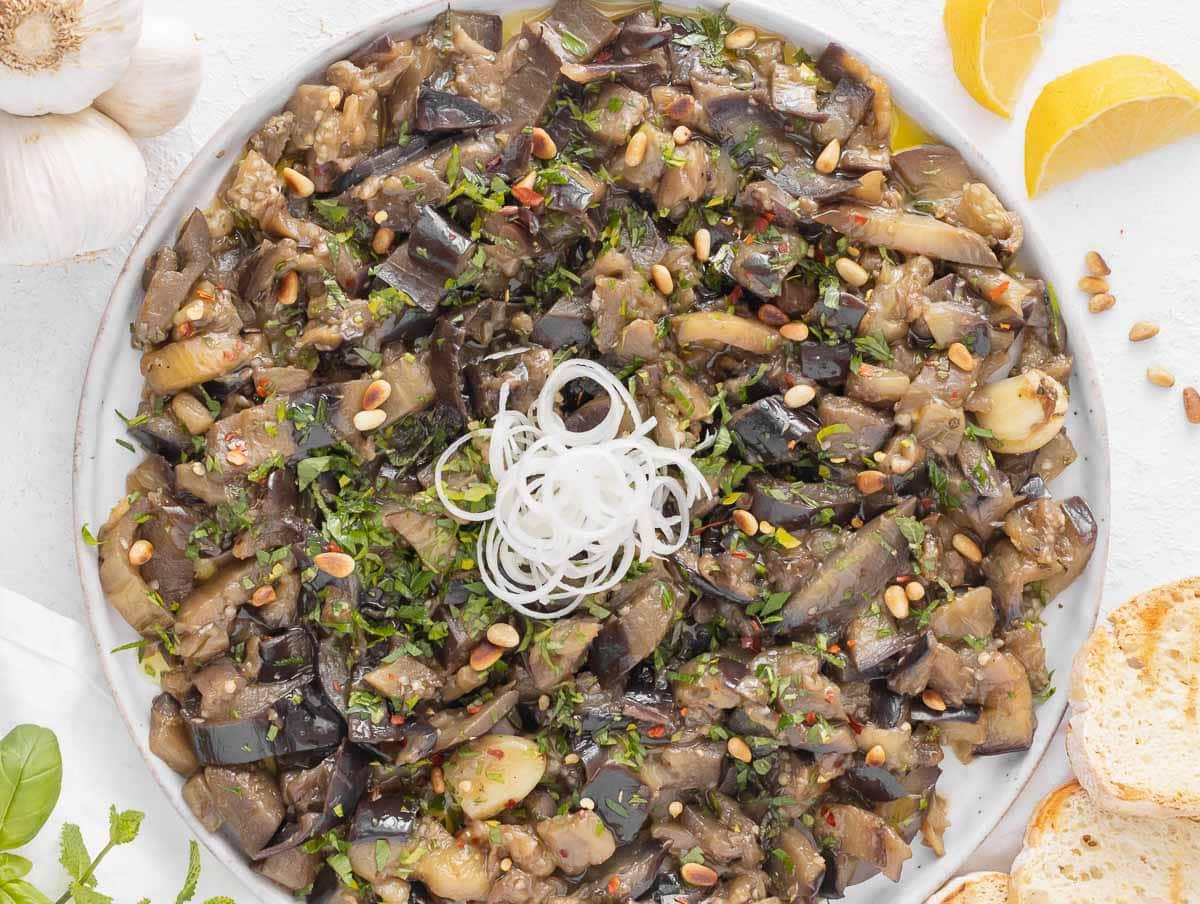 This bright and healthy mango salad is an excellent way to enjoy this delicious tropical fruit as part of your meal.
Serve this vegan side next to Asian mains, BBQs, putlocks, and picnics for a crowd-pleasing dish.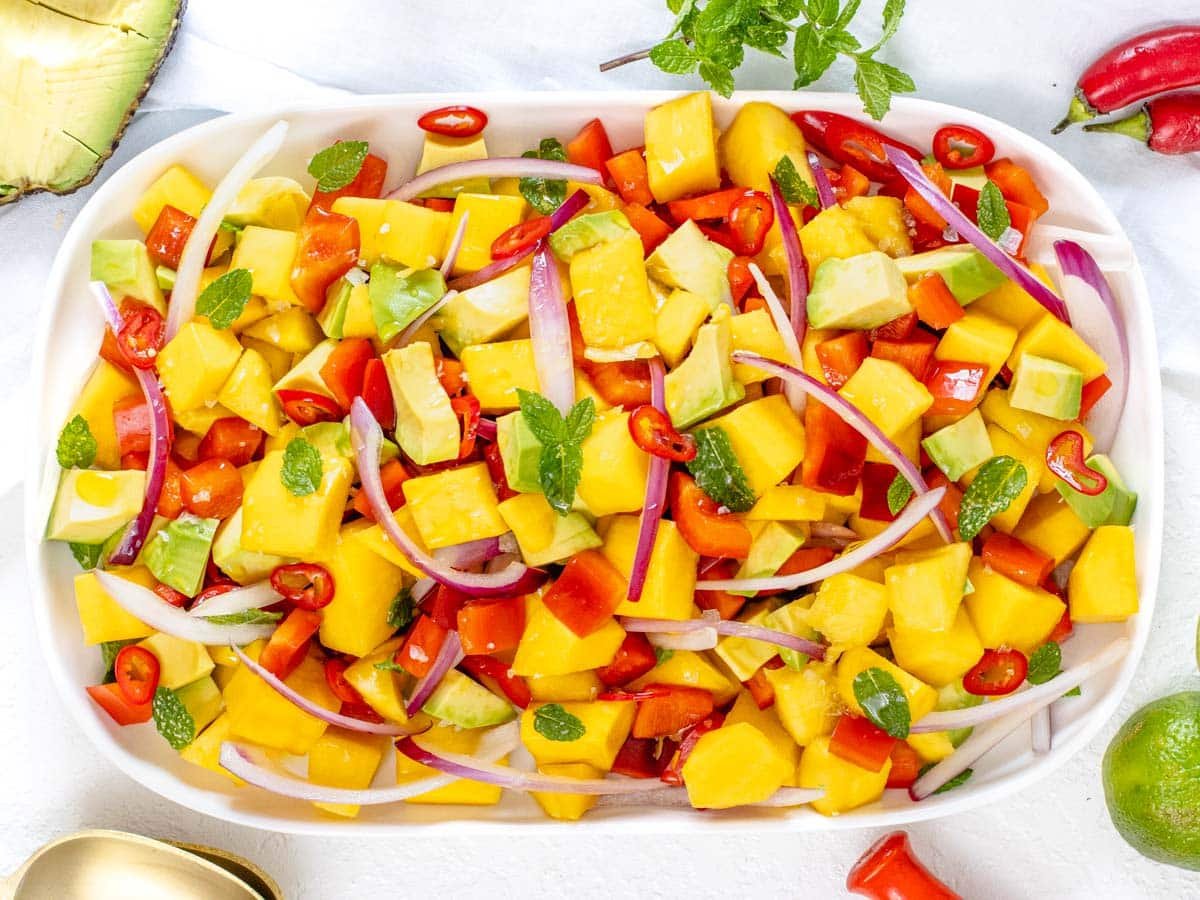 Here is a tasty Indian curry with potatoes (aloo), cauliflower (gobhi), and a mix of Indian spices such as turmeric and cumin.
Serve it as a starter, plant-based side dish, or healthy main with naan bread or rice.
Middle-Eastern vegan sides
This creamy-dreamy hummus is easy to make, wholesome, nutritious, and delicious.
You can serve it as a dip with pita bread spread it in sandwiches, and more.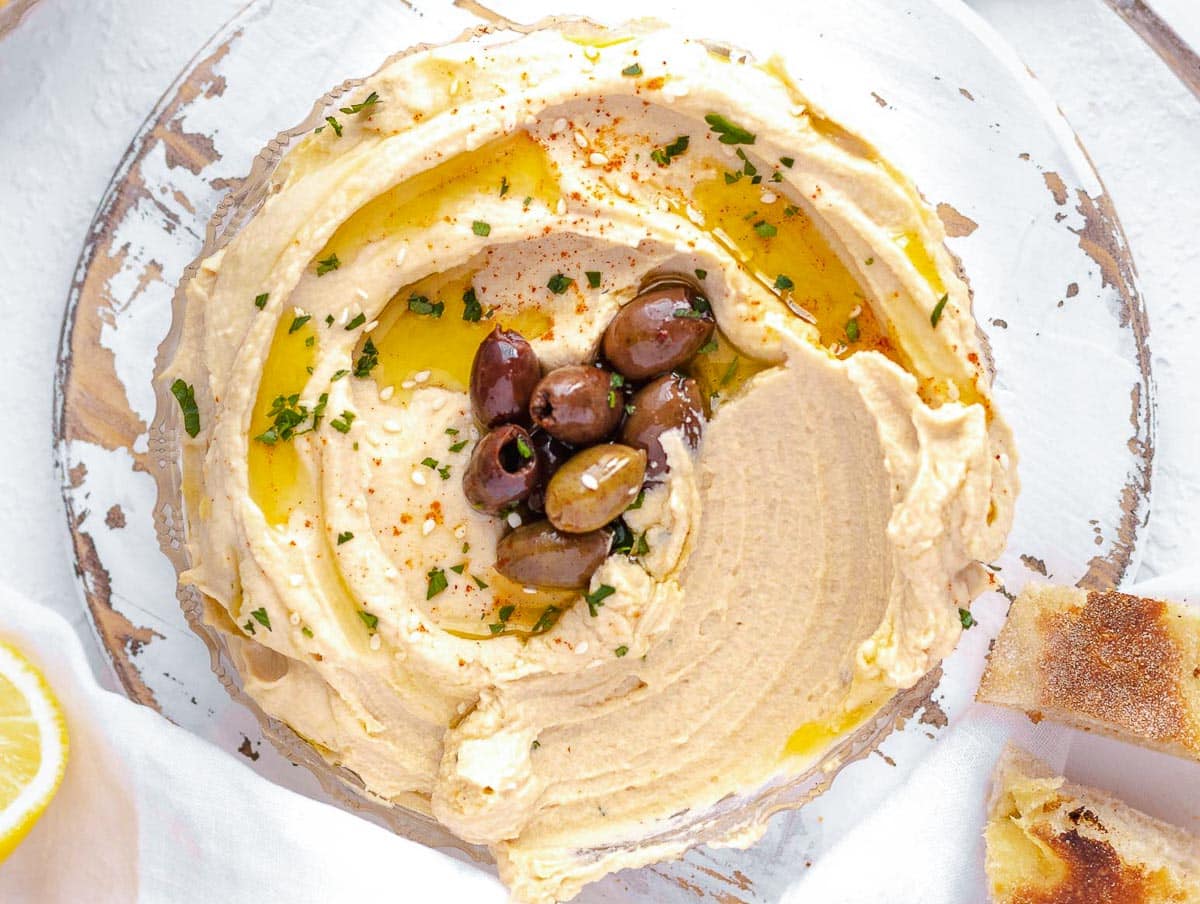 Salad-e Shirazi is an easy Iranian recipe with simple ingredients and a uniquely minty flavor.
You can serve it as a tasty appetizer or vegan side dish with any meal.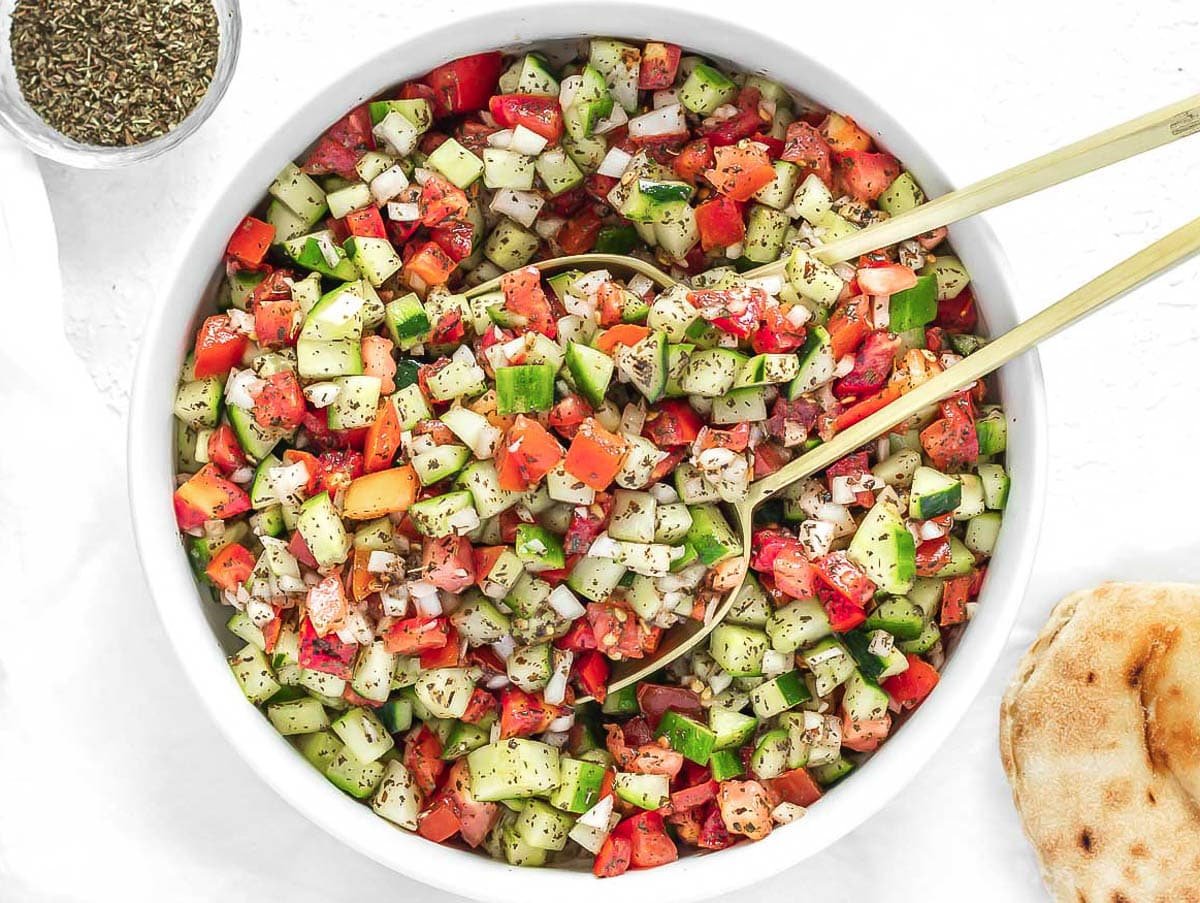 Serve this parsley-packed tabouli as a starter on a platter with other Middle Eastern foods as a side dish.
Or make it ahead and bring it to picnics and potlucks.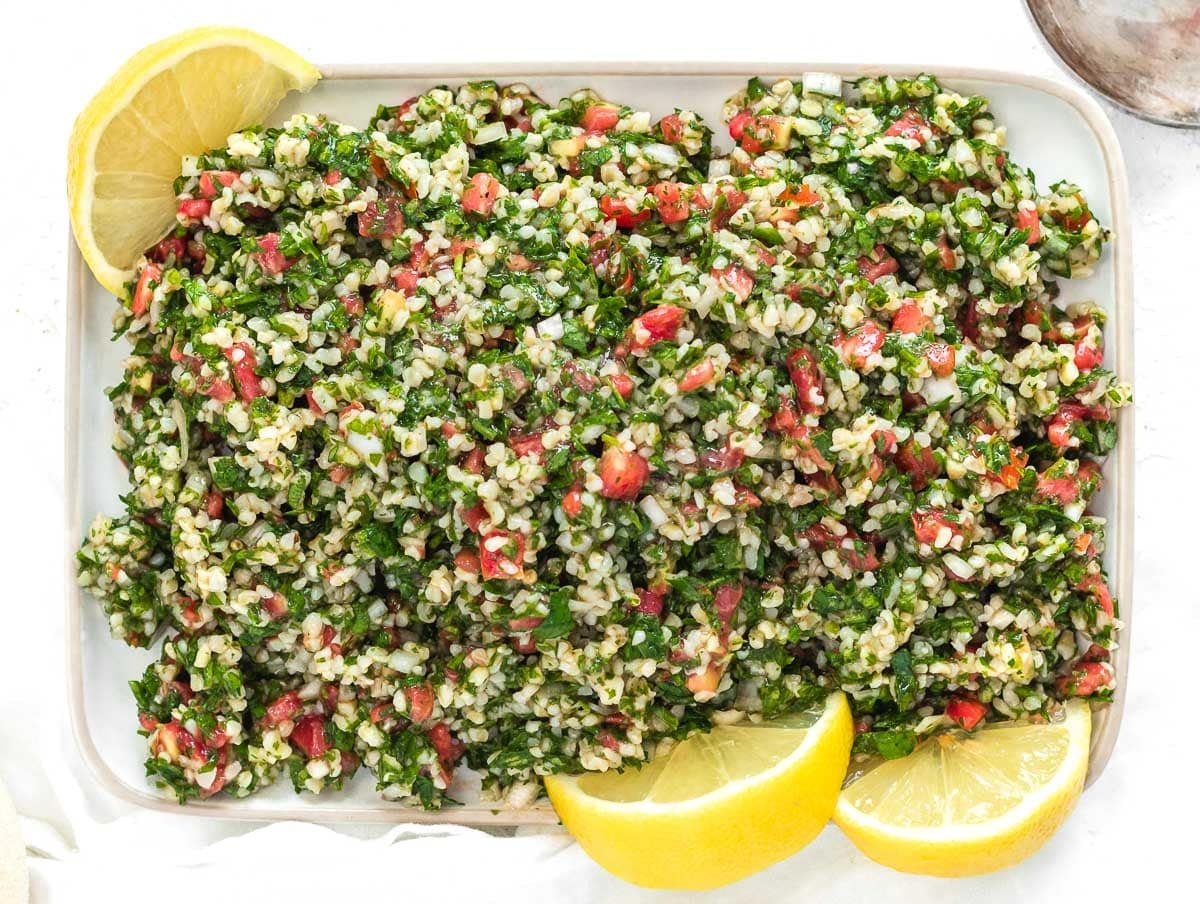 Fattoush salad is a great way to enjoy the flavors of those wonderful eastern Mediterranean countries.
With crispy pita and fresh vegetables, this is a light lunch or a side dish for any meal.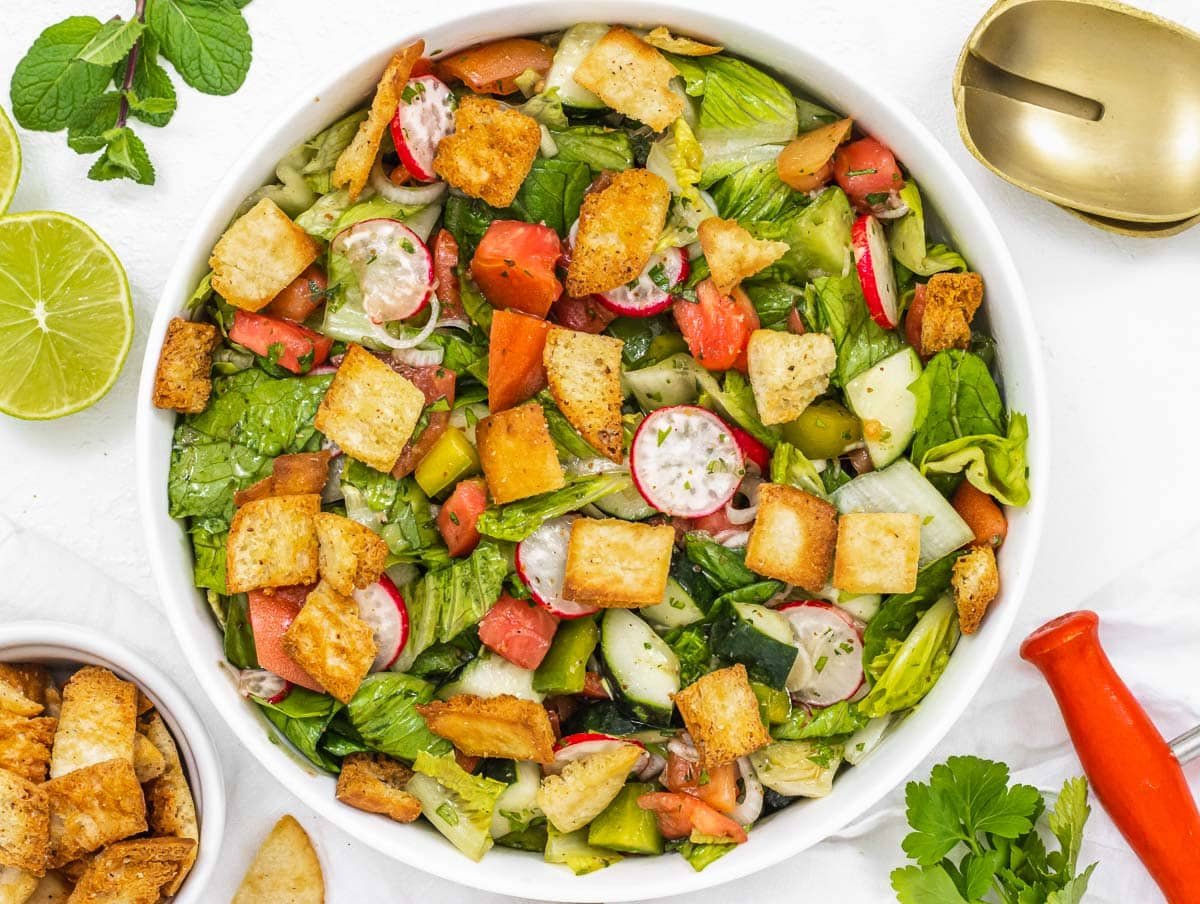 This eggplant dip has a creamy-dreamy texture with a silky mouth feel that is impossible to resist.
Serve it with falafel, muhammara, grilled eggplant, and bread for an inviting mezze platter.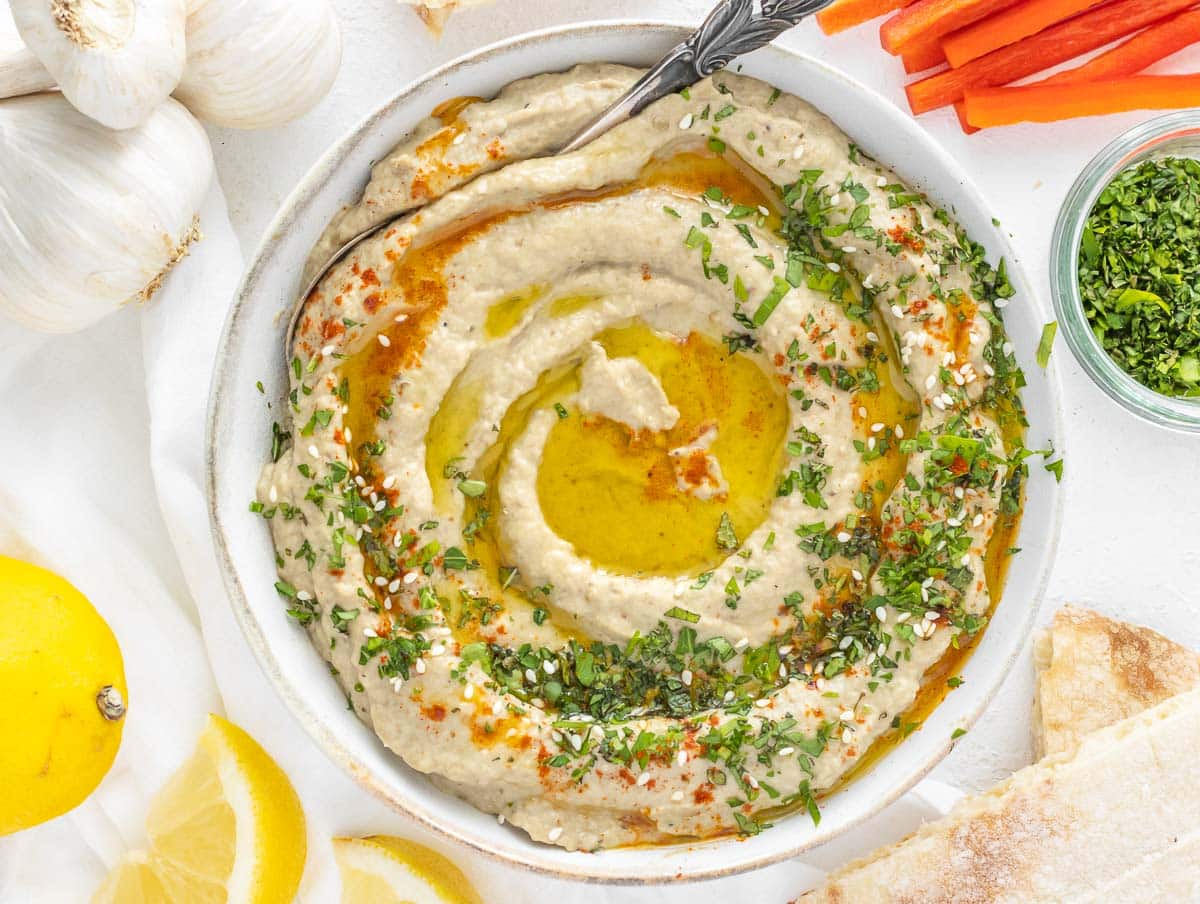 Another unique eggplant side dish with tomatoes, garlic, cumin, and olive oil.
You can enjoy this Moroccan zaalouk as a dip with warm crusty bread, but it's also delicious on rice as a main dish.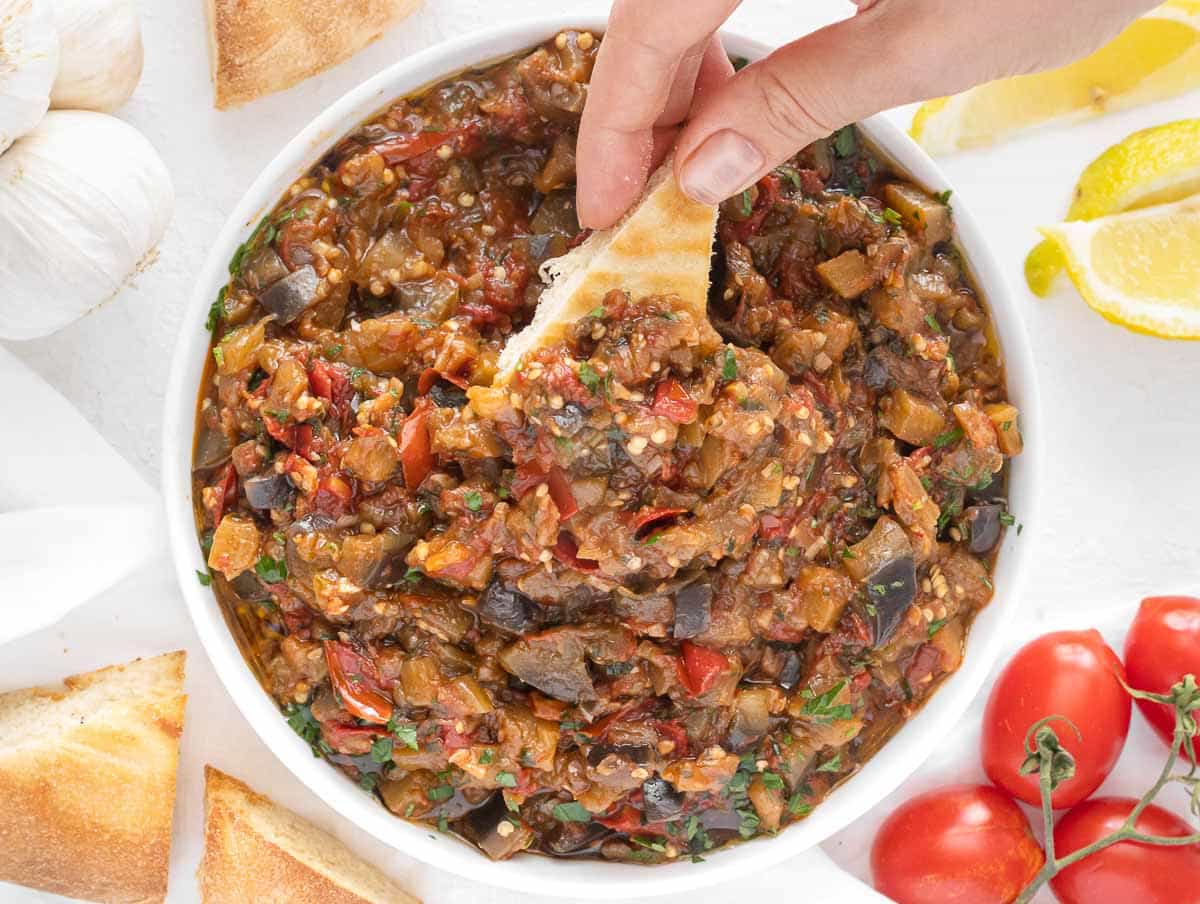 American vegan side dishes
This creamy vegan potato salad is easy for a quick lunch with your favorite plant-based protein.
It is a make-ahead recipe for barbecues, putlocks, and summer cookouts.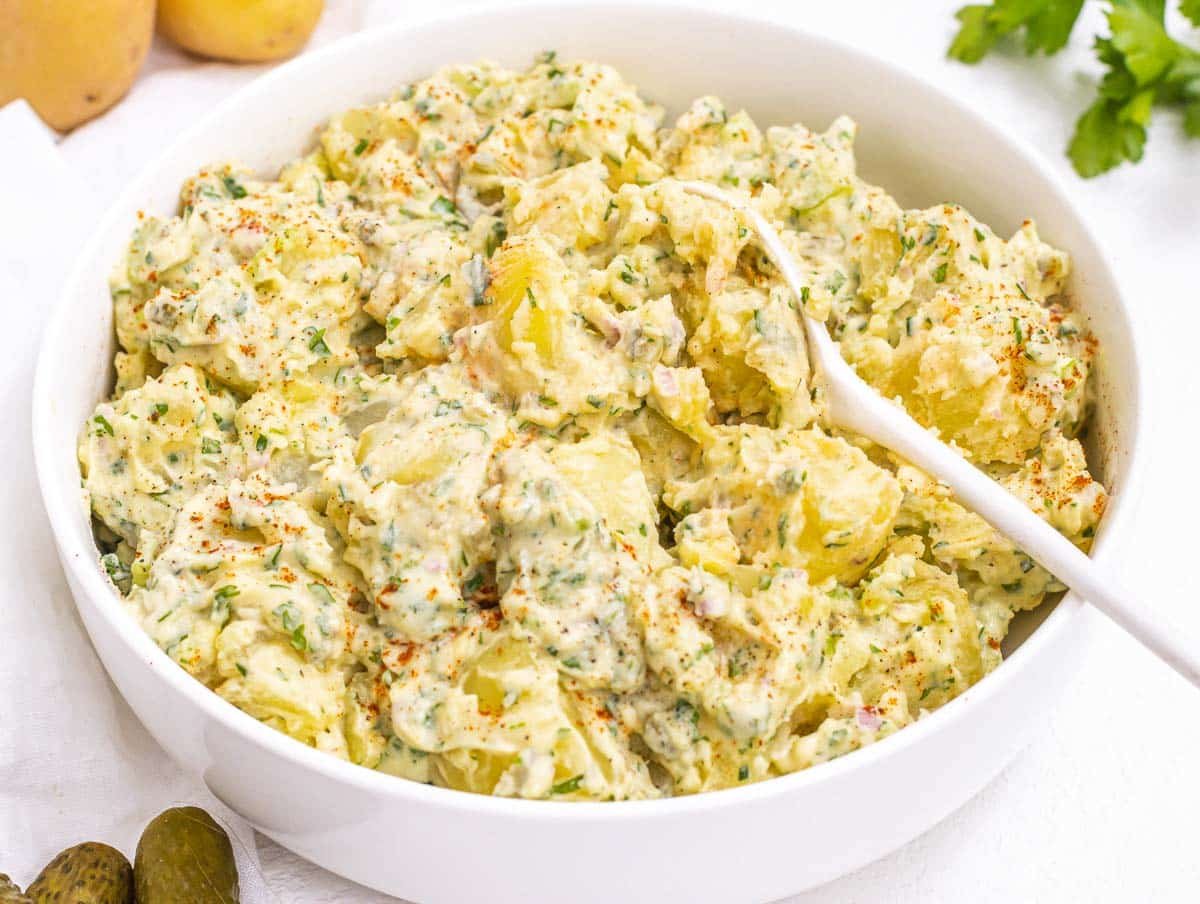 This creamy pasta salad with vegan mayonnaise is the best for potlucks, barbeques, summer cookouts, and parties.
It's versatile, and you can serve it as a starter, side dish, or light and refreshing main.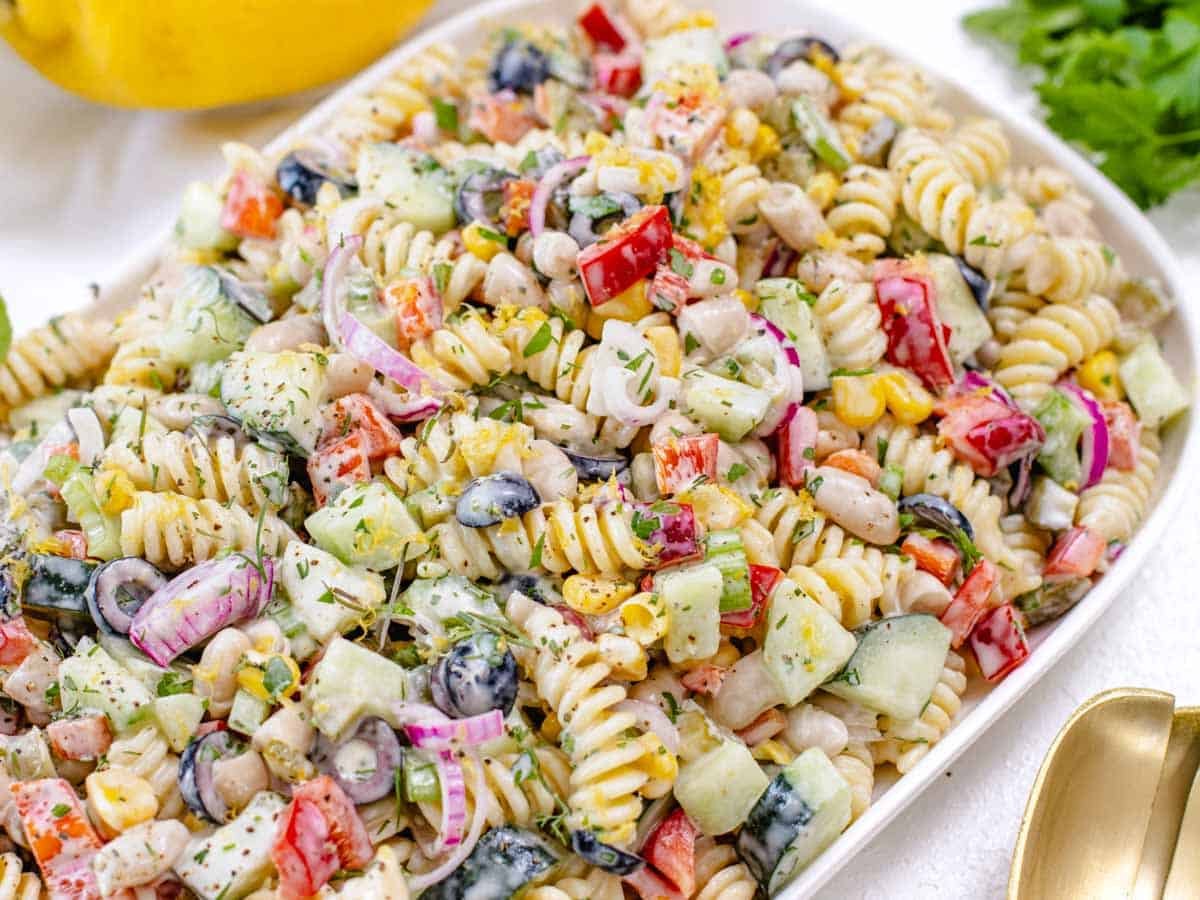 Sweet potato chunks seasoned with olive oil, salt, pepper, garlic powder, and paprika are tender and delicious side.
They are ready in about 30 minutes and are among the most flavorful roasted veggies ever.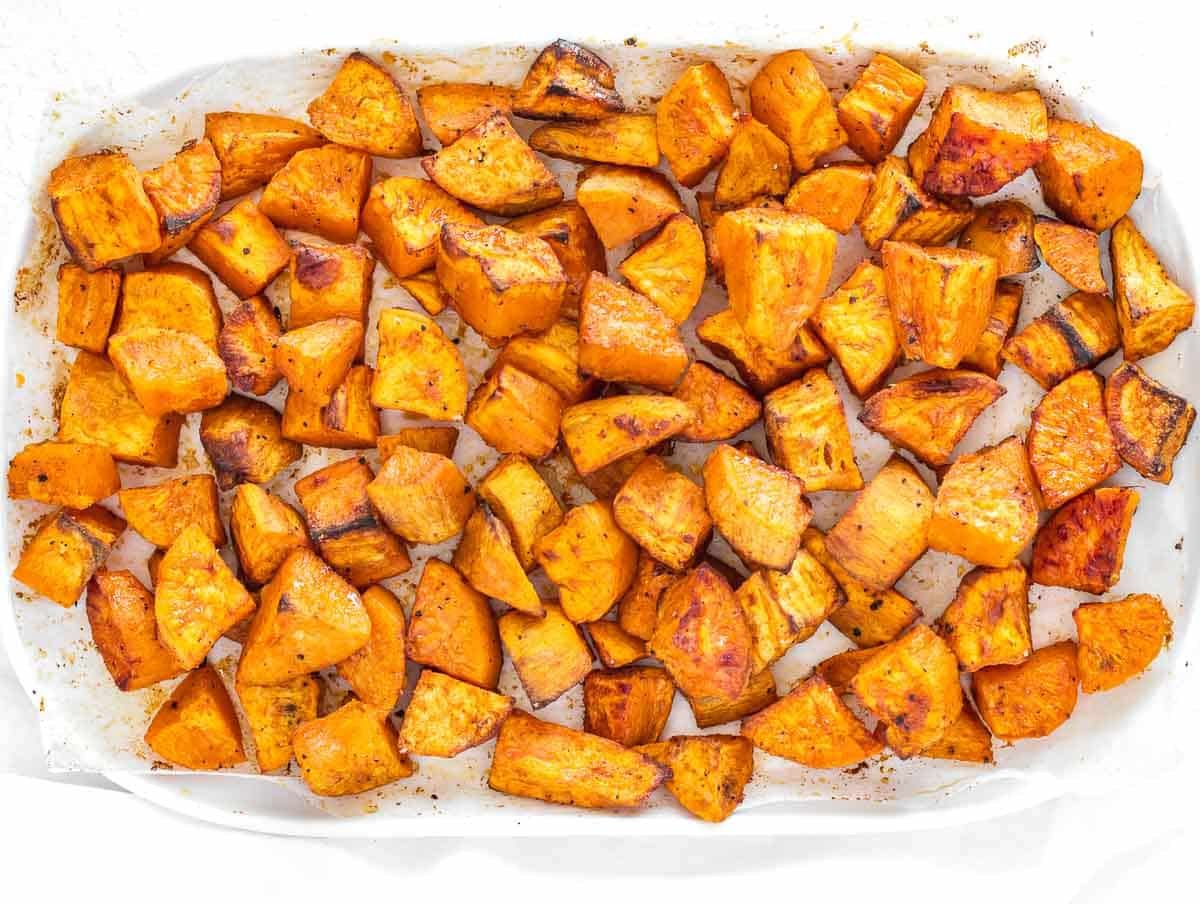 Mushroom gravy is so easy! Try it on our mashed potatoes or as a sauce for a beautiful holiday meal with friends and family.
It tastes so good you won't believe there's no meat in it.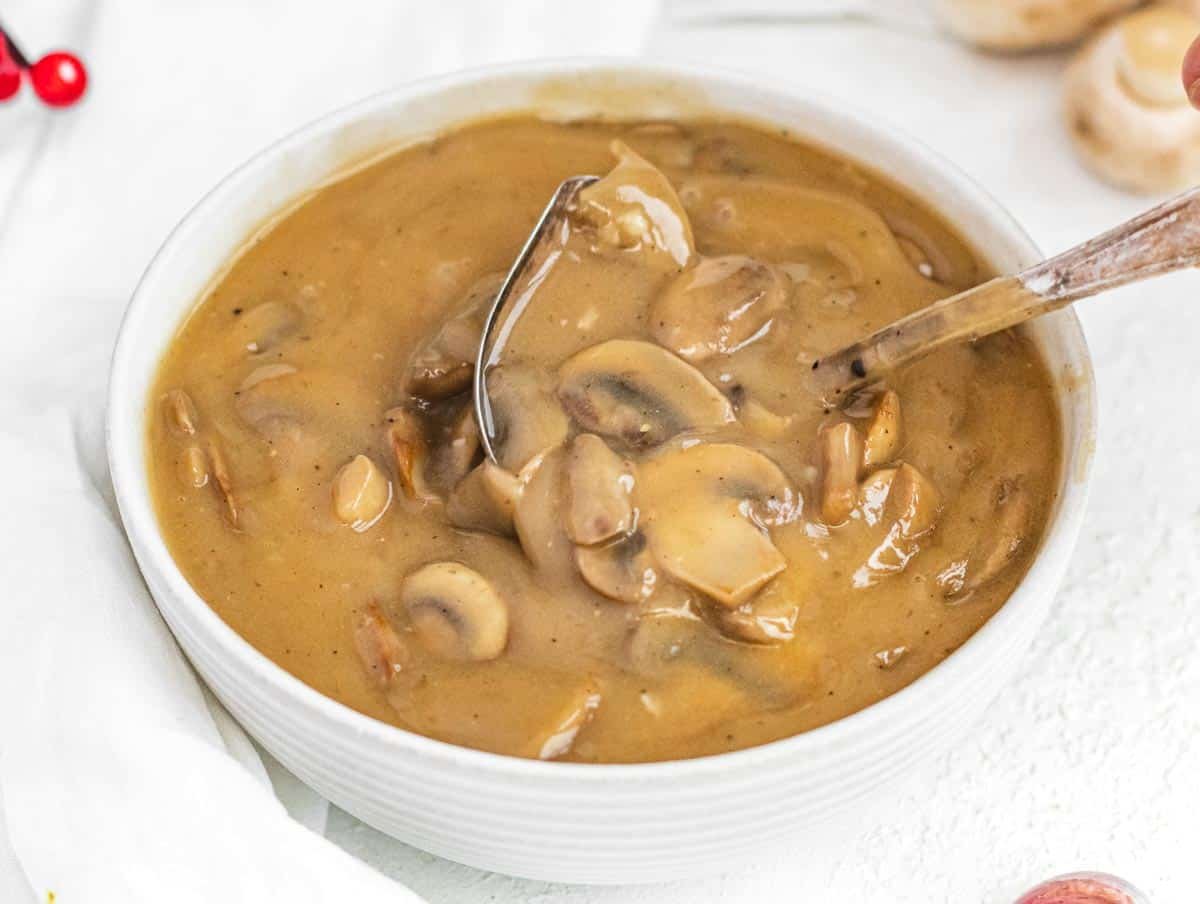 The best thing about avocado salad is that it is creamy, summer-friendly, nutritious, and fulfilling.
It's a great side dish for barbecues, cookouts, and summer parties.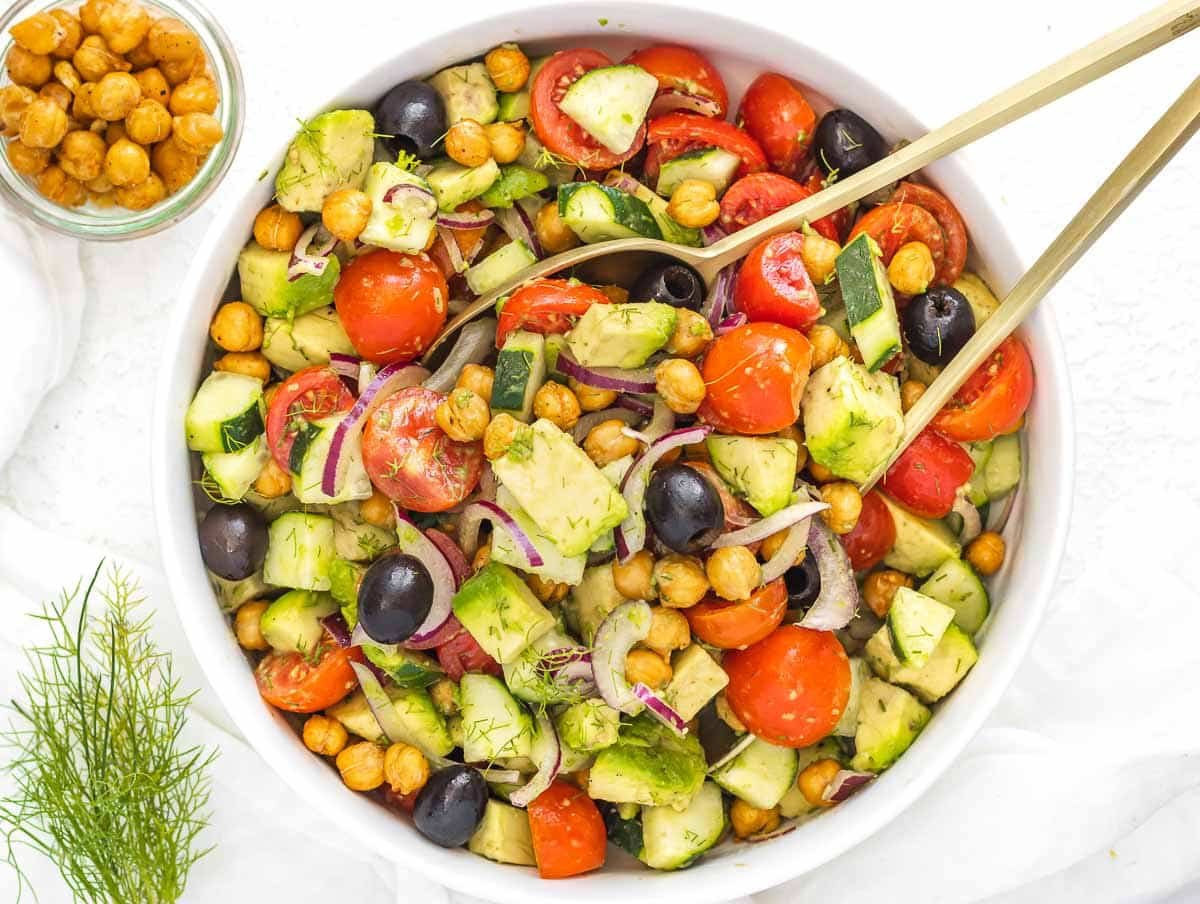 With or without vegan mayonnaise, this colorful and healthy cabbage slaw is an autumn and winter side dish favorite.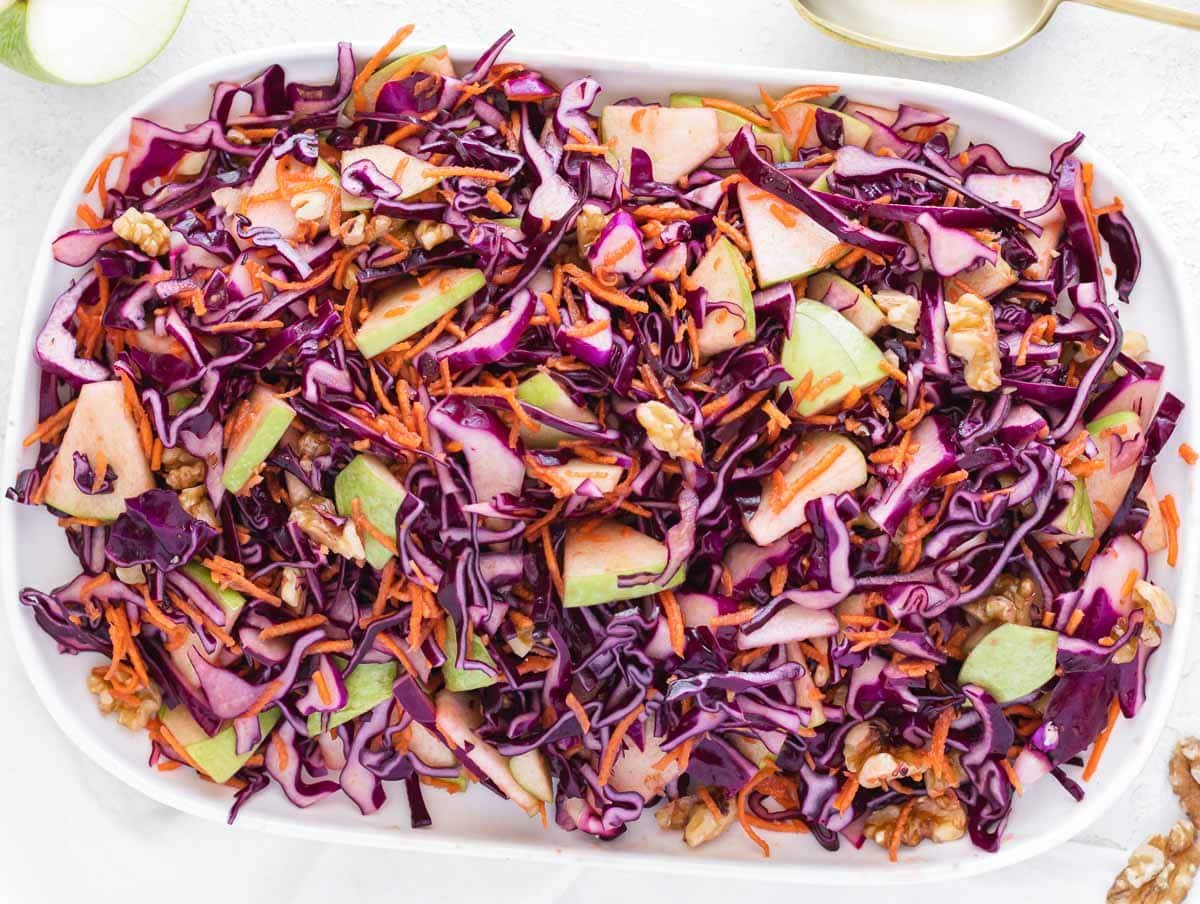 We end this list with a crisp, glossy, and slightly charred air fryer Brussels sprouts are perfect as a quick side dish.
You can make it in 15 minutes and drizzle it with our mustard dressing for a beautiful serving of greens.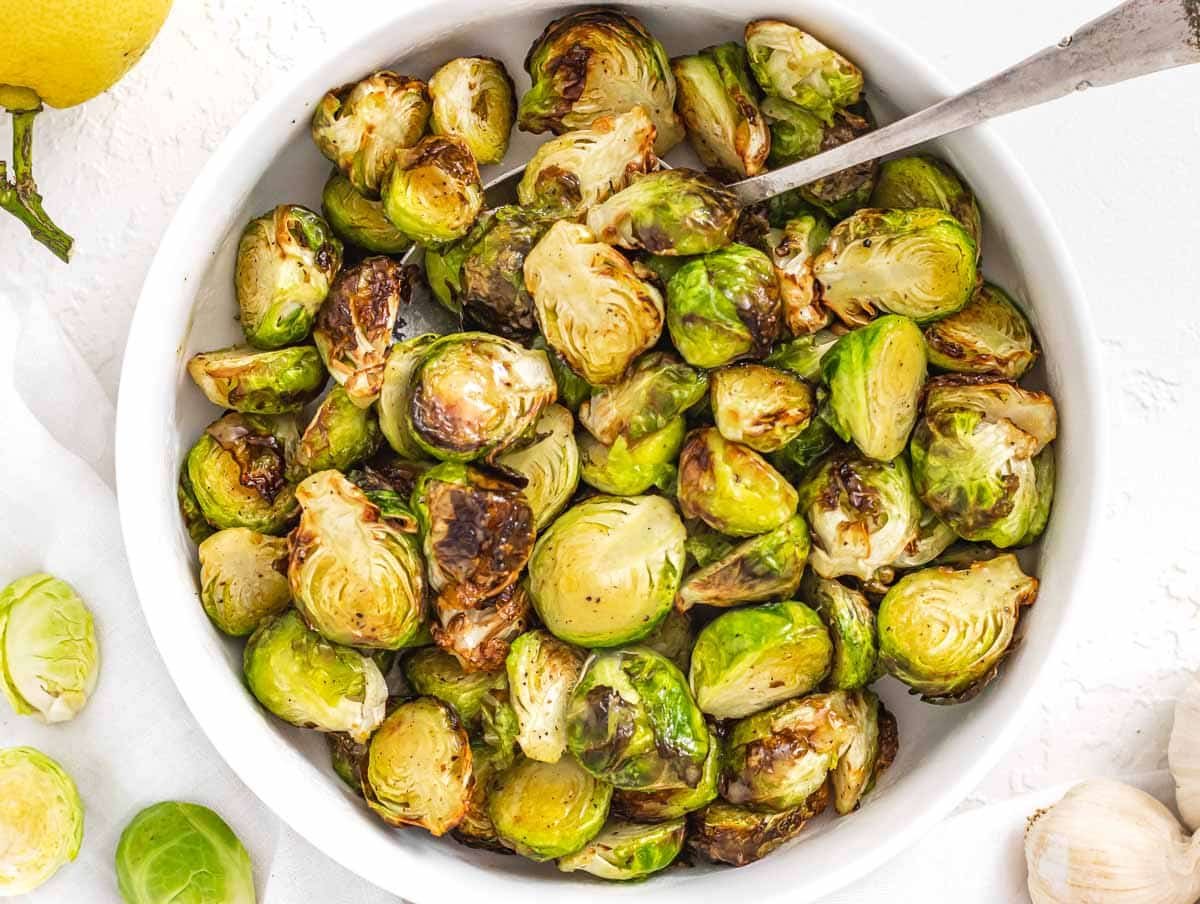 What to serve with vegan side dishes
If you love green, tasty, and healthy meals, take inspiration from these vegan dinner ideas:
For many more side dish ideas, check out our sides category page.
Recipe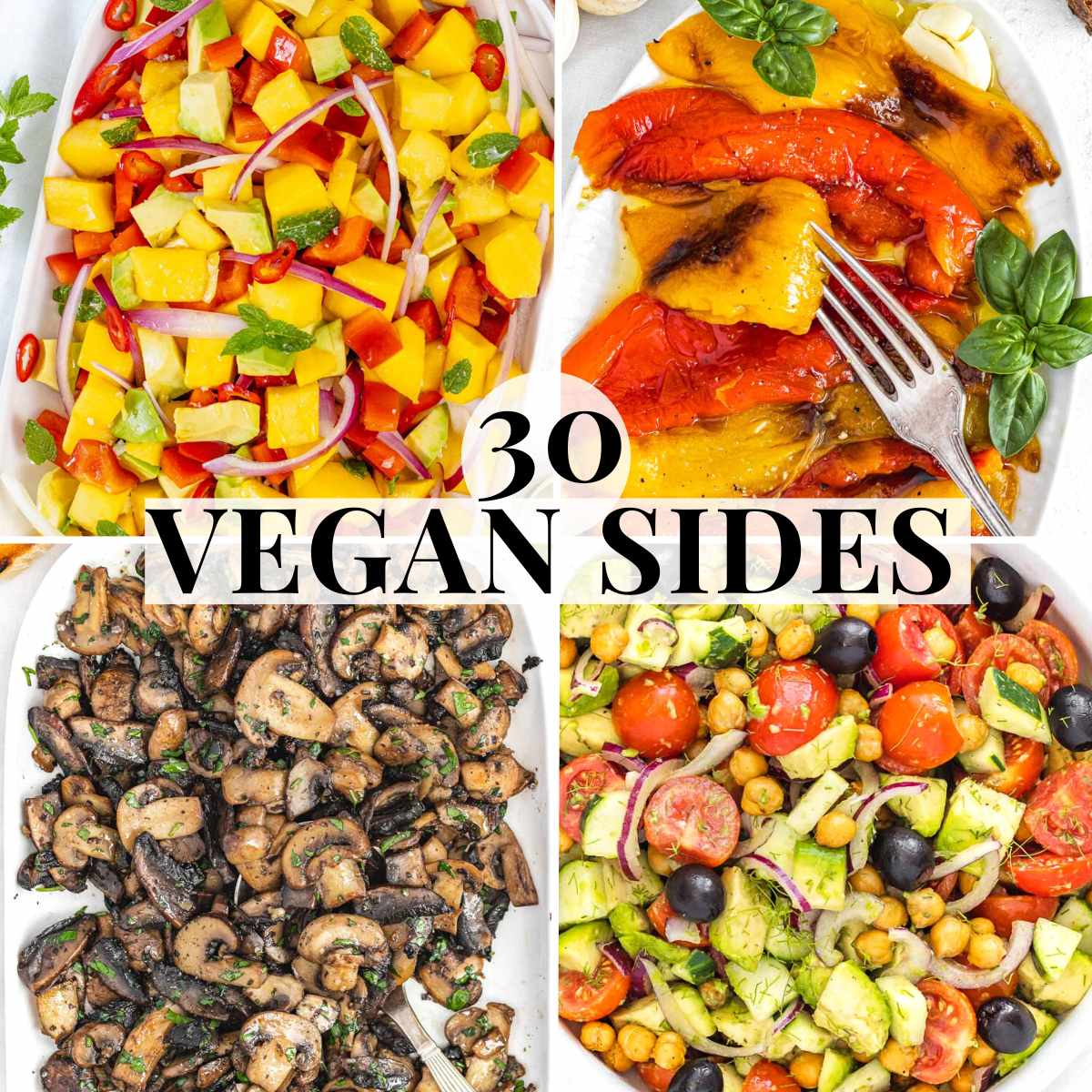 30 Vegan Side Dishes
Our side salad is a simple recipe you can serve with most main meals. It's easy, crunchy, fresh, and colorful and goes well with anything.
Toss it with extra virgin olive oil, vinegar, and a pinch of salt, or dress it with our delicious homemade Italian dressing.
Ingredients
1

large head

romaine lettuce

chopped

3

cups

radicchio

chopped

2

cups

arugula

1

large

carrot

grated

1

stalk

celery

chopped

1

small

red onion

sliced finely

12

cherry tomatoes

halved

1

tablespoon

extra virgin olive oil

or more to taste

1

tablespoon

balsamic vinegar

or other vinegar

¼

teaspoon

salt

or more to taste
Instructions
Rinse and pat dry the veggies. Then, to a large mixing bowl, add chopped romaine lettuce, radicchio, arugula, halved cherry tomatoes, chopped celery, grated carrot, and thinly sliced red onion.

Add extra virgin olive oil, vinegar, and salt. Toss the salad well before serving it as a side dish to most mains.
Video Recipe
Easy Creamy Avocado Salad
Notes
Nutrition information is for 1 portion of side salad out of 4.
Here's our homemade Italian dressing recipe if you prefer to use that as a dressing.
Nutritional Values
Nutrition Facts
30 Vegan Side Dishes
Amount per Serving
% Daily Value*
* Percent Daily Values are based on a 2000 calorie diet.
Did you like this recipe?
Leave us a comment below or find us on Instagram, YouTube, Pinterest, TikTok, and Facebook.
If you liked these vegan side dishes, you might also enjoy: