Pesto is a classic condiment that everyone loves. This recipe is both delicious and vegan – so if you're a fan of pesto, check it out!

First, we'll show you how to make the best vegan pesto with basil. Then we demonstrate how easy it is to change the flavoring ingredient and make pesto with your favorite herbs and veggies.
On this page:
The original recipe of pesto has its origin in Italy, more specifically in Liguria, a small region in the northwestern part of the country.
It dates back a few hundred years (around 1700 - 1800), and it has been evolving ever since. Back then, especially among the farmers, pesto was made with very simple and economical ingredients, such as local sheep's cheese, leftover cheese crusts, plenty of garlic, and walnuts. It was rare for people to use Parmigiano Reggiano, Sardinian Pecorino, or pine nuts, more niche and expensive products.

The modern tradition of pesto, however, calls for very specific and high-quality, borderline luxurious ingredients, such as basil leaves grown in Pra' (a Genovese neighborhood), extra virgin olive oil made in Liguria, pine nuts harvested in Pisa (the town with the leaning tower), Parmigiano Reggiano aged 30 months or more, Fiore Sardo (a 10-month old Sardinian sheep's cheese), garlic from Vesaslico (a small town known for its garlic), and coarse sea salt from Sicily.
On top of that, authentic Genoese pesto is prepared by hand in a marble mortar with a wooden pestle (from which the name comes). Undoubtedly, Pesto alla Genovese is a work of exclusive art, where the love for the ingredients and the meticulous attention to detail makes it hard to replicate.

Why did we tell you all that? We think that before trying to "counterfeit" original recipes and make them vegan, it's important to understand the history and origin of a dish and pay tribute to their contribution to our food heritage. So let's all have a minute of silence for traditional pesto before we move on to our inauthentically delicious vegan pesto recipe.
What's vegan pesto?
Vegan pesto is the dairy-free version (no Parmigiano or Pecorino in this recipe) of Italian Basil Pesto, known as Genoese Pesto. We replace the cheese with almonds and nutritional yeast. We think this is the best combination to recreate the cheesy flavor and creamy texture.

With our recipe, we give you a template you can use to make pesto with more than fresh basil. The recipe works equally well with zucchini, arugula, parsley, artichoke hearts, kale, spinach, sun-dried tomatoes, red pepper, and even mint and cilantro.
We even have a delicious variation for oil-free pesto. Check out the "variations" chapter below to learn more about these options.

You can use any of our vegan pesto sauces in a sandwich, on pizza, as a dressing in salads, drizzle on top of grilled vegetables, and of course, with pasta.

Our vegan pesto sauce is so delicious and so versatile you might want to make a double batch and store it in the freezer in ice cube trays or a small jar. It keeps well for 6 months.
Ingredients
Basil: Fresh basil leaves are the main ingredient in the classic recipe for vegan pesto. You can make variations of this recipe by replacing half of the basil with arugula, zucchini, parsley, and artichoke hearts. See the "variations" chapter below to learn more.

Garlic: another key ingredient. Add more or less garlic based on your preferences. We use 1 clove, cut in half lengthwise to remove the core (if any), which can be hard to digest.

Pine nuts: they add that distinctive pesto creaminess and flavor. Do not toast them. You can substitute cashew nuts or macadamia nuts for pine nuts, although the flavor will be different.

Almonds: we use almonds to replace the texture of parmesan cheese. Do not toast the almonds; they'll get less creamy and more crunchy when toasted, and their flavor will increase, which we don't want in a pesto. Unsalted raw almonds are best for this recipe.

Nutritional yeast: this is one of those recipes where nutritional yeast shines. While the almonds add texture, the nutritional yeast adds a slightly cheesy flavor. It goes incredibly well with both the nuts and the basil, and we think it's of great help in replacing parmesan (we even use nutritional yeast and almonds in our vegan parmesan recipe).

Olive oil: extra virgin olive oil is best for this recipe because it has a richer flavor. However, you don't need the most expensive oil here since the nuts, garlic, and especially the basil will cover up the flavor of the oil quite a bit. We tested with one of the best Italian olive oils ever (made by a farmer next door with olives grown on Italian hills and cold-pressed) and a cheaper commercial extra virgin olive oil, and we could not tell the difference. However, do not get the cheapest oil! Avoid oils with a bitter aftertaste, as those will ruin your pesto. For oil-free pesto, check out the "variations" chapter below.

Ice-cold water: ice-cold water has two purposes. First, it cools down the basil in the blender, helping preserve its flavor and bright green color. Second, I always thought that pesto had way too much oil, which can get hard to digest. Cutting it with water solves this problem without affecting the flavor.

Salt: salt is necessary to bring out the flavor of the basil. Sea salt and kosher salt are best for this purpose. Add more or less based on taste and dietary preferences/requirements. Since we don't add parmesan and pecorino (two very salty kinds of cheese), vegan pesto needs more salt than regular pesto to taste good.
Instructions
Peel and cut the garlic clove lengthwise, and remove the core, if any. We find the core of the garlic particularly hard to digest, so we often recommend removing it if the garlic is eaten raw.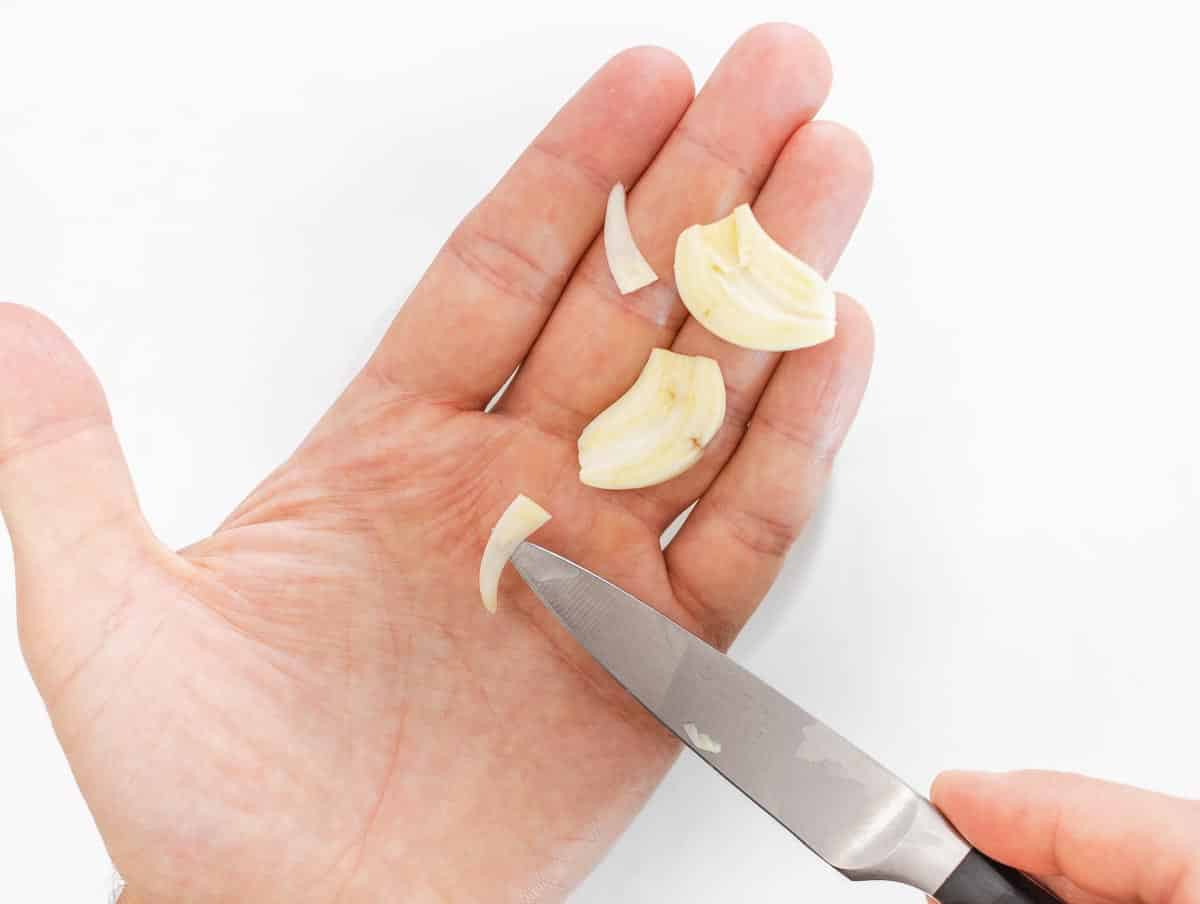 Add garlic, almonds, pine nuts, nutritional yeast, and salt to a food processor or blender.

Note: We use a mini food processor attached to our immersion hand blender. We find it easier to make pesto in a smaller food processor (unless you make a double batch, in which case you'll need a regular size food processor).
Blend for about 1 minute or until the ingredients are reduced into a coarse flour.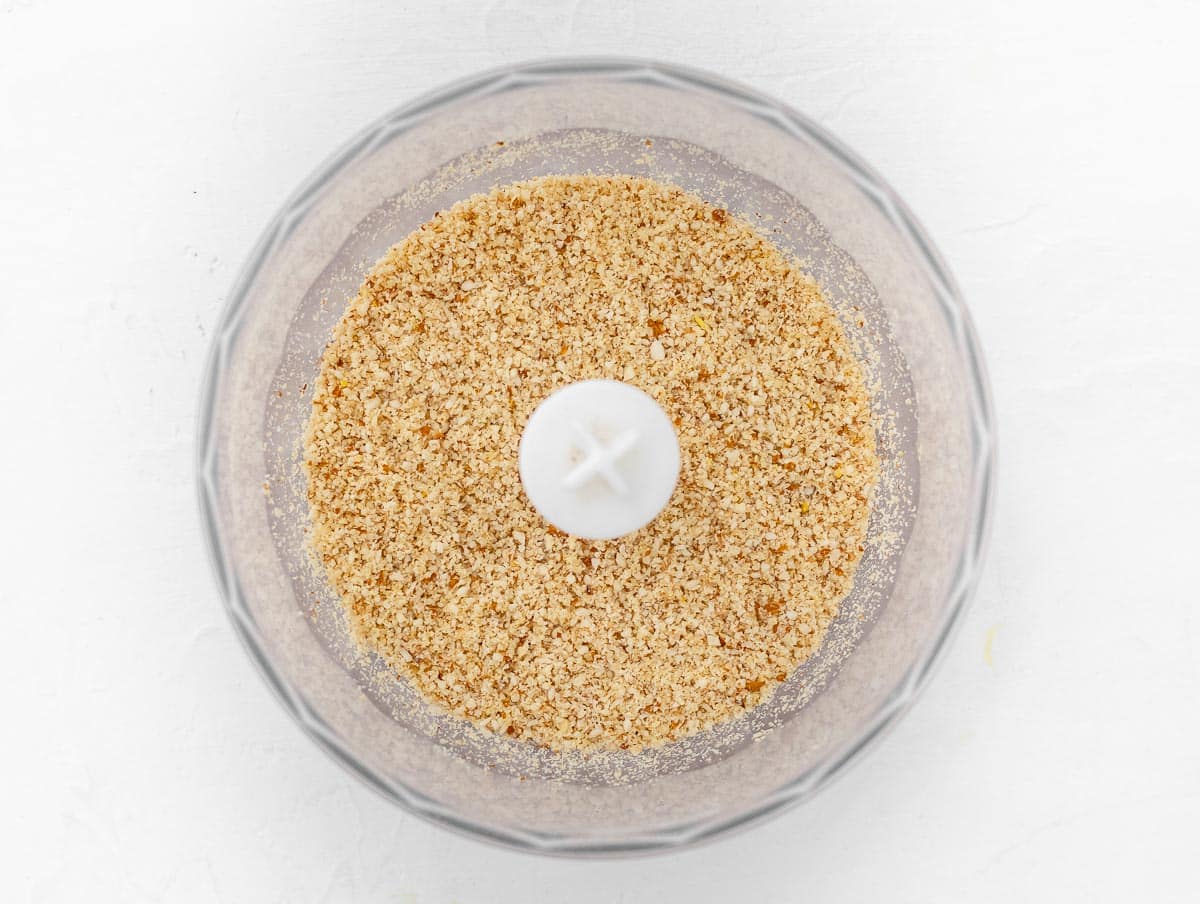 Add the fresh basil leaves, extra virgin olive oil, and ice-cold water.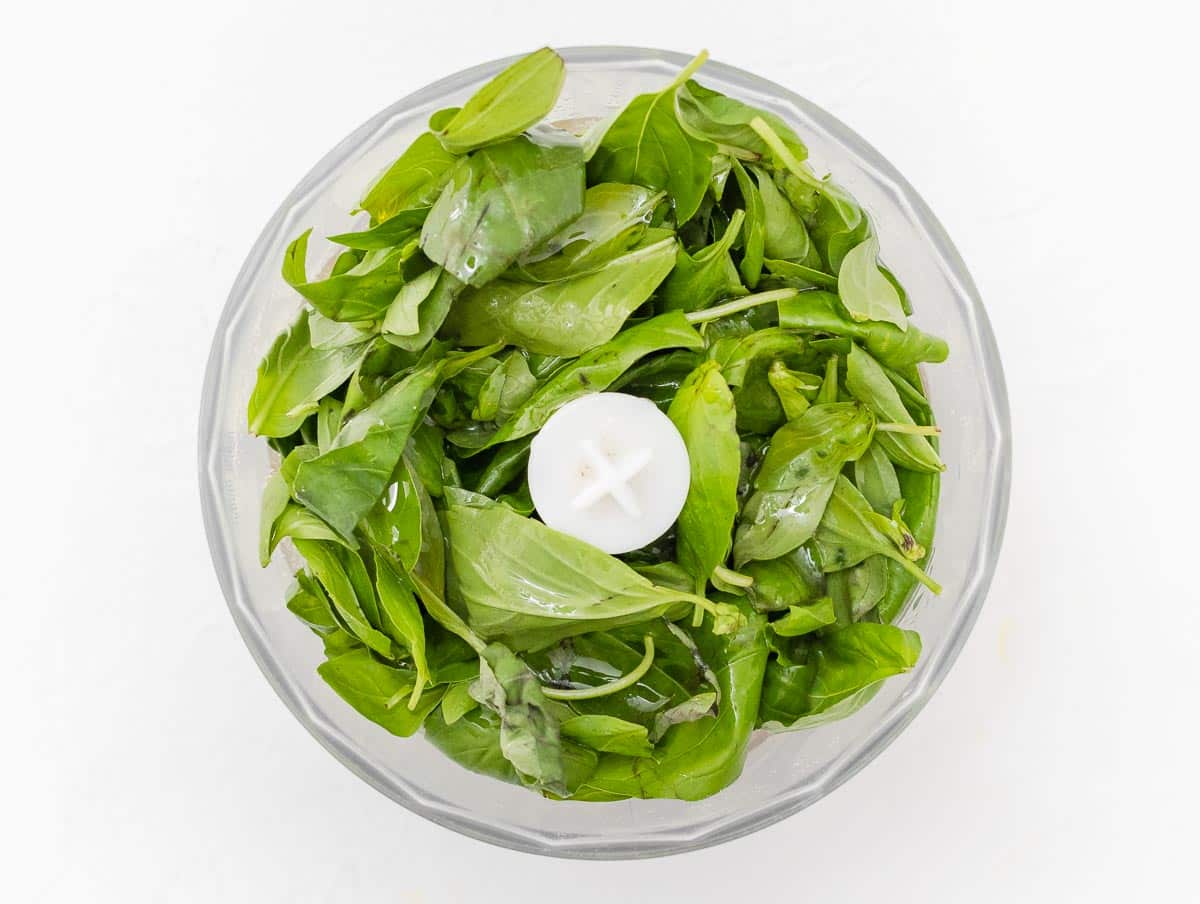 Pulse a few times until the basil is finely minced, and you get a creamy green pesto.

Note: do not blend continuously; this will warm up the basil, which will lose flavor. It's best to pulse. Also, you can adjust consistency based on your preference by simply adding more water.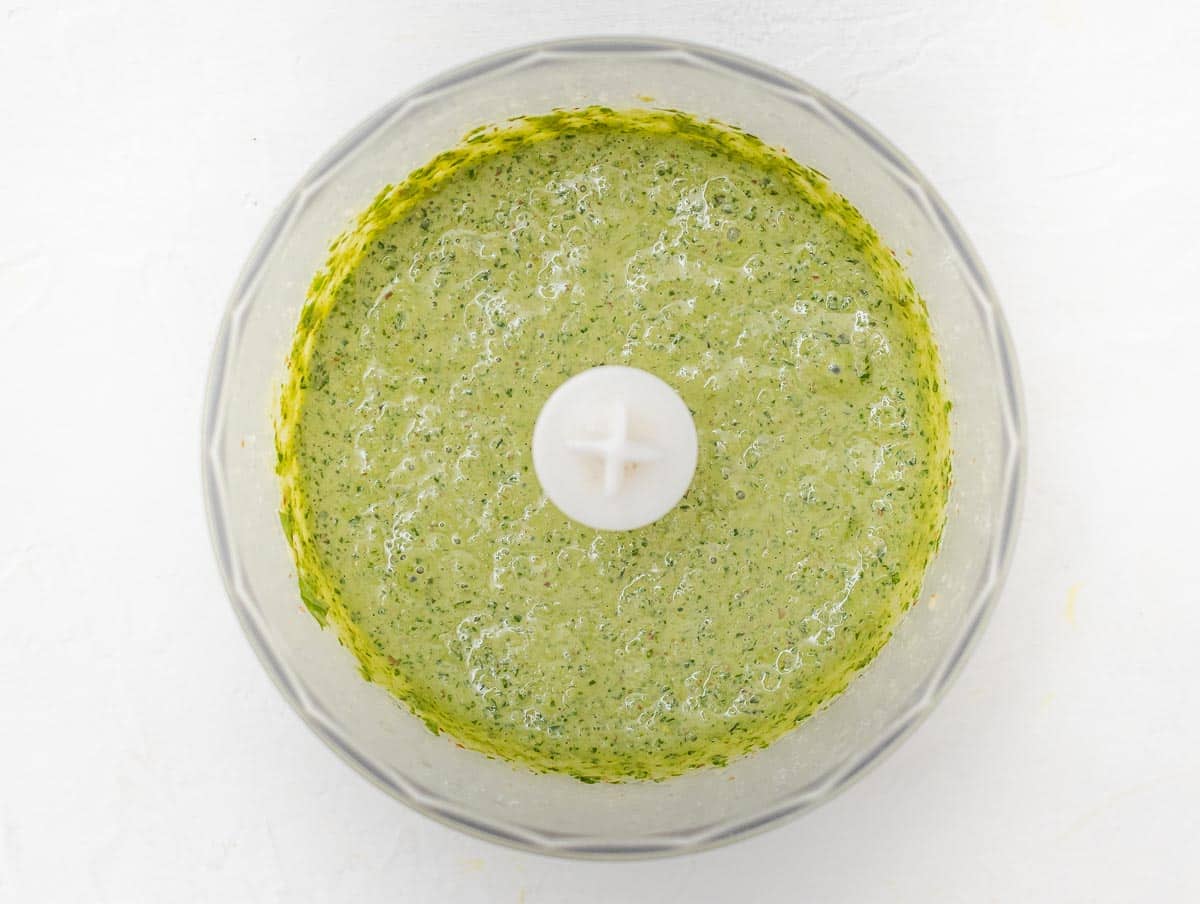 We like to make a fairly dense pesto that we can use as a spread in sandwiches, on toasted bread, or in wraps. If you want to use it as a salad dressing, just add more water or oil until it's thin enough.
Serving suggestions
If you are asking yourself how to use vegan pesto, here are some ideas:
Trofie with pesto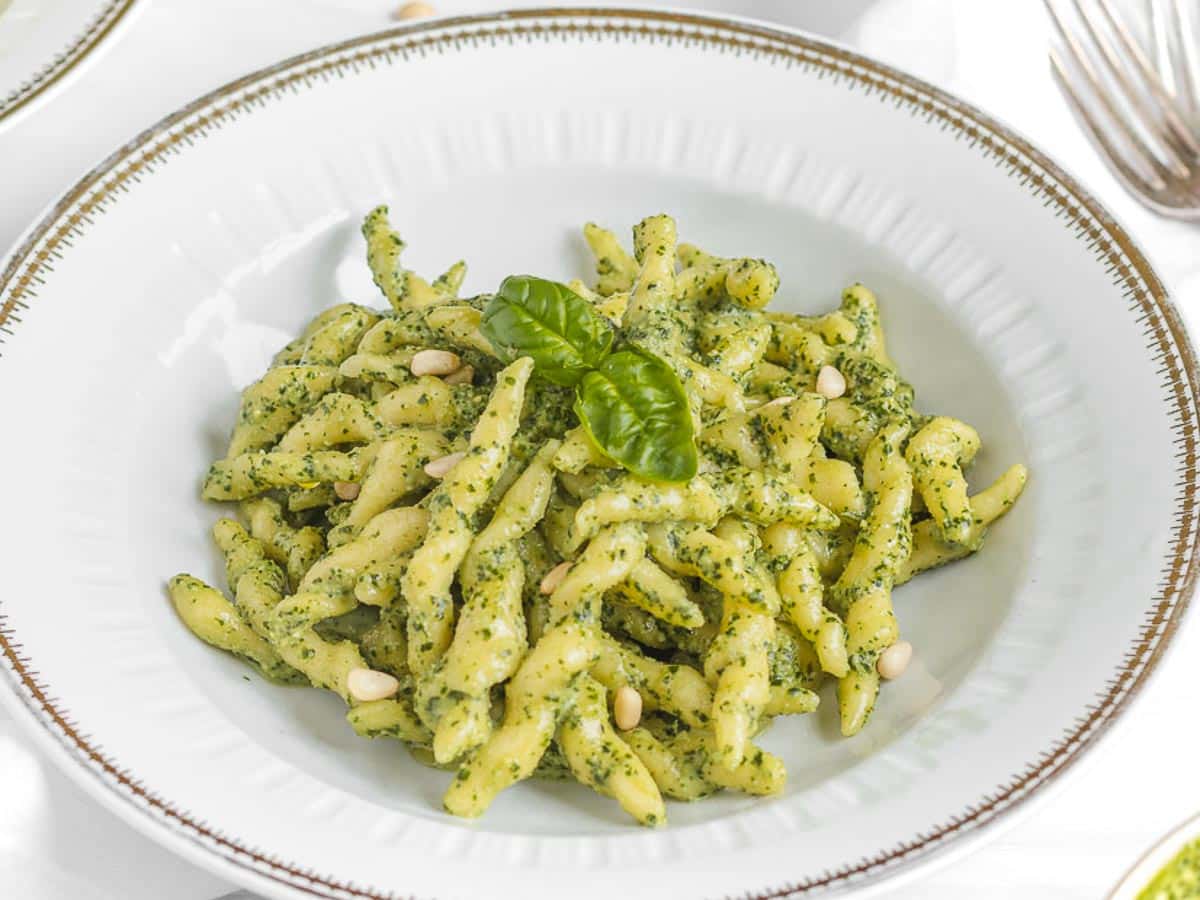 In Italy, pesto is mostly used with pasta. The most common pasta served with pesto is Trofie, a handmade fresh pasta type popular in the Liguria region in Italy (the same region where pesto is from).

Luckily for us, Trofie pasta is naturally vegan, as it's made with water and semolina flour. If you want to go all-in Italian-nonna cooking mode, check out our homemade Trofie recipe.
Pesto with other pasta
If you don't want to spend your Sunday afternoon shaping Trofie, other commercially available pasta types great with basil pesto are fusilli, rotini, farfalle, trenette, or linguine.

To use pesto with pasta, first cook the pasta al dente in plenty of salted boiling water.

While the pasta cooks, add a couple of tablespoons of pesto to a large mixing bowl. Add ½ cup of pasta cooking water and stir until you have a pesto sauce.
Drain the pasta, reserving some pasta water. Add the pasta to the bowl and mix well. Add more pasta water if necessary. Taste and adjust for salt.
Serve with a drizzle of olive oil, a few pine nuts, and a sprig of fresh basil.
Pesto on vegetables
Try drizzling some of the pesto on vegetables. It's delicious on grilled, air-fried, steamed, and oven-baked veggies. In the picture below, we add it to grilled bell peppers on a slice of toasted bread.
On toasted bread
Serve it as a starter on bruschetta (crunchy grilled bread with olive oil). In this case, we used our artichoke pesto, but any other type works.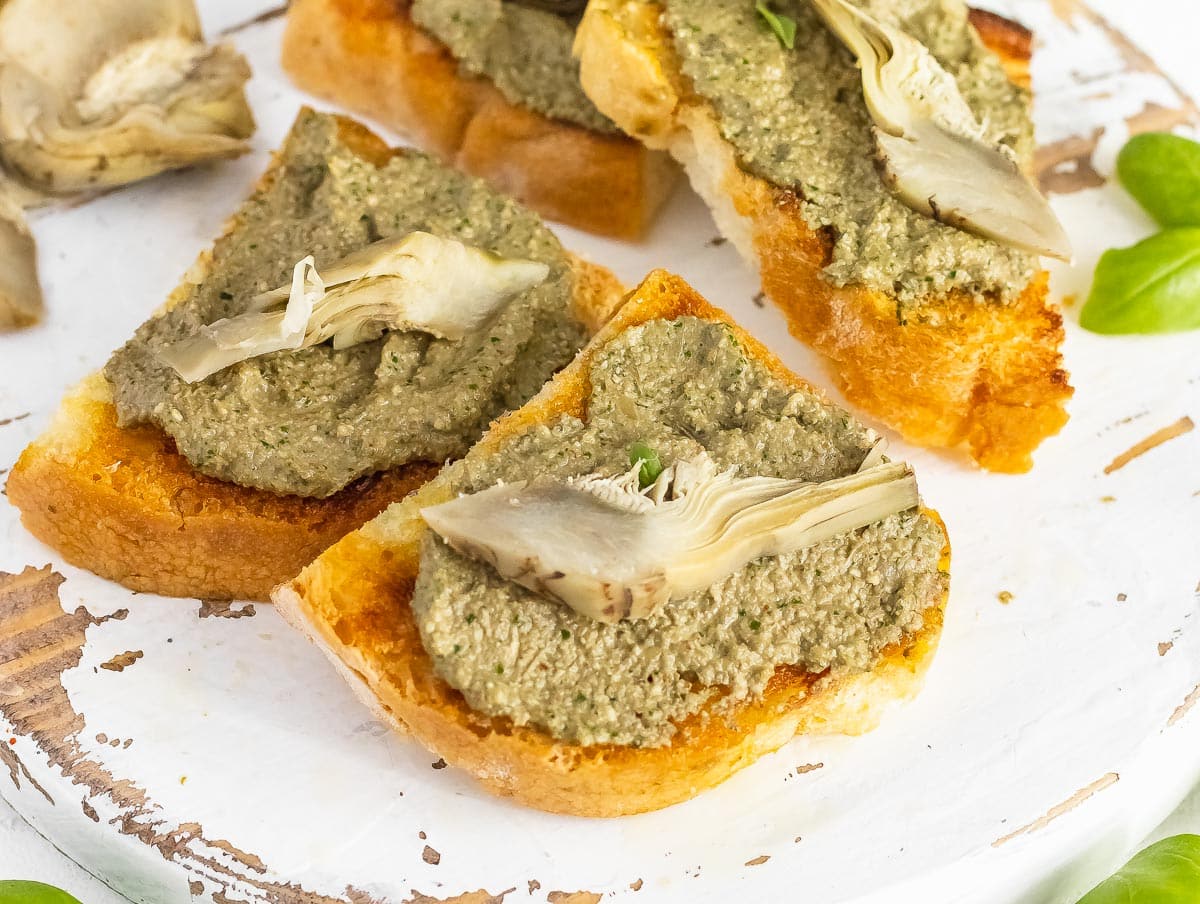 Pesto with potatoes
Another traditional way of eating basil pesto is with boiled potatoes and green beans. We made a delicious vegan potato salad with basil pesto. Check it out. The Italian farmers used to eat pesto like this even before eating it with pasta.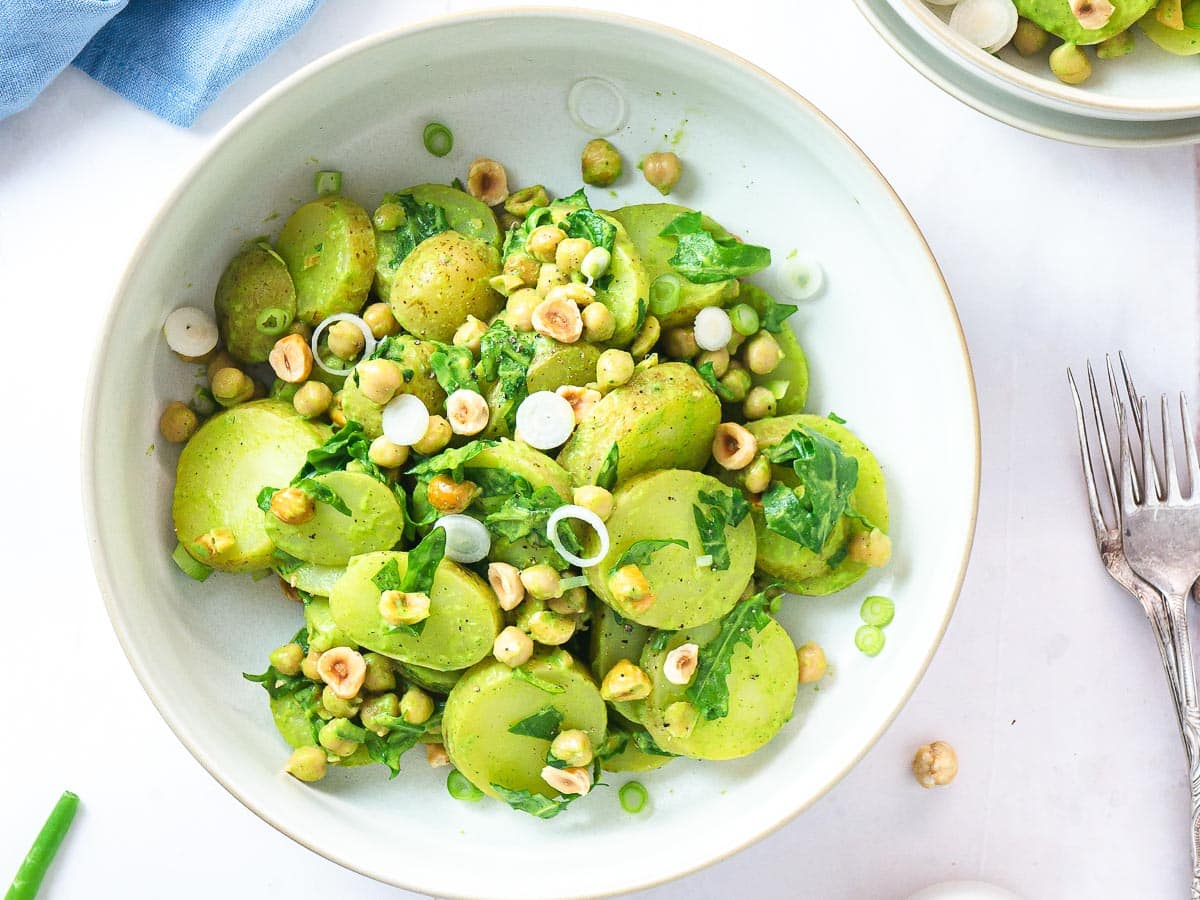 Variations
The formula for making vegan pesto variations is quite simple. The base is almost always the same: almonds + pine nuts + garlic + salt + nutritional yeast. The olive oil also stays at the same amount. The water stays around the same, based on how thick or thin you want your pesto to be.

Basil can be replaced, whether in part or completely, by other fresh herbs or vegetables.

For herbs such as arugula, mint, coriander, and kale, we recommend using half basil and half your chosen herb. For parsley, you can just use it on its own, without the basil.

With vegetables such as zucchini, avocado, spinach, artichoke hearts, roasted aubergines, roasted bell peppers, and roasted carrots, we recommend using 1 packed cup (25 grams) of basil and about 1 cup (100 grams to 130 grams) of your chosen vegetable.

For stronger vegetables, we often exclude basil. This is the case with roasted bell peppers and sun-dried tomatoes. For some ingredients like chestnuts, we change the recipe completely. Below are some examples in practice, with links to the recipes.
Arugula Pesto
Arugula pesto is a little more pungent than basil pesto, but we love it!

Since arugula can have a strong taste, use half arugula and half basil. All you need to do is follow our vegan pesto recipe and substitute 1 cup of arugula for 1 cup of basil.

Optionally you can add a tablespoon of lemon juice and some grated zest of the lemon.
Parsley Pesto
Bight green, fresh, and a little zesty, this parsley pesto is packed with flavor. We love drizzling it on top of grilled or air-fried vegetables.

To make it, use flat-leaf parsley instead of basil in the same quantities. The rest of the recipe stays the same.
Artichoke Pesto
Mild, creamy, with some earthy notes, this artichoke pesto will surprise you. Delicious on pizza, on toasted bread, with pasta, or in a sandwich.

To make it replace 1 cup of basil with 1 cup of artichoke hearts. Also, add two extra tablespoons of water, as the artichokes tend to be denser than just basil.

Optionally you can add a squeeze of lemon juice and some grated zest of the lemon on top before serving.
Zucchini Pesto
Zucchini pesto is our favorite with homemade gnocchi, pasta salad, or vegan salad. It's so creamy, light, and fresh, and adds a luxurious finish to main meals.

To make it, replace 1 cup of basil with 1 cup of raw chopped zucchini. Don't add water to this one, as the zucchini contains plenty.
Red Pepper Pesto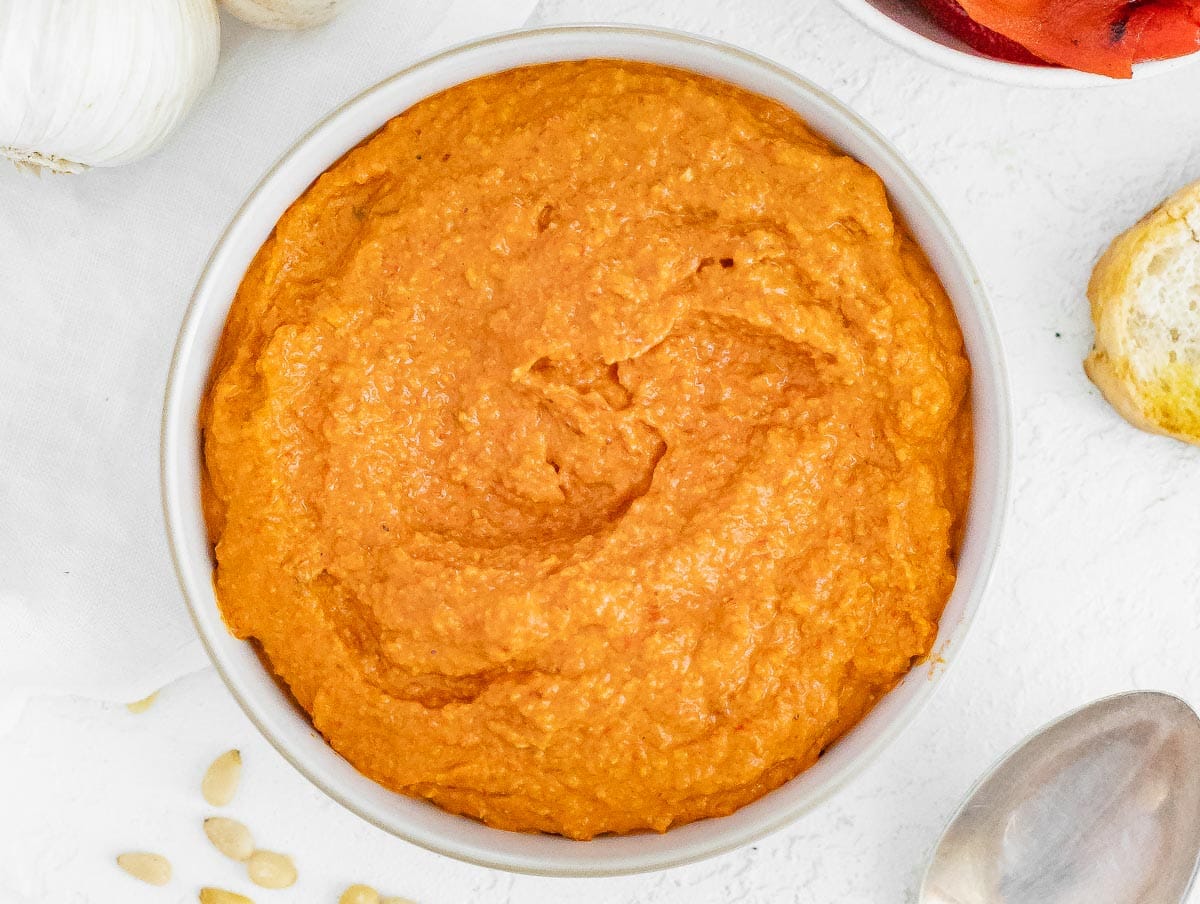 Red pepper pesto is bold, rich, creamy, and the most flavorful of all. The sun-dried tomatoes and the jarred roasted bell peppers are rich in umami and vitamins. It's a handy easy appetizer served with focaccia bread and veggie sticks.

To make it, you won't need basil. Use 1 cup (200 grams) of jarred roasted bell peppers, drained, and ½ cup (70 grams) of sun-dried tomatoes in oil, also drained.

The other ingredients stay the same. You might need a little more water, but you can adjust that as you blend.
Spinach Pesto
We make spinach pesto with a different base, including tofu in it. The result is delicious, creamy, and packed with protein. Check out our blog post on how to make spinach pesto.
Chestnut Pesto
Chestnut pesto is our favorite pesto to make in the fall when chestnuts are in season, and we crave a creamy, comforting dish.

This is an incredible recipe that we took and adapted from the northern Italian cuisine of Piemonte. We use hazelnuts to complement the chestnuts and plant milk instead of water. This is a rich, velvety, and earthy recipe.

Serve it with spaghetti and sautéed mushrooms. It'll be the best pesto you've ever had. Check out the full recipe in our chestnut pesto post.
Sun-Dried Tomato Pesto
This one is the perfect spread or dip for naan-bread or flat-bread pizza. We make it with walnuts instead of almonds and without basil.

It's so rich, almost meaty. Check out the full recipe in our sun-dried tomato pesto post.
Oil-Free Pesto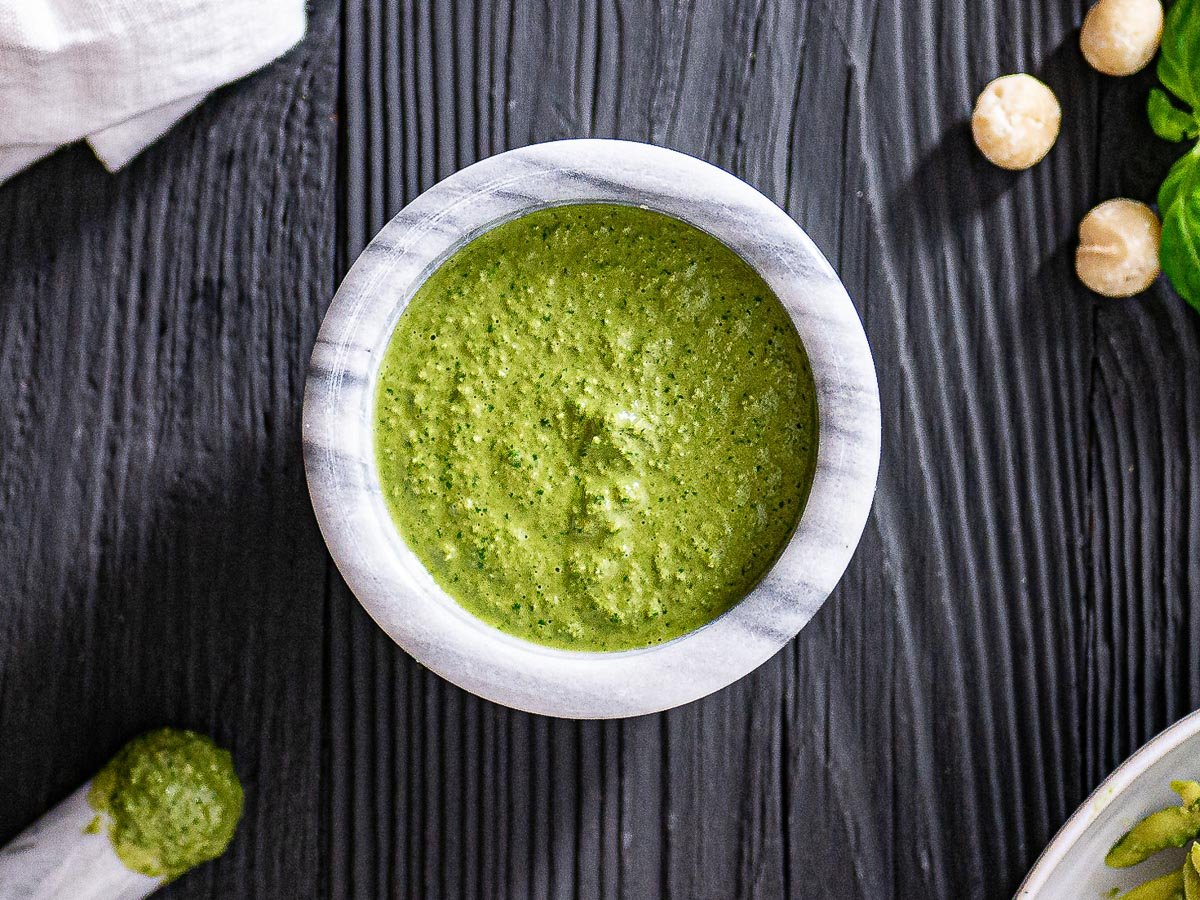 Yes. You read correctly. You can make a delicious pesto completely oil-free. To do so, the star ingredient is macadamia nuts. Macadamia nuts are packed with healthy fats that can help us replace the oil. When blended, macadamia nuts get super creamy, almost dairy-like.

When making pesto with macadamia, you won't need any oil or almonds. The other ingredients stay the same. Use 1 cup of macadamia nuts. Add more water as necessary to make the pesto of the right consistency.
Tips
No need to toast the nuts.
Toasting almonds and pine nuts is unnecessary when making pesto, and we discourage it. It is not done in the original Italian recipe, and it should not be done in vegan pesto. Why?

Toasting nuts increases the flavor of the nut, and we don't want that in a pesto. We want to taste the basil. Also, toasted nuts are crunchy, and we don't want that either.

Finally, if you did toast the nuts, they would have to cool down completely because warm nuts would damage the basil. You would turn vegan pesto from a 5-minute recipe into a 2-hour project with questionable results.

So, while we love toasting nuts when making nut butter, we do not recommend it for pesto.
What about blanching the basil?
That's another unnecessary practice for pesto. Blanching is a cooking method where the vegetable is scalded in boiling water for a few seconds, then cooled down in an ice bath to stop the cooking.

Blanching does help preserve the quality of vegetables and their color because it deactivates the enzyme responsible for oxidation.
Oxidation happens when the polyphenols in basil (antioxidants) react with air (oxygen) and turn brown (oxidize). Like when you cut an apple and leave it out in the air.

Another element that speeds up oxidation is moderate heat, up to around 190°F or 90°C. Above that temperature, the enzymes that oxidize the basil are deactivated.

That's why the blanching argument. Technically, blanching does keep the pesto green for longer, but at the cost of reducing its flavor, especially if done incorrectly.

Basil is an extremely delicate herb that loses flavor easily when heated up. And so we do not recommend it. That's also why we do not recommend heating up the pesto on a pan.
Also, I honestly have never seen my Italian nonna blanch basil when making pesto, and hers was a pretty good one.
Instead, we recommend adding some iced water to the food processor to keep the basil cool while it blends. The low temperature will slow down oxidation, and the basil will stay greener for longer.

Then when the pesto is ready, you've got to keep it refrigerated and protected from oxygen. To do that, transfer it to a jar, cover it with a thin layer of olive oil, and put it in the fridge (or freezer).
Pulse
Blending continuously will heat up the basil, and we don't want to do that. Basil doesn't like heat (see the previous tip). Pulse instead.
Questions
How is pesto not vegan?
Basil pesto sauce is not vegan because it contains parmesan cheese. Technically, parmesan is not vegetarian either because it contains rennet, which is extracted from the stomach lining of calves.
What can you substitute for parmesan cheese in vegan pesto?
You can substitute blended almonds and nutritional yeast for parmesan in vegan pesto.
What is nutritional yeast?
Nutritional yeast is a deactivated yeast used in vegetarian and vegan cooking as a flavor enhancer, often combined with other ingredients to mimic the cheese flavor.
Storage
Pesto should be either used straight away or refrigerated immediately to prevent it from turning brown due to oxidation.

To store pesto, transfer it into a small jar, cover it with a thin layer of oil, and store it in the fridge for up to 5 days.

If you want to keep it for longer, then freeze it. Pesto freezes well for up to 6 months. Put it in a small jar or in ice cube trays to have smaller portions at hand.

Thawing depends on use. If you use it with pasta, just throw it in a mixing bowl and melt it with ½ cup of pasta cooking water. If you use it as a spread, then thaw it in the refrigerator overnight.
Recipe
Vegan Basil Pesto
Pesto is a classic condiment that everyone loves. This recipe is both delicious and vegan – so if you're a fan of pesto, check it out!
Equipment
Food processor

or blender
Ingredients
1

small

garlic clove

⅓

cup

almonds

2

tablespoons

pine nuts

3

tablespoons

nutritional yeast

½

teaspoon

salt

2

packed cups

basil leaves

¼

cup

cold water

¼

cup

extra virgin olive oil
Instructions
Peel and cut the garlic in half lengthwise, remove its core, if any, and add it to the food processor.Note: the core of the garlic can be hard to digest; we remove it to have a lighter pesto.

Add almonds, pine nuts, nutritional yeast, and salt.

Blend until you get a finely coarse texture (1 minute).

Add basil leaves, olive oil, and ice-cold water.

Pulse a few times until the basil is fully incorporated with the other ingredients.

Taste and adjust for salt. If you prefer a thinner pesto, add more oil or water.

Note: pulse instead of blending continuously. The heat from blending ruins the basil. Ice cold water helps keep the temperature low and preserves flavor and color.

Use immediately, or store in the refrigerator in a bowl with a thin layer of olive oil on top to prevent it from turning dark. Alternatively, transfer into a small jar and freeze up to 6 months.Tip: never warm up basil pesto with direct heat. It'll change color and lose flavor.

To use it with pasta, add pesto to a bowl, add ½ cup of pasta cooking water, and stir to dilute it. Reserve some more pasta water for later.Tip: remember to salt the pasta cooking water with a generous amount of salt. before cooking the pasta.

Drain pasta, add it to the bowl with the pesto and stir to combine. Add more reserved pasta water or more pesto if necessary. Finish with a drizzle of extra virgin olive oil and serve.
Notes
Check out the "variations" chapter above to learn how to make pesto with many other herbs or vegetables.
Nutrition information is for the whole cup of pesto.
Nutritional Values
Nutrition Facts
Vegan Basil Pesto
Amount Per Serving
Calories 1055
Calories from Fat 900
% Daily Value*
Fat 100g154%
Potassium 1096mg31%
Carbohydrates 25g8%
Protein 26g52%
Vitamin A 2644IU53%
Vitamin B6 1mg50%
Vitamin C 10mg12%
Vitamin E 24mg160%
Vitamin K 254µg242%
Calcium 235mg24%
Folate 63µg16%
Iron 6mg33%
Manganese 4mg200%
Magnesium 219mg55%
Zinc 3mg20%
* Percent Daily Values are based on a 2000 calorie diet.
Did you like this recipe?
We are not much on Instagram, Facebook, and Pinterest. Leave us a comment below instead, it would mean the world to us 🙂
You might also enjoy: