Get fresh and easy inspiration for your next meal with these 40 easy dinners. They're made with few ingredients and ready in less than 30 minutes.
You'll find quick pasta, soups, Italian recipes, 15-minute meals, sandwich dinners, and many more. Scroll through this list of wholesome and zesty recipes for a last-minute dinner idea.
The recipes are grouped by theme – quick pasta, 15-minute meals, soups, Italian, and sandwich-dinner ideas. Jump to your favorite section, or get inspired by scrolling through the variety of easy dinners.
Quick pasta
Pasta is a satisfying and complete meal, and great as a family meal. These pasta dishes can all be served as they are, or can be easily paired with a fresh salad for an added serving of greens. These pasta recipes are handy weeknight dinners; little effort but maximum flavors.
1. Italian pasta aglio e olio in 15 minutes
A classic Italian pasta that is incredibly satisfying and takes just 15 mins to prepare. Aglio olio is easy to make, even if you are a beginner at cooking with pasta.
Serve with a quick side salad for added greens and crispiness.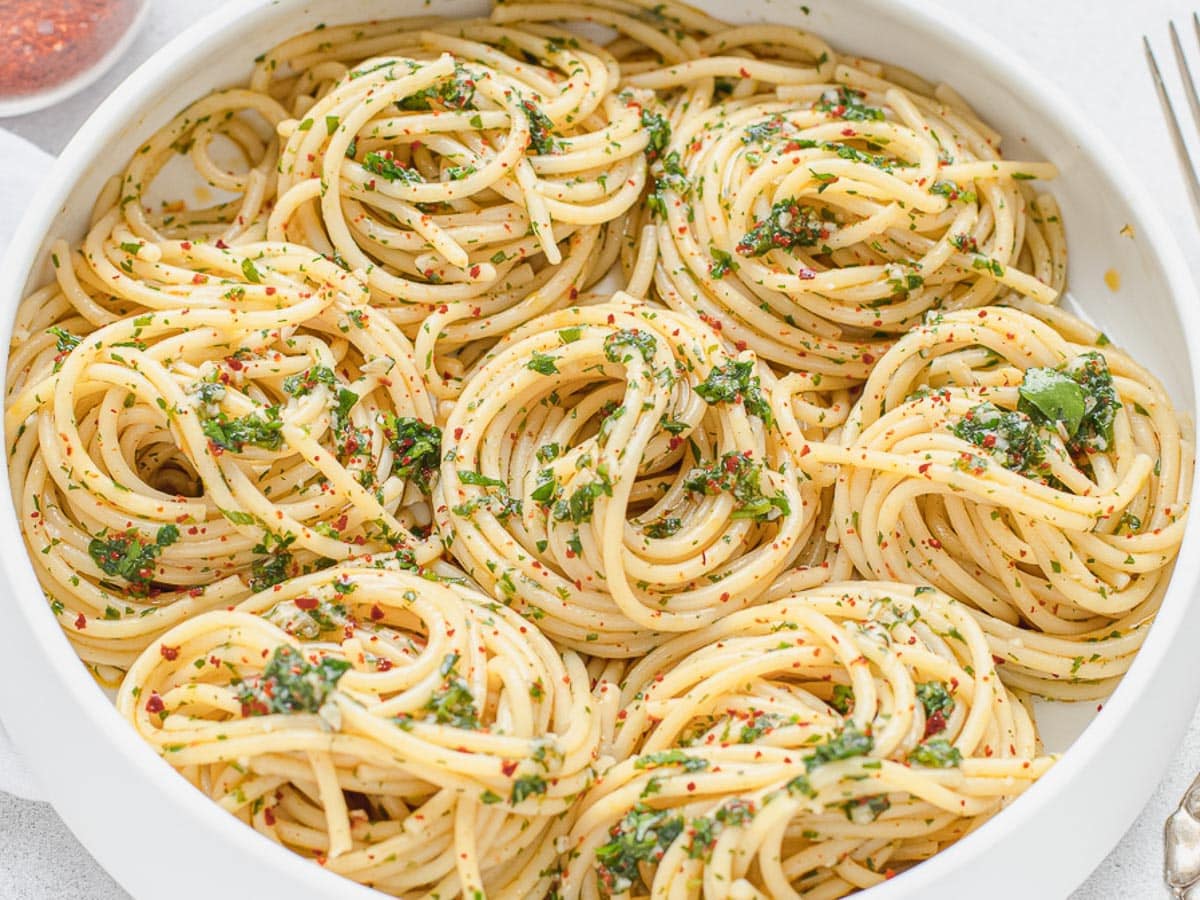 2. Restaurant-worthy mushroom pasta
A colorful plate of mushroom pasta that is wholesome and indulgent at the same time. Chewy mushrooms, garlic, and cherry tomatoes add extra zest to this weekday–friendly dinner. Serve with a refreshing fennel salad or chickpea salad on the side.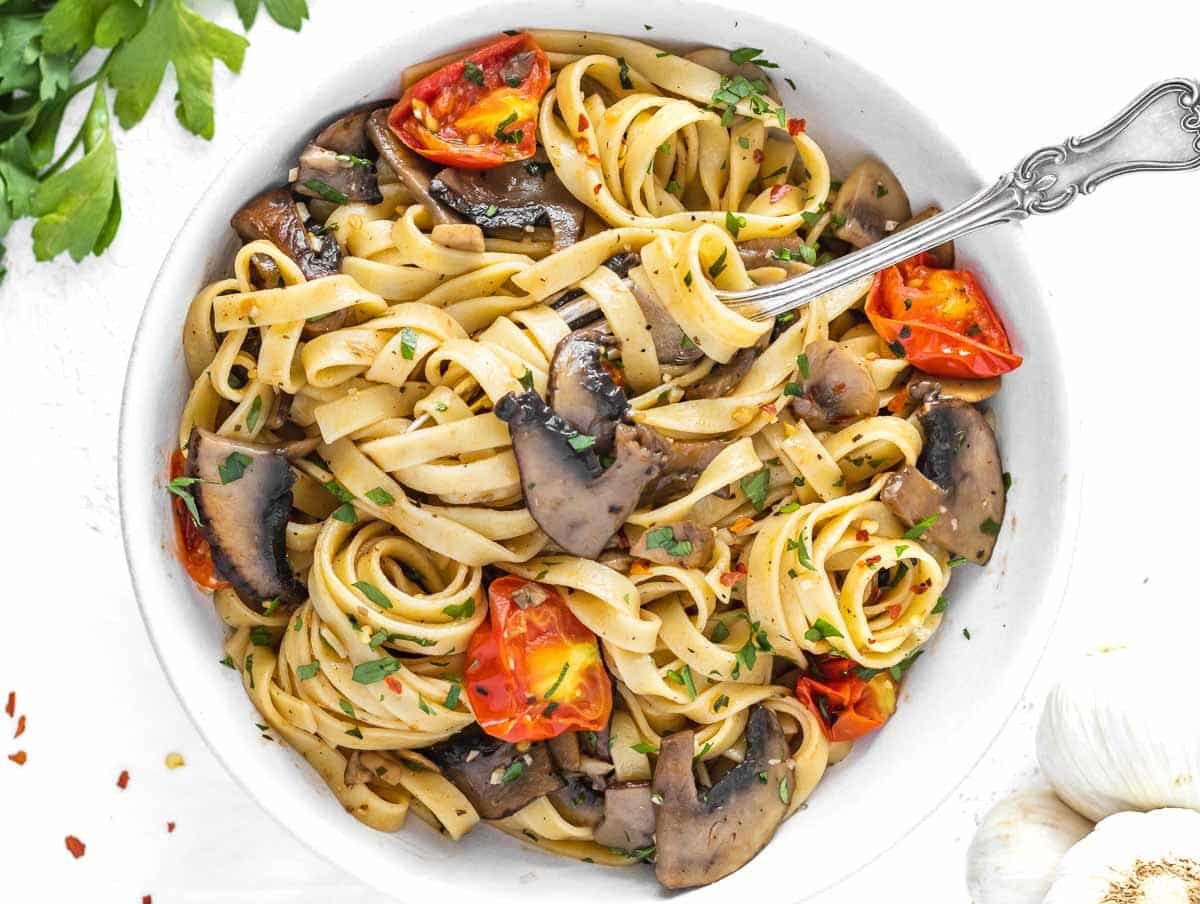 3. Tangy lemon Pasta in 20 minutes
A simple and creamy lemon pasta recipe that is perfect for a quick and tasty lunch or plant-based dinner. It takes just 20 minutes to make this tangy pasta dish with added spinach.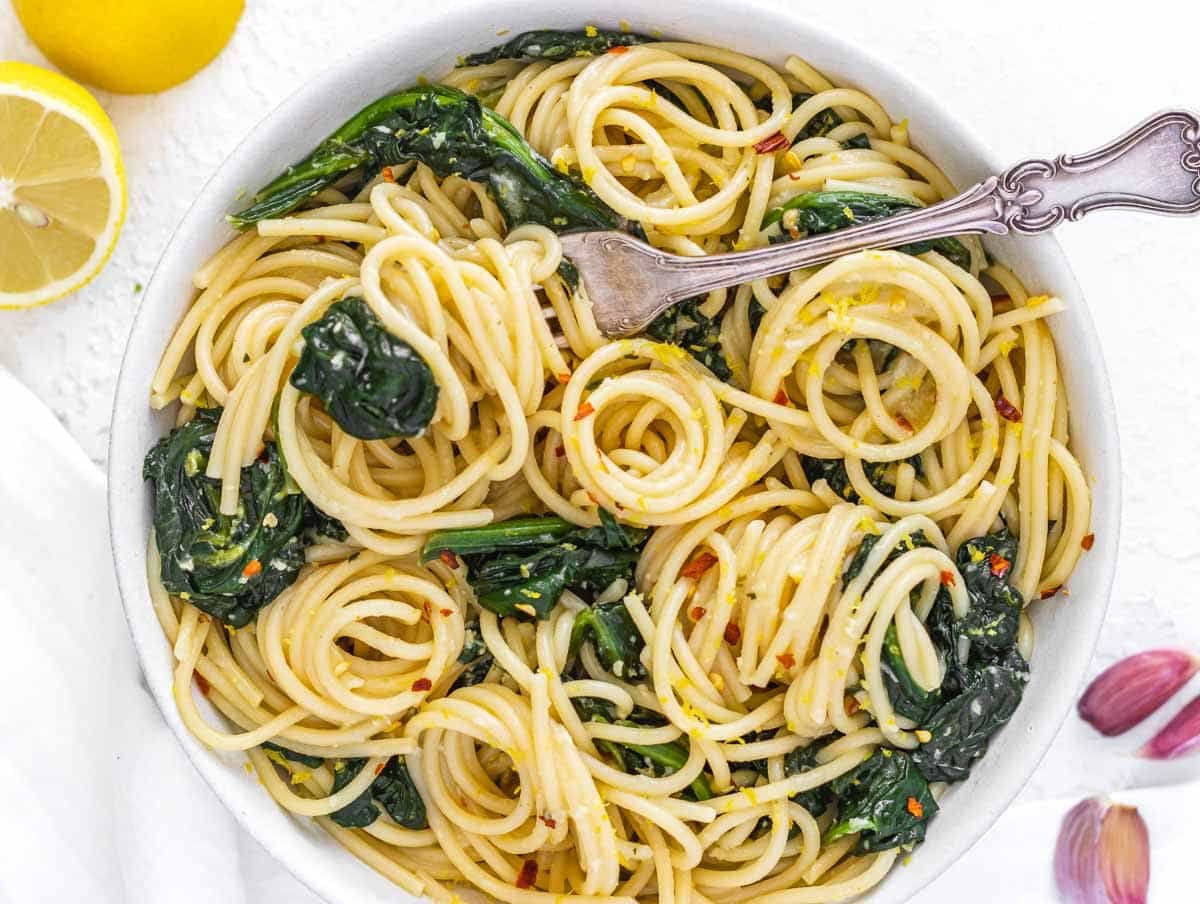 4. Quick tomato basil pasta (pasta Pomodoro)
Packed with tomato flavor and Italian herbs, this pasta Pomodoro is a basic but creamy rich pasta recipe! Eat as it is, or serve with freshly grated parmesan or roasted veggies.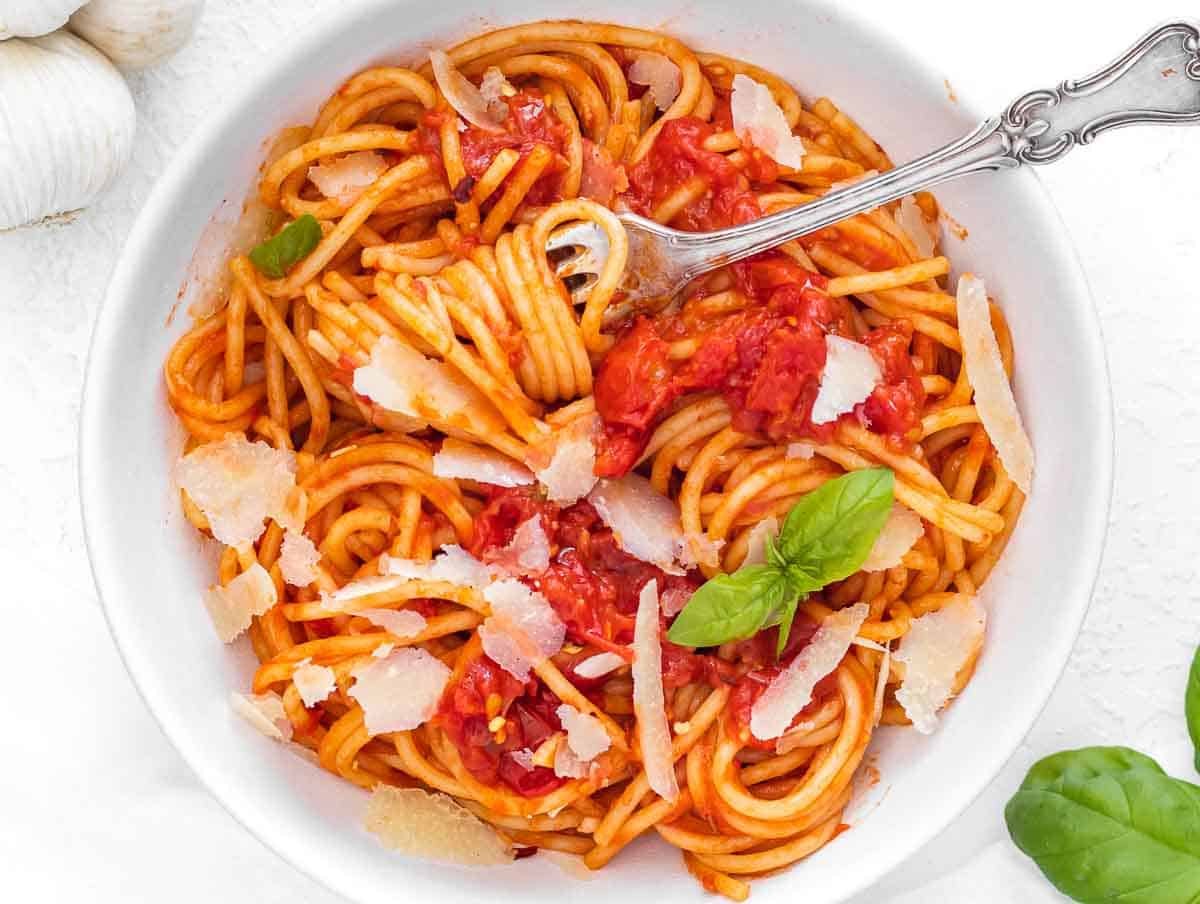 5. Zesty Arrabbiata in 20 minutes
Try a this rich and slightly spicy penne Arrabbiata (angry pasta), with garlic, tomato sauce and dried chili. It's simple to make and with just a few ingredients, a traditional and authentic pasta dish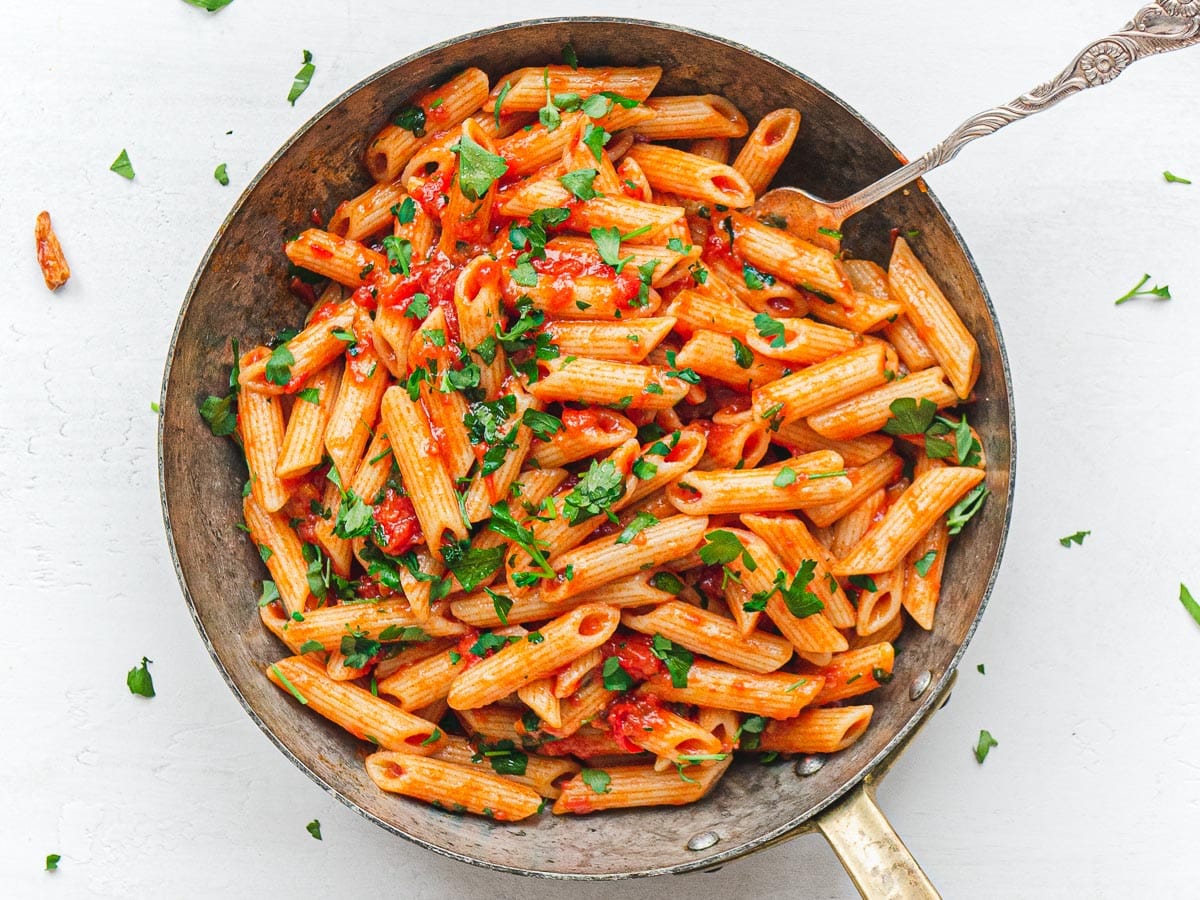 6. Hummus pasta in 20 minutes
With store-bought hummus, pasta rigatoni and mushroom, you can make a creamy and wholesome bowl of hummus pasta! The sauteed mushrooms add a nice bite and contrast to the rich flavor of the chickpea hummus, it's a quick dinner and lunch idea!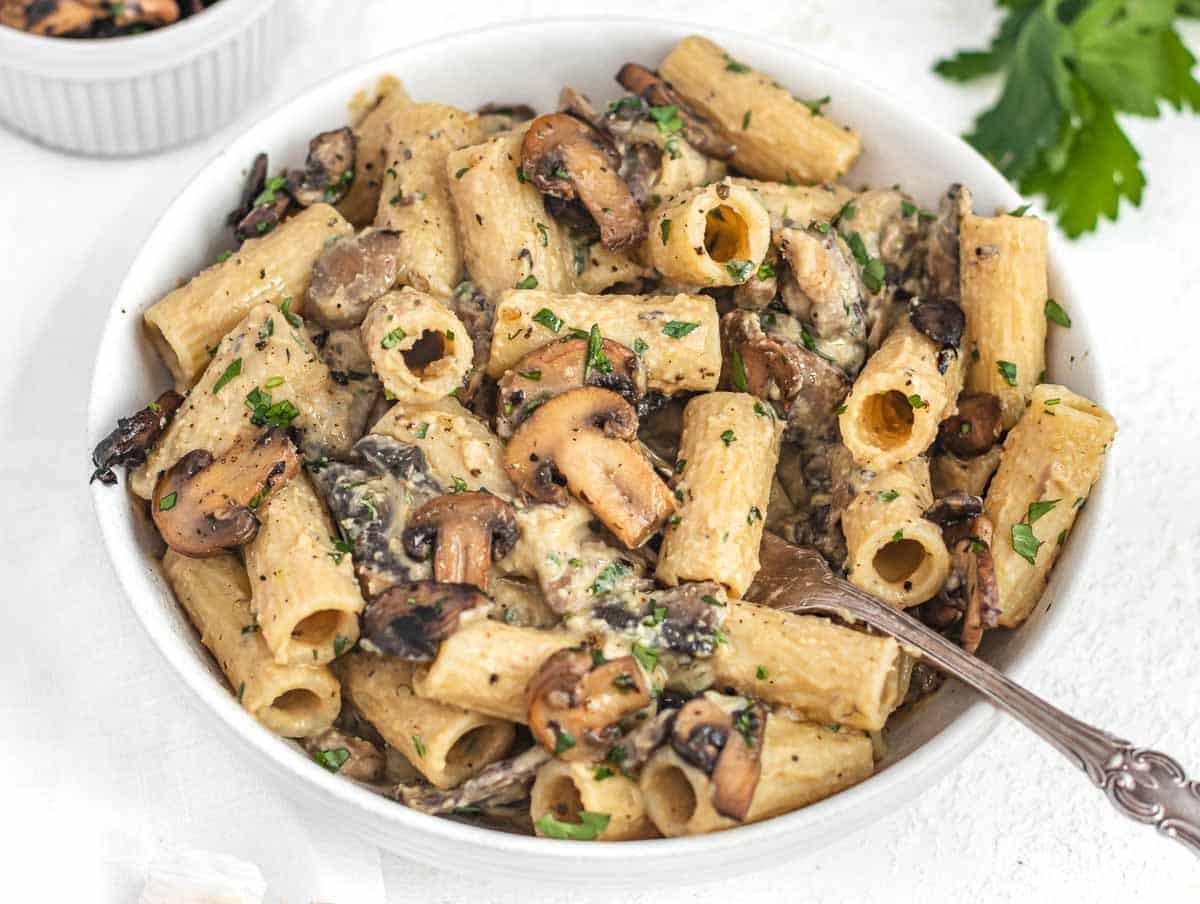 7. Zucchini pesto pasta in 15 minutes
This easy and quick 5-minute zucchini pesto is made with almonds, zucchini and fresh basil. Drizzle it on freshly cooked fussili or bow tie pasta for a quick and fulfilling dinner idea.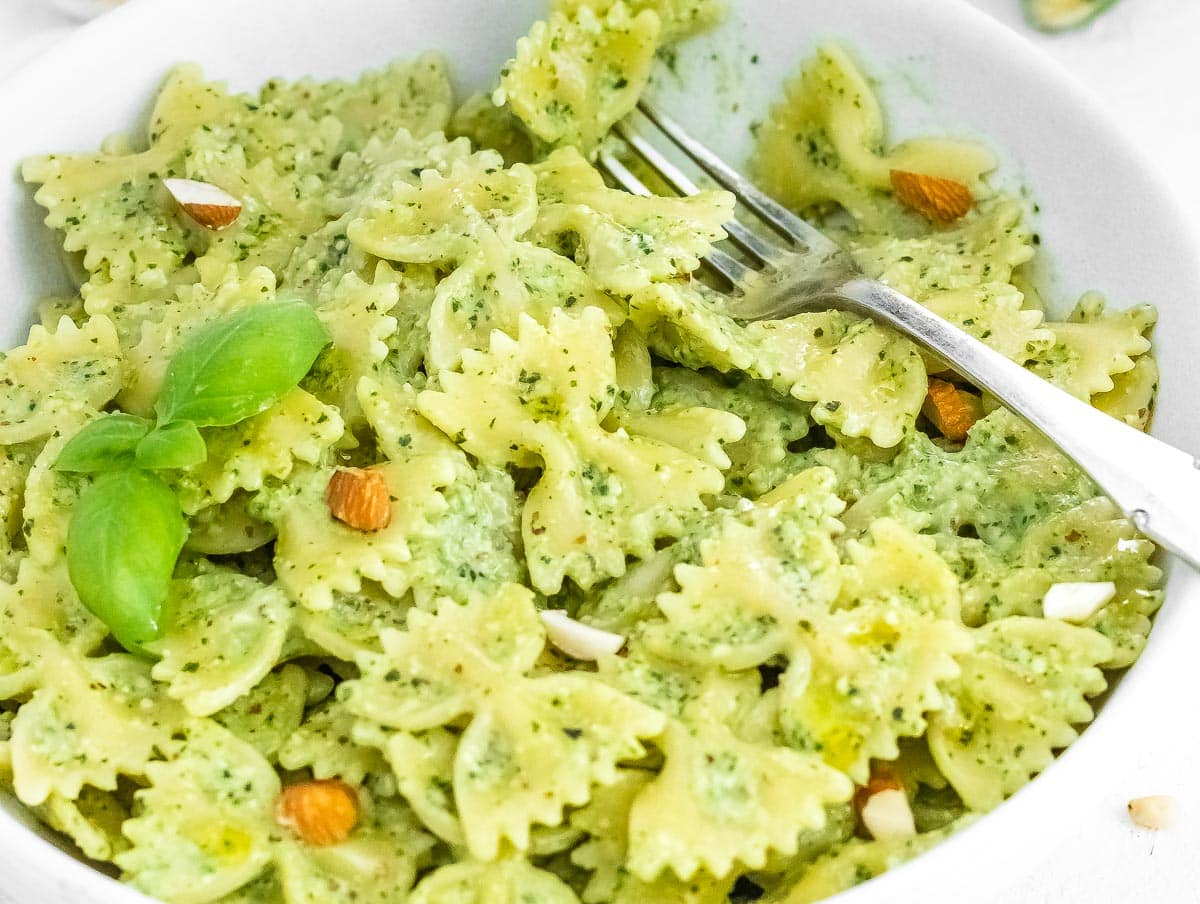 8. Chickpea pasta salad
Ready in 20 minutes, with fresh and colorful vegetables, chickpeas, and a creamy dreamy mustard dressing. This chickpea pasta salad is a healthy dinner idea with plenty of variation ideas so you can adapt it to your preferences.
9. Sauteed eggplant pasta (20 minute recipe)
The quickest way to cook eggplant in a pan is by sauteeing. Try this Italian sauteed eggplant recipe for a tender and rich eggplant meal that is easily served with olives and penne pasta.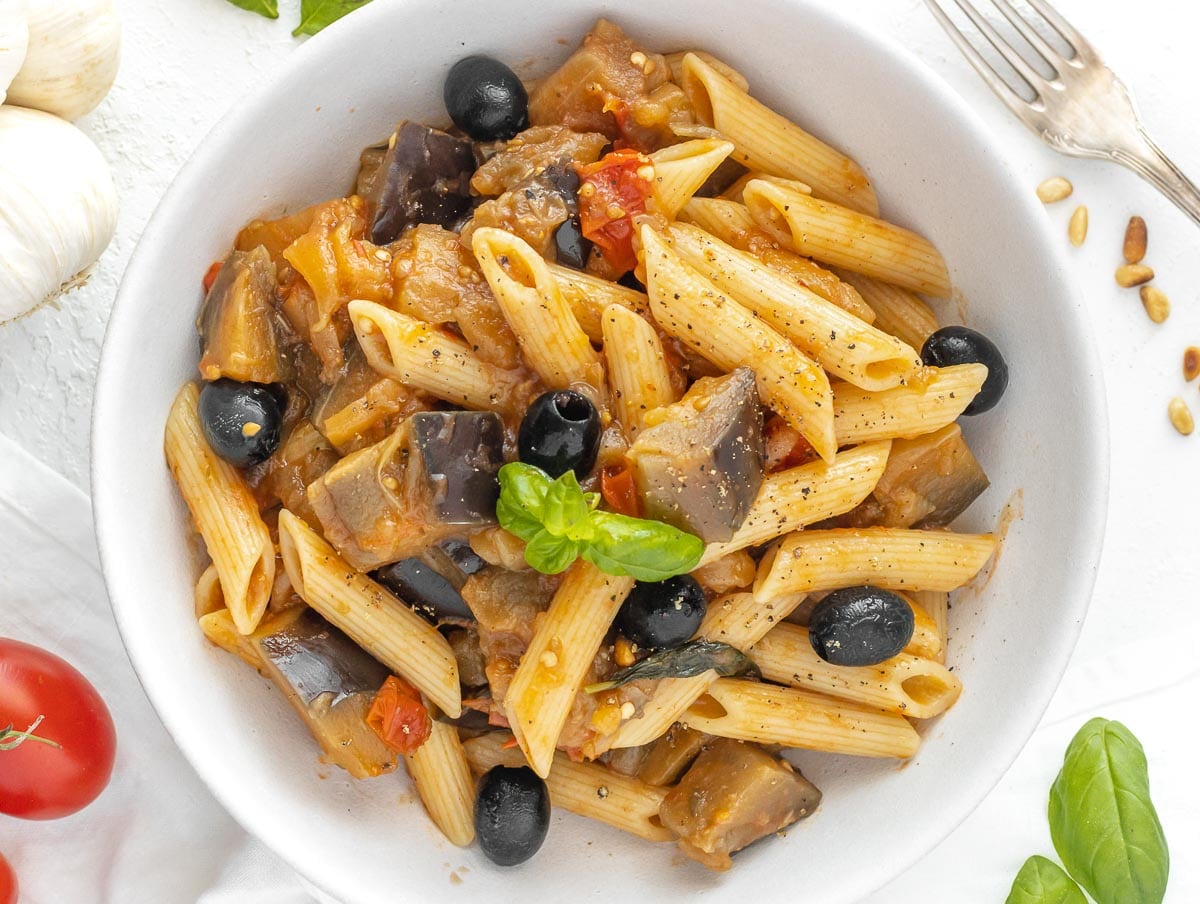 10. Pasta Puttanesca in 20 minutes
A rich tomato sauce with capers and olives makes the base of this pasta Puttanesca. Invented in Naples, Italy, this spaghetti dish is a creamy, elegant, and slightly spicy dinner idea.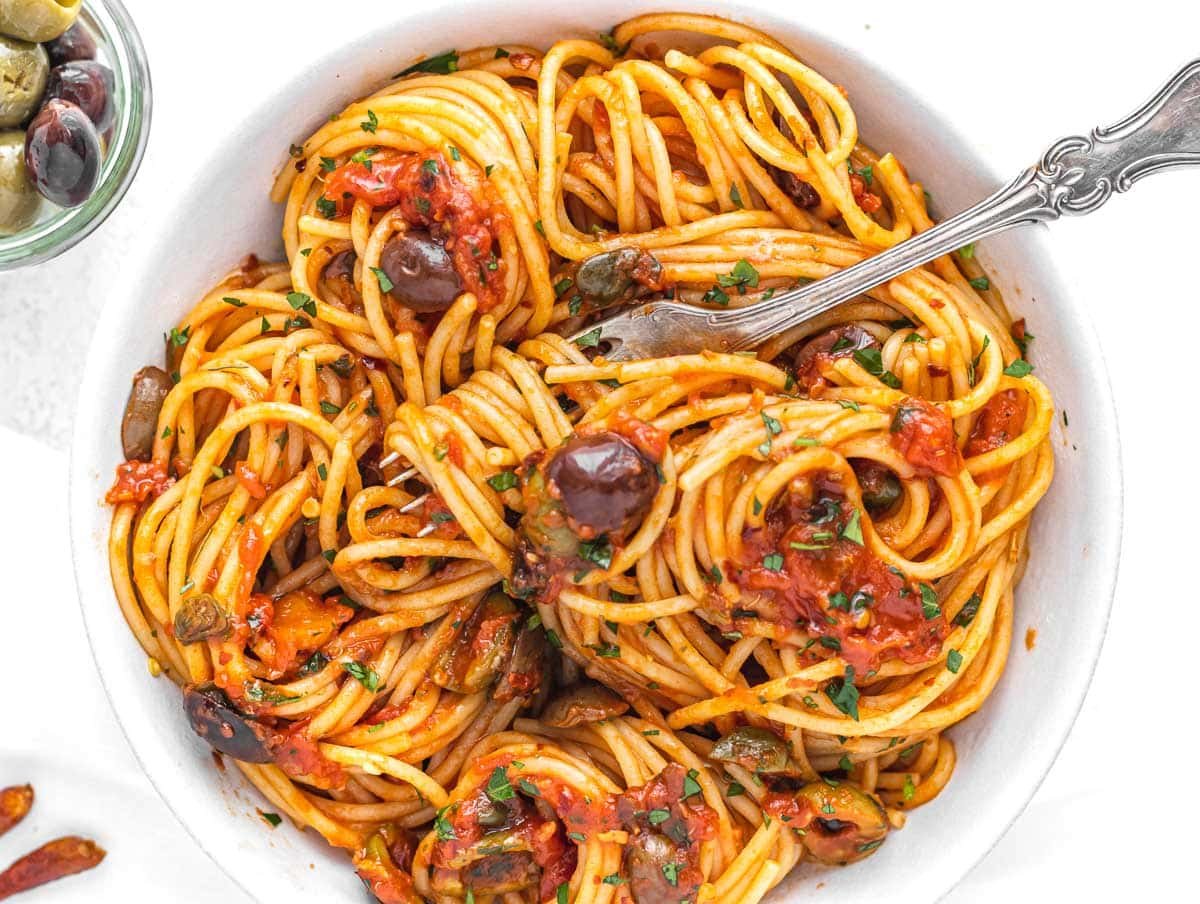 11. Ricotta pasta in 20 minutes
Featured in the recipe box below. Velvety creamy, tangy and fast, this ricotta pasta with spinach and lemon is easy to make in 20 minutes. The sauce needs no cooking, all you have to do is mix ricotta, parmesan, and steamed spinach with your rigatoni pasta. It's vegetarian and vegan–friendly too!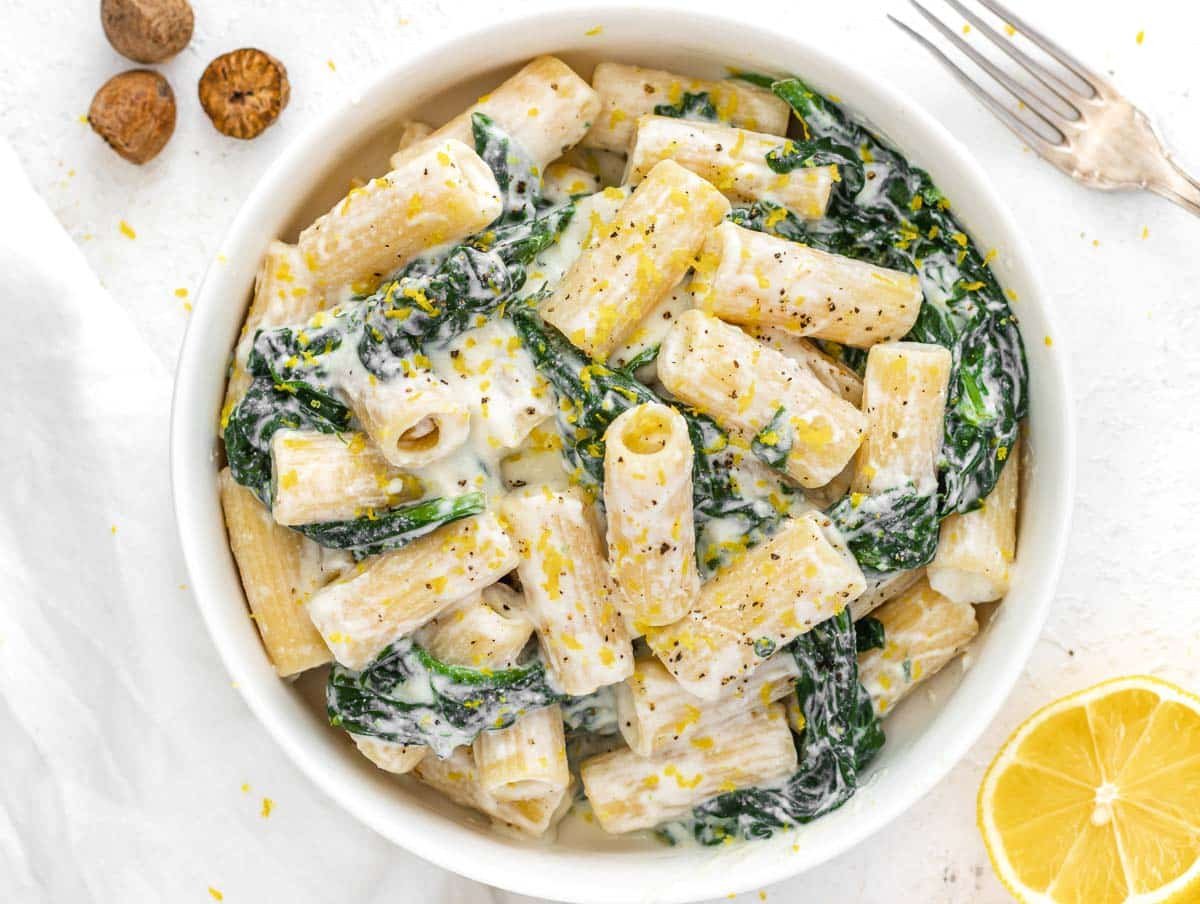 12. Broccoli pasta in 20 minutes
This broccoli pasta is easy, fun, and vibrantly green. Inspired by the Italian way of cooking broccoli, you cook and mash broccoli and mix it in your favorite pasta. Add parmesan cheese and red pepper flakes if you like!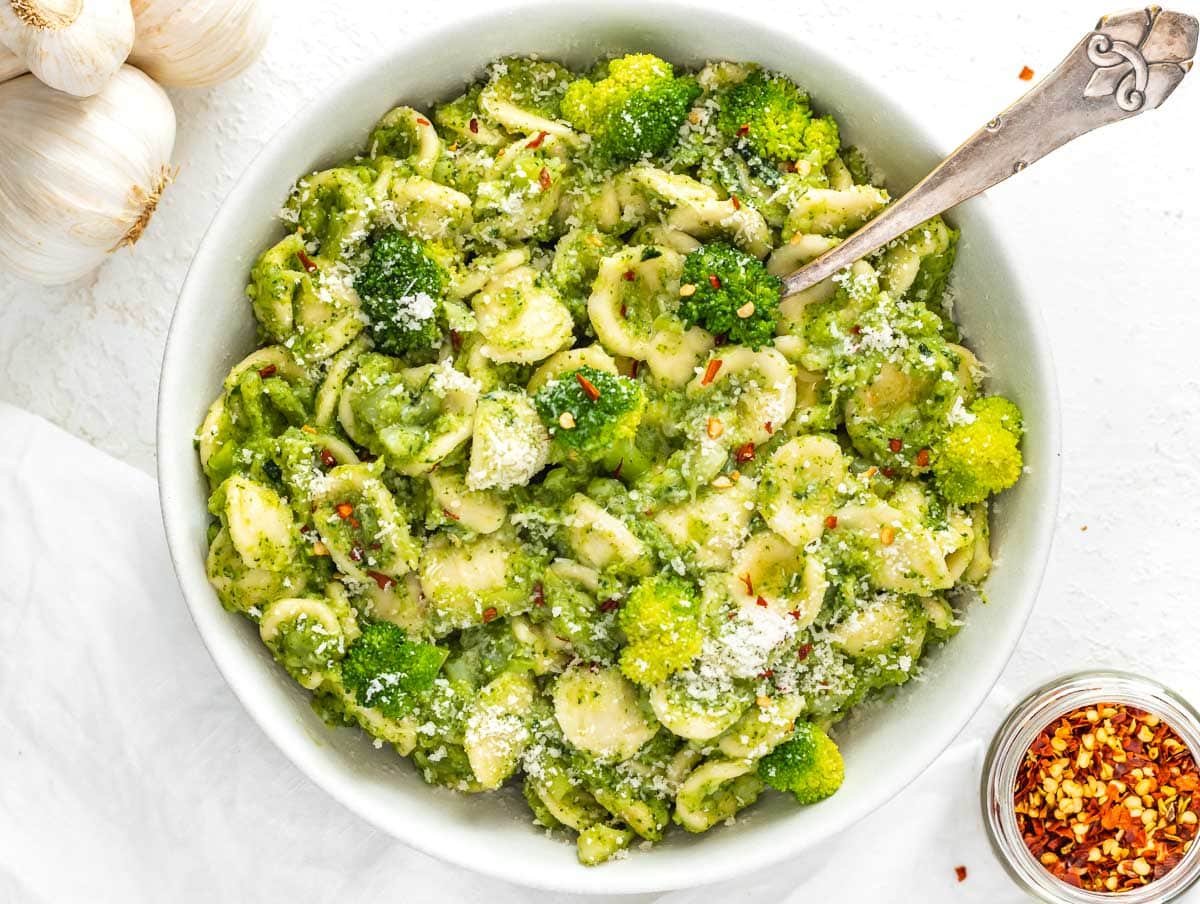 Dinner in 15 minutes
These last–minute dinner ideas are great for busy weeknights as they're fast, easy, and with few ingredients. There is always an addition of greens or veggies in these 15-minute recipes, so you can enjoy a wholesome and satiating meal even when you're short on time.
13. Tofu in pizzaiola sauce
Cooked in an easy marinara sauce, here is a super-easy 15-min one-pan dinner. Pair these tofu pizzaiola cutlets with sautéed spinach and a serving of toasted bread for a colorful and complete dinner.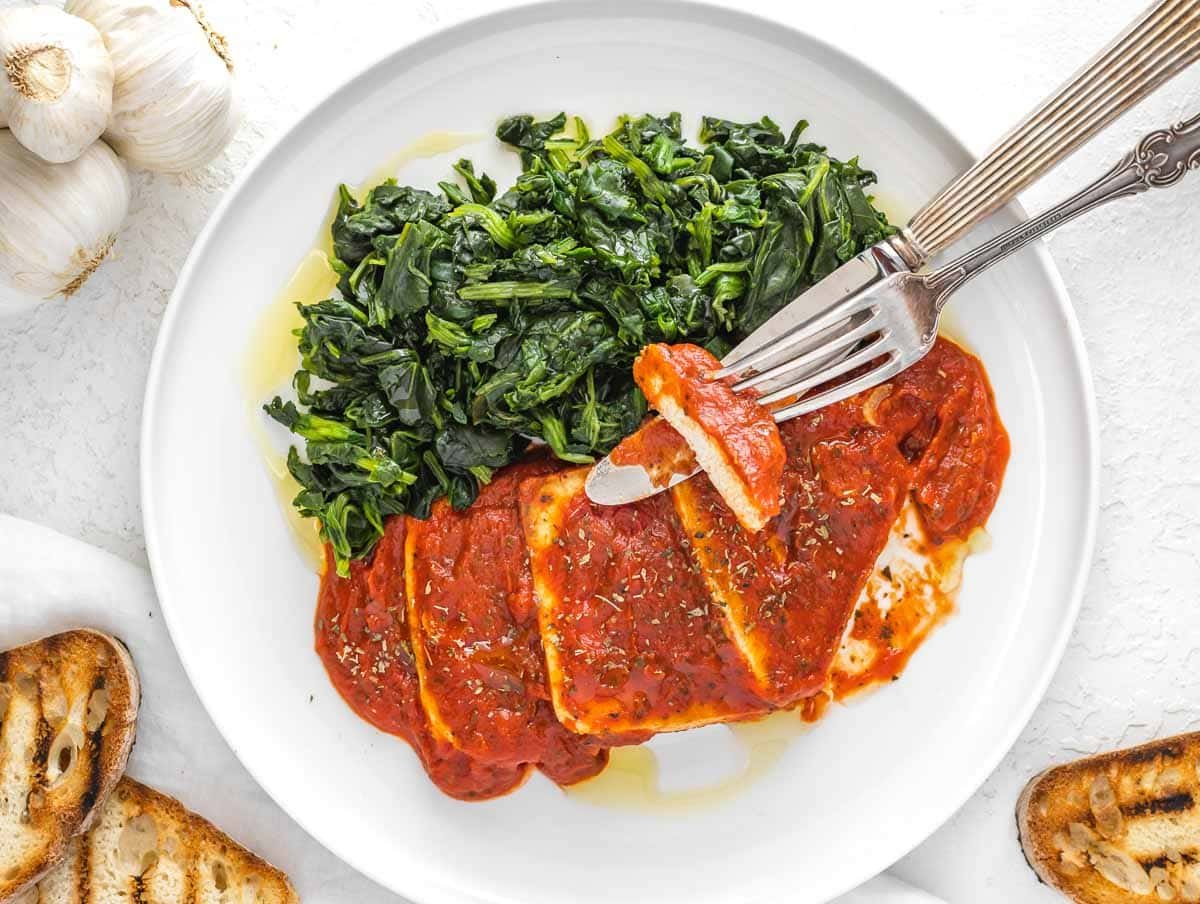 14. Chickpea salad
This quick, tangy and creamy chickpea salad is a no–cook dinner that you can mix together in 15 minutes. Serve with toasted bread or a side of couscous or pasta for a satiating and wholesome dinner.
15. Loaded microwave sweet potato
Sweet potatoes get perfectly tender, moist, and buttery when microwaved. Top your cooked sweet potato with quinoa salad, beans, guacamole, and sour cream for a quick and healthy dinner, ready in just 15 minutes!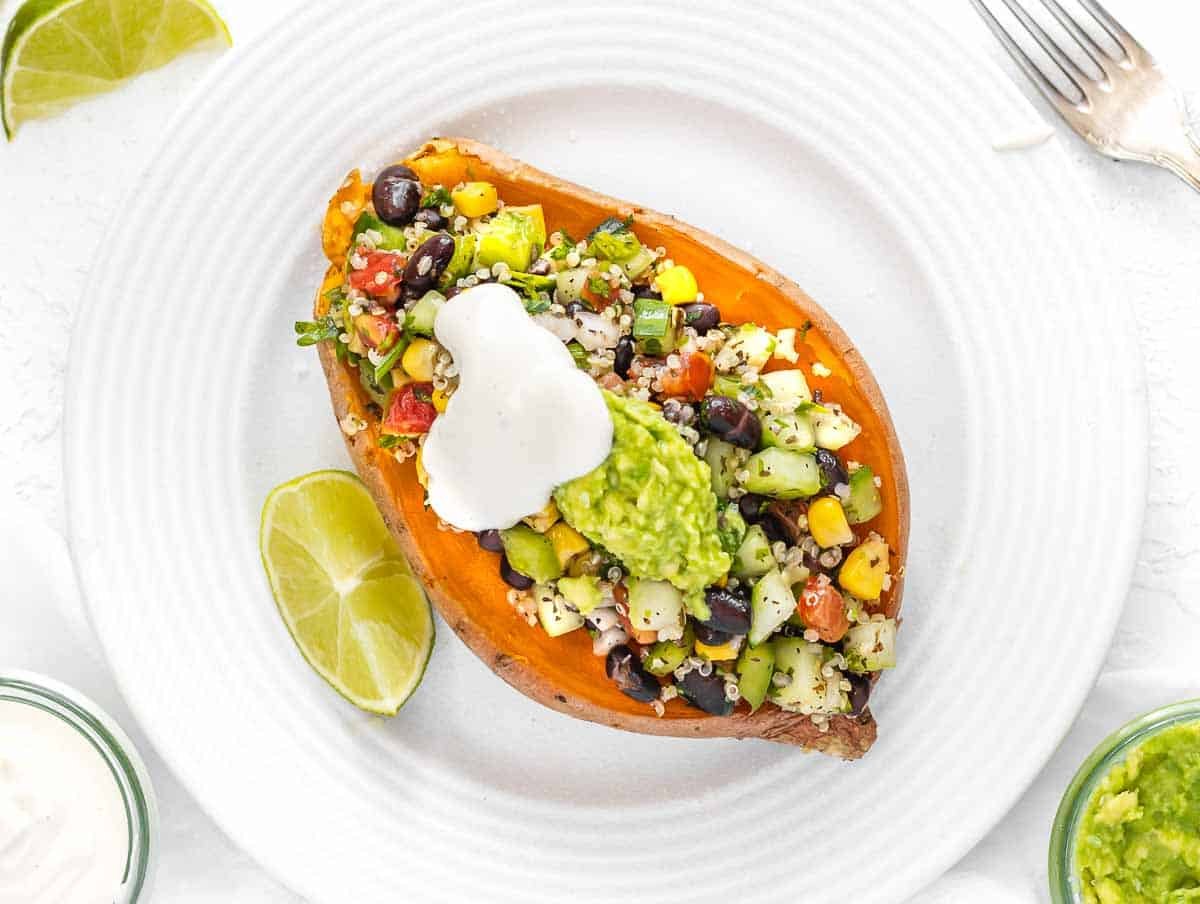 16. Mushroom Alfredo
If you're a fan of pasta and creamy sauces, try this easy mushroom Alfredo with a lighter Alfredo sauce and sauteed mushrooms. It's a vegetarian and vegan–friendly meal that is Sunday dinner worthy!
17. Couscous salad
Couscous salad is a veggie-loaded grain salad with pine nuts, chickpeas, and a tangy lemon vinaigrette. It's naturally vegan, super wholesome, and it takes just 15 minutes to make!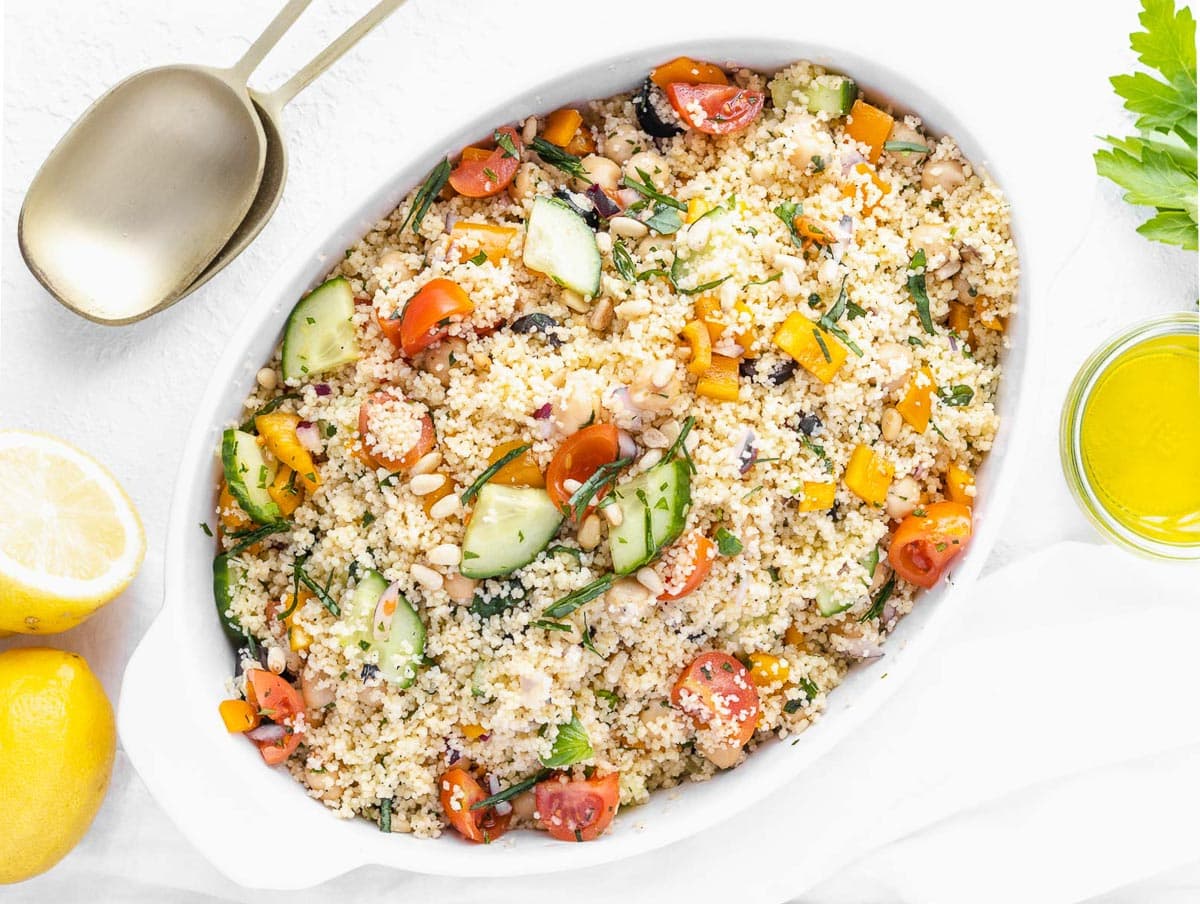 18. Mushroom tofu
A perfect low-carb dinner! Tofu cutlets with mushrooms is a quick meal and cooks in just 15 minutes. Serve on a bed of rice, couscous, or cauliflower rice (if you prefer low-carb) for a satiating meal.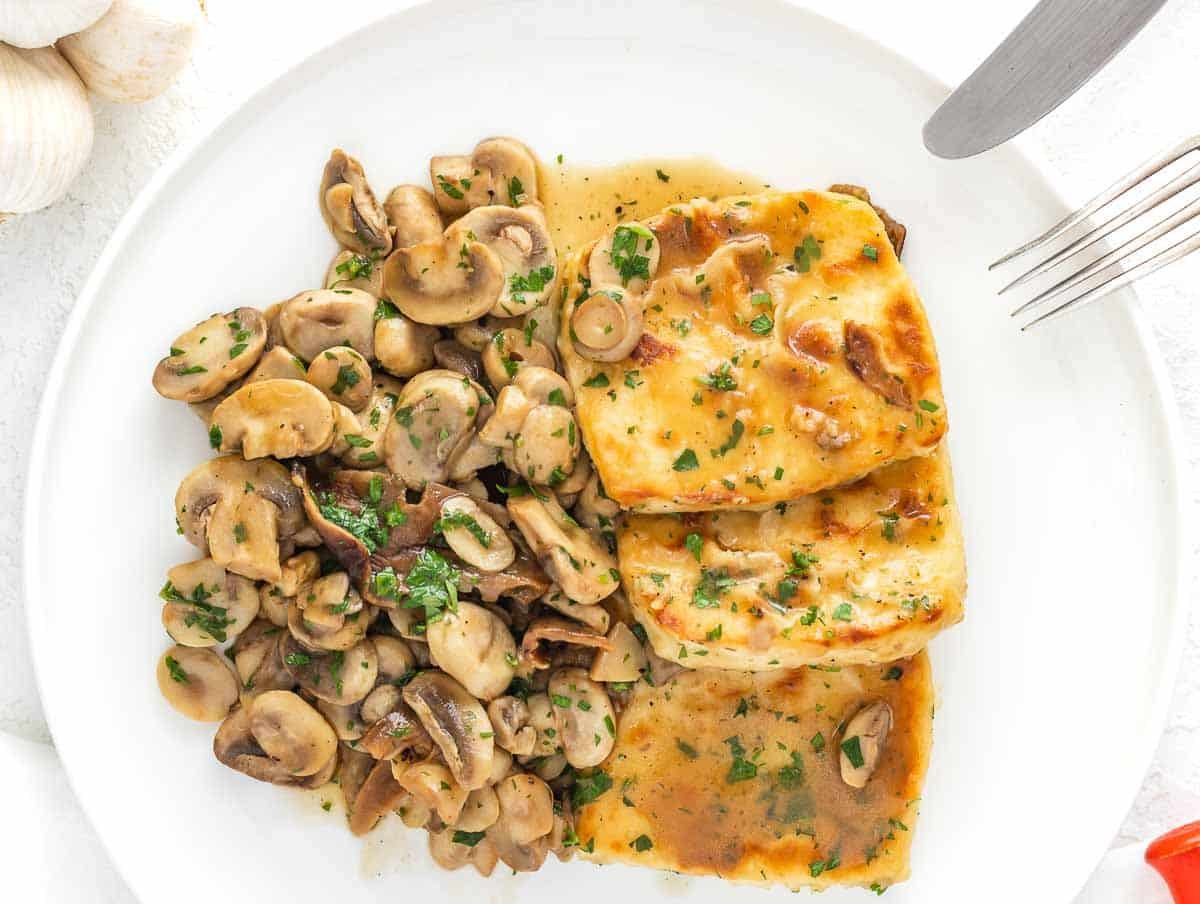 Easy Italian dinners
Italian food can be fast, tasty, and wholesome at the same time! Try these easy dinners with fresh herbs and authentic cooking techniques, they will transport you directly to the Italian countryside.
19. Italian bean stew
This hearty, thick and tomato-rich bean stew is a great pairing with couscous, polenta, and quinoa. Perfect as a quick and light dinner as it's low in calories and ready in about 30 minutes.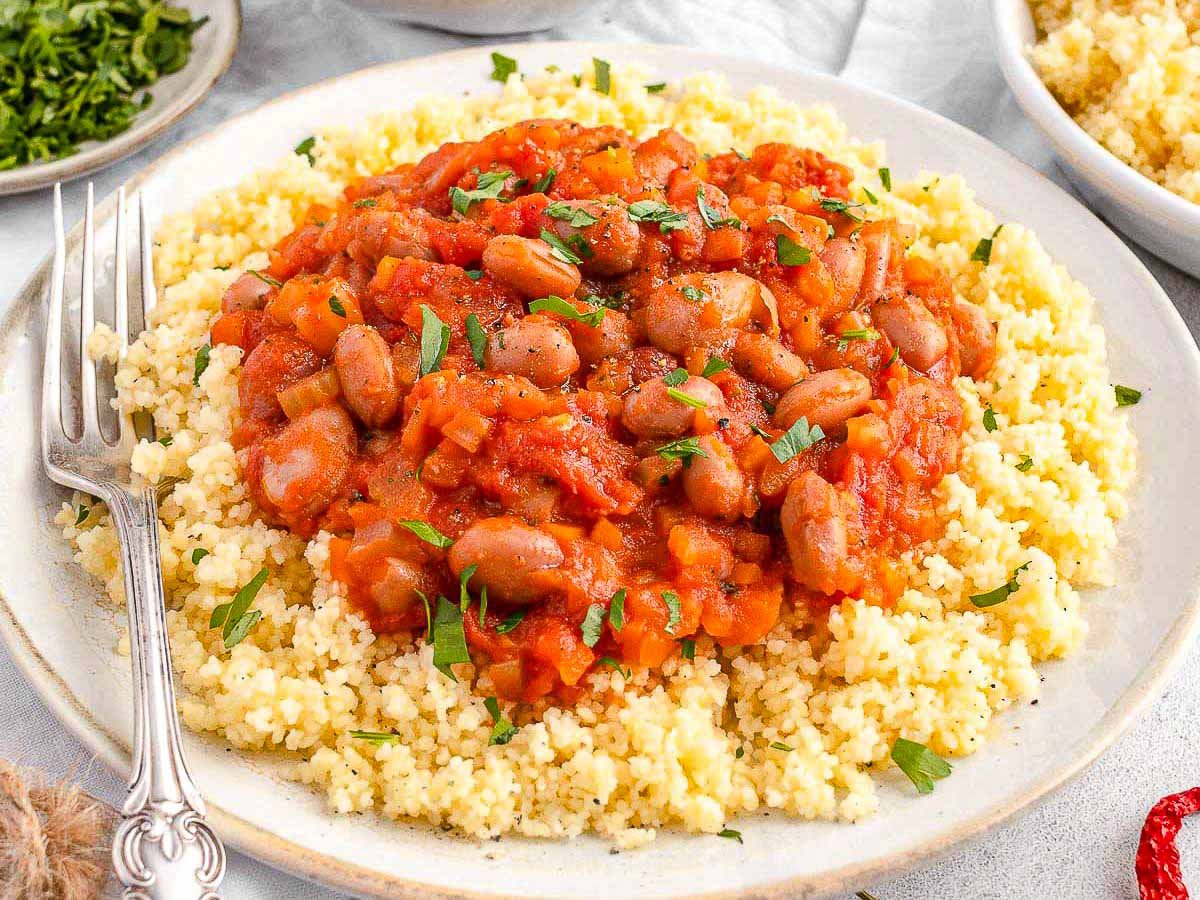 20. Marinara sauce
This 15-minute marinara sauce is one of the most versatile Italian sauces. Serve it as a dip, on spaghetti (here with fried eggplant), on pizza, in subs, and parmigiana.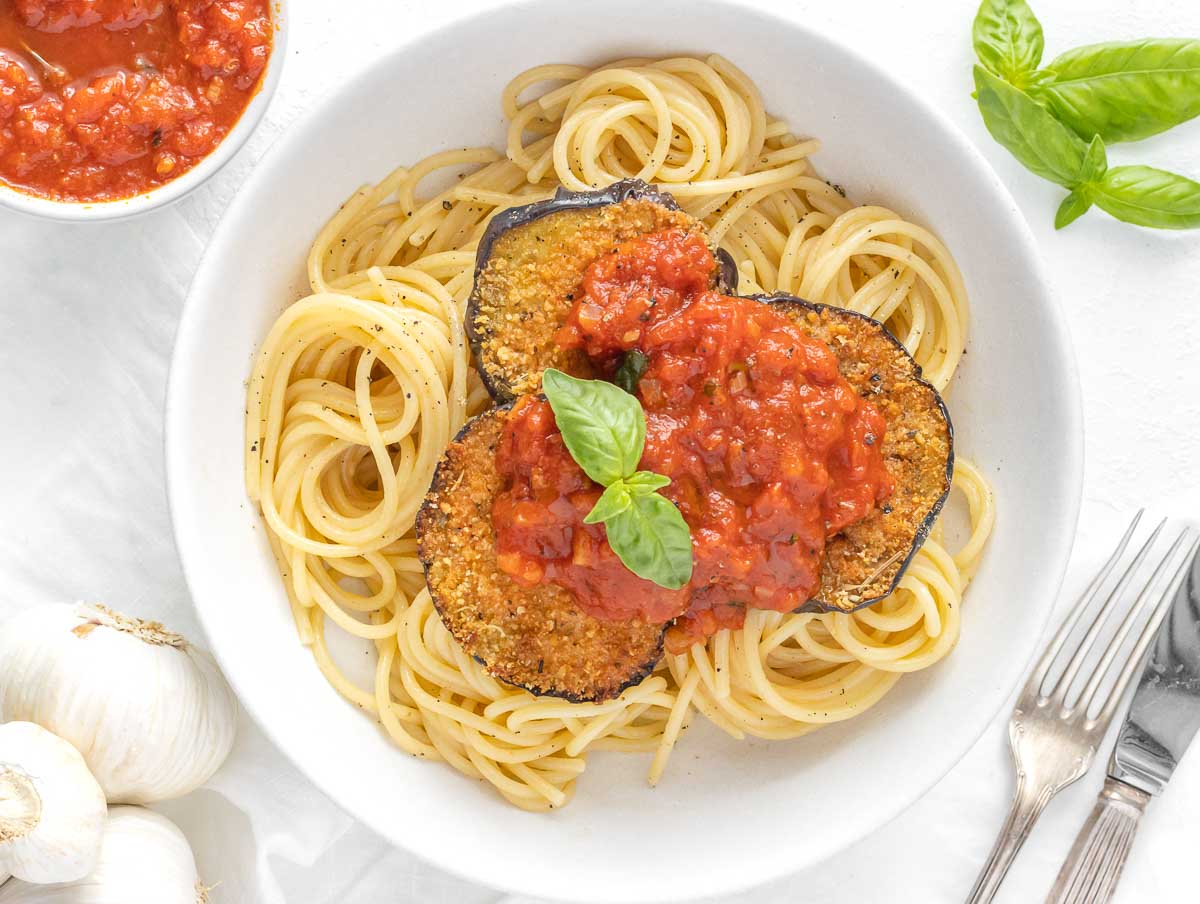 21. Artichoke pesto
Get artichoke hearts from a glass jar, and make this easy 5-minute artichoke pesto. It's perfect with fusilli pasta, on toasted bread, or in a sandwich. Try this buttery and nutty pesto recipe for a different and creamy dinner addition!
22. Bruschetta with sauteed veggies
Bruschetta is a 5-minute Italian classic, typically served as an appetizer or side dish. With the right herbs and topping, you can easily serve bruschetta with sauteed zucchini and toasted pine nuts as a light and vibrant dinner.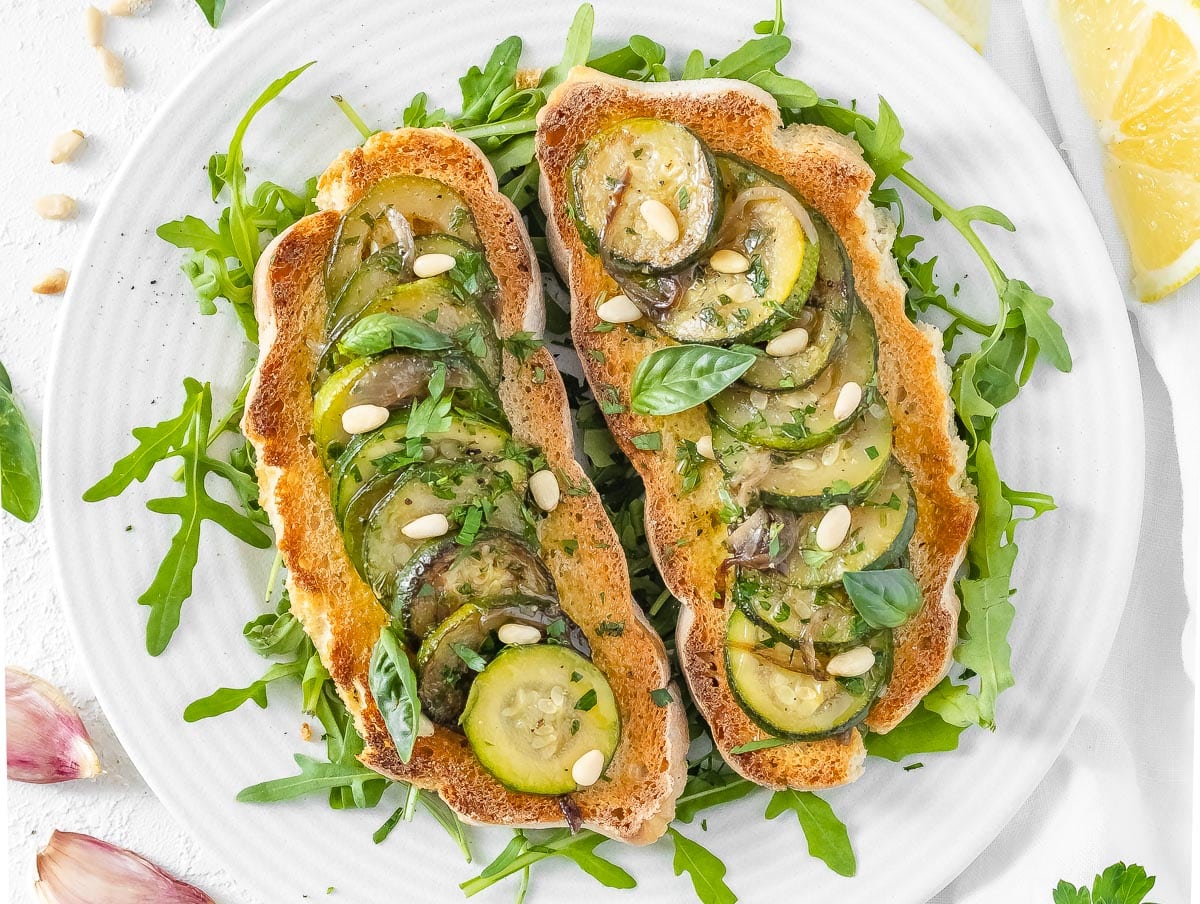 23. Pasta al Limone
This creamy and tangy pasta al Limone is a simple pasta that is ready in 20 minutes. You make a no-cook lemon sauce with ricotta, parmesan, and fresh thyme, it's easy but endlessly creamy and elegant.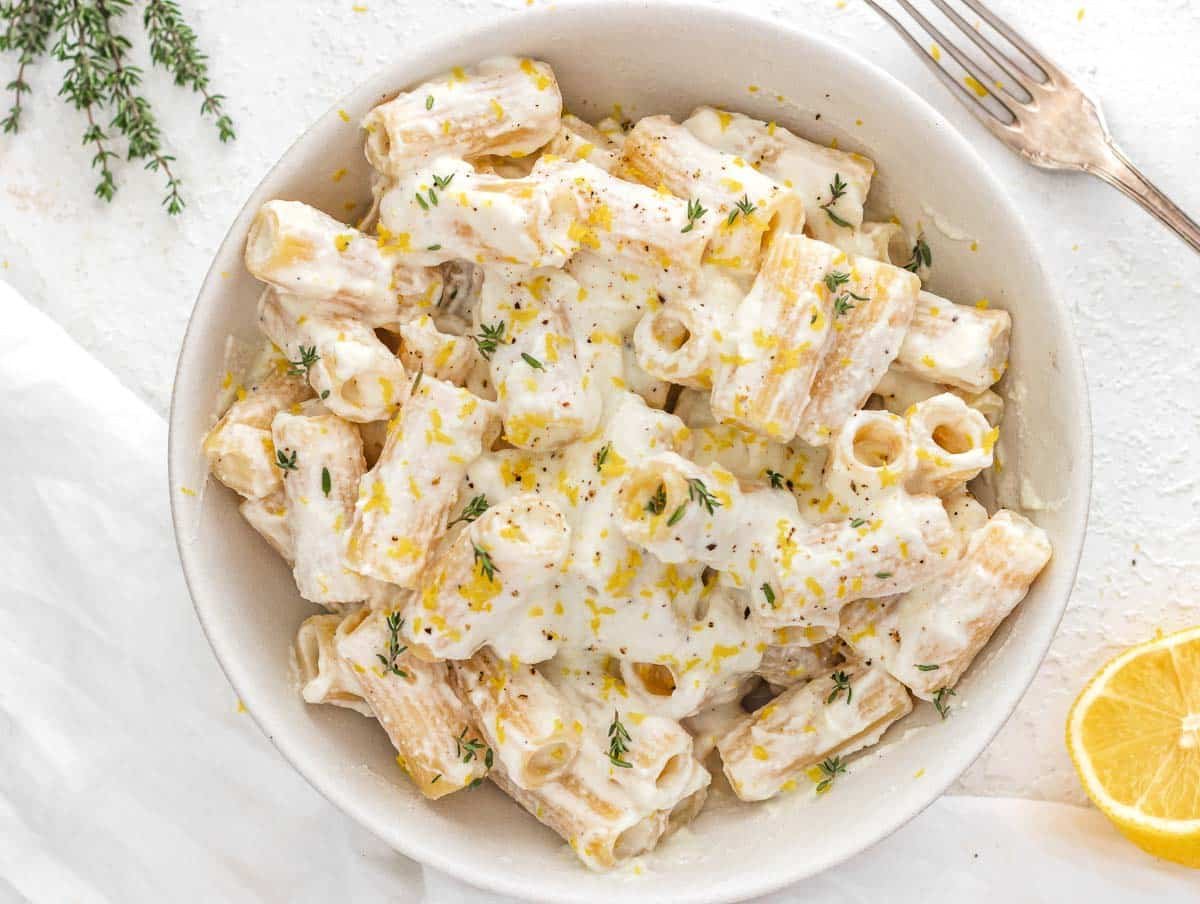 24. Loaded eggplant boats
If you love eggplant, you need to try these stuffed eggplant boats with fresh tomatoes and pesto. Serve them with toasted bread as a starter or as an easy dinner with just 5 minutes of preparation time.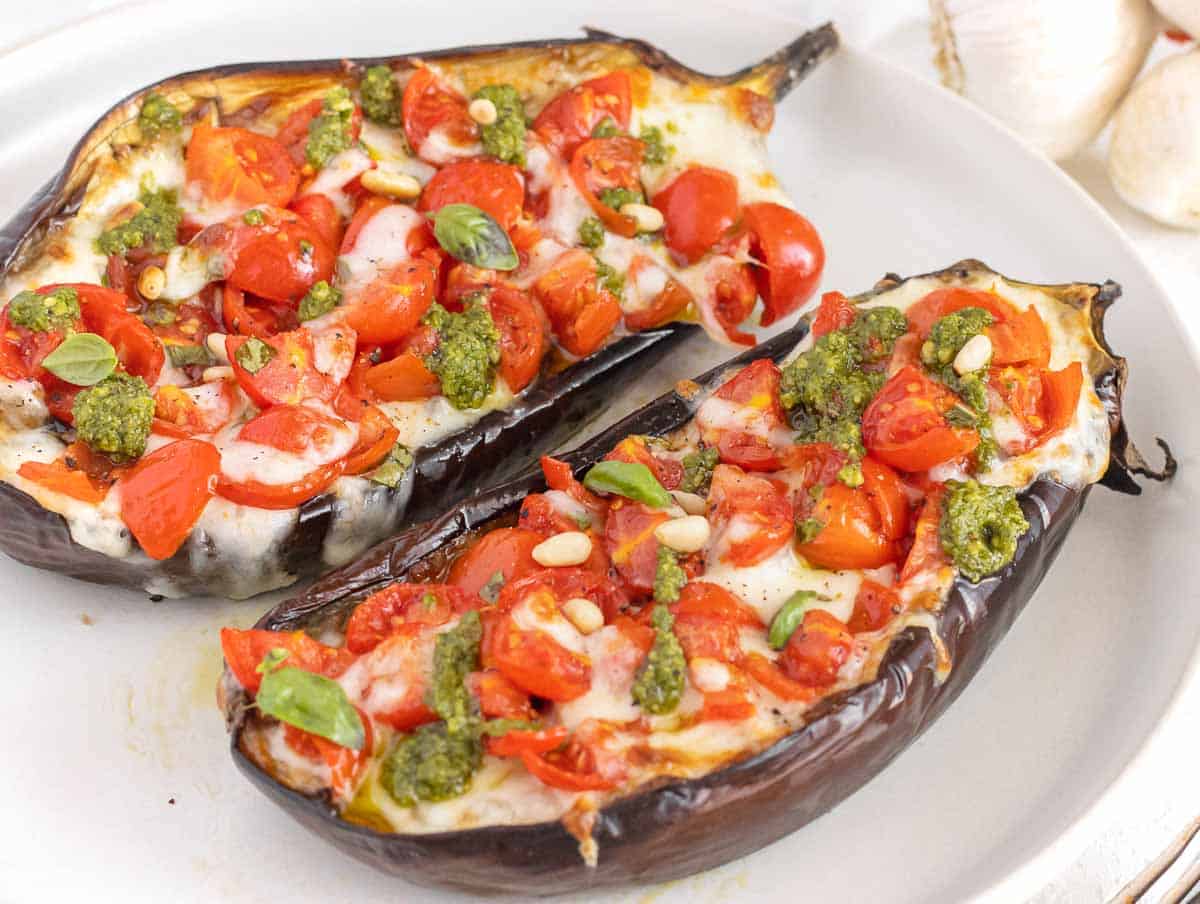 25. Pasta e Ceci
This rustic and wholesome pasta e Ceci is a mix between a soup and a stew and is a real Grandma recipe. It's a comforting and steamy bowl of soffrito, Italian tomato sauce, and legumes that pleases the entire family.
Easy soups
Loads of color, flavor, and creamy texture. These soups are incredibly nutritious and packed with fresh produce, upgrade them to dinner status with toasted bread or croutons.
26. Zucchini soup
Vibrantly green, light, and easy to make, this zucchini soup is great for the spring and summer when zucchinis are plentiful and seasonal. Serve with toppings such as croutons, roasted chickpeas, or grated parmesan for a complete and colorful meal.
27. Tofu soup
This tofu soup is quick, tasty, and easy. You can make it in 20 minutes, with simple ingredients and seasonal veggies any time of the year. Drizzle with sesame seeds and chili oil for an Asian-inspired and zesty dinner.
28. Roasted butternut squash soup
A simple and super easy butternut squash soup that requires one-trey preparation and just a quick blend. Pair with slices of toasted bread and roasted brussels sprouts for a fulfilling and healthy dinner.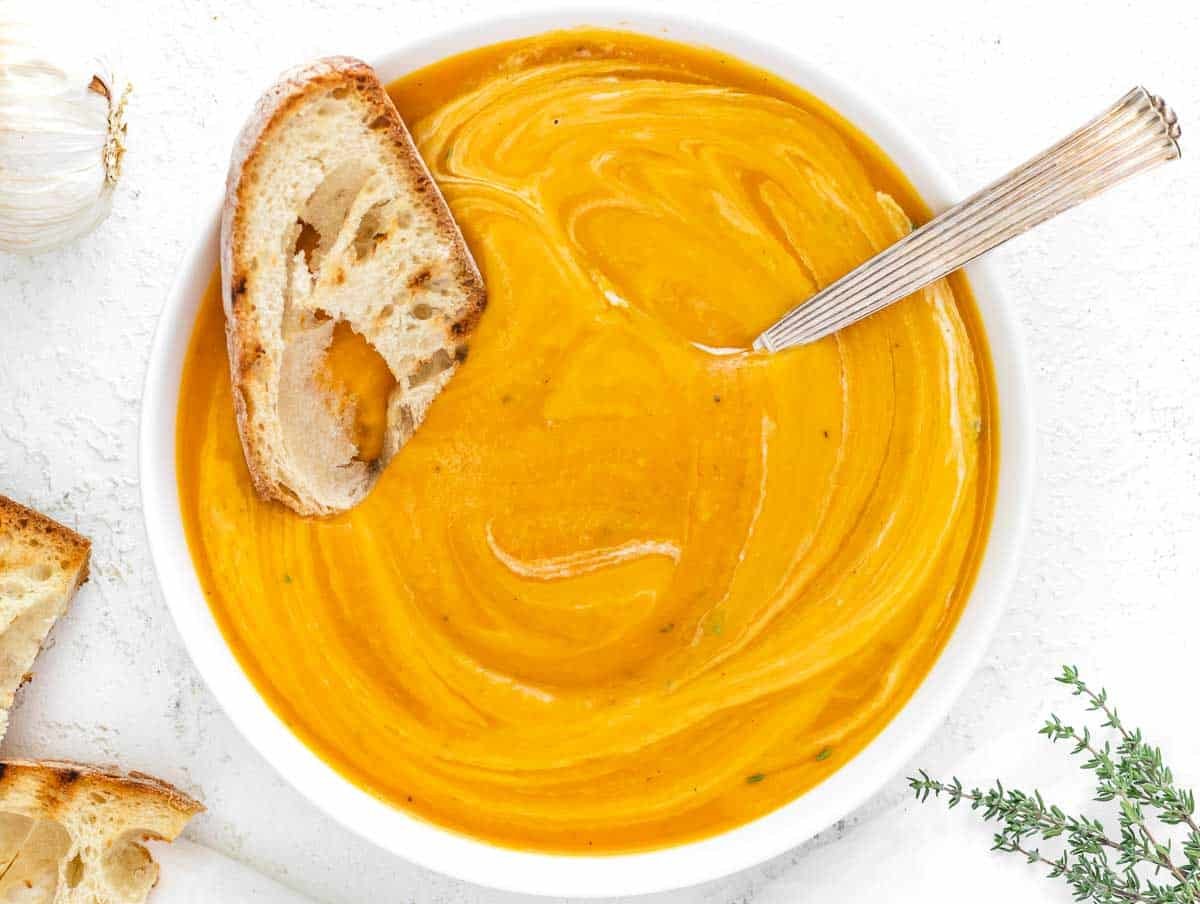 29. Chickpea soup
Chickpeas, tomato sauce, and potatoes make a wholesome and rich soup combination in this Italian chickpea soup. Add leafy greens for extra veggies and serve with slices of good quality toasted bread.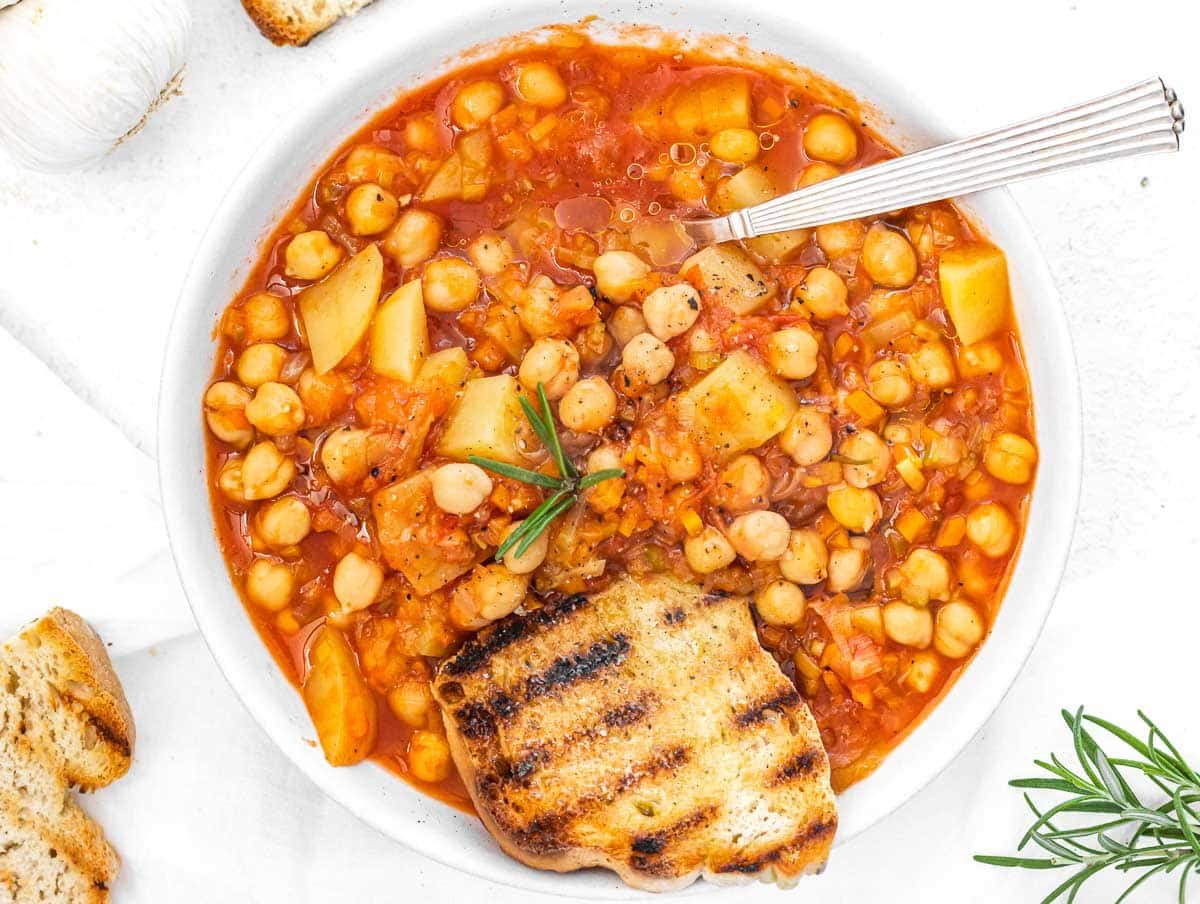 30. Easy cauliflower soup
Velvety creamy, light, and nutty, this bright cauliflower soup makes for a comforting and healthy dinner idea. Pair it with bread, air fryer chickpeas, or homemade croutons for an elegant and colorful meal.
31. Red lentil soup
Rich, thick and tomato-packed, this red lentil soup cooks in about 30 minutes and brings healthy plant–based protein to your table. Add spinach for extra greens and serve with sourdough bread for a rustic and wholesome dinner.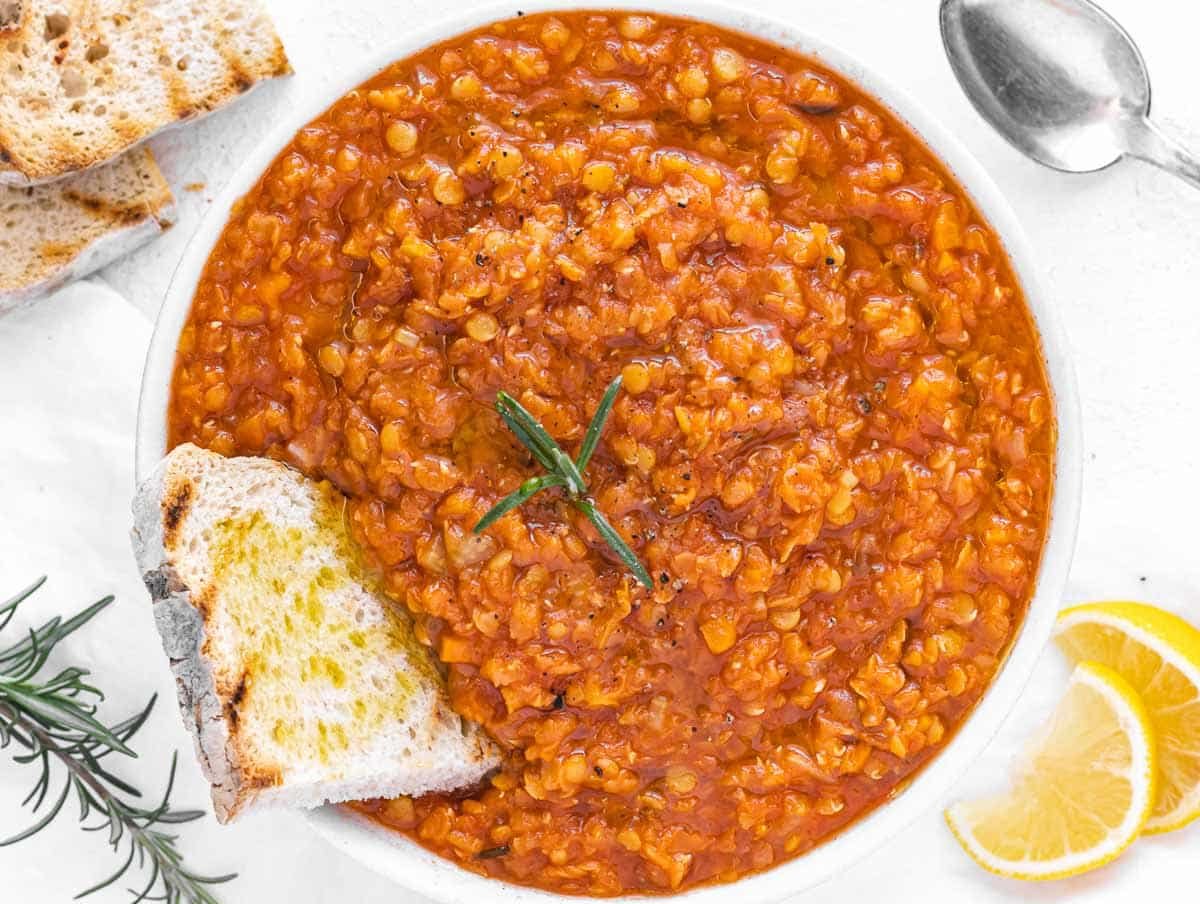 32. Broccoli soup
Broccoli soup is light, vibrant, and perfectly paired with crostini and croutons. It's easy to make in about 30 minutes and caters to vegetarians and vegan eaters as well.
Sandwich dinner ideas
Take your pick from creamy spreads and sandwich-friendly fillings, these light, and easy sandwich dinners are great as last-minute dinners.
33. Easy hummus
Make the ultimate hummus sandwich with a 5-minute chickpea hummus, and slices of cucumber, tomato, and red onion. Use sandwich bread, whole grain bread, or pita bread as your base, and add slices of avocado and crumbled feta. It's a quick and nutritious sandwich meal for the whole family.
34. White bean dip
Pair this tangy and velvety smooth white bean dip with lettuce, avocado, and crusty bread. You'll have a wholesome and healthy sandwich packed with flavor and greens.
35. Mashed chickpea salad
This is a no-cook creamy and tangy chickpea salad with vegan mayo and mashed chickpeas. It's great in a sandwich with slices of tomato, and makes for a handy putlock dinner too!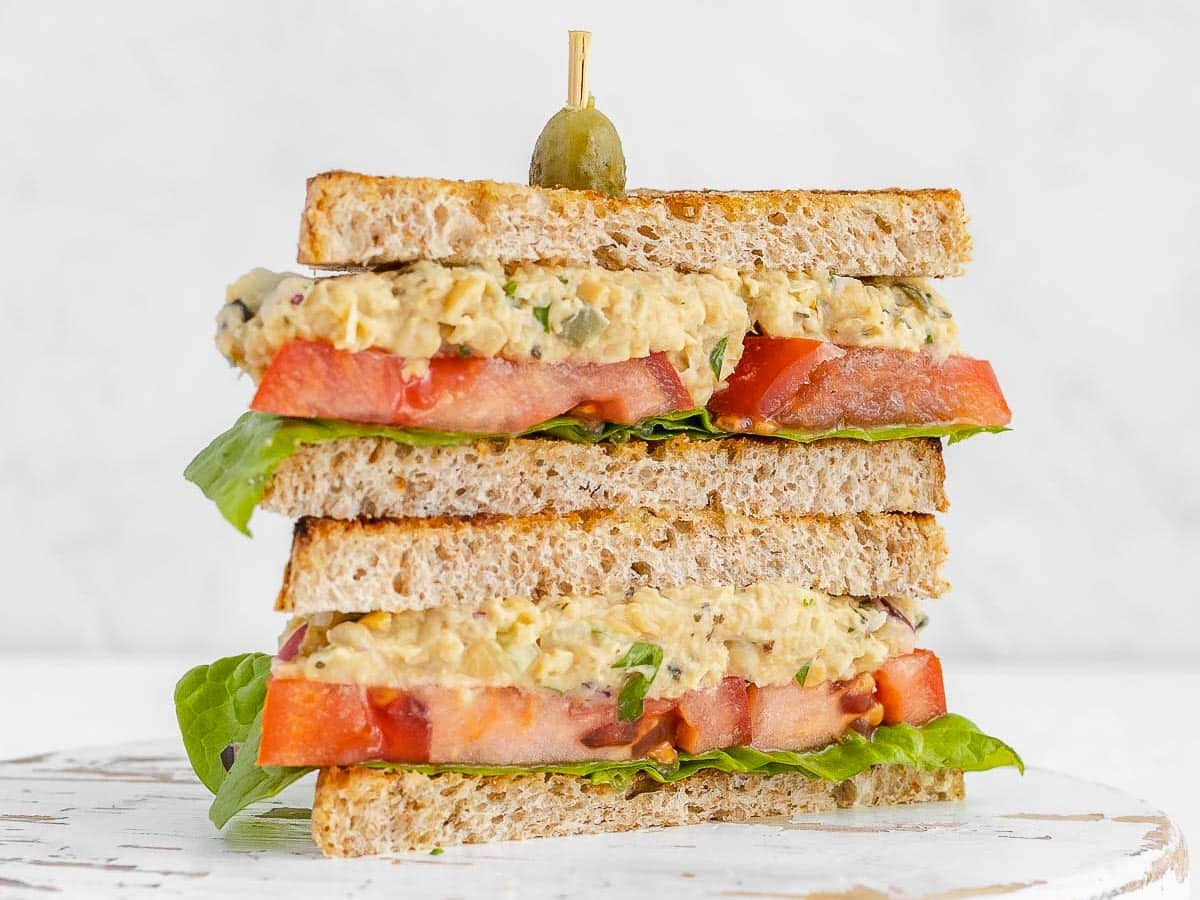 36. Scrambled veggie tofu
Tofu is easily cooked when scrambled on a pan with mushrooms or spinach. Serve with avocado on toast and sprinkle with fresh parsley. It's a 10-minute plant-based meal with plenty of protein.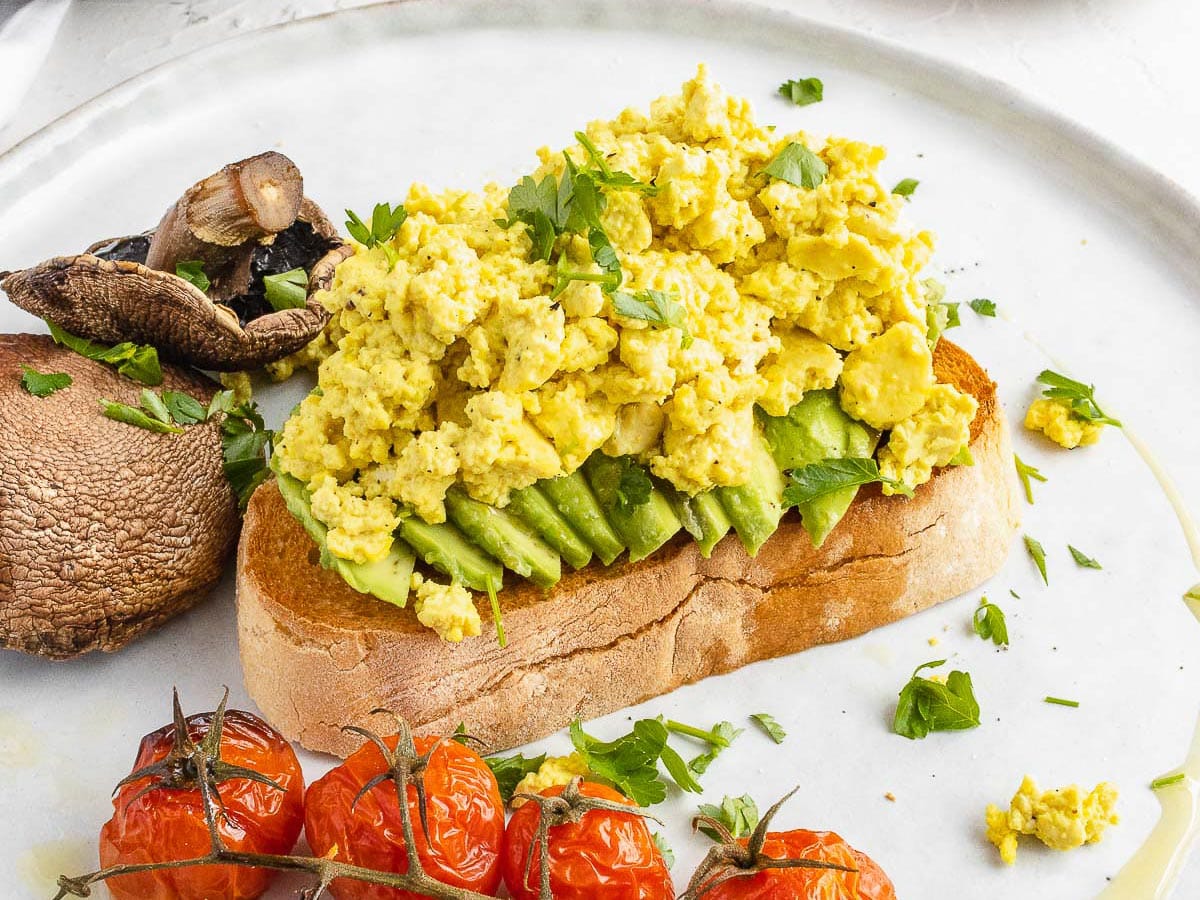 37. Avocado spread
Avocado spread takes just 5 minutes to make and gives you the creamiest and smoothest sandwich spread. Pair with tomatoes or roasted chickpeas for a fun and vibrant sandwich idea.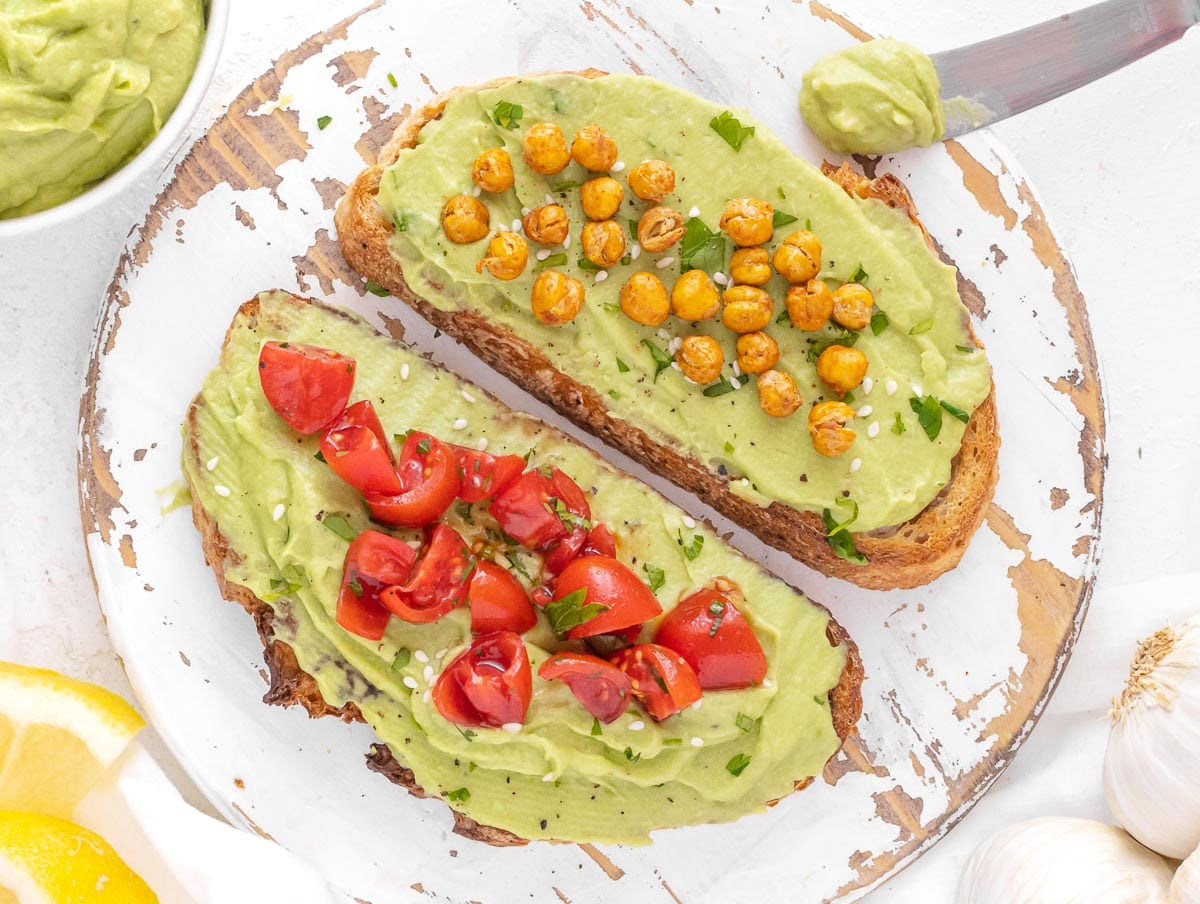 38. Vegan mayonnaise and tomato
Try this 2-minute vegan mayonnaise recipe and get surprised by the creamy and smooth texture. It pairs well with tomatoes in a quick sandwich that you can bring to the office or prepare in a schoolbox-lunch.
39. Vegetarian meatball sub
Vegetarian tofu meatballs and marinara sauce come together in an Italian-inspired sub. It's a wholesome and fiber–rich alternative to meatballs, and a guaranteed crowd-pleaser too.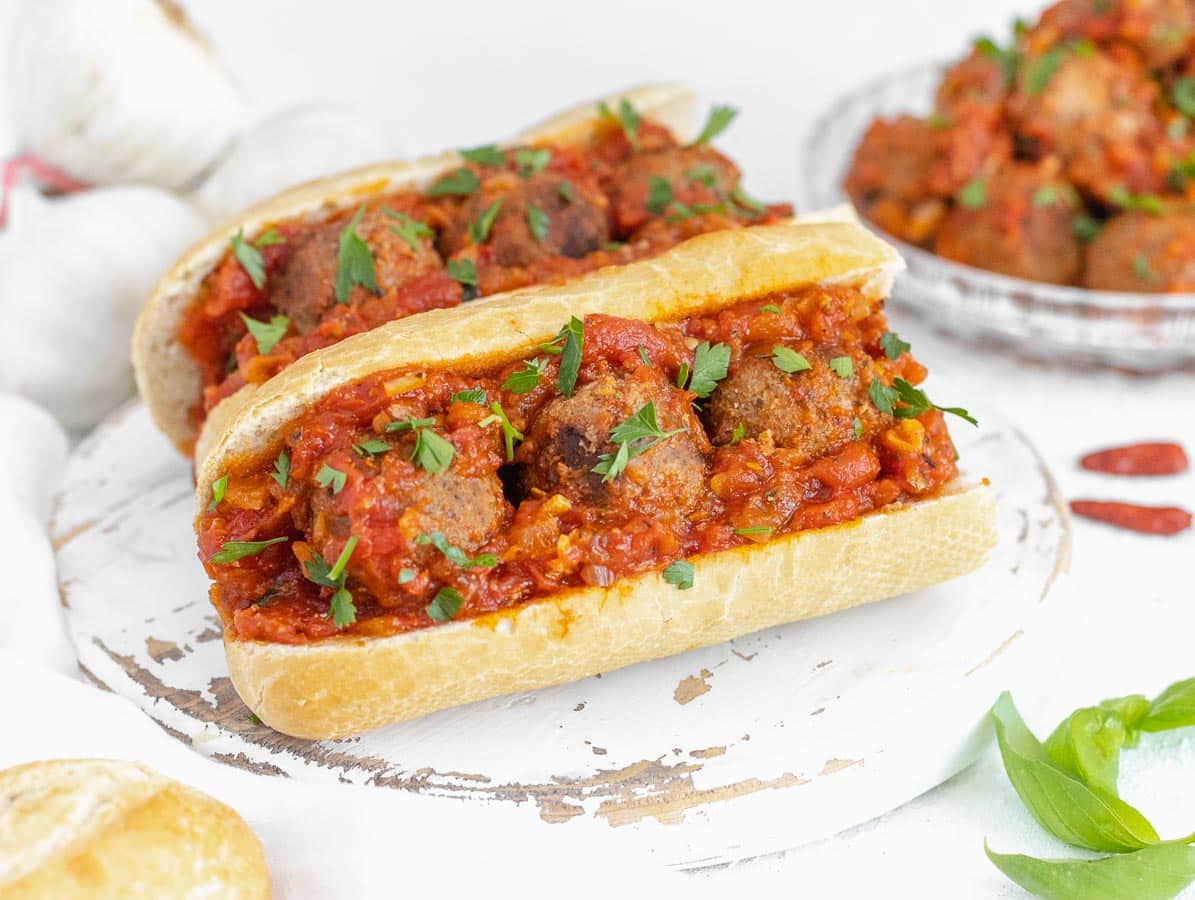 40. Roasted eggplant and chipotle sauce
Roasted eggplant, sliced or in chunks, pairs well with bruschetta and sandwich bread. Dress the eggplant with chipotle sauce and you'll have a vegetarian and tender sandwich filling to savor.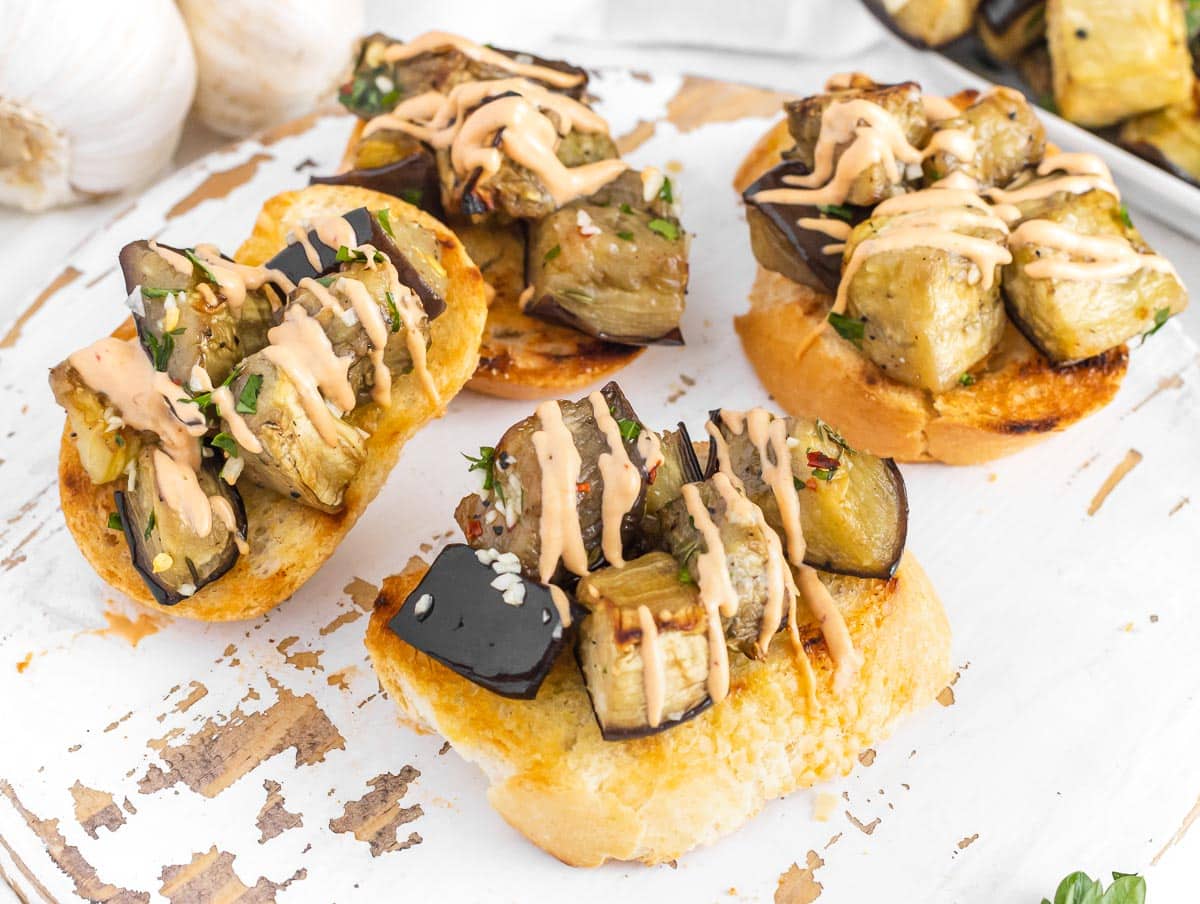 How to store these dinners
How to store: Keep these easy dinners stored in the refrigerator, ideally in an airtight container, for up to 3 days.
How to reheat: Warm it up on the stovetop or in the microwave. Before serving garnish with fresh herbs.
How to freeze: You can also freeze the meals (except for fresh meals, such as salads) for up to 3 months. To freeze, let it cool down first, then transfer them to a freezer-friendly container, leaving some space to allow it to expand. Thaw in the microwave or in a pot on the stovetop. Before serving, garnish with fresh herbs, and optionally a drizzle of olive oil.
What to serve with easy dinners
These easy dinners generally go well with grains, bread, and vegetable side dishes. Take your pick here for some additional inspiration:
For more quick dinner ideas make sure to check out our 30-minute Meal Page!
40 Easy Dinners
Get quick and easy dinner inspiration from these colorful meals! Find your favorite by browsing through this list, and take your pick: curry, pasta, veggie-packed, fulfilling, and quick to make.This recipe is a 20-minute velvety and creamy lemon ricotta pasta with spinach that you and your family will love.
Ingredients
12

ounces

rigatoni

or other pasta

10

ounces

spinach

1½

cups

ricotta

or dairy-free ricotta

1

tablespoon

extra virgin olive oil

1

cup

parmesan cheese

grated, or dairy-free cheese

1

teaspoon

lemon zest

or more to taste

⅛

teaspoon

nutmeg

grated

1

teaspoon

salt

¼

teaspoon

black pepper
Instructions
COOK PASTA AND SPINACH
Bring a large pot of water to a boil, then add the salt. Wait for the water to boil again, and add the pasta.Stir, then halfway through, add the fresh spinach.Cook the pasta al dente, as per package instructions. While the pasta cooks, make the sauce.
MAKE THE LEMON RICOTTA SAUCE
To a large mixing bowl, add ricotta, grated parmesan, olive oil, grated lemon zest, grated nutmeg, salt, and black pepper.Tip: Only zest the yellow peel of the lemon, the white pith can be bitter.

Whisk well until the sauce is smooth and the ingredients well combined.
TOSS THE PASTA
Once the pasta is al dente, reserve one cup of the starchy pasta water, drain the pasta, and add it to the bowl with the creamy ricotta mixture.Toss well until the pasta is thoroughly coated. If the sauce is too thick, add some pasta water to make it creamier.Serve immediately with a sprinkle of freshly ground black pepper and some more grated lemon zest.
Video
Lemon Ricotta Pasta is a Quick 20-min Dinner
Notes
Nutrition information is for one portion of lemon ricotta pasta out of five.
PASTA COOKING TIP
You'll need 3 quarts (12 cups or 3 Liters) of water and 1 ½ tablespoons (21 grams) of salt for 12 ounces (340 grams) of pasta.
DIFFERENT VEGGIE?
You can make this pasta dish with most veggies. Scroll up to the "variations" chapter to learn how.
DAIRY-FREE?
You can use our easy homemade soy ricotta and almond parmesan.
Nutrition
Calories:
504
kcal
,
Carbohydrates:
58
g
,
Protein:
25
g
,
Fat:
19
g
,
Saturated Fat:
10
g
,
Polyunsaturated Fat:
1
g
,
Monounsaturated Fat:
6
g
,
Trans Fat:
0
g
,
Cholesterol:
55
mg
,
Potassium:
585
mg
,
Dietary Fiber:
4
g
,
Sugar:
2
g
,
Vitamin A:
5819
IU
,
Vitamin B6:
0.3
mg
,
Vitamin C:
16
mg
,
Vitamin E:
2
mg
,
Vitamin K:
277
µg
,
Calcium:
401
mg
,
Folate:
132
µg
,
Iron:
3
mg
,
Manganese:
1
mg
,
Magnesium:
96
mg
,
Zinc:
3
mg
Tried this recipe?
Leave a comment below or mention @theplantbasedschool on Instagram. We are also on Facebook, Pinterest, YouTube, and TikTok.
If you liked these 40 easy dinners, you might also enjoy: