Don't know what to cook for dinner? You are in the right place. In this list, you'll find our favorite easy vegan dinner recipes - all with simple ingredients and plant-based protein.

The recipes in the list are grouped by theme - dinner with rice, pasta, tofu, chickpea, bread, soups, and pizza night. Scroll down or click on the table of content below to jump to your favorite section.
On this page:
When we are short on time, and the eternal question: "what do we eat for dinner?" pops up, we turn to this dinner list.

It's a list of our favorite meals, it covers healthy, quick, weeknight-friendly dinners. And, I am sure you'll find crowd-pleasers and repeats.

So, if you are ever out of ideas and don't know what to cook for dinner, you have come to the right place!

From one-pot chickpea stew and lentil soup to a veggie-packed frittata, there is something for every taste here.

These dinners are all easy to make, with simple inexpensive ingredients, and feature fresh and colorful produce. Tell us your favorite(s) in the comment section below!
Easy dinners with rice
Think one-pot meals, quick preparation time, and freezer-friendly stews. These easy meals are perfectly paired with a bowl of rice, couscous, bulgur, farro, or a serving of our 5-minute cauliflower rice. An added bonus is that they are all super affordable, cheap meals!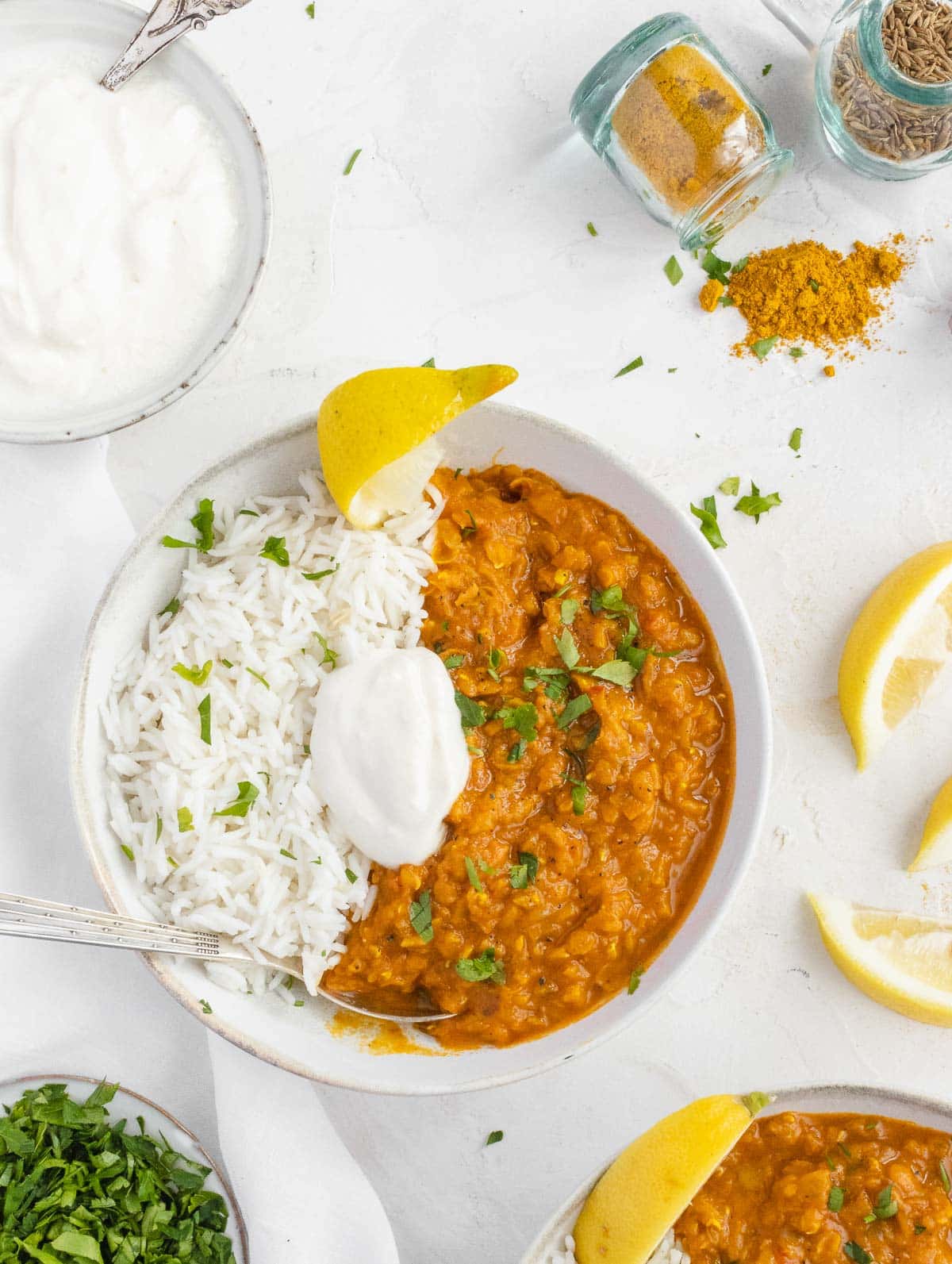 Lentil curry
A balanced and easy-to-follow recipe that pairs perfectly with rice and a dollop of yogurt. Serve with white or brown rice, or add more veggies to your meal by making our quick homemade cauliflower rice.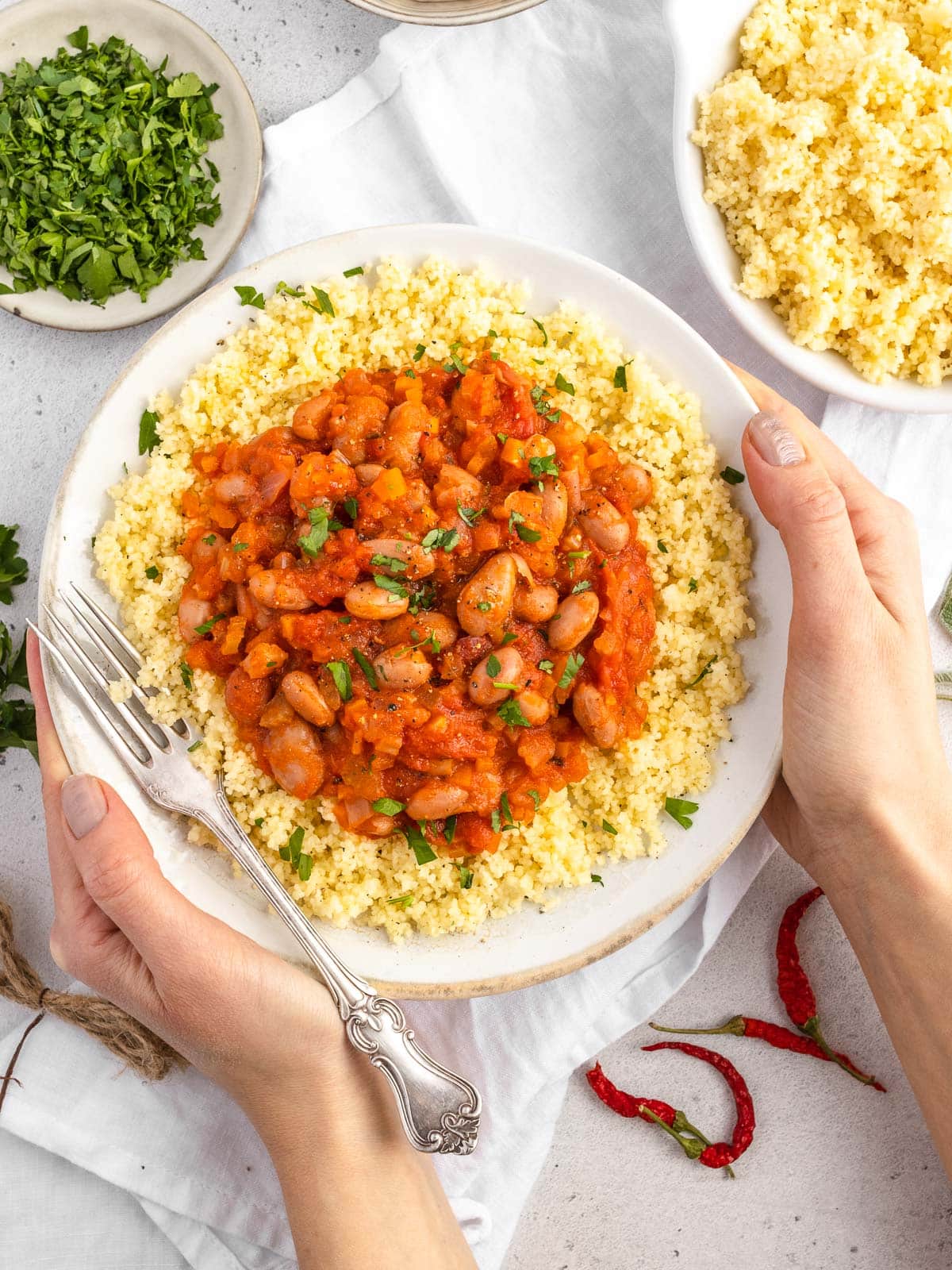 Italian Bean stew
A healthy meal with beans, canned tomatoes, and Italian seasoning. Serve this hearty stew with couscous, rice, or a quick polenta.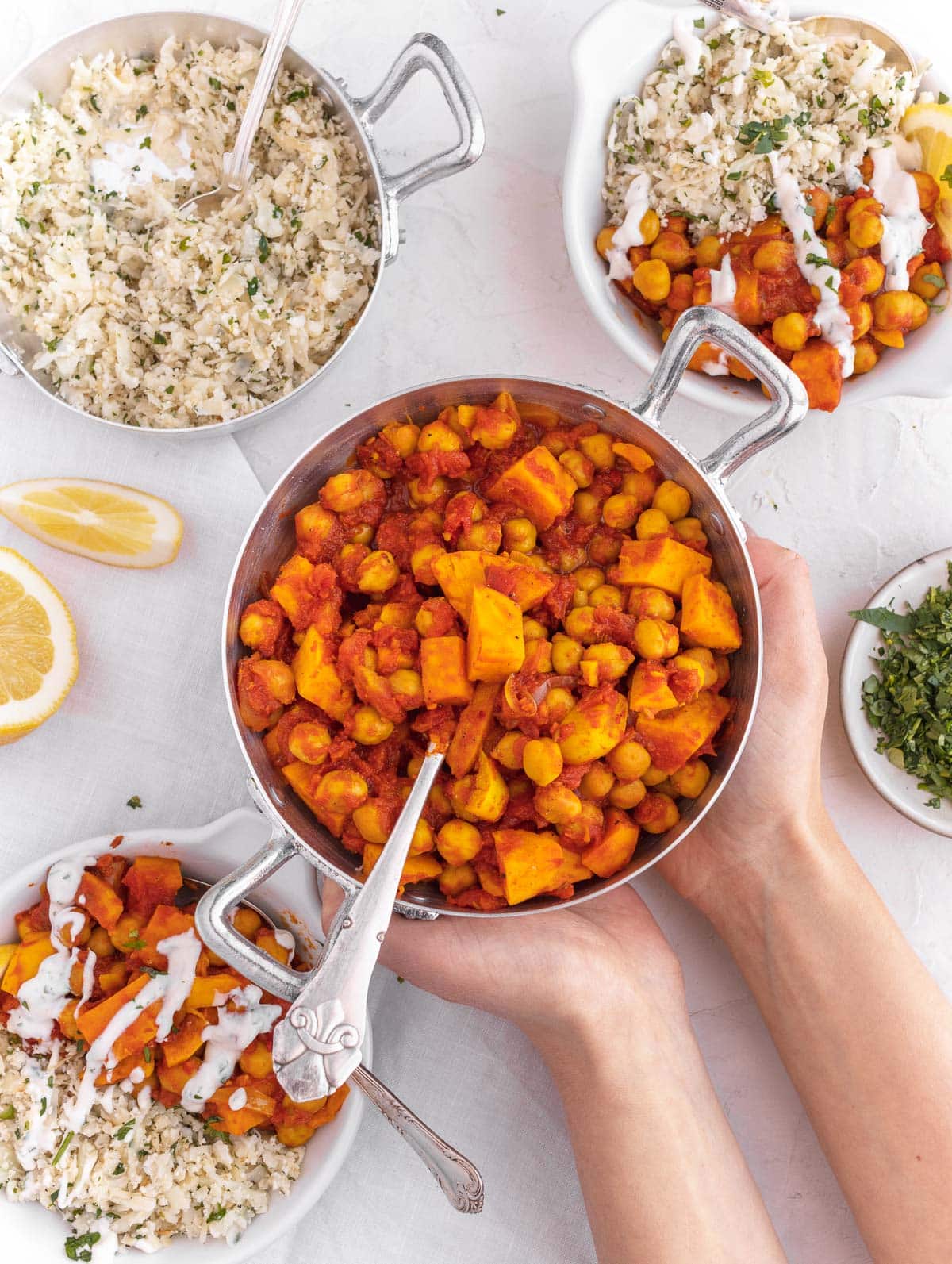 One-pot chickpea stew
This super easy and oil-free meal requires just 5 mins prep and 35 mins in the oven. It's perfect with cauliflower rice, brown rice, or with a side of shaved brussels sprouts salad.
Italian rice salad
A light and easy dinner with leftover veggies, chickpeas, and a quick mustard vinaigrette. Pair with our homemade vegan flatbread with parsley and garlic topping to make the meal more luxurious.
Quick dinners with pasta
Pasta is a satisfying and complete meal, it's the perfect all-in-one dinner. These pasta dishes can all be served as they are, or can be easily paired with a fresh salad for an added serving of greens. These pasta recipes are our go-to Sunday dinners; perfect when we feel like pampering ourselves with little effort.
Vegan Carbonara
A 15-minute recipe that has become one of my favorite pasta. With a creamy, indulgent sauce and salty cubes of tempeh bacon, this is a guaranteed crowd-pleaser. Pair with our fennel-orange salad for a dose of fresh and crunchy greens.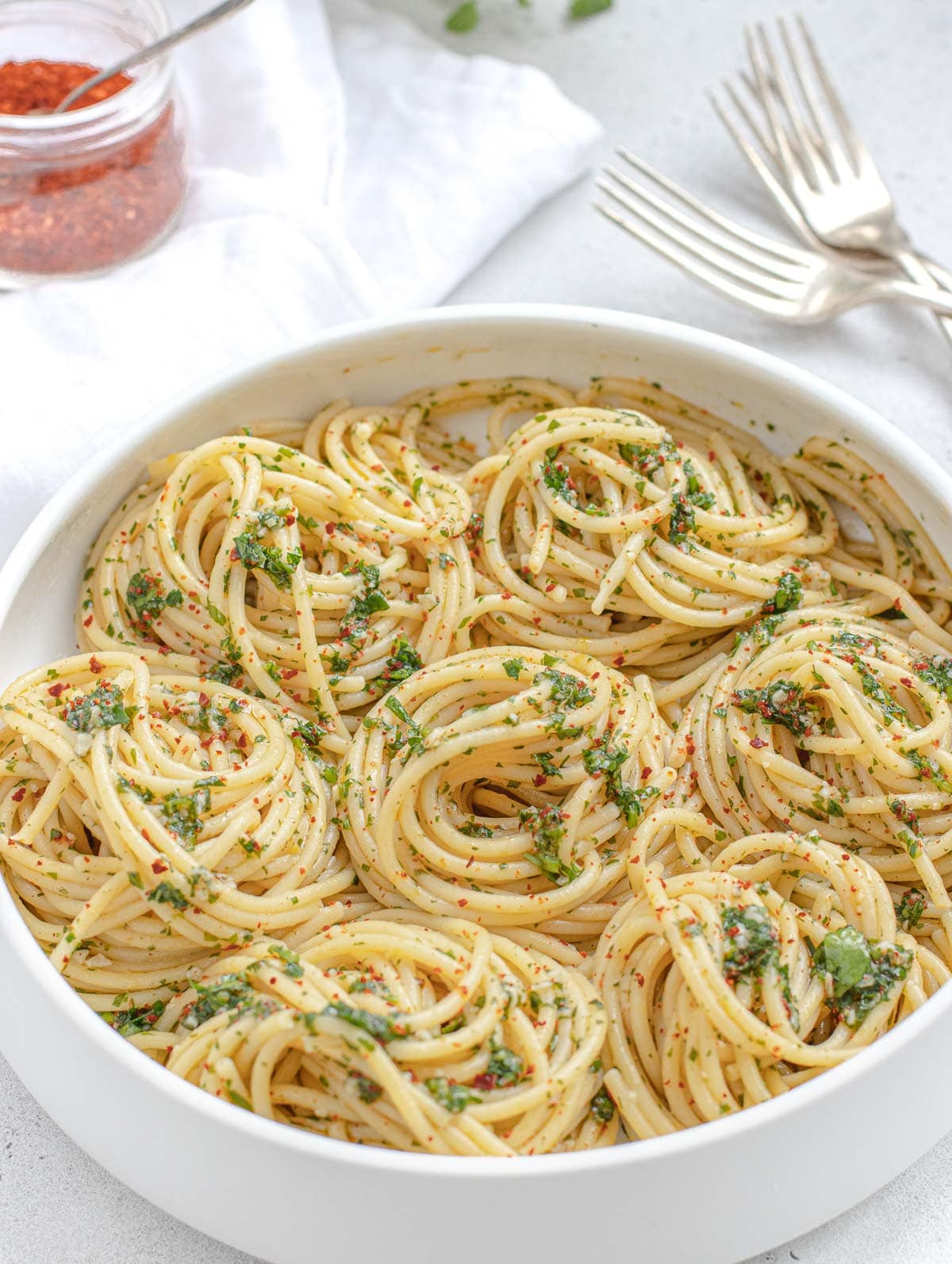 Pasta Aglio olio
A classic Italian pasta that is incredibly satisfying and takes just 10 mins to cook. I like to serve this aglio olio with shaved brussels sprouts salad to get my dose of veggies.
Feel free to top with your favorite cheese, although cheese is not a traditional part of the original aglio e olio recipe.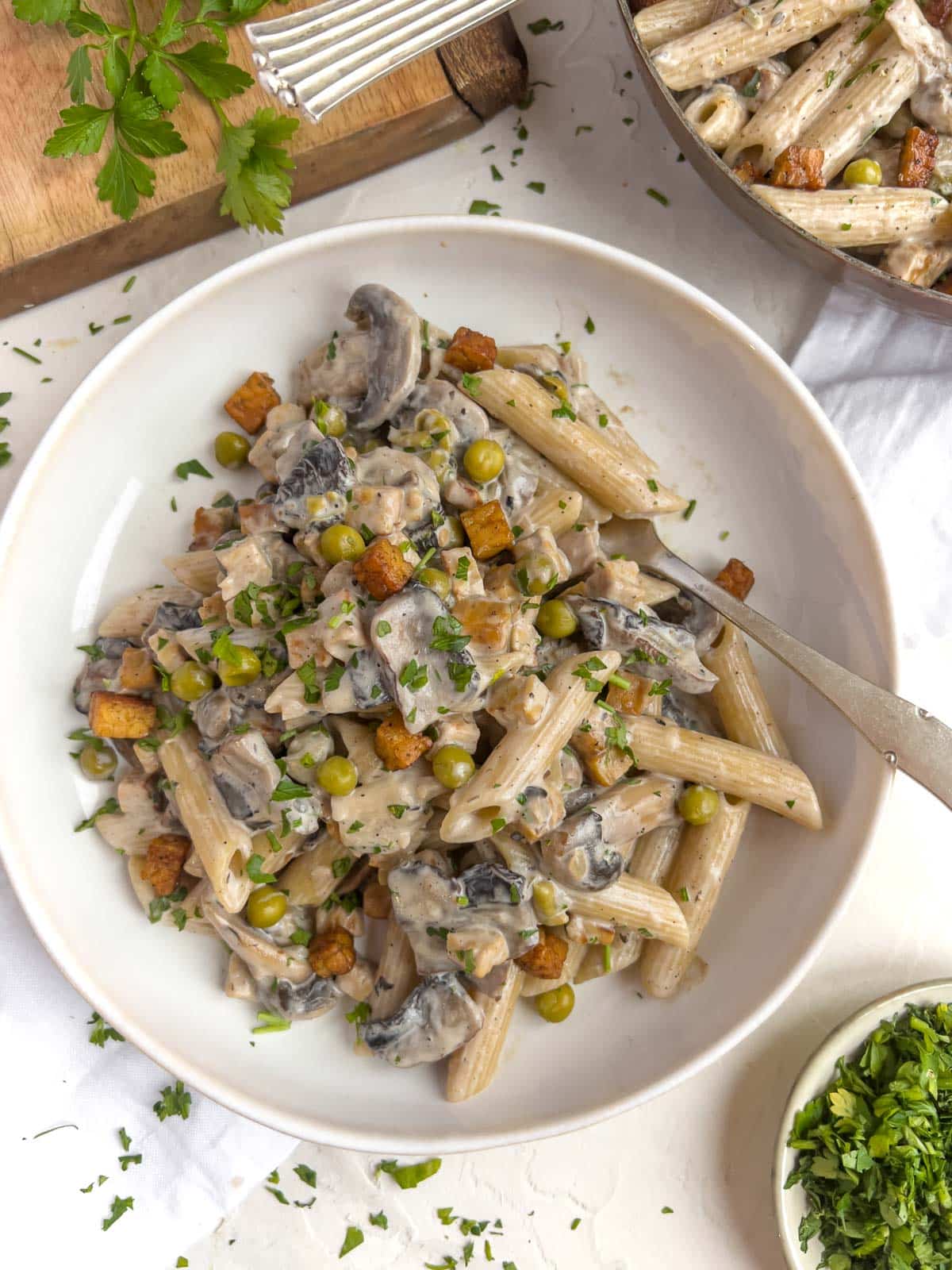 Creamy pasta with tempeh bacon
This pasta is endlessly creamy, and it always makes us feel like we are in a restaurant. We add tempeh bacon as a salty element and greens peas for extra protein. Serve the boscaiola with oven-baked kale chips for an added dose of crunch and healthy leafy greens.
Lentil Bolognese
A perfect meat-free alternative to the traditional bolognese with a rich and satisfying sauce. There are loads of veggies camouflaged in the sauce, so it's a healthy meal that will please everyone at your table.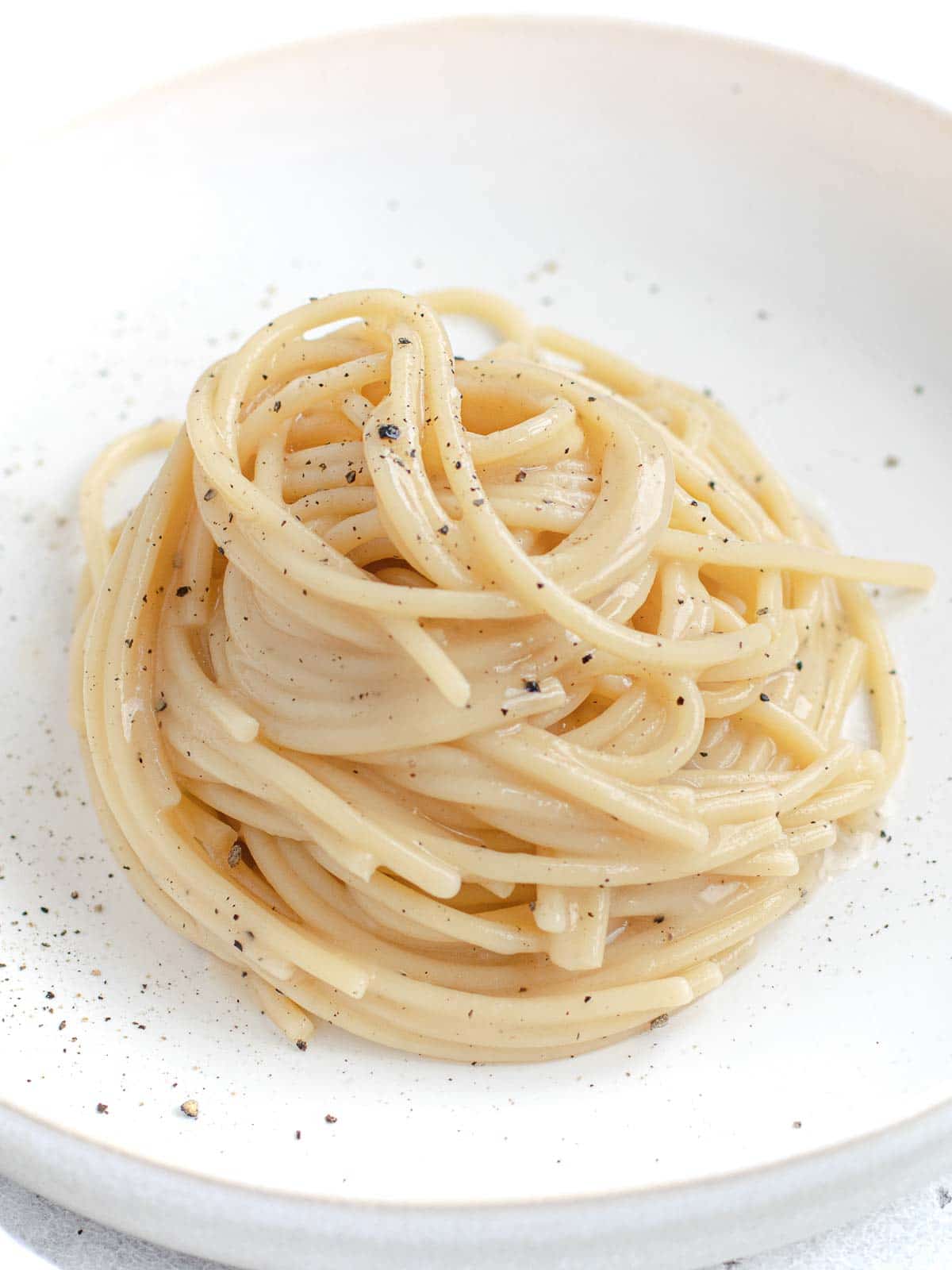 Cheesy vegan cacio e pepe
A velvety and indulgent pasta inspired by the Italian "cacio e pepe". Only 4 ingredients, cheesy and fulfilling. I like to serve this pasta with a side of quick oven-roasted broccoli for a complete meal and some added greens.
Creamy mushroom pasta
A colorful plate of pasta that is healthy and indulgent at the same time. Drizzle a little fake parmesan on top for added crunch and healthy fats.
10-min Lemon Pasta 'spaghetti al limone'
A simple creamy pasta recipe that is perfect for a quick and tasty lunch or plant based dinner. It takes just 10 mins to make this scrumptious pasta dish.
Tomato basil pasta
Packed with tomato flavor and Italian herbs, it's a basic but incredibly tasty pasta recipe! I always serve this pasta with a slice of white bread to scrape the sauce leftovers from my plate.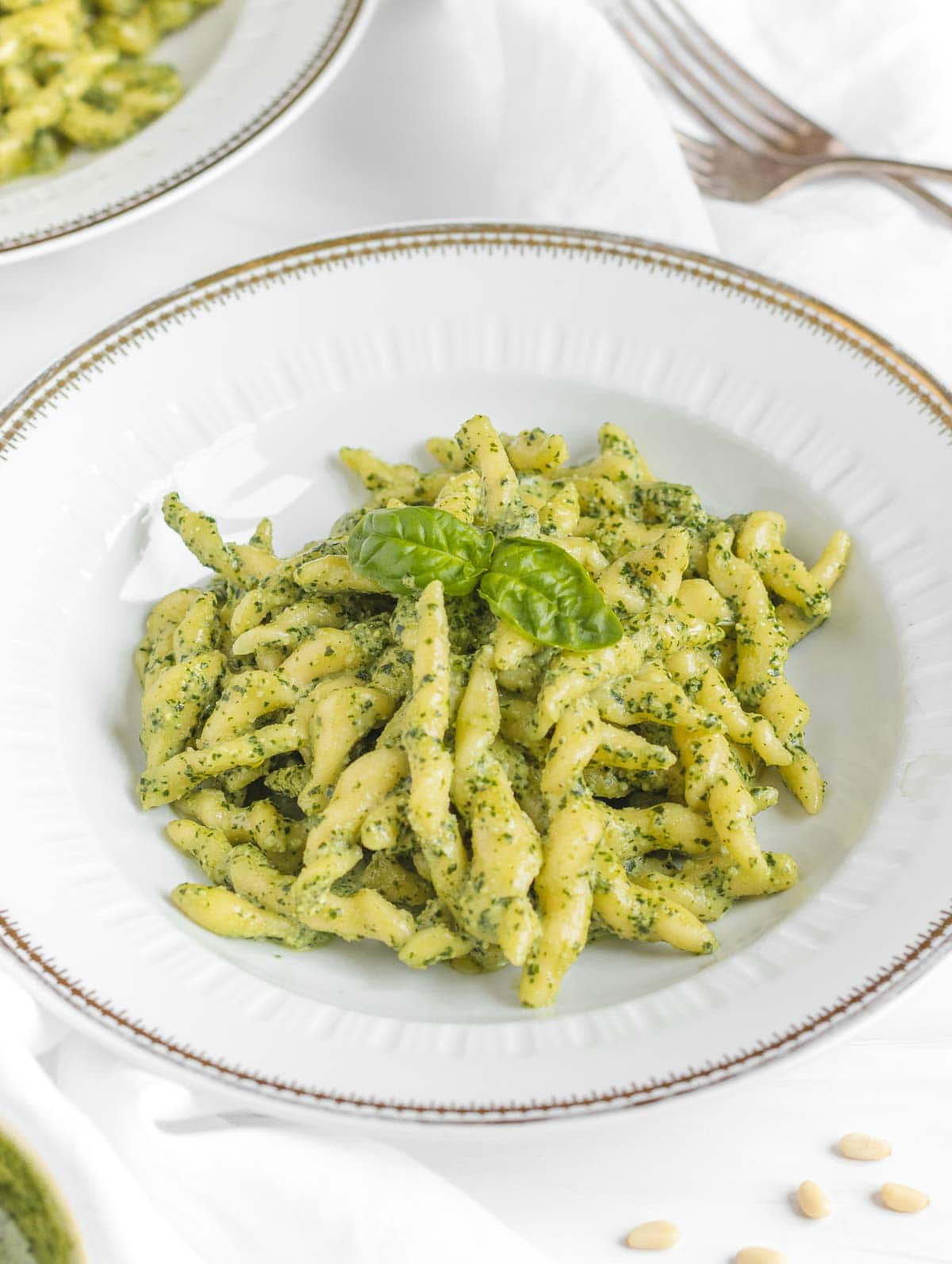 Homemade trofie pasta with vegan basil pesto
Learn how to make trofie at home like in Italy with just two ingredients. Trofie is probably the easiest and quickest pasta to home at home! We hug the pasta with a delicious, creamy basil pesto sauce that is 100% plant-based.
Easy dinners with tofu
Tofu is incredibly versatile, beyond stir-fries and curries. I've found that it's a perfect protein substitute for chicken, as long as it's paired with the right sauce and spices.
We love tofu because thanks to its neutral flavor we can make it taste however we like. Plus these dinners are packed with fresh veggies to help maximize nutrition too.
Orange Tofu
This easy vegan dish is the best alternative to orange chicken. We use crispy oven-baked tofu coated in a sticky, sweet, and sour orange sauce. It's tasty, tangy, and delicious.
Mushroom tofu
A perfect low-carb dinner! It's a very quick meal, as the tofu is ready in 10 minutes. I love pairing this mushroom tofu with brussels sprouts; either shaved brussels sprouts salad or baked brussels sprouts with maple syrup.
Lemon tofu
Probably the quickest meal on this list, and a good plant-based alternative to lemon chicken. Lemon tofu is wonderful on top of cauliflower rice or brown rice. If you have any leftover lemon, make this crunchy lemon roasted broccoli as a side dish.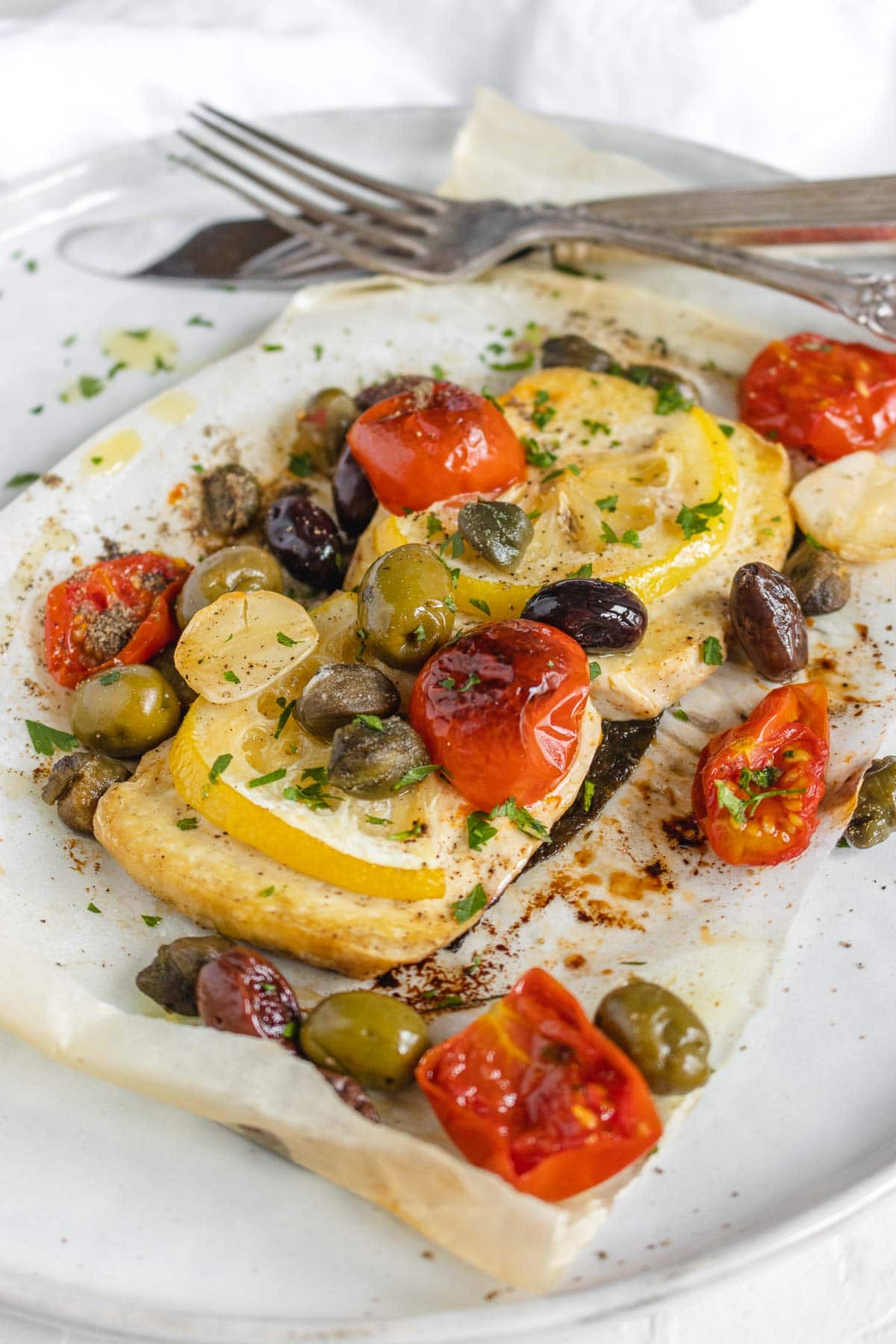 Vegan fish
Basically steamed tofu with fresh tomatoes and lemon wedges, is one of my favorite dinners for spring or summer. It goes well with no-knead focaccia and tomato and cucumber salad. Your family will love un-wrapping this tofu dinner!
Tofu Cacciatore
A hearty meal in a rich tomato sauce with olives and capers, a wonderful plant-based alternative to chicken cacciatore. I recommend serving with brown rice, and sautéed leafy greens - you're gonna feel like you're in an Italian restaurant.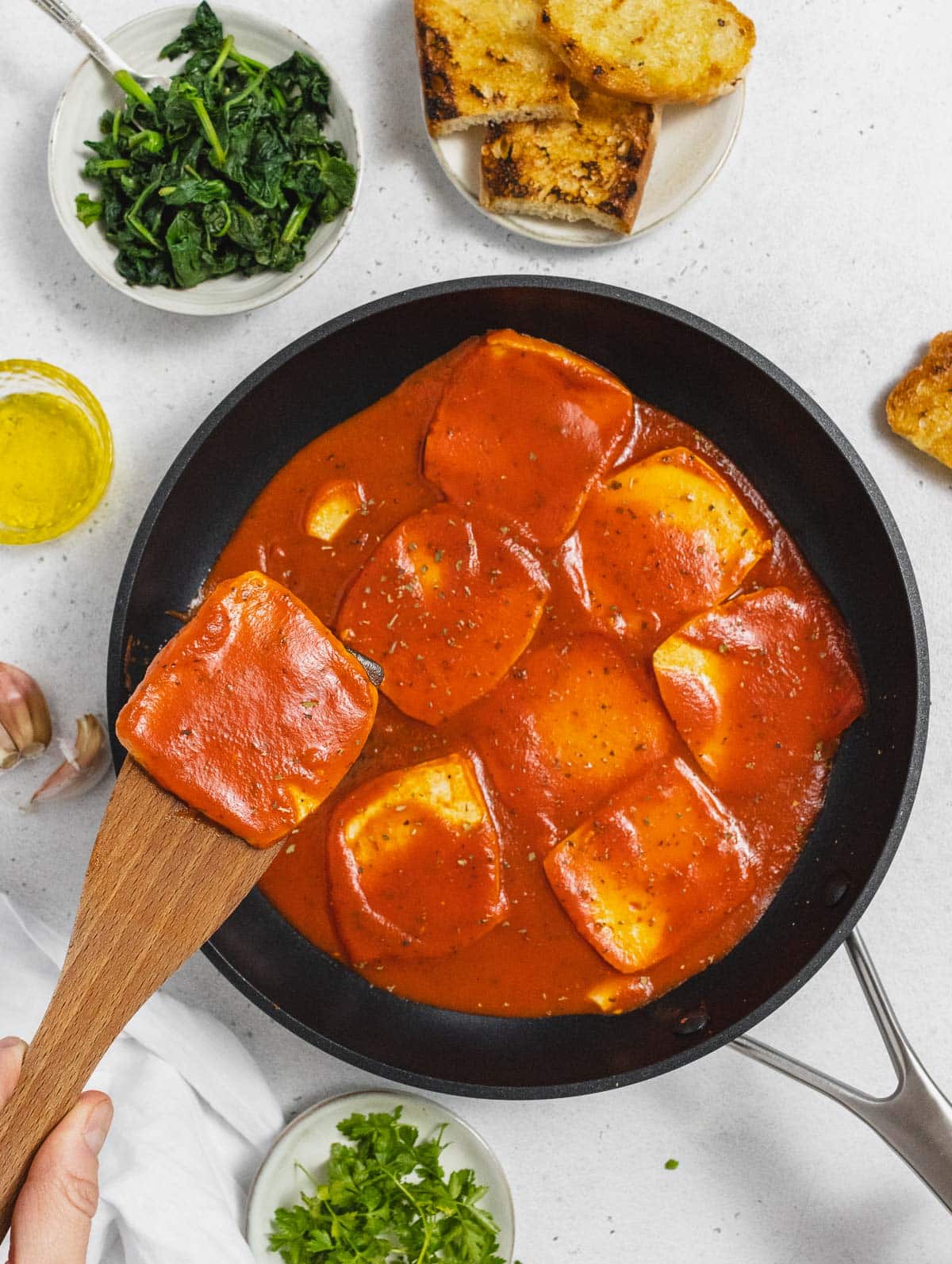 Tofu in pizzaiola sauce
Cooked in an easy marinara sauce, a super-easy 15-min one-pan dinner. Pair with sautéed spinach and a serving of naan flatbread for a colorful and complete dinner.
Tofu salad
This tofu salad recipe is a crunchy and healthy bowl perfect for lunch or dinner. Low in calories, high in flavor and filling. Fried and crunchy tofu paired with a creamy dressing make this salad super flavorful.
Dinners with chickpea
Chickpea is definitely one of our favorite ingredients, it's wonderfully versatile with loads of fiber and protein. My go-to meals are often chickpea flour recipes since the flour acts as a substitution for eggs - perfect for crepes, frittata, and farinata!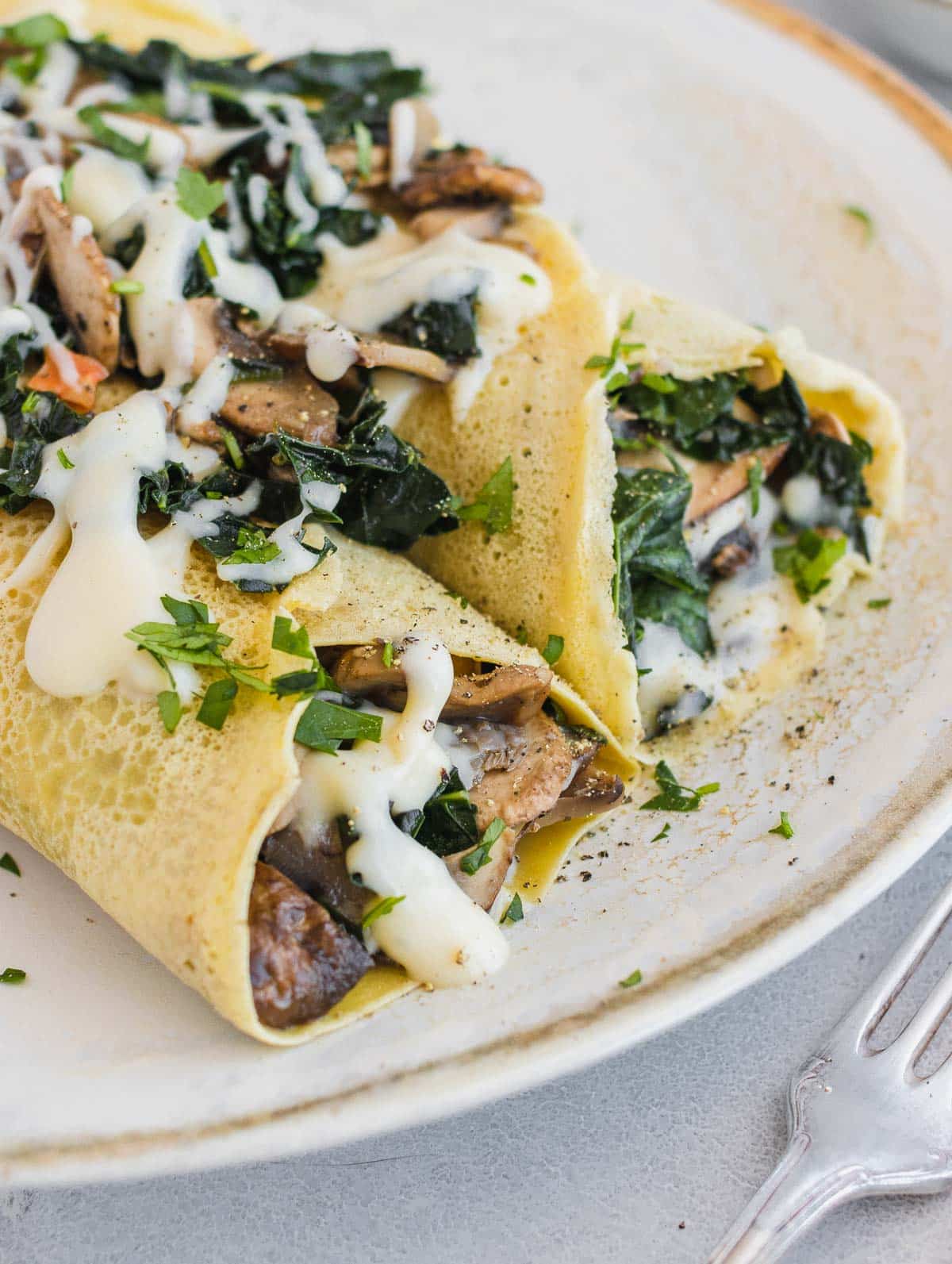 Chickpea crepes with mushroom-spinach filling
Probably the perfect weekend or date-night dinner! Delicious and savory french pancakes with a mushroom-spinach filling and a creamy white sauce. Perfect with our 5-ingredient bechamel sauce or quick blend chipotle dressing.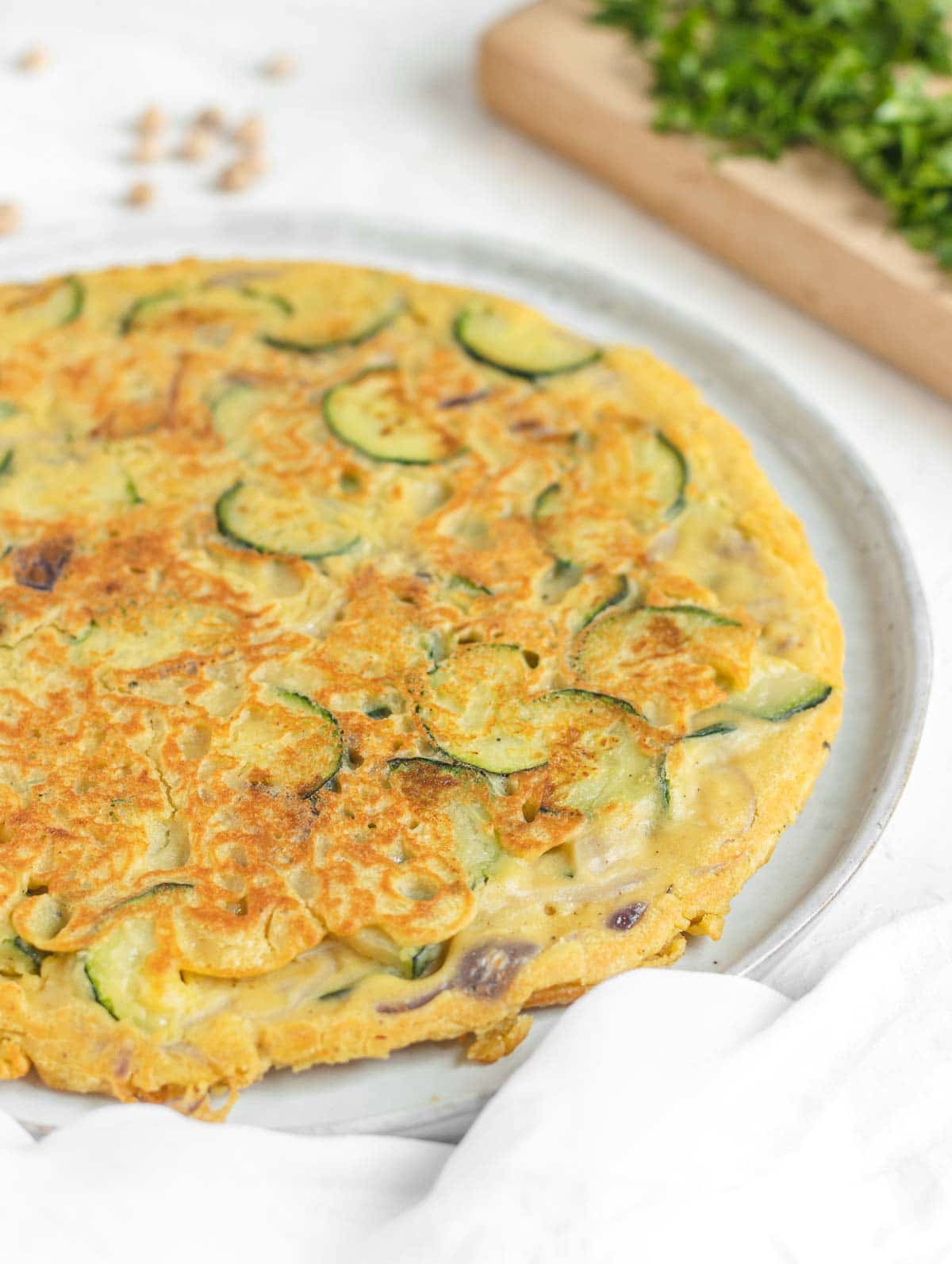 Veggie-loaded Frittata
One of our most popular recipes and a reader favorite. Serve this egg-like frittata with a fresh salad and a slice of toasted sourdough bread. Make it on a pan, or in an oven dish for an even easier dinner.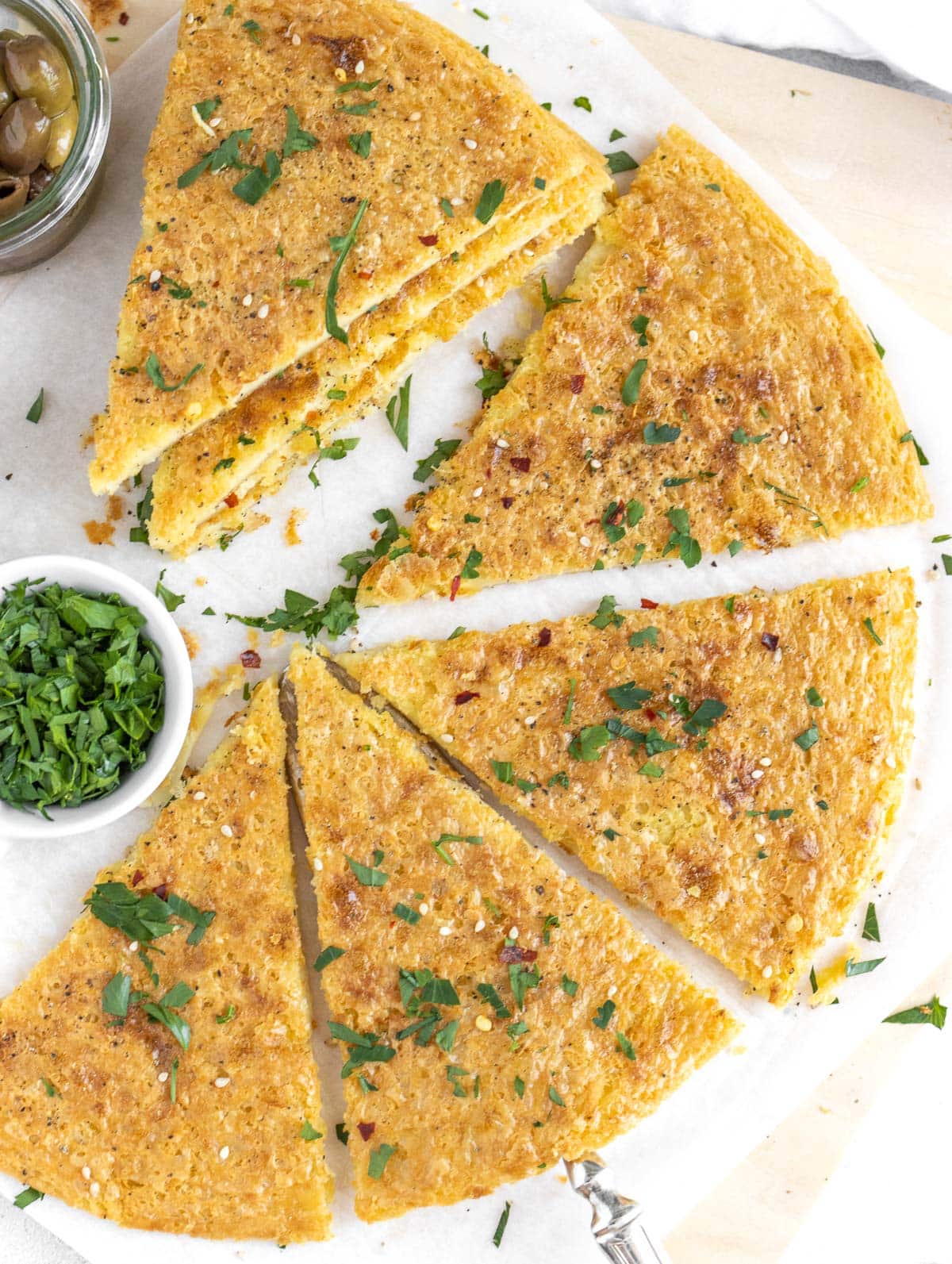 Chickpea farinata (socca)
No pan is needed, this farinata can take care of itself in the oven. Serve on a slice of crunchy bread or in a sandwich, and preferably with our rich sundried tomato pesto.
Easy recipes for pizza night
Is there anything better than an easy homemade dough with a simple 5-minute marinara sauce? The best thing about homemade pizza is its flexibility; everyone can choose their favorite topping - and it's one of the tastiest plant based dinners.
Flatbread pizza
Perfect with our vegan melted cheese or sundried-tomato pesto. Top with slices of fresh tomato and basil for a quick topping. The dough can be prepped the night before, so you save time during busy weekdays.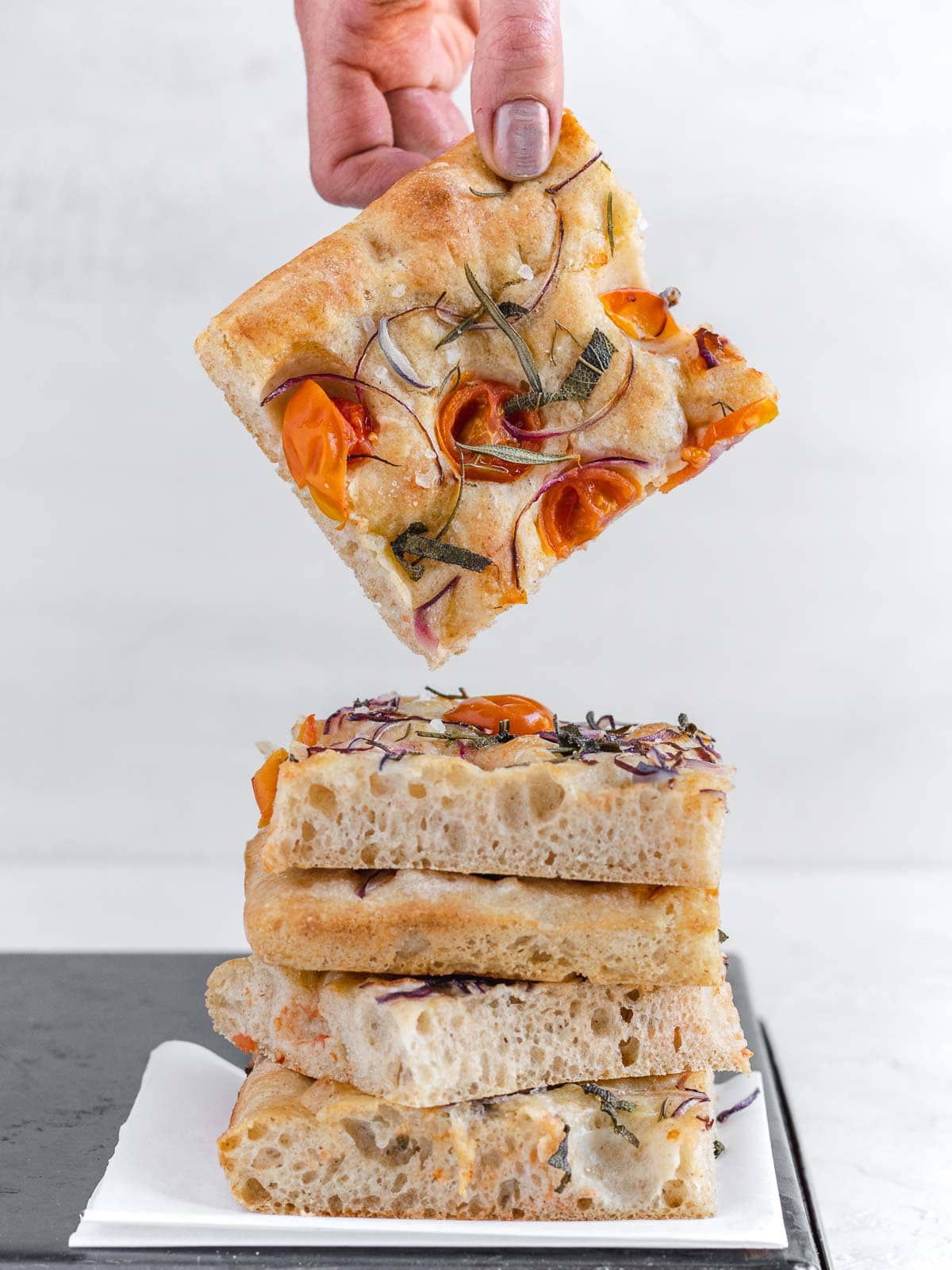 No-knead focaccia with tomato and herbs
No dirty hands are required with this homemade focaccia. It's an easy plant based dinner that can be proofed overnight in the fridge. Add our vegan melted cheese on top, and you'll have a healthier (and tastier) version of store-bought frozen pizza.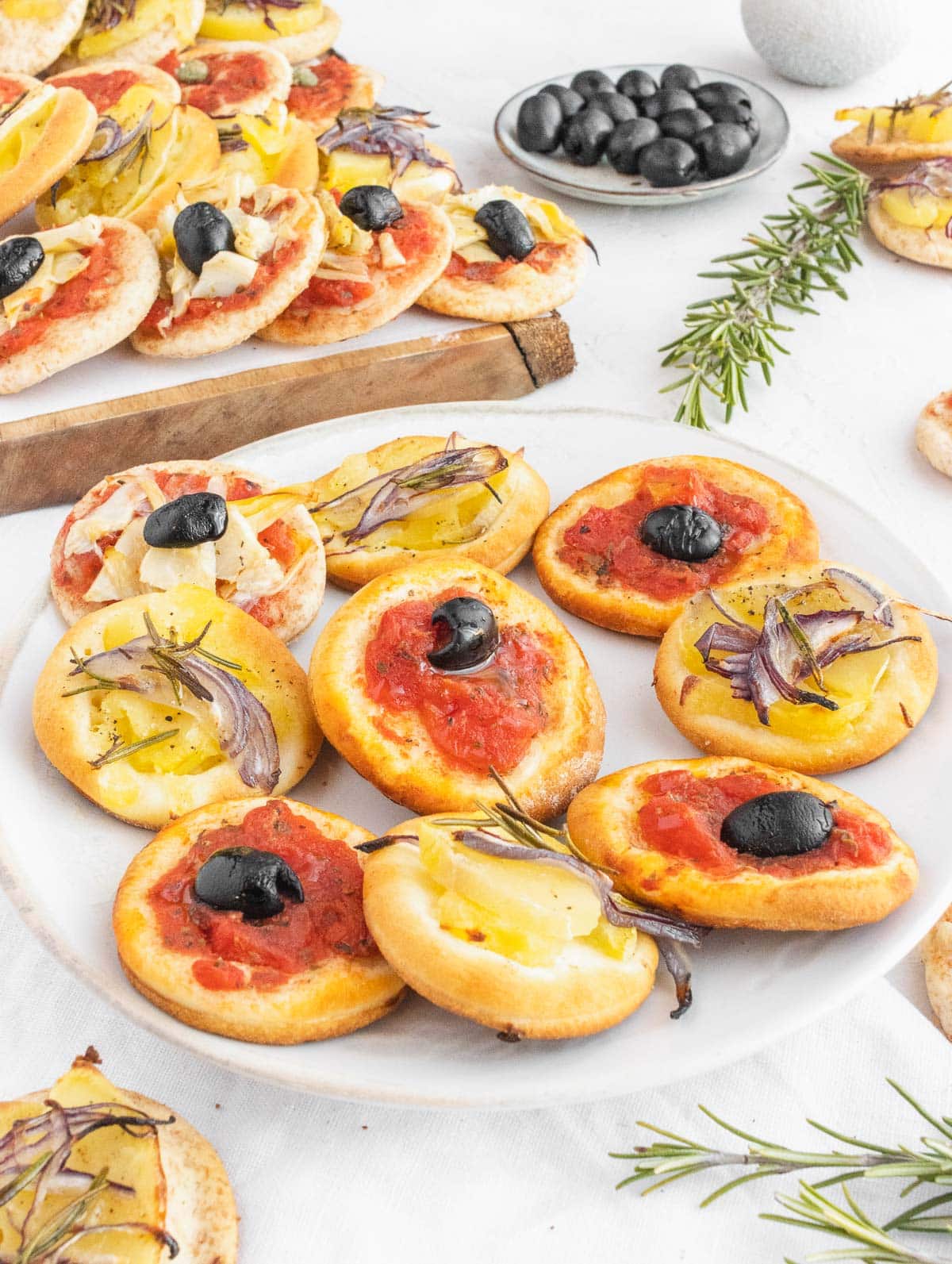 Mini pizzas
Make the dough yourself and let it proof overnight, or use store-bought dough for even faster dinner prep. Top with an easy marinara sauce, olive, and fresh herbs. The wonderful thing about these mini pizzas is that everyone can pick their favorite topping and build their own mini pizza.
Easy soups
Loads of veggies, flavor, and creaminess. These soups are incredibly nutritious and packed with fresh produce, just serve them with toasted bread. One of our absolute favorite plant based dinners.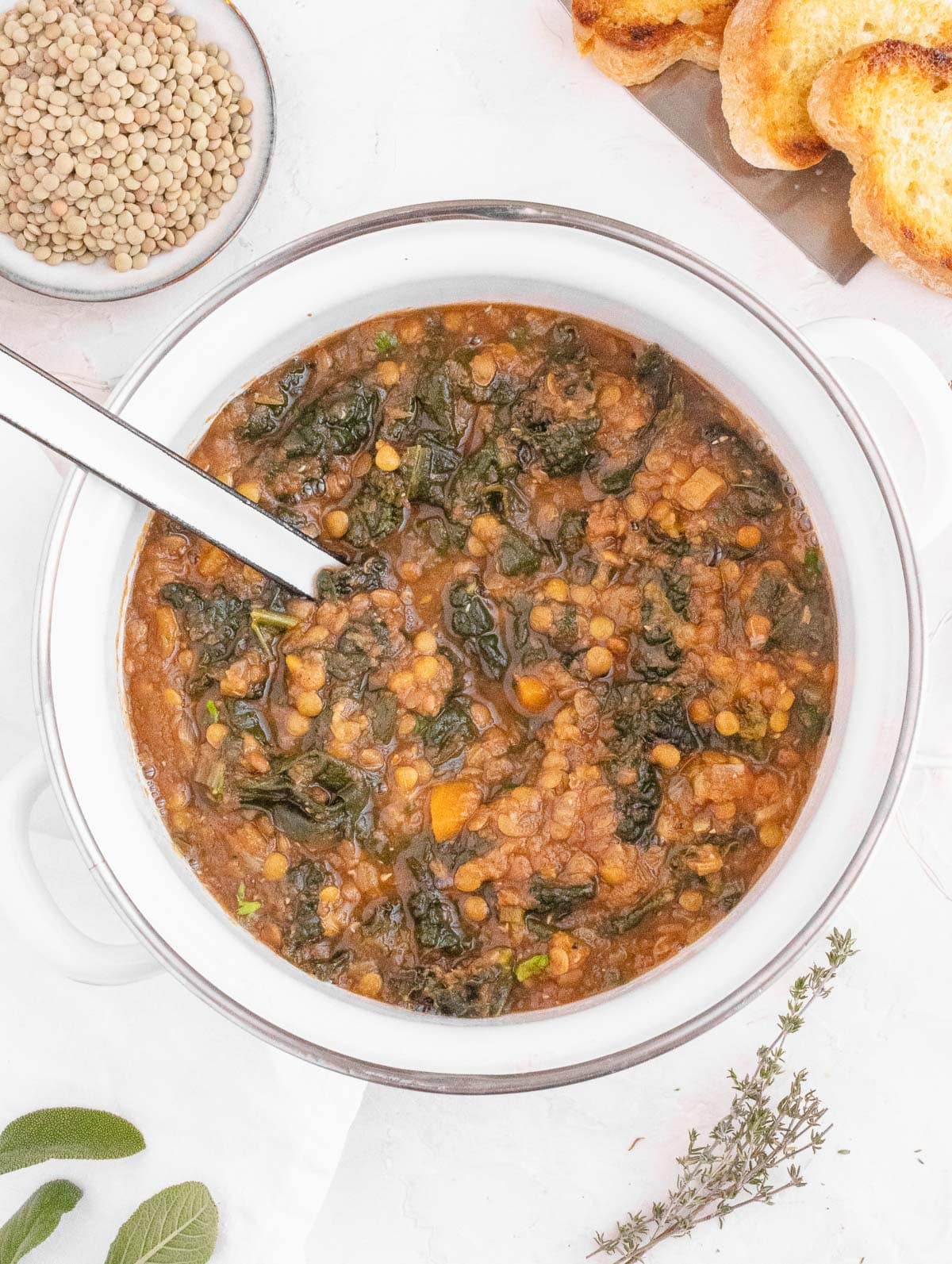 Healthy lentil soup
Choose your favorite kale and cabbage for a veggie-packed and hearty soup. This lentil soup has the best of Italian flavors and healthy, wholesome ingredients.
Tofu soup
This tofu soup is quick, tasty, and easy. You can make it in 20 minutes, with simple ingredients and seasonal veggies any time of the year.
Roasted butternut squash soup
A simple soup that requires one baking trey-preparation and just a quick blend. Pair with slices of toasted bread and roasted brussels sprouts for a fulfilling and healthy dinner.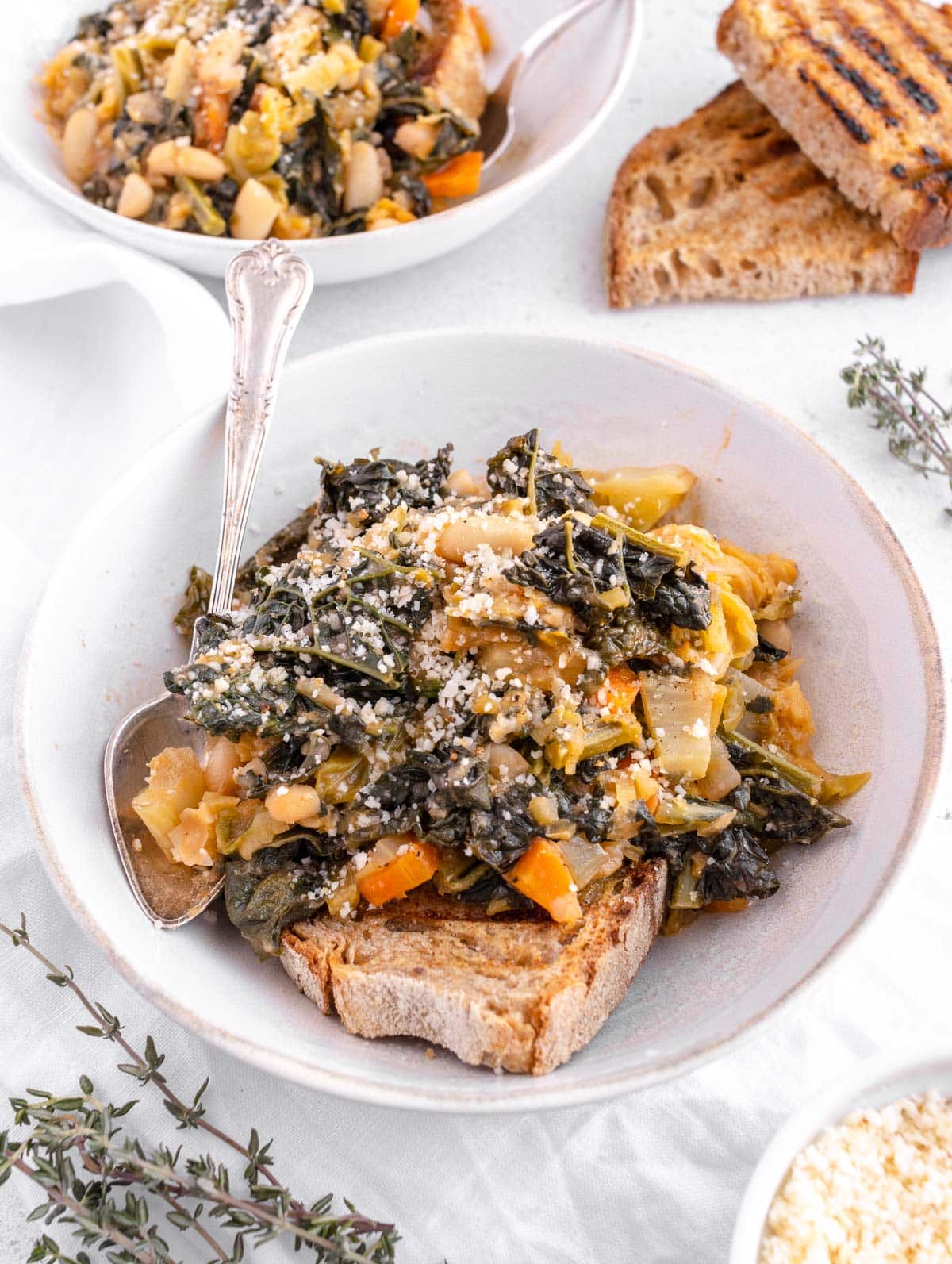 Tuscan white bean soup
Freezer-friendly and incredible for meal prepping for the week, it's even better on the second day. We complete the meal by serving with toasted sourdough bread brushed with fresh garlic, and a sprinkle of vegan parmesan.
Easy dinners to serve with bread
Italian Caponata
Eggplant salad; One of our favorite plant based dinner that combine healthy veggies with a balanced sweet and sour flavor. Serve on a piece of bread, with a drizzle of extra virgin olive oil and fresh basil.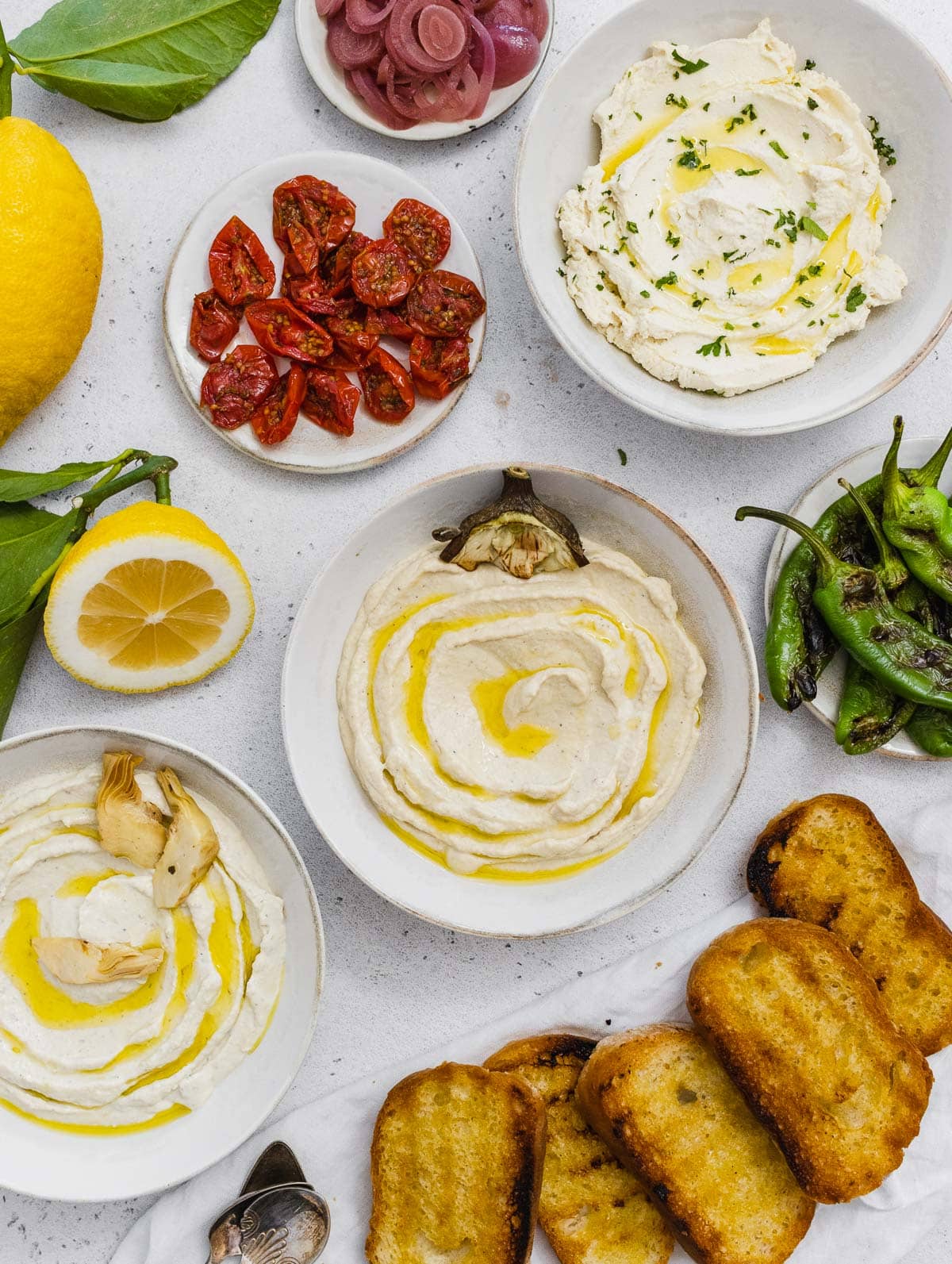 Tofu cream cheese
Three wonderful tofu creams that work as appetizers or as vegan dinner if you serve them with pickled red onion, artichokes, and toasted bread.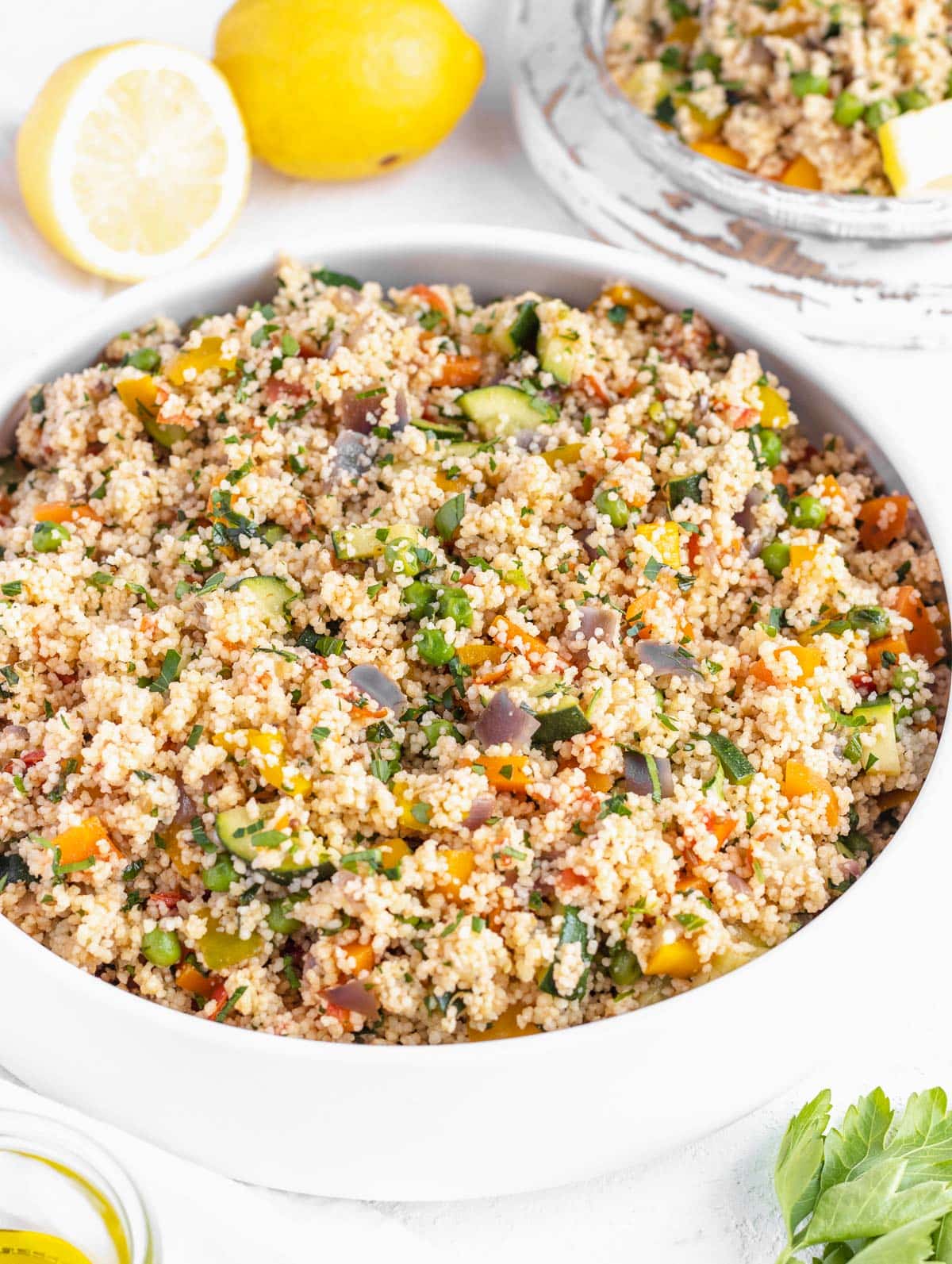 Couscous with vegetables
Couscous with vegetables is a delicious way of enjoying couscous, perfect with a side of bread or vegetable side. This is an easy recipe that you can make in less than 30 minutes, with seasonal veggies and herbs.
HOW TO STORE THESE EASY DINNERS
How to store: Keep these meals stored in the refrigerator, ideally in an airtight container, for up to 3 days.
How to reheat: Warm it up on the stovetop or in the microwave. Before serving garnish with fresh herbs.
How to freeze: You can also freeze the meals for up to 3 months. To freeze, let it cool down first, then transfer them to a freezer-friendly container, leaving some space to allow it to expand. Thaw in the microwave or in a pot on the stovetop. Before serving, garnish with fresh herbs, and optionally a drizzle of olive oil.
WHAT TO SERVE WITH DINNER
These easy dinners generally go well with grains, bread, and vegetable side dishes. Take your pick here for some additional inspiration:
For more quick dinner ideas make sure to check out our 30-minute Meal Page!
Recipe
29 BEST Easy Dinners
Wondering what to cook tonight for dinner? We've got you covered with over 29 easy dinner meals! Find your favorite by browsing through this list, and take your pick: curry, pasta, veggie-packed, fulfilling, and quick to make.
Ingredients
Check each individual dinner recipe for ingredients required.
Instructions
How to store: Keep these meals stored in the refrigerator, ideally in an airtight container, for up to 3 days.

How to reheat: Warm it up on the stovetop or in the microwave. Before serving garnish with fresh herbs.

How to freeze: You can also freeze the meals for up to 3 months. To freeze, let it cool down first, then transfer them to a freezer-friendly container, leaving some space to allow it to expand. Thaw in the microwave or in a pot on the stovetop. Before serving, garnish with fresh herbs, and optionally a drizzle of olive oil.
Did you like this recipe?
We are not much on Instagram, Facebook, and Pinterest. Leave us a comment below instead, it would mean the world to us 🙂