Supplì di Riso, a quintessential Italian street food, traditionally made with leftover rice, breaded and deep-fried, with a heart of melted mozzarella cheese.

Our vegan supplì are as tasty, crispy, messy, melty, scruffy, and as Italian as it gets. They can be enjoyed as an appetizer, snack, or even as a main dish.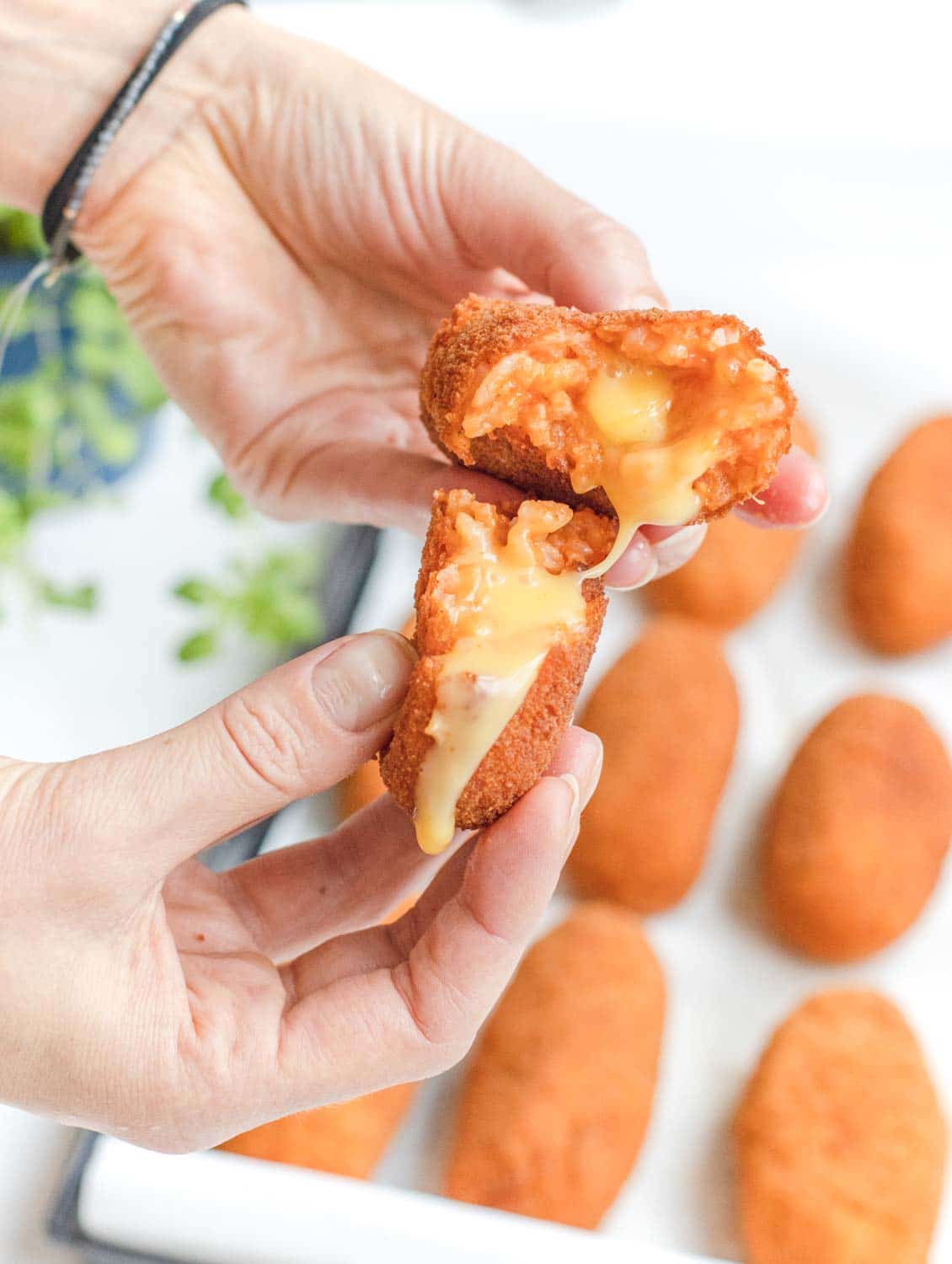 On this page:
Check out our best Italian recipe collection!
Supplì alla Romana (aka supplì al telefono) are a traditional and regional Italian recipe made in the central parts of Italy, like Lazio and Umbria. They are similar to Arancini Siciliani, as they are also made of deep-fried rice. However, supplì have a longer, slimmer shape compared to arancini, and traditionally are made with a tomato/meat risotto leftover from the lunch, and a filling of mozzarella cheese.
We use vegan cheese to make a plant-based supplì, and turn it into a delicious vegan appetizer.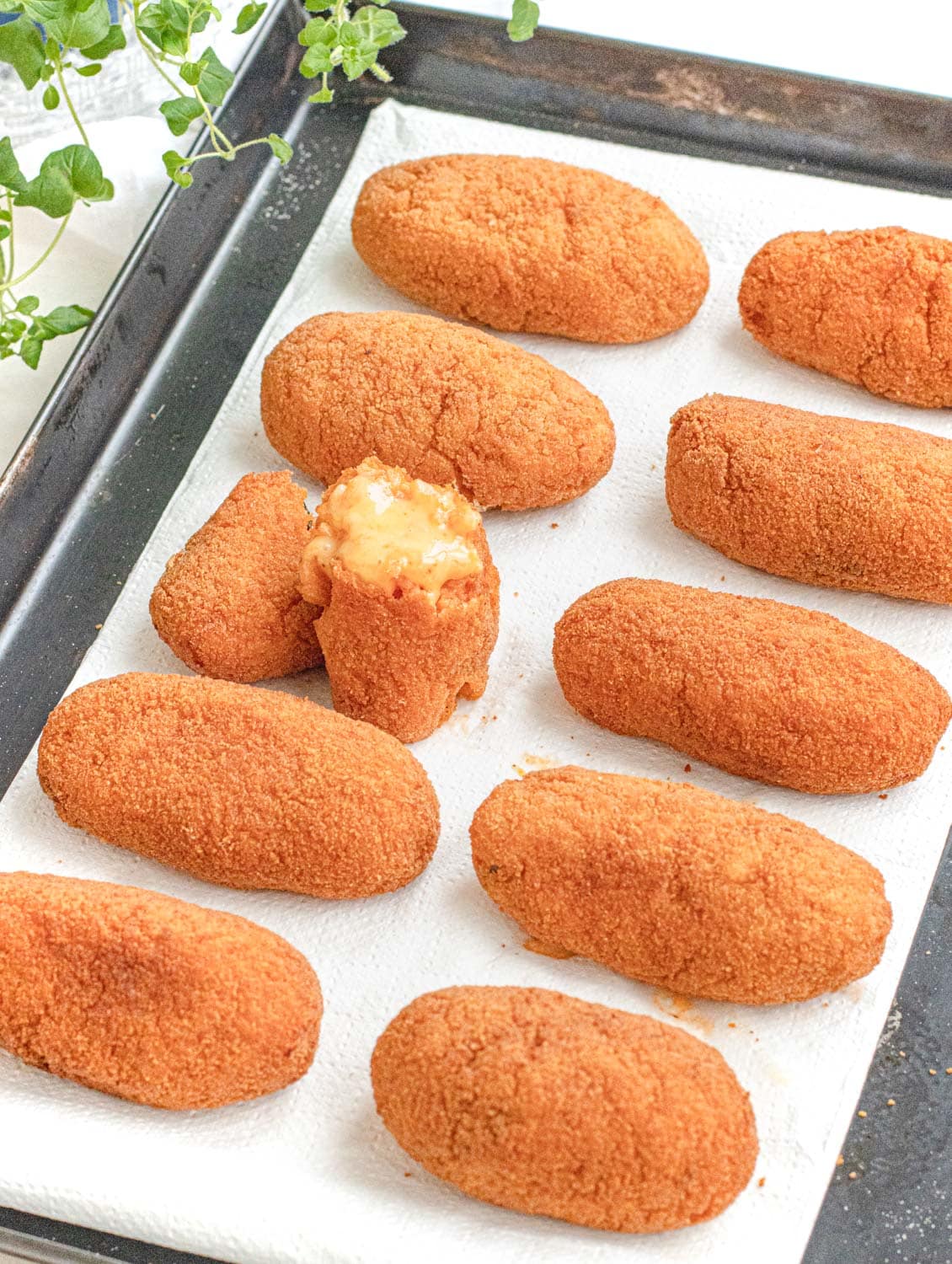 Ingredients & substitutions
Tomato risotto left over: it is actually important to use leftover tomato risotto that has been stored in the refrigerator for a few hours or overnight as cold rice has a more compact and dry consistency that is perfect to turn into a supplì. You can find our vegan tomato risotto recipe here.

If you are making the risotto from scratch to make the supplì, then make a dryer, firmer risotto than a regular one. Then let it cool down completely before making the supplì. For instance, make the risotto in the morning and the supplì in the evening.

Vegan cheese slices: we use them as a filling for the supply. There are many varieties in supermarkets these days. We use one that is made with an almond base and coconut oil. Get one that comes in slices if you want a wow effect when you open the supplì. Alternatively, any vegan cheese that is melty will work.

Plant milk: we use it instead of the egg wash, to wet the supplì before rolling the in breadcrumbs. Any plant milk works, just make sure it's unsweetened and unflavoured. We use soy milk.

Breadcrumbs: store-bought or homemade, both are fine. We use them for the breading.

Frying oil: extra virgin olive oil or refined vegetable oil designed for frying.
Tips
Use left-over rice
This recipe was designed hundreds of years ago as a repurposed dish. Large Italian families would take leftover rice, shape it, bread it, and deep-fried. Leftover rice is perfect for this recipe because is dryer and firmer than freshly made risotto.

Because of this, the rice ball will stay together, and compact, when we fry it. So, the best is if you make extra vegan tomato risotto rice for lunch, then in the late afternoon, or the day after, you prep the vegan supplì alla Romana with the leftovers.
Grease your hands with olive oil
When shaping the supplì alla romana it is easiest to pour a few drops of olive oil onto the palms of your hands, then rub them together, and start making the supplì. The oil will prevent the rice from sticking to your hands, making it a lot easier to make a smooth supplì.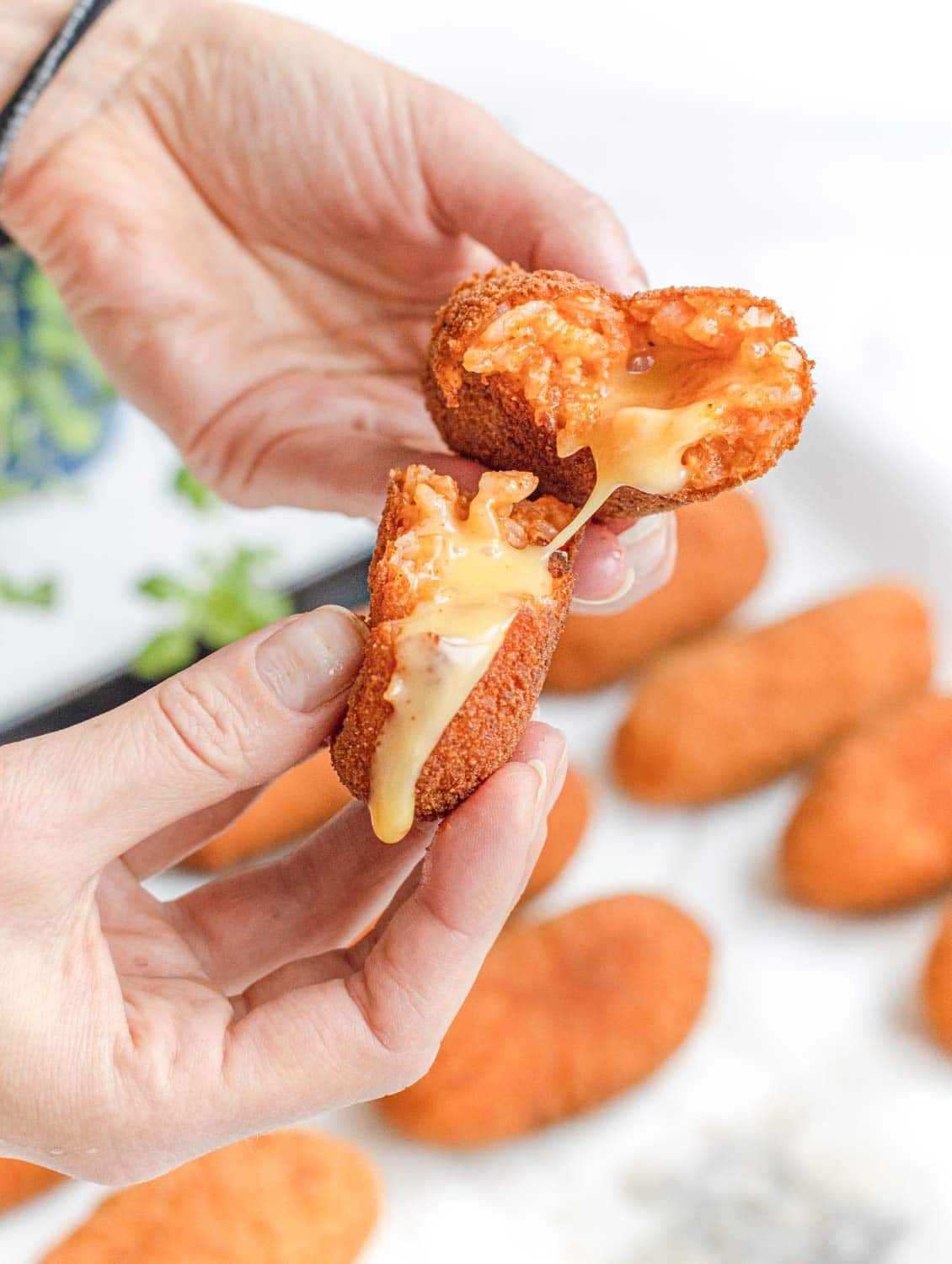 Wash your hands often
After rolling a few supplì the rice will stick to your hands, making it hard for you to keep shaping them. So, our advice is to wash your hands every 3 supplì. It'll be a lot faster to shape them this way.
Use vegan cheese slices
If you want the best visual result when you open the supplì alla Romana (aka supplì al telefono) you should use cheese slices rather than shredded cheese. When the cheese slice melts, it will give you the cheesy effect when you pull the supplì alla Romana apart.
Keep the oil at the right temperature
The best temperature to fry these Italian style stuffed rice balls is between 160°C (320°F) and 180°C (356°F). Why? Because if the temperature is too low, the supplì will absorb too much oil and it will be hard to eat them. If the temperature is too hot, the breading will cook too fast, it will burn, while the cheese inside won't reach melting temperature.
Questions & answers
What does supplì mean
Supplì is adapted from the French term surprise. In fact, a French general walked the streets of Rome at the beginning of the 19th century, eating the Roman deep-fried rice balls and calling them "surprise", due to the melted cheese hidden inside. The Romans immediately Italianised the term transforming it into soplìs first, and supplì later.
Why are they called supplì al telefono?
The term comes from the mozzarella cheese melting and creating a cheesy string from one end of the supplì to the other, resembling an old cable telephone.
Variations
These days Italian supplì Alla Romana are made in a million different ways. We showed you the most basic version with vegan tomato rice, but you can make them as you wish, with any type of Italian Risotto.

Our favorites are supplì made with leftover Mushrooms Risotto and Saffron Risotto.
More recipes with rice
If you enjoyed these finger-licking good rice balls, you might also enjoy our other rice recipes:
What are your favorite recipes with rice? We're curious, let us know in the comments below!
Storage
Supplì are best eaten within 1 hour from frying them. If however if you have some leftovers, store them in an airtight container in the refrigerator for up to 2 days. When you are ready to eat them, warm them up in the oven at 180C (360F) for 10 minutes.
Recipe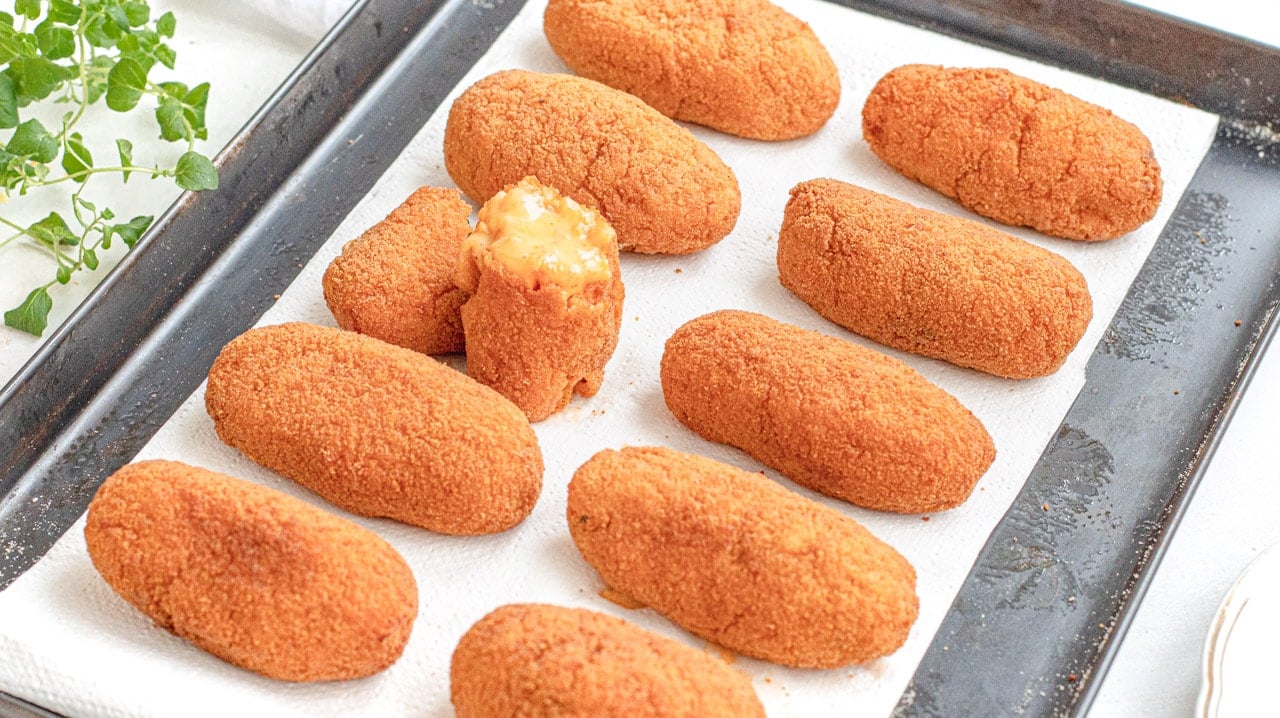 Vegan Supplì alla Romana - Fried stuffed rice balls
This Vegan Rice Supplì is the perfect recreation of a traditional regional Italian recipe. Supplì di riso, a quintessential Italian street food, traditionally made with left-over rice, breaded and deep fried, and with a heart of melted cheese. Our vegan supplì are as delicious, crispy and melty as the traditional Italian recipe and can be enjoyed as an appetizer, snack or even as a main dish.
Ingredients
800

g

vegan tomato risotto

<-- click to see our recipe (leftovers from previous day)

150

g

vegan cheese in slices

2

cups

breadcrumbs

½

cup

soy milk

unsweetened

1

tablespoon

olive oil

1½

liters

frying oil
Instructions
Take your vegan cheese slices, put them on top of each other, and cut the into thinner slices about 5 cm / 2 inches long. You need to get a small cheese stick that we'll put inside the supplì.

On a table, prepare 1 plate full of breadcrumbs, 1 bowl with the soy milk, 1 large empty plate, the olive oil, and the cheese sticks.

Take the leftover risotto rice out of the regrigerator. TIP: if you make the risotto from scratch for the supplì, you need to make it very thick, and you need to let it cool down competely before you can use it for the supplì.

Grease up the palm of your hands with a little olive oil, then place a spoonful of the leftover risotto rice in your left hand.

Flatten the rice between the palms of your hands. Then apply gentle pressure with your index finger in the centre of the flattened rice, to create a little nest for the cheese.

Place the cheese stick in the rice. Then with both hands, wrap the rice around the cheese, rolling it between the palms of your hands. Make sure the cheese stick is fully sealed by the rice.

At the end you should get a smooth and compact rice croquette that resamble a small cilinder shape with round ends. See picture. Set aside on a clean plate and repeat the step until you run out of rice.

For the breading, take each supplì, one by one, gently dip it in the bowl with the soy milk, then roll it in the breadcrumbs. Now take it in your hands, and add more breadcrumbs, pressing between the palms of your hands. Make sure the supplì is completely coated with breadcrumbs, then set it aside on a clean plate.

In a pot, add the frying oil and bring it to 170°C (340°F). Throughout the frying process, try to keep the oil between 160°C (320°F) and 180°C (356°F). Prepare a large platter lined with kitchen paper.

Gently lower the supply in the oil. Be careful. Add up to a max of 4 supplìs at a time. Gently move the supplìs around to cook evenly. Fry in the oil for about 5 minutes, until they turn of a nice brown colour. TIP: if the oil is too hot they'll cook too fast on the outside and become too dark. Keep the oil around 170°C (340°F) for best result, by checking with a kitchen thermometer.

Take the supplìs out of the oil, let drip excess oil away, and rest on a large platter lined with kitchen paper.

Let cool down for at least 3 minutes (careful they are very hot inside and you can get burned), then enjoy, eating them with your hands!
Nutritional Values
Nutrition Facts
Vegan Supplì alla Romana - Fried stuffed rice balls
Amount per Serving
% Daily Value*
* Percent Daily Values are based on a 2000 calorie diet.
Did you like this recipe?
Leave us a comment below or find us on Instagram, YouTube, Pinterest, TikTok, and Facebook.