Welcome to a collection of 25 easy one-pot meals that simplify your cooking routine and give you hassle-free weeknight dinner ideas.
These recipes are designed for busy individuals and families who crave delicious, nutritious dishes without the headache of multiple pots and pans.
From comforting stews to vibrant stir-fries, each one of these recipes is made with whole-food ingredients so you can enjoy nourishing, home-cooked meals.

These one-pot dinners save you time and energy and allow you to enjoy home cooking without the added stress.

So, roll up your sleeves and find your favorite wholesome and hassle-free one-pot meal.
Pasta is an excellent grain for one-pot dishes as it cooks quickly and releases starch, making the sauce creamy.
Zucchini pasta is a convenient and tasty weeknight dinner; creamy, healthy, and easy, this pasta will please the entire family.
TIP: To store it, let the pasta cool down completely, transfer it into an airtight container, and store it in the fridge for two days.
This one-pot lentil bolognese is the perfect recipe to make ahead of time, as its flavor improves as the sauce sits in the fridge. It's a legume-based sauce with an ideal blend of convenience and taste.
The lentils add plant-based protein and fiber to your meal, and it's delicious when served with pasta, toasted bread, and gnocchi.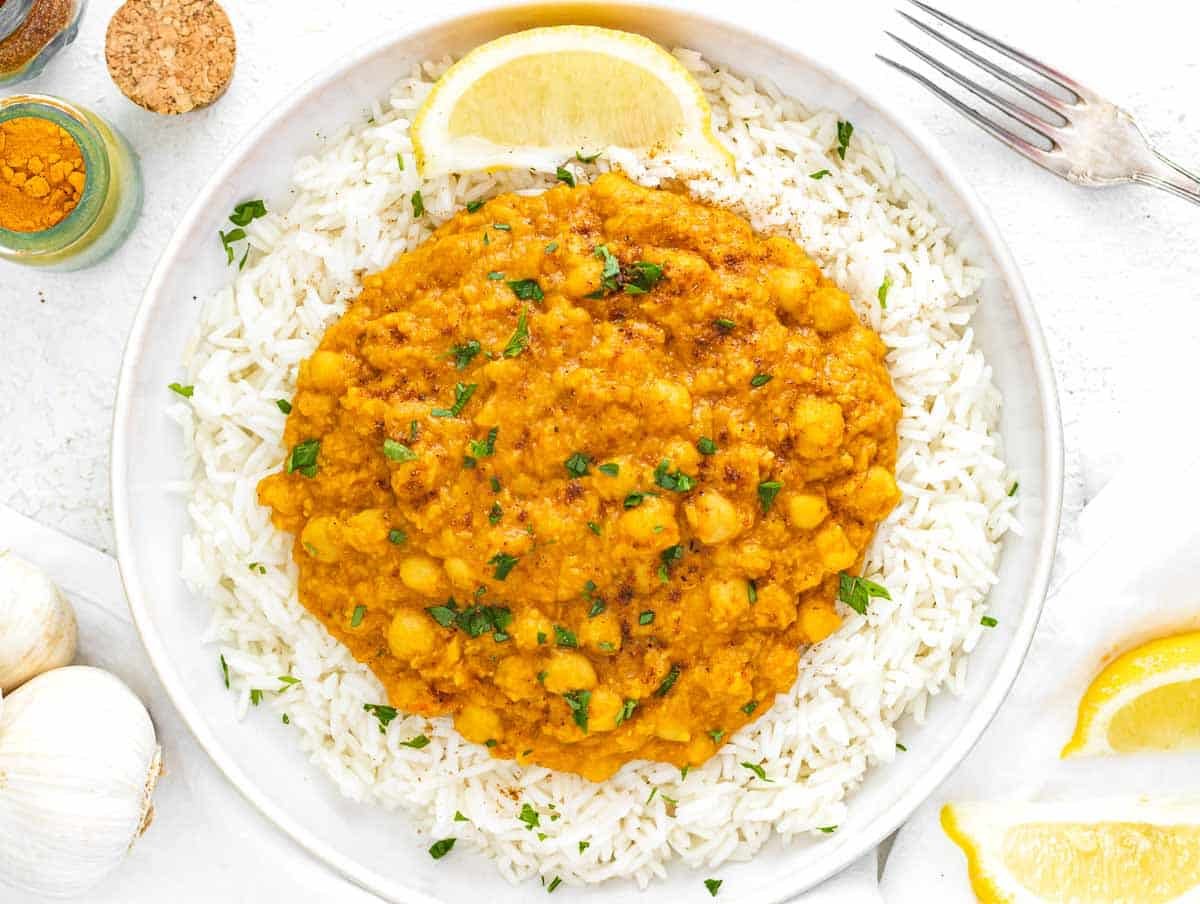 Curries are fantastic for meal planning, and this one-pot chickpea curry is a 30-minute meal with an Indian-inspired spice mix.
TIP: If you want the creamiest curry, blend chickpeas with an immersion blender. That's a quick trick that makes all the difference.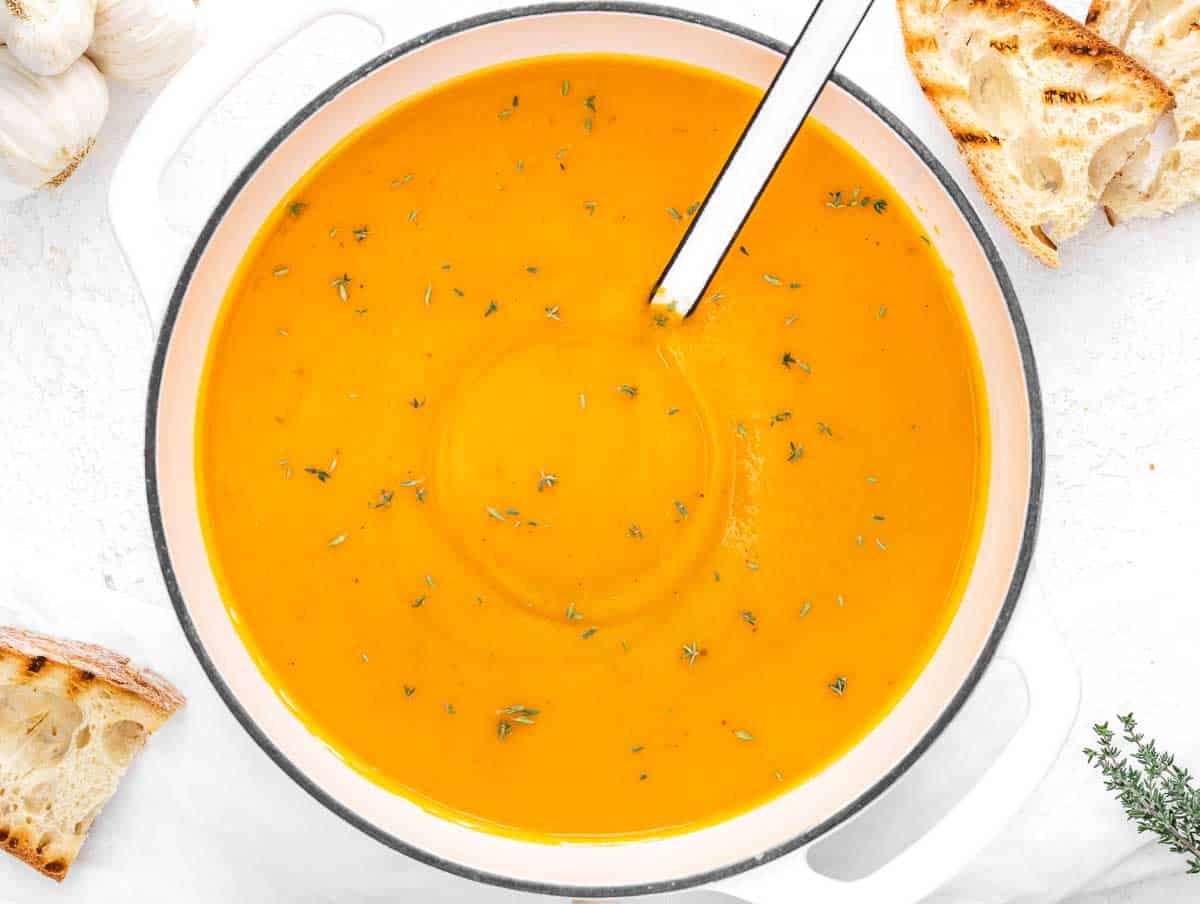 Make this one-pot butternut squash soup for a cozy family dinner, or make it ahead and serve it for a quick lunch in the upcoming week.
It's a healthy, creamy, comforting dish that freezes and stores in the fridge for 4-5 days.
TIP: pair it with crostini, croutons, or roasted chickpeas for a light dinner or appetizer.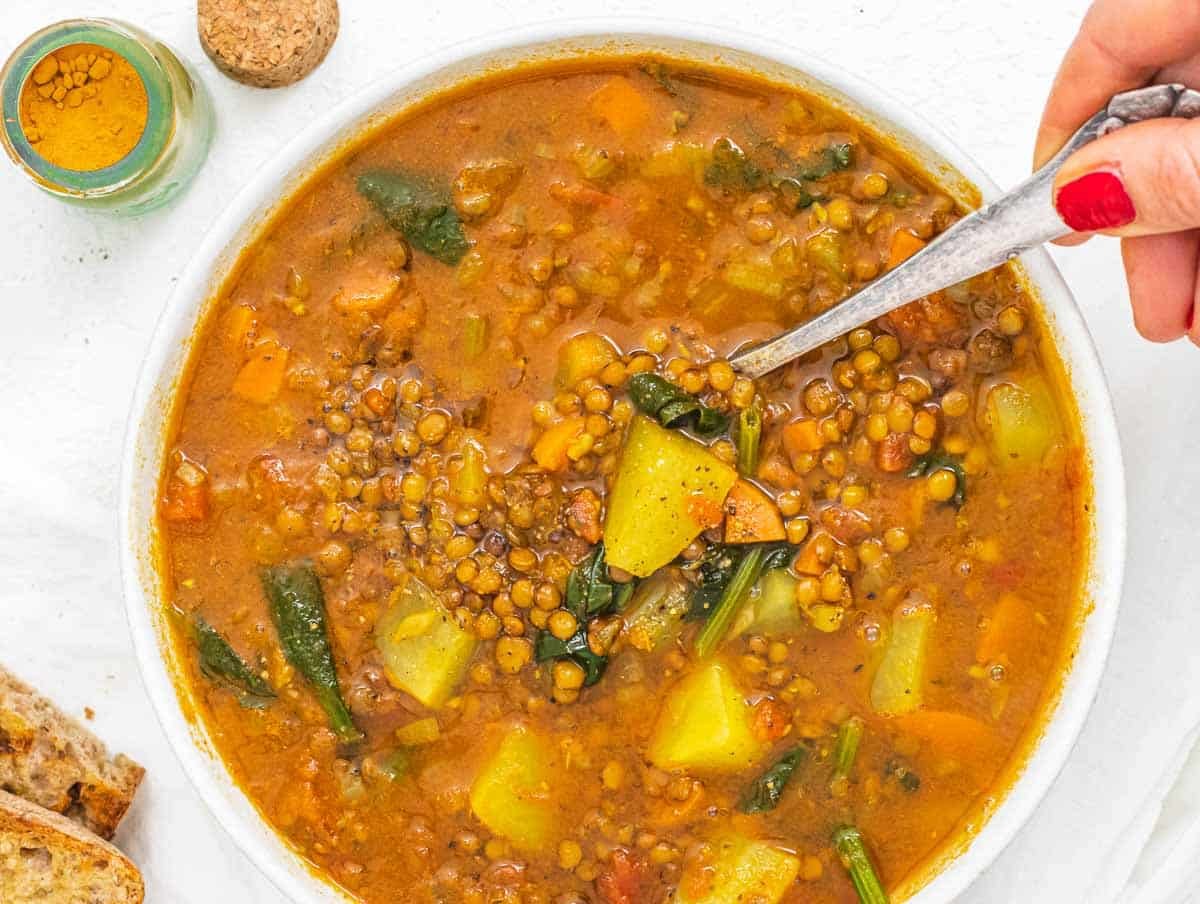 Lentil spinach soup is a healthy one-pot meal combining protein-rich lentils with nutrient-packed spinach.
This easy and balanced meal with essential vitamins and fiber is ready in 30 minutes and makes a convenient and satisfying meal.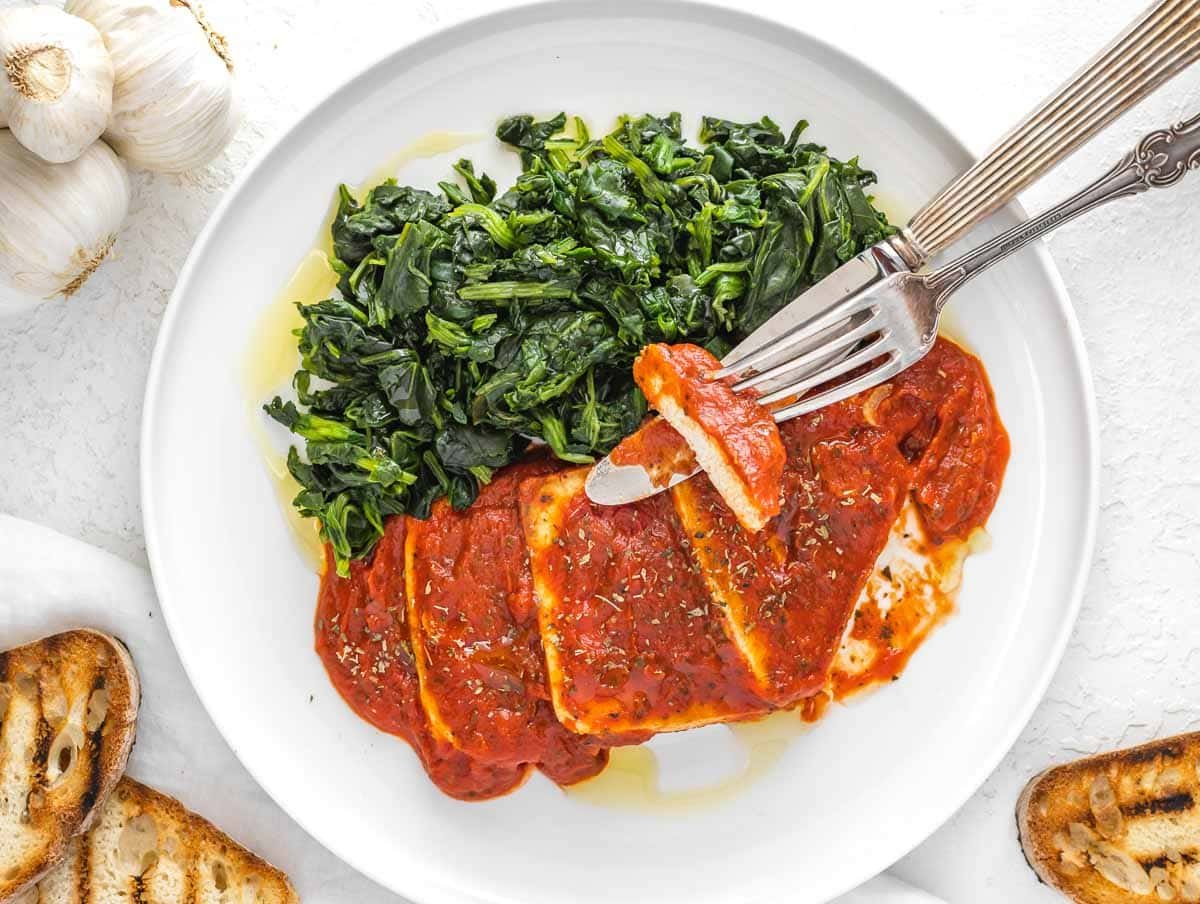 For this vegetarian meal, we use sliced tofu, Italian herbs, and tomato passata, adding a quick and tasty base to coat the tofu.
With this one-skillet method, you can enjoy an Italian-inspired and protein-rich dinner in about 20 minutes. Serve the tofu with spinach, a house salad, and toasted bread for a complete meal.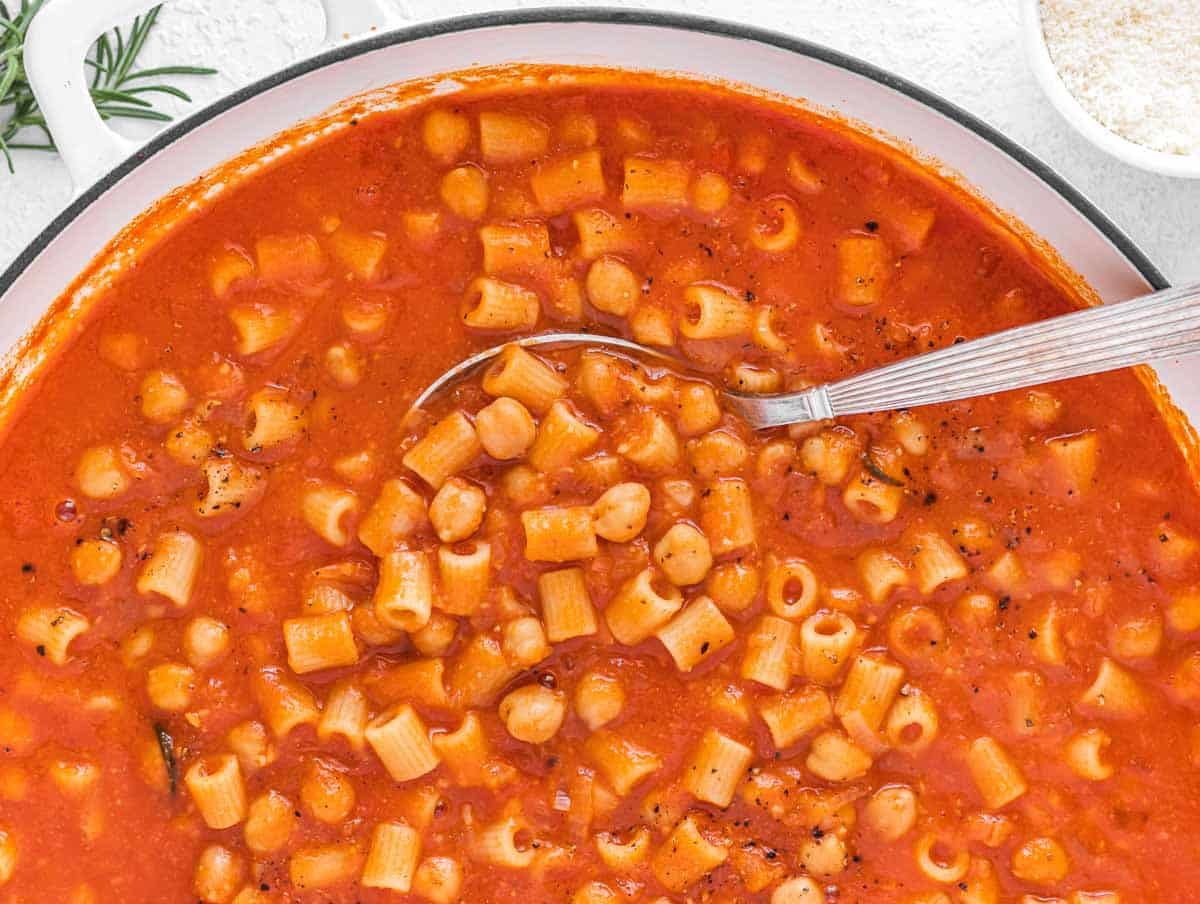 You'll love this pasta e ceci (pasta with chickpeas) because it's easy to make in one pot and just 30 minutes with simple and affordable pantry staples.
Chickpeas are ideal for one-pot meals due to their hearty texture and ability to absorb flavors; they add fiber and magnesium and can help control blood sugar.
Make this hearty and wholesome bean soup from scratch in less than 45 minutes and store it in the refrigerator for several days.
White beans (we use cannellini) are excellent for one-pot soups due to their creamy texture, which naturally thickens the broth and makes the soup extra satisfying.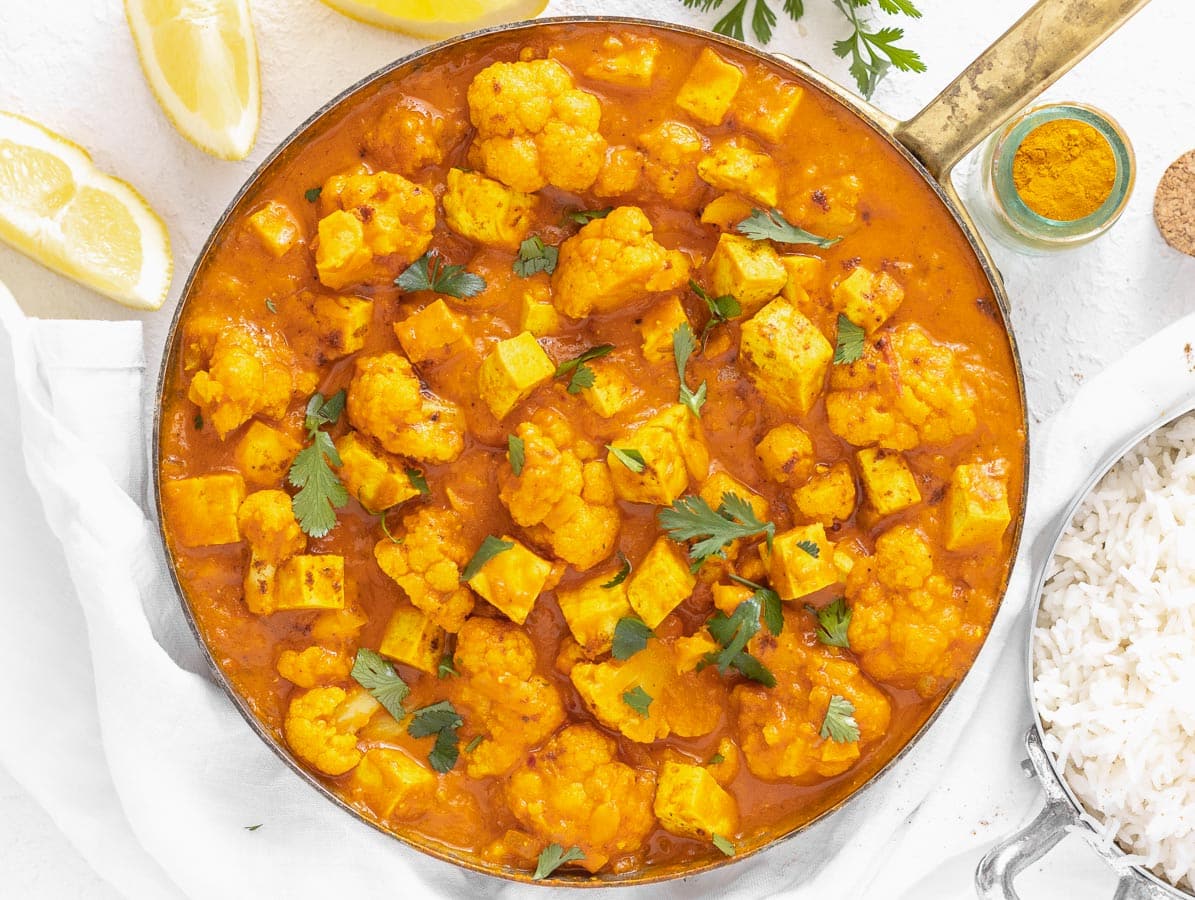 Here is a vegan and gluten-free curry with tofu, cauliflower, and a rich Indian-inspired spice mix.
Tofu is an excellent addition to one-pot curries because its mild flavor absorbs rich and aromatic spices and adds plant-based protein to your meal.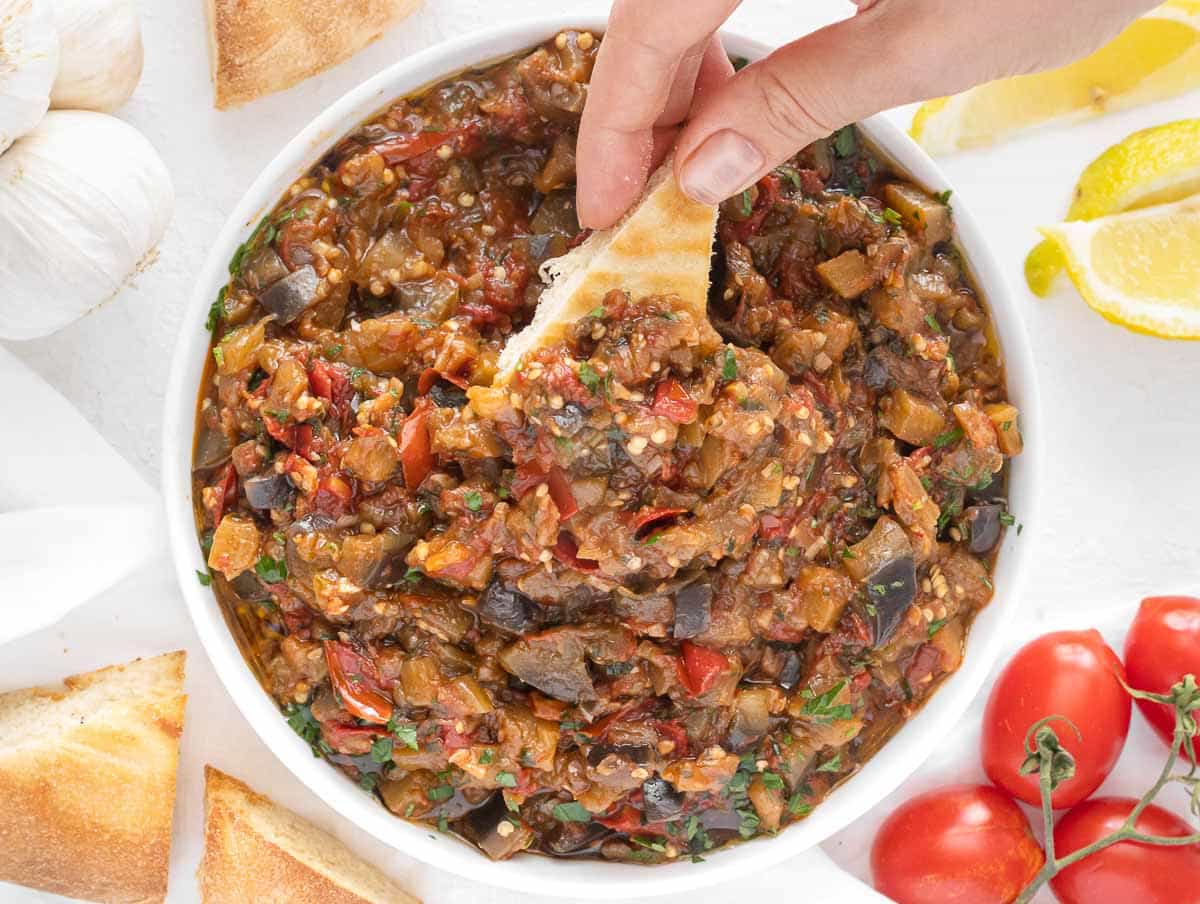 You can enjoy this Moroccan Zaalouk dip with warm crusty bread, but it's also delicious on boiled rice as a main dish.
This Mediterranean one-pot meal comes with smoky roasted eggplant, savory spices, and tangy tomatoes that make a hearty and satisfying dish.
Split red lentils are an excellent choice for one-pot meals as they offer a creamy texture and a quick cooking time.
This soup is excellent as an easy weeknight dinner, meal-prep-friendly, and delicious with a slice of toasted bread.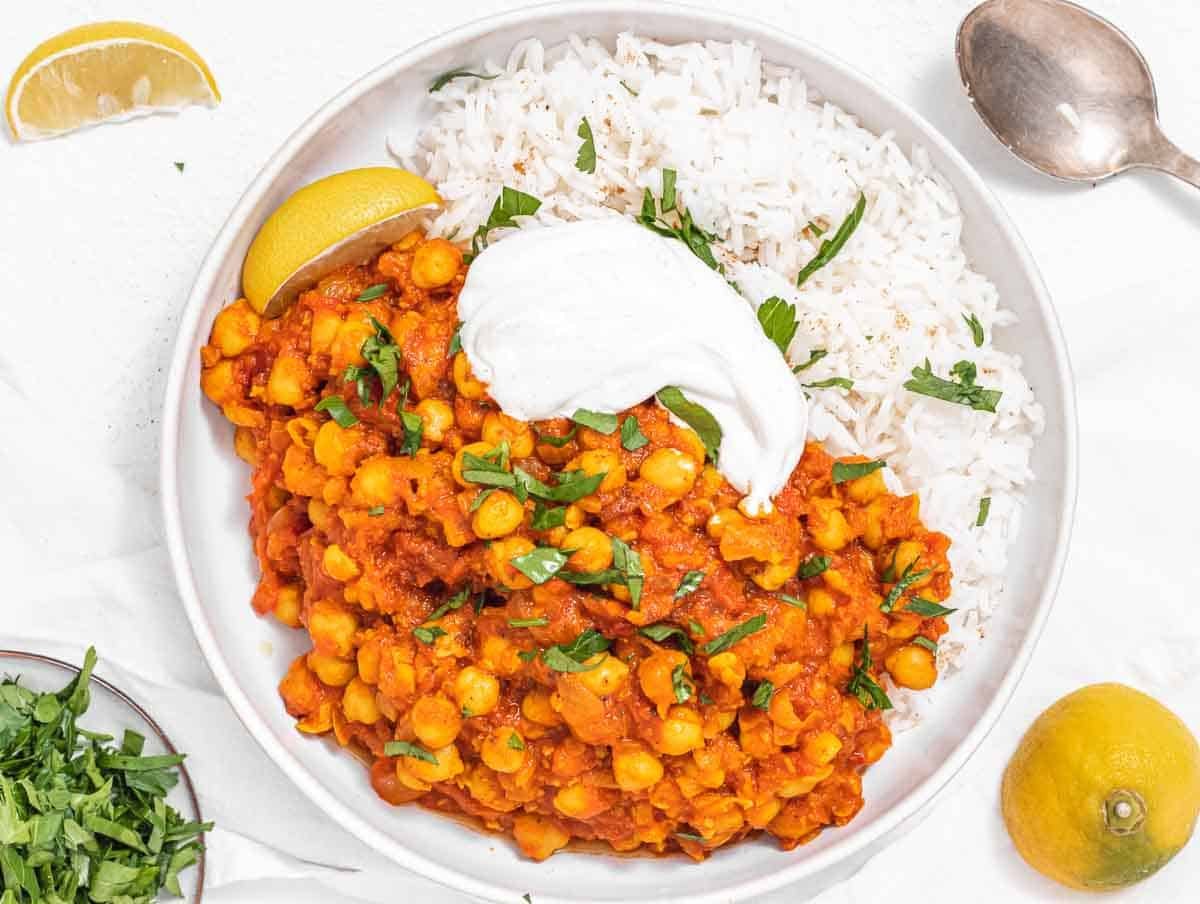 This one's an easy one-pot recipe with chickpeas and spices you can make in 30 minutes.
Chana Masala is excellent for a quick and healthy dinner or meal-prepping as it gets better as it sits in the fridge.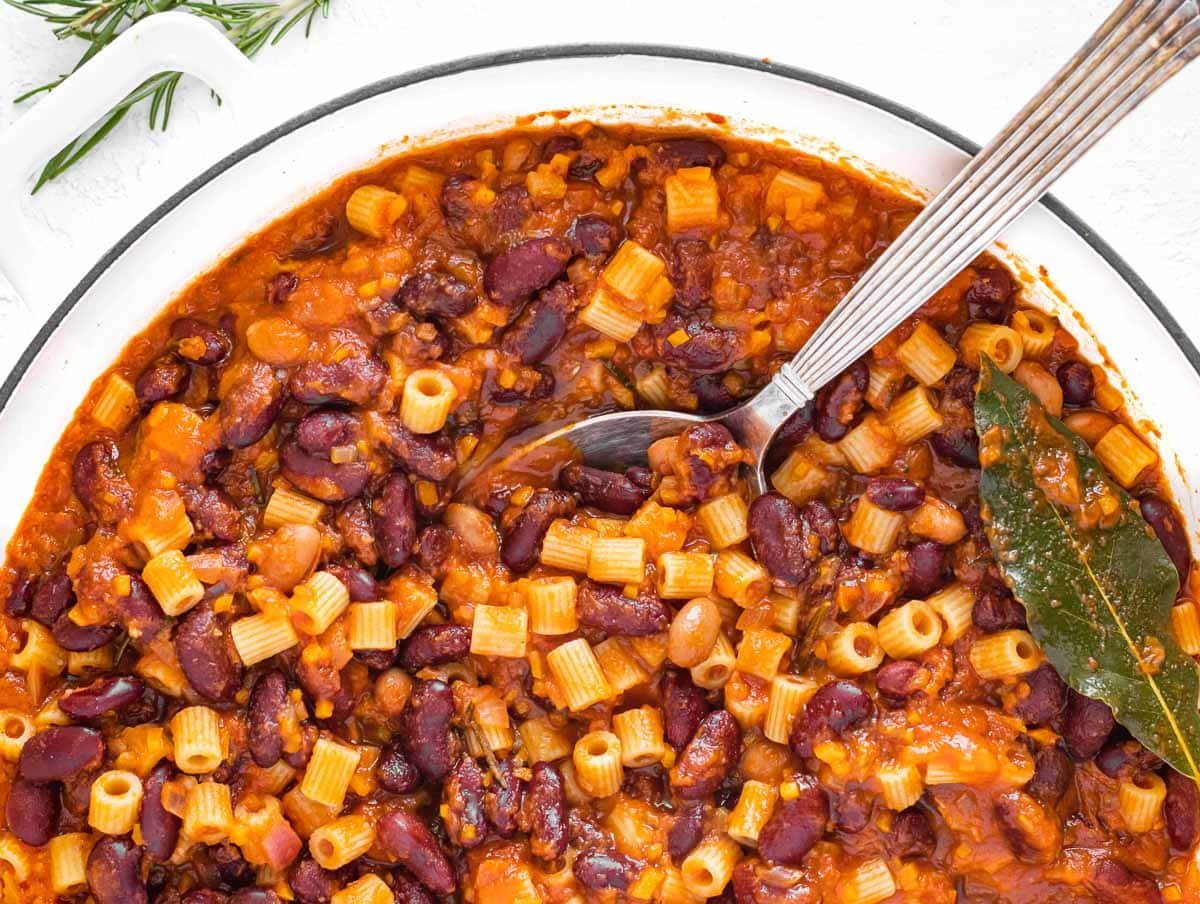 Pasta e fagioli makes the coziest family meal and an easy one-pot dinner idea.
You can make it with simple and affordable ingredients, yet it tastes fantastic, and it's incredibly warming and nourishing.
TIP: For a quick version, use canned beans, and you can make this recipe in about 30 minutes.
For this creamy chickpea stew, you need a few spices, staple ingredients, one pot, and about 30 minutes of cooking time.
It's a flavorful, creamy, nourishing home-cooked meal you can serve with store-bought or homemade pita or Naan bread.
This one-pot sweet potato chili offers Mexican-inspired flavors and a creamy texture.
It's a wholesome make-ahead dinner that keeps in the fridge for days. Serve the chili with sliced avocado, sour cream, lime, and hot sauce. It's delicious with tortillas and nachos or on boiled whole-grain rice.
Lentil curry is an easy, tasty, and healthy meal in one pot with simple ingredients in about 30 minutes.
Our recipe is with split red lentils and makes a simple yet satisfying and flavorful dinner for the whole family.
Mushroom risotto is a creamy and tasty one-pot dish that qualifies as Italian comfort food.
TIP: Use a mix of white button mushrooms and portobello mushrooms. You can use most mushroom varieties based on what you can find where you live.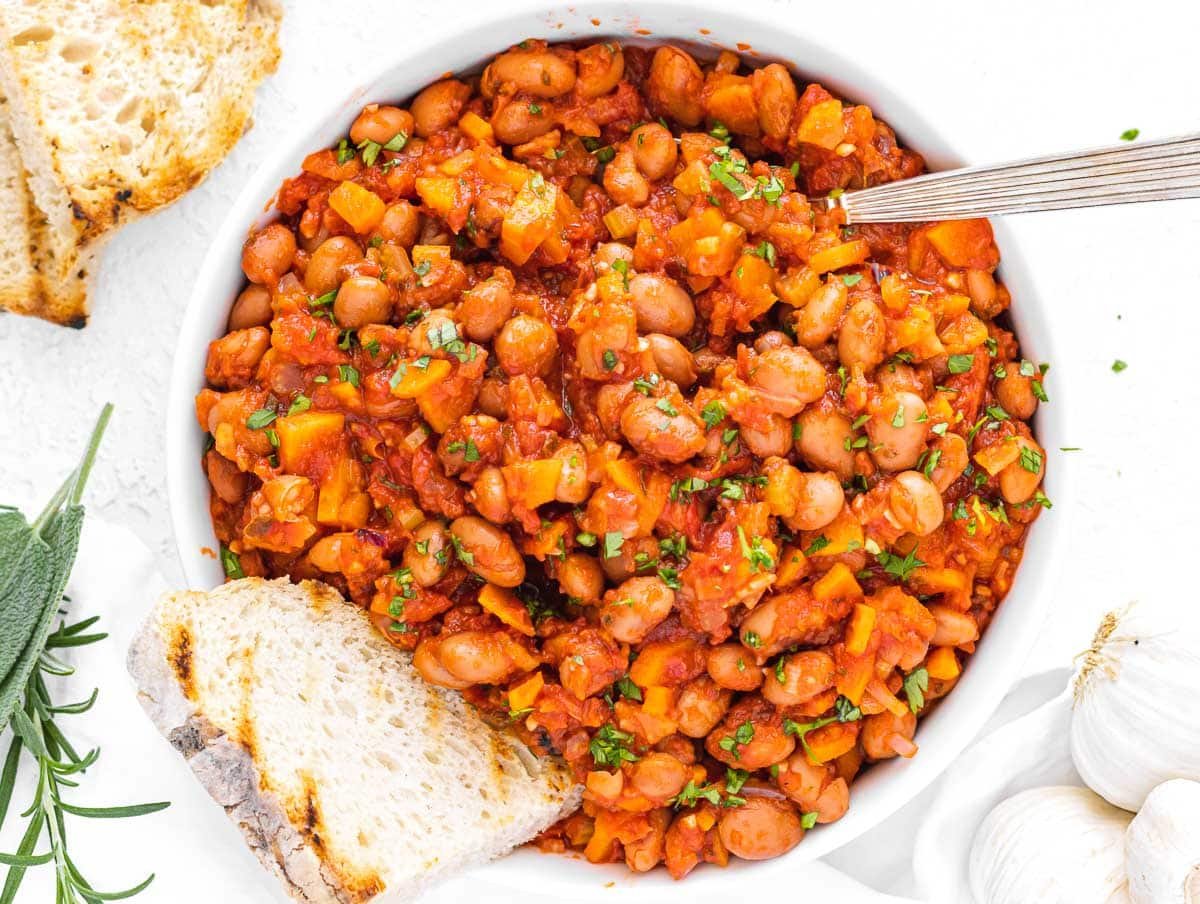 Here's an excellent recipe for a quick and fulfilling weeknight dinner, ready in just over 30 minutes.
This Tuscan bean stew is excellent as a meal prep recipe as it keeps well for days and freezes for up to three months.
TIP: Serve it with rice, couscous, polenta, or a slice of toasted bread.
Cauliflower curry is so easy and satisfying you'll want to make it every week.
You need simple ingredients and spices to yield a tasty and creamy dish that simmers together in one pot. Our cauliflower curry with chickpeas is a gluten-free and naturally vegan curry.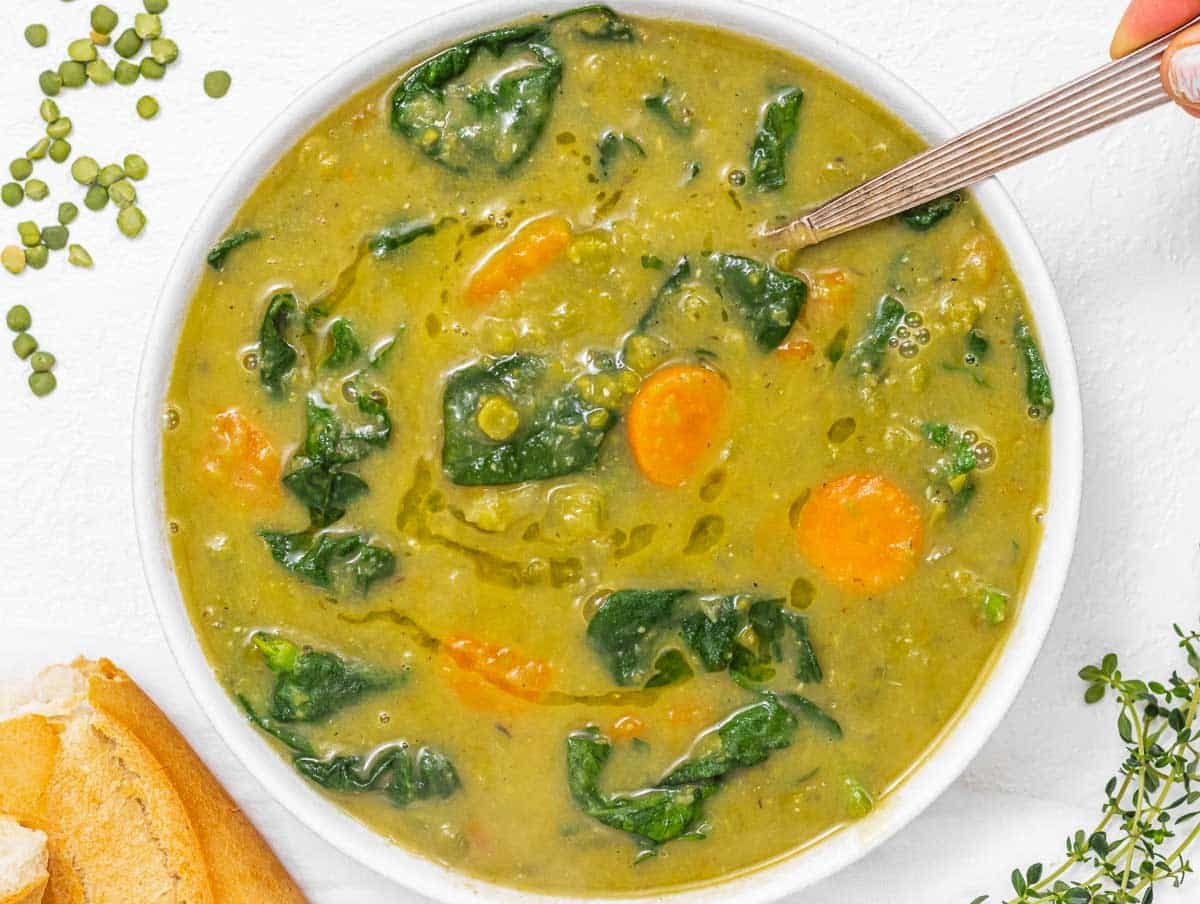 The next item on our list is an easy one-pot dinner that you can make with protein-rich dried split peas and a few other simple ingredients.
Dried split peas are packed with protein and fiber, perfect for adding hearty thickness and earthy flavor to your one-pot meal.
You will love this potato leek soup because it is easy to make in one pot, with simple ingredients, and in about 30 minutes.
It's light, healthy, and delicious, with a mouth-watering creamy texture from leek, potatoes, and Greek-style yogurt.
Sautèed eggplant is a delicious Italian-inspired recipe you can eat as an eggplant side dish, appetizer, or mixed with pasta for a healthy and delicious meal.
It's easy to make in one pan on the stovetop in just 20 minutes, and it's great as a last-minute dinner idea.
If you like Asian flavors, you'll love one pan noodle dish because it's easy to assemble and excellent as a weeknight dinner.
Our Yaki Udon is ready in about 15 minutes; it's easy to make at home, nutritious, and with a fragrant Asian sauce.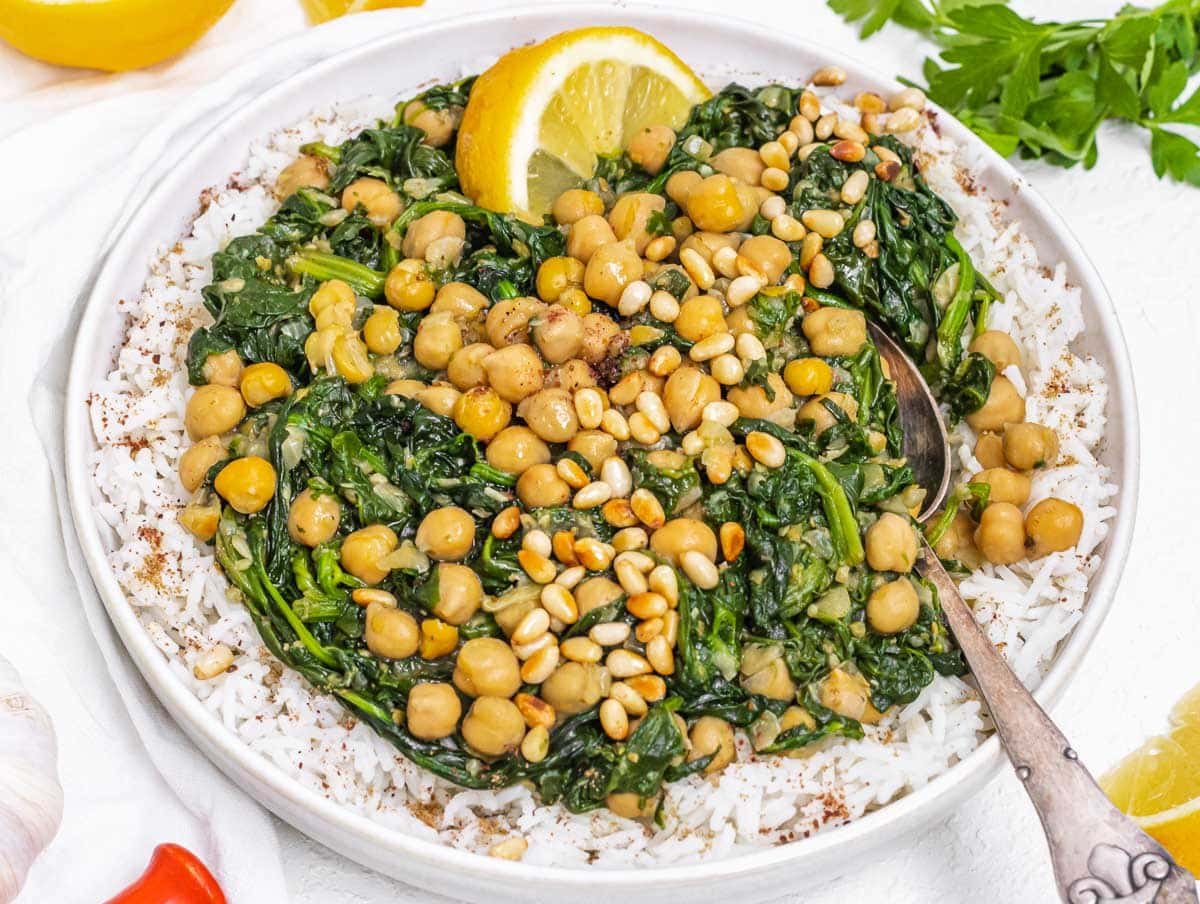 This one-pot spinach stew is excellent with rice or warm pita bread for lunch or dinner, and it's also a great recipe for meal prep.
It's an easy, healthy, and satisfying dish with spinach, chickpeas, and cumin, making an excellent weeknight dinner or hearty lunch.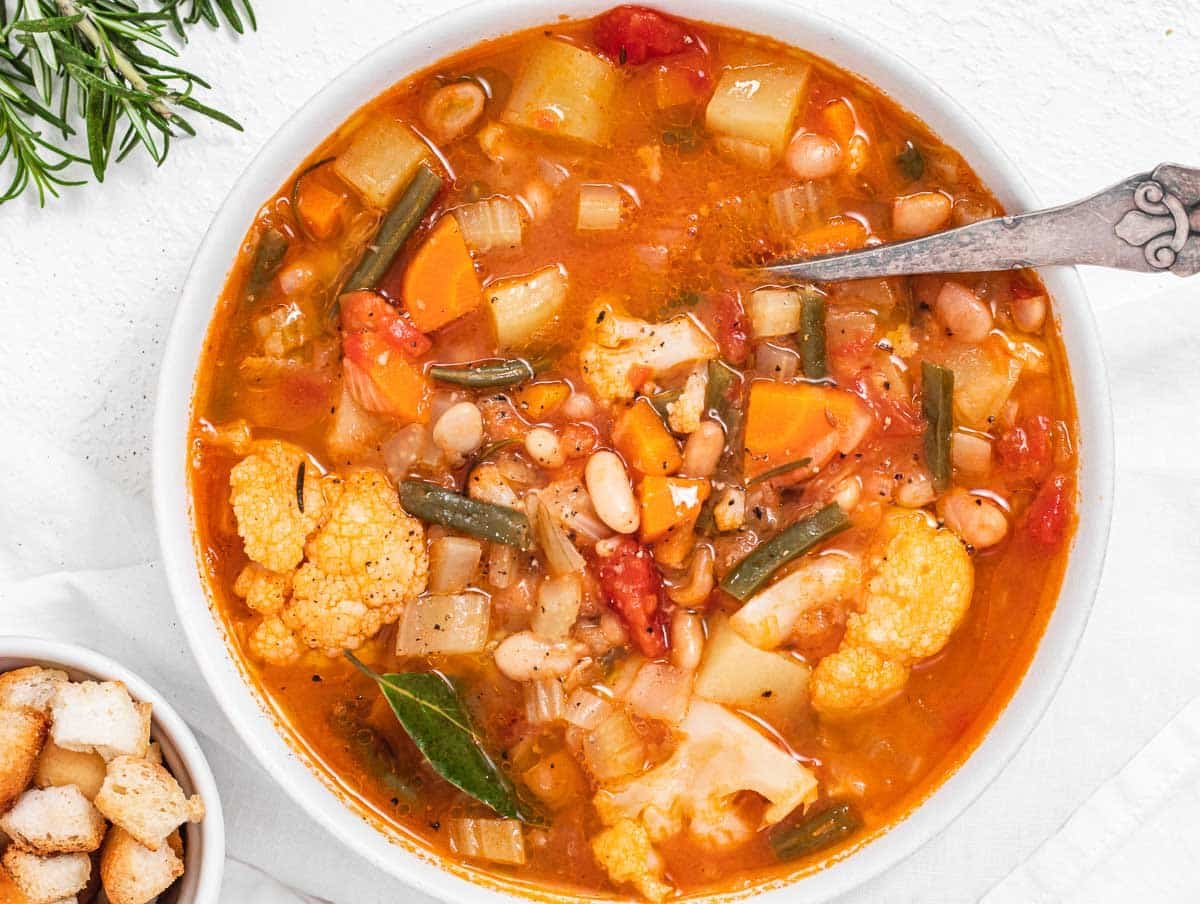 We end this list with a white bean vegetable soup that is easy to make, infinitely tasty, comforting, and perfect for meal prep.
It's excellent to make ahead, perfect for cold winter days, and one of the best meals to feed your family.
More Healthy One-Pot Meals
If you love quick meals with wholesome ingredients, try these one-pot meals from around the world: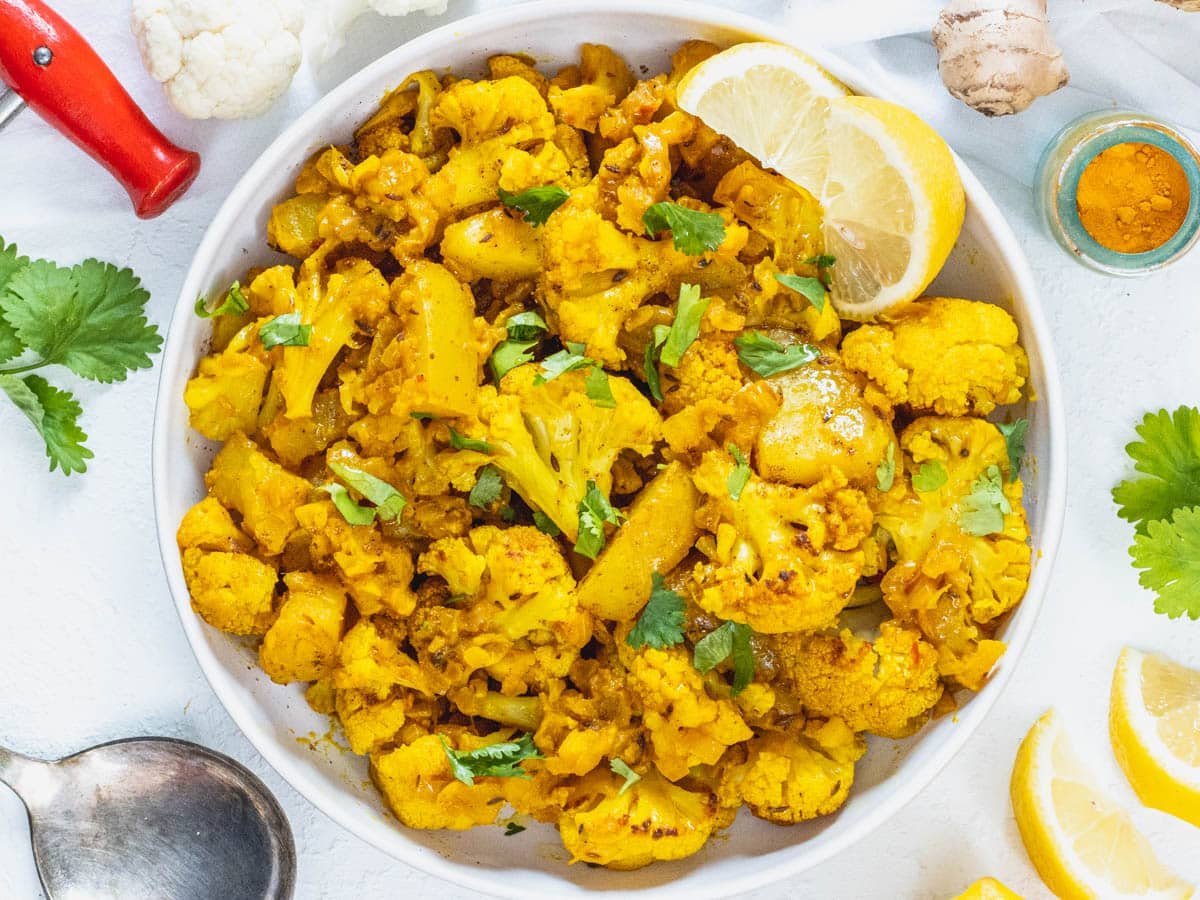 For many more dinner ideas, check out our mains category page.
Recipe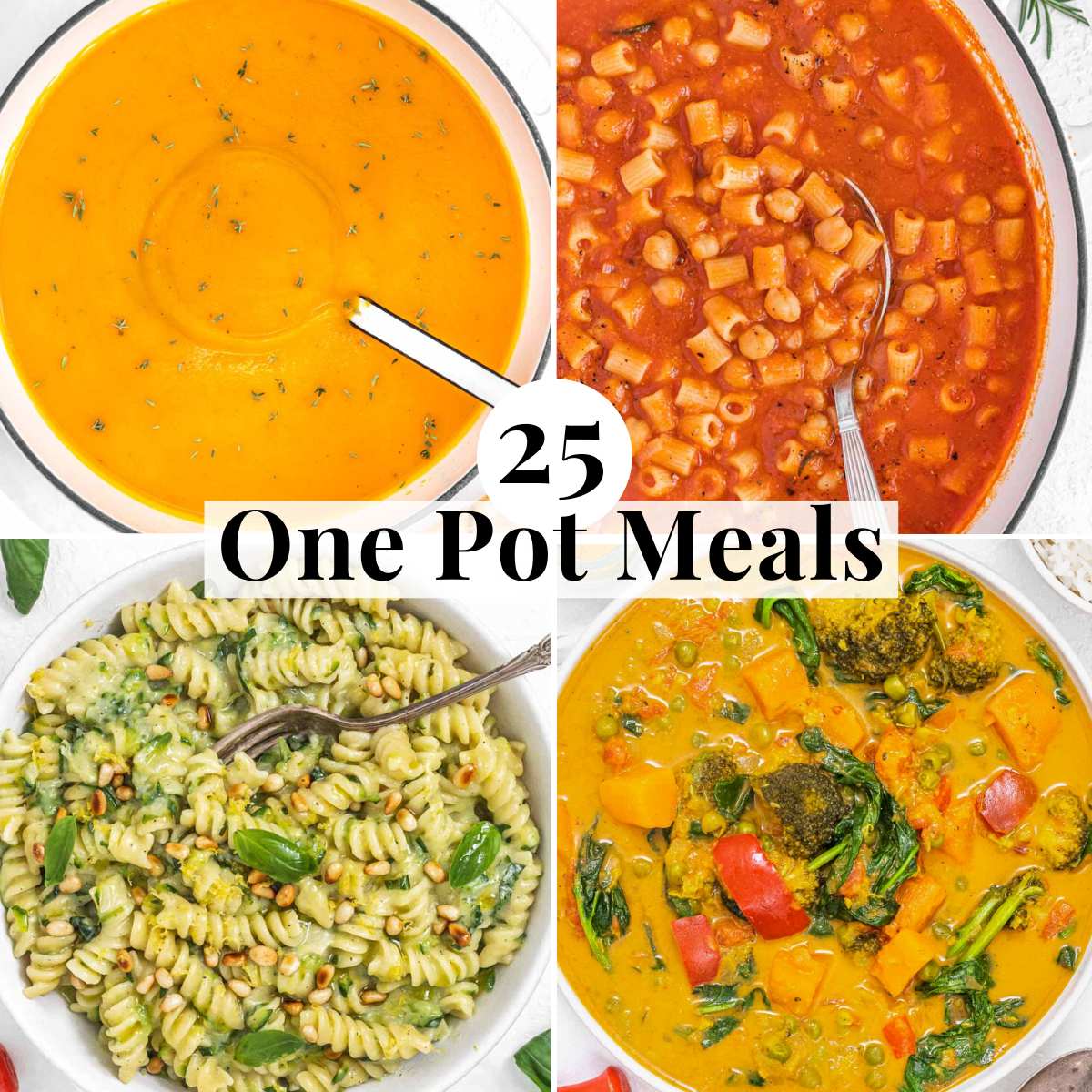 25 Easy One-Pot Meals
Zucchini pasta, as in pasta with zucchini, is a creamy and easy one-pot recipe to have as a tasty weeknight dinner for the whole family.You can make it with grated zucchini, fresh herbs, lemon zest, parmesan cheese, and a dollop of creamy greek or non-dairy yogurt.
Ingredients
Main Ingredients
2

tablespoons

extra virgin olive oil

1

yellow

onion

4

cloves

garlic

6

cups (27 oz)

zucchini

grated with the large holes of a box grater

1

teaspoon

oregano

or thyme

1

teaspoon

salt

or more to taste

½

teaspoon

black pepper

12

ounces

pasta

rotini, fusilli, farfalle, penne, or other

3

cups

vegetable broth

start with 2 cups or 500 g and add more if necessary

½

cup

parmesan cheese

grated, or dairy-free cheese

½

cup

greek yogurt

or dairy-free yogurt

¼

packed cup

basil leaves
Garnish with
1

medium

lemon

the grated zest

2

tablespoons

pinenuts
Instructions
Grate the zucchini with the large holes of a box grater.

Warm up olive oil in a large skillet, then add finely chopped onion and fry it for 3 minutes.Add grated garlic and fry for one more minute.Add the shredded zucchini, season them with salt and pepper, and cook on high heat for 5 minutes, stirring occasionally.

2 tablespoons extra virgin olive oil,

1 yellow onion,

4 cloves garlic,

1 teaspoon salt,

½ teaspoon black pepper

Add pasta, vegetable broth, and oregano, and cook on medium-low heat for about 10 to 12 minutes or until the pasta is creamy and al dente.

1 teaspoon oregano,

12 ounces pasta,

3 cups vegetable broth

Stir occasionally to prevent the pasta from sticking to the bottom of the dish.If the pot dries, add more liquid until the pasta is ready.

Turn the heat off, taste, and adjust for salt.Add grated parmesan cheese (or dairy-free cheese), greek yogurt (or non-dairy yogurt), and a handful of chopped fresh basil.

½ cup parmesan cheese,

½ cup greek yogurt,

¼ packed cup basil leaves

Stir gently until cheese and yogurt melt into the zucchini pasta.

Serve immediately with grated lemon zest and optionally toasted pine nuts.

1 medium lemon,

2 tablespoons pinenuts
Notes
Nutritional information is an estimate for 1 large serving of zucchini pasta out of 4 servings.
VARIATIONS
Check out the "variation" chapter above for more zucchini pasta ideas.
SUBSTITUTIONS
Green zucchini: sub globe zucchini, yellow crookneck, yellow squash, grey zucchini, or other.
Pasta: you can use any pasta shape.
Extra virgin olive oil: sub another vegetable oil.
Oregano: sub dried oregano, fresh or dried thyme, or Italian seasoning.
Vegetable broth: sub water and more salt.
Parmesan: sub pecorino romano or a non-dairy cheese.
Greek yogurt: sub non-dairy yogurt, butter, or non-dairy butter.
Pine nuts: sub pistachios, chopped almonds, or walnuts.
MAKE AHEAD & STORAGE
Make ahead: this one's not a good recipe to make ahead as the pasta loses its oomph soon after it's cooked.
Refrigerator: let the pasta cool down completely at room temperature, then transfer it into an airtight container and store it in the fridge for two days.
Reheat: warm leftovers in the microwave. Do not reheat multiple times, as the pasta will overcook.
Freezer: this recipe is not suitable for freezing.
Nutritional Values
Nutrition Facts
25 Easy One-Pot Meals
Amount per Serving
% Daily Value*
* Percent Daily Values are based on a 2000 calorie diet.
Did you like this recipe?
Leave us a comment below or find us on Instagram, YouTube, Pinterest, TikTok, and Facebook.
If you liked these one-pot meals, you might also enjoy: