This delicious and creamy vegan potato salad is easy to make for a quick lunch and it's also perfect as a packed lunch to eat outside in the sun.

It has a fresh and light flavor thanks to the herbs, lemon, and olive oil. It's naturally vegan and thanks to our trick you'll get a super creamy dressing that we are sure you'll love!
Check out our best vegan lunch ideas collection!
Potato salad is a perfect summer side dish and perfectly paired with vegan pesto, mayo, and different types of veggies. It's a great way to eat potatoes during grill and BBQ season while getting a healthy dose of fibers and nutrients.
On this page:
Ingredients & Substitutions
Potatoes: we use organic as we keep the skin on the potatoes. Pick potatoes with thin skin that are not too big. Yellow or red potatoes both work.
Chickpeas: canned or home-cooked chickpeas are both fine. Chickpeas add some extra protein to the dish. You can replace chickpeas with lightly boiled edamame beans or white cannellini beans.
Fresh greens: we use dill, parsley, green onions and arugula/rocket to give the salad a fresh but intense flavour. Feel free to add some sliced celery for a more traditional spin. Other herbs that work well are chives and coriander.
Olive oil, garlic and lemon juice: to make the dressing light, fresh, and more mediterranean. You can replace this dressing with vegan mayo.
Hazelnuts: they add crunch and a rich nutty flavour to the salad. You can replace them with toasted almonds, walnuts or cashew nuts.
Tips
Don't peel the potatoes, scrub them
We try to eat our potatoes with the skin on as often as we can. The peel is the best part, don't throw it out.

Instead, use a metal sponge to scrub off the darkest areas and dirt and you are good to go.

Salt the water!
The general rule of thumb when boiling vegetables is to always salt the water! The potatoes will taste so much better and will need a lot less seasoning.

Cut the potatoes for quicker cooking
Cutting the potatoes before cooking them will make the potatoes slightly more watery and some people don't like that.

However, for this recipe, we believe that the pros outweigh the cons. 1) your potatoes will cook much faster 2) they will absorb more flavor from the salted water 3) you won't ruin the potatoes cutting them after they're cooked.
Add some potato to the dressing
While this might seem weird, we like to add one piece of boiled potato into the blender while making the dressing.

When blended, the potato will release a lot of starch that will make the dressing super creamy without you having to add mayonnaise, eggs, or any other unhealthy animal-based products.

Save some potato cooking water
Add some potato cooking water to the dressing to make it come together. The potato water is very tasty and also rich in starch and will make the dressing extra creamy and tasty.
Frequently asked questions
Where is potato salad from?
Traditional potato salad is believed to have originated in Germany and was brought to the US by German immigrants in the 19th century.
Is vegan potato salad gluten-free?
Yes, our recipe is gluten-free. If you add other ingredients such as vegan mayo, then read the label.
Is vegan potato salad healthy?
Yes, compared to traditional potato salad made with eggs and mayonnaise, our vegan recipe is super healthy. It has no animal based ingredients, no cholesterol, plenty of fiber, a good balance of protein given by potatoes and chickpeas, some healthy fats from the olive oil and the hazelnuts, and plenty of vitamins and antioxidants from potato peel, herbs, and rocket/arugula. Remember, potatoes are a very healthy food if you don't deep fry them!
Can potato salad give you food poisoning?
Traditional potato salad might cause food poisoning due to the eggs and mayonnaise in it. Our vegan potato salad is unlikely to cause food poisoning as it does not contain any eggs, meat, or dairy.
Variations
Genoese style: a delicious salad inspired by the Genovese tradition of north-western Italy.

In Genova, the home of pesto, people eat potatoes with string beans and pesto dressing.

Follow our recipe for vegan pesto sauce, then use it as a dressing for the boiled potatoes and chickpeas, then add 2 handfuls of boiled (or air fried) green beans, et voilà. You got yourself a delicious original potato salad recipe!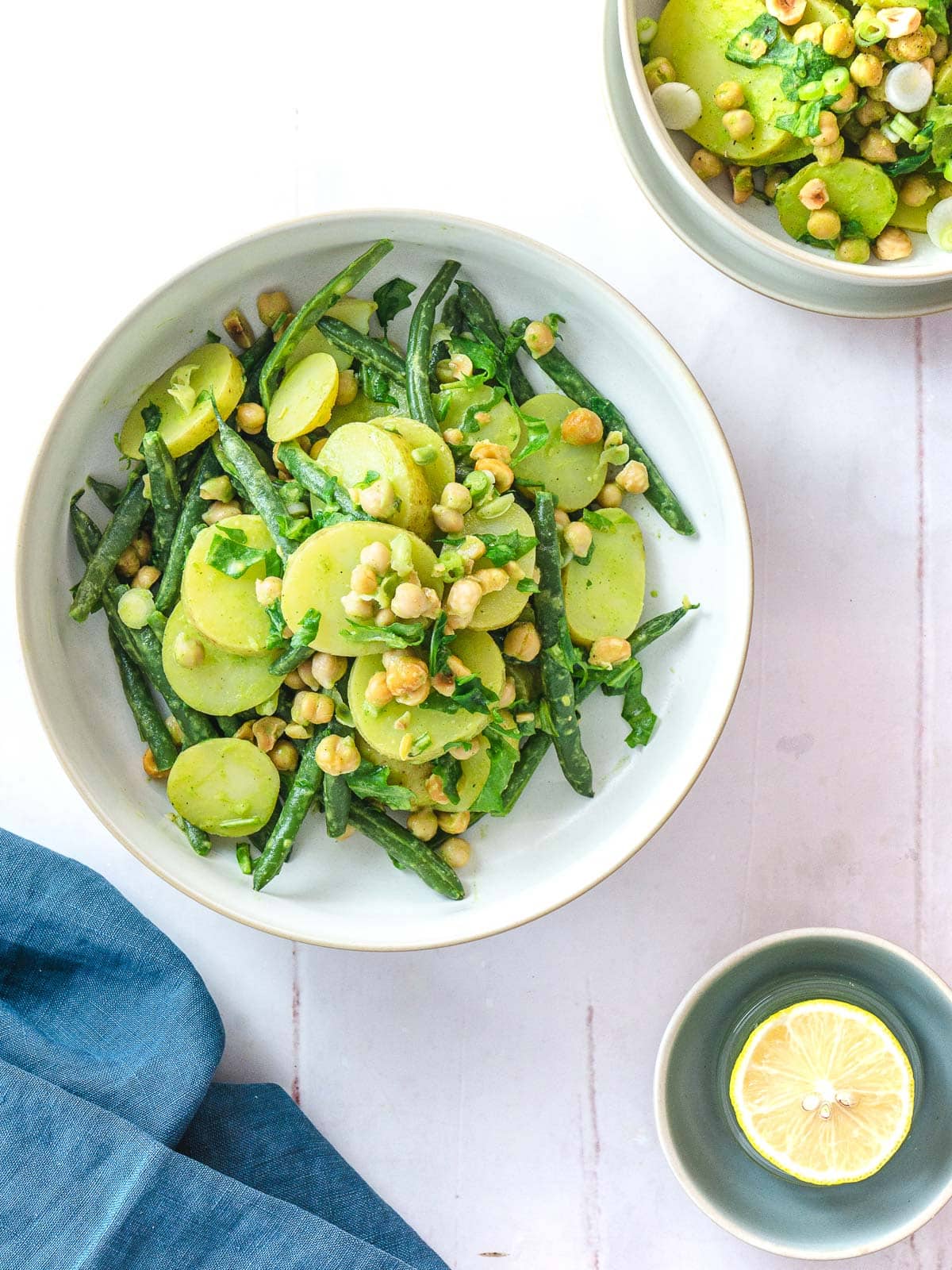 Curry potato salad: you can make a delicious and simple dressing with an oriental twist by mixing together 130 grams of unsweetened soy yogurt with 1 teaspoon of curry powder, ½ teaspoon of turmeric powder, 1 sliced green onion, ½ teaspoon of sea salt, 10 grams of chopped cilantro, a pinch of pepper, and 1 stalk of chopped celery.

An easy, simple, and delicious vegan dressing for a potato salad with a twist. Add some chickpeas to improve the protein profile of the dish.
Storage
Refrigerator: you can store this vegan potato salad in an air-tight container or in a bowl covered with a lid for up to 3 days in the refrigerator.
Can I freeze potato salad? Yes, you can. Especially since ours doesn't have eggs or mayo, your risk of bacterial contamination, and hence, food poisoning, will be a lot lower. To freeze the potato salad using a bowl or air-tight container and place it in the freezer. It keeps for up to 3 months.

To thaw it, take it out of the freezer and place it in the refrigerator until completely thawed (it can take about 12 to 24 hours).

It's important that you thaw your potato salad in the refrigerator because doing it at room temperature will foster bacterial growth on the surface of the dish. Never thaw food at room temperature!

Once thawed, add 1 tablespoon of olive oil and a handful of freshly chopped parsley, give it a mix and serve. We do not recommend freezing potato salad as its consistency and flavor will never be the same as a fresh one.
Similar recipes
If you love creamy and fulfilling salads, have a look at our other salad recipes:
For many more 30-minute meal ideas, check out our 30-minute meal category page.
Recipe
Vegan Potato Salad
This delicious and creamy vegan potato salad is easy to make for a quick lunch and it's also perfect as a packed lunch to eat outside in the sun. It has a fresh and light flavour thanks to the herbs, lemon and olive oil. It's naturally vegan and thanks to our trick you'll get a super creamy dressing that we are sure you'll love!
Ingredients
2

lb

organic potatoes

1

cup

chickpeas

cooked and drained

3

tablespoon

hazelnuts

3

tablespoon

olive oil

1

handful

arugula

1

handful

flat-leave parsley

1

handful

dill

½

cup

potato cooking water

¼

clove

garlic

2

tablespoon

lemon juice

2

green onions

½

teaspoon

fine sea salt

1

pinch

black pepper

1

tablespoon

coarse sea salt

(to salt the potato water)
Instructions
Scrub the potatoes under running water with your hands or with a metal sponge. Then cut them into 2 inches (0.5 cm) thick slices.

In a large pot filled with water add a tablespoon of coarse sea salt and the potatoes. Bring to boil, then cook for about 7 minutes. The potatoes should not be overcooked or they'll break apart in the salad.

Save one cup of potato cooking water. Then drain the potatoes and quickly rinse them under cold water to lower their temperature.

In a blender, add 1 slice of boiled potato, green onion, dill, parsley, juice of half lemon, garlic, salt, olive oil, potato cooking water, black pepper, and blend for a few seconds.

In a bowl, add the potatoes and the drained chickpeas together.

Add the herb dressing to the bowl and mix well together.

Add chopped hazelnuts.

Add chopped arugula/rocket.

Give it a quick mix and serve it with some freshly cut green onions on top.
Nutritional Values
Nutrition Facts
Vegan Potato Salad
Amount Per Serving
Calories 396
Calories from Fat 153
% Daily Value*
Fat 17g26%
Potassium 1183mg34%
Carbohydrates 53g18%
Protein 10g20%
Vitamin A 300IU6%
Vitamin B6 1mg50%
Vitamin C 52mg63%
Vitamin E 3mg20%
Vitamin K 48µg46%
Calcium 75mg8%
Folate 128µg32%
Iron 4mg22%
Manganese 1mg50%
Magnesium 92mg23%
Zinc 2mg13%
* Percent Daily Values are based on a 2000 calorie diet.
Did you like this recipe?
We are not much on Instagram, Facebook, and Pinterest. Leave us a comment below instead, it would mean the world to us 🙂
If you liked this recipe, you might also like: