The easiest, most amazing guacamole recipe that takes only minutes to make. Made with avocado, lime juice, and salt.

Homemade guacamole is probably the best dip in the world. Tasty, healthy, and a crowd-pleaser, especially when served with some crunchy tortilla chips.
On this page:
Check out our best vegan salad recipe collection!
What to expect
Guacamole is a Mexican avocado-based dip, sometimes served as a spread or as a salad. The name Guacamole comes from the Aztec language "āhuacamōlli" which literally translated means 'avocado sauce', from āhuacatl 'avocado' and mōlli 'sauce'.

Guac is definitely one of our favorite starters. It's perfect for an evening with friends and family as it's easy to make and everyone loves it.
Here we are making the classic guacamole recipe (which is also a vegan guacamole recipe), and will also show you our favorite variations.
Ingredients and Substitutions
Avocado: ripe avocado is the main ingredient in Guacamole. See the chapter below to learn how to pick the best avocados.

Salt: salt is also key in the original recipe of Guac. Sea salt and Kosher salt are best, you can use flakey salt for a fancier version. Table salt is also fine if you don't have anything else at hand.

Lime: lime juice helps keep the color of mashed avocados green and bright. The acidity of lime also fits perfectly with the creamy, fatty texture of avocados. If you really can't find lime, then you can replace it with lemon juice.

Onion: red onion is more traditional, but you can use any other type if you don't have red onion at hand.

Cilantro: freshly chopped. Another important ingredient, although not always added in the original recipe, especially if not in season.

Tomato: this is an optional ingredient. Tomatoes and avocados are a match made in heaven, so you can definitely add some to your guac. If you add tomatoes try to find some that are ripe and not watery. If they are too watery then drain some of the juice of the tomatoes before adding it to the guac.

Jalapeños: this is an optional ingredient. If you like your guac a little spicy, some chopped jalapeños or chili peppers like serrano pepper won't hurt. You can use fresh or pickled.
Instructions
Cut the avocado in half, remove the pit, and slice the avocado flesh into squares with a knife (it's safer if you use a blunt knife).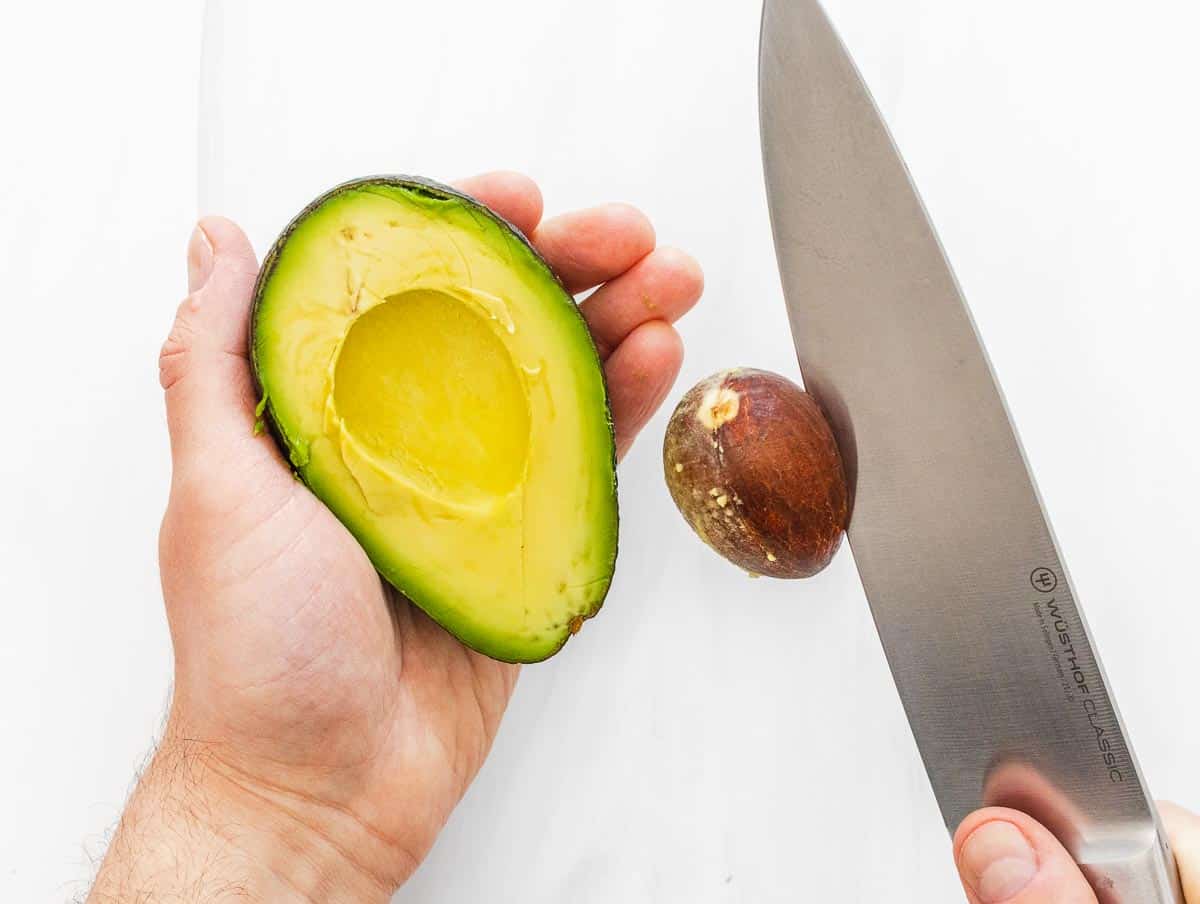 With a spoon, scoop out the avocado from its shell and add it to a bowl.
Important: when you scoop out the avocado, make sure to scrape every bit of flesh that's under the skin. That's the healthiest part of the avocado with the highest amount of nutrients.
Add fresh lime juice and salt, then mash the avocado with a fork. You don't have to mash it completely, some avocado chunks are nice in guacamole.
Add chopped onion and freshly chopped cilantro. Stir well, taste, and adjust for salt and lime juice.

This is the most basic and simple guacamole, and it's really great because it lets you fully appreciate the true unadulterated flavor and texture of avocado.

It's perfect to be used as a guacamole dip and it's by far our favorite with tortilla chips.
How to pick the best avocados
I won't deny it, it takes a little practice to pick perfectly ripe avocados. But hopefully, these 5 tips will help you.

First: look for the stem. It's generally better if the avocado has the small stem still on. This way it will stay fresh for longer after buying it.

Second: look at the color. Ripe avocados are generally darker than unripe ones. So try to find ones that have a dark green, almost black color.

Third: avoid shiny ones. Ripe avocadoes generally have a dull, matte peel. Shiny avocados are generally unripe.

Fourth: avoid indentations or bruise spots. If you see clear bruises, that are soft to the touch, that's obviously not good. I wouldn't recommend buying those, even if they are on offer. There's not much you can do with bruised, overripe avocado.

Fifth: feel it. If the avocado yields to firm gentle pressure you know it's ready to eat. To feel the avocado, pick it up in the palm of your hand, and apply gentle pressure with the whole hand. Do not squeeze with your fingertips as you might damage the avocado.

If the avocado feels mushy, it could be overripe. If the avocado feels hard (it does not yield to gentle pressure) you can still buy it and let it ripe at home for a couple of days. To speed up ripening put the avocado in a paper bag with an apple or banana for a couple of days.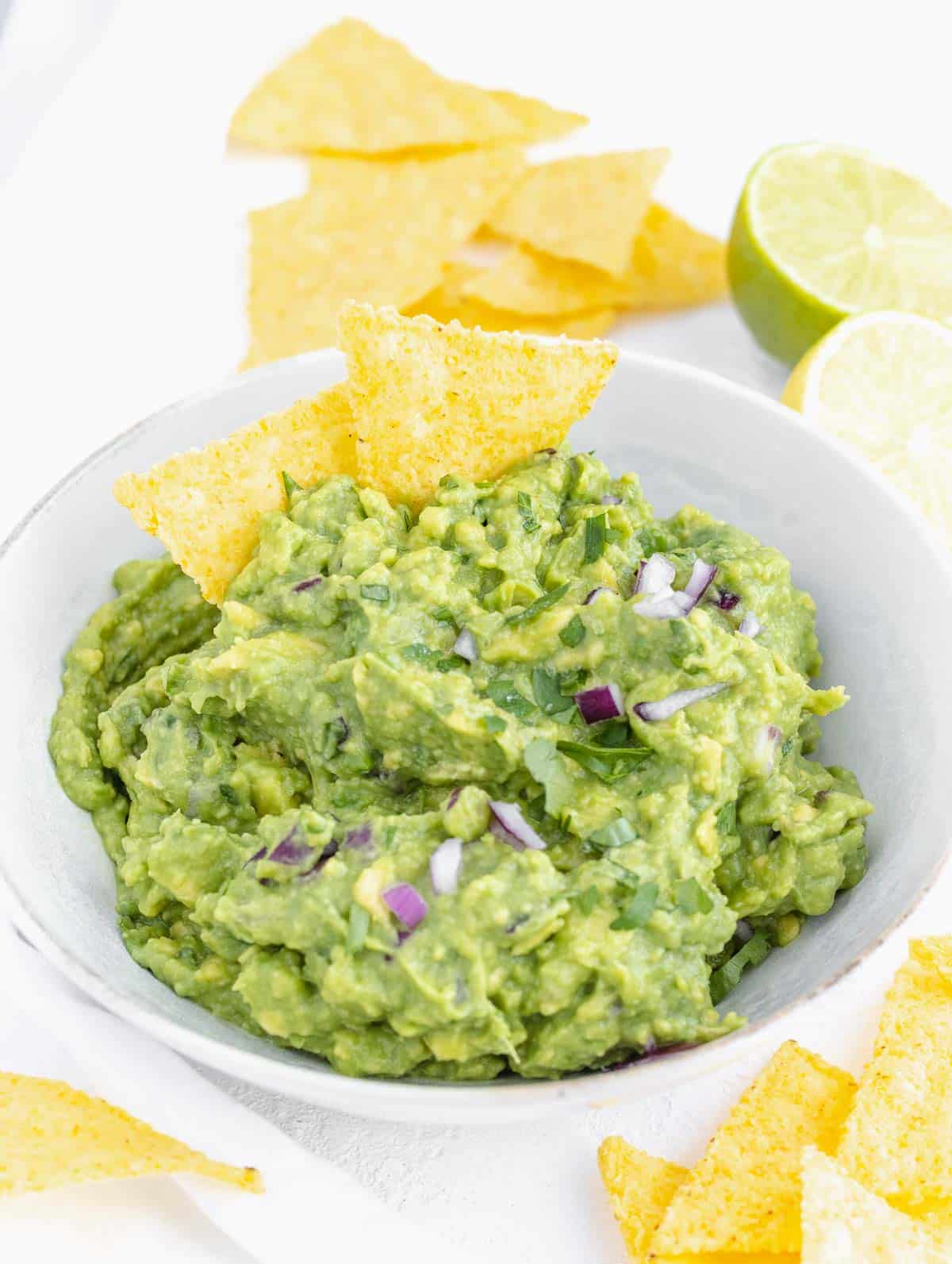 Variations
Tomatoes and Jalapeño Guacamole
This one is delicious, especially if you like a little heat in your guac. If you add tomatoes, use some that are not too juicy. Guacamole should be thick and creamy, you don't want to water it down with watery tomatoes.

Good tomatoes for guacamole are ripe Roma tomatoes. But you can also use cherry or date tomatoes, as long as you remove some of their water before adding them to the avocado.

So, dice some ripe tomatoes, drain their water and seeds, then add them to the avocado and stir.

If you like your guac spicy, then jalapeños or chili peppers are perfect to add some heat. You can use either fresh ones or pickled ones. In either case, cut them open, remove the stem and seeds, chop them up and add them to the guac. Stir and serve.
Garlic, Basil, Tomato Guacamole
Avocado goes really well with basil and tomatoes, and while this might not be an authentic guacamole recipe, it's still a delicious way of eating avocados.

All you have to do is mash the avo as in the original guacamole recipe, then add chopped tomatoes, chopped basil, and finely chopped garlic or garlic powder. Season with salt, pepper, and lemon juice or balsamic vinegar and enjoy on a toasted slice of bread. This way is perfect as a starter.
Fruity Guac
The avocado's technically a fruit, so it's no wonder that it tastes delicious when added to other fruits. Try mixing it with diced mangoes, pineapple, strawberries, and even bananas.
Chickpea Guacamole
Want to add some protein to your guac. Try mashing a can of chickpeas with a fork, then add them to the classic guacamole recipe, stir well, and enjoy. This way is absolutely healthy, fulfilling, and delicious. Try it in a sandwich or stuff a baked potato and you won't regret it.
Serving Suggestions
Of course, guacamole is amazing with the usual Mexican dishes: from tortilla chips to fajitas, from nachos to tacos.

But what about other dishes? We love serving this easy guac on top of our socca (farinata), an Italian flatbread made of chickpea flour, or together with our no-knead focaccia and some tomato confit on top.

Try serving it with stuffed bell peppers or our delicious chickpea stew or lentil curry, instead of the yogurt. The coriander and the creaminess of the avo go super well with those recipes.

You can even use it as a replacement for mayonnaise in our vegan tuna salad or as a topping for flatbread pizza with some arugula and a drizzle of our easy chipotle sauce on top.
Questions
How to eat guacamole?
Eat guacamole as a dip with tortilla chips. Use it as a spread in sandwiches. Add as filling inside burritos, fajitas, tacos, poke bowls, and baked potatoes.

You can serve guacamole together (in separate bowls) with salsa, sour cream, pico de Gallo, dairy-free cheese, sauteed red peppers, corn, and other vegetables to eat with tacos or fajitas. Mix them up to get an incredible combination of flavors.
Is guacamole vegan?
Yes, homemade guacamole is vegan.
Is guacamole gluten-free?
Yes, homemade guacamole contains no gluten.
More Dip Recipes
If you enjoyed this creamy guacamole, you might also enjoy our other scrumptious dips:
Or any of these 25 top vegan sauces that pair perfectly with salads and grains.
Storage
Can you store guacamole? Yes, but it will turn brown. To prevent the guac from turning brown squeeze lemon or lime juice on top of it then cover the bowl with a piece of plastic wrap. Press down the wrap to touch the guacamole to prevent the air from touching it. This will only slow down browning for a couple of hours.

Can you freeze guacamole? Yes, but frozen then thawed guac won't taste or look as fresh as freshly made one. To freeze guacamole put it in a freezer bag, squeeze out the air, and freeze. Thaw in the refrigerator overnight.
For more condiment ideas, check out our dressing and sauces category page.
Recipe
Guacamole
Guacamole is simple: mix together ripe avocados, lime juice, salt, cilantro, and some chopped onion. To spice things up you can add some chopped tomato and jalapeño, but that's entirely optional.
Ingredients
2

large

avocados

ripe

2

tablespoons

fresh lime juice

or lemon juice

⅓

teaspoon

salt

or more to taste

3

tablespoons

red onion

finely chopped

2

tablespoons

cilantro

finely chopped

½

ripe

tomato

chopped (optional)

2

jalapeño or serrano chilis

chopped (optional)
Instructions
Cut the avocado in half and remove the pit.

Slice the flesh of the avocado into dice. It's safer to do this with a blunt knife.

With a spoon, scoop out the avocado from its shell and add it to a bowl.

Add lime juice, salt and mash the avocado with a fork. Don't over-mash it, some avocado bits are fine.

Add chopped onions, chopped cilantro, and stir. Optionally you can add chopped tomatoes and jalapeños.

Taste and adjust for salt and lime juice. Serve with tortilla chips, nachos, fajitas, and tacos, or see our serving suggestions chapter above for more serving ideas.
Notes
If you are not sure how to pick the best avocados, see chapter above with our 5 tips.
Nutritional Values
Nutrition Facts
Guacamole
Amount Per Serving
Calories 171
Calories from Fat 135
% Daily Value*
Fat 15g23%
Potassium 562mg16%
Carbohydrates 11g4%
Protein 2g4%
Vitamin A 368IU7%
Vitamin B6 1mg50%
Vitamin C 23mg28%
Vitamin E 2mg13%
Vitamin K 24µg23%
Calcium 18mg2%
Folate 88µg22%
Iron 1mg6%
Manganese 1mg50%
Magnesium 33mg8%
Zinc 1mg7%
* Percent Daily Values are based on a 2000 calorie diet.
Did you like this recipe?
We are not much on Instagram, Facebook, and Pinterest. Leave us a comment below instead, it would mean the world to us 🙂
If you liked this recipe, you might also like: