In this collection of 20 recipes with tahini, we share our tastiest tahini-infused dishes made with simple ingredients.
From savory dips and dressings to wholesome grain bowls and salads, these recipes will give you fresh ideas and impress your family and friends.
If you are you looking to add a rich, nutty flavor to your dishes without fuss, this is your chance.
Look no further than tahini, the versatile Middle Eastern paste from 100% ground sesame seeds.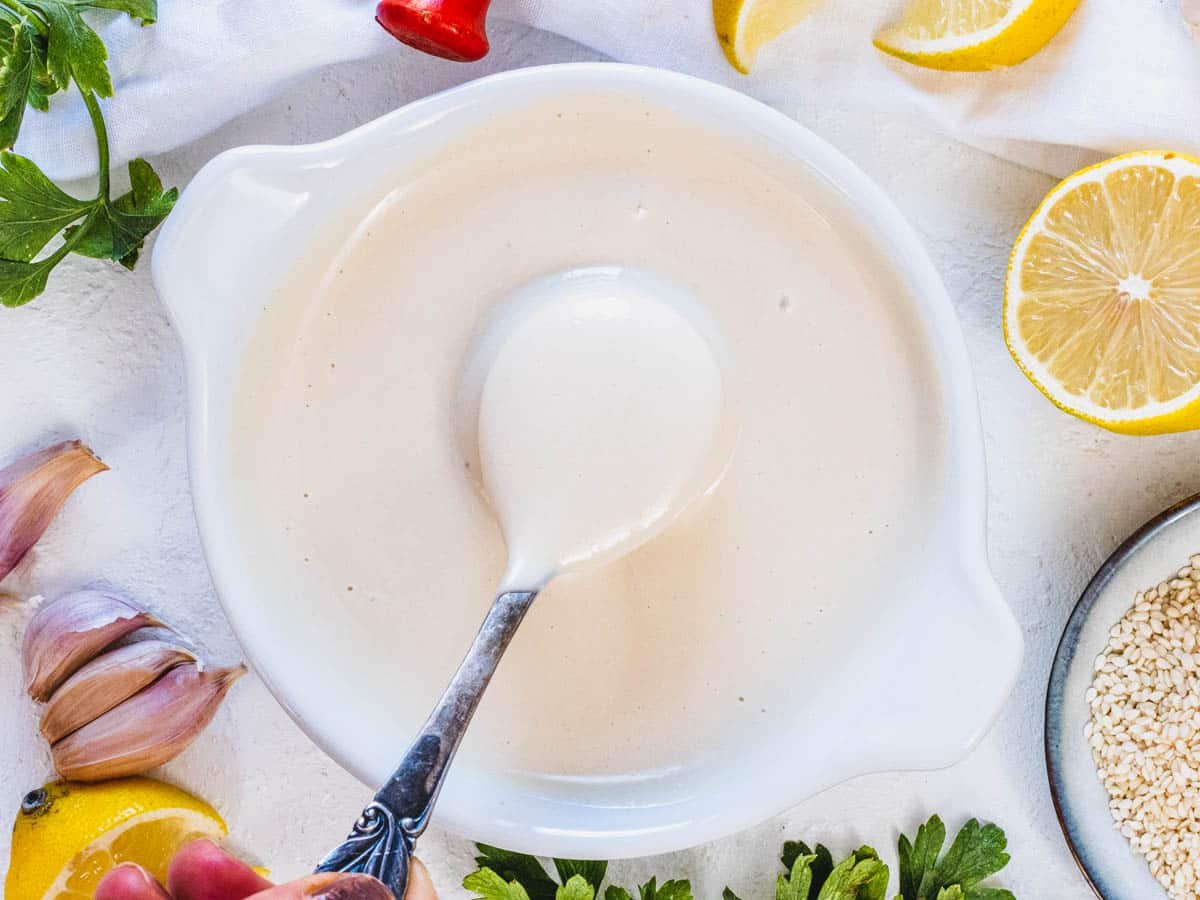 We start this list with one of our favorite ways of using tahini; creamy tahini sauce.
It's a versatile dressing to drizzle over salads, falafel, and grain bowls with a luscious texture and nutty undertones. You can also serve it as a dip with potatoes and pita chips for an easy appetizer.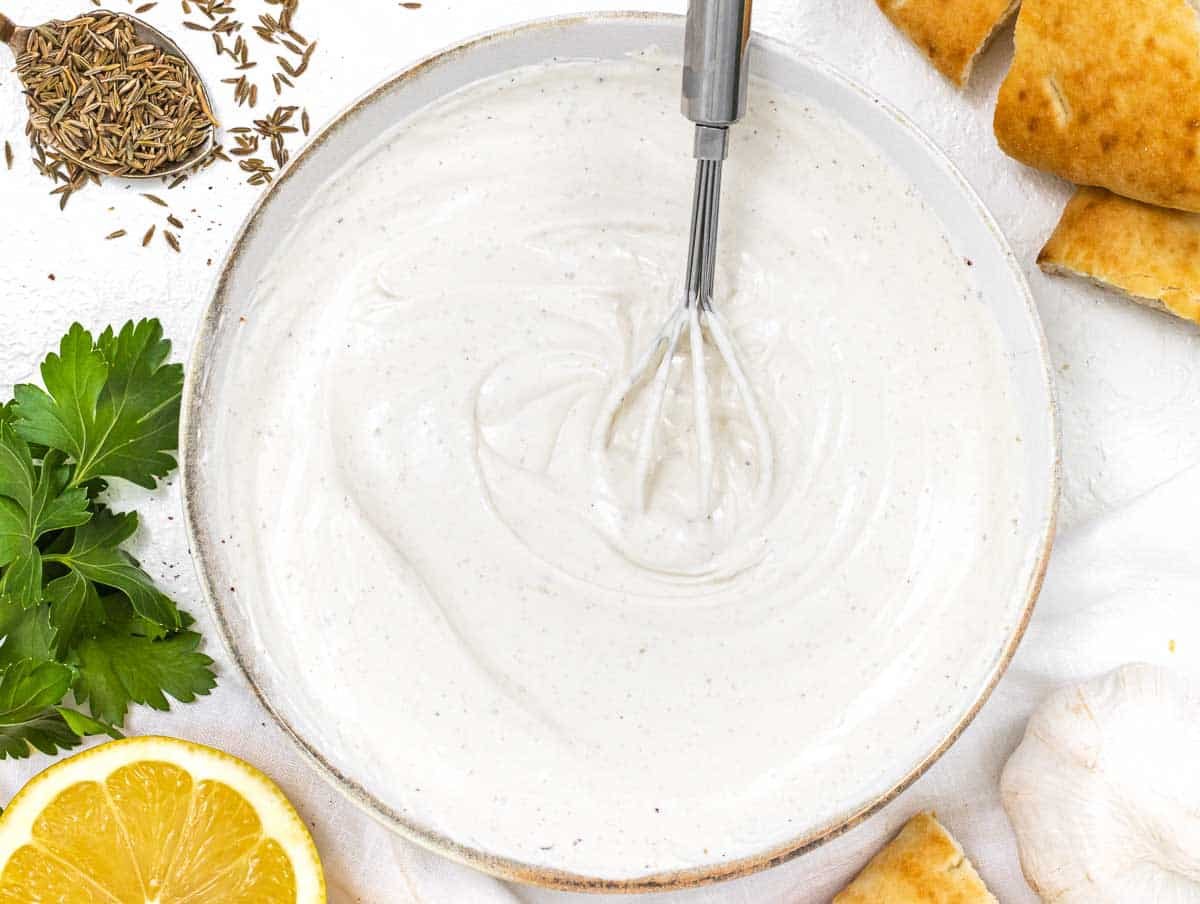 This velvety, creamy tahini yogurt sauce adds a nutty dimension to stuffed veggies, salads, and stews.
With a blend of tangy yogurt and rich tahini, it's a 5-minute sauce that perfectly complements a variety of Mediterranean recipes.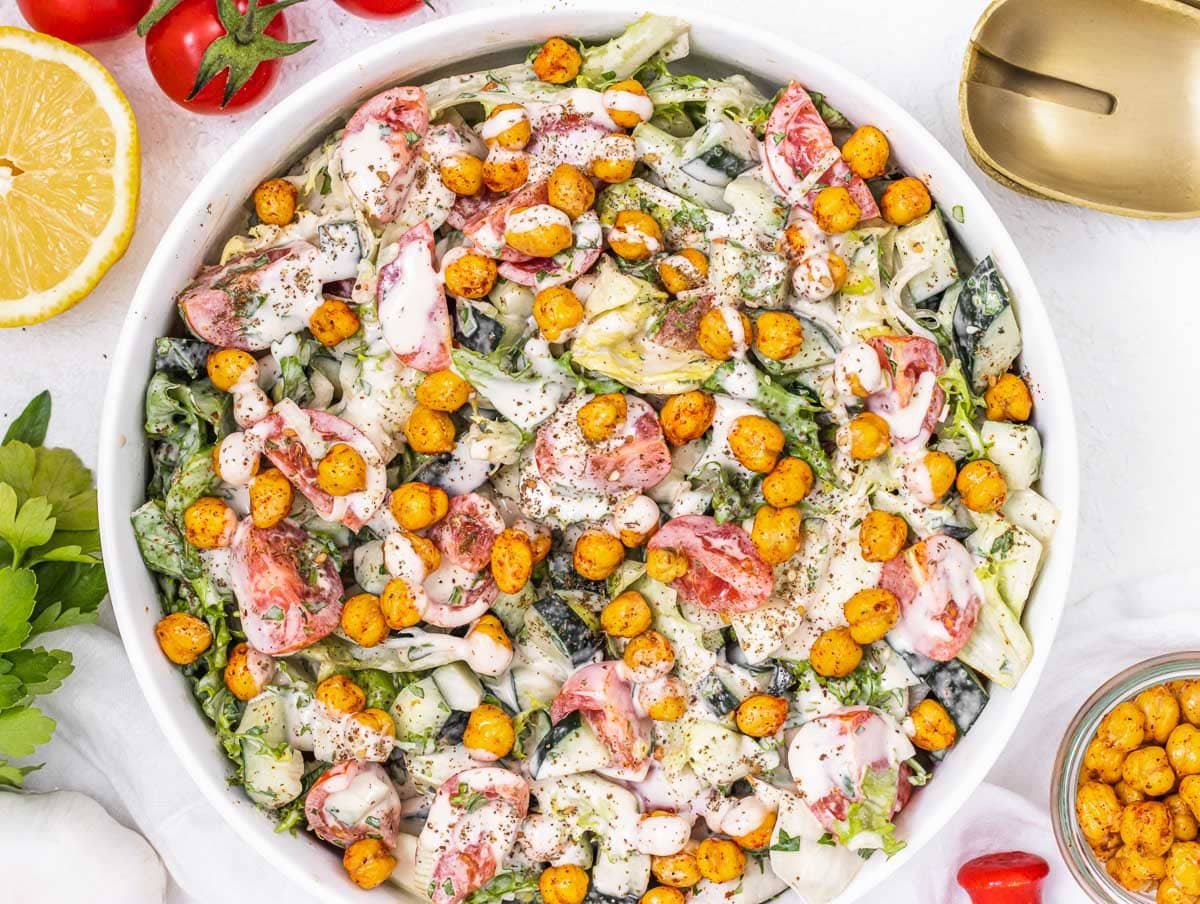 Wondering how to use tahini with salads? Try this quick tahini salad with crispy chickpeas and fresh veggies.
Eat it as a side or main dish with warm pita bread, falafel, and hummus.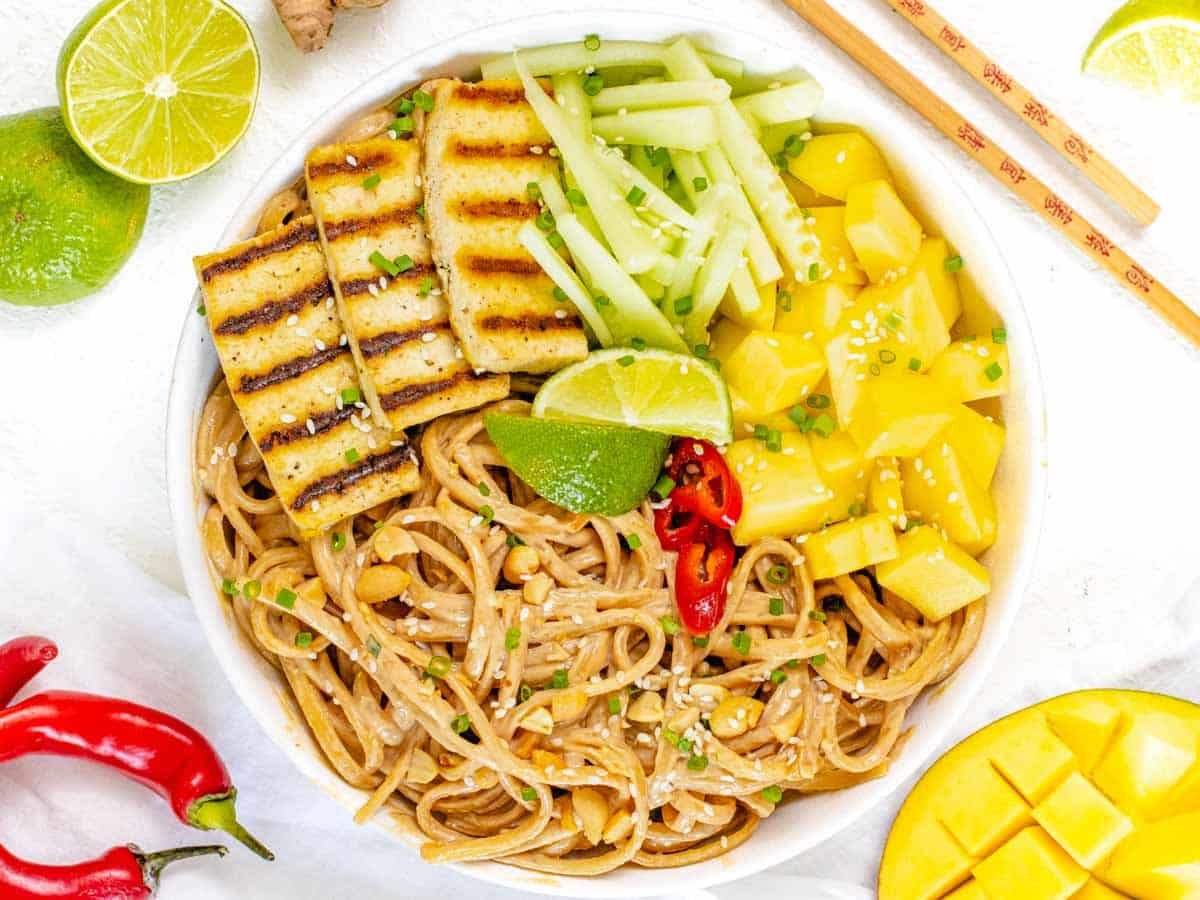 Tahini is the secret ingredient that makes the peanut sesame sauce velvety creamy.
We love this Asian-inspired dish for its chewy noodles, slightly sweet peanut sauce, and refreshing cucumber and mango on the side.
Making hummus is as simple as blending chickpeas, tahini, a splash of lemon juice, and a clove of garlic.
The right type of tahini will elevate your hummus, giving it a creamy-dreamy texture with a subtle nutty taste and silky mouth feel.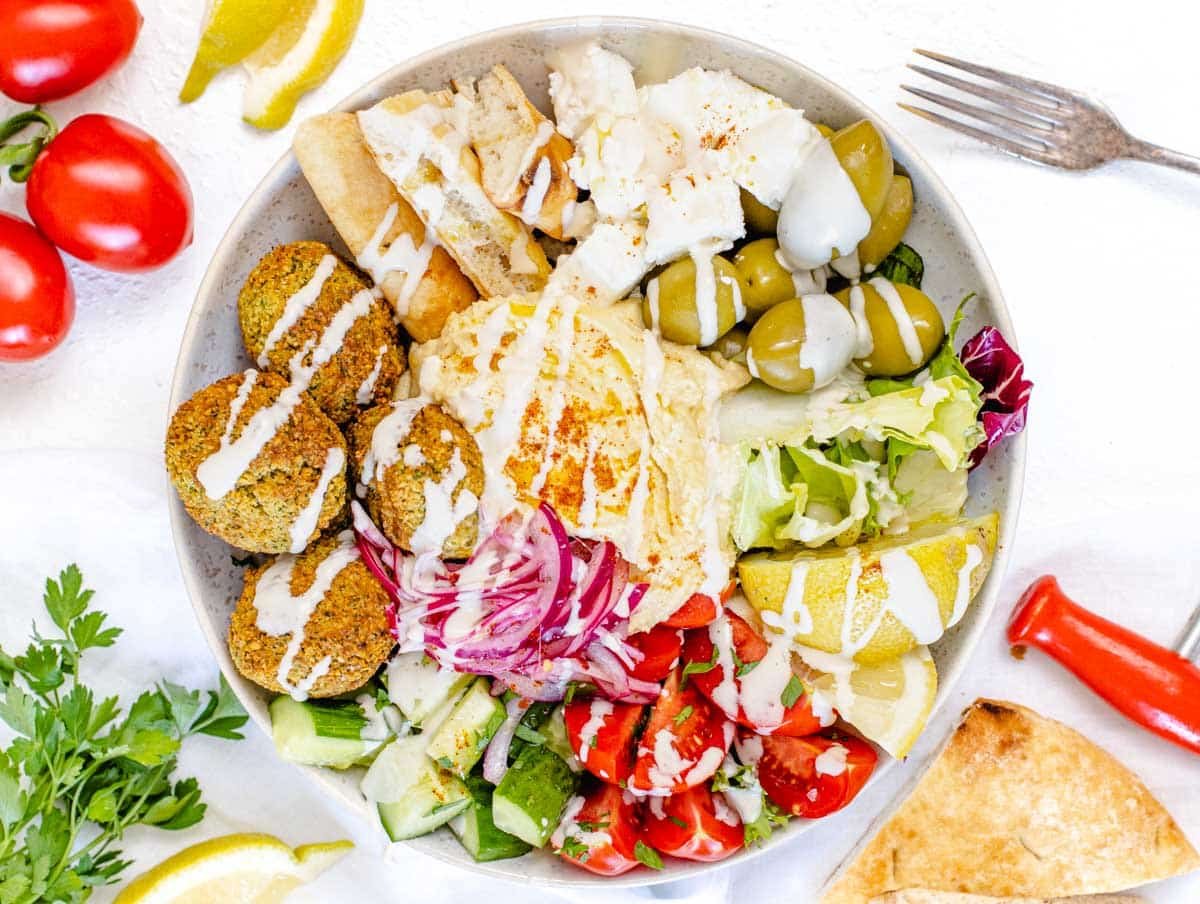 A velvety tahini drizzle perfectly complements colorful vegetables, protein-rich chickpeas, and crispy pita.
We eat this Mediterranean bowl for dinner with dips of all kinds, dressings with tahini, and garnish with lemon and fresh herbs.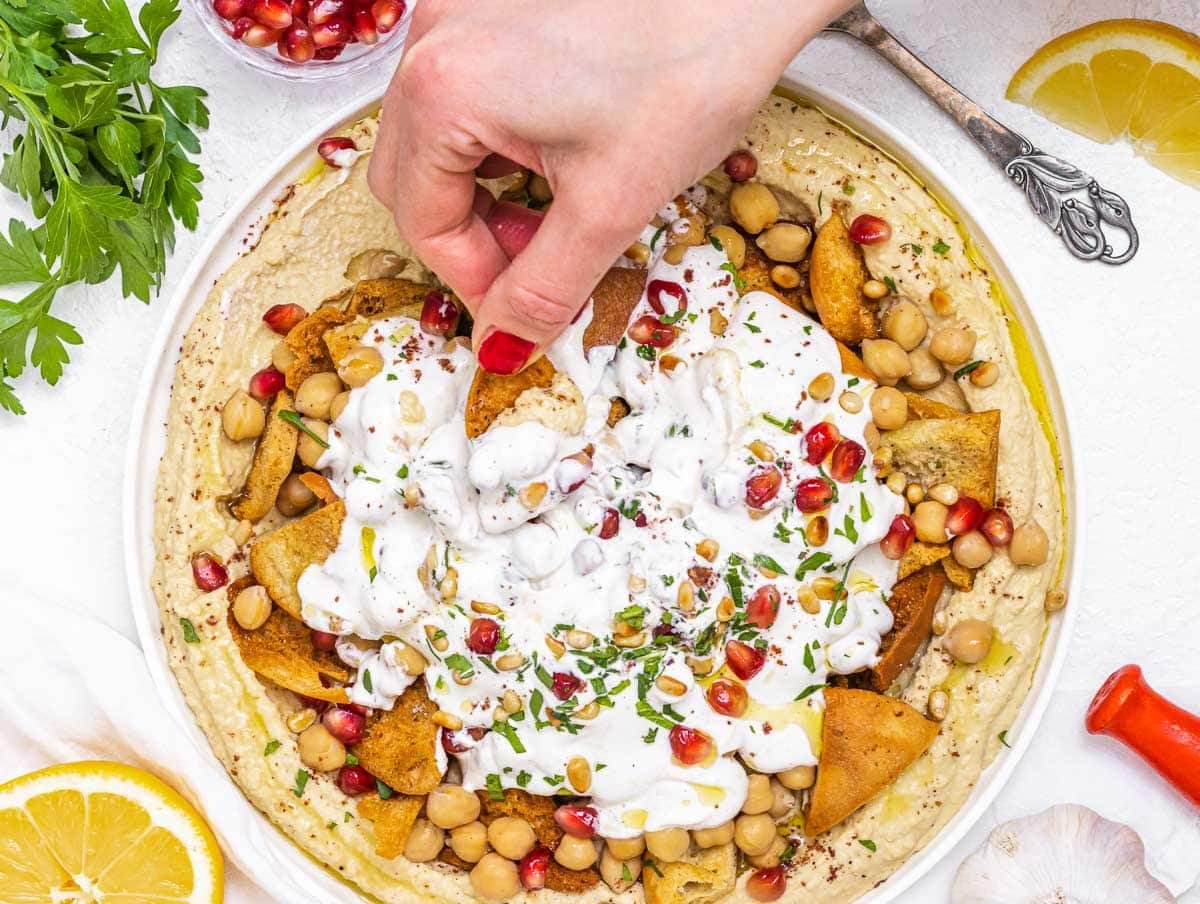 This loaded hummus recipe is elevated by a double dose of tahini, creating a Middle-Eastern mix of flavors and textures.
The luscious tahini in the hummus and the yogurt sauce adds a rich depth to this appetizer that's both indulgent and satisfying.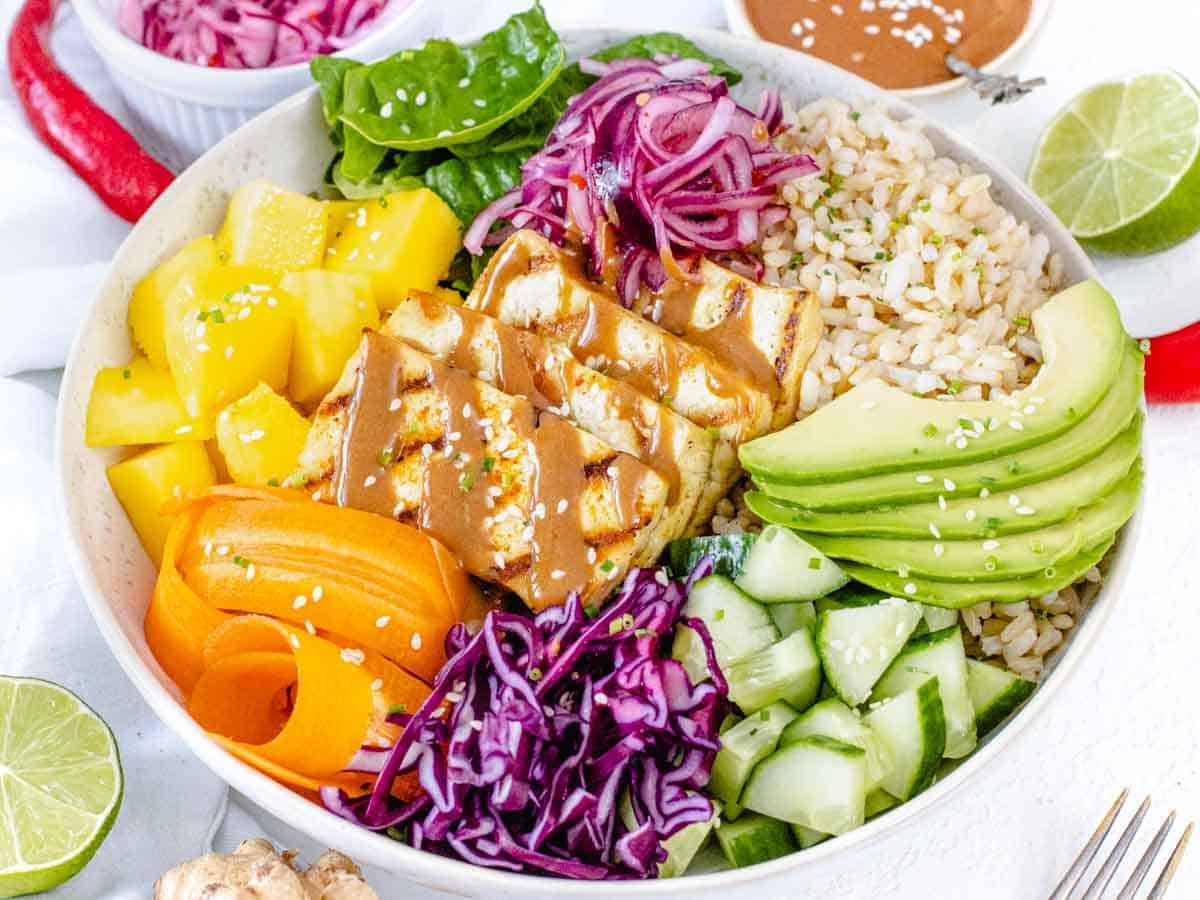 Tahini makes a creamy addition to this Buddha bowl with fresh vegetables, grains, and lean protein.
The tahini peanut butter dressing adds nutty richness and healthy fats to this grain bowl.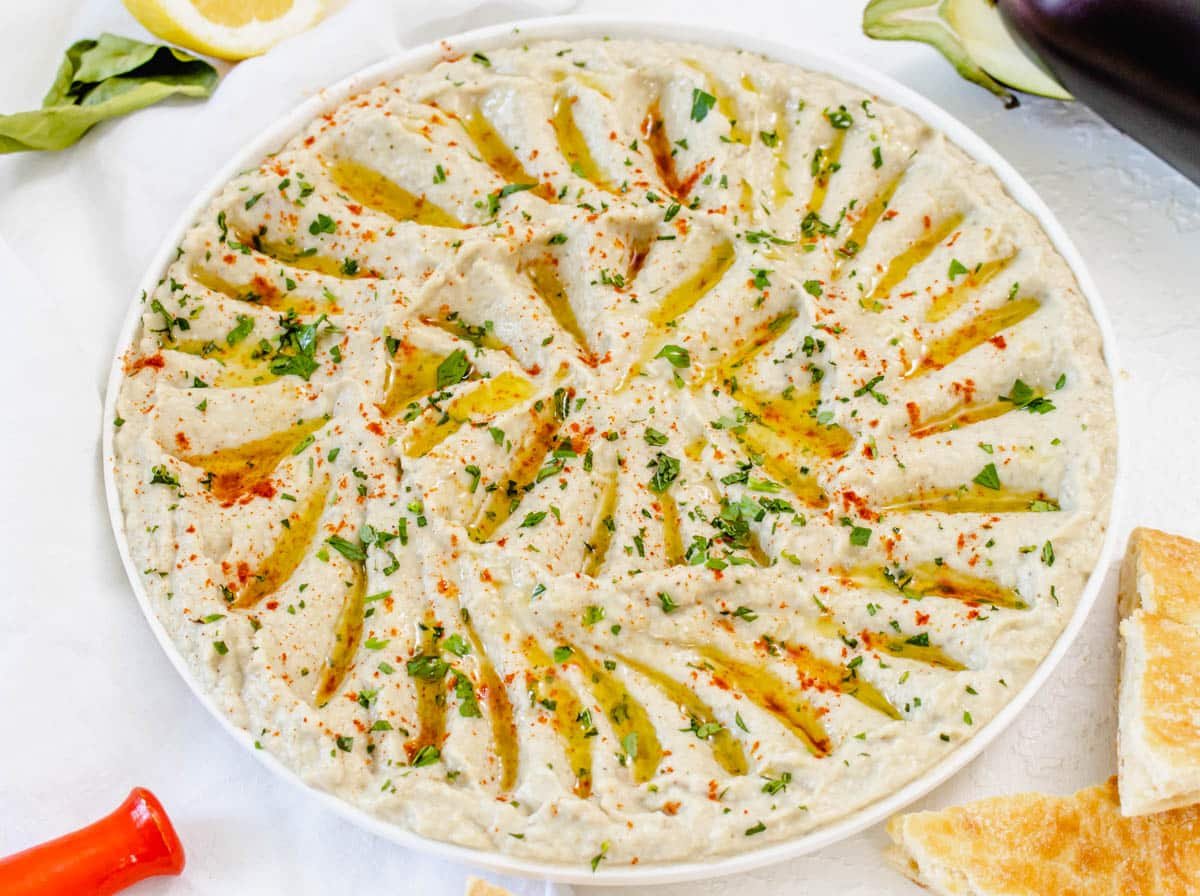 Eggplant dip, or baba ganoush, is a creamy and smooth dip infused with lemon and tahini.
The combination of rich tahini and zesty lemon creates an indulgent dip, perfect for dipping pita and veggies.
Whole roasted cauliflower is a tasty centerpiece covered in harissa marinade and a refreshing lemon tahini sauce.
Enjoy this Mediterranean dish with couscous, hummus, shirazi salad, and pita bread.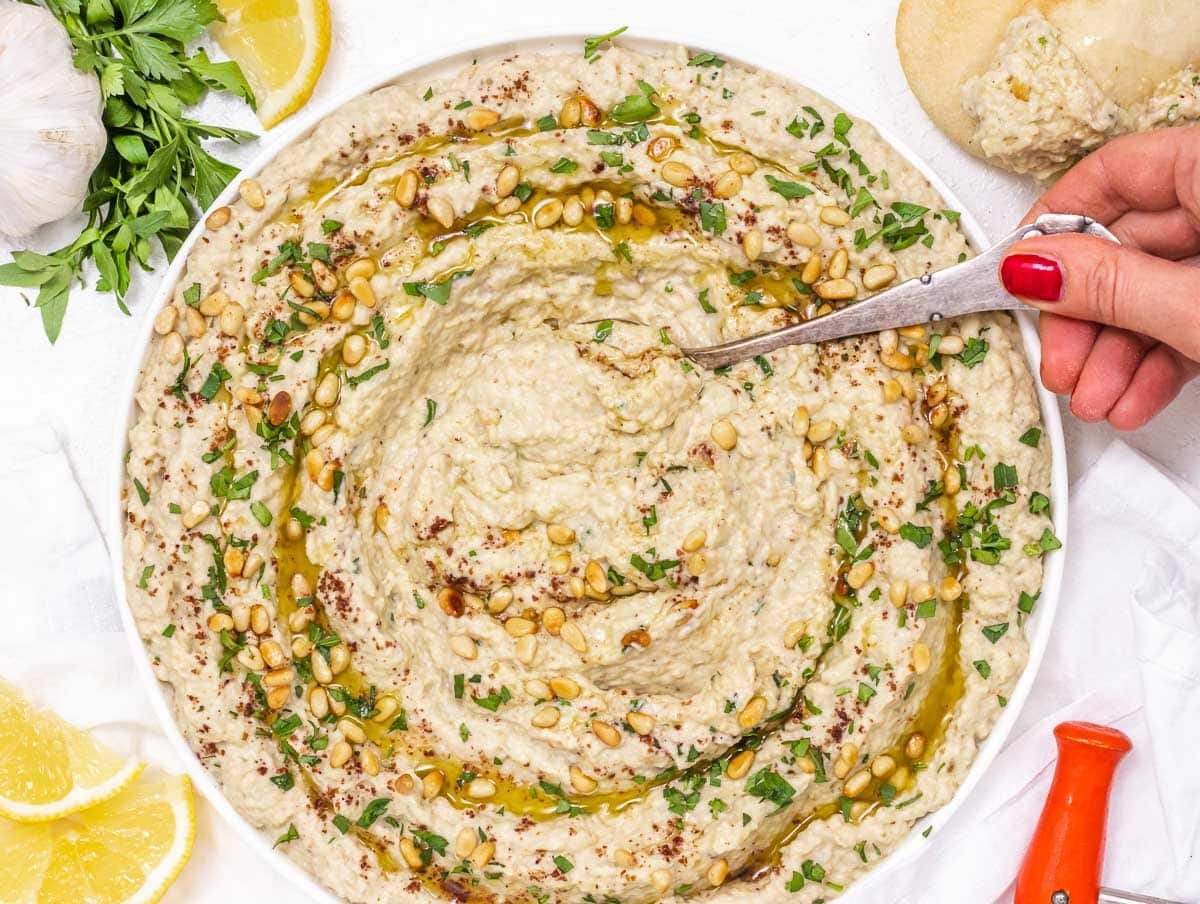 This yogurt dip with charred eggplant is packed with creamy tahini.
Also known as Mutabal, this dish combines tender eggplant with nutty tahini into a perfect starter and mezze idea.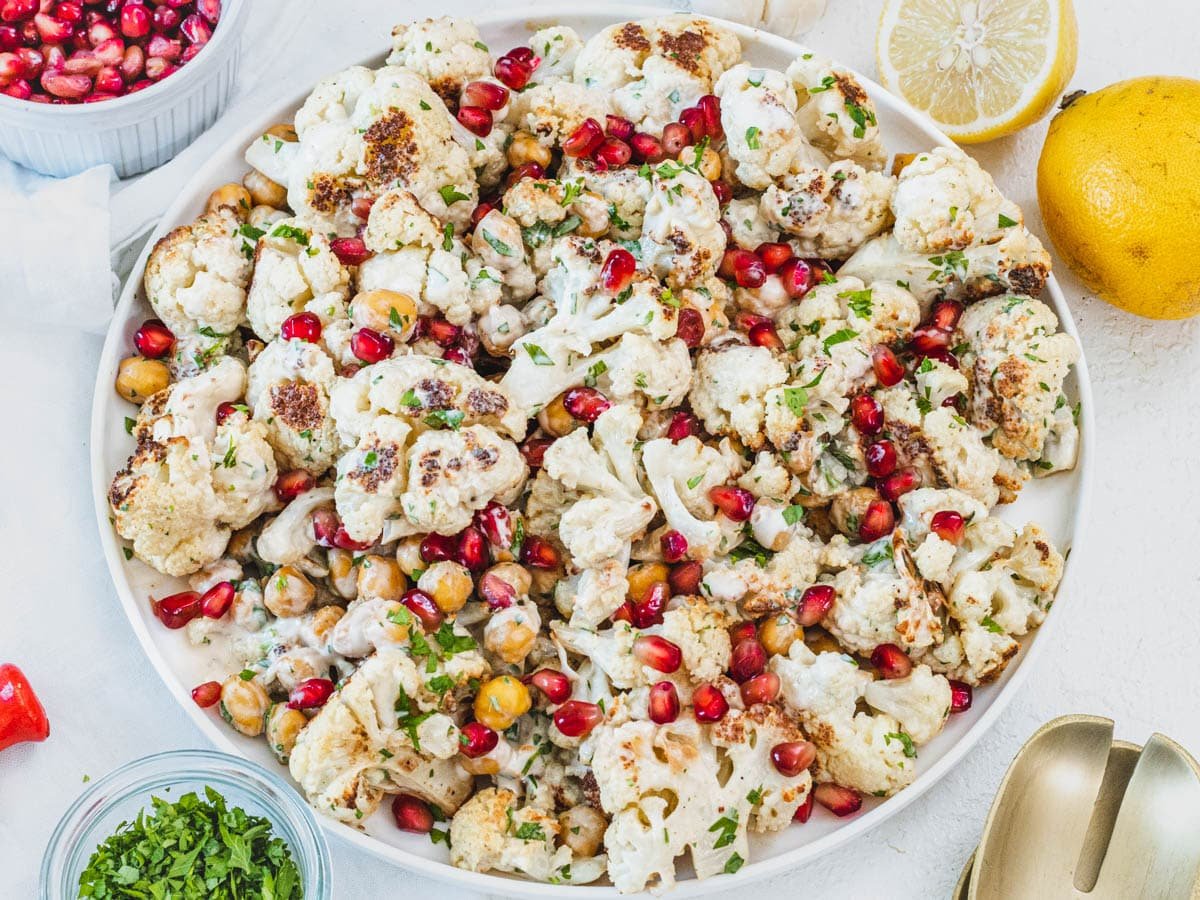 Tender cauliflower florets are perfectly complemented by crispy chickpeas and drizzled with a lusciously healthy tahini sauce.
This vibrant salad is excellent for meal prep and lunchbox meals as it stores well in the fridge.
We blend avocado with lemon and tahini to achieve a creamy-dreamy texture and a rich nutty flavor.
If you haven't tried the combination of avocado and tahini yet, you are in for a treat. It's perfect in sandwiches, wraps, and as a dip served with fresh veggies.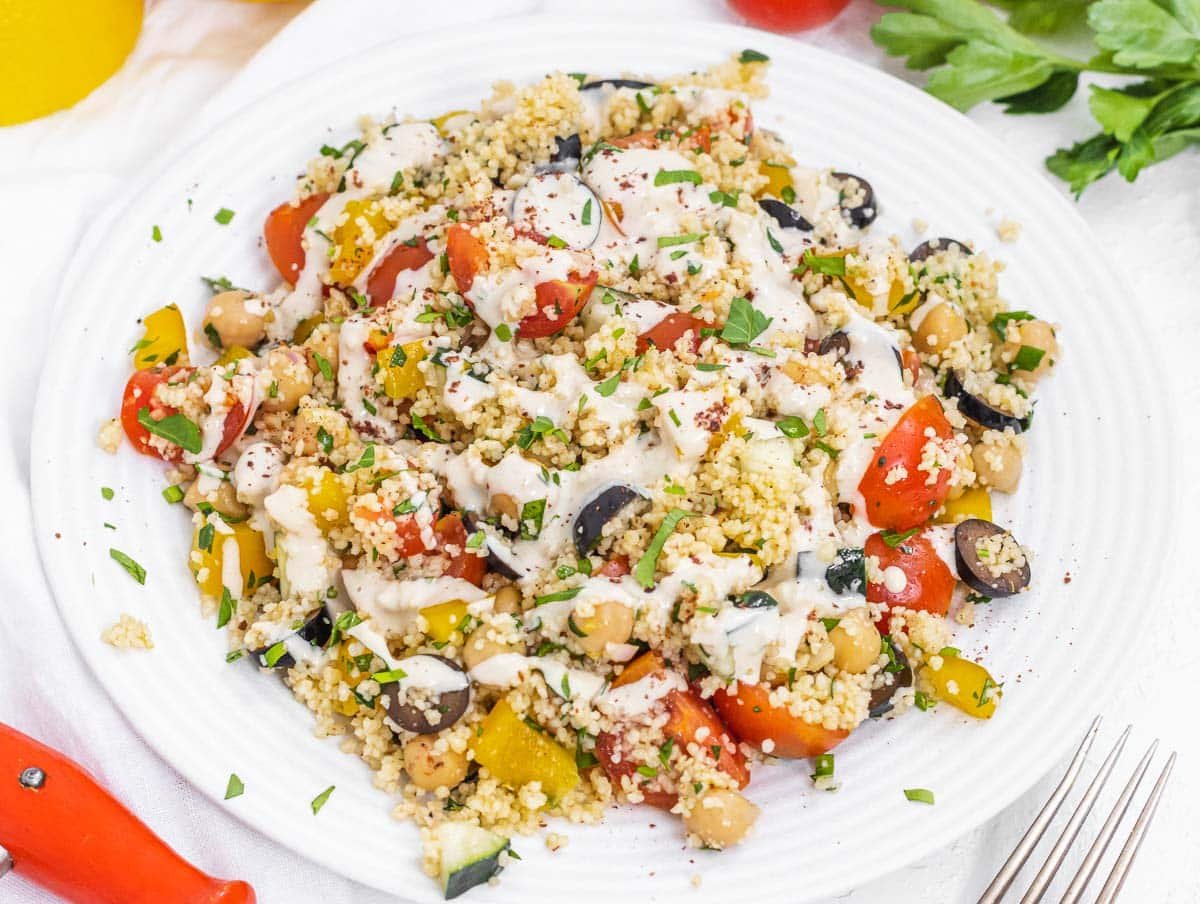 What is good to eat with tahini? This easy couscous salad is an excellent pairing with tahini sauce and tahini yogurt dressing.
To make the couscous tastier, we drizzle it with tahini sauce made with tahini, lemon juice, water, and garlic. It adds umami, creaminess, and a wonderful nutty flavor to your grains.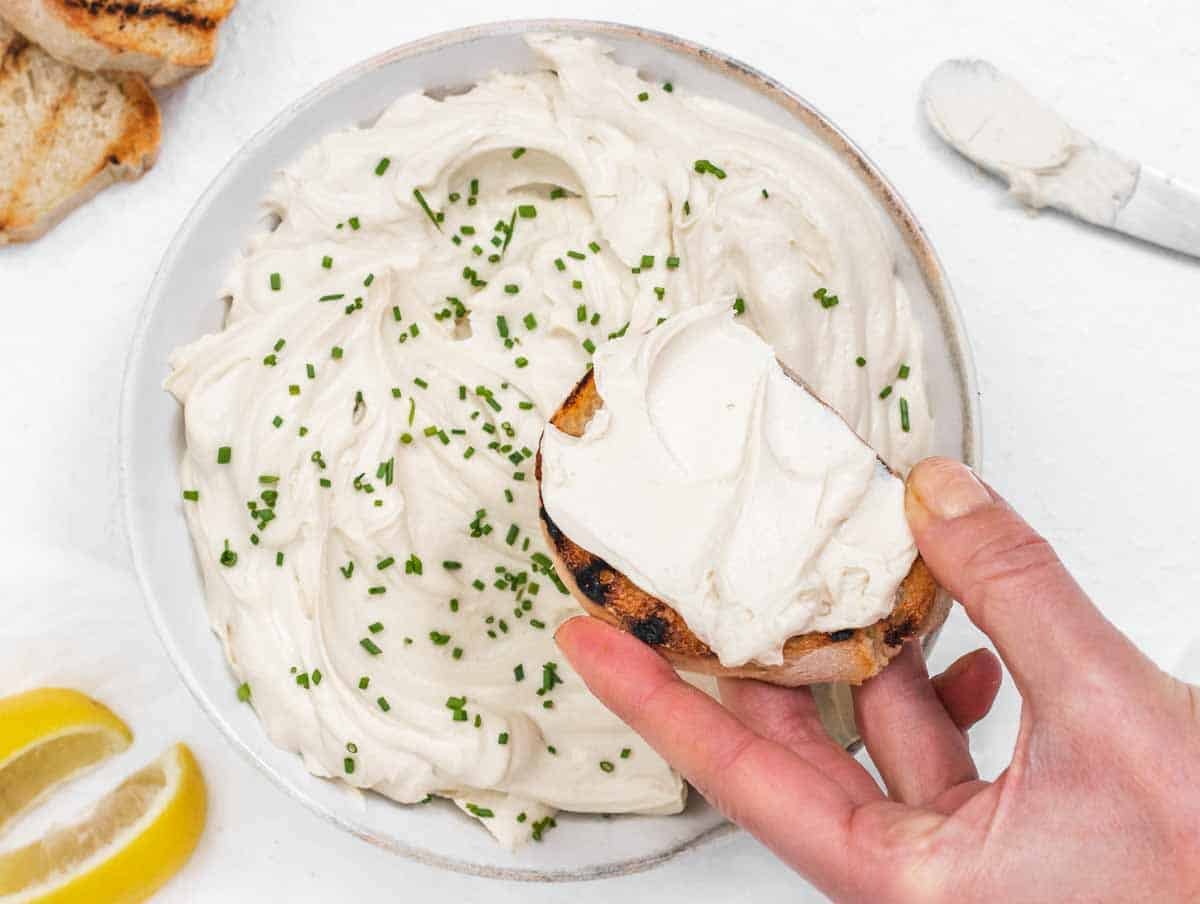 Blending tofu and tahini creates a lusciously smooth and rich vegan cream "cheese".
Make this 5-minute spread and eat it in bagels, sandwiches, and on bruschetta.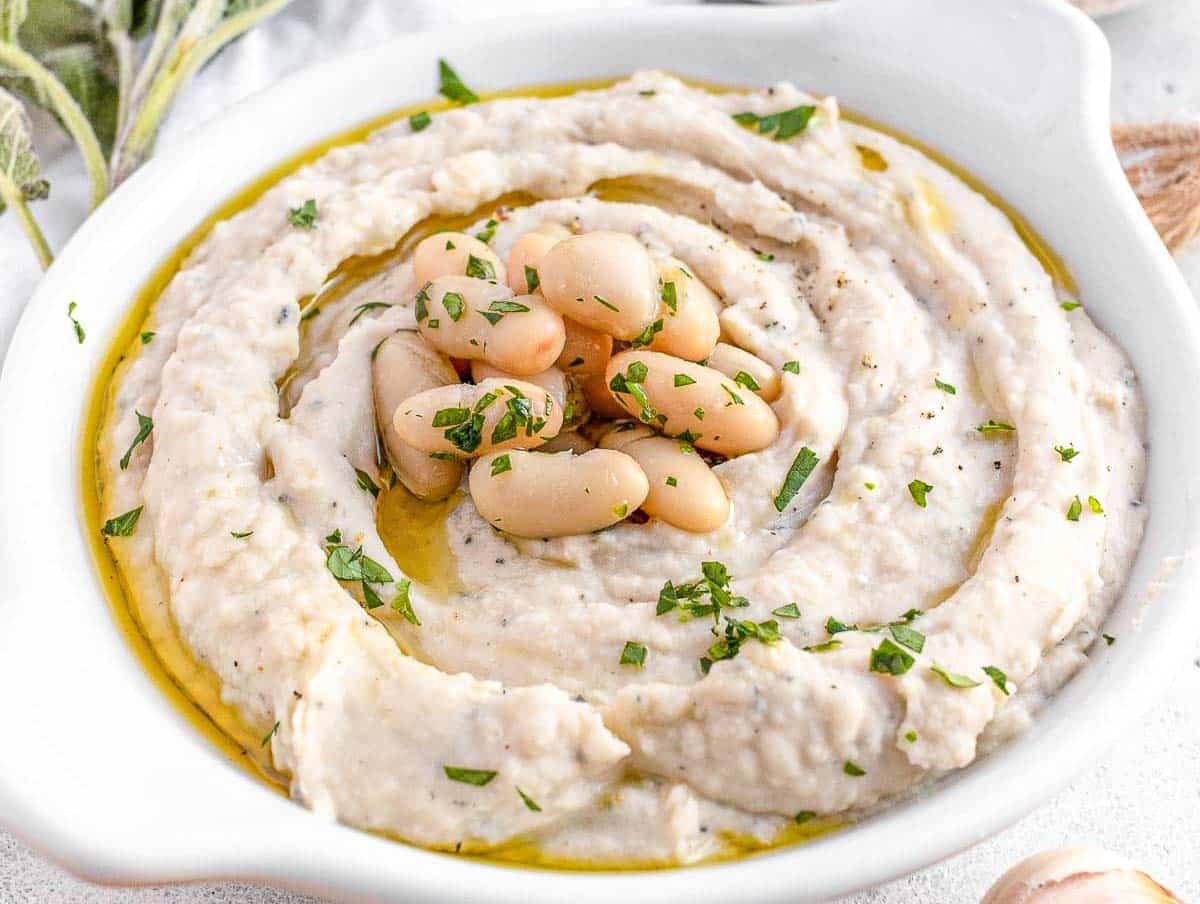 White bean dip with tahini is a velvety smooth and delicious appetizer idea.
It's an easy recipe you can make in 5 minutes with seven ingredients and a food processor, perfect with focaccia and pasta sauce.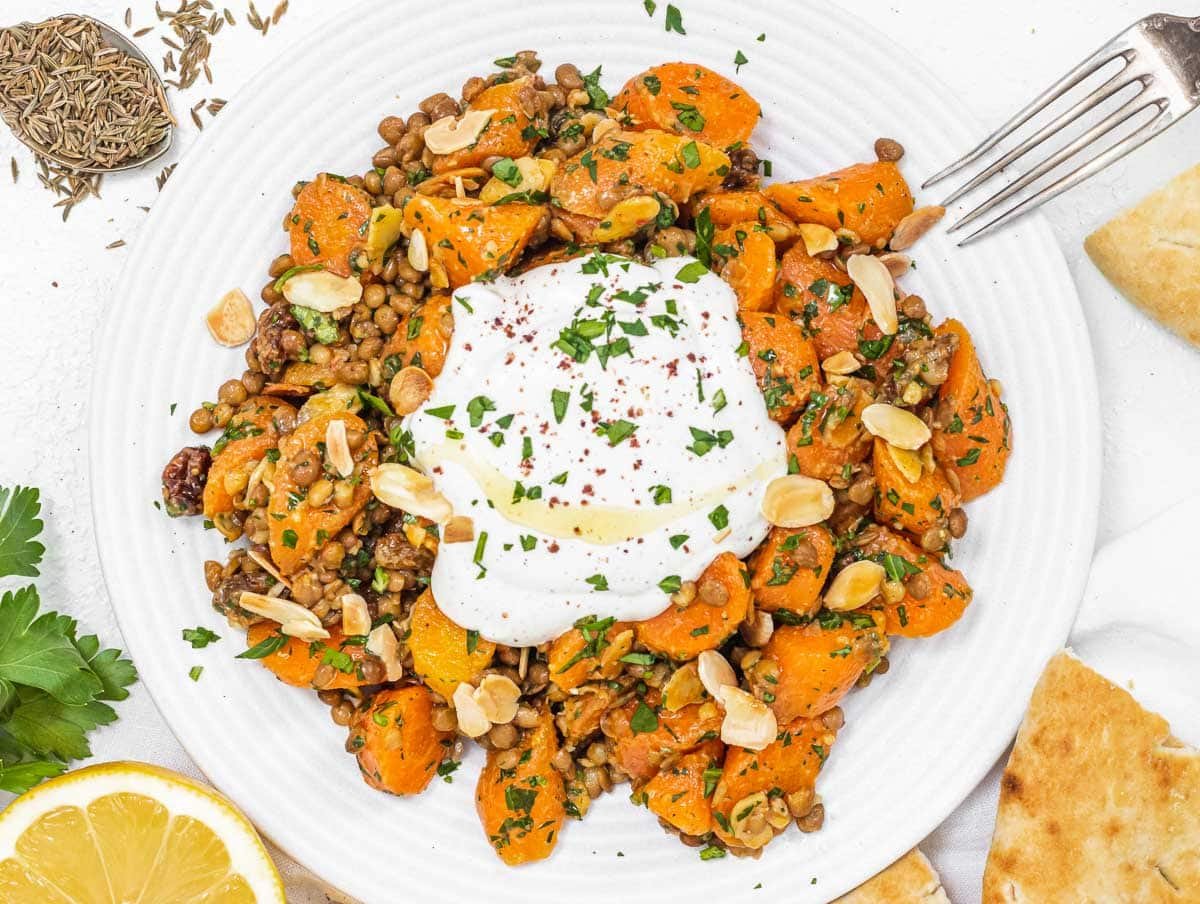 Smooth tahini pairs with (almost) any vegetable and legume. Try it with earthy lentils and vibrant carrots.
The tahini sauce adds a luxurious creaminess that complements the cumin dressing and fresh herbs.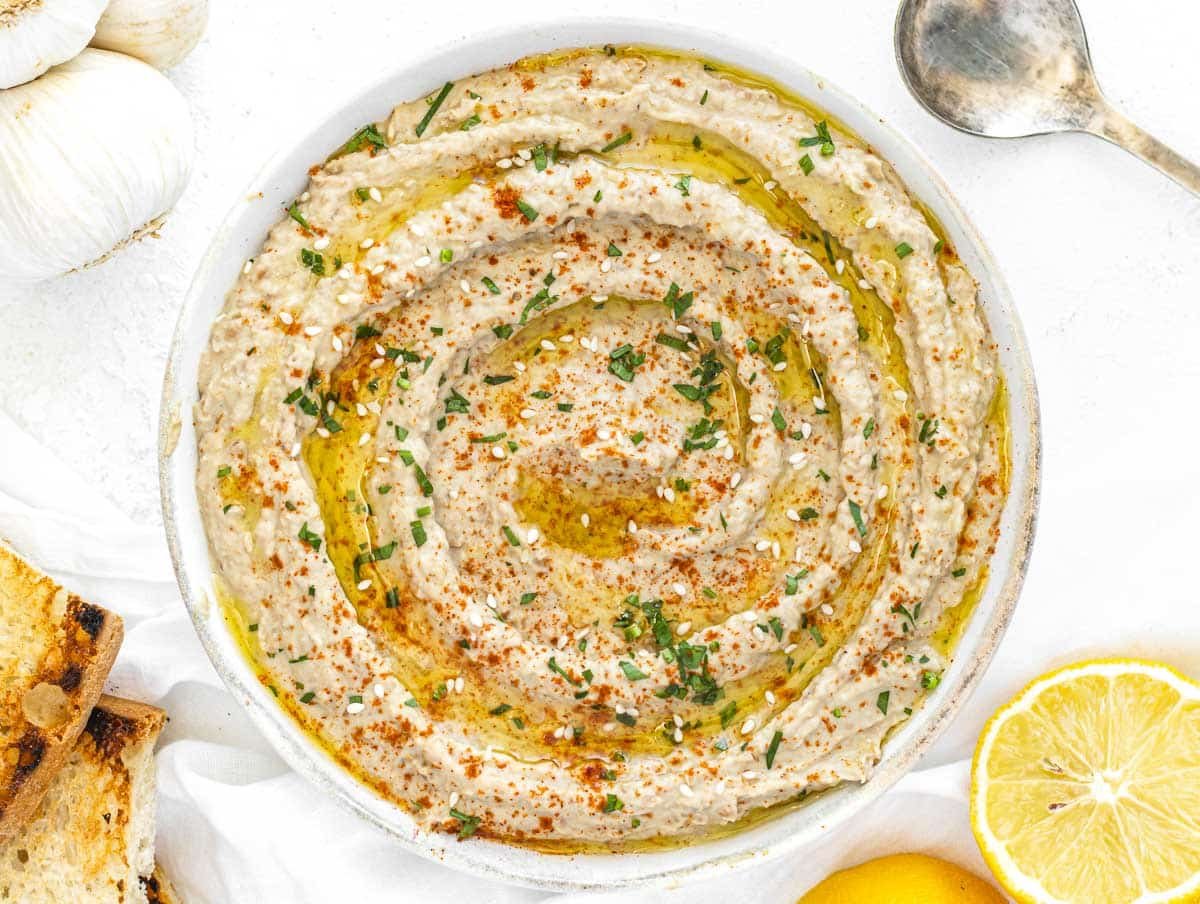 The tender texture of lentils pairs well with nutty tahini in this earthy lentil hummus.
Make it with canned lentils for a 5-minute dip idea, and serve it with toasted bread and your favorite fresh veggies.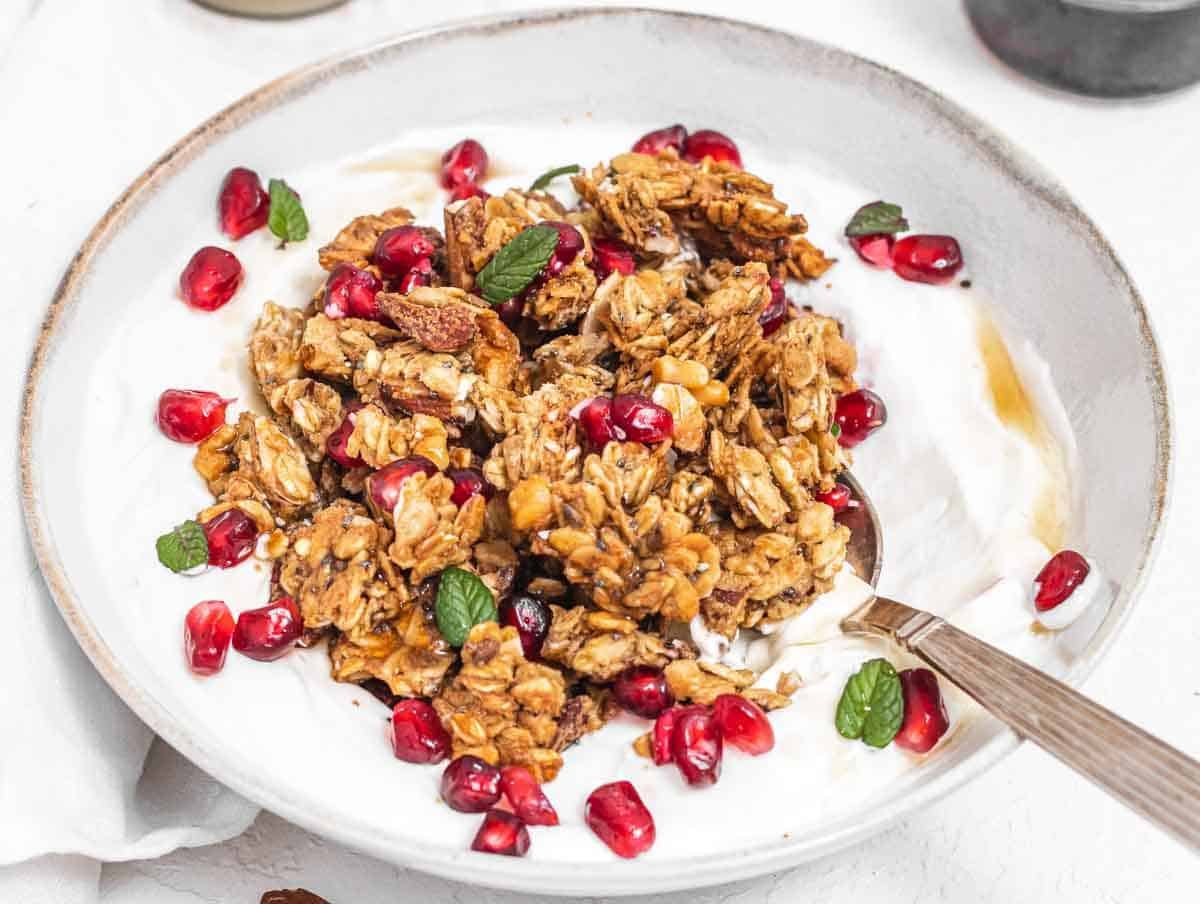 Tahini is a natural and wholesome ingredient that allows us to replace oil in this healthy granola recipe.
It adds a ton of flavor and nutty, earthy notes that hugs the nuts and oats and makes the granola extra crunchy.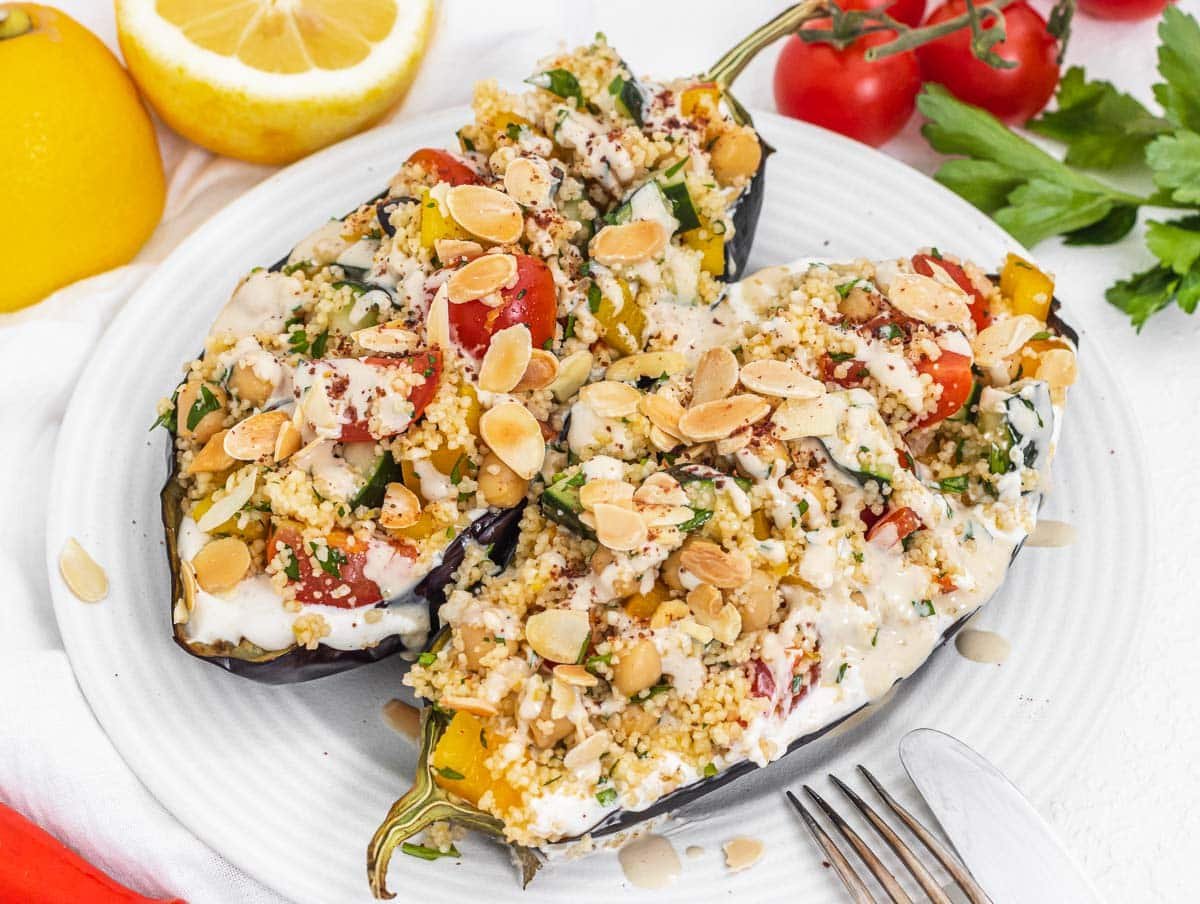 We end this list with a glorious stuffed eggplant variation.
Try these tender eggplant boats with a layer of yogurt tahini sauce, a generous amount of couscous salad, and a tahini drizzle. It's a Mediterranean feast that is wholesome, delicious, and excellent for guests.
How to pick the right tahini
Tahini or tahina (طحينة in Arabic) is a sesame seed paste that has a rich and nutty flavor.
It's used as a condiment, usually mixed or diluted with other ingredients, in most countries in the Levant and Easter-Mediterranean regions and some North African countries.
When you look for tahini, go for:
Light beige color, not dark.
Smooth and creamy texture, but quite runny.
Imported from Lebanon or Palestine, with Arabic text on the package.
No other ingredients apart from sesame seeds should appear on the label.
For many more side dish ideas, check out our sides category page.
Recipe
20 Recipes with Tahini
With these 20 easy recipes with tahini, we'll explore tasty tahini-infused dishes that are delicious and effortless to make. Tahini sauce is a creamy, tasty, and versatile condiment you can make in a few minutes with tahini, lemon, garlic, water, and salt.
Ingredients
⅓

cup

tahini

made with 100% hulled sesame seeds, light-colored

⅓

cup

water

2

tablespoons

lemon juice

1

clove

garlic

peeled and crushed

¼

teaspoon

salt
Instructions
Stir the content of your tahini jar with a spoon. It's possible that if you haven't used it in a while, the sesame oils and the sesame paste separate, so giving it a quick stir before using it helps.Pour ⅓ cup tahini into a medium bowl, then add ⅓ cup water, 2 tablespoons lemon juice, 1 clove garlic (peeled and crushed), and ¼ teaspoon salt.

Whisk for about a minute or until the ingredients turn into a smooth and velvety sauce.

Taste and adjust the amount of lemon juice, garlic, salt, and water to suit your preferences.

Serve with hummus and falafel or drizzle on your favorite veggies, salads, grain bowls, and more.
Video Recipe
Tahini Sauce: a drizzle-on-everything-sauce
Notes
Nutrition information is an estimate for 1 tablespoon of tahini sauce. TIPS Tahini: tahini should be light in color, smooth, and creamy but quite runny, not dark, pasty, and gritty. It should possibly be imported from Lebanon or Palestine, with Arabic text on the package, and made with 100% hulled sesame seeds. No other ingredients should appear on the label. Garlic: to crush the garlic, use the flat side of your knife's blade, pressing down with the palm of your hand. Avoid minced, grated, or pressed garlic because it'll make your tahini sauce too garlicky and grainy. MAKE AHEAD & STORAGE Make ahead: you can make tahini sauce up to 4 days ahead as it keeps well in the fridge. However, after 24 hours, tahini sauce starts to thicken up, so you might have to add a dash of water to make it drizzle-able again. Refrigerator: keep in a sealed jar in the fridge for up to 5 days. Stir well before serving it. Also, you might want to add a squeeze of fresh lemon juice or a dash of water after a couple of days to thin it up a little. Freezer: to freeze tahini sauce, transfer it to ice cube trays and freeze it for up to 6 months. Thaw in the refrigerator overnight.
Nutritional Values
Nutrition Facts
20 Recipes with Tahini
Amount per Serving
% Daily Value*
* Percent Daily Values are based on a 2000 calorie diet.
Did you like this recipe?
Leave us a comment below or find us on Instagram, YouTube, Pinterest, TikTok, and Facebook.
If you liked these recipes with tahini, you might also enjoy: