Sweet and sour eggplant is a delicious recipe made with simple ingredients on the stovetop in about 20 minutes.

You can serve them as a side dish or on top of toasted bread or boiled rice. It's tender, juicy, and delicious with a mildly sweet and tangy flavor.
Check out our Best Eggplant Recipes
There are two popular recipes for sweet and sour eggplants; Italian and Chinese.

Surprisingly enough, both recipes are remarkably similar, and the essence of the dish is the same: tender sauteed eggplant cooked in oil and garlic and flavored with vinegar and sugar.

Of course, the Italians use Italian eggplant (round, large with dark shiny skin, just like American globe eggplant), while the Chinese use Chinese eggplant (slim, long, and purple).
Also, the Italian recipe calls for olive oil, wine vinegar, and herbs like mint, parsley, or basil.

The Chinese recipe calls for peanut oil, rice vinegar, and ginger, with, of course, the addition of soy sauce (or tamari) for that extra umami boost.

Here we'll first show you how to make sweet and sour eggplant the Italian way, but we'll also show you the Chinese variation if you feel more like Asian food.

Both recipes are simple and ideal for a last-minute side dish, or even dinner, combined with toasted bread, a piece of focaccia, or boiled rice.

What we love about sweet and sour Italian eggplant is that it is a quintessentially Mediterranean recipe that you can serve alongside chickpea hummus, tzatziki sauce, tahini sauce, warm pita bread, olive tapenade, baba ganoush, vegan ricotta, and avocado spread, to make a flavorful plant-based feast.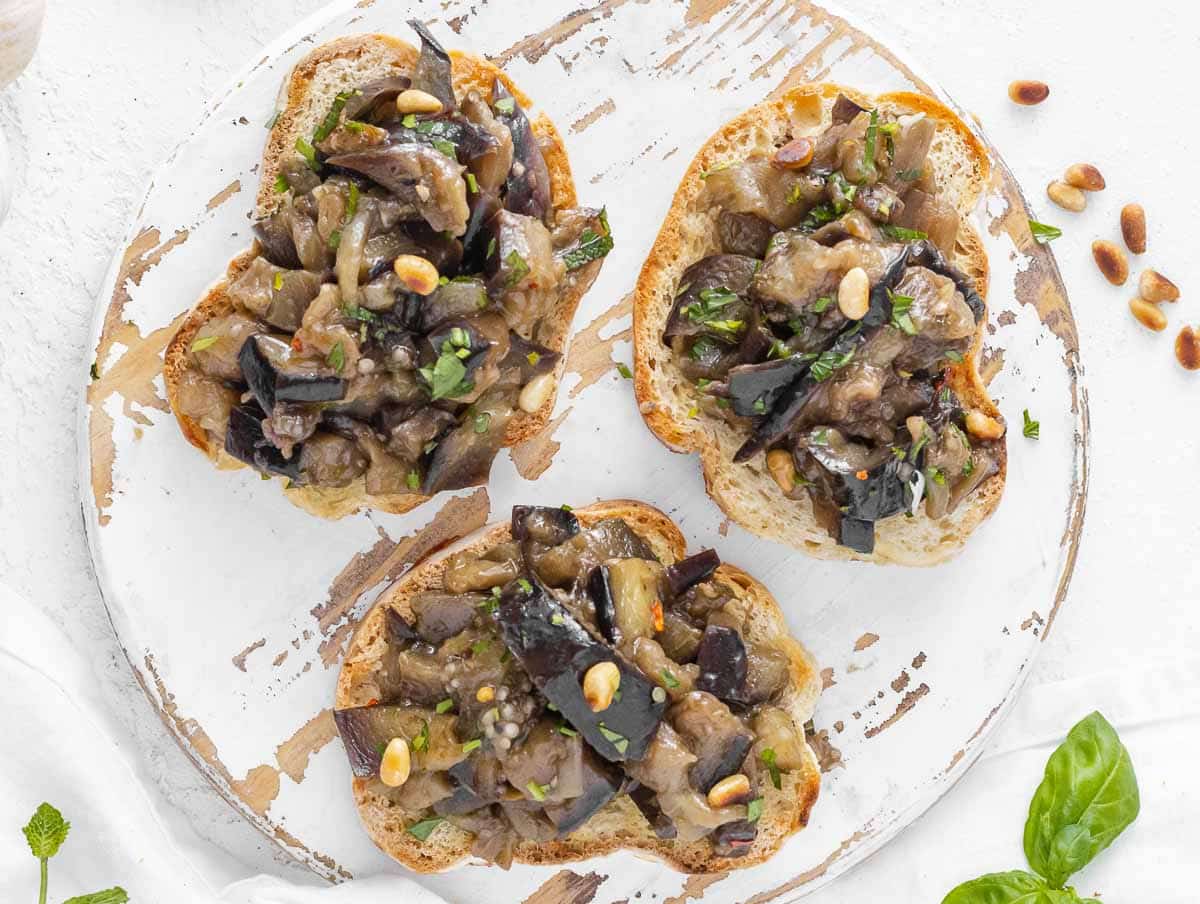 Ingredients
Eggplant
For our recipe, we use American globe eggplant or Italian eggplant. They are the round dark ones with shiny skin. You can use any other eggplant for this recipe, including Chinese eggplant, Japanese eggplant, or Zebra eggplant.
Olive Oil
We prefer extra virgin olive oil for cooking as it's more nutritious and stable at high temperatures than most other oils. You can replace any vegetable oil with olive oil.
Note that we don't deep-fry the eggplant, so you won't need a lot of oil.
Vinegar
You can interchangeably use white wine vinegar, apple cider vinegar, or rice vinegar.
Sugar
Any sugar or syrup works. We like to use brown sugar, but white sugar works equally well.
Garlic
Fresh garlic is better than garlic powder in this recipe.
Fresh Herbs
Fresh basil, mint, and flat-leaf parsley are perfect with this sweet and sour eggplant recipe.
Salt and Pepper
To add taste and aroma. We like to use sea salt, kosher salt, and freshly ground black pepper. Add some red pepper flakes if you like this a little spicy.
Pine Nuts
Pine nuts are not vital to the recipe; however, they go incredibly well with eggplant, especially if you toast them. If you want to elevate this dish, we recommend adding some.
You can also add a squeeze of lemon juice on top before serving.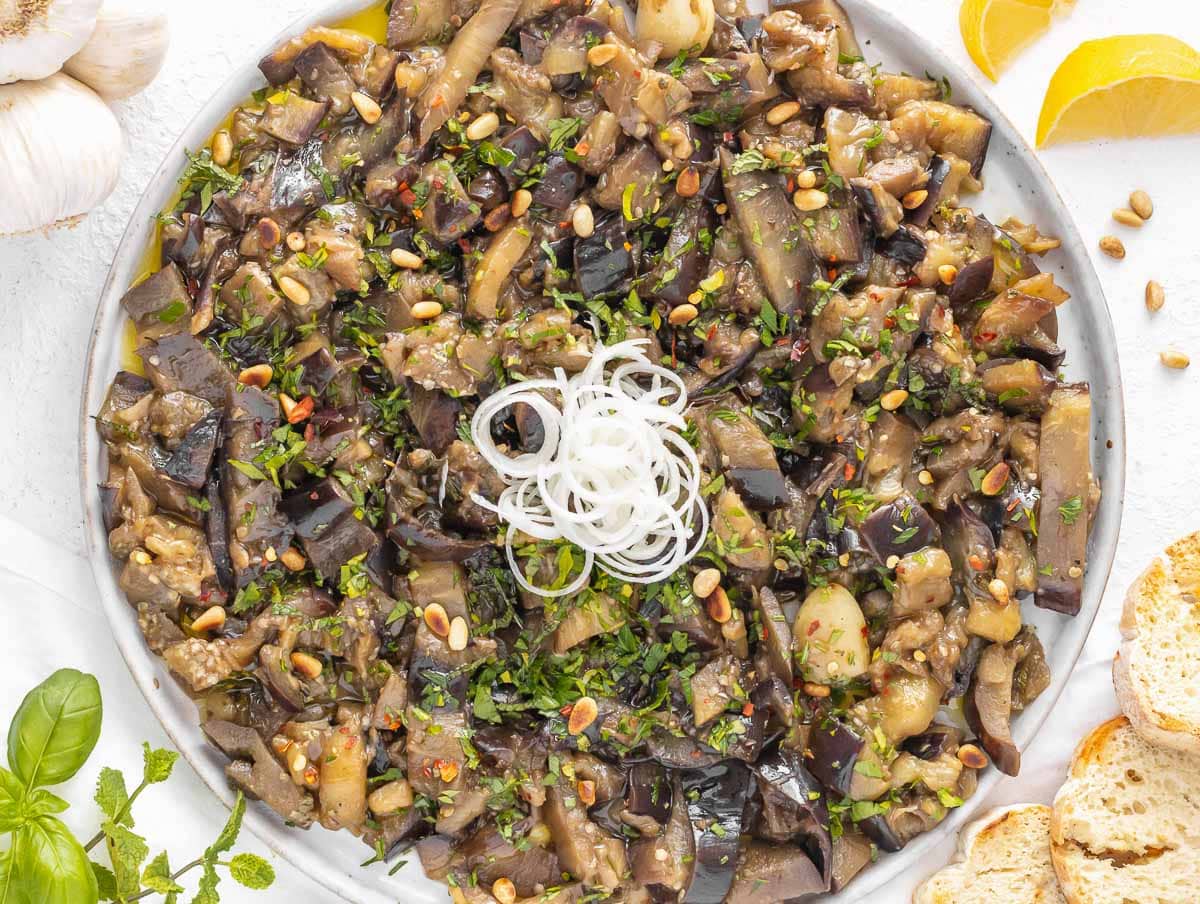 Instructions
Wash and dry the eggplant, cut it into slices, then into sticks.
To a skillet, add the olive oil, crushed or minced garlic, and eggplant. Season with salt and pepper, then cook on medium heat for about 15 minutes, until tender.
Stir often, and add a little water if the pan gets too dry.
Tip: minced garlic adds more garlic flavor than crushed garlic.
When the eggplant is almost cooked, add the sugar, vinegar, and finely chopped herbs.
Stir, cover with a lid, and cook for 5 to 10 more minutes until the eggplants are fully cooked.
Taste and adjust for salt, and regulate sweetness and acidity by adding more vinegar or sugar based on your taste.
Transfer onto a serving plate or serving bowl, drizzle with good quality extra virgin olive oil, sprinkle with fresh herbs and add some toasted pine nuts on top.
Here we also added some finely sliced spring onions, but that's totally optional.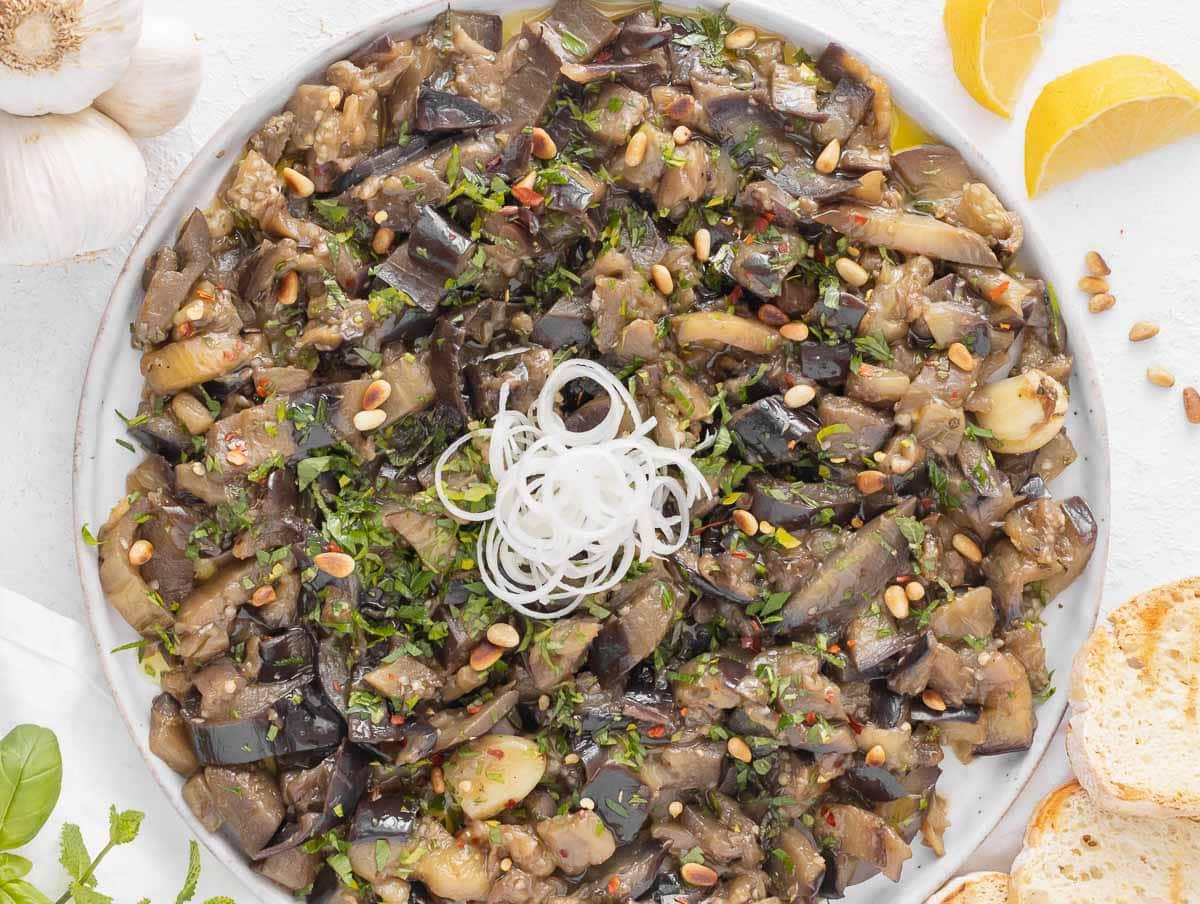 Serving suggestions
Italian sweet and sour eggplant is best served as a side dish with a slice of bread, or as a starter, on top of toasted bread.
We think this recipe shines when served alongside other Mediterranean dishes. For example, you can make a platter with hummus, baba ganoush, avocado spread, tomato bruschetta, homemade crostini, or focaccia.
Serve the eggplant on bruschetta or crostini, then top with crumbled vegan ricotta and a drizzle of tahini sauce.

Your family or guests will be blown away by the combination of flavors these recipes offer.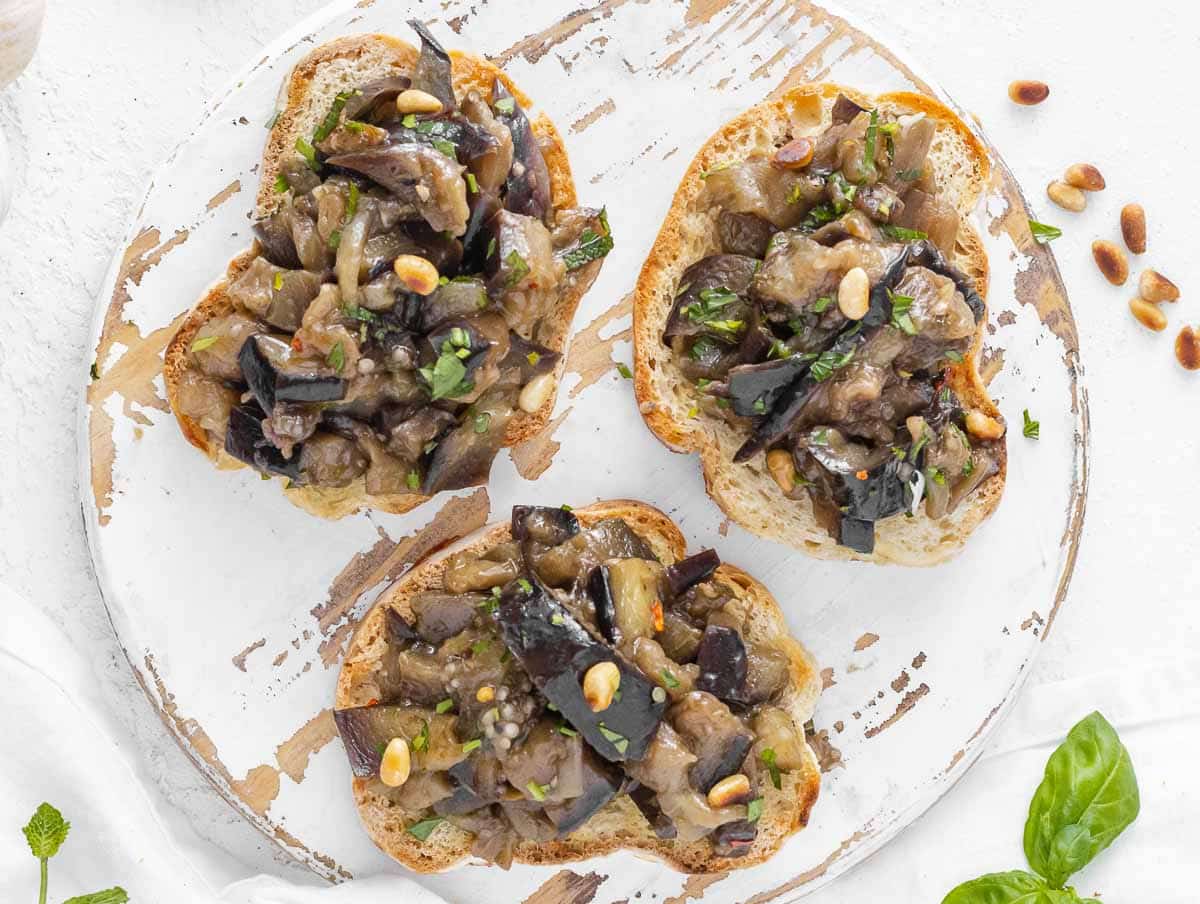 Variations
Quick Chinese Style Eggplant
If you feel like giving sweet and sour eggplant an Asian spin, then you'll love this Chinese eggplant recipe.

Ours is an interpretation of the original recipe, made with very simple ingredients, without deep-frying the eggplant in oil, but rather sauteeing on the pan. To make it, you'll need:
1 pound (lb) Chinese or Japanese eggplants (the slim and long purple ones)
3 tablespoon peanut oil (or other vegetable oil)
2 cloves garlic (minced)
1-inch ginger (minced)
1/4 teaspoon red pepper flakes (or cayenne pepper)
2 tablespoons soy sauce (we use reduced-sodium soy sauce)
2 tablespoons water
1 teaspoon cornstarch
2 tablespoons sugar
2 tablespoons rice vinegar (or rice wine vinegar)
1/4 teaspoon salt
1/4 cup cilantro (fresh coriander) or scallions (finely chopped)
Sesame seeds and sesame oil to garnish (optional)
Wash and dry the eggplant, cut off the stem, then dice it into 3/4 inch cubes.
To a non-stick pan, add the peanut oil and the eggplant cubes. Fry on medium heat for about 10 minutes, stirring often, until browned and soft.
In a small bowl, whisk together minced garlic, minced ginger, red pepper flakes, soy sauce, water, sugar, rice vinegar, salt, and cornstarch.
Add the slurry to the pan with the eggplant, stir, and finish cooking for about 5 minutes, till the eggplant is coated in the sauce.
Serve on top of boiled rice with a sprinkle of fresh cilantro, sesame seeds, and optionally a teaspoon of sesame oil.
Tip: you can add other veggies to Chinese eggplant. Try chopped red bell pepper, mushrooms, broccoli, sliced carrots, and more.
Storage
Store sweet and sour eggplant for up to 4 days in an airtight container in the refrigerator. Reheat in the microwave or pan on medium-high heat for about a minute.

You can also eat it at room temperature. In this case, take it out of the fridge 20 minutes before serving it.
More Eggplant Recipes
More Sweet and Sour Recipes
Sweet and Sour Eggplant
Sweet and sour eggplant is a delicious recipe made with simple ingredients on the stovetop in about 20 minutes.You can serve them as a side dish or on top of toasted bread or boiled rice. It's tender, juicy, and delicious with a mildly sweet and tangy flavor.
You might also like: