Are you looking to find inspiration to cook with asparagus and level up your meal? Get the basics, tips, and tricks, and learn to cook asparagus in 10 different ways. These delightful asparagus recipes are easy to make, healthy, quick, and vibrant.
We've selected our best asparagus recipes that will give you ideas for your next side dish and dinner, including risotto, air fryer, pasta, steaming technique, and many more. Browse through this list, and take your pick: these vibrant recipes will satiate and nourish you, and add bold flavor to your day.
On this page:
How to Clean and Cook Asparagus
When in season, from late February through June, we eat fresh asparagus in all kinds of ways. There are numerous simple and easy ways of preparing them.

These recipes are fresh, healthy, crisp, and packed with flavor. You can serve them for breakfast, lunch, or dinner; anytime you want to make your meals a little special.

Here's the best way to prep and clean your asparagus before cooking them.
Trim asparagus: Rinse asparagus under running water, then trim the woodier end of the stalks. You can do that by snapping it with your hands, one by one, or by cutting it with a knife on a cutting board. We prefer this way as it's much faster.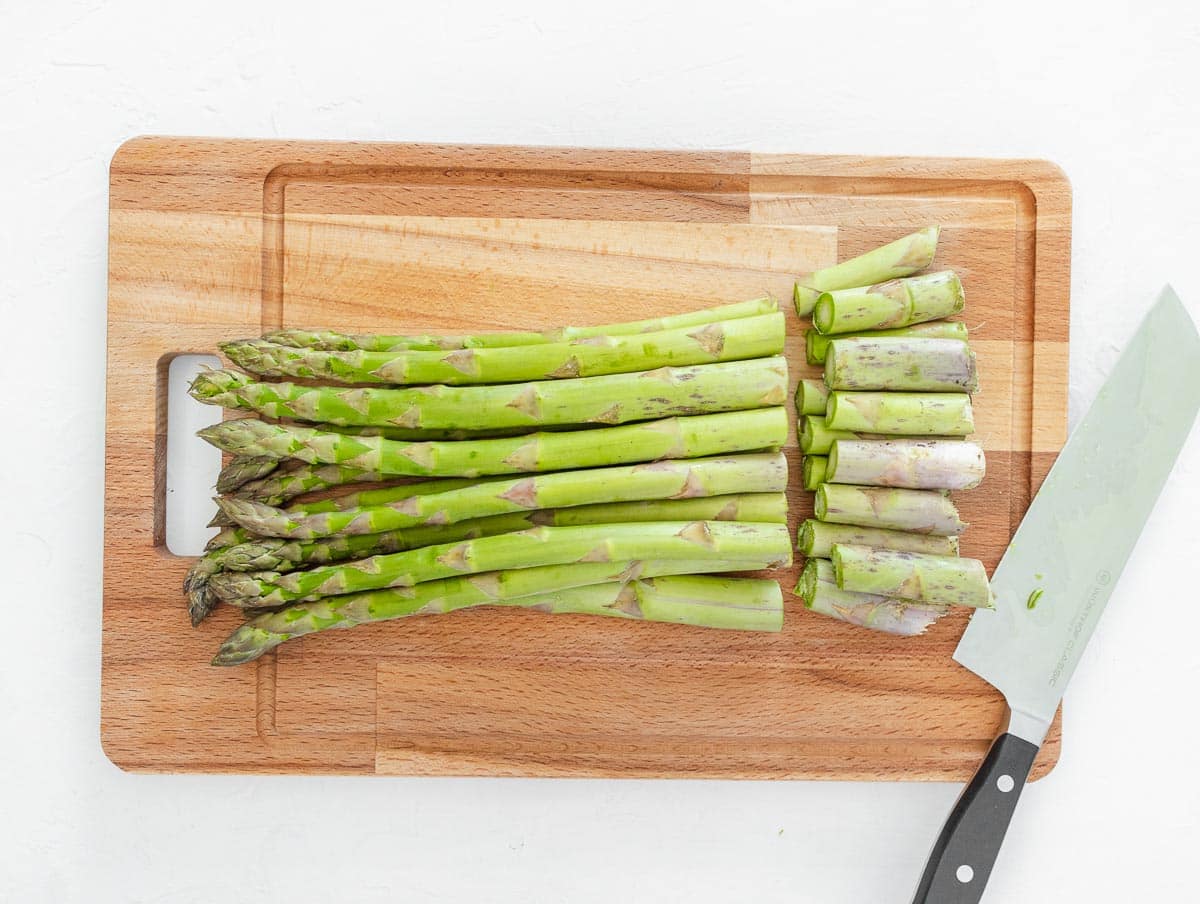 Peel the woody ends: If asparagus spears are thick, woody, and not so fresh, peel a couple of inches of the stalk. Use a vegetable peeler. This will make the asparagus cook more evenly, and they'll be less chewy and more tender.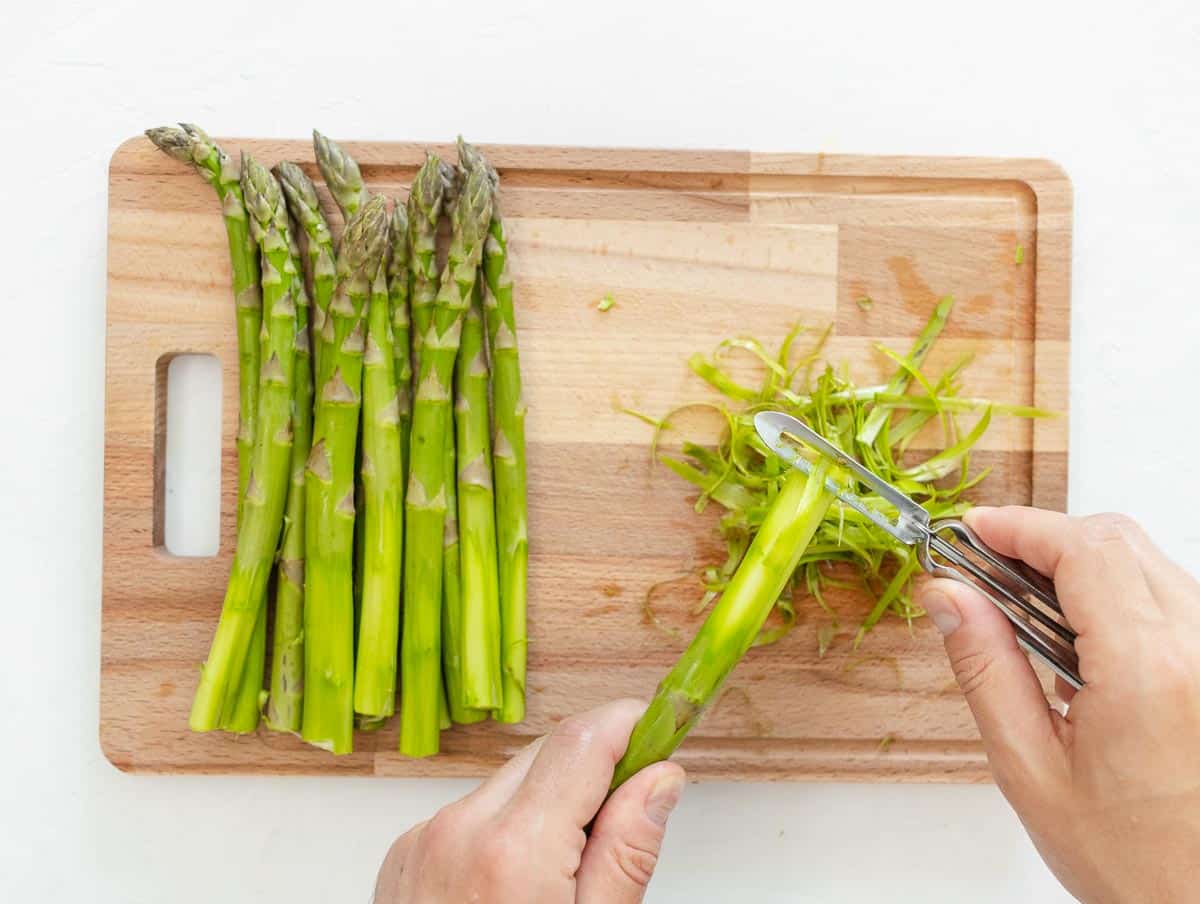 Once the basic cleaning and trimming are done, we can start cooking the asparagus. Choose your favorite asparagus recipe in the list below.
BEST ASPARAGUS RECIPES
How to store Asparagus
Store leftovers in the fridge for up to 3 days. You can eat them cold, at room temperature, or reheat them in the microwave. We do not recommend freezing these asparagus recipes.
How to serve asparagus
Asparagus (sauteed, grilled, boiled, steamed) is a vibrant side dish that pairs perfectly with most sauces and mains. Take your pick here:
What is your favorite way of serving asparagus? We're curious, let us know in the comments below!
Tips
Blanching: If you want a bright color for your asparagus, you can blanch them before e.g. sauteeing them. To blanch asparagus, cook them in salted boiling water for about 1 minute, then drain, and rinse under cold water for 20 seconds. Pat them dry with a kitchen cloth and sauté.

White wine: deglazing the pan with white wine adds acidity to the dish, which makes the asparagus flavor pop in your mouth. Deglazing simply means adding cold liquid to a hot pan. Use a dry white wine to deglaze asparagus.

Crushed garlic: I always found minced garlic to be quite annoying with asparagus. It tends to burn, turning brown and bitter, and it covers the asparagus flavor. Try adding crushed garlic instead. You'll get plenty of garlic aroma, but more subtle.
For many more side dishes ideas, check out our sides category page.
How to Cook Asparagus + Easy Asparagus Recipes
Looking to find ideas for how to cook asparagus? We've got you covered with these side dishes and dinners, including air fryer recipe, risotto, soup and grill tips.
Ingredients
Check each individual asparagus recipe for ingredients required.

Cook your favorite asparagus recipe
Instructions
How to store: Keep these meals stored in the refrigerator, ideally in an airtight container, for up to 3 days.

How to reheat: Warm it up on the stovetop or in the microwave. Before serving garnish with fresh herbs.
Notes
Store leftovers in the fridge for up to 3 days. You can eat them cold, at room temperature, or reheat them in the microwave. We do not recommend freezing steamed asparagus.
NOTE: Asparagus has anti-inflammatory properties and may aid digestion and lower blood pressure.
Nutritional Values
Nutrition Facts
How to Cook Asparagus + Easy Asparagus Recipes
Amount Per Serving (200 g)
Calories 300
% Daily Value*
Carbohydrates 40g13%
Protein 12g24%
* Percent Daily Values are based on a 2000 calorie diet.
Did you like this recipe?
We are not much on Instagram, Facebook, and Pinterest. Leave us a comment below instead, it would mean the world to us 🙂
You might also like: