These easy cauliflower recipes are great for weeknight dinners, and as wholesome side dishes. Pick your favorite salad, stew, pasta, soup, and roasted recipe that all give you bright, tasty, and tender meal ideas.
These recipes are vegetarian, vegan-friendly, and great for family dinners too.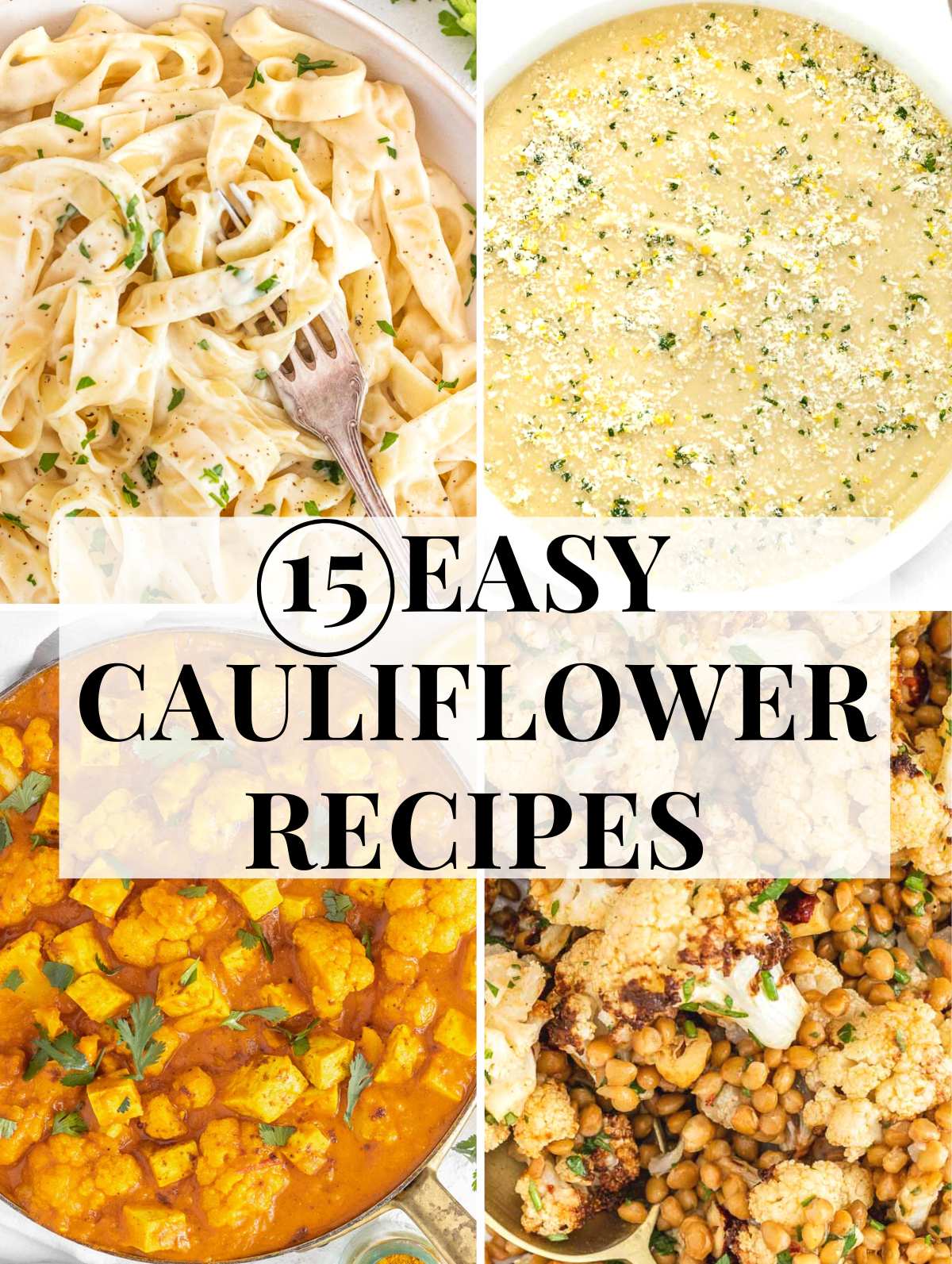 Cauliflower side dishes
As the weather cools down a little and autumn falls upon us, we slowly start craving seasonal wintery side dishes. Cauliflower is definitely on top of our list, it has a comforting, buttery, and earthy flavor and pairs well with most mains.
Get wholesome and tasty side dish inspiration with these bright and easy-to-make recipes.
1. Cauliflower mashed potatoes
This cauliflower mashed potato is fluffier and lighter than regular mashed potatoes, which makes this recipe incredibly delicious. The best way to make it is to steam or boil the cauliflower, blend it, and mix it with boiled potatoes. This creamy cauliflower dish is a family favorite, especially paired with mushroom gravy and bean stew.
2. Air fryer cauliflower
An air fryer can cook cauliflower florets in 12 to 15 minutes, and the result is perfectly roasted air fryer cauliflower. You'll get slightly charred cauliflower florets, they're tender-crisp and retain most of their nutritional properties.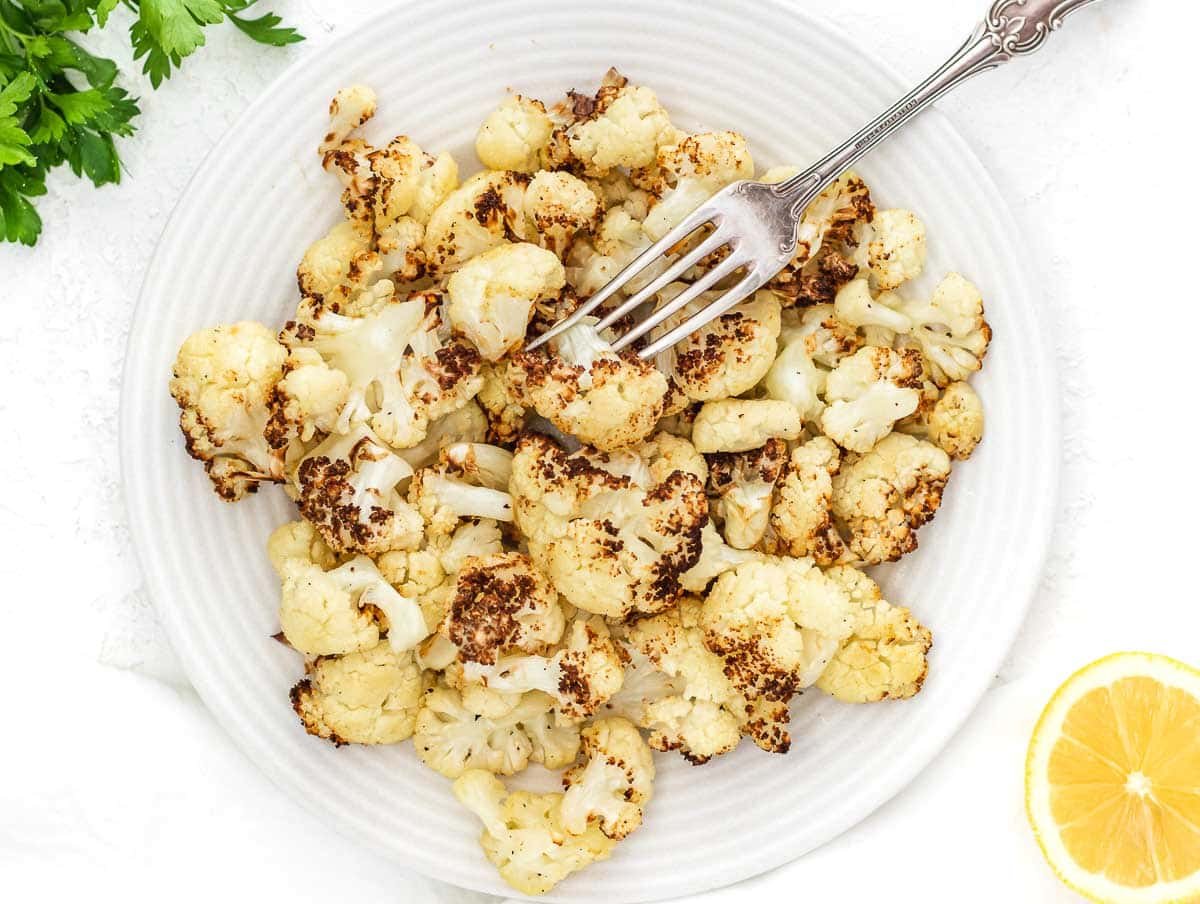 3. Roasted cauliflower
Tender, buttery, and aromatic, this roasted cauliflower recipe can be used in so many different ways. Add it to your favorite pasta (red pepper pasta or pasta aglio olio), to salads (try our cauliflower salad, lentil cauliflower salad, or have it as a snack, appetizer, or side dish.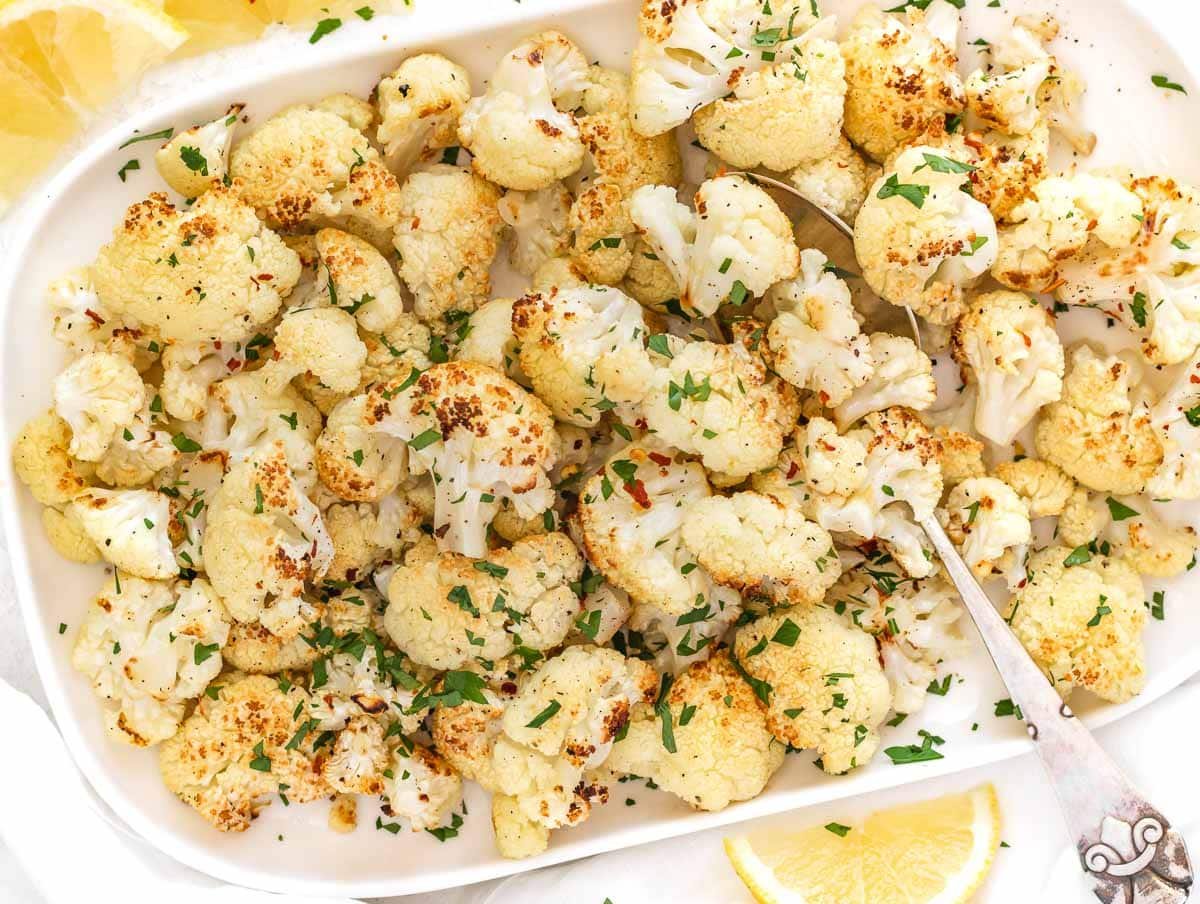 4. Cauliflower rice
If you are searching for a low-calorie, low-carb, and high antioxidants alternative to regular rice or bread, you might want to give this cauliflower rice a try.
Its neutral flavor and appealing texture make it the perfect side dish for curries, soups, stews, stir-fries, or any meal with a sauce.
5. Roasted broccoli and cauliflower
A handy vegetable side dish with plenty of fiber and flavor - roasted broccoli and cauliflower pair well with almost any main dish.
Season the veggies with heart-healthy extra virgin olive oil, garlic powder, salt, and pepper. Roast and sprinkle them with red pepper flakes and a squeeze of lemon juice. Optionally, you can add grated parmesan cheese or its dairy-free alternative to make this side dish even tastier.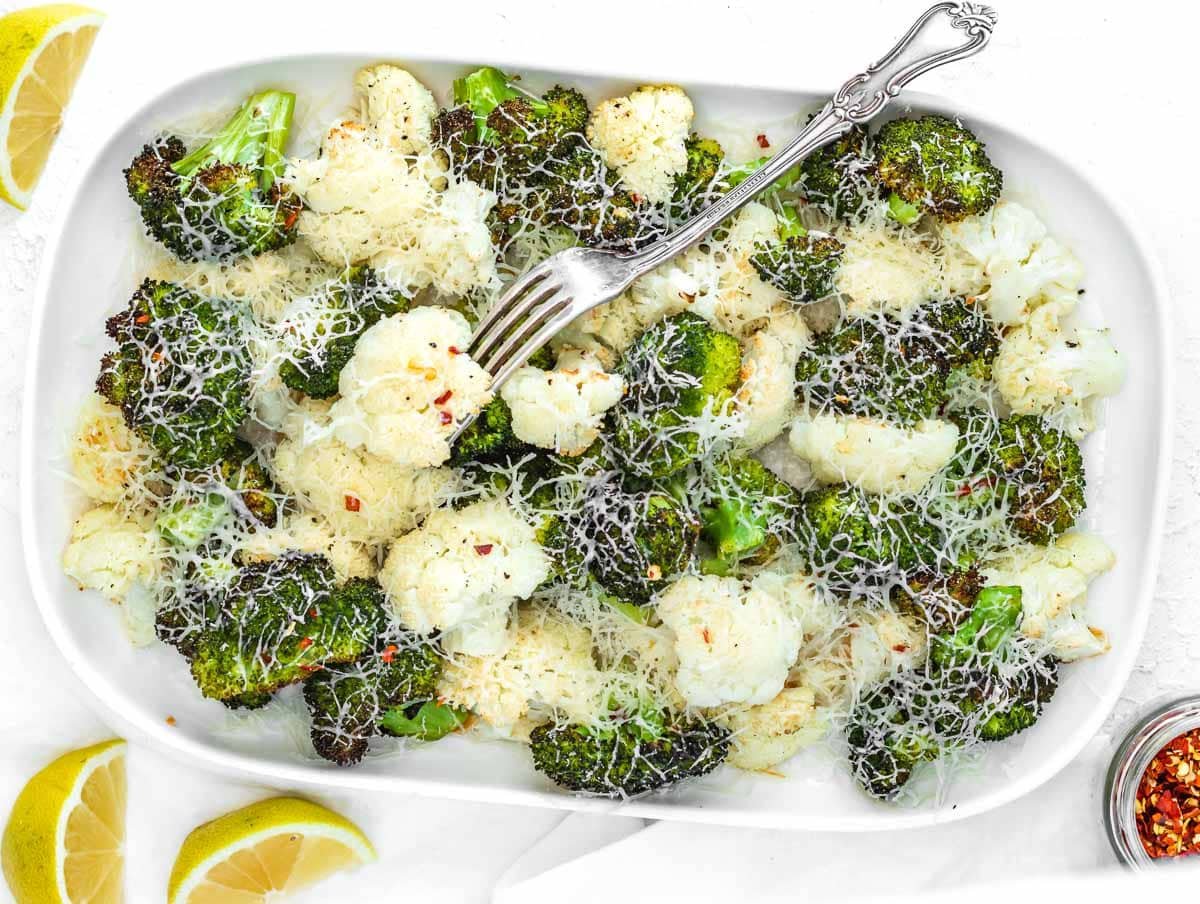 6. Whole roasted cauliflower
This vibrant and loaded roasted cauliflower is drizzled with harissa, chimichurri sauce, and fresh herbs. It's a delicious centerpiece or side dish for a Middle-Eastern-inspired dinner.
7. Rainbow roasted vegetables
Roasted vegetables are an easy side dish that will come in handy for everyday dinners and special meals such as Thanksgiving and Christmas.
You'll learn how to roast multiple veggies to perfection on the same baking tray and with a simple seasoning. The result is a colorful, nutritious, and tasty dish that everyone will love.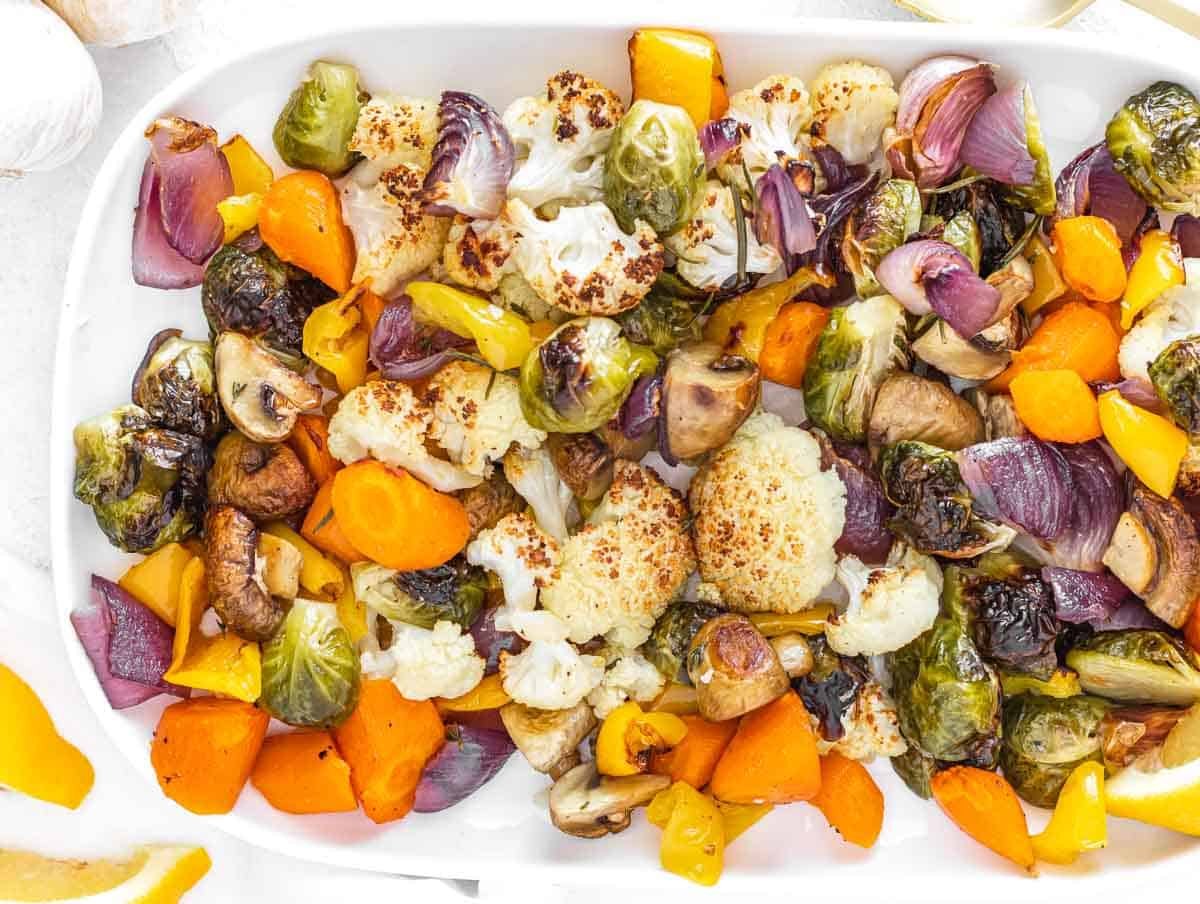 Cauliflower main meals
Take your pick from easy and wholesome salads, pasta dishes, soups, and stews. These easy dinners and meal-prep-friendly meals are all made with simple ingredients and plant-based protein.
8. Roasted cauliflower salad
Creamy, smoky, earthy, tahini-packed, and tasty, this cauliflower salad is a Mediterranean-inspired recipe that will leave you nourished and satiated for hours.
Roast the cauliflower florets in the oven or air fryer until tender-crisp and slightly charred outside to get a pleasantly smoky flavor.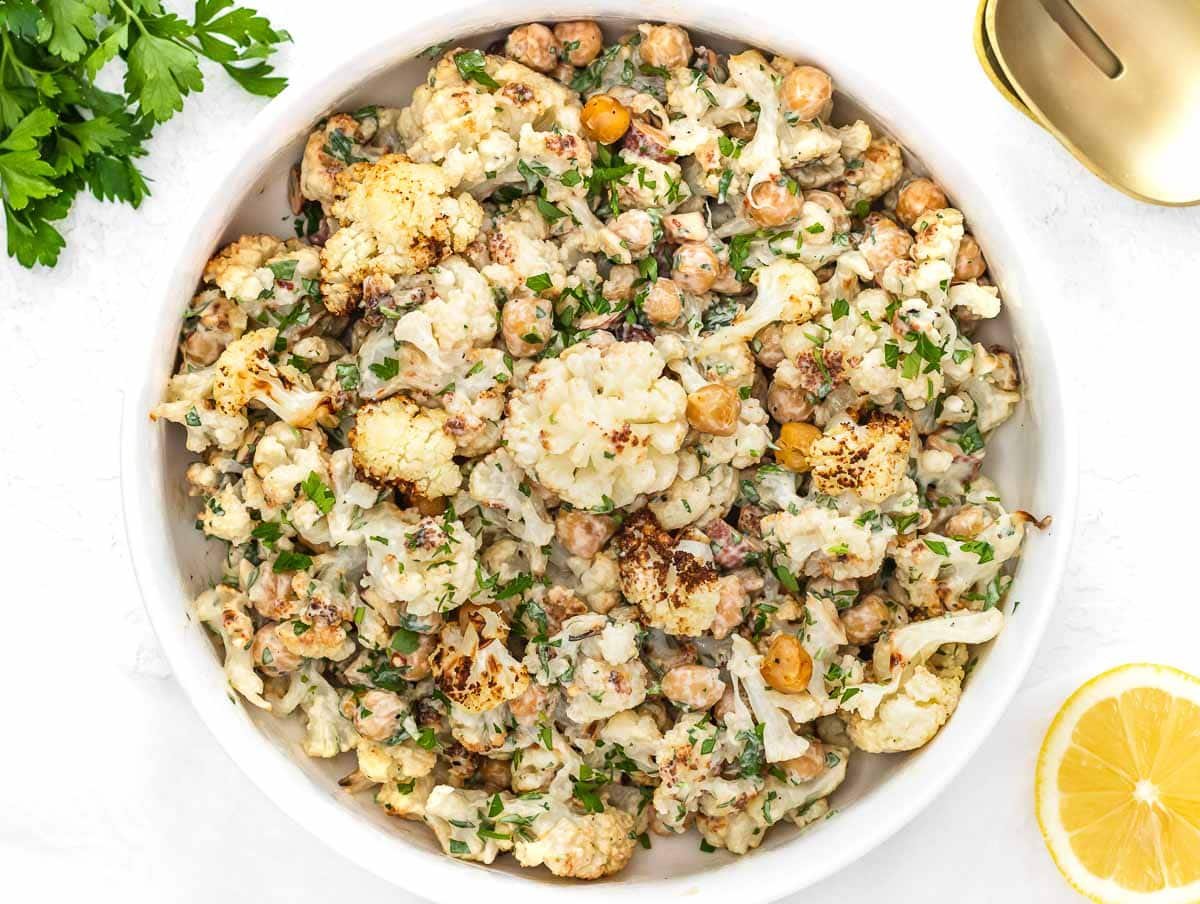 9. Creamy cauliflower soup
When it comes to fall and winter veggies, cauliflower is hard to beat; a homemade roasted cauliflower soup is one of our favorite cozy meals.
It has a creamy, buttery texture and a mellow nutty, and cheesy taste, although there's no cheese in it. Easy to make, healthy, and amazingly delicious, especially with homemade croutons on top!
10. Cauliflower curry
Cauliflower curry is easy and endlessly creamy, you'll want to make it every week. We couldn't believe that a few simple ingredients and spices yield such a tasty dish when simmered together in a pot.
This recipe has a rich, well-developed flavor and a creamy texture thanks to our creaminess-boosting trick, yet, it requires minimal effort on your part.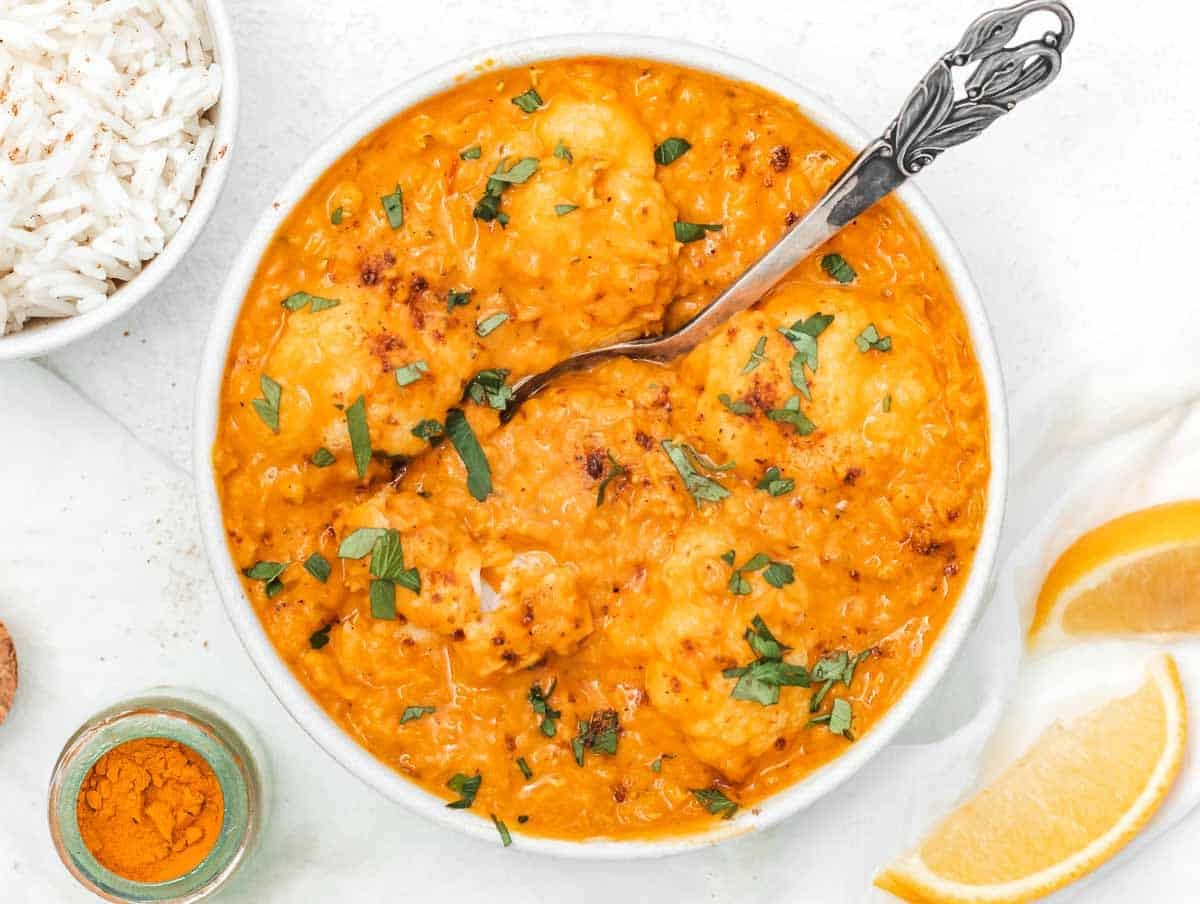 11. Easy cauliflower alfredo
Love Alfredo sauce but are looking for something lighter and healthier to feed your family? You'll love this easy and tasty cauliflower Alfredo sauce - ready in 30 minutes with simple ingredients.
What makes this recipe light, ultra-creamy, and nutritious is cauliflower, steamed, or boiled. It's a great recipe if you're looking for a low-fat Alfredo sauce, or a quick pasta for a weeknight dinner!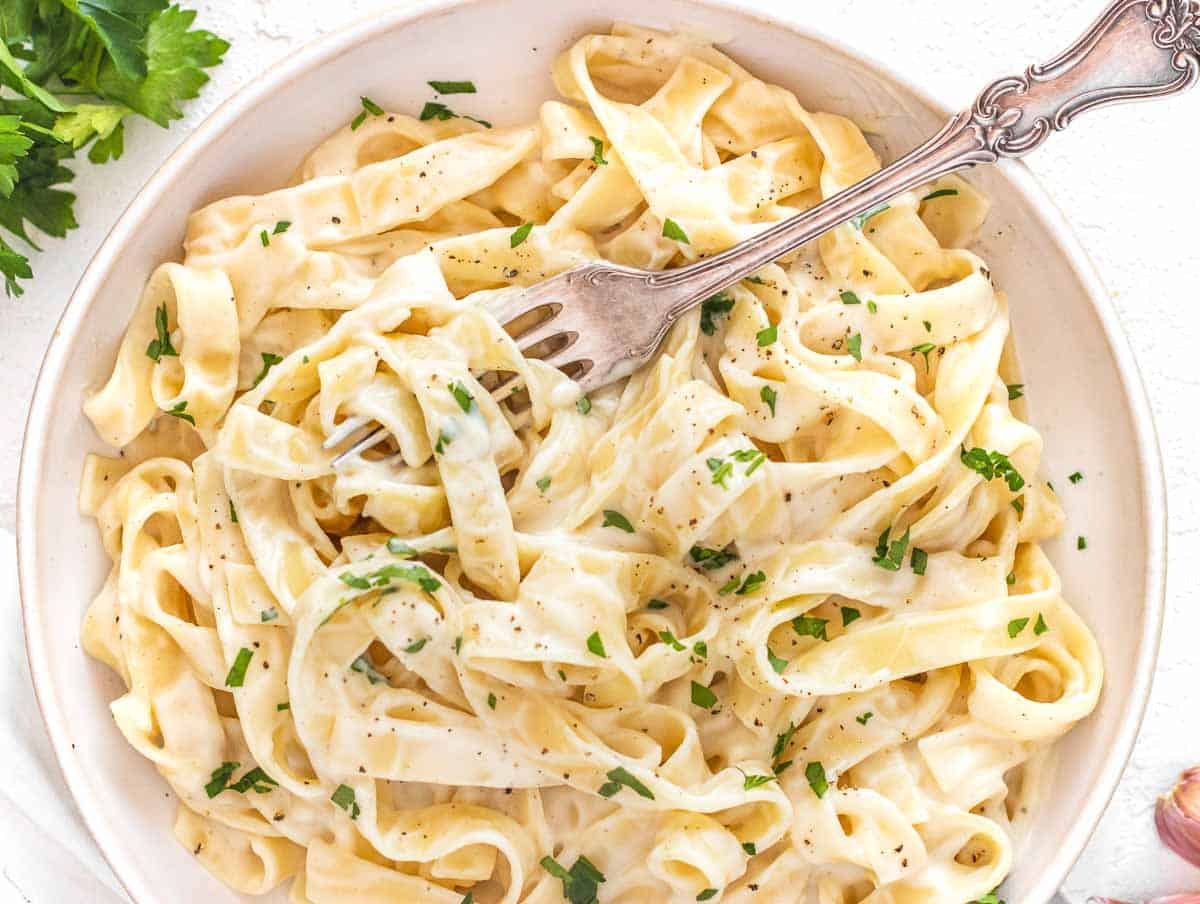 12. Cauliflower pasta
We roast the cauliflower to perfection, toss it in the garlicky sauce, and mix it with spaghetti. Add some parmesan or dairy-free cheese for extra umami and creaminess, parsley, lemon zest, and toasted pine nuts.
This cauliflower pasta dish is so simple and tasty you'll be surprised. It requires minimal effort, and the sauce takes 2 minutes to make.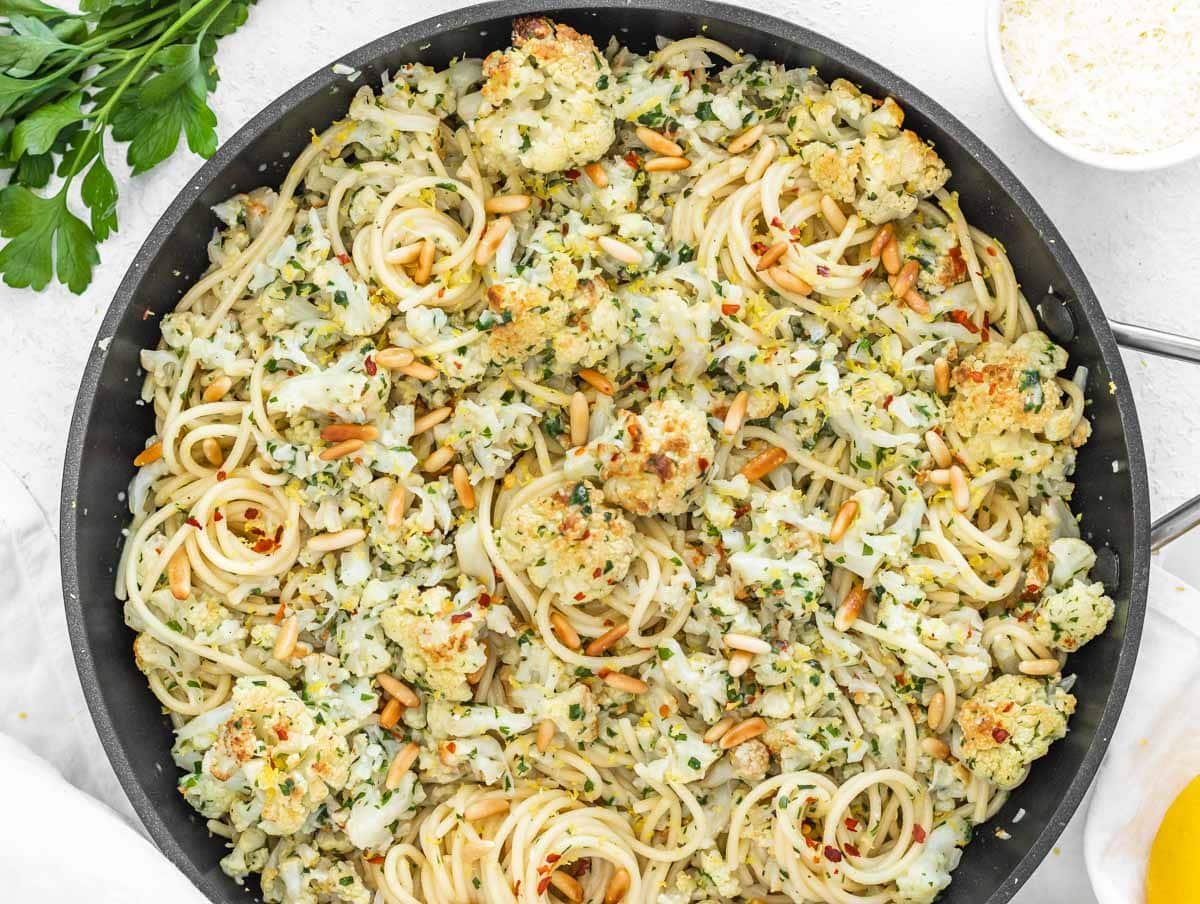 13. Red pepper pasta with roasted cauliflower
Creamy roasted red pepper pasta sauce is irresistible, and it's ready in less than 30 minutes. It's a great idea for a last-minute pasta dish during busy weeknights.
With its buttery and earthy taste, the sauce pairs perfectly with tender-crisp, smokey roasted cauliflower. It's a restaurant-worthy meal when combined with creamy, nutty, and peppery sauce.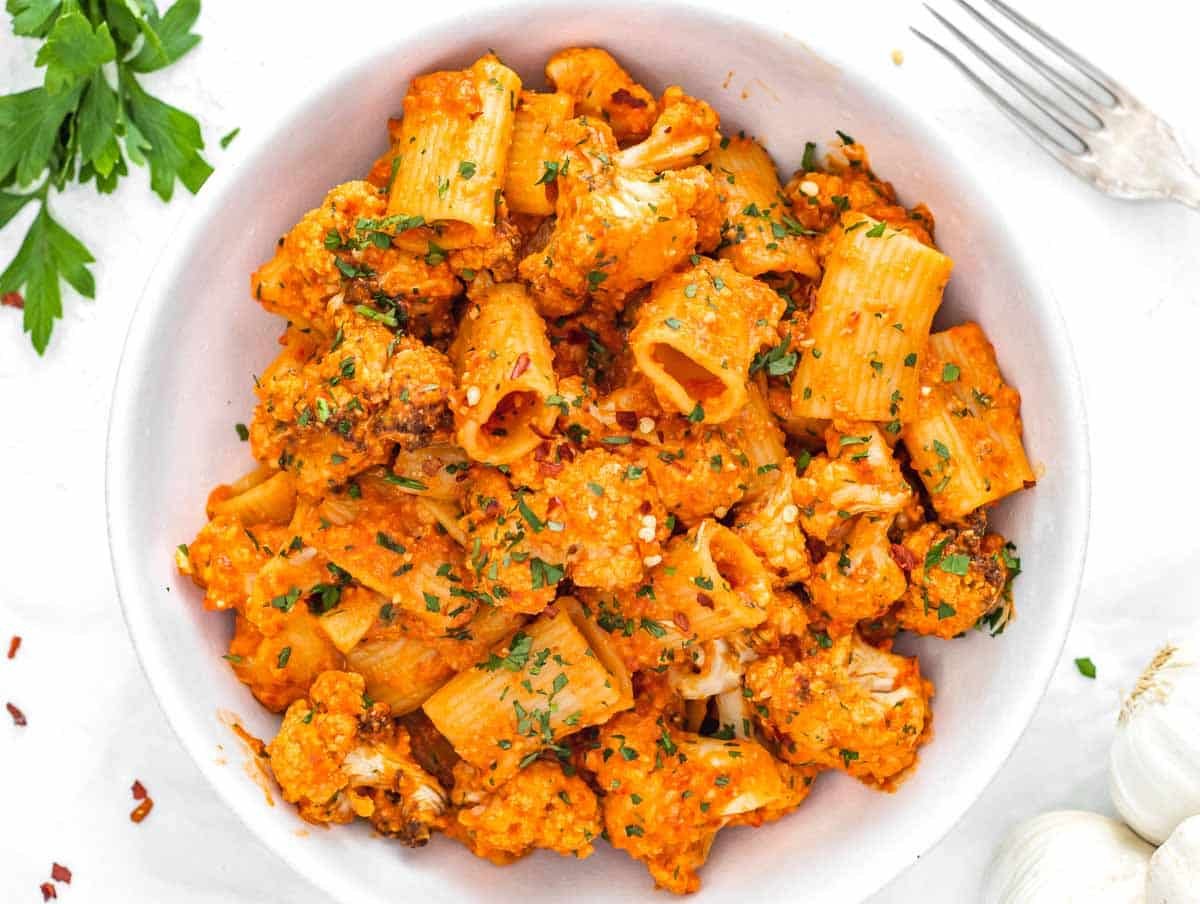 14. Cauliflower lentil salad
Here's a different yet easy and delicious cauliflower lentil salad recipe with healthy and nutritious ingredients.
Smokey oven-roasted cauliflower meets earthy lentils, fresh parsley, and an aromatic and creamy cumin dressing in one of our favorite Mediterranean-inspired dishes.

The recipe is easy, we use very simple ingredients, and you can make it ahead of time and keep it in the fridge for several days.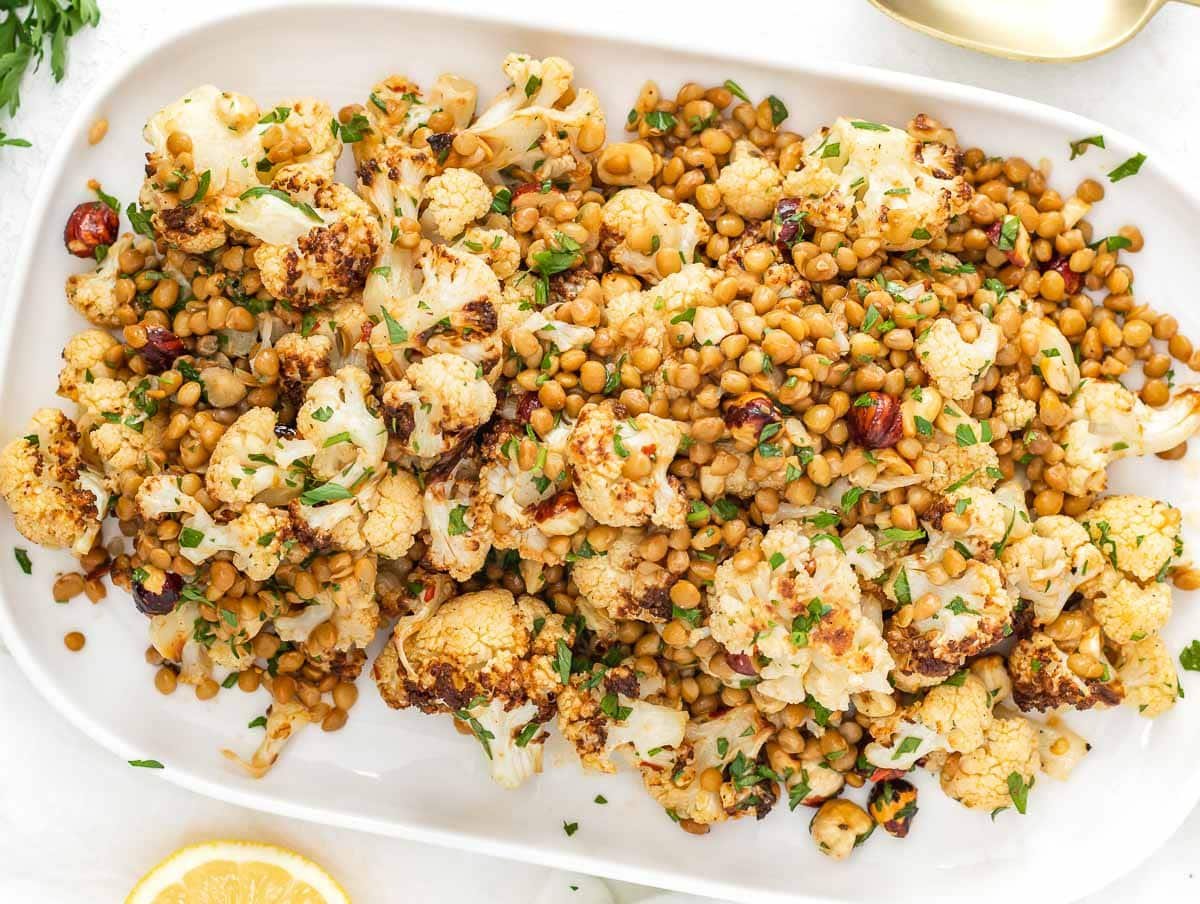 15. Tofu curry with cauliflower
You can make this easy tofu curry recipe from scratch in less than 30 minutes, in one pot, without pressing the tofu. Serve this vegan curry on basmati rice or homemade flatbread with some fresh cilantro and a squeeze of lemon. It's an easy, nutritious, and fulfilling family-friendly dinner.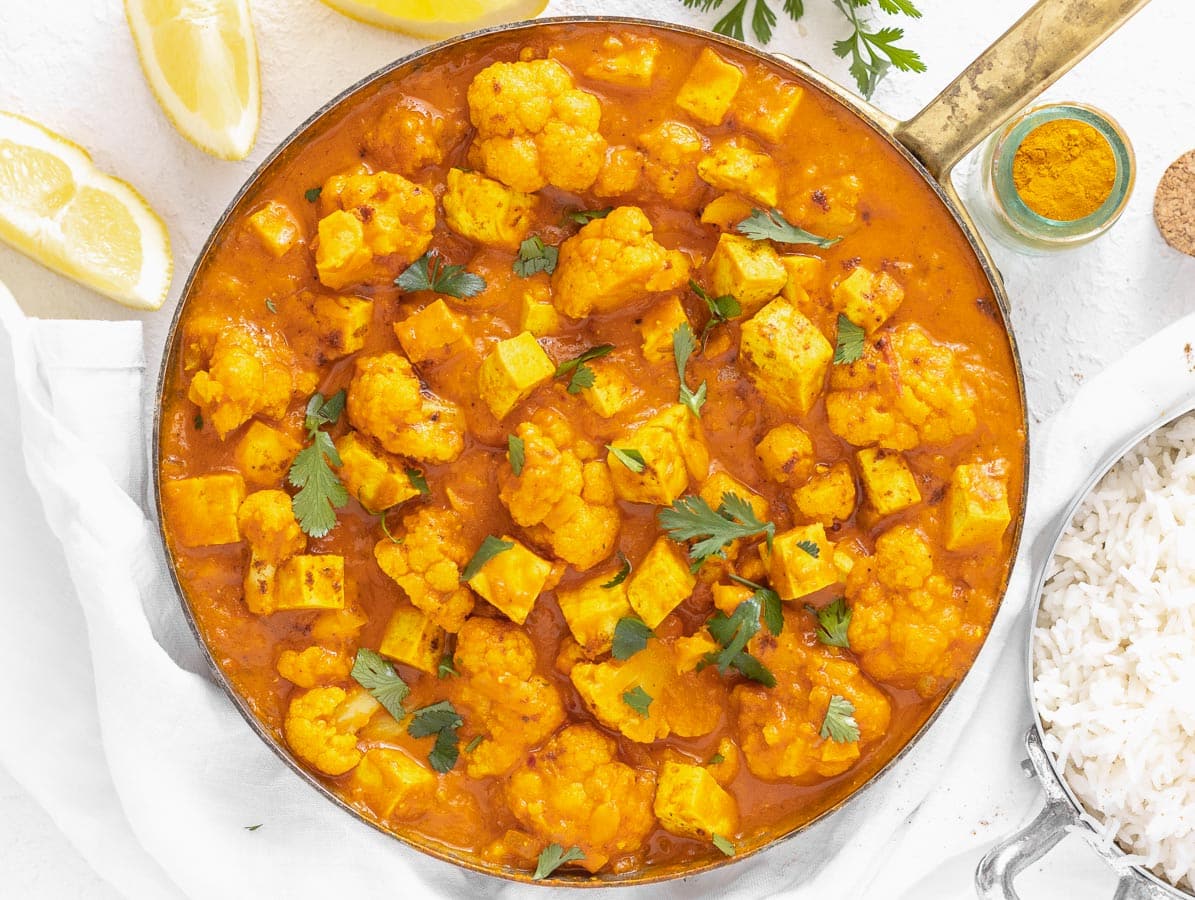 What does cauliflower pair well with?
Cauliflower is a neutral-flavored vegetable that pairs well with stews, soups, pasta, and a variety of legumes:
FAQ about cauliflower
Should cauliflower be washed before cooking?
Yes, I would wash my cauliflower to remove dirt, dust, and debris from transportation and storage. However, make sure to dry the florets well before roasting them to prevent the cauliflower from getting mushy.
How to choose the right cauliflower
We make these recipes with a large head of white cauliflower, but you can also use orange cauliflower, green cauliflower, and purple cauliflower varieties.
Although these varieties are less popular, they are still delicious and richer in antioxidants.
Is cauliflower healthy?
Cauliflower is a cruciferous vegetable packed with vitamins C and K. It contains good amounts of calcium, potassium, and magnesium. It's also rich in Glucosinolates, which have anti-inflammatory properties and protect our cells from damage.
How to store these cauliflower recipes
Store cauliflower recipe leftovers in an airtight container in the fridge for 4 days. Reheat in the microwave. We don't recommend freezing these meals.
For many more side dish ideas, check out our sides category page.
Recipe
15 Easy cauliflower recipes
These quick and easy cauliflower recipes are great as side dishes, mains, and appetizers. One of the easiest way to cook cauliflower is roasted the cauliflower florets.It's delicious on its own, or you can use it to make other delicious cauliflower-based recipes, such as our scrumptious roasted cauliflower pasta and cauliflower salad.
Ingredients
1

large

cauliflower

(about 2½ pounds or 1.2 kg)

1

tablespoons

extra virgin olive oil

½

teaspoon

salt

¼

teaspoon

black pepper
FOR SERVING
4

wedges

lemon

1

handful

flat-leaf parsley

1

pinch

red pepper flakes
Instructions
Preheat the oven to 400°F or 200°C. Line a baking sheet with parchment paper.Rinse the head of the cauliflower and pat it dry with a kitchen cloth. Discard the leaves and the stem, then separate the florets with a paring knife.

Season with extra virgin olive oil, salt, and black pepper and toss with your hands; then arrange the florets on a single layer without overlapping.

Bake at 400°F or 200°C for 20 minutes, then turn the florets around with a spatula and bake for another 10 minutes, or until browned outside and tender-crisp.

Transfer onto a serving platter and optionally serve the baked cauliflower with a squeeze of lemon juice, a sprinkle of finely chopped flat-leaf parsley, and a pinch of red pepper flakes.
Video Recipe
Creamy Cauliflower Mashed Potatoes
Notes
Nutrition information is for one large portion of roasted cauliflower out of four portions.
Tip: cauliflower leaves and stems are edible, and you can use them to make cauliflower soup or cauliflower rice.
Nutritional Values
Nutrition Facts
15 Easy cauliflower recipes
Amount per Serving
% Daily Value*
* Percent Daily Values are based on a 2000 calorie diet.
Did you like this recipe?
Leave us a comment below or find us on Instagram, YouTube, Pinterest, TikTok, and Facebook.
If you liked these cauliflower recipes, you might also enjoy: