These 25 summer pasta recipes are a celebration of the season's colorful and fresh vegetables.
You can find ideas for your next barbecue, cookout, putlock, and summer gathering with friends and family.
Creamy, fresh, colorful, and wholesome, these recipes embrace the essence of summer.
So grab your favorite pasta pot, and let's dive into these easy and creamy dishes that make veggies the star of the show.
We start this list with a super creamy and colorful pasta salad.
With fresh veggies and velvety mayonnaise, this recipe is the best for potlucks, barbeques, summer cookouts, and picnics.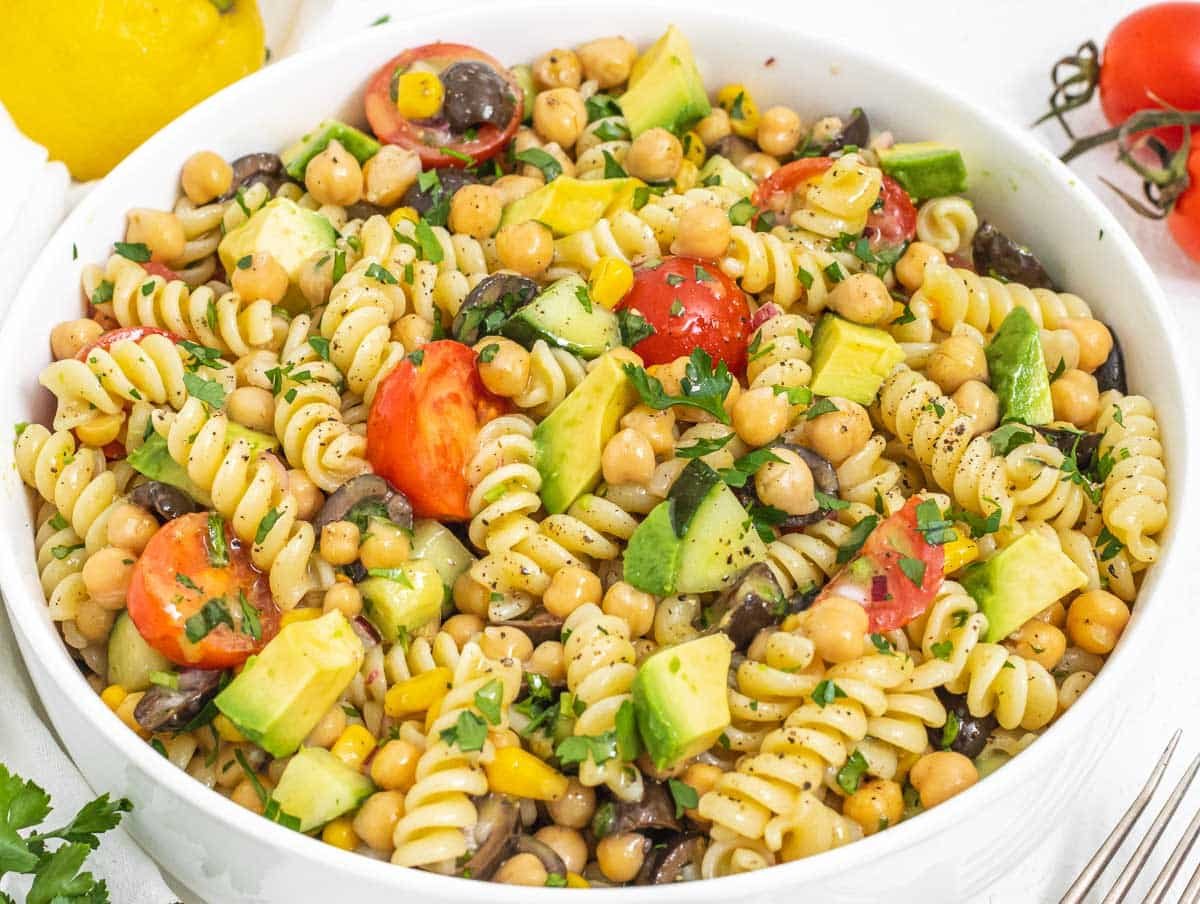 The chickpea pasta salad is perfect for spring, summer, and early autumn.
It's versatile, tasty, and packed with vitamins, antioxidants, and plant-based protein from wholesome ingredients.
Lemon pasta is a quick and simple pasta dish similar to the famous Italian aglio olio but with the addition of lemon zest and lemon juice to make a zesty lemon sauce.
It's the perfect light and satisfying pasta dish for warm summer nights.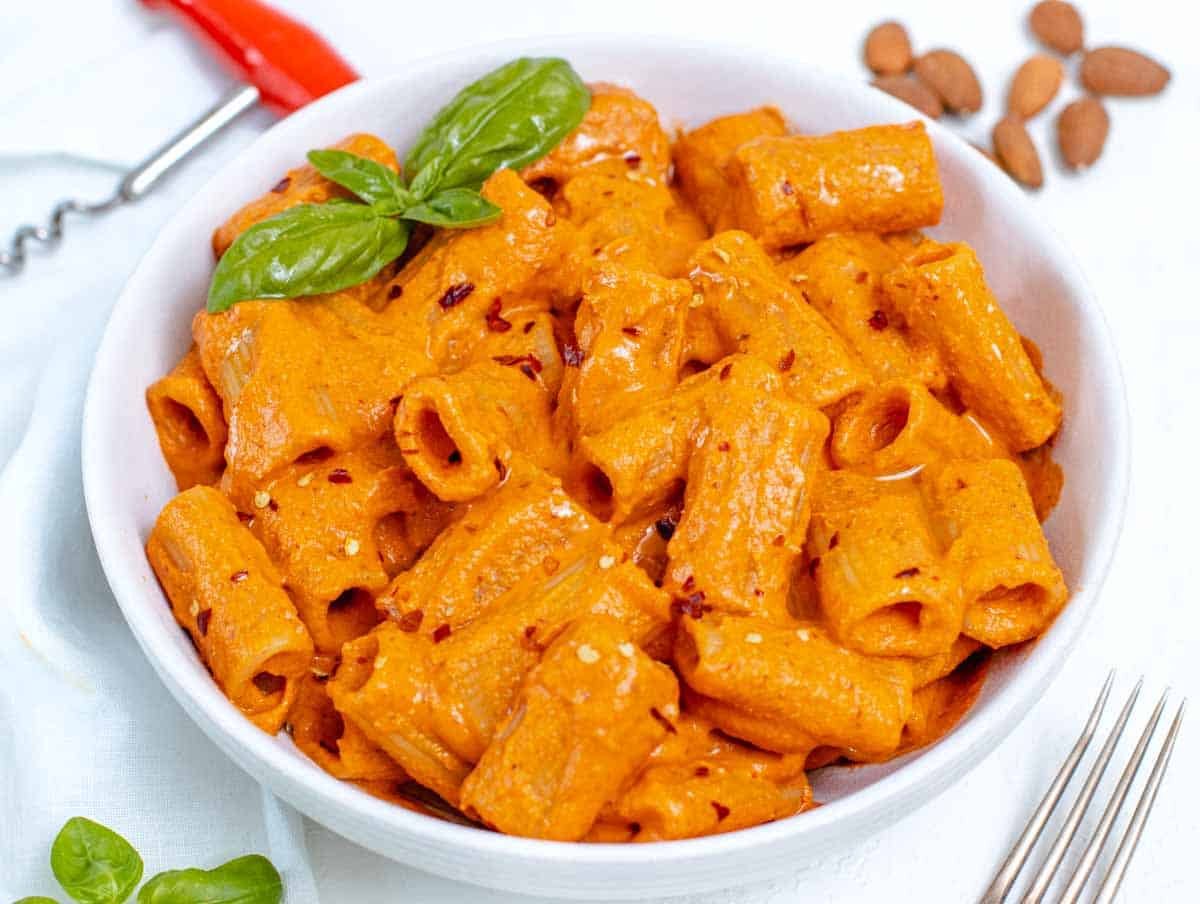 Indulge in the fresh flavors of summer with this creamy roasted red pepper pasta.
The roasted red peppers give a sweet and smoky essence, perfectly complementing the luscious almonds cream sauce. Every bite of this rigatoni pasta dish is a blend of indulgent textures and tastes; you will love it!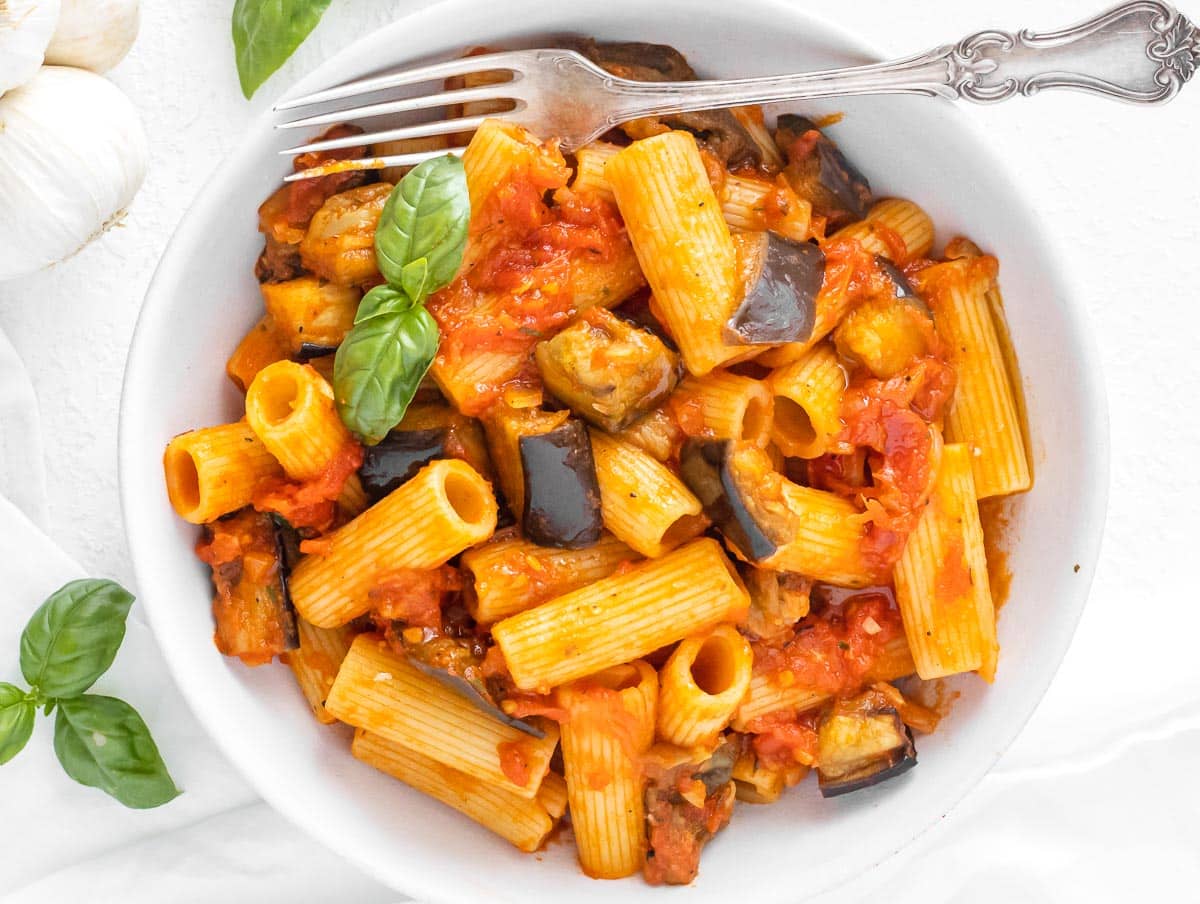 Our next summer pasta combines the aromatic flavors of Italy with a rich tomato sauce.
Tender eggplant cubes, roasted to perfection, mingle with canned tomato, infusing the pasta with a burst of Mediterranean goodness.
Cook it with al dente rigatoni and mix it with fresh basil; every bite is a taste of Italian summer.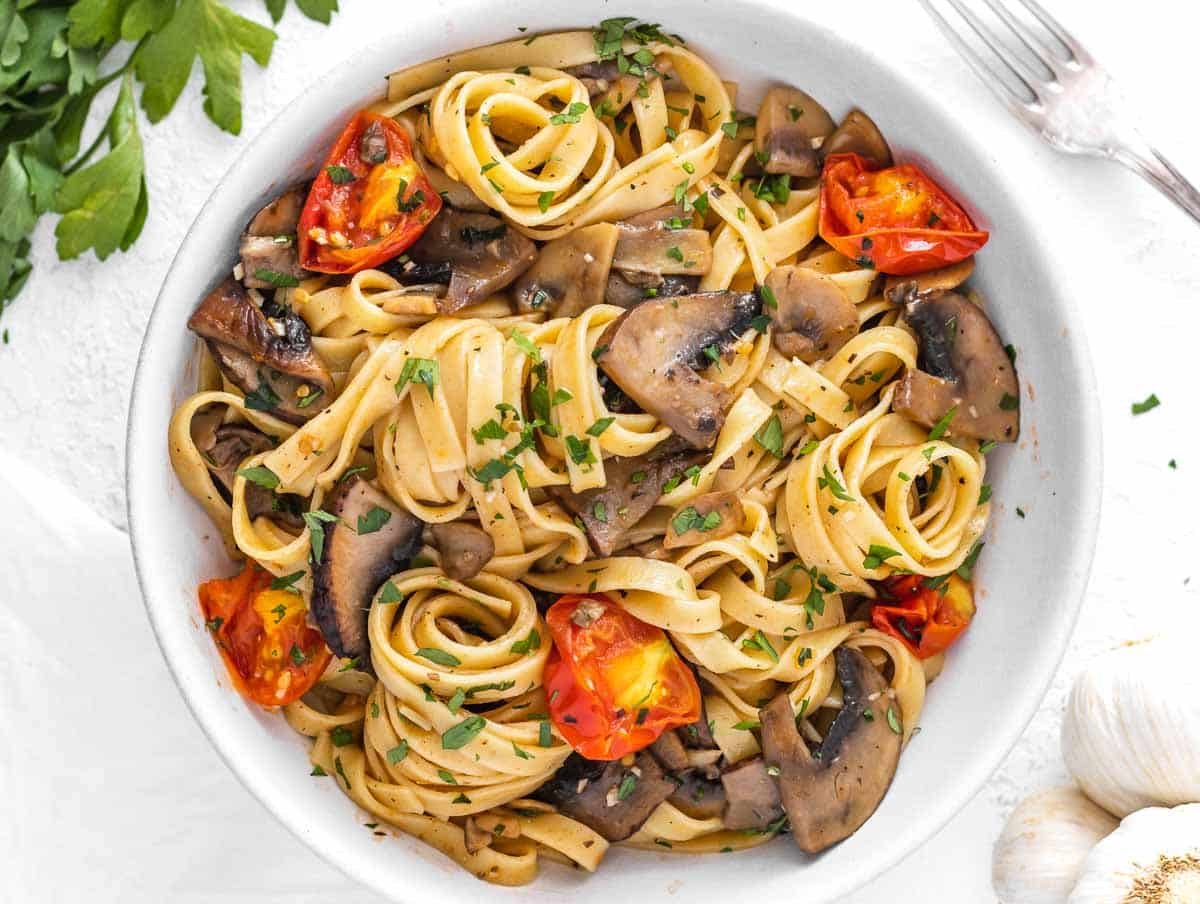 You need to try this fettuccine with earthy mushrooms, parsley, and burst-in-your-mouth cherry tomatoes.
The blend of flavors and textures creates a light and refreshing meal perfect for summer and family dinners. Each bite of this pasta is a delightful mix of Italian flavors dancing on your palate.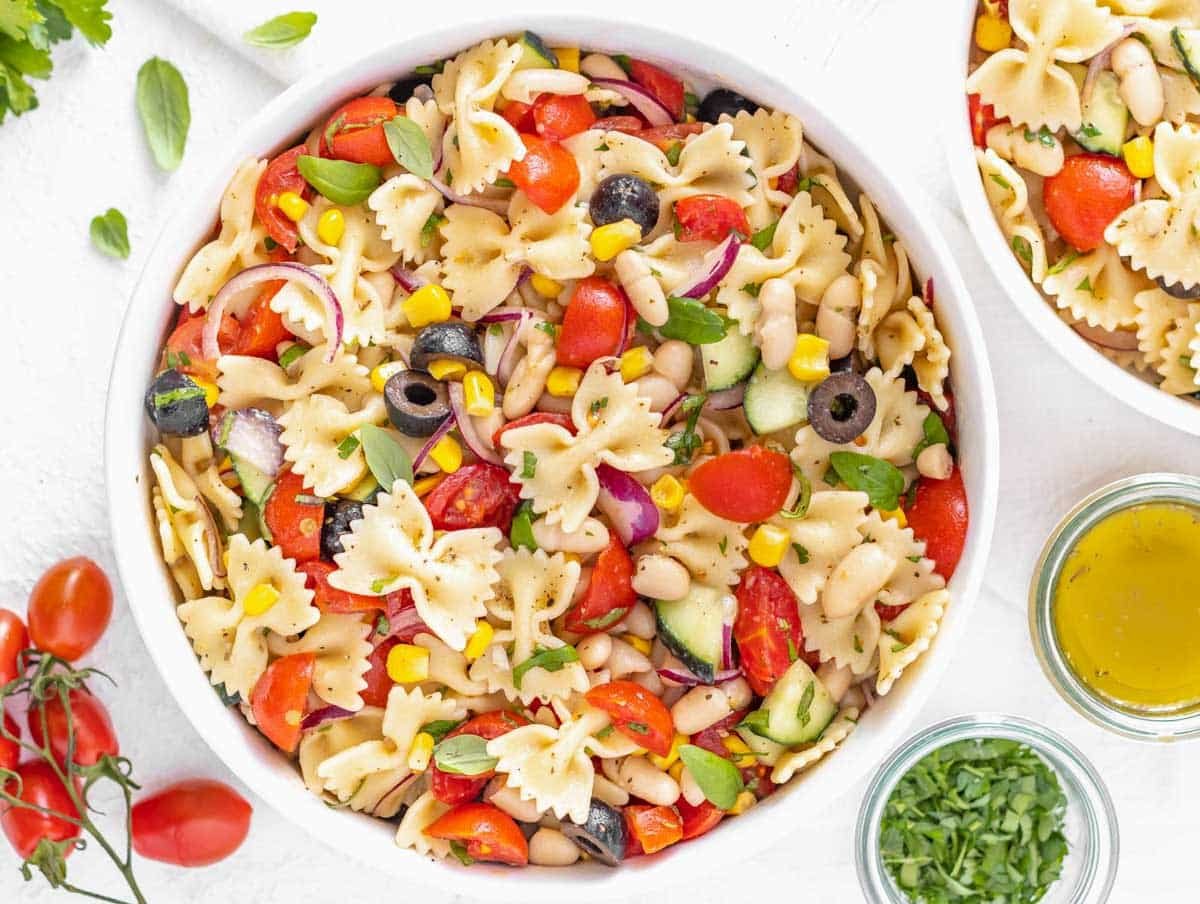 Our next recipe is a colorful pasta salad and a satisfying meal for vegans and non-vegans alike.
This delicious vegan pasta salad is a mix of fresh veggies and perfectly cooked bowtie pasta. Each forkful is a nutritious blend of crisp cucumbers, juicy cherry tomatoes, and sweet canned corn, all tossed in a creamy mustard dressing.
This pasta salad with roasted eggplant, chickpeas, and fresh veggies is a delightful medley of flavors and textures.
The smoky notes from the roasted eggplant perfectly complement the crispness of the fresh veggies. Tossed with a light dressing, it's a family-friendly and wholesome option for a summer meal.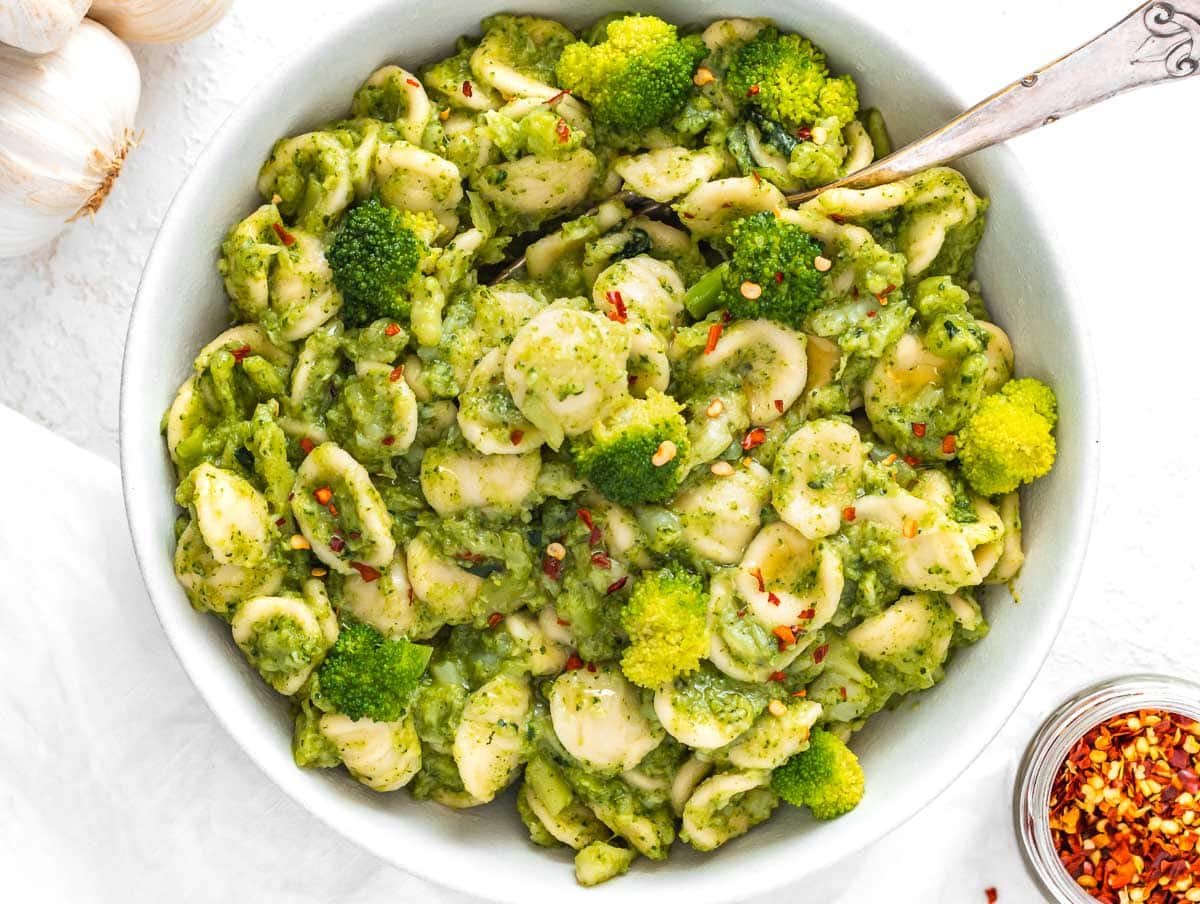 This easy-to-make recipe will please both pasta lovers and veggie enthusiasts alike.
This simple yet flavorful dish combines tender orecchiette pasta with the goodness of a mashed broccoli sauce. In 20 minutes, you and your family can enjoy this satisfying and wholesome meal perfect for summer and autumn.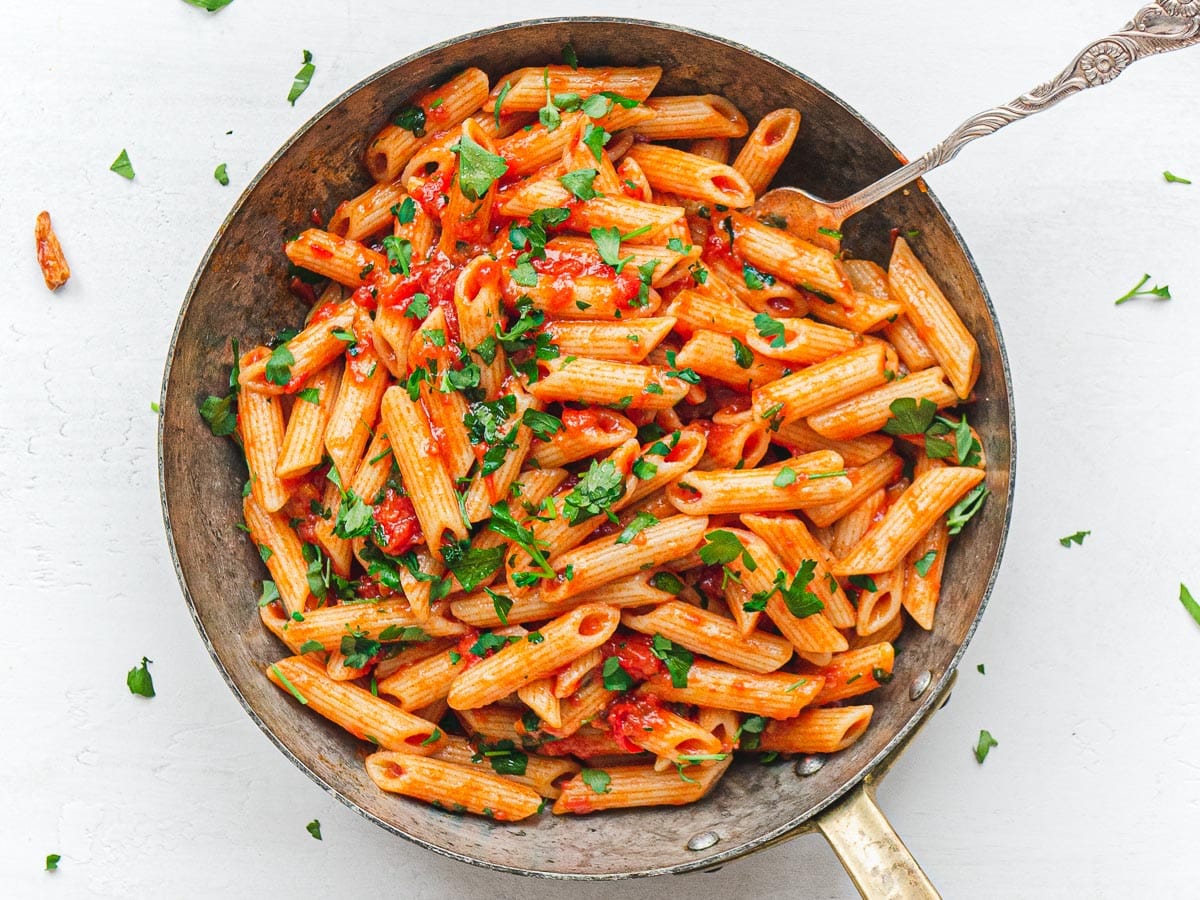 With our next summer pasta recipe, you need just a handful of simple ingredients.
Penne arrabbiata is a quick dish and our go-to recipe for an easy weeknight dinner with a creamy and rich tomato sauce.
The fiery notes of red pepper flakes (or chili) perfectly complement the sweetness of tomatoes, creating a harmonious blend of Italian flavors.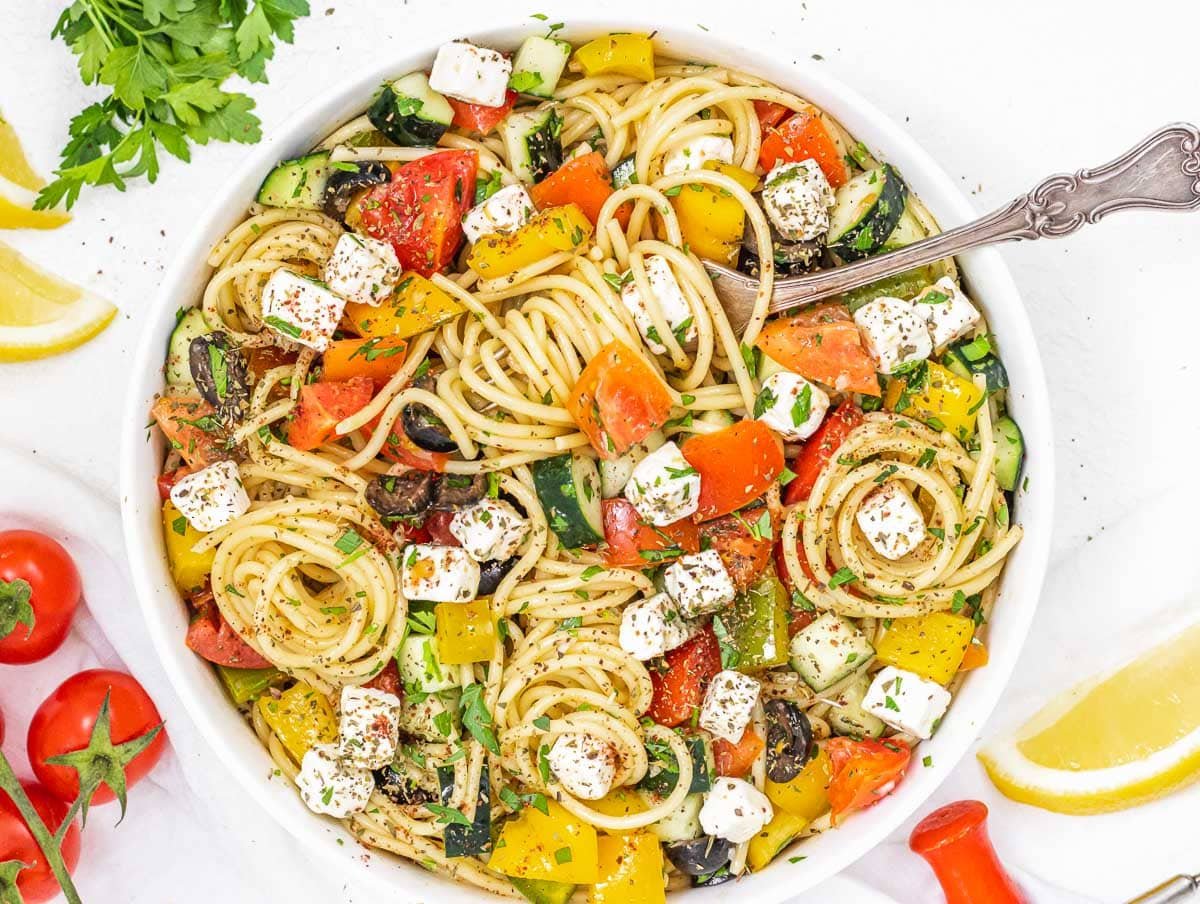 This easy spaghetti salad is a scrumptious barbecue side dish and picnic idea.
Packed with fresh vegetables like cherry tomatoes, cucumbers, and bell peppers, it adds a delicious crunch to every bite.
We toss the ingredients with lemon dressing and garnish with parsley; it's a must-try for any outdoor gathering.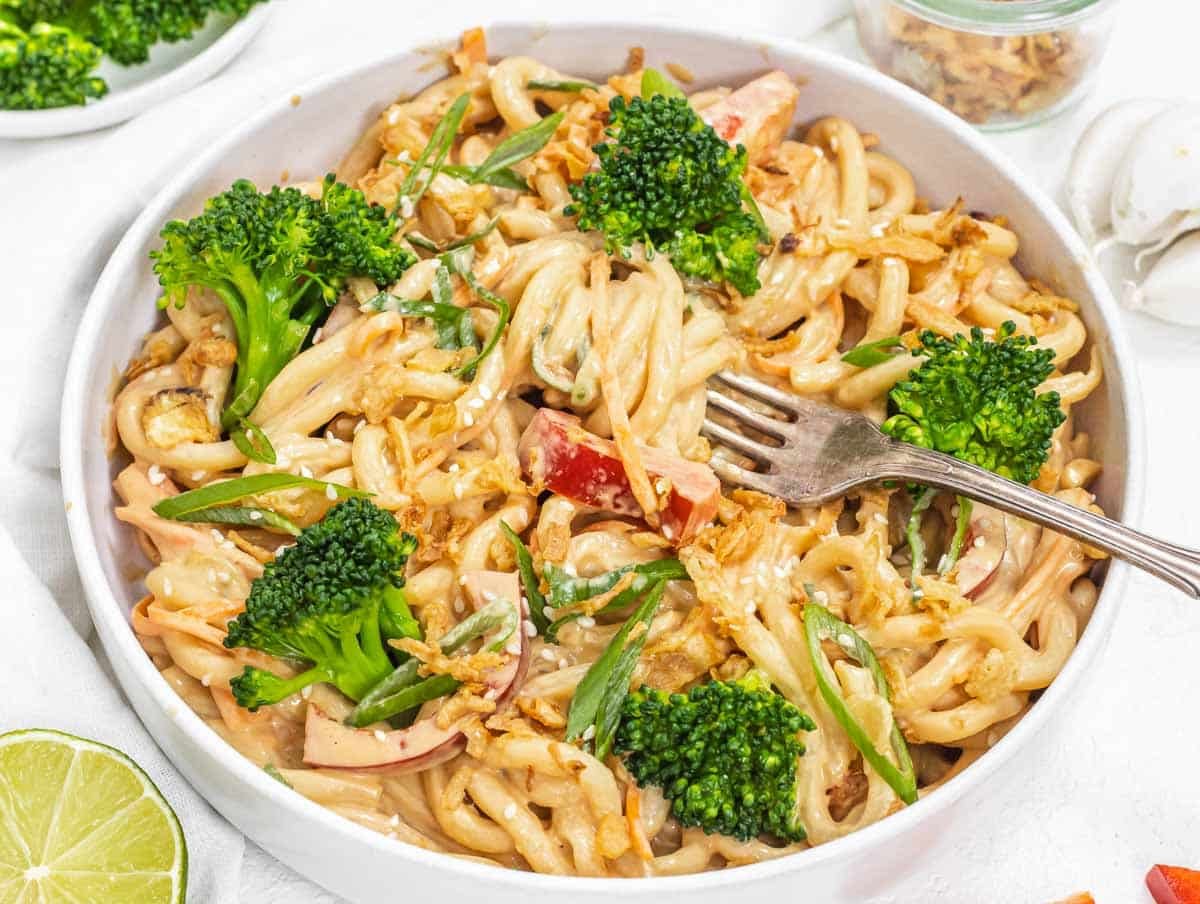 Try this peanut sauce-smothered linguine pasta with fresh bell pepper. You can serve it cold, making it a wonderful choice for warm summer nights.
If you like creamy and nutty flavors, this bowl of goodness will be perfect for you.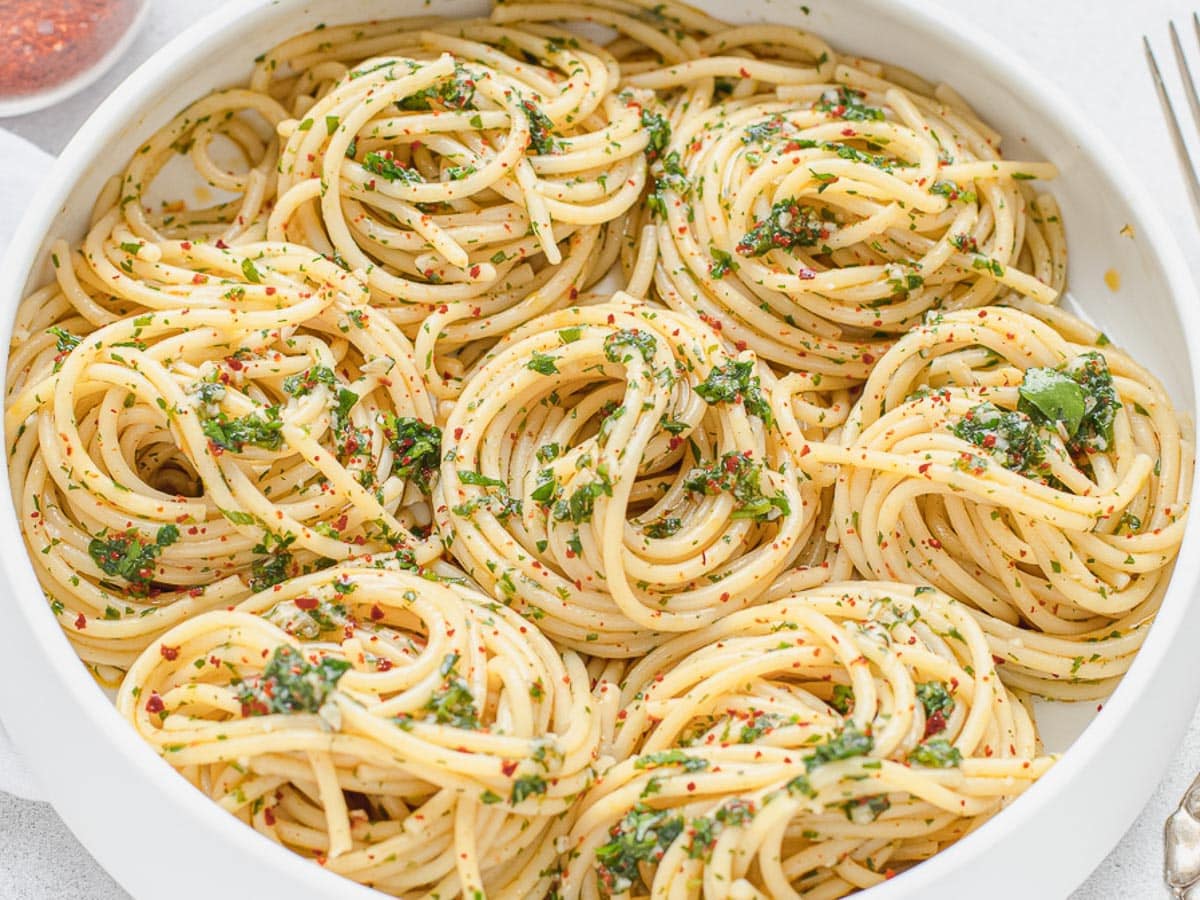 Italians make Aglio e Olio pasta with spaghetti (hence the original name spaghetti aglio e olio). But you can make variations with vermicelli, linguine, bucatini, and even angel hair pasta.
This 15-minute dish is the perfect base recipe to build on and customize with your favorite veggies, such as broccoli, artichokes, and asparagus.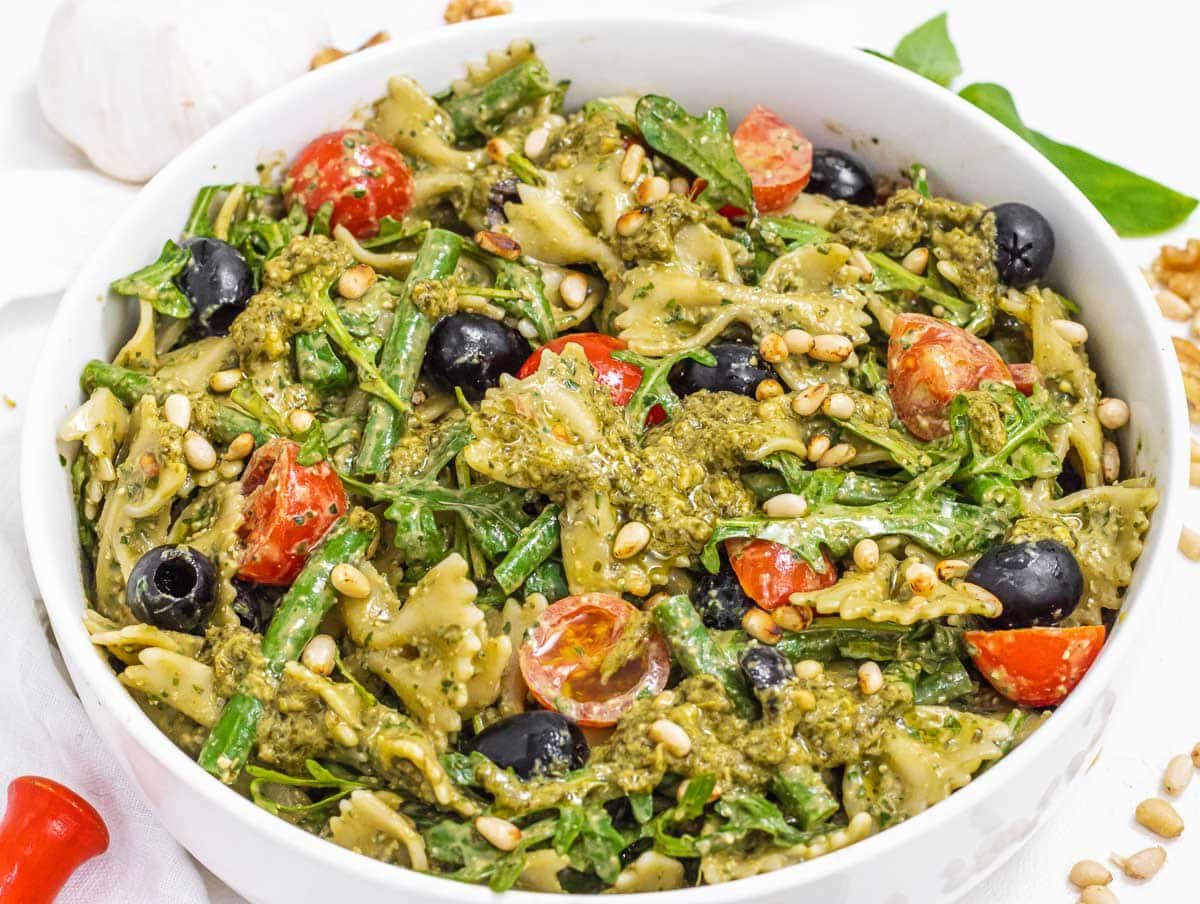 This pesto pasta salad brings a burst of refreshing flavors in every bite.
We add peppery arugula, juicy cherry tomatoes, and tangy olives, and the nutty and creamy flavors of this pasta pack a punch.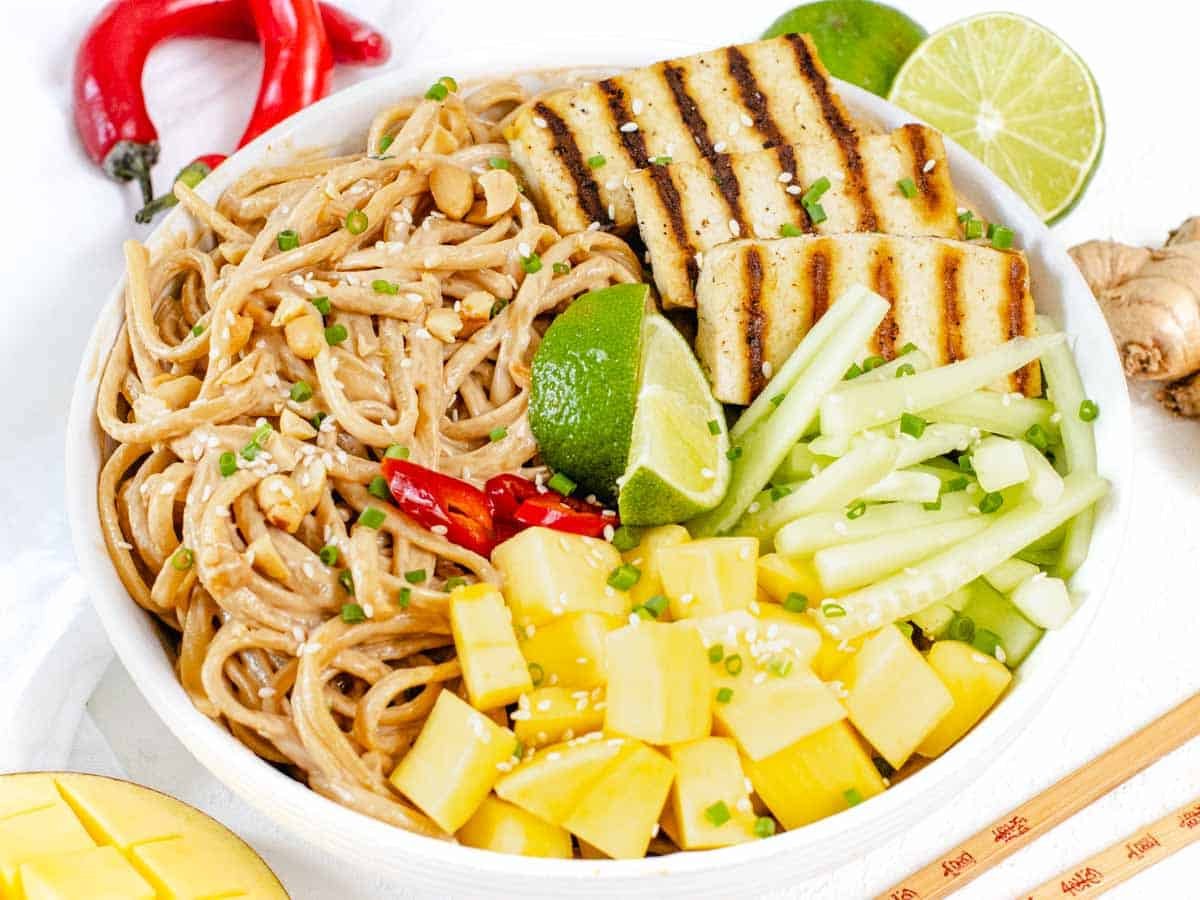 Sweet mango, refreshing cucumber, and nutty peanut sauce unite to elevate this sesame noodle dish to new heights.
Packed with nutritious ingredients, they offer a satisfying and guilt-free lunch and dinner idea for hot summer days.
Try this protein-rich tofu spinach pesto, a balanced and creamy blend of wholesome ingredients.
This bright green sauce adds flavor to any pasta dish, while the tofu lends a satisfying dose of plant-based protein. Remember freshly grated lemon zest on top for a tangy and colorful finish.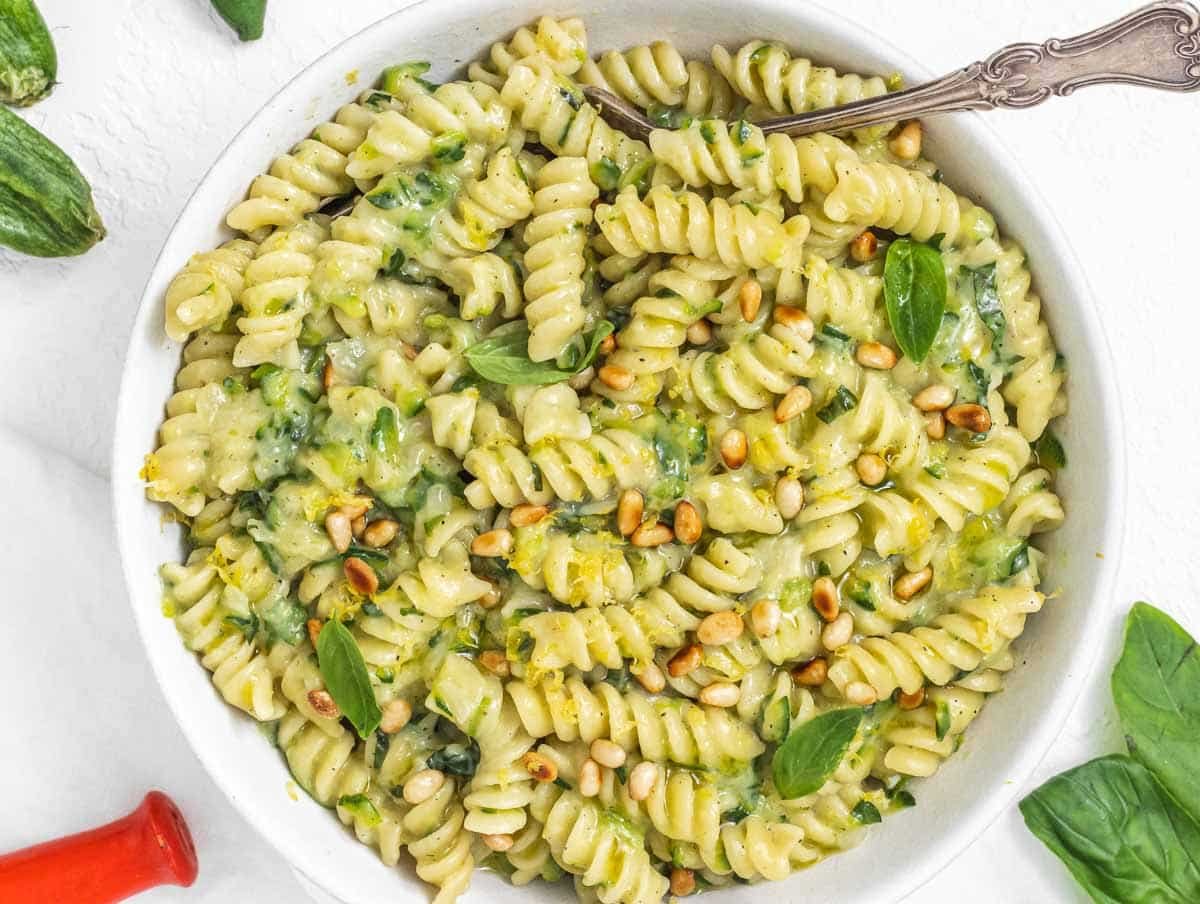 Calling all zucchini fans and creamy pasta lovers. This zucchini pasta offers a velvety rich grated zucchini sauce, elevated with yogurt and parmesan.
Garnish this one-pot pasta with fragrant basil and toasted pine nuts for a restaurant-worthy taste and look.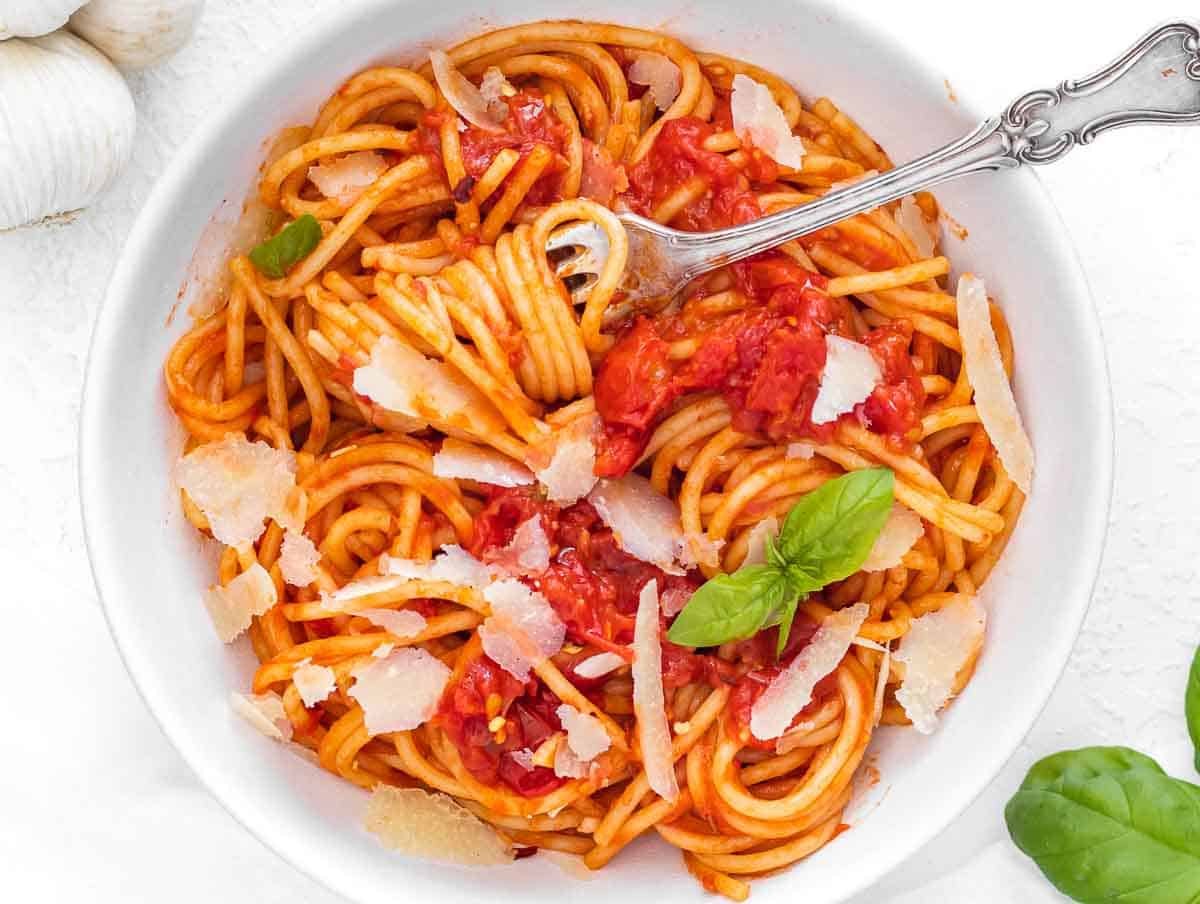 Another summer pasta favorite of ours is this 6-ingredient Italian pasta classic.
In just 20 minutes, you can create a delightful spaghetti Pomodoro with homemade tomato sauce, fresh basil, juicy cherry tomatoes, and canned tomatoes.
It's a quick, family-friendly meal with a perfect balance of tanginess and herbaceous notes.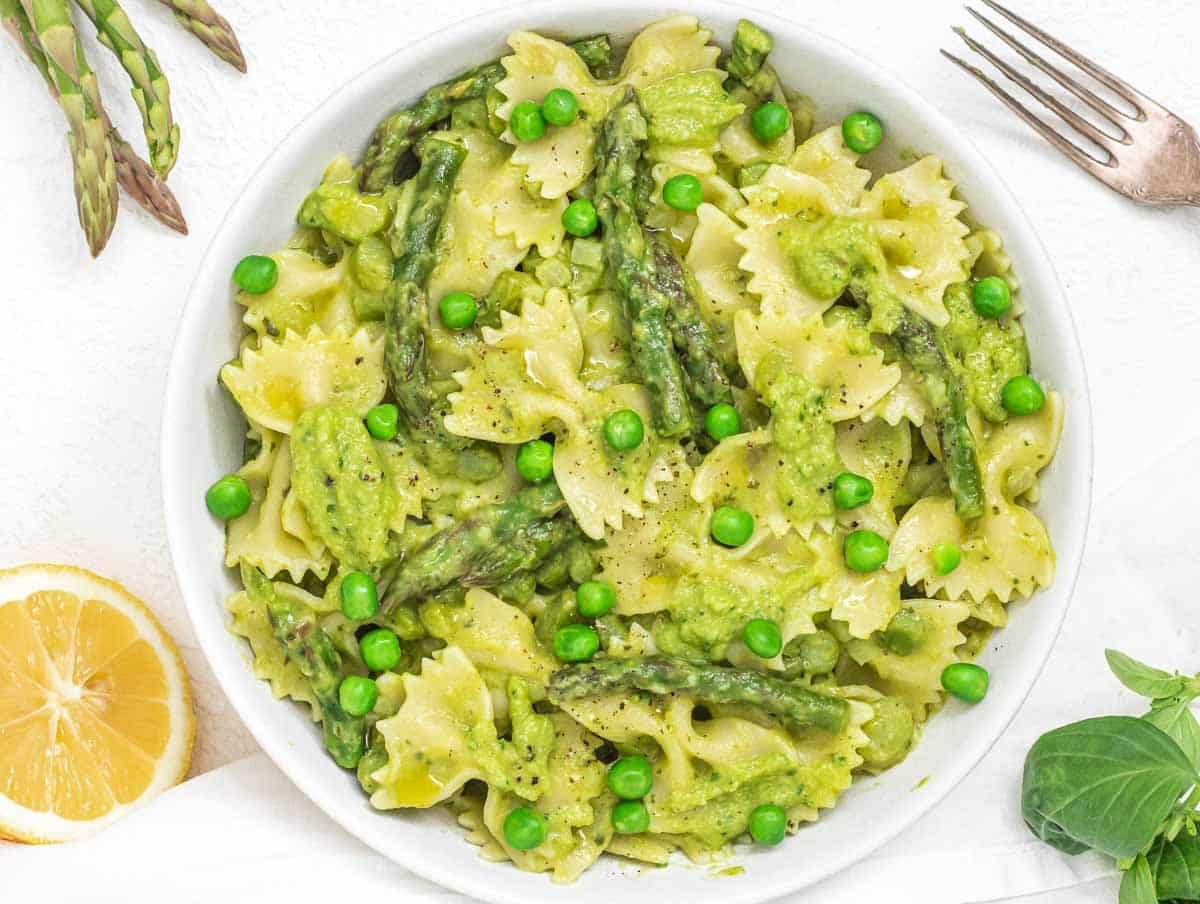 Get the best of spring and summer flavors with our creamy one-pot asparagus pasta.
We combine tender asparagus spears, al dente pasta, and a cheesy sauce for a satisfying meal.
Whether you're an asparagus aficionado or simply looking to cook with asparagus in a new way, this dish is a must-try.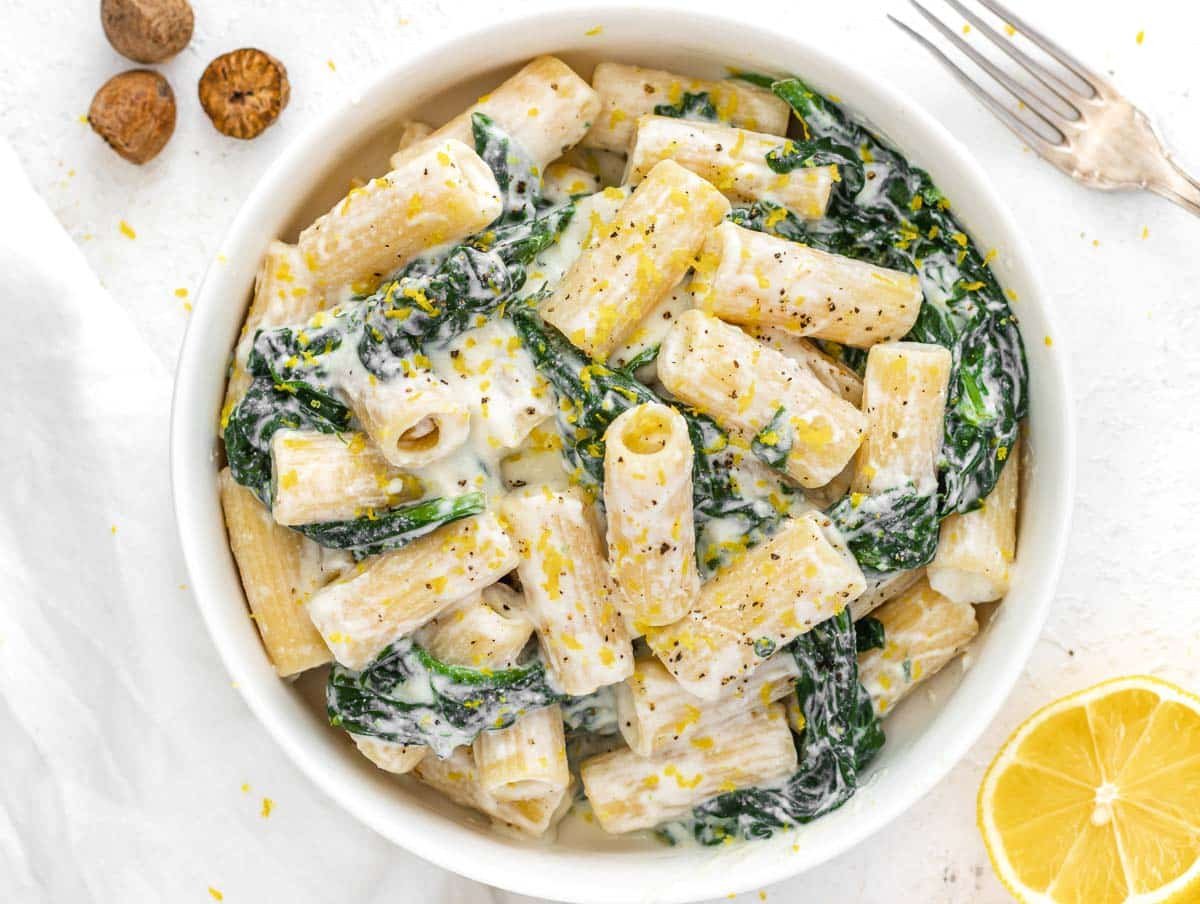 You can make this milky and creamy ricotta spinach pasta in 20 minutes.
It's an easy recipe for a delicious weeknight dinner with just eight ingredients.
Our recipe is vegetarian, but you can easily adapt it for vegan guests too, or serve it with your favorite protein source.
Mushroom Alfredo is a great recipe for late summer with sautéed mushrooms and a creamy, dreamy sauce.
Make it in 15 minutes with cream, butter, and parmesan; it's an indulgent and delicious way to enjoy spaghetti.
TIP: this dish is easily made dairy-free and can also be adapted to vegan eaters.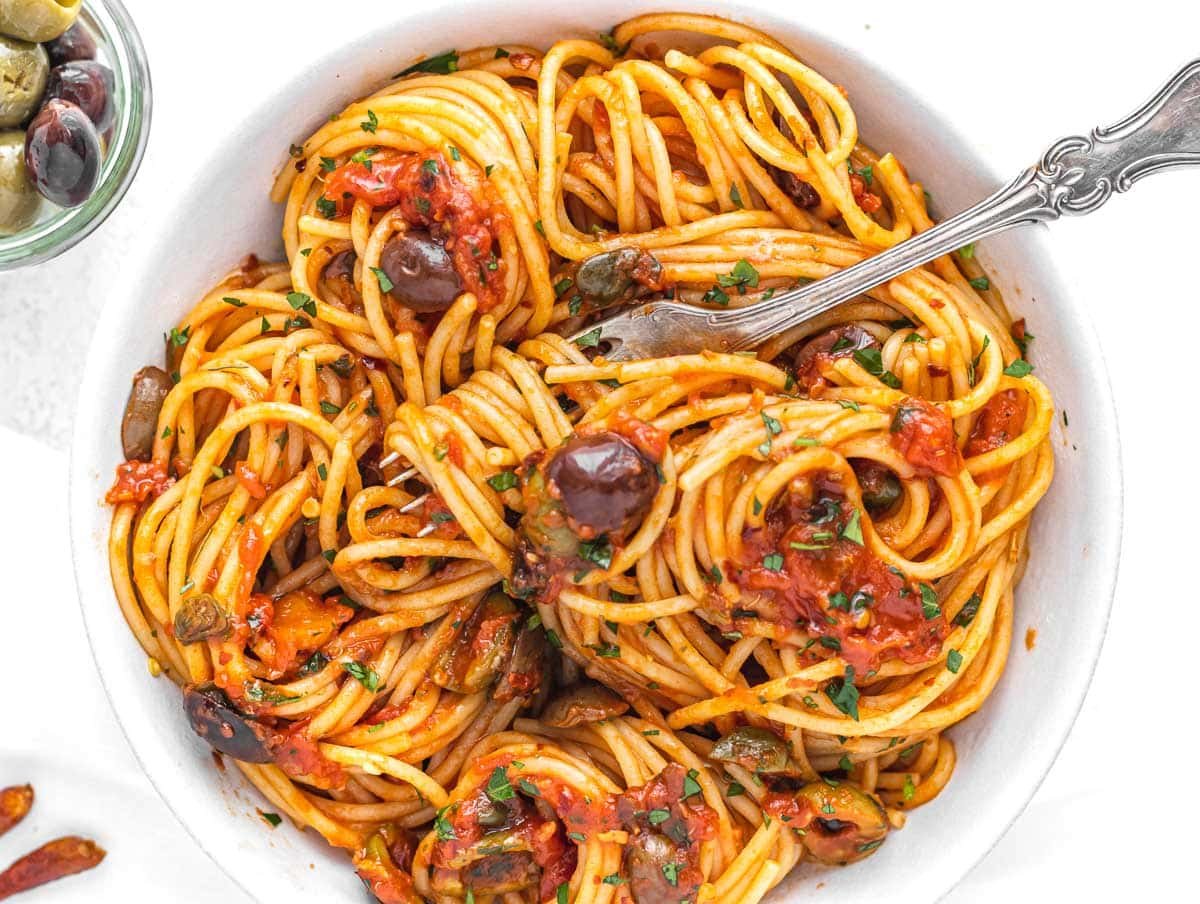 This Italian recipe Puttanesca pasta is a quick and simple pasta that tastes amazing.
It's one of those meals that make you wonder how a few simple ingredients like tomatoes, olives, and capers can make such a tasty sauce.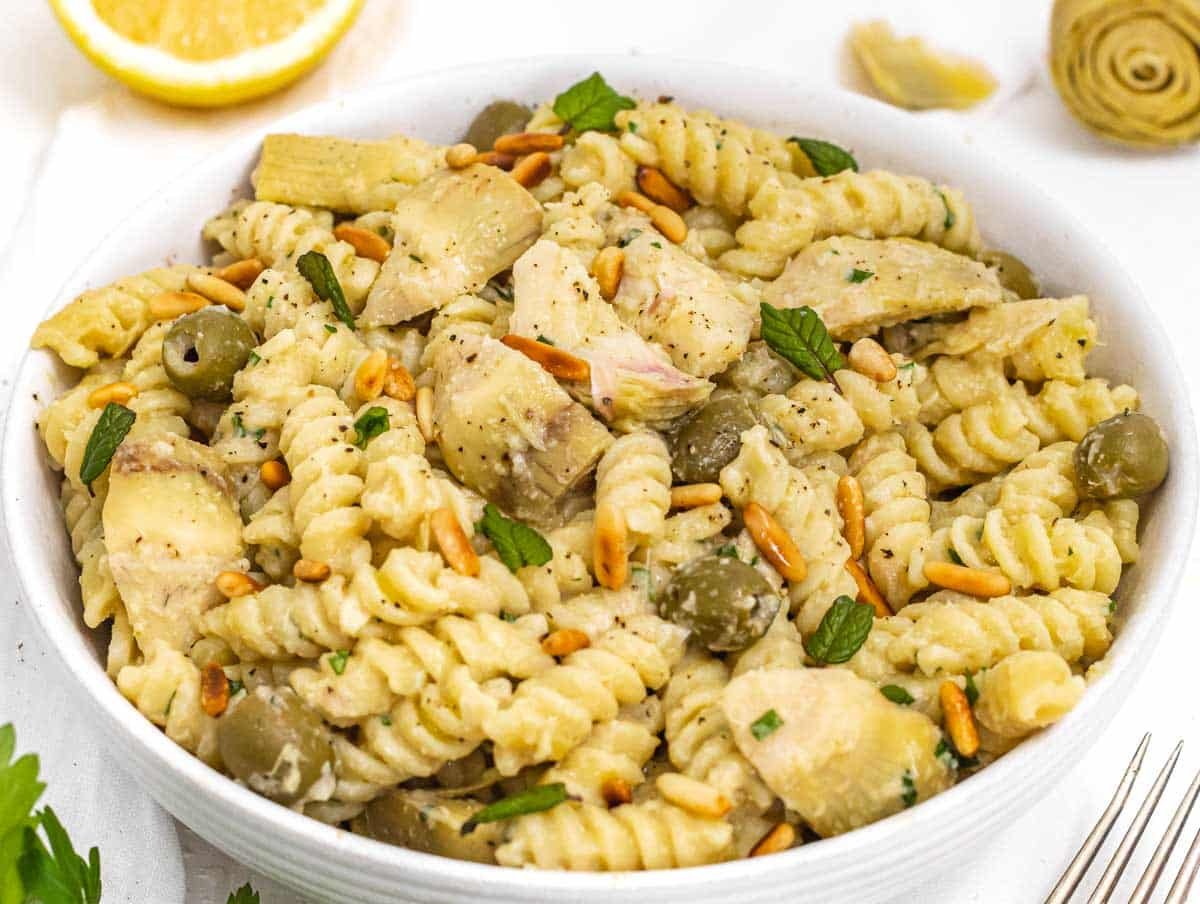 The secret to the creaminess of this artichoke pasta is to blend some of the artichokes and turn them into a velvety, tasty artichoke sauce.
Combine artichokes with fresh mint, olives, lemon, and toasted pine nuts; you will enjoy a rich and tangy pasta sauce.
This spring and summer-perfect pasta meal makes a delicious, family-friendly dinner.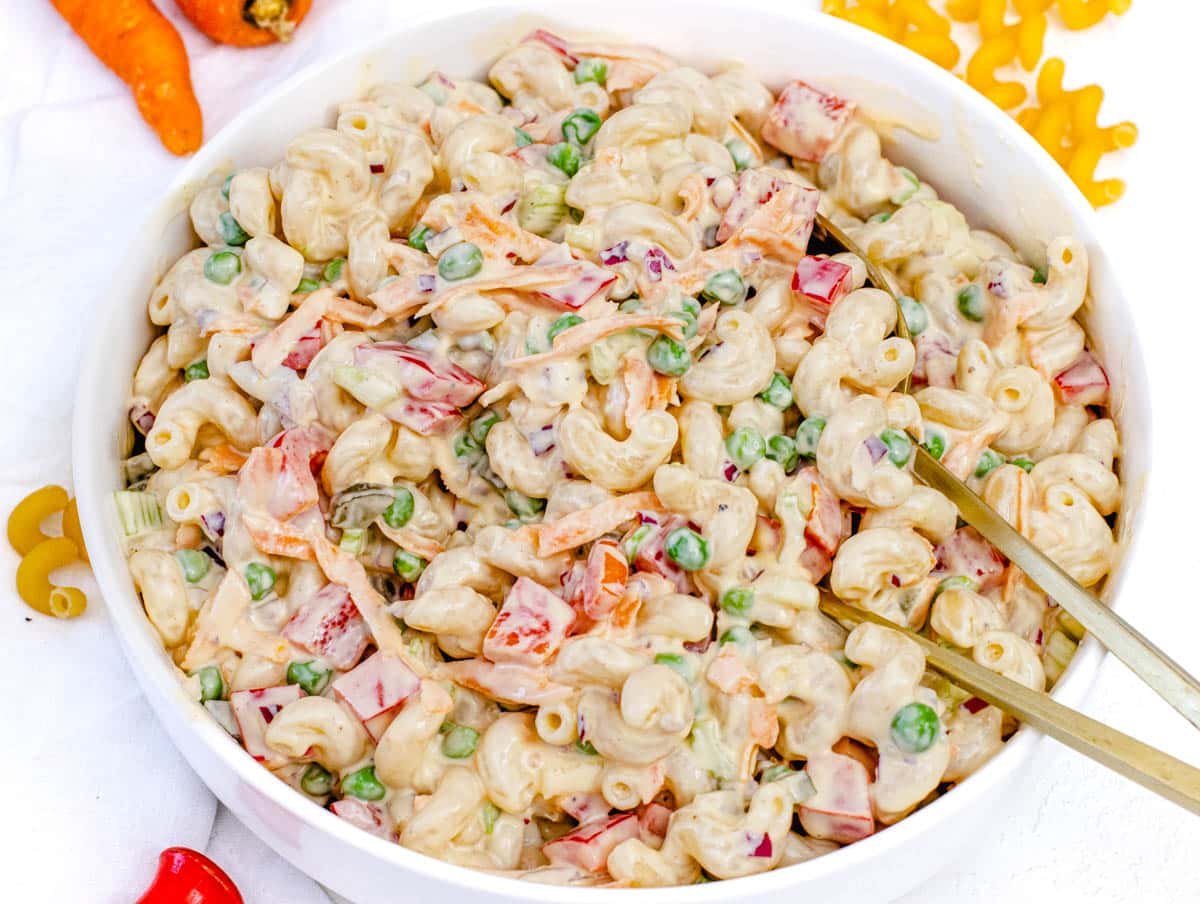 This creamy macaroni salad is the epitome of a perfect summer pasta salad, combining al dente macaroni with a luscious mayonnaise dressing.
The addition of protein-rich peas, crisp bell pepper, and olives adds a delicious mix of flavors. It's a creamy pasta dish for picnics and barbecues.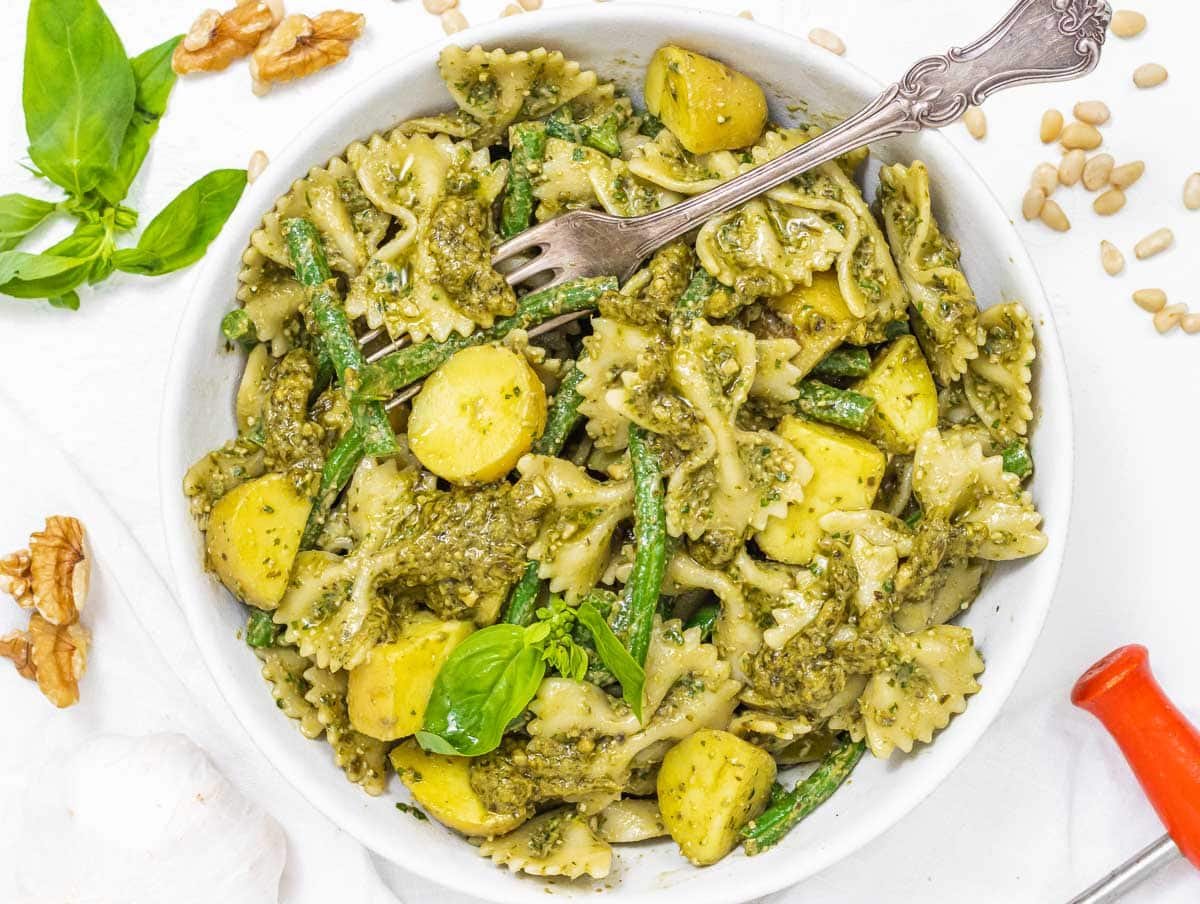 This green and nutty pesto pasta with green beans is an easy meal with herby and rich flavor.
Enjoy this pasta salad at a scenic picnic spot, as a comforting meal at home, or packed into a lunchbox. This 20-minute meal will satisfy and impress with its bright colors and indulgent taste.
What to serve with summer pasta
Try these wholesome and easy side dishes that pair perfectly with summer pasta:
For many more pasta ideas, check out our pasta category page.
Recipe
25 Summer Pasta Recipes
These 25 Summer Pasta Recipes are perfect for summer gatherings and as quick and nutritious meals. Try our creamy pasta salad with mayonnaise; it is a tangy, crunchy, creamy, and refreshing recipe you can make with your favorite pasta and crips veggies in about 20 minutes.
Ingredients
9

ounces

pasta

fusilli, rotini, elbows, etc.

1

can (15-oz)

cannellini beans

or chickpeas, rinsed

2

cups

red bell pepper

diced

1

heaping cup

cucumber

diced

½

cup

corn

canned

½

cup

olives

sliced

1

shallot

or red onion, sliced

1

rib

celery

chopped

½

cup

pickles

chopped

3

tablespoons

parsley

finely chopped

2

tablespoons

dill

finely chopped

¾

cup

vegan mayo

or regular mayo

½

lemon

juice and grated zest

¾

teaspoon

salt

or more to taste

¼

teaspoon

black pepper
Instructions
Cook the pasta in a large pot of salted boiling water as per package instructions.Drain it and rinse it under cold water for 15 seconds so it doesn't overcook and keeps al dente. While the pasta cooks, you can prep the veggies.

To a large bowl, add all ingredients.

Toss well until the pasta is thoroughly coated. Taste and adjust for mayo, salt, and lemon juice based on your preference.Serve immediately or store in the fridge covered with plastic wrap or in an airtight container.
Video Recipe
Creamy Pasta Salad with Mayonnaise
Notes
Nutrition information is an estimate for 1 serving of creamy pasta salad out of 6.
STORAGE
Make ahead: this creamy pasta salad is an excellent recipe to make ahead of time and bring to potlucks and picnics or for meal prep. However, I would not recommend making it more than 24 to 36 hours ahead of time because the veggies release water making your pasta salad soggy.
Refrigerator: keep leftovers in an airtight container in the fridge for up to 3 days. I recommend taking it out of the refrigerator 30 minutes before serving it for the best flavor.
Freezer: this recipe is not suitable for freezing.
ALSO ON THIS PAGE
Nutritional Values
Nutrition Facts
25 Summer Pasta Recipes
Amount per Serving
% Daily Value*
* Percent Daily Values are based on a 2000 calorie diet.
Did you like this recipe?
Leave us a comment below or find us on Instagram, YouTube, Pinterest, TikTok, and Facebook.
If you liked these summer pasta recipes, you might also enjoy: