This lentil soup is delicious, nutritious, and fulfilling, made with simple seasonal ingredients.

It's perfect as an everyday dinner, and as a make-ahead meal as you can store it for up to 4 days in the refrigerator, and for up to 3 months in the freezer.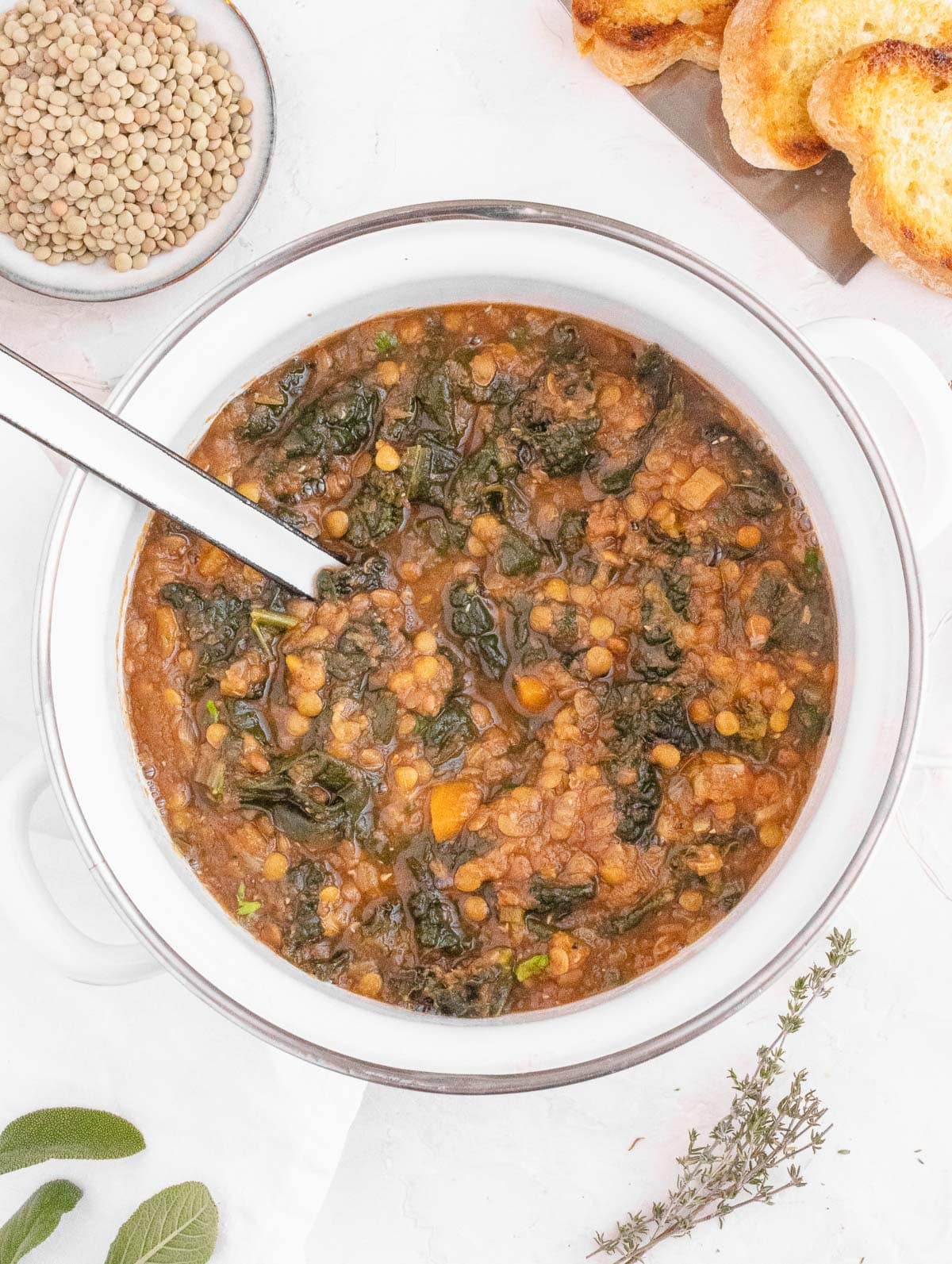 On this page:
What to expect
There are many ways of making lentil soup and most countries have their own version of it, seasoned with their local spices and herbs.

Our lentil soup is made with simple ingredients and herbs such as rosemary and thyme.

We also add greens to the soup to make it even more delicious. Any kind of seasonal greens works, from spinach to kale, to cabbage.

The result is a creamy, earthy, and comforting meal that is easy to make and also perfect to make ahead as it keeps well for a few days.
We don't add any meat or dairy to this recipe, so this is basically a vegan lentil soup.
Ingredients and substitutions
Flavor base: we use olive oil, onion, celery, carrot, and leek to make a flavor base that will make the soup very tasty. This is called a soffrito in Italian, or mirepoix in french, and it really lifts the flavor of the soup.

The leek is optional, but it adds loads of character to the soup so we recommend it.

If you prefer, you can make this flavor base without oil. Instructions on how to do that are below.

Herbs: we use rosemary, thyme, sage, and bay leaves to infuse the soup with a somewhat Mediterranean aroma. Use all or some of those herbs.

You can even use just rosemary if that's all you have at hand. Fresh or dry herbs are both ok.

Lentils: for this lentil soup we recommend using brown or green lentils because they keep their shape when cooked. Red lentils for instance would get all mushy and are not recommended for this recipe. They are great in our lentil curry though.

When cooking with lentils we always use dry lentils. If you have less time you can replace them with canned ones and reduce the cooking time by half.

Tomatoes: we use crushed, or diced tomatoes, canned, but you could also use some fresh ripe tomatoes, chopped up.

Vegetable stock and water: lentils need quite a bit of water to cook, so we use both vegetable stock and water. The vegetable stock adds plenty of flavor to the soup.

Leafy greens: you can use anything from spinach, lacinato kale, curly kale, broccoli, bok choy, chard, Chinese cabbage, savoy cabbage, and more. In this specific recipe, we use spinach and lacinato kale.
Instructions
Start with the flavor base
To a large pot add two tablespoons of olive oil, coarsely chop one onion, one stalk of celery, and one carrot, and add them to the pot.

Gently fry on medium heat, stirring occasionally, for about 5 minutes.
To make lentil soup oil-free, add the coarsely chopped onion, celery, and carrot to the pot.

Stir on medium to low heat almost constantly for 3 to 5 minutes until the vegetables release their natural oils and start browning.

Now add chopped leek and stir. This is optional but we love the flavor of leek in soups, so we almost always recommend it.
Next, add the aromatic herbs. We use a couple of sprigs of thyme and rosemary, some sage leaves, and one or two bay leaves.

To make it easier to remove the herbs for the soup, tie them together with kitchen twine. This is called bouquet garni and you can attach it to the side of the pot.

This way the herbs are going to infuse our soup with their aroma, without getting lost in it.
Add the lentils
Now add 4 cups or 1 liter of vegetable stock to the pot, 2 cups or half a liter of water, and 1 small can of crushed tomatoes which is about 15 ounces or 400 grams.

Rinse the can with some water and add that to the pot too.

Put 1 cup or 220 grams of lentils in a strainer, then have a quick look for small stones that could be hidden with the lentils.

Rinse the lentils under running water and add them to the pot.

Tip: the reason we rinse lentils is to make sure there are no foreign objects such as stones, soil, and dust that could end up in your soup.
Season with a teaspoon of salt and some pepper and bring the soup to a low simmer.

Partially cover the pot with a lid and let cook for about 30 to 45 minutes, depending on the type of lentil you used.

After 30 minutes, when the lentils are almost cooked, take out the bouquet garni, then blend some of the soup.

I like to use an immersion blender to do that, we'll need just a few pulses to make the soup extra creamy.
When you are happy with the consistency of the soup, add your favourite greens.

You can literally use almost any leafy greens such as spinach, lacinato kale, curly kale, broccoli, bok choy, chard, Chinese cabbage, savoy cabbage, and more.

Here I am using a mix of fresh spinach and lacinato kale since they are in season and are delicious with lentils.
Tear the greens apart with your hands before adding them to the soup.

I add about 14 ounces or 400 grams of greens. Stir and let cook for about 10 minutes, till the greens are soft.

Ideally, let the soup cool down a little before serving it with some toasted bread rubbed with garlic, some freshly chopped parsley, and optionally a drizzle of extra virgin olive oil.
Variations
Sweet potatoes and lentil soup: to make this lentil soup even more fulfilling, try adding 2 medium sweet potatoes, peeled and chopped in small dice.

They'll cook in about 30 to 40 minutes, so you can add them with the lentils. Regular potatoes work too.

Mixed vegetables and lentil soup: for an even more varied and springy flavor you can add zucchini, green beans, and some extra carrot to the soup.

Add them with the lentils as they'll need about 30 minutes to cook.

Grains and lentil soup: whole grains such as barley, whole oats, whole grain rice, and even pasta are great mixed into the lentil soup and make this dish even more complete and fulfilling.

You can try cooking the grains directly in the soup as most grains take about 30 to 45 minutes to cook (pasta takes a lot less than that).

However, if you don't want to risk it, you can boil your grains al dente in a separate pot, then add them to the lentil soup 10 minutes before it's done.
Get ahead
This lentil soup is the perfect recipe to make ahead of time as its flavor actually improves with time.

So the next day the soup will be richer, creamier and more flavorful.

We always make a big batch, often doubling the recipe, and store half of it in the refrigerator and half of it in the freezer.
Serving suggestions
This soup is one of our favorite easy dinners, and it's super versatile:
Serve it with bread, such as focaccia bread or flatbread, it'd be a great way to sop out all the leftovers from your bowl!
Use the leftovers as an easy lunch the day after. We love leftover lunches, so curries, soups, and tomato stews are always welcomed and quickly reheated in our microwave.
Similar recipes
By now, you've probably realised that we are big on lentils and legumes in our family! If you want more inspiration for cooking with legumes, have a look at these healthy recipes:
Do you have a legume favorite meal in your home? We'd love to hear, let us know in the comments below!
Storage
Store this vegan lentil soup in an airtight container in the refrigerator for up to 5 days.

You can also freeze the soup for up to 3 months, then thaw it directly in a pot with a dash of water, or in the microwave. Do not thaw and re-freeze multiple times.
Recipe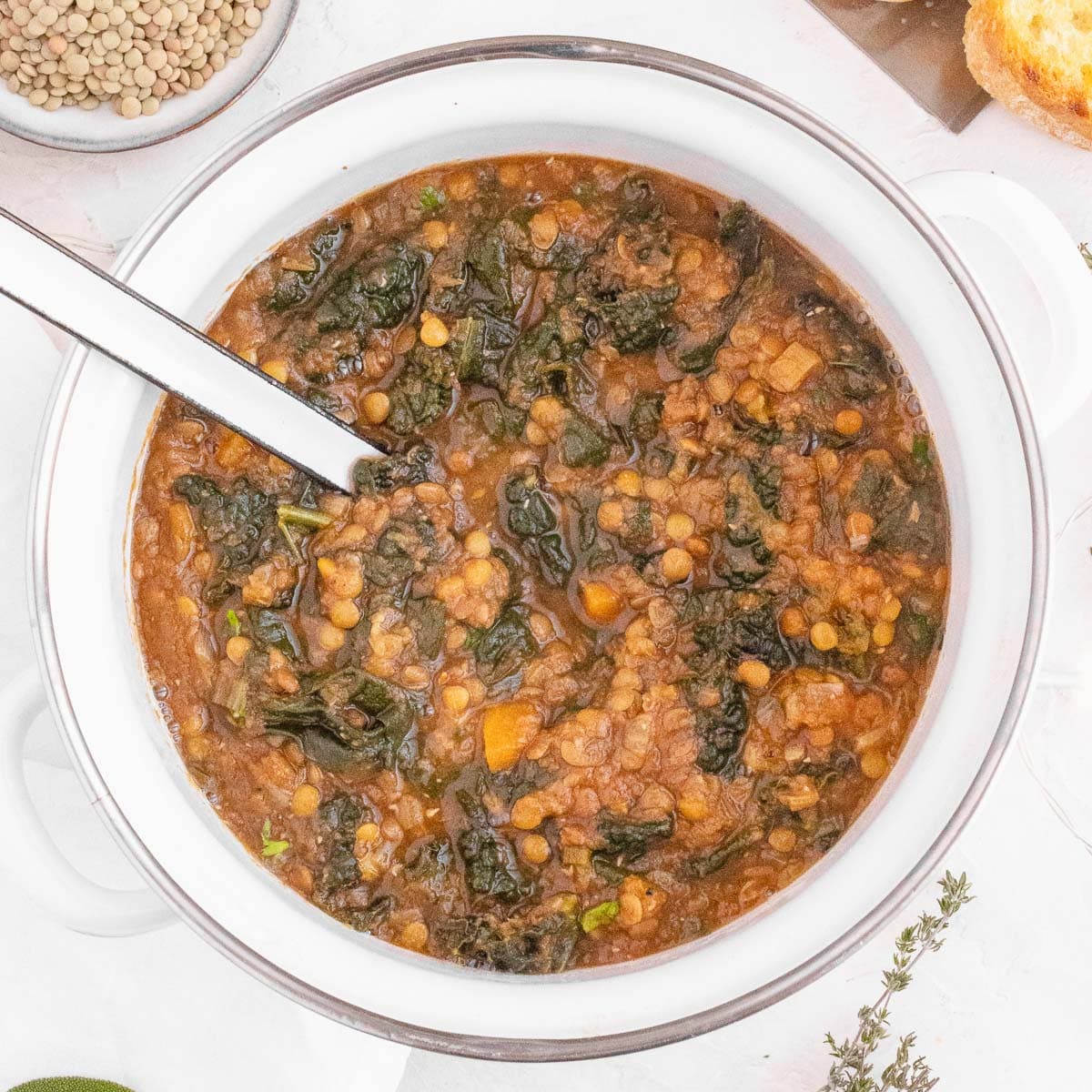 Lentil soup
This lentil soup is delicious, nutritious, and fulfilling, made with simple seasonal ingredients.
Equipment
Immersion blender

if you want your soup extra creamy
Ingredients
2

tablespoons

olive oil

1

medium

onion

1

stalk

celery

2

medium

carrots

½

leek

(optional)

2

sprigs

rosemary

(optionally you can add some leaves of sage, one bay leaf, and thyme)

1

cup

green lentils

4

cups

vegetable stock

2

cups

water

or more as needed to fully cook the lentils

1

small can (15 ounces)

crushed tomatoes

10

ounces

leafy green of choice

(kale, spinach, chard, bok choi, savoy cabbage, Chinese cabbage)

1

teaspoon

salt

2

twists

pepper
Instructions
To a pot, warm up the olive oil, then add chopped onion, celery, and carrot.

Gently fry for 5 minutes, then add the sliced leek and keep frying for another couple of minutes.

Tie the herbs together with kitchen twine, making a bouquet garni, and add them to the pot. I use rosemary, thyme, sage and bay leaves.

Add vegetables stock, water, and crushed tomatoes. Rinse the lentils under running water, and add them to the pot.

Season with salt and pepper, stir, partially cover with a lid and simmer for about 30 minutes, till the lentils are almost cooked.

Blend some of the lentils with an immersion blender to make the soup creamer.

Add chopped greens. I use spinach and kale. Stir, and let cook till both lentils and greens are soft. It should take another 10 to 15 minutes.

Let the soup cool down a little before serving it with some toasted bread rubbed with garlic and a drizzle of extra virgin olive oil.
Video Recipe
Nutritional Values
Nutrition Facts
Lentil soup
Amount Per Serving
Calories 311
Calories from Fat 72
% Daily Value*
Fat 8g12%
Potassium 998mg29%
Carbohydrates 46g15%
Protein 16g32%
Vitamin A 12931IU259%
Vitamin B6 1mg50%
Vitamin C 93mg113%
Vitamin E 2mg13%
Vitamin K 519µg494%
Calcium 167mg17%
Folate 274µg69%
Iron 5mg28%
Manganese 1mg50%
Magnesium 105mg26%
Zinc 3mg20%
* Percent Daily Values are based on a 2000 calorie diet.
Did you like this recipe?
We are not much on Instagram, Facebook, and Pinterest. Leave us a comment below instead, it would mean the world to us 🙂