This creamy vegan tomato risotto is a staple simple of Italian home cooking. The rice is slowly cooked into a rich tomato sauce.

We use a traditional Italian technique, but with nutritional yeast, vegan cheese, and extra virgin olive oil. The result is a rich, creamy, vegan risotto that tastes 100% authentic and Italian.
On this page:
Check out our best vegan Italian recipe collection!
Ingredients & substitutions
Risotto rice: not all types of rice are suitable for risotto. The rice variety you should use are Carnaroli, Arborio, Vialone Nano, Baldo and Roma. All of them do a really good job, if worked properly, at keeping al dente, and creamy, thanks to their high content of starch.

But let's be honest, sometimes it is hard to find those varieties outside of Italy. So if you can't, just get rice that says "risotto rice" on the package. If you follow our tips you'll still get a great creamy vegan tomato risotto.

Homemade tomato sauce: we make this with whole canned peeled tomatoes, onion, carrot, celery, and salt.

White onion: to build flavor at the start of the risotto preparation.
Vegetable broth: for risotto preparations, we recommend making your own vegetable broth by boiling together carrot, celery, onion, a couple of bay leaves and some coarse sea salt. Pre-made vegetable bouillon won't yield the best risotto in our experience.
Extra virgin olive oil, nutritional yeast, and vegan cheese: we use them to "mantecare" this creamy vegan tomato risotto at the end. They work perfectly. The only thing is, vegan cheese often comes in shredded from. You need to take it and blitz it up in a blender to turn it into a grated-like consistency. Similar to grated parmesan cheese. It will melt a lot better in the risotto.
Equipment
Blender: you need an immersion hand blender to blend the tomato sauce and make it smooth. You also need to blend your shredded vegan cheese with a traditional blender, to turn it into a grated-parmesan-like consistency.
Tips
Don't wash the rice
When you make risotto you should never wash the risotto rice. Washing it will remove the starch, and that will result is a risotto with less flavor and less creamy.
Use rice made for risotto
Arborio, Vialone Nano, Carnaroli, Roma, or Baldo. If you can't find these varieties, go for generic risotto rice. Never use other types of rice to make risotto - like basmati, wild rice, wholegrain, etc - it won't work.
Toast the rice
The first step of making risotto should always be toasting the rice. Toasting prepares the rice for the long cooking time ahead. First it enhances its flavor. Second it makes it more resistant to the cooking broth so that it releases the starch slower, making the final dish more creamy. Finally, it helps the rice grains to keep their shape and keep al dente.
Dry toast
In most risotto preparations the rice is toasted in a soffritto of olive oil (or butter) and onion. This practice is outdated, in the sense that in the majority of cases, it is not necessary. We believe - and with us some of the most acknowledged risotto chefs of Italy - that the rice for risotto should be toasted dry, on a hot pan, for a few minutes. No oil, no butter, no onion. Why? Because toasting in a soffritto of fat and onion was done in the past to cover the taste of the jute fabric, used to transport the rice from one place to the other. Today this is not the case, and we don't need to cover the rice flavour the same way.
Add broth and keep stirring
Risotto requires attention. Add broth, two ladles at a time (max), then keep stirring often, almost the whole time. When the broth has almost completely evaporated, add two more ladles. Stirring helps the rice release the starch, which then will help with the creaminess of the dish.

Also, if you stop stirring, there is a very high risk that the rice will stick to your pan. If it does, the integrity of the rice grain will be compromised, and the rice won't retain its bite and consistency. It will become mushy and soggy. You'll get rice pudding, not risotto.
Develop creaminess
Most people believe that the creaminess of risotto is given by adding butter and cheese at the end. And so, when they are close to serving the risotto, and the rice doesn't have the desired creaminess, they just add a truckload of butter and cheese to it to make it creamy.

This is not entirely correct. Yes, you'll get some artificial creaminess this way. But the rice will be fat and greasy, and you'll want to go take a nap after eating it. The butter and the cheese will overpower the actual rice and theme of the risotto. Of course, if you are trying to make a butter and cheese risotto, then go ahead. But in most cases butter and cheese are not necessary, or at least, not in the quantities that people use them these days.
In most of our creamy vegan risottos, we prefer a good quality extra virgin olive oil to add some depth to the dish, and a good quality nutritional yeast to add some sapidity and umami.

The real reason why risotto gets creamy is because of its starch. While cooking, the rice releases starch gradually, then when it cools down, it tries to absorb it back, leaving behind a cream. So while cooking we want to enhance this process rather than just adding butter.

As a first step, it's most important to get a good risotto rice. Then we need to cook it right. Toasting it. Stirring it. Adding broth a little at a time. If you follow our recipe and tips, you'll get a vegan risotto that is creamier than most.

As a final tip if you don't find a great risotto rice that has a naturally high content of starch that will yield the creamiest risotto, then we recommend adding 1 teaspoon of rice starch or corn starch towards the end. Try and let us know what you think.
Questions & answers
IS RISOTTO HEALTHY?
Risotto made the old traditional way is NOT a healthy dish as it is loaded with oil, butter and cheese. Our creamy vegan risotto on the other hand is very healthy. It's still made following the traditional Italian method, but it has half the calories of traditional risotto, it's made without cheese and without butter, and it's as creamy and tasty as the non vegan version.
IS ARBORIO THE SAME AS RISOTTO?
Arborio is one variety of rice that can be used to make risotto due to its short and starchy grain. It is possibly the most popular choice to make risotto, both in Italy and abroad. Other varieties are Carnaroli, Vialone Nano, Roma, and Baldo.
WHAT CAN YOU PUT IN RISOTTO?
Risotto and vegan risottos can be made with anything you want. Just like pasta sauces, risotto can be made with pretty much any ingredients. We suggest following the seasons and get creative. In spring try asparagus risotto. In summer, try lemon risotto. In autumn try mushroom or pumpkin risotto. In winter try saffron or tomato risotto.
WHICH RISOTTO RICE IS BEST?
Arborio, Carnaroli, Vialone Nano, Roma and Baldo are the best choices to make risotto.
IS JASMINE RICE GOOD FOR RISOTTO?
No. Jasmine rice is not good for risotto because the grain is too thin and long (it will break while cooking), it lacks bite, and also it doesn't contain enough starch to make the dish creamy.
Variations
You can use your imagination to make any-flavour risotto. It is such a versatile dish, that's why we love it so much. Once you've learned the basics, then go ahead and customise following your creativity. Here some of our favorites:
Supplì di riso, a quintessential Italian street food, traditionally made with leftover rice, breaded and deep-fried, with a heart of melted mozzarella cheese. Our vegan supplì are as tasty, crispy, messy, melty, scruffy, and as Italian as it gets. They can be enjoyed as an appetizer, snack, or even as a main dish.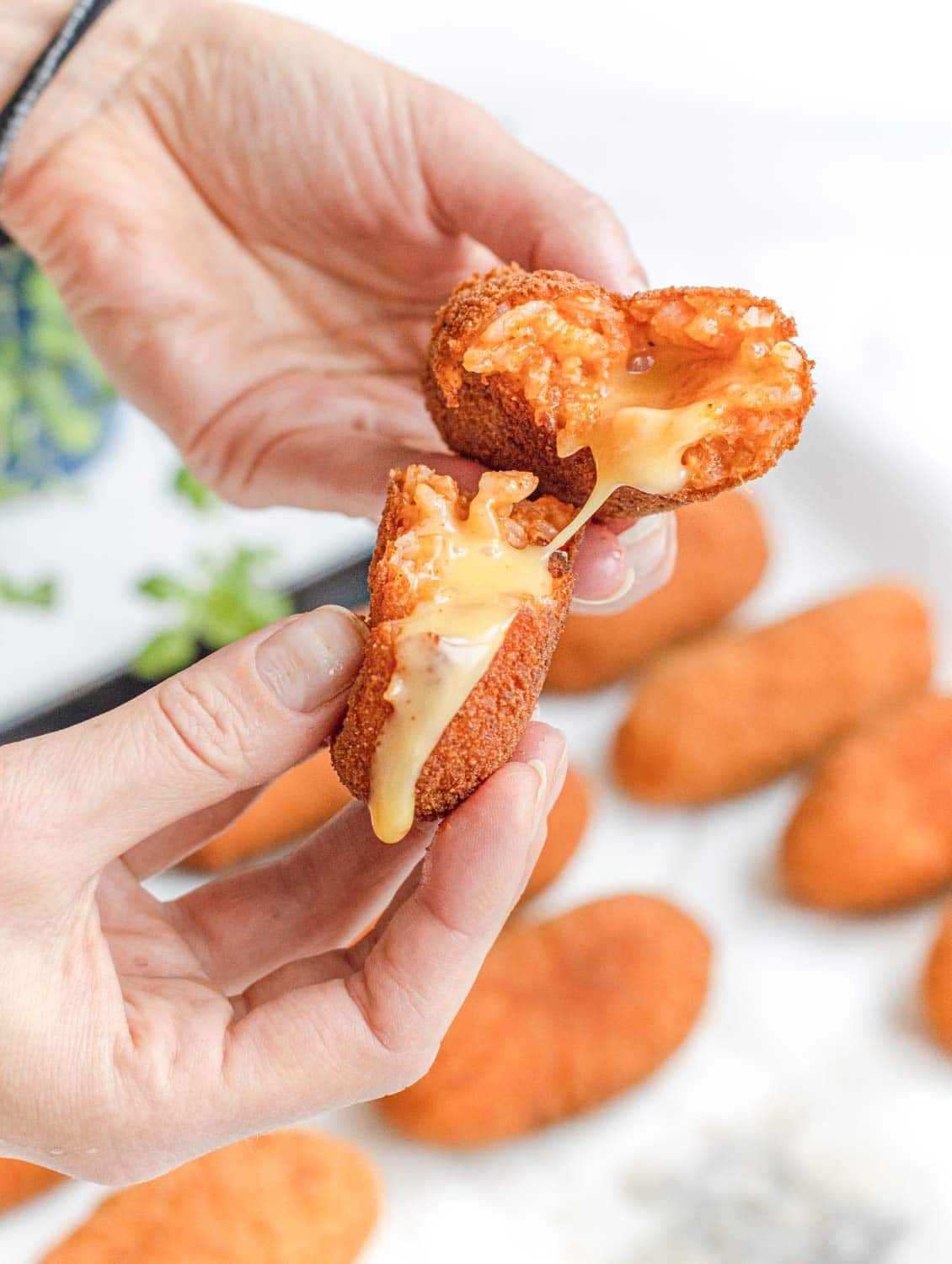 This is a quick risotto that works with most veggies and can be made for a quick but delicious dinner in just about 20 minutes.
Call it saffron risotto, yellow risotto, or risotto alla Milanese. This creamy vegan version of this beautifully golden risotto will make you fall in love with saffron, and with risotto!
Asparagus risotto is creamy to perfection, light, comforting, and nutritious. If you love asparagus, you'll love it even more with risotto.
Refreshingly green and springy, this zucchini risotto is endlessly creamy. Plus, it's a healthy way of adding more greens to your meal.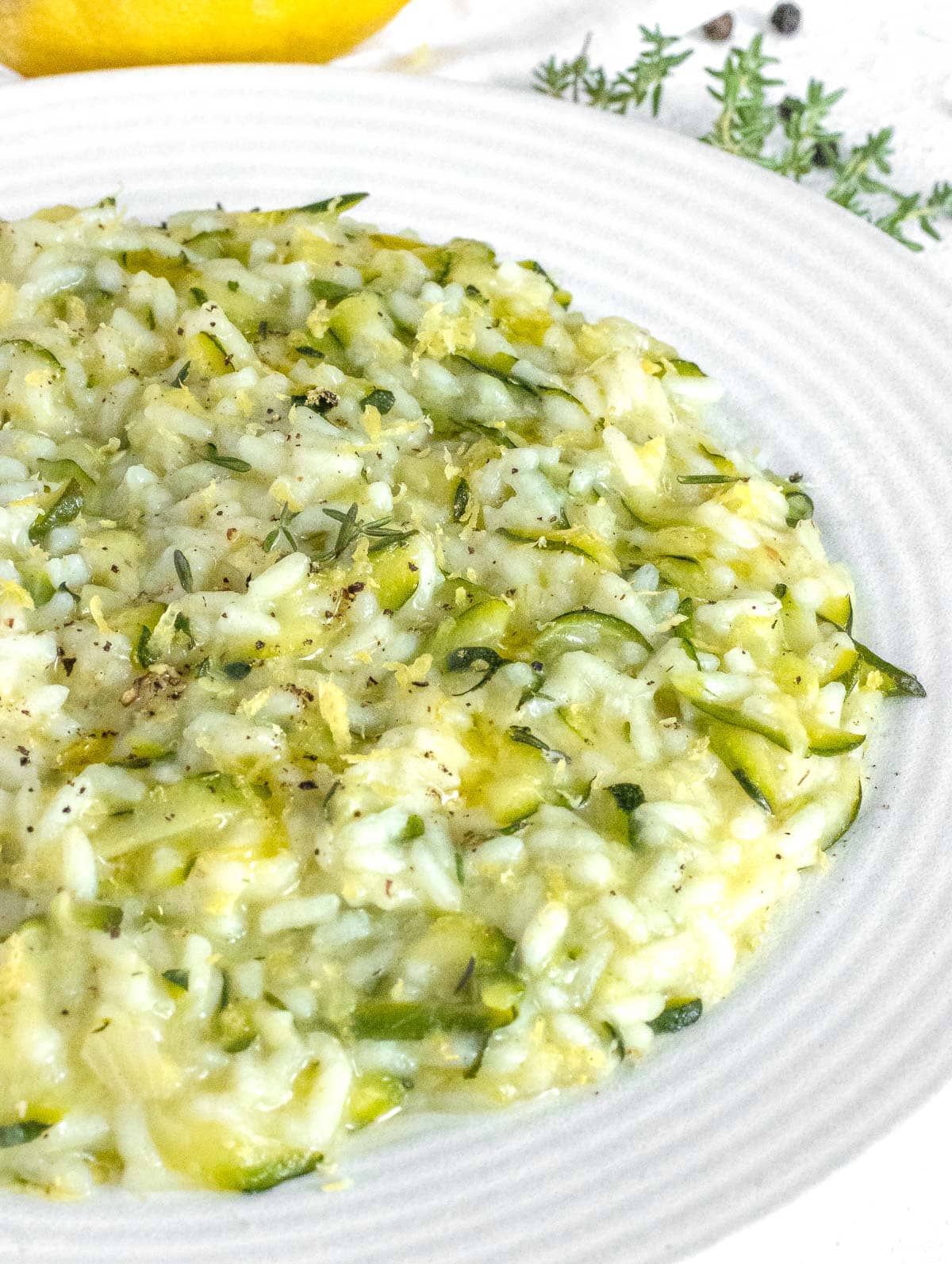 Whole grain oats are used instead of rice, for a richer, fuller, and more nutritious version of risotto. We combine it with peas, for probably the creamiest dish you'll ever eat.
Storage
This creamy vegan tomato risotto is best eaten a few minutes after it's made. If you have leftovers, store them in the fridge, in an air-tight container, for up to a couple of days. Then warm it up in a pan with a dash of water.

If you have a lot of leftover risotto, consider turning it into either a riso al salto, or into Supplì di Riso, two delicious traditional Italian dishes made with leftover risotto rice.
For many more dinner ideas, make sure to check out our mains category page.
Recipe
Creamy Vegan Tomato Risotto
This creamy vegan tomato risotto is a staple simple of Italian home cooking. The risotto rice is slowly cooked into a rich tomato sauce. Then "mantecato" following the traditional Italian technique, but with nutritional yeast, vegan cheese, and extra virgin olive oil. The result is a rich, creamy, vegan risotto that tastes 100% authentic and Italian.
Equipment
Immersion hand blender

Blender
Ingredients
320

g

risotto rice

carnaroli, vialone nano, arborio

570

g

whole peeled canned tomatoes

pelati

1½

liters

water

2

stalk

celery

2

carrot

2

white

onion

2

bay leaves

(optional)

½

tablespoon

coarse sea salt

15

leaves

basil

1

teaspoon

salt

1½

tablespoon

nutritional yeast

60

g

vegan cheese

(blended)

2

tablespoon

extra virgin olive oil
Instructions
Add your vegan cheese to a blender and blend until you reach a consistency that resambles that of grated parmesan cheese. This step is very important to help the vegan cheese melt in the risotto and get a super creamy consistency. Shredded cheese will not work the same. You want a blended - parmesan like - consistency.
Make the broth
In a pot, add the water, 1 onion, 1 celery stalk, 1 carrot, 2 bay leaves and ½ tablespoon of coarse sea salt. Bring to a boil, then let simmer on low heat for the whole duration of this recipe.TIP: cut the onion in half and the carrot and celery in three pieces.
Make the tomato sauce
Cut ½ onion, 1 carrot, 1 celery stalk into large chunks. Then add them to a pot with the whole peeled canned tomatoes, and 1 teaspoon of salt. Turn on the heat and let simmer on medium to low heat for 20 minutes. Stir occasionally. Towards the end add the basil leaves.

With an immersion hand blender, blend the tomato sauce until smooth. Keep simmering on low heat, stirring occasioinally.
Make the risotto
On a pan, add the risotto rice. Turn the heat on and toast the rice for 2 to 3 minutes. Move the rice around the pan continuously while you toast it. The rice is toasted once you start smelling its aroma. Remove the rice from the hot pan and set aside in a large bowl.TIP: the best way to toast the rice is without any fat or liquid. Just on a hot pan.TIP: do NOT use a non-stick pan to make risotto.

In the same pan, add 1 ladle of vegetable broth, then the remaining ½ onion, chopped very finely. Let the onion cook in the broth on low heat, until it becomes translucent. It can take from 5 to 10 minutes. Add more broth if necessary. Do not let the onion carameize or change colour.

Turn the heat to high, then quickly add in the rice and stir fast with a wooden spoon to incorporate the rice with the onion. Keep stirring on high heat for 30 seconds.

Then add 2 ladles of vegetable broth to the hot pan with the rice. Keep stirring to spread the broth and the rice across the pan evenly. Now turn the heat to medium-low and bring the rice to a gentle simmer.

Add the tomato sauce to the rice. Keep stirring.

When the liquid in the pan has almost evaporated, add two more ladles of vegetable broth. Keep stirring often, gently, and accross the whole pan, from the sides to the centre, almost for the whole time.

Repeat this step - adding the broth two ladles at a time - until the rice is cooked al dente. That is, 2 minutes less than it says on your rice package. A little hard on the inside.

Take the pan off the heat and let the rice rest for 30 seconds. The rice should not be too thick, nor to liquid. It should be creamy. Off the heat, add the nutritional yeast, the extra virgin olive oil and the vegan cheese all at once. Stir fast for about 1.5 minutes, or until everything melts together. At this point the risotto should be creamy and ready to be served.

Scoop about 1½ to 2 ladles of the risotto per serving plate. Place the risotto in the middle of the plate and let it be. Do not flatten it with your ladle.
Nutritional Values
Nutrition Facts
Creamy Vegan Tomato Risotto
Amount Per Serving
Calories 448
Calories from Fat 99
% Daily Value*
Fat 11g17%
Potassium 535mg15%
Carbohydrates 78g26%
Protein 9g18%
Vitamin A 5418IU108%
Vitamin B6 1mg50%
Vitamin C 16mg19%
Vitamin E 2mg13%
Vitamin K 23µg22%
Calcium 84mg8%
Folate 209µg52%
Iron 5mg28%
Manganese 1mg50%
Magnesium 44mg11%
Zinc 1mg7%
* Percent Daily Values are based on a 2000 calorie diet.
Did you like this recipe?
We are not much on Instagram, Facebook, and Pinterest. Leave us a comment below instead, it would mean the world to us 🙂