These easy and weeknight-friendly recipes with broccoli are bright, delicious, and healthy.
Whether you feel like pasta, soup, stir fry, or need to use up broccoli leftovers, there is plenty of choice with these broccoli ideas.
Broccoli often gets a bad reputation due to its bland taste and texture. Yet, if cooked properly, you can turn this nutritional vegetable into tasty, elegant, and crowd-pleasing dishes.
Take your pick from 10 easy and wholesome broccoli dishes that will quickly upgrade your dinner with extra greens.
Broccoli pasta is a creamy and delicious pasta dish you can make with 6 simple ingredients in about 20 minutes for a quick weeknight dinner. Eat it as is, or serve it with a fresh green side salad for added crispness to your meal.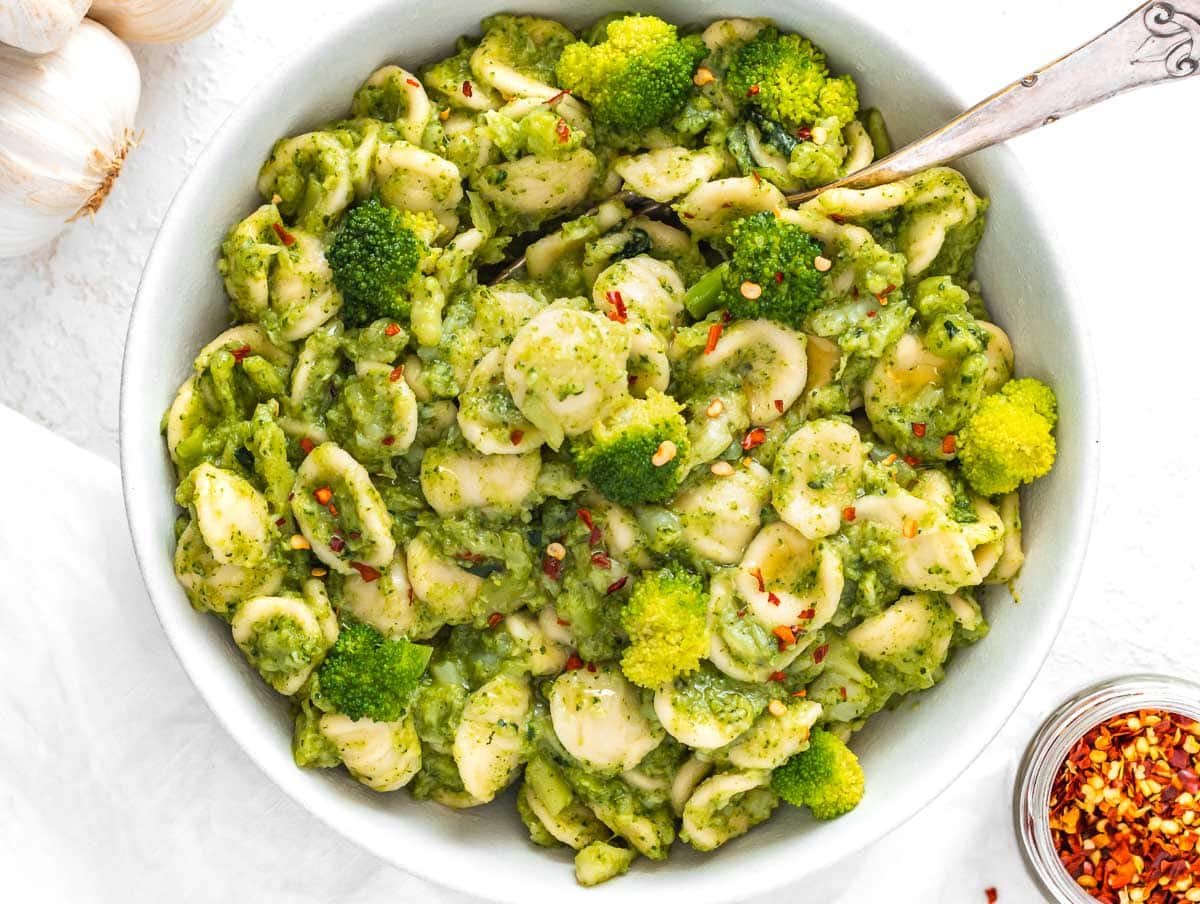 Roasted broccoli is a tender-crisp side dish of broccoli florets roasted in the oven and seasoned with a tasty lemon-garlic dressing. Sprinkle with shaved almonds, vegan cheese, or parmesan cheese for an extra indulgent side.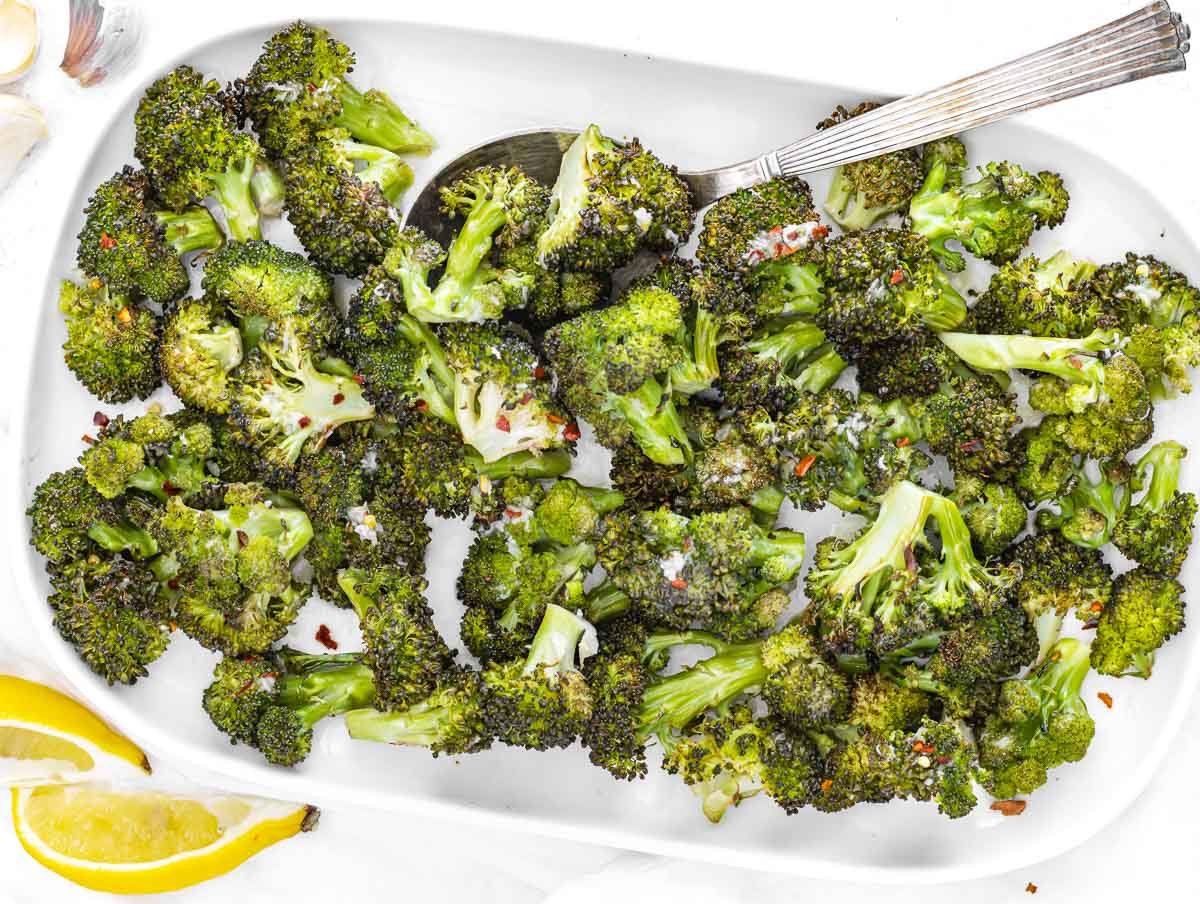 Learn how to make a delicious and creamy broccoli soup that is tasty and nourishing without cheddar or cream. Top the soup with homemade croutons or roasted chickpeas for a complete and satiating dinner idea.
This vegan frittata is crisp on the outside, soft and moist on the inside, and for some reason, it feels like eating a regular egg frittata.
Roasted broccoli and cauliflower is a great side dish you can make with almost no effort and a few ingredients for weeknight dinner or the holidays.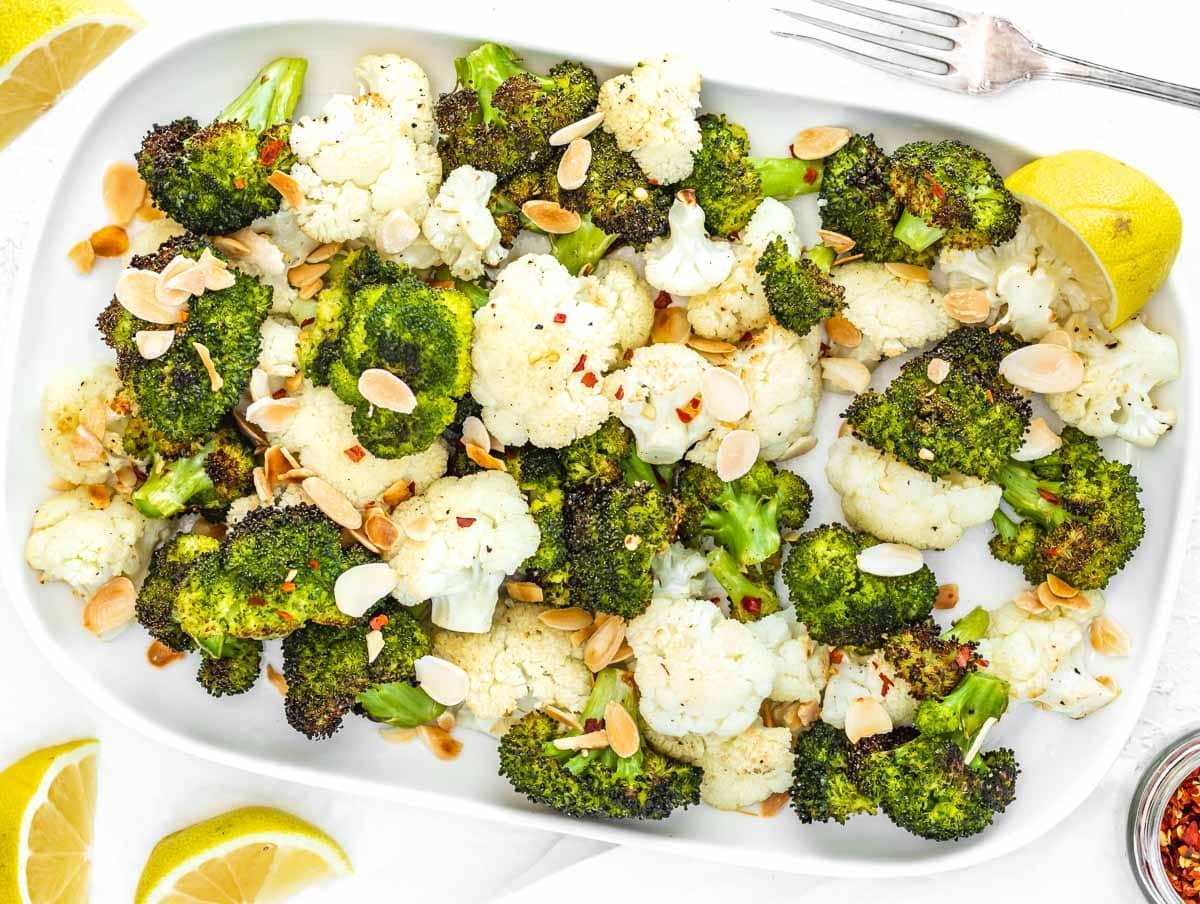 Here's an easy and versatile 30-minute tofu stir fry with your favorite veggies and a tasty sauce that makes it better than a takeaway.
Here's an easy, creamy, cheesy cauliflower Alfredo sauce; its velvety smooth texture pairs perfectly with chewy fettuccine pasta.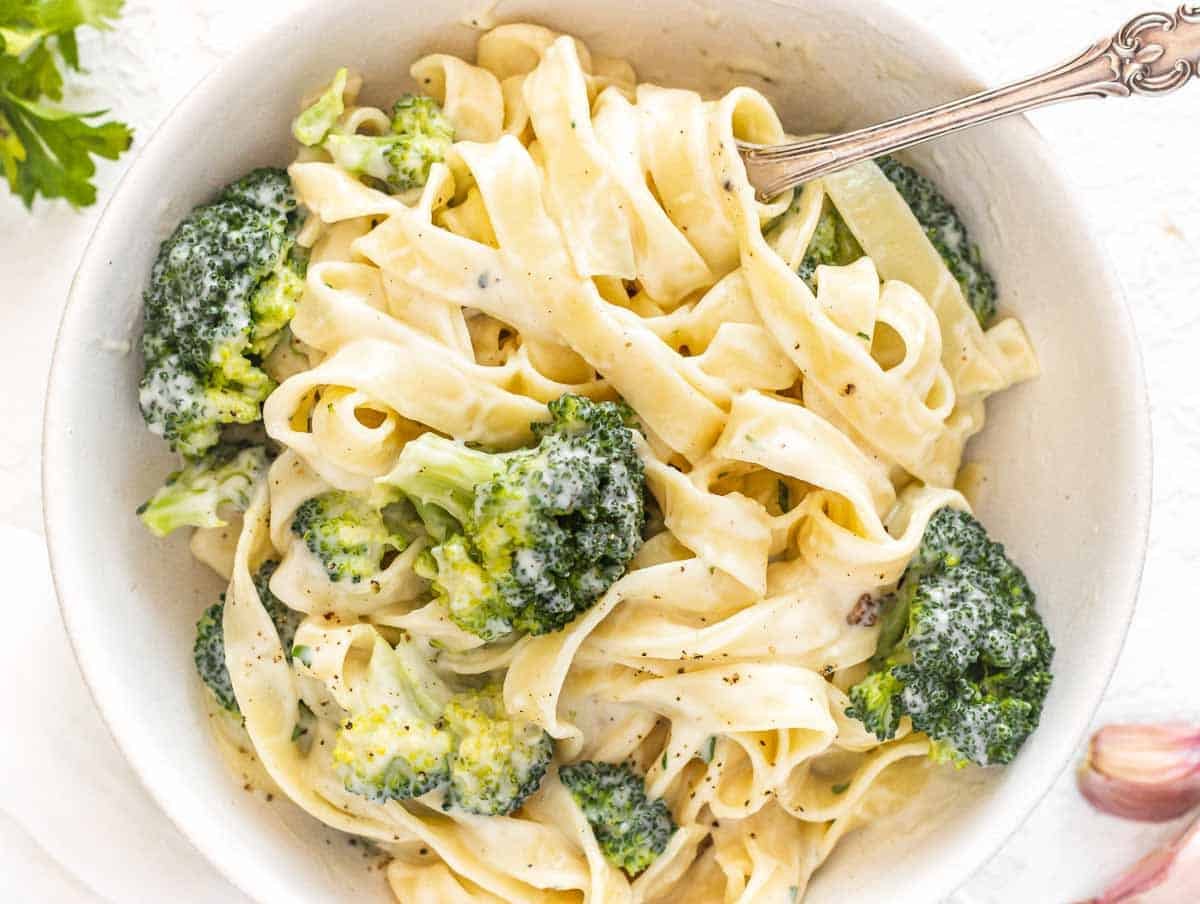 This tofu soup is quick, tasty, and easy. You can make it in 20 minutes, with simple ingredients and seasonal veggies any time of the year.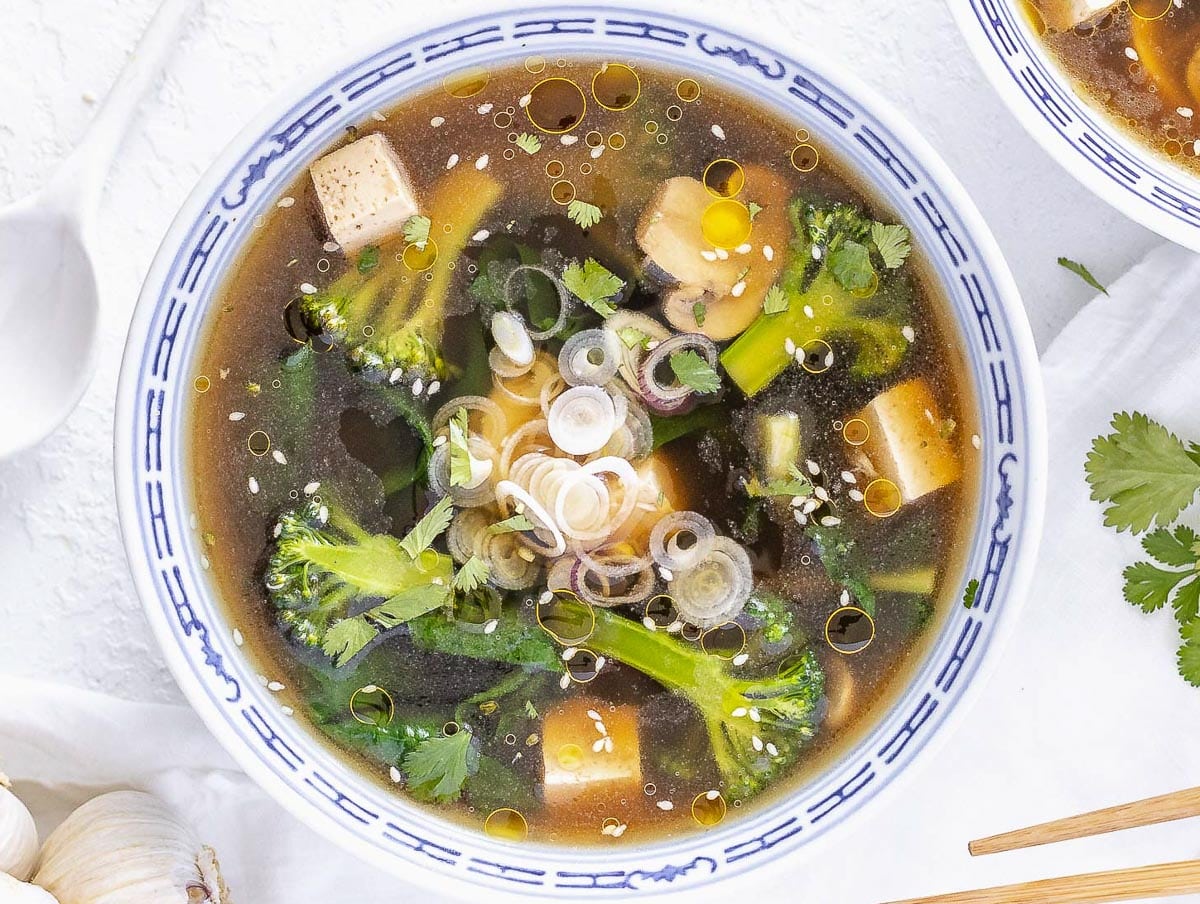 Lentil curry with broccoli florets is an easy, tasty, and nourishing meal you can make in one pot with simple ingredients in about 30 minutes. Our recipe is simple yet satisfying and flavorful, and pairs perfectly with white rice, roti bread, or Naan bread.
Garlic and oil pasta is an Italian pasta recipe that originated in the south of Italy, this variation with broccoli is extra creamy and with a healthy dose of added greens. It's a quick dinner idea ready in 15 minutes with ingredients you probably already have in your kitchen.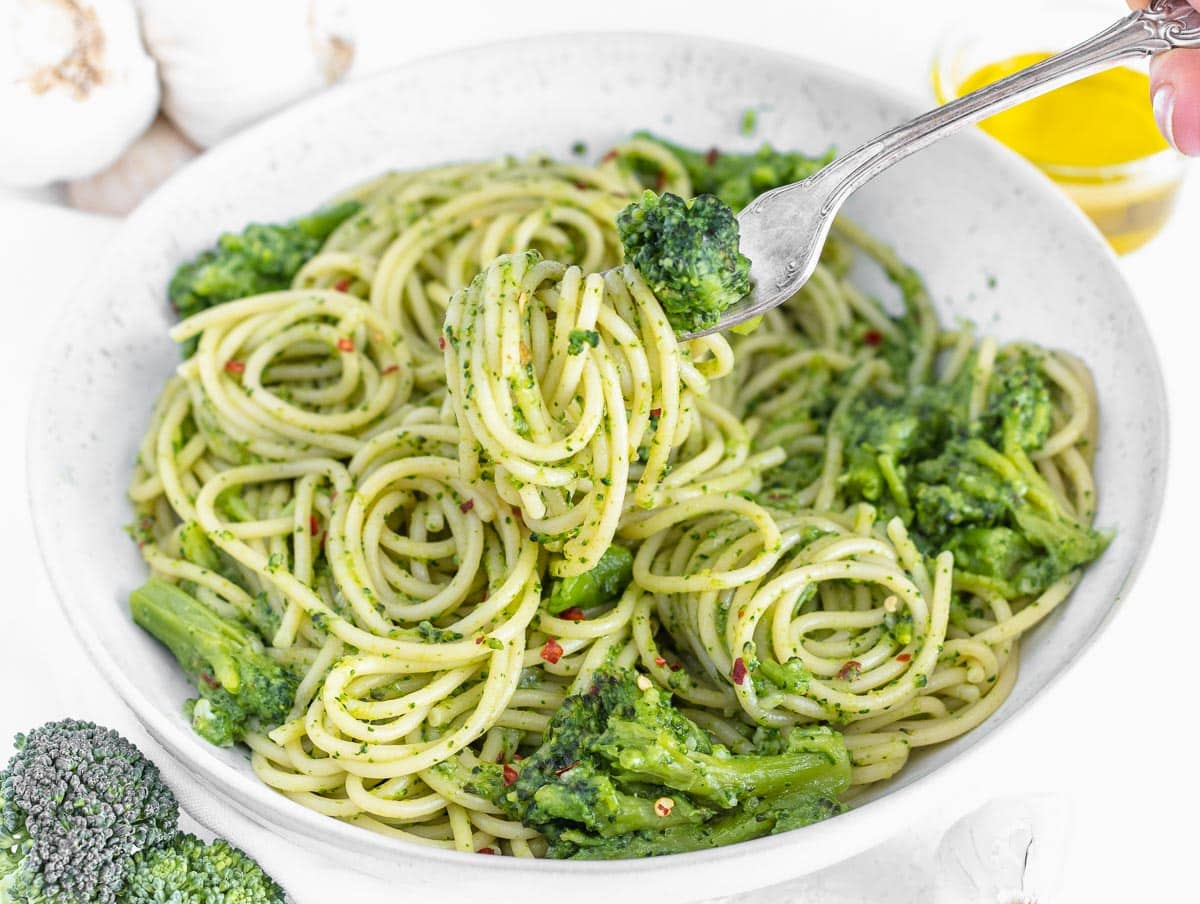 Fresh or frozen broccoli?
We recommend using fresh broccoli. You can use the whole head, including the broccoli florets, broccoli stems, and leaves.
Frozen broccoli works, too; however, in our tests, the recipes turned out a little more watery with frozen broccoli.
Other ways to cook broccoli
Steamed broccoli
Rinse the broccoli, and cut it into small pieces. Place the florets in a steaming basket and fill a skillet with water.
Bring the pot to a simmer and steam until the stems are soft. It can take between 15 to 20 minutes, depending on the size of the broccoli florets.
To check if they are done, slide a small knife through the stem of the broccoli. If it slides easily, the broccoli is done steaming.
Serve steamed broccoli next to your main dish, it pairs well with saucy dishes, such as stir-fries, curries, and stews:
For many more side dishes ideas, check out our sides category page.
10 Broccoli Recipes
Roasted broccoli is a tender-crisp side dish of broccoli florets roasted in the oven and seasoned with a tasty lemon-garlic dressing.They are crunchy, lemony, slightly spicy, and a little garlicky; they are perfect as a side dish for an easy everyday dinner or a special holiday meal.
Ingredients
FOR ROASTED BROCCOLI
1

pound

broccoli

about 1 large head

1

tablespoon

extra virgin olive oil

¼

teaspoon

salt

2

twists

black pepper
FOR THE DRESSING
1½

tablespoons

extra virgin olive oil

1½

tablespoons

lemon juice

1

clove

garlic

grated

¼

teaspoon

red pepper flakes

½

teaspoons

salt
TOPPINGS (Optional)
½

cup

parmesan cheese

grated, or dairy-free cheese

⅓

cup

almonds

slivered or shaved, and toasted
Instructions
OVEN-ROASTED BROCCOLI
Preheat the oven to 400°F or 200°C. Line a baking sheet with parchment paper.Rinse and shake the water off the broccoli head. Cut the florets into similar-sized pieces.Save the stem to make our broccoli soup, or slice it thinly and add it to the florets.

Transfer the broccoli florets onto the baking sheet and season with olive oil, salt, and black pepper. Toss with your hands and arrange them on a single layer without overlapping.

Bake at 400°F or 200°C for 20 to 25 minutes until the florets are tender-crisp. In the meantime, you can make the dressing.

Transfer onto a serving platter and drizzle with the dressing.
VARIATION WITH CHEESE
Once the broccoli are ready, sprinkle with grated parmesan cheese or a dairy-free alternative and broil for a few minutes until the cheese melts.
LEMON-GARLIC DRESSING
Add olive oil, lemon juice, grated garlic, salt, and red pepper flakes to a small jar. Optionally, you can add grated lemon zest.Close and shake well to combine. Alternatively, you can whisk the ingredients in a small bowl.
Video Recipe
Broccoli Pasta | 6 Ingredients and 20 minutes
Notes
Nutrition information is an estimate for 1 portion of roasted broccoli out of four, without toppings.
Nutritional Values
Nutrition Facts
10 Broccoli Recipes
Amount Per Serving
Calories 120
Calories from Fat 81
% Daily Value*
Fat 9g14%
Cholesterol 0mg0%
Potassium 376mg11%
Carbohydrates 9g3%
Protein 3g6%
Vitamin A 747IU15%
Vitamin B6 0.2mg10%
Vitamin C 104mg126%
Vitamin E 2mg13%
Vitamin K 122µg116%
Calcium 58mg6%
Folate 73µg18%
Iron 1mg6%
Manganese 0.3mg15%
Magnesium 25mg6%
Zinc 0.5mg3%
* Percent Daily Values are based on a 2000 calorie diet.
Did you like this recipe?
We are not much on Instagram, Facebook, and Pinterest. Leave us a comment below instead, it would mean the world to us 🙂
If you liked these broccoli recipes, you might also enjoy: