If you're wondering what to do with a bunch of kale, get inspiration from these green and easy dinner-worthy kale recipes.
You'll find pasta, soups, easy vegetable sides, and appetizer ideas - all healthy, vegetarian, and vegan-friendly, and with simple ingredients.
Kale is a versatile autumn and winter leafy green vegetable with a bitter-sweet flavor, and many health benefits.
There are different ways of eating kale; kale chips and sauteed kale are some of the most popular, but you can easily jazz up a soup, stew, curry, salad, and pasta with a bunch of kale.
The first recipe on our list is this 10-minute vegetable side dish; sauteed kale is super easy to make at home. Pair it with olive oil, garlic, and a sprinkle of red pepper flakes for an aromatic, bright, and healthy side dish.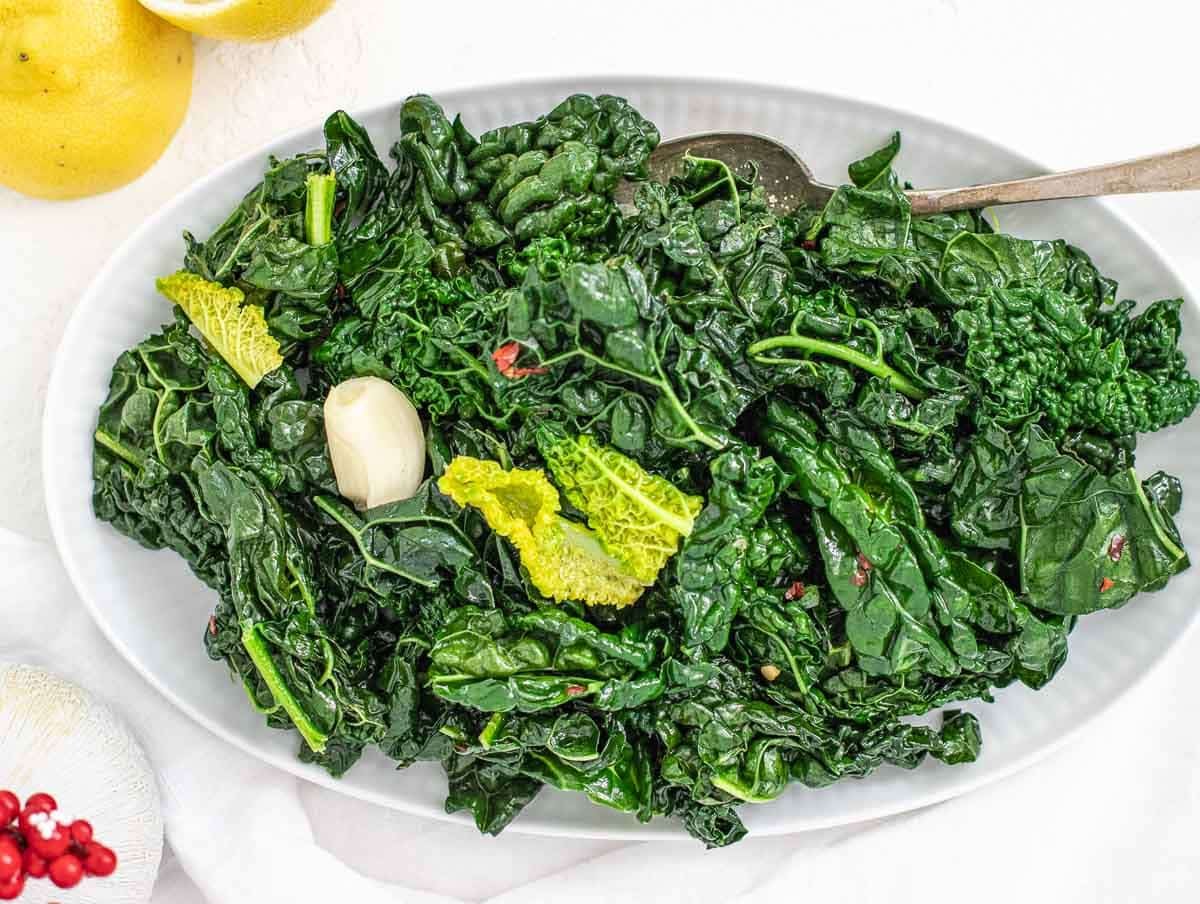 Crispy, healthy, and a great green alternative to crisps, these bright green kale chips are wonderful as an appetizer, side dish, or snack.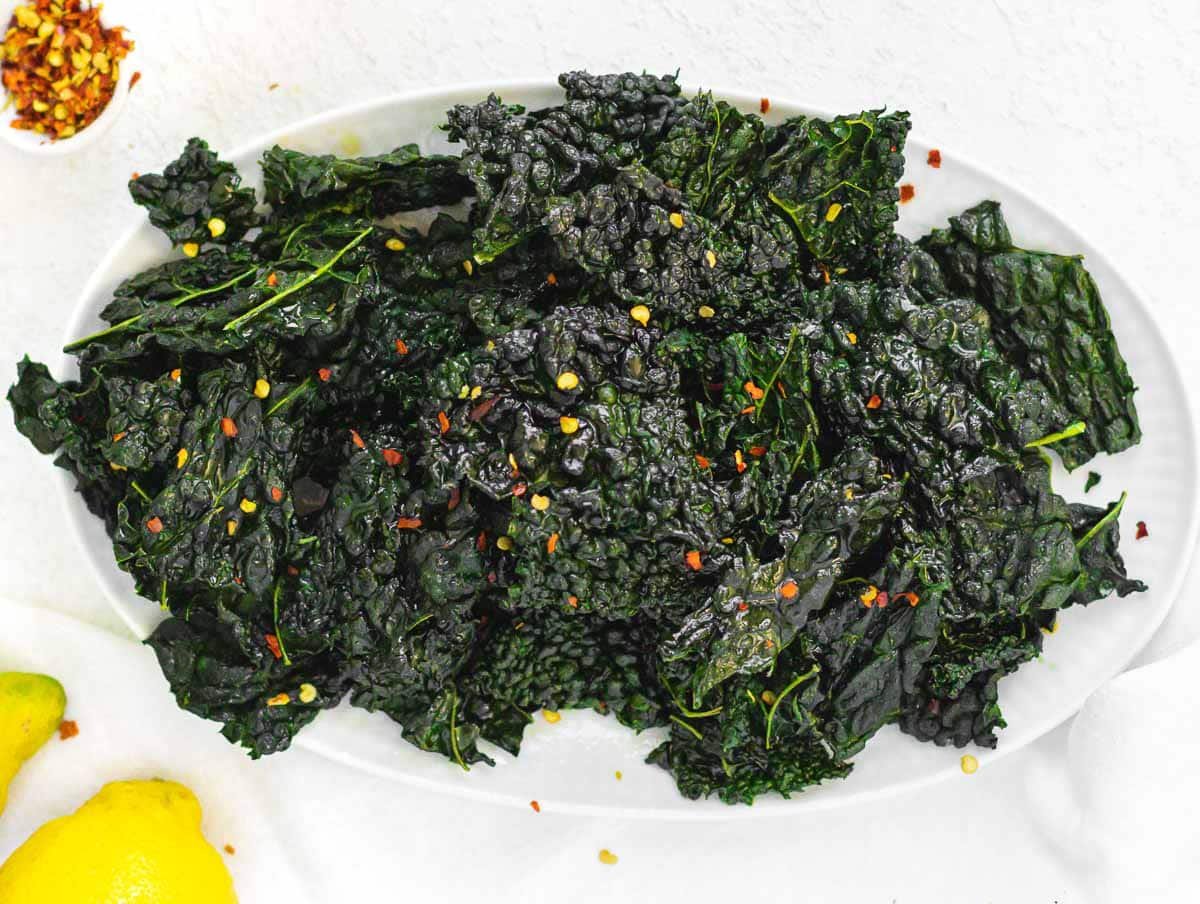 It's a perfect wholesome side dish, colorful appetizer, or a healthy lunch and dinner idea. It's even better as a make-ahead meal since it stores great in the fridge for a couple of days. Handy for putlocks and as a lunchbox meal as well.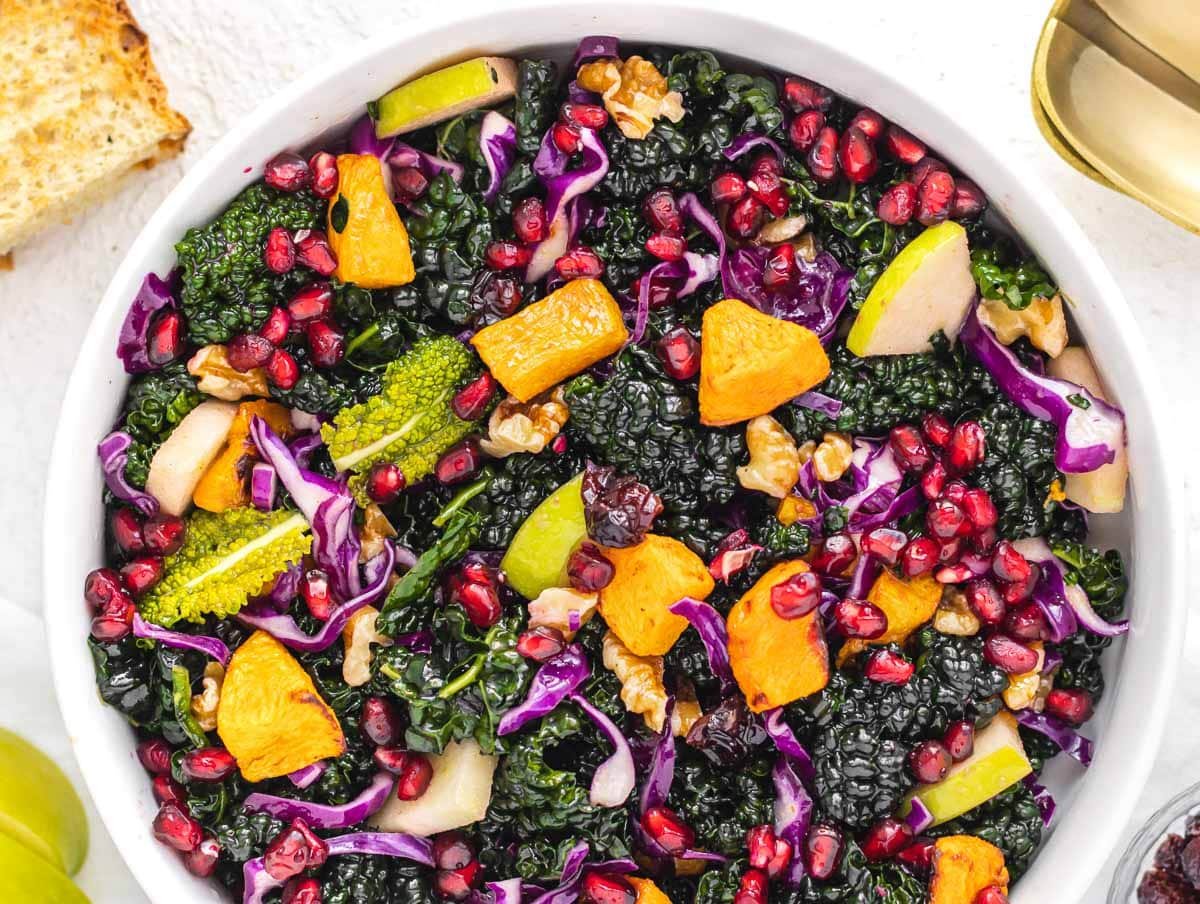 This kale and quinoa salad is a tasty, nutritious, and colorful recipe excellent as a healthy make-ahead lunch or dinner and for meal prepping. Serve it as a wholesome dinner or vibrant lunch, and confidently store it in the fridge as it keeps well for several days.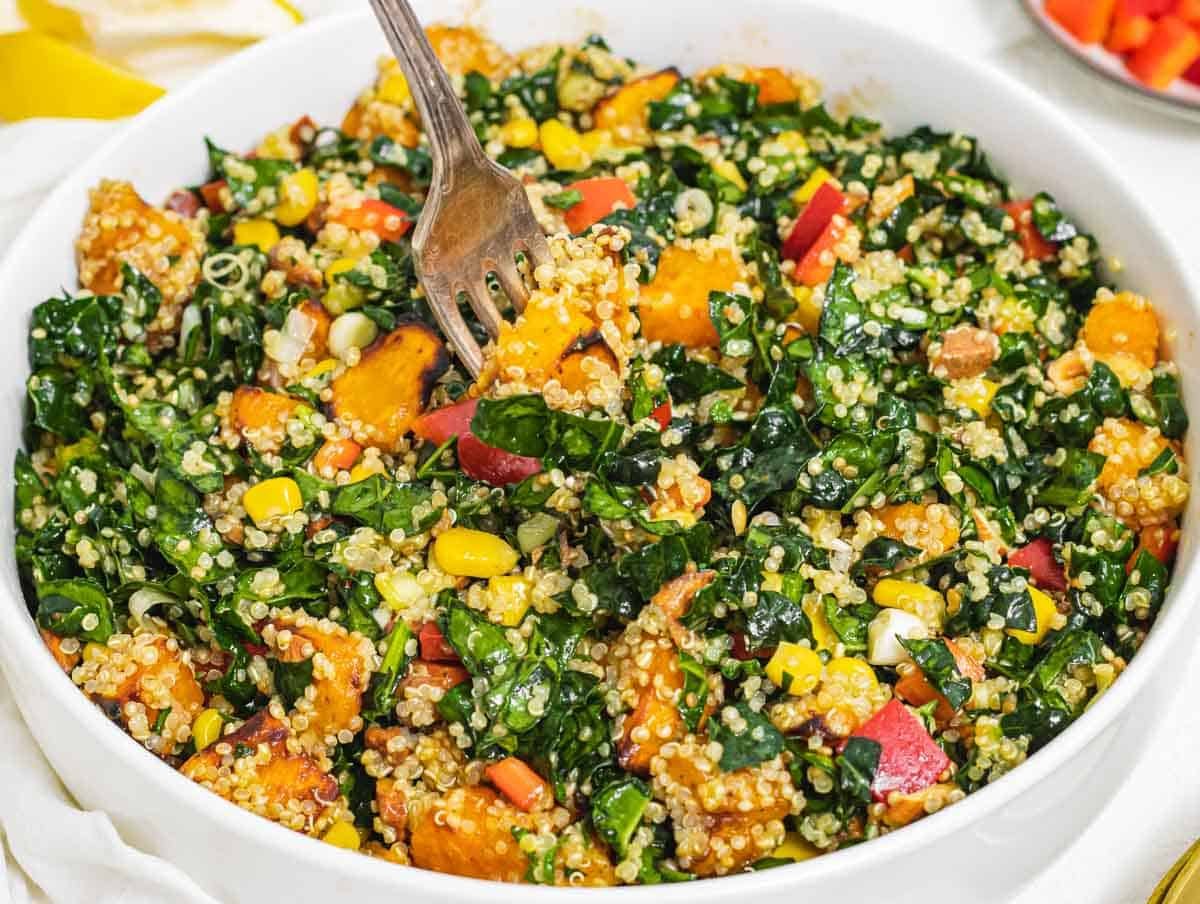 Easy, tasty, and vibrant, this kale pesto recipe is ready in 5 minutes and made with simple ingredients. Use it in sandwiches, pasta, and on crostini as an appetizer - the serving options are numerous!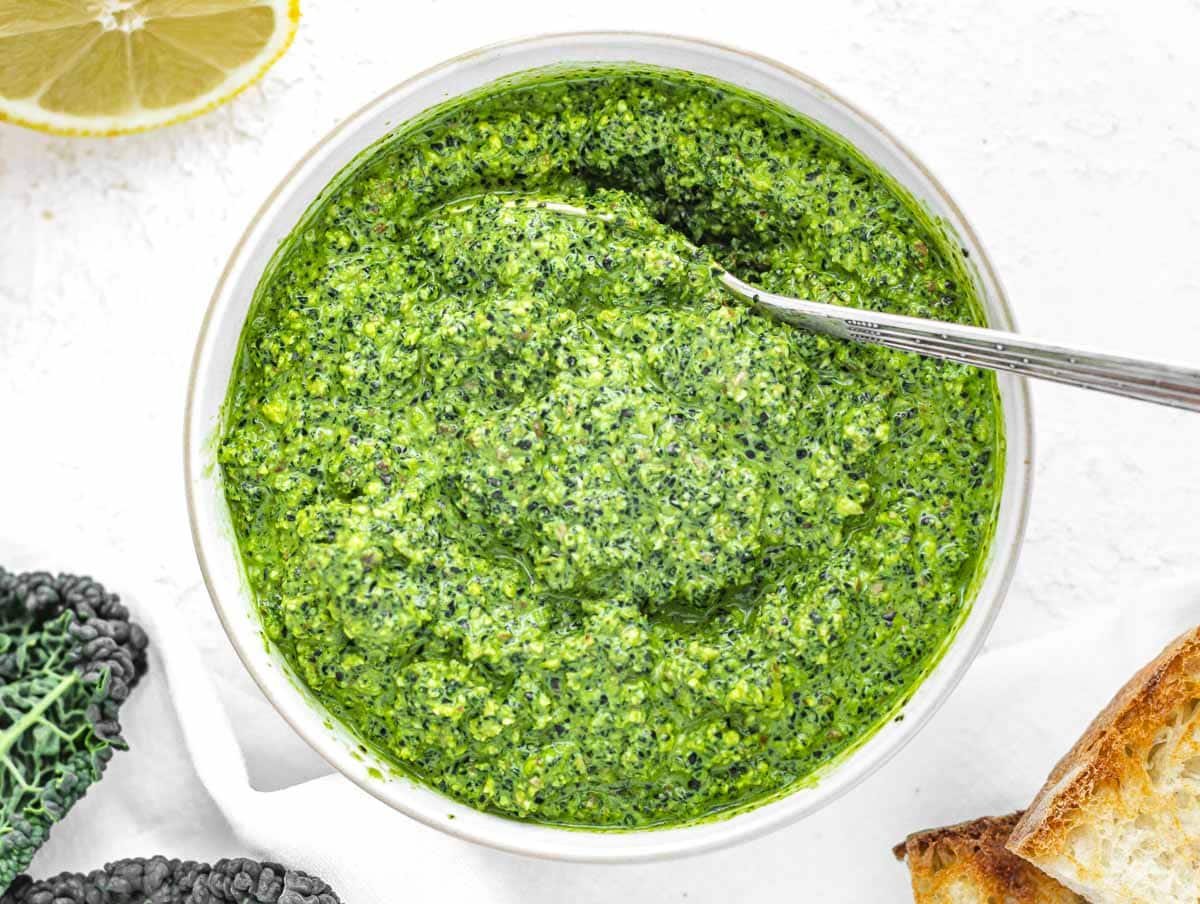 A quick and easy dinner, ready in just the time to cook the pasta. It's super easy to make vegetarian or vegan by subbing your favorite dairy-free cheese alternatives, and it's a great way to use up kale leftovers.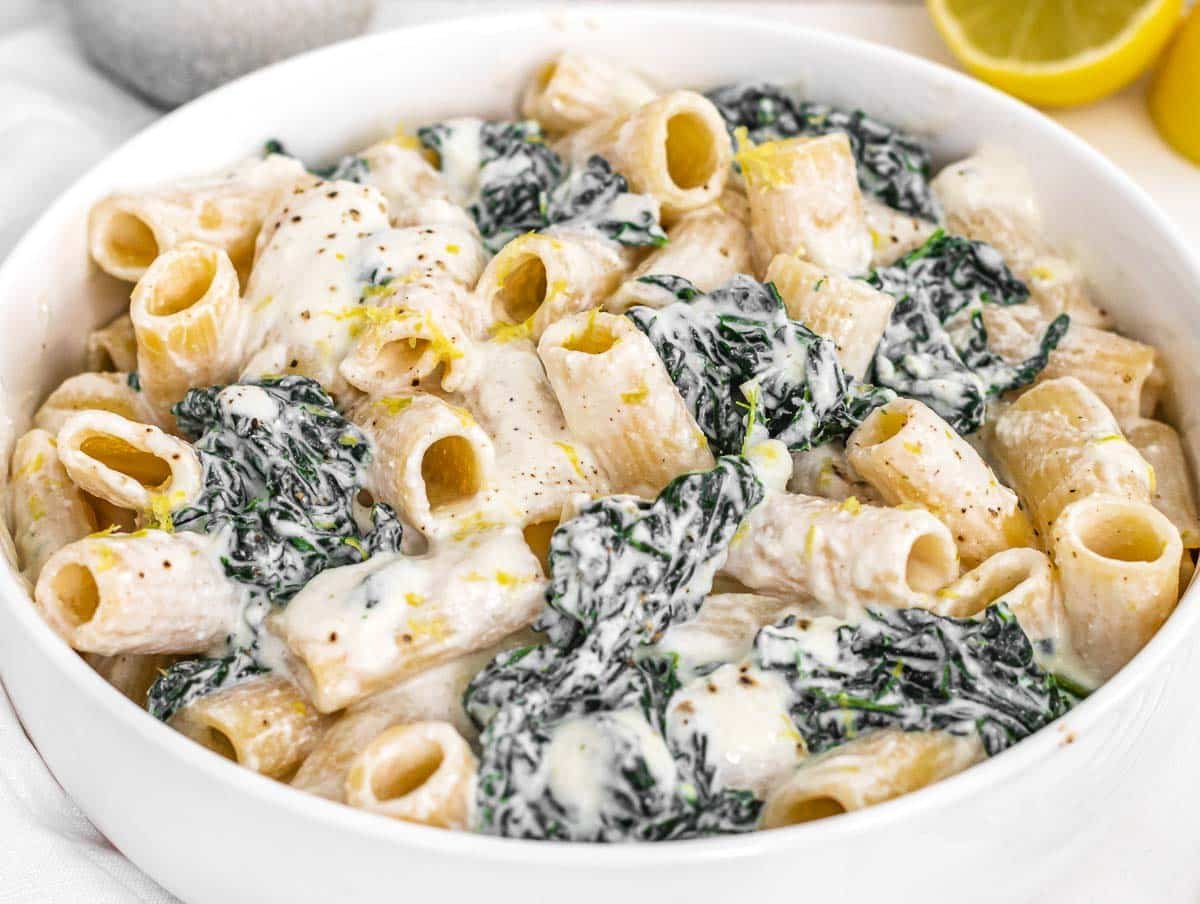 This 20-minute creamy kale pesto pasta is a fall and winter dinner favorite! Make it with our tasty kale pesto for a wholesome and quick meal that kids and adults alike will love.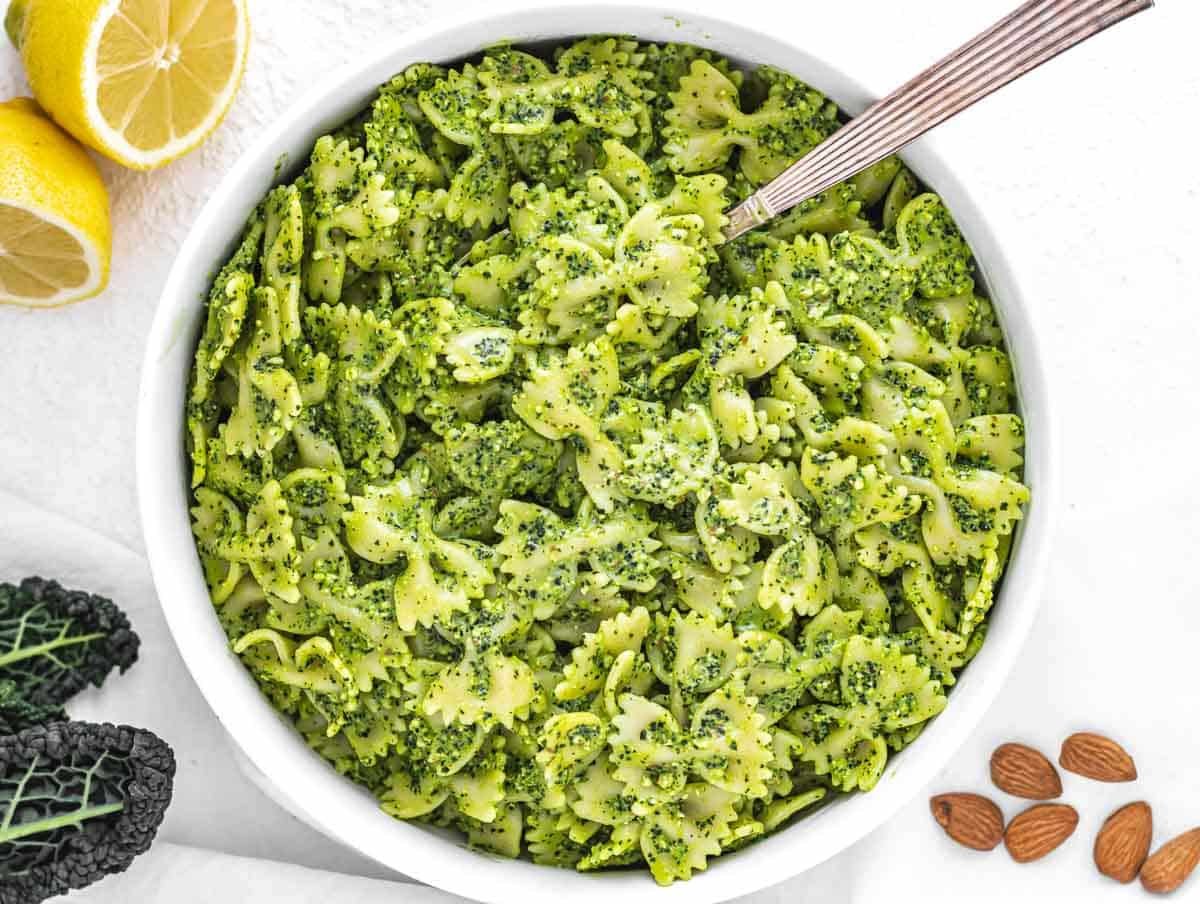 Kale is perfect in soups and stews, especially when paired with a rich tomato sauce. This creamy and comforting kale soup is a 30-minute recipe filled to the brim with beans, veggies, and tomato flavor.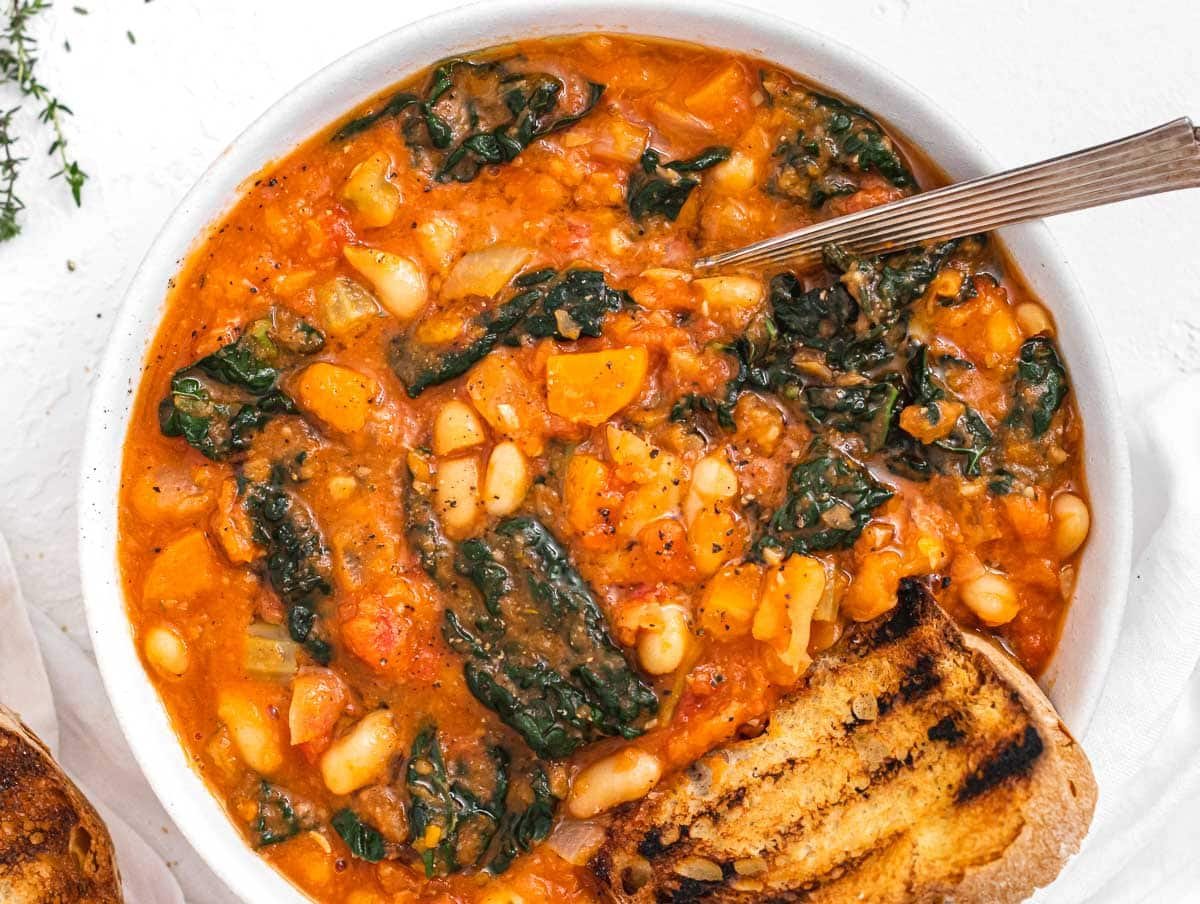 Rich, rustic, and packed with healthy leafy greens! You can expect a wholesome and comforting meal to feed your whole family, excellent for cold winter days and perfect to make ahead.
Here's an Italian-inspired soup with plenty of kale and healthy greens. This lentil soup is an excellent everyday dinner and make-ahead meal, as you can store it for up to 5 days in the refrigerator and up to 3 months in the freezer.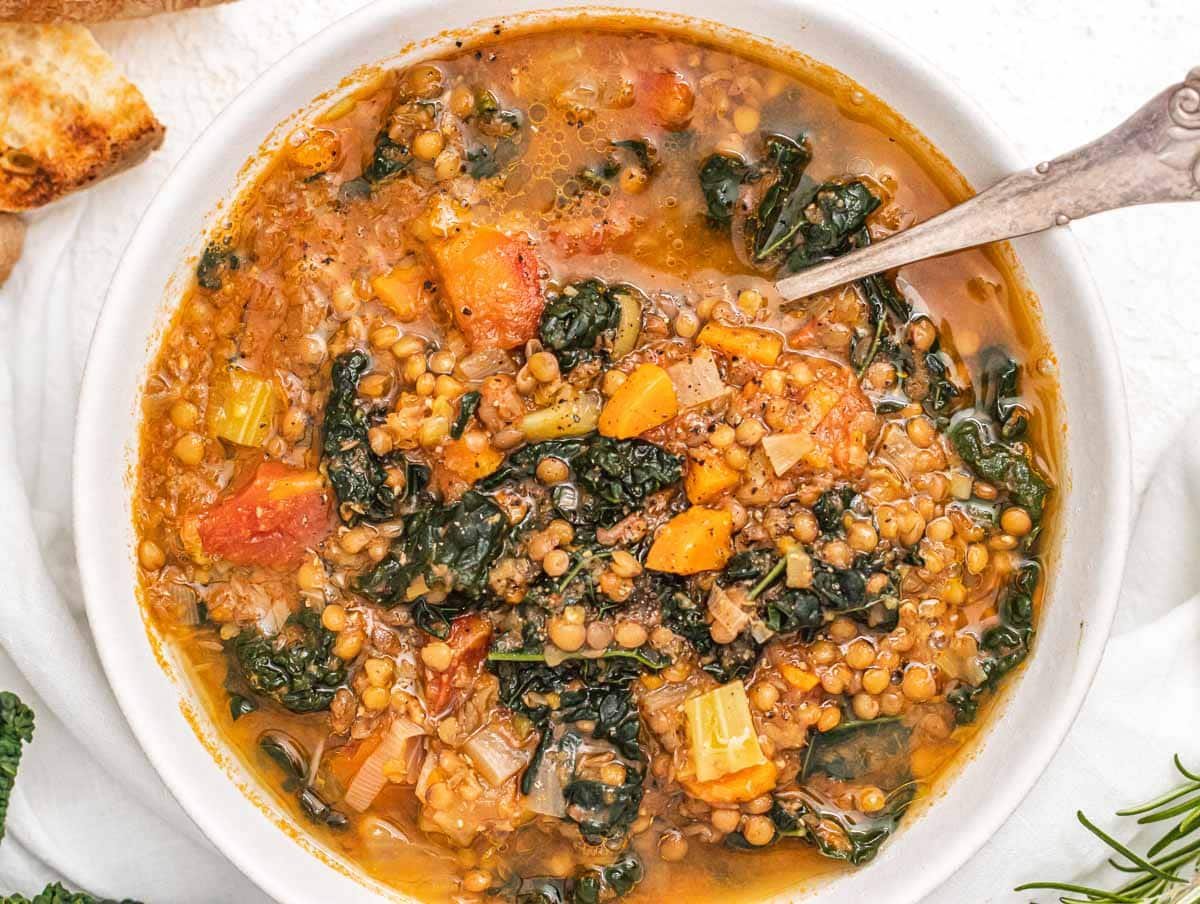 Gluten-free and delicious, these savory chickpea crepes are perfect for a special dinner. They are wholesome, nutritious, stuffed with a mushroom and kale filling, and garnished with a quick and tasty white sauce.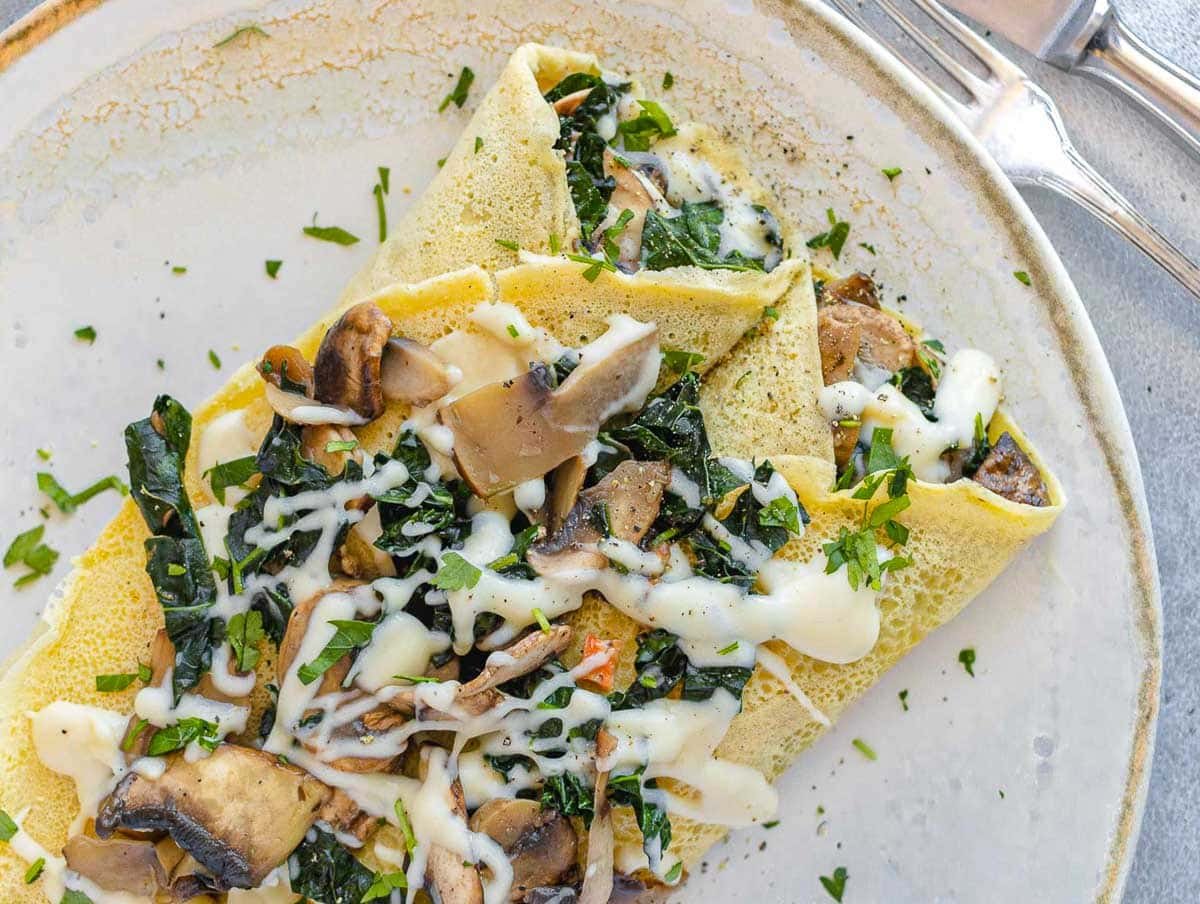 Sweet potato is a great match with kale as you pair leafy greens and potassium-rich sweet potatoes. Making this sweet potato curry is easy. Tasty, warming, nourishing, and family-friendly, it's our favorite way of eating sweet potatoes, and we are sure you'll love it too.
This chickpea soup is a warming, wholesome and colorful soup. Make it extra nutritious by adding fresh or frozen leafy greens such as kale, spinach or baby spinach, chard, and broccoli rabe.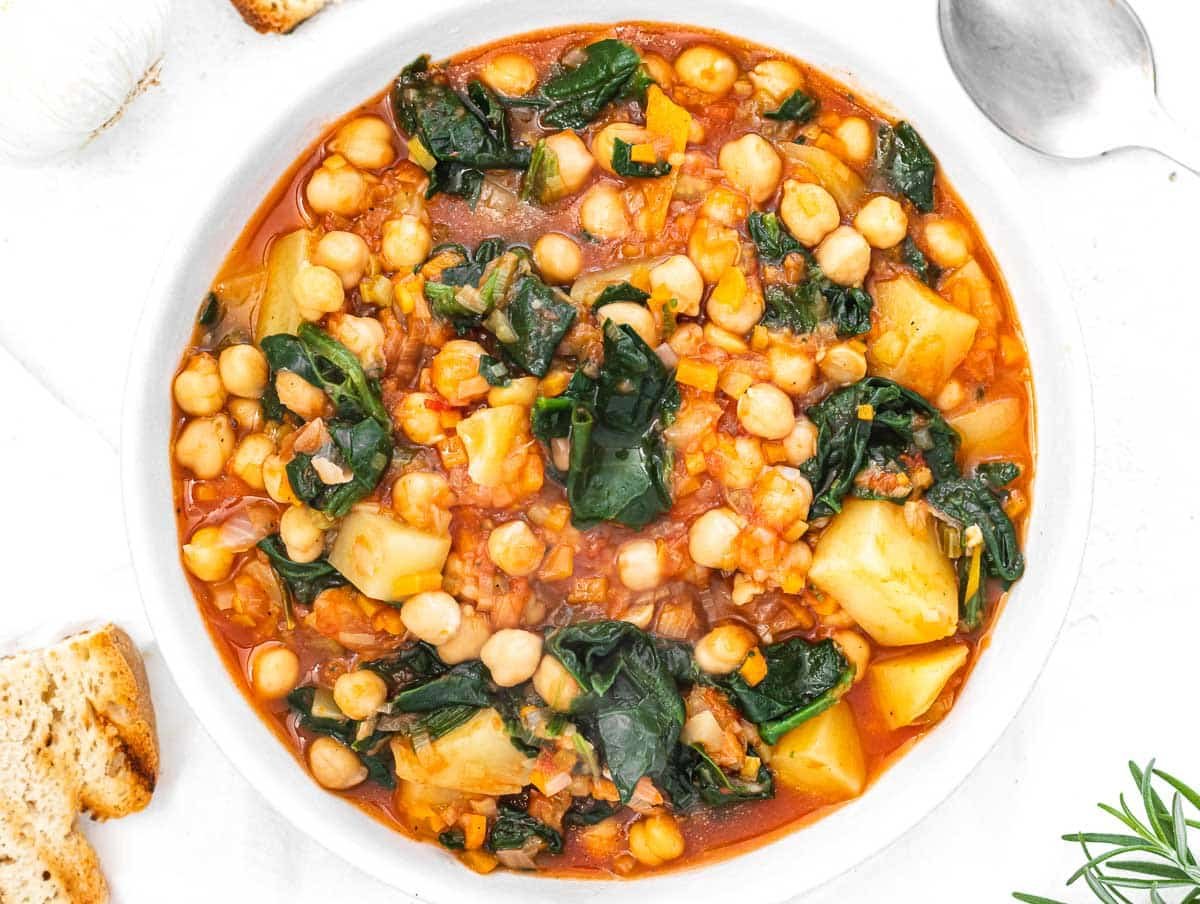 Creamy, rich, and with a perfect Indian spice mix, this chickpea curry is a great weeknight-dinner idea. Make it green by adding spinach or kale, either fresh or frozen. Add them in 10 minutes before the curry is ready, and enjoy with a serving of white rice.
Make this creamy and tomato-rich chickpea stew even more colorful and nutritious by adding spinach or kale just 5 minutes before the chickpea stew is ready.
Stir them in, allow them to wilt - it takes about 5 minutes - then serve the curry with your favorite grain or bread for a comforting yet healthy dinner.
How to get the bitterness out of kale
Massaging kale is an efficient step to soften its texture making it less tough, easier to eat, tastier, and less bitter. We think this step is essential to consume raw kale.
Chop the kale leaves into bite-size pieces and add them to a large bowl.
Add a pinch of salt and a squeeze of lemon juice (about one tablespoon), then pinch or massage the kale with your fingertips until you can feel it get softer (about 30 seconds).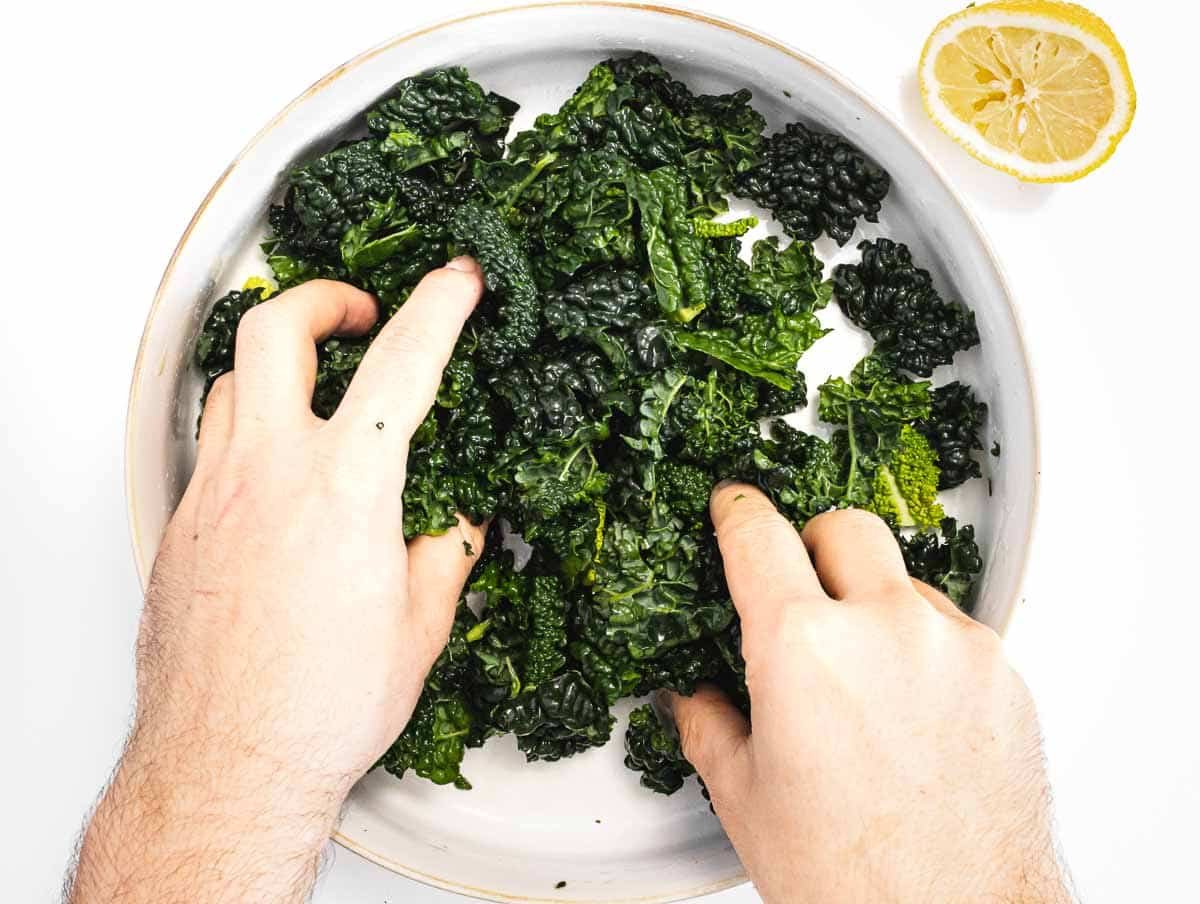 You should feel some of the fiber break off. Don't over-massage. We don't want flimsy kale. The lemon and salt help us break down some tougher kale fiber.
What can I make with a bunch of kale?
Kale is a superfood and you can easily make a quick soup, stew, curry, or casserole when mixing it with:
Veg

etable

flavor base (carrot, celery, onion).
Spices (cumin, curry, turmeric, or dried Italian herbs).
Nutritious legumes (beans, lentils, chickpeas).
Diced or crushed tomatoes.
Herbs (fresh rosemary, thyme, and bay leaves).
Kale is a great remedy (not a cure) against winter blues and cold winter days.
More easy dinner ideas
Try these flavor-packed and veggie-rich dinner ideas, they're easy to make at home and family-friendly:
For many more 30-minute meal ideas, check out our 30-minute meal category page.
Recipe
15 Easy Kale Recipes
This 15-minute garlic-flavored sautéed kale is one of the easiest way to cook kale on a stovetop. Serve it as an easy side dish, add it to pasta, or to upgrade your salad with extra greens.It's a super easy and quick way to add leafy greens to your meals or use those kale leftovers from your fridge.
Ingredients
1

pound

kale

any, we use dinosaur or Tuscan kale

2

tablespoons

extra virgin olive oil

2

cloves

garlic

¼

teaspoon

salt

or more to taste

⅛

teaspoon

red pepper flakes
Optional Garnish
freshly squeezed lemon juice

or shaved parmesan
Instructions
Rinse and shake the water off the kale leaves, then separate the leaves from the woody stems.To do so, hold the thickest part of the stem with one hand and run the other along the stem to tear the leaf off.Tip: you can blend the stems into soups if you don't want to discard them.

Put the leaves together then chop them into bite-size pieces.

To a large skillet, add extra virgin olive oil, crushed garlic, and red pepper flakes. Fry on medium heat for 1 minute.

Add kale, season with salt, stir and cook on medium heat for 5 to 10 minutes or until you reach your desired texture. Add some water if the pan gets dry.

Transfer sautéed kale onto a serving platter. You can serve as is, or with a squeeze of lemon juice and shaved parmesan on top.
Video Recipe
Easy Kale Pesto Pasta in 20 minutes
Notes
Nutritional information is for one serving of sautéed kale out of four servings.
SUBSTITUTIONS
- Kale: you can use any kale including curly kale, red kale, lacinato kale, dinosaur kale, and Tuscan kale.
- Garlic: substitute 1 teaspoon of garlic powder for 2 crushed garlic cloves.
- Red pepper flakes: substitute black pepper.
- Olive oil: you can make sautéed kale with butter or dairy-free butter, but extra virgin olive oil is a lot healthier and tastes delicious so we recommend using that.
MAKE AHEAD & STORAGE
- Make Ahead: sautéed kale is an excellent recipe to make ahead as it keeps well in the fridge or freezer for several days.
- Refrigerator: let the kale cool down at room temperature, then transfer it into an airtight container and store it in the fridge for up to 4 days.
- Freezer: let the kale cool down completely, then transfer it into a freezer-friendly bag and freeze for up to 3 months.
- Thaw: defrost frozen sautéed kale in the fridge over several hours or overnight. Alternatively, thaw in the microwave. You can also thaw it directly on a pan, on the stovetop, on medium-low heat, with a drizzle of extra virgin olive oil, or with a dash of water, stirring it often.
Reheat: you can reheat the kale in the microwave for 2 minutes or on a pan with oil or water.
Nutritional Values
Nutrition Facts
15 Easy Kale Recipes
Amount per Serving
% Daily Value*
* Percent Daily Values are based on a 2000 calorie diet.
Did you like this recipe?
Leave us a comment below or find us on Instagram, YouTube, Pinterest, TikTok, and Facebook.
If you liked these easy kale recipes, you might also enjoy: