Looking for mushroom recipe inspiration? Here are 15 easy, healthy, and quick mushroom recipes. You can find mushroom sides, weeknight dinners with mushrooms, and mushroom appetizer ideas.
All of these recipes and vegetarian and vegan-friendly, and well-suited for families.
1. Sauteed mushrooms
Here's how to make perfect sauteed mushrooms on the stovetop, with a few easy-to-find ingredients, in about 15 minutes. You can use most mushroom varieties for this recipe. We use white button mushrooms and portobello mushrooms, which are widely available in most supermarkets.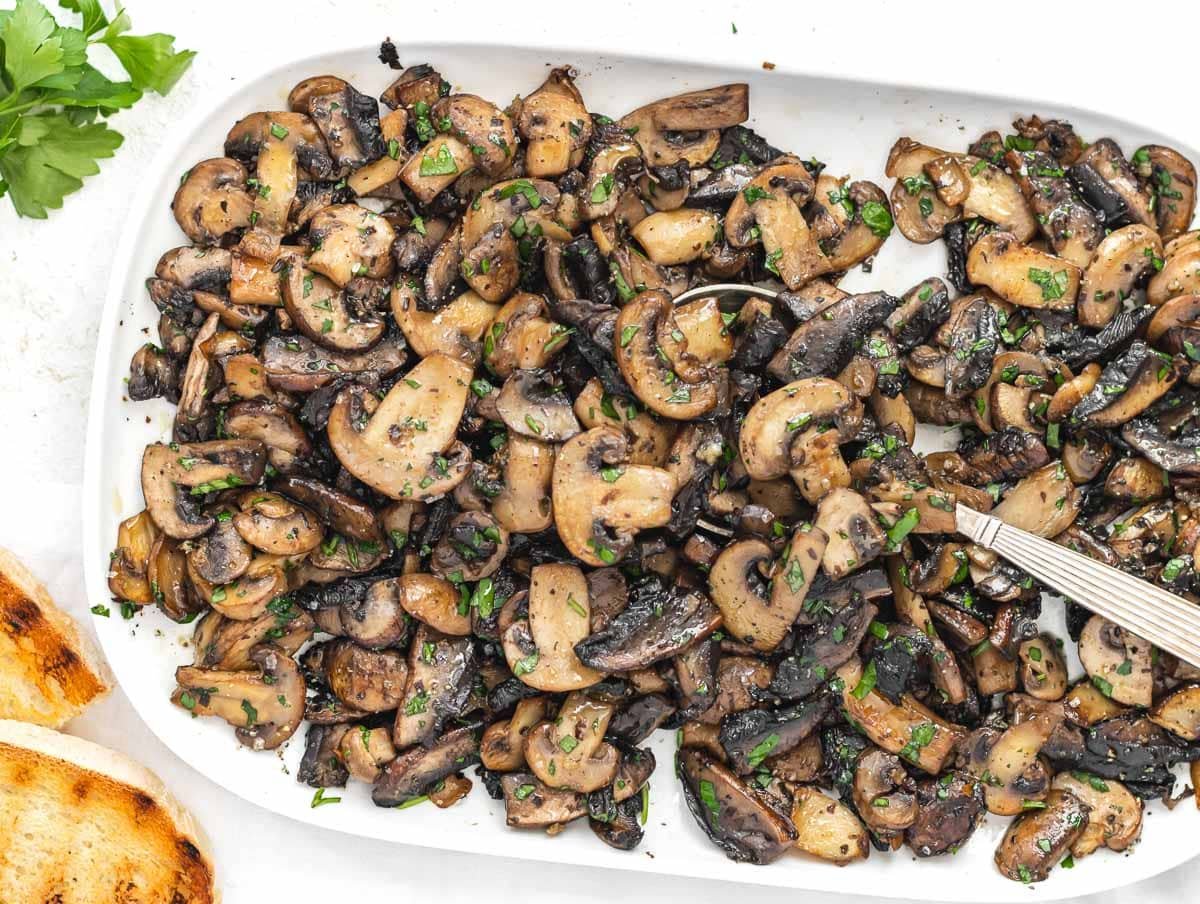 2. Roasted mushrooms
All that roasted mushrooms need to get tasty and meaty is salt, garlic, and olive oil combined with a high oven temperature. Upgrade them with an extra flavor boost with an easy condiment, try chimichurri, Italia salsa verde, and quick chili oil.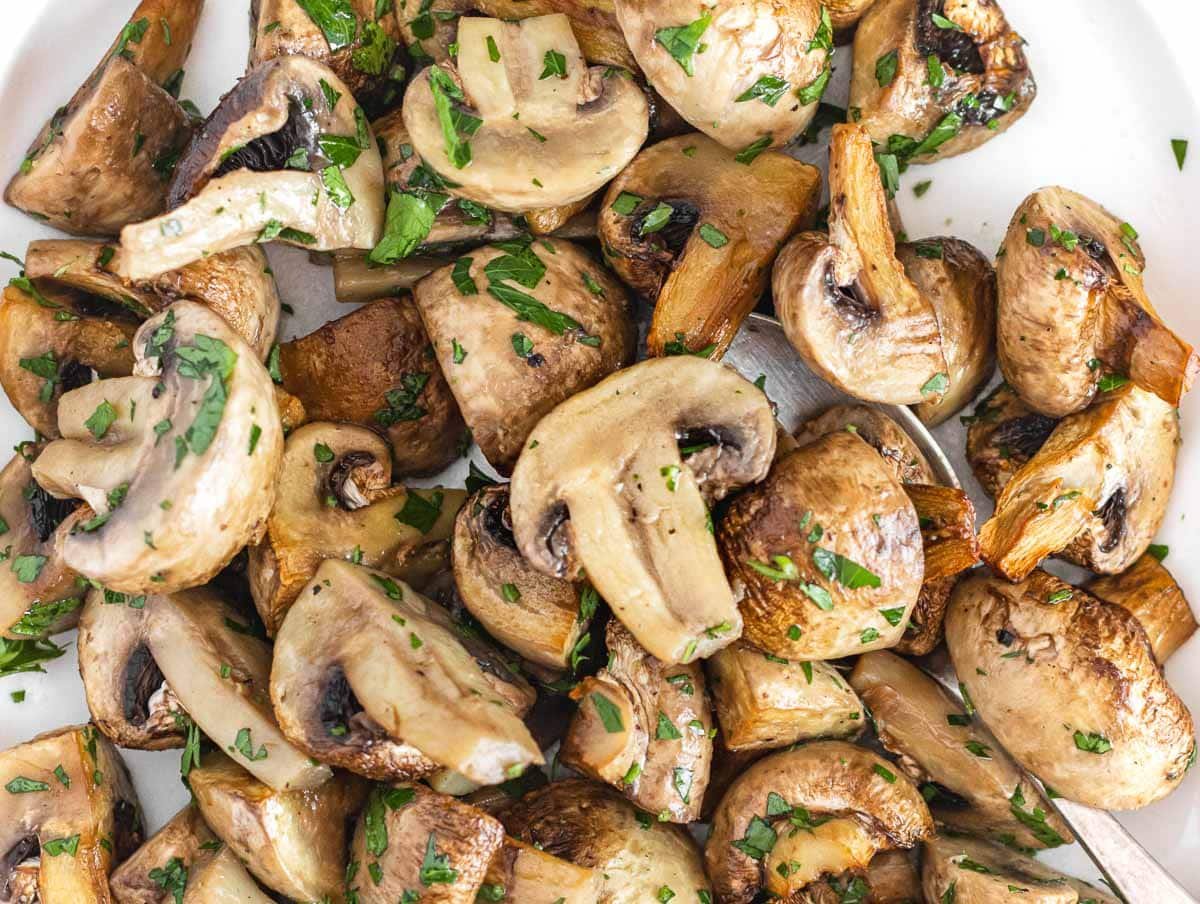 3. Air fryer mushrooms
To make these 15-minute air fryer mushrooms, you'll only need a few pantry staples and a lot less time than roasting mushrooms in the oven. You can eat them as a vegetable side dish, as a starter on crostini or bruschetta, or add them to pasta salad, farro salad, rice salad, couscous salad, and more.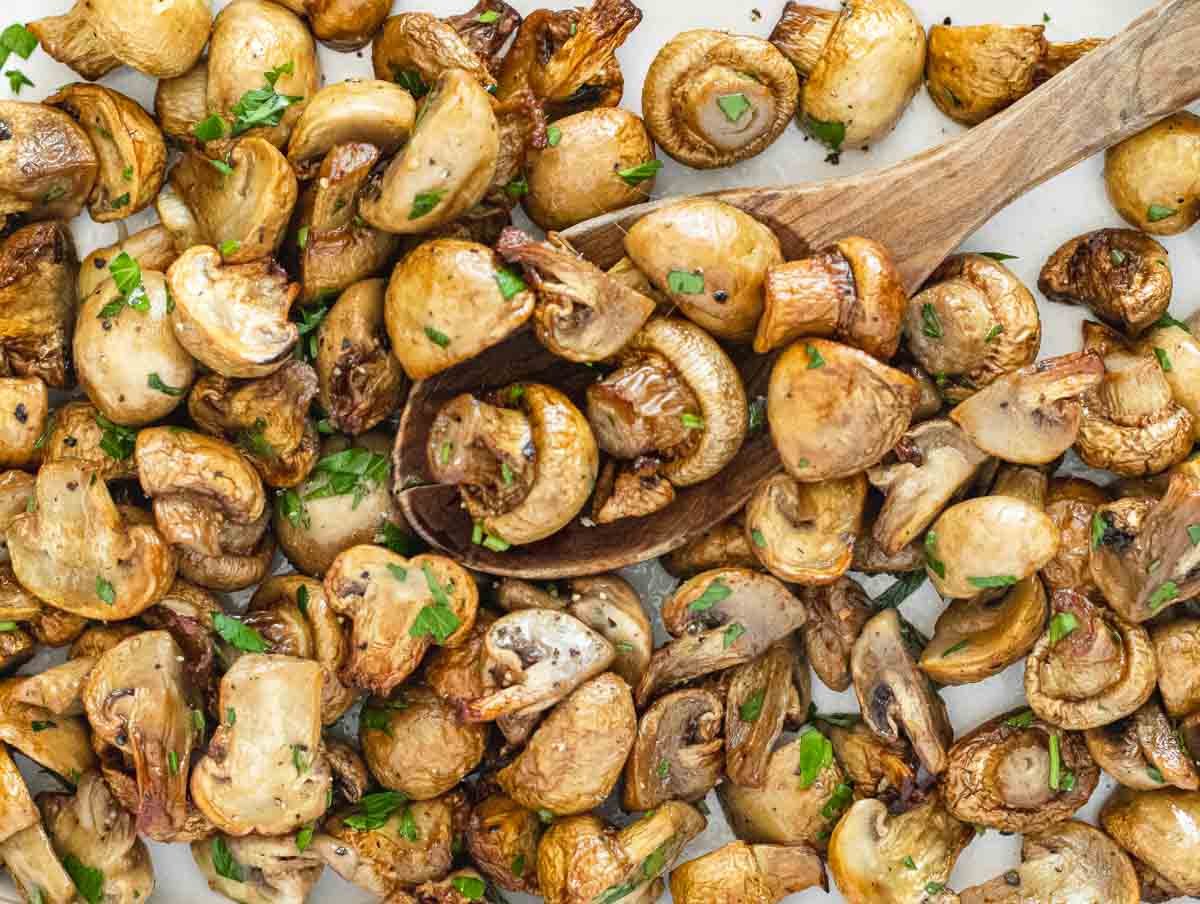 4. Easy mushroom gravy
Mushroom gravy is easy to make! You've got to try this creamy sauce on mashed potatoes or as a side for a beautiful holiday meal with friends and family. You can make it in less than 20 minutes with simple pantry staples. It tastes so good you won't believe it's meat-free.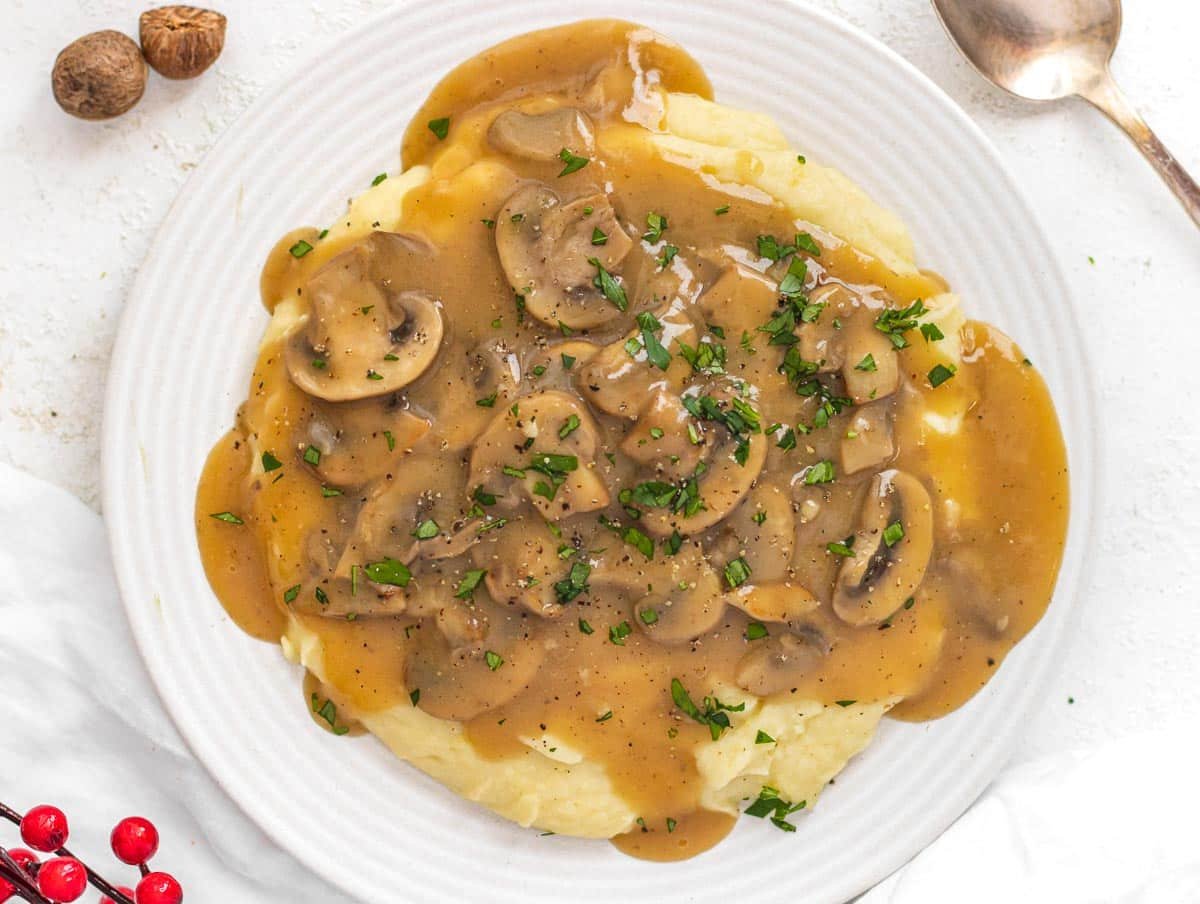 5. Mushroom risotto
You can make this mushroom risotto in one pot (plus a small pot to warm up the vegetable broth) with your favorite mushrooms. Finish it with butter and parmesan cheese, or if you want the recipe to be vegan, use vegan butter and vegan cheese instead. It's a creamy, earthy, and Italian dinner idea.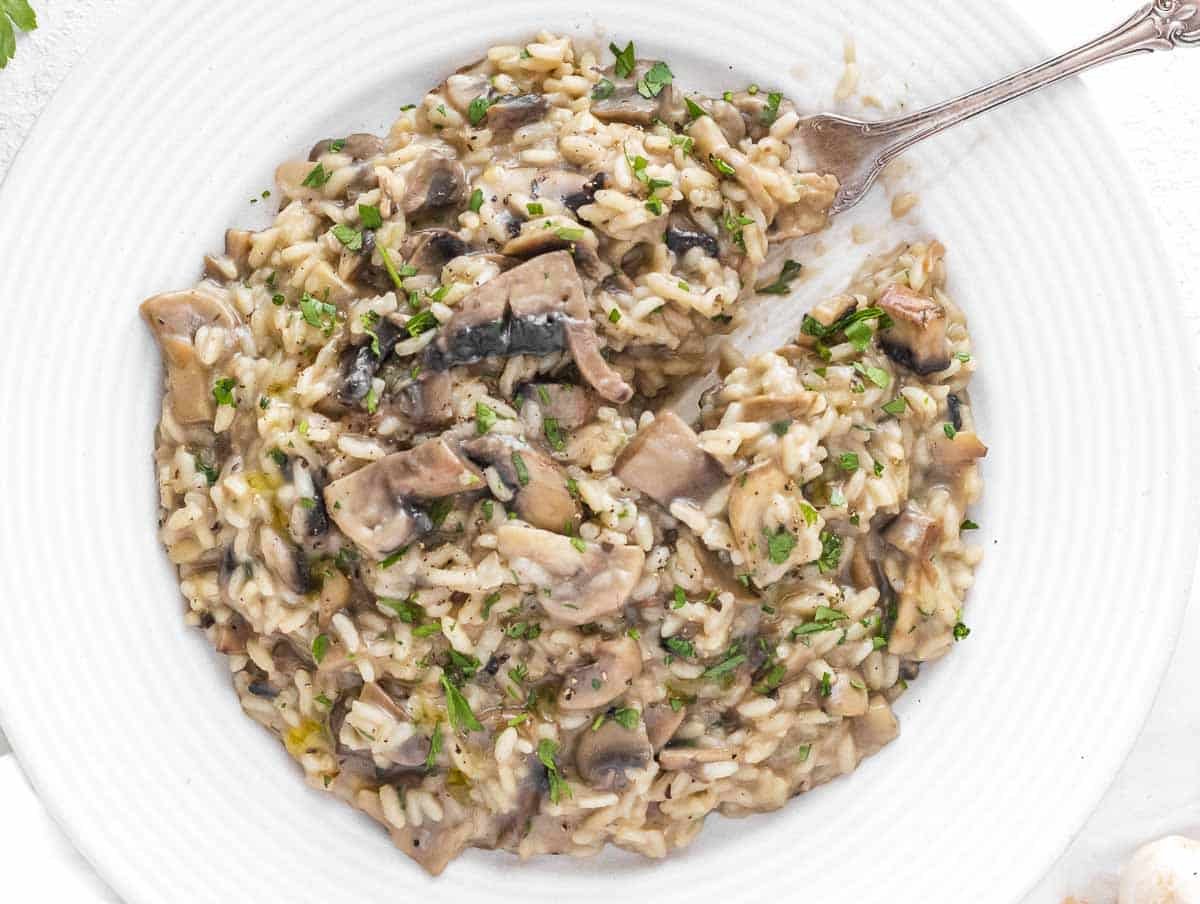 6. Vegan mushroom pasta
Vegan mushroom pasta is creamy, aromatic, a little garlicky, and so delicious you'll go for a second portion. The recipe is quick and simple, perfect for weeknights. Thanks to its rich and gourmet-like flavors, it's also great if you have guests, especially vegan or vegetarian ones.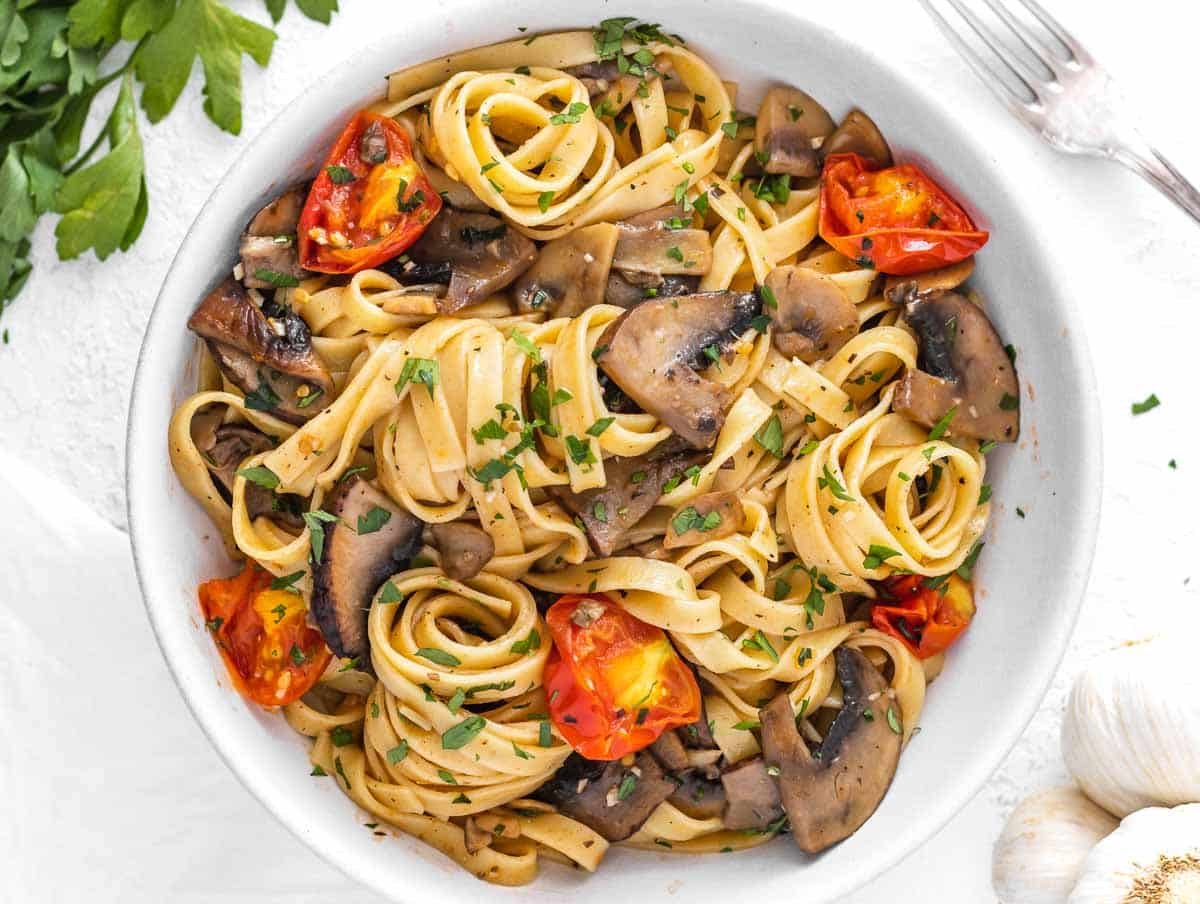 7. Hummus pasta with mushrooms
Chickpeas hummus and pasta are a tasty and nutritious combination; to make this hummus pasta dish even more delicious, we like to add sauteed mushrooms.
Sprinkle with fresh parsley on top, freshly cracked black pepper, and good quality EVO oil, and your delicious, quick, and easy hummus pasta is ready.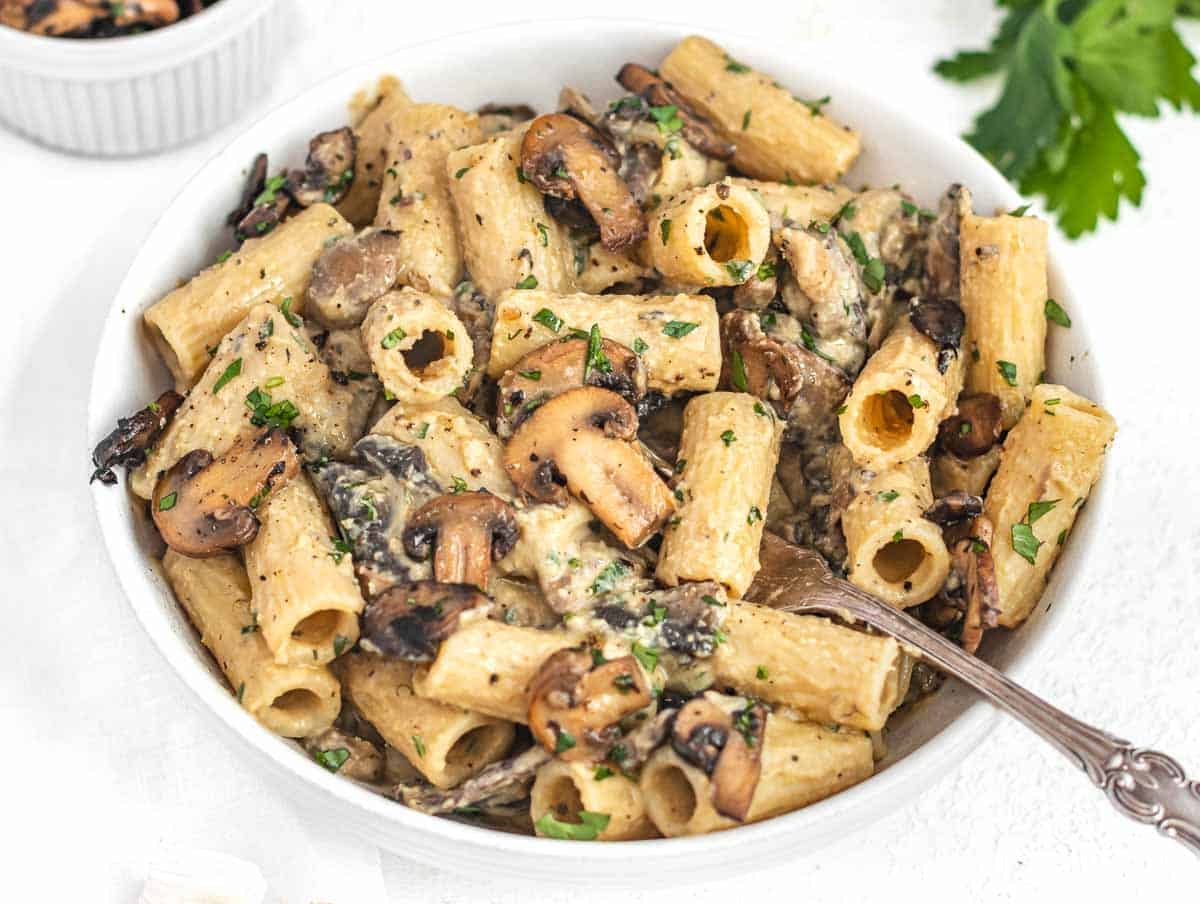 8. Barley salad w. roasted vegetables
Barley salad is a vibrant and healthy grain bowl, perfect for bringing to a potluck, but also delicious as a healthy lunch. Mix cooked barley with Italian-roasted vegetables, and drizzle with a lemon vinaigrette - a perfect meal-prep-friendly dinner!
9. Tofu mushroom cutlets
Making this tofu mushroom recipe is easy. It's ready in 20 minutes and works perfectly as a replacement for mushroom chicken with chewy and fried tofu cutlets.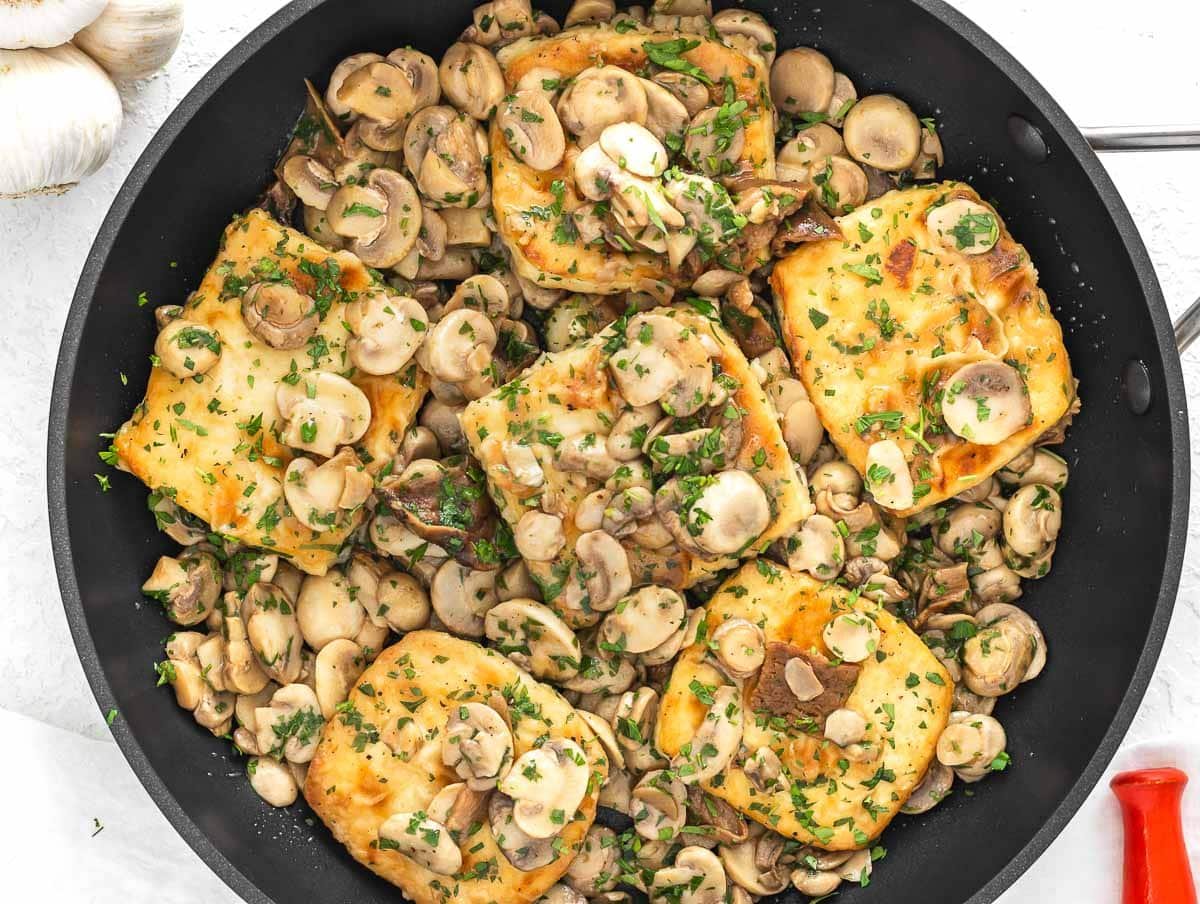 10. Mushroom bolognese
You can make this mushroom ragu with simple and affordable ingredients such as mushroom, olive oil, onion, celery, carrot, rosemary, tomato paste, salt, and pepper.
This pasta has become our go-to quick dinner sauce when we feel like eating an earthy and flavorful pasta dish.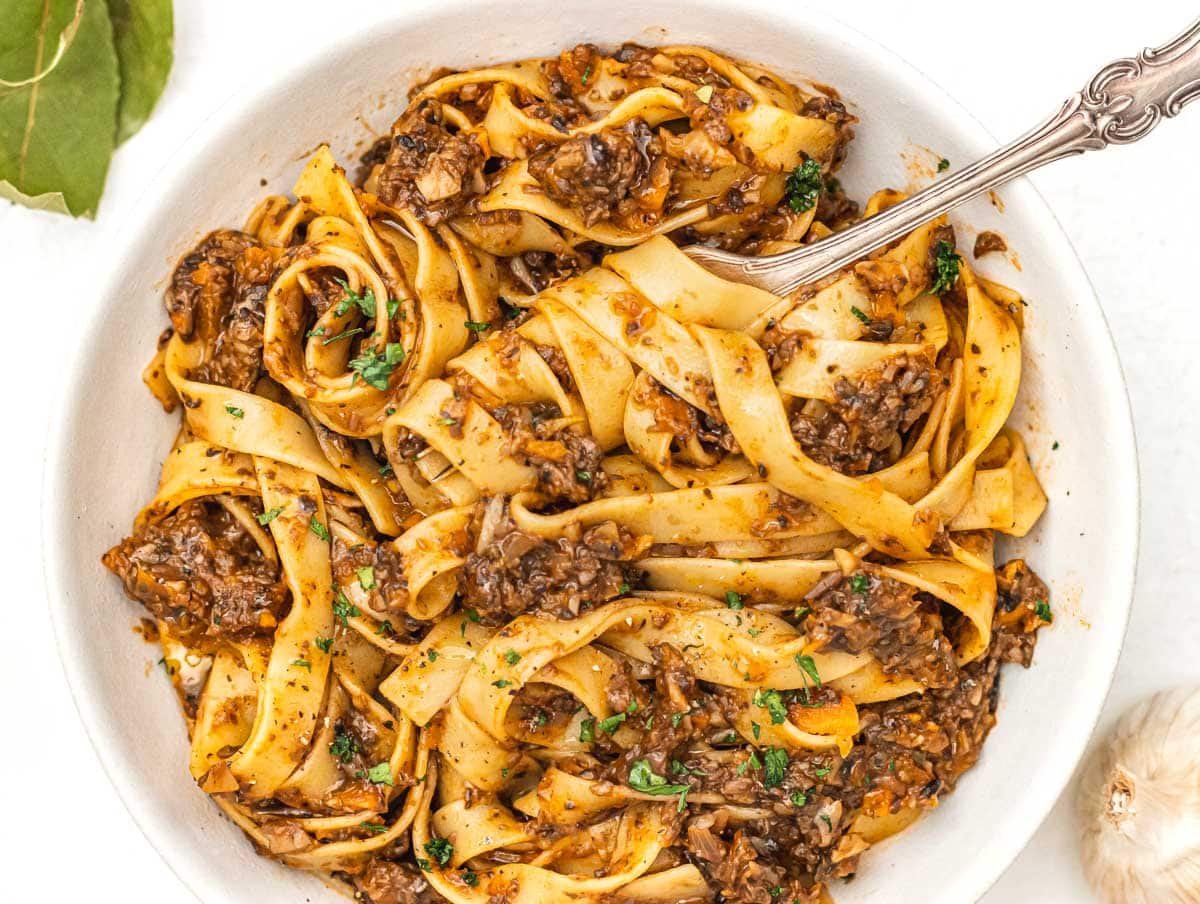 11. Mushroom Alfredo
You can make this mushroom Alfredo with cream or dairy-free by substituting dairy-free/vegan heavy cream, butter, and parmesan for their dairy counterparts.
No matter which ingredients you use, this pasta is rich, creamy, smooth, tasty, and so easy to make you'll want to do it every night. It's a guaranteed crowd-pleaser.
12. Savory crepes with mushrooms
Savory crepes are French-style pancakes you can fill with any savory filling of your liking.
Make them with an easy and nutritious chickpea flour batter, fill them with chewy sautéed mushrooms, kale or spinach, and an easy white sauce filling.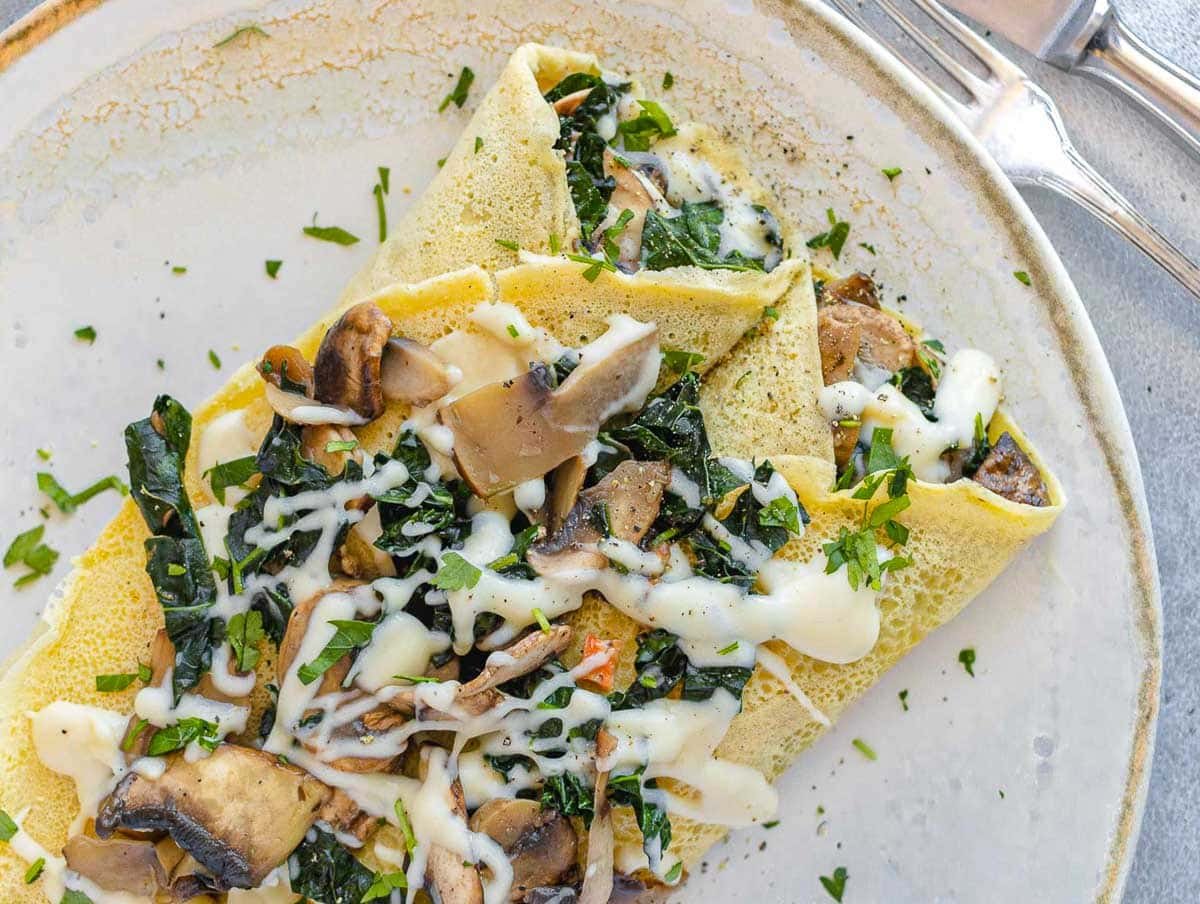 13. Mushroom risotto cakes
Got leftover risotto in your fridge? These risotto cakes are easy and quick, and in less than 30 minutes, you'll have the tastiest leftover dinner you've ever made.
The best way to cook risotto cakes is by frying them in oil or cooking them in an air fryer. Oven-baking them is also possible for a hands-off and easy dinner meal.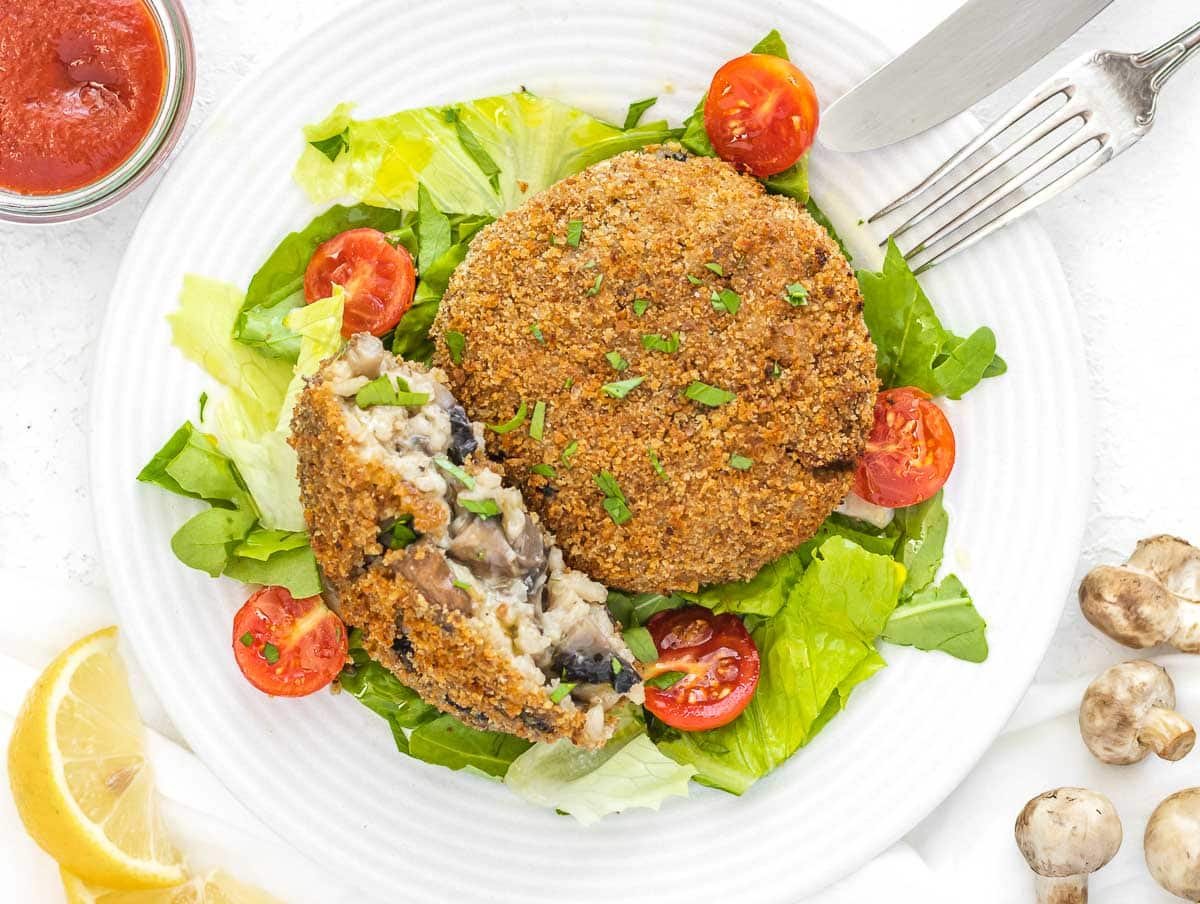 14. Braised tofu
Our braised tofu is a Chinese-inspired recipe with a beautiful dark sauce. It's somewhat similar to our Kung Pao Tofu and Stir Fry Tofu; it's incredibly easy to make with surprisingly simple ingredients, and it's one of our family's favorite tofu dishes.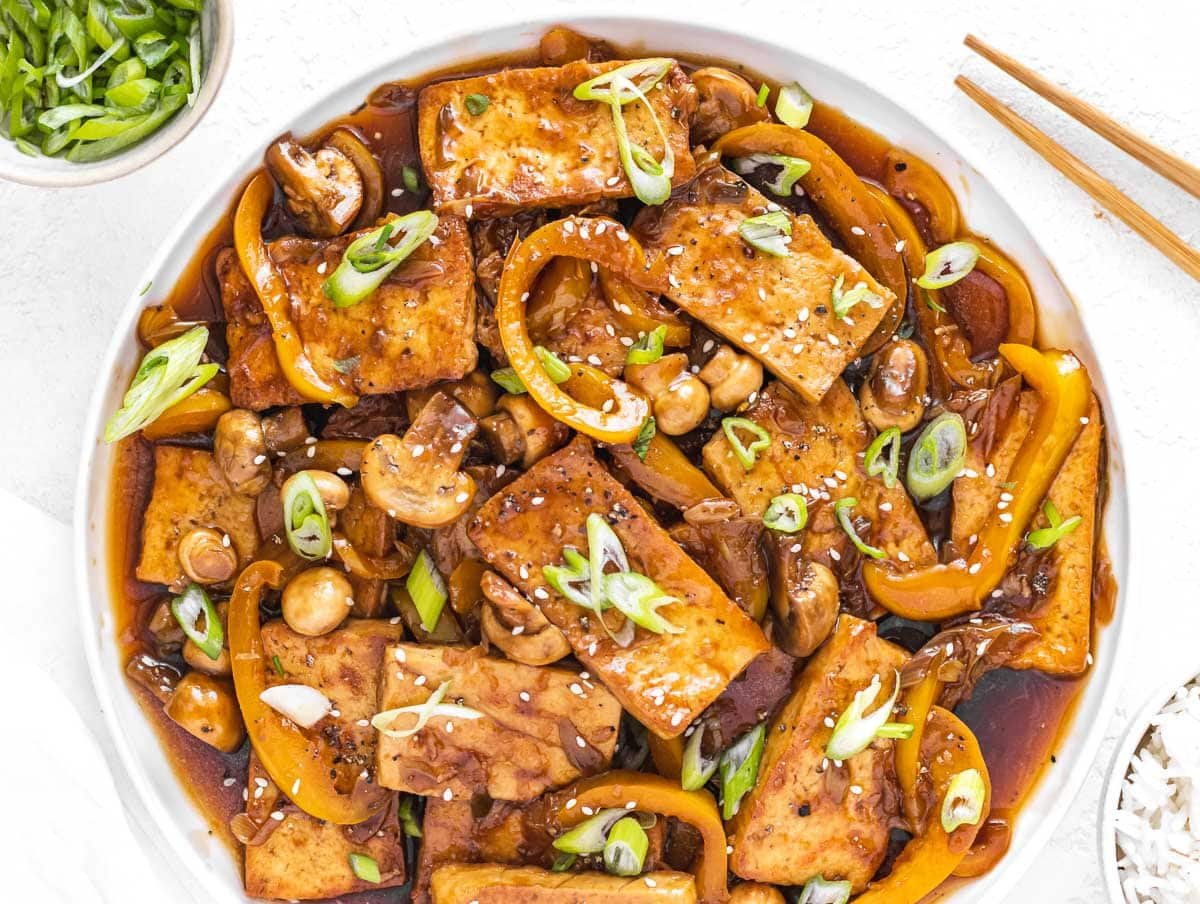 15. Tofu stir fry
You'll learn how to make tasty Asian-inspired tofu stir fry in less than 30 minutes without having to press the tofu. There's no need for a wok or unusual ingredients, just seasonal veggies and spices.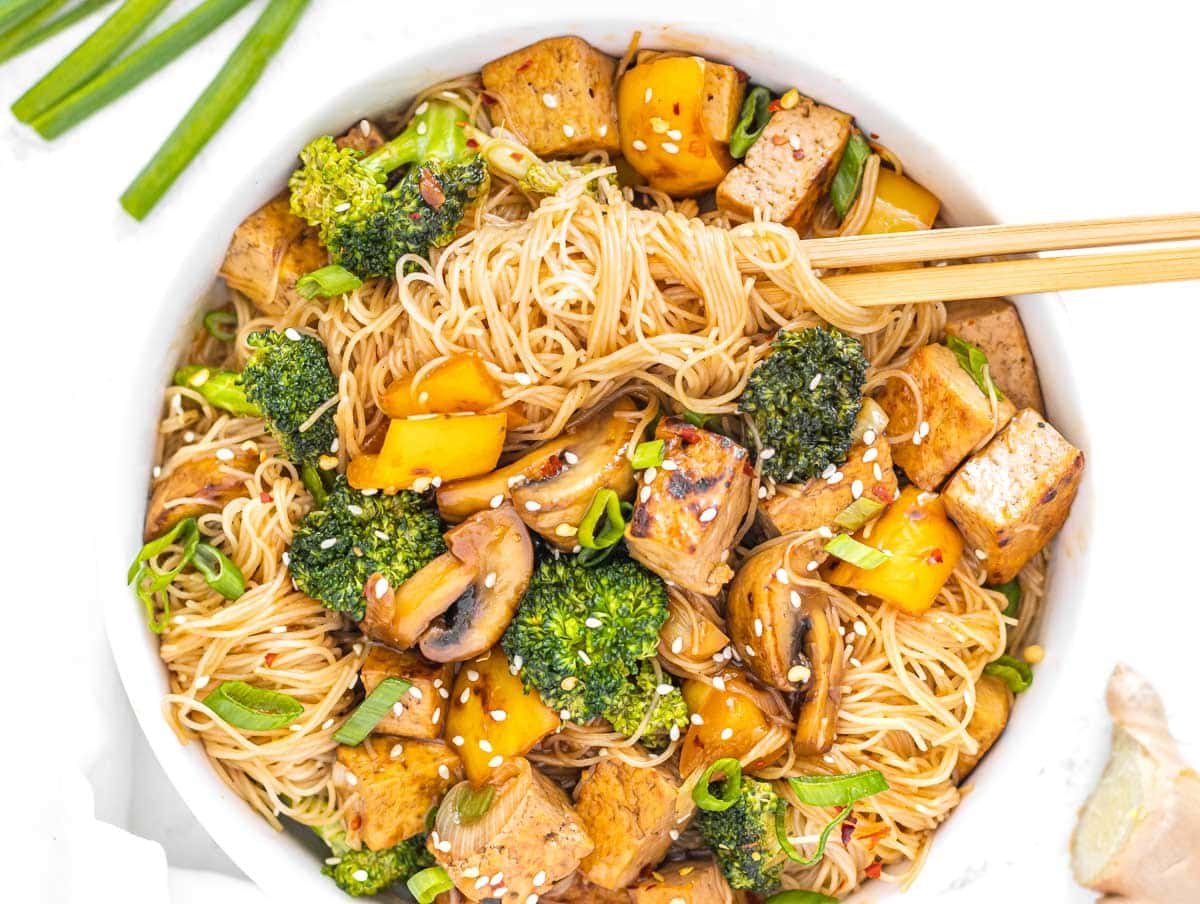 How to choose mushrooms
Most of these recipes are tested with the cheapest fresh mushrooms we could find at the supermarket, and they turned out delicious.
The most common and affordable varieties are:
White button mushrooms
Cremini mushrooms
For extra flavor, you can add a few fresh shiitake mushrooms, oyster mushrooms, wild mushrooms, porcini mushrooms, or portobello mushrooms.
You can get the mushrooms pre-chopped or chop them yourself at home.
A note on dried mushrooms
Dried mushrooms add a ton of flavor to mushroom-based recipes. They are a natural umami booster and pack an intense mushroom flavor that fresh supermarket mushrooms often lack.
Dried mushrooms are easy to find in most supermarkets. Dried porcini mushrooms are best for Italian-inspired cooking; a dried wild mushroom mix also works well.
A small pack will go a long way, and you can make many other recipes with them, such as our mushroom pasta, tofu soup, mushroom risotto, savory chickpea crepes, and seitan steaks.
They need to be soaked for 10 minutes in ⅓ of a cup of hot water to release their intense flavor, which the other mushrooms will absorb.
If you don't have dried mushrooms, you can replace them with a couple of tablespoons of soy sauce.
For many more 30-minute meal ideas, check out our 30-minute meal category page.
15 Mushroom Recipes
These mushroom recipes are easy, tasty, and juicy. Take your pick from easy sides, pasta, soups, salads, and appetizers.Sauteed mushrooms have a rich flavor and juicy texture with notes of garlic and parsley. We'll guide you through the best method for making this easy mushroom recipe.
Equipment
1 large skillet, 11-inch or 28 cm or more,

stainless steel, enameled cast iron, cast iron, nonstick
Ingredients
Basic Ingredients
1

pound

mushrooms

1

tablespoon

extra virgin olive oil

¾

teaspoon

salt

or more to taste

⅛

teaspoon

black pepper

1

tablespoon

parsley

chopped
Optional Ingredients
1

- 2 cloves

garlic

1

tablespoon

butter

or dairy free butter
Instructions
If necessary, clean mushrooms before cutting them.You can brush the dirt off with a damp paper towel if the mushrooms are not soiled.If they are soiled rinse them under cold water.Chop the mushrooms into ⅙ to ⅛ inch slices (4 mm).

Warm up the olive oil in a large skillet. You can use non-stick, cast iron, enameled cast iron, or stainless steel.When the oil is hot, add the mushrooms, season with salt and black pepper, and stir.

Saute mushrooms on medium-high heat for about 12 to 15 minutes, stirring every 2 to 3 minutes.The mushrooms will first release their juices.

Keep cooking them until all liquid has gone, the pan is dry, and the mushrooms start to squeak and brown.

Browning builds taste, so it's essential you allow them to get some color.

Optional step: when the mushrooms are almost done, lower the heat, add the butter or dairy-free butter and the grated garlic.Stir for one to two minutes until the butter melts, and you can smell the garlic fragrance.

Turn the heat off, add finely chopped parsley, give it a final stir and serve.

Arrange sauteed mushrooms on a serving platter and serve them as a side dish.

To have them as an appetizer, add them on top of bruschetta, crostini, or focaccia bread, and drizzle with good quality extra virgin olive oil.
Video Recipe
Tofu with Mushrooms | Easy dinner in 15 minutes
Notes
Nutrition information is an estimate for 1 portion of sauteed mushrooms out of four, with dairy-free butter and garlic.
If you double the recipe is best to cook 1 pound of mushrooms at a time to ensure even browning. 
For more ideas with sauteed mushrooms, check the chapter "Recipes with sauteed mushrooms" above.
Nutritional Values
Nutrition Facts
15 Mushroom Recipes
Amount Per Serving
Calories 83
Calories from Fat 63
% Daily Value*
Fat 7g11%
Cholesterol 0mg0%
Potassium 371mg11%
Carbohydrates 4g1%
Protein 4g8%
Vitamin A 85IU2%
Vitamin B6 0.1mg5%
Vitamin C 4mg5%
Vitamin E 1mg7%
Vitamin K 21µg20%
Calcium 7mg1%
Folate 21µg5%
Iron 1mg6%
Manganese 0.1mg5%
Magnesium 11mg3%
Zinc 1mg7%
* Percent Daily Values are based on a 2000 calorie diet.
Did you like this recipe?
We are not much on Instagram, Facebook, and Pinterest. Leave us a comment below instead, it would mean the world to us 🙂
If you liked these easy mushroom recipes, you might also like: